Well good morning! I hope you had a very lovely weekend indeed.  This week's first wedding feature is full of colour, joy and happiness that I really hope makes you smile today.  Bethany, an account's assistant who also studies patisserie at college and runs Betsy's Living Vintage, married her beau Dan, a Fraud Investigator on 14th September last year.  Their tipi wedding took place The Bells Of Peover in Knutsford – a venue chosen, I'm told by Bethany, due to the stunning grounds, the professionalism of the staff and the fact the pastry chef is out of this world!
I thought we'd start this feature with this beautiful little super 8mm retro wedding film by Mark W. Brown.
"Our day was a mish-mash of vintage, colour and ethical living – and it simply had to be in Tipis!  I have always had a penchant for vintage china and afternoon tea and we are both quite environmentally conscious so wanted the day to be as waste free and as ethical as we could possibly manage."
Film Production Copyright (c) 2014, Mark W. Brown
The couple hired Keeley and Becky at Flower and Firth to provide on-the-day co-ordination, and these beautiful photographs were taken by photographer Natalie Leech.
"As we are both vegetarian, we had only vegetarian food served on the day – there was absolutely no waste because it was all so delicious!  Everything we used was also re-usable, even down to the invitations (tea towels).  The only stationery we actually printed out was done so on recycled card, and all paper/card waste (pom poms included) were carted off to the recycling by both myself and Dan the day after the wedding."
Photography Copyright (c) 2014, Natalie Leech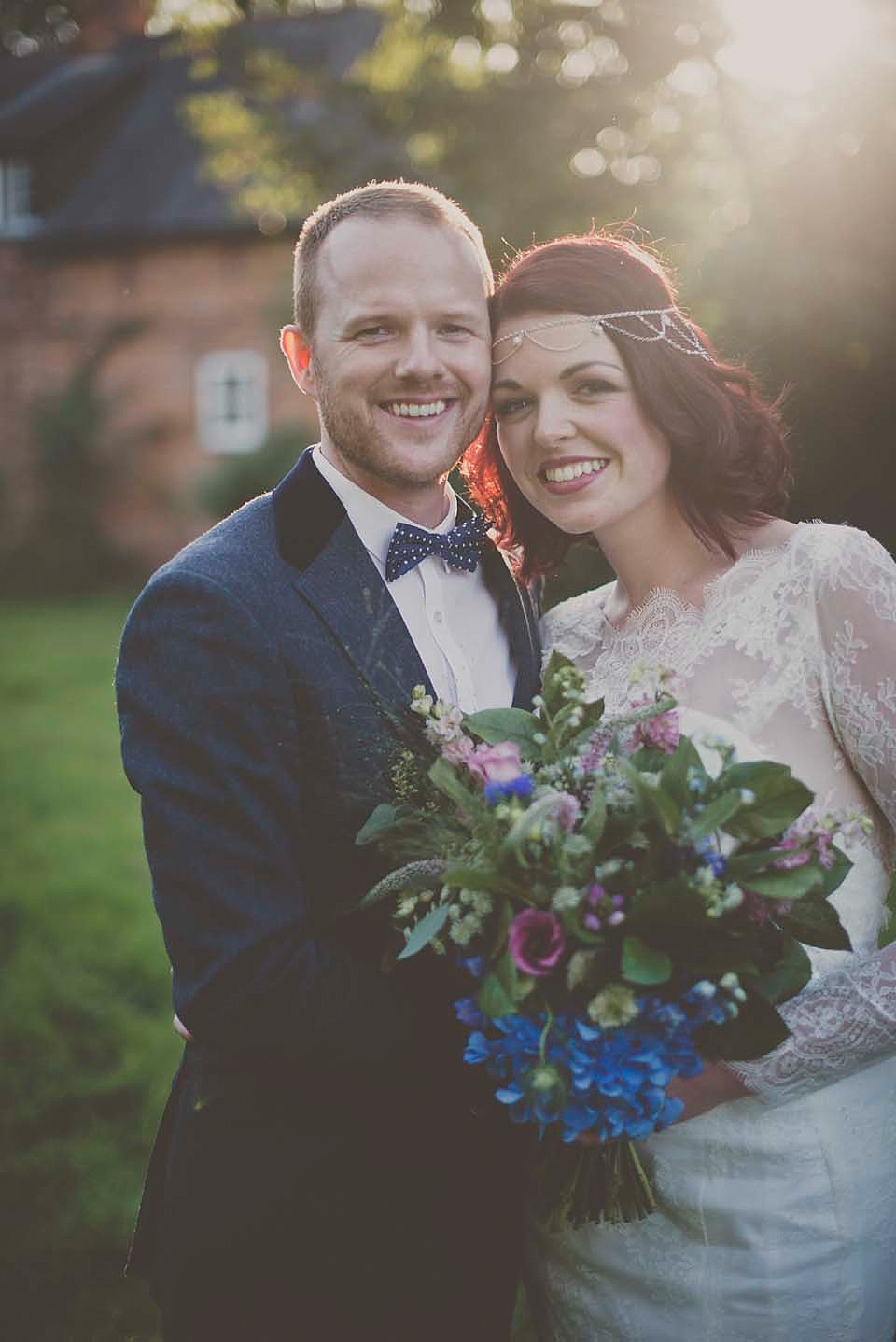 "Dan and I met online in 2006. At first distance prevented us from meeting, but never kept us apart. We chatted endlessly for years and were never far from each other in spirit. Dan eventually moved to Manchester and excitedly, I thought my luck was in.  Alas, he partnered up with someone else, keeping us from meeting for even longer. We kept in touch via Facebook sporadically, always checking in to make sure each other was ok. Unfortunately, we lost contact in 2009.
After a few years of trauma, I moved out of my home with my previous partner back to my parents house. That very same week I received an anonymous email, 'Beth, is this still your email address?'. A few emails back and forth and I realised it was Dan. He'd found me again! A catch up on Skype confirmed we were both newly single and conversation flowed as easily as it always had. We finally agreed to meet April 2011 with six years anticipation of each other brewing. What started as a palm sweaty introduction, ended as a five-day first date.  We've been inseparable since."
"We fell in love on a Tipi retreat in Wales (a gift from me to Dan for his 30th birthday), three weeks into our relationship). We then moved in together after 3 months, got engaged after year and lived happily ever after!! (We were engaged for 16 months before the big day. Just enough time for all the planning)."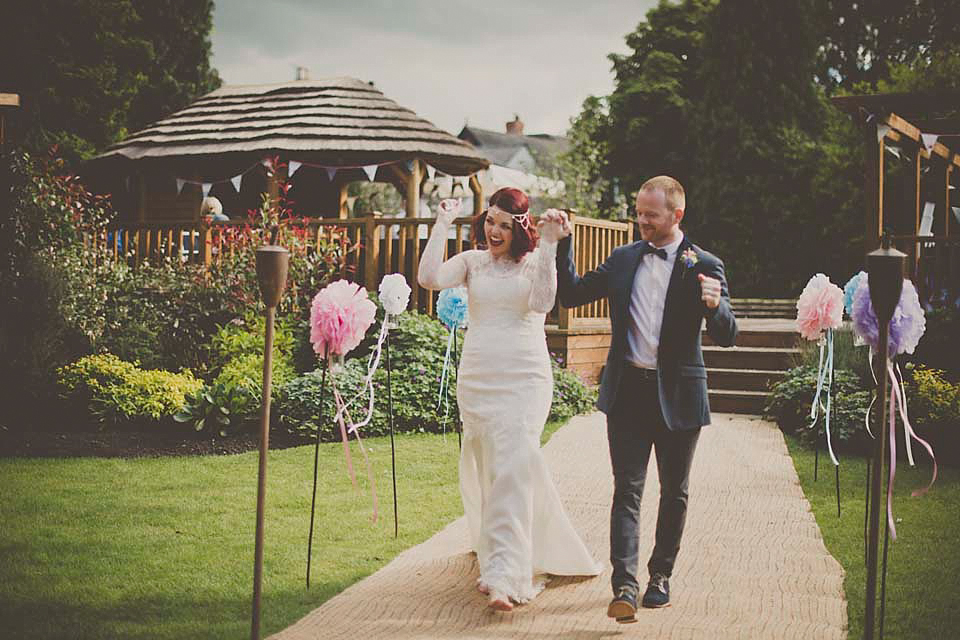 "Dan was meant to propose at another tipi retreat in Gloucester, but it flooded a few days before we were due to arrive! Panicking he booked the beautiful Ettington Park hotel in Stratford-upon-avon. After high tea (my fave) he took me for a walk in the gardens, where we were greeted by a beautiful and derelict chapel. The sign on the door read 'And they lived happily ever after'.
It was there, under that sign, that he presented me with the most beautiful art deco engagement ring and asked me to marry him."
"We sourced all of the crockery (except tiered plates),  decanters and props (all now available to hire through our new company Betsy's Living Vintage).  We also made all of the decorations, including my pride and joy…my pom pom chandelier, and our flower pot table plan."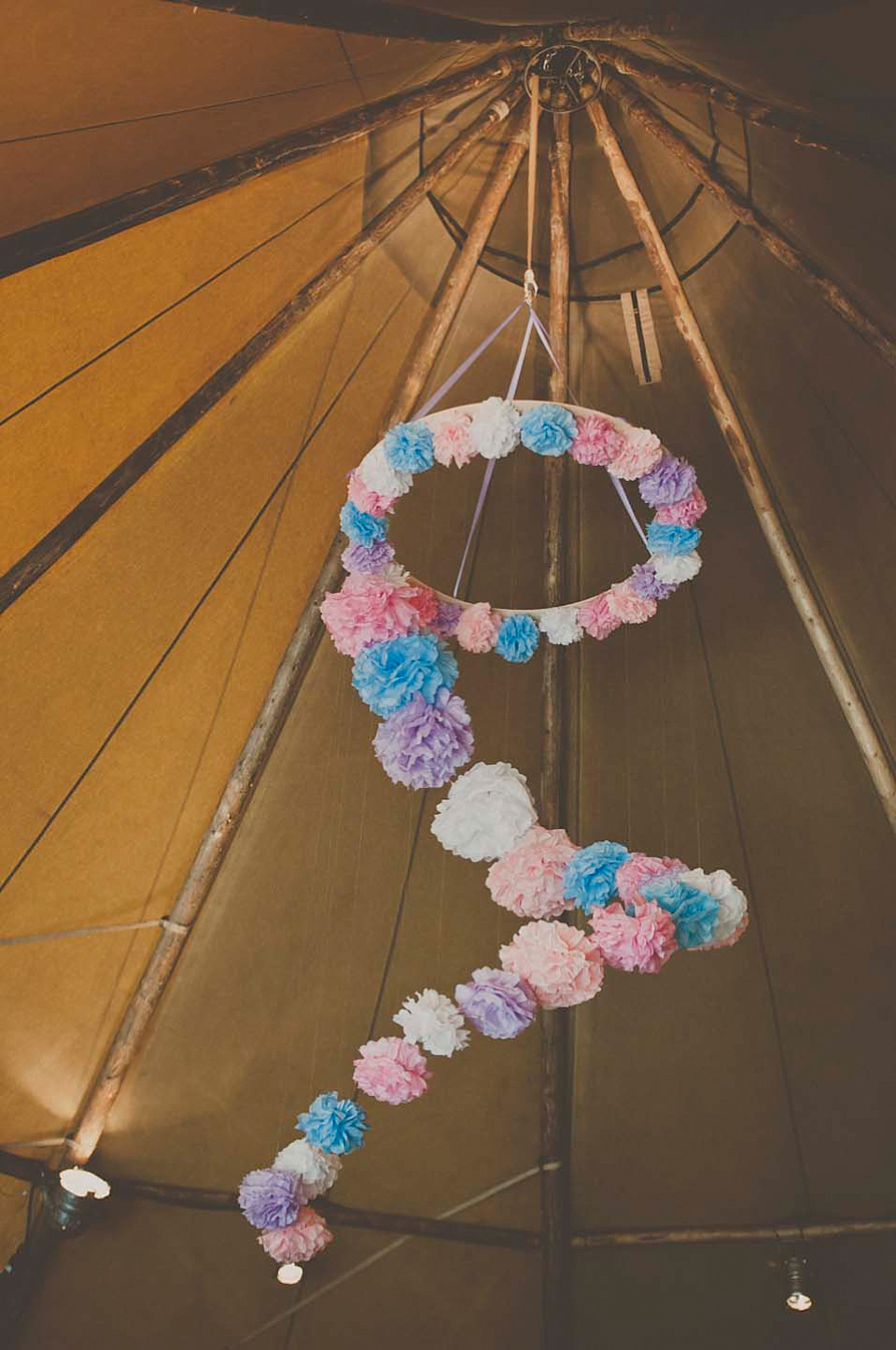 "I designed the dress myself, however had it expertly made by the Agape Atelier team at Agape Bridal Boutique in Knutsford.   After hours of searching for the perfect dress I just couldn't find what I wanted. So I sketched my ideas and Agape made it a reality. Amazing experience! I love the lace we chose, it's exquisite with the softest and most detailed scallop edge. I love how the dress made me feel.
My headpiece was designed and made by the wonderful Laura Donovan. It was a stirling silver and fresh water pearl head chain.
I also went barefoot. I like to feel grounded!"
"For props, we used a chest of drawers, antiques etc from our house. We even sourced love heart sugar cubes in the colour scheme of the day, you know, just to be pedantic! It was a labour of love, and Dan, in the end, became the pom pom king! We spent the days before the wedding decorating the tipi's (control freaks who secretly love it!)."
The couple hired the amazing gramophone playing Vintage 78 DJs to entertain their guests – very highly recommended stamp of approval from us! I've both worked and am friends with the lovely Matt and Annabel – they set the most amazing scene with their authentic vintage entertainment.
"Our florist was Clare Evers at Blush Rose, who provided the most wonderful handpicked vintage blooms."
I love that the couple had their own 'sweetheart table' at the reception – big enough to seat just the two of them! Could be the answer to a lot of table planning woes too!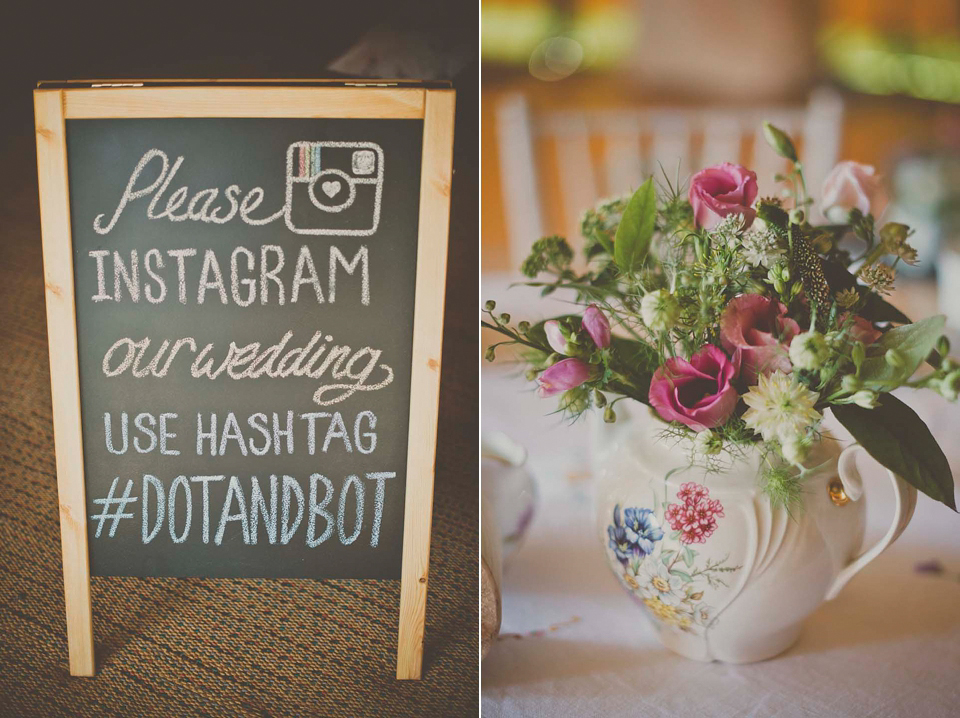 "Initially we just wanted a cake table, but the more I thought about having an afternoon tea style cake, the more I wanted it. This was designed by Jude Stevens at Sugarcube. Sadly she is no longer doing cakes, which I think is an absolute tragedy as she is SO skilled and our cake got papped as much as we did!"
"Our photographer was the wonderful Natalie Leech, who was an absolute wonder creating natural light shots."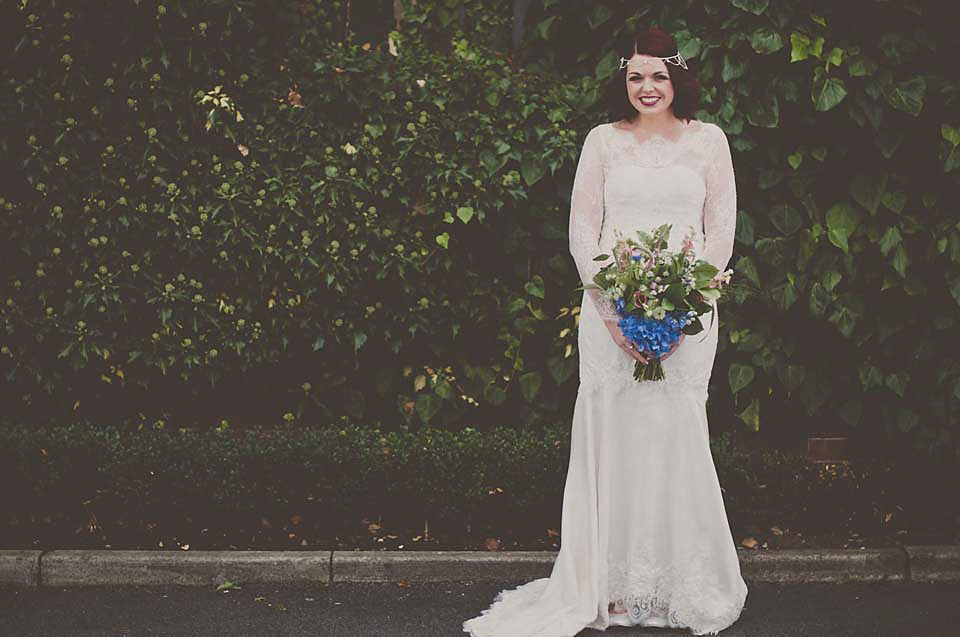 "My wonderful Dad gave me away.  I walked down the aisle to Miss you – Trentemoller (we have eclectic taste) and walked back up the aisle to Sweet Disposition – The Temper Trap."
"We wrote our vows alongside our amazing celebrant Shirley George. It was a Humanist ceremony, which is what we both wanted, as neither of us are religious and we both felt registry office weddings couldn't represent us as a couple.
The readings were chosen by our mums and resulted in a lot of tears! Very emotional."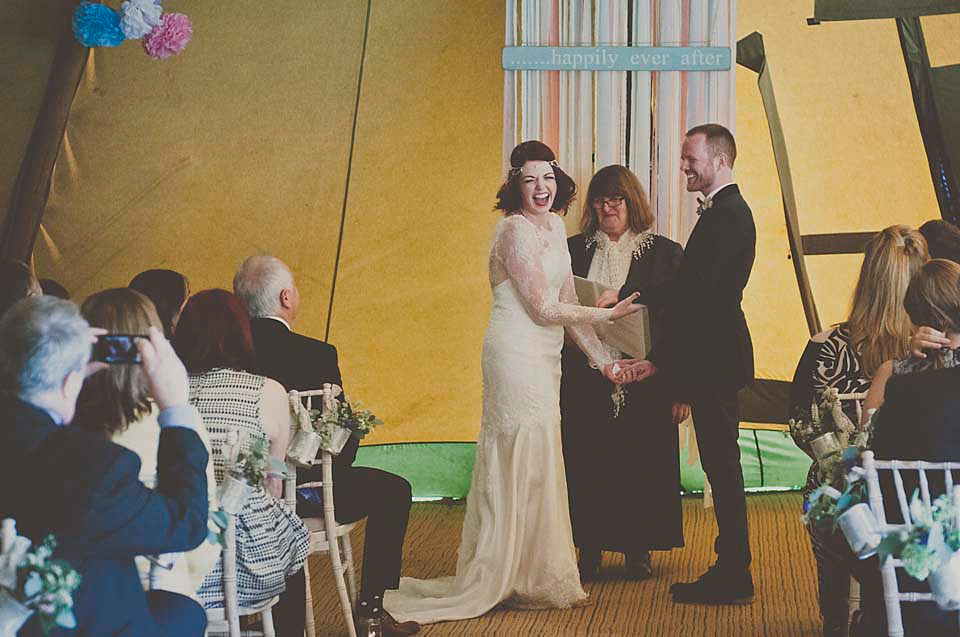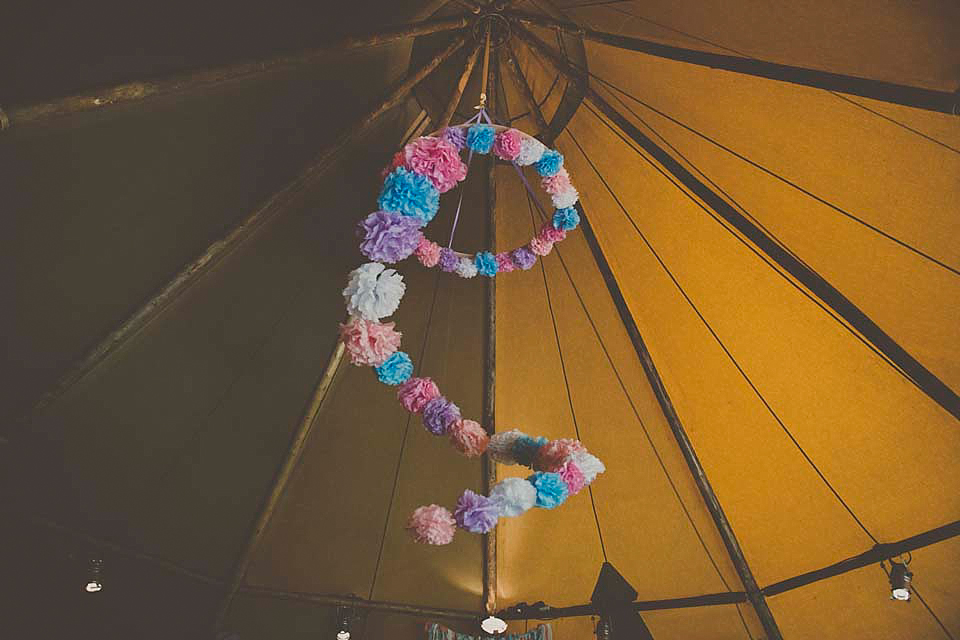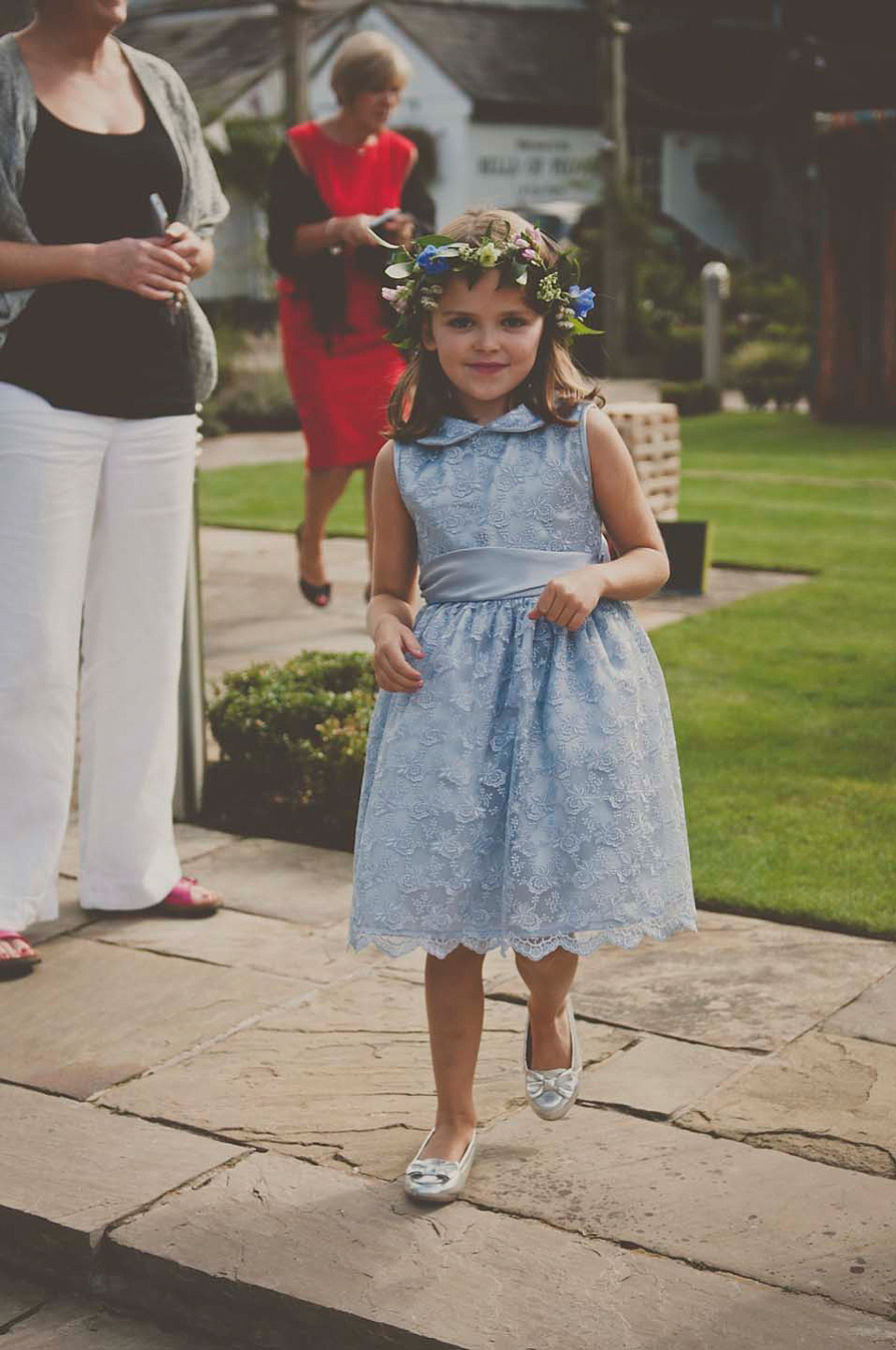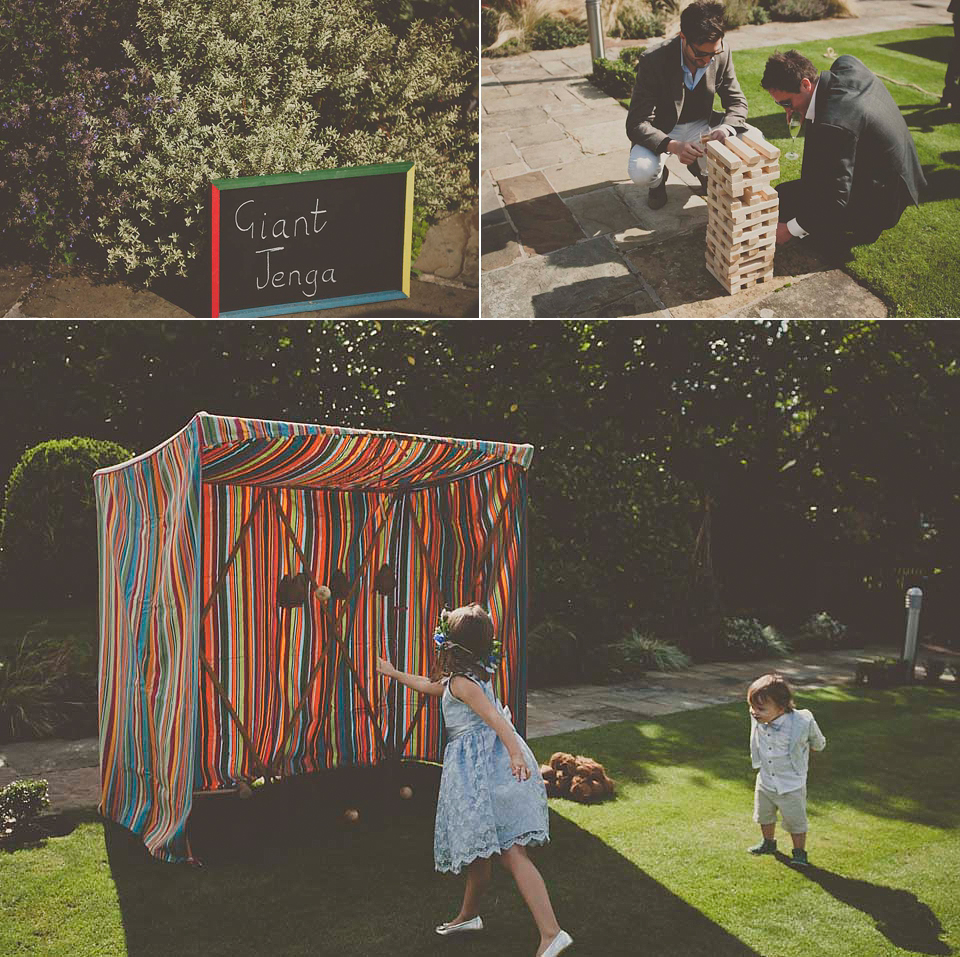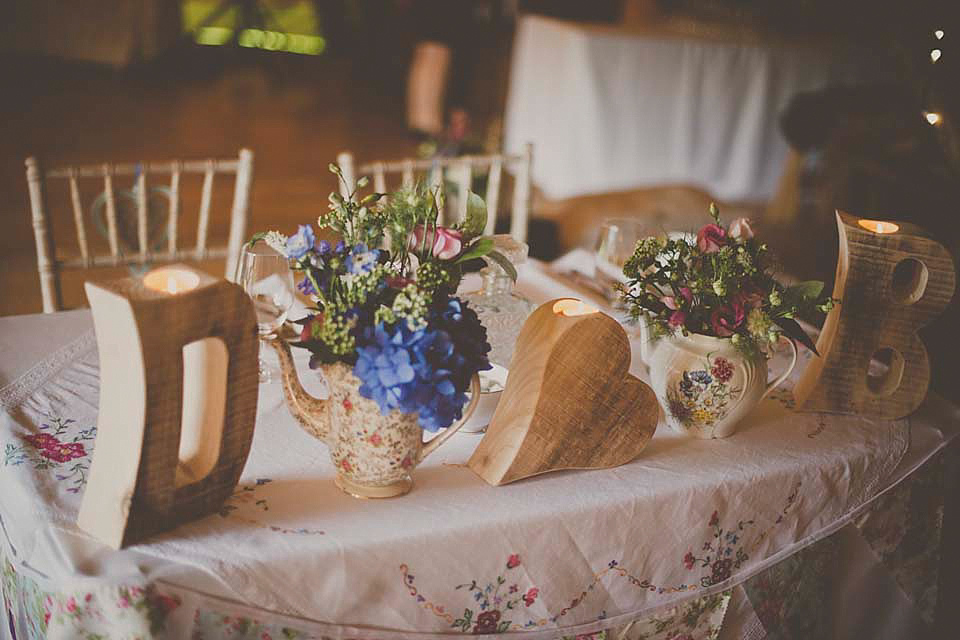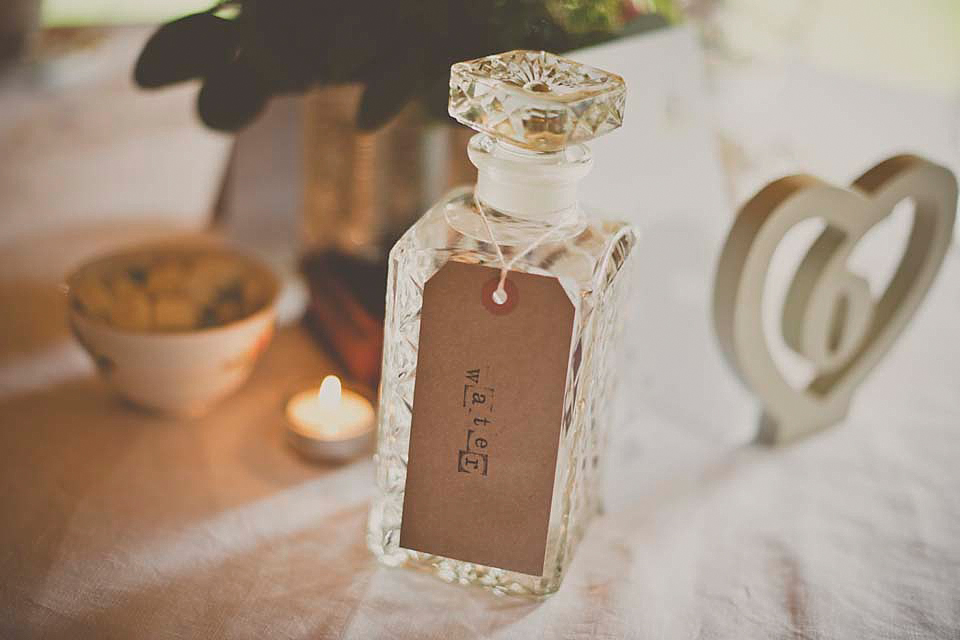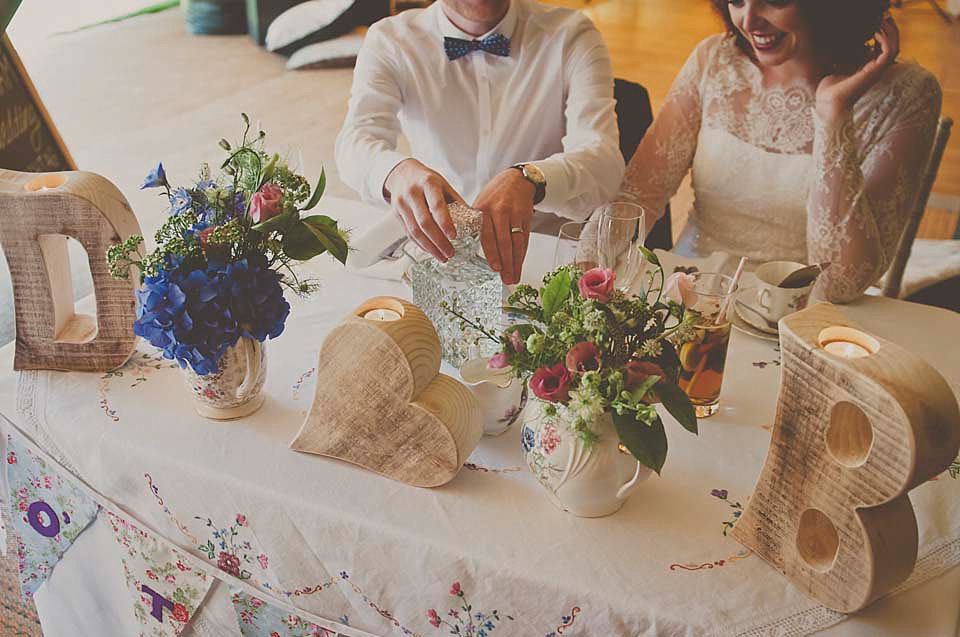 "Every single aspect of the day was amazing and memorable. We loved having a sweetheart table, it gave the two of us an hour of uninterrupted time together whilst taking in every last drop of the atmosphere amongst our nearest and dearest. However, my fave part had to be simply holding Dan's hands throughout the ceremony and us both of us quite literally, staring into each other eyes throughout. It was emotional and spell binding to say the least.
The day was amazing and I wouldn't change a thing, but I would love the opportunity to plan another big day!"
"We didn't have a first dance. However we didn't leave the dance floor from start to finish and I even ripped my dress! (sign of an amazing time!)"
Words of Wedded Wisdom…
"Enjoy every moment and be thankful. From the second you get engaged until the second the wedding finishes, embrace it and each other. It all goes by so quickly, yet has to be one of the most exciting times of your life. Don't lose each other in the madness of the planning and be thankful for what you have together. There are bound to be times where you feel stressed, upset, let down by someone, but remember, this is YOUR special day, and you should do exactly what makes you happy.
If I did have the opportunity to plan the day again, I would do it completely different, but not because our day wasn't perfect, but because there is so much choice in the wedding industry now that I want to try everything!
Oh, and invest in a good photographer and videographer. As time goes by the little details from the day fade from your memory and these will be captured, forever! It completely allows you to re-live those moments from the best day of your lives."
What a beautiful and uplifting day! Huge thanks to you Bethany and Dan for sharing something wonderful today to inspire our readers. Thanks also to photographer Natalie Leech and film maker Mark W. Brown for once again sharing their work.
Have a great morning – it might be Monday with a full week ahead, but we can DO this thing!
Love Annabel
Photographer – Natalie Leech
Film Maker – Mark W. Brown
On The Day Co-ordination – Flower and Firth
Venue  + Catering – The Bells Of Peover in Knutsford
Wedding Dress – bespoke design via Agape Bridal Boutique in Knutsford
Headpiece – Laura Donovan
Accessories – antique Art Deco earrings
Grooms Suit – Paul Smith jacket + French Connection trousers + Reiss shirt
Bridesmaids + Flowergirls – dresses designed by the bride, made by Jane Moran
Page Boys – own outfit
Florist – Blush Rose
Cake – Sugarcube
Entertainment – Vintage 78 DJs + iPod sound system via No DJ + Tarot Card Reader
Rings – Slack and Andrew (Mancheter jewellers – no website)
Stationery – designed by the bride, made by Fluid Creativity
Hair and make-up Artist – Bethany Jane Davies
Favours – Donation to Lifeshare
Follow Love My Dress® on Google+