Picture the scene if you will – a newlywed couple who have just received their wedding photographs for the first time, tripping to get to the sofa fast enough to sit down and fumble their way around packaging.  Careful to peel away the wrapping,  they excitedly and ceremoniously unveil a beautifully produced album all shiny and new.    As they begin to finger their way through the photographs, gasps of glee are drawn in with hands clutched closely to hearts.  Giggles and laughter erupt as memory vaults burst open to recall one of the loveliest and most precious days of their lives.  Every perfect little moment of joy and love has been captured for posterity.  Every precious moment that is, except for the actual wedding.
Hang on  – a wedding album with no images of the wedding itself?
There is a strong ripple of discontent amongst the wedding photography community right now.   Many of my photography colleagues are battling to gain permission from Church Vicars to shoot a wedding at all during the actual ceremony, or at least to be able to shoot from a position and location in the Church that will render quality imagery of the couple exchanging vows.  Because isn't the ceremony itself the most important element of the wedding day?  If you are paying a wedding photographer  to capture your day in images, wouldn't you want those images to include the moment you both say, 'I do'?
I've observed a definite rise in the number of people complaining about this issue over the past 4 years, and this is not the first time I've chosen to tackle the subject.
I wonder, do Vicars have a right to say no to wedding photography in Church?  Is a Church Ceremony sacrosanct enough to warrant a ban on all digital devices during the exchanging of vows?  Or is it all a fuss over nothing?  What about why Vicars are placing restrictions on wedding photographers who are just trying to do their job?
I was approached recently by two different photographers each with a different opinion on this subject.  Each of them have kindly agreed to share their views and experiences today in the hope we can encourage a healthy level of debate and maybe understand this issue a little better.  Photographers Charis Warrell, Lucy Stendall and myself would like to encourage you to leave a comment at the end of this feature with your own views.
Charis Warrell is one half of the award winning O&C Photography – the other half being her husband Owen.  The couple reside in Wales and have been shooting weddings together for several years.  
Charis believes that Vicars should lift restrictions on wedding photographers in Church.
You can find Charis on Twitter,  Facebook and Google+. 
Recently we have noticed a significant number of vicars requesting that no photographs be taken during a wedding ceremony.   As photographers who try wholeheartedly to be respectful and non intrusive, we have been upset that this is something that is the case. When one of our couples talks to us about their day we always mention to them about photos during their ceremony and ask them if this is something that they would like, especially when getting married in a church setting.
On more than one occasion we have had couples who are very keen to have photos of their ceremony because for them the ceremony in front of God is of significant importance. To be told during the ceremony or just as its about to begin that no photos are allowed is often very upsetting and sad for couples to whom this is so special.
As photographers we love to capture the true emotion of anyone's wedding day and the ceremony for us is such an important part of the day. The moment when a couple become Mr & Mrs, the emotions are often incredibly real, incredibly exciting and to be able to capture some of this is amazing. So many couples look at our portfolio and comment on the real, natural and joyful images we have captured during this part of the wedding day and request that this is captured where and when possible.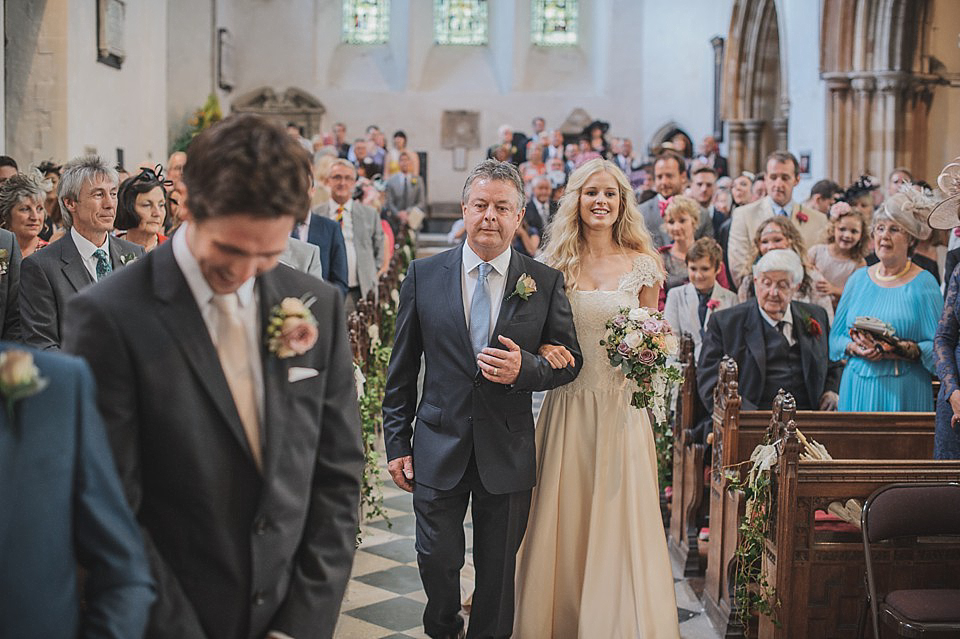 We want any photos we capture to be a true representation of a wedding day and the couple who have booked us. To have a huge part of the day missing because a vicar is unhappy makes us sad. We understand that there will always be photographers who push buttons and step over boundaries, but when a vicar stops photos being taken because they feel that photos are intrusive, inappropriate and take away from the sanctity of the wedding ceremony I have to disagree.
Surely having photos of a wedding ceremony actually adds to the true celebration of such a significant and special time by capturing something of the true joy that people feel at the very start of the married life together. A chance to capture love between two people. A precious moment that has been thought about, planned and dreamt of by the couple. The moment they say "I do" in front of family and friends. I find it desperately sad that this cant be captured for the couple to have as a cherished moment and memory, especially thinking back to how quickly the wedding day itself goes by. Photographs are there when the day is over and the memories are fading.
Also from a religious point of view, the importance of marriage is talked about in the Bible and the story of the wedding which Jesus attended is often shared by vicars during the ceremony. Jesus attended weddings and I reckon he would have been happy for photos to be taken. Its hard for me to comprehend that some vicars choose to stop photos being taken and take the decision away from a couple, using an air of authority that unfortunately means a couple cant fight their corner. Who wants to have a row on their wedding day?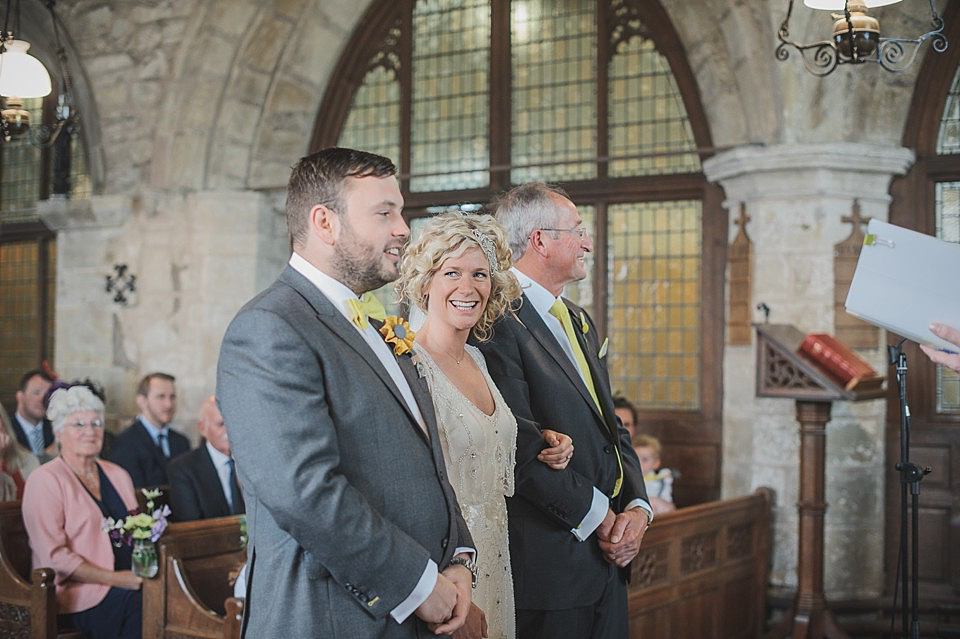 As I write this I am however very aware and grateful to the many church leaders who are gracious and accepting of photography during a wedding day, but sadly Im hearing too many a situation where this hasn't been the case. I know in writing this Im opening up for discussion and negativity about church rules, where I actually think this is unfortunately down to individual vicars and not the way all church leaders think. If I could say one thing to the vicars that have made these decisions it would be "Please think about the importance of the wedding ceremony and how important it actually is. You often preach this in your wedding talk. With this is mind, please do consider that the couples you are marrying actually do want photos of their marriage ceremony, because they are indeed excited about getting married, want to look back at their day and see the moment they said "I do", in front of God, their family and friends. Photographers are not out to make it harder for you in carrying out such an important formality, they indeed are excited about their couples decision to get married and want to capture that special moment, because its so very important".
For all those photographers who have not made it easy for vicars, because they've tried to direct and guide, turning the moment into a photo shoot…. that's not right either peeps! Unfortunately you've paved a way for other photographers and have sadly tarnished the air for photographers who are respectful and genuinely want to work for their clients.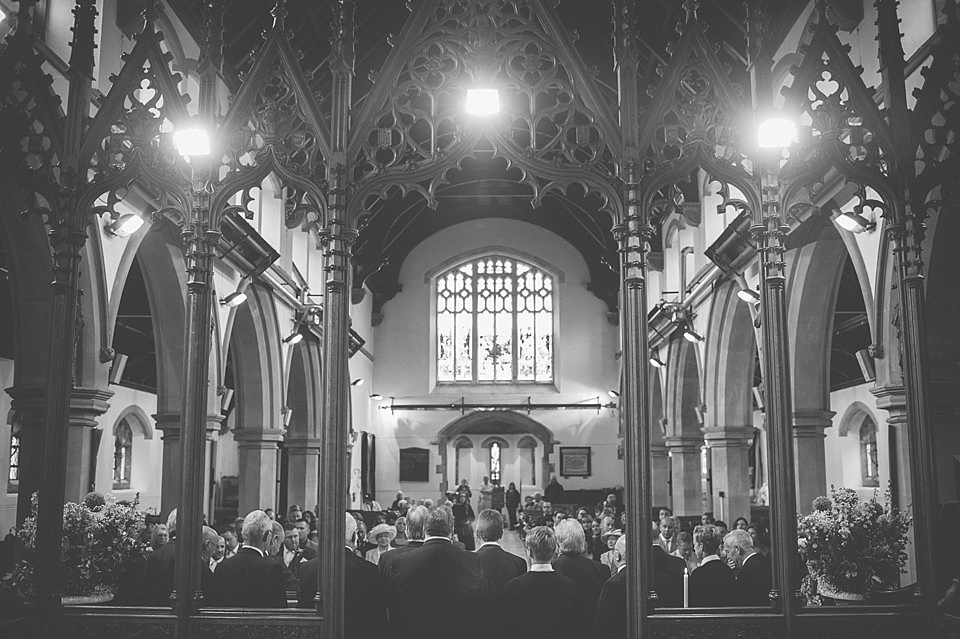 I'm not certain I know what the best thing to do is, because as with every wedding, every church, every couple, every situation is different. I would love to see a bit more grace from both vicars and photographers in the situation, so that across the board there is harmony and little more understanding. We attend every wedding with a clear focus that this is not our photo shoot, but our couples wedding day and we want to get the best for them, capturing every aspect of what happens. For me, being able to capture the moment a couple say their vows and get married is a very important, if not the most important part of a wedding day.
Lucy Stendall is talented wedding and portrait photographer based  in the countryside near Nottingham but working nationwide and abroad.  Established in 2010 after a long love affair with her camera, Lucy specialises in taking photographs of good old fashioned sweet love.  
Lucy believes that it's not all about the Church wedding photographs.
You can find Lucy on Twitter and Facebook.
(Image of Lucy by Victoria Phipps)
It's not all about the photographs. There have been other photographers before me at other weddings, who have made that vicar's job difficult. Most photographers look perfectly normal and trustworthy, but then in the moment some will break their promise not to move from the spot/use flash/act weird, because they know the vicar probably won't stop the ceremony and publicly humiliate them.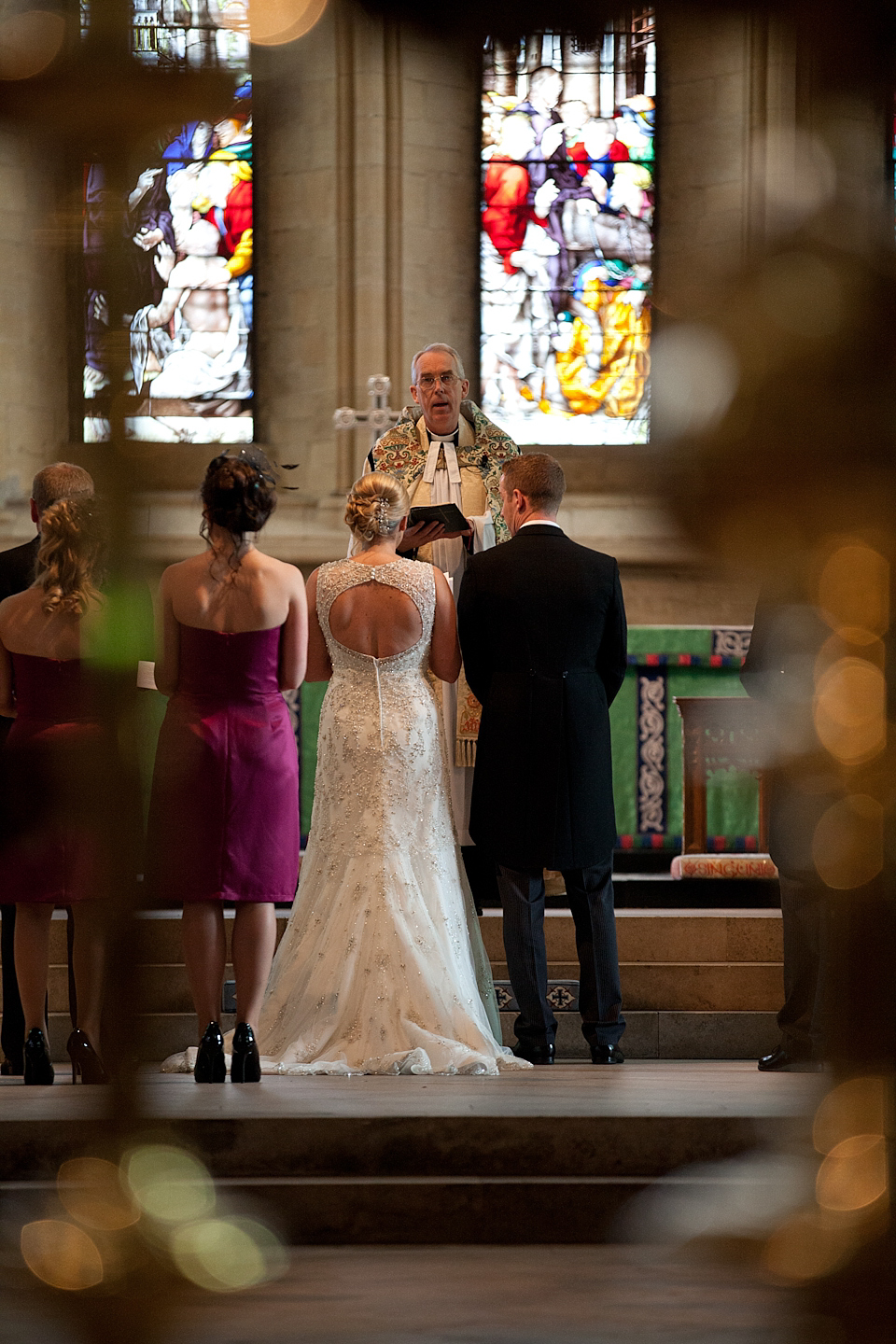 Maybe they'll commando crawl up the aisle or stand on pews for a better position (alarmingly these are both true stories). Maybe worse. Their lack of discretion and respect, presumably preceded by the promise that they won't get in the way or be a distraction, have made the clergy wary of us. I know it doesn't say in the bible that ceremonies shouldn't be photographed. And I'm guessing if Jesus was here now he'd be into social media. That's not really the point though, is it? Vicars don't ban photography to be awkward (although I'm sure there are some rogues out there) they just want their couples to have a ceremony which is not remembered because of the photographer.
I don't suggest that there should be a blanket ban, I like the fact that some vicars say yes. But in church, vicars are performing a religious act before God. Their job is not to make sure you have pretty photos.  If making life changing promises to each other in front of the maker of the universe isn't big or serious enough to justify me putting down the camera, or for you to go without a few photos, then I don't know what that says about us. It's not a case of agreeing or disagreeing with their rationale when it's something you have voluntarily agreed to do on their territory.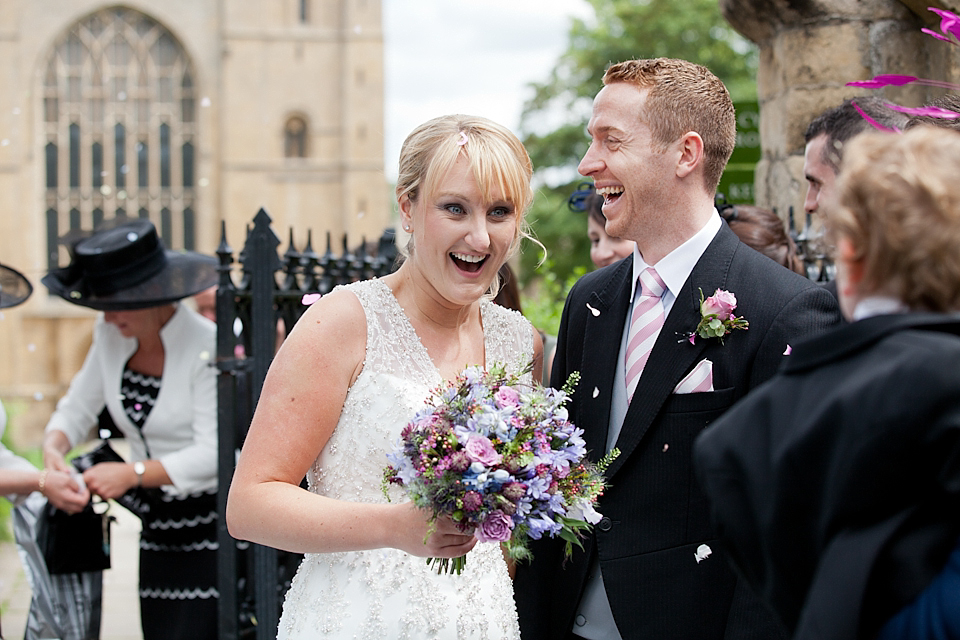 If you're worried, my advice is to talk about it to people. Have a frank discussion with your vicar and ask why. Speak to your parents and grandparents about their wedding photographs. Find out how they feel about their ceremony photographs now that their wedding is in the past. Where once there were a handful of photos, today we risk being spoilt for choice. Have we become a little greedy?
Think about how much the photographs matter to you overall. For someone who loves photography, it didn't bother me too much not to have photographs of our whole ceremony. If it had, I suppose we might have looked for a different church or vicar but if we'd done that, we could have come up against the same issue or worse, perhaps even on the day itself. At least we knew where we stood.
Photographs are no substitute for living and experiencing the day. You will still have your memories and photographs of other parts of the day to remind you of the vows you made. When I think about my wedding 4 years ago, the ceremony was by far my favourite bit. I don't feel cheated for not having photographs of all of it. My memories will fade, chop and change, becoming imperfect, rose tinted even. Is that a bad thing?
In an ideal world where every photographer was professional, we wouldn't be having this debate. I have often wondered what the answer is. I know it's possible to photograph a ceremony in a way that a vicar wants because thats what I do at every wedding. I am always humbled by the subsequent thanks from vicars and registrars who have said they hardly knew I was there. I have joked that I should get them to write me a reference for future weddings, but I'm not sure it really works like that.
______________________
We'd love to encourage some lively debate on this subject – are you a wedding photographer who has experienced difficulty shooting during Church ceremonies? Or are you a bride or groom who has been disappointed that your ceremony couldn't be photographed during the service?  Are photographs during the service important to you?  Or do you have other views?
Huge thanks to Charis and Lucy for their contribution to this feature.
Annabel x
Follow Love My Dress® on Google+