It's such a beautiful afternoon, but I hope if you're stuck inside working that you might find a moment to steal and enjoy this lovely wedding.  Mark and Mary tied the knot on 16th February this year at Newton Hall in Alnwick, Northumberland – a venue the couple both fell in love with as soon as they as they discovered it online.
I adore the sweet Peter Pan collar detail of Mary's dress – a gown she had especially made to measure by Smith and Downes and that she paired with shoes she designed herself, courtesy of  Shoes of Prey.  There's certainly a feel of '50's chic' in Mary's choice of style.
"I originally met dress makers Rebecca and Marie of Smith and Downes at a vintage wedding fayre at Bowes Museum and saw an amazing dress with the beaded Peter Pan collar on their mannequin. Although I tried other dresses on I couldn't get theirs out of my head so arranged to go see them, at that time they had a pop up event at a tailors in York. I loved the fact that Rebecca and Marie were so attentive without being pushy and got exactly what I wanted.  I also love the length of the dress and the fact that the organza over dress could be removed for the evening."
Photography Copyright (c) 2014, Sally T Photography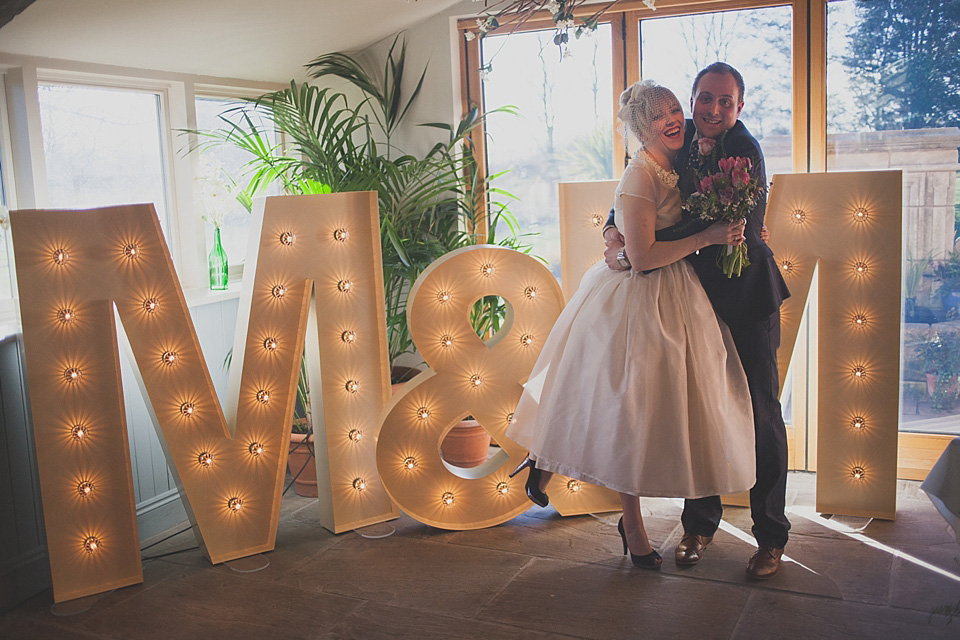 "The theme of the wedding was there wasn't one. All of the elements worked well together but we were keen for the wedding to be relaxed and laid back as possible, We chose the date in particular as it would have been my mum's 70th birthday (she passed away in March 2005) so we wanted it not just to be our wedding day but a celebration for mum's birthday as well. I love anything pretty or a bit different and was keen to fill the wedding with stuff we love as we wanted it to be a true reflection of us."
How rather marvellous is this polaroid table plan?
"Order of the day booklets, menus, reserved signs and the table plan were made by our brilliant friend Clare. I had the idea for the table plan and Clare helped me put it together. The fabric came from Leeds Market and we bought a refurbished Polaroid camera from The Impossible Project to take everyone's pictures which was a mean feat and there were still pictures being taken on the morning of the wedding!
I thought this was a great idea and people could put their pictures in the guest books on the tables which we got from Paperchase.  I also used this as an opportunity to buy a Dymo label maker to stick table numbers on the Polaroids!"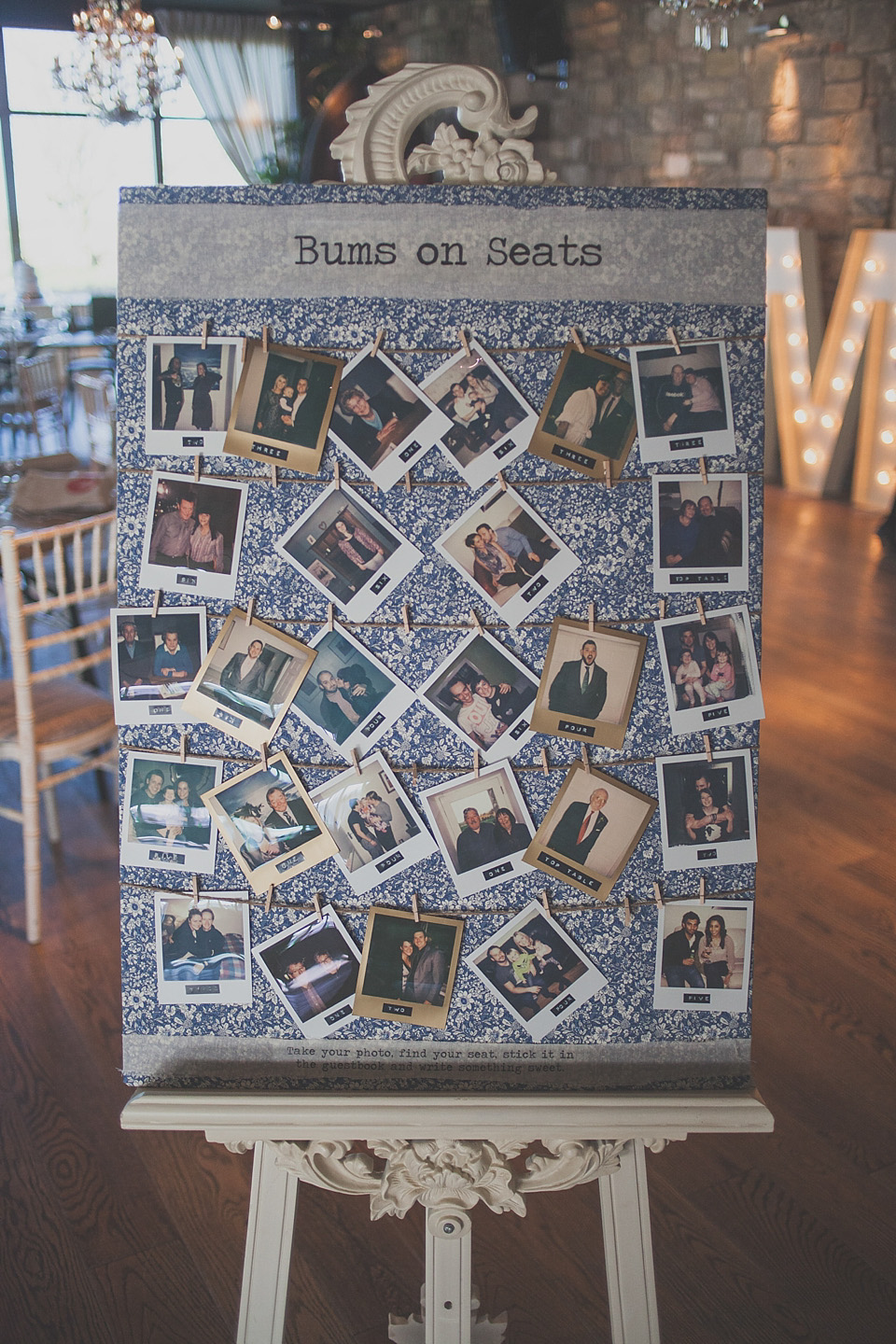 "I chose the bridesmaid dresses from Coast as I loved all elements of them especially the colour. They had a bit of a 20s flair to them and the beading complimented the dresses so well. Both of my bridesmaids have dark hair so the colour sat well with them and to be honest I was a bit envious as I loved the dresses so much I wanted one myself!  My bridesmaids went for elegant shoes with a bit of sparkle from Faith .
The bridesmaids didn't wear any jewellery because of the beading on their dresses but both were sporting some fab fur stoles."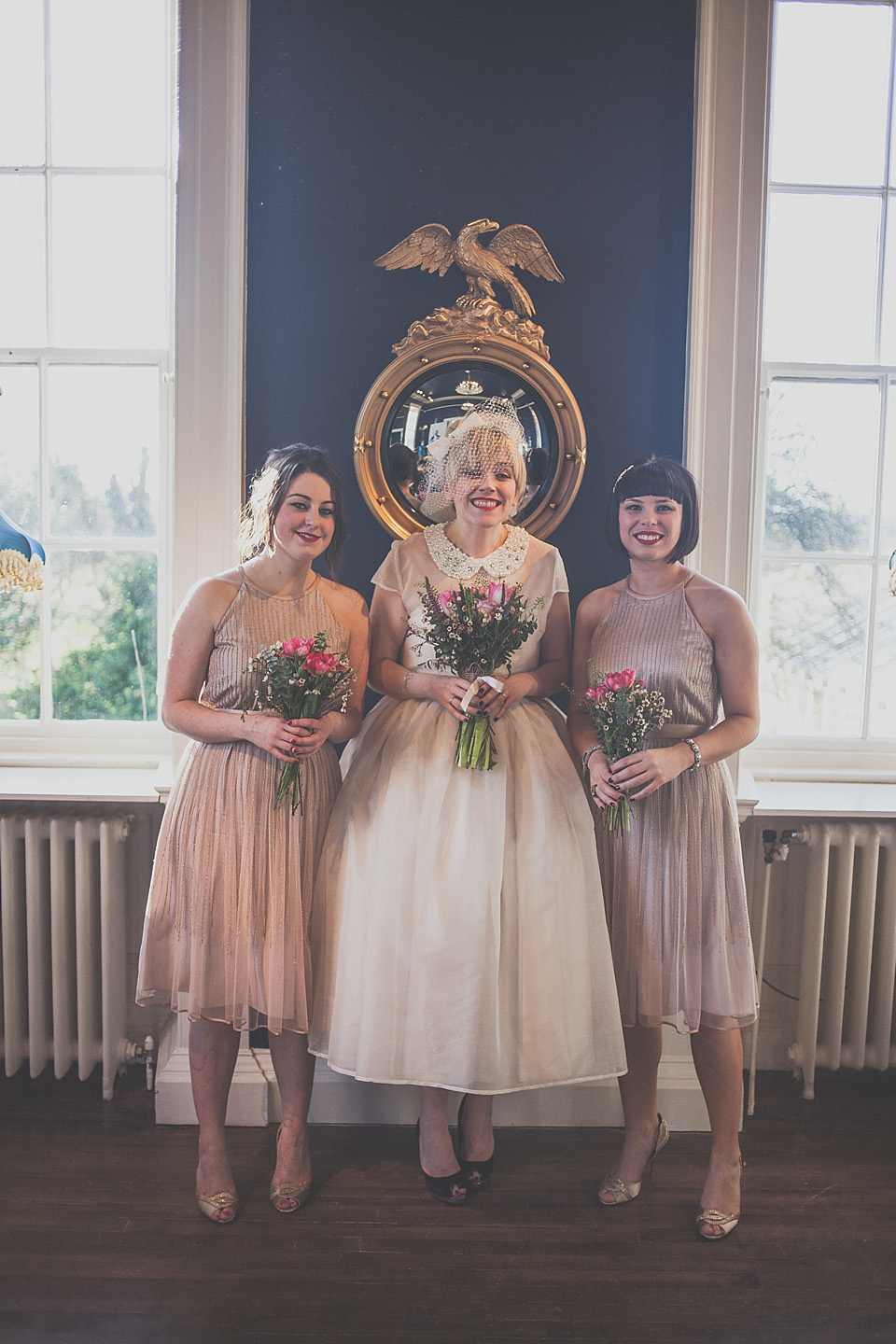 "The wonderful Sally Thurrell came and captured our special day. I knew within 5 minutes of meeting sally that she was the perfect choice. Sally is such a great photographer and a lovely lady and we would recommend her to anyone looking for an excellent alternative to the 'normal' wedding photographer. Our wedding album is amazing."
"Mark and I met on a night out in our local town back in 2003. I already knew who Mark as a friend had pointed him out to me so I went over to talk to him with the opening line 'I know your name' he looked a bit scared and ran away but we swapped numbers and the rest is history! I was confused however on our first date as I knew him as Jack (which is his nickname) and he kept talking about Mark. We got engaged in November 2012 after a mutual agreement it was about time we did it. We chose the ring together and after the jeweller had resized it Mark put it on the side of my coffee cup in Costa with the question "Fancy being my wife then?" it was a definite yes from me!"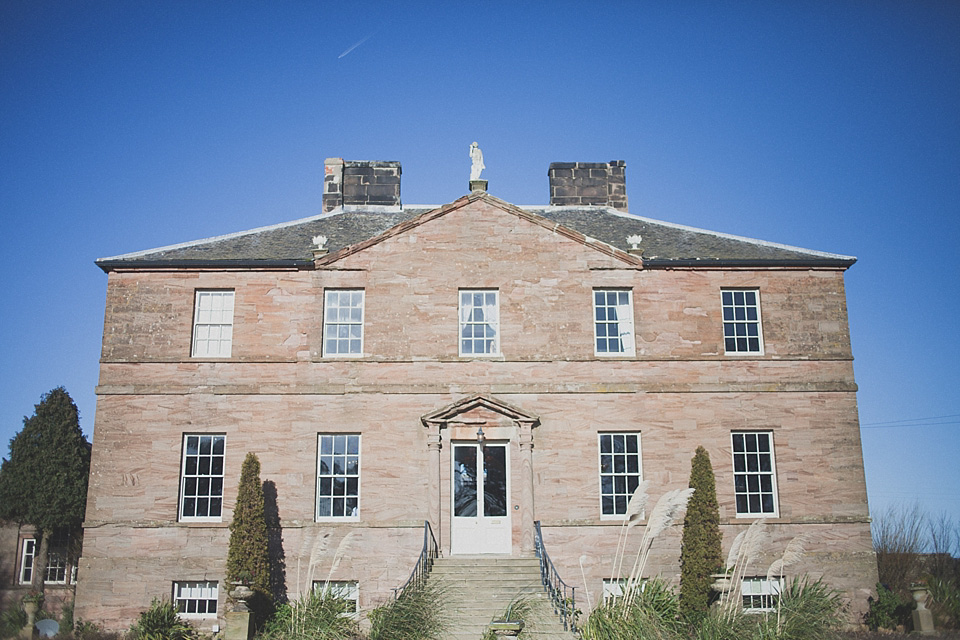 "The petticoat for my dress was amazing and the custom made fur shrug was perfect for our outside pictures.
I couldn't have asked for more from my dressmakers – I had the dress especially made silk so I can dye it and wear it again and again. Everyone commented on how it was the perfect dress for me and that's what I wanted. The collar came from Paris and added an extra wow factor to the dress."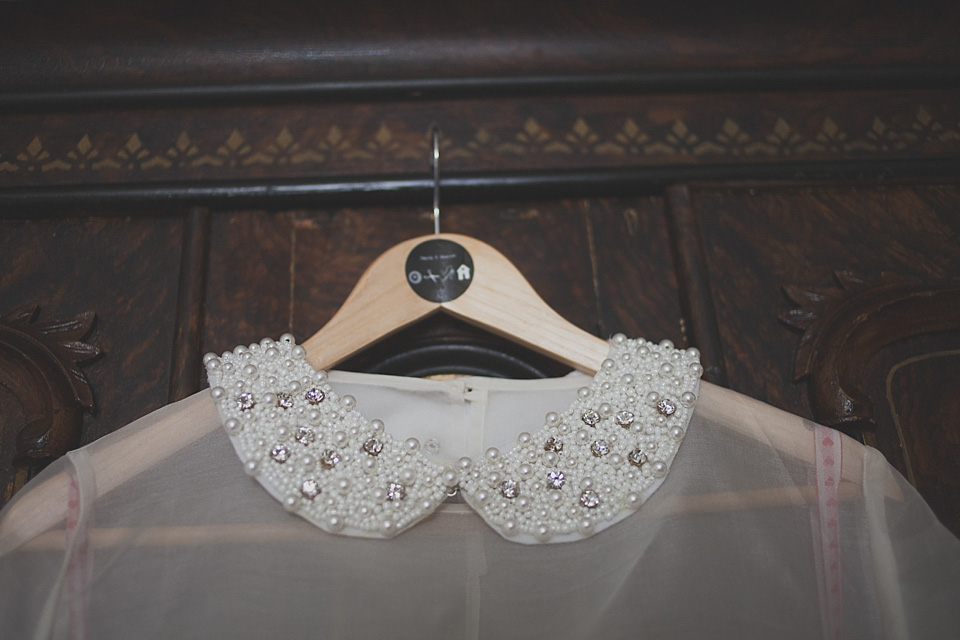 "I designed my own wedding shoes (courtesy of my Maid of Honour) at Shoes of Prey.  I wanted to go for something which stood out and complimented the dress well. I had looked at designer shoes but couldn't find anything which fit the bill. I went for the blue as my something blue element and the sparkle on the heel and sole just because I could.
I also bought a pair of gold sparkly Kurt Geiger high tops for the evening so I was comfortable enough to dance."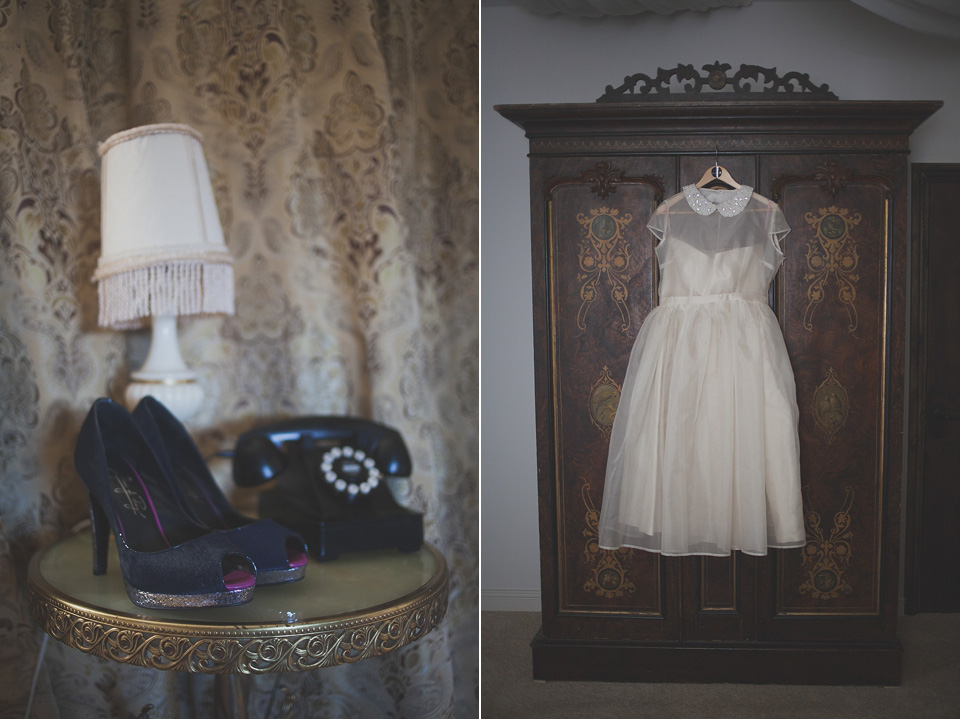 "As soon as we met Beth at Eliza Blooms in Darlington, we realised she was just what we were looking for. We wanted to steer clear of traditional wedding flowers and have something which fit the venue and us well so we went for a country garden theme. My bouquet was made of parrot head tulips, memory lane roses with other beautiful country garden flowers. We asked Beth to source milk churns for the aisle which she did and used jars and bottles for different heights. The flowers complemented the venue so well. We used wands for the flower girls to keep them entertained with lavender."
"My hair was styled by one of my dearest and oldest friends Nick Holmes He is an extremely talented and patient soul and is great at what he does. I wanted something that didn't look too done but still was amazing. He travelled all the way from Darlington to Northumberland to do it as well."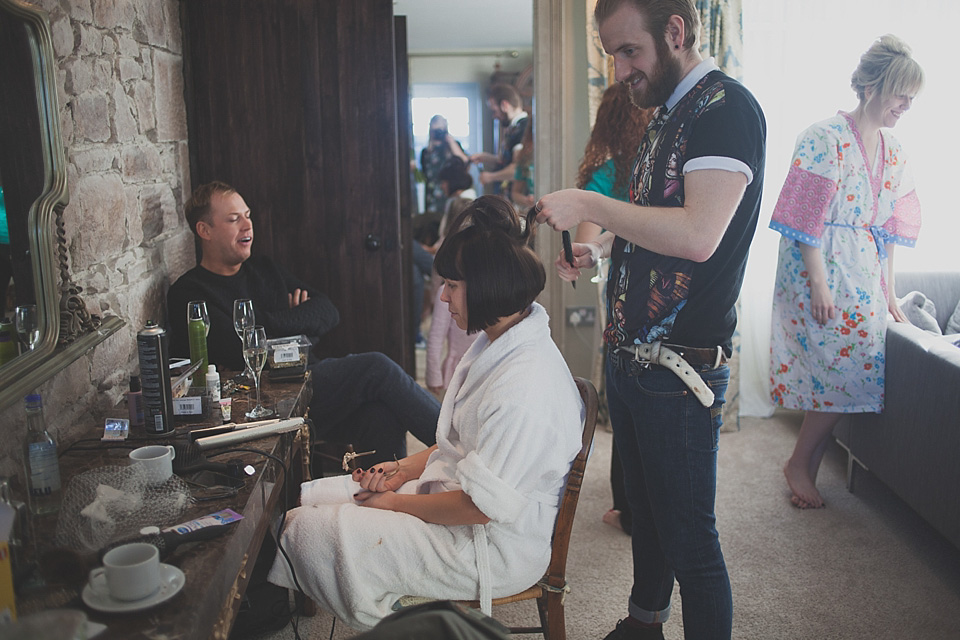 "Make up was by my maid of honour Kirsty Hill. After many years of trusting her with my eyeshadow I just gave her the instruction of 'make me look pretty' and she succeeded! The majority of my make-up came from Benefit with the addition of some classic red lipstick from Mac."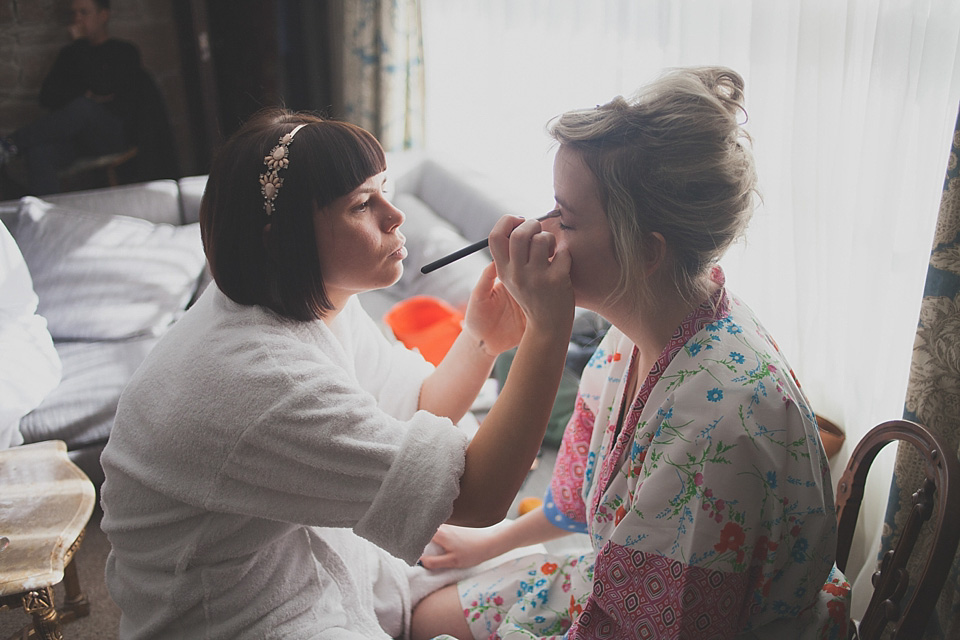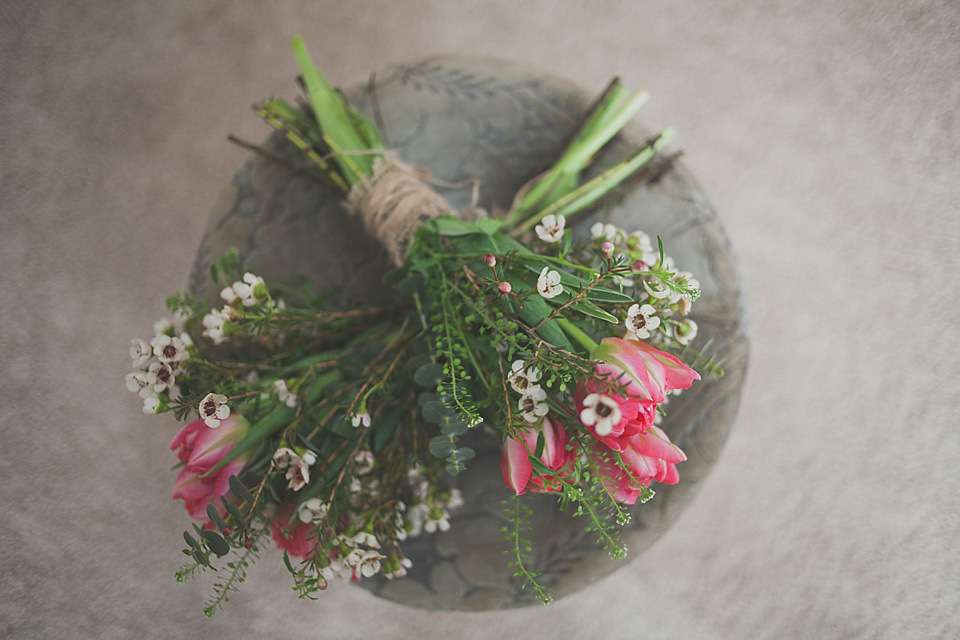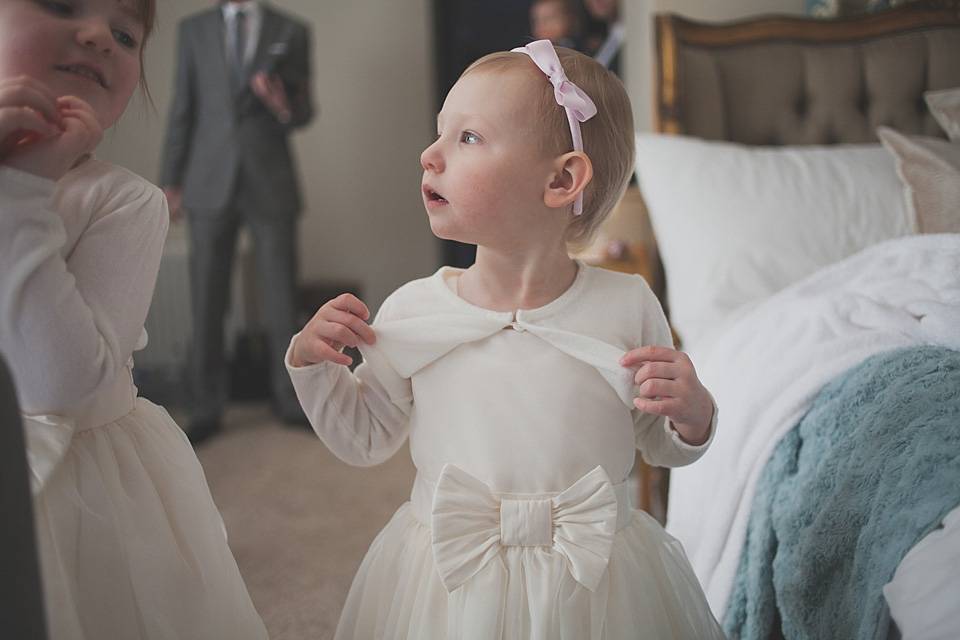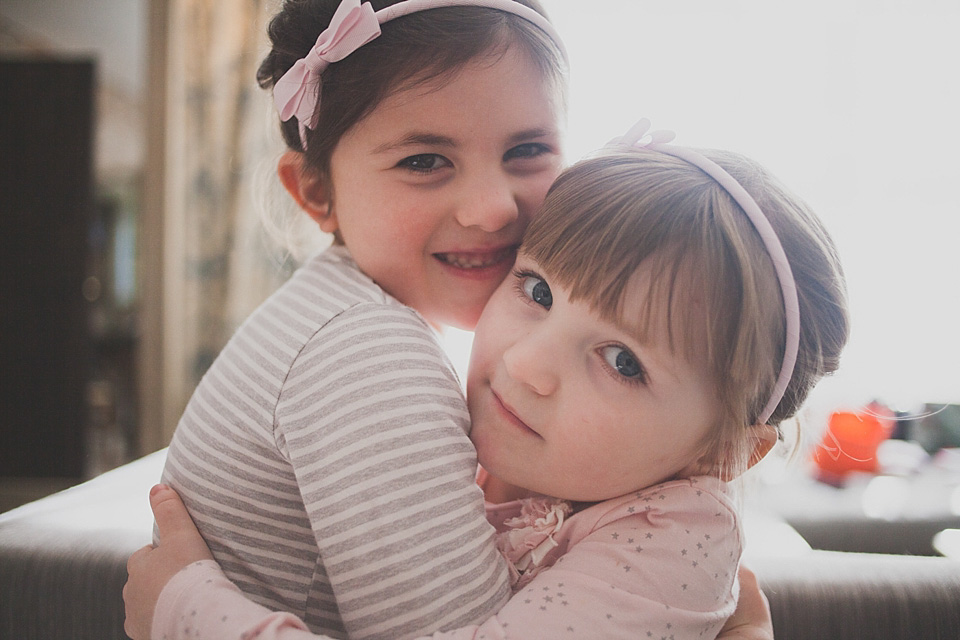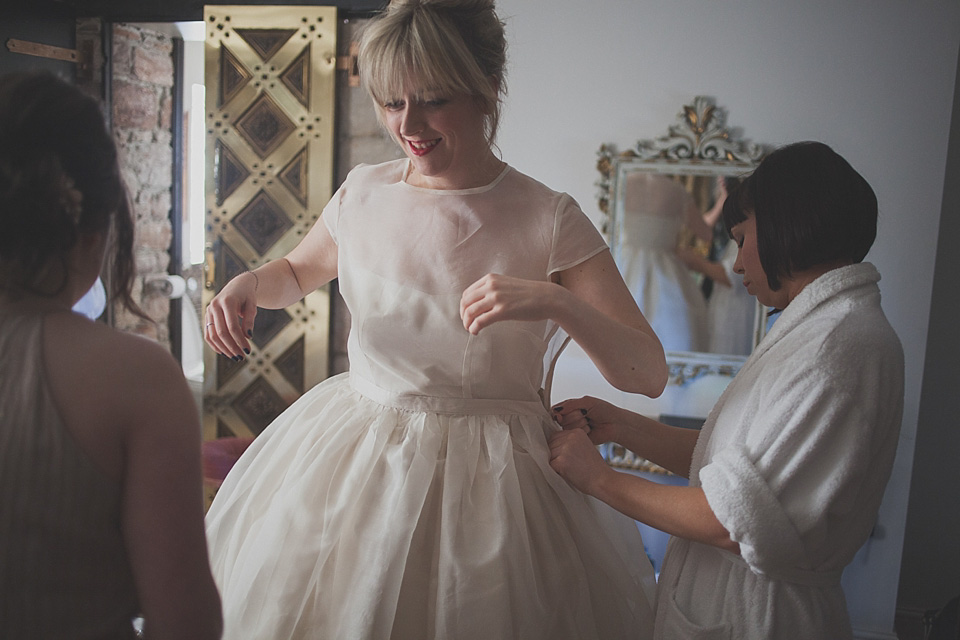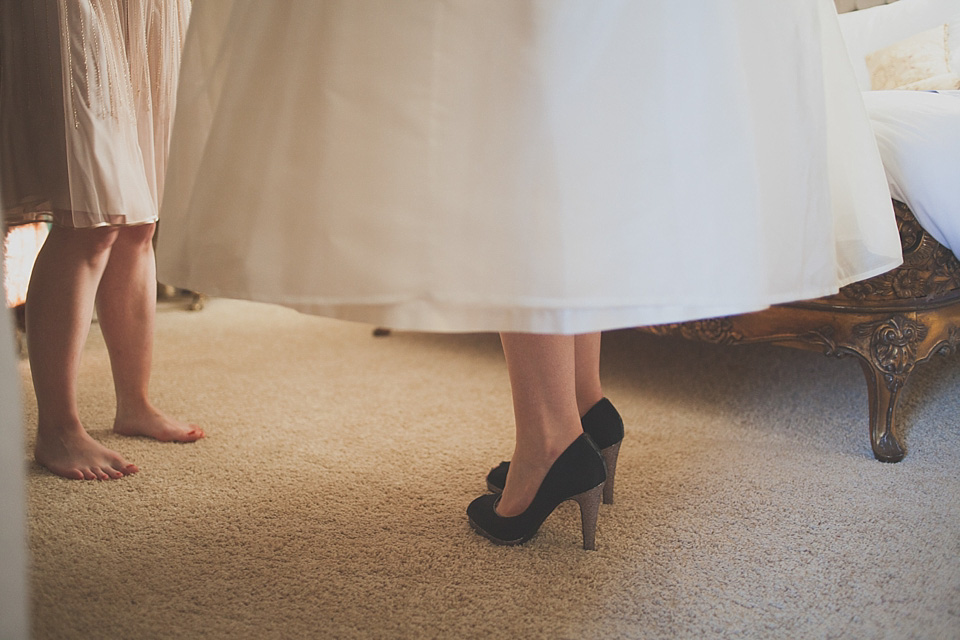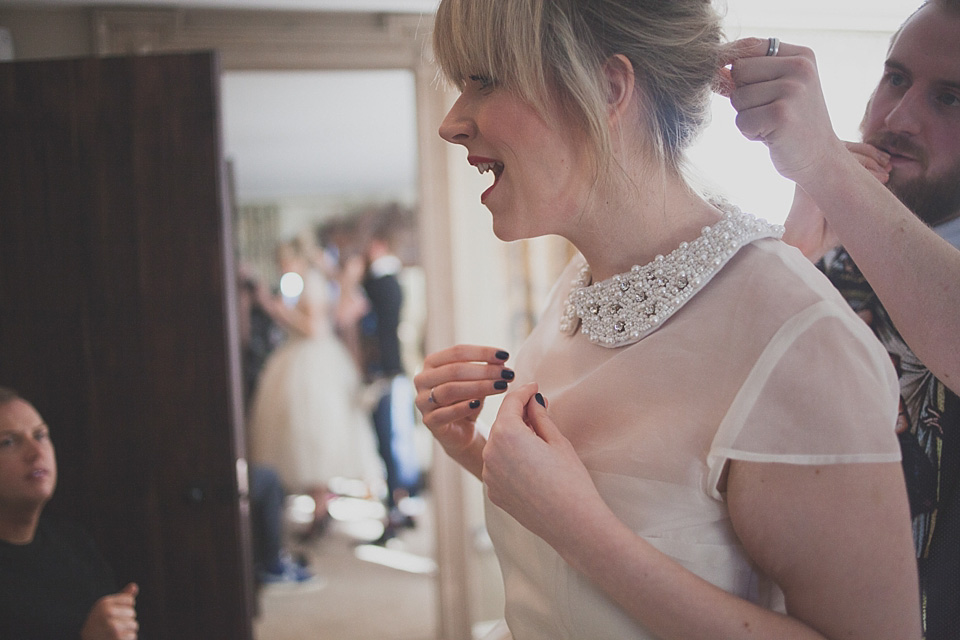 "The bow which was part of my veil was also made by Jayne Libertarian using fabric which was remaining from my wedding dress. Having this separate allowed me to remove the veil aspect whilst keeping something pretty in my hair."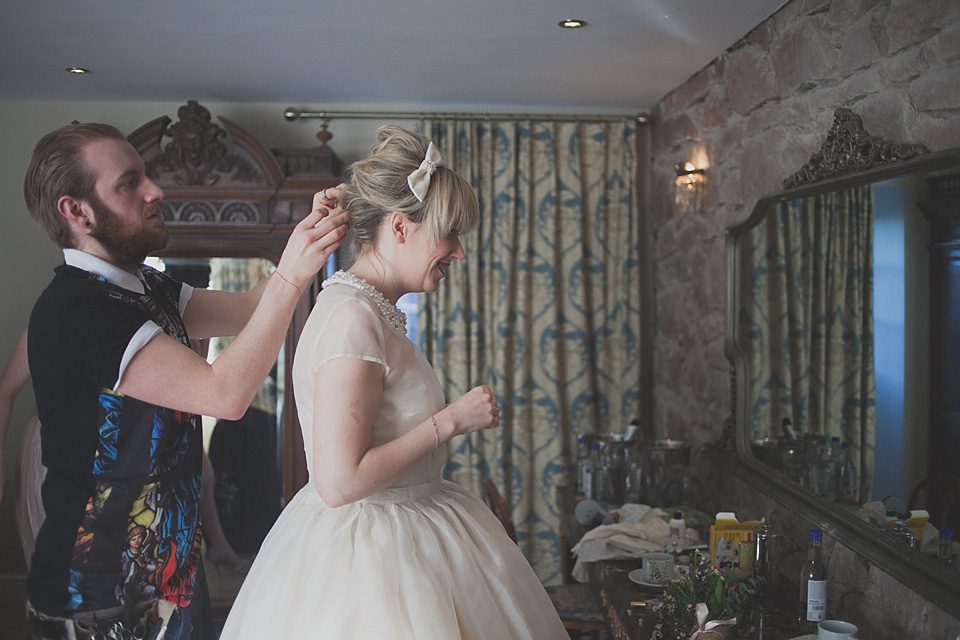 "I wanted a birdcage veil to fit in with my style of dress but was worried about just buying one from the internet then I remembered a fab lady I went to college with Jayne, who owns The Libertarian. I contacted her via Facebook and we had a chat about what I wanted and she made an awesome veil with separate bow. She has some amazing pieces"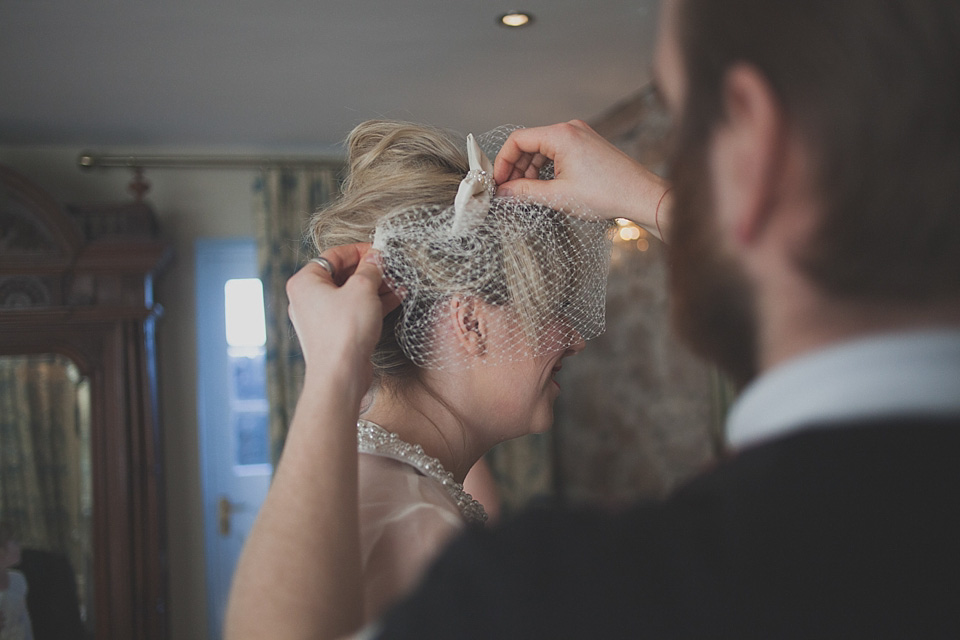 "I wore a simple silver heart bracelet which was a gift from Mark's parents. The beaded collar on my dress and the sparkle of my heels were enough bling for me! I kept my essentials in a lovely vintage blue clutch which was a wedding morning gift from my maid of honour."
"Mark chose his suit from Ted Baker not just for the colour but the lining as well! After searching for what seemed like forever Mark chose a wool waistcoat from ASOS the spotty tie was from French Connection, his shirt from Paul Costelloe and his brogues from Linea.
The best man wore exactly the same outfit as Mark and the groomsmen all wore spotty ties in grey rather than navy from French Connection."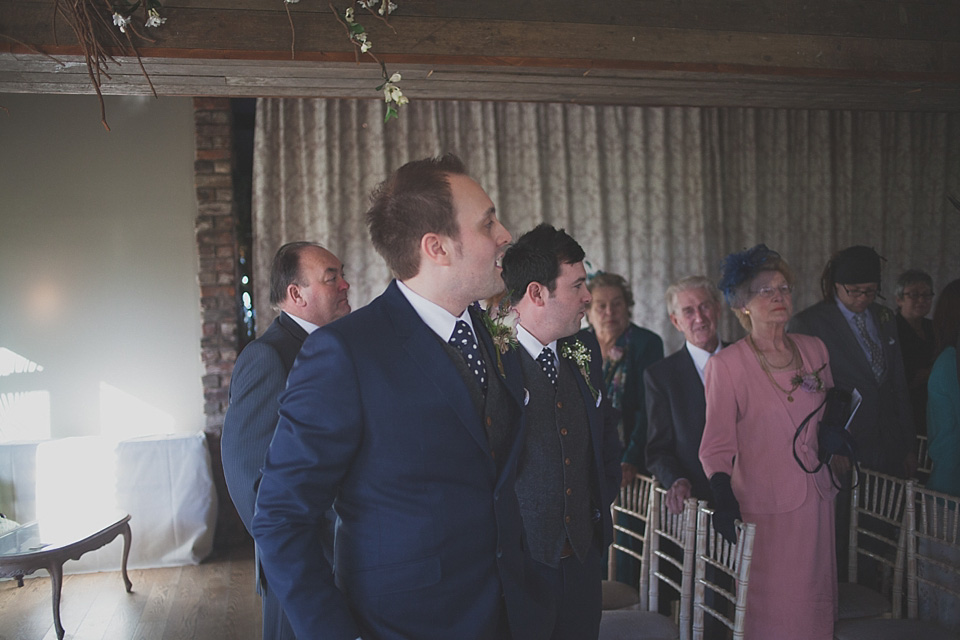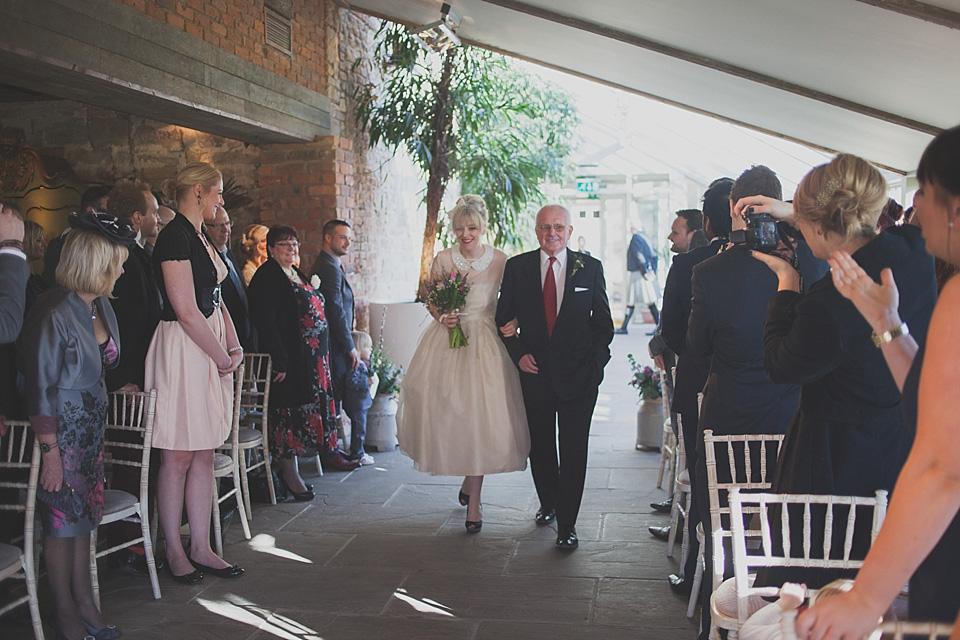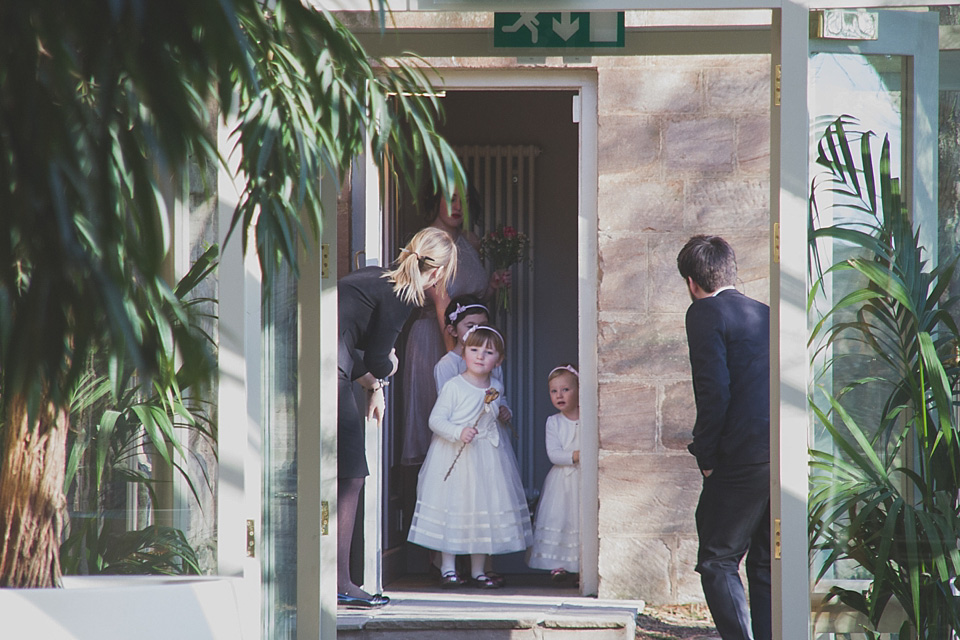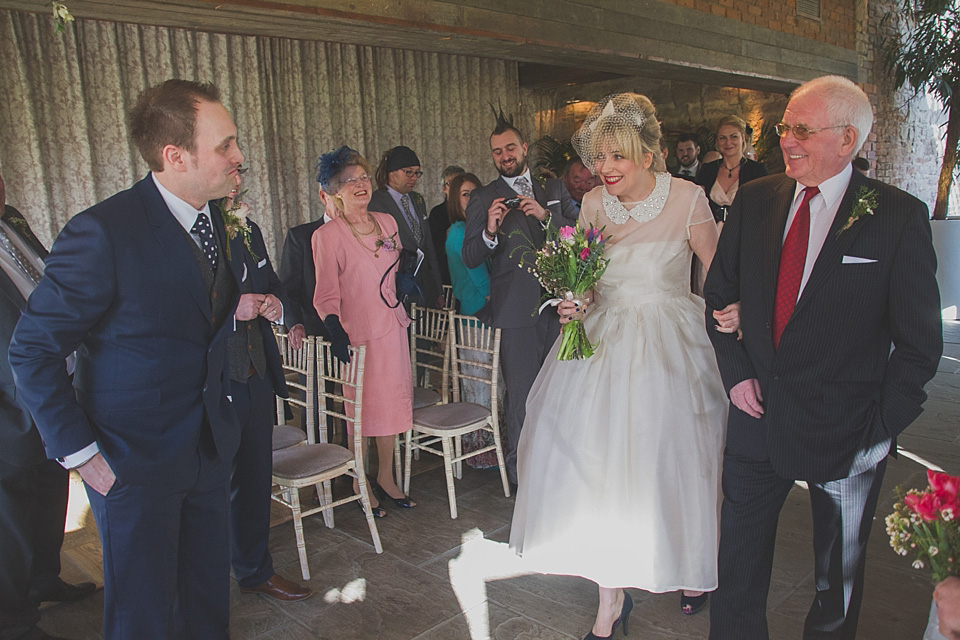 "Our rings were from Smooch.  We decided not to choose matching wedding bands but our own individually and without realising we chose almost the same! Smooch were great as they came out to our home to see us and gave us enough time to make the right decision. I chose a simple white gold band with a dip in the centre as my fingers are tiny and Mark the same but in a darker Palladium."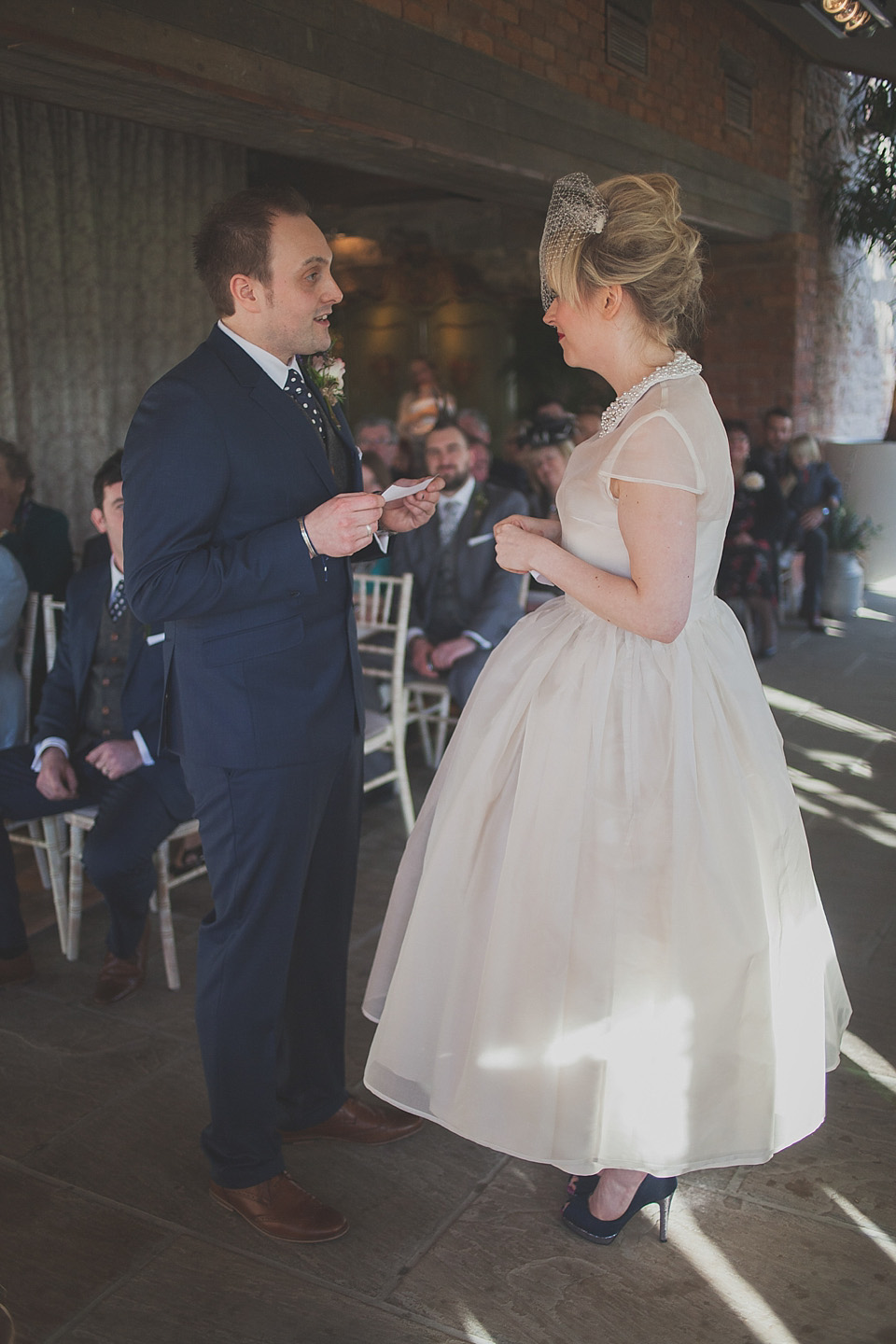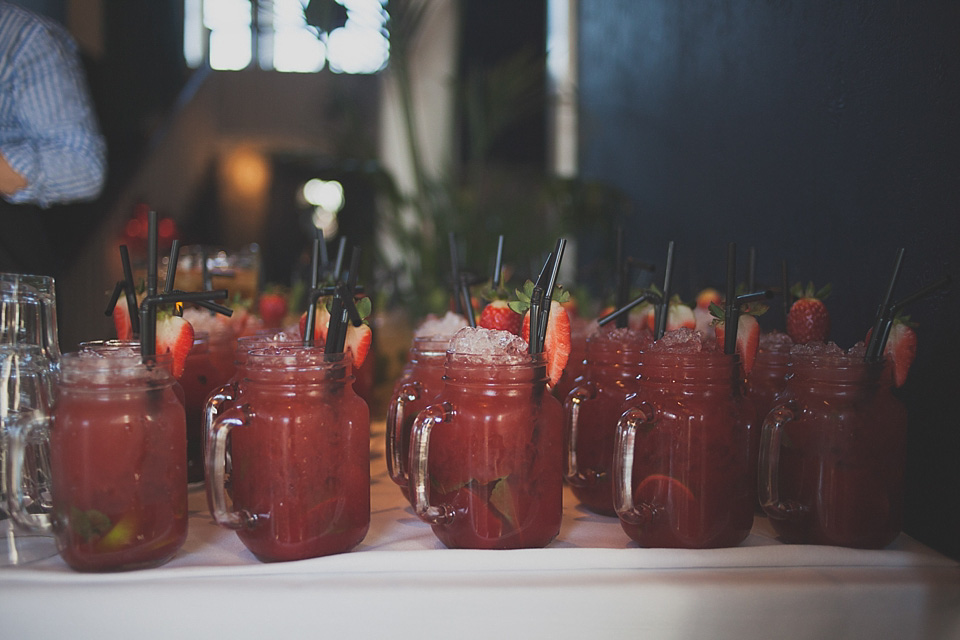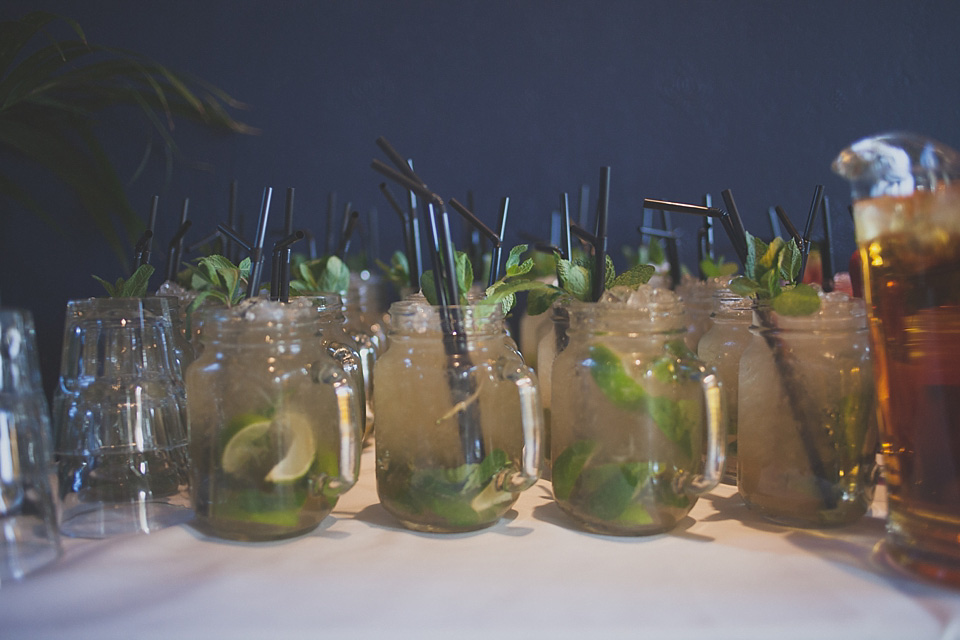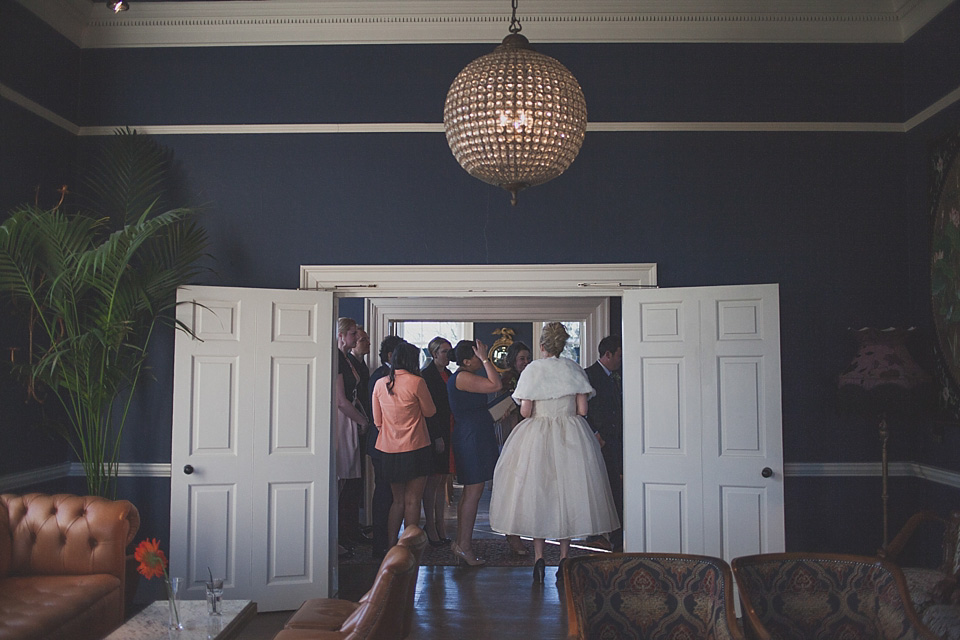 "My maid of honour shed a lot of blood, sweat and tears over our wedding cake. We wanted something simple which would taste delicious so went for a three tier cake with Chocolate, lemon and fruit cake layers covered in white icing.
The cake topper was a take on us from Love Bird Goods who have a shop on Etsy.  The wooden figures now have pride of place on our mantel."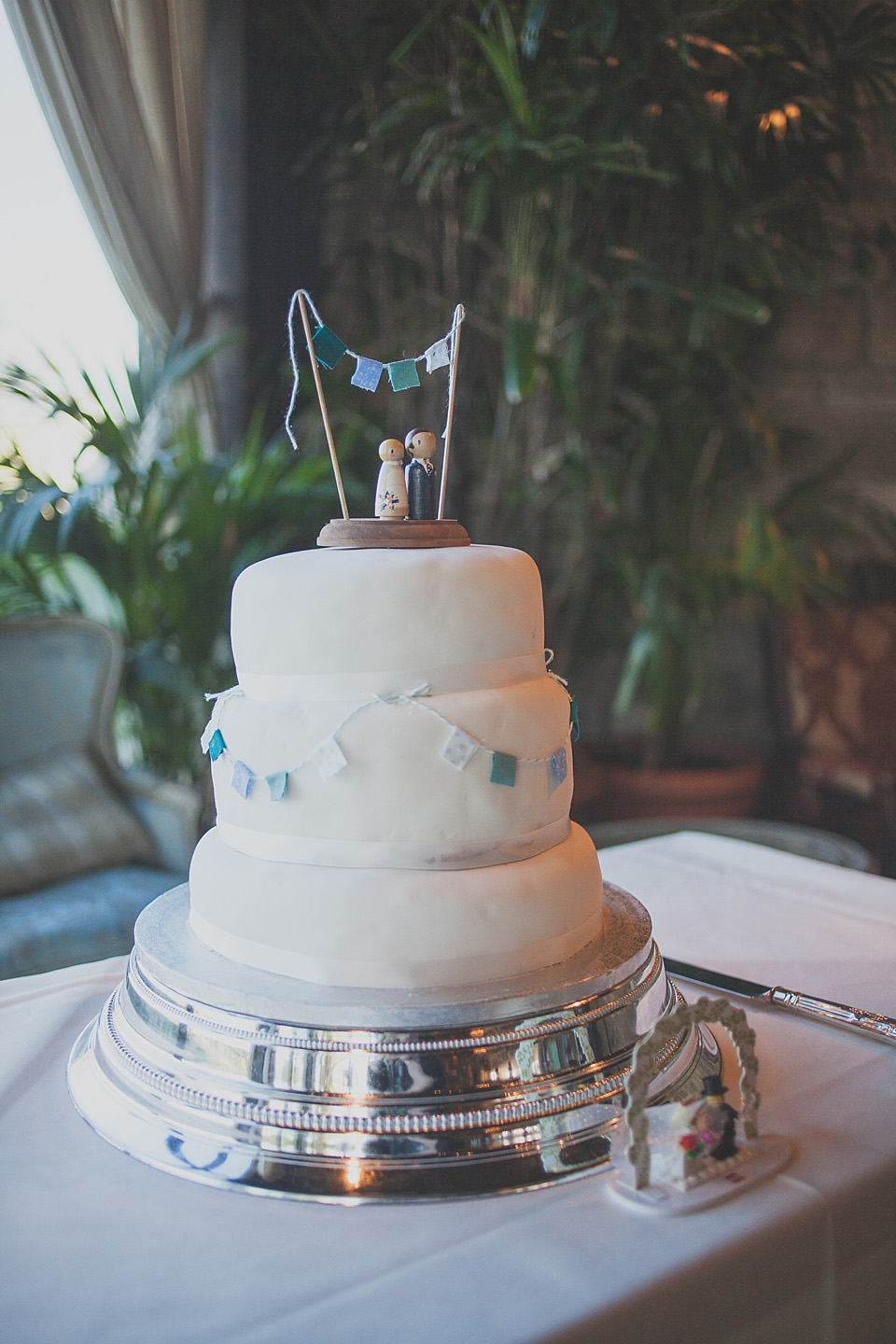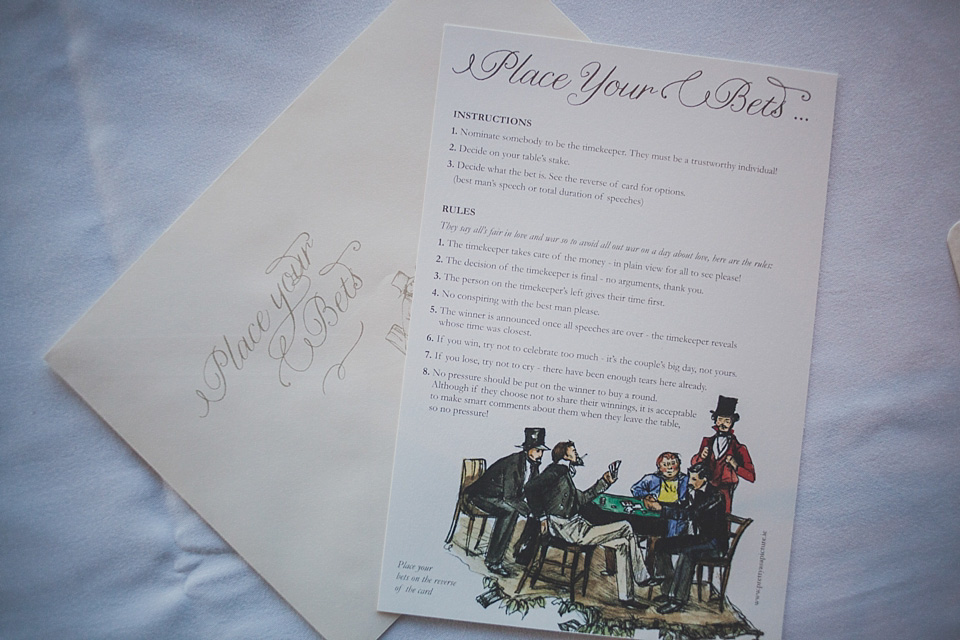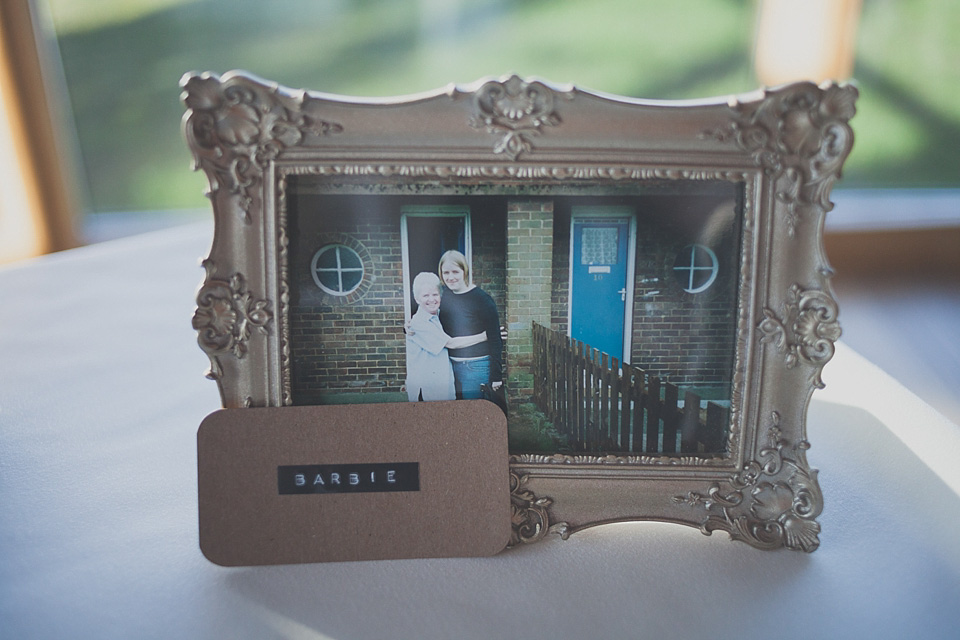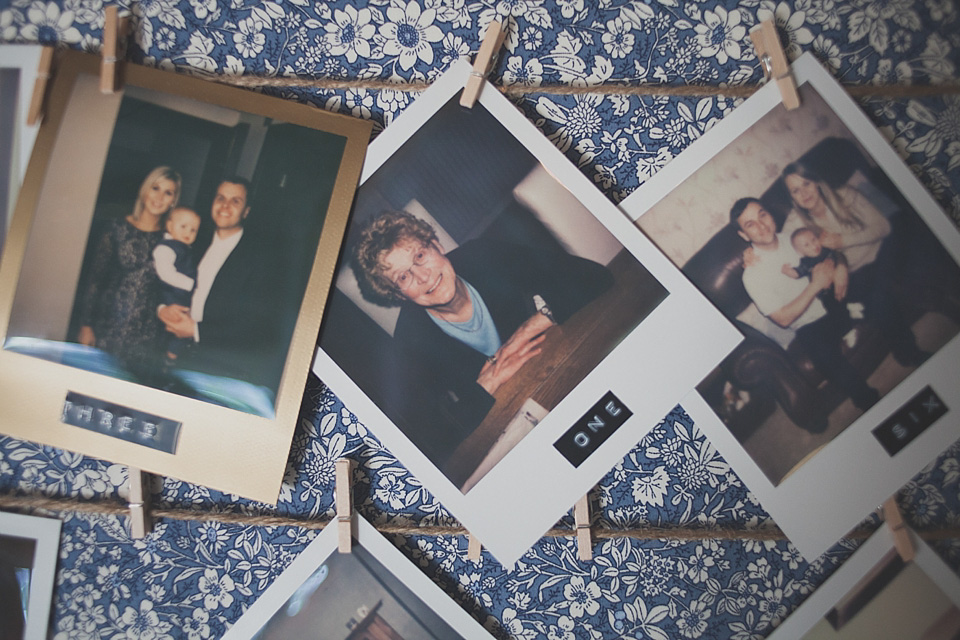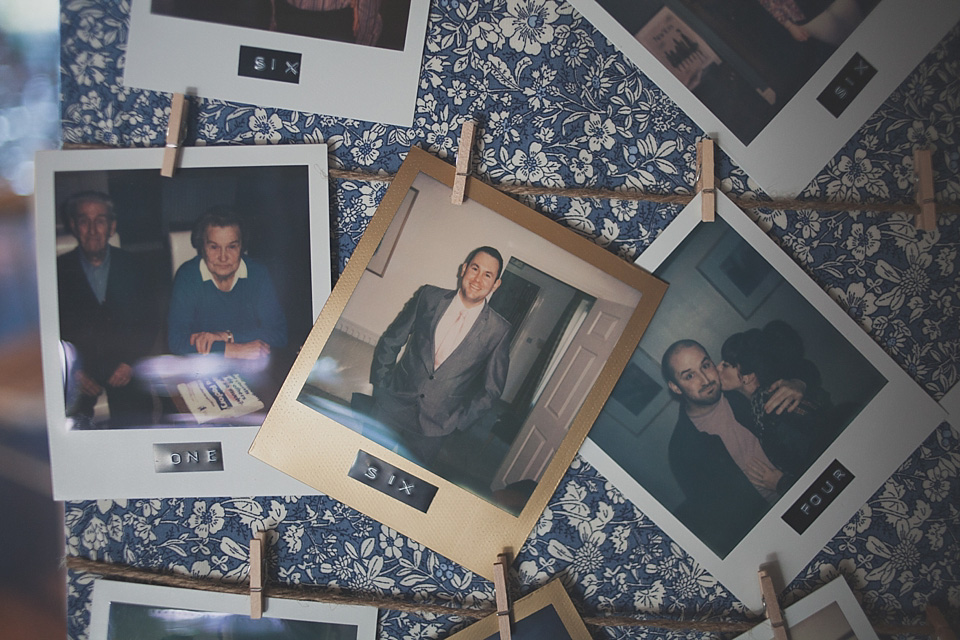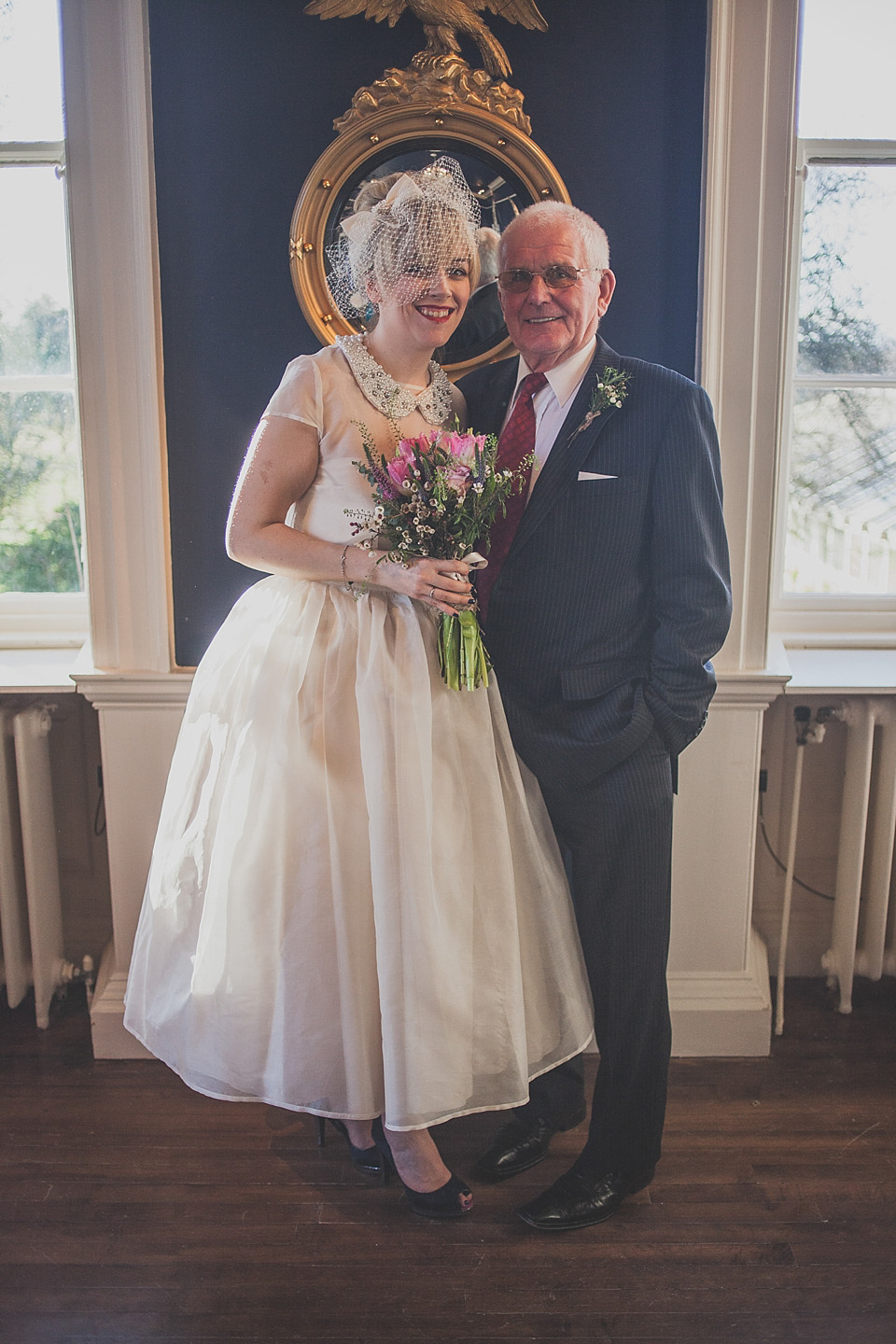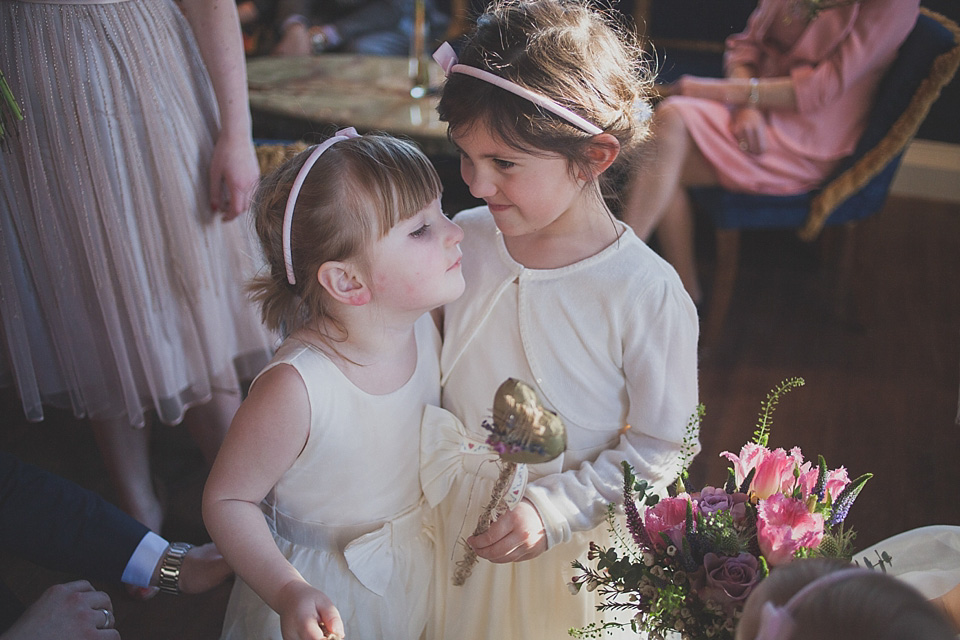 "We found the flower girl dresses at Tesco we wanted the little ones to have something they could move around in that were going to be comfortable but still with the 'princess' feel. Because of the wedding being in February we teamed them with some little cardigans from John Lewis and some gorgeous sparkly ballet pumps from John Lewis also."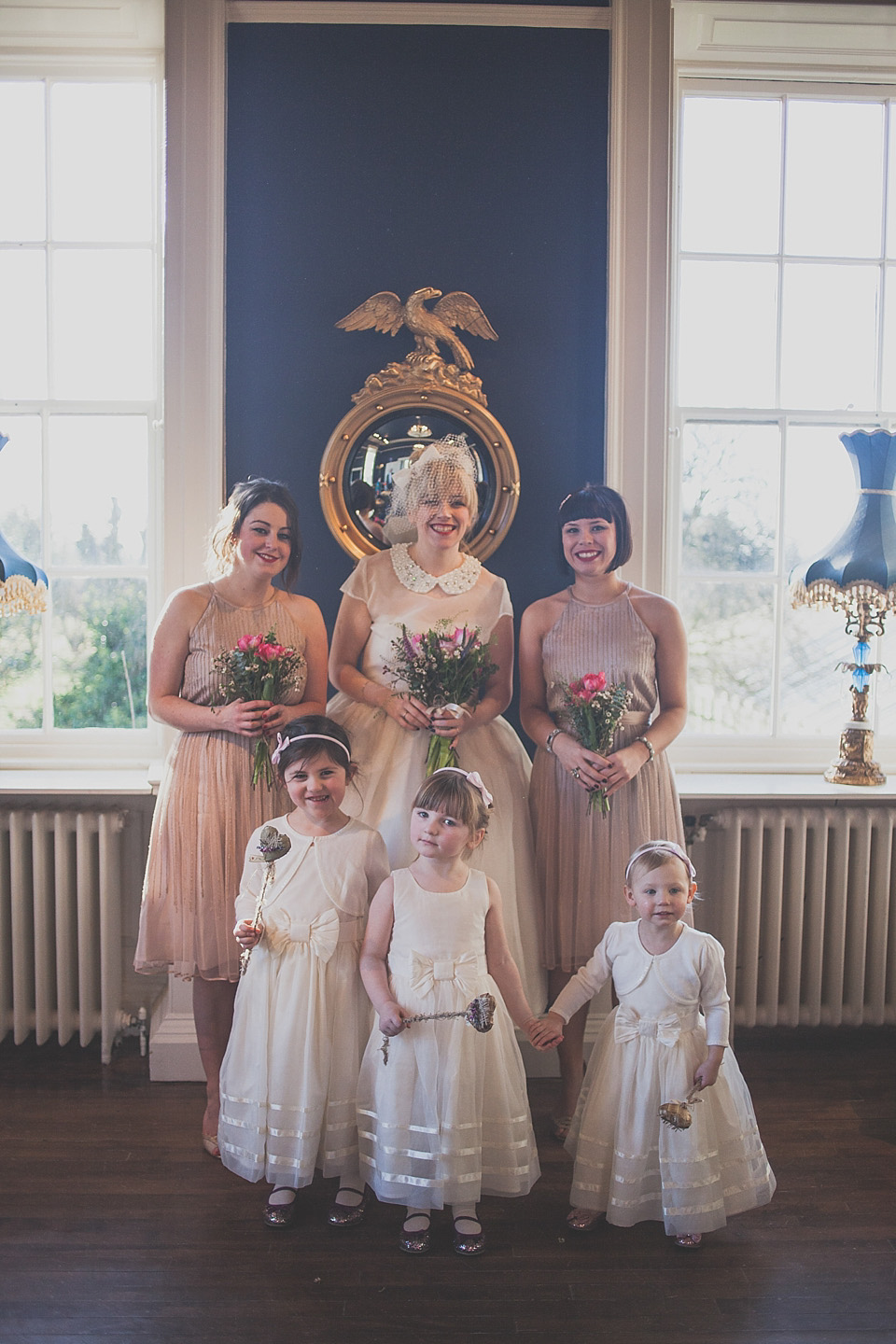 "We wanted the flowers to be the main focus of the tables so just used those and framed table numbers using an array of picture frames from Oliver Bonas along with the photo albums for the Polaroids. We also included a table for pictures of loved ones who couldn't be with us and added some old wooden boxes from our kitchen at home for cards and presents. Also an extra addition was a lovely knitted bride and groom by Kirsty's Nana and the Lego Bride and Groom Mark bought me as a gift."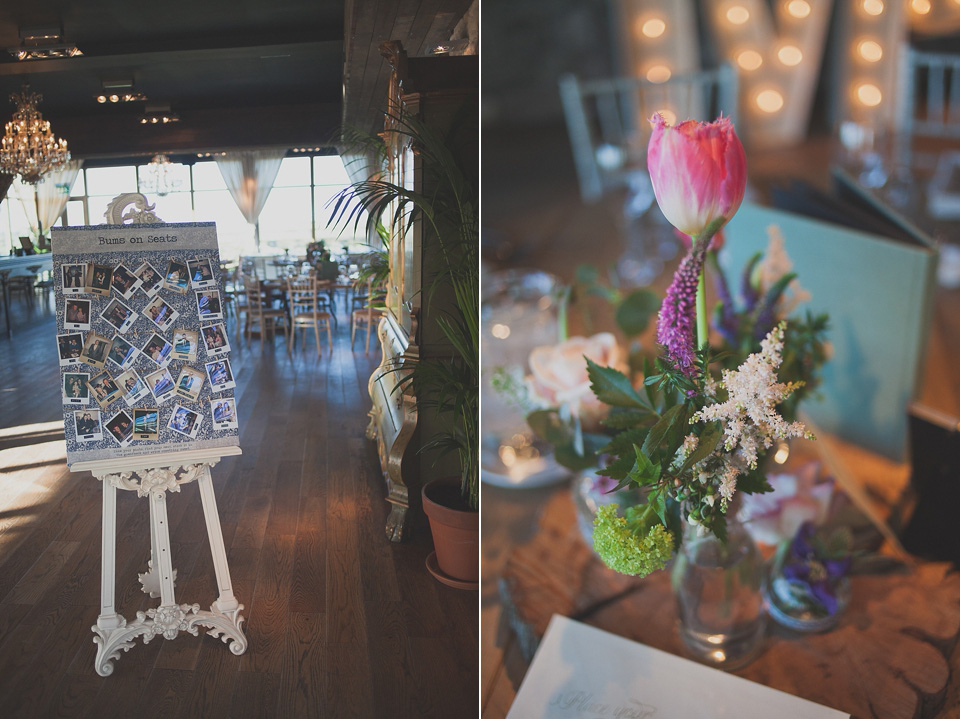 "The wedding invitations were telegrams from Personalised Occasions on Ebay. we also ordered personalised badges as place cards for our guests to get to know each other better from The Vow Wedding Boutique on Ebay."
"We used some awesome illuminated letters from Coco Luminaire along with their Snaparazzi Photobooth to add an extra element of fun to the evening. Ross who owns the company is a great guy. The letters looked amazing in the space we had and they were used at the end of the aisle for maximum impact."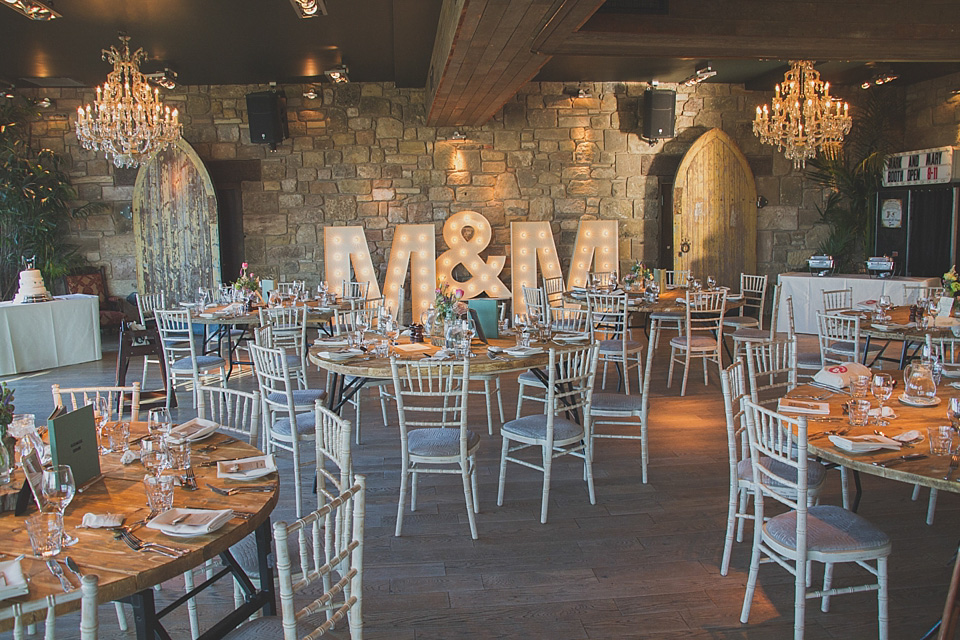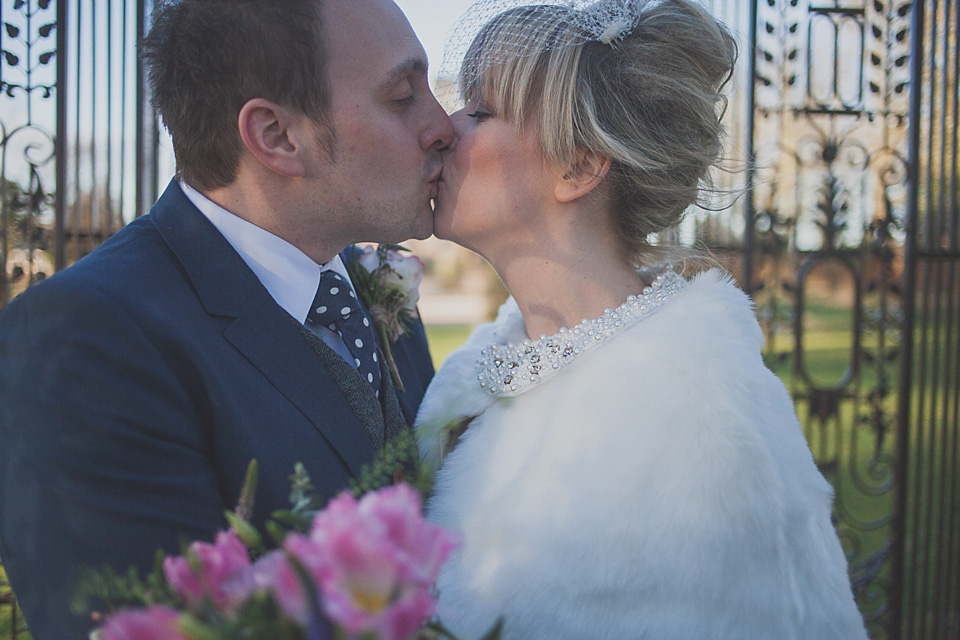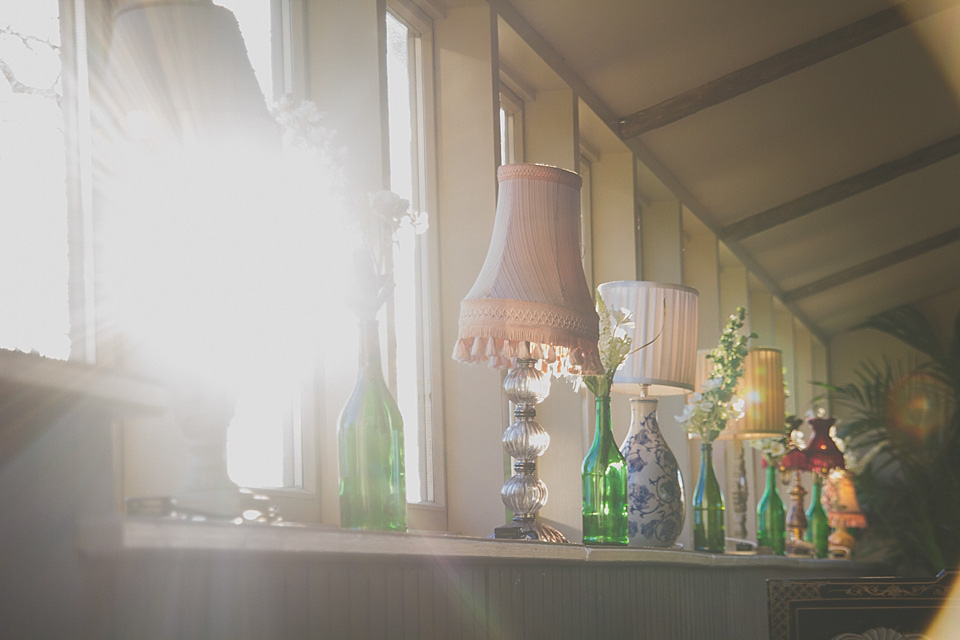 "We sourced some small cute muslin bags from Etsy and reproduced something that I'd seen on the internet 'A Little Bag of Happiness' Clare again contributed by folding 50 origami hearts for these (for which we will be eternally grateful) these bags included lots of lovely little things to make people smile. I sourced the various bits from eBay and the internet because we wanted something a bit different. For the little folk we got personalised small totes from Label Amour through eBay and filled them with crayons, stretchy dinosaurs and things to keep them busy. We also gave the kids a disposable camera each so they could take their own snaps."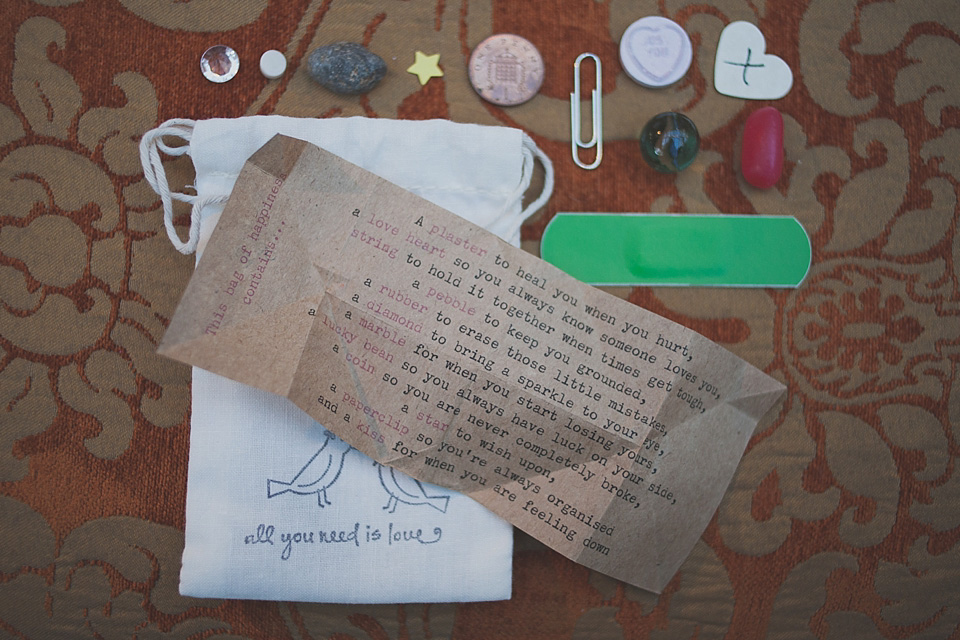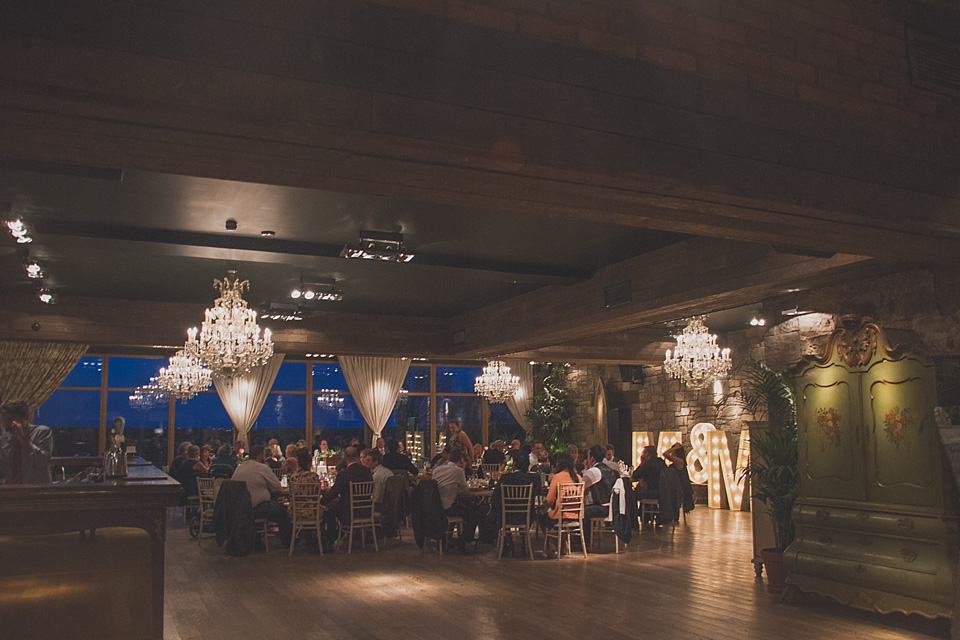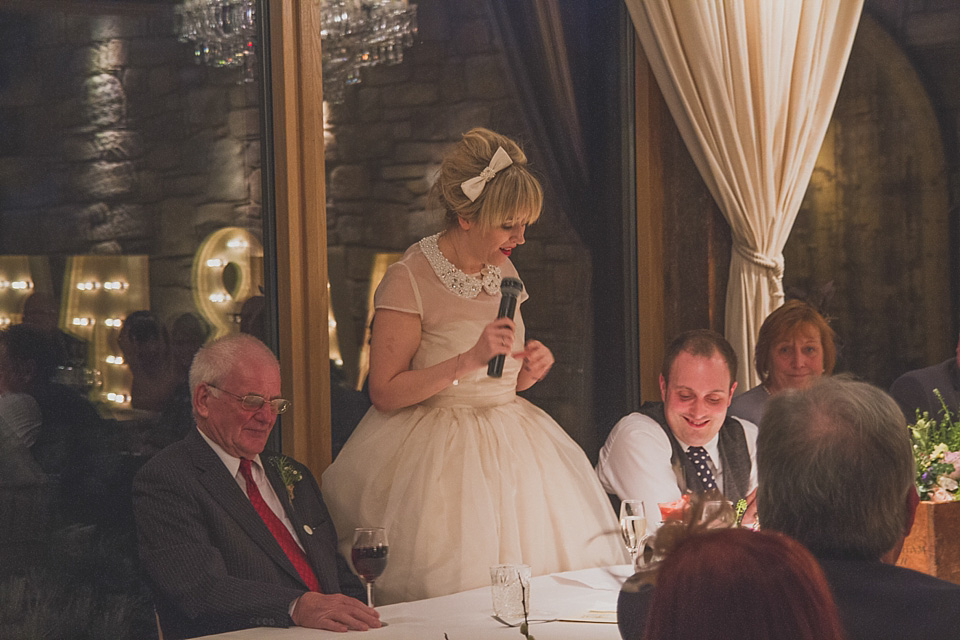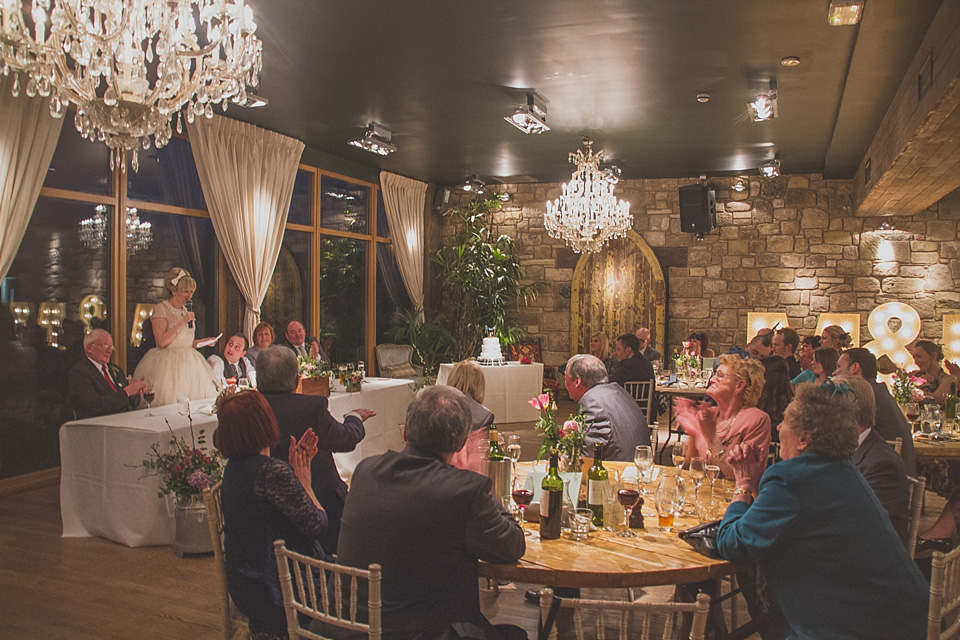 "Our first dance was to 'You are' by Estelle featuring John Legend. It wasn't going to be our original choice until quite far on in the wedding planning and then we were dancing to it in the kitchen and decided it was the one.
I loved the whole day and after lots of advice from friends about taking in the day I made a conscious effort to sit back and take in as much of it as I could. The sun shone all day after a week of rubbish weather and it made me felt like mum was there with us which was really reassuring. Just having all of our friends and family together in once place having such a lovely day was amazing. Seeing everything come together as well was ace; and of course finally getting married±"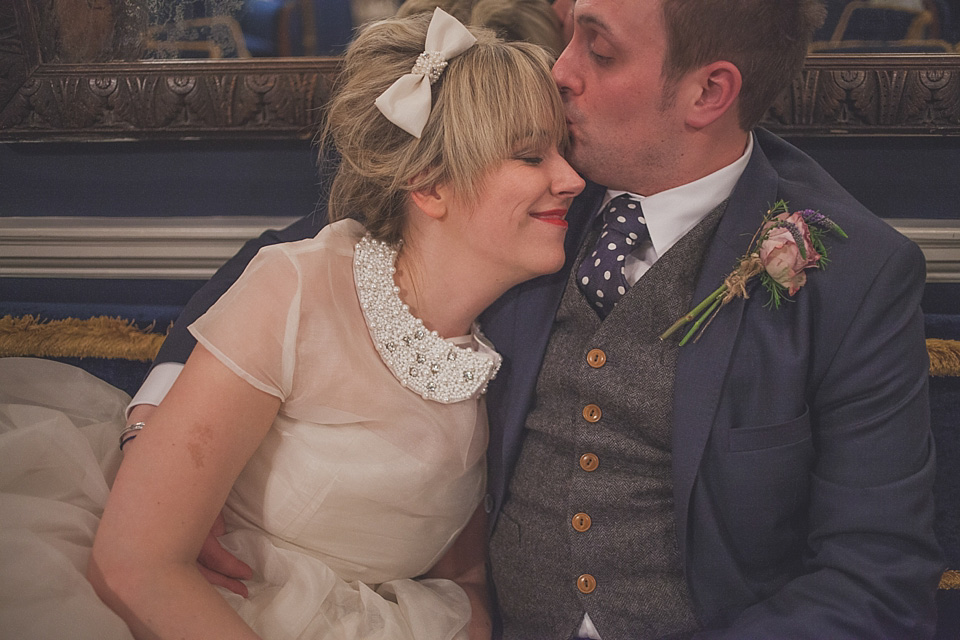 Words of Wedded Wisdom…
"Don't worry about trying to please everyone else, of course you want your guests to have the best time ever but they're there to be part of YOUR special day. Don't be afraid to go a bit out there, the memories will live on forever and don't drink too much tequila!"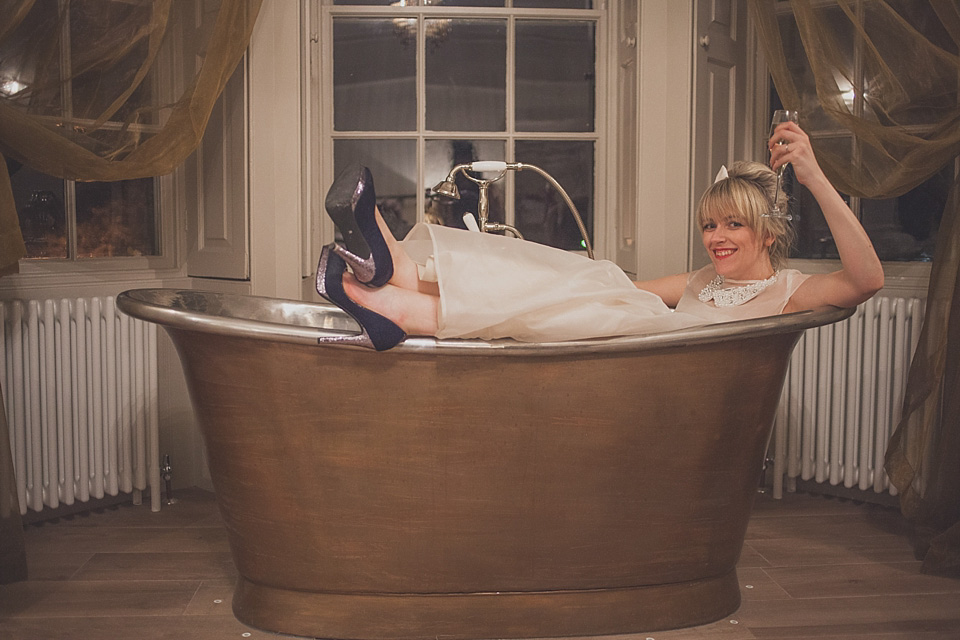 The sweetest wedding and that sweetest dress. Many thanks Sally T for once again sharing your work with us. And congratulations to you both Mark and Mary – it has been a pleasure to inspire our readers with your beautiful wedding day.
Love Annabel
Photographer – Sally T Photography
Venue – Newton Hall in Alnwick, Northumberland
Dress – Rebecca and Marie at Smith and Downes
Headpiece – The Libertarian
Shoes – Shoes of Prey + Kurt Geiger
Grooms Suit – Ted Baker
Bridesmaids – Coast + Faith shoes + headpieces via Accessorize
Flowergirl Dresses – Tesco + cardigan via John Lewis
Florist – Eliza Blooms Darlington
Cake – The Maid of Honour
Rings – Smooch
Stationery – Personalised Occasions on Ebay
Hair Stylist -Hair Stylist – Nick Holmes Makeup Artist –
Illuminated Giant Letters – Coco Luminaire
Photobooth Hire – Snaparazzi Photobooth
Follow Love My Dress® on Google+