When we asked you recently what you wanted to see more of on Love My Dress®, your reply was a resounding 'more DIY features please!'. We took note and and we responded – and I really hope that you have been enjoying our recent DIY tutorials.  Today, Claire May Sankey the lady behind Essex based bespoke wedding florist, Lily and May is going to teach you how to make your own flower crown.  It's a matter of fact that I adore floral crowns – I think the first flower crown we featured was probably this one back in 2011 and I've been smitten ever since.
Good luck with this tutorial everyone, I'd really love to see the fruits of your floral labours on Instagram! Remember to use the hashtag #lmdfloralcrown if you do.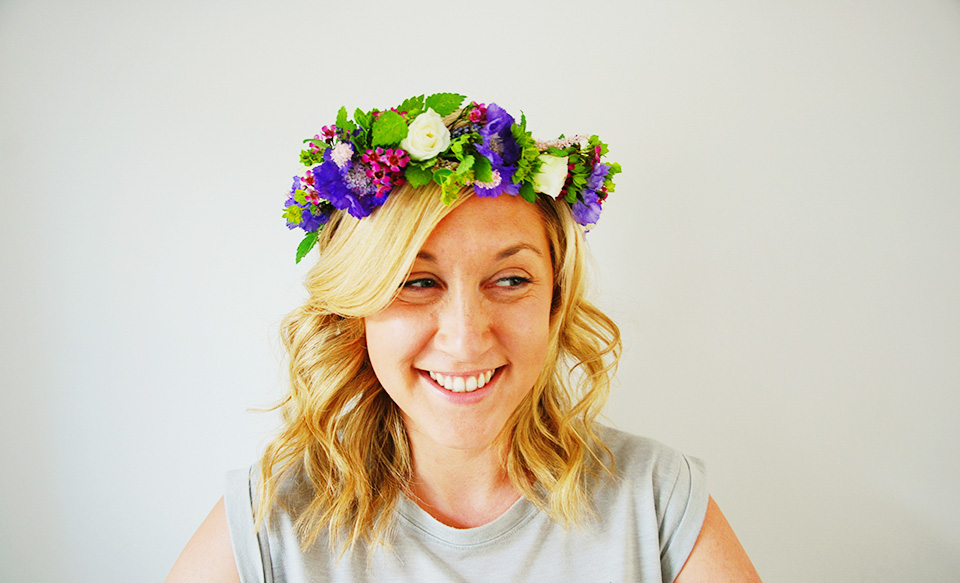 At Lily and May we love floral crowns and love any opportunity to adorn our hair with flowers. Although this tutorial is designed with weddings in mind, I'm sure there are many other occasions we can all find an excuse to wear a floral crown.
There are many ways to create a crown, although sometimes wiring is used on each flower before placing on the crown, we have decided to show you an easier way which means previous experience isn't necessary. If you would like to know more about wiring individual flower heads please see our buttonhole tutorial.
So here it goes……
If you are familiar with our work you will know texture playa a big part in our designs, therefore you will notice we have used a large selection of flowers in this crown. Choosing less flower materials can be just as effective.
Materials required:
Flowers used: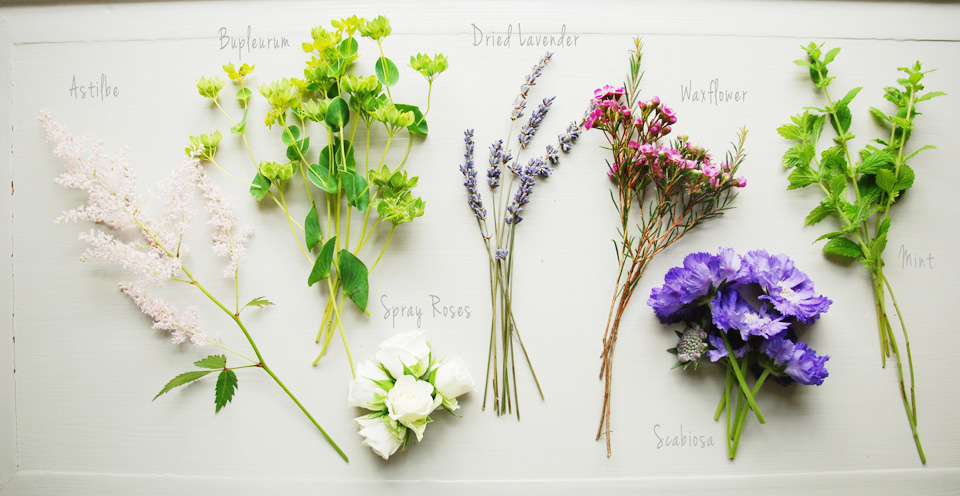 To begin with ensure you know the measurement of your head so the crown can be made to the correct size.
Hold the two 90 gauge wires together so they overlap and using your florist tape, secure the two wires together. Once this is taped and secure, use the tape to cover the remainder of the two wires. Twirl the wire while stretching and pulling the tape downward. The tape should be tightly wrapped around the wire.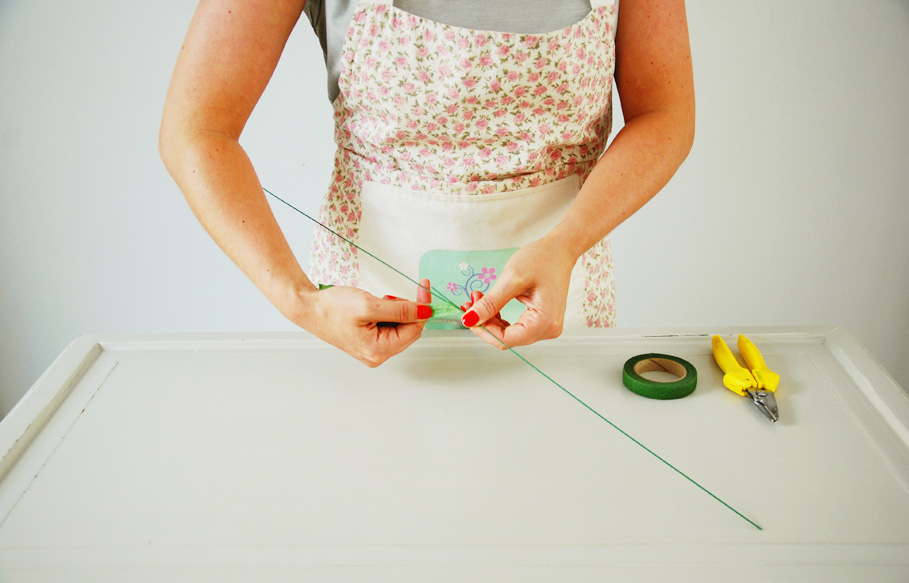 This will result in one long taped wire, using the measurements ensure your wire is the correct length; make sure extra is left either end (around 3 cm) to bend the wire back for the ribbon.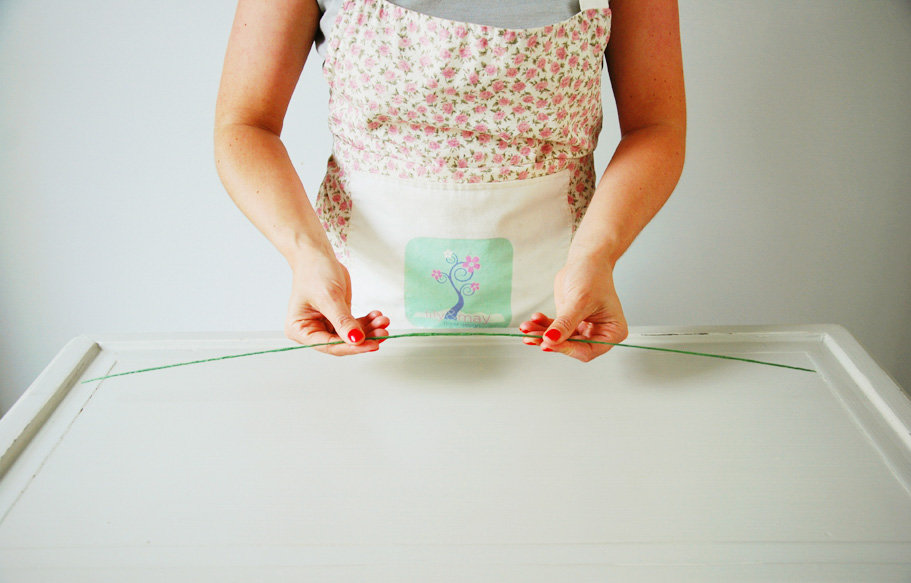 At each end of the wire, bend the wire back onto itself to make a loop (ribbon will be secured to this at the end), using the florist tape secure the loop in place. Repeat this on each end.
Now shape your wire into a circle: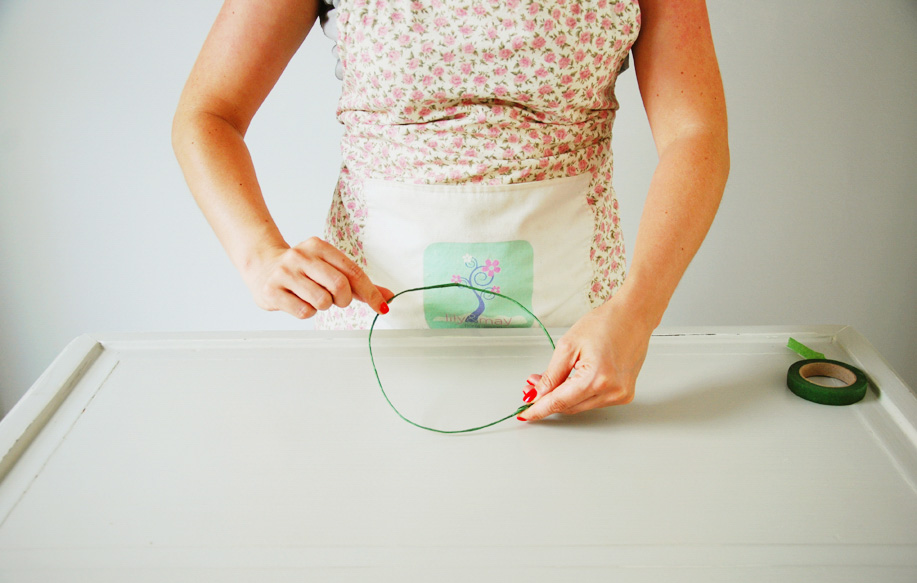 You are now ready to add your flowers. Cut all the flowers so the stem is around 2-3cm long. You may wish to lay your flowers on the circlet first to work out where the flowers will be placed.
Take your first flower head or foliage, place this at one end of the wire (starting as closely as you can to one of the loops you made earlier). Each flower will need to be facing outwards, using the florist tape, secure the flower onto the wire by wrapping the tape around the stem and the frame, ensure the tape is pulled tightly as you tape.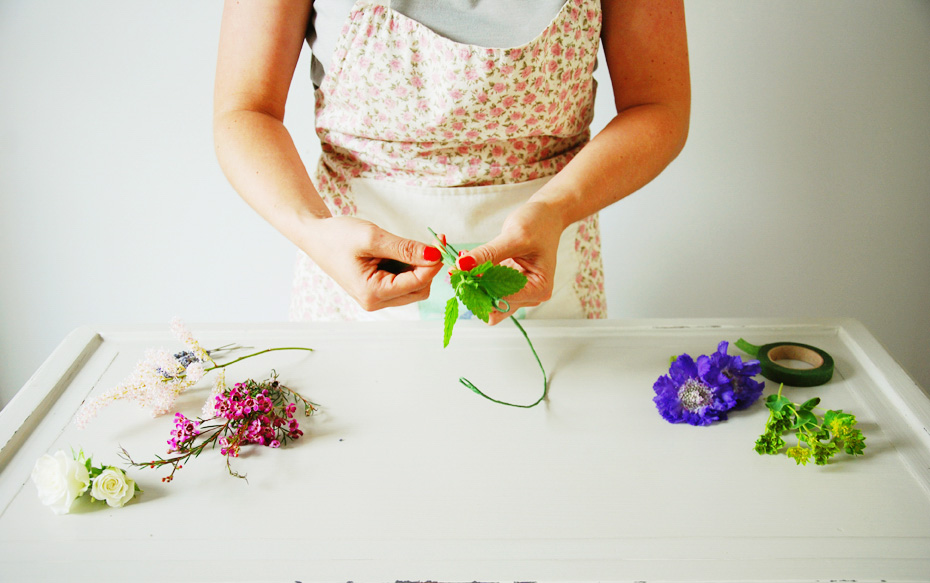 Once the first flower is secure place your second flower onto the wire, try to ensure this overlaps the first ever so slightly to prevent any gaps.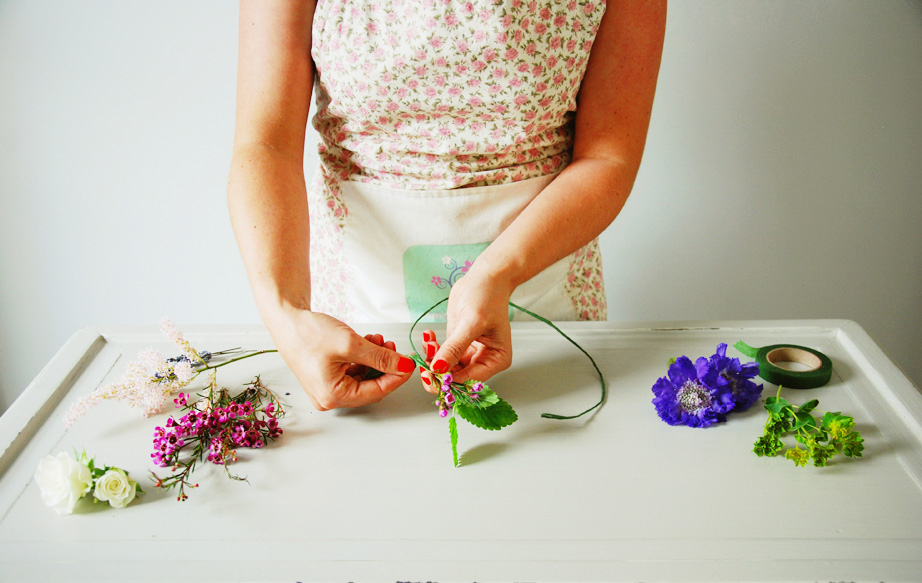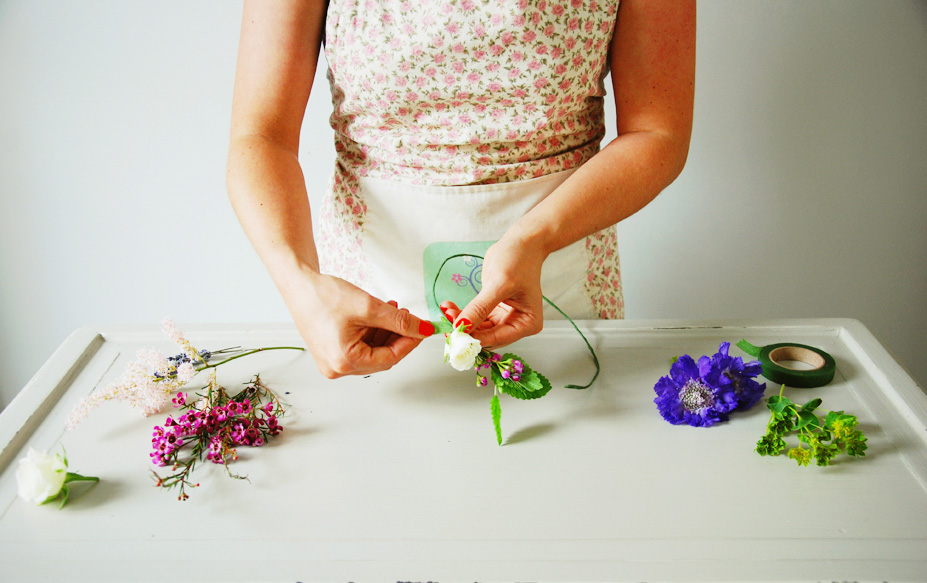 Continue this process of travelling around the wire and taping your flowers until you have reached the end.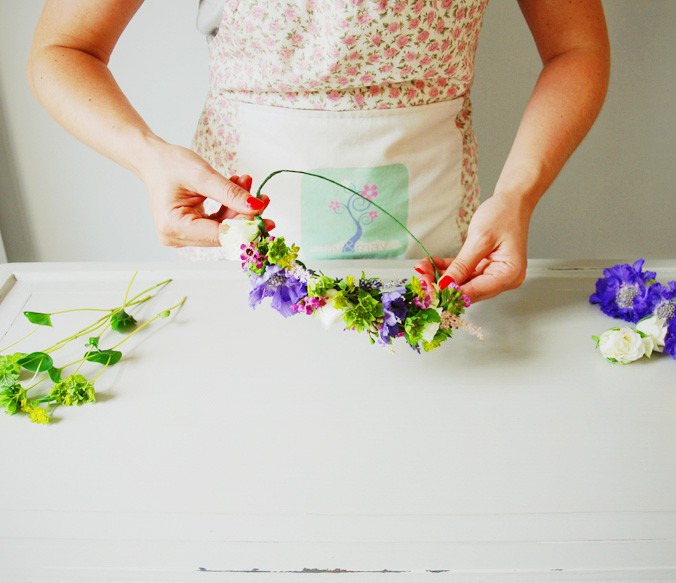 Once you are happy that the entire circle is covered with flowers, you are now ready to attach the ribbon. Simply cut your ribbon into two lengths and tie each ribbon onto both loops .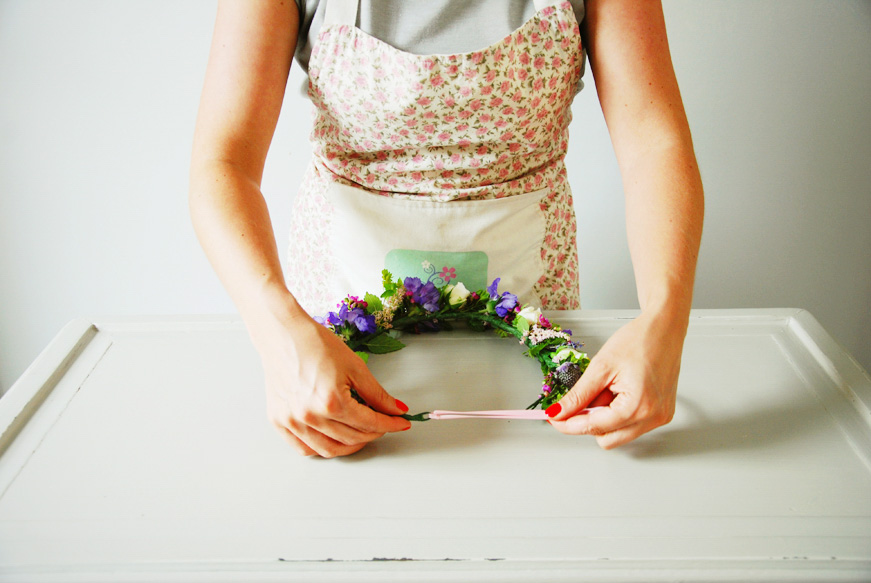 This enables the crown to be made slightly bigger or smaller if you wish as well as adding some extra prettiness!.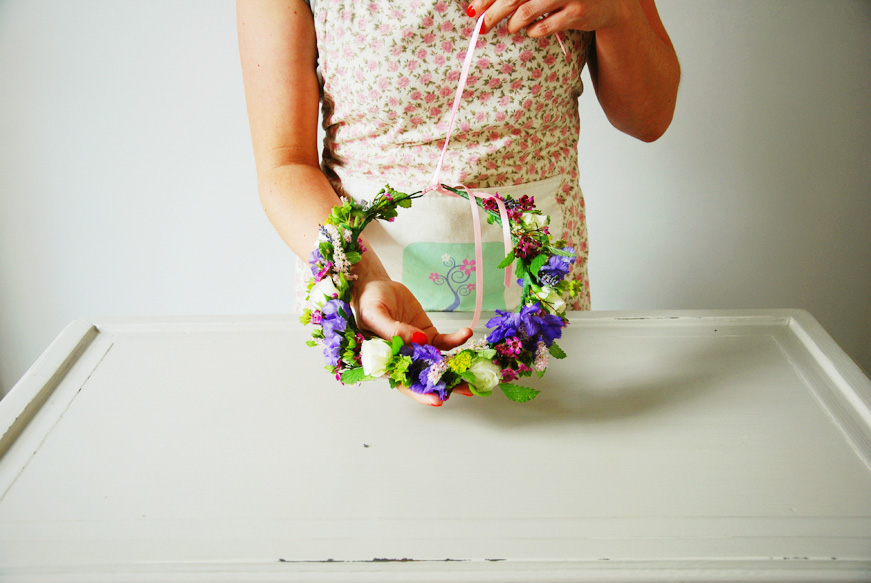 And voila, you now have a flower crown!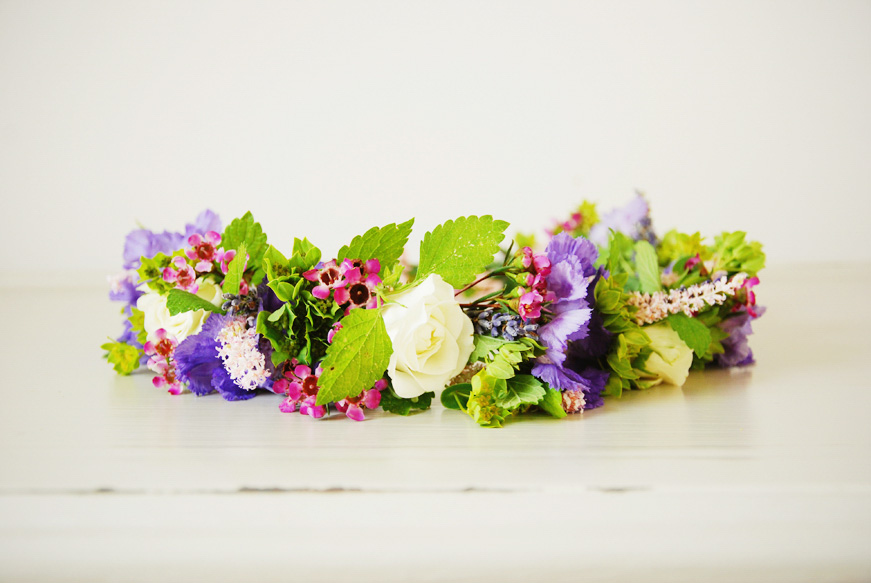 I hope you have enjoyed this tutorial and I would absolutely love to see your floral crown DIY attempts! Use the hashtag #lmdfloralcrown when posting to your preferred social media platform. I suggest Instagram!
Love Claire
Claire May Sankey is the leading lady behind Essex based florists, Lily & May.  You can contact Lily & May via telephone on 07866 – 718147 or email [email protected].   You can also find Lily & May on Facebook and Twitter.
Follow Love My Dress on Google+