Hello everyone! Have you had a chance to pop by our discussion post of this morning yet? We're tackling the tricky issue of 'falling out of love with your wedding dress'. It happens, we know, and we're here to advise you what to do if it happens to you.
This lunch time's real wedding feature is Tora and Geoff, who married on a gloriously sunny day last June in West Sussex. Their reception was held in the beautiful setting of West Dean Gardens, where they had the flexibility to create the relaxed open-air celebration they envisioned. This is a super classy and elegant wedding.
"Geoff and I met at University and always stayed in touch. We got together about ten years later whilst Geoff was working in Norway and I was working in Manchester. A long distance relationship was fun (with some great holidays!), but got even better when Geoff proposed during a trip to Italy. He asked me to marry him on a hilltop overlooking Florence. We were married just over a year later and now live together in Norway.  
We wanted to be married in spring but we didn't have a particular style in mind other than for the celebrations to be relaxed and outdoors as much as possible."
Photography Copyright (c) 2014,  Betti Confetti Photography
"We chose Westbourne church because it is in the village where I grew up and where I was christened. We both love the South Downs and really wanted an outdoor wedding (weather permitting!). Lots of venues we looked at were very prescriptive but West Dean Gardens gave us the location and flexibility that we wanted. We used to go on picnics there when I was small and I always thought the gardens were really magical. They used to have a dragons grave, but sadly that has since disappeared!"
Those very elegant pale green dresses are from John Lewis.
"Our Photographer Gemma at Betti Confetti Photography was brilliant right from the start. We'd seen her photos online and really liked the relaxed feel to them that seem to capture the joy and celebration of a wedding. Gemma is so friendly and helpful and really made us to feel at ease. We also really liked it that she just got on with the job of taking photographs without disrupting the day too much.
All of the photos were ours to keep, which was a big factor in choosing Gemma and we are delighted with all of them!"
Geoff surprised Tora on the morning of the wedding by sending her a beautiful pair of earrings. She wore the earrings with her great grandmother's necklace, her 'something borrowed'. Tora also had Rachel Simpson shoes which perfectly complemented her stunning Jenny Packham beaded gown.
"I tried on lots of lovely dresses, all of which would have been fine, but I was really looking for something other than a strapless dress. When I saw the Jenny Packham dress hanging in the shop it looked so amazing I just wanted to try it on. Once it was on, that was it. Not what I had imagined at all, but I just loved the cut of it and all the beautiful beading."
"Full Bloom in Chichester provided the flowers. Meera and Rosemary were so helpful and knowledgeable and were even outside the church after our wedding ceremony to congratulate us!"
"My wedding ring is made from my grandma's gold wedding ring twisted together with some new rose gold to match my engagement ring. I love knowing that my wedding ring is partly hers, and it was important for me to find a jeweller who understood that and Timothy Roe in Chichester did a great job. Geoff got his wedding ring from Otteren in Stavanger, Norway."
"One of my favourite parts was driving to the church with Dad. It was such a beautiful day, it felt so peaceful and everyone was smiling and waving. Once we got to the church I realised I'd left my bouquet behind and we had to beat a hasty retreat and go and fetch it! Luckily it wasn't far to go and it was quite funny to see peoples bemused faces as I got back into the car with dad! Of course, the best bit of all was marrying Geoff."
"During the ceremony one of my oldest friends read 'Oh, the places you'll go!' by Dr Seuss. It seemed to sum us up pretty well!"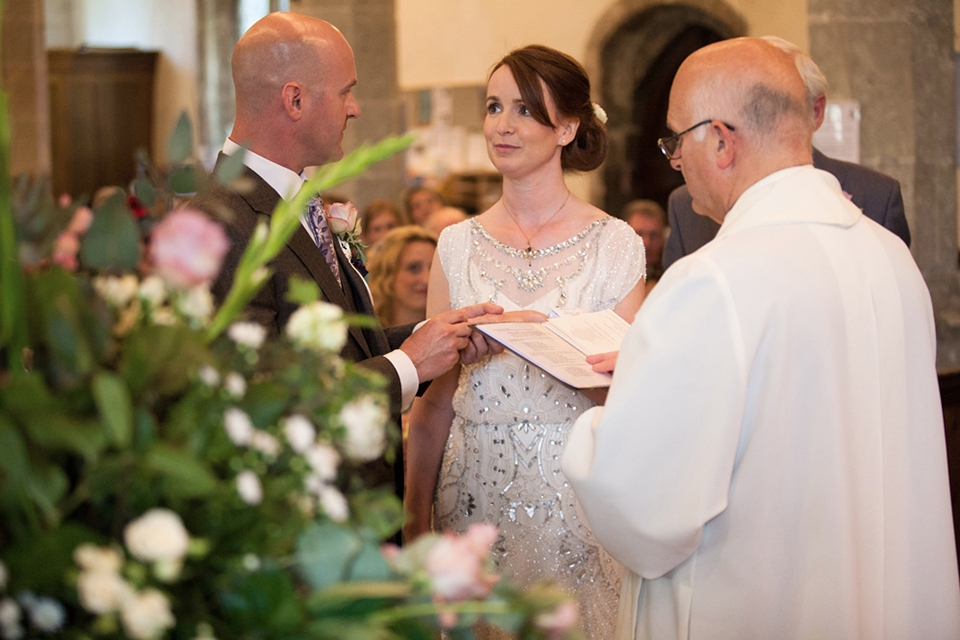 Tora has a very creative family! Her cousin designed their invitations and her mum made the gorgeous wedding cake. Doesn't the bouquet of fresh flowers on top look wonderful!
"My clever mum made our beautiful wedding cake, it was perfect! I accidentally stuck my elbow in it while trying to help move it, but we managed to cover it up pretty well I think!"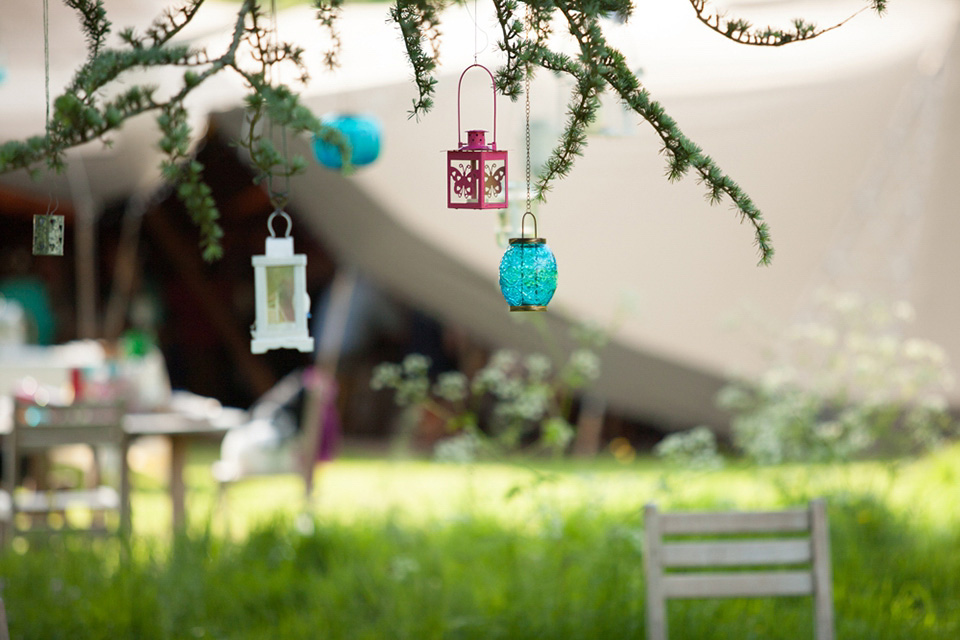 Thank you so much to Tora and Geoff for sharing their day with us. Tipi weddings are an excellent way to have an indoor/outdoor wedding and didn't they have the perfect weather for it? Photographer Gemma at Betti Confetti Photography did an amazing job capturing not only the feel of the day but the stunning surroundings; I just love the image of Tora and Geoff in the bright yellow field above.
Enjoy your lunch everyone,
Caoimhe x
Photographer – Betti Confetti Photography
Bride's dress – Jenny Packham
Venue – West Dean Gardens, West Sussex
Bride's shoes – Rachel Simpson
Florist – Full Bloom in Chichester
Hair – Riot Hairdressing
Make up – Made Up
Groom's suit – The Cad and the Dandy
Bridesmaid's dresses – John Lewis & Monsoon
Catering – Gastro Catering
Entertainment – Scottish Ceilidh band
Cake – Bride's mum
Hair – Riot Hairdressing
XMakeup – Made Up
Follow Love My Dress® on Google+