Monday mornings after a glorious weekend like the one we've just had need a big extra dose of creative inspiration to help us all through the start of the week, and with that in mind, I simply could not think of a more fantastic wedding to share with you this morning – fun, quirky, elegant, whimsical, wonderful and all finished off with a touch of effortless bohemian glamour.
Bride Sammy, who works at Emmy Shoes in London but who also teaches ethical Taxidermy with Curious Menagerie and has her own ethical taxidermy company, Mole & Dove, married Joel, a Lead Design Engineer with Transport for London, on 7th September last year.  The wedding, which took place at Buckland House in Devon is all kinds of fabulous and I adore Sammy's bold, elegant, unique style.  Both her wedding dresses (lucky lady!) were Temperley Bridal and that incredible dove taxidermied headpiece was created by Sammy herself.
"Joel and I both grew up going to lots of parties and festivals and camping out in lavish old houses so planning a wedding with a festival feel for all our friends and family seemed perfect. The other major theme was taxidermy – I have been practicing ethical taxidermy (all the animals I use have died of natural causes) since I was eight years old, and it has always been a big part of my life – Joel loves it too."
Photography Copyright (c) 2014, Kellie Wilson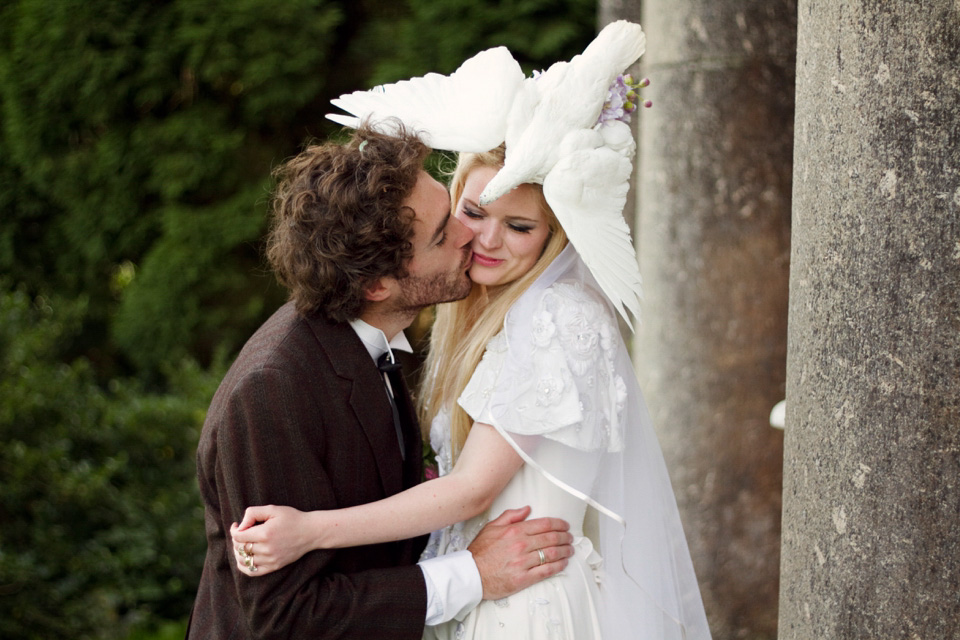 I think both the gowns Sammy wore on her beautiful wedding day were truly exquisite – I adore the peplum frill detail on the dress Sammy wore during the day time…
"Both my day and evening dresses were from the Temperley Boutique in Notting Hill.  My day time dress had gorgeous silk flowers and Swarovski crystal detailing on a heavy ivory crepe de chine. It fitted my personality perfectly – it was different, glamorous and I felt very sexy in it! Alice Temperley designs with a woman's body in mind as well as having a fantastic eye for detail. The dress has a classic feel to it without being 'too vintage'."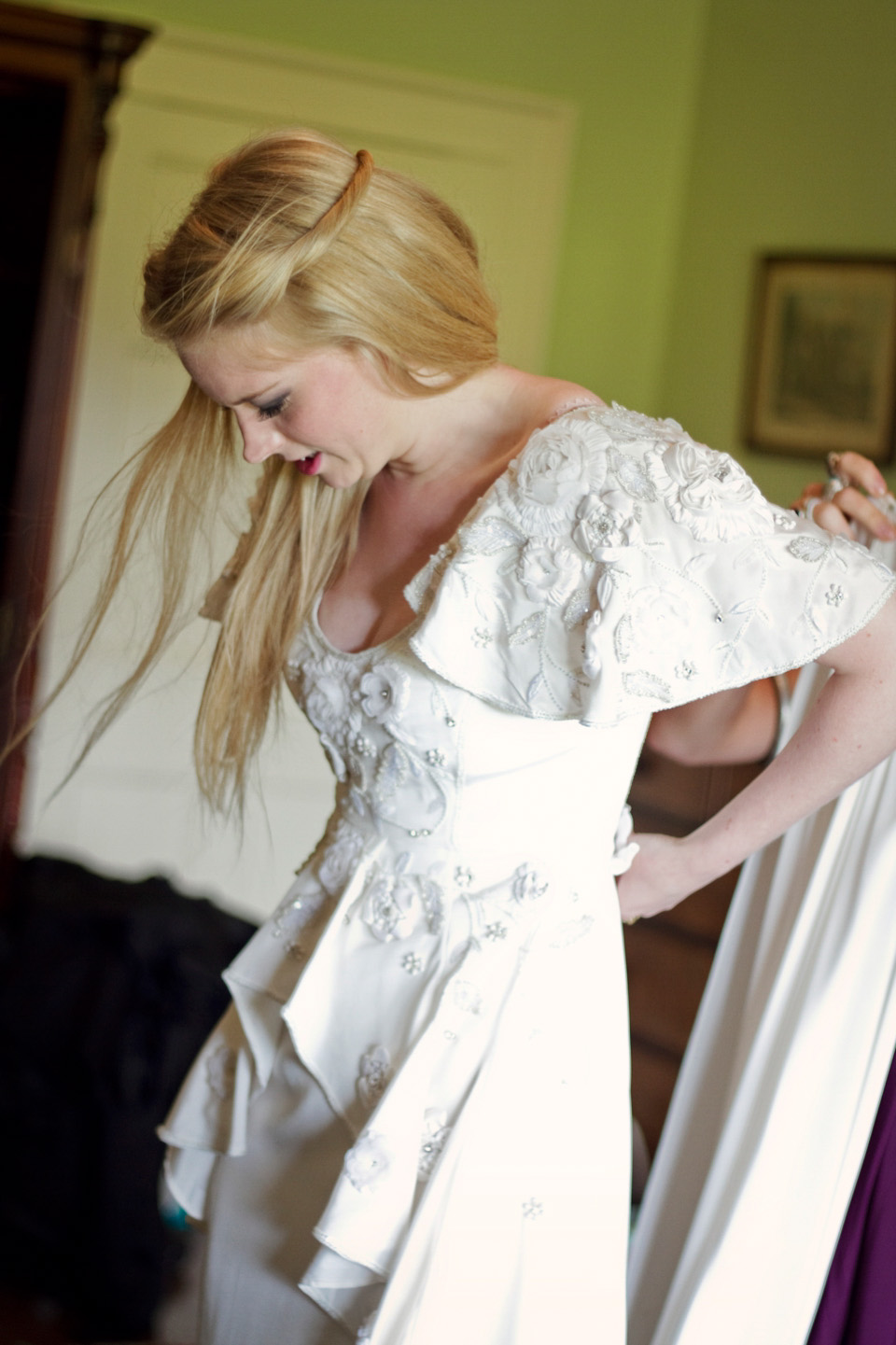 "Whenever I go out I will wear a piece of a bird or animal that I have found that has passed away of natural causes  – may be as a headpiece or a necklace. I think its such a beautiful celebration of the animal's life.  During the day I wore a taxidermy dove headpiece that I had made myself.  It included silk flowers in ivory and soft lilac. It also had Swarovski crystal eyes and little embellishments over its head so it shimmered in the light.
In the evening I wore a beautiful Crystal Daisy halo from Emmy that sparkled in the evening lights.  My veil was a heart shaped silk veil – also from Temperley."
"Joel and I actually went to kindergarten together and had play dates when we were two years old (not that either of us remember that!). We then went our separate ways to meet again in a local pub in bath for a mutual friends 17th birthday. We bought a house to renovate together about eight years into our relationship and when we had finished laying the floor which was one of the finishing touches, Joel got down on one knee and proposed!
As things always do, the floor laying took ages and it was really late so I was actually brushing my teeth before I got into bed when the proposal happened – but he couldn't wait any longer!"
As an employee of my favourite shoe designer in the world, Emmy Shoes, Sammy was also lucky enough to wear two glamorous pairs of heels on her wedding day.
"As I work for Emmy I obviously had to have two pairs of stunning comfortable shoes to wear on the day.  For my day dress I had the most beautiful platform ivory kid suede closed toe shoes with a beautiful mother of pearl fan on the back that you could see when I walked as my dress had a split up the back. In the evening I wore a classic pair of Elizabeth shoes in grey and silver to match my dress and make me feel like I didn't have shoes on while I danced the night away until 6am!"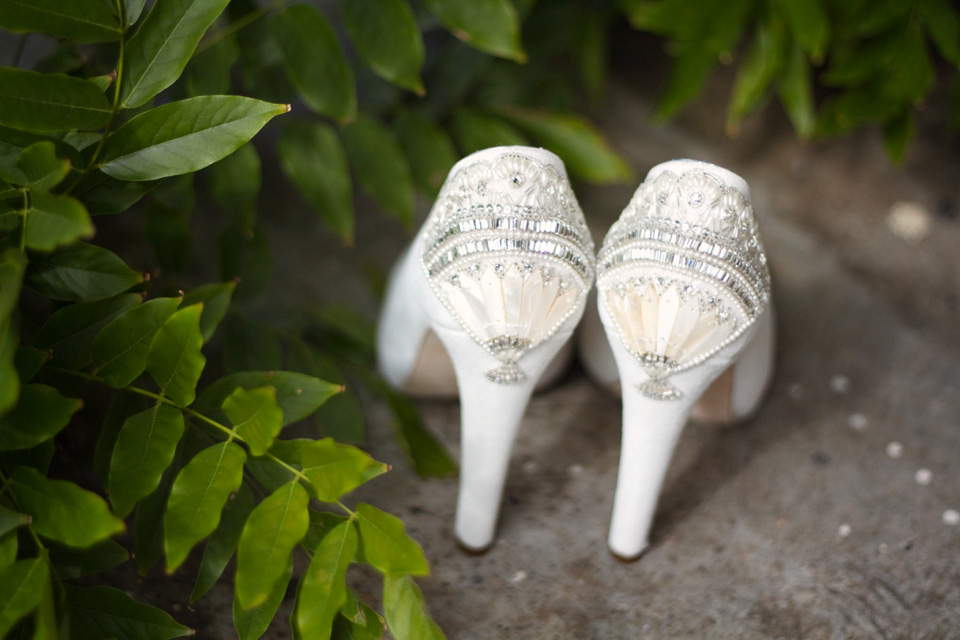 "Our florist, Bleujen, was fantastic – I told her what colours I wanted and shared with her some example images and in the end our flowers were delivered all dewy and crisp and perfect on the morning of the wedding. It was more the colours that I went for rather than the actual flowers themselves. We went for all my favourite colours, bright pinks, royal purples and deep corals."
"We had a three tier chocolate brownie cake with soft thin pink icing from Charlotte The Cake Lady.  My mum painted beautiful birds on the side of the cake in a water colour style, using organic food colouring. I love my mum's artwork and it gave such a personal touch to the day.
All I am going to say is that a big three tiered cake takes rather a long time to paint.
The cake itself was out of this world, and every one commented on how delicious it was."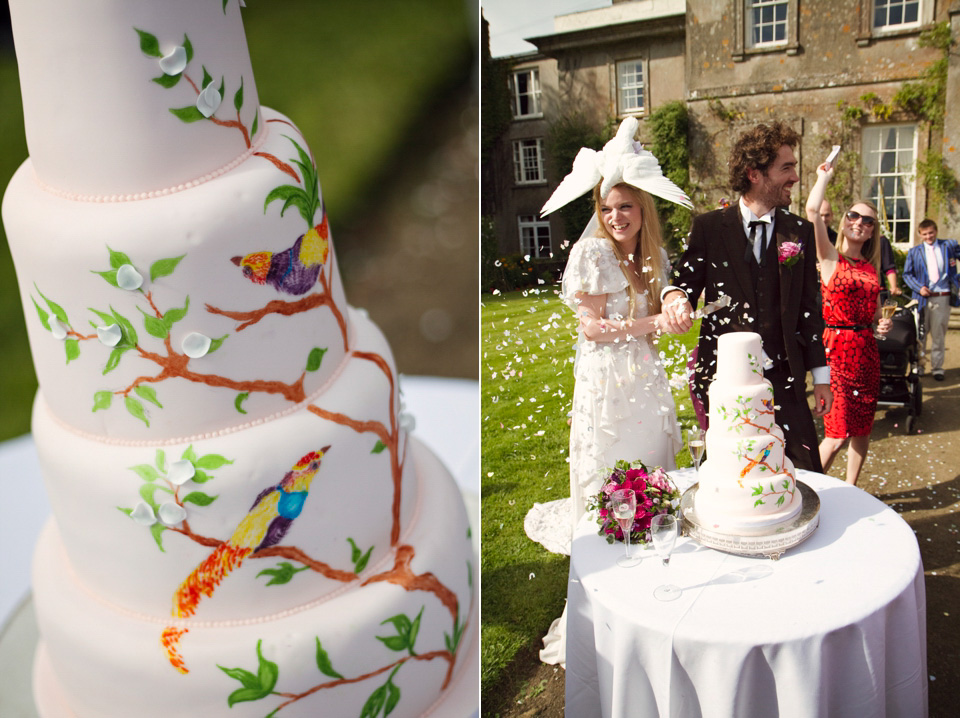 "Buckland House is beautiful with amazing surrounding grounds in the middle of the English countryside. It's got lots going on with a swimming pool, small chapel and a beautiful boating lake. The luxurious shabby-chic feel to the furnishings and grand four poster beds made it feel exciting and homely and perfect for our week-long wedding celebration.
The owners also let us decorate to our hearts content, party till the sun came up and camp with yurts in the rose garden!"
"My second dress I fell in love with before we even got engaged. I saw it on the catwalk of the Temperley show and knew I had to have it. It is completely covered in crystals with fun layers of tassels all around the hem. It was also skin tight and quite sheer – I just thought 'you're only young once'!"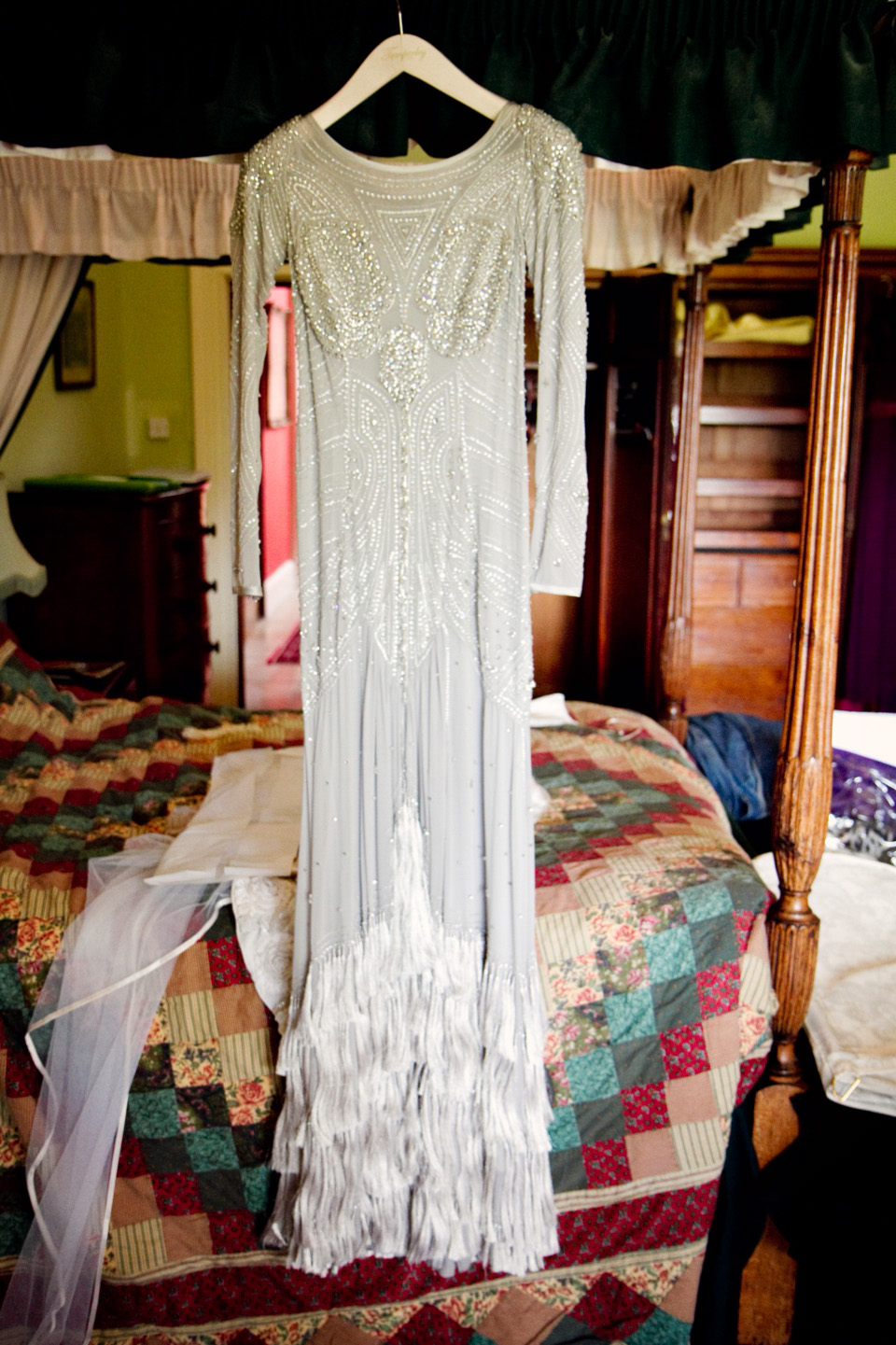 That beautiful silk chemise below is by Kim Lian-Cleaver, where you will find the most exquisite, luxury  silk and cotton lingerie.
"We all did our own hair and make up! I wore false eye lashes and clip in hair extensions to give me a more glamorous look."
"The bridesmaids dresses were from Dessy in a rich purple colour.  I embellished them with long coral beads and a little gold one at the bottom to jazz them up a bit.  As for their shoes – I also wanted the girls to be able to wear shoes in their favourite colours so I suggested they did just that. They must have come from a range of places, but it meant that they all had brightly colours shoes in a range of colours on the day which looked wonderful."
"My bridesmaids all had a fresh circlet of flowers and had their hair down to give them a relaxed, ethereal, bohemian look.  I gave them all a white pashmina to wear, but the weather was so lovely, we didn't need them."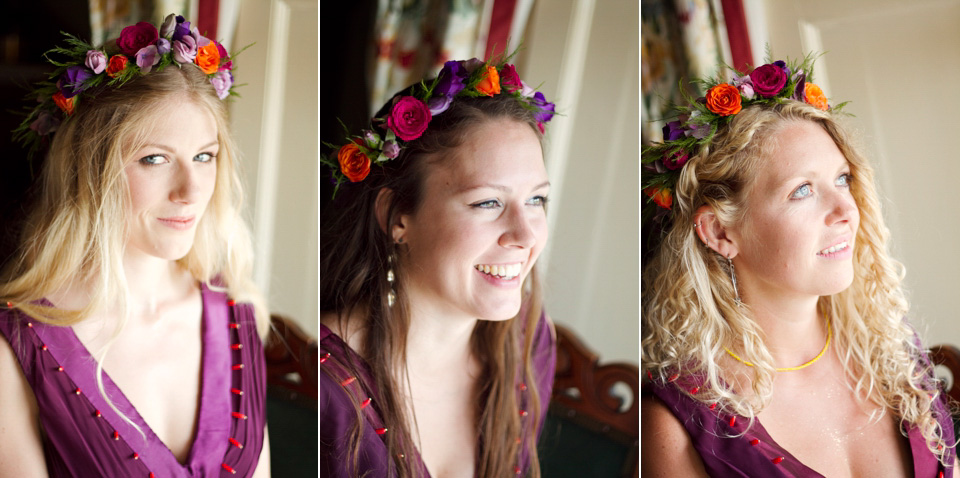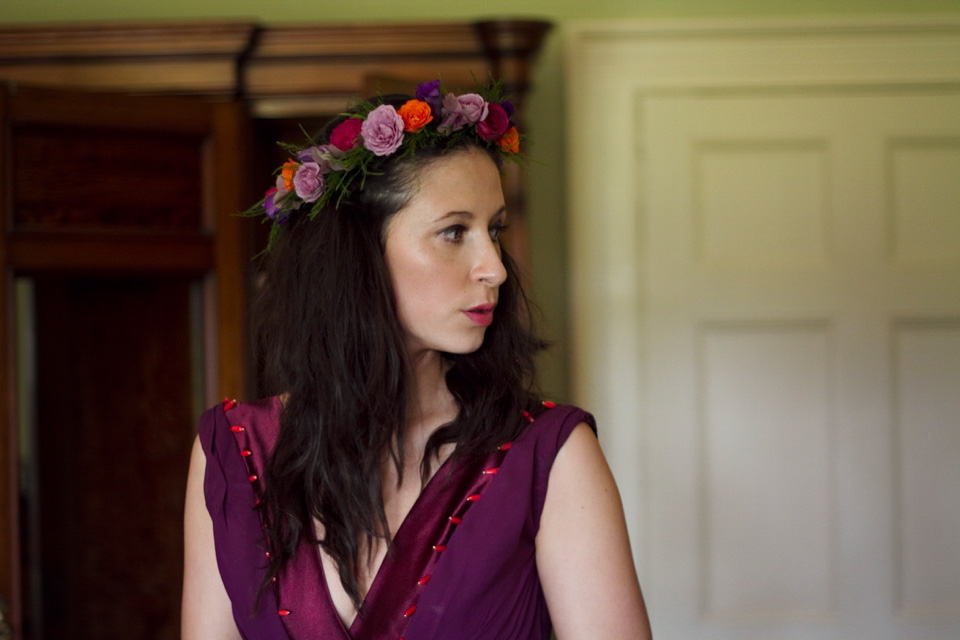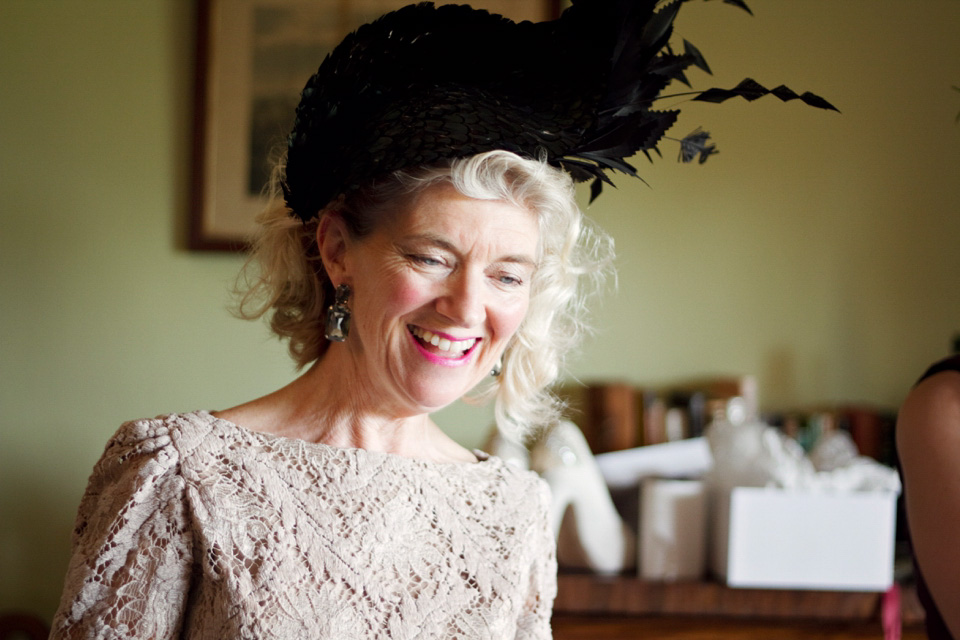 "I wore my claw necklace while I was getting ready that my granddad made for me when I was little.  I thought any more jewellery than this might be a little over the top so apart from this I just wore the rings on my fingers."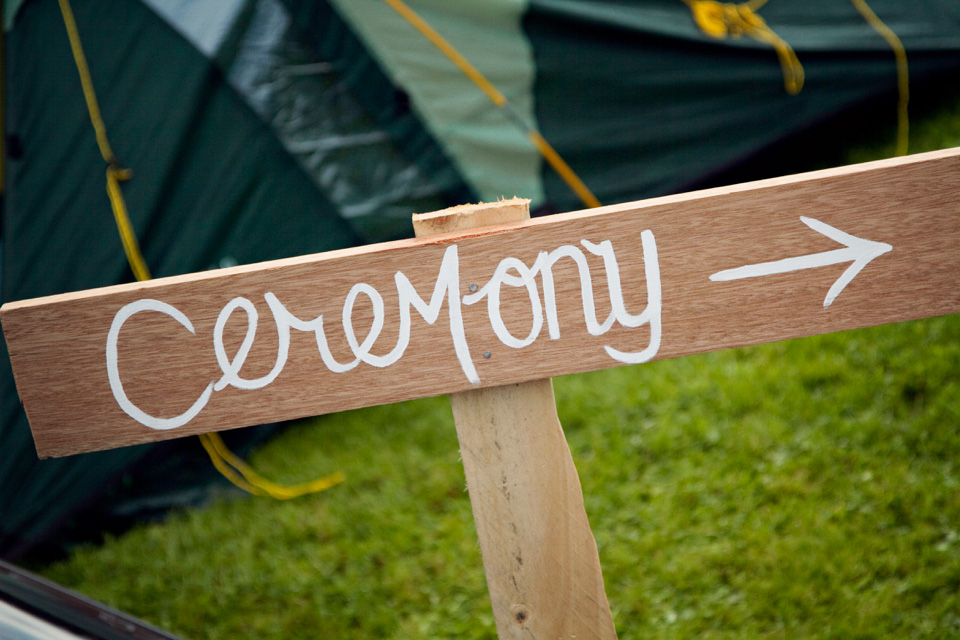 "Joel got his suit from the Oxfam Weddings website and then had it tailored for a perfect fit.  I bought him a soft purple silk scarf to put in his pocket next to his buttonhole as a gift. I also created a taxidermy mole that I walked down the aisle with and then placed in his pocket before we said our vows.  It seemed only sensible that I should make Joel something too.
All ten of the grooms men just wore what they wanted and then we gave them all a fresh flower buttonhole."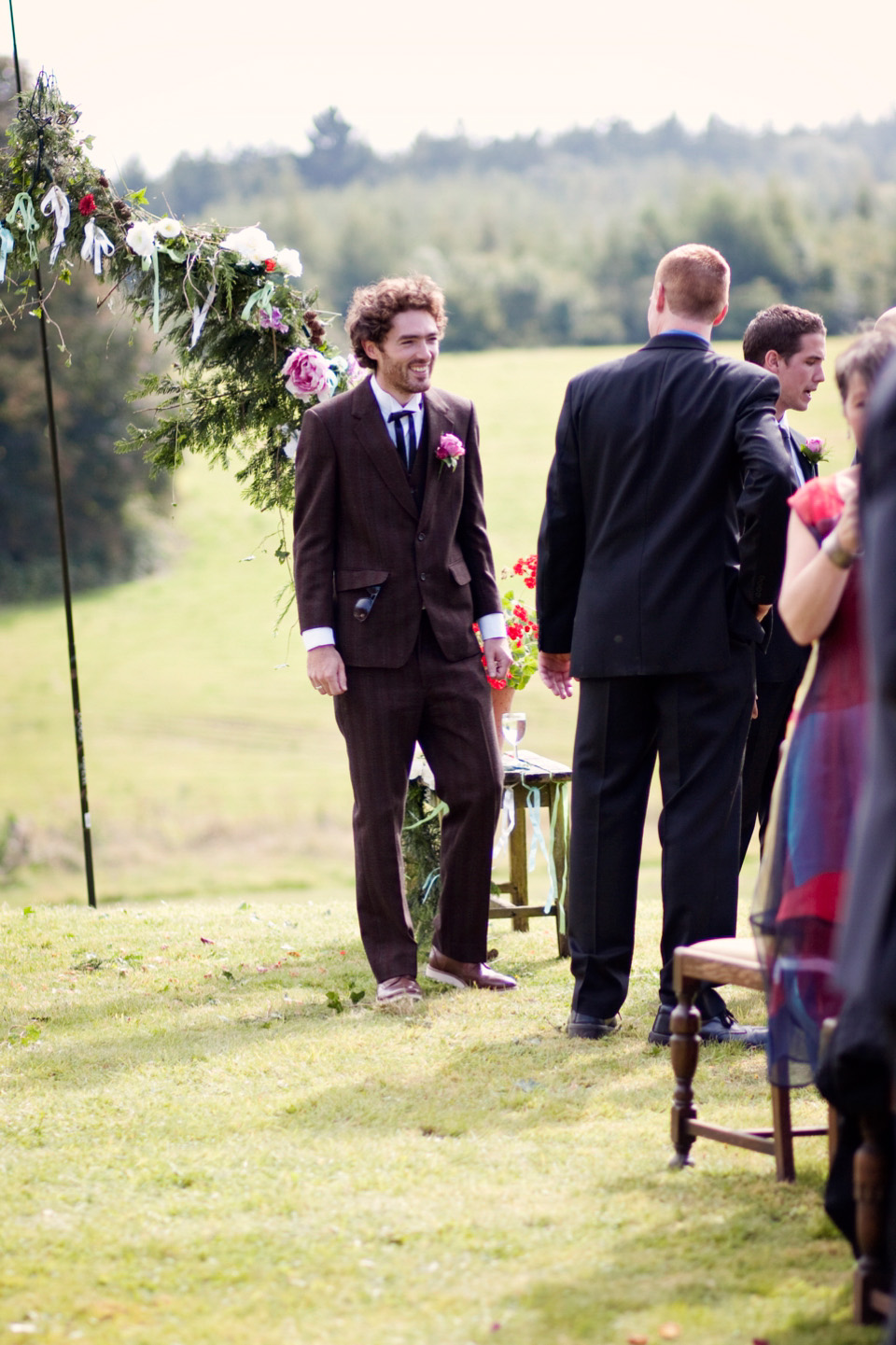 "My uncle walked me down the aisle as he is like a brother too me, and my father couldn't make it over from Australia.  My mum and a couple of her friends from her Akabella Capella Choir sung me in to a song that I remember dearly from my childhood."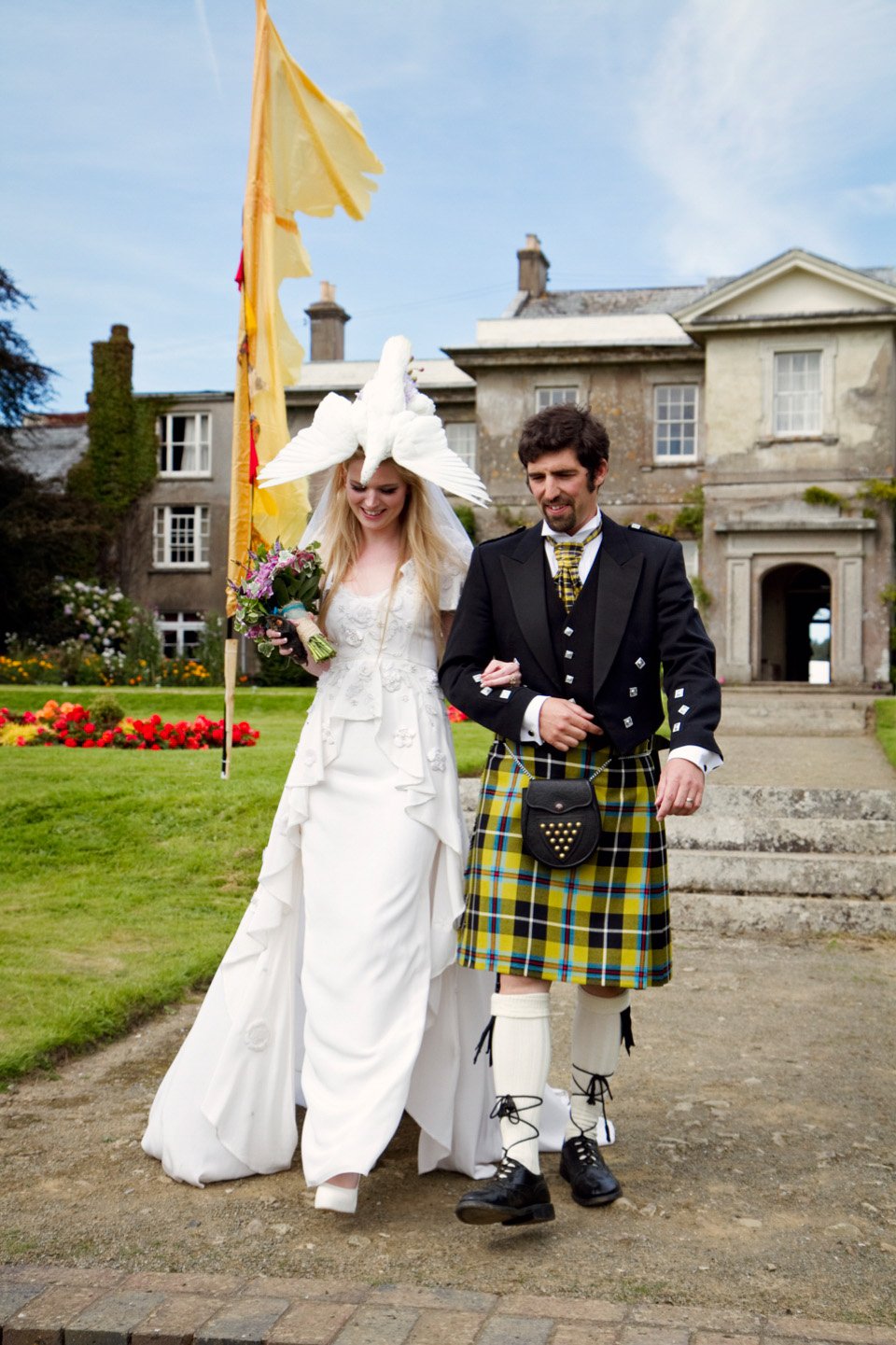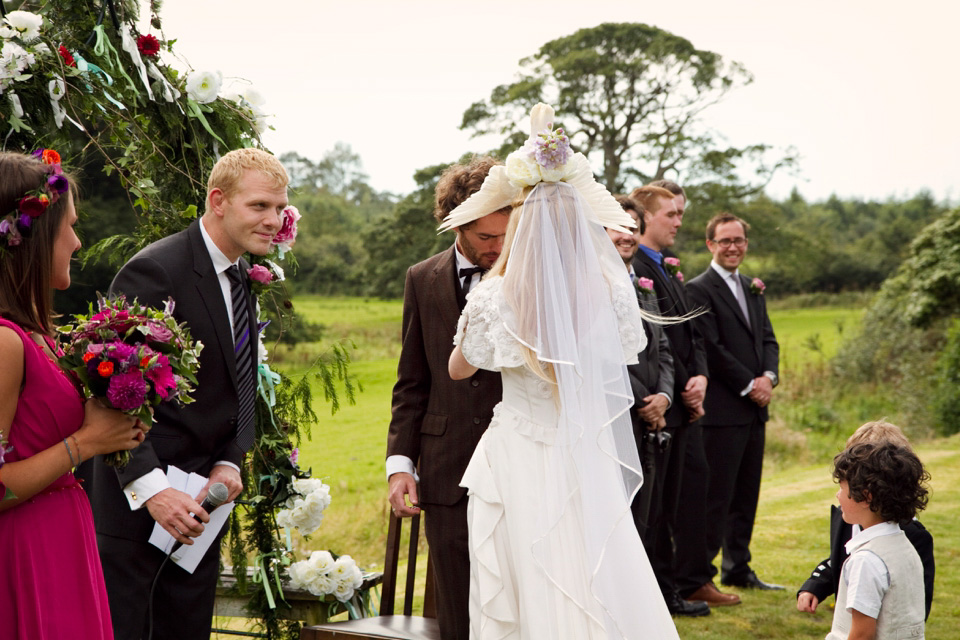 "We had a humanist wedding ceremony where our oldest friends (both from our kindergarten too) lead the proceedings and Joel and I said our own vows, with poems and readings from our parents too.  It was so personal and special.
Our vows actually ended up being quite funny as at the end of them we said our vows as 'promises' – Joel promised to make sure I got enough sleep (I get very cranky when I am tired) and I promised to make sure he was always fed (Joel is pretty grumpy when he is hungry!)."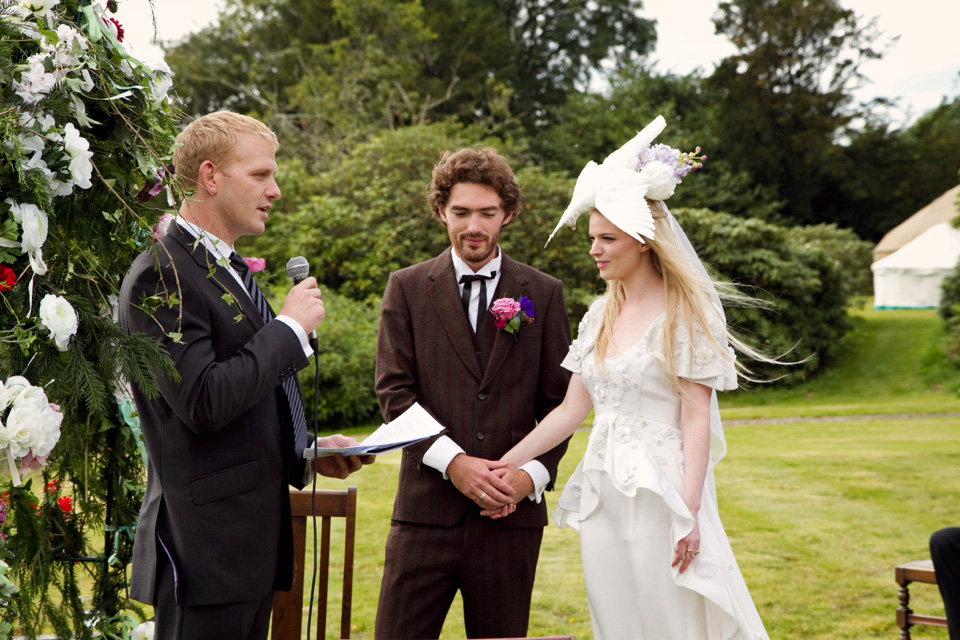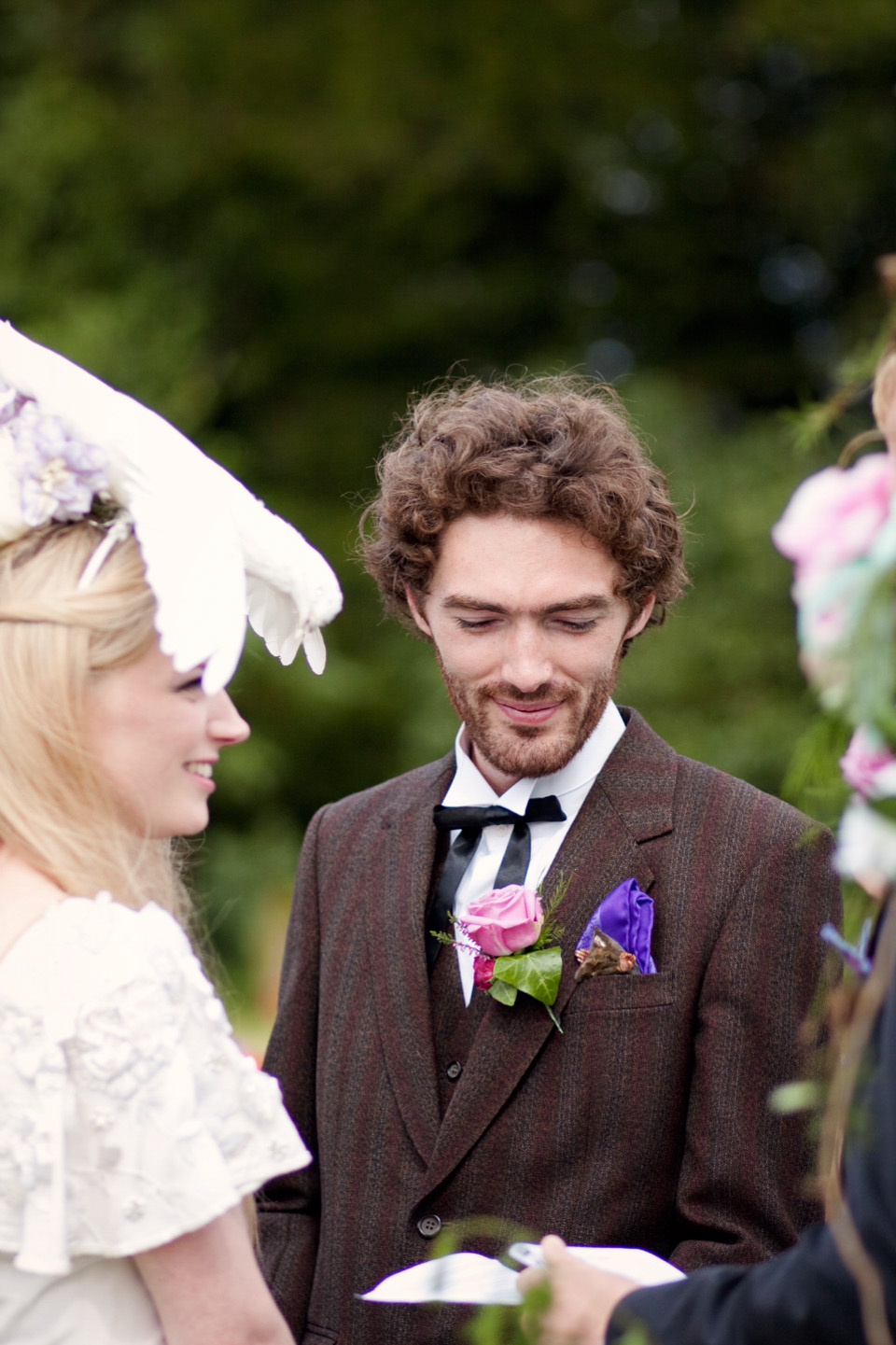 "As for our rings –  I swear by buying all my jewellery from pawnshops.  This is a little embarrassing but we are all about being thrifty!  It's basically un-glamourised vintage, but without the price tag.  There are about five of these shops on my local high street, that I regularly trawl through and have found some truly wonderful pieces. We found matching wedding bands and simply had them re sized which is all part of the service."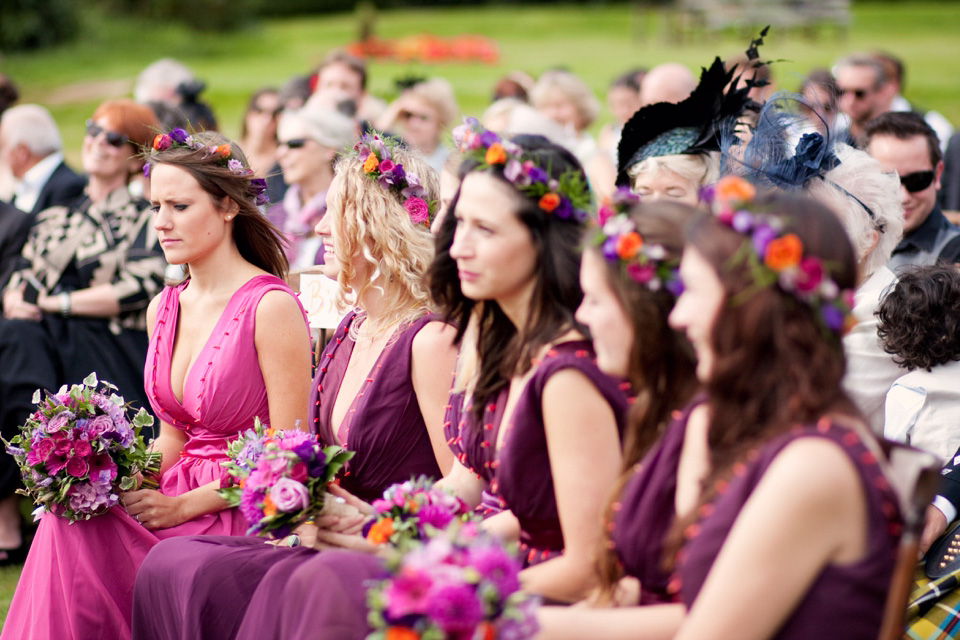 "My chief bridesmaid writes poetry so she read a poem during our ceremony that she especially wrote about us and love.  Both of Joel's parents also read out poems that they had personally written. Joel's parents poems were a total surprise for me, but I loved them and it really gave our ceremony a personal touch.
I really want to emphasise how important it was that our friends were involved in the ceremony.  We both feel that it's not just 'us' who make us who we are, or who are responsible for what our relationship has come to mean. All our friends and family are a part of us too and we wanted them to be a part of our celebration."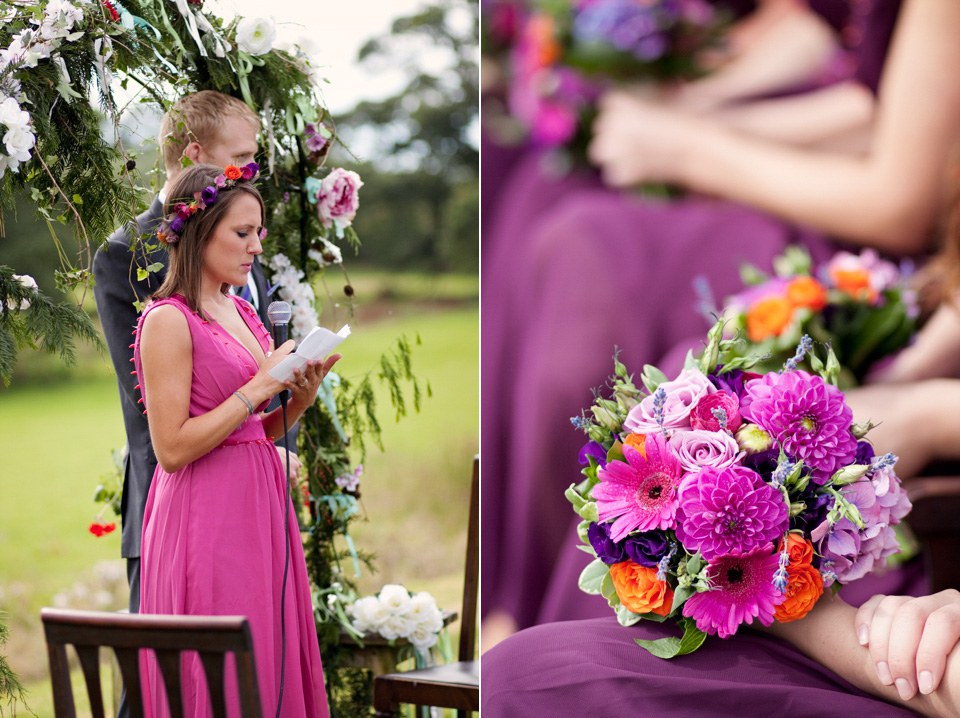 "Saying our vows and the ceremony in general was our favourite part of the whole day.  It just felt so right (even though we had got officially married in the registry office a couple of days beforehand). It was such a beautiful experience – we had a our wonderful friends and family there to witness and support us and it felt like I had 'come home' (I'm not sure how else to explain it – it was just perfect)."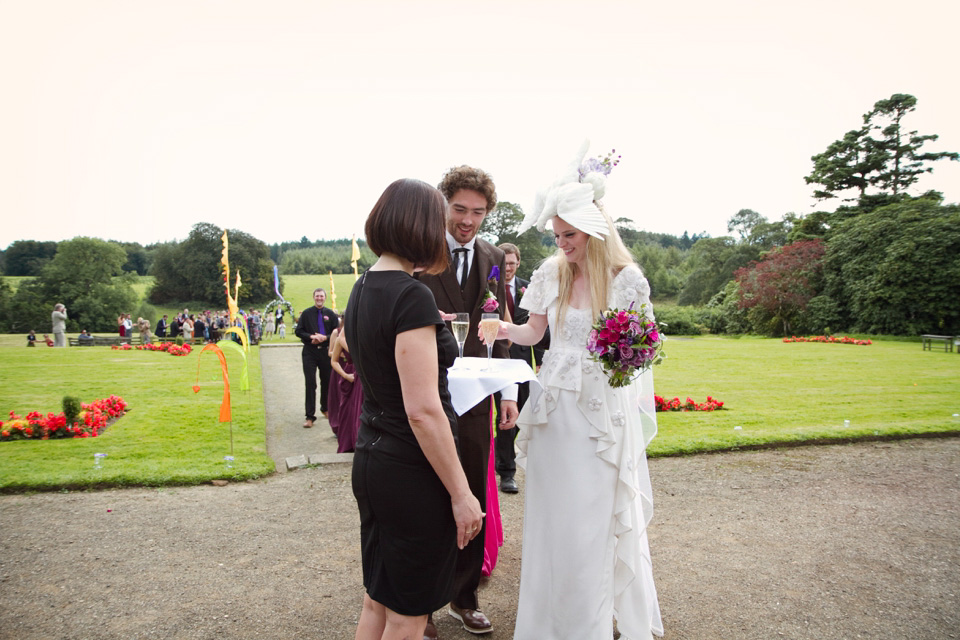 "As little ones grow so quickly, I simply asked my friends and family to dress the children in pretty summer dresses rather than buying a fancy dress they might only wear once.  We then gave them all a fresh flower circlet that matched the bridesmaids.
I had two page boys, one was dressed in a traditional Cornish kilt to match his father and the other was in a lovely pair of trousers and shirt with a little bow tie. As with the flowers girls, I didn't want the children to feel uncomfortable or to lose there personality by looking 'too dressed up', so I asked their parents to dress them in whatever they thought was appropriate and gave them little buttonholes to wear."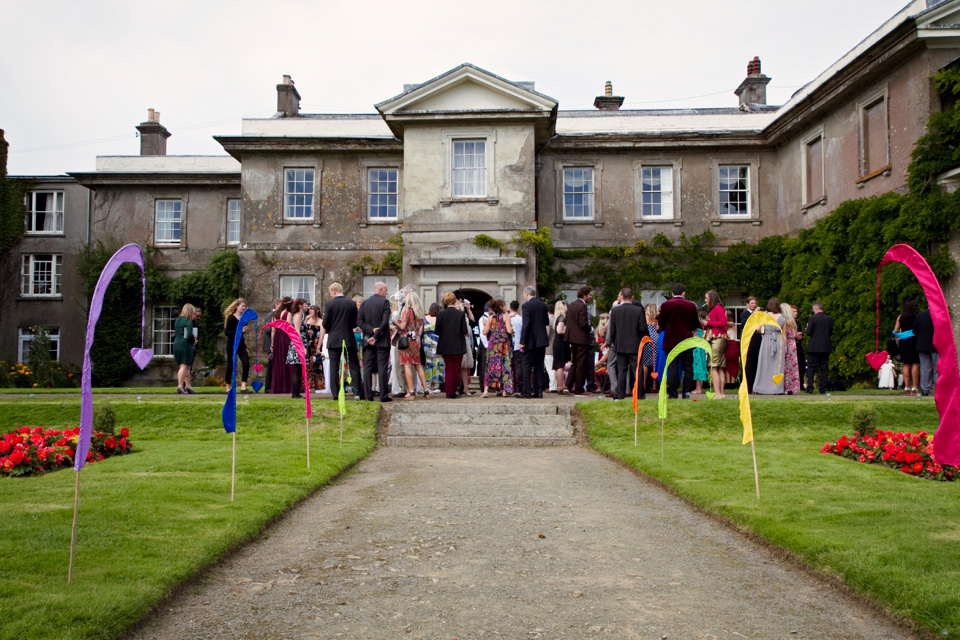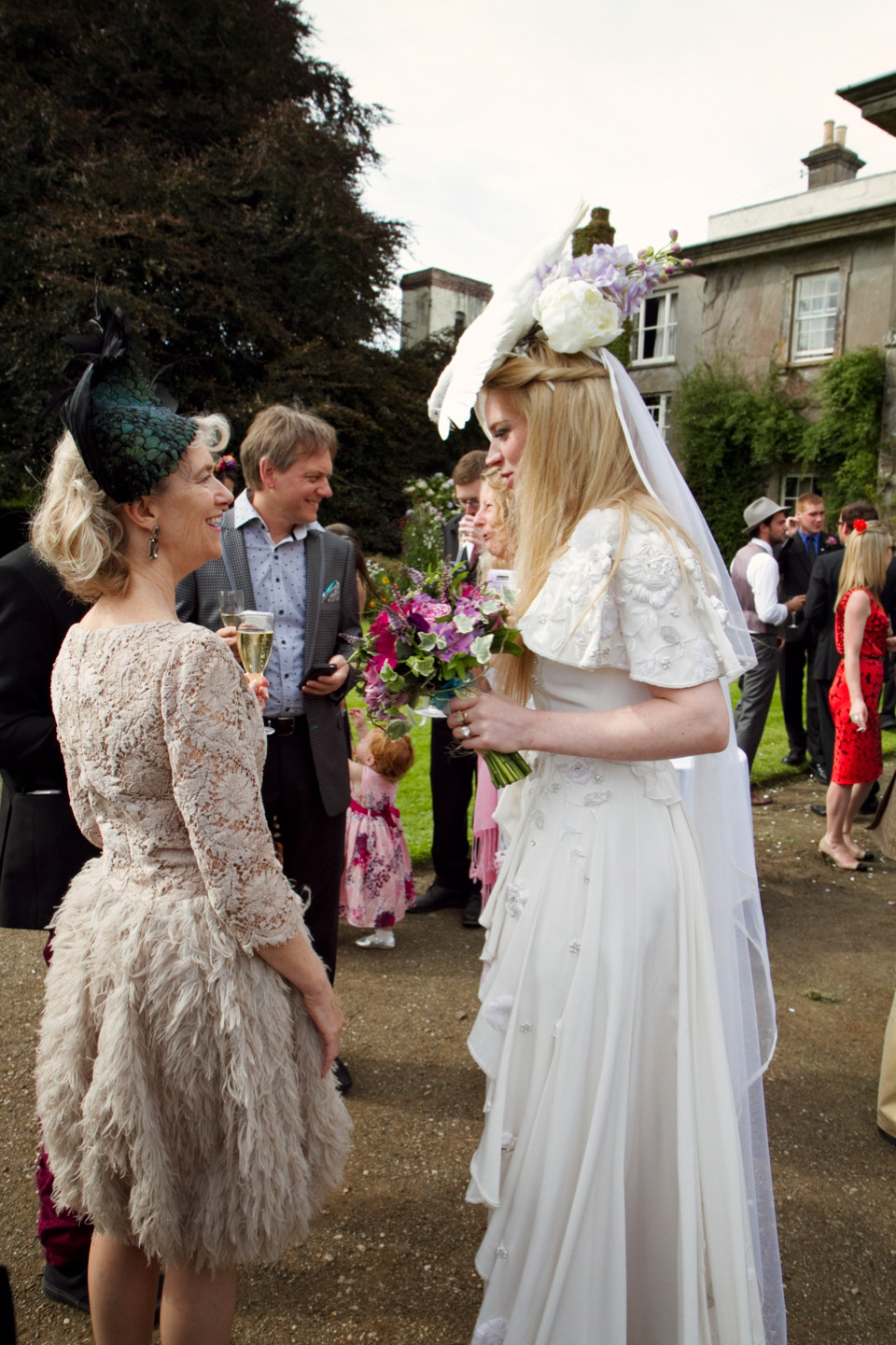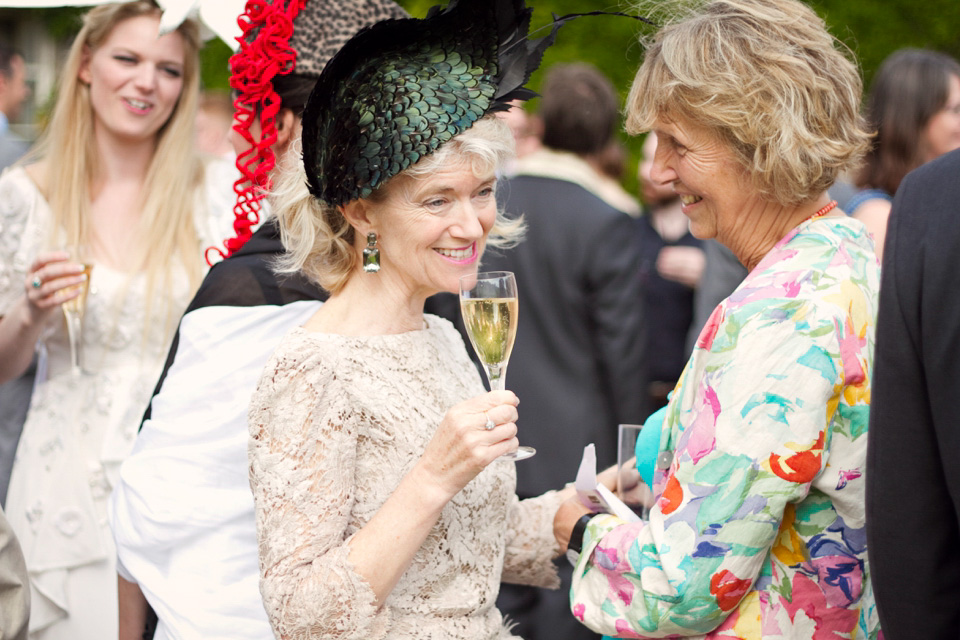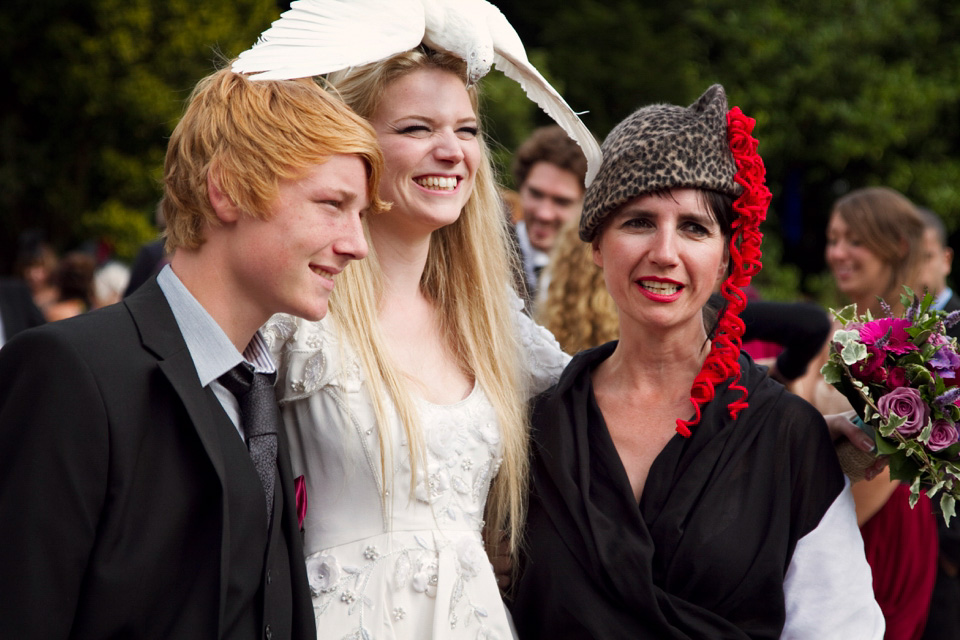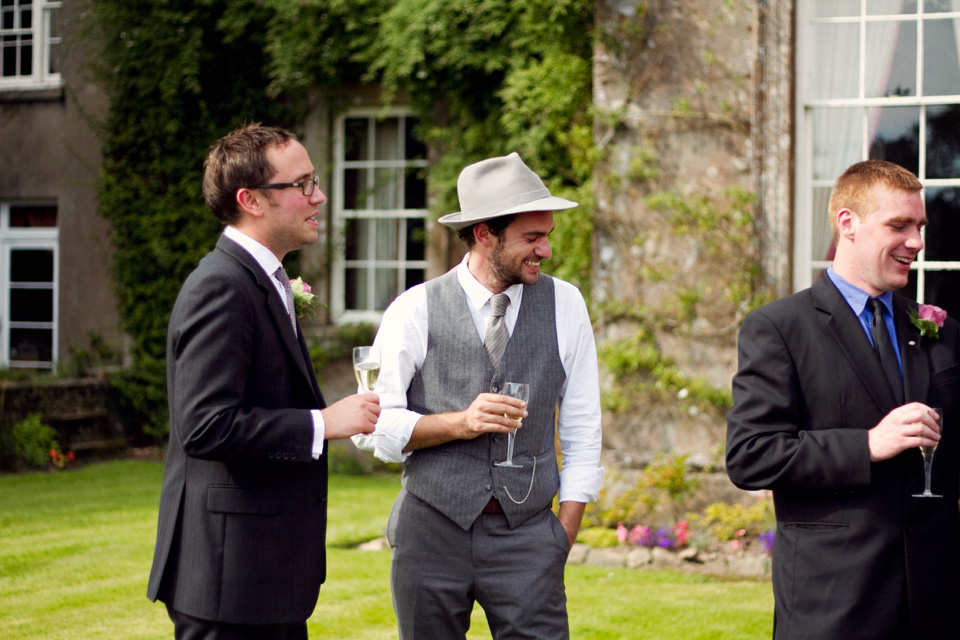 I love this silly funny shot 🙂
"Our photographer Kellie Wilson is fantastic! She is also a new born baby photographer, but captured our wedding perfectly!"
"There wasn't a table plan for guests to see, so it was a case of walking around the banquet style tables until you found your place."
"We used a catering company that was local to our venue called Dartmoor Kitchens.  Again, this company was fantastic, very professional, organised and the best food I have ever had at a wedding. The menu was extensive, top quality produce grown on their own land and delicious food served with a smile! I would highly recommend them and I feel this was one of the highlights of the day as so many people commented on the main meal."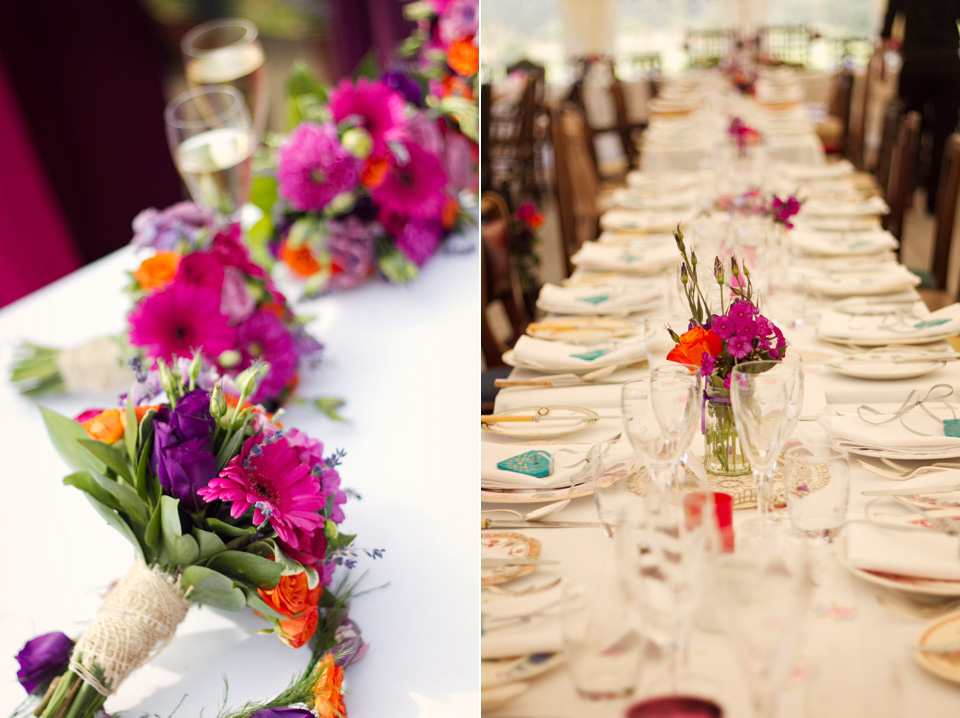 "As our wedding was a bit of a DIY affair, and as most my friends and family have some form of creativity in them, I thought they would all appreciate home made elements on the day. For wedding favours, I made 150 salt dough hearts and painted them a bright teal blue with our initials in gold painted on them. I also had a ribbon for them to be hung by and left these on people's plates. A lot of the guests ended up wearing them!"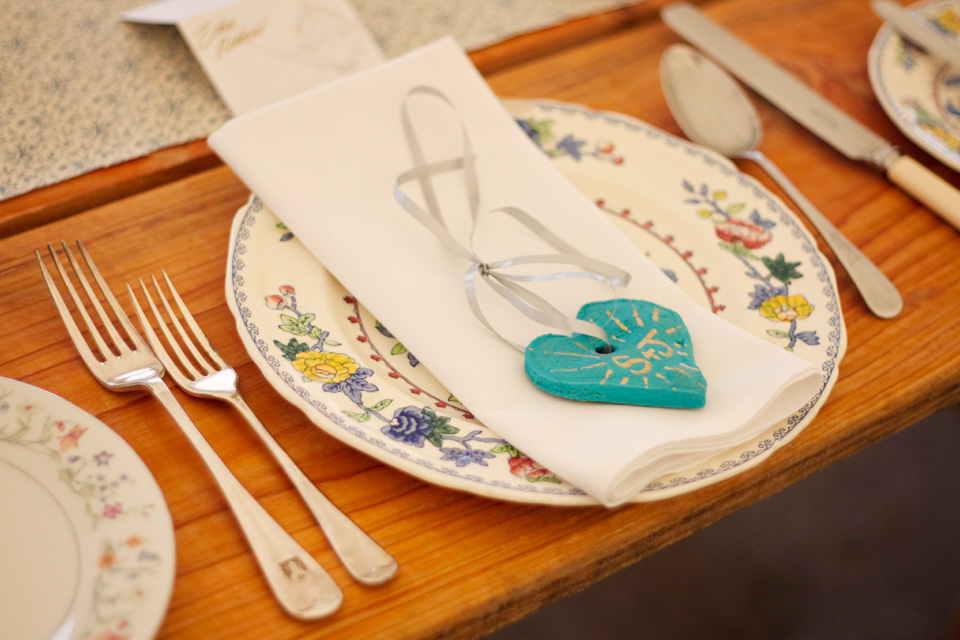 "Some of my friends and family brought bunting and flags that they had already, and then some of my friends and I made bunting out of fun purple and pink flamingo wall paper to put up around the marque, this was very fast and cheap using a stapler and crimping scissors."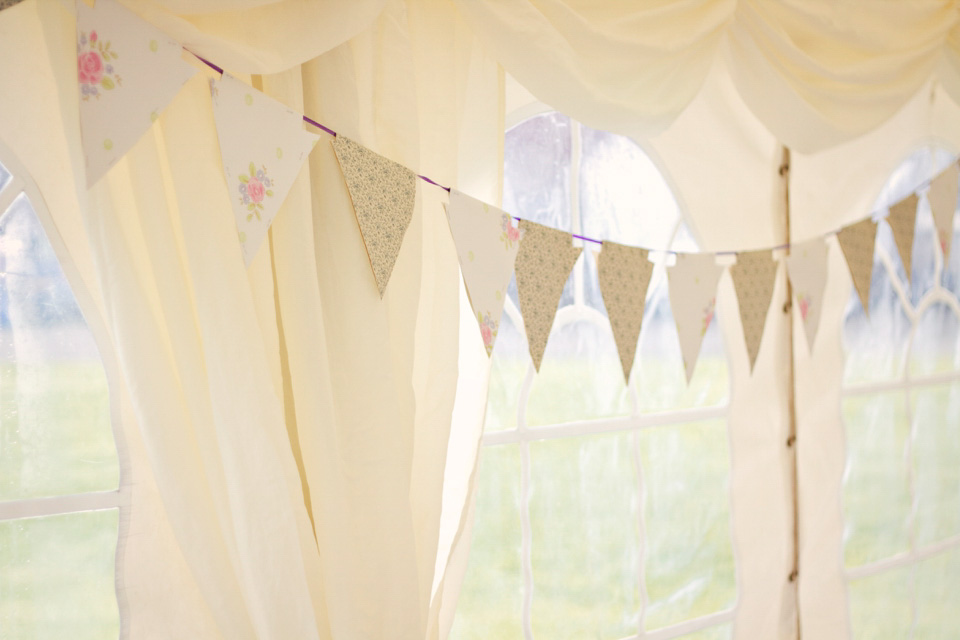 "My cousin works in lighting so bought some amazing blue fairy lights to put around the banisters in the ballroom along with our own hand made strings of crystals in different lengths to be hung with different size paper light shades. The other balcony had glittered ping-pong balls that one of my wonderful bridesmaids hung on clear thread in different lengths."
"One bridesmaid made signs for inside and outside, using funny combinations of our surnames to go on each of the bedrooms so our guests new which room they were staying in.  We also bought more flowers from wholesaler that we placed in jam jars, teacups, teapots and other containers to give it a understated but feminine look.
Lastly, another lovely touch from a different bridesmaid was to make us amazing owl tea light shades.  I had no idea she was going to do this and they looked amazing in the alcoves and nestled between the other purple candles and tea lights I had placed around the venue."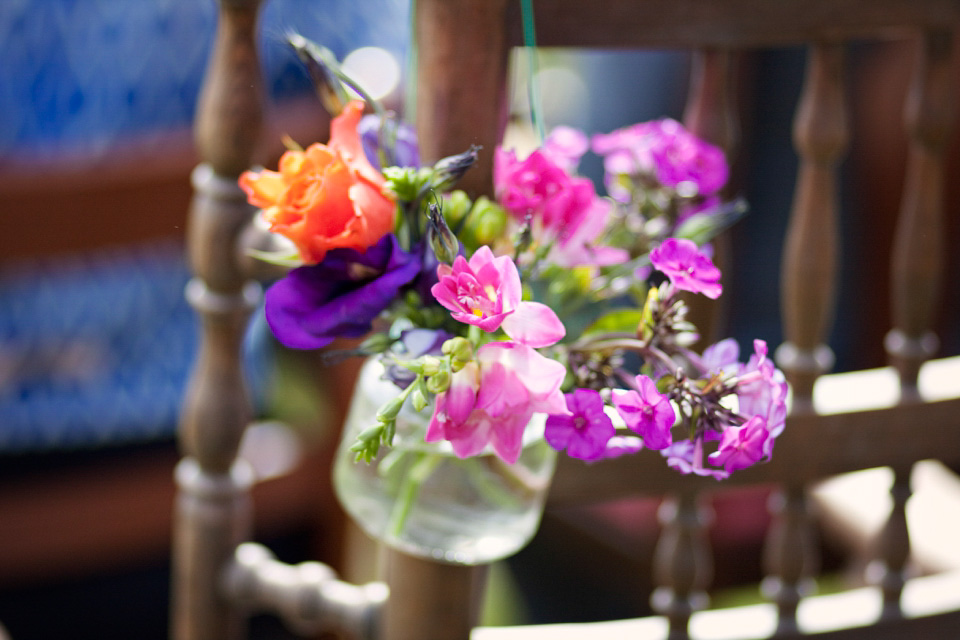 Words of Wedded Wisdom…
"If you are having problems with any family members maybe trying to get there or wanting to be involved, give them a big task that takes up a lot of their time and energy, especially a couple of days before the wedding – this will keep them occupied and happy being busy while you can get on with the nitty gritty last minute planning!
It felt really good to just let things go how they would go after delegating all our tasks.   It made it a real pleasure to see all the love and care and some personal touches from my friends and family as they where working out all their tasks!
I do wish I had sneaked more people in on the day. Because the venue had insurance for a certain capacity we were restricted on numbers, but I felt very guilty for not inviting some people that were on the original guest list. I think over subscribing a little would have been fine, and in the end there was a couple of people that couldn't come but as I hadn't invited extras it was harder to fill the spaces last minute."
What a most splendid wedding – I'm in awe of Sammy's style. The more I look at these photographs, the more I fall in love with them – wonderful, wonderful stuff. And Sammy, I think your taxidermy headpiece is amazing.
Please join me below in wishing Sammy and Joel the very best wishes and thanks for sharing such a wonderfully quirky, glamorous and elegant wedding day to inspire us all.
Have a really great morning everyone,
Love Annabel
Photographer – Kellie Wilson
Venue – Buckland House, Devon
Wedding Dresses + Veil – Temperley Bridal
Headpiece (daytime)  – Taxidermy dove made by the bride (Mole & Dove)
Headpiece (evening) – Crystal Daisy halo from Emmy
Shoes – Emmy
Silk Chemise – Kim Lian-Cleaver
Groom – Oxfam Weddings
Bridesmaids – Dessy 
Florist – Bleujen Florist
Cake – Charlotte The Cake Lady
Rings – Local pawn shop
Caterers – Dartmoor Kitchens
Follow Love My Dress® on Google+