There is something so lovely about this wedding, I think it's the all-original, vintage elements that the couple so carefully chose together – everything from that absolutely beautiful replica Edwardian wax flower headpiece to those fabulous 50's inspired bridesmaids frocks, the faux furs and the delightful decor at the reception.   Ladies and gentleman, come along and enjoy the vintage inspired winter wedding of Nicola and Andrew, who chose to tie the knot on 4th January this year at Friars Carse Hotel in Dumfries, Scotland.
"Andrew and I are both really big fans of anything vintage and I think this is probably because we both have an appreciation for things that are well-made. Andrew also has a real love for Scotland and anything to do with deer stalking, so our wedding day was a culmination of all these influences. It was important that our wedding day was reflective of both of us – we wanted our guests to be able to walk in to the reception and know exactly whose wedding they were attending."
Photography Copyright (c) 2014, Gail Kelly Design & Photography
"I bought a 1950s wax flower head piece that I wanted to incorporate from a vintage fair and found Foxglove Occasions, Preston (Walton le Dale) at Cedar Farm vintage fair (Mawdesley, Ormskirk).
Foxglove created my headpiece from vintage broaches, pearls and the wax flowers I had bought. Foxglove created matching pearl earrings for me and also wired the left over wax flowers so they could be incorporated into my bouquet to bring it all together."
"I had two options depending on the weather – dry weather would mean gold leather t-bar shoes from Bertie and wet weather  would have meant cream jellies with pearl ankle straps from Vivienne Westwood. I wore both on my wedding day."
"We bought our cake from good ol' Marks & Spencer. We ordered online and collected it two days before the wedding from the Dumfries outlet.  Andrew made our cake topper, even the crochet bunting!
My engagement ring and both our wedding bands are from David Moss in Ormskirk.  David himself is a family friend and is so helpful and accommodating. David Moss is a top quality, independent jewellers."
"The bridesmaids dresses were purchased from Ebay for just £50 each! The girls wore their own shoes. I made the bridesmaid hair clips myself and each bridesmaid was gifted a vintage enamel thistle brooch.  They also each bought their own vintage fur stoles.
Our florists were Petal & Twig .  I loved their rustic, unique designs and throughout the whole process I wanted to support local, independent makers, creators and designers, so they were a perfect choice for us."
"Our photographer Gail Kelly was absolutely amazing, I couldn't have asked for a better photographer. She put every one at ease and captured all our guests emotions perfectly. I can't praise her enough.
Lucy E. Wilson Illustration made our stationery, though Andrew made our table plan and order of service. I picked the table plan frame up from a charity shop and bought the easel in Northern France whilst on holiday."
Nicola's veil was an original vintage Edwardian veil that she purchased from a vintage clothing fair.  Her dress was a gown by Ronald Joyce that she purchased from the Trudy Smith bridal boutique in Ormskirk.  The lace top was amazingly the bodice and arms re-fashioned from her mother's original wedding dress. How wonderful!
"I wanted the glamour of the 1940–50's – the nipped in waste and full skirt was what I loved the most. Plus the bit of sparkle on the belt was not too much but just enough to give it the vintage look. It also had pockets, which came in handy for concealing handkerchiefs. I incorporated my mother's dress because although I loved the dress I wanted lace arms and because of the time of year I wanted to have a cover up option. The lace top was detachable but I loved it so much I didn't take it off all day."
"Rather than a traditional flower button hole we had feather plumes that are traditionally worn when deer stalking. The colours all worked really well, each member of the grooms party had a different one, unique to them. I liked the idea of them being able to keep them and wear again if they liked!
Andrew had his two brothers as his 'best men'. Oliver Cunningham and Benjamin Cunningham. The Usher was my Brother, Thomas Selsby. The Dads and my Grandad also got 'suited and booted'."
"Andrew and I met as students working in The Bootle Arms pub, Andrew was kitchen staff and I worked front of house. He asked me out over Facebook after one to many red wines, it took a while for me to come around. Then about 2 months later, he got drunk again and asked me to move in with him at Mathew Street Festival in Liverpool. The rest is history! (Andrew tries his best not to drink as much anymore)."
"We had always spoken about getting married – it sounds strange to say but I didn't want a huge romantic gesture for our engagement. Andrew asked me in a local restaurant which was perfect. Then he hit me with the huge romantic gesture by whisking me off to a surprise garden party with all our friends and family! He blind folded me and led me up to a balcony, when I opened my eyes and looked down into the garden.  Every person I wanted to tell I was engaged was stood right there looking up at us!   It was a Wills and Kate kiss moment – completely surreal and apart from our wedding day, the day we got engaged, was the best day of my entire life.
We were engaged for 18 months before we tied the knot."
"My sister Louise, who was one of the bridesmaids who gave a reading chosen by myself called 'The Game'.  We chose this reading because it describes our relationship perfectly.  The Game is a short story by B.J Falken about a boy and a girl who love each other. That's really all you need to know…"
'The Game, by B J Falken
It appeared to outsiders that they were at odds. He would test her patience and try to charm his way out of it. She would try impose her will through loosely crafted arguments based on creative feminine logic. He would put on magnificent displays of rhetoric and manipulation, because he liked it when she caught him trying to get away with something. She liked it too.
Over time though, it became obvious that this was not a fight, or a contest. It was a game. Two sides, back and forth. Advance and defend. A game that was almost as much fun to watch, as it was to play.
In this game, however, keeping score was never necessary. It was like children playing tic-tac-toe. The minute one round was over, they'd scrawl out another cross-hatched board, barely paying attention who had been victorious only seconds earlier. Even if they had kept score, it would have still been tied after a hundred years of play. Sometimes he'd win, sometimes she would. And sometimes, when it was needed, they'd remind the spectators that they were actually on the same team all along and would do anything for each other.
Before each other, they hadn't discovered anybody who could play the game at their level, nor anybody who wished to. But they found each other… and in each other a worthy adversary, a constant companion, and a best friend.'
"Andrew bought me a beautiful Pandora bangle with a single deer charm as my wedding day present. It was perfect. I also wore a 1940s fur stole to keep warm, it added to the glamour of the dress."
"All the table centre pieces were arranged by myself with the help of my mother in law. We sourced everything from Country Baskets and various garden centres. I also collected wedding photos from my aunties and uncles and had these on display next to the vintage style sweet table. The tables also had lots of jars that I forced friends and family to collect leading up to the wedding. I jazzed these up with some tartan fabric and placed little tea lights inside."
"I chose the female guests wedding favours, which were vintage bone china tea cups found at various charity shops, which I inscribed with our initials. Inside was a Jasmine tea bulb, which Andrew picked up on a business trip in china, they flower when boiling water is poured over them. I finished these off with a Alice in Wonderland styled luggage label that read 'Drink Me'.
The male guests favours were a deer ornament, sourced from the shop Vanilla, in Ormskirk. They were wrapped in brown paper packages tied up with string!"
"We bought our cake from good ol' Marks & Spencer. We ordered online and collected two days before the wedding from the Dumfries outlet. Andrew made our cake topper, even the crochet bunting!
My engagement ring and both our wedding bands are from David Moss, Ormskirk. David is a family friend and is so helpful and accommodating. A top quality, independent jewellers."
"My favourite part was seeing Andrew at the alter in the church, nothing could ever re-create that feeling.  I also loved watching both families merge into one throughout the day and night, it was great fun and the band got everyone out of their seats.  I wouldn't change a thing."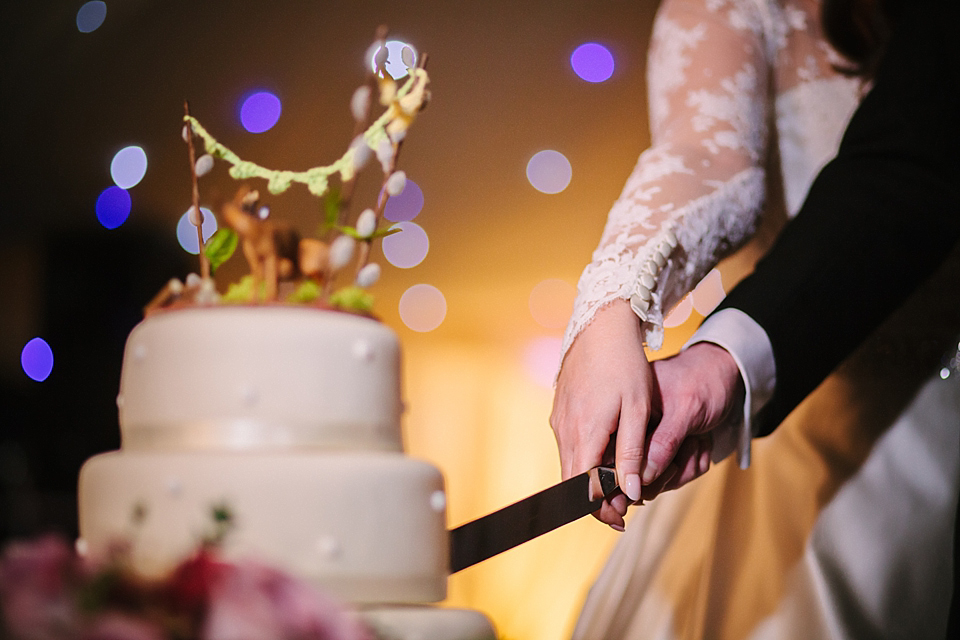 "Our first dance was Frank Sinatra, The Way You Look Tonight. What can I say I love the film Father of the Bride."
Words of Wedded Wisdom…
"Be true to yourself and don't get wrapped up in other people's opinions. It's your day and your money!  And also you may feel like every little detail matters but come your wedding day, they don't.
It isn't the end of the world if it rains or your car turns up late, trust me it will not ruin your big day, all you will care about it getting down that aisle and getting married."
What a super lovely day with a wondeful set of images to help the couple remember how gorgeous and indeed glamorous it all was.
Very many thanks to photographer Gail Kelly and of course to newlyweds Nicola and Andrew.
Love Annabel
Photographer – Gail Kelly Design & Photography
Venue – Friars Carse Hotel in Dumfries, Scotland.
Wedding Dress – Ronald Joyce via Trudy Smith
Brides Veil – Vintage Edwardian
Brides' shoes – Bertie + Vivienne Westwood
Grooms Suit – The Wedding House, Liverpool
Bridesmaids – Ebay
Flowers – Petal & Twig 
Cake – Marks & Spencer (topper made by the groom)
Cars/Transport – Lavender Cars, Dumfries, Scotland
Entertainment – Loose Moose string band, Liverpool
Stationery Designer – Lucy E. Wilson Illustration
Hair Stylist – Emma Nichol
Follow Love My Dress® on Google+