It's not often as a wedding blogger that I get to share the nuptials of one of my favourite bridal designers, so today is a really big treat for me and I have absolutely relished the opportunity of not just sharing but writing up this real wedding feature.  When designer Charlotte Balbier asked if I would share her magnificently glamorous winter wedding with you, I think my legs started to quiver a a little.  This truly is the most spectacular wedding I've ever featured on Love My Dress with one of the most impressive supplier lists too (see the full list at end of this post).
Charlotte and Teddy's wedding took place on 7th December at the majestic Iscoyd Park, and the couple hired my lovely friend and super talented wedding and event designer/planner Charley Beard of London Bride.  Let us start this feature with the most breathtaking wedding film, produced by Silk Wedding Films.
"I wanted our wedding to be glamorous, beautiful, fun and in keeping with my style and us a couple. I took some inspiration from my favourite era – Art Deco, just a nod to it through little elements like my shoe clips, hair band and clutch bag. For me the day had to be super stylish, quintessentially English but with a little bit of Hollywood old School glamour too"
Film Production Copyright (c) 2014, Silk Wedding Films
"Teddy and I actually met in September 2011 in Didsbury Manchester. We went for dinner with mutual friends and met for the first time that evening. We became friends and the following January we had our first date and the rest, as they say, is history."
Photography Copyright (c) 2014, Polly Alexandre
The couple commissioned Polly Alexandre, who shoots entirely on film, to capture their precious wedding memories.
"Our photographer was Polly Alexandre – I was already a big fan of Polly's work and adore film photography. After hearing amazing things about Polly and her work, and from what I had already seen myself, I just knew we had to have her to shoot our special day."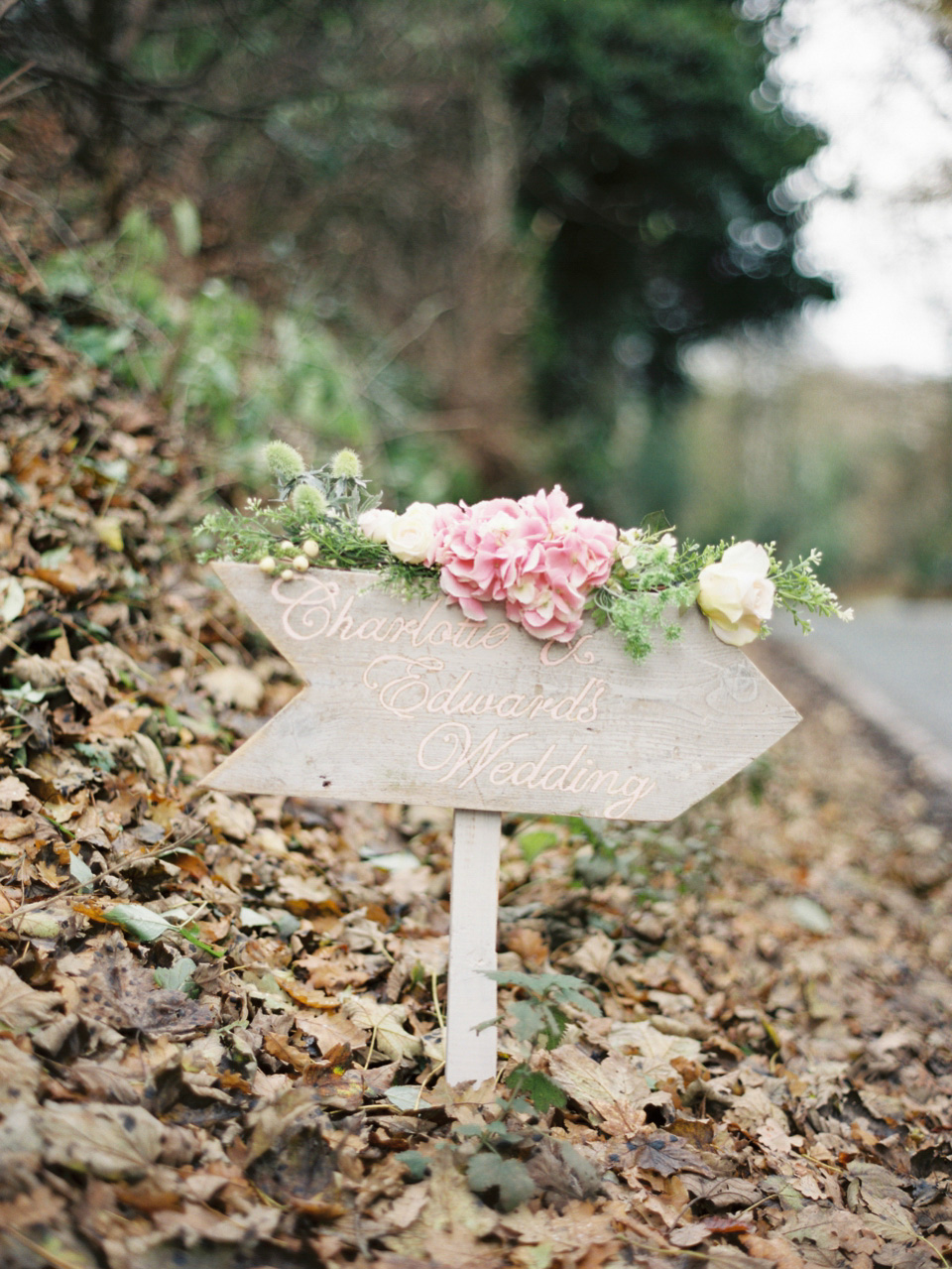 That very pretty bespoke wooden sign above there was created by Flourish Devon.
Now you'd think with being a dress designer, Charlotte might have been absolutely sure from the off what kind of gown she wanted, but even dress designers face a challenge finding their perfect gown!  In the end, Charlotte actually wore two gowns that she designed herself – and they now make-up two of the most beautiful dresses in her recently launched 'Iscoyd Park' collection, that we blogged about exclusively on Love My Dress last month.
"Designing my own wedding dress was one of the hardest things I have had to do. It took me well over a year as I changed my mind several times and ended up having over fifteen gowns that were 'nearly the one'. The two gowns that I wore I designed only a few months prior to the actual wedding. My Mum, Amanda Wyatt (also a bridal wear designer) was such a great help and support as she gave me guidance and direction when I had many a melt down about my dresses!
However, once I finalised my design, I knew it was 'the one' – as I felt like me, I didn't want to take it off and felt genuine emotion when I tried it on!"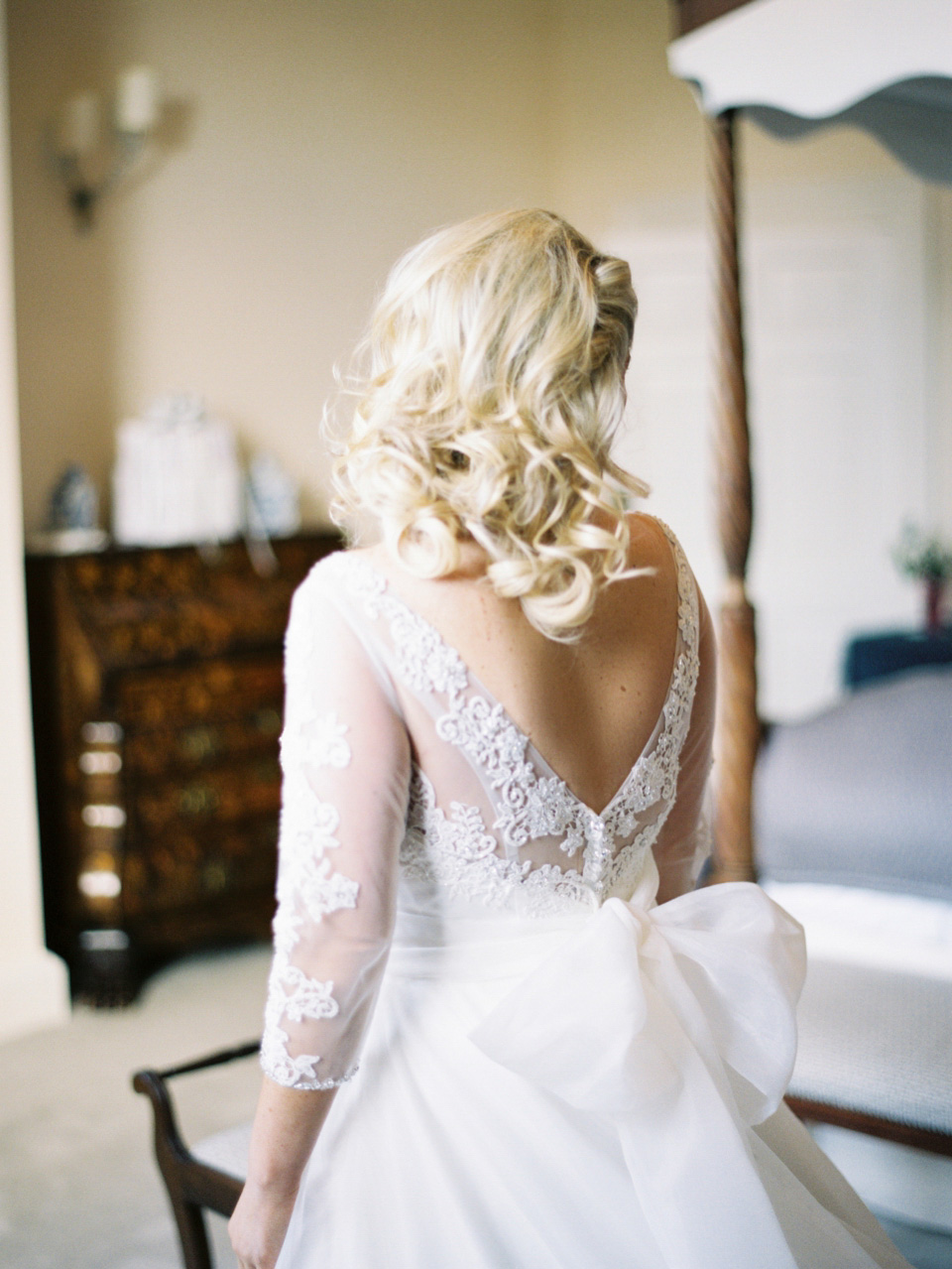 "My day bag was from Beloved Bridal.   In the evening, I used a clutch bag called 'Annie' that was from Vintage Styler."
"I had eight adult bridesmaids and two flower girls.  I personally designed a different dress for each bridesmaid.  I wanted each bridesmaid to wear a gown that was perfect for them, their figure, style and personality and for them to feel utterly fabulous. Every gown was in midnight Blue and was made from chiffon fabric but each design was very different. 
My bridesmaids all wore midnight blue lace shoes with matching lace clutch from Rainbow Club that were dyed to match the gowns.  They also wore midnight blue marabou fur wraps. Each maid also wore a pearl and diamante cuff all designed and created by Amanda Wyatt."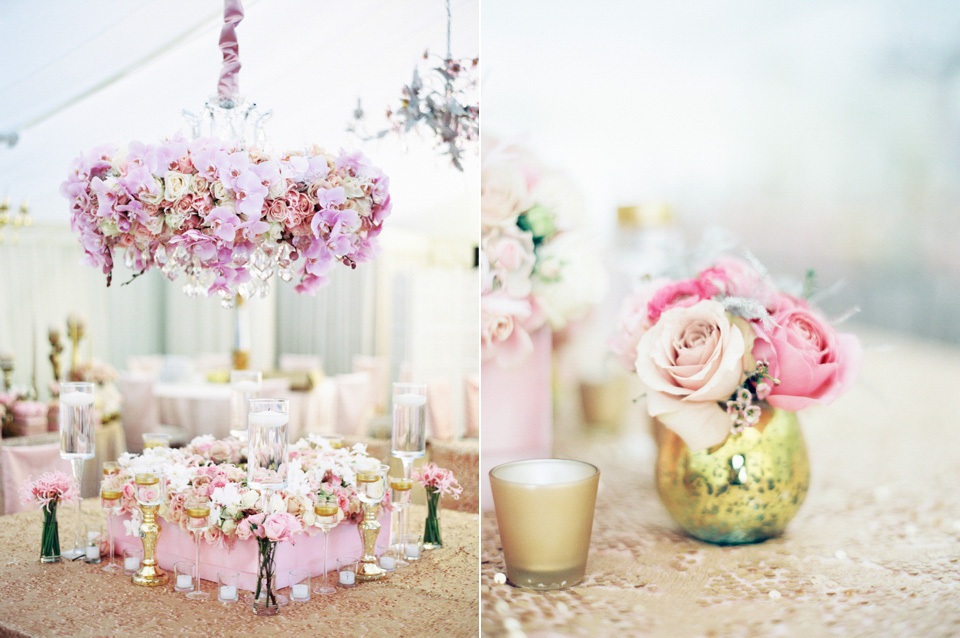 "I kept my jewellery very simple, but as a surprise on the day, Teddy had arranged to send, via his Godson, a beautiful diamond bangle that was made to match my wedding ring and engagement ring. It complemented my look perfectly."
Charlotte wore a silk tulle cathedral length veil with an Art Deco inspired crystal and pearl detail – from her own collection.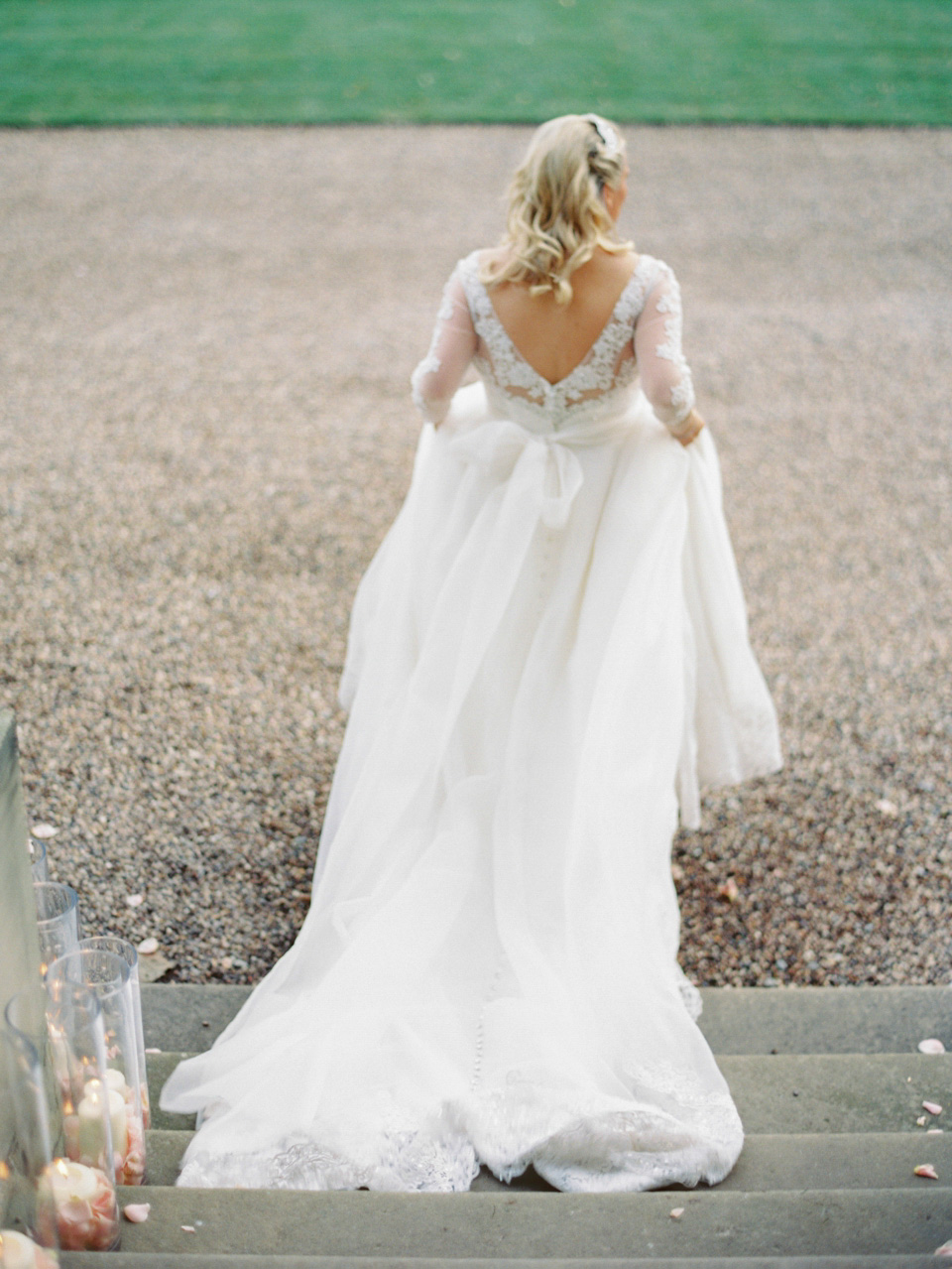 "My evening gown was all very last minute as I found the lace only in mid October. I designed the gown around the lace and luckily it all turned out perfectly. I must confess I did take a few gowns with me to Iscoyd Park – just in case on the morning I changed my mind! I didn't though as I adored and still do adore both gowns I wore.
In the evening, I also wore an ivory/gold bespoke hair flower with diamante and pearls in my hair – it was designed by my mum, Amanda Wyatt."
See the full incredible wedding with all the drop dead gorgeous details below…
Pictured below is Charlotte's second dress that she designed herself and wore in the evening – which makes up one of the designs in her beautiful new Iscoyd Park collection.
"I actually wore a third gown in the evening too, though there are no photographs of me in this gown. It was by Temperley in a beautiful midnight blue – I just had to have it and have worn it since, it's an incredibly timeless, elegant design."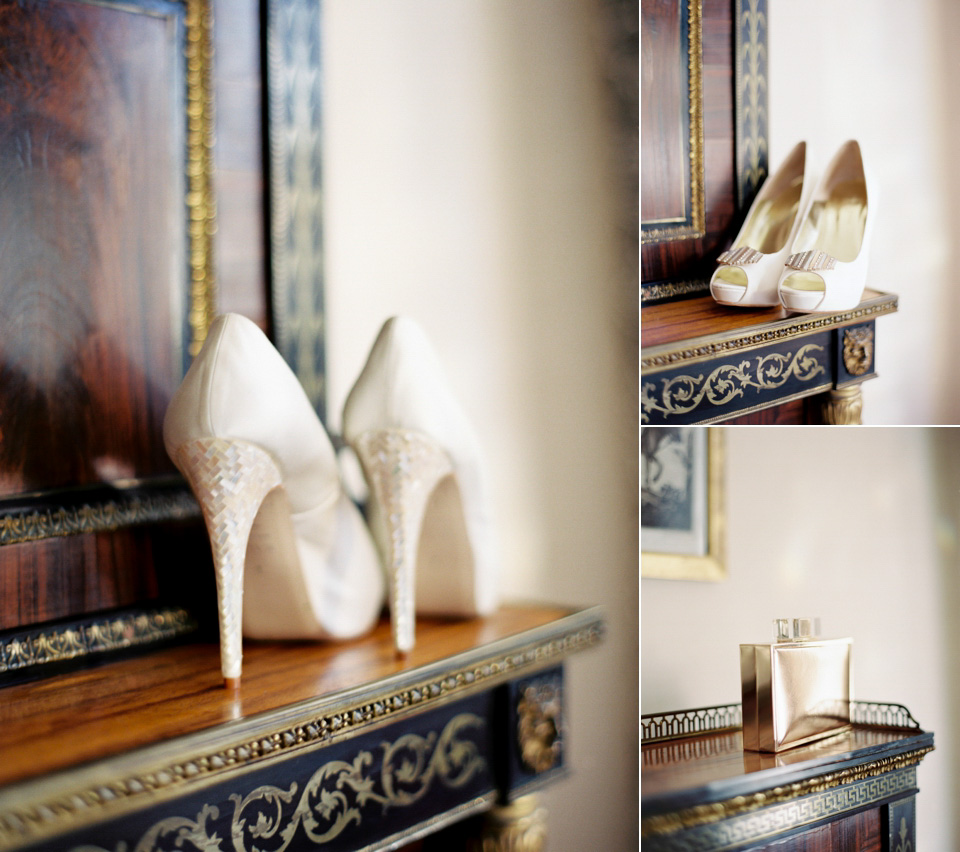 "I am very lucky that I have amazing friends in the industry and one of those is the very talented and lovely Freya Rose. Freya invited me down to London to her shoe boutique in Islington and together with my Mum and Freya, we chose the perfect shoes.  They were an ivory platform with an open toe, a handmade mother of pearl heel and the most gorgeous Art Deco inspired shoe clips.
Freya also gave me a lower pair as my 'just in case' shoes, that is, if I needed a more comfortable heel, but I have to say my day pair were so comfortable I didn't end up needing my emergency heels!  
For my evening gowns, I had some very gorgeous (and very high!) Jimmy Choo's."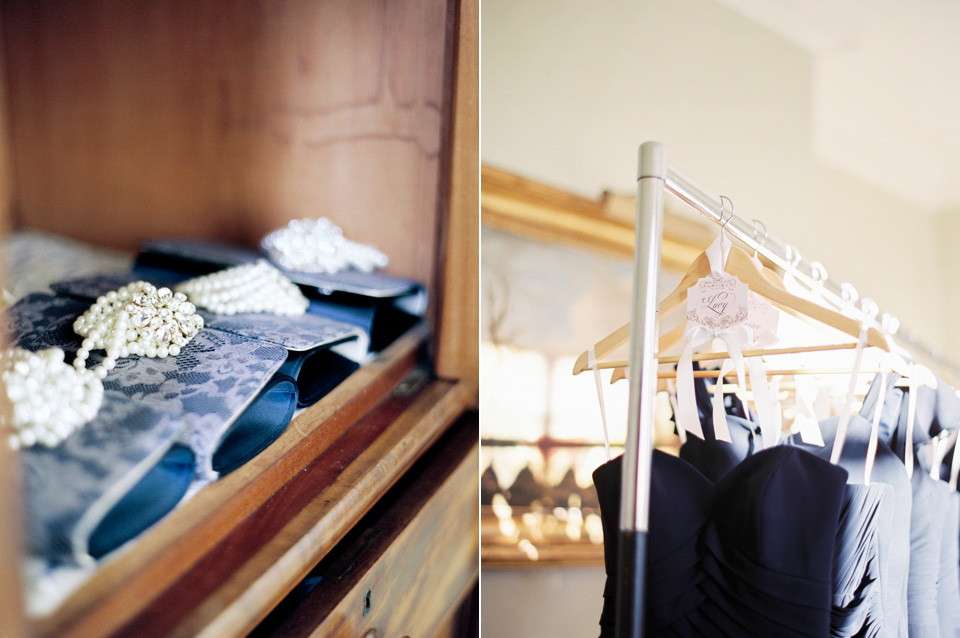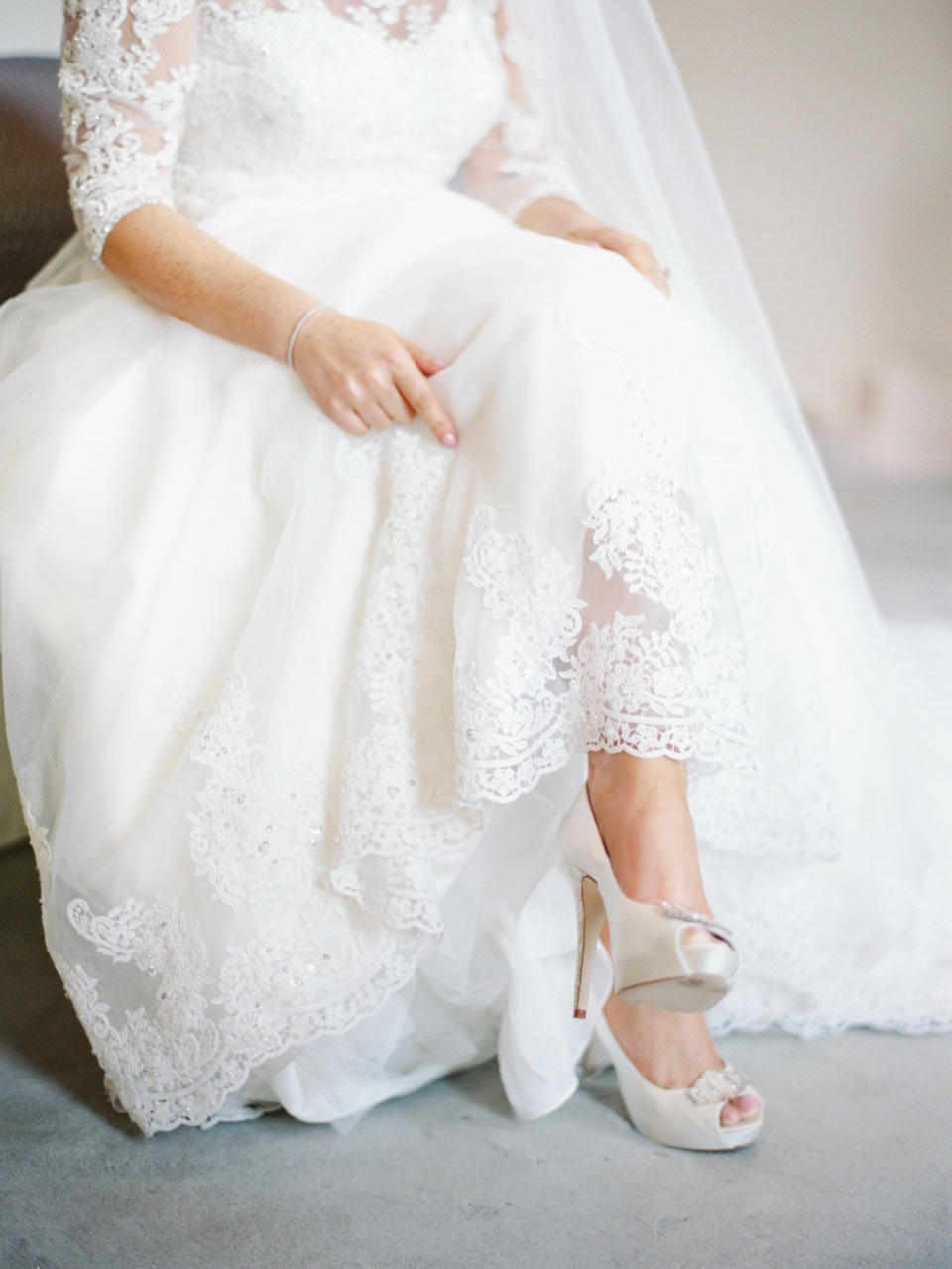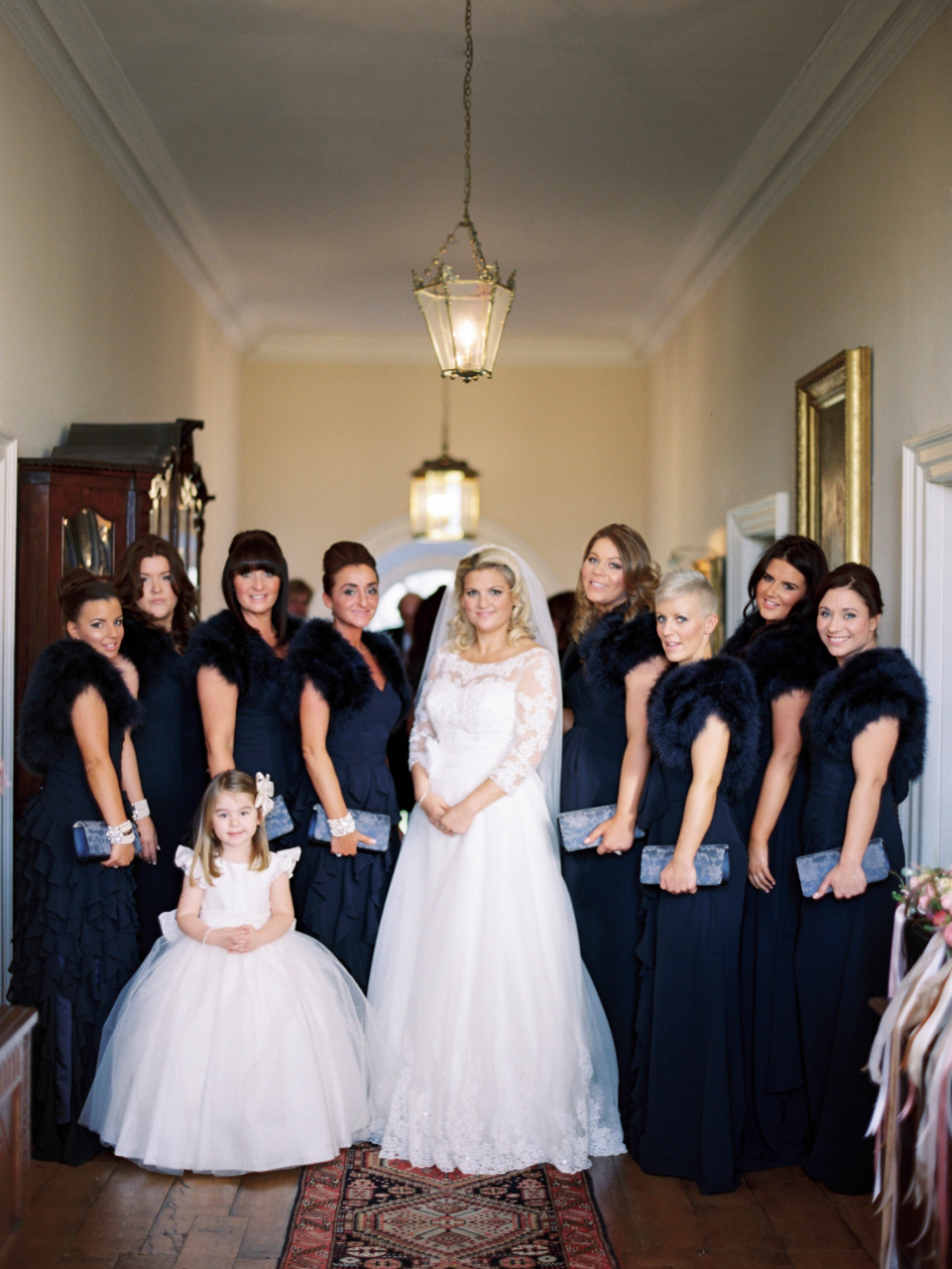 "I had an amazing team to style my hair and make-up. Sarah Brock, who is the official make-up artist for Conde Nast Brides Magazine did my make-up. I have known Sarah for years and I adore her and her work, she's amazing. Sarah used Chanel make-up to create my bridal make up of soft pink lips, a light smokey eye and soft dewy cheeks.
Harry John styled my hair in big old-school style Hollywood waves."
"When it came to wedding party cars, I managed to save some budget and asked the best men and grooms men to drive either their cars or cars that belonged to members of my family. They drove all the maids and my family to the reception in some pretty swanky cars – the church car park looked like a car sales forecourt!"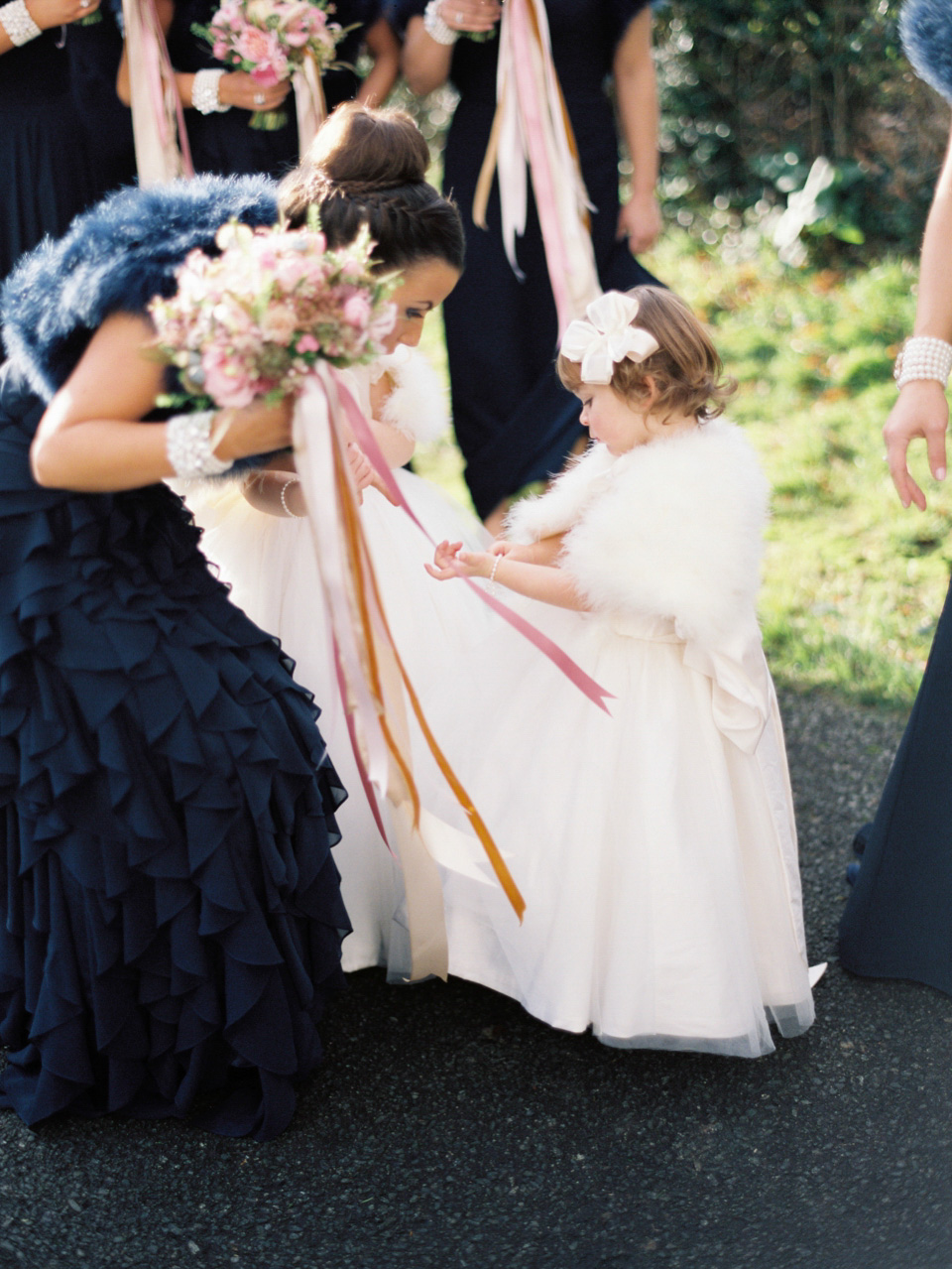 "My number one man, my very lovely and wonderful Grandpop's Alan Wyatt (Mum's Dad), gave me away.
We had a traditional Church of England service during which we exchanged traditional vows. We also had two readings – one was a religious reading from The Bible – read by my stepfather. The second was read by Teddy's sister Charlotte, and was from my favourite children's book, 'Guess how much I love you?' I gave the flowers girls and my friend's little baby a copy of the book and a fluffy bunny from the book to keep."
"My engagement ring is an Art Deco inspired setting and design. The shape is a classic cushion encircled in a double row of diamonds set on a diamond band. My wedding ring is a full diamond band that is made to complement my engagement ring. Teddy has a white gold band. All our rings were from Donns Jewellery."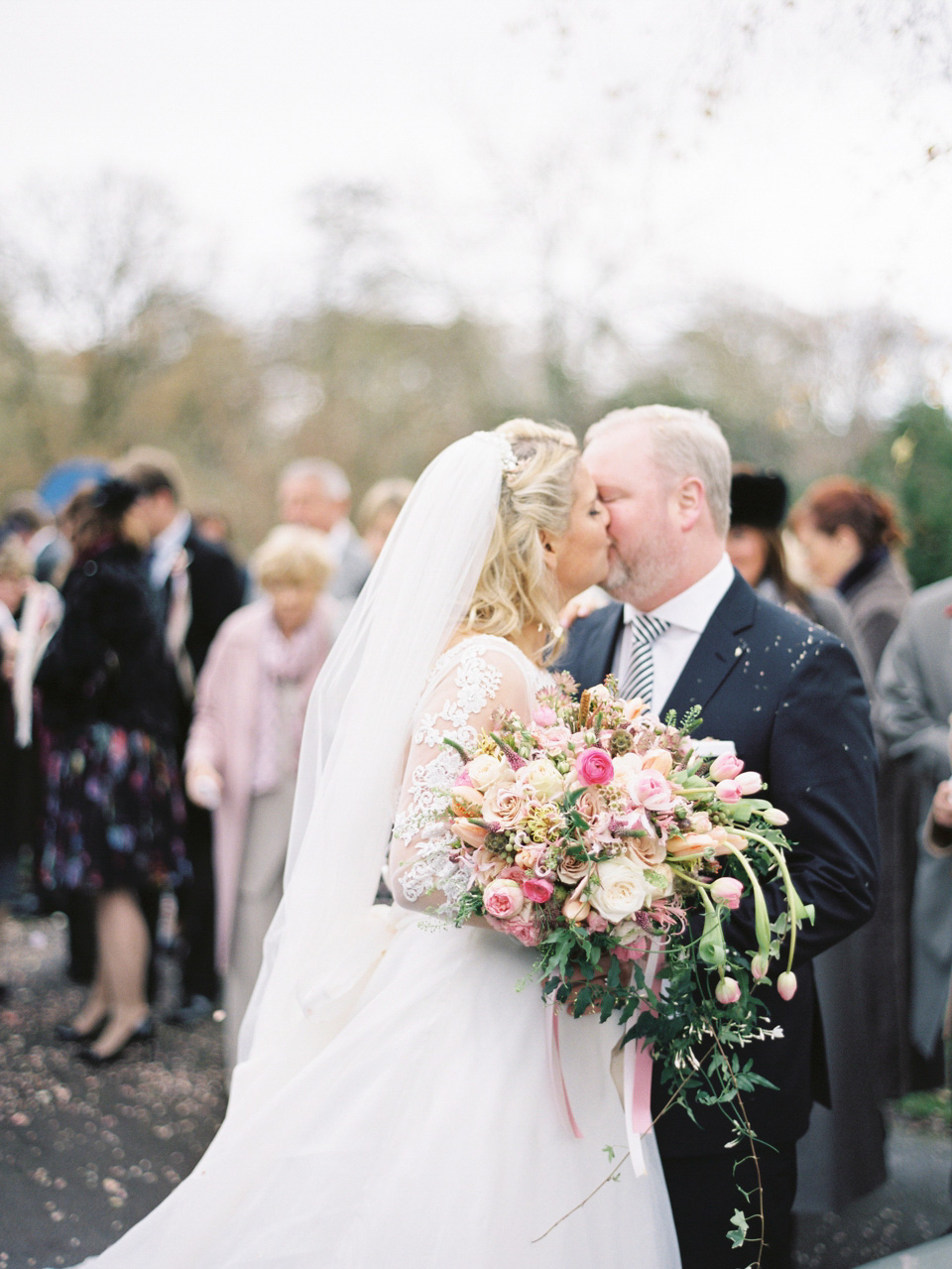 "As guests arrived at the church, they were each handed an order of service along with a kissing bell. The kissing bell had a little poem attached, which also instructed guests what to do with them.  We also provided two baskets of vintage cotton hankies for our guests' 'happy tears'.  I sourced these from eBay and the baskets from a vintage store. When leaving the church, guests were handed fresh pressed flower petals to throw that were supplied by Shropshire Petals."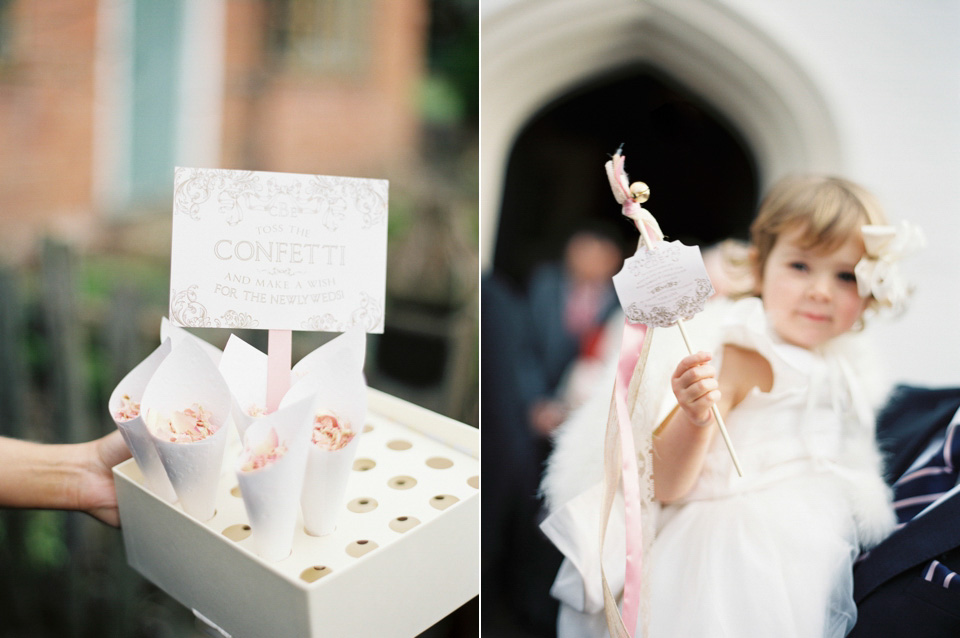 Teddy wore a custom made Hugo Boss suit. He also wore a pair of Jeffery West shoes and his shirt and tie were from Thomas Pink.  His groomsmen wore suits from Marks & Spencer, shirts from Charles Thrwhitt and shoes by Rachel Simpson.
"A big kiss and thank you to Rachel Simpson shoes for supplying all the groomsmen shoes. They loved them and still wear them out on the town!"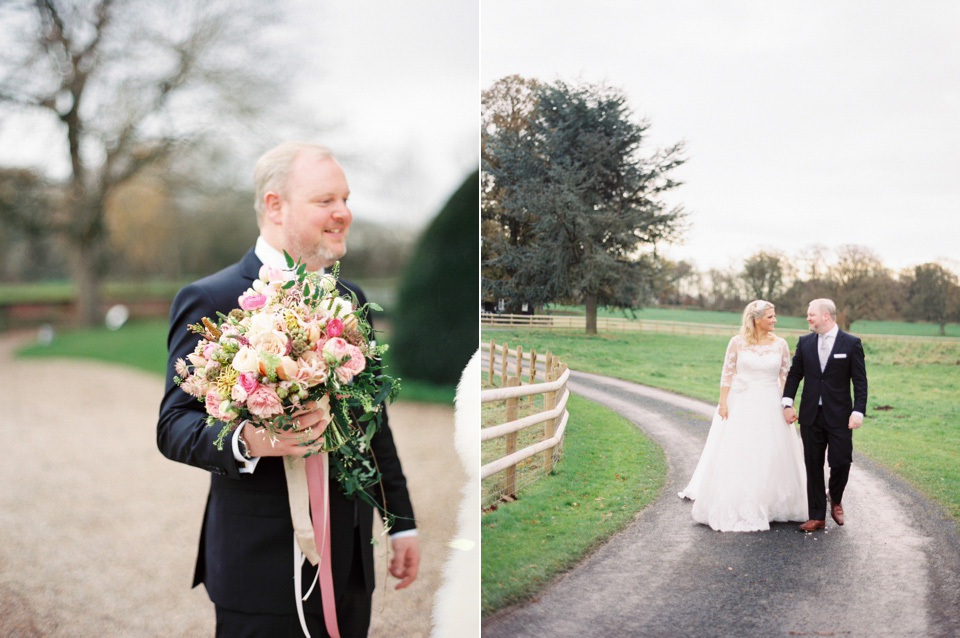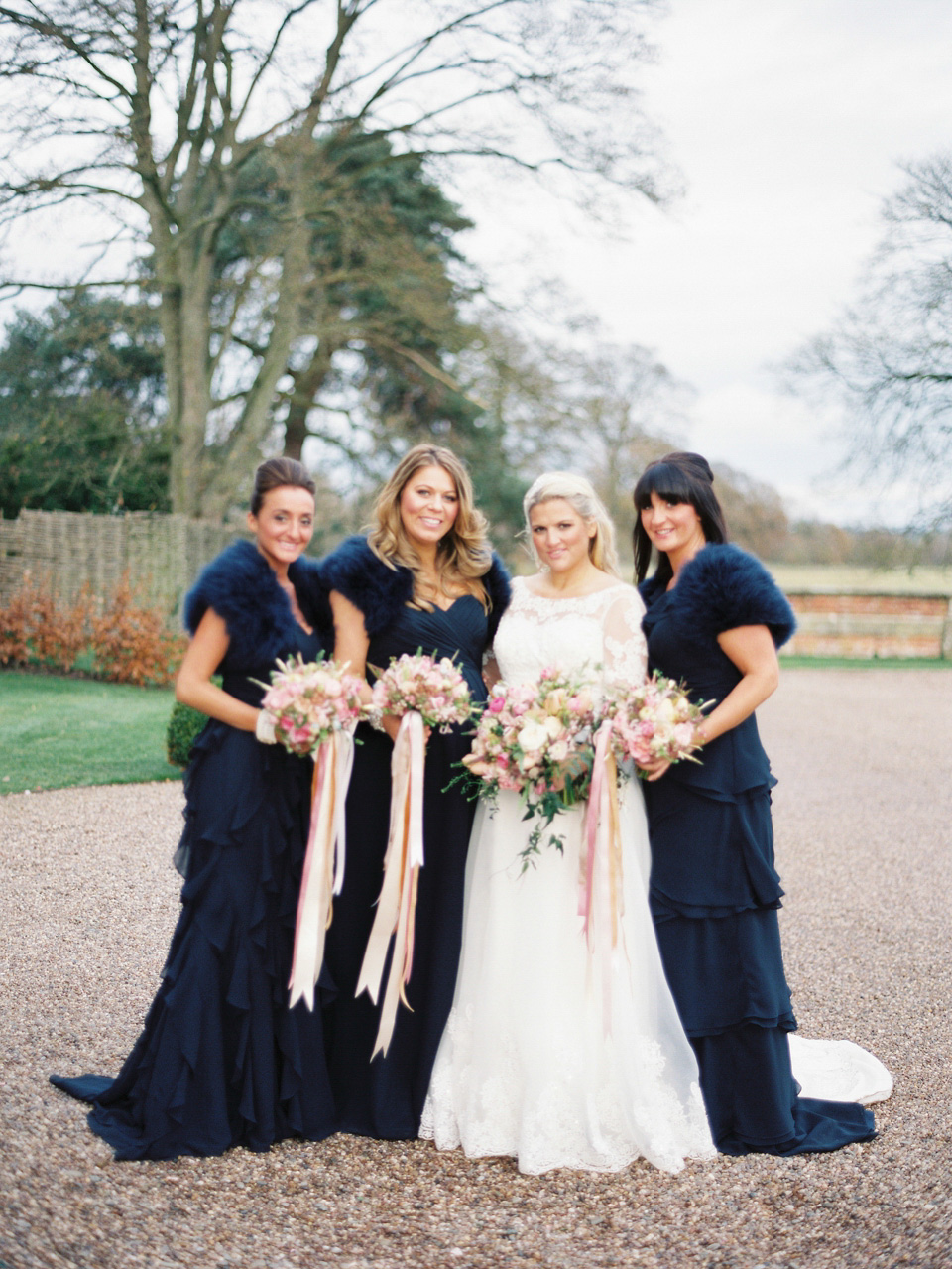 "The two flower girls frocks were again designed by me. They were pure shot silk fabric with a tulle overlay.  Like me they had a sash with an oversized hand tied bow. They were completed with a little frill shoulder detail, marabou cape with pom poms.  In their hair they wore little bows from Netti Nutkins and instead of bouquets, they carried white bunny bears from The White Company.
Both flowergirls wore shoes by Rainbow Club – I wanted them to each look like adorable little fairy-tale princesses, and they most certainly did. Finally I finished the look with pearl bracelets by Molly Brown London."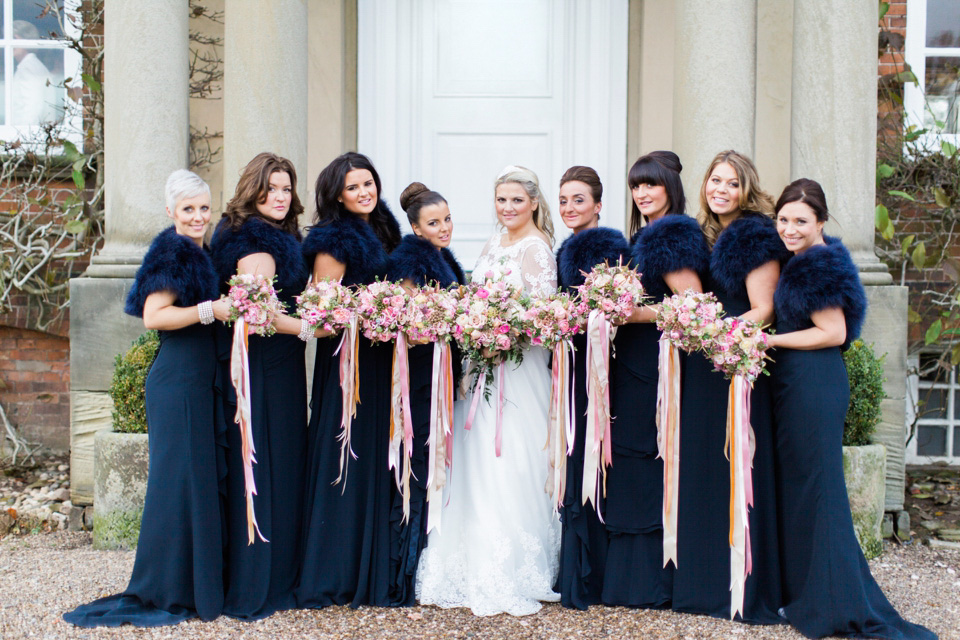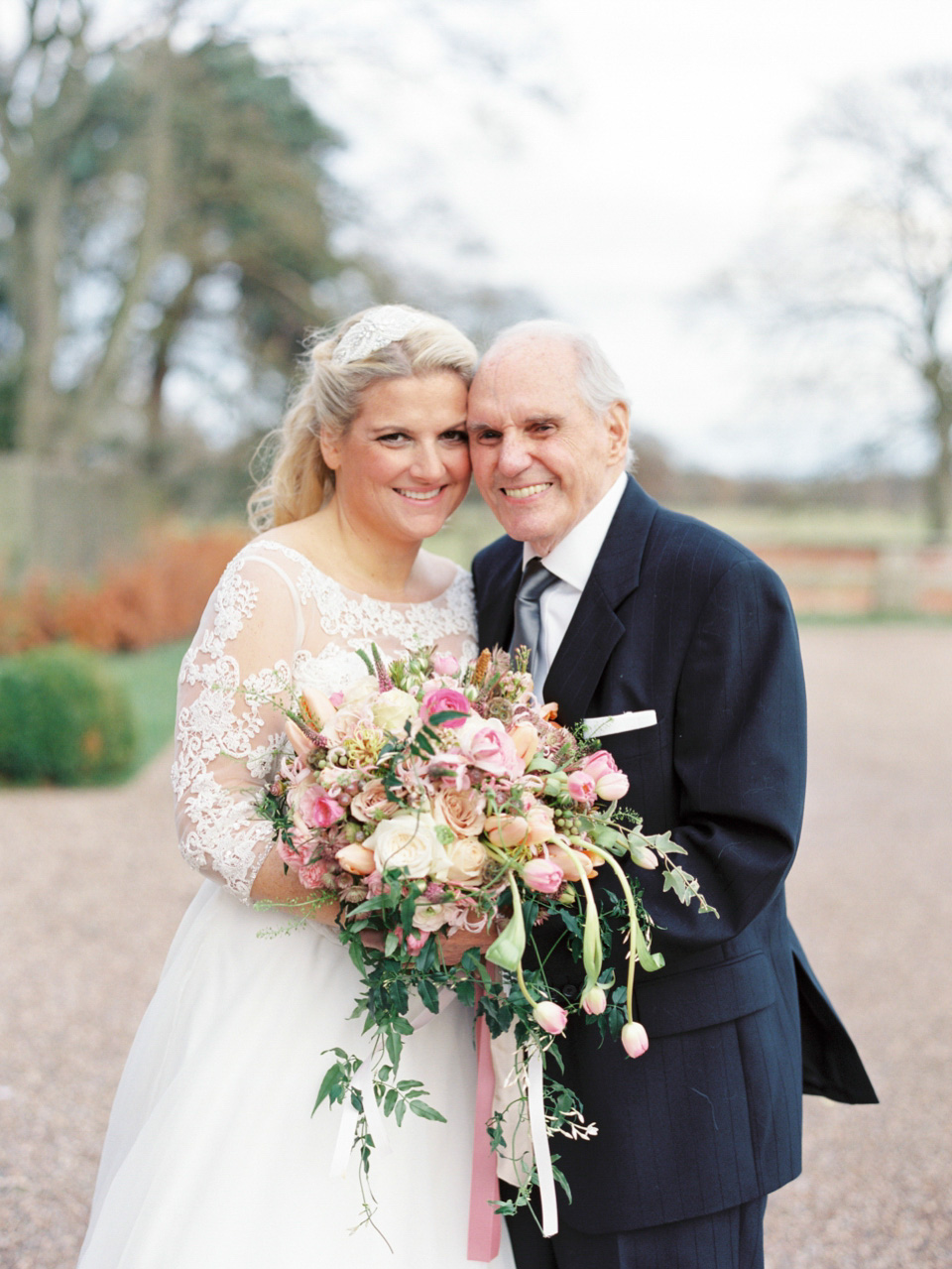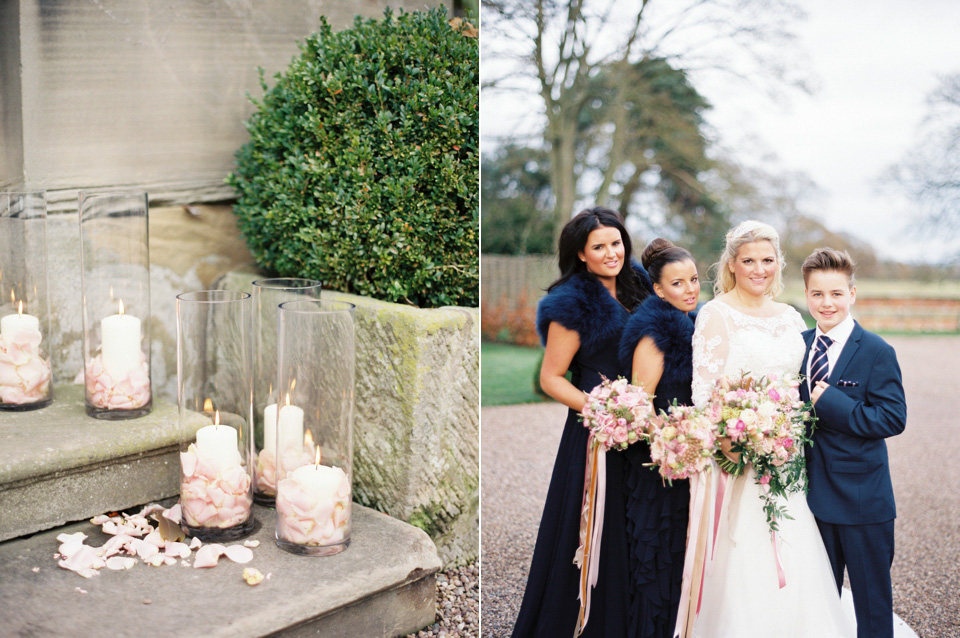 "Polly introduced me to Rose & Ruby Paper Co. a few years ago and I have been working with Rose ever since.  Rose is one of the loveliest ladies in the business with a truly gifted talent and she's also beautiful – she's just amazing. Rose not only designed all our wedding stationery but has also worked with me on several Charlotte Balbier projects including my big re-brand this year. My working relationship with Rose will be a long one as every year I ask Rose to design and create all my invites for my new collection show and stationery."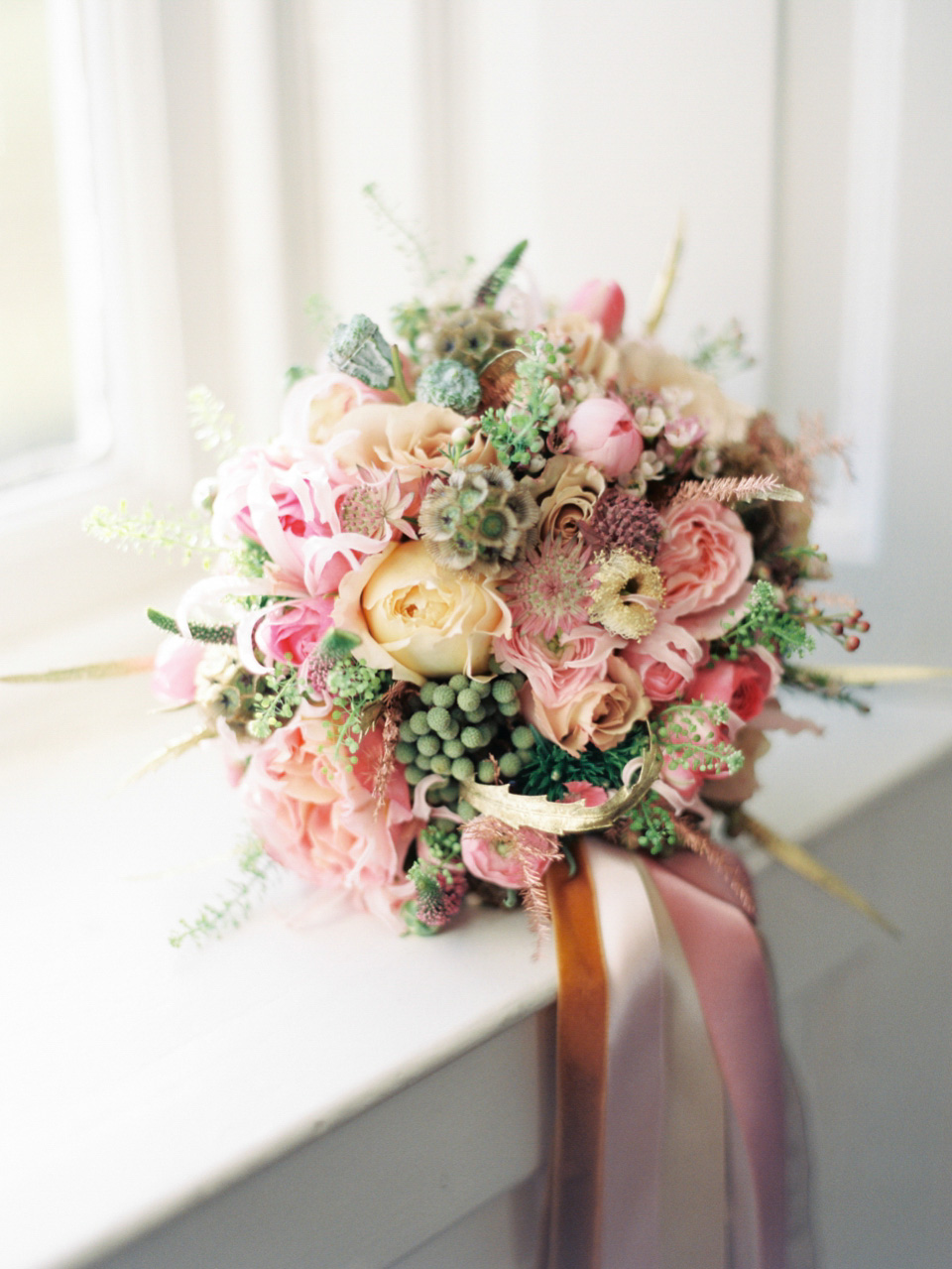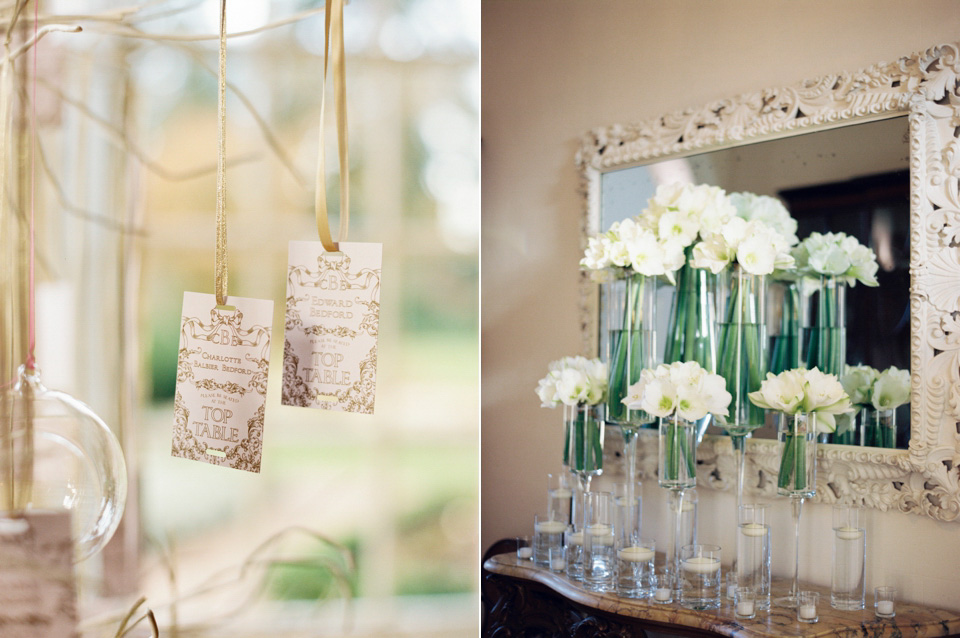 "We had two florists. We wanted the flowers in the church to remain in-keeping with its heritage, so we chose a simple colour palette of ivory and green's with the whole church lit by candlelight. It was so romantic. These flowers were provided by Selena Godsall
Our reception venue was all styled by the amazing Red floral Architecture. I've known Mat and Jane for many, many years and some would say I could be obsessed with their work. Their vision and creative talent is truly on another level of amazing. Our brief was 'roses, pink, gold,  sparkle, candles, ribbons, lace, glamorous – and lots of it!
I let them work their magic as I trusted them 100%. We also really wanted a wishing tree style seating plan and they built the most gorgeous one that was decorated with ribbons, flowers and name tags provided by Rose & Ruby Paper Co."
"The vintage tea and coffee crockery each had a side saucer cracker from And All Things Nice.  Every table had gorgeous glasswear, retro saucers, glasses and decanters, all hired from Lavender & Linen."
The food served during the reception sounds utterly delicious!  Here's some winter wedding menu inspiration for you ladies, just in case you're struggling…
Canapé:
Rare roast beef on Yorkshire puddings with creamy tarragon and horseradish
Chicken marinade in soy ginger and garlic with a peanut sauce on skewers
Peking duck pancakes with hoisin sauce
Tiger prawns with pak choy, garlic and chilli
Pan fried loch fynne Dover scallops on pea puree
Savoury 'jammie dodgers' sage biscuits filled with peppered cream cheese & red onion jam
Red onion and filo pastry tartlet
The main course:
A trio of soups: pea soup with scallop, creamed Jerusalem artichoke with truffle oil and a winter vegetable served with a carrot crisp.
Fillet of beef: cooked to your liking. Duo of Cheshire beef, fillet of beef wrapped in air dried ham, shin of beef pie with a squash puree, baby vegetables and merlot jus, or, goats cheese and cauliflower pie with roast baby beetroot
For dessert:
A dessert table with over 15 deserts in a room that was created just for the desserts, candy and tea/coffee.  The desserts included:-
Naked cake decorated with fresh flowers
Mini Eton mess shots with hand tied ribbon
Heart shaped chocolate brownies dusted in icing sugar and a decoration on top (Heart candy)
Sticky toffee pudding in a kilner jar with hand tied ribbon
Strawberry shortbread with clotted cream on a skewer
Lemon Posset, lemon curd and whipped cream (shot glass)
Sorbets in retro saucers decorated with rose petals and glitter
Jars of berries
Jugs of cream
Jugs of warm custard
An incredible mouth watering experience if ever there was one!
"As favours, every guest received a little pink and gold box of chocolates by Charbonnel.  They also got to keep the hankies, kissing bells and dancing shoes (flip flops). The candy buffet also had sweetie bags so guests could take sweets home for their children or just for them."
"Each reception table was styled differently though using the same colour palette. Every table and chair was covered in a fabric from either a Charlotte Balbier or Amanda Wyatt gown fabric and a lot of sequins and lace. We had several chandeliers hung and dressed with flowers from the ceiling as well as our wall of mirrors and candles behind the top table. The marque was also lit by hundreds of candles.
We numbered, rather than named our tables.  When guests entered the marquee, each table had a server with the number held up (American style) and guests loved this. I bucked tradition with a lot of my choices and it worked out well."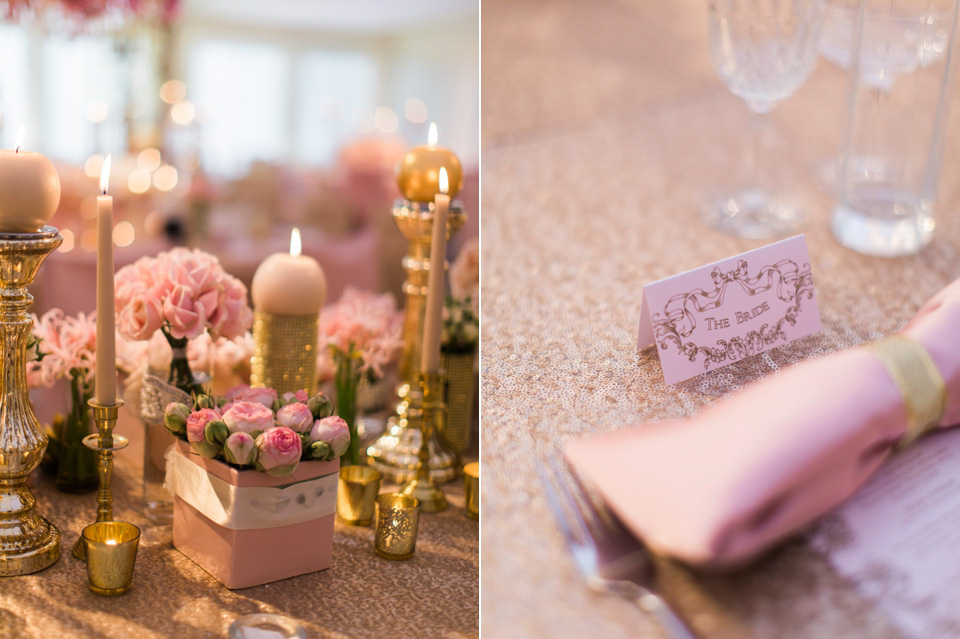 "Our cake was a bespoke design supplied by Cakes by Krisanthi. I worked closely with Krisanthi and she created our dream cake – it really was so beautiful. It included four tiers of a very soft nude pink shade with delicate polka dots and handmade sugar flowers. The flowers were painted in gold leaf, pinks and ivory hues. Our 'C&E' crest was the main feature. The cake was sat on its own table that was decorated with fresh flowers and candles."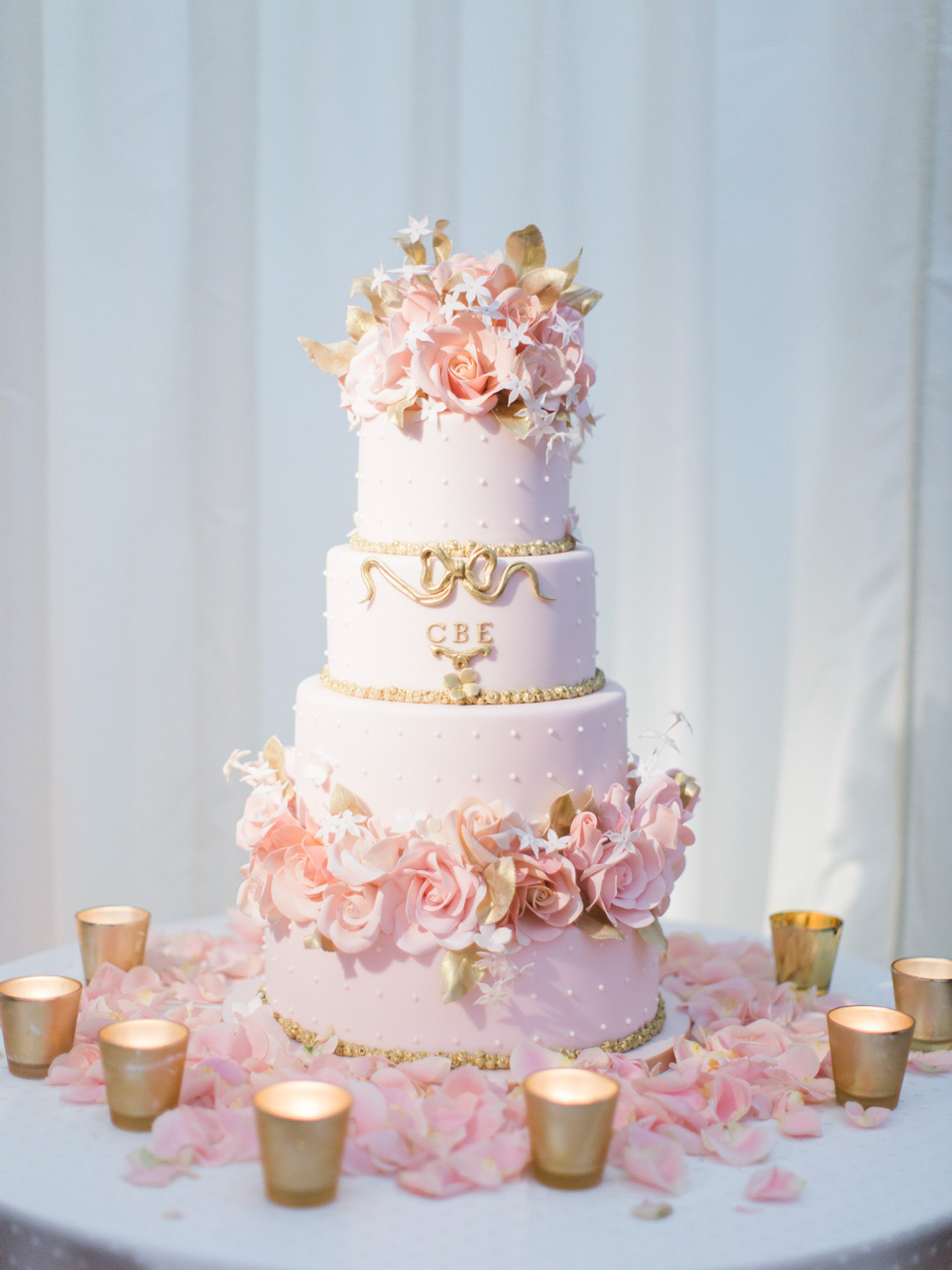 "We had macarons in a mix of  colours in gold/ivory/pinks and some were dipped in Gold glitter from Mum's Macarons and hundreds of types of sweeties served in retro apothecary jars, via The Sweet Hostess.
After dessert, we had tea and coffee that were served in vintage china supplied via Pretty Little Trio (owner Rebecca is now part of the Love My Dress team of writers!) and on each saucer was a saucer cracker from And All Things Nice.
The dessert room was styled and dressed by Red Floral – they used props and china from The Sweet Hostess, Pretty Little Trio and Lavender & Linen."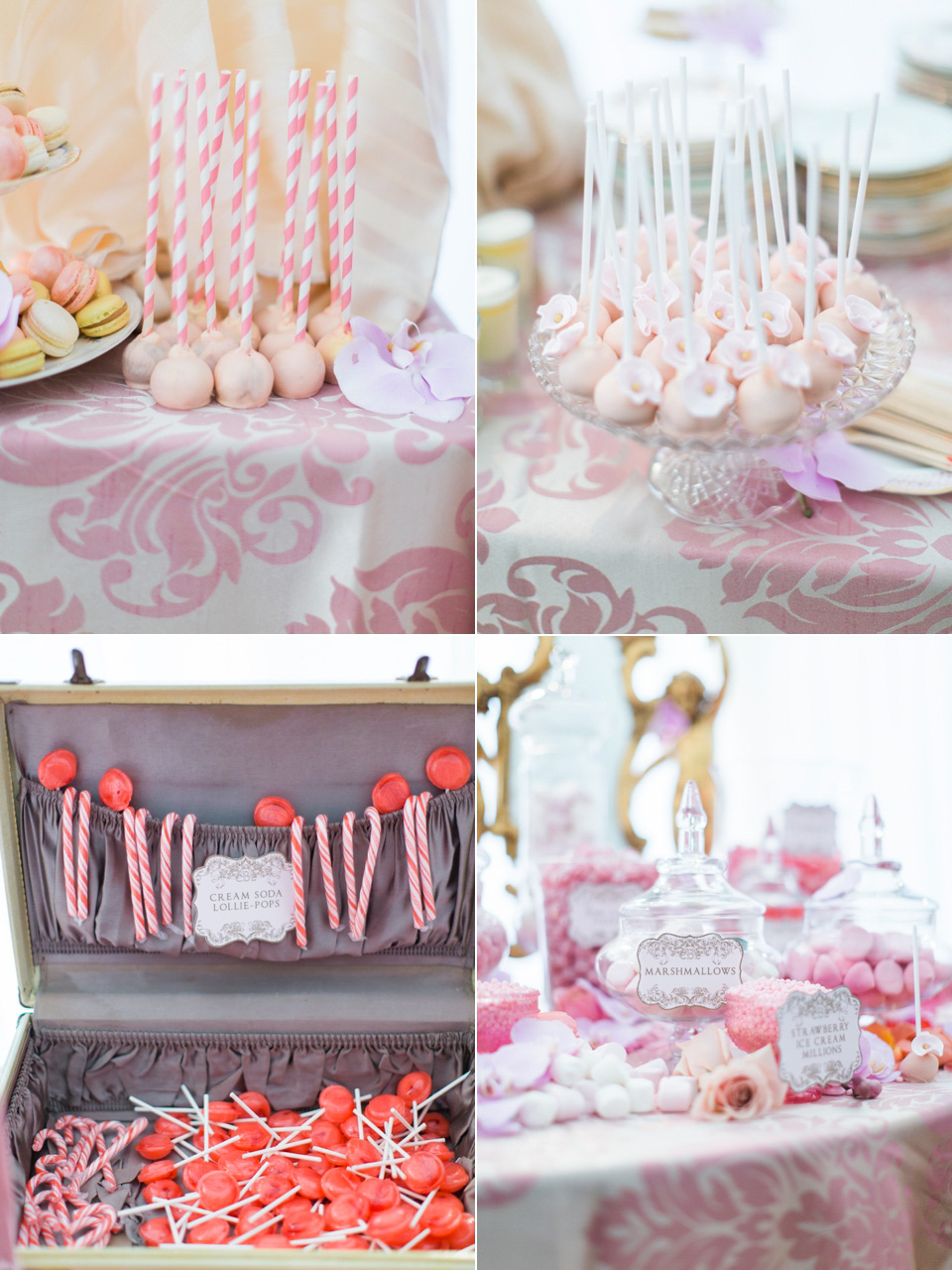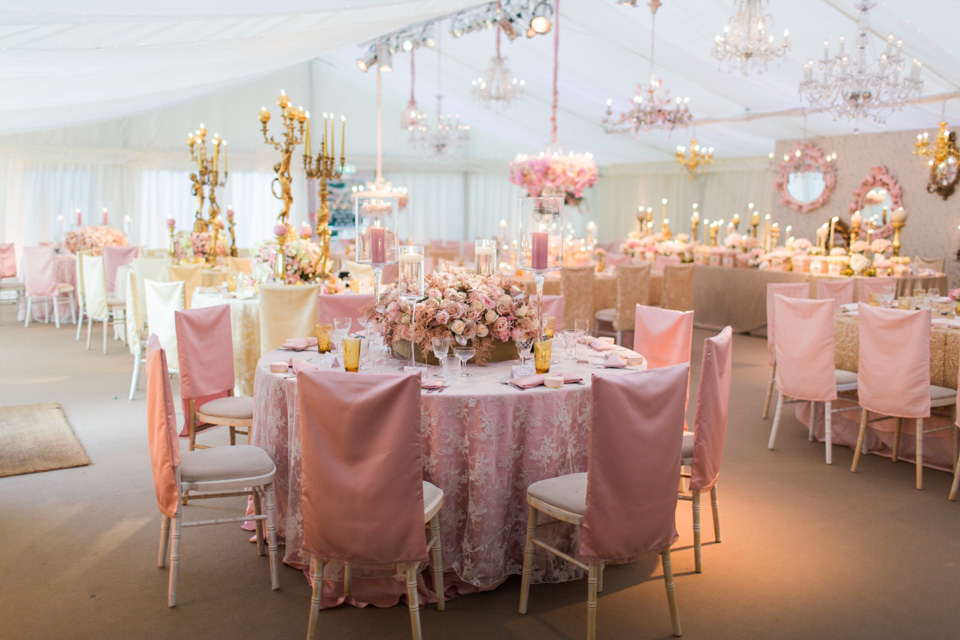 "We created our own cocktails that were served by a cocktail mixer called Jamie. The cocktails included  'The Buster Bear' dedicated to our Dog – a chocolate, creamy style cocktail (he's a choc lab).  We also had 'The Tilly Woo Woo' – named so after my parents Dog. This was a take on the classic woo woo cocktail. We also had 'The Bedbier' – our nickname by our friends (own names combined). This was a jaegar based one (Teddy's fave!). All cocktails had cool props so they looked attractive."
"In the evening we had a large basket filled with flip flops for the ladies to wear, and a cute sign with a poem/rhyme. The flips flops were from Amazon and the sign was made by Rose & Ruby Paper Co.  I sourced the basket from a vintage store."
"The Gypsies of Bohemia entertained our guests at the drinks reception and in the evening too.  After they finished their set, we had DJ Nick Campbell play classic disco music.  Then for the last set of the night we went back to my old Skool roots with the legend DJ Graeme Park who made the Hacienda famous and is still a legend.  
This was one of the highlights for me as I was (in my day) a Hacienda girl and a regular in Ibiza.  I still go to Ibiza now, only the chilled-out side of the Island!"
"Our first dance was to INXS's 'Never Tear us Apart' – on our first valentines day together, we were driving to Leeds for the weekend and we played this track. We both said it was our favourite song which surprised us both as we didn't feel it was a very well known track. Since then, it has always been 'our song'. The words are also beautiful and romantic."
As for the couple's favourite parts of the day?
"The church vows, speeches and the look on the guests faces when they saw the marquee (that was priceless!). Also, the DJ set by Graeme Park and having all the people I love share our special day – these were some of my most favourite moments of our day."
Teddy says "Seeing Charlotte walk down the aisle with her Grandpops looking so happy and saying our vows and committing ourselves to each other was a wonderful moment. Also, the stunning marquee, the food, the speeches, cutting our amazing Cake, the dessert table, the band, the DJs, and lastly having all my family and friends there, smiling and enjoying the day – simply unforgettable!"
Pretty much all of it then Teddy? Hehehe!
Words of Wedded Wisdom…
"First thing is to get a Wedding Planner and a well known one with a good reputation and experience in the industry. Also, only use a professional photographer.  A video is a must too!  So many couples don't have a video and it's my favourite thing from the day  – I watch it all the time.
Do your research and work with the best suppliers in the business. Use Pinterest for inspiration and finally, buy your wedding dress at least 6-8 months before your wedding."
Breathtaking. Super glamorous – every last little detail thought out and executed to utter perfection.  I really have never seen anything quite like it and what I wouldn't have given to have been a guest at this special day.
Below you will find the longest list of suppliers ever, but ladies and gents, these are some of the very best suppliers in the business, or Charlotte and Teddy simply wouldn't have worked with them.
To Charlotte and Teddy – thank you for allowing me the absolute privilege of being able to share your beyond glamorous day with my readers, I really am so thankful for this amazing opportunity.  I'd also like to thank photographer Polly Alexandre for so happily allowing her beautiful photography to be shared on Love My Dress.
Have the most beautiful inspired day dreaming of pink and gold, won't you.
Love Annabel xx
Charlotte & Teddy's dream team of suppliers:-
Photographer – Polly Alexandre
Film Producer – Silk Weddings
Planner/Stylist – London Bride
Venue – Iscoyd Park
Wedding Dresses + Veil – Charlotte Balbier + marabou fur wrap (borrowed from Grandmother)
Headpiece – Amanda Wyatt
Shoes – Freya Rose + Jimmy Choo
Groom – bespoke Hugo Boss suit + Jeffery West shoes + Thomas Pink shirt & tie
Groomsmen – suits from Marks & Spencer + Charles Thrwhitt shirts + Rachel Simpson shoes
Bridesmaids – Charlotte Balbier + shoes by Rainbow Club
Flowergirls – Charlotte Balbier dresses + shoes by Rainbow Club
Flowergirls Accessories – Netti Nutkins hair bows + white bears+ Molly Brown bracelets
Florist – Selena Godsall (church) + Red floral Architecture (reception)
Cake – Cakes by Krisanthi + cake-pops + cookies by Freyas Fancies
Transport – Manor Bridal Cars (vintage Rolls Royce)
Entertainment – Gypsies of Bohemia + DJ Nick Campbell +  DJ Graeme Park
Rings – Donns Jewellery
Catering Company – Vanilla in All Seasons
Desert Table/Tea & Coffee Station – Pretty Little Trio
Macarons by Mums macarons + Sweeties by The Sweet Hostess
Stationery – Rose & Ruby Paper Co
Hair Stylist – Harry John
Make-up Artist – Sarah Brock
Bridal Party Styling – Ivy Clara + Harry John + Nicholas Austin + Helen Masters +  Nicola Richards + Lauren Sally
Clutch bags   – Beloved Bridal (daytime) + Vintage Styler (evening)
Favours – Charbonnel chocolate
Wooden signs – Flourish Devon
Real Confetti – Shropshire Petals
Follow Love My Dress® on Google+