I thought I'd share something with a vintage and floral focus this afternoon.  I shall never tire of seeing oversized floral crowns teamed with pretty vintage gowns.  This elegant, vintage inspired shoot took place at Belt craft studios in London with a team directed by Cara, founder of Story of my Dress, a new online vintage wedding dress boutique selling some of the most beautiful original vintage wedding dresses I have seen.
"Story of my Dress was created to offer brides to be something a little different, something very unique, a one off dress that is breathtaking but affordable, from the fluid silhouette of the 1930's to the relaxed whimsical style of the 1970's."
Photography Copyright (c) 2014, Alex Tenters Photography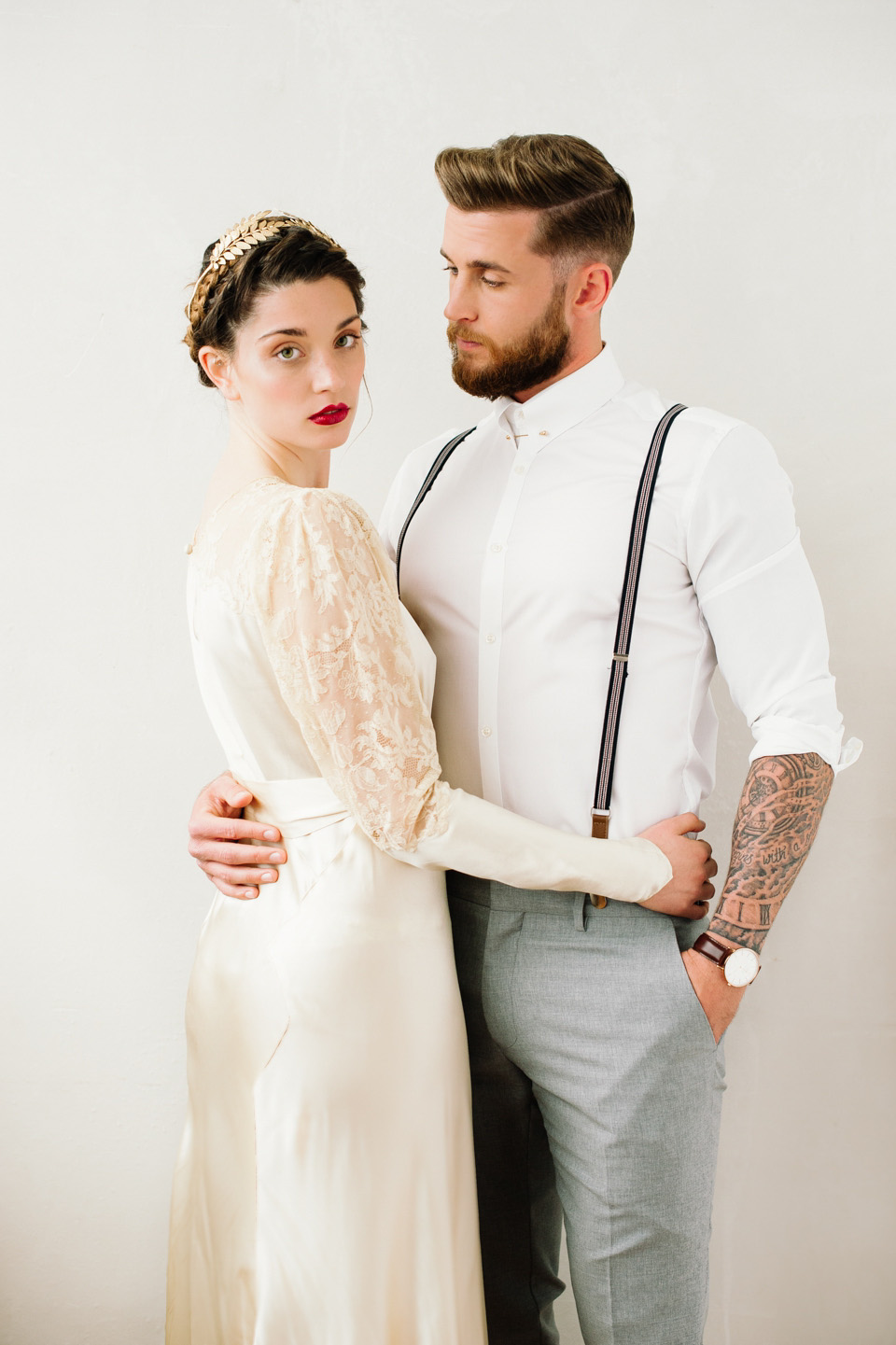 "Each dress secretly has its own story, some we are able to tell and some we can only imagine. Where might it have been worn, by what lady who was so in love with her handsome groom she chose to wear or even hand-make this elegant gown.  Their timeless style and our current love for vintage means these dresses are ready and waiting to start a new story with their new bride.
Story of my Dress is currently visiting a series of vintage wedding fairs across the UK, to offer brides a chance to try on and purchase their dress there and then."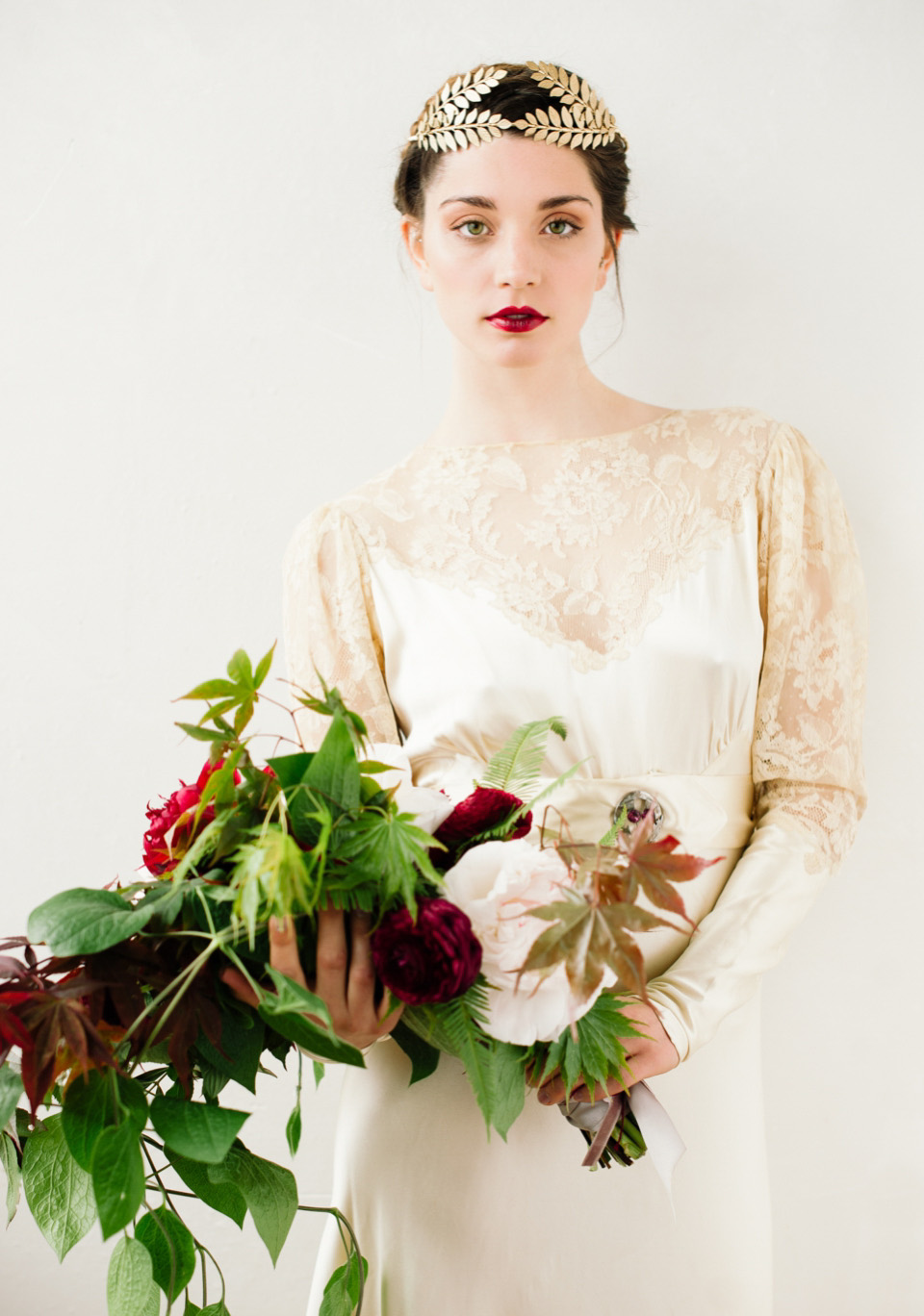 Florists Frida and Sophia met at college studying for their floristry diploma. They've been working together as best buddies and business partners for the past three years. Their business is based in Tenterden, Kent but they cover South East England, London and the Home Counties.
"We love working together, which we think comes across in our approach to our work. It's lovely working with flowers even with the early mornings and long hours which have become second nature – always helped with a strong cup of coffee though! We buy from our local wholesalers and also travel in to Covent Garden flower market for their amazing array of flora and fauna. We don't want to say too much, have a look through our portfolio and we think the designs speak for themselves. If you would like to have a chat through, please call – we love talking flowers."
"I recently took a trip to New york to source more dresses and headpieces to use in this shoot.  One of my favourite dresses ever, also used in this shoot, and a style that is requested frequently by brides, is the 1930's silk and lace dress that model Ariana wore so well.  I discovered it in a vintage store in lower Manhattan, the owner travelled to New England and saved it from a museum closure! It had been behind glass since it was worn and is practically perfect."
Make up Artist Amy Barker has ample bridal and catwalk make up experience having also been a finalist in 'Young Makeup Artist of the Year'. She explains having great skin is always at the top of each brides agenda and therefore she focused all the look around beautiful dewy skin.
"The base is vital as it is the canvas to the rest of the make up and creating a perfect base will ensure make up lasts all day. Amy created a youthful and luminous look by ensuring the skin was hydrated and exfoliated. For the shoot Amy used Dermalogica Hydrating booster for a quick shot of hydration to the skin and Daily Microfoliant for a gentle exfoliation. All looks either involved a strong statement lip for a regal approach or a statement eye using a pallet of spring colours."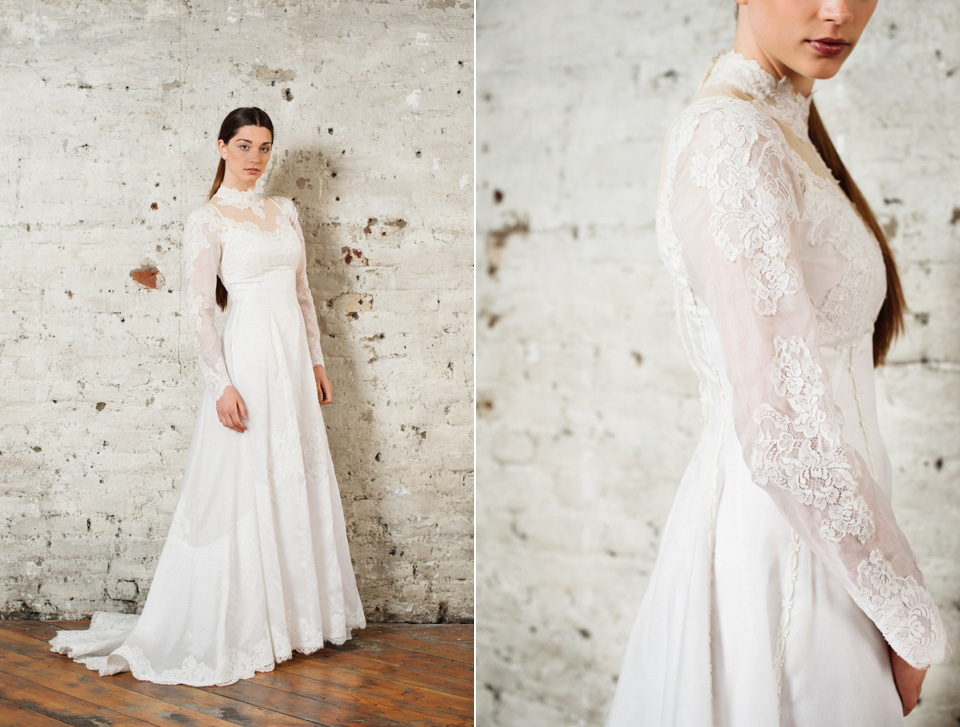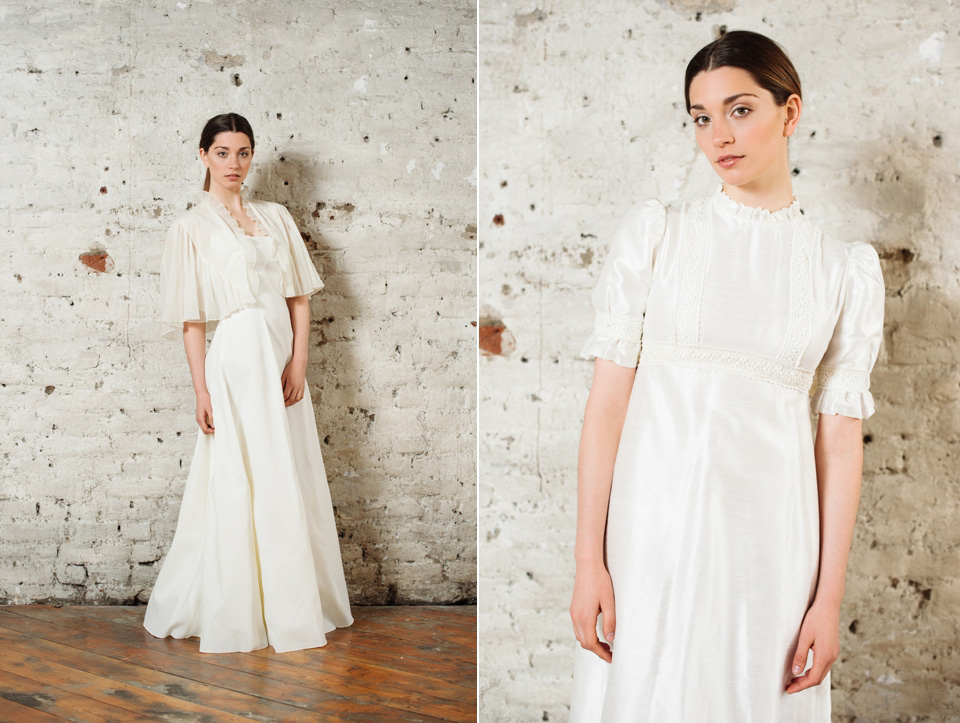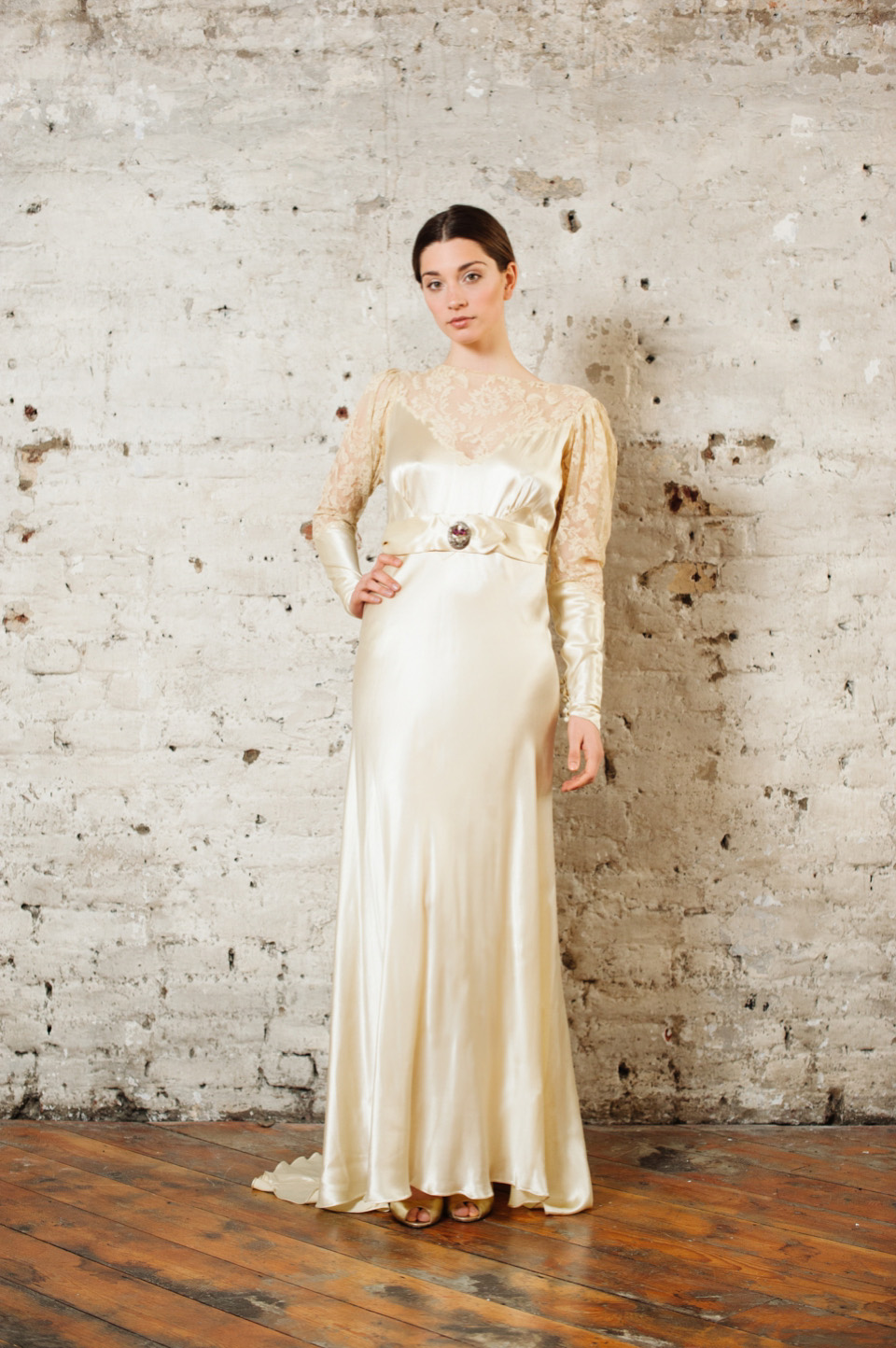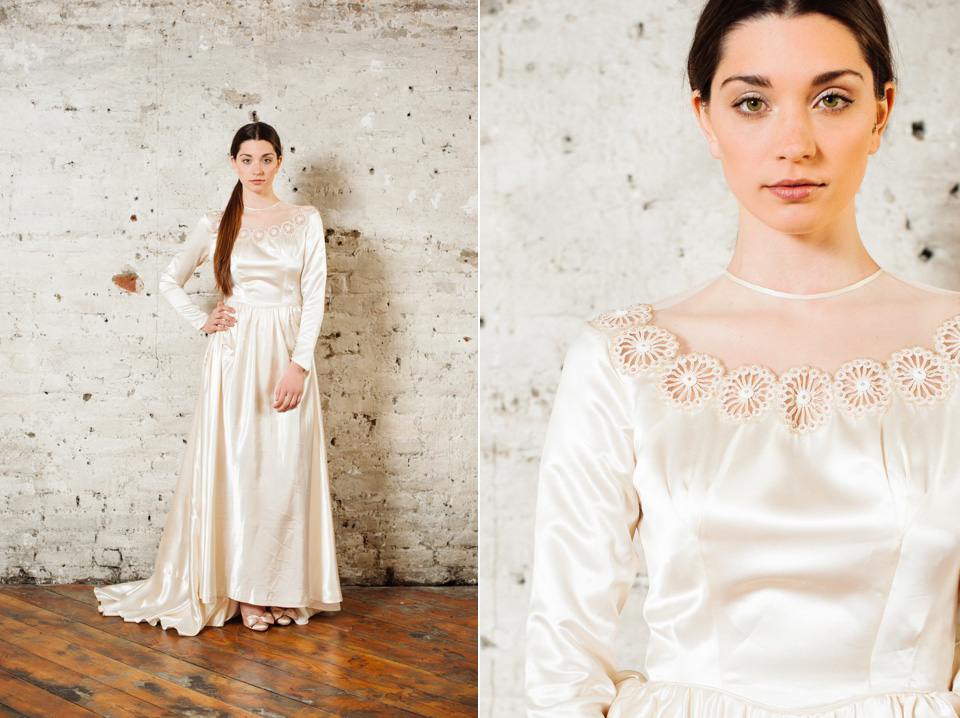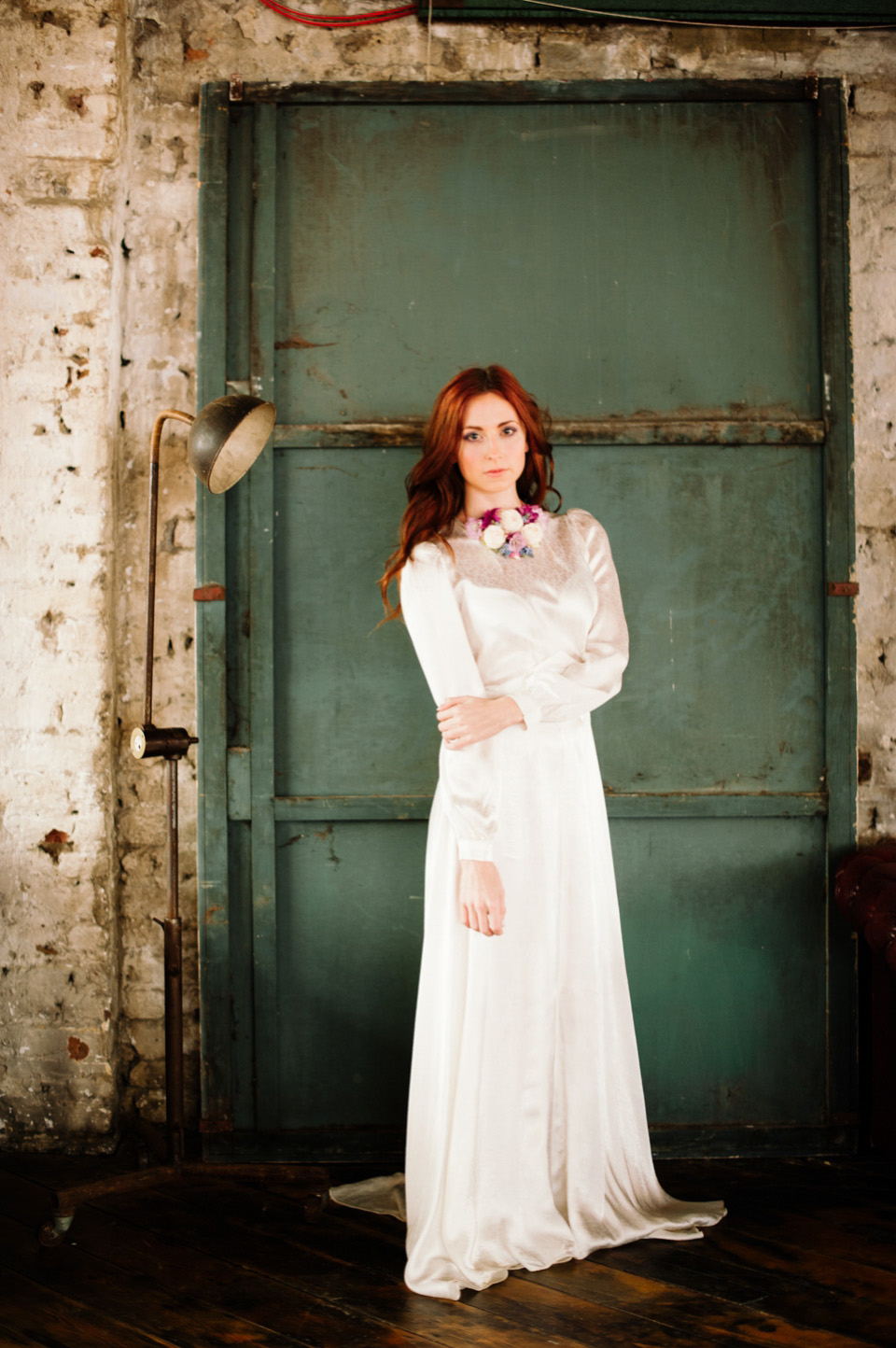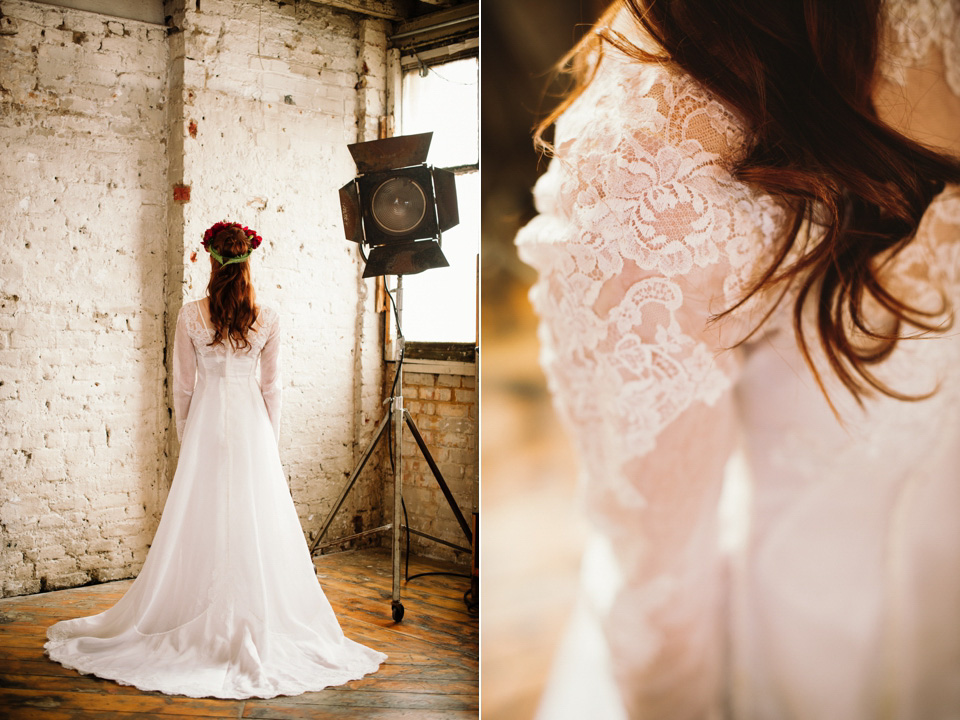 Photographer Alex Tenters also shared some words…
"I met Cara of Story of my Dress at a local networking evening and we instantly discussed working together on a shoot! It turned out that we were on exactly the same page and immediately knew what we wanted. I have been a wedding photographer for 2 years plus now, and am looking to expand into destination and alternative weddings so this was the perfect avenue to do so, and I loved sharing this experience with all parties involved.
I wanted to keep the shoot very simple, retracting all artificial lighting and using the huge frosted glass windows as my light source. Every corner I turned to was just beautiful and I loved the contrast between elegant and industrial, we had a huge amount of vintage props to use."
"Going into this shoot was so very exciting for me, as we had been planning for a while how it would look. From start to finish I had so much fun and wanted to keep on going, I really didn't want the day to end. The venue offered so much and was the perfect match for what we wanted to portray. I have done a huge amount of bridal work before this but this definitely exceeded all expectations and is my favourite shoot to date!"
"I loved working with Cara, as she really knew what she wanted and how to achieve her goal, and this helpe me be more intuitive and informed about the shoot. This in turn helped us reach our goal for the day and document the look we had been planning in our heads for so long.
Alongside this, working with Amy and the florists was a real treat as they provided just as much energy and enthusiasm into the look and we couldn't have asked for a better team."
Vintage wedding gowns from Story of my Dress range from £250-£950 and fit modern day UK sizes 8 to 14.  For further information, please visit storyofmydress.com.  You can also find Story of My Dress on Facebook and Twitter.
A huge thank you to Cara of Story of my Dress for supplying these images to inspire you all today.
Love Annabel x
Photography – Alex Tenters Photography
Dresses – Story of my Dress
Make-up Artist – Amy Barker
Flowers – Frida and Sophia
Venue – Belt craft studios
Follow Love My Dress® on Google+