Good morning lovely people – it's my first day back at work today after a glorious break in the Dordogne valley of France (after a 4-day tour of Disneyland Paris that is (it was fabulous fun, and as a bonus, I have now entirely mastered the art of queuing patiently forever. And ever. And ever…….). The Dordogne is an unbelievably beautiful and peaceful part of the world and we can't wait to return there next year for our Summer 2015 family holiday – I highly recommend the area for families with young children.  It's also lovely to stop over in Paris too to break up the long journey if you're travelling by car that is – we'll be doing the same again next year.
So, on to the reason you are here, our latest incredibly beautiful real wedding.  Before I share these gloriously sunshiney images, did you see this, the rainiest wedding day *ever* on our Facebook page yesterday?
Lucie and Joe's wedding took place on 17th May this year at Abbeywood Estate in Delamere.  Their day was full of thoughtful, vintage inspired and homemade touches burst with the personality of the bride and groom.
"We both favour old things, rather than new, so knew our wedding would have a traditional, vintage feel, without there being a theme.  The key thing we both wanted was for the overall look to be vibrant, colourful and unfussy. We only really got to see the impact of everything together on the day and, paired with the incredible blue sky and sunshine, it was exactly what we wanted."
Photography Copyright (c) 2014, Mark Tattersall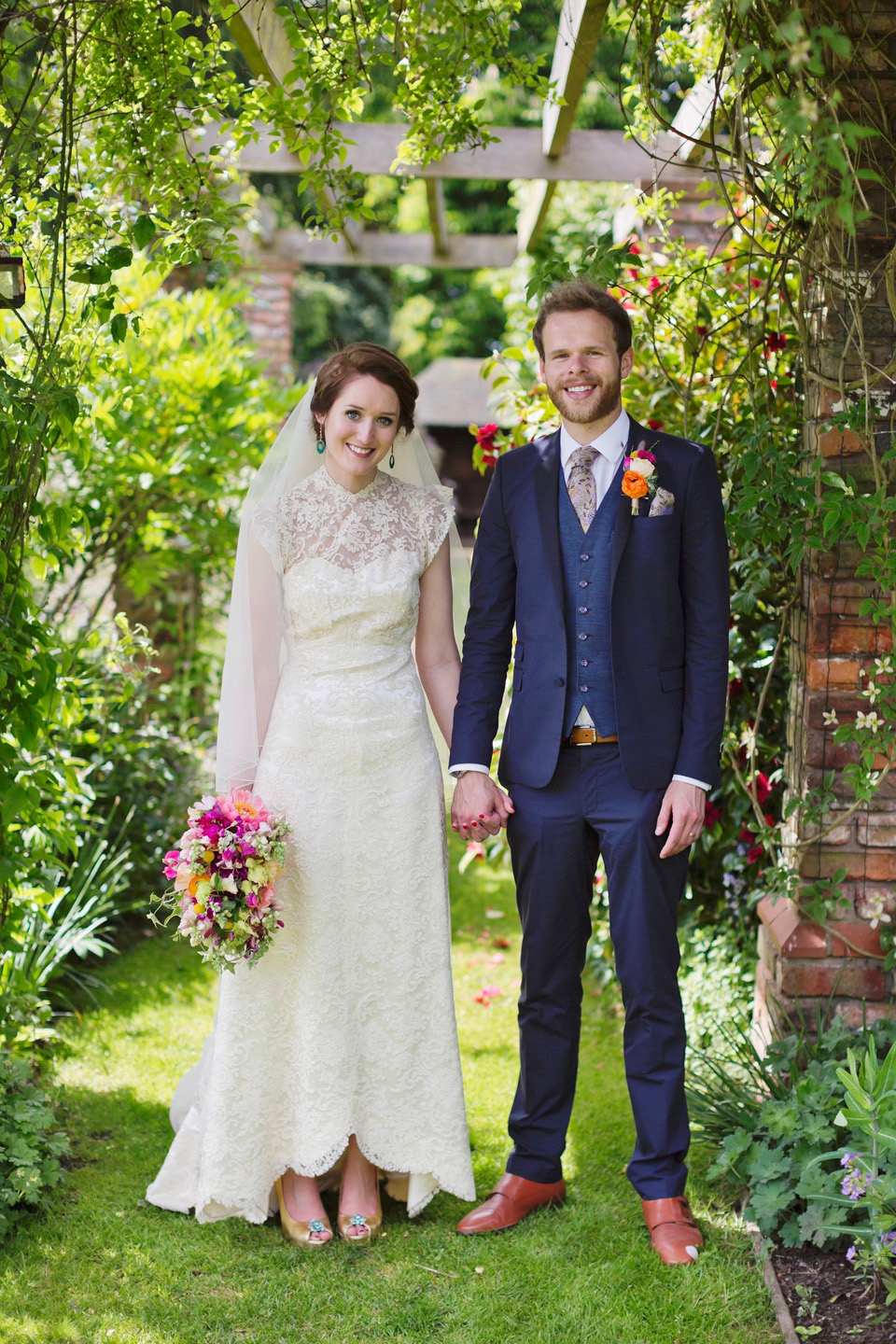 "My friends always used to tease me about my obsession with floral prints, so I knew florals would feature heavily, but I didn't want the colour palette to be too pastel, or the prints to be 'ditzy'. I was more clear about the look I didn't want, and hoped that the look I did want would come together naturally if I spent long enough trying to get each detail exactly how I wanted it.
I focused on one detail at a time – e.g. fabrics for the bridesmaids' dresses, Joe's tie and pocket square, my shoes – and spent hours scouring the internet for what I wanted, using Pinterest to visualise how everything would work together. I ended up buying a lot from America – bridesmaids' fabrics, Maid of Honour dress, my shoe clips, the fans, my wedding ring – which was a risk, but I relied on measurements being accurate and suppliers providing plenty of photos."
Lucie wore the most divine original 1940's vintage gown by 'Jay Thorpe' (New York), purchased from the lovely Helena at Heavenly Vintage Brides.
"After purchasing the dress, I did some research and discovered Marilyn Monroe used to shop at Jay Thorpe!  The dress was for sale on antiquedress.com a few years ago and appears frequently on Pinterest and Google images when searching for '1940s wedding dress'.  The dress also came with its original lace gauntlets and lace sailor hat, which I chose not to wear."
"I knew I'd probably go for a vintage dress, but didn't have a clear idea of which era I wanted. This was good, as I was very open-minded when I visited Helena and tried on dresses from the Victorian era, up to the 1970s. I almost discounted my dress as I didn't think it would go over my hips, but it fitted absolutely perfectly (no alterations needed) and I could tell from my mum and sister's faces that this was 'the one'. The only thing holding me back was that I didn't think I was glamorous enough to wear it, but my mum and sister persuaded me that it was perfect.
I was a bit worried about the length of the train being difficult to manage on the day, but it was very easy to carry.  I thoroughly recommend a visit to Heavenly Vintage Brides, even if you're not sure a vintage dress is for you. Helena is so passionate about her collection of dresses and it is an amazing experience to wear a unique wedding dress with a story."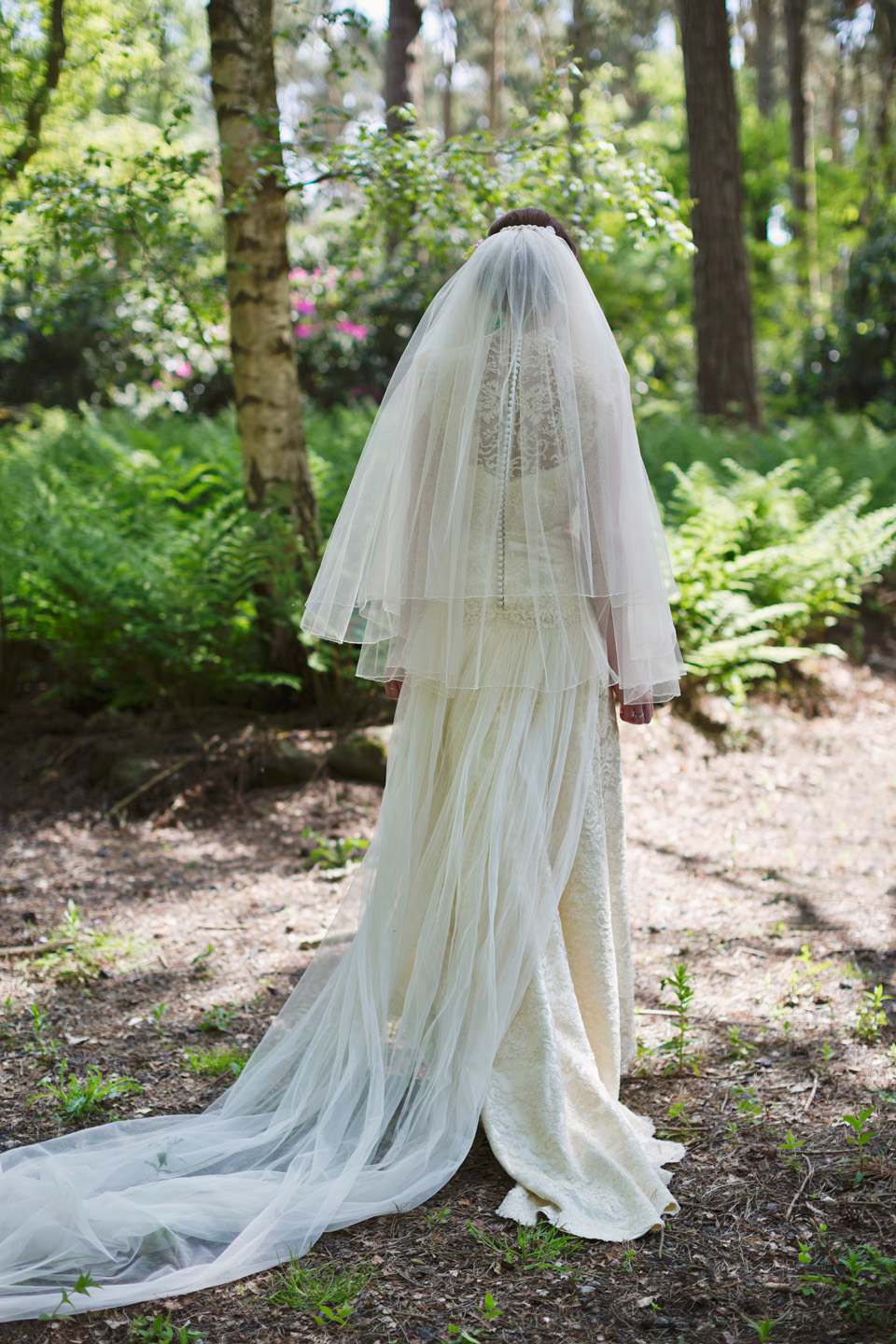 "My maid of honour wore an original 1950s pink lace from Coral Vintage on Etsy.  I wanted my sister to stand out from the other bridesmaids, and we were so happy when we found this gorgeous dress online – I think it helped tie my dress together with the other bridesmaids dresses.
My other bridesmaids wore dresses made by he lovely Amanda  of 'Dressing Miss Daisy'.  Amanda and I had such a good time looking though her amazing collection of vintage dress patterns, choosing the top from one 1940's pattern, the waistband from another, and the skirt from another. Amanda sketched out how the dress would look, and made me a sample dress in that shape before making the dresses in the six different fabrics.  Amanda also made some alterations to the neckline and sleeves of my sisters' Maid of Honour dress, giving it a sweetheart neckline to tie in with the other dresses."
The little flower girls wore dresses from 'Little MisDress from House of Fraser', teamed with sashes that were made by Lucie's Mum, using original 1940's silk that was sourced from Ebay. The little ladies also wore the prettiest floral crowns by Carol's Garden.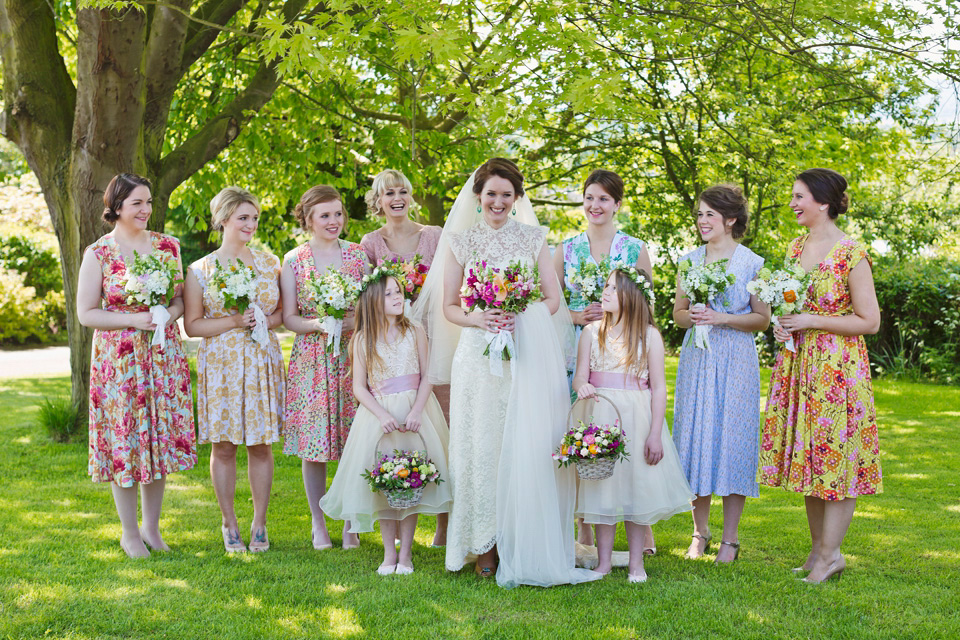 "My shoes were Nine West from Shoeaholics – and were a bargain at just £29! The original 1920's vintage shoe clips were from a supplier on Etsy called 'The Wilted Magnolia'."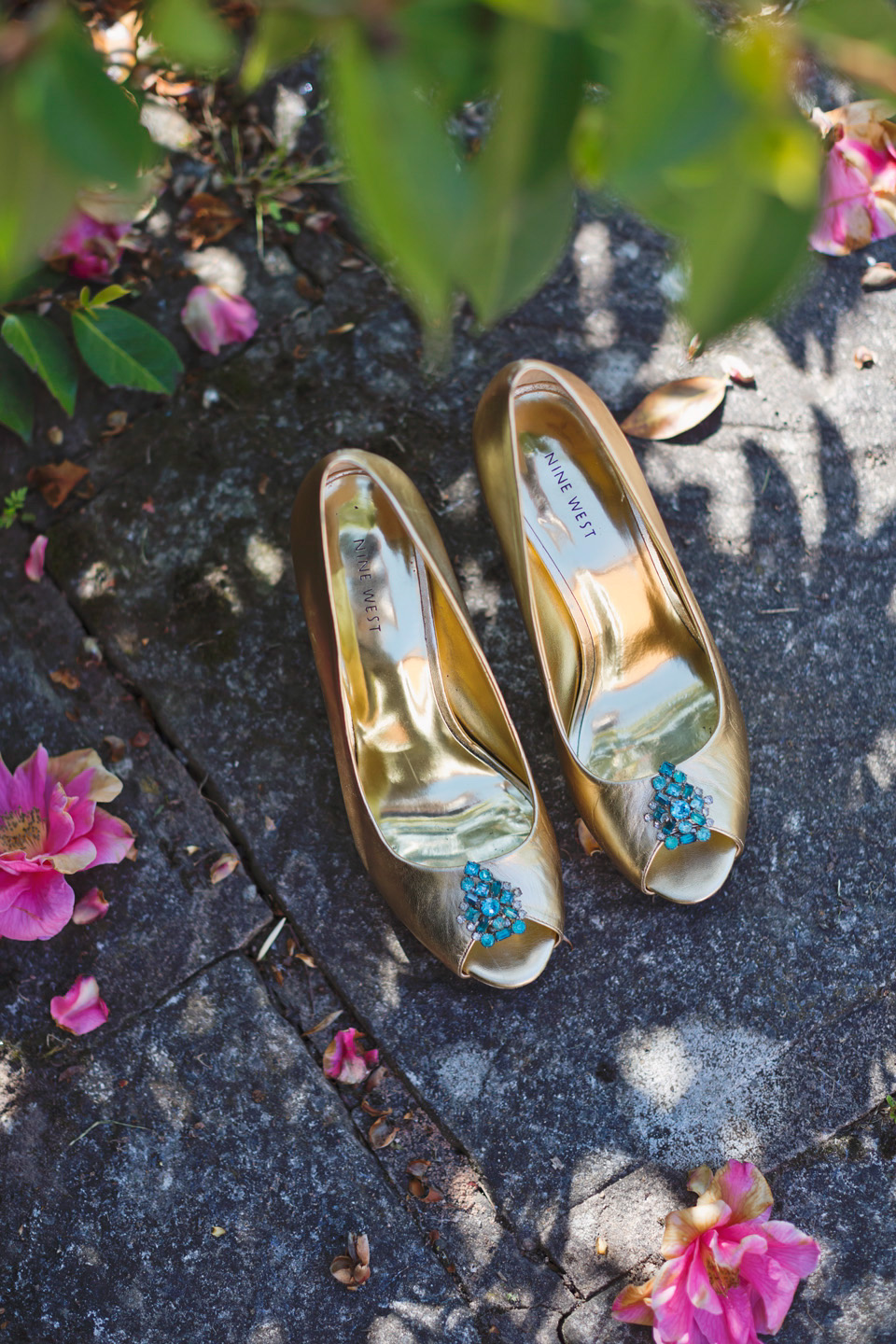 "As favours, we provided fans from BHLDN – we couldn't have chosen more perfect favours – it was scorching in the glasshouse!"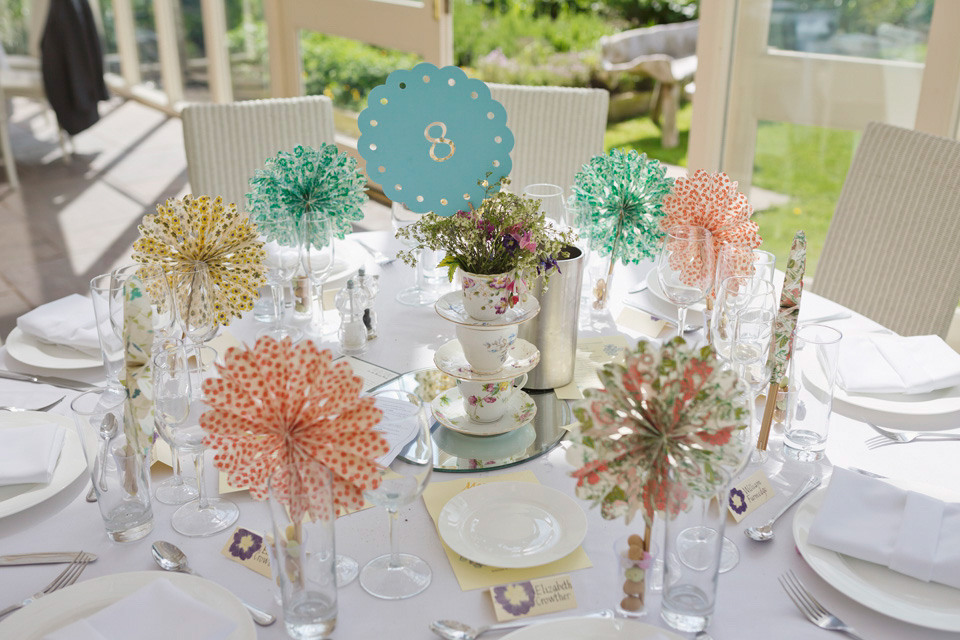 "Our photographer was the amazingly talented Mark Tattersall.  We couldn't be more thrilled with our wedding photographs. Mark perfectly captured all the beautiful moments, laughter and sunshine from the day and we are so grateful that we'll be able to treasure the photos for the rest of our lives.
Everyone involved in the wedding commented on how lovely Mark was and how he put everyone at ease, resulting in lovely natural shots of everyone enjoying themselves.  We knew from seeing all the beautiful weddings Mark has had featured on Love My Dress, that he would do an incredible job, and we definitely weren't disappointed."
"My sister knew Carol of Carol's Garden and, as Carol grew beautiful garden flowers (I wanted a very natural, wild flower look), asked if she'd consider doing the flowers for the wedding. Carol suggested she work in partnership with Jo at Nettle, so in the end, Carol supplied all the flowers she could (depending on availability), and provided arrangements for the church, flowers to decorate the venue, buttonholes and the flowergirl crowns, and Jo of Nettle arranged the bouquets and wired the flowers for my hair.
I gave Carol and Jo links to my Pinterest boards and said I was happy for them to use whatever flowers they thought would work, so I didn't know exactly what they'd be like until the day. They both did an absolutely incredible job – the bouquets were just what I wanted – informal, unfussy and gorgeous spring colours, and the flowers in the church really brightened the traditional, dark space.
For the tea-cup centrepieces, my mum, sister and I picked buckets of hedge parsley from local hedgerows and a selection of flowers from my mum and dad's garden."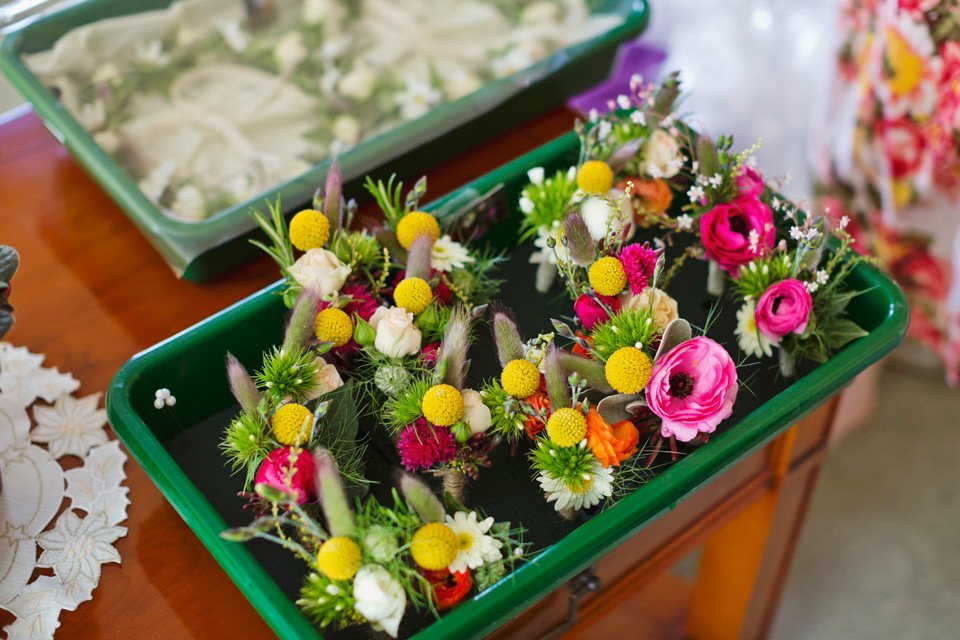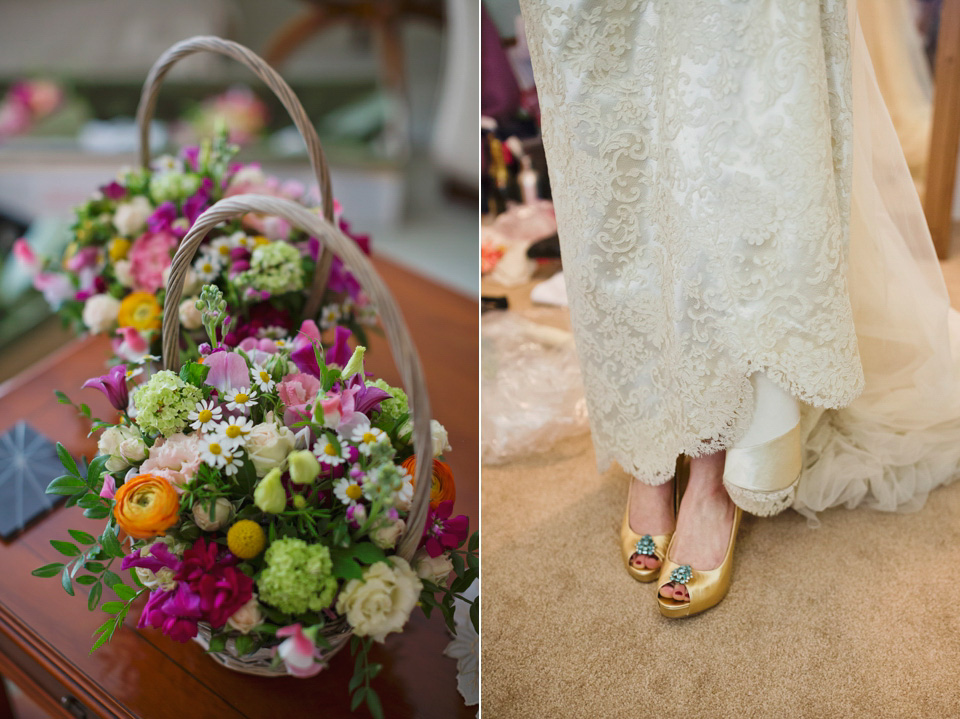 "I wore a pair of antique jade, gold and pearl earrings that were borrowed from my mum who received them as a gift on her 21st birthday."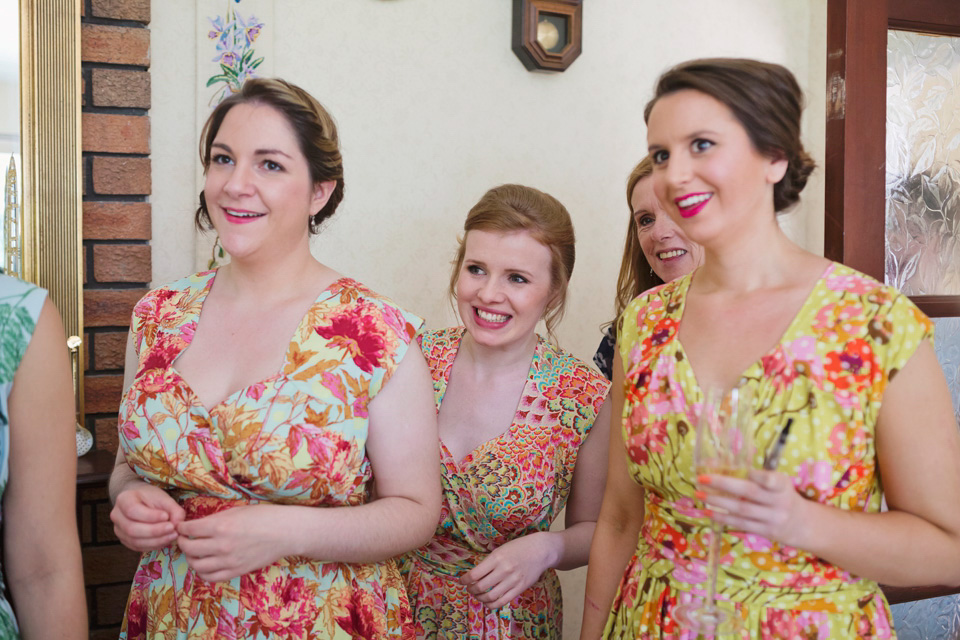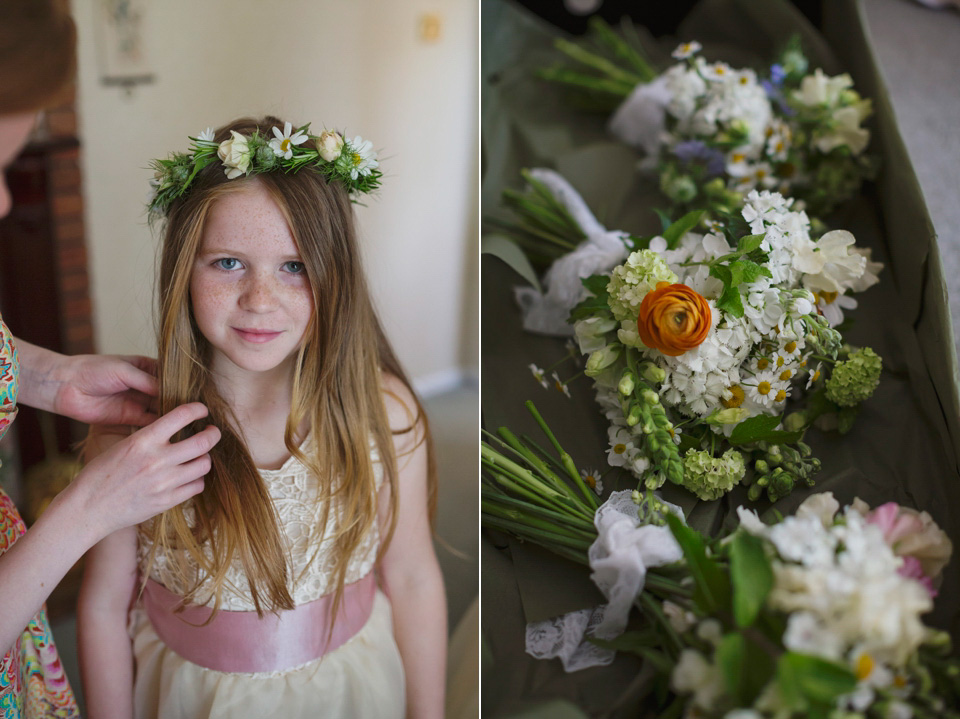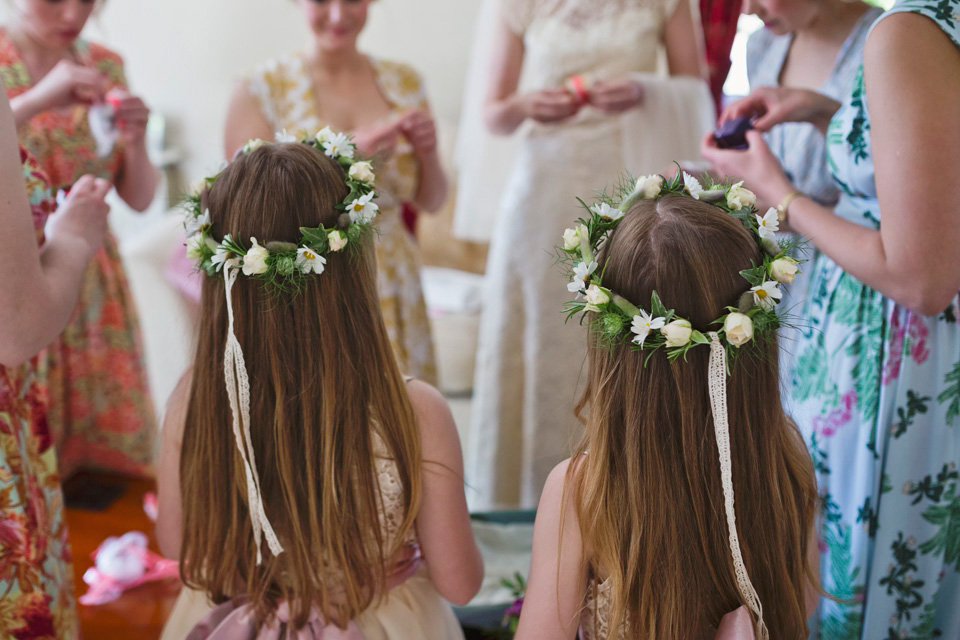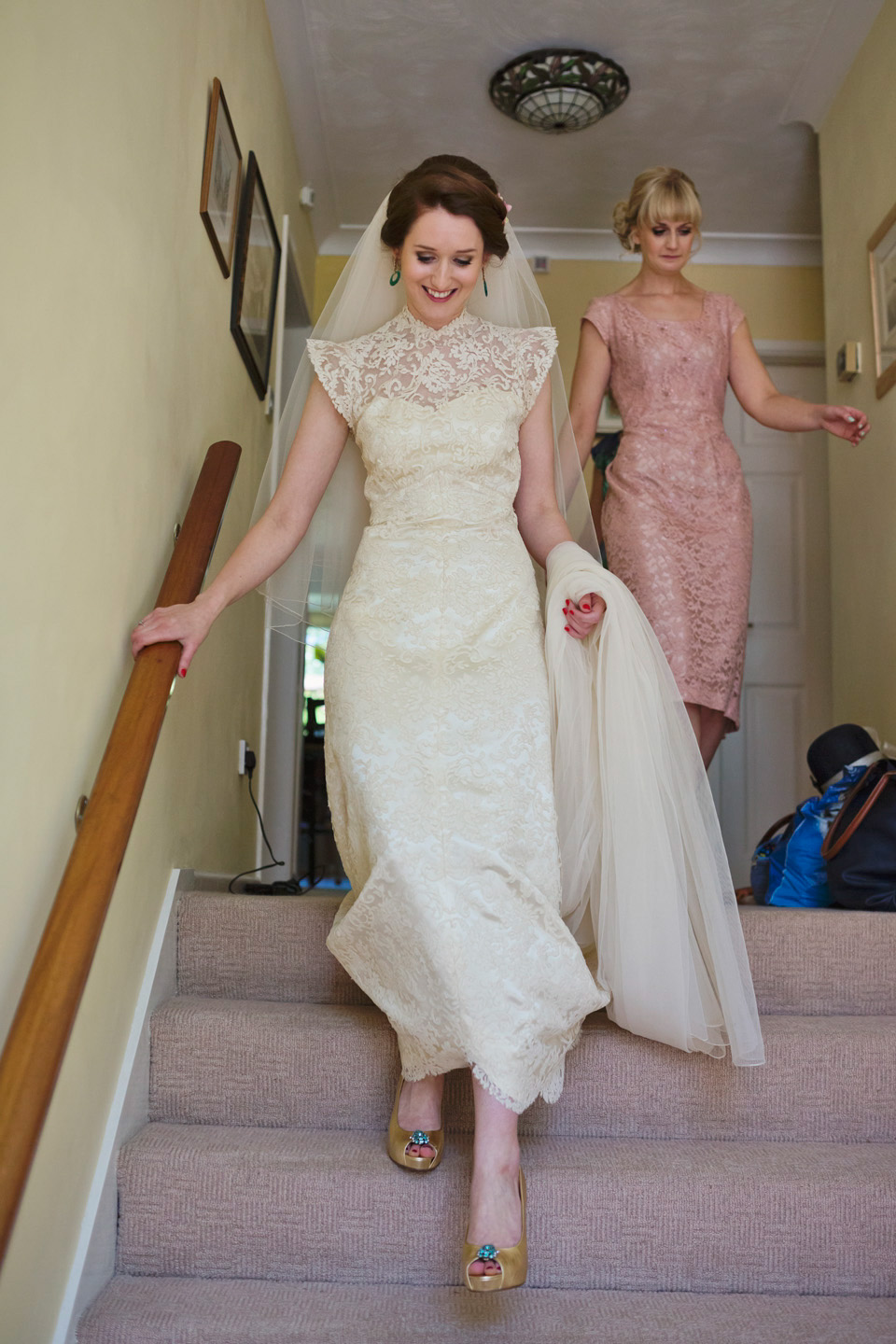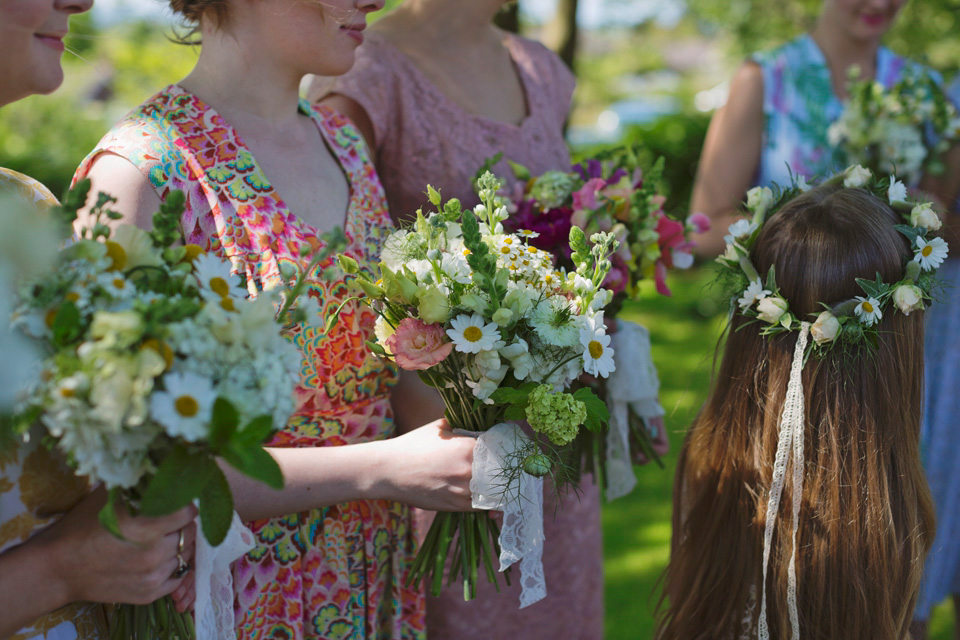 "My dad walked me down the aisle and we were accompanied by the sound of Pachelbel's Canon in D Major.  
During our ceremony, we exchanged traditional Church of England vows and we had two readings; Corinthians 13: 4-13, read by my mum, and ''I'll be Your Mirror' (the Velvet Underground song) by Lou Reed, read by a mutual friend of ours."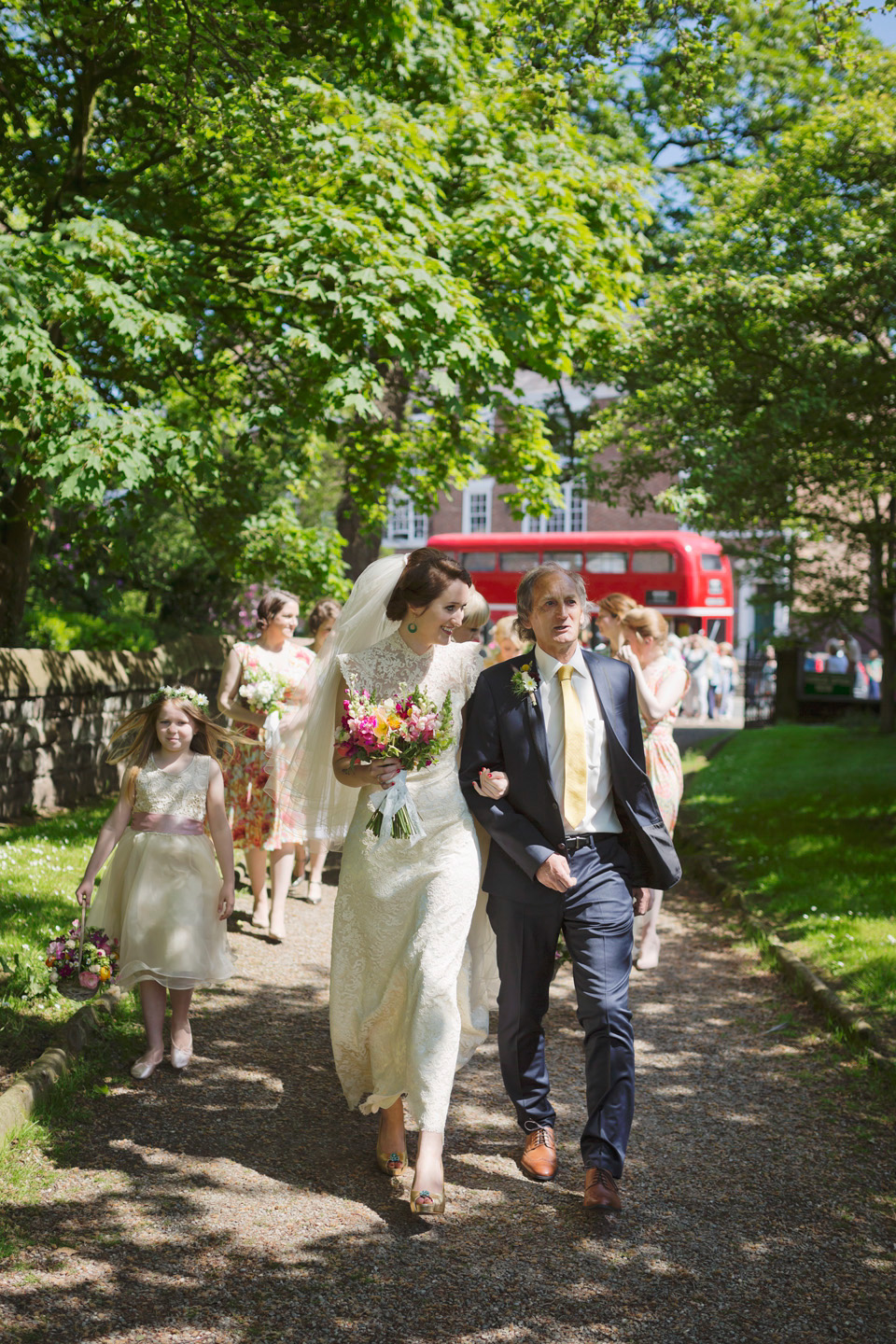 "Joe and I met as students at an indie club in Manchester. We quickly became inseparable and Joe proposed in February 2013 on the weekend of our sixth anniversary.  Joe said he'd planned a day out and special meal in Manchester (where we still live), but then whisked me up to the Lake District for lunch at L'Enclume in Cartmel (I'd wanted to go for ages).  After enjoying an incredible meal, we drove to Keswick and walked round Lake Derwentwater until we reached a secluded spot with a stunning view.
Joe had brought a flask of coffee as a ruse to root around in his bag, then turned round, on one knee, holding the most beautiful antique diamond and sapphire engagement ring.  To complete the perfect day, he'd booked us into a hotel in Grasmere, where we'd spent one of our first weekends away together, and booked us a table at one of our favourite restaurants, also in Grasmere.
We were so excited to be engaged and immediately started making wedding plans for the following spring. We were engaged for 15 months before getting married."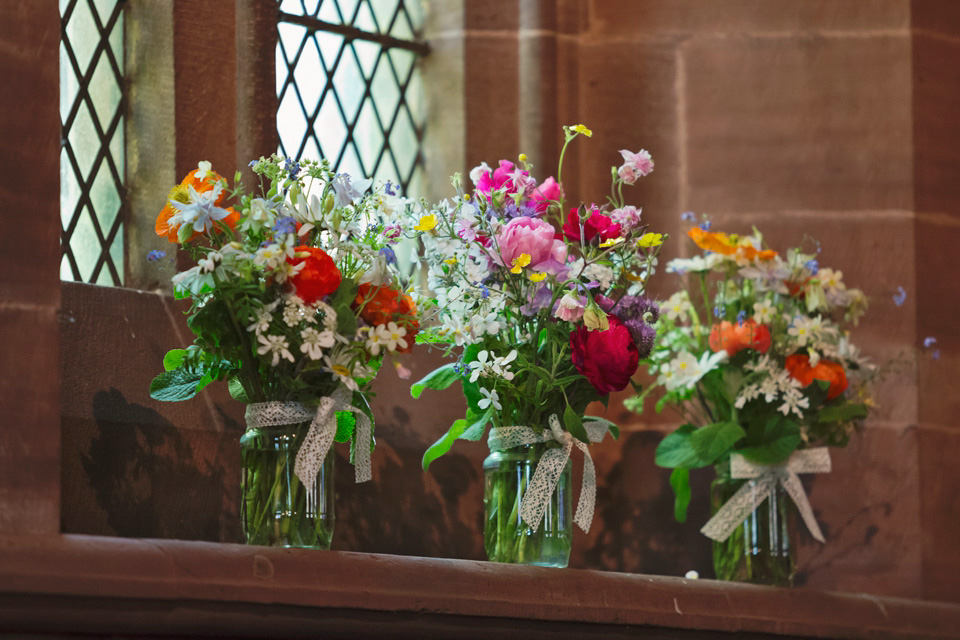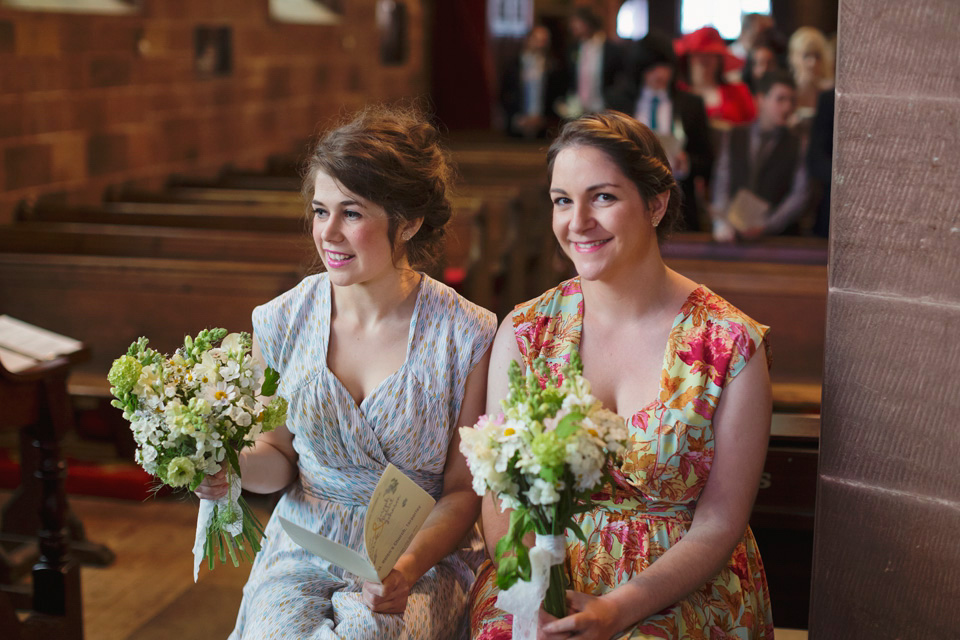 Lucie's wedding ring was a vintage style floral platinum design from Lang Antiques (purchased online), whilst Joe wore a handmade ring by Tom at Natural Jewellery on Etsy.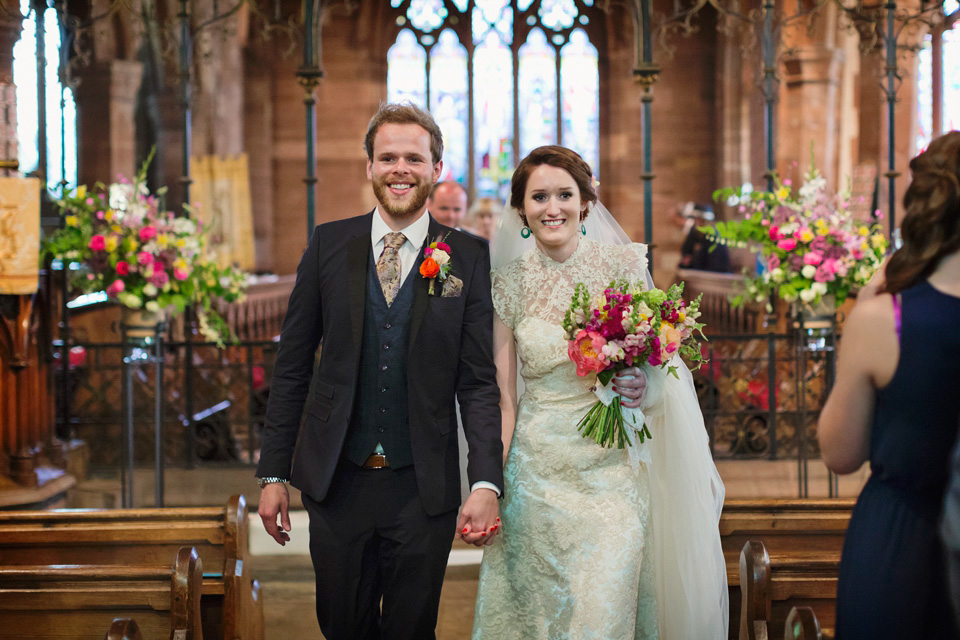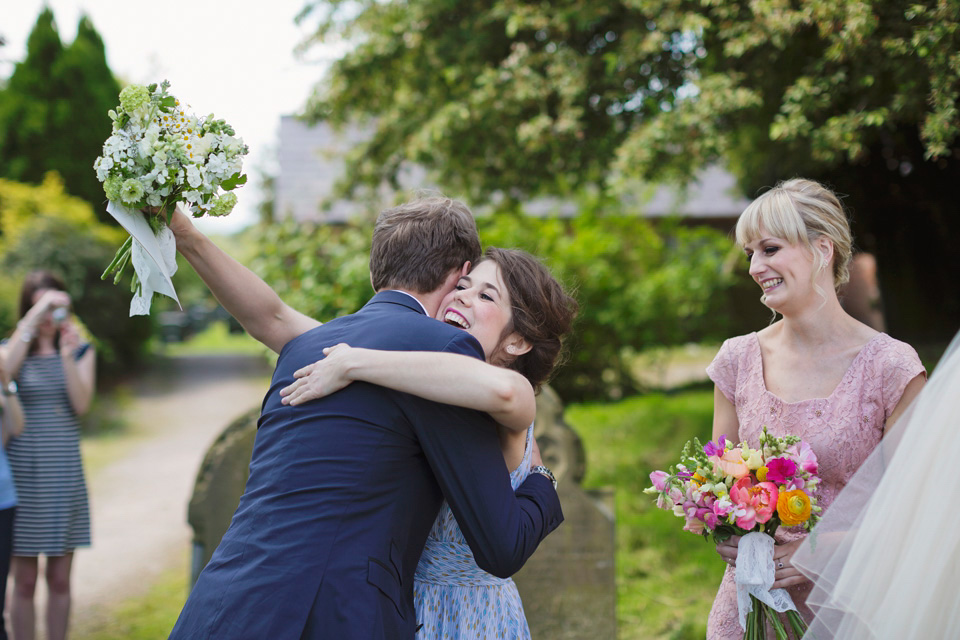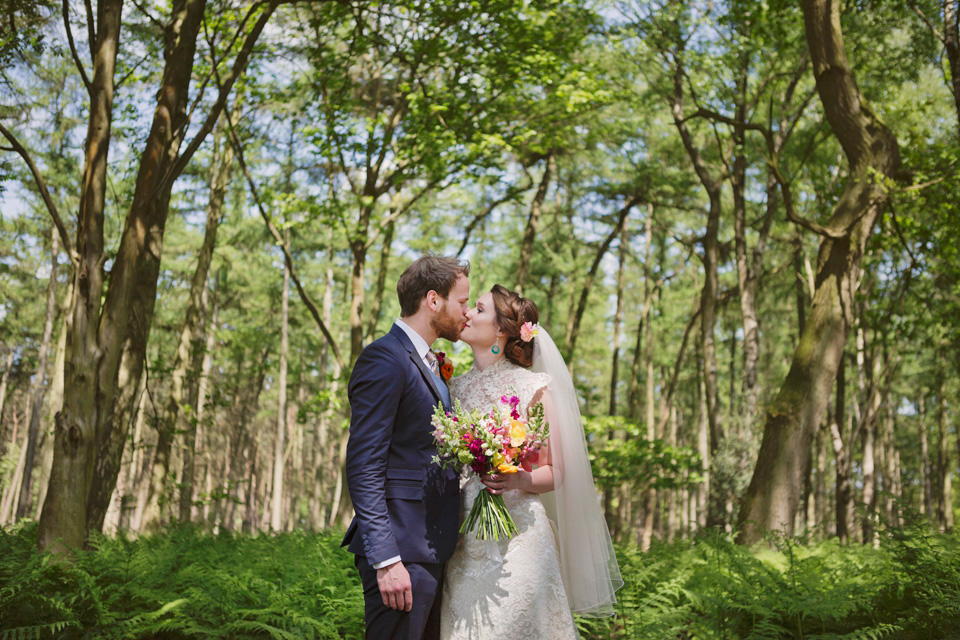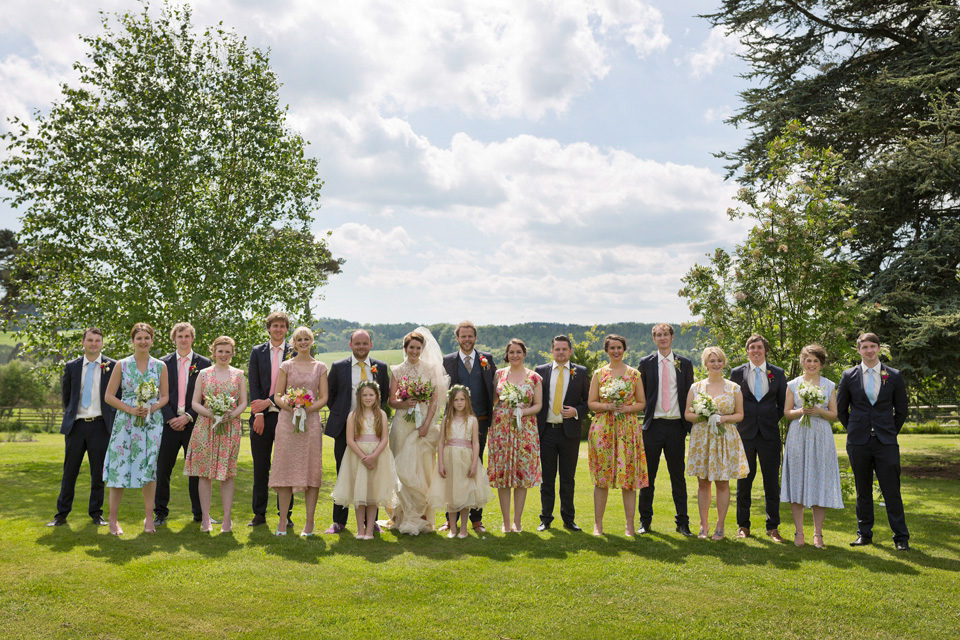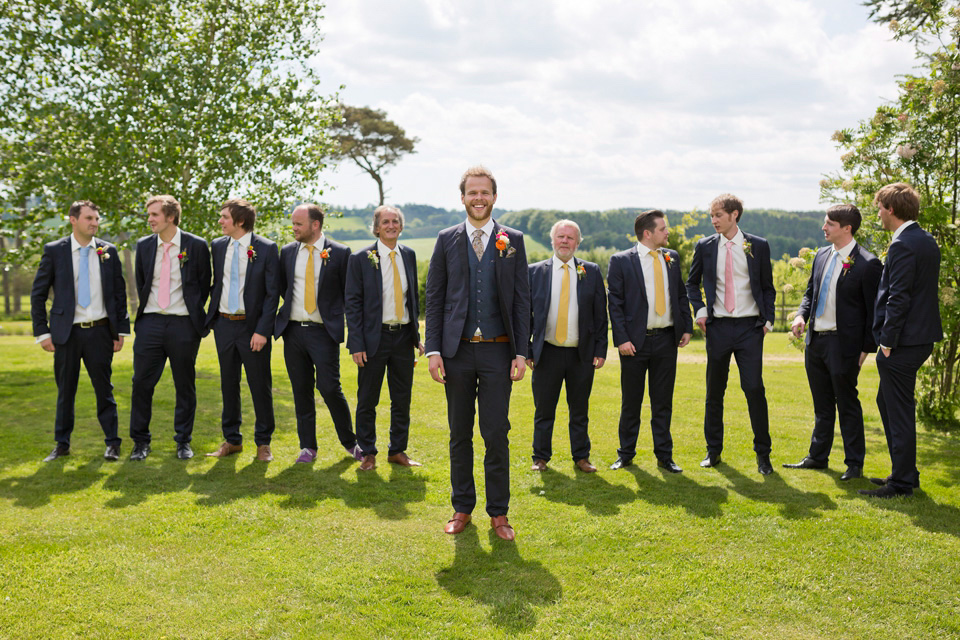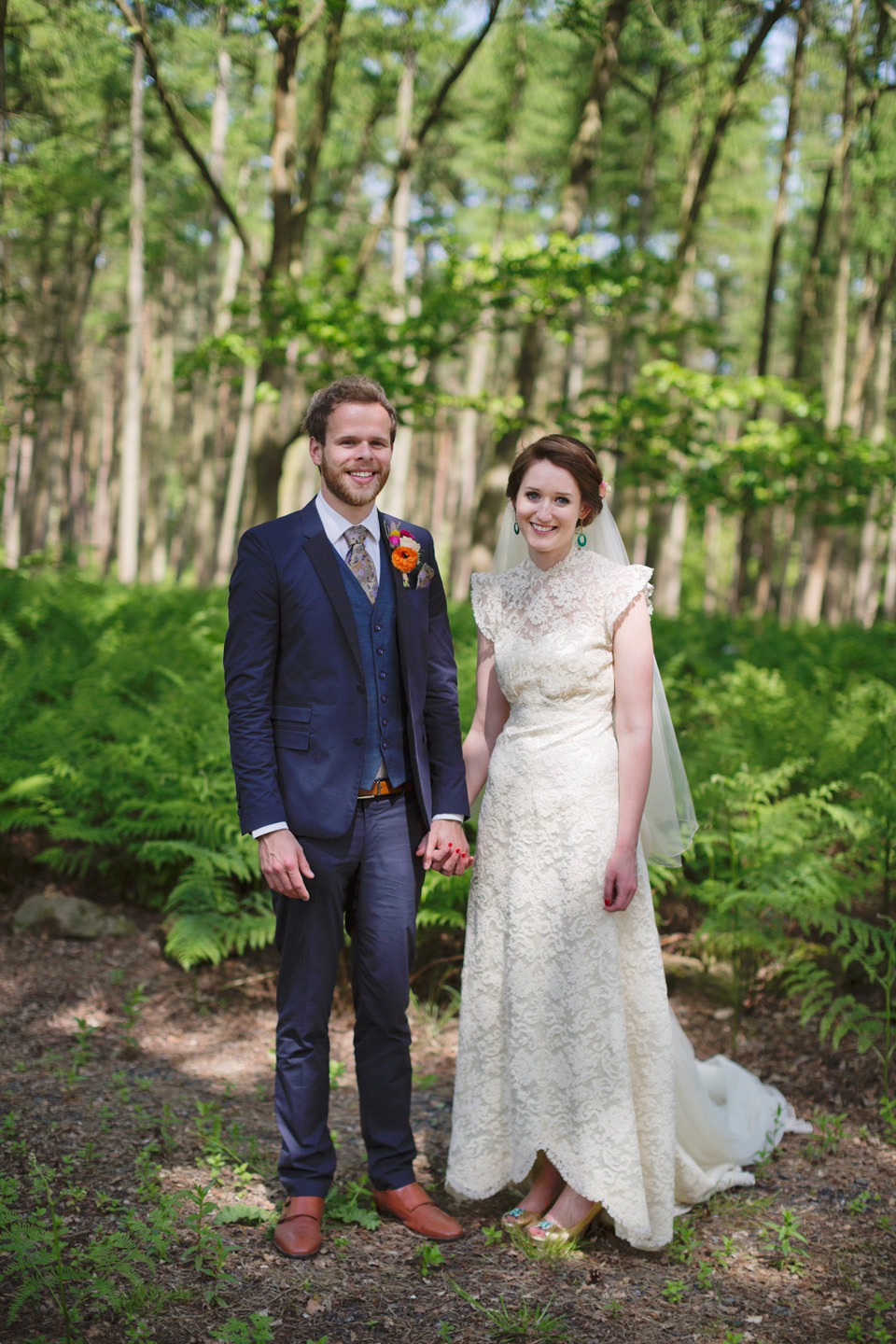 "We wanted our reception venue to be fairly close to the church, but we couldn't immediately think of anywhere that could offer the informality we wanted – then we found Abbeywood  online and it looked too good to be true. We went along to a wedding fayre, all our hopes firmly pinned on it living up to expectations, and we weren't disappointed. The gardens were magnificent and we were amazed at how much space there was for our guests to relax in privacy (Abbeywood is completely closed to the public when they host a wedding)."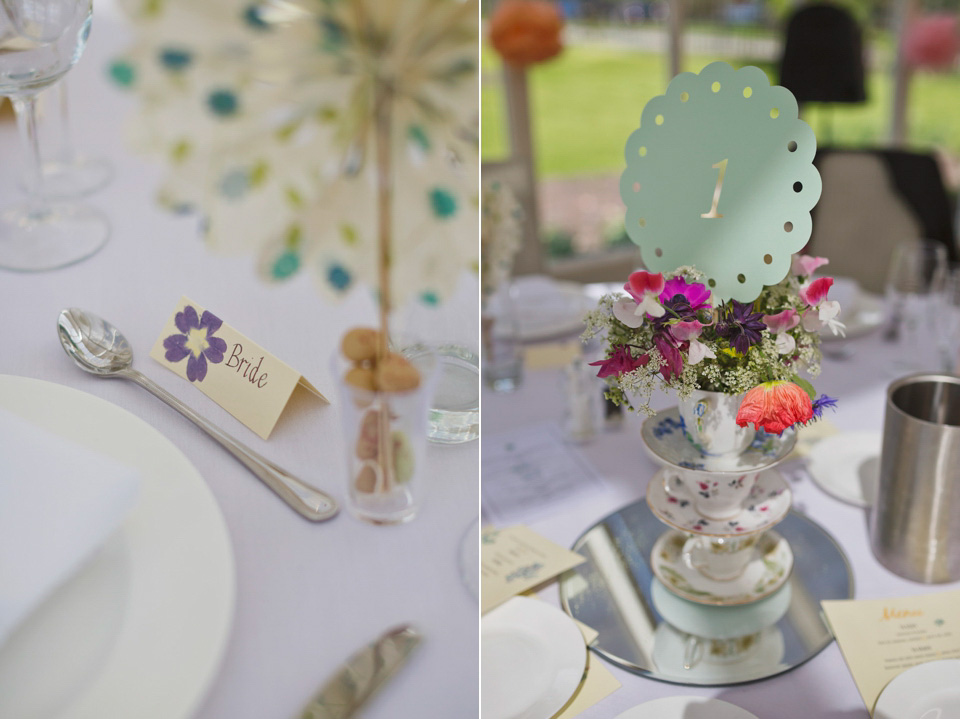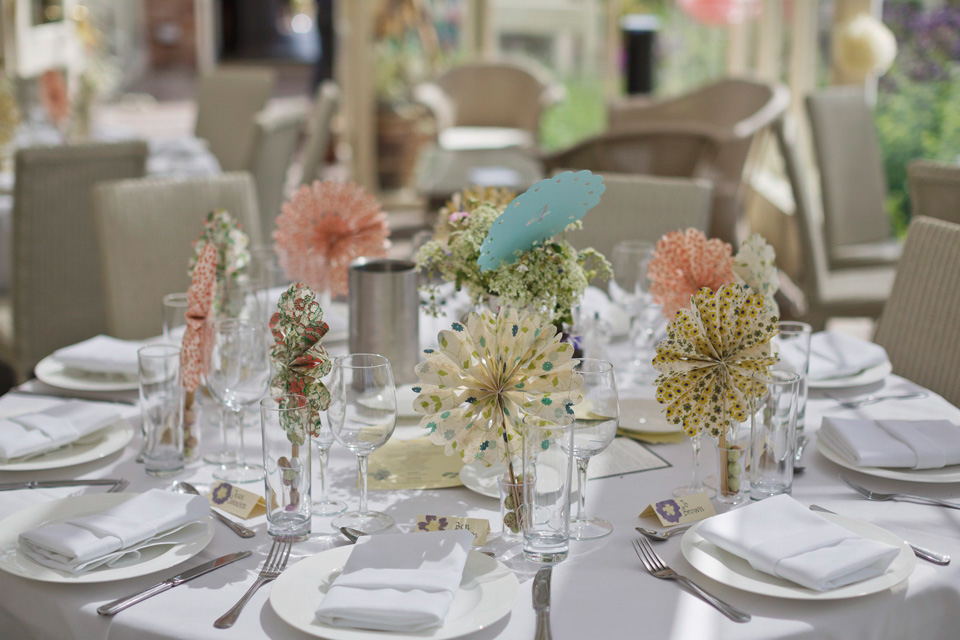 "To decorate our venue, we used giant tissue paper flowers that were made by Joe and my sister.  We also supplied a vintage style bride and groom face cut-out, vintage postcards (strung up in the conservatory and purchased from EBay), paper pompoms from House of Fraser, tea-cups and vases (bought from family members/charity shops), bunting that was borrowed from a friend and we also provided some lawn games (also borrowed from friends)."
"John at Olive Tree Catering worked with us to create a menu that really reflected the food we love. We had six tapas-style sharing dishes:
– polenta tart with compote cheese and swiss chard
– butternut squash, goats cheese and walnut crumble
– sticky beef
– pork, chicken and chorizo paella
– lemon and thyme chicken
– Lucie's seafood stew
We decided on build your own sundaes for desert, and Joe's mum handmade four different varieties of chocolates to have with coffee.
The food exceeded our expectations and the style of food was perfect on such a warm day."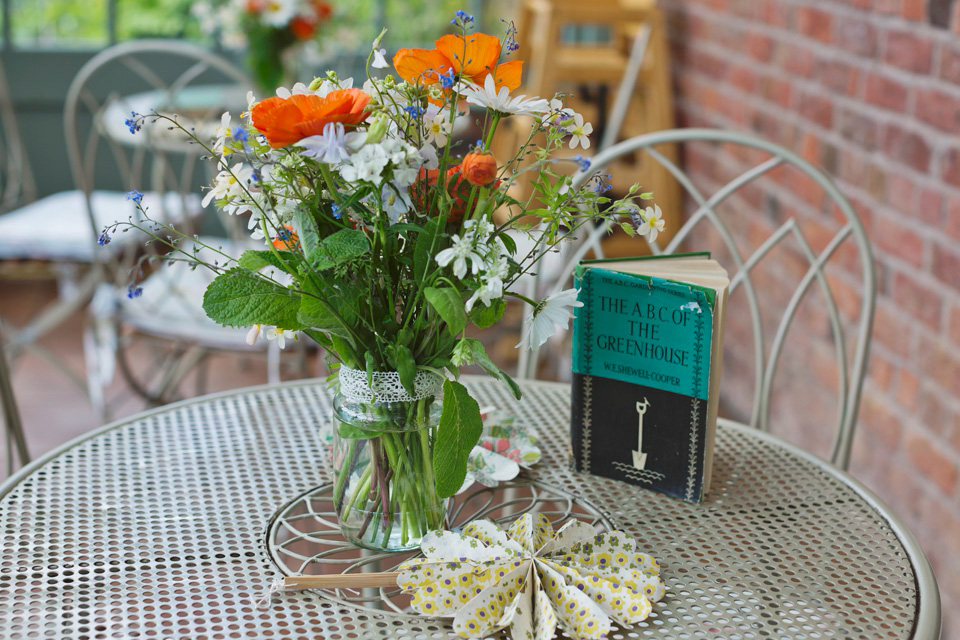 "Our wedding cake was homemade by Joe.  We actually had a selection of vegetable cakes layers including chocolate and beetroot; carrot; parsnip and maple, and courgette, pistachio and lime. We wanted a natural looking cake and Joe is a brilliant baker so it was great that he could make our wedding cake.  We topped our cake with a 1980's vintage topper that we found on Ebay and the sugar-flowers were made by my mum."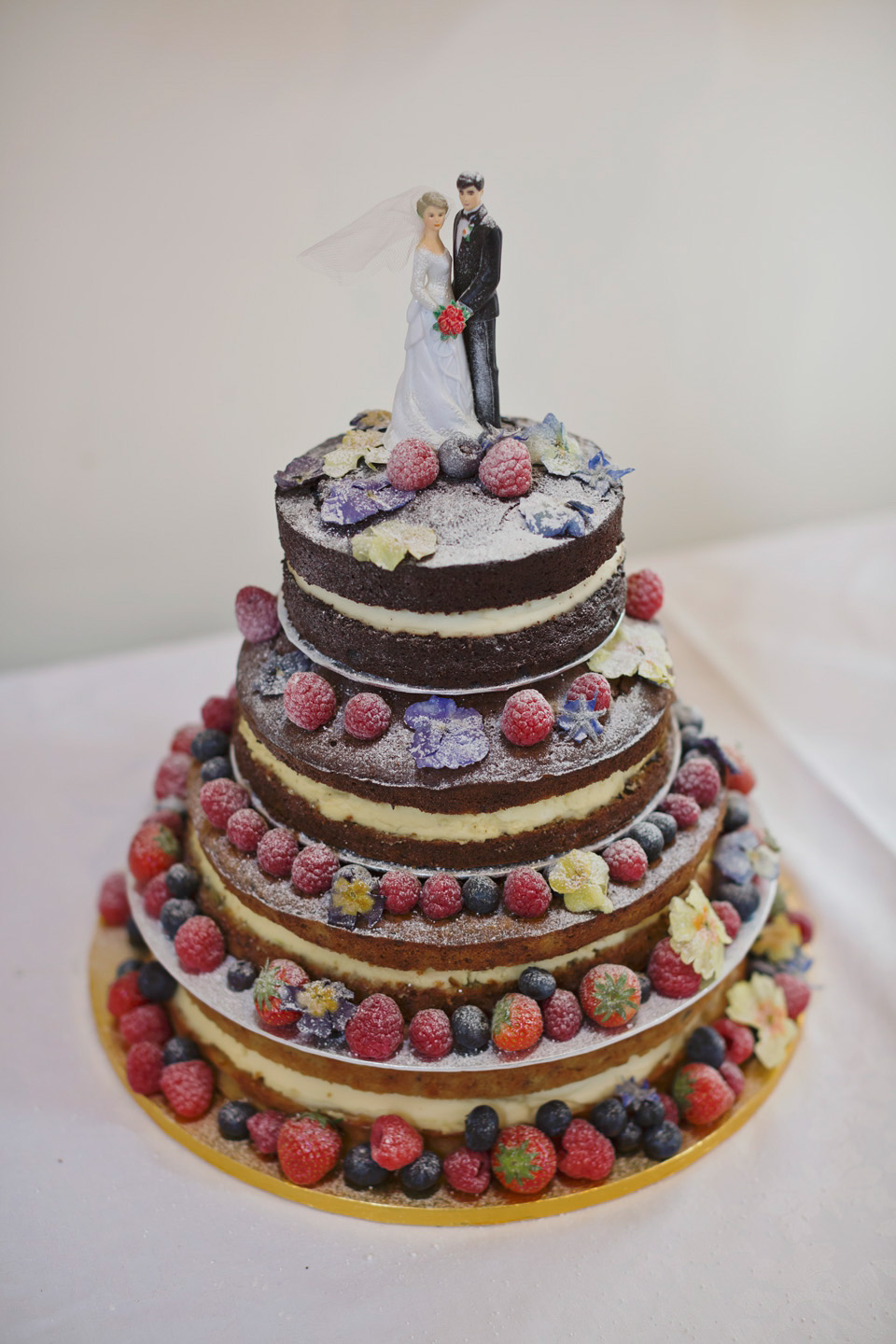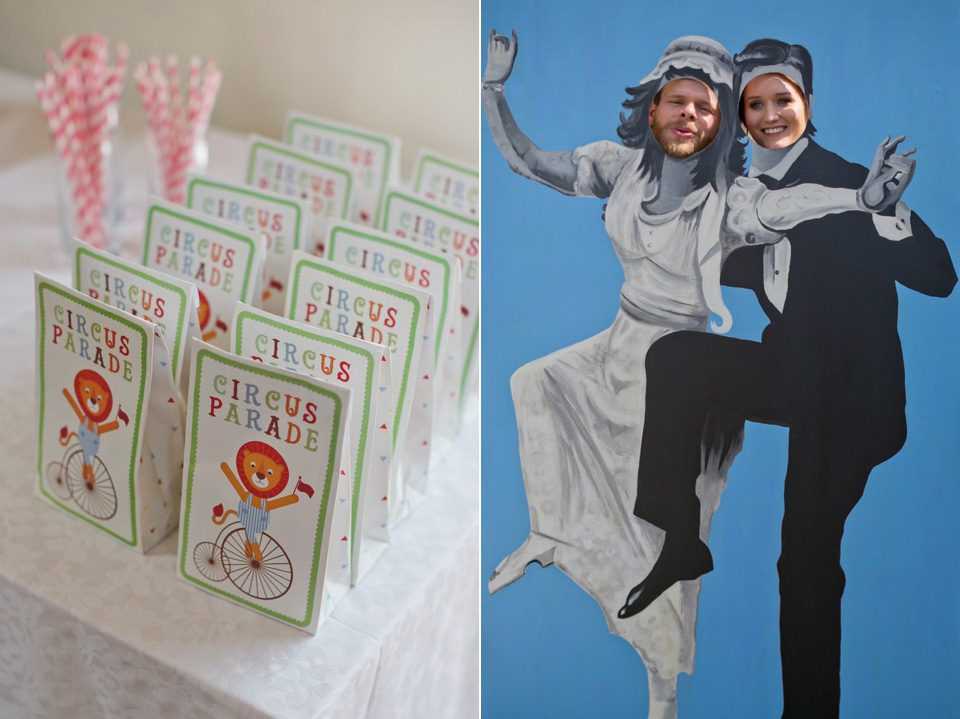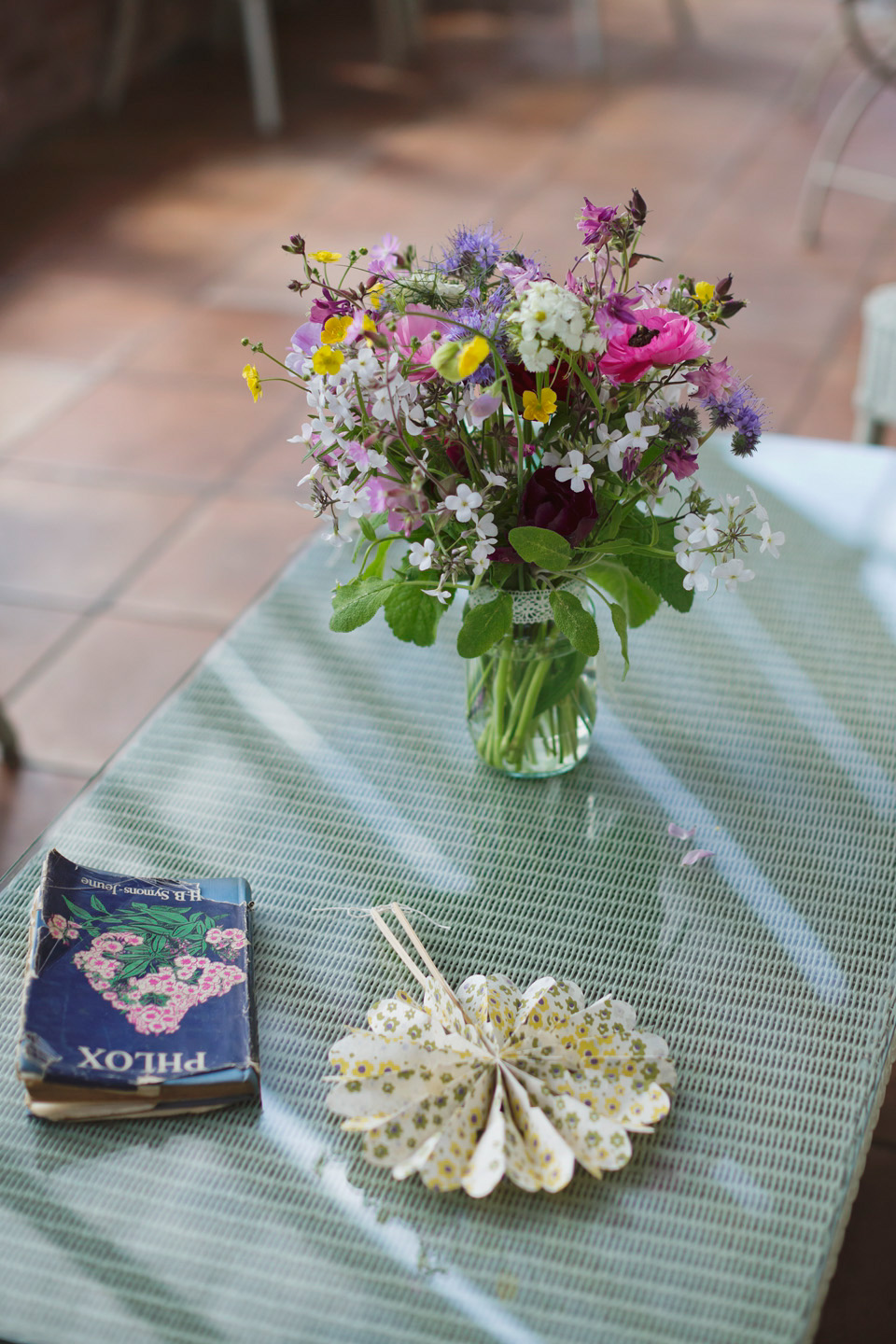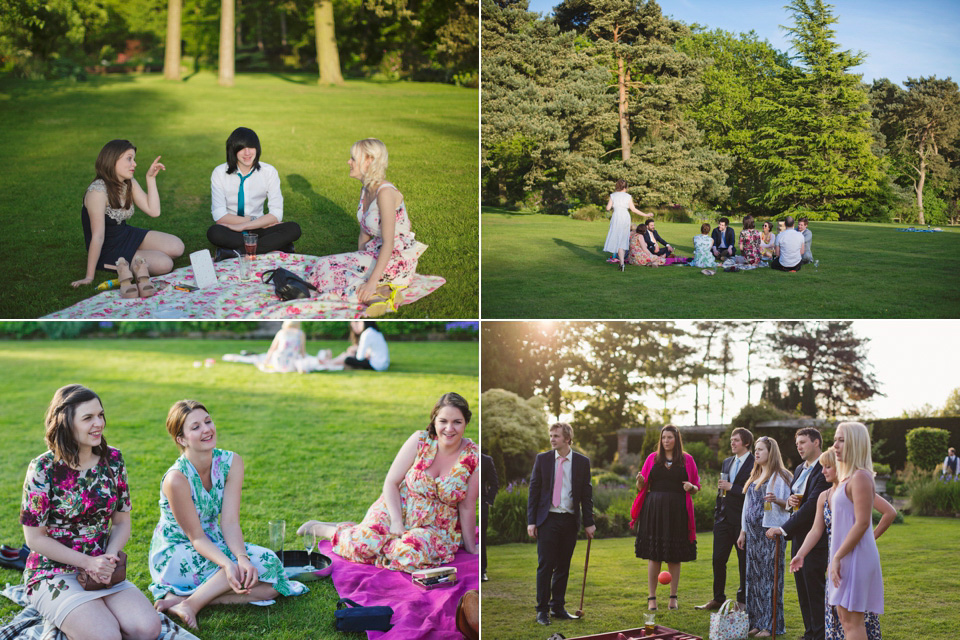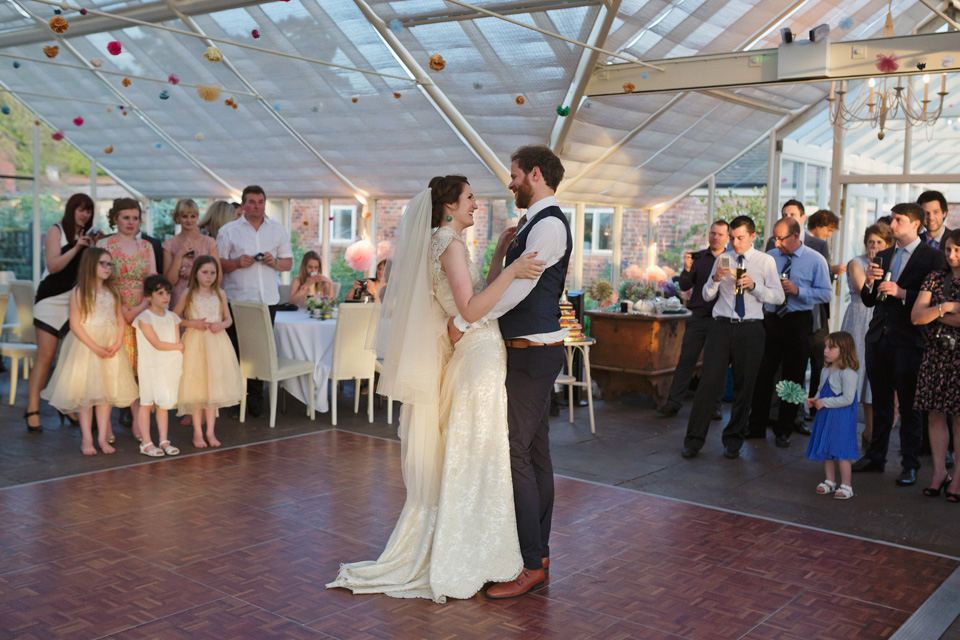 Reflections…
"On reflection, is there anything you might have done differently with foresight? Walking into the glasshouse and being introduced as 'Mr and Mrs Johnson' – we got the most incredible reception from our guests and it really hit home that everyone we love was in the same room and were there to celebrate with us. During the meal, we kept just looking round the room at everyone enjoying the food and wine, laughing and joking. Our main focus throughout the planning was for everyone to have a good time, and they definitely did."
Words of Wedded Wisdom…
"Ignore any part of you that wants to play it down. We're usually pretty understated, so being the centre of attention didn't come naturally to us, but we enjoyed every minute on the day.
Stick to your guns – we got a lot of stick for the size of our bridal party (nine bridesmaids, nine groomsmen!), but it was important to us to have our close friends and family involved in the day. We were also told our food choices were a bit risky for our older relatives, but it was a reflection of the food we love, and it went down really well with everyone.
Don't be afraid to try and negotiate with suppliers if you're buying in bulk, or something is out of your budget – we got some really good deals.  And finally, use technology to help you keep on top of your planning – we used Trello (available on the web and as an app) to plan both the wedding and our honeymoon and it really helped us to clearly see where we were up to and keep focused."
I cannot rave more about Trello! We used it to help us manage the re-branding of Love My Dress® and I still use it now to keep on top of new developments, it's a superb planning tool! Top tip right there.
Huge thanks as always to the wonderfully talented Mark Tattersall – more from whom you can see here on Love My Dress®.
Have a beautiful day everyone – may I recommend setting a little time aside to pin these images to your hearts content? 🙂
Love Annabel xx
Photographer – Mark Tattersall
Venue – Abbeywood Estate in Delamere
Wedding Dress + Veil – Heavenly Vintage Brides
Hair Accessories – Natural flowers by Nettle
Bride's Shoes – Nine West at Shoeaholics + shoe clips via The Wilted Magnolia
Accessories – vintage earrings borrowed from mum
Grooms Suit – The Kooples + Alexander Saville Row shirt Tie + Duchamp pocketsquare + Reiss shoes
Groomsmen – ASOS suits + Charles Thrwhitt shits + Cufflinks
Bridesmaids dresses – Dressing Miss Daisy using fabric from fabric.com + Hawthorne Threads
Maid of Honour's dress – Coral Vintage on Etsy
Flower girl Dresses Little MisDress from House of Fraser + floral crowns by Carol's Garden
Florist – Carol's Garden + Nettle
Cake – Baked by the groom
Cars – Platinum Wedding Cars
Entertainment WDC Entertainment
Rings – Lang Antiques + Natural Jewellery on Etsy
Catering Company – Olive Tree Catering
Stationery – Save The Dates via EBay
Invitations/Orders of Service + Menus designed by the bride, printed at printed.com
Place cards – handmade by bride's mum (using flower pounding technique)
Table plan – handmade by bride's mum and sister (watercolours painted by bride's mum)
Table numbers – Crafty Ever After + table quizzes via BHLDN
Hair Stylist – Salon Vie, Tattenhall
Make-up – Lizzie Griffiths
Perfume/scent worn by bride – La Panthere by Cartier
Scent worn by GroomGroom – Lys Carmin by Van Cleef & Arpels
Favours – fans from BHLDN
Follow Love My Dress® on Google+