This is just the most wonderful wedding and one I hope adds a little spark to your Tuesday.  PhD student Beatrice married publisher Duncan on 31 May this year at Headcorn Church, followed by a reception at Friday Street Farm.  Their day was inspired by Beatrice's love of medieval literature and that gold dress teamed with that glorious floral crown is just too perfect. Enjoy this very beautiful and inspiring day everyone  – and brides, be sure to read Beatrice's brilliant 'words of wedded wisdom' at the end.
"I study medieval literature and this was a big influence on how we styled our wedding. Some medieval-influenced styles are not my cup of tea so I looked at the pre-raphaelites and the rich colours of manuscripts – I also used a lot of green to reflect the countryside."
Photography Copyright (c) 2014, Maureen Du Preez
"My parents' house and the church are both medieval and the part of Kent in which they live seems to overflow with this verdant abundance: orchards, vineyards, hopfields.  I wanted the day to reflect this (and it saved us a lot of work as it was all already there!)."
"My bridesmaids dresses were from Cos.  I thought they made the girls look like sort of Greek fairies. They had belts that you were meant to tie round the backs but we left them floating free so they had trains. I hope they liked them. It can feel strange dressing up a group of your friends but I thought they looked amazing.
The girls also wore floral crowns made by our florist.  I also bought each bridesmaid a different floral perfume, in samplers, from Penhaligon's. I really recommend this – the little boxes and handkerchiefs are very pretty and the smell as we walked up the aisle was like a bouquet."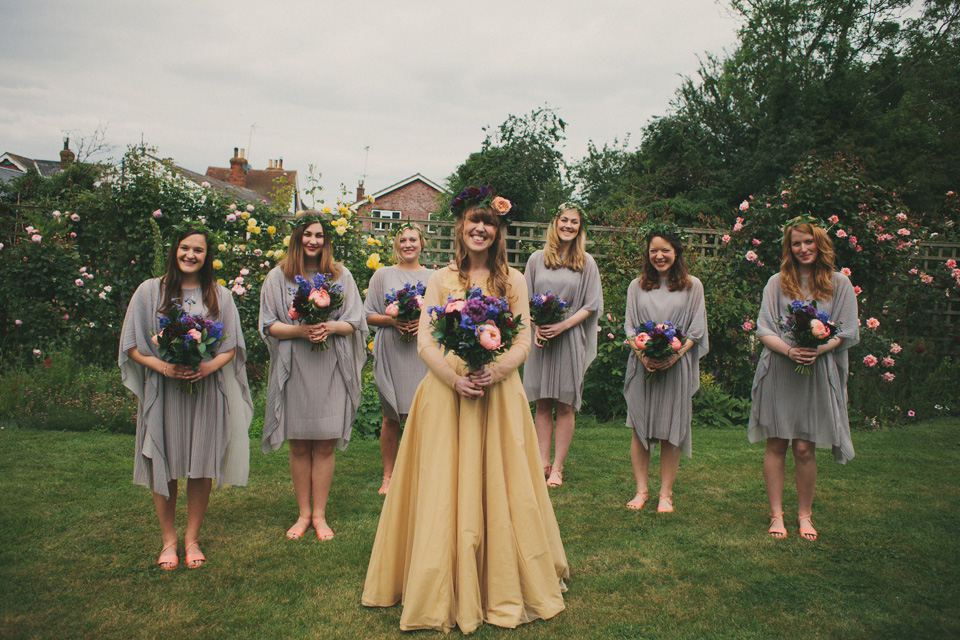 "My dress was a group project: I designed it with my wonderful friend Sally Higginson, who's a pattern cutter – she did such a beautiful job. I next bought the different fabrics with my inimitable mother who began making the two dresses and petticoat around the New Year.  Finally my ridiculously talented friend Alice Archer embroidered the outer layer with peonies, alium, and verbena.
This dress was so meaningful. My mother said it felt like the last gift she could give me and there is nothing like wearing the fruit of so much loving labour. Alice made the embroidery as a gift and it was the most beautiful thing I'd ever seen – like a precious textile found in an attic. And Sally and I formed a whole new friendship over lengthy discussions of godets, toiles, and the red-carpet dresses I wanted to emulate. "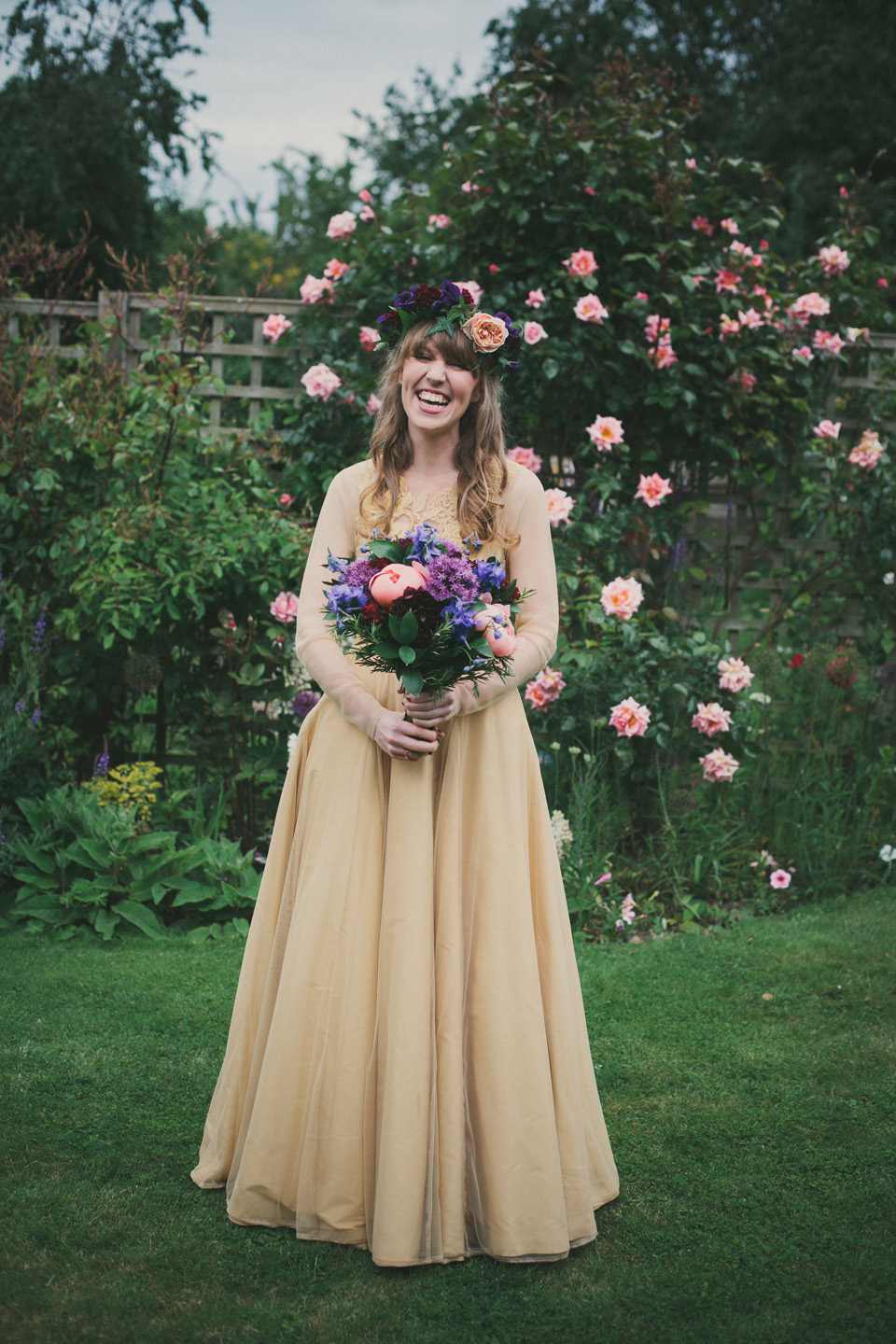 "I was actually astounded at how all three women managed to interpret the very vague ideas I gave them and create something so perfect. I wanted a gold dress from the start as white just doesn't suit me (and I'm not keen on the symbolism) and I loved the way the two layers of fabric worked together (the tulle giving the silk depth).
The design also gave me an easy way of having another dress for the evening. My mother fitted it (over numerous sessions) into almost a second skin – and that's really how it felt."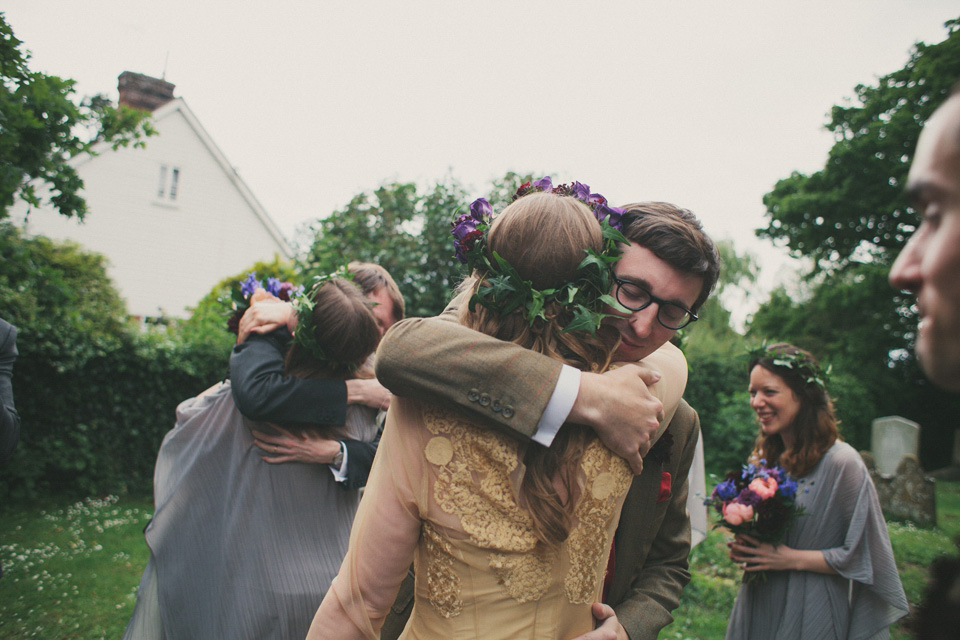 "Harriet Taylor-Seed (our friend Ed's sister) made us a beautiful print that we used on the invitations, order of service and table plan – I sent her a series of images from medieval manuscript illustrations and she added objects of importance to us and the day (ivy, vines, asparagus, quills, musical notes, etc.).
 I couldn't quite believe how she managed to nail the random ideas I sent her and put them together into something so beautiful. She used the medieval imagery so perfectly too – not an easy thing as the pictures I sent were extremely rude! I took this and designed the invitations (using 'Kelmscott' a typeface inspired by William Morris's printing press) and orders of service which were printed locally by Tim Munt. For the seating plan I took all the unused invitations and cut them up and used the bits to decorate it. I left his extremely last-minute (i.e. the day before) and it nearly killed me! the images were still gorgeous, though."
"Julia at Sweet William in Headcorn was our florist – I wanted the flowers to echo the stained glass in the church and the manuscript colours I'd been thinking about – all bright and jewel-like, with dark green and the shot of coral from the peonies.
Julia and I discussed the flowers at length and she produced something that was beyond my wildest imaginings – so intensely beautiful. It was also extremely fun putting up the ivy in the tent the night before, with her husband up this absolutely immense ladder. We picked up most of ivy from Sophie's mum's garden, and some of my mother's friends made the church look utterly beautiful for us."
"Our photographer was Maureen Du Preez – Maureen is absolutely amazing – so kind and friendly, she put us at our ease on our engagement shoot and from then it felt so easy to be photographed by her. Her shots were just beautiful, and she was so lovely – she got the documentary stuff but also did us a proper job on the family shots. And she was just so unrelentingly nice and sweet – even when her train home was terminated for no reason at Tonbridge Station (at about one in the morning): a real pro."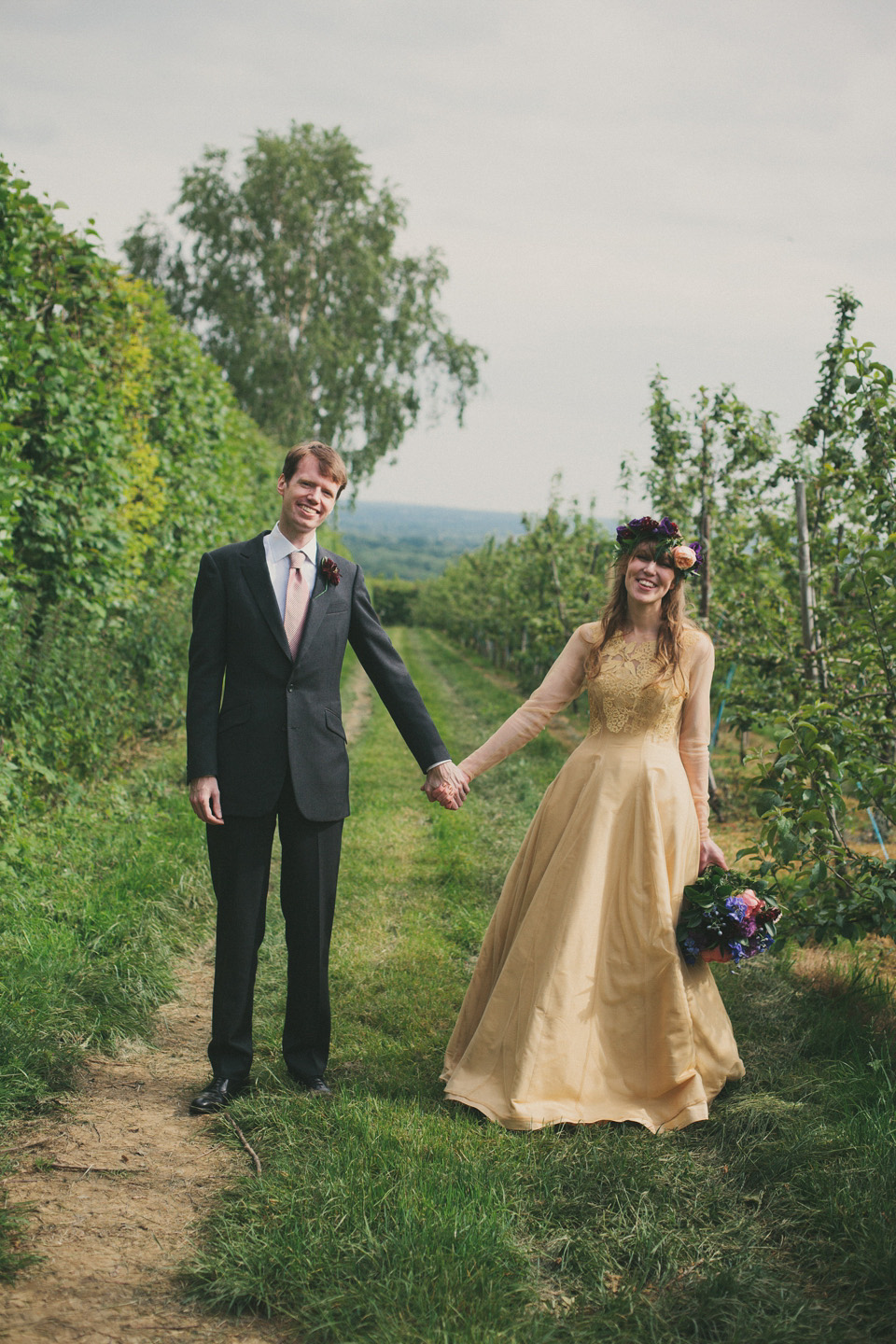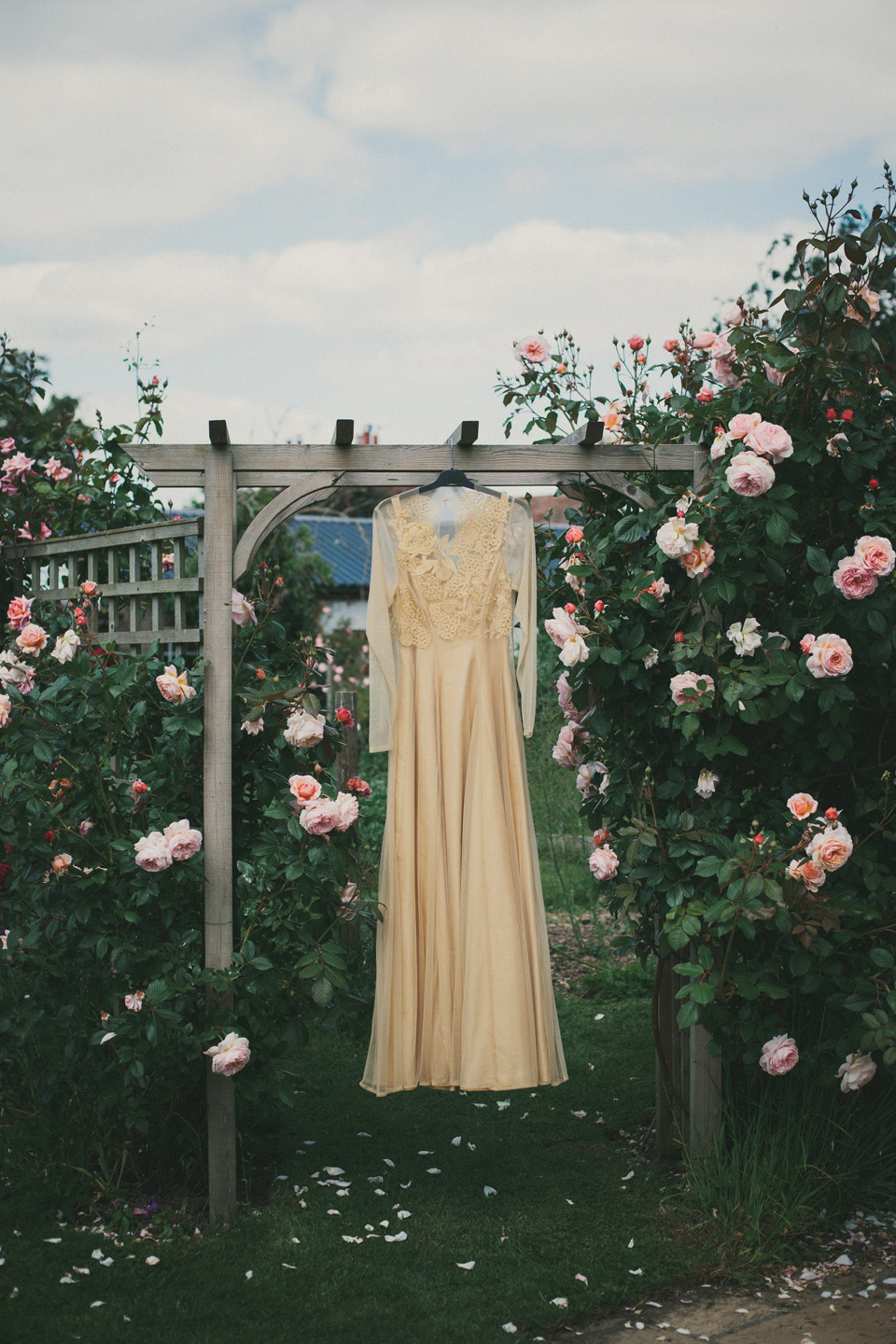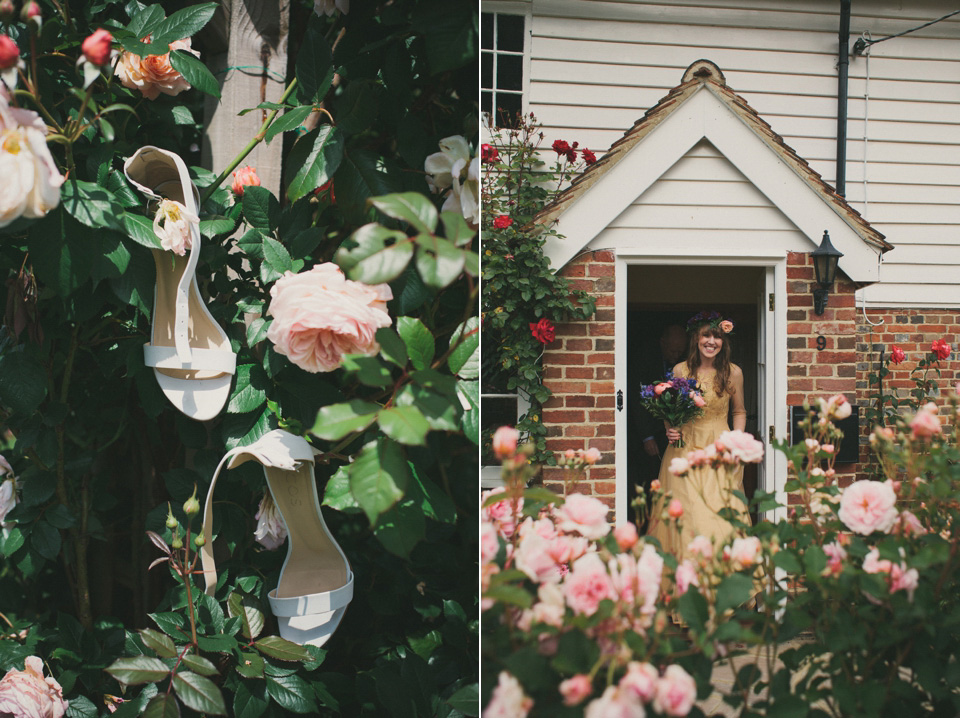 "Duncan and I met on a blind date on which we both got very drunk and through the haze decided we were soul-mates. Four years later Duncan asked me to marry him in New York, he took me up to the Cloisters – the museum of medieval art – and proposed under an arbour. On the way I launched into a prolonged feminist attack on the institution of marriage but he still asked. To my (dis?)credit I said yes – but my first answer was 'do you have a ring?'"
"I grew up in Headcorn and my parents' house is right next to the village church. They wanted to follow the tradition of me being married from their house and I agreed. We were stuck for a reception venue until my mother found out (through a whispered conversation at choir) that a friend's daughter was preparing one. The views at Friday Street Farm are incredible and Sophie (Skinner) – who I've known since primary school – is extremely organised, lovely, and helpful. LPM Bohemia provided the tent and it was spectacular.
We had no planner, but I should mention the ludicrous amount of work my mother did in planning the wedding. She is an absolute powerhouse. If you have someone like this in your family use their help!"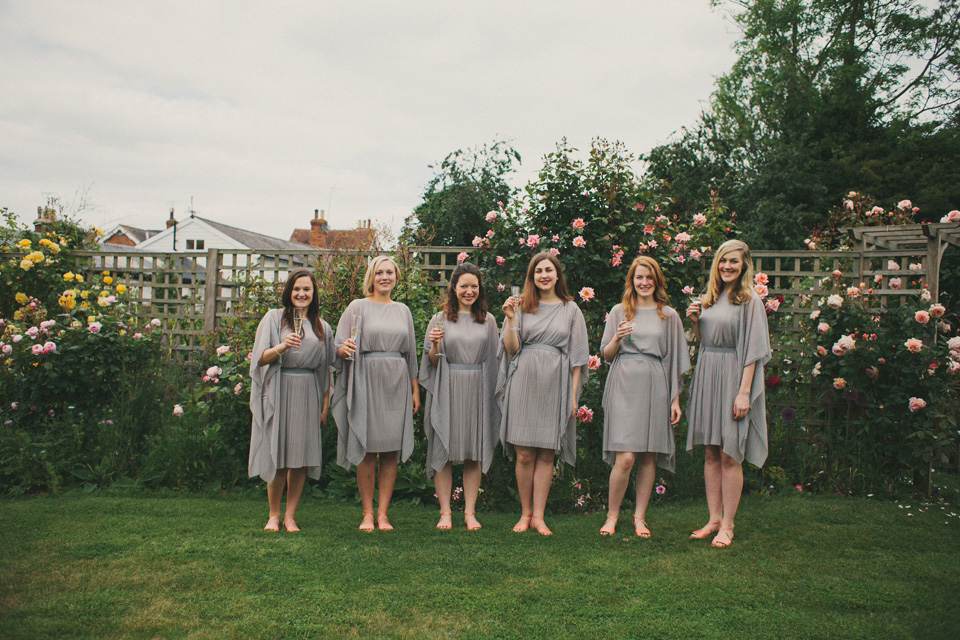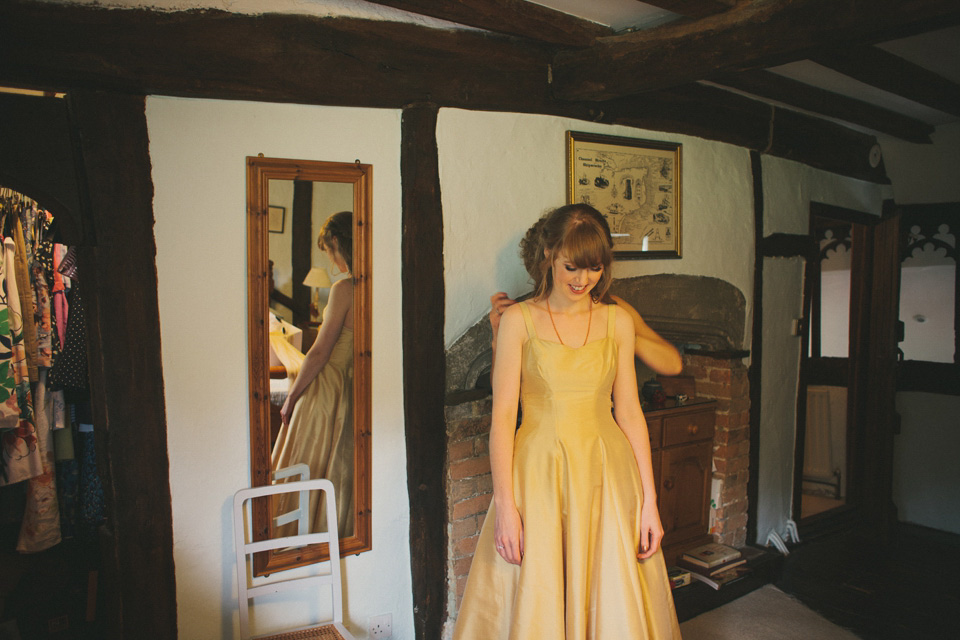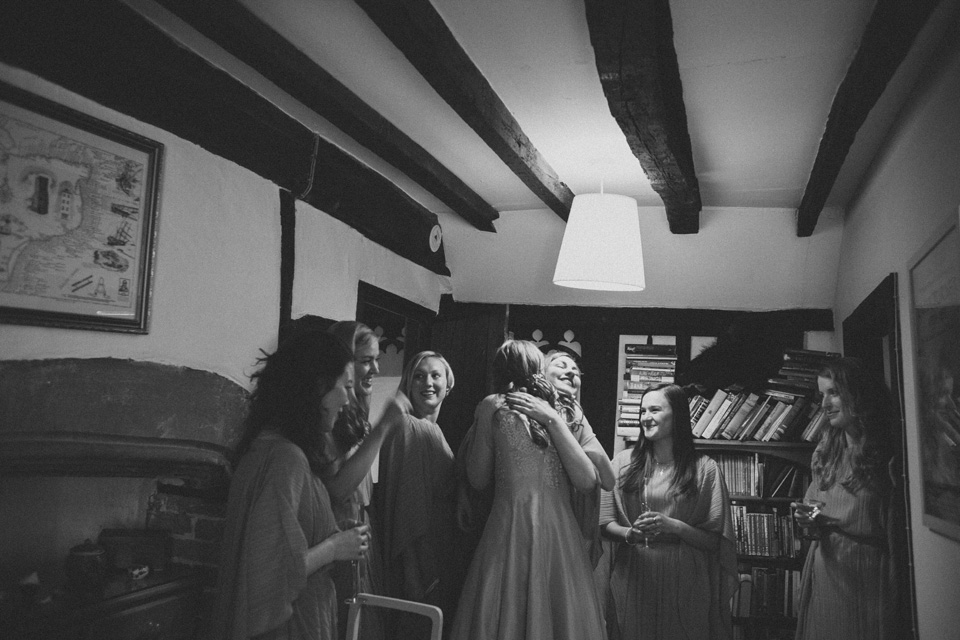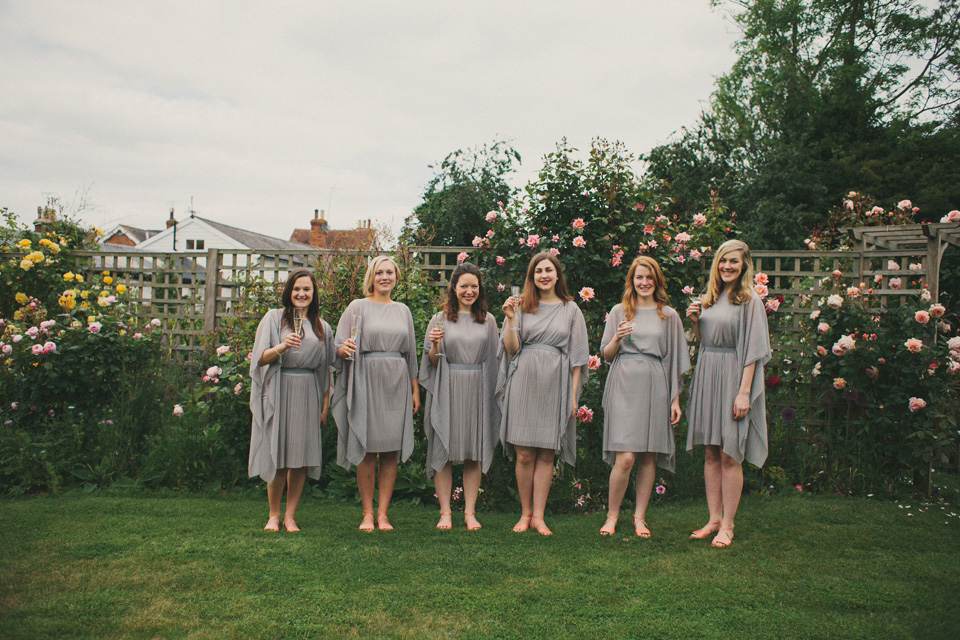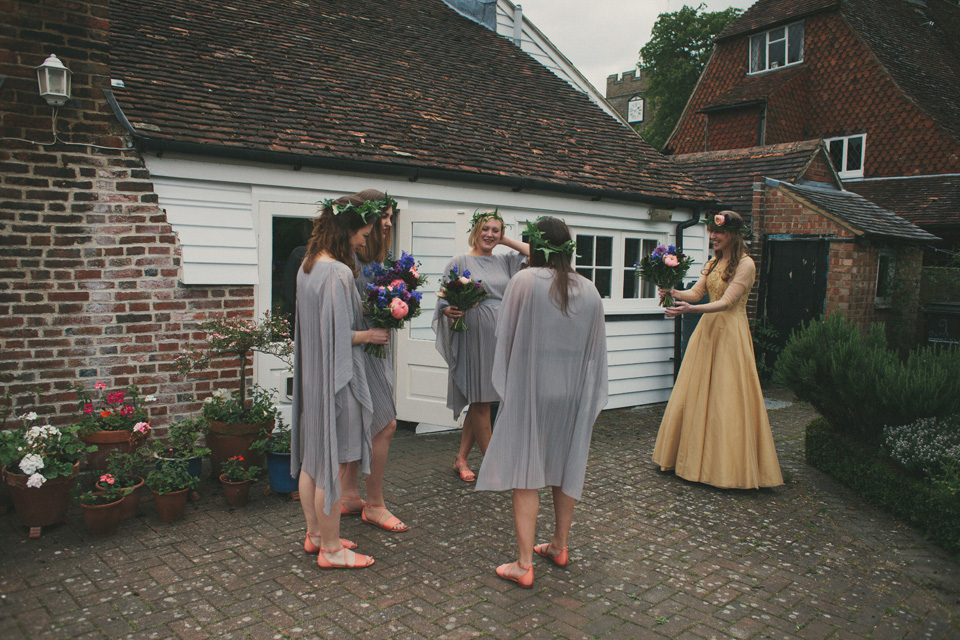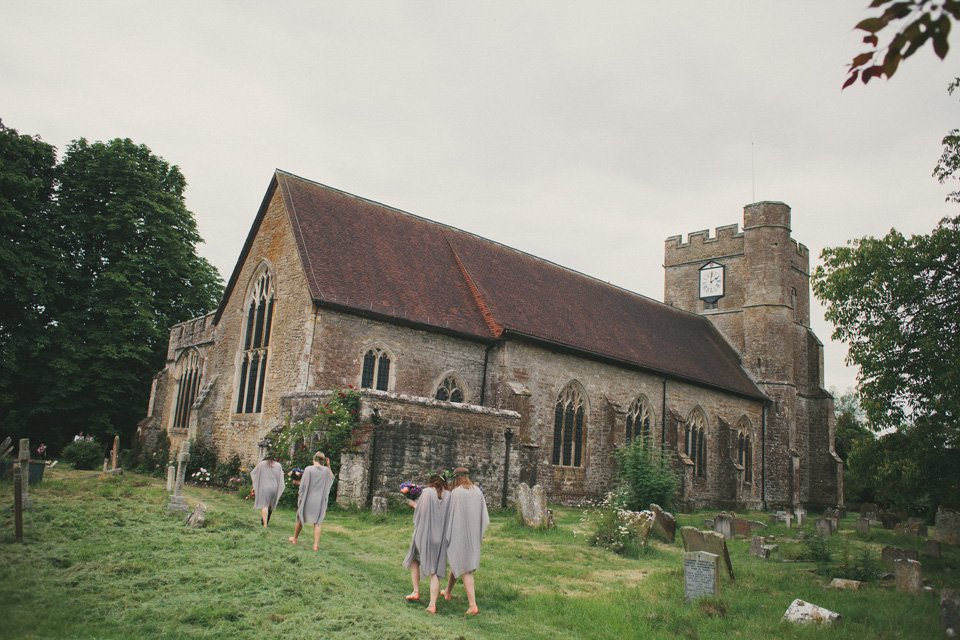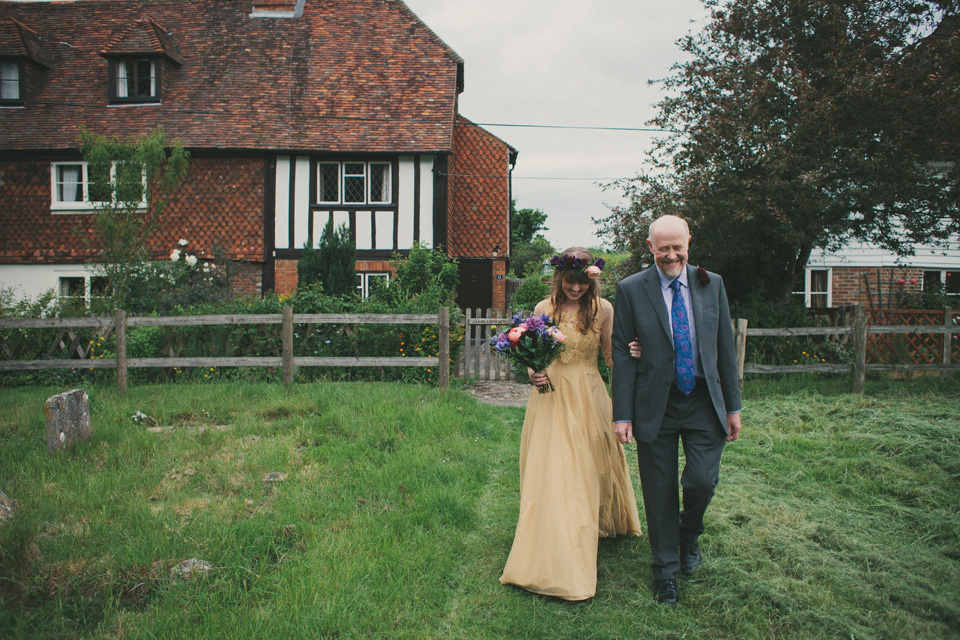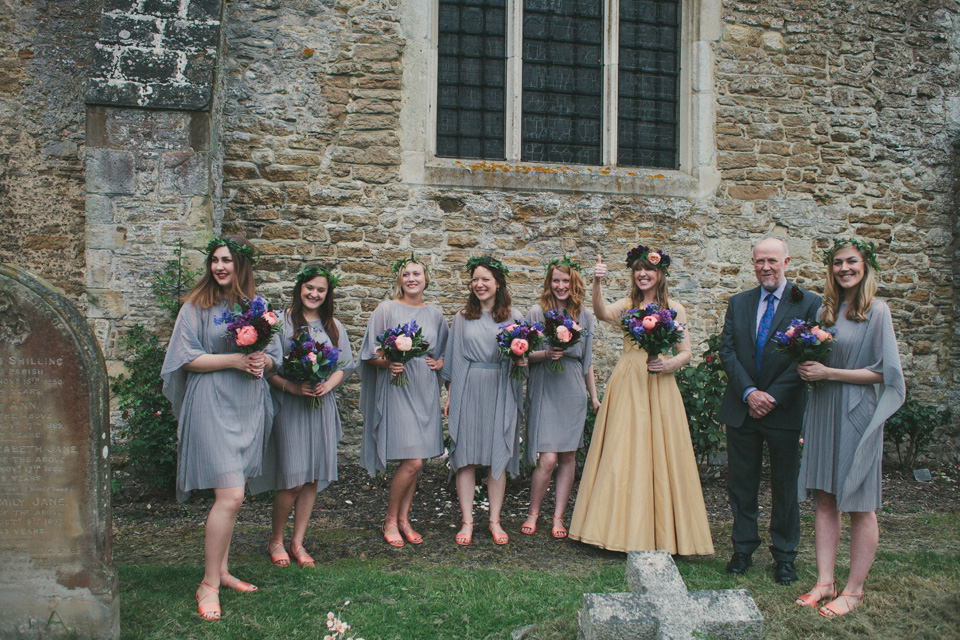 "My father gave me away and it was just as meaningful as everyone always says. On the way to the church we had a good private talk.
As we entered the ceremony, our lovely friend Tim played the organ for us (he was in a band with Duncan). He was spectacularly good. He arrived at crazy-o'clock on the day to practice and had put together a selection of pieces to play to the congregation as they waited. I wanted Debussy's 'Girl with the Flaxen Hair' as it's a tune my sister used to play when we were small and I've always loved it. We were unsure about how it would sound on the organ (it's a piano piece) but I thought it was improved!"
"My uncle Duncan (two Duncans!) was our vicar and though the Church of England service doesn't allow much alteration we had a long meeting about the service/marriage that gave the ceremony real depth for us.
The music during the service was really important to us – we had Grieg's Wedding Day at Troldhaugen when we walked out of the church: it's an incredibly rousing piece, especially after 'Guide me O Thou Great Redeemer', that I think set the tone for the rest of the day. Our choir was amazing, they sang all the different parts to the hymns, which was great to hear up at the front of the church. It was also really moving having a sermon delivered by my uncle."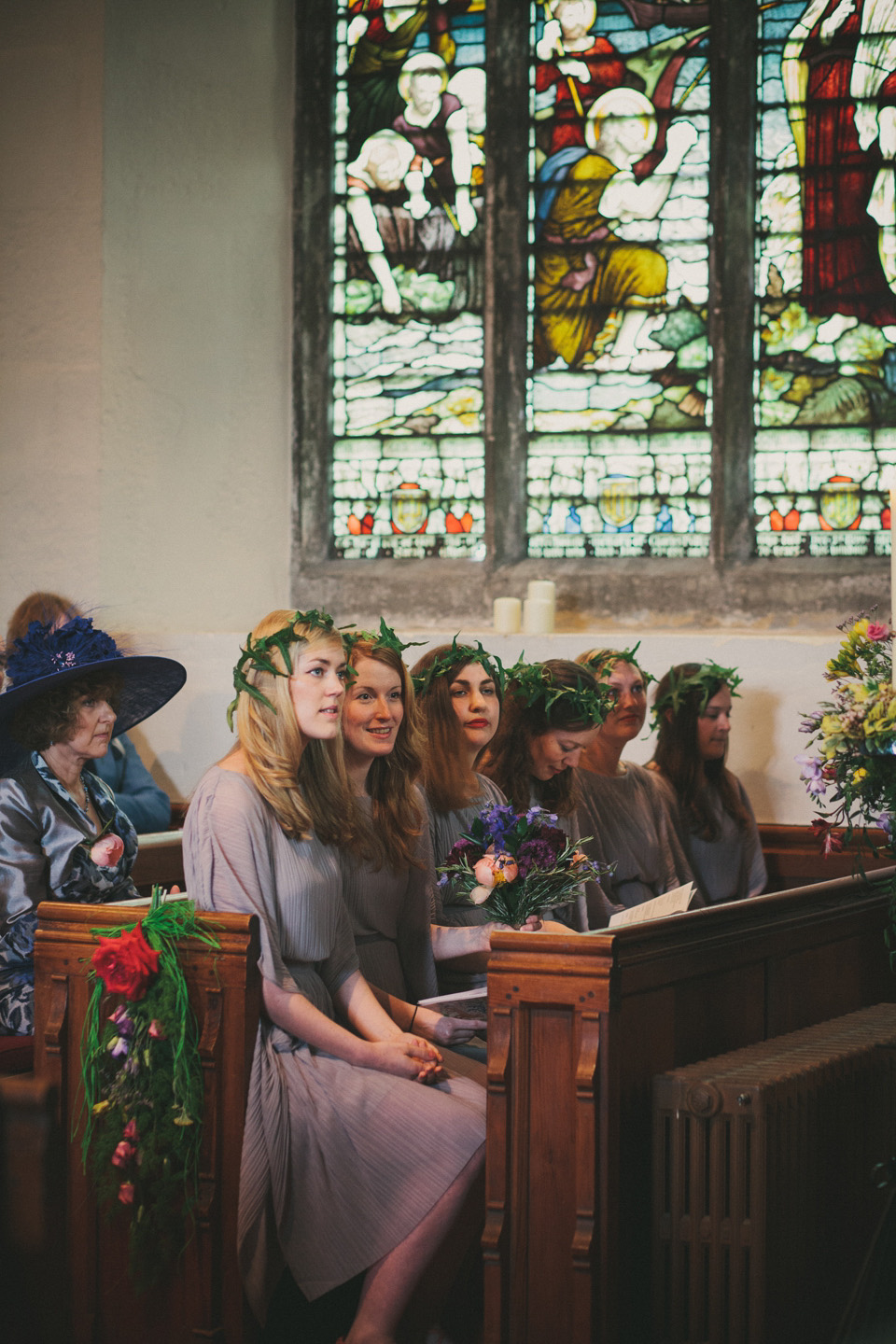 "We had three readings. First Psalm 148 read beautifully by my godmother Nikky. It's a psalm of praise for the natural world and I chose it to accompany the hymn 'All creatures of our God and King' – both of which reflected the day's natural imagery (and I hope they gave it extra meaning). Nai (my grandmother) read Shakespeare's sonnet 29.
The service was the best part of the day. The nerves are so extreme – yet they give it such meaning. I was literally shaking my bouquet all over the place as I walked up the aisle. There is something so intense about the occasion, it recreates the amazing nerves of the first few dates and the proposal. Also seeing all the people you know gathered there is somehow such a surprise, and hearing these words and everyone singing and feeling this is the end of all your preparations and the beginning of something completely unknown."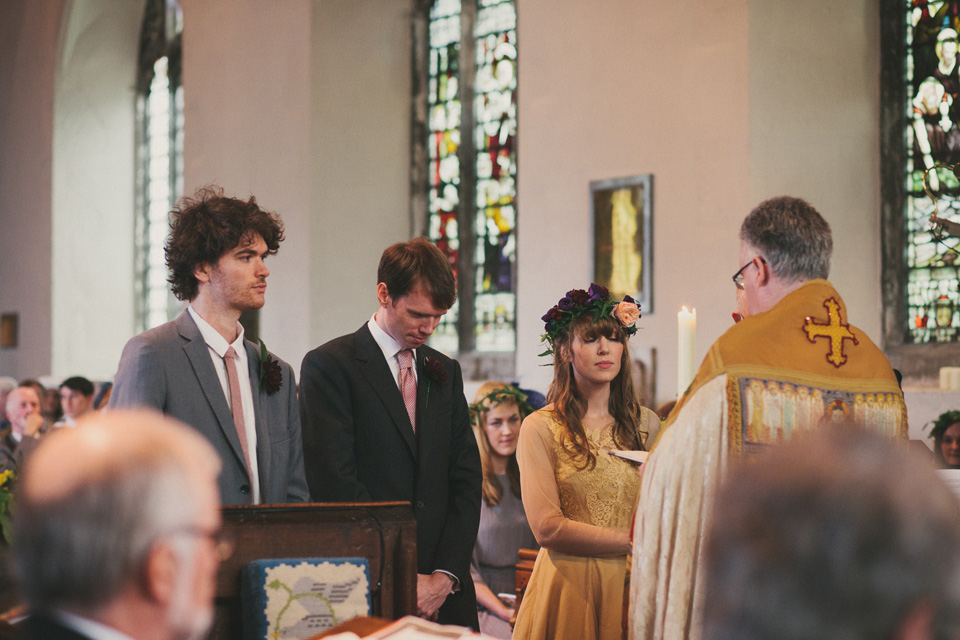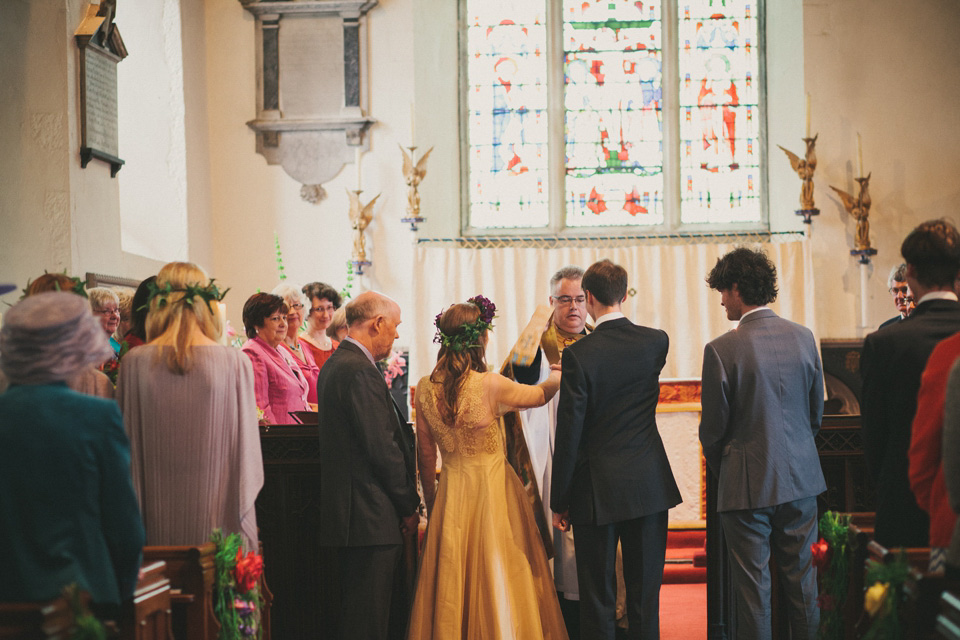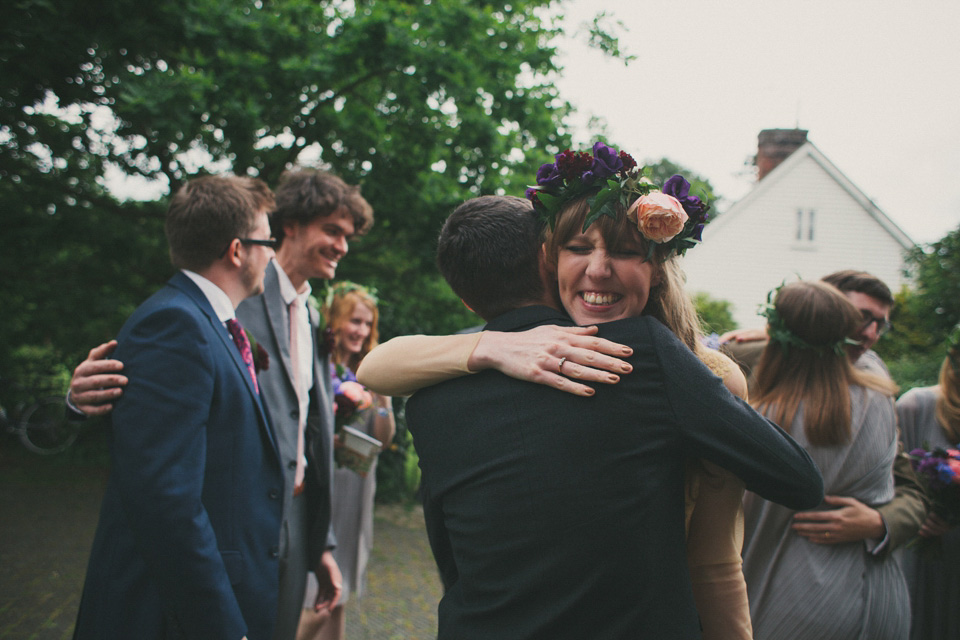 "Duncan's suit was Tailor made by the Cad & The Dandy – it was lovely, cut perfectly – he looked great."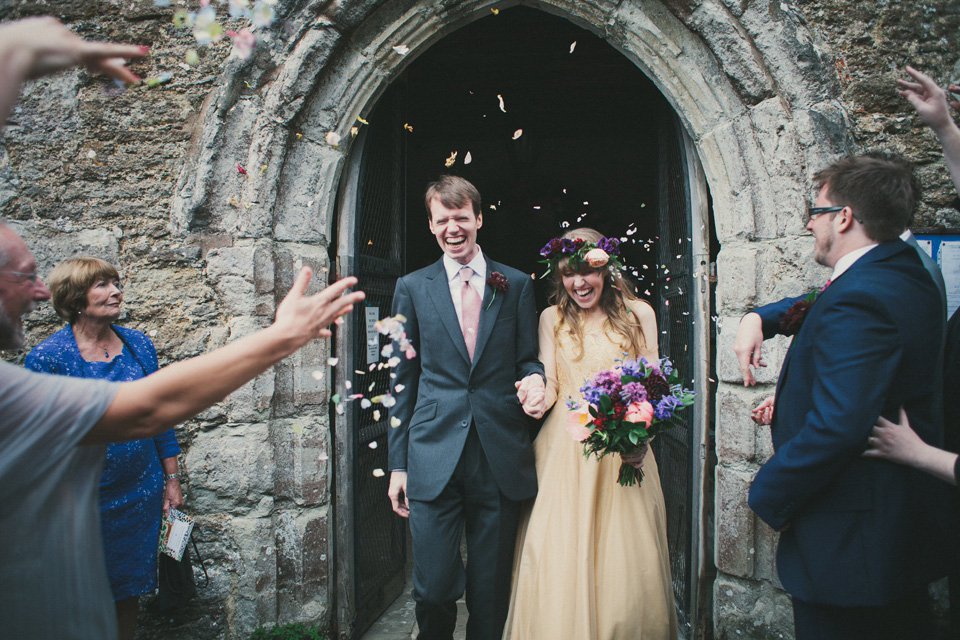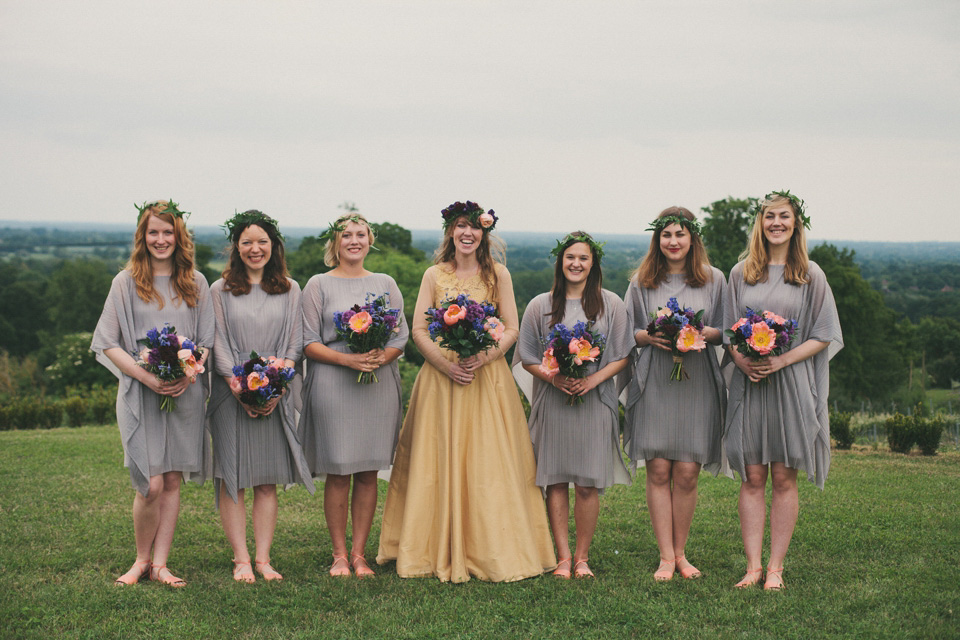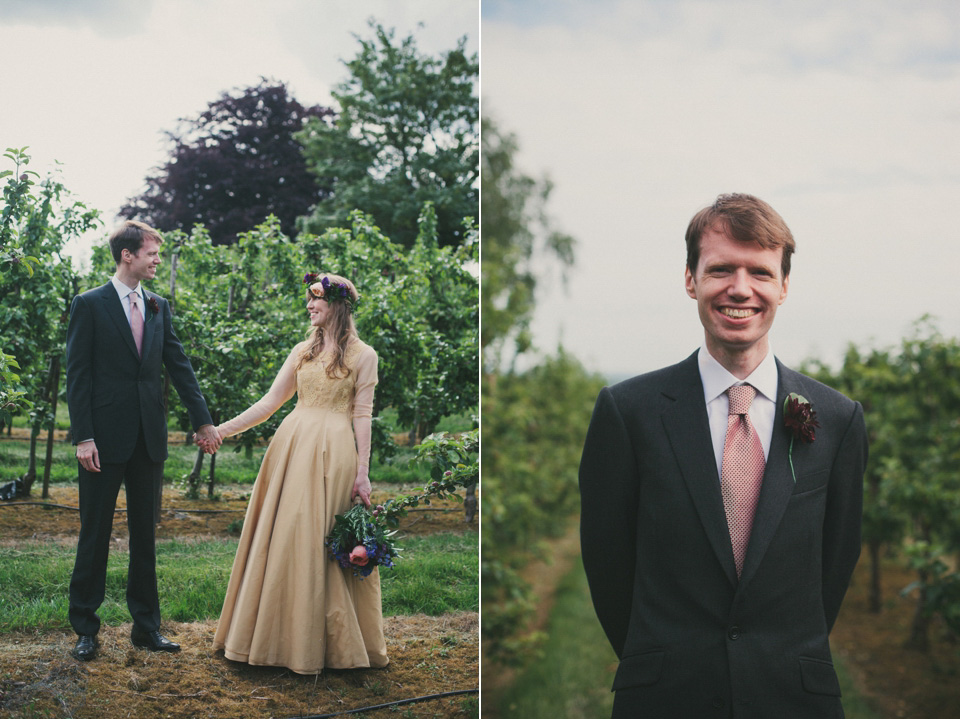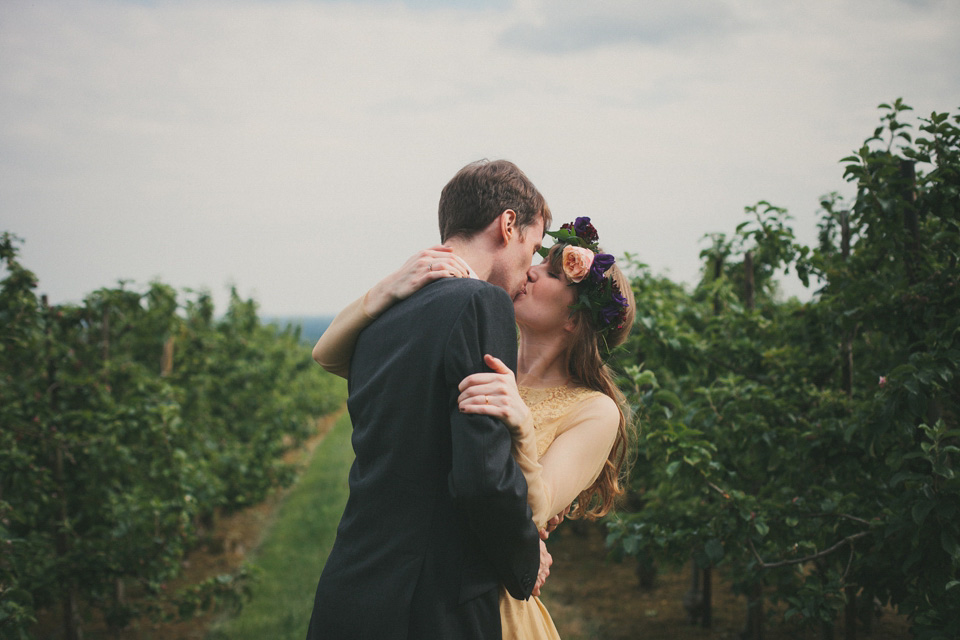 "Rankins (of Sissinghurst) cooked all our food. Lee Rankin was also a stand-in for a wedding planner, making sure the day ran perfectly smoothly, organising all the waiting staff and helping my mother hugely in putting together all the small details of the day. And the food and drinks were delicious. We had fresh local asparagus, lamb, and new potatoes – divine.
My aunt Hibly made our cake, including the sugar peonies decorating it – she's not professional but you would never guess. I love the tradition of having a rich boozy fruit cake and this was just that. We cut it with my grandfather's sword, which my cousin Ben bought along in his dress uniform – looking completely fabulous."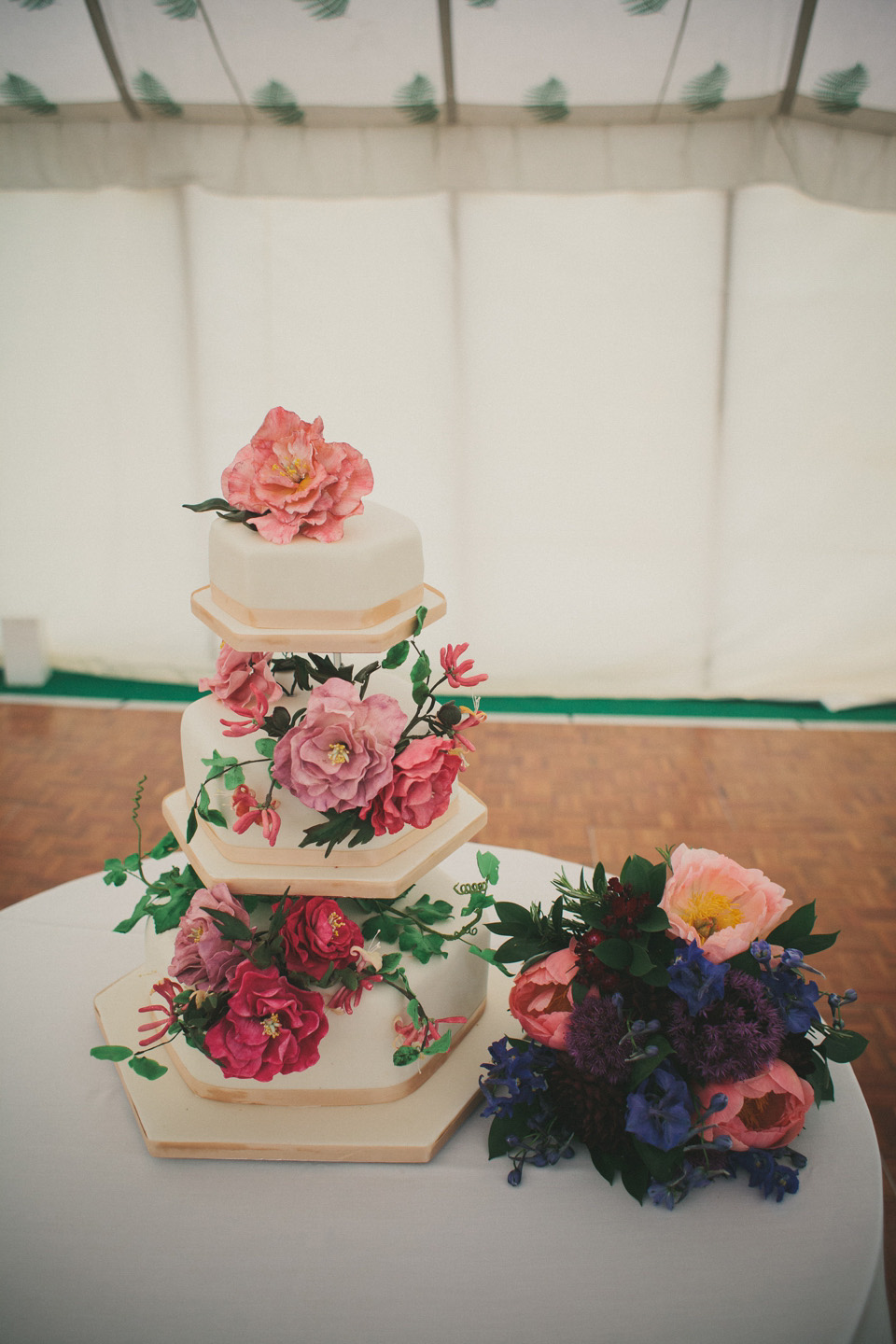 "For 'favours', we gave everyone pots of bubbles (this was my mother's idea) and either a swanny whistle or a kazoo (this was my sister's idea), they serenaded us with them as we came into the tent."
"Julia our florist filled jars with alium and peonies and trailed ivy down the tables: beautiful. We were at a bit of a loss about jars as we hadn't really bothered to collect any. But Duncan's aunt Lindsay had about a hundred left over from his cousin Alexandra's wedding. Lindsay had decorated them with gold (perfect!) and they gave them to us – so kind. W
e passed them on to Duncan's sister for her wedding in August so they're getting plenty of use! The tent was beautiful already so it needed very little decoration. LPM Bohemia provided the fern interior panels and festoon lights for the exterior and someone (very kindly!) bought the pew ends up from the church to hang inside. Julia made the ivy garlands for the tent poles and we had this vivid green carpet and opened the side to show the view."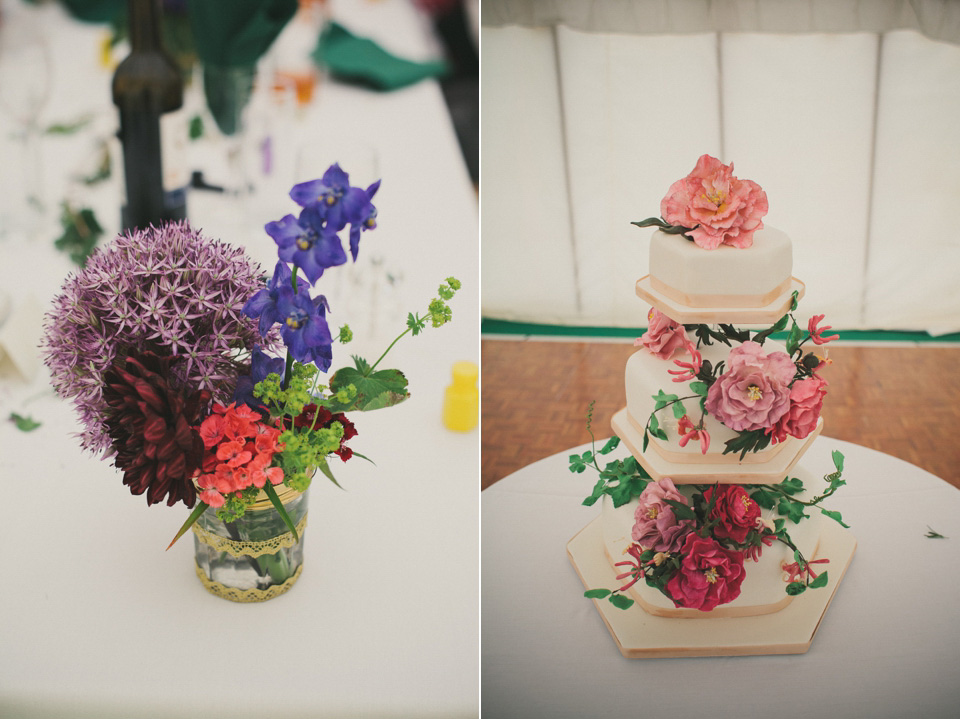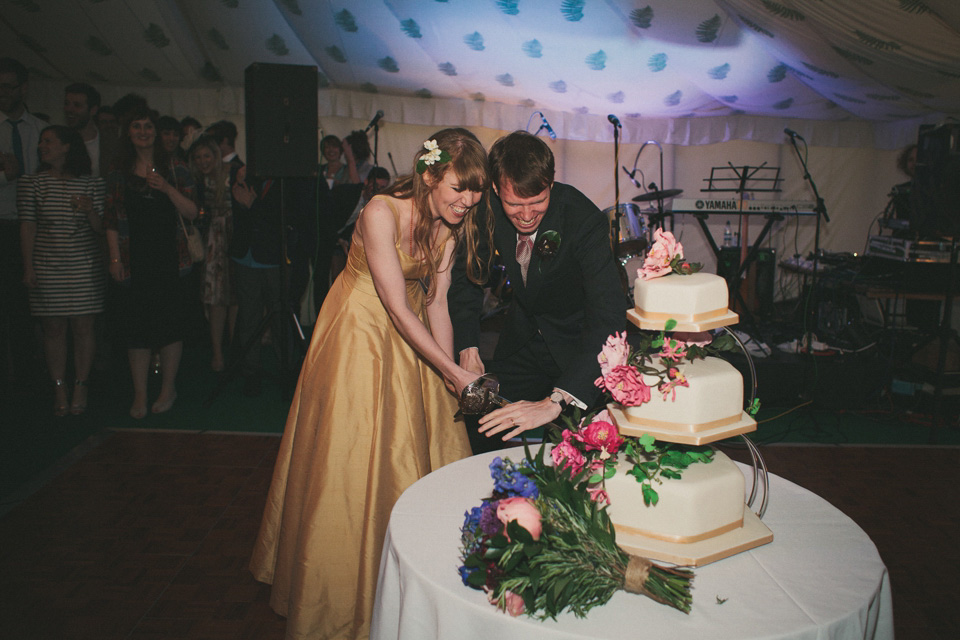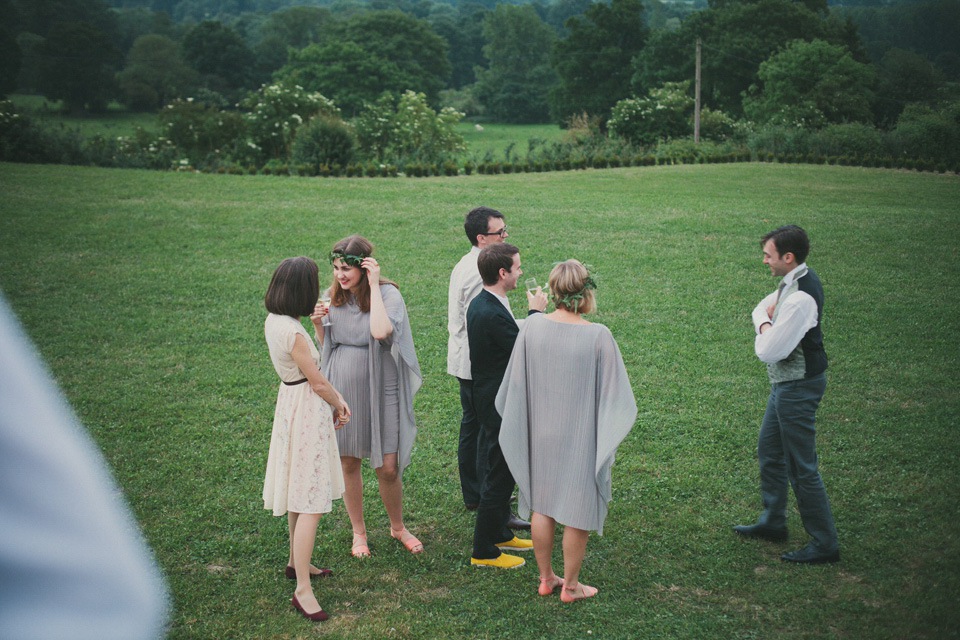 "A group of friends made up the band (Duncan has played in several over the years) and did a truly amazing job of covering the songs we gave them. Duncan sang Leonard Cohen's 'I'm Your Man', which was a masterstroke. I think everyone was a little uncertain (a singing groom?) but he nailed it!
There's a lovely sequence of photos of the reaction to Duncan's singing: first the audience look sceptical, then delighted! And Chad Mason provided our disco. He was my brother-in-law's best man and he was such a joy at my sister's wedding that we wanted him back. He bought a ton of equipment in his van as well.
Without him all the music would have been impossible."
Words of Wedded Wisdom
"Double check your guests are going to be ok, but don't go crazy – there are so many of them and in the days before the wedding it can feel overwhelming enough. Try and sleep but don't worry about not sleeping (seriously) the adrenalin absolutely powers you through – you don't even look tired. Plan a big rehearsal dinner and invite lots of people to stay – it's all so busy and fun if lots of people are milling around. Have lots of bridesmaids: they're such a wonderful thing to have around you, the more the merrier.Don't be afraid of tradition, it can add real resonance to events; embrace the advice of your mother; kiss your husband and after about 5pm completely stop caring about what you look like – get sweaty, take your hair down, peel off your eyelashes – by this time all the important photos are done and it's just about having fun.
Don't be the last people there and forget to book a taxi and be walking around country lanes at 2am. Put your bouquet in water before you go to bed. If you forget to book a separate hotel for your wedding night it's actually very fun staying in the same hotel as your parents in law and groom's family – the morning-after breakfast is so enjoyable! Include as many of your family/friends in the planning as you can. The tiny details really don't matter – it's about who you ask to do what; ask people you love and the day will be beautiful."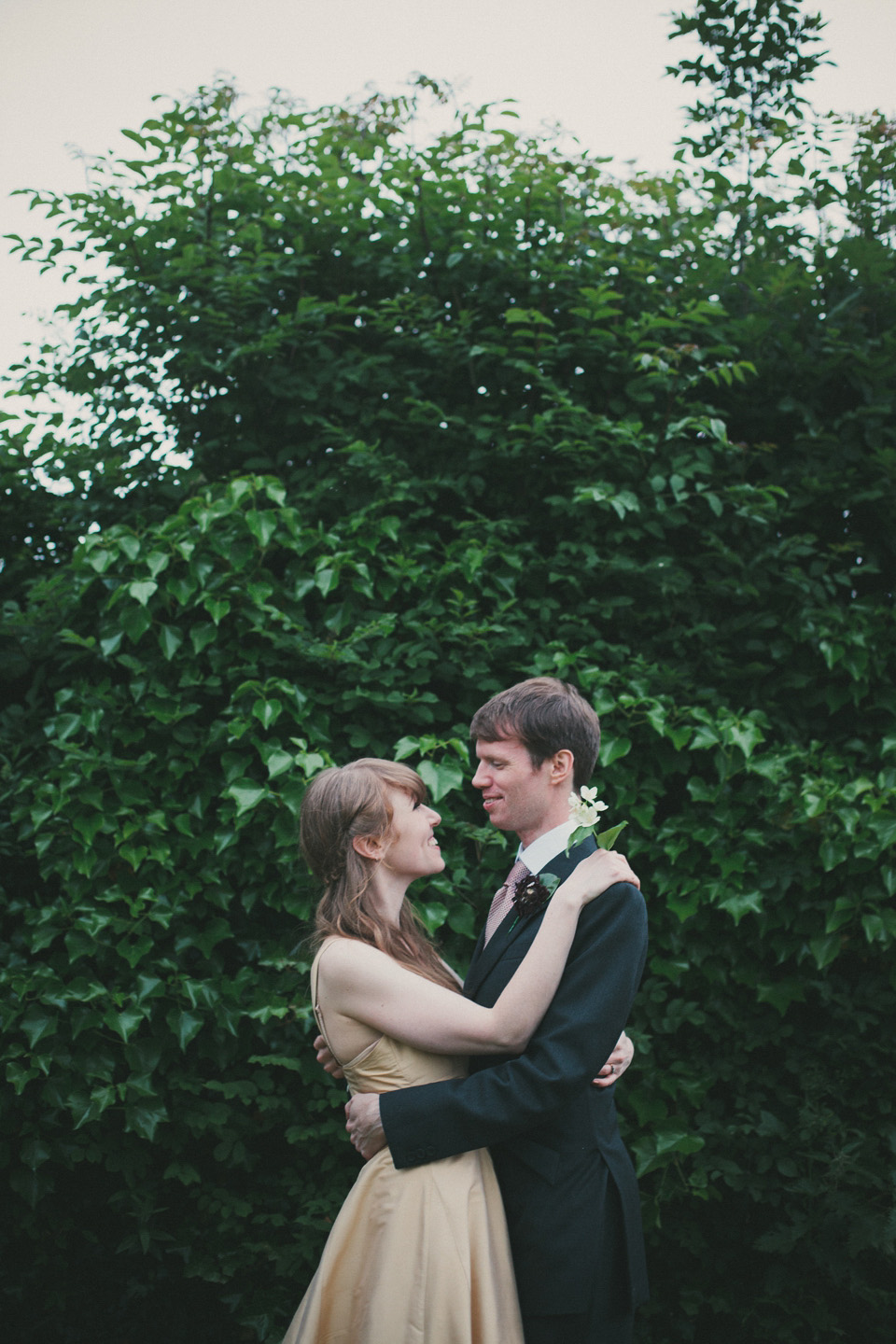 "Decide a very few things to really work on and control then paint the rest in broad brush strokes.
Congratulate yourself if your mother is an organisational genius. And for a marquee I really recommend getting a wooden floor covered in carpet, it makes the inside feel solid and like a building, while it still has the marquee loveliness.
Finally, we had a few vegetarians without meals which I regret. We wen on RSVPs alone and I completely forgot to check the list based on what I knew about people personally – I recommend brides do this, and make sure their caterers have extras: it's such a silly thing to get wrong."
A simply beautiful day, many thanks to photographer Maureen Du Preez for sharing and huge congrats to you both Beatrice and Duncan on your most fabulous of weddings!
Love Annabel xx
Photographer – Maureen Du Preez
Venue – Friday Street Farm
Wedding Dress – Sally Higginson + Alice Archer (both friends of the bride)
Floral crown – created by Julia  at Sweet William
Brides Shoes – Cos
Grooms Suit – Cad & The Dandy
Bridesmaids – Cos
Florist – Sweet William
Cake – family member
Rings – Ruberg Jewellery on Camden Passage
Catering – Rankins Catering
Stationery – Harriet Taylor-Seed
LPM Bohemia – tent + fern interior panels + festoon lights for the exterior
Follow Love My Dress® on Google+