A very good morning to you  Monday lovelies – I'm feeling so positive today after a beautiful week celebrating this, and ahead of another crazy week that will see me speaking at this workshop in Iceland hosted by the incredible Nordica Photography – though I have to also admit, the nerves are now kicking in!
This morning's wedding is such a beauty, I have been saving it for a Monday to brighten the start of your week.  Sian and Chris tied the knot on 7th June 2014 at Eight Members' Club in Moorgate, London.  I love the sense of modern elegance in these images by Nabeel of Nabeel's Camera – the bold colours and that incredible off-the shoulder asymmetrical gown by Eliza Jane Howell – a purchase that Sian made via Morgan Davies Bridal in Islington.
"There was no one thing that I could pick out as an influence really – above all I wanted the day to be fun. I went a bit wedding crazy during the planning process and spent what felt like every night pinning on Pinterest, reading wedding blogs and googling like a fiend. We didn't have a theme as such. I gravitate towards bright bold colours, but I couldn't narrow down which I liked best so I decided to try and keep the wedding 'colourful' with bright pink, green, turquoise, purple, yellow, and some gold accents."
Photography Copyright (c) 2014, Nabeel's Camera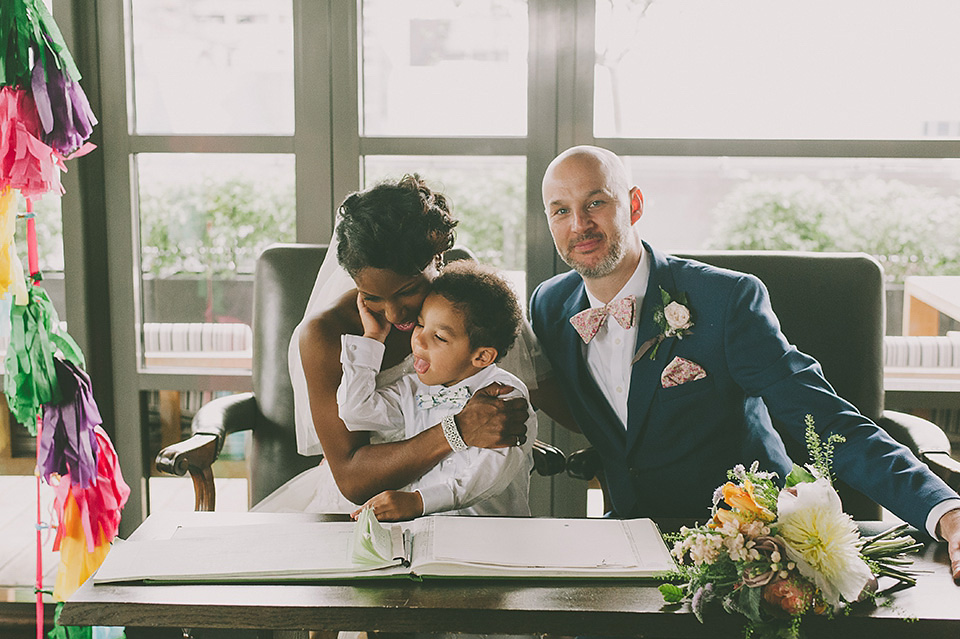 "Chris and I met through mutual friends in our last year of university. We bumped into each other a few times over the next 4 or 5 years, not knowing that we were from the same home town. Then on Boxing Day 2004, whilst both home for Christmas, we bumped into each other again, felt a spark and our first date followed two weeks later.  Our criteria were pretty broad, we wanted a single venue for the day with a late licence. We both love a late night (I went to a lot of all night raves in my teens!) so it was important to us that we could carry on the party into the small hours.
We got engaged at Easter 2013 whilst on a lovely break in Cornwall with our son Theo. We had had a lovely few days and as we took a stroll on the beach one morning, Chris got down to write a message in the sand 'Daddy loves Mummy' and then he asked me to be his wife.  We were engaged for around 15 months before our wedding day.
We also wanted a venue that had outside space and somewhere that felt a bit 'different'. We loved the cool, informal vibe at Eight, it is the sort of place that we would enjoy hanging out at in our 'real' lives so for us it was the perfect place to host our celebration."
"When we got engaged, we had no idea what sort of a venue to choose and researched lots of different sorts of venues, from a sailing club to a converted warehouse. 
"My dress was the 'Elizbeth' design by Eliza Jane Howell, which I bought as a sample at Morgan Davies Bridal in Islington. Before the day that I went wedding dress shopping I had no idea at all what I wanted. I decided just to spend a day trying on different styles at 4 different shops with the intention of narrowing down what I liked, but definitely not buying. I think I tried on around 40 dresses! I found my dress in the first shop.
I loved the elegant shape – sort of Grecian, contemporary and vintage at the same time. And the beading was amazing. The dress was about to go into the sample sale, and the feeling I got when I realised someone else might snap it up convinced me I had to have it, so I popped back to the shop and bought it a few days later!"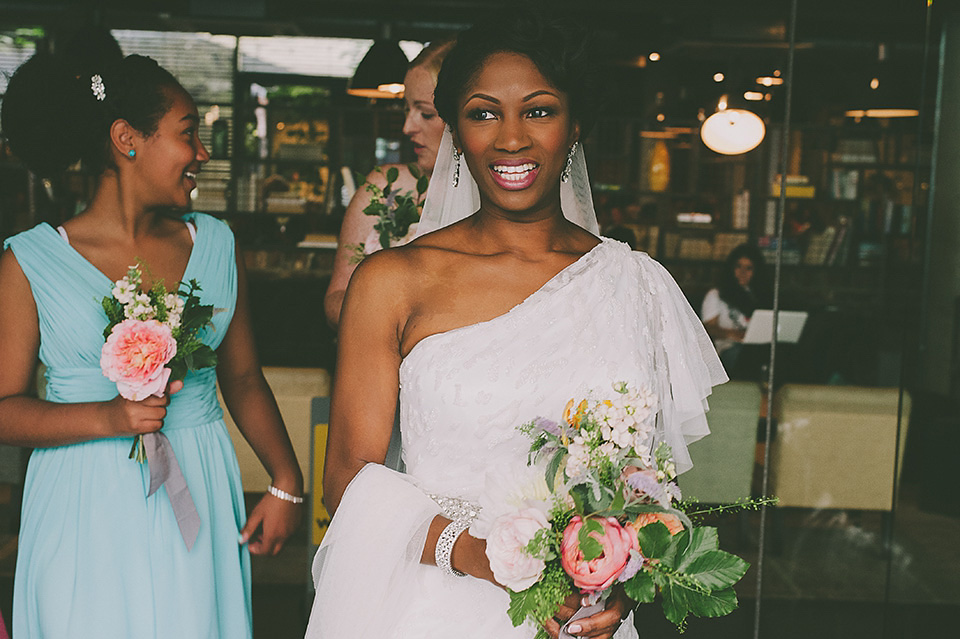 "All three dresses were bought online from forherandforhim.com – again, I discovered this supplier via Love My Dress®. We were all a bit hesitant about buying online but Forherandforhim.com got great reviews and had a great range of dresses so we took the plunge and we were not disappointed. Style wise, I asked the bridesmaids to choose their own as I wanted them to be happy and completely comfortable in what they were wearing.
My bridesmaids also each wore a heart bracelet, which I bought as thank you presents. These were from Jewelsisses on Etsy."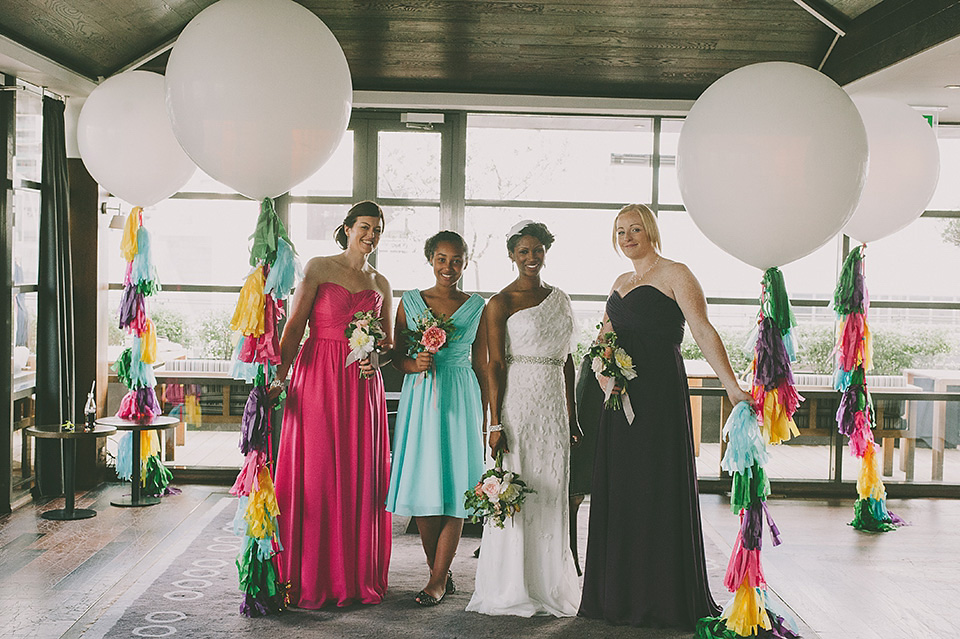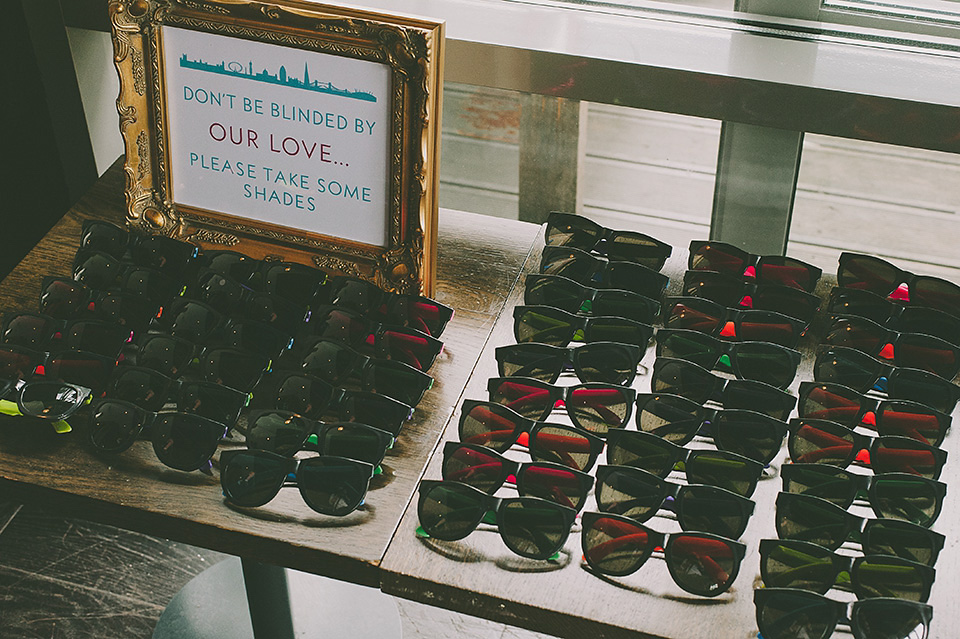 "We also gave our guests sunglasses I sourced from Amazon.com, again taking advantage of our New York connection. These were great fun and I'm really glad the guests got involved and wore them.
Our venue provided the menu cards."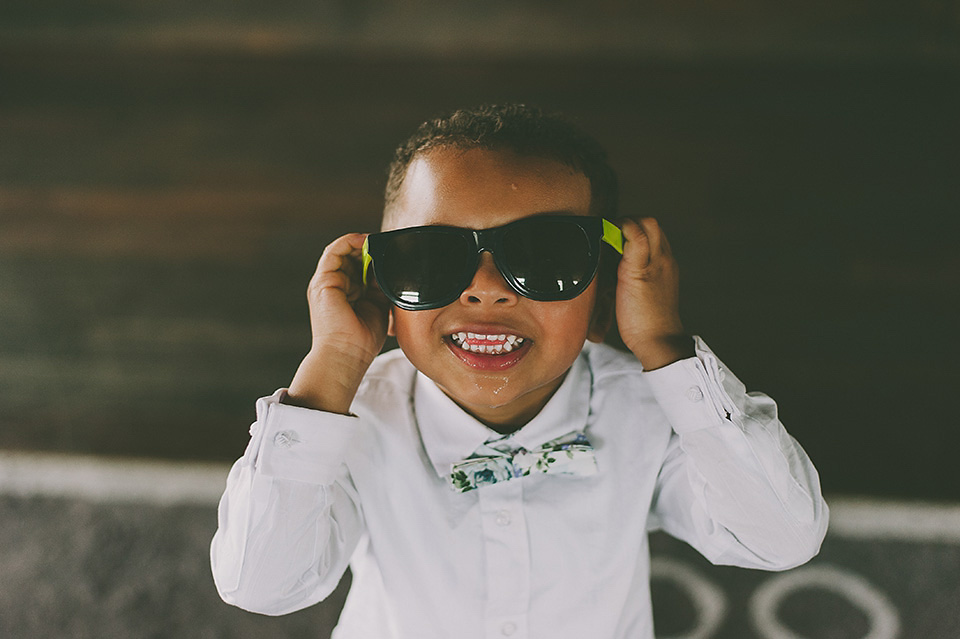 "I decided against floral decorations in the venue to try and keep the budget down. I had initially been thinking about I would make the bouquets for myself and the bridesmaids but about six weeks before the day, I decided not to give myself the additional pressure. Hattie at That Flower Shop was a saviour.
I know nothing about flowers and gave her a very open brief, but having seen her work online I felt confident that the bouquets would be fab and they were, I loved them."
"My feather headband was from forherandforhim.com, a vendor I found through Love My Dress."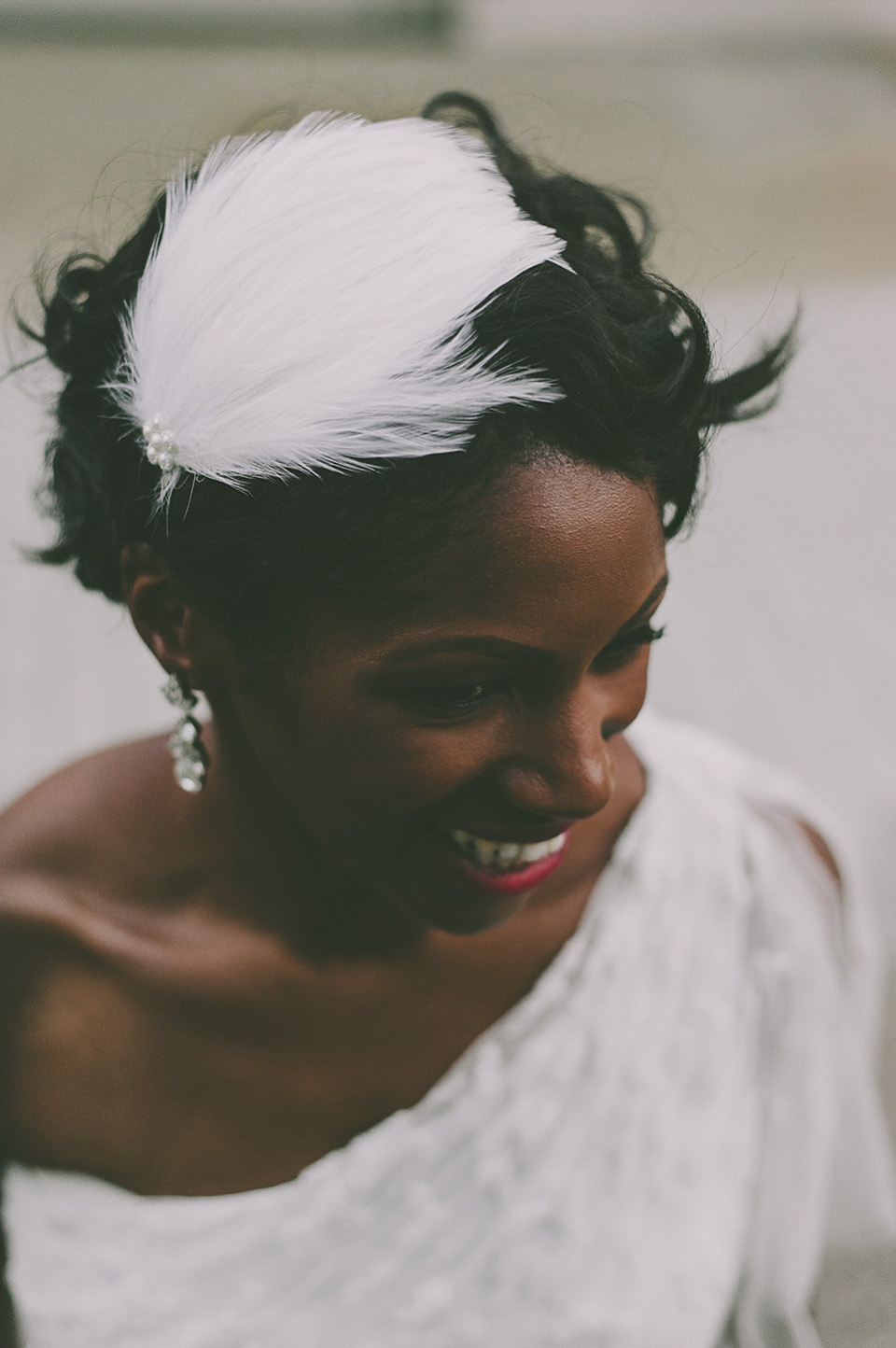 "Our photographer was Nabeel from Nabeel's Camera. I can't praise him enough! He was like a super helpful extra wedding guest. For example, when one of the balloon tails came loose and the balloon floated away Nabeel came to the rescue and reattached it. We spoke to a few photographers but we both felt straight away that Nabeel was the right photographer for us. He was incredibly easy to get along with, listened and understood what we wanted and his work is stunning."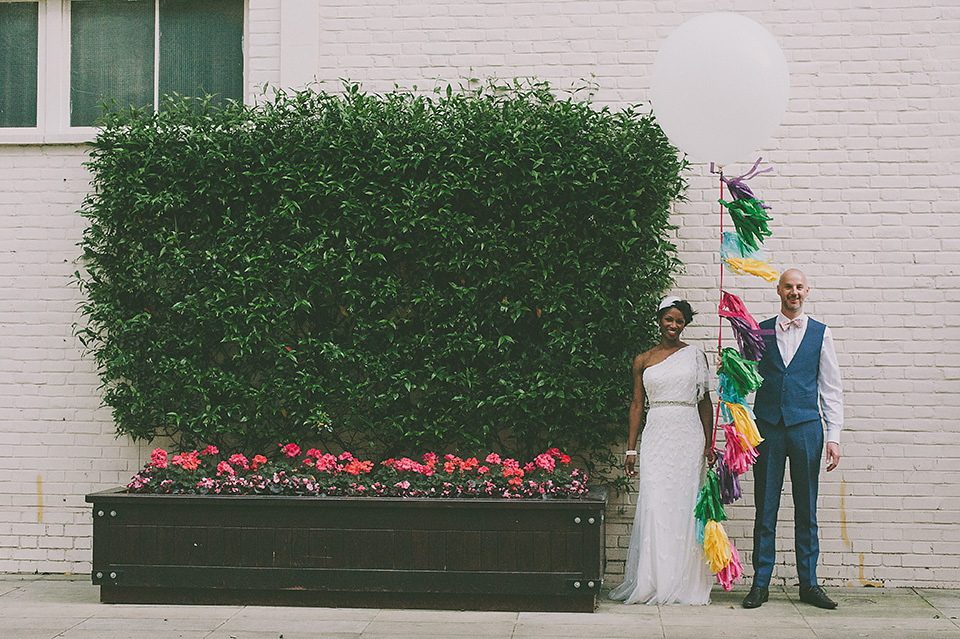 "My hair and make up was done by Malkia Roberts. She also did the bridesmaids' make up."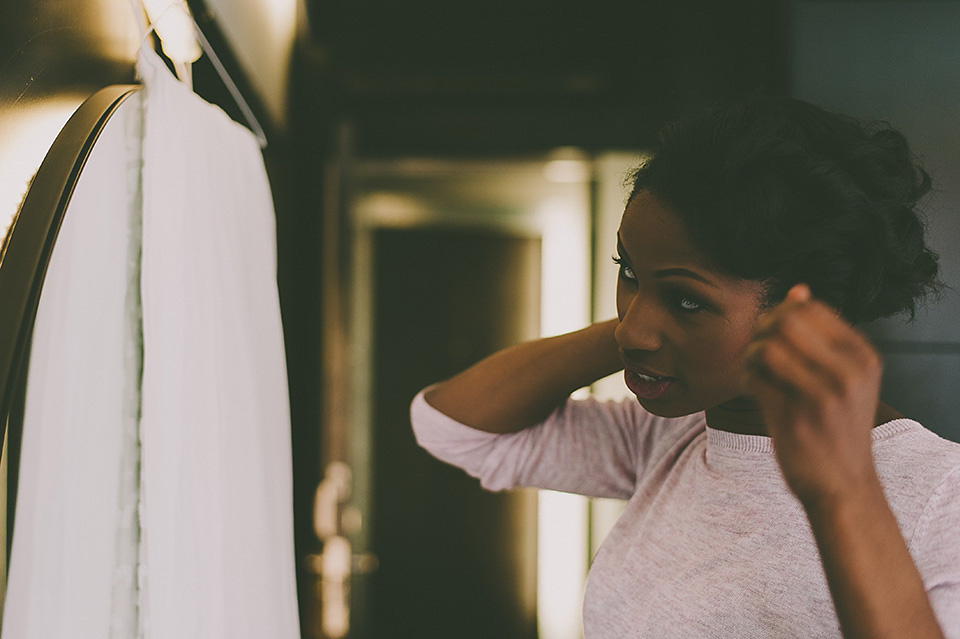 "I saw my earrings on Pinterest and irrationally ell in love with them. They are 'Crystal Petals' by Kate Spade New York, and seemed to have been discontinued. I eventually managed to find a pair on eBay."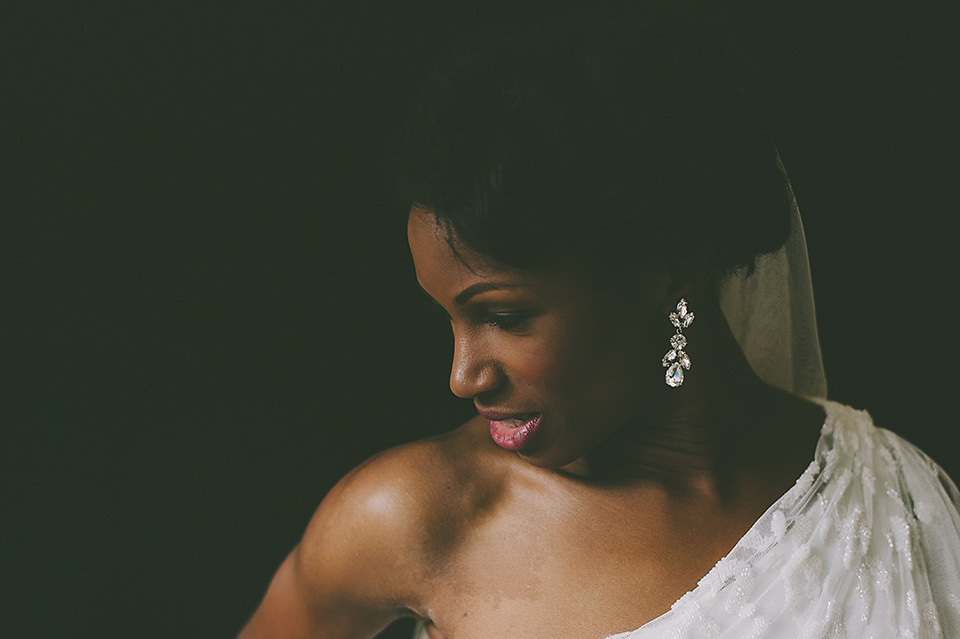 "I brought two veils, the first was from Phase Eight, but I wasn't sure about it. I later got a gorgeous chiffon silk veil from Old into New Couture on Etsy. I was undecided until the big day and had both with me, but decided on the Phase Eight one as it matched my dress better. I do have to give credit to Old Into New Couture too though as the veil was absolutely 
"My shoes were by Badgley Mischka, brought from Macy's in New York. Chris and I went to visit friends there a few months before the wedding."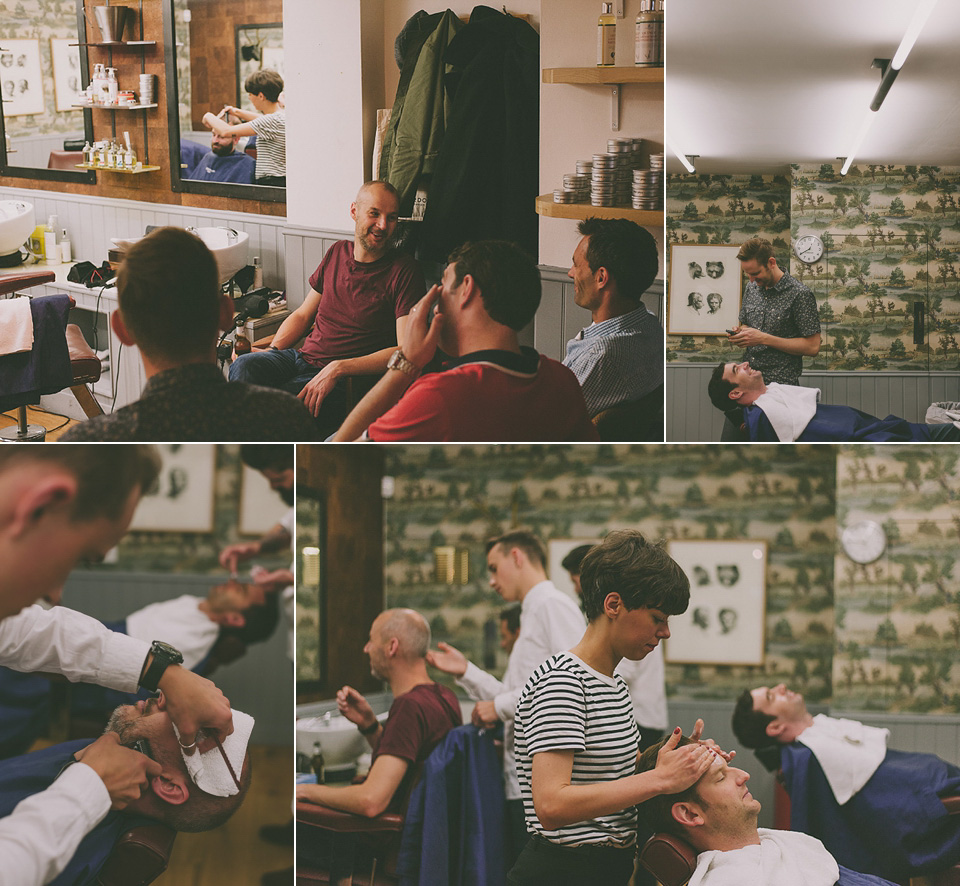 "My son and nephew wore shirt and bowtie sets from Marks and Spencer."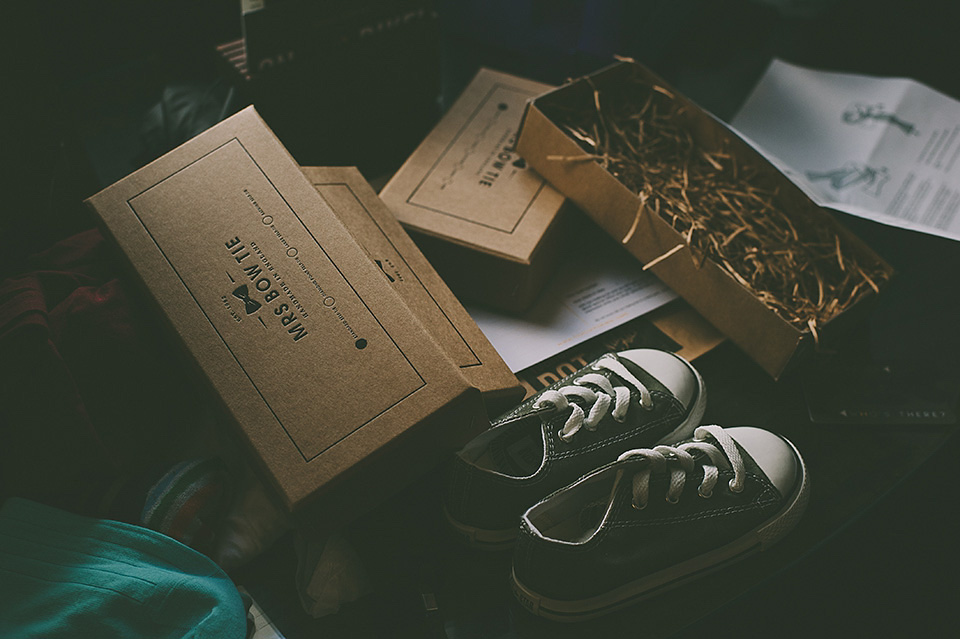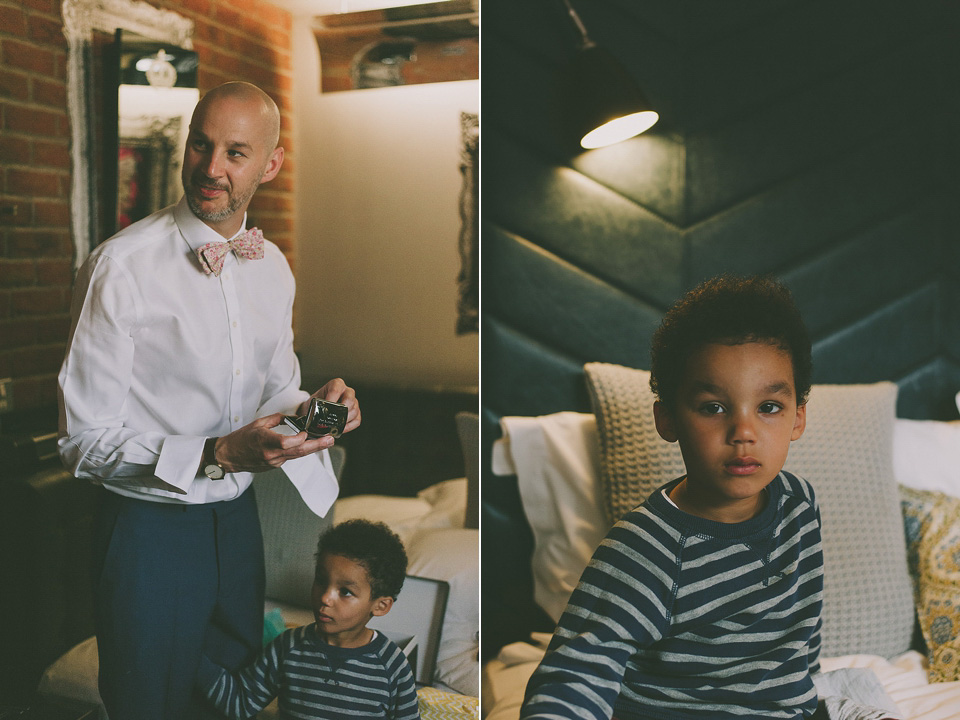 "The Groom and Groomsmen wore suits by Beggars Run. Chris and his groomsmen decided to buy made to measure suits rather than hire, and got some lovely suits from Beggars Run."
The bow ties and pocket squares were expertly chosen by Chris and came from Mrs Bowtie."
"I walked to the venue with my bridesmaids and my Uncle, who gave me away. I had been determined to do this, so when I woke up to pouring rain on the big day I was gutted (not to mention I had no plan B), but thankfully the sky cleared and the glorious sunshine came out a couple of hours before the ceremony, so I got my wish. It was wonderful. After what felt like a rush to get ready, it felt great to slow down the pace and have a chance to compose myself before the ceremony."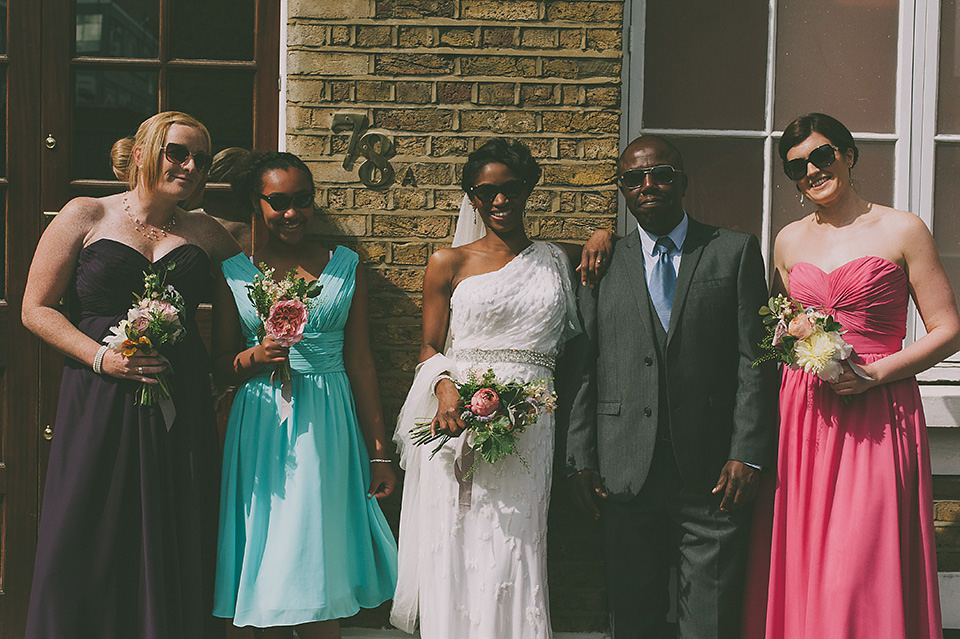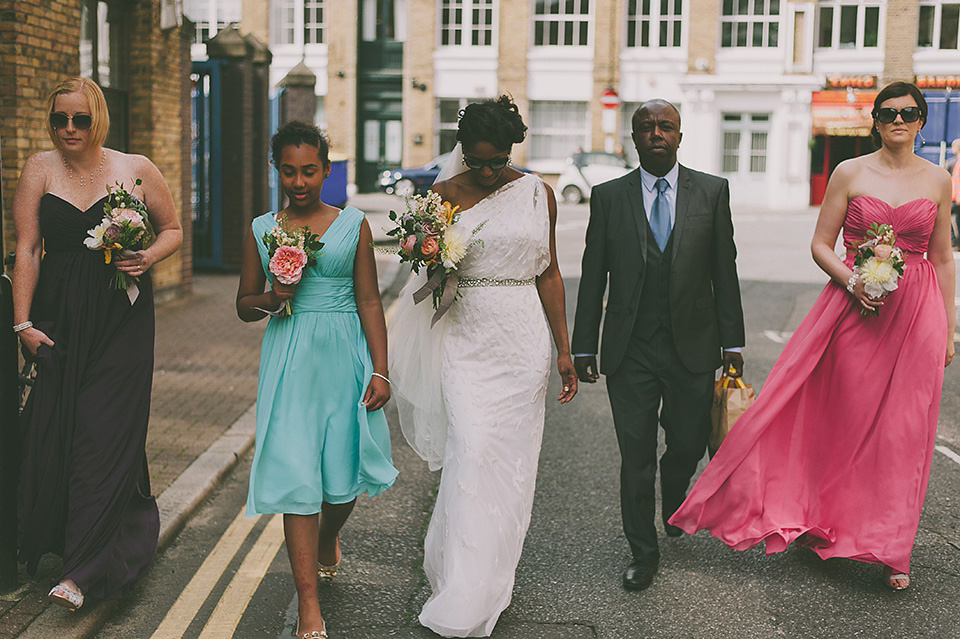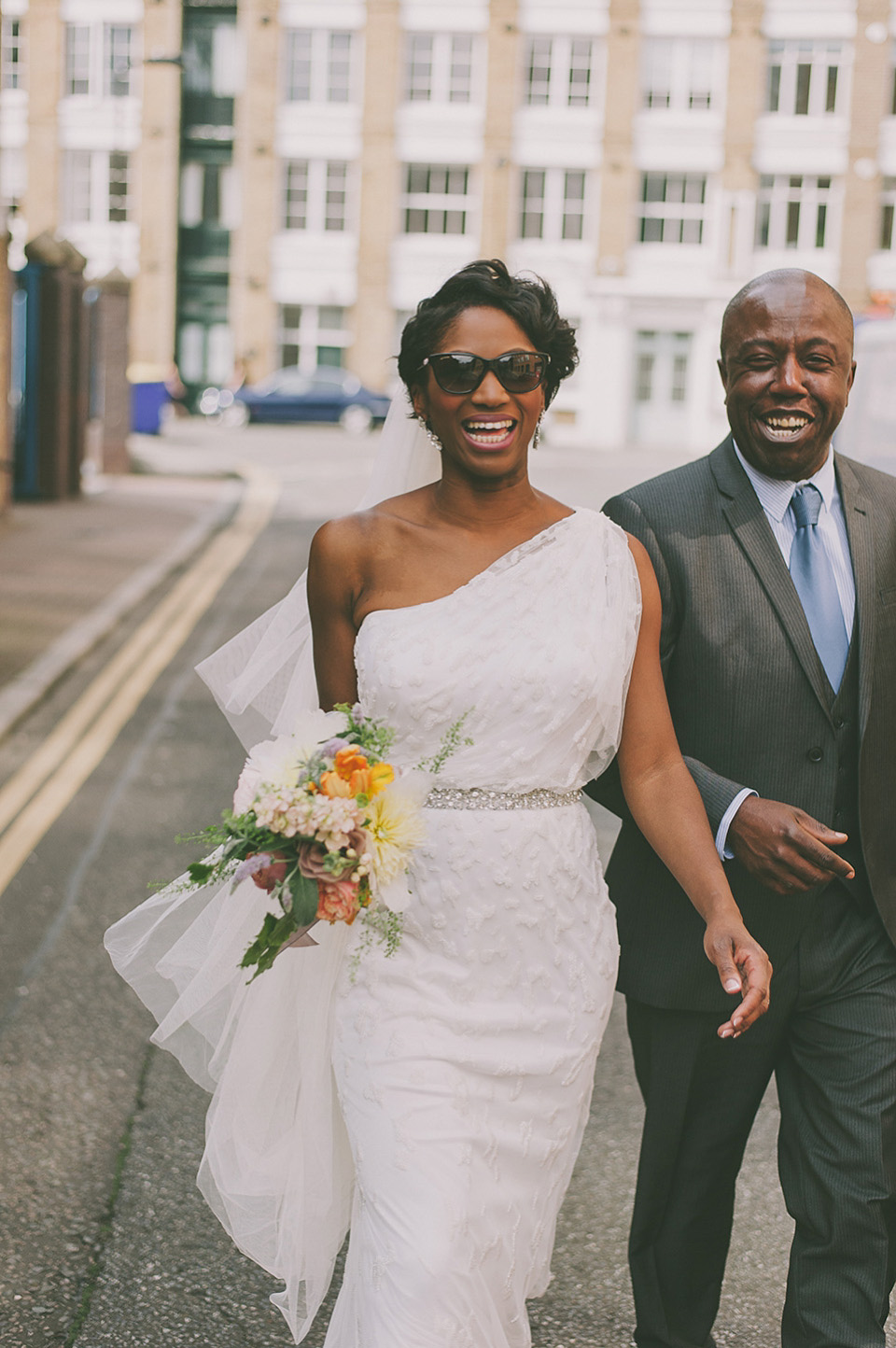 "My mum's brother, my uncle Michael gave me away. My mum raised me and my sister as a single parent and we were very close to my uncle growing up.  I walked down the aisle to a piano instrumental of Whitney Houston's 'I have nothing'. I love this song and have sung it numerous times with my friends at karaoke, on the night bus, in the street with randoms.  I had been calm and collected the whole day and on the way to the venue but as soon as the music started I got overwhelmed and the tears came."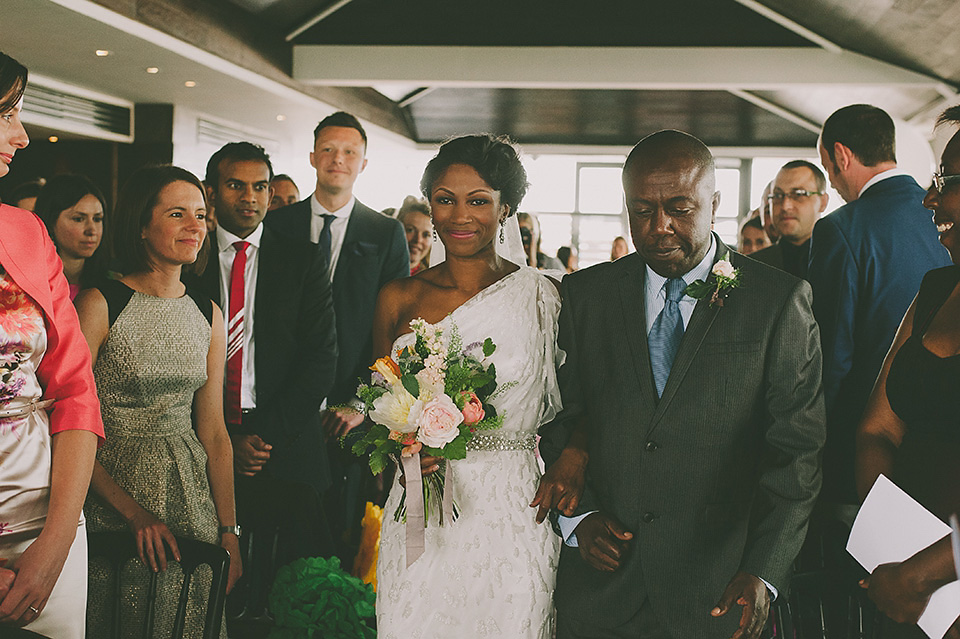 "We asked our three siblings to each do a reading. My sister read 'On Your wedding day', Chris's brother read 'The One' and Chris's sister read 'Thank you'.
We liked the tone of 'On your wedding day' as it talked about the wedding day being the start of our lives together. 'Thank you' is the lyrics of a Led Zeppelin song, which Chris really likes. We both felt 'The One' beautifully summed up how we feel about each other."
"Our wedding rings came from Hearts of London, on Hatton Gardens. I knew I wanted a dainty, slim, diamond covered ring (having seen some on pinterest!) but I struggled to find exactly what I wanted when we started looking. Hearts of London had a great range."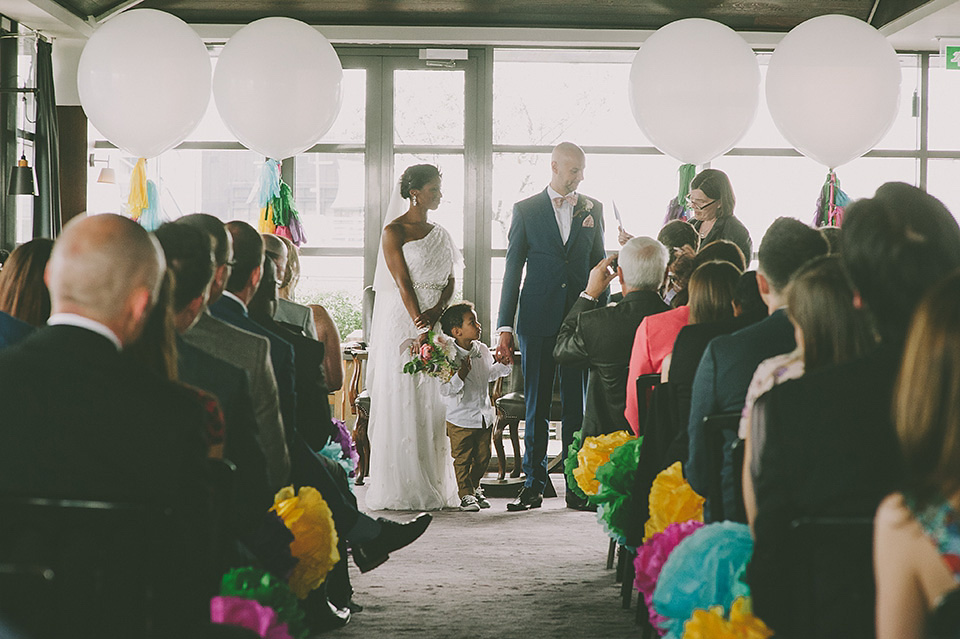 "We made our own signage with gold frames brought on eBay. Chris and his dad created a photobooth with a laptop, remote control and camera and brought props, again from eBay."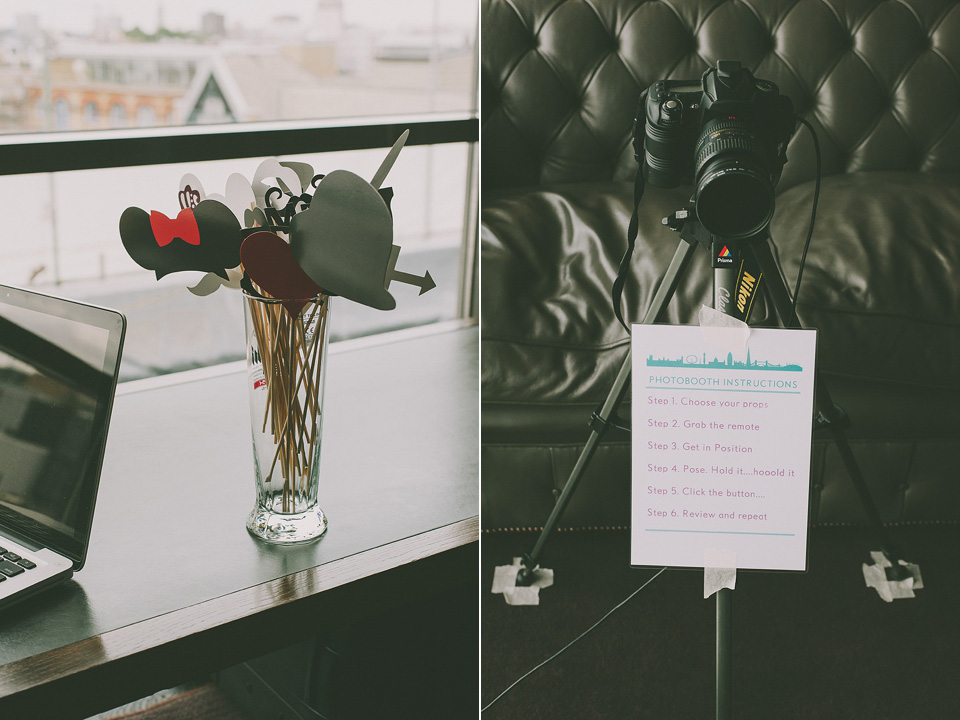 "We designed the invitations ourselves with some help from a graphic designer friend of a friend. We took inspiration from some invitations we had seen on Etsy and meshed together ideas that we liked such as the London skyline and lettering styles.
We created the order of service booklets ourselves in the same style. I made the table plan myself, taking inspiration from some table plans I found on Pinterest. It was made with a corkboard and wooden numbers from Ebay, gold spray paint, white paper and a gold Sharpie!"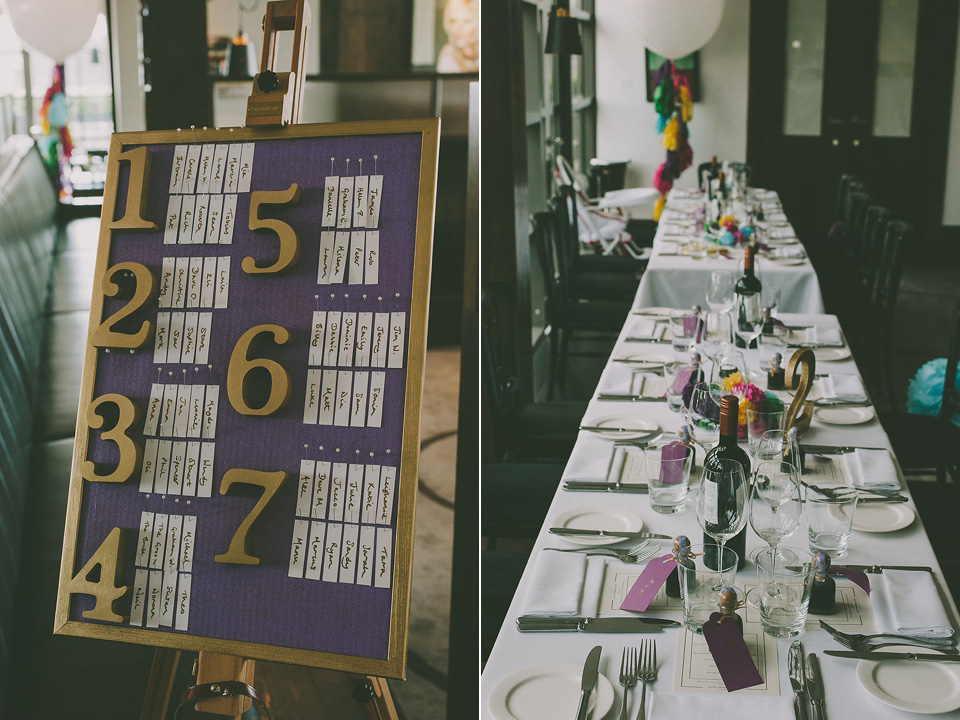 "We gave our guests miniatures of Patron XO Cafe Tequila as it is one of our favourite drinks. I brought purple luggage tags to attach to them to double up as place settings and hand stamped each guests name on them in gold ink. We have friends who live in New York so decided to source the miniatures there, then had friends bring them over in the run up to the wedding."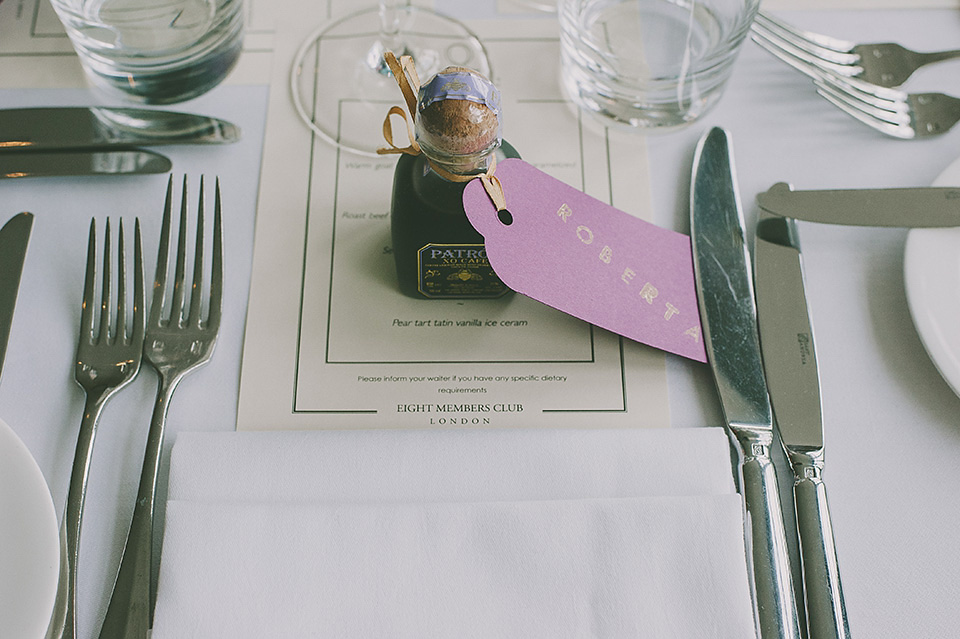 "For decor, we had tissue paper galore! I bulk bought huge quantities of coloured tissue paper and assembled a PomPom Factory with three dear friends. We had some great evenings making pompoms and tassels, drinking wine and putting the world to rights. I fell in love with giant balloons quite early on in the planning process but decided to make my own tassel tails to preserve the budget.  We made giant pompoms which were attached to the chairs along the aisle, as well as vast quantities of mini pompoms that we used to fill glass Ikea bowls for the table centrepieces.
We bought wooden table numbers from eBay which we spray painted gold."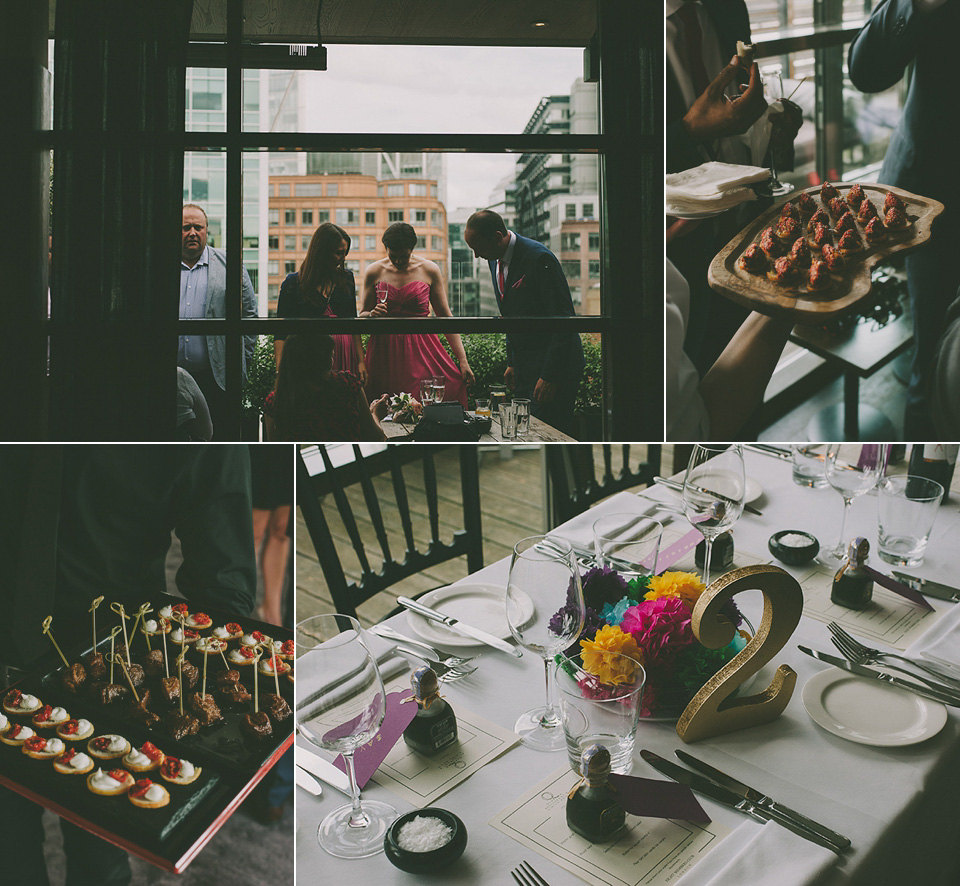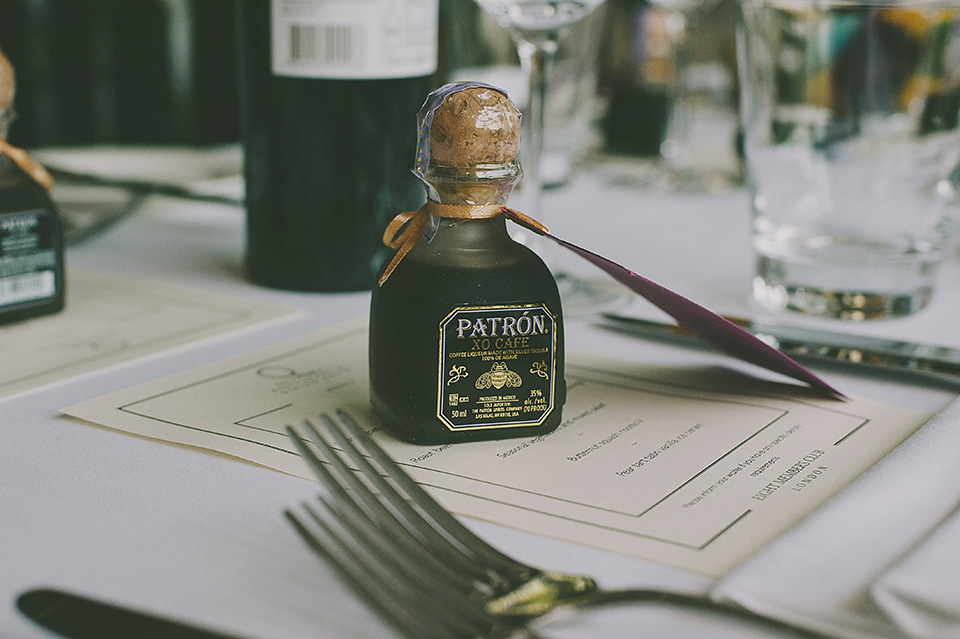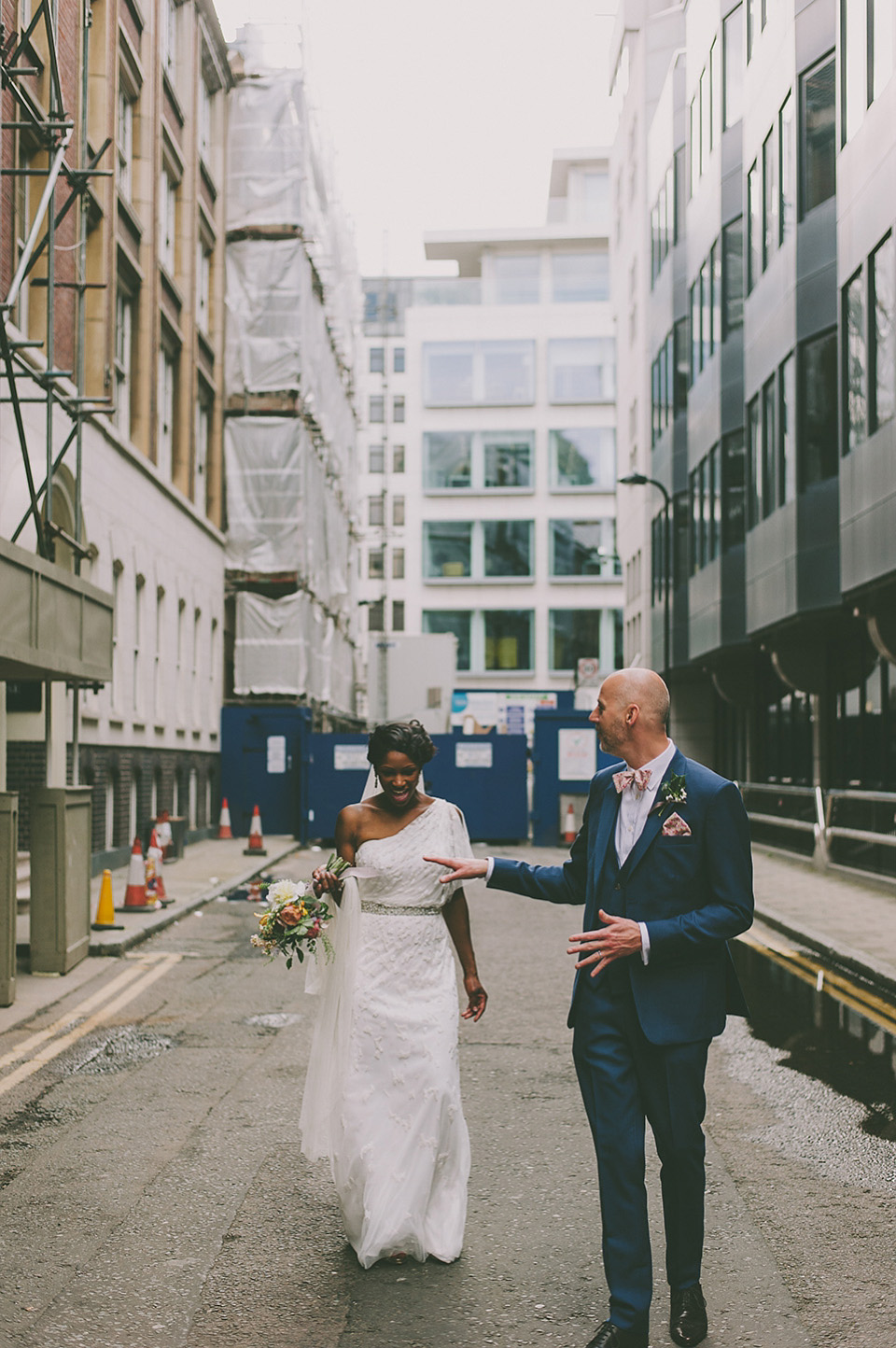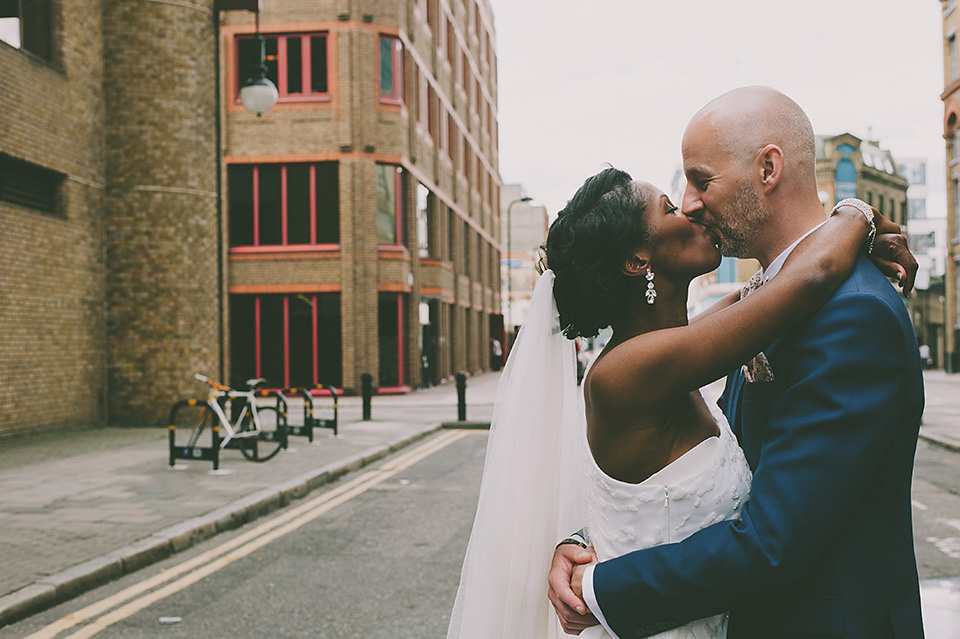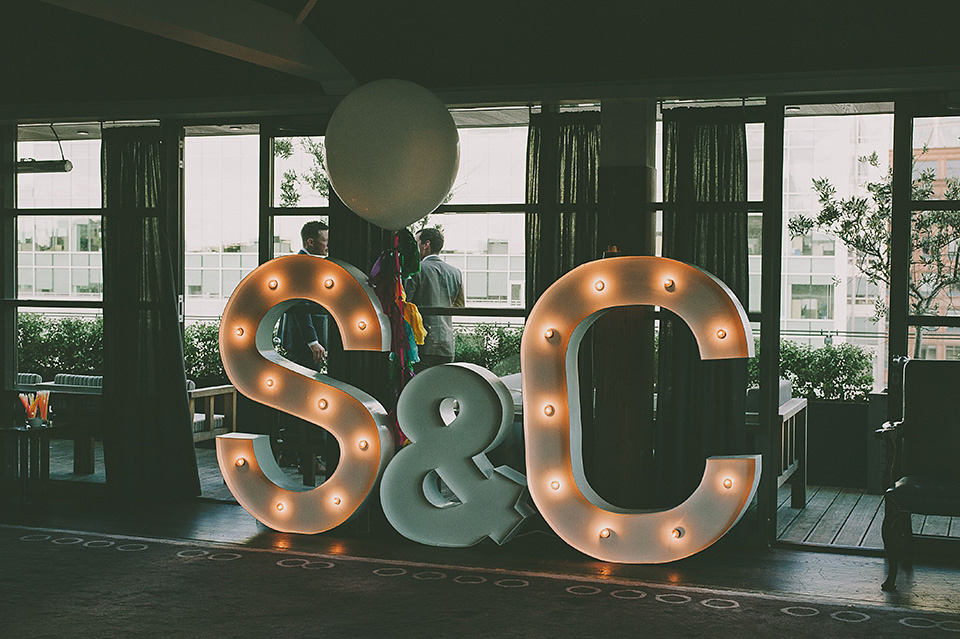 "We bought old Cigar boxes on eBay and made a 'Cigar Table' for the guests to enjoy. We served cheese for our evening food and bought decanters from eBay that we filled with Port for our guests to help themselves to.
We also put out glowsticks – a musthave for any celebration!"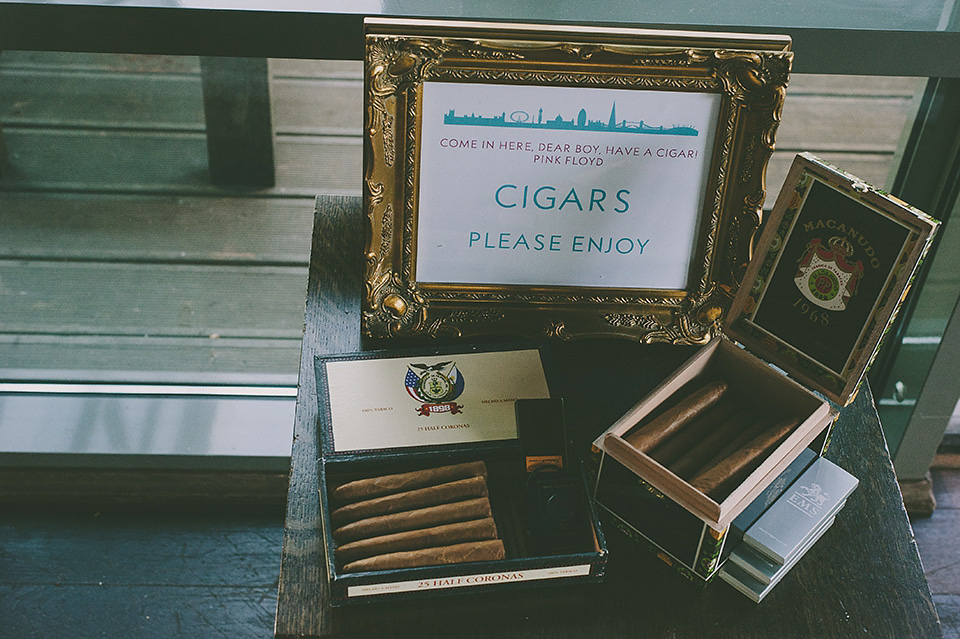 "The cake was by Millie-Ann at Ever After Cakes. I knew I wanted pompoms on the cake in some form and Millie Ann came up with 3 or 4 great designs for me to choose from. The resulting cake was just magnificent, quirky, colourful and delicious. It was two layers of vanilla sponge and a fruit cake for the base."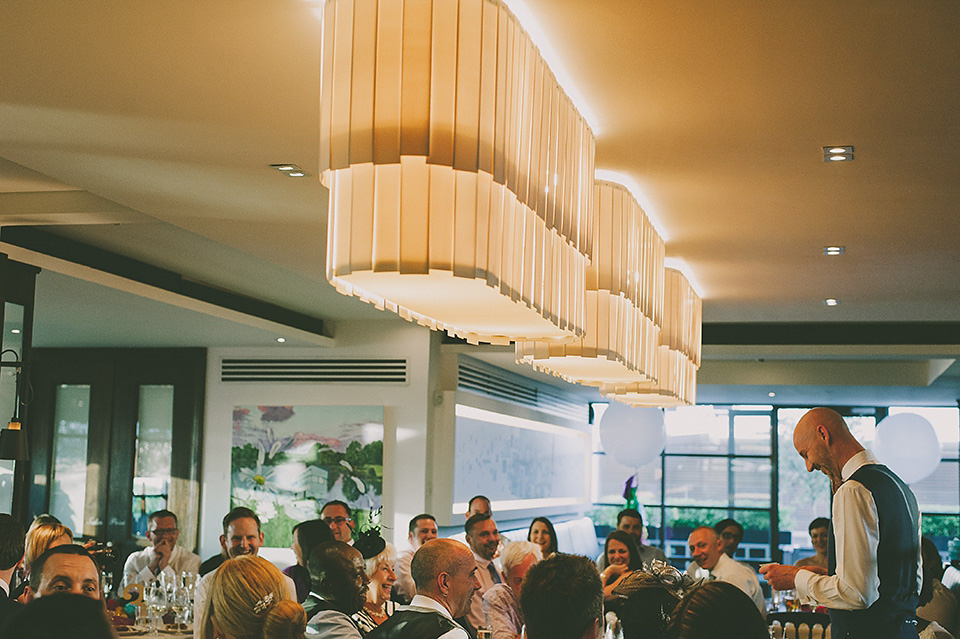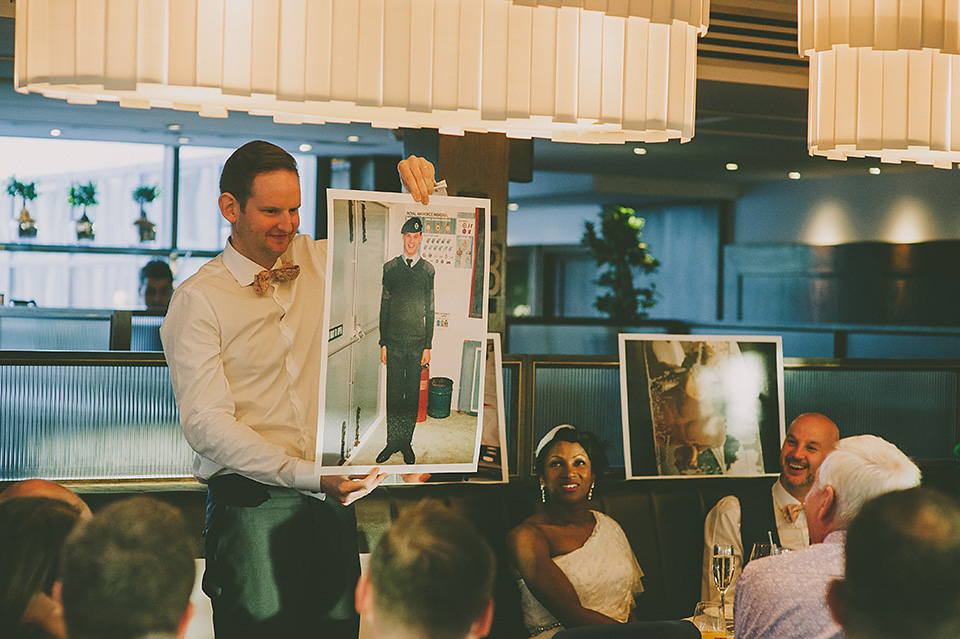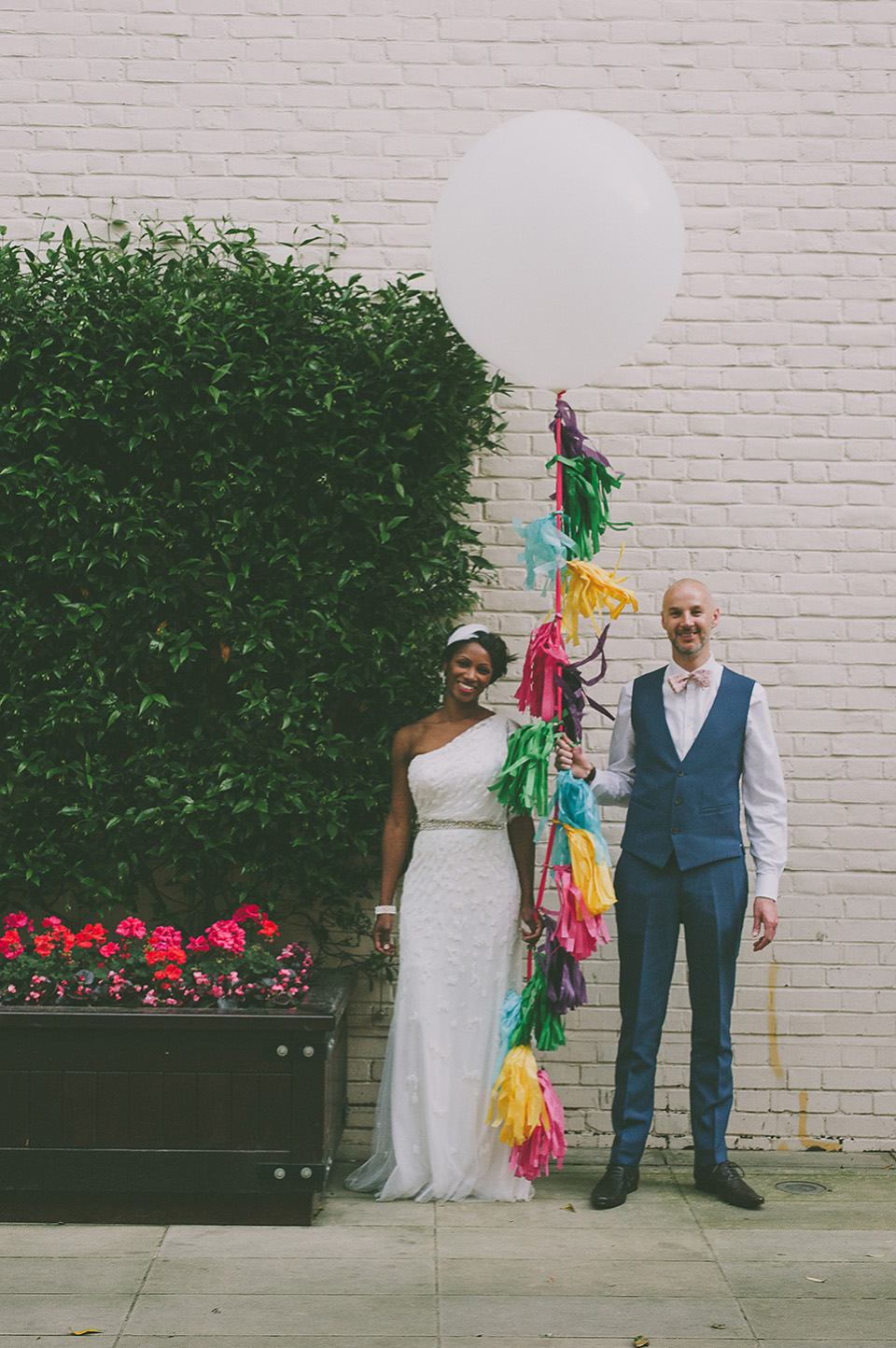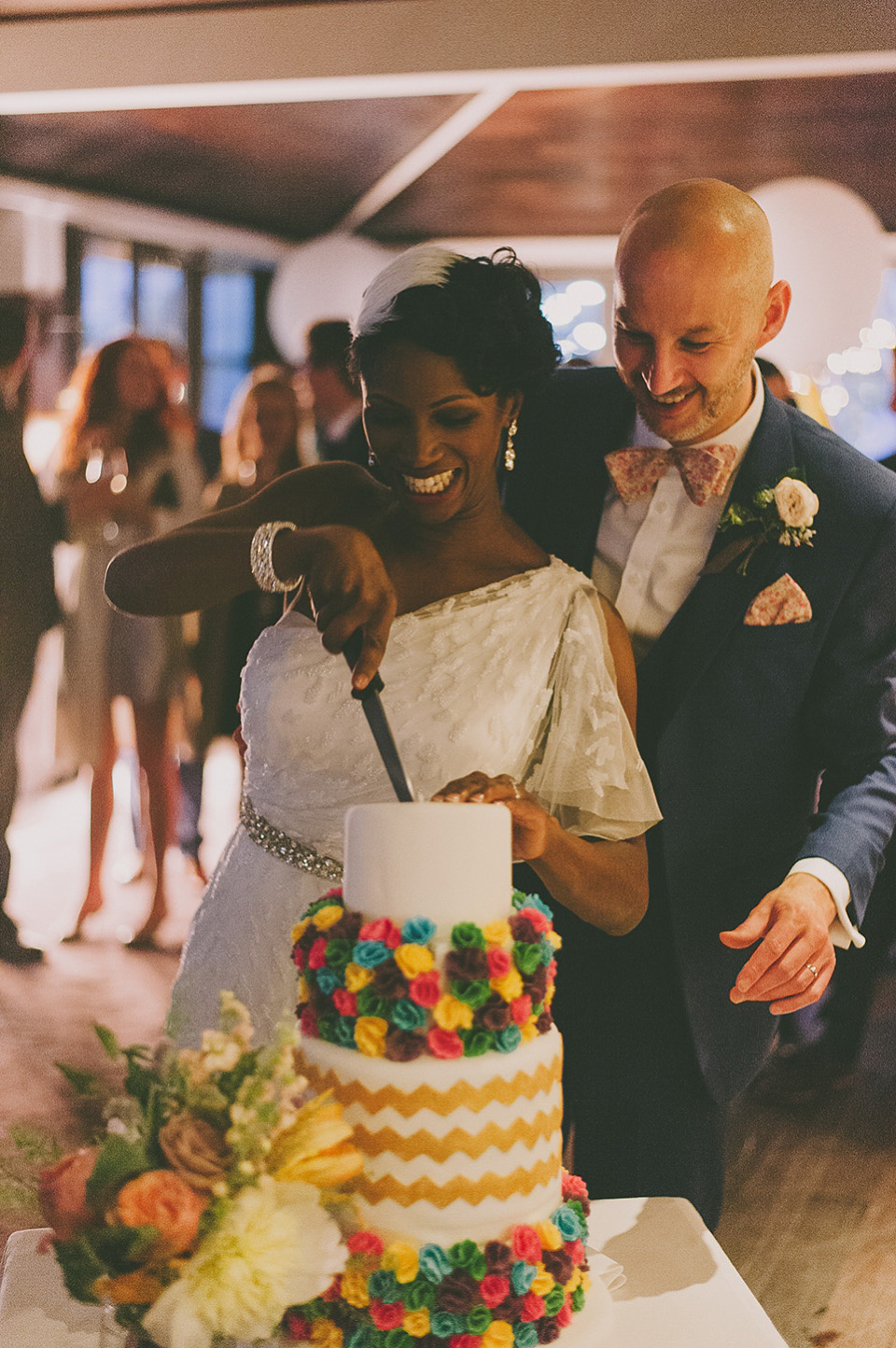 "Our first dance was 'Ain't Nobody' by Chaka Khan and Rufus. We wanted a love song that we could have a good old dance to and I've always loved this song.
Our last song of the night was 'Empire State of Mind' by Jay-Z and Alicia Keys – we always think of it as a modern day New York New York and wanted to end the night on a high."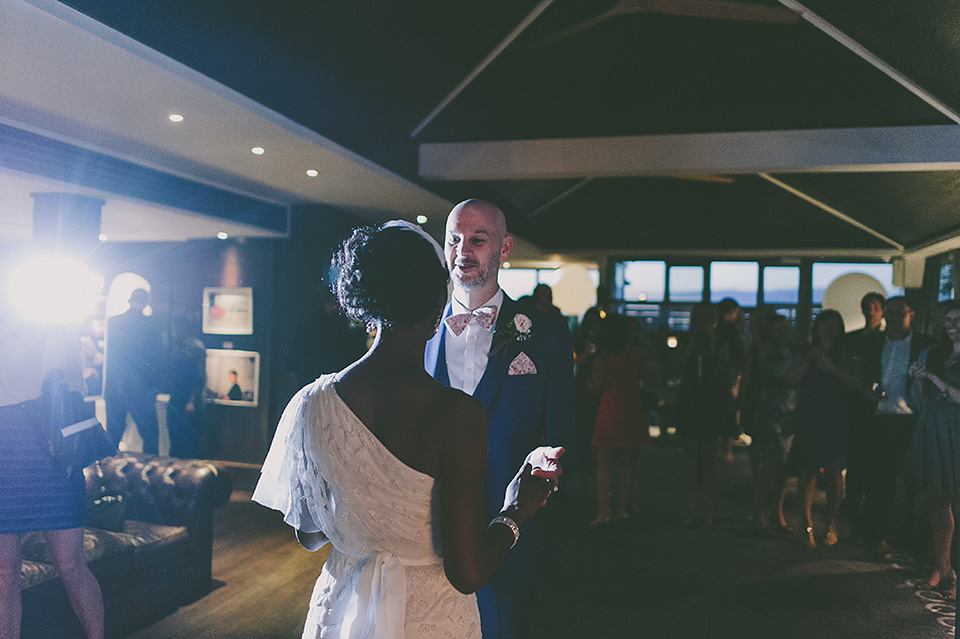 "Our DJ, Matt Hayden-Baker at Bespoke DJs, was recommended to us by our venue. He was incredibly energetic and understood that we didn't necessarily want a traditional wedding disco. He managed to get the balance just right, not too cheesy but music people wanted to dance to."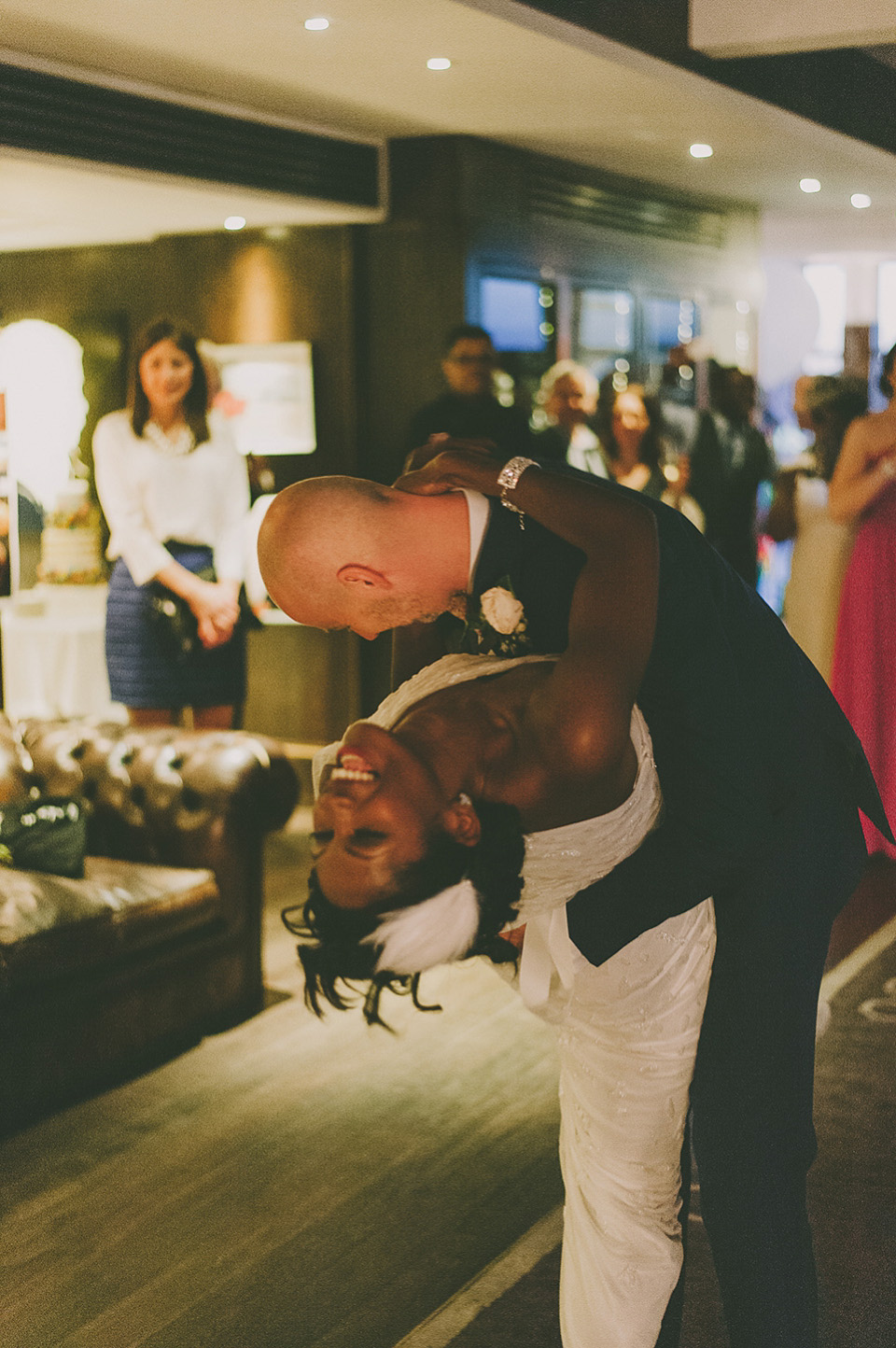 "When I think about my favourite moments of the day, I have two; I absolutely loved the walk from the hotel to the venue with my gorgeous bridesmaids and my uncle. It was so much fun. I think it was the mixture of relief that it wasn't raining, the unwind of tension after rushing around (I was late) and nervous energy and excitement, all shared with my besties. I also loved Chris's speech. Chris is a real 'bloke' when it comes to talking about his feelings but his words were beautiful on the day and I was very proud of him."
Words of Wedded Wisdom…
"Weddings can be an expensive business and the cost can feel a bit overwhelming, but don't be afraid to shop around, google is your friend! I went on a global sourcing mission and bought things from anywhere and everywhere – the USA, China, Portugal, Wales, though I'd only advise this if you have time on your side.
I kept a huge list of my ideas in my phone, which I would add to whenever I thought of a good song I wanted on the playlist, or something I really wanted to incorporate in the day or something I needed to google. My list was massive and I probably had some overly ambitious ideas at times, which probably leads to my last tips.
Finally, don't take yourself too seriously, have fun during the planning and be realistic about what you can do by yourself – take help when it's offered. And above all else recognise when the small stuff is the small stuff and don't sweat it!
We wouldn't have done anything differently. We both felt that the day was everything we had wanted it to be."
Gorgeous, gorgeous, gorgeous, so completely Love My Dress® through and through – a bride looking effortlessly glamorous and incredibly beautiful photography capturing all the fun and beautiful moments of the day. Huge thanks to Nabeel's Camera for sharing this imagery and to darling bride Sian and her new husband Chris for so kindly sharing their day.
What do you love most about this wedding?  I'm smitten with the dress and 
Love Annabel xx
Photographer – Nabeel's Camera
Venue – Eight Members' Club in Moorgate, London
Dress – 'Elizabeth' by Eliza Jane Howell via Morgan Davies Bridal in Islington
Veils – Phase Eight + Old into New Couture on Etsy
Headpiece – forherandforhim.com
Shoes – Badgley Mischka, brought from Macy's in New York
Accessories – bracelet by Jon Richard at Debenhams + belt via HannahBella Designs on Etsy
Bride's Scent/perfume – Valentina by Valentino
Groom – Beggars Run + Mrs Bowtie
Bridesmaids – forherandforhim.com + own shoes
Page Boys – That Flower Shop
Florist – That Flower Shop
Cake – Millie-Ann at Ever After Cakes
Entertainment – Matt Hayden-Baker at Bespoke DJs
Rings – Hearts of London, on Hatton Gardens.
Stationery – DIY
Hair and make-up Artist – Malkia Roberts
Giant light up letters – Vowed and Amazed