This wedding has it all! A wonderful blend of formal and casual that perfectly reflects the bride and groom. Historic buildings, naval uniforms, gorgeous flowers grown by the bride, loads of local suppliers and a relaxed festival vibe at the reception, the day was an eclectic mix of ideas that came together beautifully to become an extremely happy occasion. And what a breath of fresh air to hear from the groom too! Come on gents, we need more of this at Love My Dress!
Jules, a TV Director and Tom, an officer in the Navy, were married on June 21st 2014. The ceremony took place at Stratford upon Avon town hall, with the reception at Talton Lodge.
"As well as being beautiful, the town hall had a real civic feel. We chose Talton lodge because it was quite quirky, the owners were super-relaxed and we were able to hire it from Thursday to Sunday.  Whilst a lot of our friends live in Stratford upon Avon we liked that there was lots of accommodation on site for guests from further afield.  On paper, Royal Navy tradition-meets-quirky midsummer bohemian hippy campsite shouldn't really work but we decided pretty early on that we'd try it out and see what happened."
Photography Copyright (c) 2014, Jo Hastings
Jules told us how the couple met; "We met at University and after seven years got engaged at a beautiful nature reserve called Point obos in California in June 2012. It was pretty much 2 years to the day between when we got engaged and when we got married. Tom goes away a lot for work so our wedding planning was done in fits and starts, in the times between."
Tom says "We're quite relaxed and pretty much made up the style for our wedding as we went along. We knew that there'd be quite a few matching Royal Navy suits and so didn't want everything else to match. Jules has worked on a few gardening programmes and was inspired to grow the flowers but we didn't the whole place to look too girly."
The couple's day was a burst of colour and pretty DIY details.
"Our amazing wedding team made loads of bunting using old OS maps which had been salvaged from a school geography department. We made loads of tissue paper pompoms and I bought a massive roll of yellow gingham to use as tablecloths – far cheaper than hiring expensive linen. We had a chill-out yurt and bought some old cheesy postcards of English counties off eBay for our guests to write on instead of a guest book."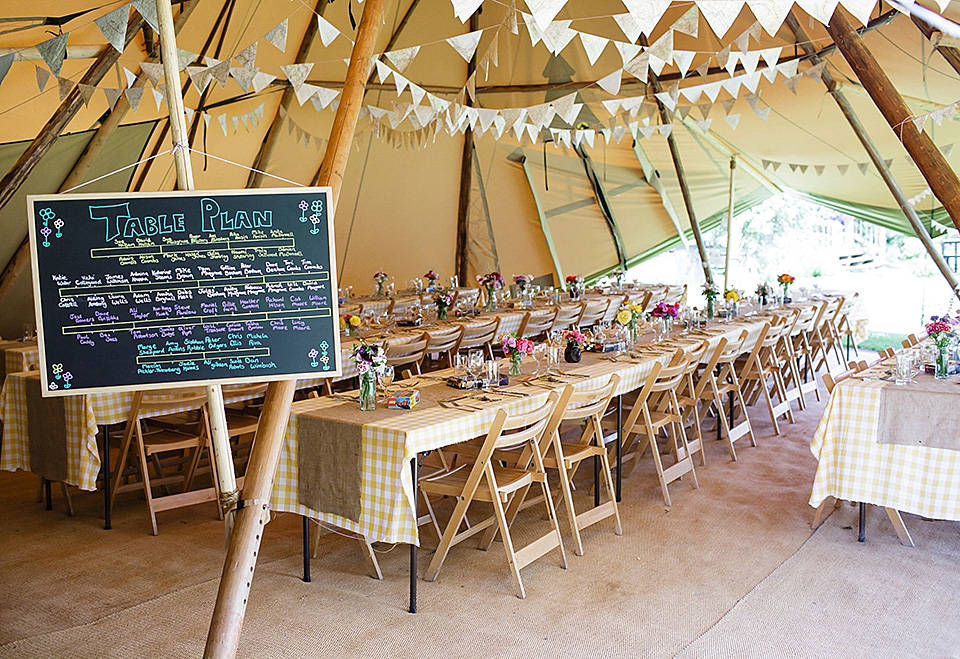 Jules choose an extremely pretty dress from Justin Alexander, purchased at Rina Roberts Bridalwear in Tamworth. Her delicate hair accessory was also bought at Rina's boutique.  The silver and pearl necklace was by Oliver Bonas, with silver and pearl oak leaf earrings by Beth Gilmour to finish the look. Jules' gorgeous braided hairstyle was created by the team at Mavericks in Alcester.
"Being a bit of a wedding geek, I'd meticulously researched the websites, styles and stockists of a good dozen or so designers and had a pretty good idea of what I wanted. Something with sleeves, a low neckline, a decent train, not too weighty and ideally something a little bit lacy. This dress really ticked all the boxes. Originally I went to Rina's shop to try on another Justin Alexander dress but ended up falling in love with this one which was brand new in.
I loved the embellishment on the sleeves, the illusion back and the buttons all the way down to the bottom of the train. The applique lace and scalloped hem was a lovely detail although the seamstress did have to unpick the whole lot in order to shorten the dress. It had an unbelievable amount of internal corsetry but didn't feel too heavy. It was also very cool to have a proper train which was fine even to dance in."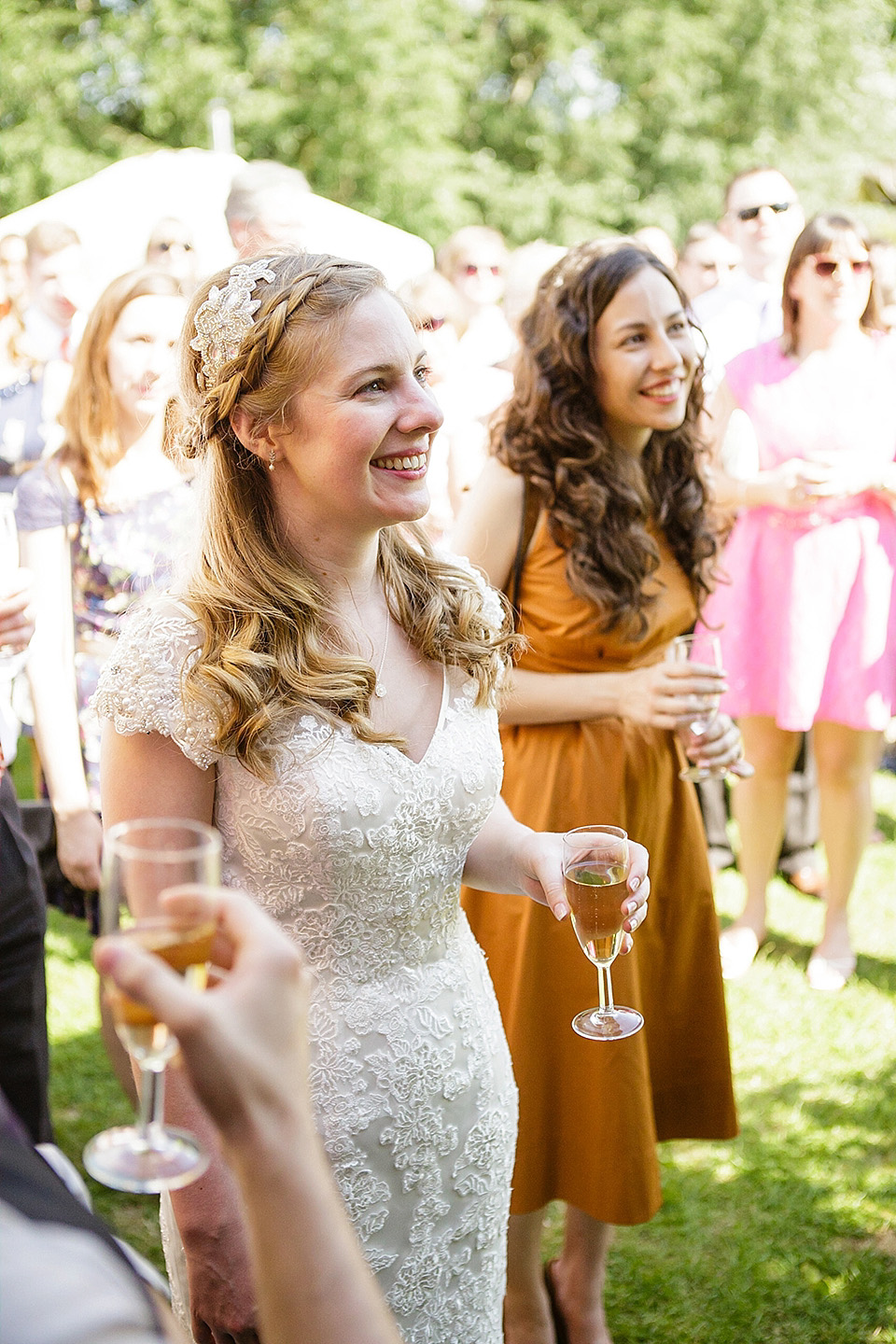 The couple were photographed by Jo Hastings. The images sparkle with all the brilliant summer sunshine and wide smiles that Jules and Tom were surrounded with.
"We really liked Jo's documentary style of photography and she also made some great portraits of us on the day.  She was very chilled and that really helped us to relax in front of the camera. Jo was a lot of fun to have around and we knew we didn't have to worry about her getting from A to B or being in the right place at the right time. It was a boiling day and we both got a bit hot and sweaty (especially wearing a wool suit) but Jo was really patient with us and took a lot of time and care to make sure she'd got some lovely pics. She also organised for us to have an engagement shoot which gave us a chance to meet her before the big day – they're really worthwhile and we had a great time."
"I was lucky to visit the Rachel Simpson pop-up boutique in Birmingham to buy my shoes –slightly embarrassing when I casually asked someone who I assumed was a shop assistant whether Rachel ever came into the boutique – turned out it was the lady herself!"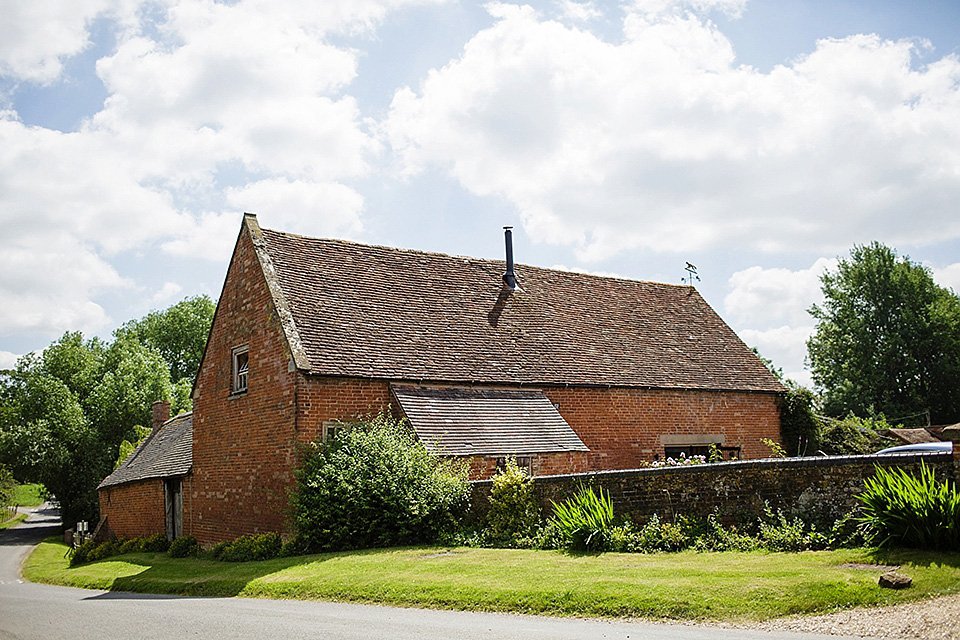 Jules' choice of fragrance for the day was a subtle layering of bright citruses; perfect for a celebration.
"I wanted to feel pampered on the day so I used the Molton Brown Orange and Bergamot range – the scent can be layered and lingers for ages without being overpowering – it works really well with a squirt of Clinique's Happy perfume."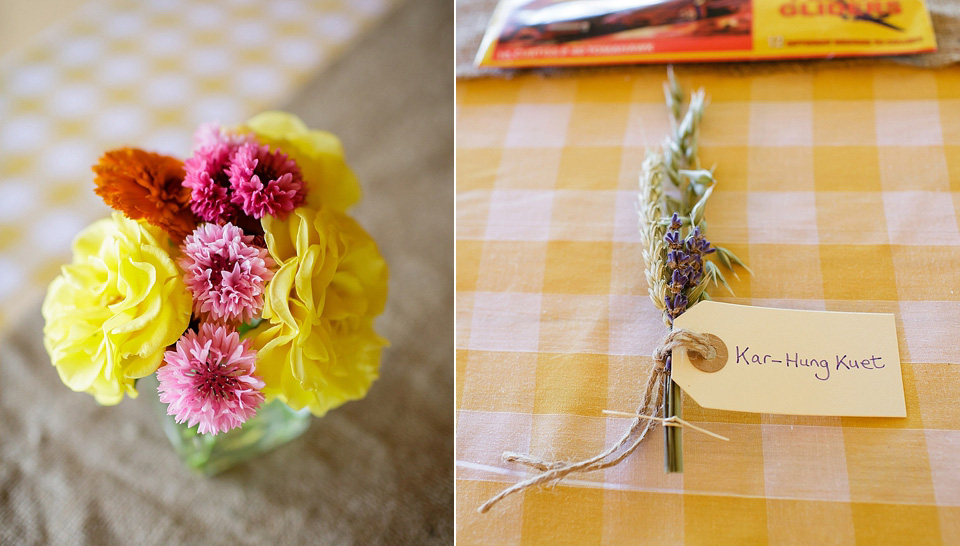 "I'd decided pretty early on that I wanted to make my own tiered fruit cake – but not a dark Christmassy cakey one. One of my friends is a very talented baker and helped me find some recipes for white fruit cake. After a couple of test runs, I decided on a white winter fruit cake recipe from the Great British bake-off book which had lots of summery fruits like apricots in. I added dried pears (possibly the yummiest dried fruit ever) and mango to the mix and switched the usual preserving brandy for spiced rum."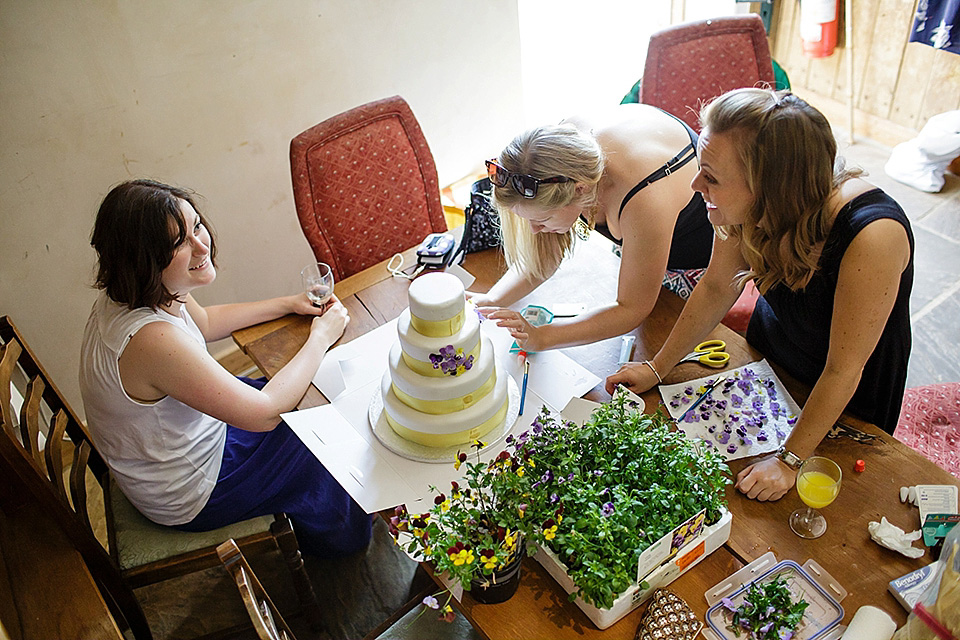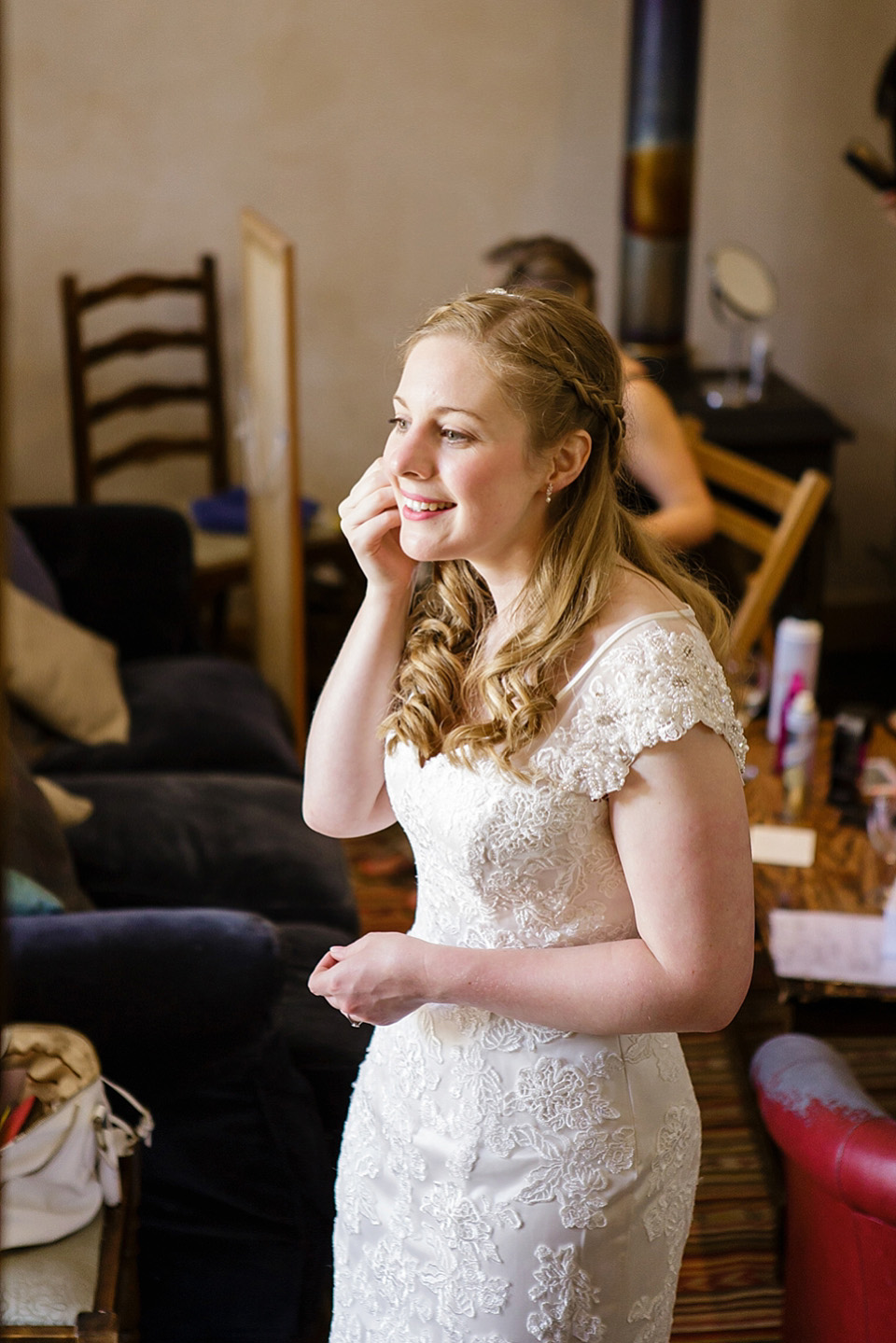 "The great thing about fruit cake is that you can make it a good couple of months beforehand and then feed it with alcohol, wrap it up and forget about it. It took a little patience to ice and marzipan and my friends assembled and decorated it with fresh viola flowers. I left the decoration until the morning of the wedding so that the flowers wouldn't dry out too quickly.  
It's fair to say baking your own cake is a bit risky and I did worry a bit about it all going horribly wrong but my friends and family were amazing and between them baked around 100 additional cakes, from chocolate brownies to rose and elderflower cupcakes. Needless to say all the cakes were pretty successful, the whole lot had completely disappeared by the time we packed up to go home."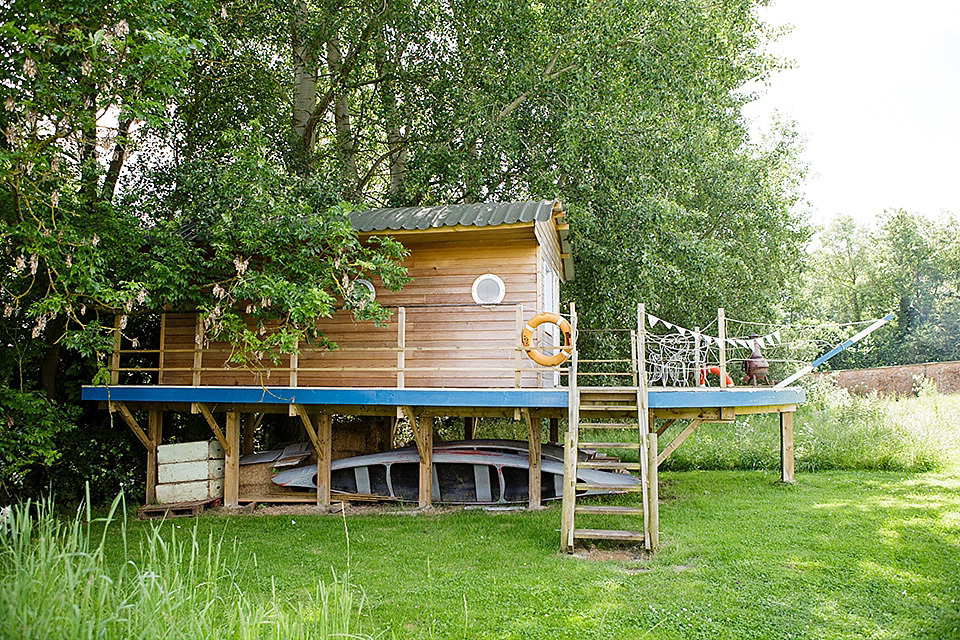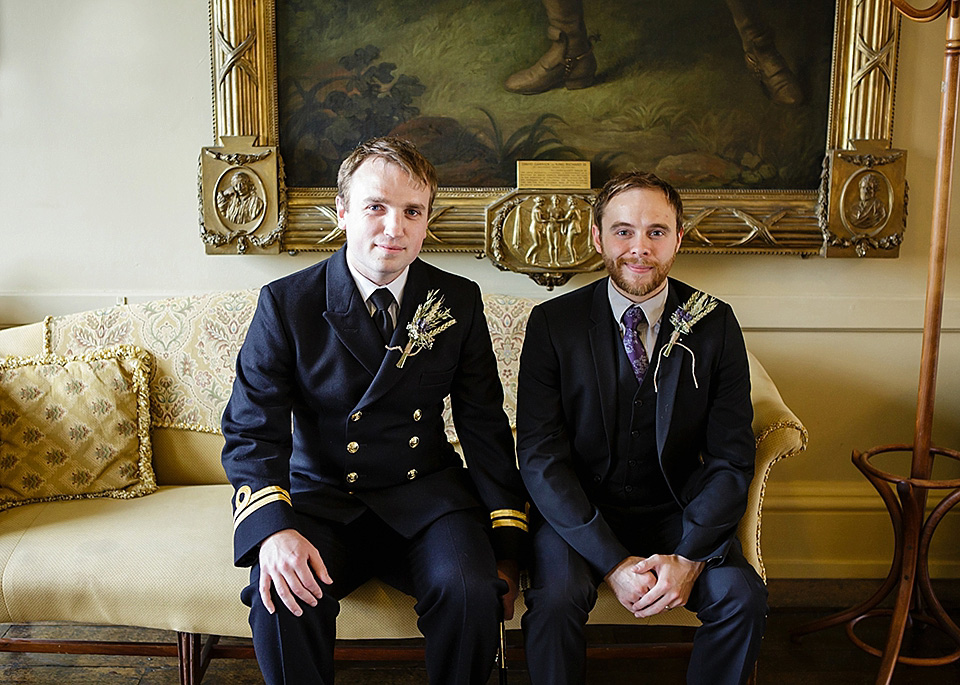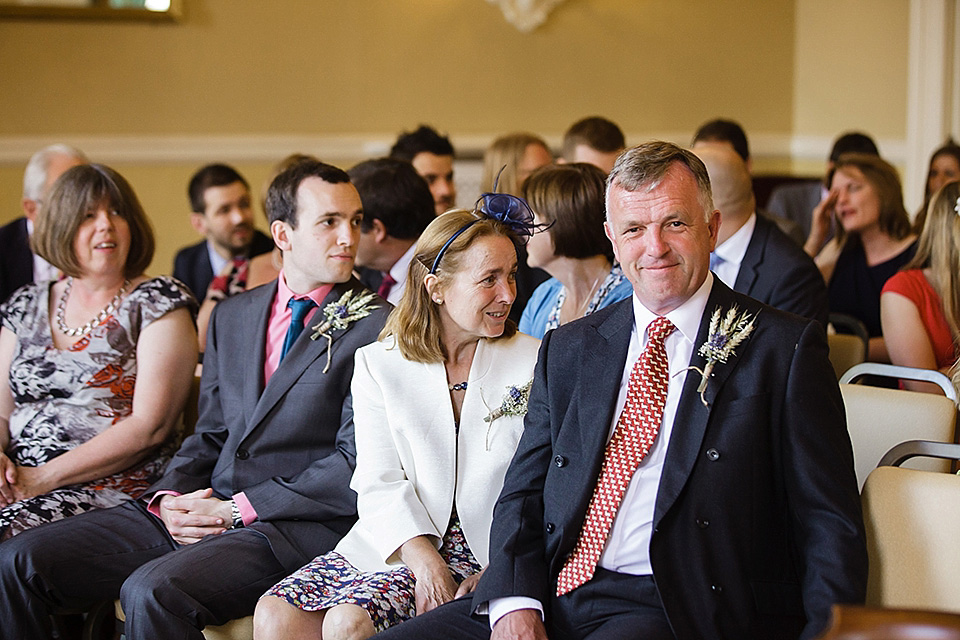 "I was a complete glutton for punishment and opted to grow all my own wedding flowers. My dad is a horticulturalist and I clearly remember him telling me it might not be such a great idea as flowers are inherently unpredictable which I suppose made me more determined to try.
I was lucky to have 2013 as a flower trial year but the weather was so cold that the plants I grew really struggled and many of them bloomed very late.  However, this, and the local wild rabbits, who'd also taken a particular interest in munching the flowers, didn't put me off. The trial flowers didn't go to waste either. I picked cornflowers and used the petals to make confetti in the oven.
I adore sweet peas – their scent is just amazing and I raised about 60 plants from seed, sowing them on Christmas Eve under glass before planting them outside in March. I grew ranunculus (which flowered far too early!) and lots of easy cottage-garden annuals like cornflowers, calendula, nigella, gypsophila and sweet Williams. I grew pots and pots of mint to use as foliage and also planted a few new roses.
With a lot of watering, weeding, a new rabbit-proof fence and a huge dollop of luck, somehow the flowers hit their peak just in time.  We spent the day before picking and arranging flowers and ended up with far more buckets full than we needed. If you're saving jars for flowers – the cooking sauce ones – with wide bases and narrower necks are the best ones to collect. I found The Higgledy Garden and Sarah Raven great for buying seeds."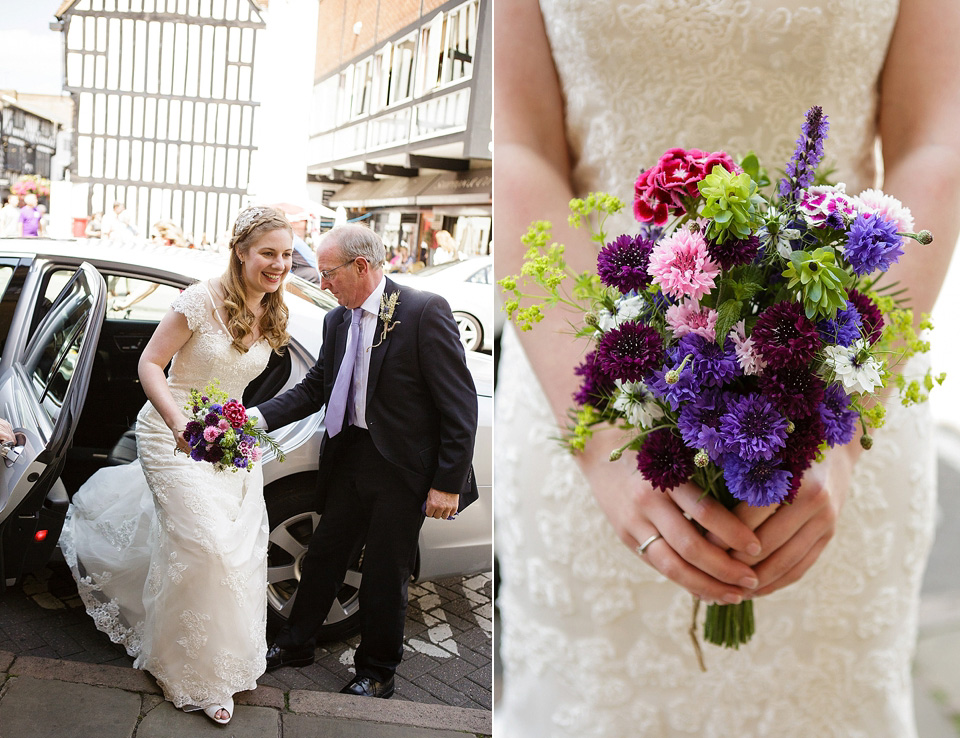 At Stratford Town Hall Jules walked down the aisle with her dad, accompanied by 'Give Me Strength' by Snow Patrol.
"It was only fitting that our wedding in Shakespeare's home town featured some of his work so we chose Sonnet 116 for one of our readings" said Tom.
Jules said "One of my friends gave me the Edward Monkton book a few years ago and I loved the poem – it's a wedding classic. Our friend Heather, who did the reading, made the poem a bit more personal by changing some of the words for us which was a lovely surprise on the day."=
"We both wanted rings that looked a little bit rugged. Tom's ring was cast in a sand box mould by Justin Duance –the resulting imprint of the sand grains on the metal gave the ring a lovely natural texture. Diana Porter Contemporary Jewellery in Bristol is like a sweet shop of beautiful jewellery, made by Diana's team and also featuring other British contemporary jewellers.
I chose a platinum ring that had been etched with acid to make it look a bit gnarly – almost like the strata of a rock face This was then set with small white diamonds."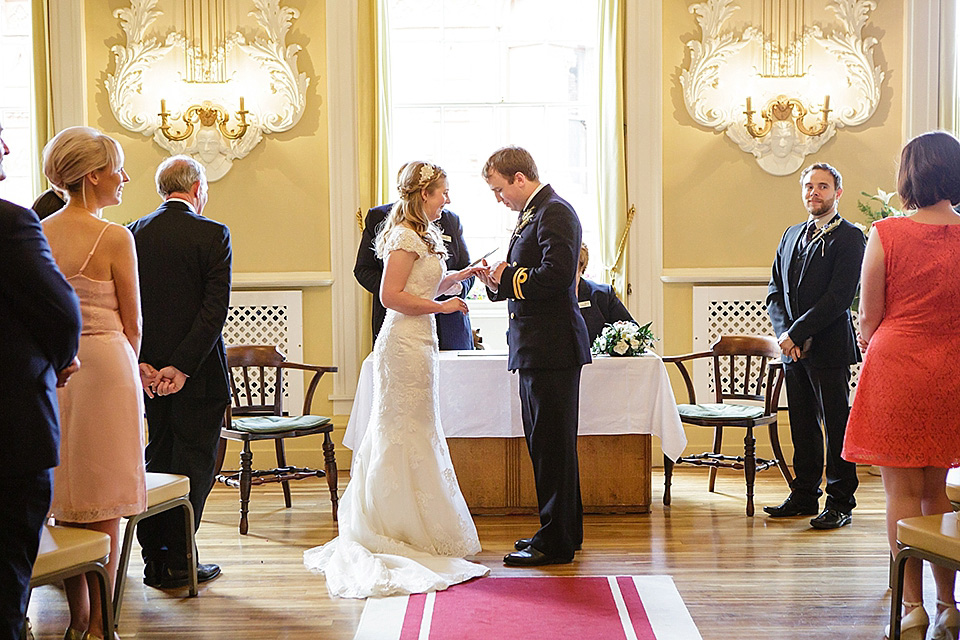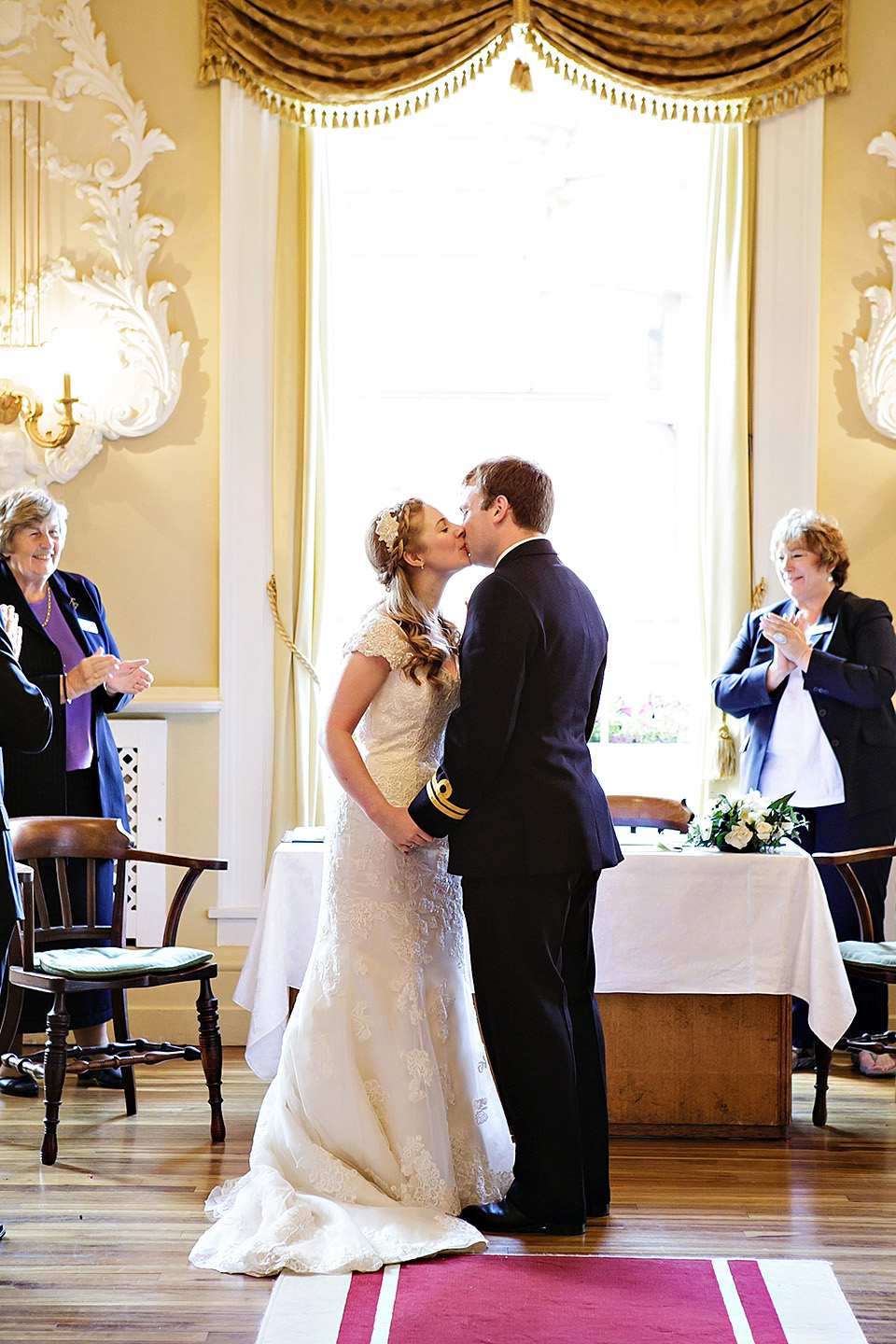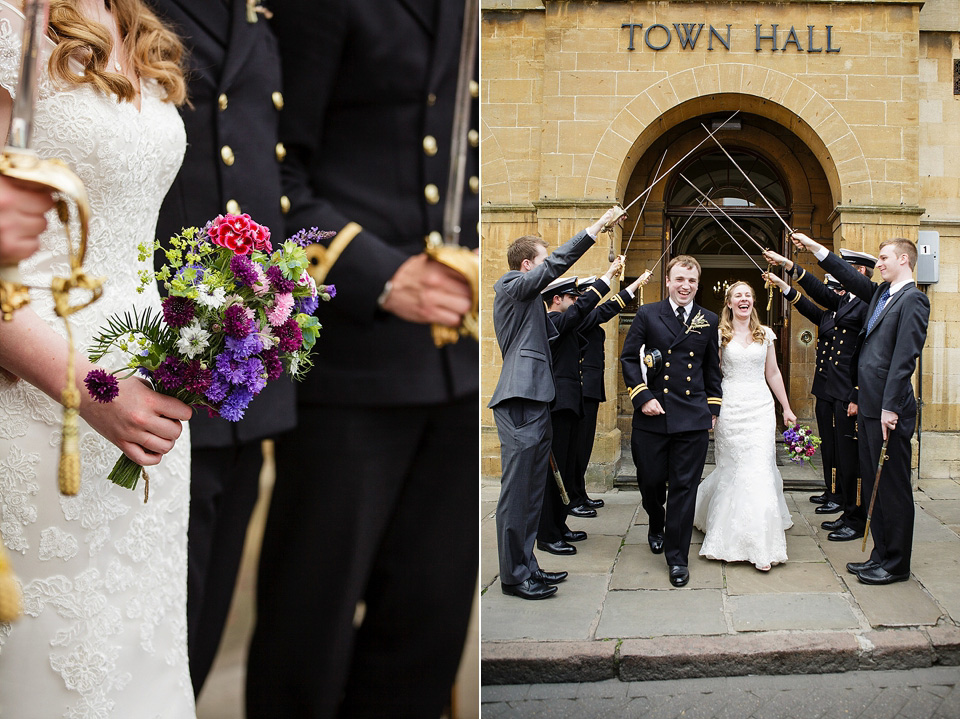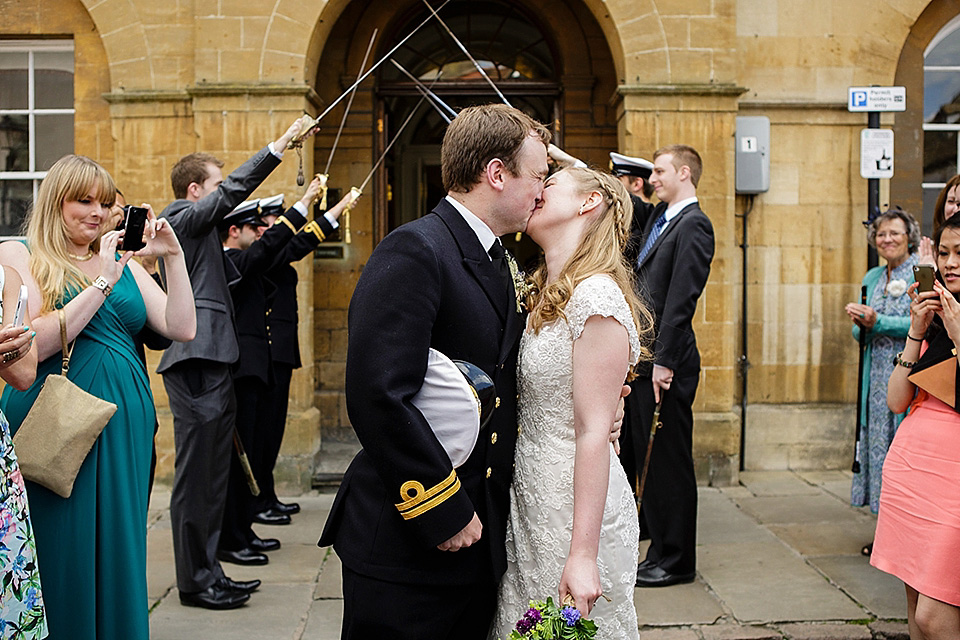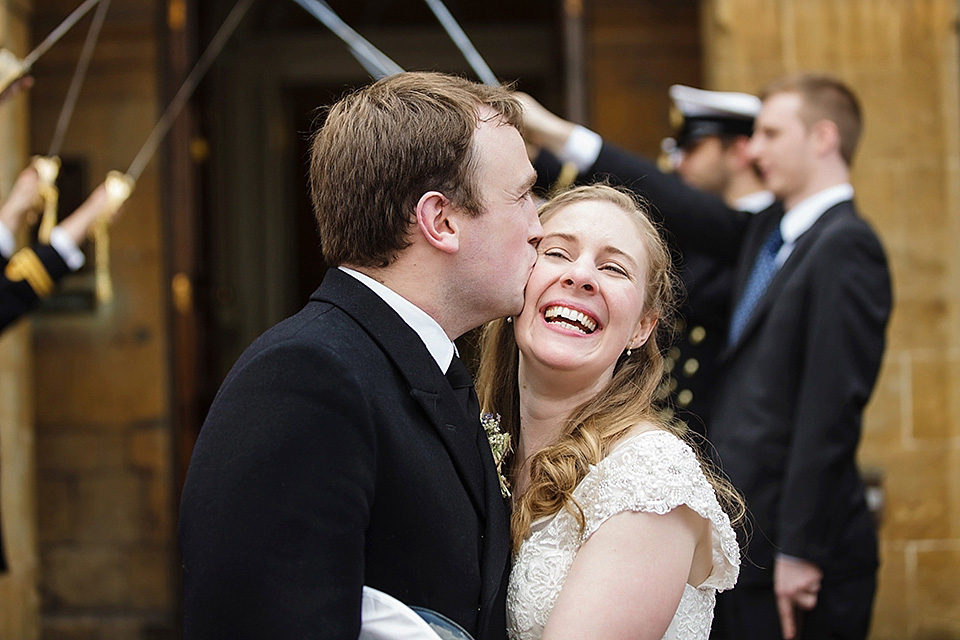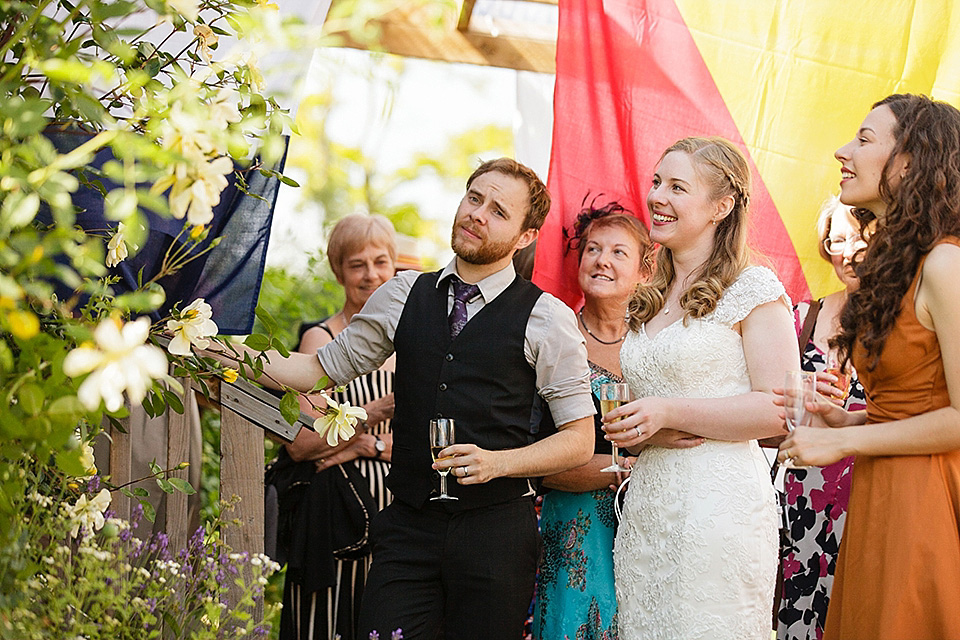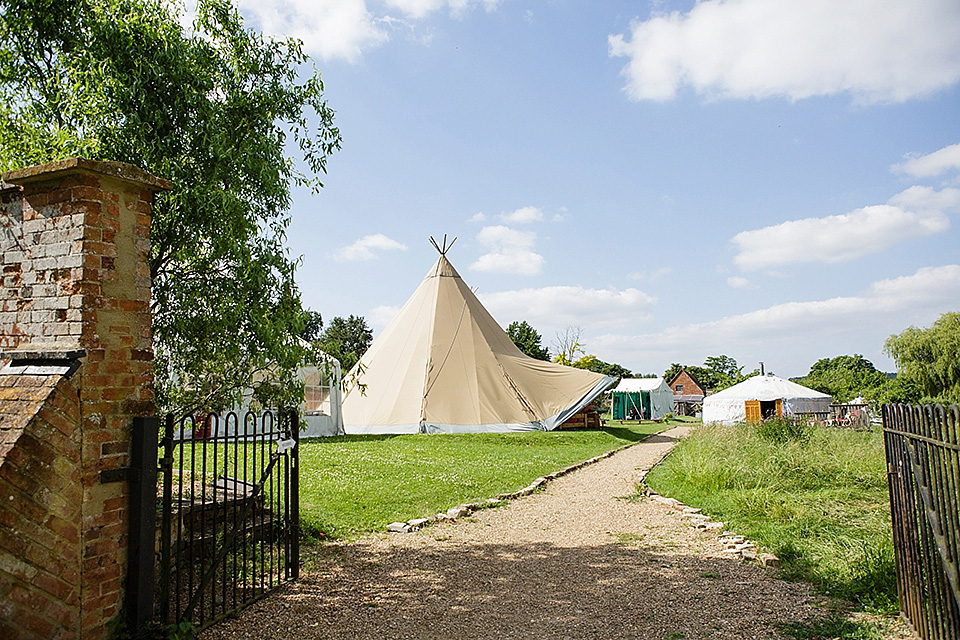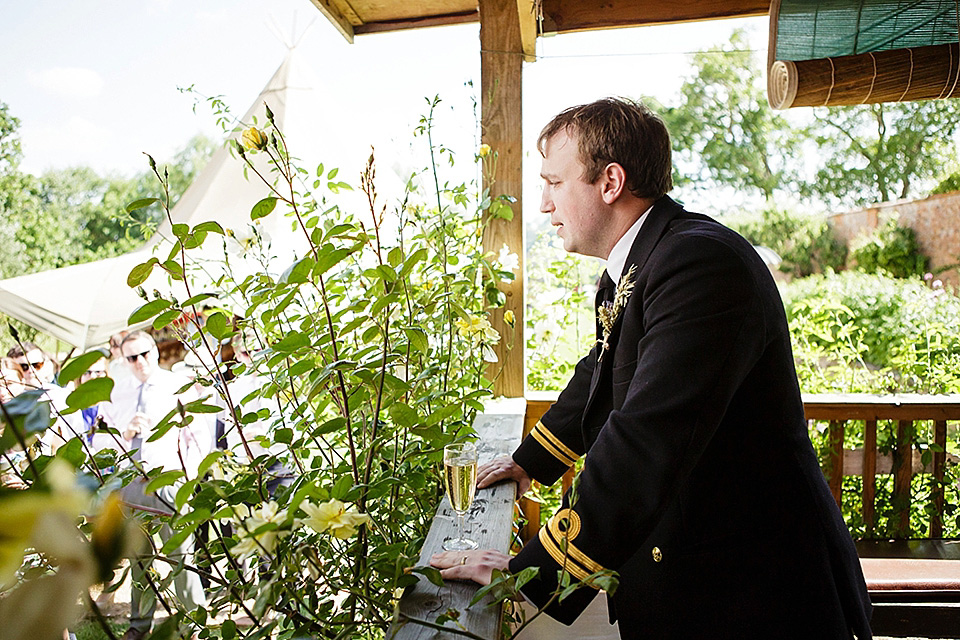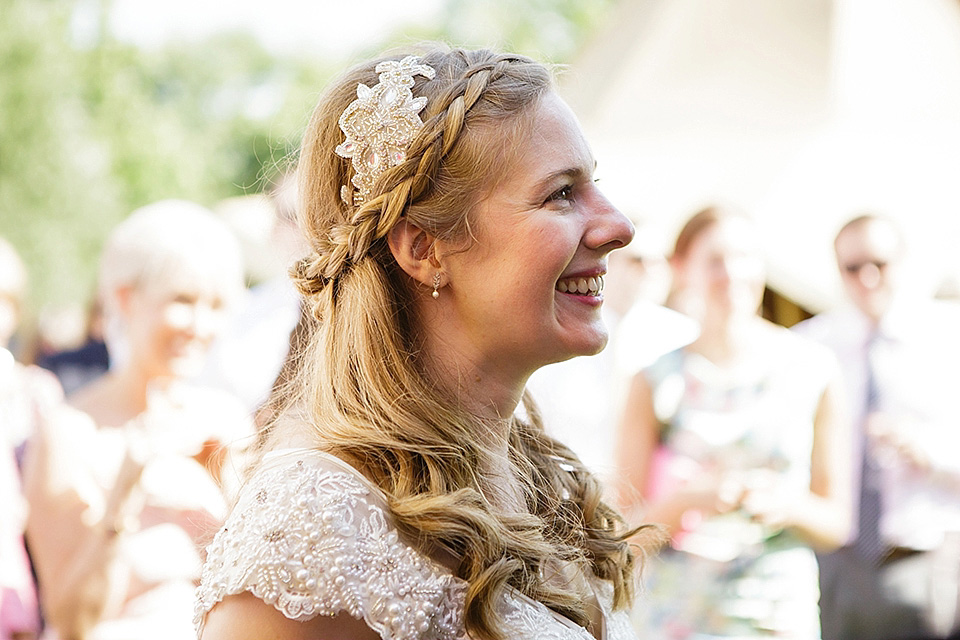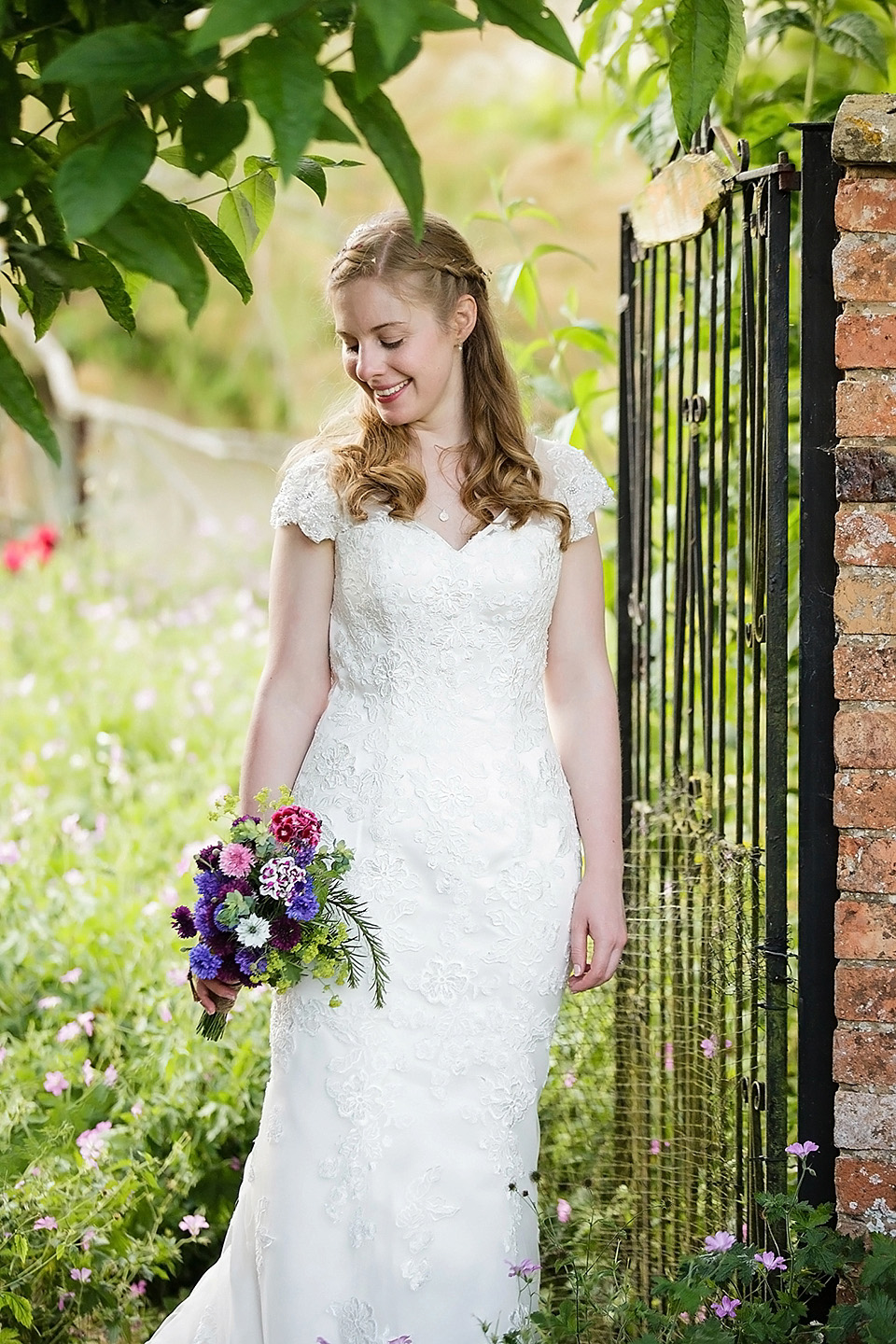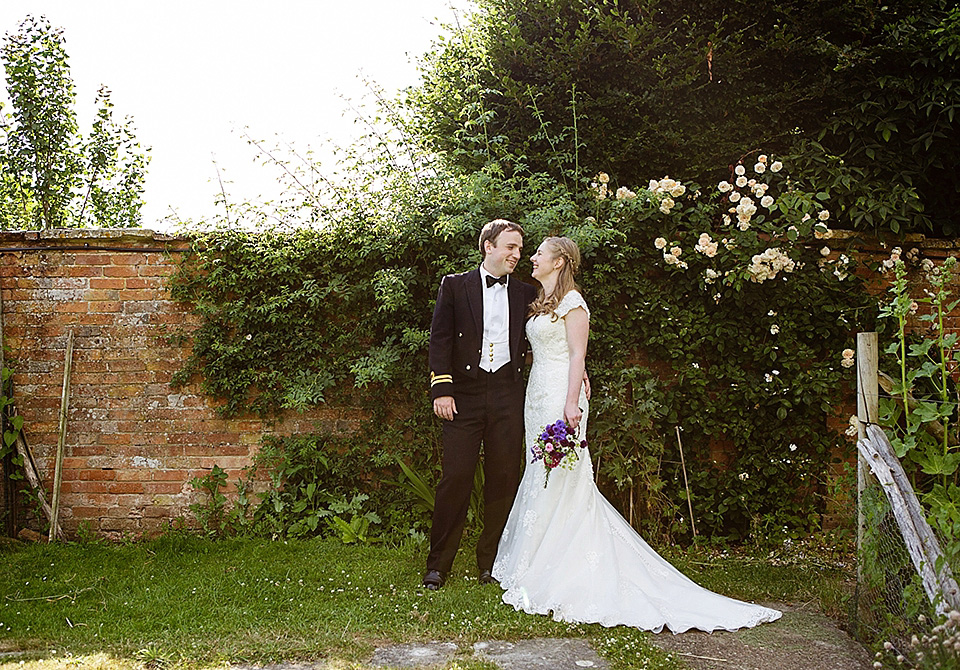 For the Reception in the grounds of Talton Lodge, the newlyweds and their guests celebrated in a relaxed environment.
"We wanted to avoid the 'dead time' that you often get at wedding receptions where the guests get left standing around for an hour or two before the wedding breakfast- typically when the bride and groom are off getting photographed. So we wanted to make sure that was plenty to do in that time, from cricket and table tennis for the more active, to an acoustic set from the band, to space to chill out for those who needed to get out of the heat, to a decent bar and nibbles for the foodies…We also cut and served the wedding cake pretty soon after everyone reached the reception, which along with the cakes all our friends had made (and the champagne) created a lovely 'afternoon tea' atmosphere."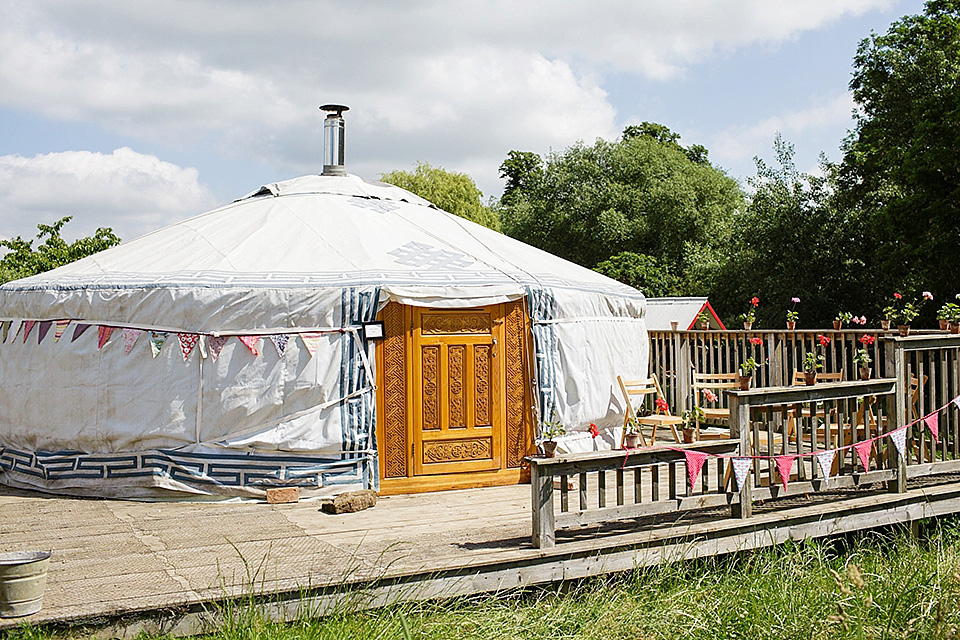 "It was important to us that no-one felt overburdened or obliged to help out with everything – rather than having bridesmaids and groomsmen we had a wedding team of friends which meant they could dip in and out and be involved as much or as little as they felt they had time for. Our team were utterly amazing, it grew to over 20 people in the end and it was a really nice way of being able to spend more time with our friends."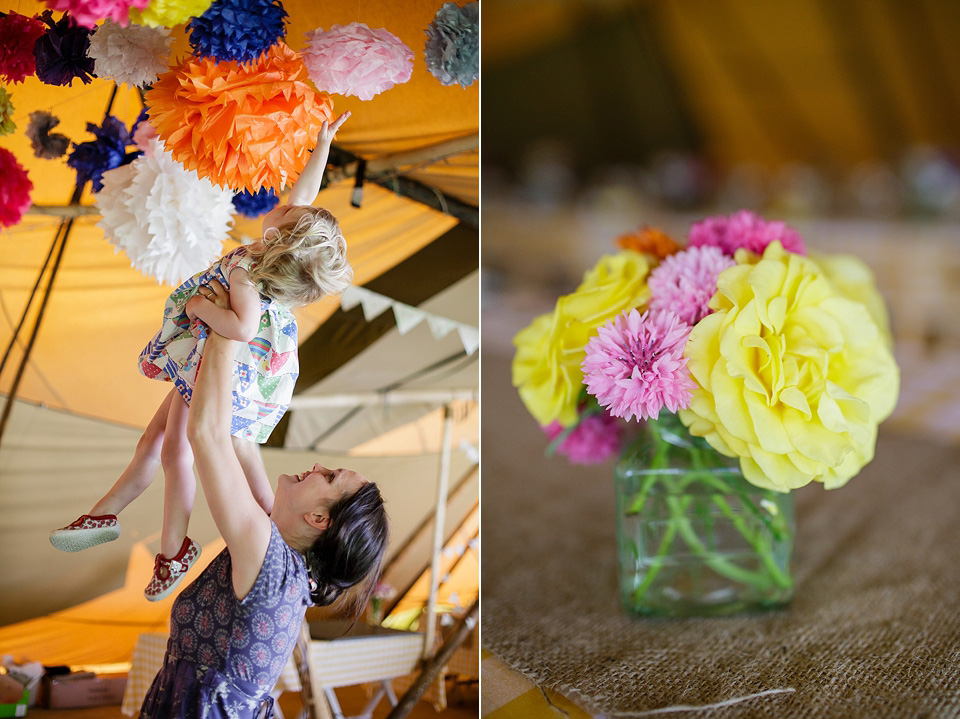 "As a kid, I loved those build-your-own foam glider plane kits and used to fly them around the house until their little plastic propellers fell off. We bought a big box from Amazon, they were honestly the best ten pounds I've ever spent. We didn't quite anticipate how popular they'd be; every single adult at the table suddenly became an eight year-old child – ripping open the paper packets, building their planes and launching them across the tipi – usually at another unsuspecting guest.
There was a good fifteen-minute spell where the air was thick with laughter as the planes whizzed over our heads. My mum kindly made all the place settings, individually arranging and wiring dried flowers that she'd bought. She also made all the buttonholes using dried wheat, oats, lavender and gypsophila."
The food was provided by Talton Lodge.
"Barney and Olivia made the most lovely food, using a lot of seasonal produce from their kitchen garden and local Evesham vale asparagus. The centrepiece was a hog roast – from one of Talton's own pigs. Barney spent a lot of the day cooking the pig on a hand-turned spit.
We love cheese and went to our local Paxton and Whitfield to choose a stack of it for the evening. After a good few samples we came out with sixteen kilos of cheese – which sounds like an awful lot but actually on the day we were so busy talking and dancing that we didn't get to eat much of it. However, there was plenty left for us to take home the next day. 
We're fortunate to have the Purity brewery just 2 miles down the road from our house, so that was a natural choice for the beer, and Barney at Talton was only too happy to get it on tap for us."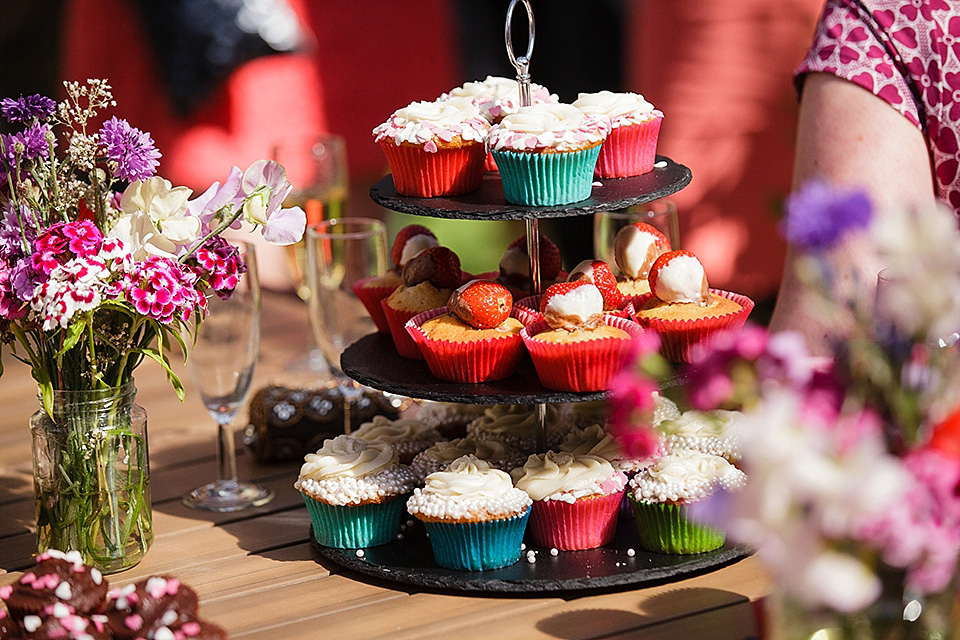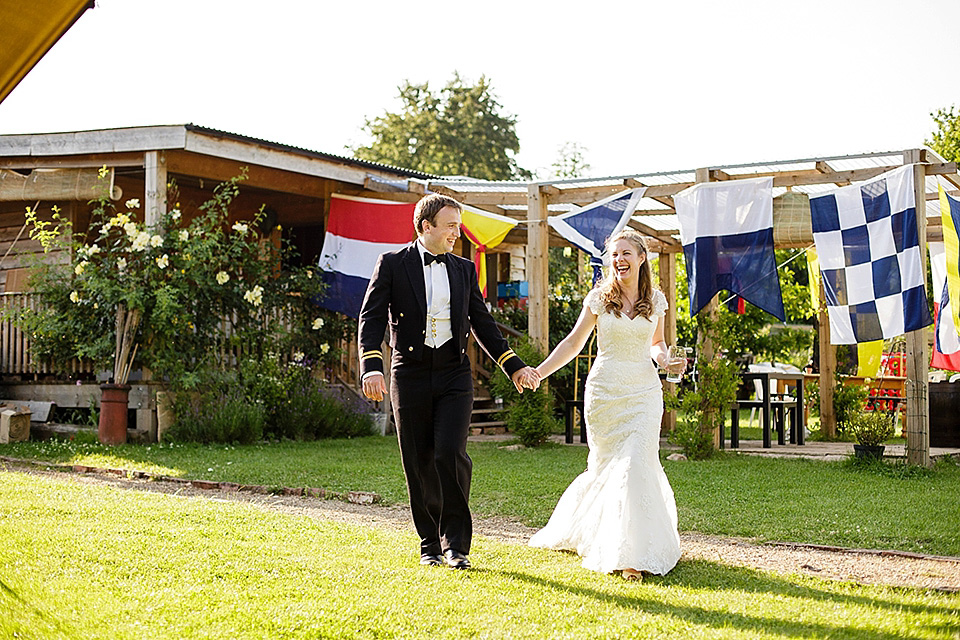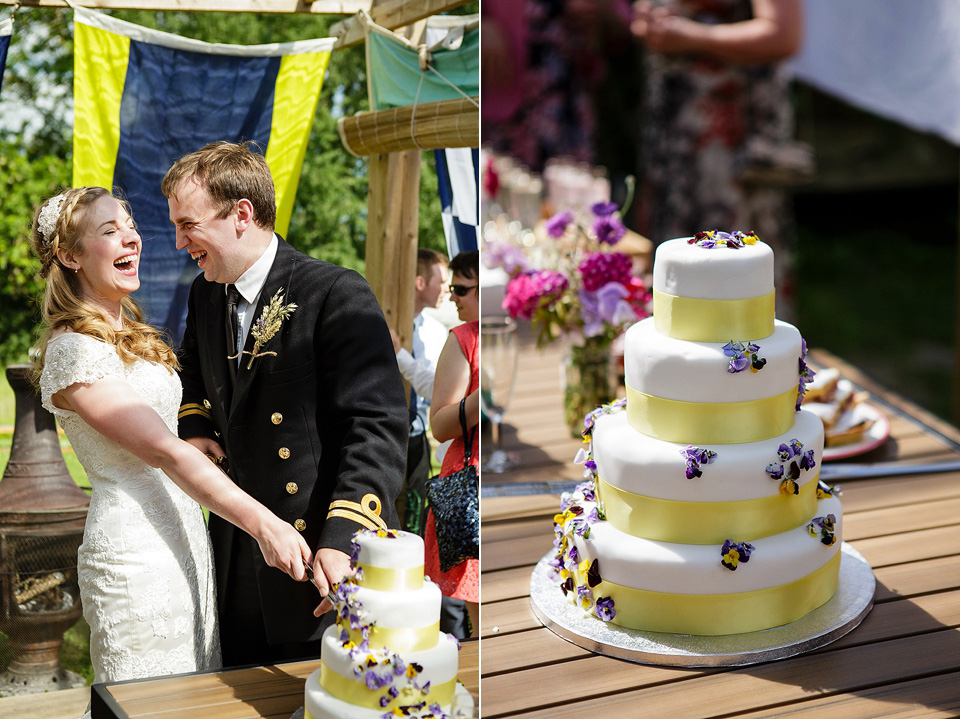 I think it's abundantly clear that this couple enjoyed every single moment of their wedding, with a few extra special highlights.
"We had a Naval guard of honour coming out of the town hall – with the military raising their swords into an arch for us to walk through. We saw all our friends and family cheering and clapping when we emerged. However the numbers of our guests were dwarfed by a huge crowd of tourists and onlookers that had gathered, spilling out on to the road and causing a good amount of chaos in the centre of town.
It was brilliant having the venue for four days – it meant that we could spend more time with our family and friends. We were able to put the finishing touches together in the morning and  there was no pressure to clear out the venue at the end of the night. We emerged on Sunday morning and sat around eating bacon butties in the sunshine with everyone who'd stayed over with us."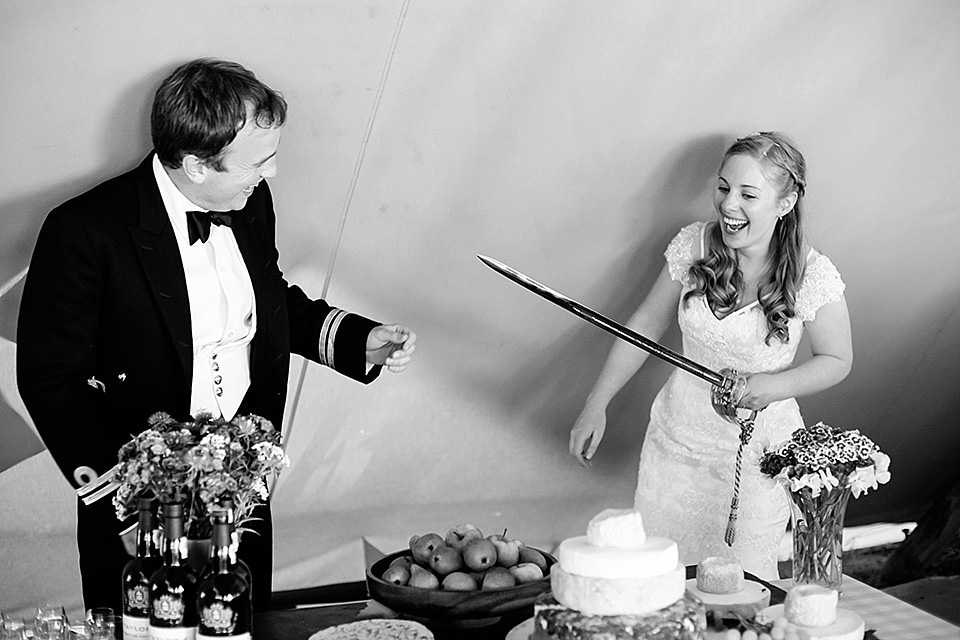 Jules' Words Of Wedded Wisdom
"Wedding planning shouldn't be the be-all and end-all of your conversations whilst you're engaged – but it's a pretty fun thing to do together as a couple. We made lots of lists and spent a fair amount of time (often with some beer and a cheeseboard) chatting things through. By the time the day came around we were both really excited and ready to see everyone."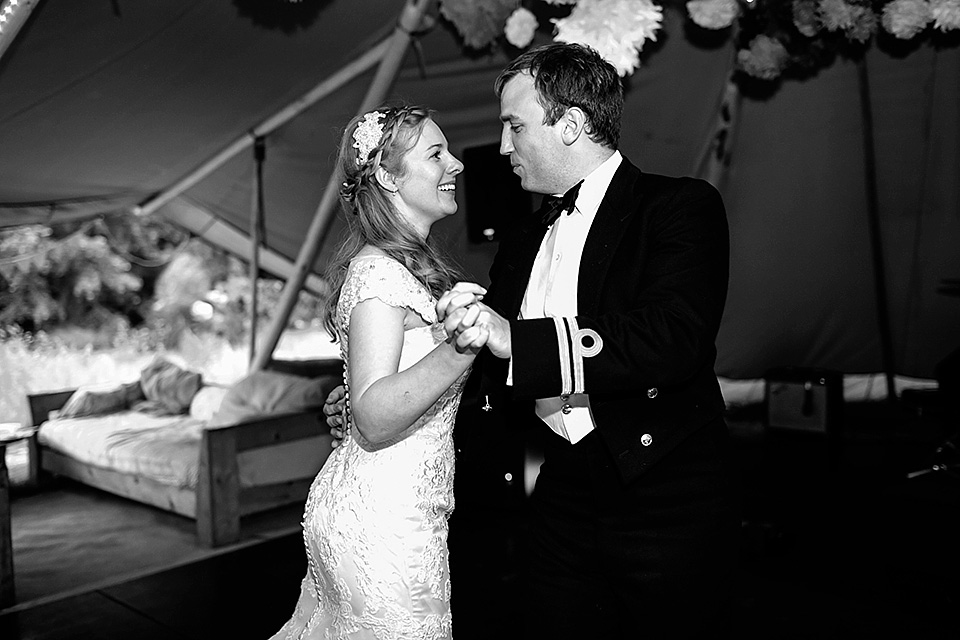 Tom's Words Of Wedded Wisdom
"We left booking the band a bit late (December 13). Fortunately the Tune Junkies were very good, but a lot of other bands had booked up that point. I think that 9-12 months in advance would have been a more sensible time to sort the band out.  We also had a couple of minor timing issues with the music in the Town Hall.
You don't get a rehearsal for a civil ceremony so it's worth going into detail on the cues (e.g. does the entrance music start to cue the bride to start walking down the aisle or when the bride starts walking down the aisle). That said, I think that only the two of us noticed the slight pause!"
"I changed the speech order around a little, and did mine pretty much at the start of the reception, just before we cut the cake. It felt nice to be able to welcome everyone properly to the event, and meant that our guests wouldn't have to sit through 3 speeches back-to-back after the wedding breakfast. It also meant that my speech was out of the way so that I could relax and enjoy the day a bit more. On the run up to the big day we spent lots of time working out the right wines, cakes,  cheeses etc, but when it came to the wedding we were too busy having fun to try half of the things that we'd organised. So if you can, don't be afraid to over-order a little; that way there should be plenty of leftovers to share with family and friends, and you don't completely miss out on all the nice food and drink that you've spent ages organising!"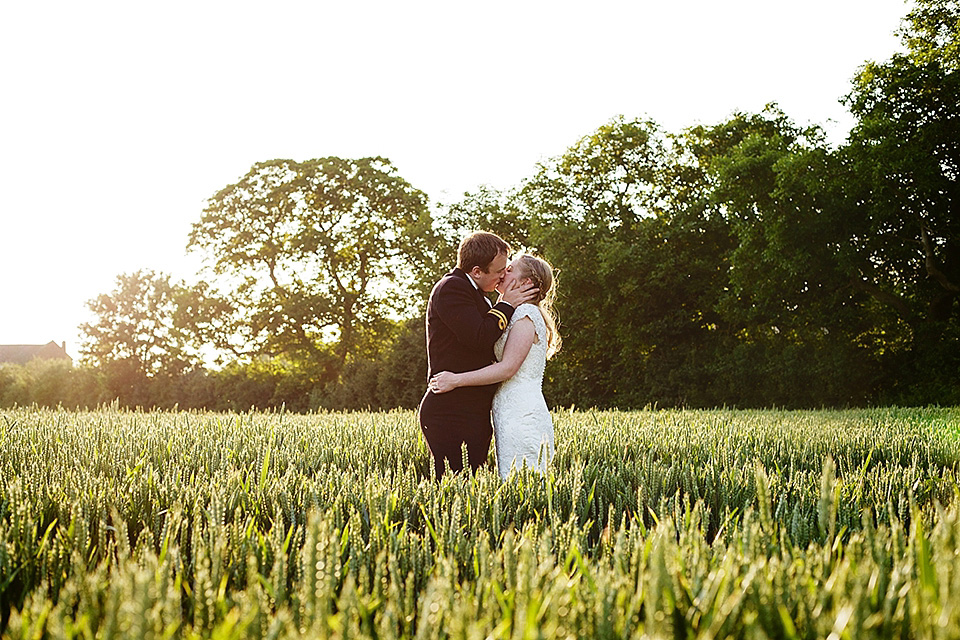 Well what a day! And so wonderful to hear about it from the perspective of both the bride and groom. Thank you to Jules and Tom for sharing their lovely story and excellent advice. Thank you also to Jo Hastings for capturing it all so vividly and sharing with Love My Dress – we're really very grateful indeed.
Readers, we'd love to hear what aspect of this wedding you particularly like and if you might be stealing any ideas for your own wedding.
Love Susie x
Photographer – Jo Hastings
Venue + Catering – Stratford Town Hall + Talton Lodge
Wedding Dress – Justin Alexander from Rina Roberts Bridalwear
Brides' shoes – Rachel Simpson
Bride's accessories – Oliver Bonas (necklace) + Beth Gilmour (earrings)
Transport – hired mustang
Entertainment – Tune Junkies via Warble Entertainment
Rings – Diana Porter (Jules) + Justin Duance (Tom)
Stationery –Mavericks