This morning's wedding really does have it all and these gorgeous images by Peach and Jo will make you wish you had been invited!  Laura and Chris own and run The Band Boutique agency. Chris plays bass in wedding band Mister Kanish and Laura writes her own blog Wrapped Up In Rainbows. They married on the 24th of May 2014 at All Saints Church in the quaint village of Martin near Fordingbridge in Wiltshire. Laura's dad drove their camper van to the reception, held in a marquee at a neighbour's farm, with alpacas in the next field.
A lot of the inspiration for craft ideas for the wedding came from blogs and you can look back on Laura's wedding planning diary here.
'Our love of music and movies heavily influenced the day. We recently bought a camper van and wanted this to be a big part of the day. We encouraged guests to stay the night so that we could continue the celebrations the next day. We really wanted our day to be relaxed, informal and fun, so we kept this in mind throughout the planning."
Photography Copyright (c) 2014,  Peach and Jo Photography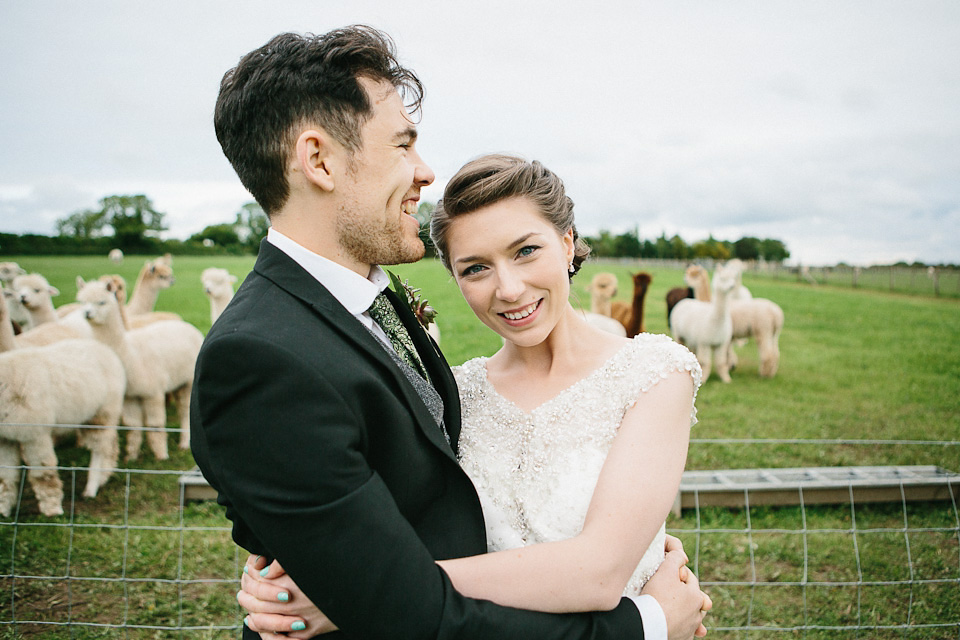 "On our fifth 'anniversary' Chris finally popped the question. I opened the door of our camper van and Chris was on one knee holding out the ring I had spotted in an antique shop weeks before! I never thought I would be the kind of girl who cried at this point, but I did, bucket loads!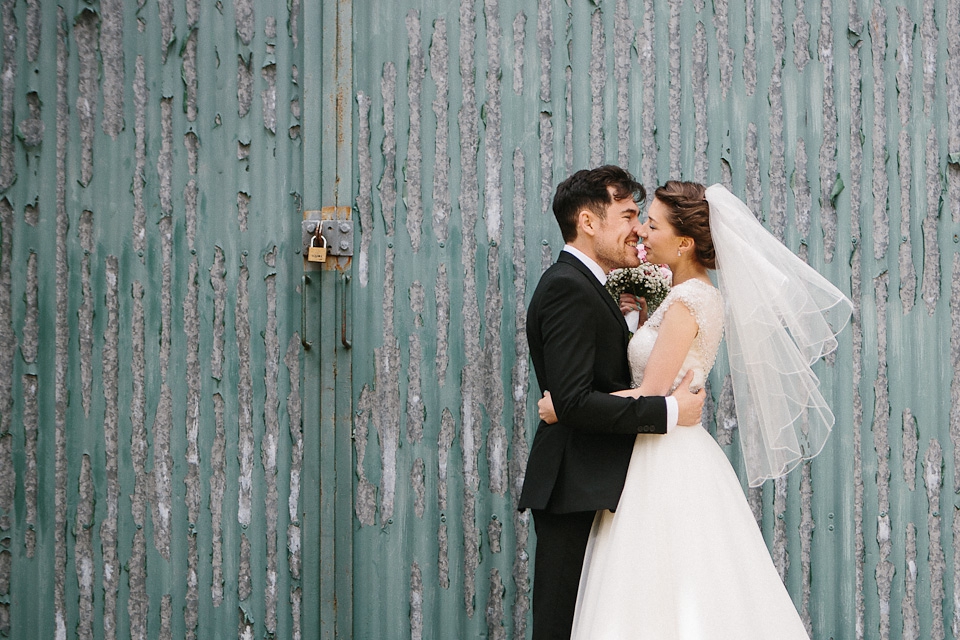 "I painted our table plan onto a large canvas and made it look like a fictional island with little clues for each table. The table names were place names from films and TV series that we love. I found a retro postcard of each location and wrote a message on the back as if it were from a character of the film. The idea was that people would have to guess what they were from and get everyone talking."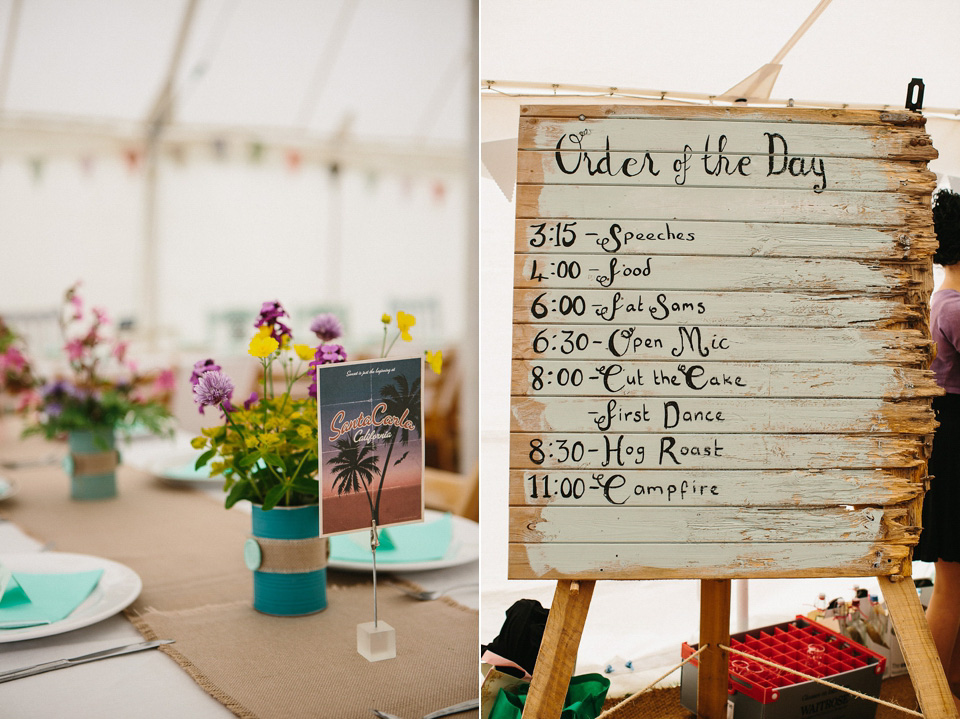 Laura's beaded Justin Alexander dress hits all the right notes and looks beautiful teamed with her short veil and mint shoes. The mint theme was carried through to her bridesmaids' pretty Dorothy Perkins dresses.
"I have a soft spot for the 50s era and I knew that I wanted a shorter, tea length dress, as I didn't want it to get dirty in the field. I loved the simplicity of the bottom matched with the pretty lace, embellishments and diamantes on the top. The owners of Creatiques Andrew and Rob were amazing and made me feel like a real princess!"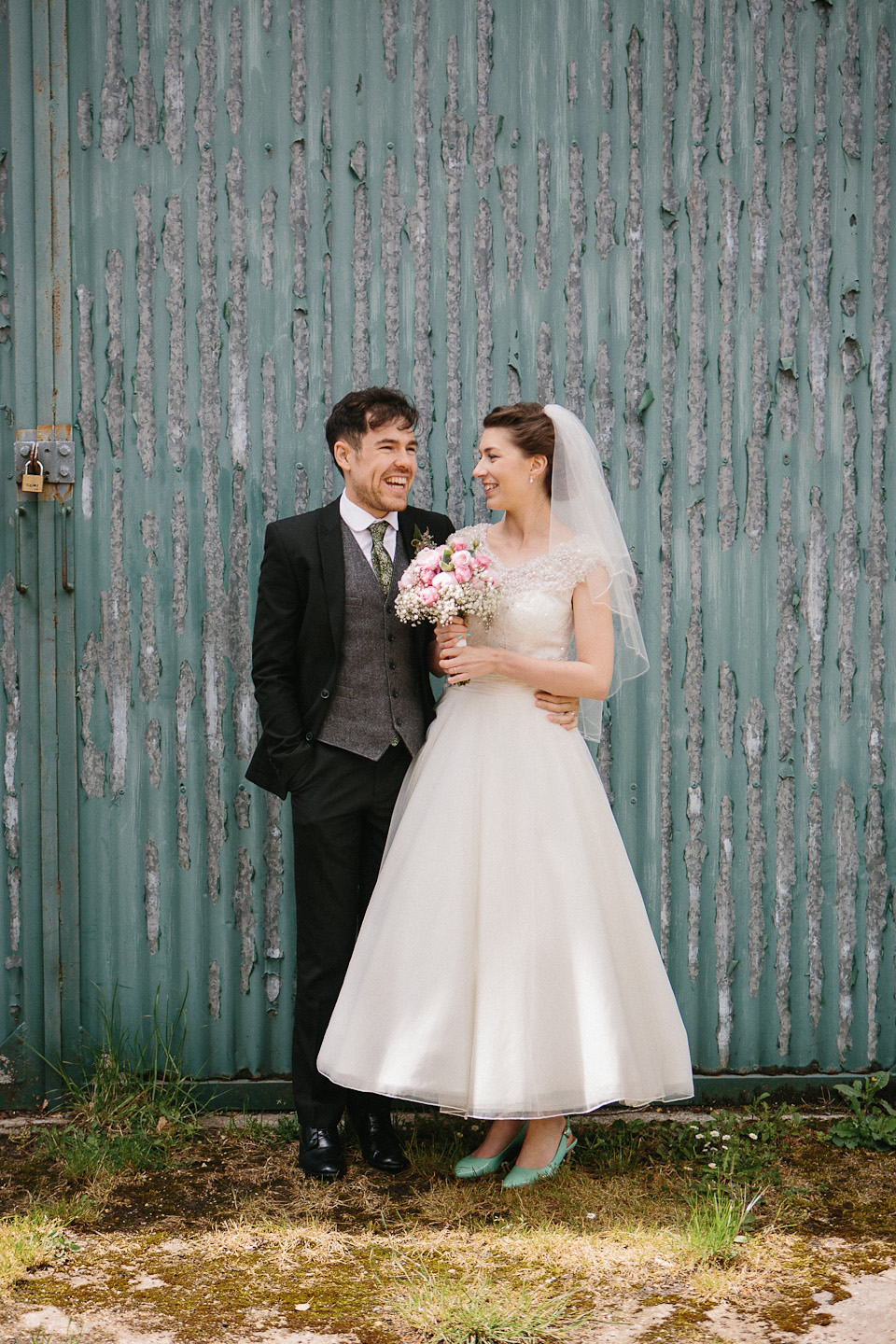 "My mum took charge of the flowers, enlisting two very lovely friends to help her out so I just left them to do their thing!"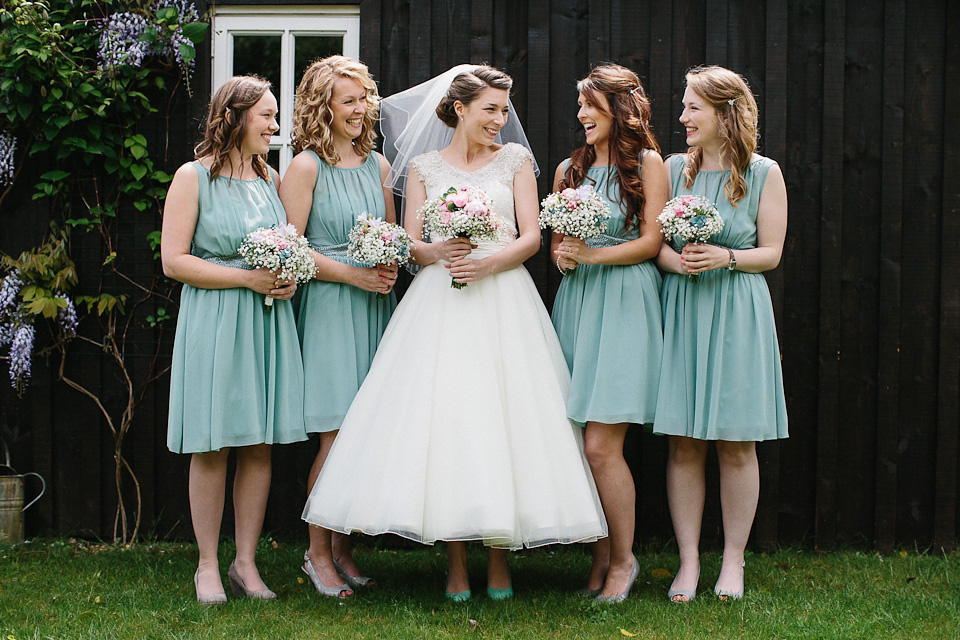 "We met our photographers Peach and Jo Photography at The Vintage and Handmade Wedding Fair in Newbury. I knew right away that we would get on with Jo and Steve and I loved their photography style.  On the day they were fantastic, and it was awesome to get photos of the girls and the boys getting ready at the same time. I hardly noticed them all day and we are so pleased with the photographs!"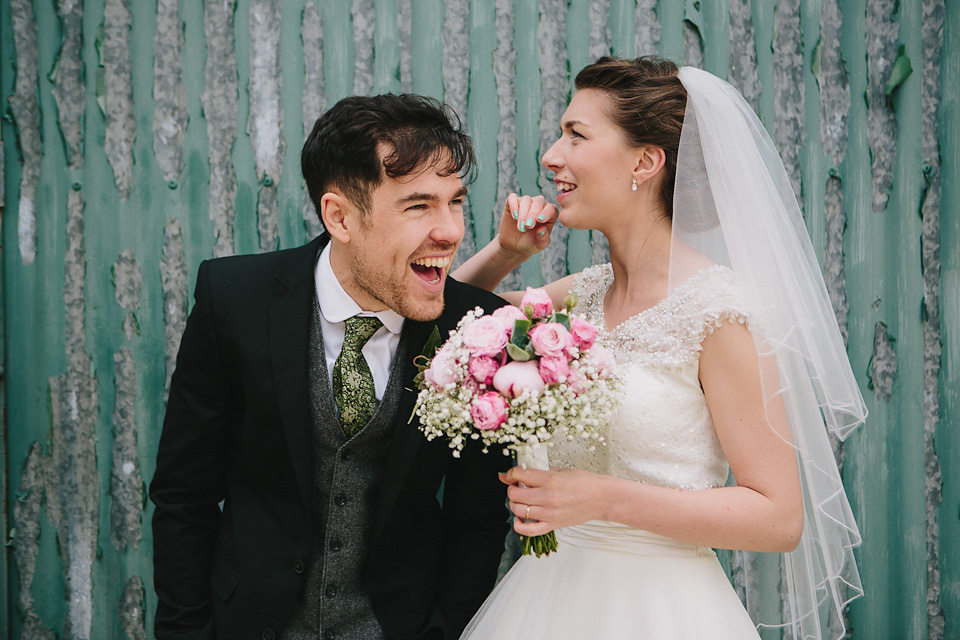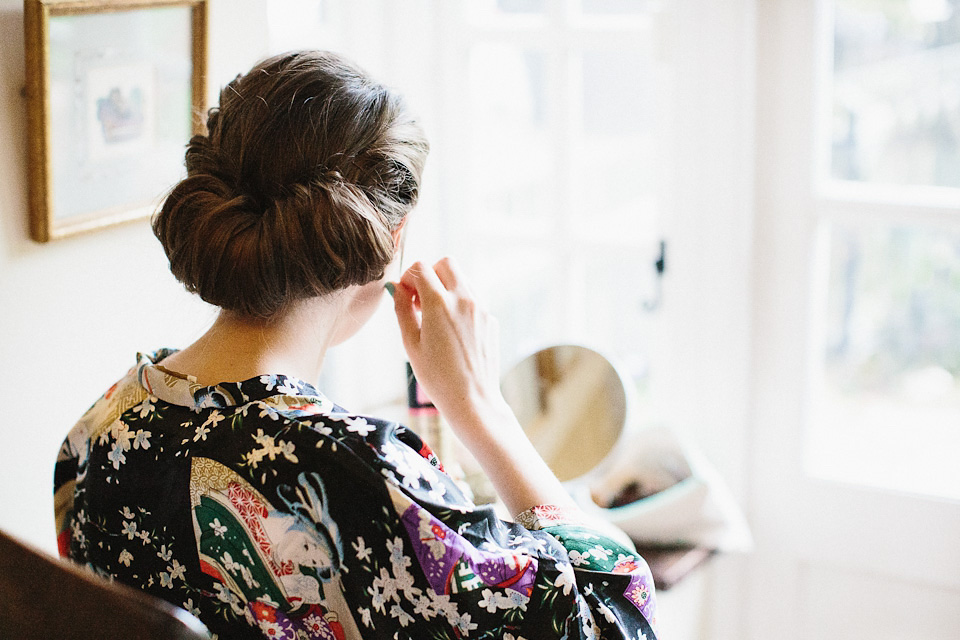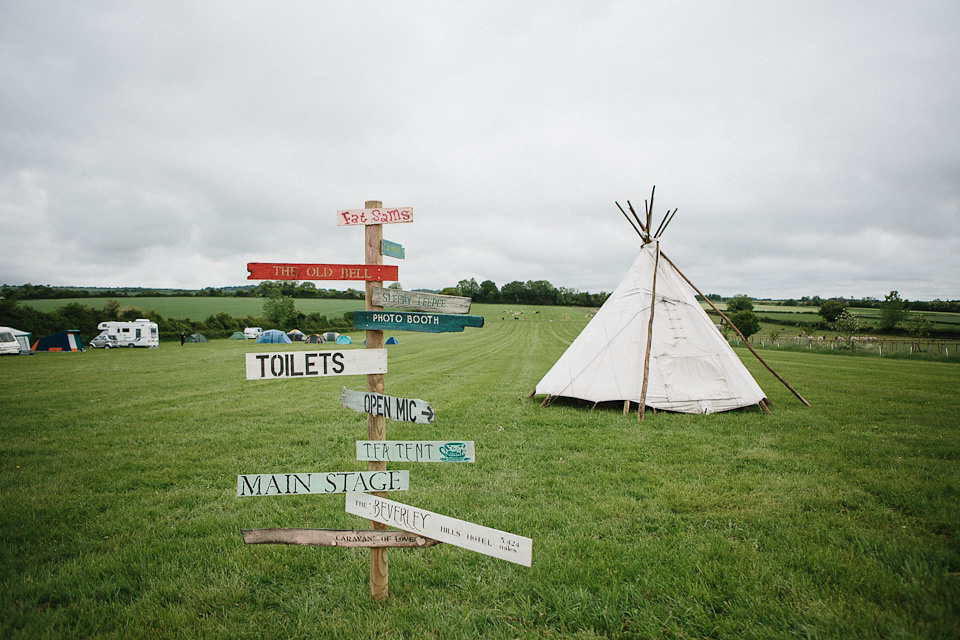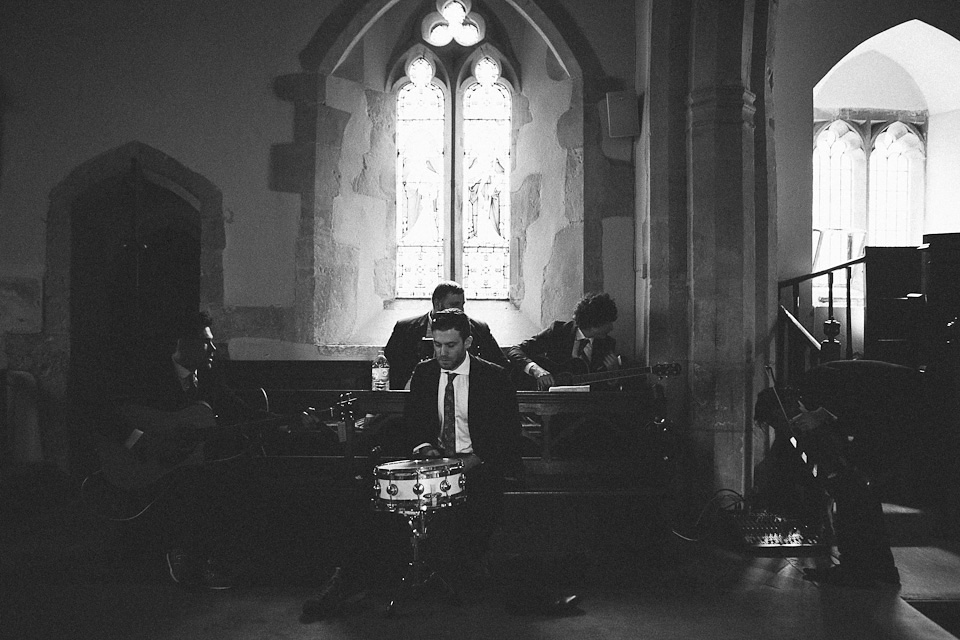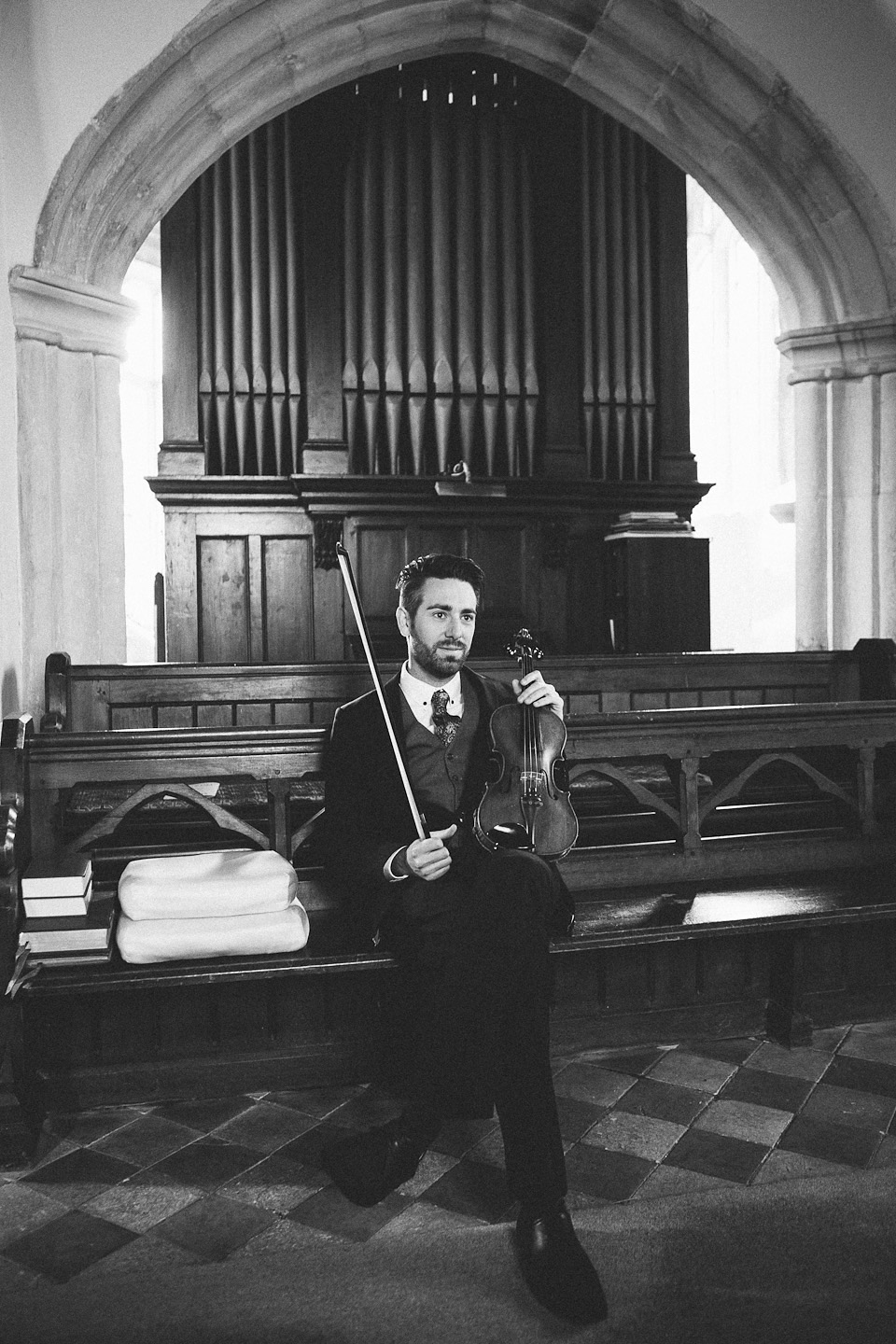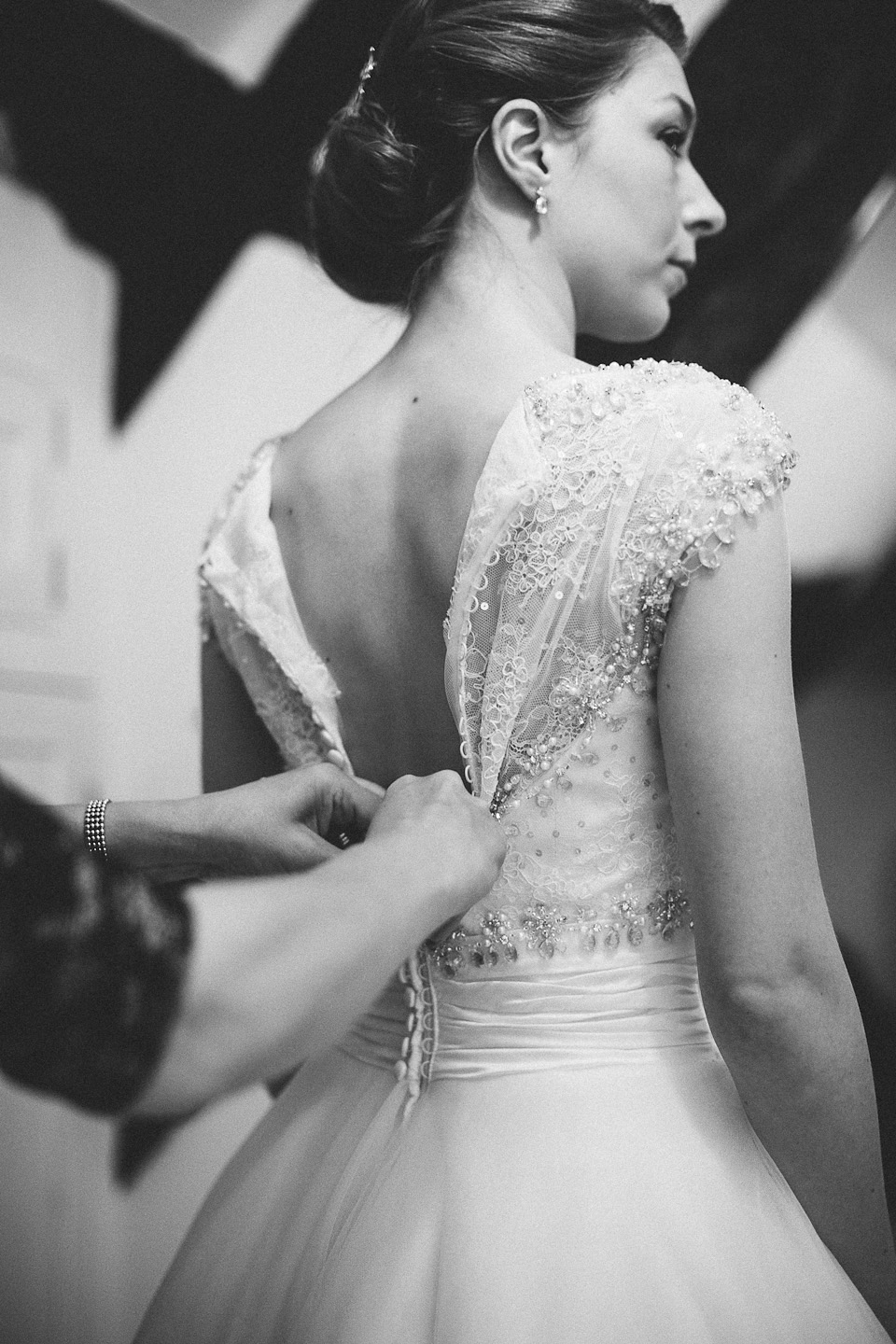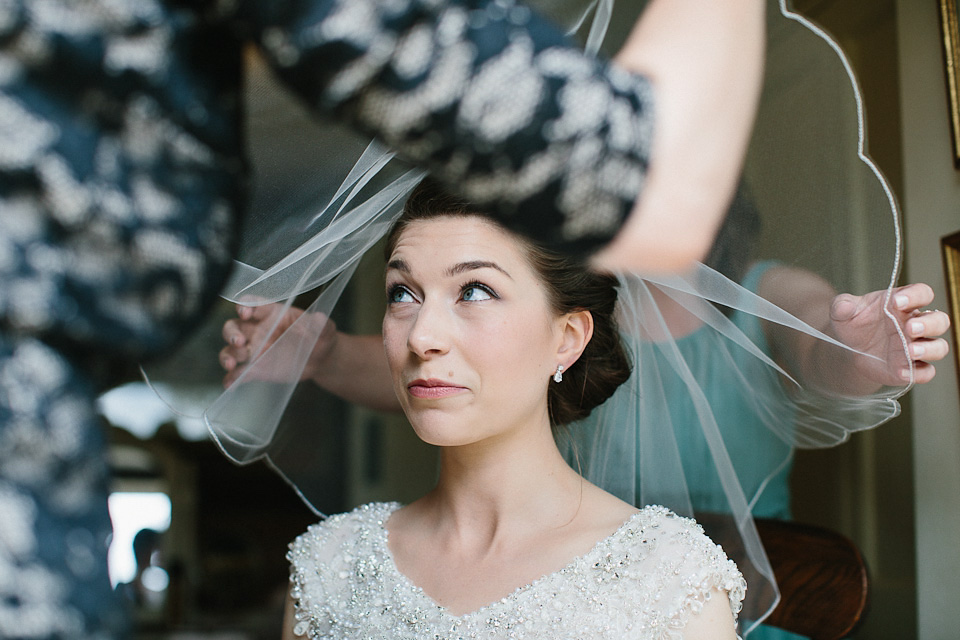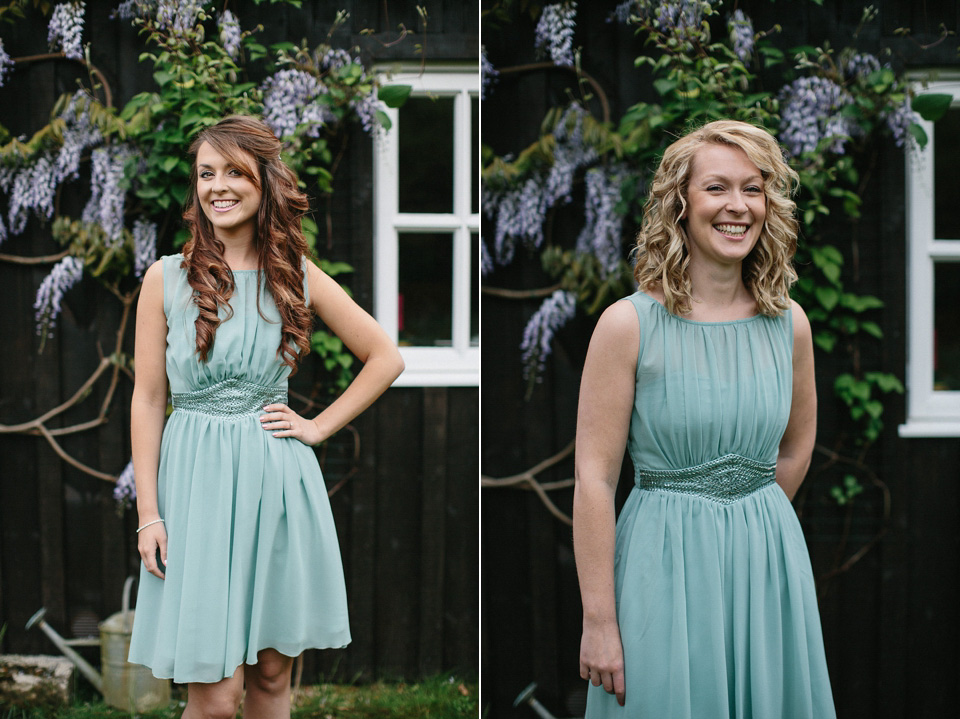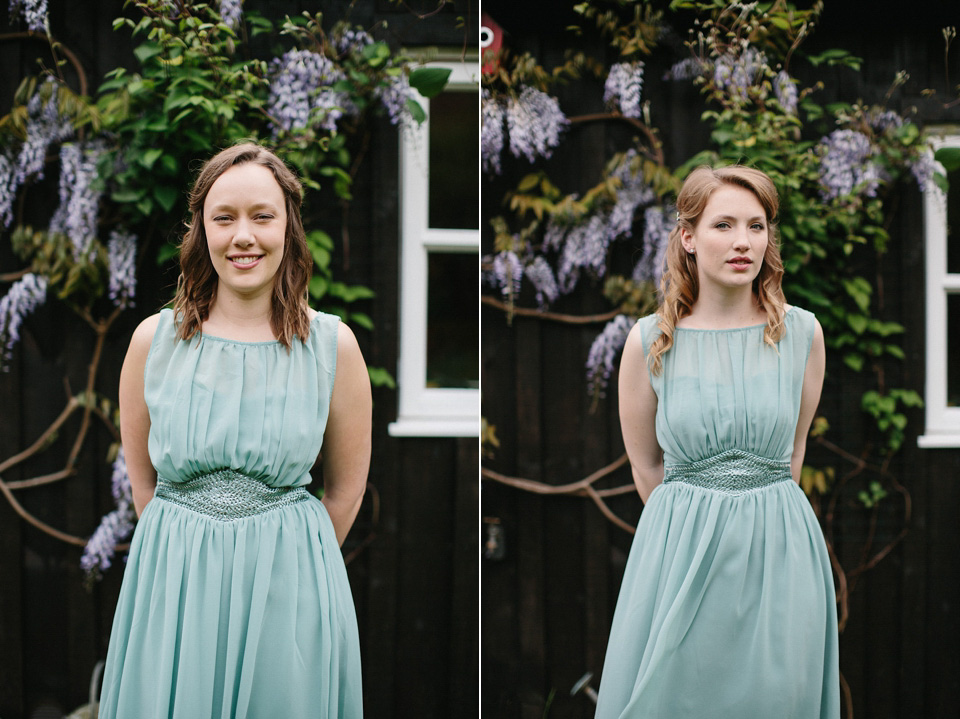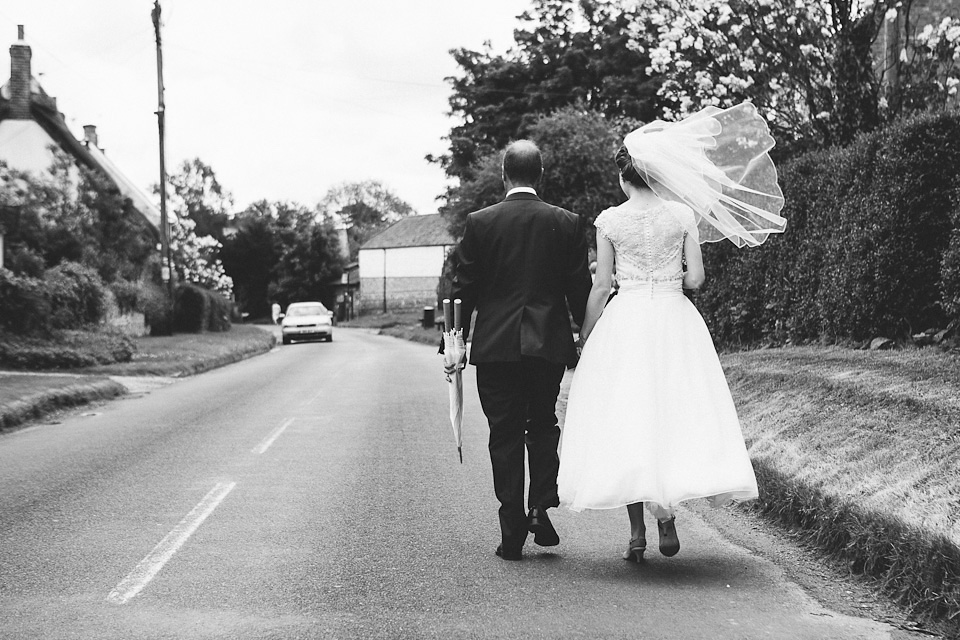 "It was a real fairytale to be able to stroll through the village to the church with my Dad. Some of the villagers came out to take photos and luckily so did the sun after the torrential rain earlier in the day!"
"My sister-in-law Rosie read a personalised version of 'A lovely love story' by Edward Monkton. It was a bit silly (like us!) but has a really sweet sentiment behind it. My Uncle Danny also did a reading from Corinthians with a personal introduction which was really nice. As we walked out of the church we played Elbow's 'One Day Like This' with vocals from our Usher Ben following the procession out."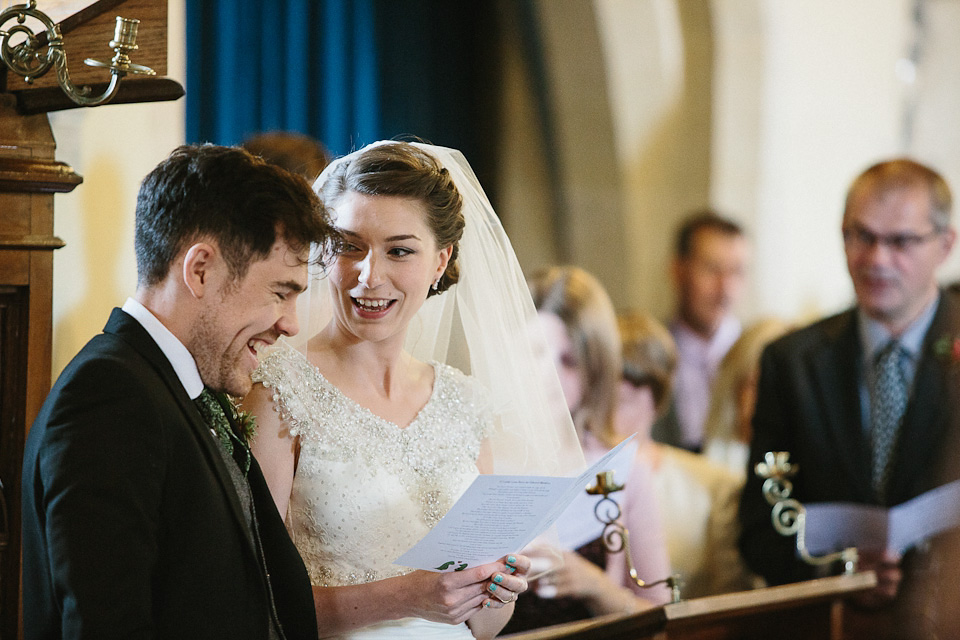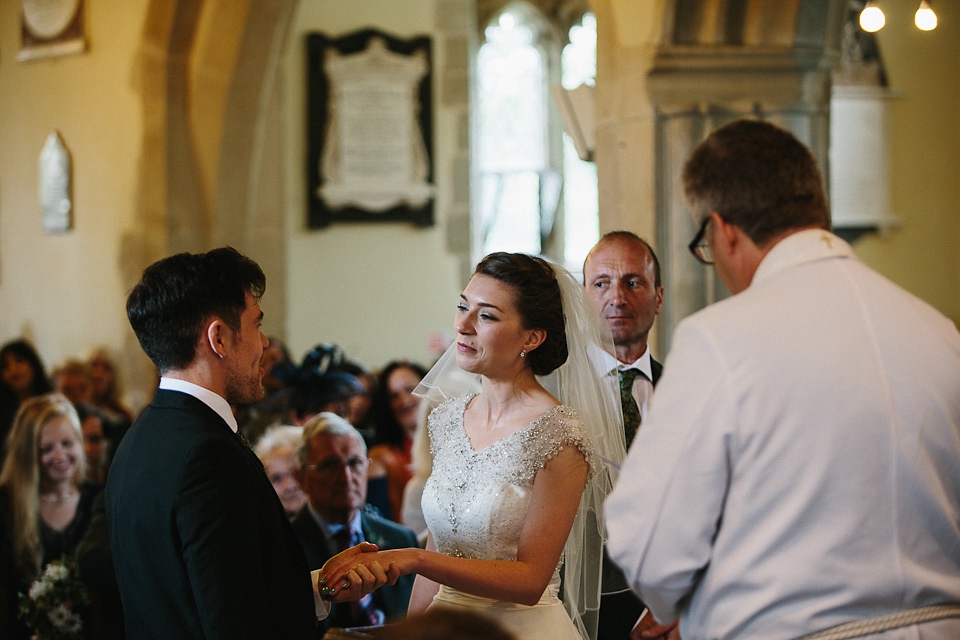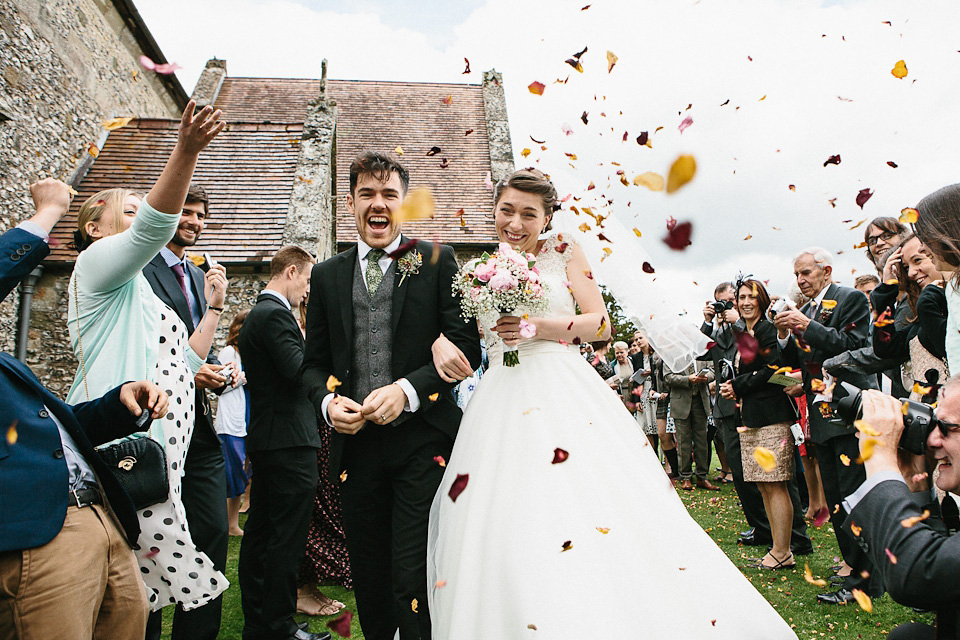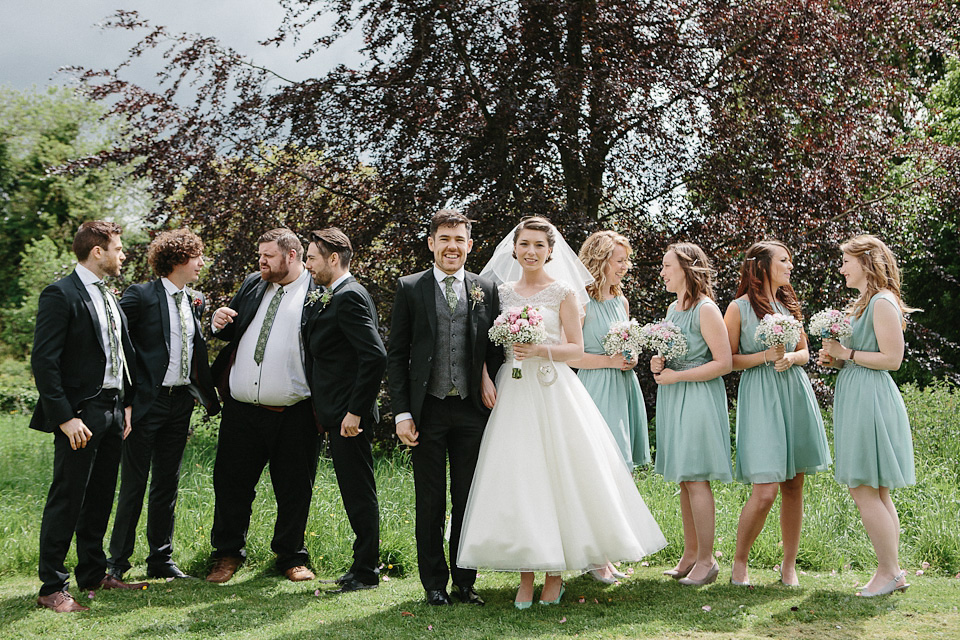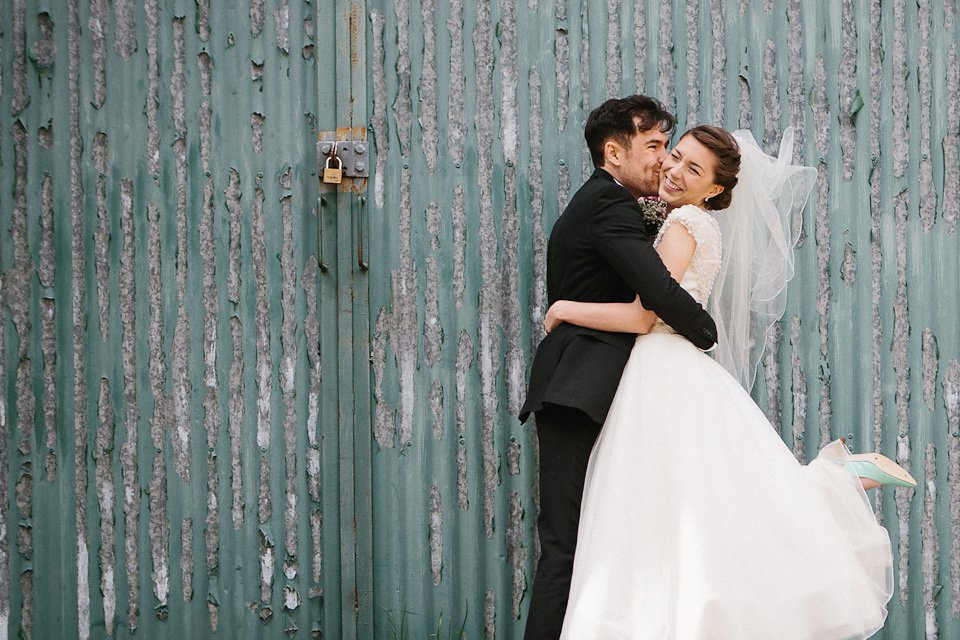 "We bought local beer and made up a picnic for the wedding breakfast including pork pies, bread, salad, pickle and coleslaw served in stencilled vintage crates. Chris' Mum painted the chairs for the top table in pretty pastel colours. In the evening we had a hog roast with biodegradable plates and hired the local ice cream van to arrive after dinner which was delightful when they came in playing a tune!"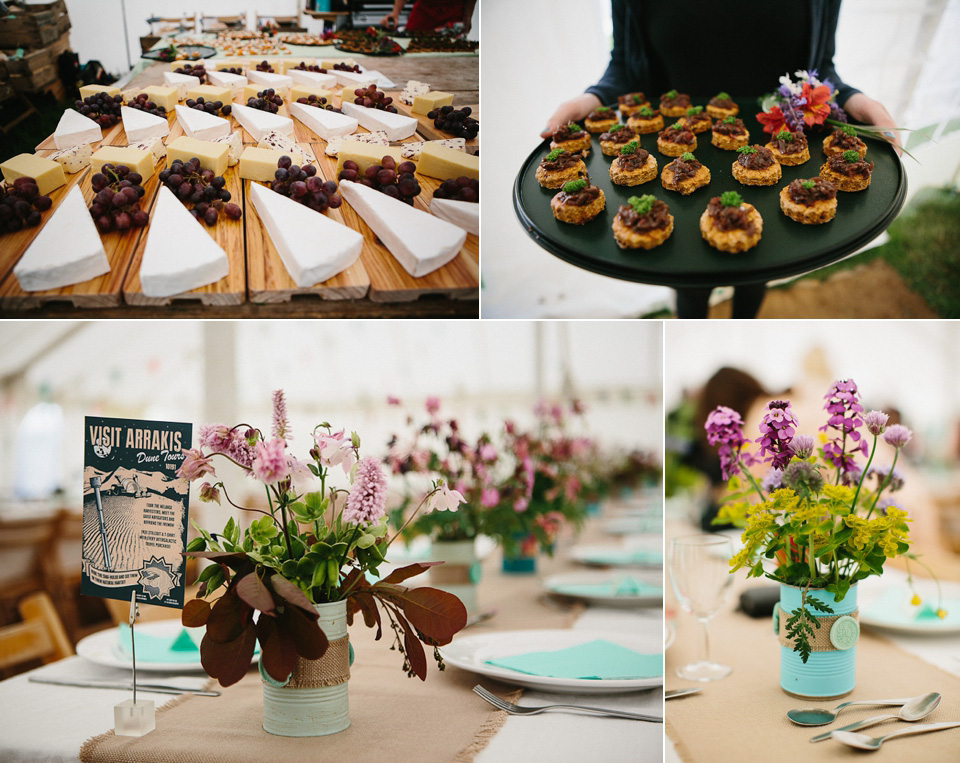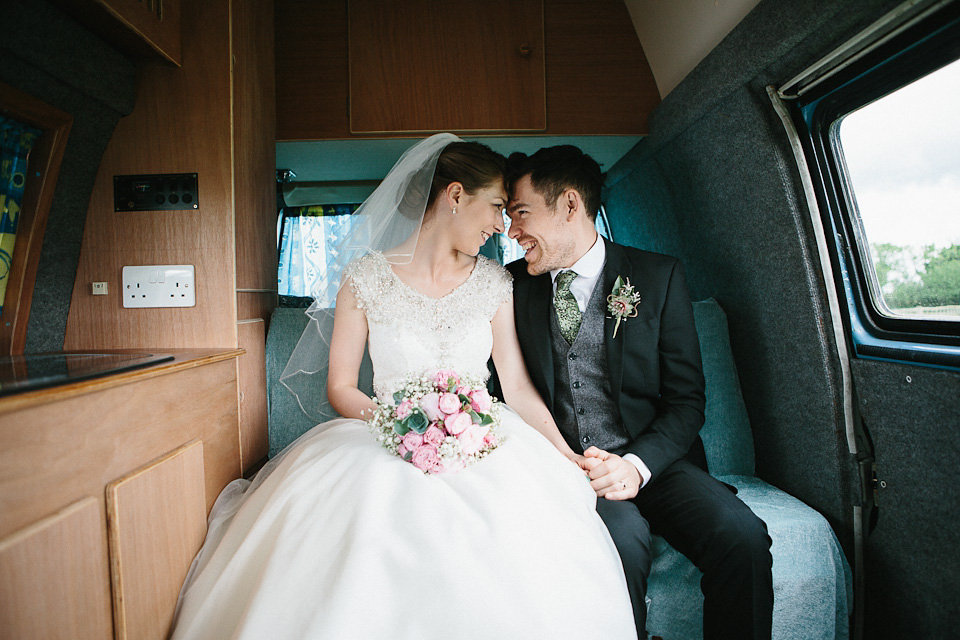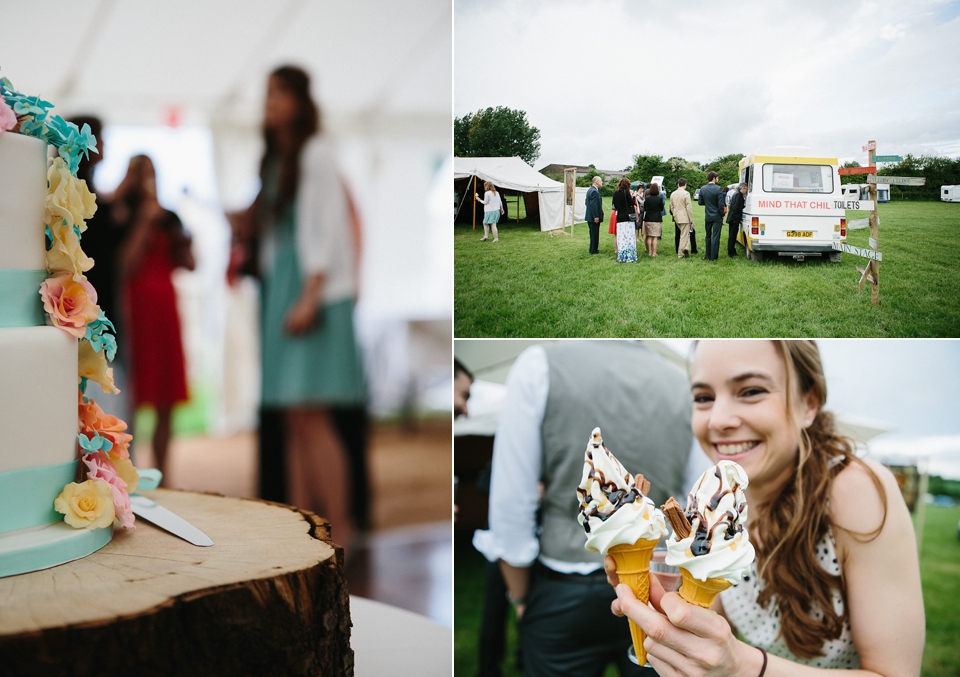 "I loved my Dad's speech, which included a game we used to play when I was little called 'Pretty Pretty Princess'. The aim was to be the first to collect and wear all of the princess jewellery with the winner being given a crown and named 'Pretty Pretty Princess'. My Dad explained he always seemed to win, even when he tried to cheat to lose I would always notice. To demonstrate the game he had jewellery so my Dad, Chris, myself and my sister-in-law all ended up wearing the ridiculous jewellery for the entirety of the speeches (I never expected to see my husband reading his wedding speech wearing plastic jewellery and a very effeminate crown!). 
At the end of the speech, he said that it was Chris' turn to be my 'Pretty Pretty Princess'. It was very funny and our guests were all talking about it for the rest of the night."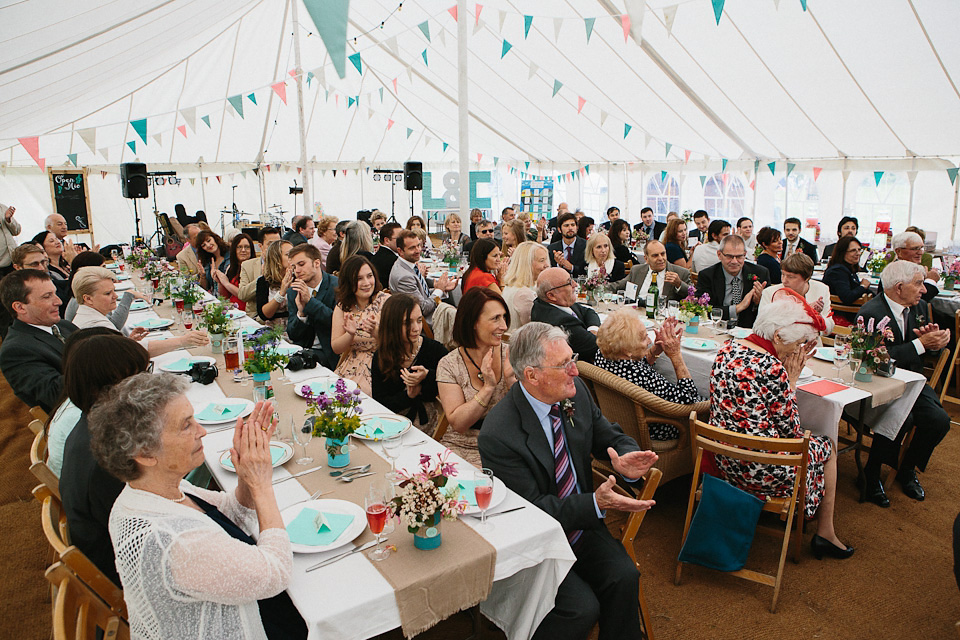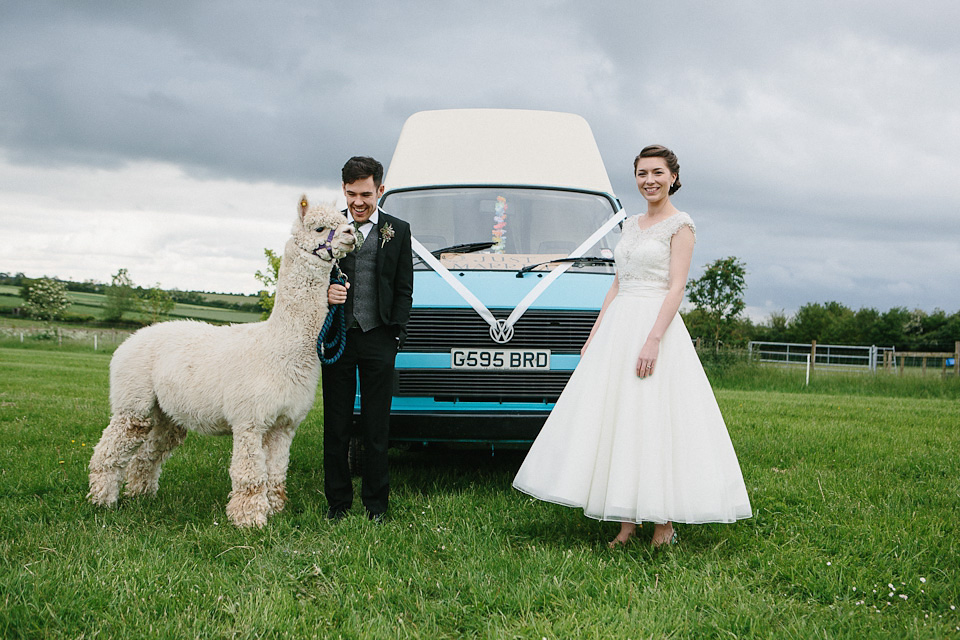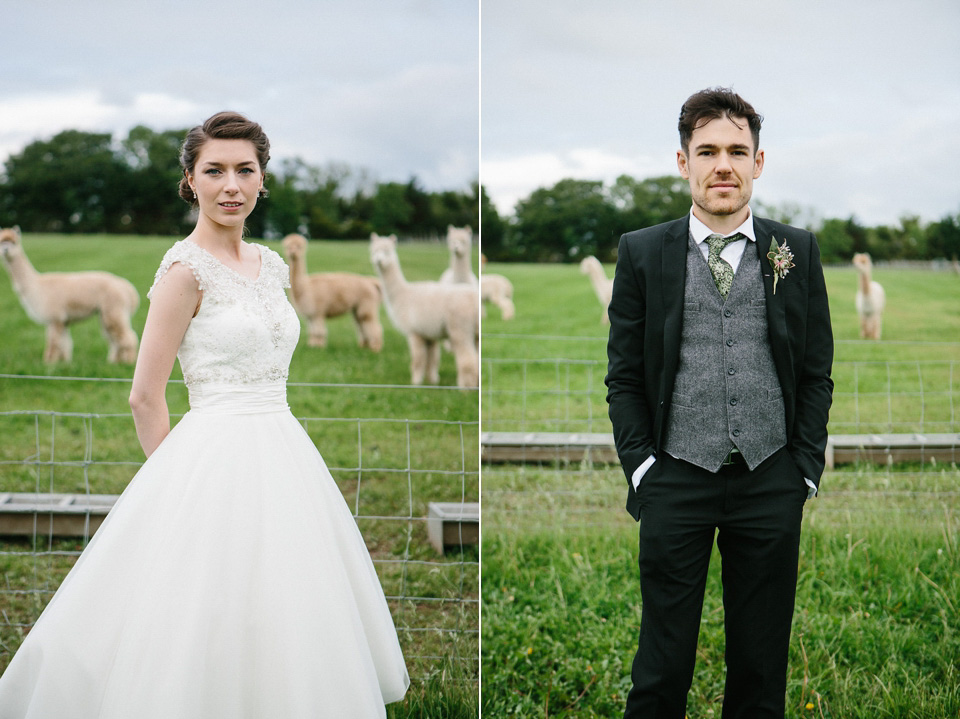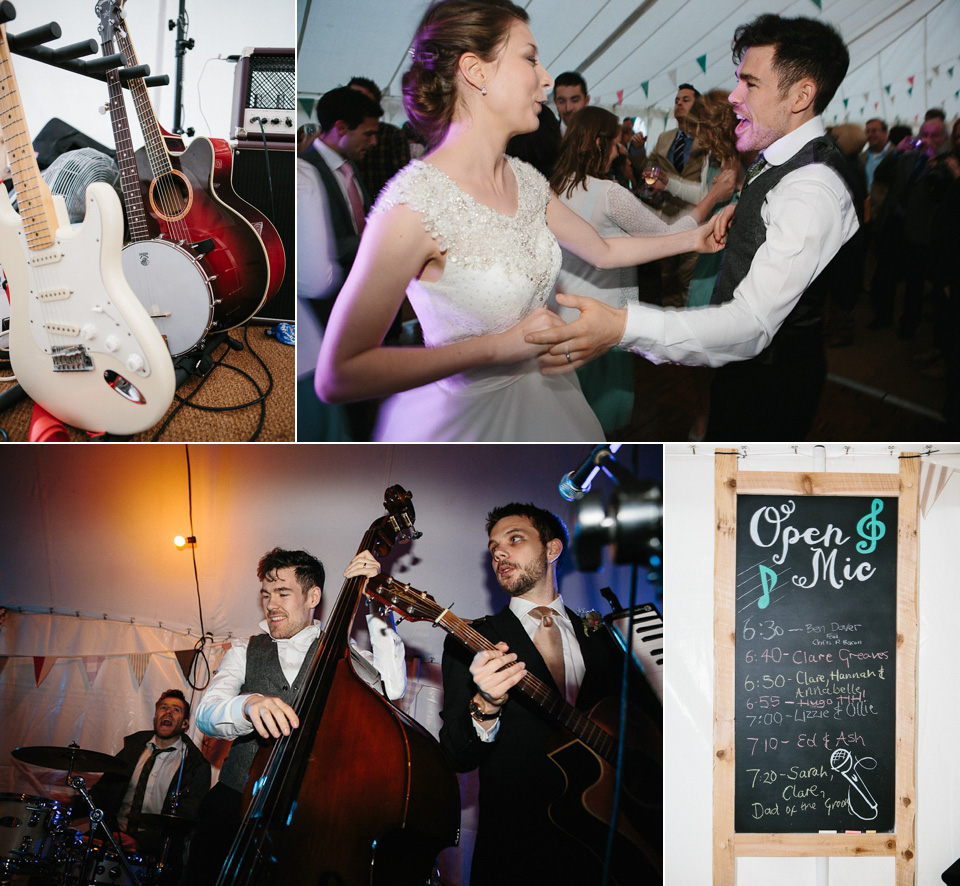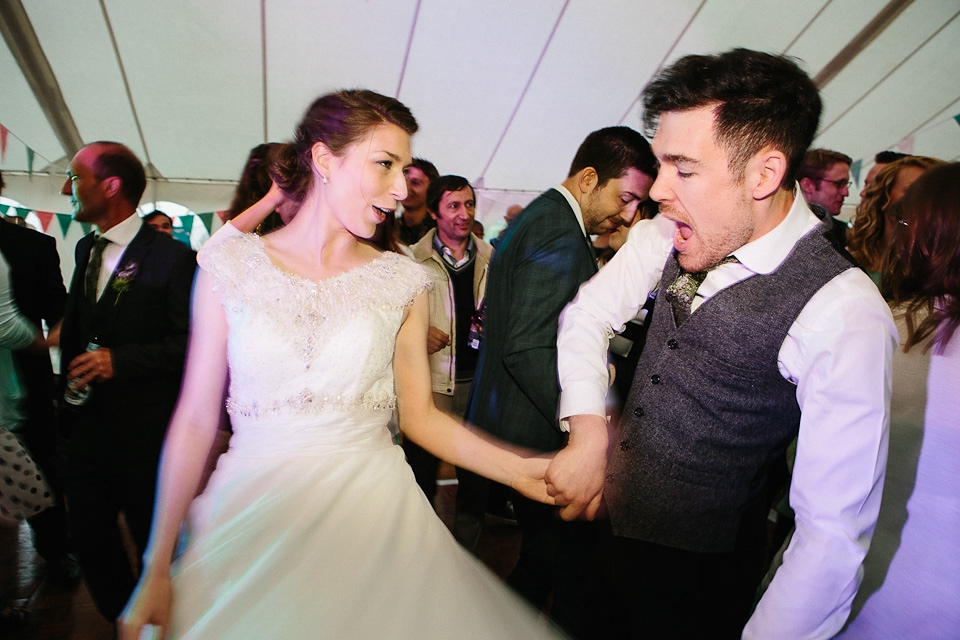 "We roped in some friends and family for an 'open mic' session and got a real variety of performances. Of course in the evening we had Chris' band 'Mister Kanish'. A highlight was their vintage style cover of Rage against the Machine's 'Killing in the name of', which I believe my Dad requested. Lots of people commented on how everyone danced the whole night!"
Words of Wedded Wisdom…
"Make the most of your engagement, and try to have as much fun planning as you can!
Our guests really made our wedding day. Things that didn't go according to plan seemed to fade into insignificance when we looked around and saw what wonderful friends and family we had."
Congratulations to Laura and Chris, photographers Peach and Jo captured the lovely touches and ideas of the day beautifully. Are any of you now thinking of a tea length dress like Laura's?
Love Caoimhe xx
Photographer – Peach and Jo Photography
Venue – All Saints Church + Neighbour's Farm
Caterer – The Swine Waiter + Beer Sixpenny brewery
Dress – Justin Alexander 8650 + Veil from  Creatiques, Southsea
Bride's Shoes – Madeleine
Bride's Hair Accessory – Debenhams
Bride's Wedding Ring – Lucy with Diamonds
Bridesmaid's Dresses – Dorothy Perkins
Groom's suit – Next + Tie Swagger and Swoon
Postcards – TeacupPiranha  Redbubble
Guest Book – Project Life Binder
Cake Boxes – Chamelledesigns