Hello everyone, the new Mrs Isles here and I have such a lovely wedding to come back to after a few weeks away. This wedding is full of pretty softness and femininity with a healthy dose of a dashing boy in blue. If you are like me and the beautiful sight of blush blooms makes you giddy then prepare yourself before looking through these gorgeous Ellie Gillard images. What's impressive is that bride, Rebecca moved to Dubai just one month into her engagement to take up a new job role; so all the planning had to be coordinated from afar.
Rebecca married Tim on 14 June 2014 in a traditional Roman Catholic ceremony in Wandsworth and was then whisked by her new husband, in an open top Mercedes, to celebrate their marriage at the Thames Rowing Club on Putney Embankment.
"Picking a theme didn't come naturally as, although I'd always wanted to get married, I had never really thought about what I wanted it to look like. Growing up, my sister and I had always loved the film 'Seven Brides for Seven Brothers' in which the wedding month is June, so that was when I wanted ours to be. Tim and I both wanted a church wedding and thought that doing it locally to our flat would be a nice way to mark our home ground for the future.  We are extra lucky that the river is so close to us and when we found our venue we knew it was perfect for the day. The style evolved to include bright summer florals and was, hopefully, a modern take on the traditional style of wedding."
Photography Copyright (c) 2014, Ellie Gillard
"We met on Valentine's Day 2009, in Clapham on a night out with friends. Then on my 30th birthday in April 2013 (after a very heavy night of partying) we went to the Tate Modern. Afterwards, while having lunch by the river, Tim proposed! It was very emotional as I had just accepted a job in Dubai and I moved one month later.
We were engaged for 14 months and the planning was pretty tough arranging things from overseas. We really did have to plan ahead – each of my trips to London was usually spent with back-to-back supplier meetings! A great tool for keeping everyone on track was a website called Smartsheet – a shared Excel spreadsheet that I actually use a lot for work and project management. Tim couldn't escape it!"
"My four beautiful bridesmaids (sister Emily and friends Katie, Emma and Annie) were all very different heights (5'2"-6') so I decided it would be impossible to buy a dress that would fit and look good on all of them. So, being in Dubai, I bought fabric from the textile souk and gave it to an amazing dressmaker, Barbaranne Heaton of Moirai Style, to work her magic.
I found Barbaranne from the Dubai wedding directory Bride Club ME. The dress design itself was taken from a bridesmaid dress designed and worn by the actress Rachel Bilson that I used as inspiration for the style!"
Sadly, Rebecca's mum passed away of cancer a few months before the wedding which must have added a tinge of heartache to such joyful day. However, thoughtful touches included her mum throughout the day: diamond earrings given to Rebecca on her 18th birthday by her mum, her borrowed wedding garter, a smiling photograph at the reception, a brooch of hers on the bouquet and Cancer Research donation favours and pins.
"I'd been searching online and in various bridal magazines for inspiration on styles of dresses as I had no idea what I wanted. I came across Naomi Neoh's designs and I liked 5 or 6 of them, which I took to be a good sign. I found BOA Boutique nearby that sold her designs, and others just in case I wasn't sure about them when it came to fitting.
As it happens Naomi's dresses are amazing and I ended up buying Dita – the first one I tried on! (I still tried on about 15 to be sure!) I loved the classic but contemporary shape and fabric. The silk skirt was incredibly lightweight and the laced corset made me feel feminine and confident about my figure. And of course there was the addition of the flower corsage which set off the floral motif for the rest of the wedding."
"The wonderful Ellie Gillard was our photographer for the day – she'd also done our engagement shoot the previous year. From the start she really listened to what we wanted (and didn't want) and made the process really fun. We couldn't wait to see the photos after the wedding, as you can imagine and we can't say thank you enough! She really captured the laid back and relaxed vibe of the day. It was so much fun and I think it shows in the photos.
Our guests also commented on how great she had been in her ability to put everyone at ease. She was particularly commended for wading in the flooding riverbank to get the wedding party shot! We loved working with her and would definitely recommend her. We also decided to invest in a second photographer (money well spent) which Ellie was able to provide as part of the service. Big thanks to Kat too!"
"I bought each of the girls a thank you bridesmaids bag which I gave to them in the morning while we were getting ready. It included a thank you card, hair corsage, a dressing gown to wear before they got dressed, a Longchamp make-up bag, scented candle and bespoke 9-photo frame with pictures of us!"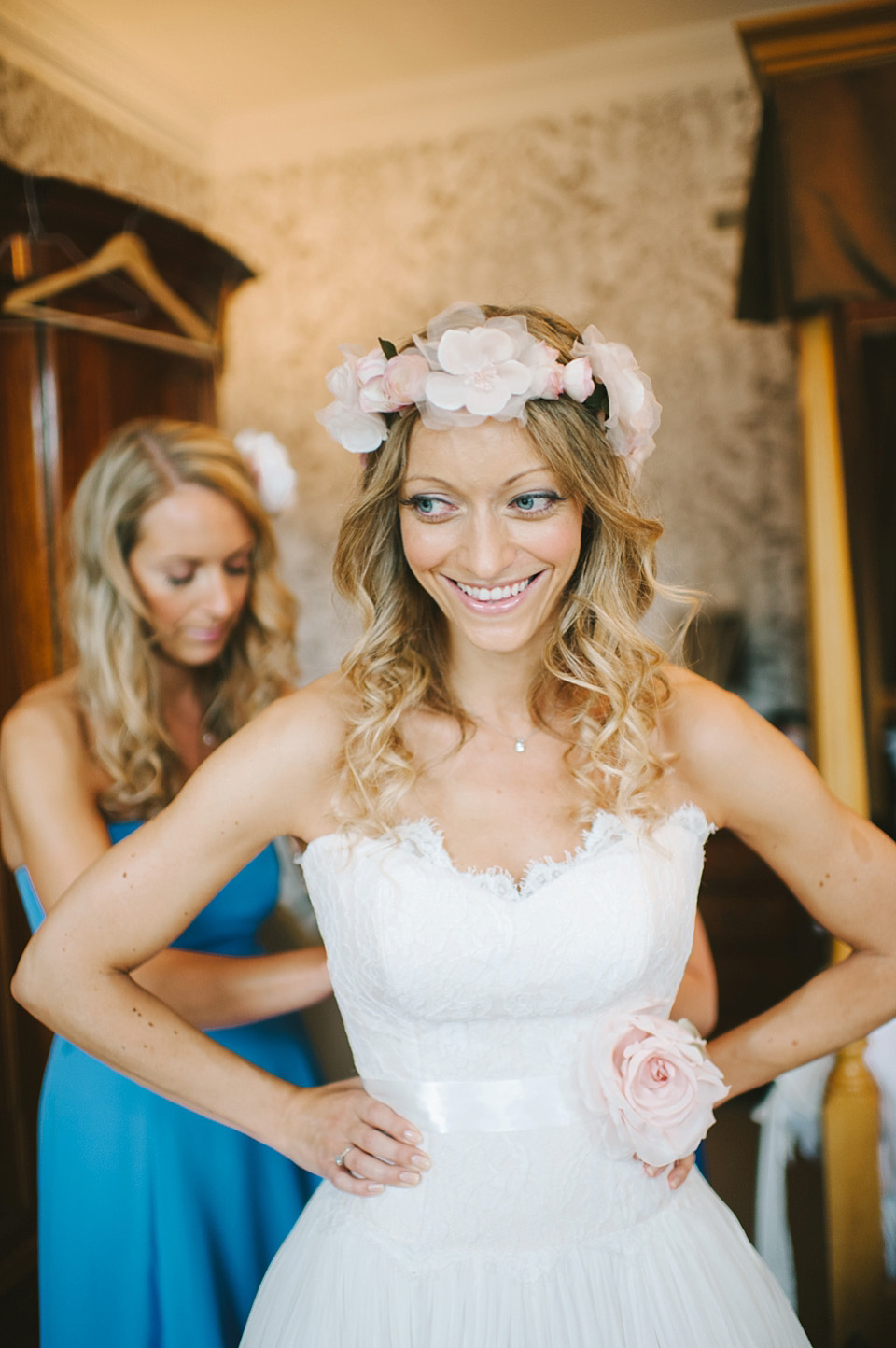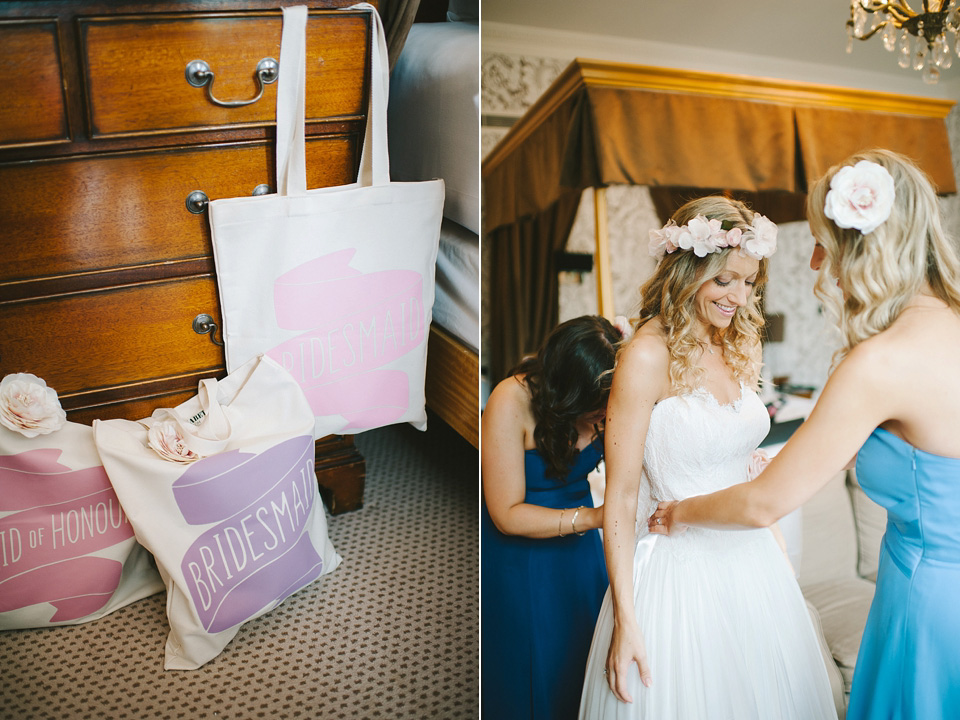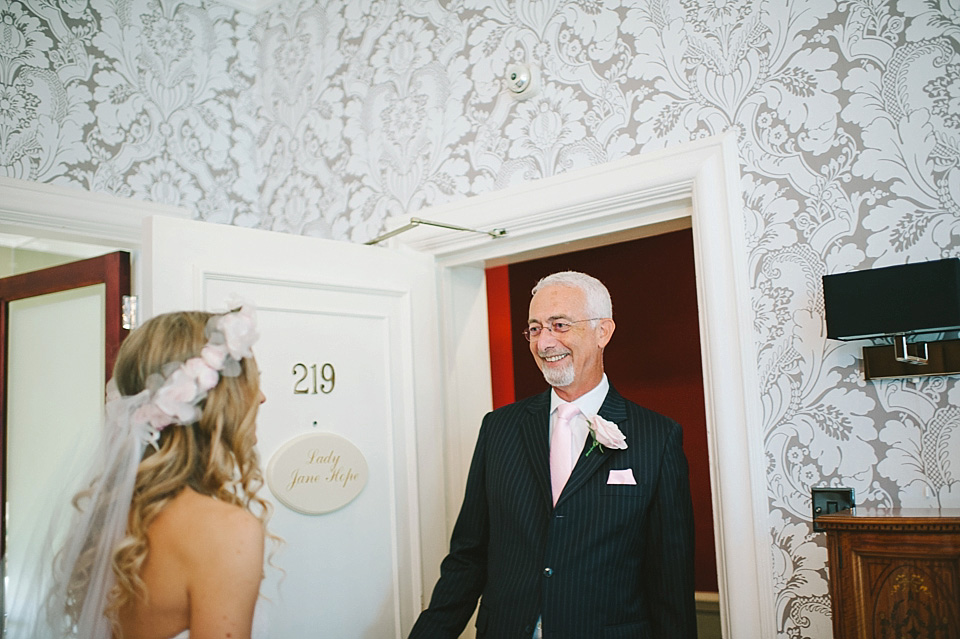 Those pretty peach shoes were of course by Rachel Simpson.
"My veil was donated to me by my sister's mother-in-law-to-be!  BOA Boutique added a comb to it so it could be worn easily with my floral garland headdress. When trying on my wedding dress, my Mum took the garland from one of the boutique's displays and put it on me as a joke and we all fell in love with it! It really helped solidify the look I ended up with and it was the best addition I could have asked for!"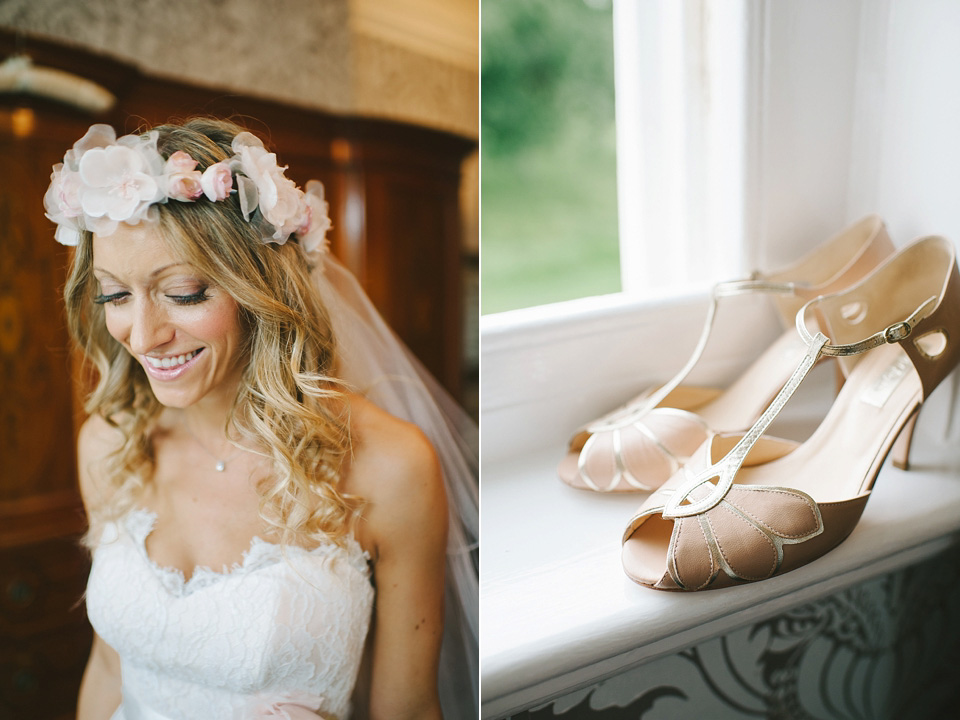 "I found Nicola of Flowers by Eve as I wanted to work with someone independent and local. She was lovely! I know absolutely nothing about flowers so I can't imagine my brief was very helpful. She was very patient and joined my Pinterest board to get a better understanding what I was looking for.   She was able to create something modern and feminine – key words for many of the bridal wedding details. I absolutely loved them!
I gave her a free reign to create something for the tables and our bouquets based on what she knew I liked, and I was delighted with the results! The tables were a collection of small vases with different blooms and the bouquets were simple yet striking, and the colours were perfect. Just don't ask me what types of flowers she used…!"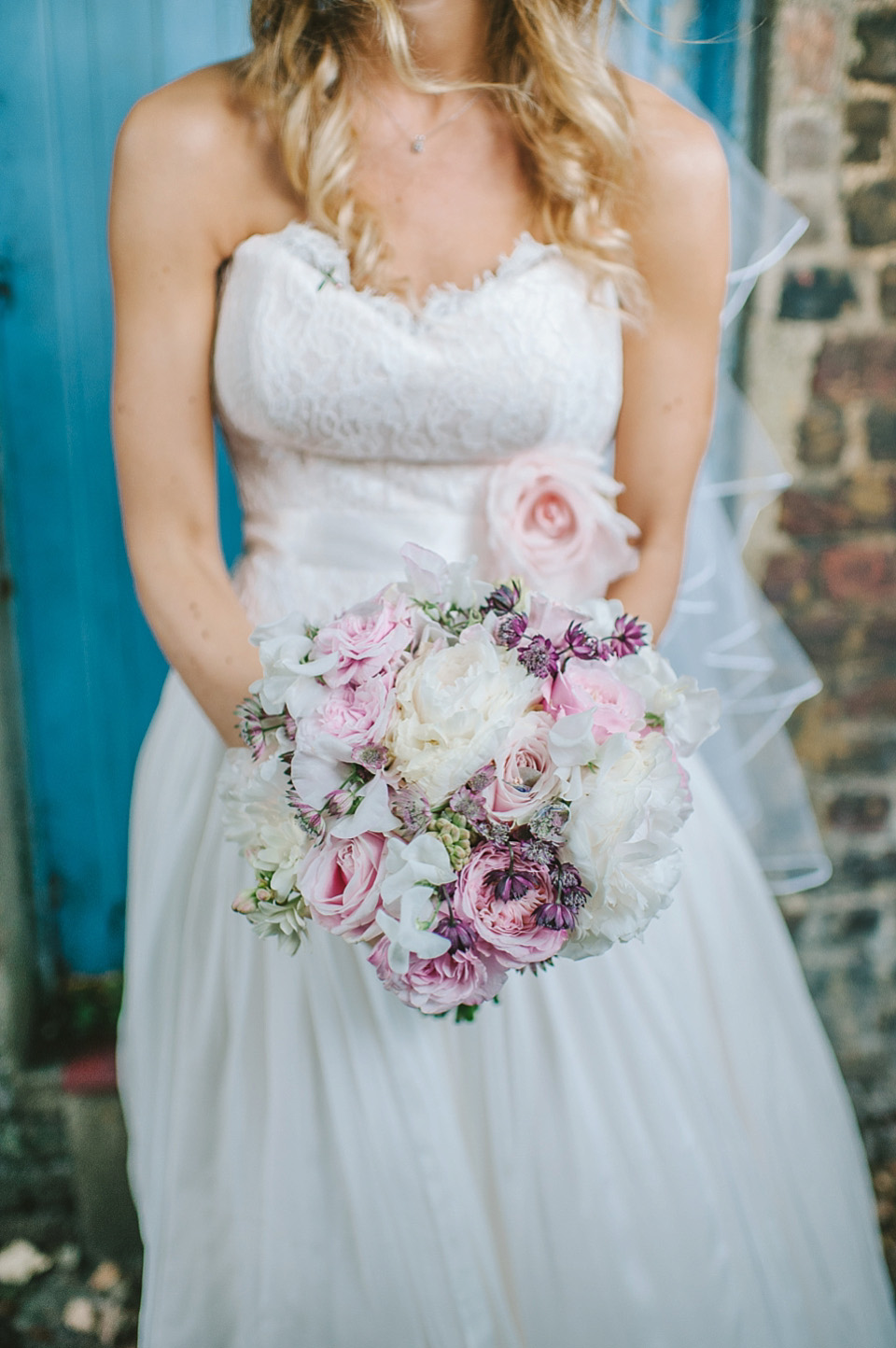 "Tim bought his suit from Reiss. He wanted blue as it's a good colour on him and a bit more exciting than traditional black or grey. It also went well with our bright summer colour inspiration. He's not a morning suit type of guy so the three-piece he chose was perfect for him. They also tailored it for him. His and the boys' ties were from House of Fraser. We couldn't find pocket squares to match so Barbaranne, my dressmaker made them in Dubai!"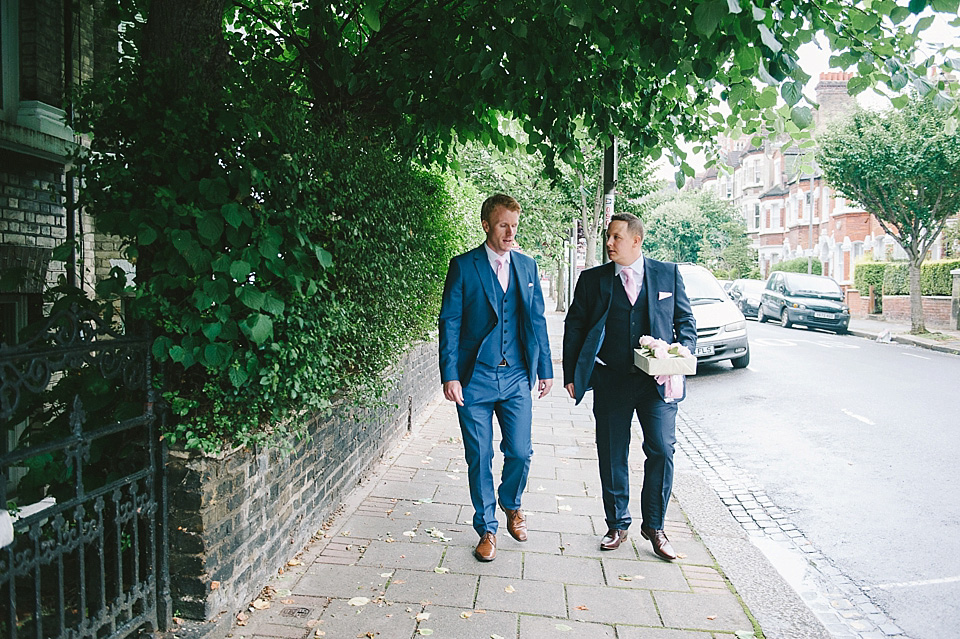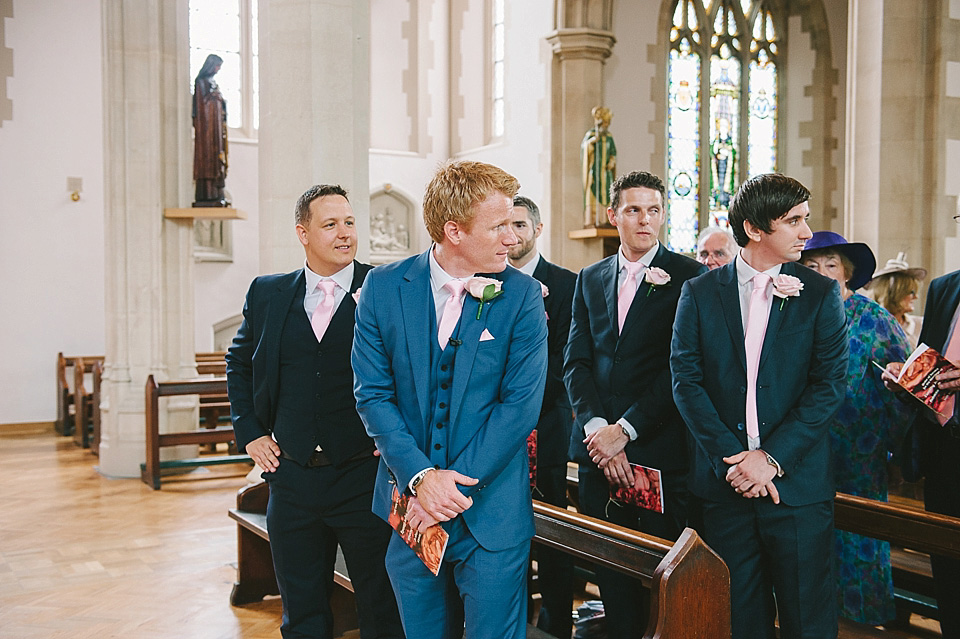 "My Dad walked me down the aisle to the traditional Bridal Chorus by Wagner. It was a difficult day not having my Mum there with him but he was very happy to see me getting married and to be such a big part of the day. My sister is getting married in October so he gets to do it again then!"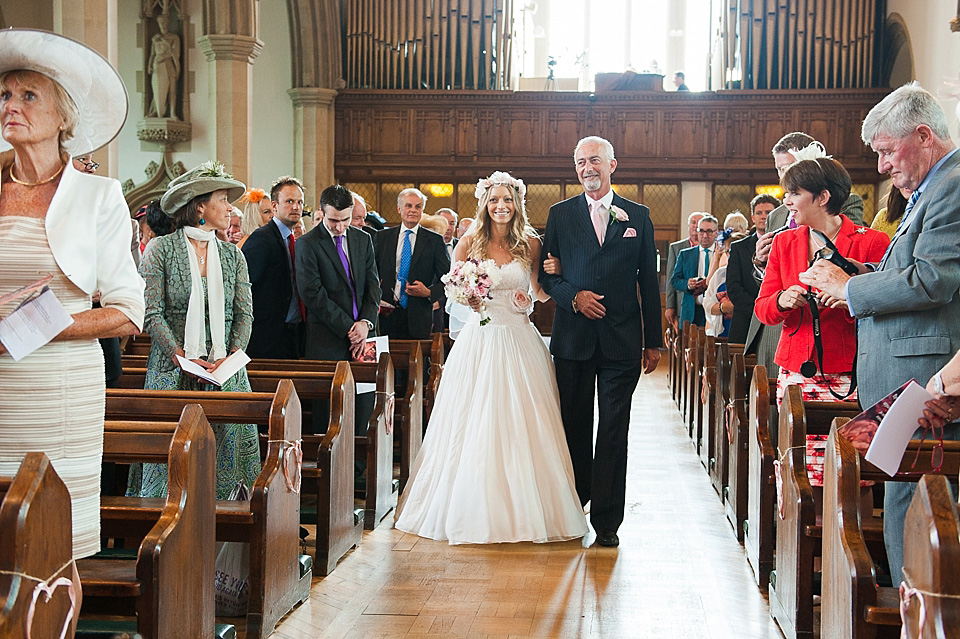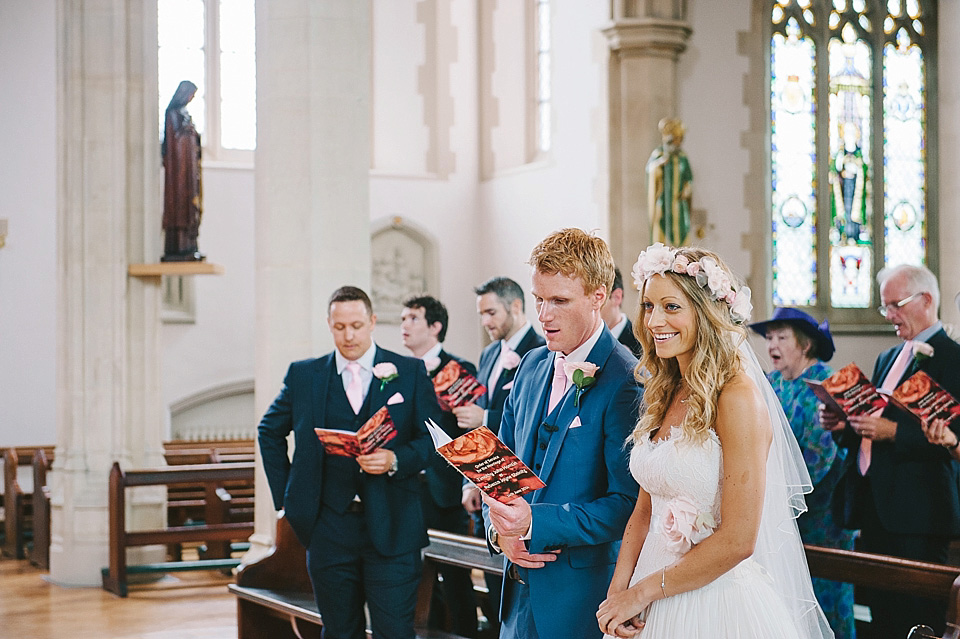 "Saying our vows was a strangely powerful moment in the day and we talked about it afterwards together – we were both concentrating so hard! We both also described feeling a bit 'out-of-body' watching it happen – it was very special."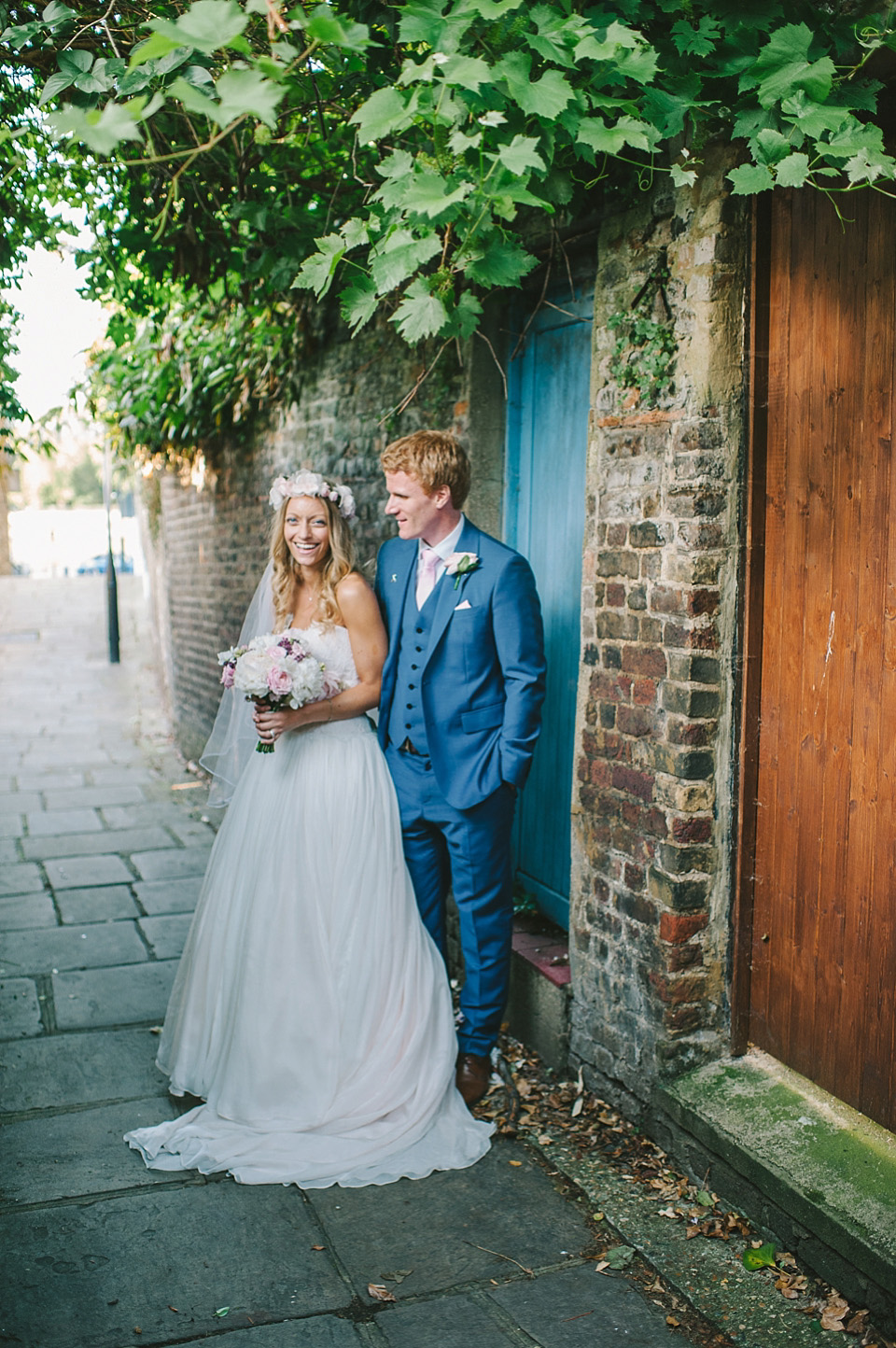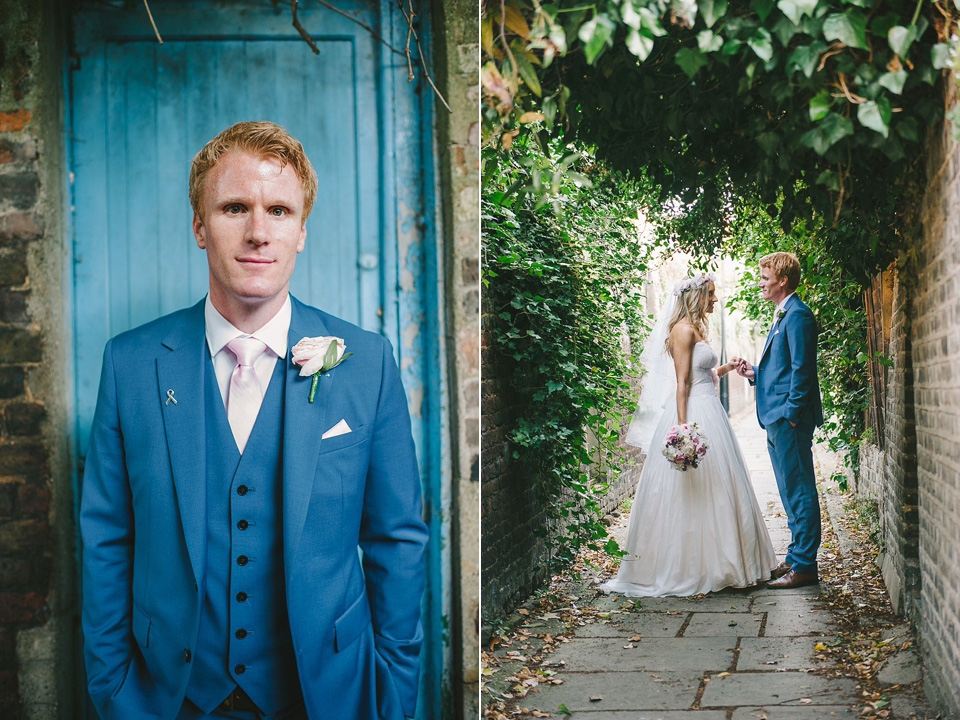 "The moment I felt the happiest on the day though was during our first dance. The speeches were over (I'd given one too) and we were relaxed knowing the day had gone as planned. It was at that moment I felt married and was so happy I could have cried!"
Words of wedded wisdom
"I know I'm not supposed to say this but if there was anything I could change about how the day was planned and run I would have delegated less or at least to fewer people. All brides are told to delegate to ease the load but I found it harder to trust that things would get done or, get done properly, the more I let go. Could be the control freak in me! I definitely spent too much energy chasing people on things that I wouldn't have worried about if I'd just done them myself. That said, details are only ever the concern of the bridal party and more often than not the guests are oblivious to them! Try not to sweat the small stuff.
Do however try and get the groom involved early. Tim was pretty reluctant at the start as he's not big into planning. But as the day drew closer and I needed his opinions on things like food, music, etc., he got really into it which produced two great results: 1. He worked harder to get things done as it was his 'baby' too, 2. He didn't feel like he was just a guest at my party. A real danger zone for control freak brides like me! In the end it was great working together to make the day we wanted."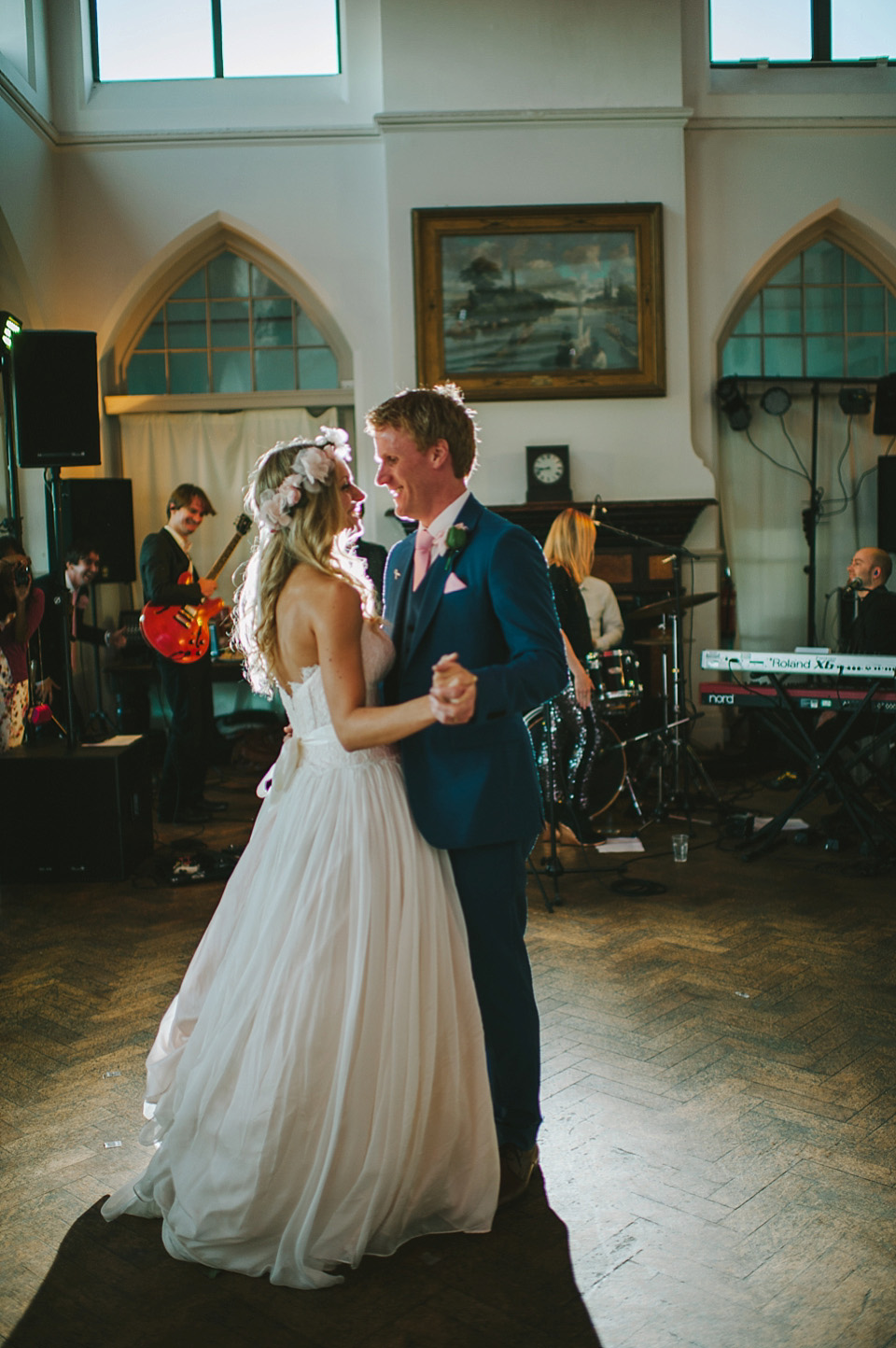 Such a nice day with so much thought in every part of this wedding! As a big fan myself I know why Rebecca fell for Naomi Neoh dresses, the feel of the soft silk skirts is divine. Personally, I need to find an excuse to wear that pink floral crown – suggestions below please! I also love the fact that Rebecca's advice contradicts the usual "delegate, delegate, delegate" bridal mantra. It just goes to show how you must stick to what is right for you and your own big day.
Many thanks to Ellie Gillard for sharing these lovely photos with us and, many congratulations to Rebecca and Tim on your marriage and future life together.
Much love
Katie xx
Photographer – Ellie Gillard
Venue – Thames Rowing Club, Putney Embankment
Church – St Thomas a Beckett, Wandsworth
Dress – Dita by Naomi Neoh from BOA Boutique
Floral crown – BOA Boutique
Shoes – Rachel Simpson
Bridesmaid dresses – Moirai Style
Flowergirl dresses – Monsoon
Bridesmaid goodie bags – Not on the High Street
Videographer – Egg Cosy Pictures
Make Up – Becca Grey
Groom's suit Reiss Tie House of Fraser
Flowers – Flowers by Eve
Cake topper – Etsy
Stationery – Gilles Bestley
Name sign banner – Etsy
Favours Cancer Research Give in Celebration
Rings – Bassange, Hatton Garden, London
Catering – Fab Caterers
Cars – BC Chauffeur Services
Routemaster Bus – Traditional Travel
Chairs – I Am Wedding Hire
Band – Bellissima
Follow Love My Dress® on Google+