A small wedding always makes for pleasing viewing. There's something about an intimate group, gathered together to celebrate the marriage of two people that they love, that seems to resonate with a particular type of happiness. For Laura and Tony, having close friends and relatives with them on the day was even more special because of the distance many of them had travelled to be there. Beautifully photographed by Anna Urban and with some of the most gorgeous flowers I've ever seen from Pyrus, this wedding is sure to warm your hearts.
Laura and Tony were married on 16th April 2014 at Gean House in Alloa, Scotland.
"We wanted a place with historic charm, but that could still give us the opportunity to be there for a few days with all our guests and Gean House was just the perfect combination of those two things."
Photography Copyright (c) 2014, Anna Urban
Laura's main aim for the day was to keep things beautiful but simple.
"Part of it was dictated by the fact that I was organising everything between Italy, America and Scotland, and just for my own sanity my mantra had to be 'keep it simple'. But mostly because I like simplicity.
Tony is American, while I'm Italian, and we met in Tuscany while he was looking for a house to buy. There wasn't a real engagement, we have been together more or less for five years and then we decided sort of out of the blue to get married. We decided to do it in Scotland because we both love it and since we had guests coming from different countries, we felt it was the perfect 'inbetween' place!"
Laura wore a simple MaxMara bridal gown, purchased at their shop in Florence. The soft peach of the dress, flat pumps, the movement of the fabric and the bride's fabulous figure are the perfect recipe for divinely laid back style. Laura chose to wear Bath And Body Works 'Forever Red' as her wedding scent and opted for two simple pendant necklaces from Accessorize.
I think she looks ethereal and nymph-like, especially with her beautiful crown of flowers, created by the super talented team at Pyrus. I've been following these guys on Instagram for a while now and trust me, their floral prowess is outstanding.
"Fiona and Natalya are simply wonderful. I was looking for seasonal wild flowers, and they did the magic. They also created a wand for my niece (the flower girl) with ribbons and flowers and she loved it as much as we did. Their creations had the exact feeling I was looking for; natural, unaffected, joyful and colourful."
 The couple were photographed on their wedding day by Anna Urban.
"She was the best. I'm very shy and not camera friendly whatsoever, she understood that and was more than patient with me and helped me a lot to relax. I love her style, so natural and soft and delicate. She was excellent and did an amazing job in capturing all those moments and memories that, otherwise, I would have missed."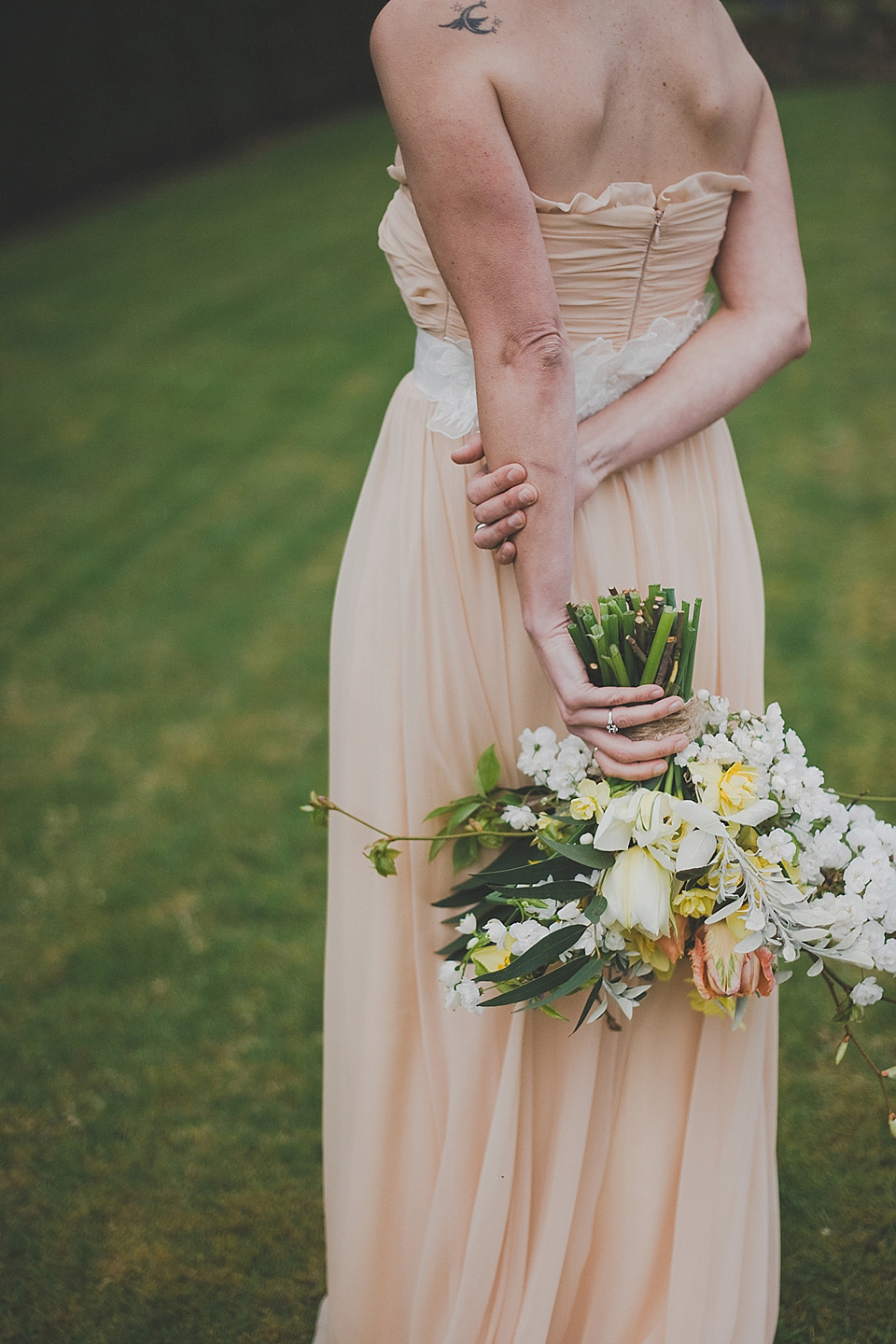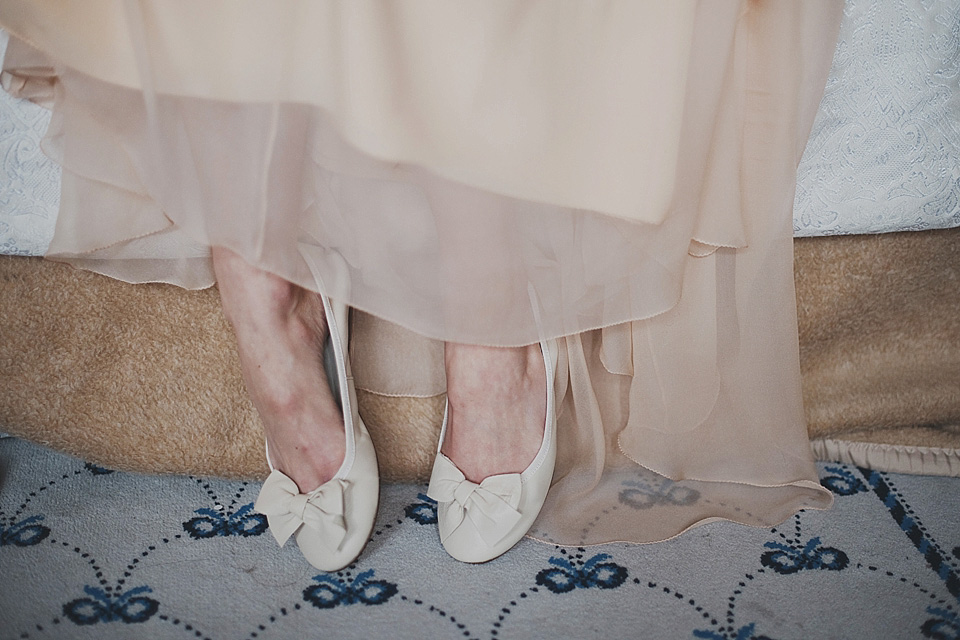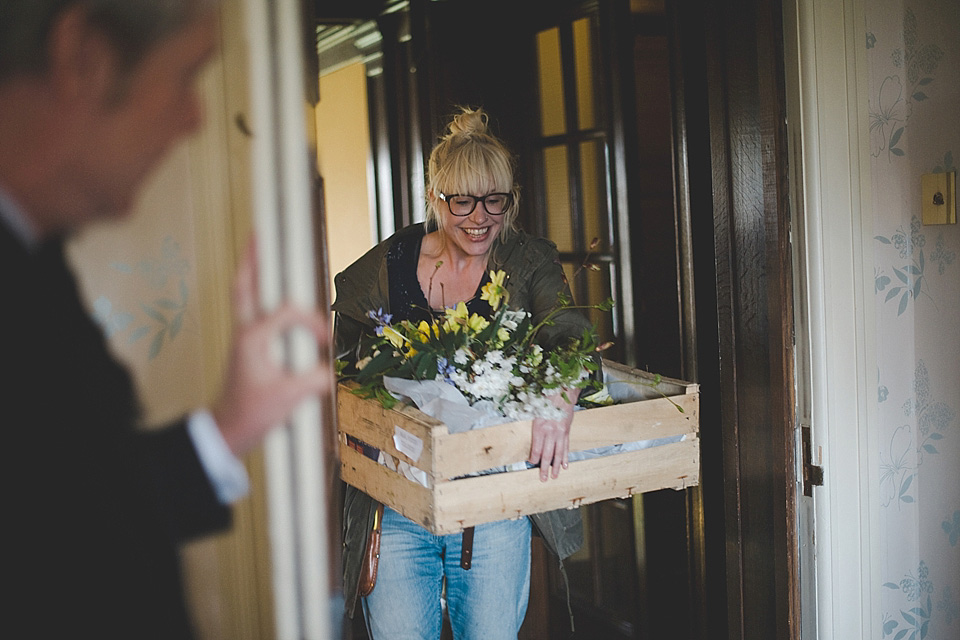 Tony's traditional kilt was hired for the occasion from Slaters in Stirling. The brooch and kilt pin were antique. I love a man in a kilt and Tony certainly wears it well!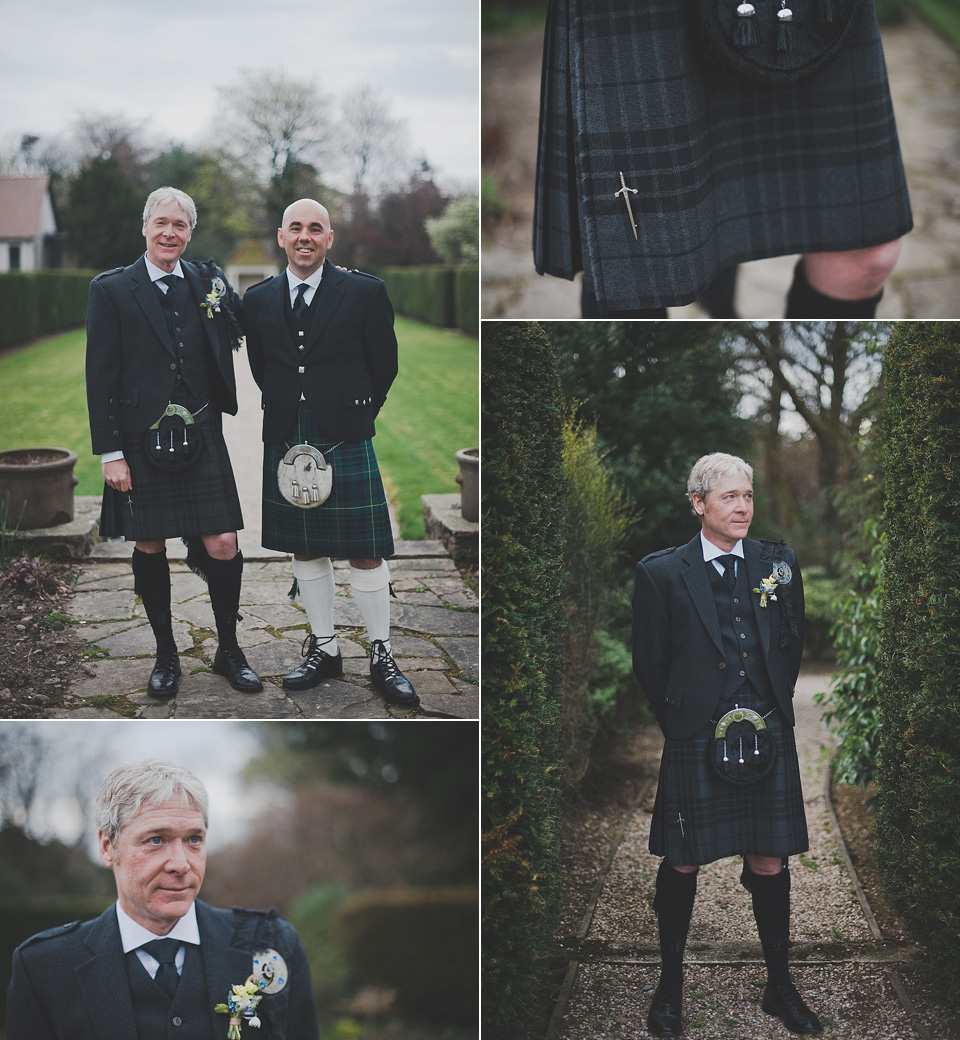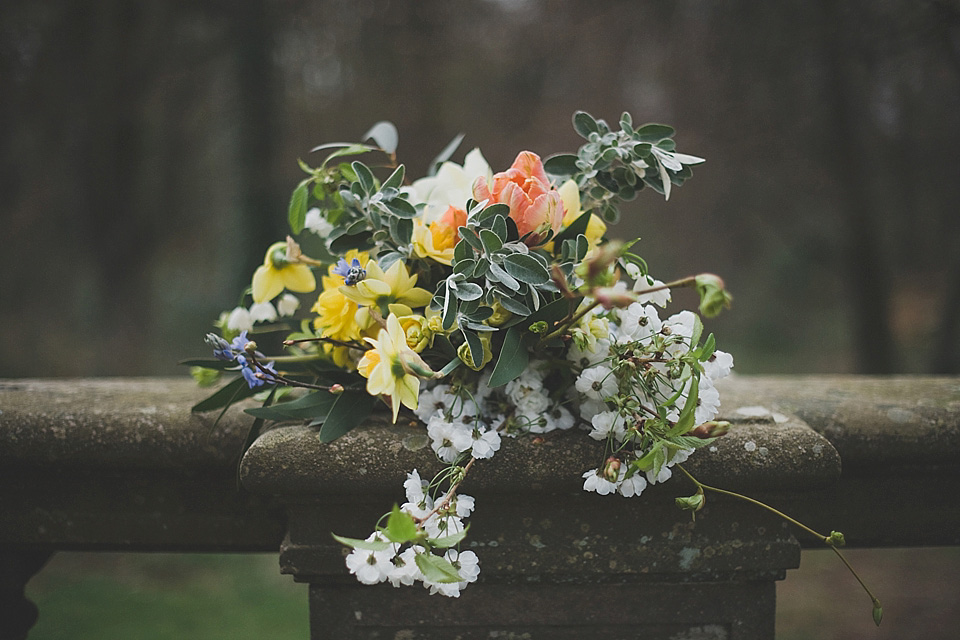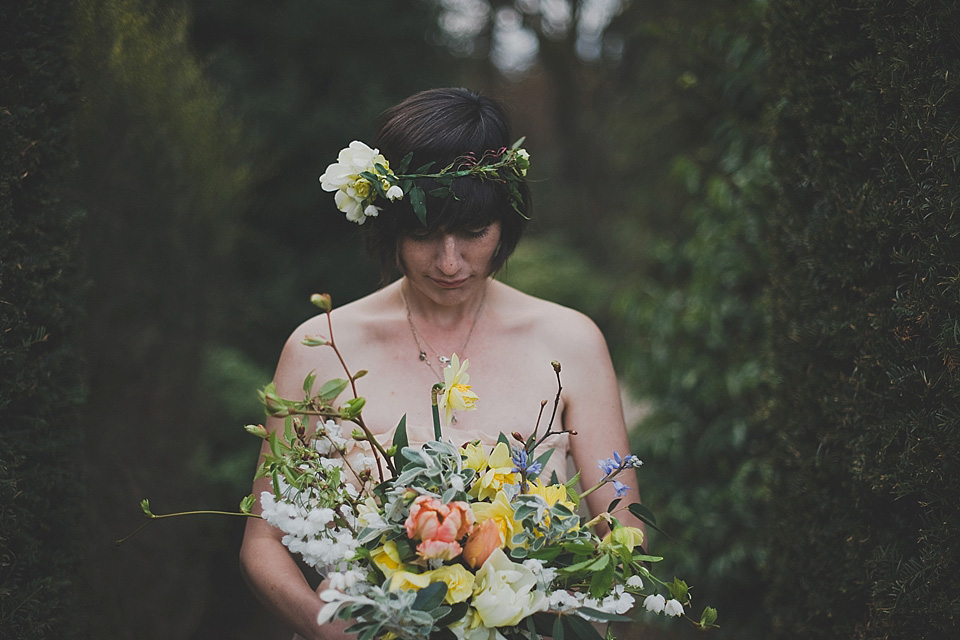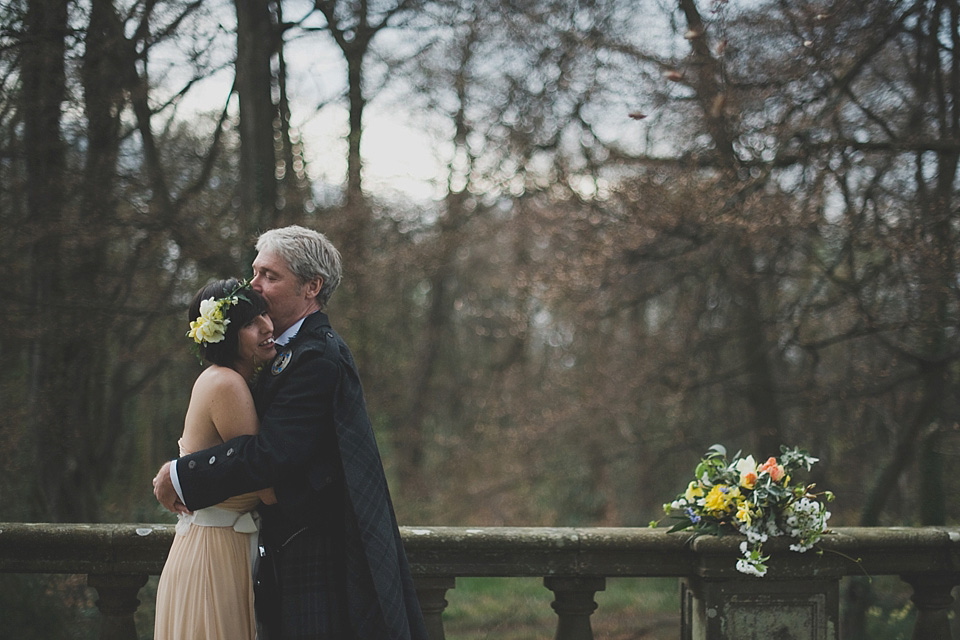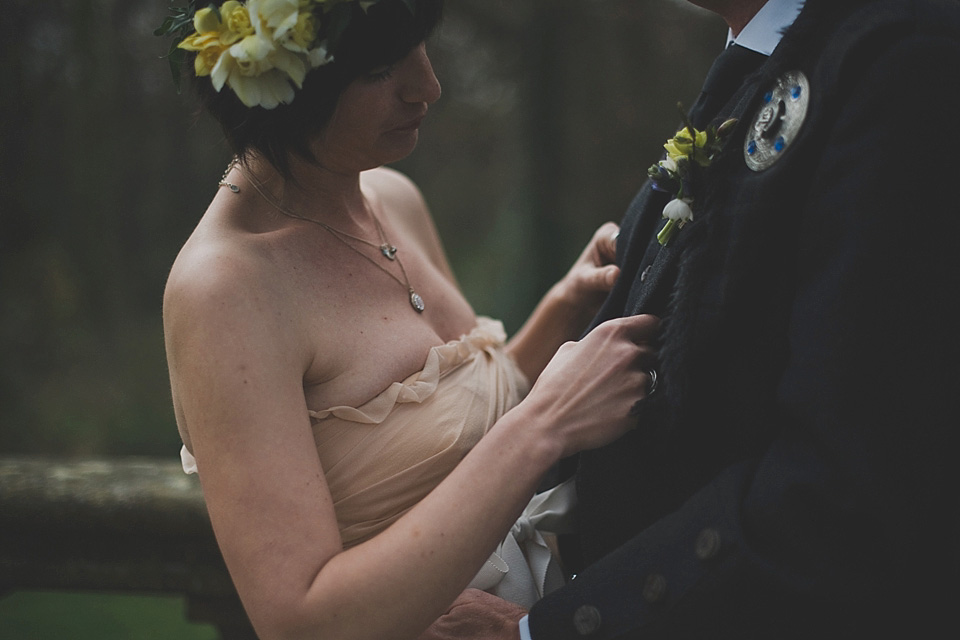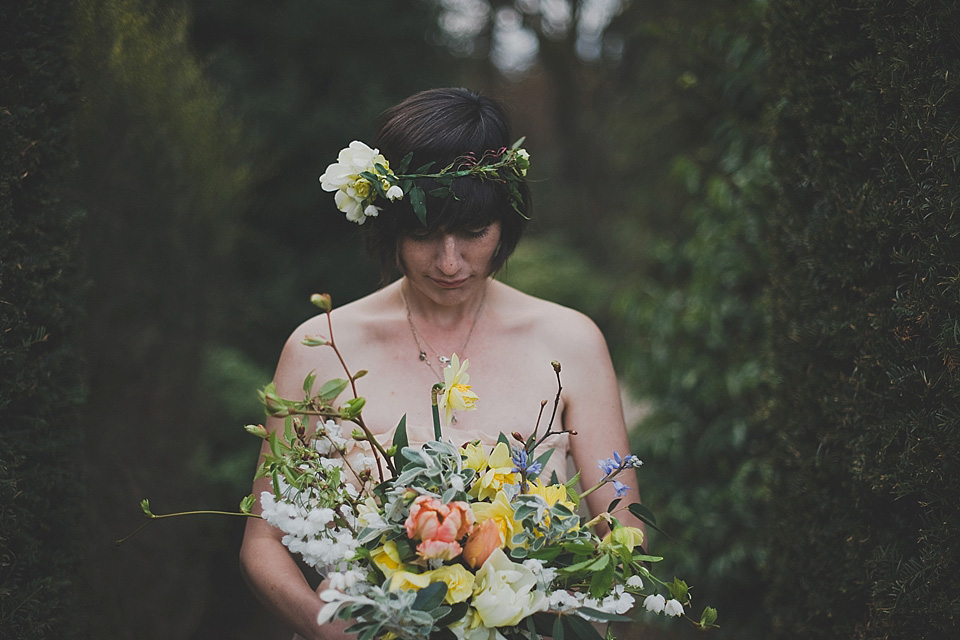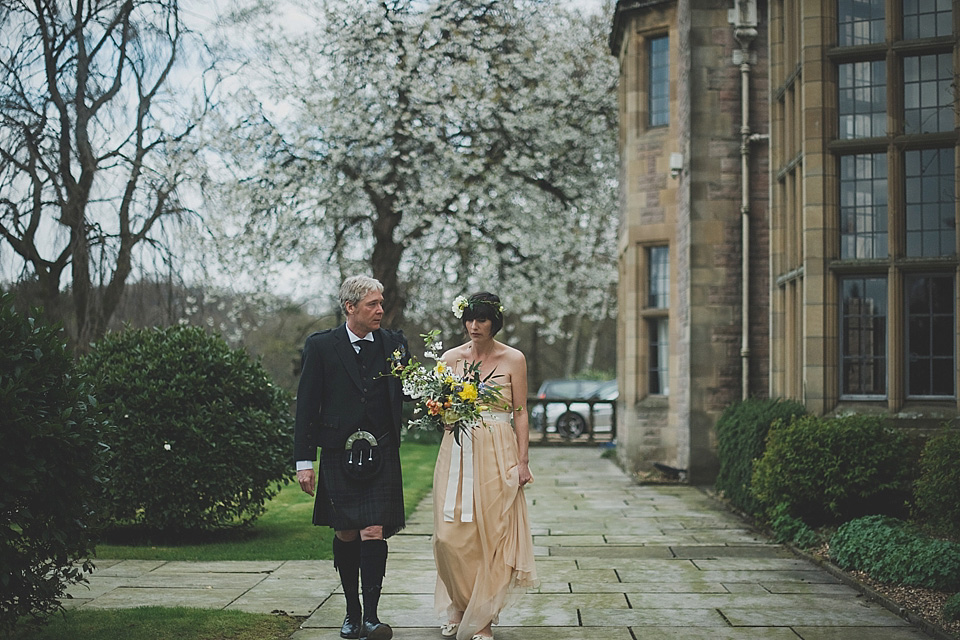 Laura and Tony walked down the aisle together, accompanied by a piper who played 'Scotland The Brave'. Isn't the little flower girl just adorable with her fingers in her ears! The couple didn't exchange rings, but rather had a traditional hand fasting ceremony performed by a close friend.
"We didn't really have vows, but our friend Alan officiated the ceremony and a couple of days before he sent us separately top secret emails with a few questions about Tony and I. Then he read the answers during the ceremony (pretty funny!)"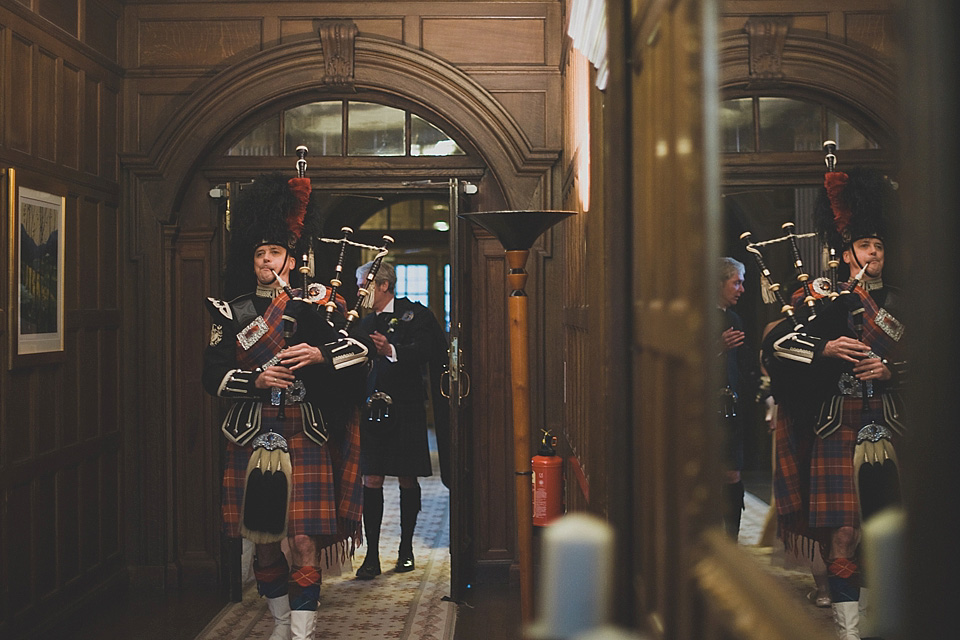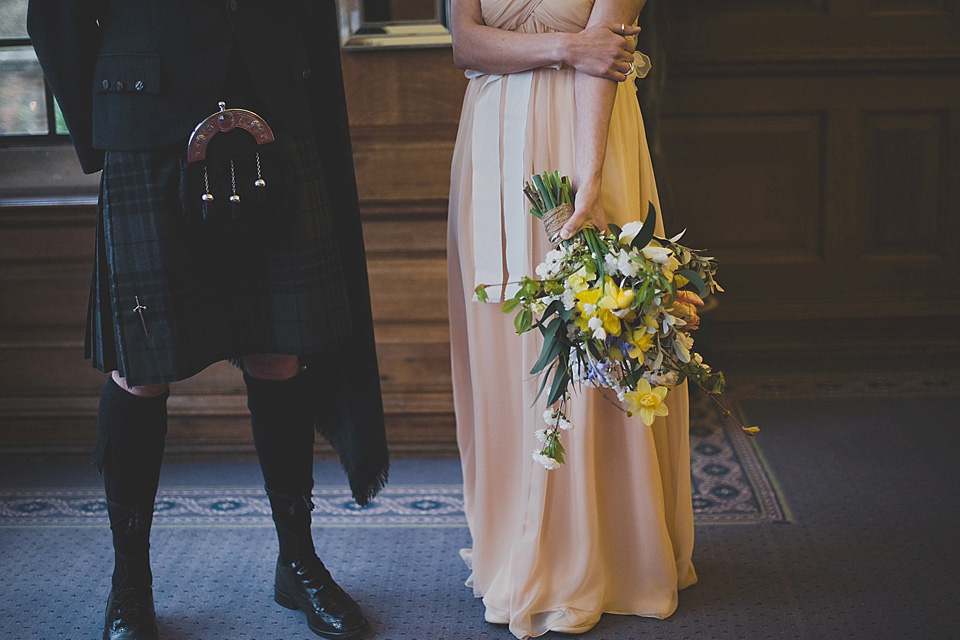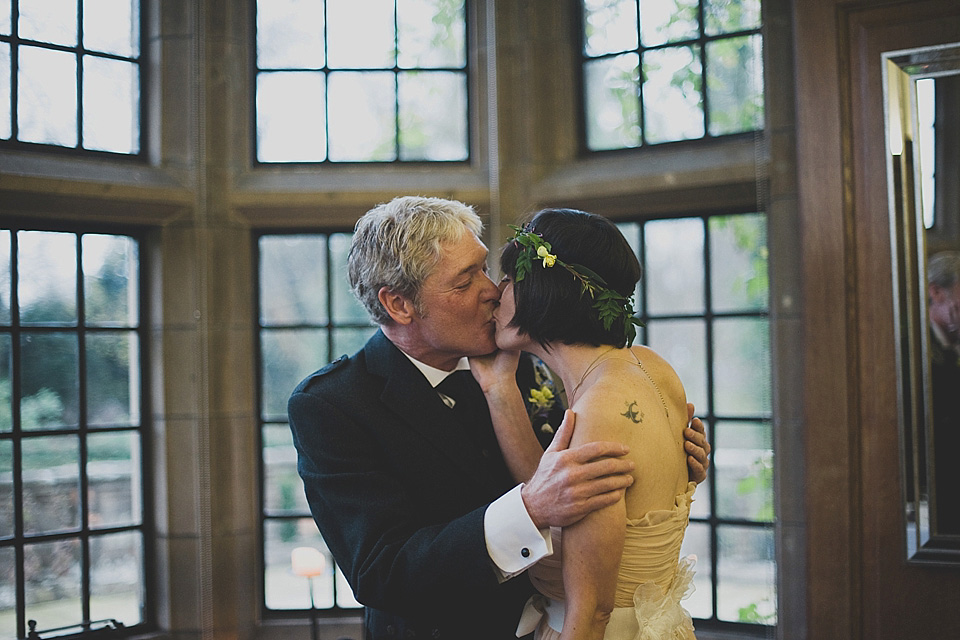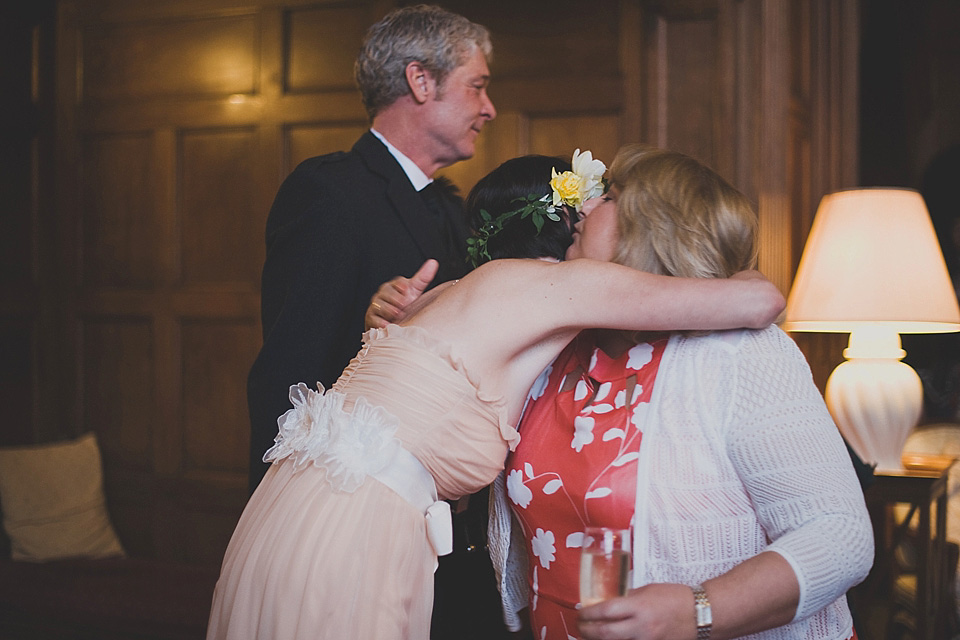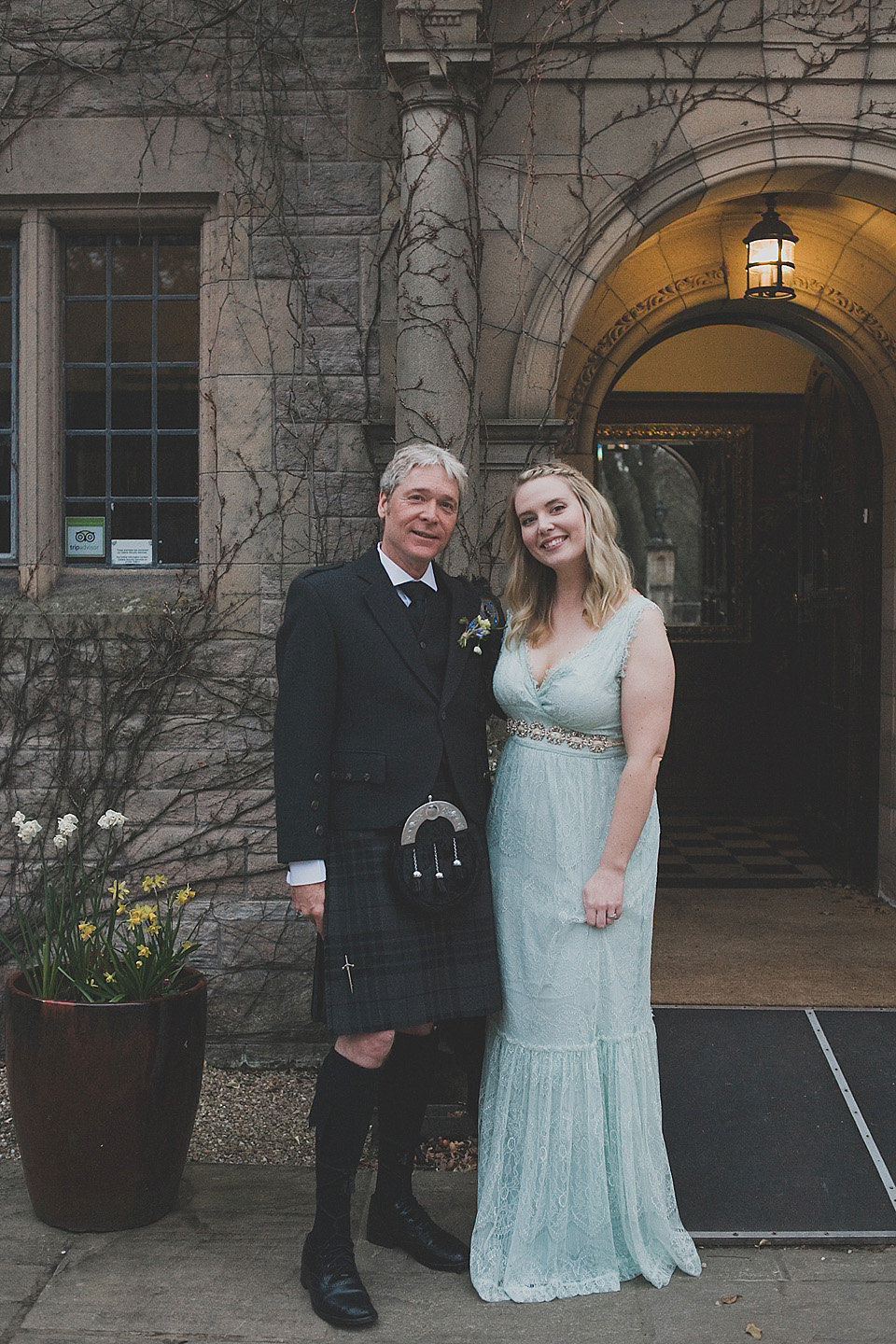 Gean house is gorgeous all by itself, without much need for adornment. All the little touches, from the table settings and place names to the delicious food were all provided by the hotel. Laura and Tony had the lovely idea of including a little something from each country as wedding favours for their guests.
"We gave some sugar covered almonds in a little tartan pouch to each guest.  In addition, everybody received a welcome bag with some little things from Scotland (shortbread cookies from Walkers, homemade sugar tablets, mini whisky bottles from The Whisky Exchange,  tartan scarves from Scotclans) America (tea from Tea Forté, body lotions from Bath and Body Works) and Italy (lip balms from Nivea, a little bracelet from a little shop in the town where we used to live). Plus, we added a mini sewing kit and a mini first aid kit."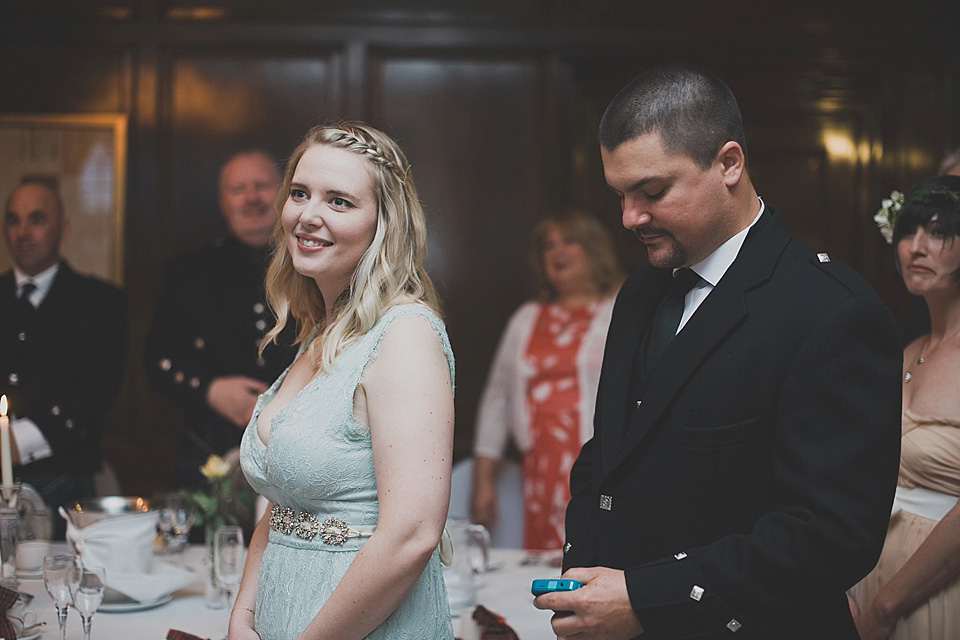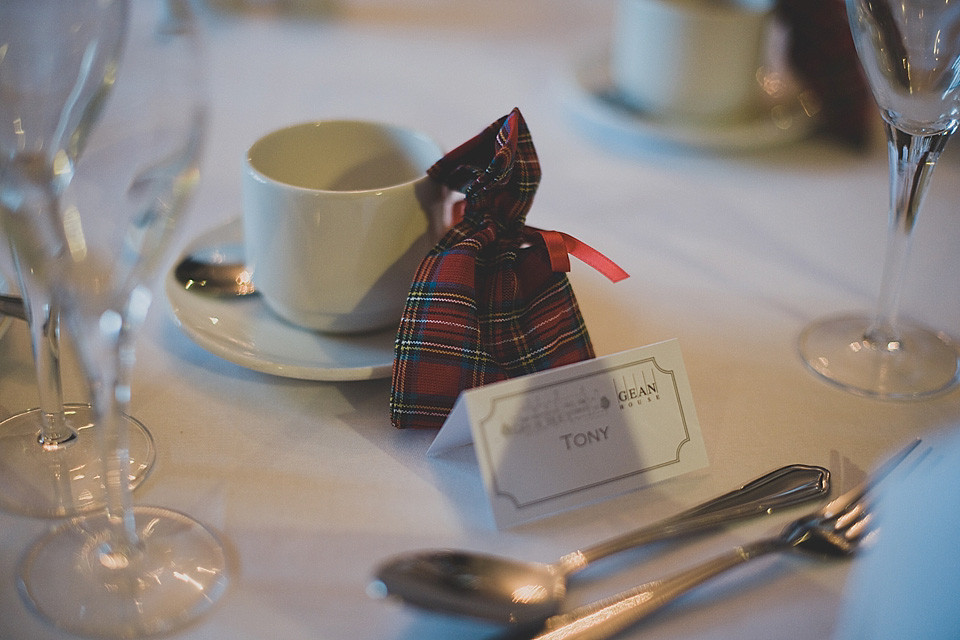 'I most enjoyed the reception, when I finally had time to relax and spend some time with the guests and talk and laugh. I don't think I would change anything. It seems everybody enjoyed themselves (and we did as well!)"
Words of Wedded Wisdom
"I think I would say to keep calm and be organised. I know it's not particularly original, but good organisation and a good game plan help a lot. To give oneself a handful of focal points and be open to make little adjustments with everything else helps a lot too. And repeat to oneself that everything will be alright (it will be!)"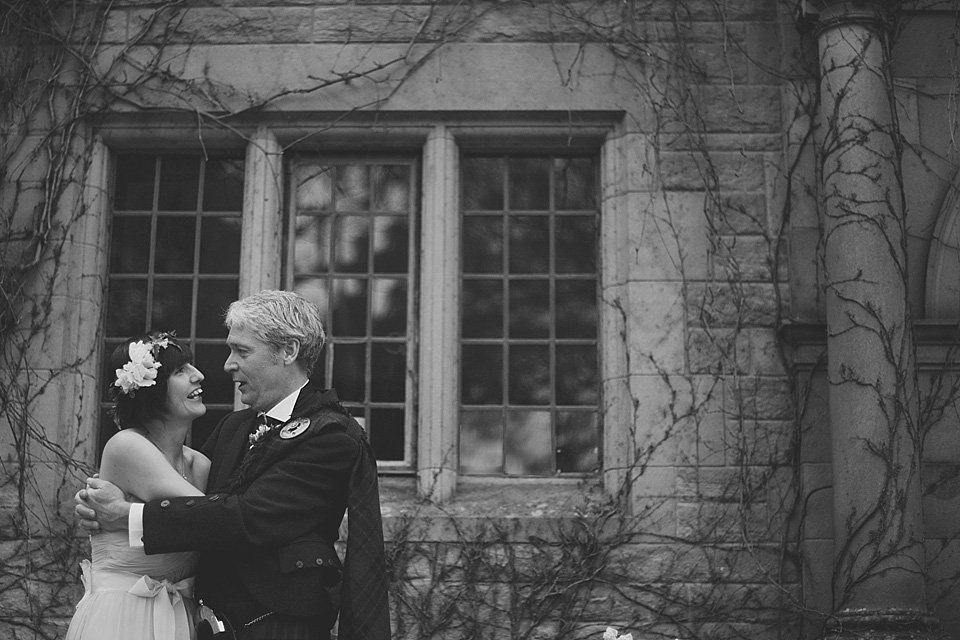 Such a sweet, special day and a lovely couple. Congratulations and thank you to Laura and Tony for sharing their wedding with us, to the talented Anna Urban for the beautifully touching photography and let's just show a little more appreciation for those glorious flowers from Pyrus.
Love Susie x
Photographer – Anna Urban
Venue – Gean House, Alloa, Scotland
Bride's Dress – Max Mara Bridal
Bride's Acessories – Accessorize
Groom's Suit – Slaters
Flower Girl's Dress – Accessorize
Florist – Pyrus Flowers
Piper- Neil at Pipers Tune