It's not every day that I get to meet a Love My Dress reader, but last October I had the pleasure of doing just that when I was introduced to the completely charming Vinita at Brides The Show in London. Vinita was (and still is, by all accounts), a keen follower of Love My Dress – she was, at the time, ten months away from tieing the knot at the very beautiful Fetcham Park in Surrey and was keen to tell me all about her latest plans. The thing I remember most about Vinita was her absolute charm – and how very beautiful she was.  I couldn't help but think she looked like Beyonce, and  recall her telling me how she actually met Beyonce once.  This was quickly replaced by chatter about her latest wedding plans and the pleasure she gained from her daily fix of Love My Dress®.
Vinita, who works in the legal team of an asset management company married Barrister Kieran on 16 August this year.  The couple, who used the Appy couple app to help organise their day, but who were also closely supported by wedding co-ordinator Louise Grace, tied the knot at the beautiful Fetcham Park in Surrey.  Fetcham Park is no stranger to Love My Dress – custodian and curator of Fetcham Park, Laura Caudery, wrote an amazing series for Love My Dress about working with wedding venues including this refreshingly honest piece, and also contributed significantly to this popular discussion post on the cost of weddings.  I adore Fetcham Park, so it's no surprise to me that this glamorous couple chose it to play backdrop to their enchanting wedding day.
Photography Copyright (c) 2014, Jackson & Co Photography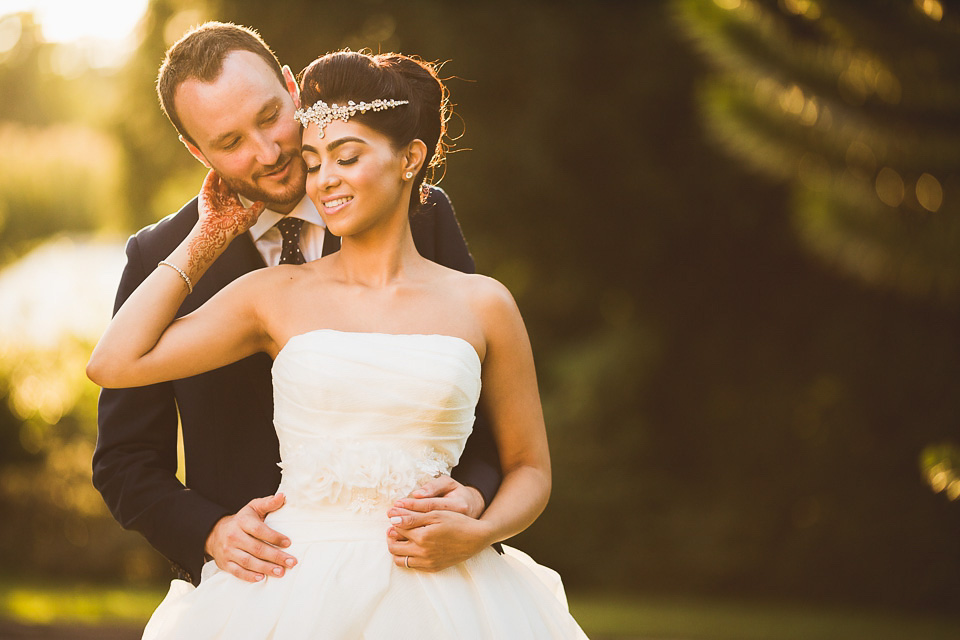 I know that I say this about a lot of weddings, but it's a genuine statement every time that I do and never more so than on this occasion, but I really, really love these photographs by Jackson & Co Photography.  I think they beautifully capture the chemistry between this couple and the use of light both in and outside the stunning wedding venue adds a real sense of sensation and emotion to the images for me.
"Kieran and I wanted our wedding to be timeless but 'of the moment'. The style of Fetcham Park house dictated how we styled our wedding. I loved the idea of evoking the charm of a bygone era infused with modern glamour. I wanted our day to look romantic, enchanting, glamorous, elegant and ethereal. Our colour scheme was ivory, blush, rose and gold.
These colours complemented Fetcham's beautiful interior perfectly and we kept this in mind when choosing items to style our day."
"My dress was by Vera Wang via David's Bridal – it was the first dress I tried on at my first dress appointment. I tried on other dresses afterwards but I went back to this dress. I loved how light the textured organza fabric was and how easily it moved as I moved. The draped bodice and split front overlay with its draped tulle skirt added to its romance and drama. I loved the architecture of the dress; it was minimal with clean lines. The ivory colour was really rich and looked golden in certain lights. It felt incredibly ethereal and I loved it.
I wore the matching Vera Wang horsehair floral sash and also the matching Vera Wang tulle cathedral length raw-edged veil."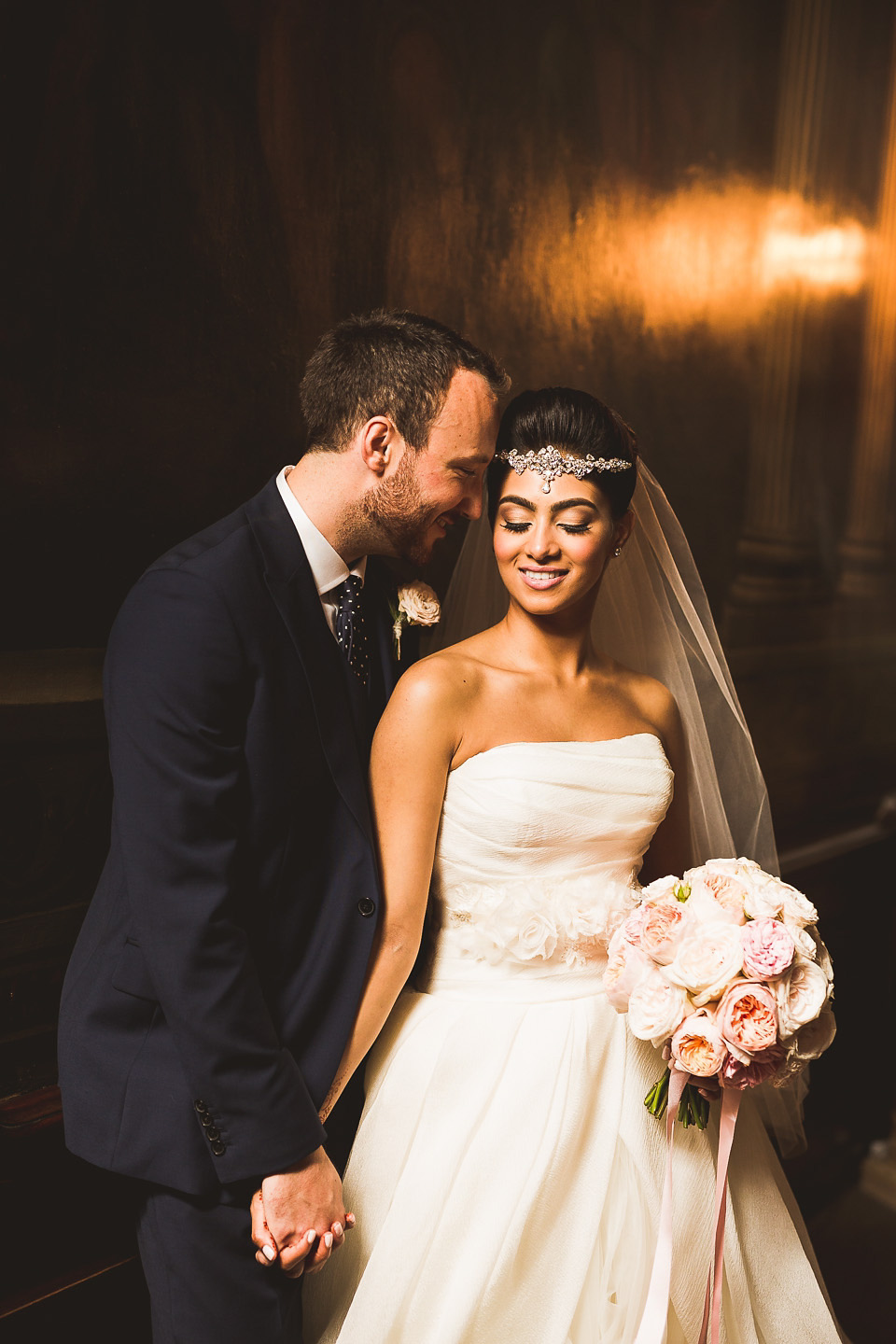 "I distinctly remember stumbling across Fetcham online one afternoon. It was the only venue which gave me one of those "oh my goodness!" moments. I was immediately captivated by Fetcham's charm. I couldn't stop gushing about it to Kieran and we arranged to view it that same weekend.
Not that I ever had any doubts, but Kieran loved Fetcham as much as I did and so our love affair with the house began! We loved how opulent, yet unassuming, the house was with its grand staircase, exquisite chandeliers, French murals and gold leaf. We loved the elaborate fountains and the grounds."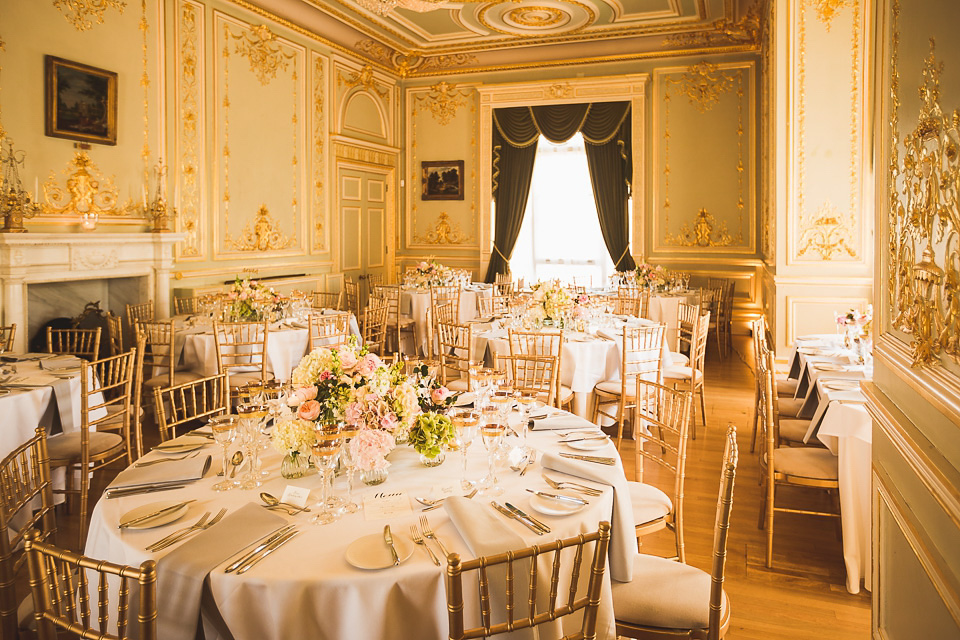 "We loved that Fetcham would be just ours for the day and we loved that there were no set packages thereby enabling us to have the bespoke wedding we wanted. It felt like the perfect backdrop for our day; exceptionally beautiful with a 'home from home' feeling."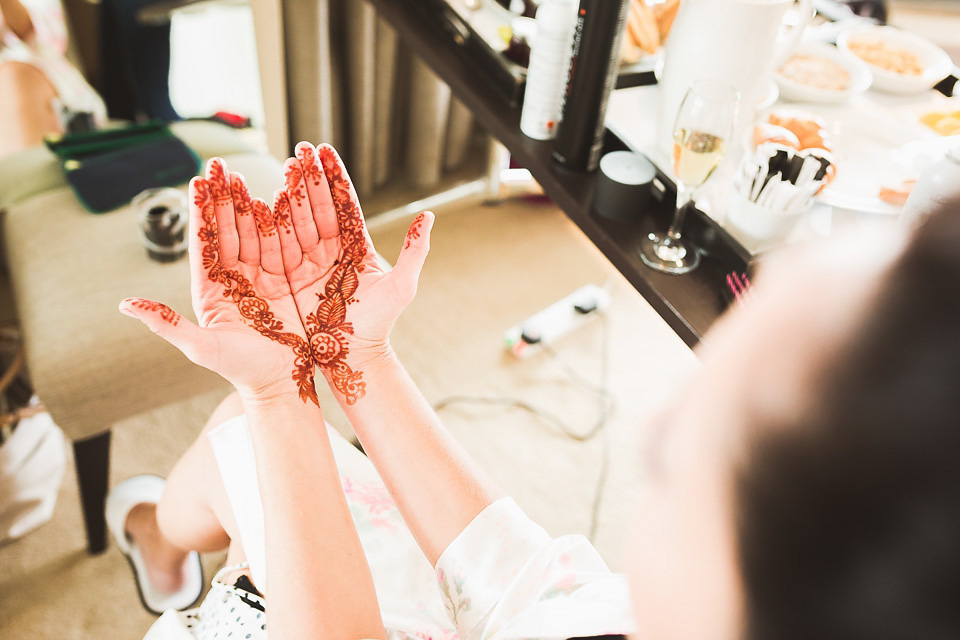 "The bridesmaids all wore long, ethereal, lux-chiffon fabric Dessy dresses in the colour rose. I wanted their dresses to be cohesive instead of being identical. One of my bridesmaids lives in New York and the other three live in London. I took my three London bridesmaids to The Dessy Group at Le Trois Soeurs to try on dresses and asked my New York bridesmaid to go to her nearest Dessy retailer to try on dresses too. It was really important to me that the girls were happy and on the day they felt their most beautiful. I spent more time searching for their dresses than I did my own!
My bridesmaids all wore beautiful tikka headpieces from Etsy. They all looked sensational.  They also wore earrings from Lauren Ralph Lauren from Lord & Taylor in New York. The pave setting complemented the pave setting on their headpieces and also my jewellery."
"I was intent on wearing a forehead headpiece and was really specific on how I wanted it to look. I found Jo Barnes through Love My Dress and adored how glamorous and intricate her pieces were. My mum and I visited Jo at her home and I loved her Elizabeth headpiece. Jo customised it for me and I felt amazing wearing it on the day. So many people commented on how beautiful it was.
I loved it so much I even took it to the Maldives on our honeymoon and wore it to dinner on our last night there!"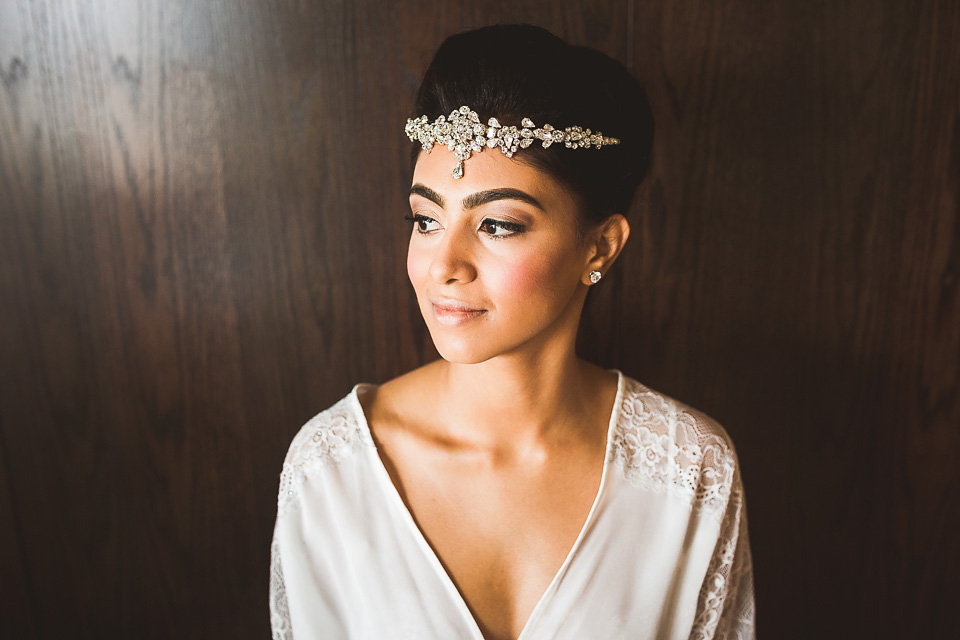 "I love blousey flowers. I find them so dreamy and romantic.   Steph at FairyNuff Flowers is one of Fetcham's recommended suppliers. I knew she would be our florist as soon as I saw the flowers she created for a previous Fetcham wedding. At Laura's suggestion I started following her on Instagram and thereafter began my obsession with all things floral!"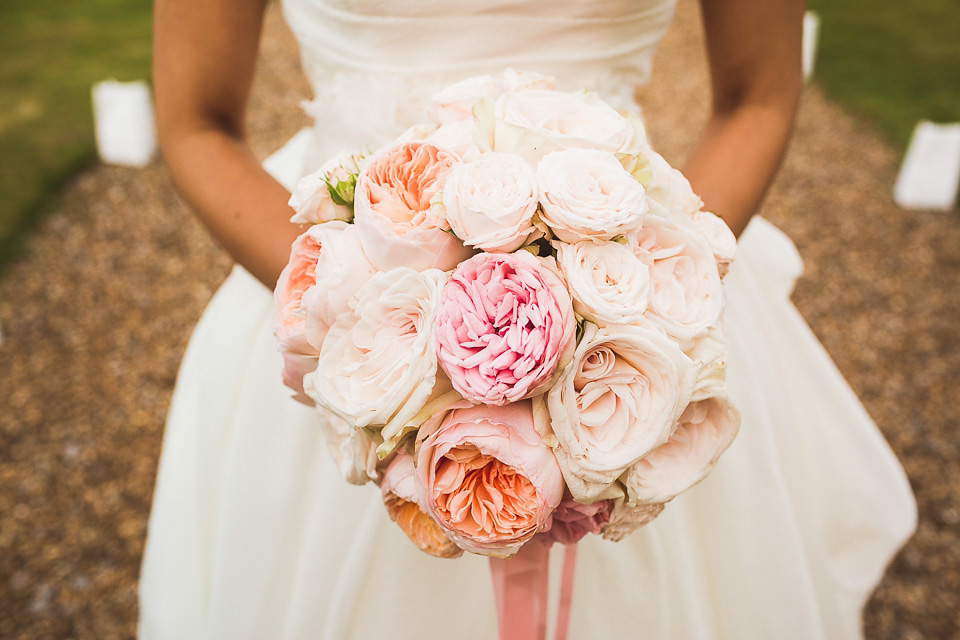 "Our caterers, Kalm Kitchen, were one of the caterers recommended to us by Laura. We knew Jen and her team would be amazing on the day. But we were blown away by just how phenomenal they actually were. Our guests didn't want for anything.
Kieran and I love our food. We always planned on serving it in abundance and had a lot of fun finalising our choices for the day. For our guests' arrival we served mini bags of popcorn and mini bottles of Evian. At cocktail hour we served champagne, a signature cocktail, the Bramble and elderflower cordial. For our canapés we again wanted to highlight my heritage and so we chose a variety of Indian style meat, fish and vegetarian canapés.
Our popcorn bags were from BakersBling on Etsy and our gold metallic stripey straws were from Ginger Ray."
"We hired big illuminated 'V&K' light up letters' from Vowed and Amazed which sat alongside our dance floor in the evening. We loved how amazing the letters looked on the day!"
"Our photographers were the super talented Michael and his wife, Hannah, of Jackson & Co Photography. Kieran found Michael on the pages of Love My Dress when he also saw that Michael had photographed our friend's wedding the previous summer.  Michael's documentary and reportage style of photography was exactly what we wanted. Instead of having lots of staged photos we wanted lots of candid photos that told the story of our day and captured the love, happiness and emotion that surrounded us."
"We arranged to have two engagement shoots with Michael and Hannah; the first was on Broadstairs beach near Kieran's family home and the second was in Greenwich Park and on the university campus where we first met. We would highly recommend having engagement shoots. We love that we now have treasured photos from our engagement period and we also loved how relaxed we were on the day in front of the camera as a result."
"Michael and Hannah were so friendly and professional. We knew they would be great fun to have around on our day, but hearing our family and friends say the same really meant a lot. They have captured ten years of love so perfectly in just one day. We could not be happier with our photos and we cannot recommend them highly enough."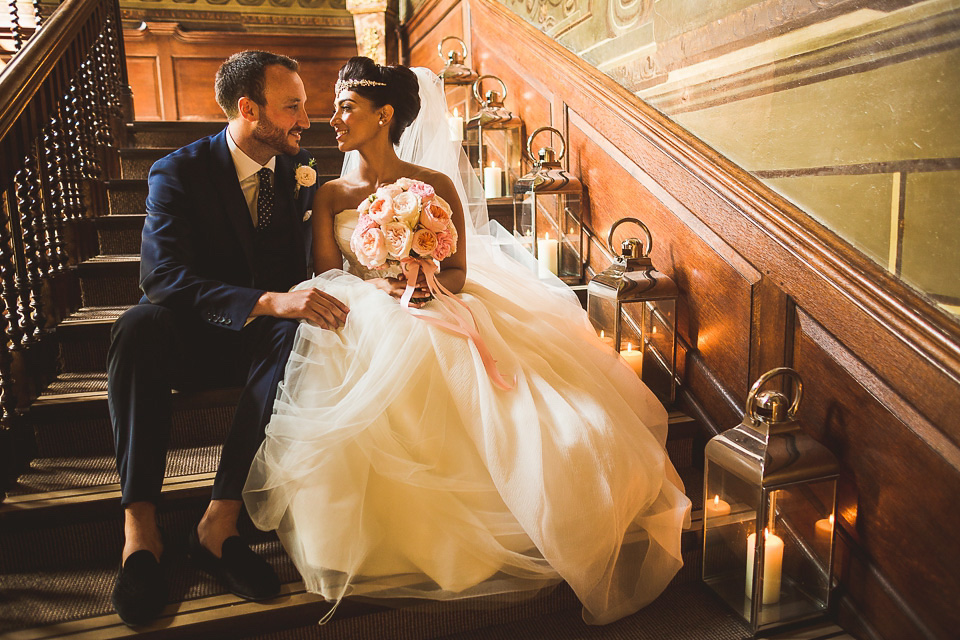 "Kieran and I met during our first year at Greenwich University in 2004. We were both studying law. My friend, who also happened to be our mutual friend, and I walked into one of our final revision lectures for the year to see it was fully packed. It was the first time the room had been fully packed all year and she spotted the only two remaining seats available next to Kieran. I don't remember taking any notes during that lecture. However, I do remember Kieran and our friend talking across me the entire time and me trying not to look at or talk to Kieran because I knew I liked him! Kieran felt the same way because he asked our friend for my number and contacted me immediately after the lecture. The rest, as they say, is history!
We lived together during our second and third years at university and also went to the same law school. A couple of years after law school I moved to New York for just over one year to work and study. I only saw Kieran three times during that whole year but we spoke to each other every single day. In 2012 we bought our first house together."
"For our first Christmas we decided to host a small party with some of our closest friends. One of our friends had arranged for us to all have secret Santa presents. Unbeknownst to me, for the few months prior to the party, Kieran had been designing my engagement ring. Apparently there were hundreds of little moments he nearly proposed but as soon as he knew we were having our party he decided to do it then.
Once made, the ring sat in one of Kieran's suit jacket pockets for a few weeks before the actual day. He asked my dad for my hand in marriage exactly one week before."
"My secret Santa present was the last to be opened. I was given one large wrapped box which had two further wrapped boxes inside. As I was handed the box my friend asked me to smile for a photo. Again, unbeknownst to me, she started filming a video because she knew what was about to happen. When I opened the final box I saw a ring box. Wide eyed, I opened it. I looked up at Kieran, saw him smile and he then got down on one knee and proposed.
I had always said to Kieran he would never be able to take me on a "surprise" weekend away because I would know what it was for, so I love that he chose to propose in our home in a way that was so simple and personal and that it was captured on video. We were engaged for just over 18 months before our wedding day."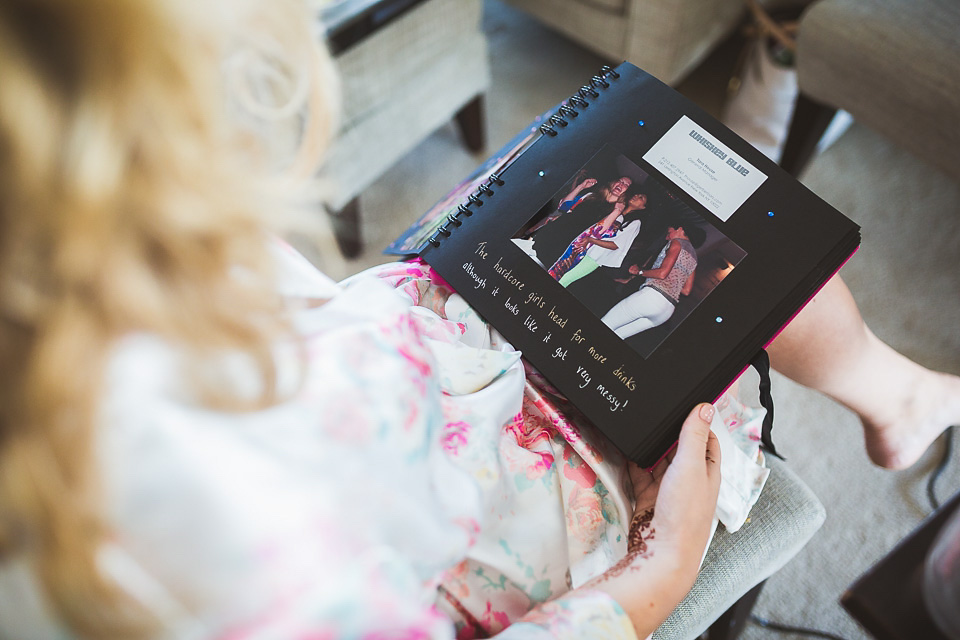 "My shoes were Evelyn by Jimmy Choo. They were the perfect heel height for wearing all day and I loved the champagne glitter sparkle."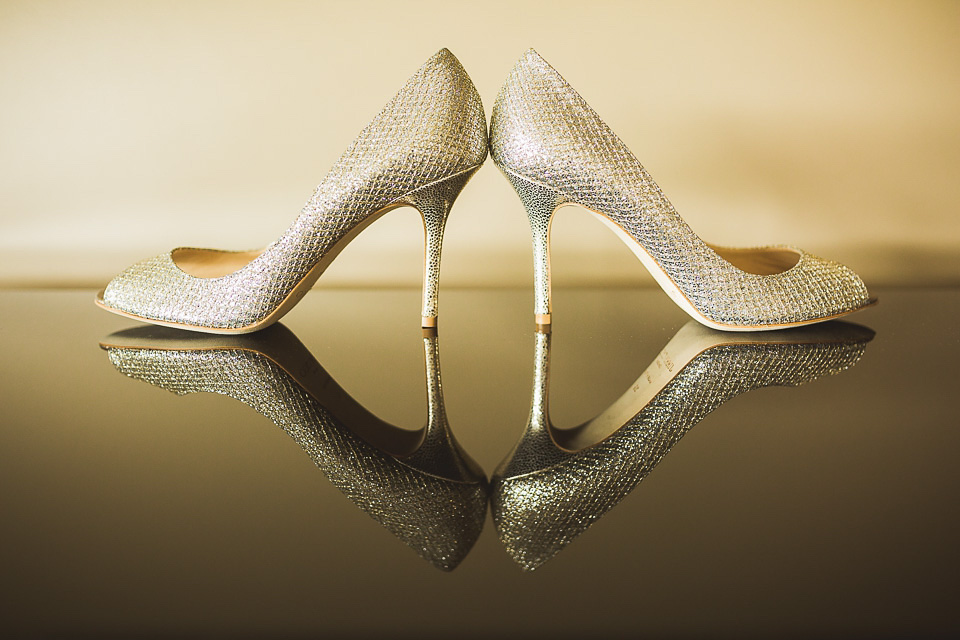 "Once the bridesmaids dresses had been chosen, I ordered the dresses from The Wedding Library in New York; my hen party was taking place in New York and I knew the dresses would be delivered to the store a week or two before we arrived. So I thought it would be lovely if all the girls could try their dresses on together for the first time – a bonding moment if you will!
The bridesmaids shoes were their own bought especially for the day. I simply asked that they all wore gold metallic shoes to complement mine."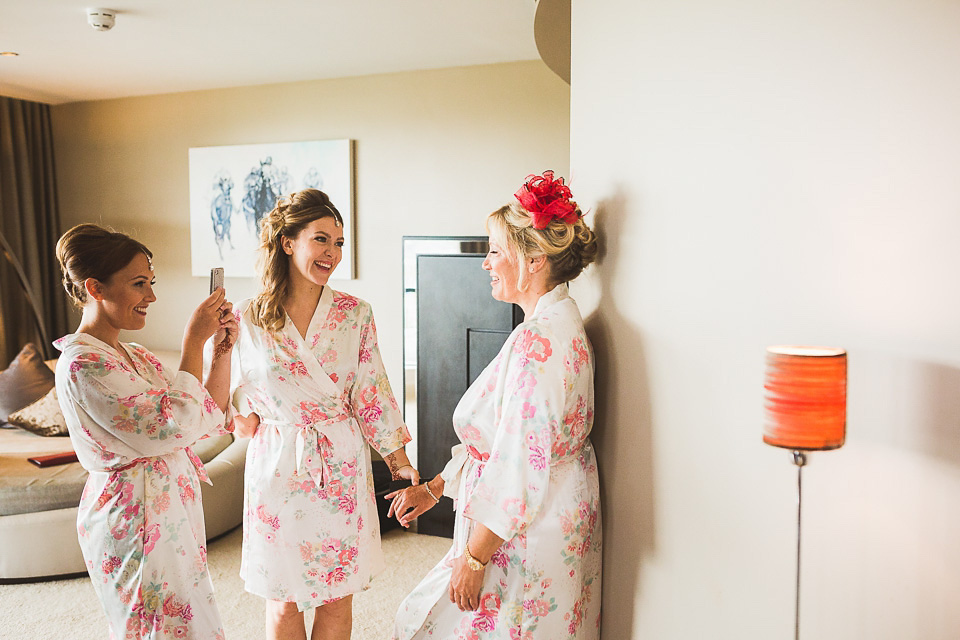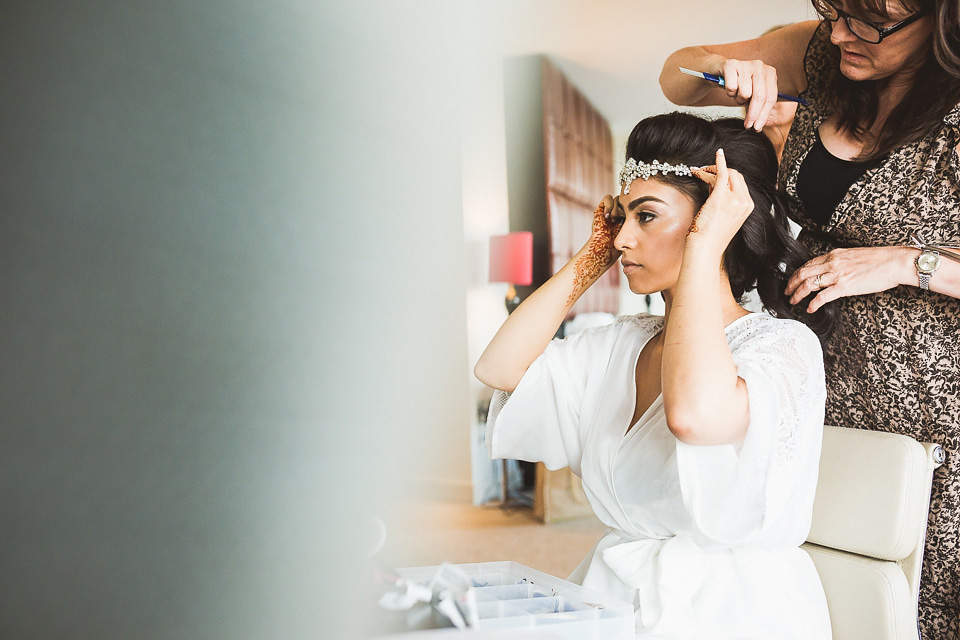 "My hair stylist was Sharon Roberts of Wonderful Hair. I met Sharon at an event last year and she is also one of Laura's recommended suppliers. At the event, after mentioning to Sharon that I wanted a voluminous up do for the wedding, she created just that in no time at all. She even found a forehead headpiece for me to try on. I was really impressed with her talent and naturally, therefore, when it came to choosing my hair stylist I chose her!
My perfume was Chloe Signature. I would wear it every now and then and whenever I did Kieran would comment on how beautiful it smelt. I adored its feminine and floral smell and loved that its top notes featured one of my favourite flowers, peonies."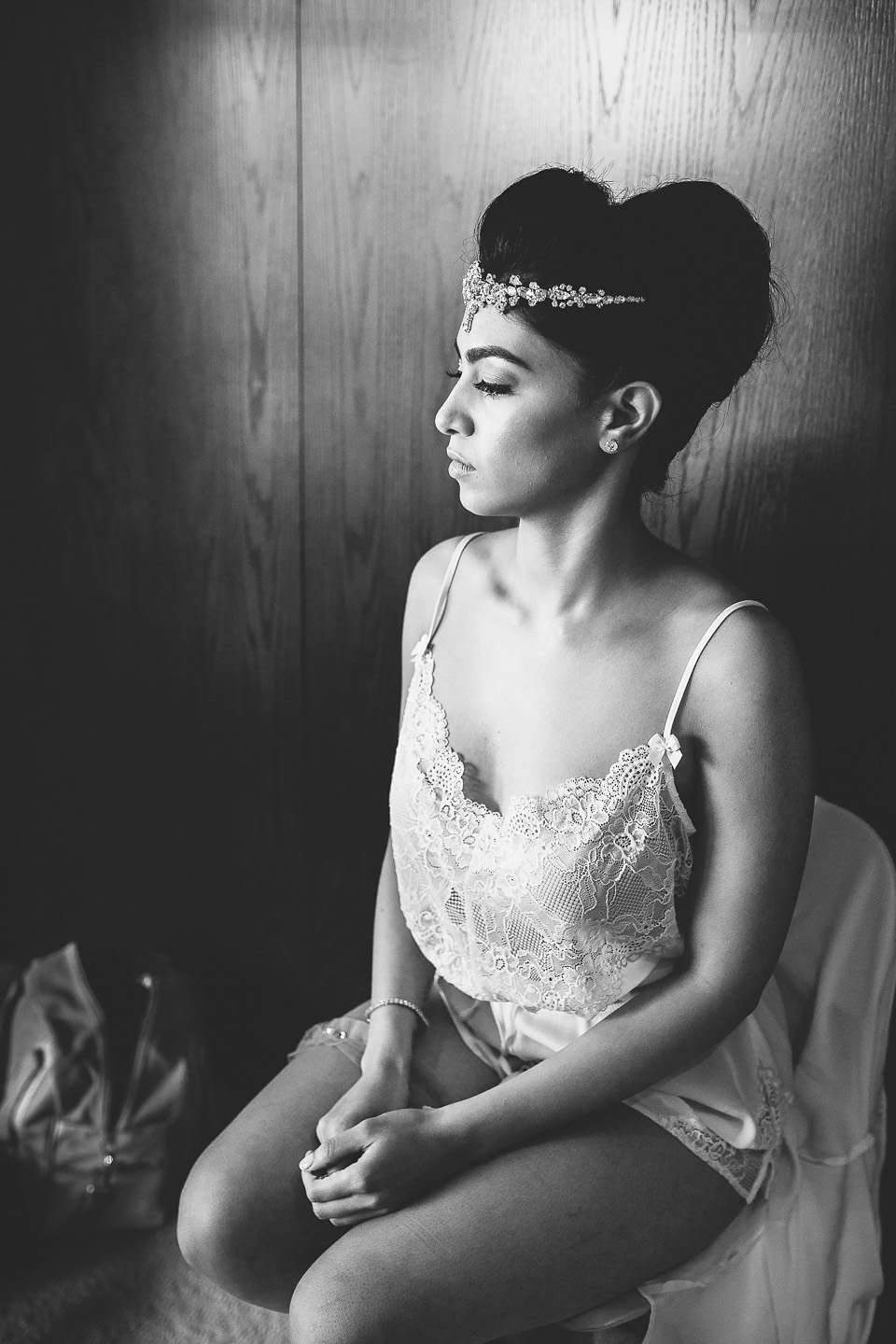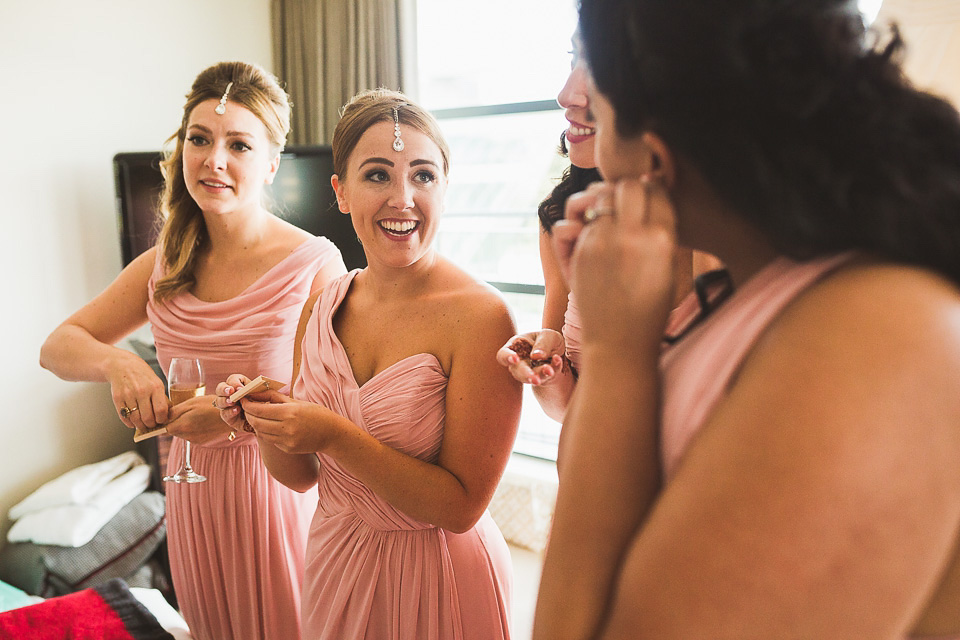 "My make-up artist was Ana Ospina. Ana is also one of Laura's recommended suppliers and she is so talented. On the day Ana made me feel my most beautiful. I felt so confident and I was beaming all day.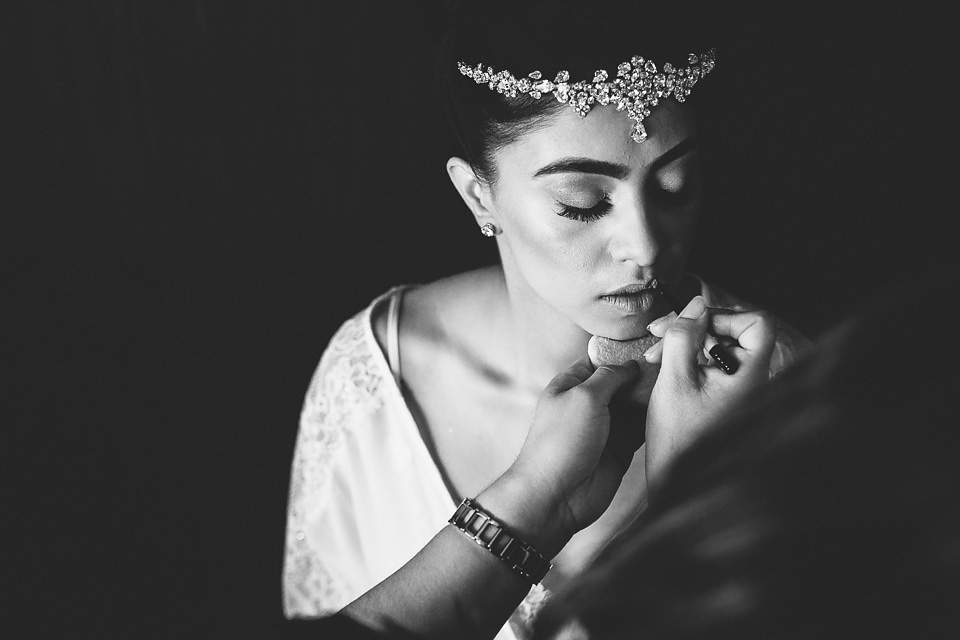 "My underwear was from La Perla and I wore the tulle 'something blue' and grey garter from The Wedding Garter Company.
My earrings and bracelet were from Carat."
"I initially thought I would have a fishtail style wedding dress, but when I started looking at dresses I found I was drawn to more dramatic silhouettes and statement style ball gowns. Perhaps this had something to do with the fact that by then I knew I would be making my entrance from the top of Fetcham's grand staircase and I wanted my very own 'Gone With The Wind' moment!"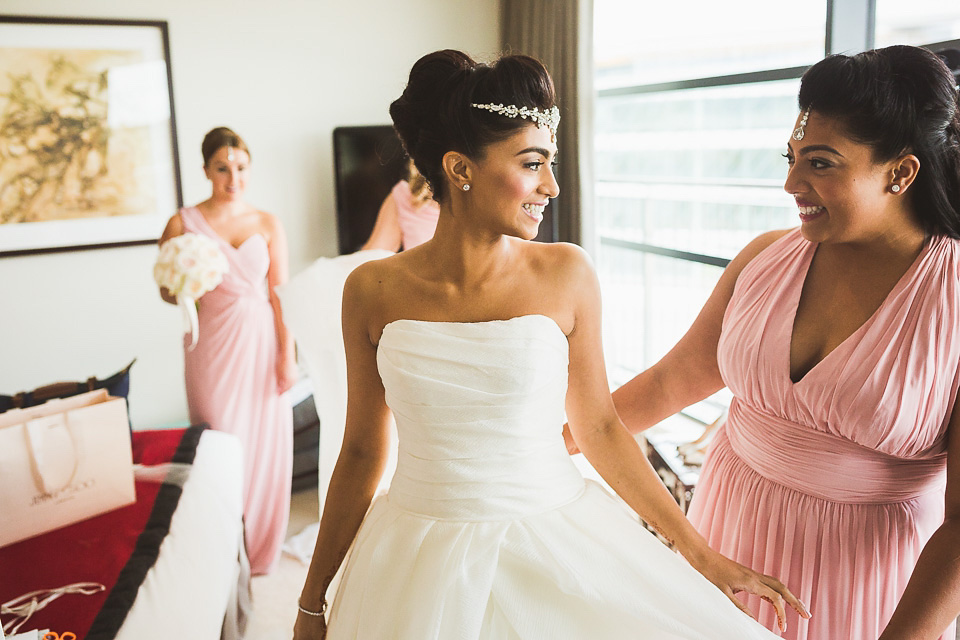 "Kieran wore a navy three piece suit purchased from Reiss. He looked incredibly handsome!  He also wore a white shirt with a navy polka dot tie and navy knots all from Charles Thyrwitt. His white hankefchief was from Marks & Spencer.  His shoes were black suede loafers from Aldo. Kieran's scent was Hermes Terre D'Hermes.
The suits for the best men and ushers were purchased from Next. They wore navy three piece suits in a similar style to Kieran. They also wore the same white shirt, white hankerchief and navy knots as Kieran. Their ties were plain navy ties from Marks & Spencer. We asked the boys to wear their own black shoes"
"Kieran's boutonniere consisted of bombastic spray roses and sprigs of rosemary. My dad, the best men and ushers wore the same. The flowers for our ceremony table, ceremony chairs and table centre pieces consisted of the same flowers as my bridal bouquet but also included peonies, hydrangeas, snow berries, dahlias, stocks and real gold leaf succulents. The scent was incredible and we adored everything!"
"My dad had his Rolls Royce restored for us to use on the day. It was the same car that my parents used when they got married and so I felt very special being able to use it myself on our wedding day."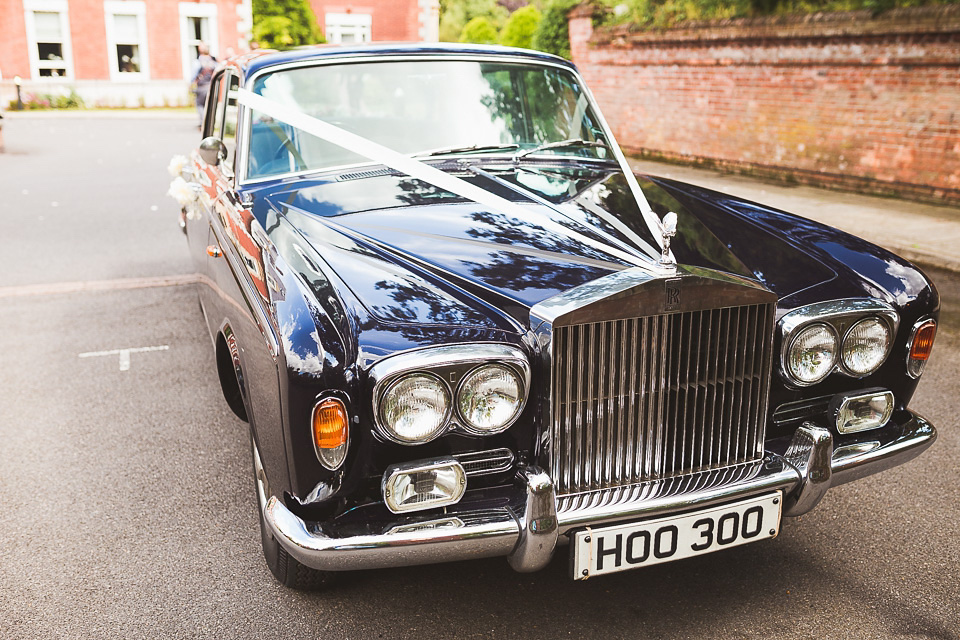 "Our wedding venue was Fetcham Park in Leatherhead, Surrey. Although Kieran and I always knew we would get married we had never actually discussed the idea of having a wedding and I was not one of those girls who had planned her wedding since childhood. Becoming engaged was so much more overwhelming and amazing than I ever thought it would be. We really wanted our venue to be exclusively ours for the day. We also really wanted an intimate celebration with just our nearest and dearest. Above all we wanted our wedding day to be a complete reflection of us."
"We didn't hire a wedding planner because we didn't feel the need to. The first time we viewed Fetcham we met Laura Caudery. I fell for Laura on the same day I found Fetcham; I have never seen anyone talk so passionately about anything! She was so genuinely warm and charming and really took the time to get to know us and understand the kind of wedding we wanted. Laura introduced us to some amazing wedding suppliers through her recommended 'Laura Loves' suppliers list.  This was a great resource for us.  All throughout our planning I couldn't believe how lucky we were to have access to such amazing suppliers and to have the personal support we had from Laura. We could not have planned our wedding as seamlessly as we did without her and we are wholeheartedly thankful to her for all the help she gave us. Not only did we find our perfect wedding venue but we have found a friend for life.
Through Laura, we had Louise Grace as our wedding coordinator. Louise coordinated our wedding in the lead up to the day and on the day itself. She worked tirelessly to ensure everything was as it should be which meant all we needed to do was focus on having fun."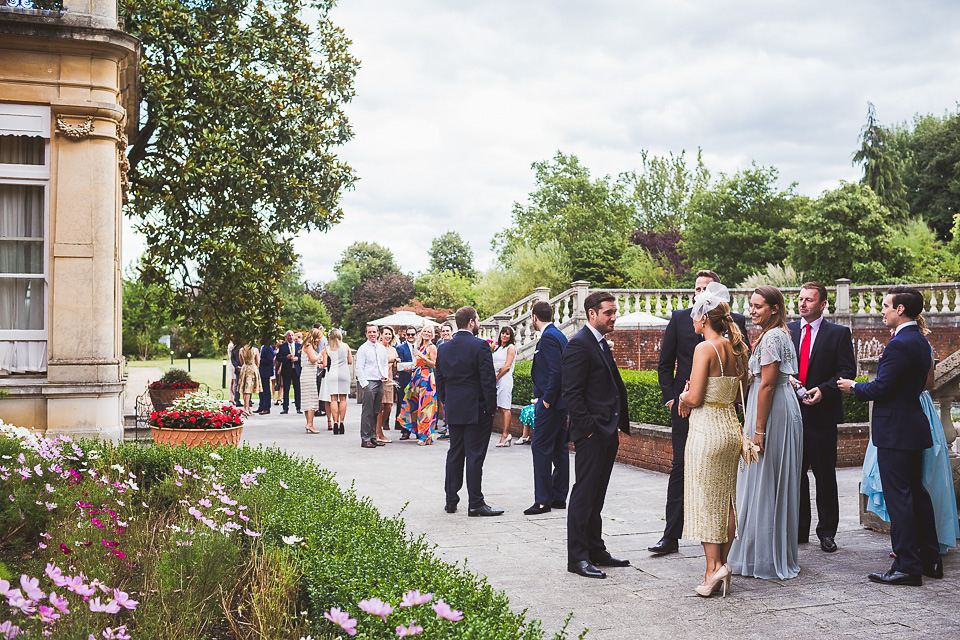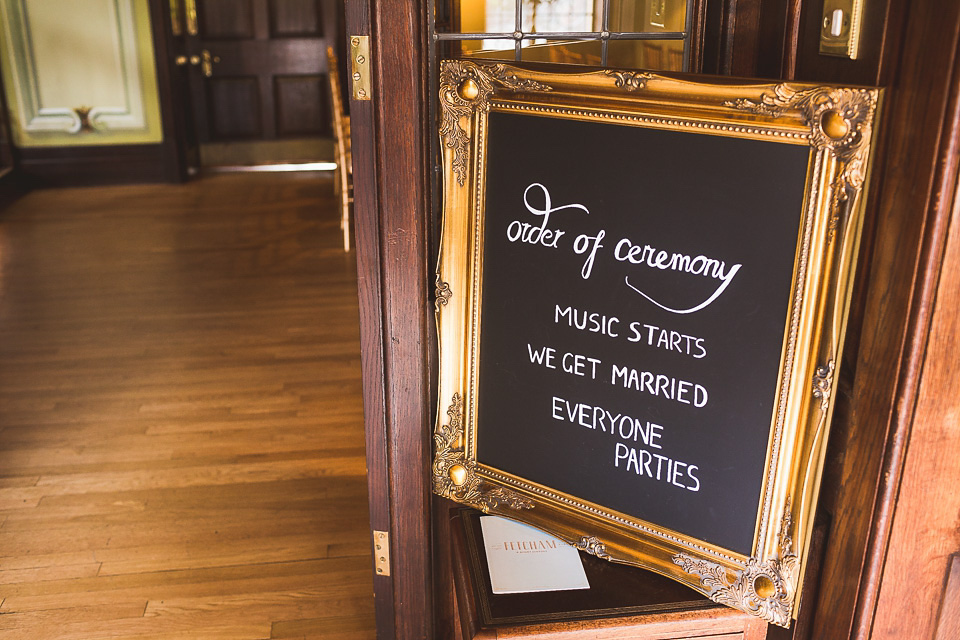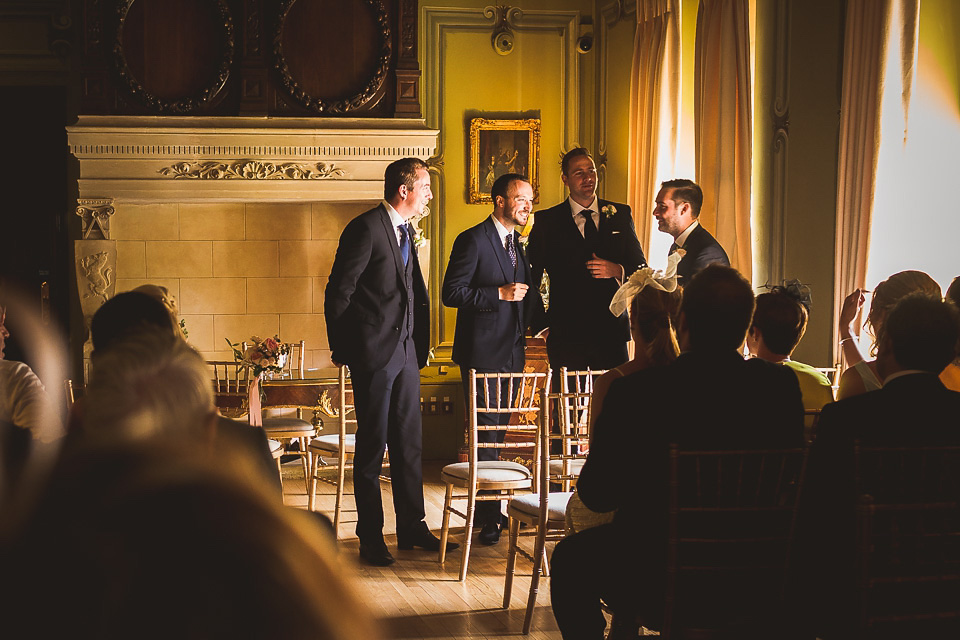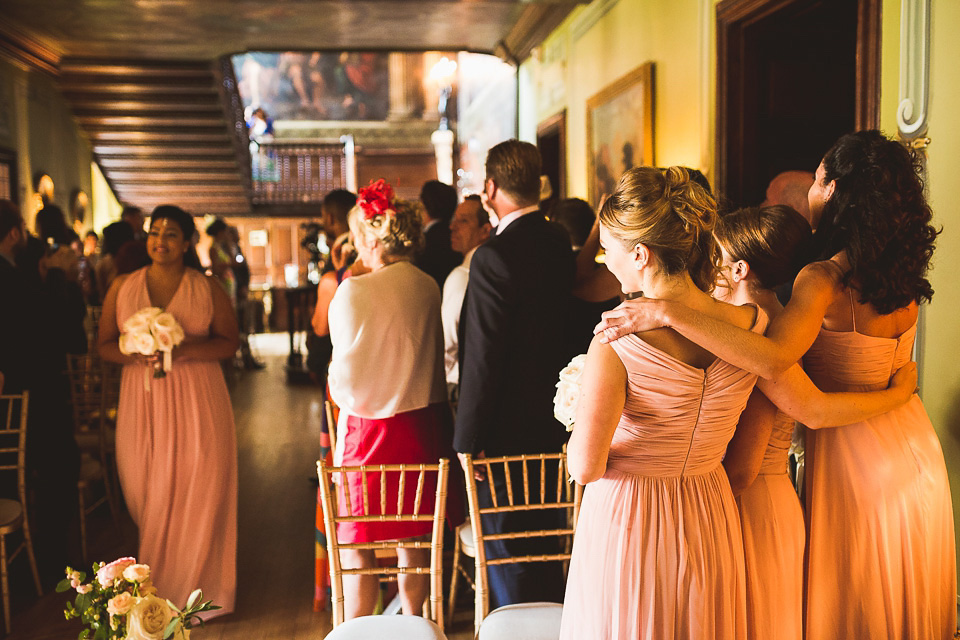 "My dad walked me down the aisle and gave me away.  I walked down the aisle to The Piano Guys' cover of Bruno Mars' 'Just the Way you Are'. Kieran knew I loved the Bruno Mars version and, knowing we both love piano music, found the cover version online. We loved how beautiful the song sounded and knew instantly that it was the song I would walk down the aisle to.
Kieran and I chose to say the traditional wedding vows and we chose not to have any readings." 
"Our rings were designed and made from a local independent jeweller that Kieran's dad has visited for years."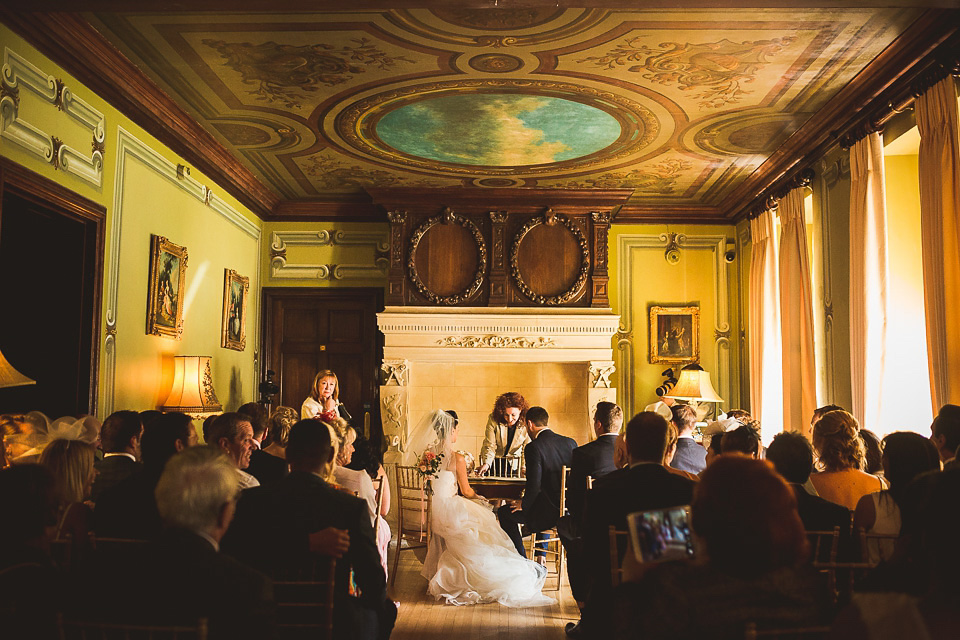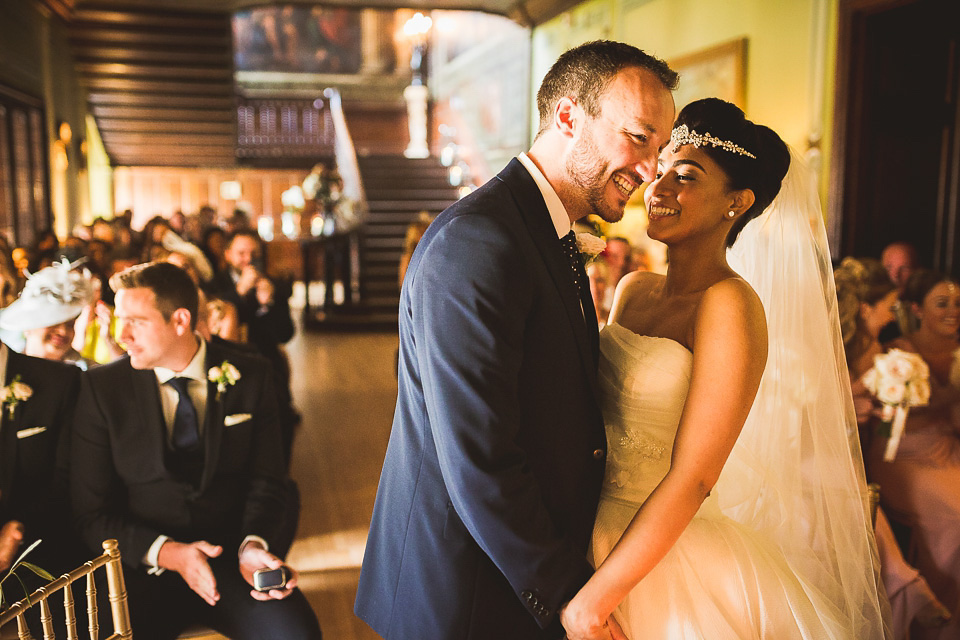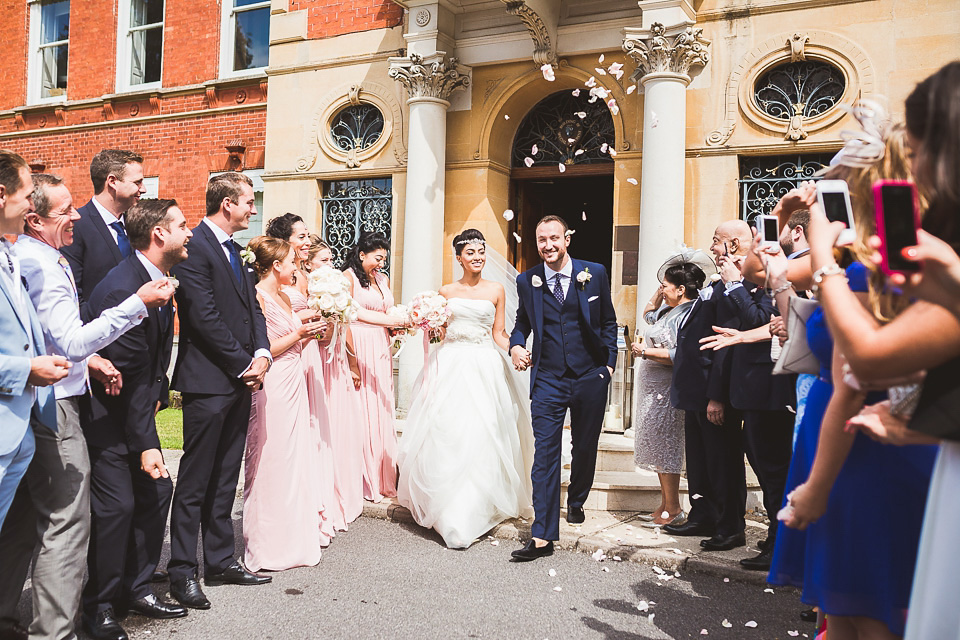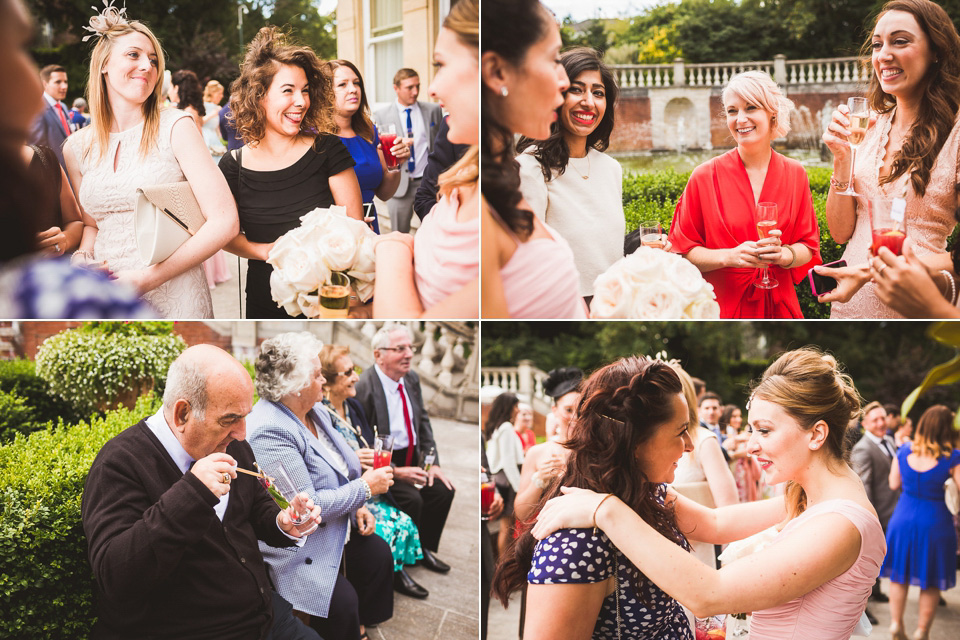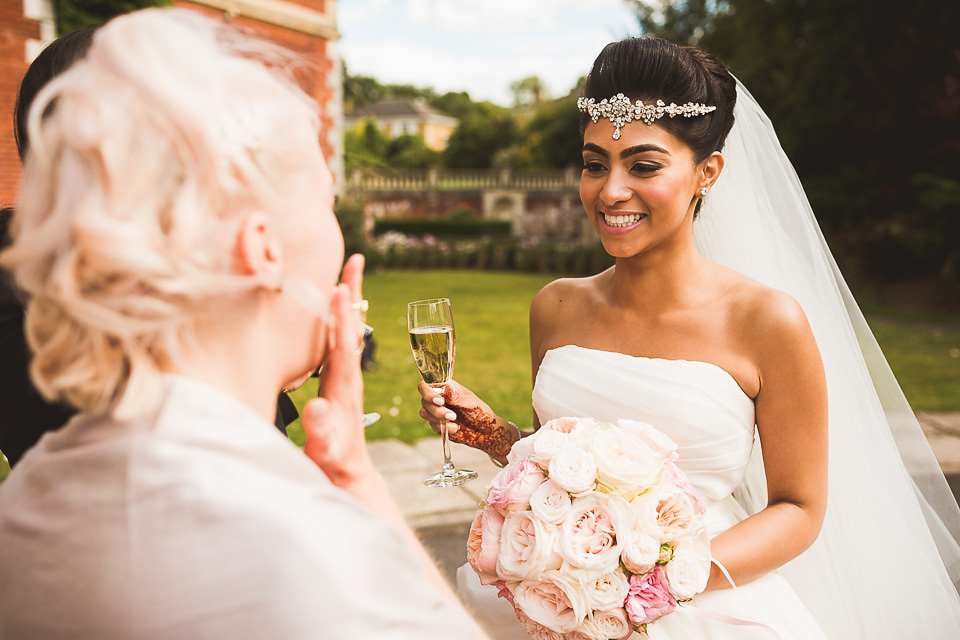 "Our personalised drinks stirrers, which read either 'Drunk In Love' or 'Happily Ever After', and our personalised food flags, which read either 'Just Married' or 'Darling I Do' were ordered from GoAgainstTheGrain on Etsy.
Our personalised napkins and personalised stickers for our popcorn bags were from Wedding Paper Divas."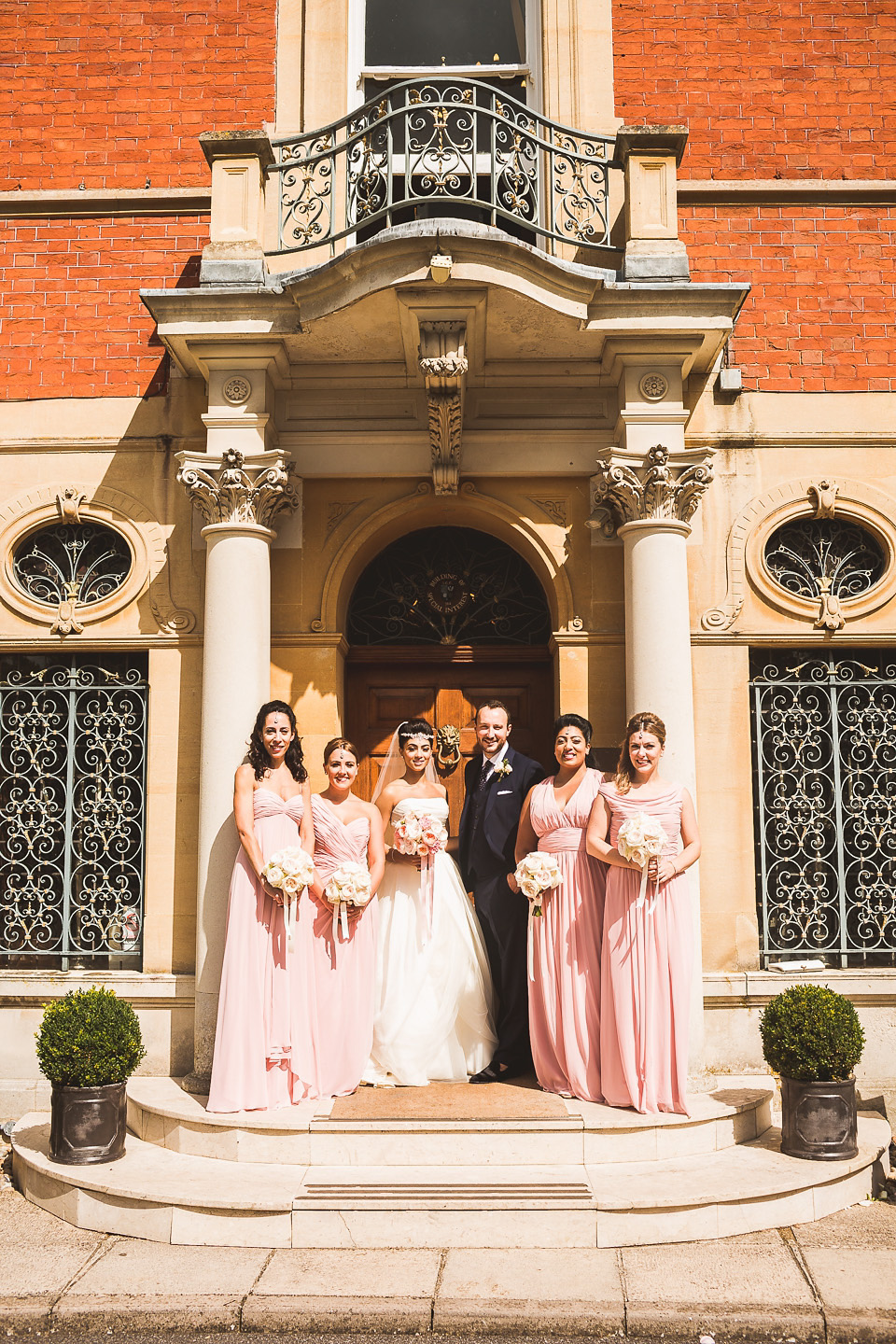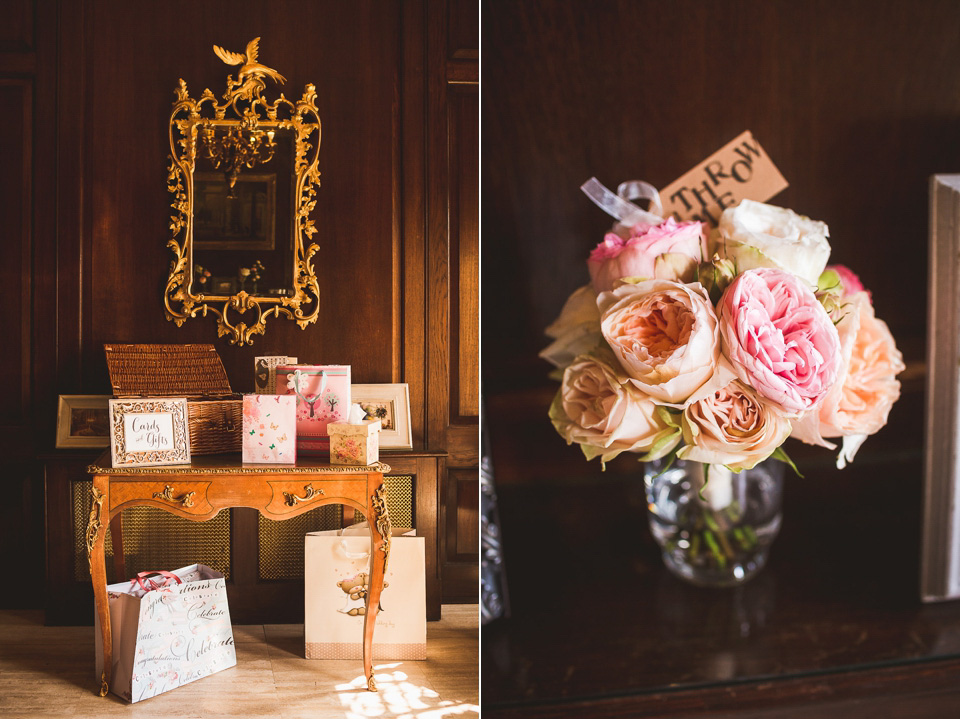 "For dinner, our starter was a smoked haddock, quails egg and pancetta salad. Our main course was a slow braised lamb shank in a rosemary and balsamic jus and our dessert was a strawberry pistachio millefuille. We served pink champagne for our toast because it complemented our blush and rose colour theme.
We were inspired by New York when planning our midnight munchies. We served mini cheeseburger sliders, mini cheese and tomato pizzas and truffle mac and cheese. We also served shots of baileys with cookies. Everything went down a treat and tasted delicious!"
"Our on the day menus, place cards and dessert table cards were designed on Minted in the same style as our invitations. We purchased our table names, card and gifts sign, dessert table sign, bar sign, bathroom signs and photo booth sign from MarryGrams on Etsy. We ordered rose coloured 'Love Notes' from BerinMade for our guests to write us 'words of wedding wisdom for a long and happy marriage'.
Instead of having a traditional guest book, we had a photo signing frame for our guests to sign their name on. We used one of the photos taken at our beach engagement shoot for this."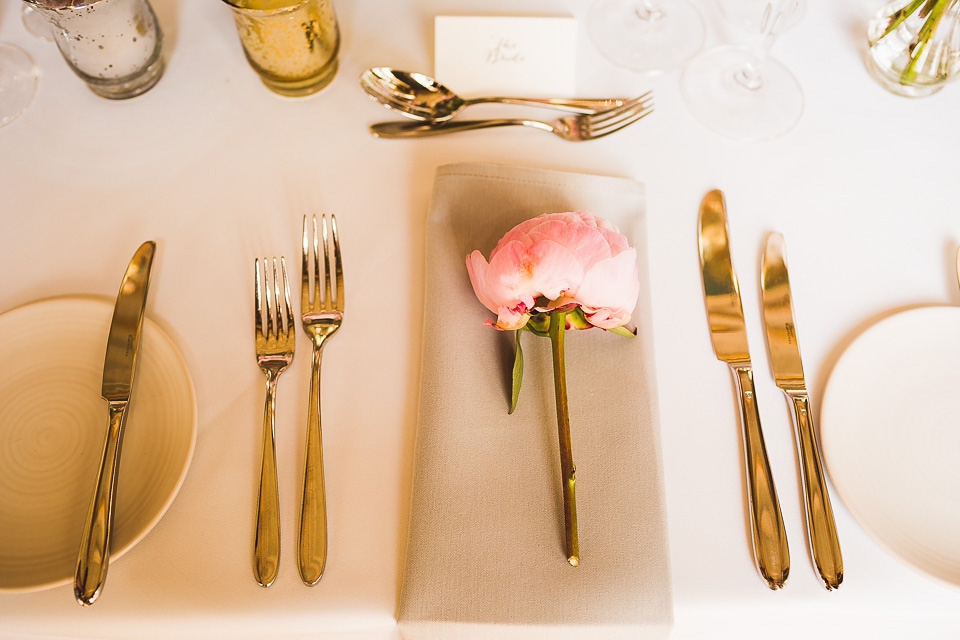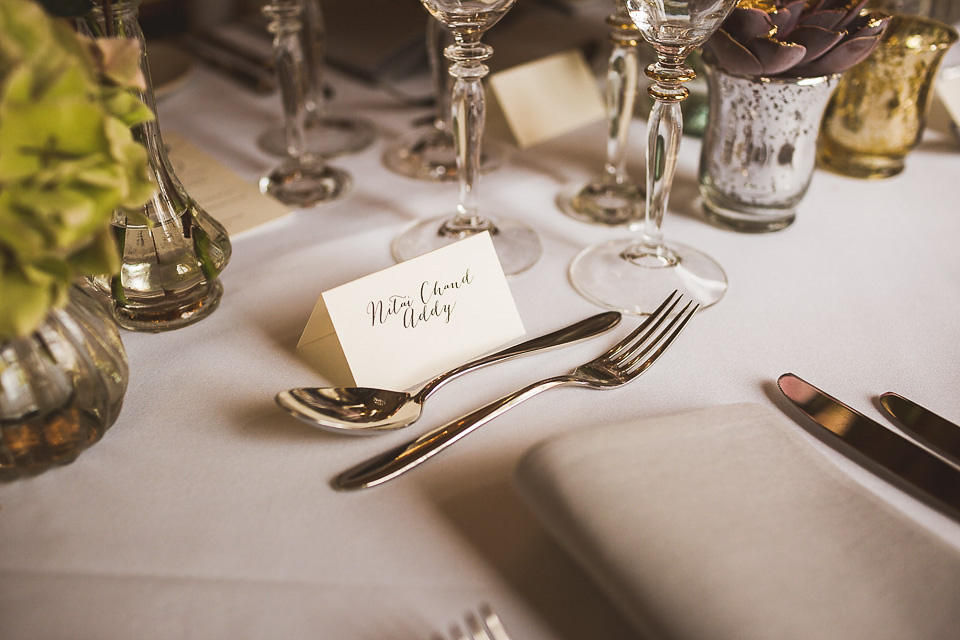 "Fetcham didn't need a lot of flowers but I wanted them everywhere! I chose white O'Hara roses for the bridesmaids' bouquets. My bridal bouquet consisted of white O'Hara roses, bridal piano roses, bombastic spray roses and David Austin garden roses. I nearly cried when Steph gave it to me in the morning!
Opal is my birthstone and I had my opal pendant, given to me as a child by my dad from Hatton Garden, attached to my bouquet along with my mum's gold and sapphire locket also from Hatton Garden. My second tossing bouquet was made with the same or similar flowers."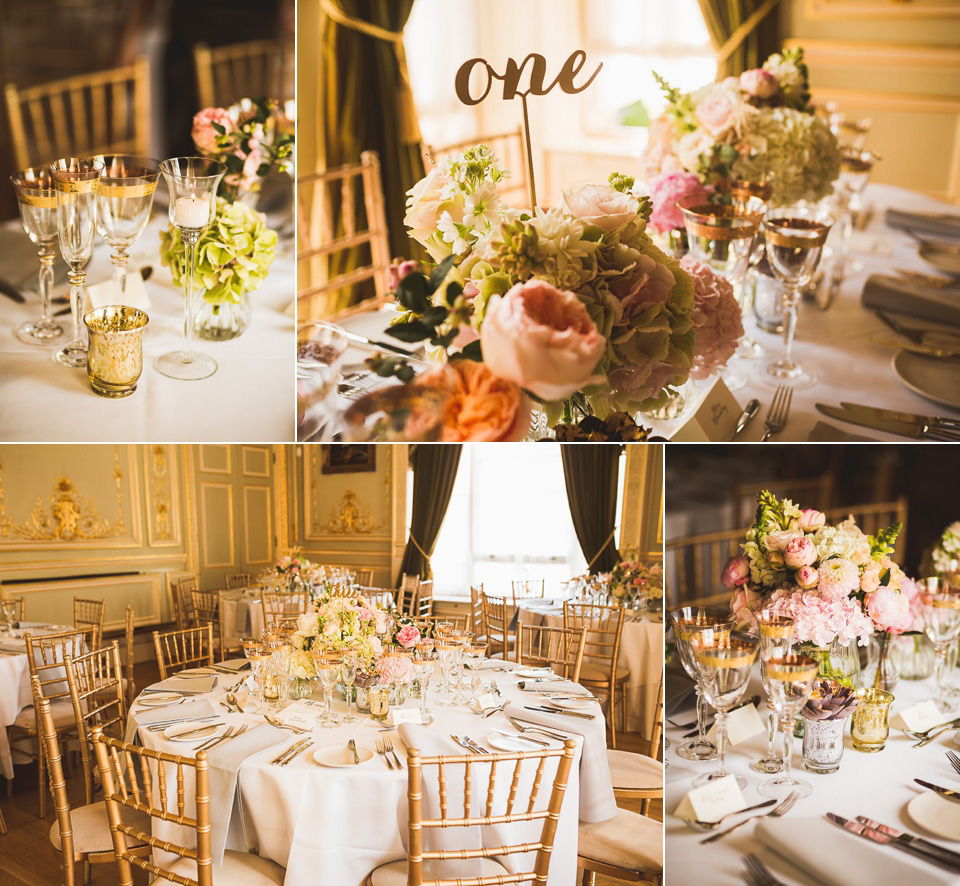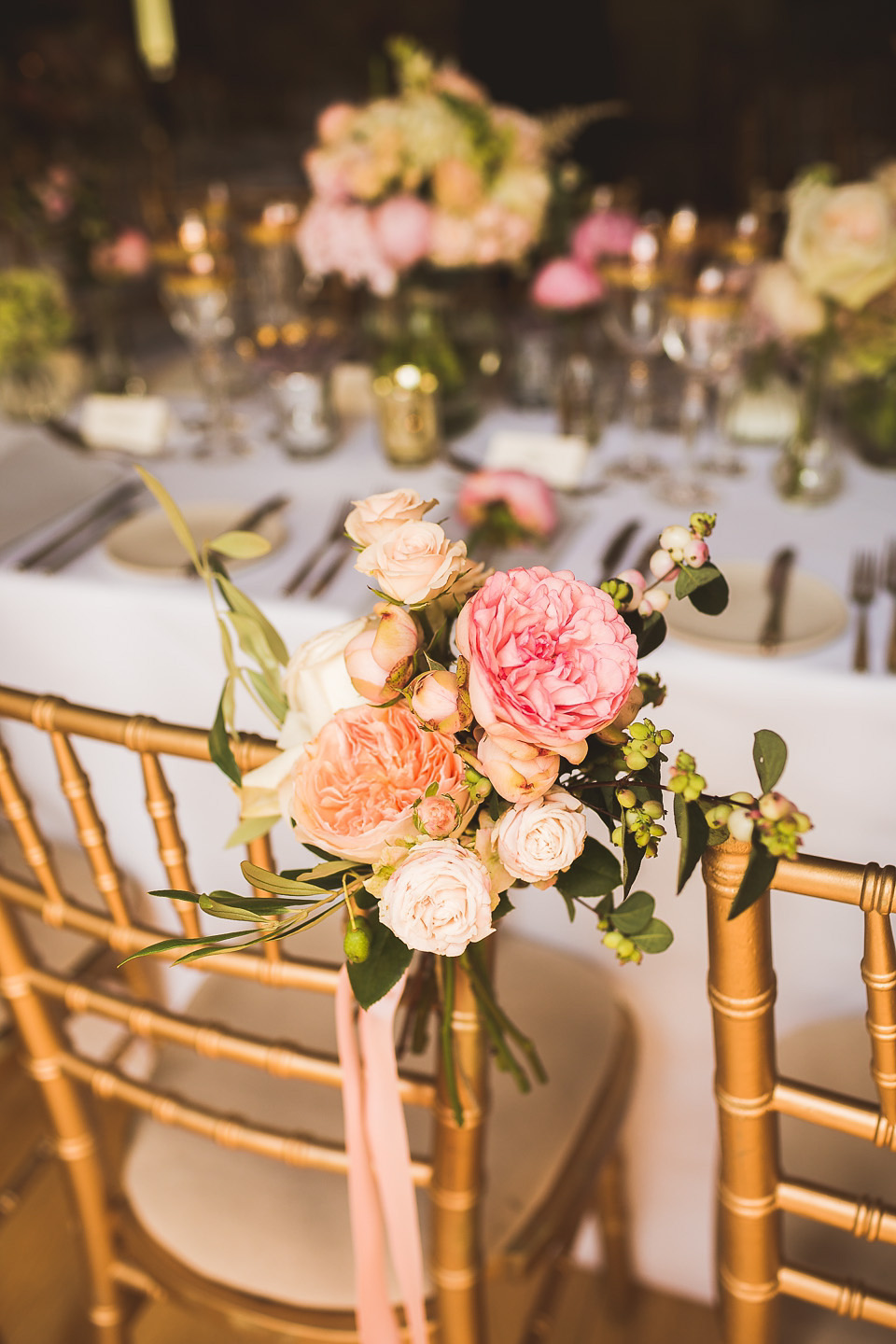 "Our gold table numbers were purchased from BetterOffWed on Etsy.  In addition, we hired luxurious gold rimmed glasses from Couvert for our table settings and also hired large lanterns from Couvert to line the staircase."
"Our invitations were designed on Minted.  We chose blush coloured invitations with a beautiful black script style writing. Our envelopes were black with a gold glitter lining. We ordered personalised postage stamps from the Royal Mail and a personalised 'V&K' stamp from BerinMade, which we used to stamp on the back of our envelopes in gold."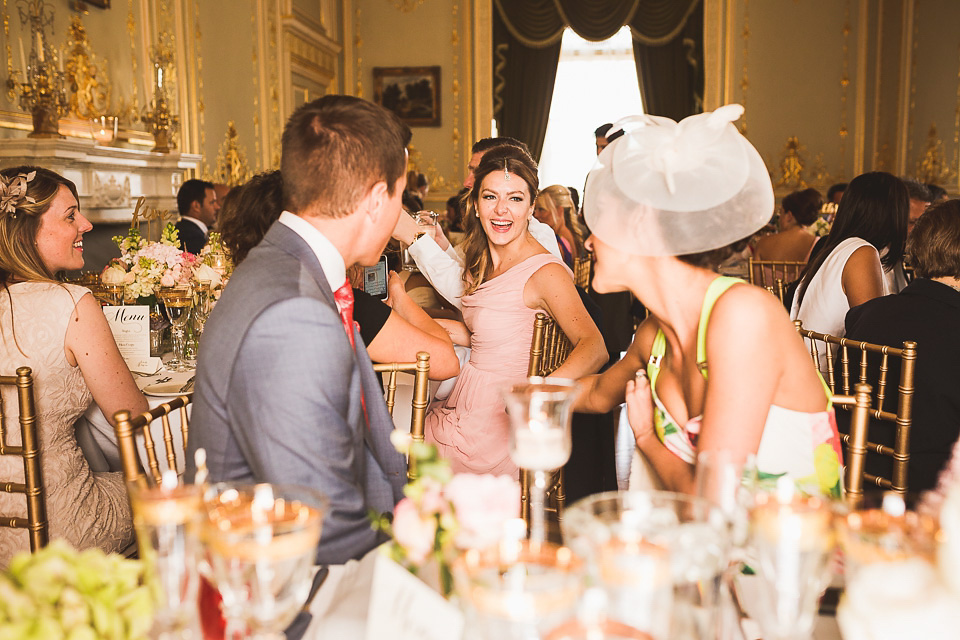 "We didn't see the point of having favours on the table just for the sake of it. We also didn't like the idea of providing favours for just our day guests when we were having additional guests join us in the evening. We wanted all of our guests to feel included.  We did however provide celebration fans for the girls from BHLDN to cool down with when it became hot later on in the day.
We were going to have a cigar bar for the boys in the evening but didn't get around to ordering the cigars in time. This was actually fine because the few boys who wanted to smoke cigars brought them along themselves. We also provided a free bar for our guests.
On leaving at the end of the evening we provided each of our guests with a 'Rescue Me' package. Each package contained all of the ingredients to make a Bloody Mary, celery sticks, mini cheddars and paracetamol. Our guests loved them!"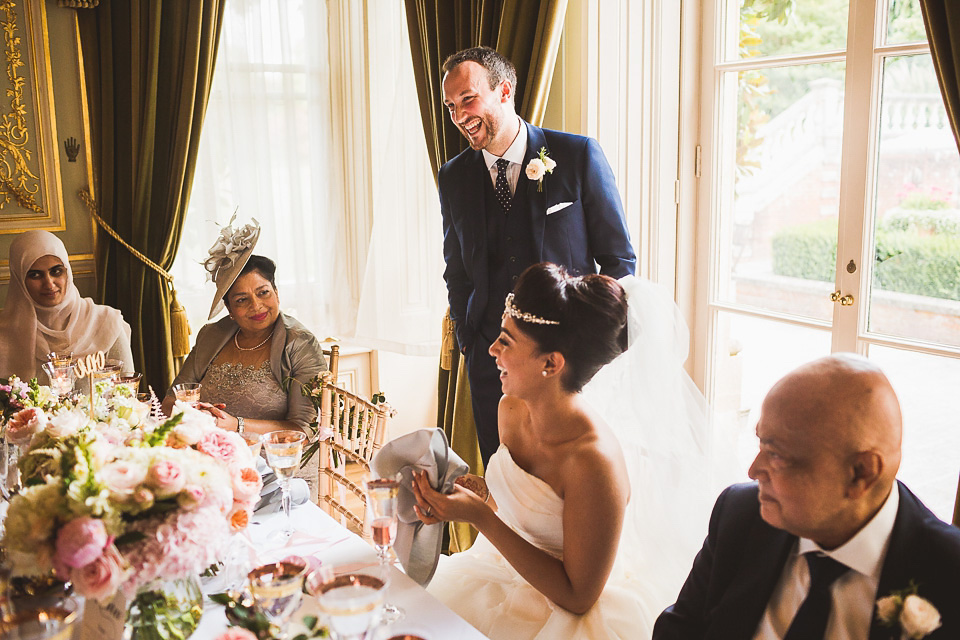 "I always wanted to have a Parisian inspired dessert table that sat alongside our cake. For our dessert table we had delicious blush and ivory red velvet cake pops sprinkled with gold glitter. These were made by Leslie. We also decided to have pink wafer biscuits; I loved pink wafers as a child and they also formed part of my very first memory so we just had to include them!
The rest of our dessert items were made by Kalm Kitchen. We chose to have macarons, chocolate brownies (Kieran's favourite), marshmallow cones, chocolate cherries and elderflower jellies. I couldn't believe how beautiful the dessert table looked when I first saw it. It was such a great idea and our guests loved it too."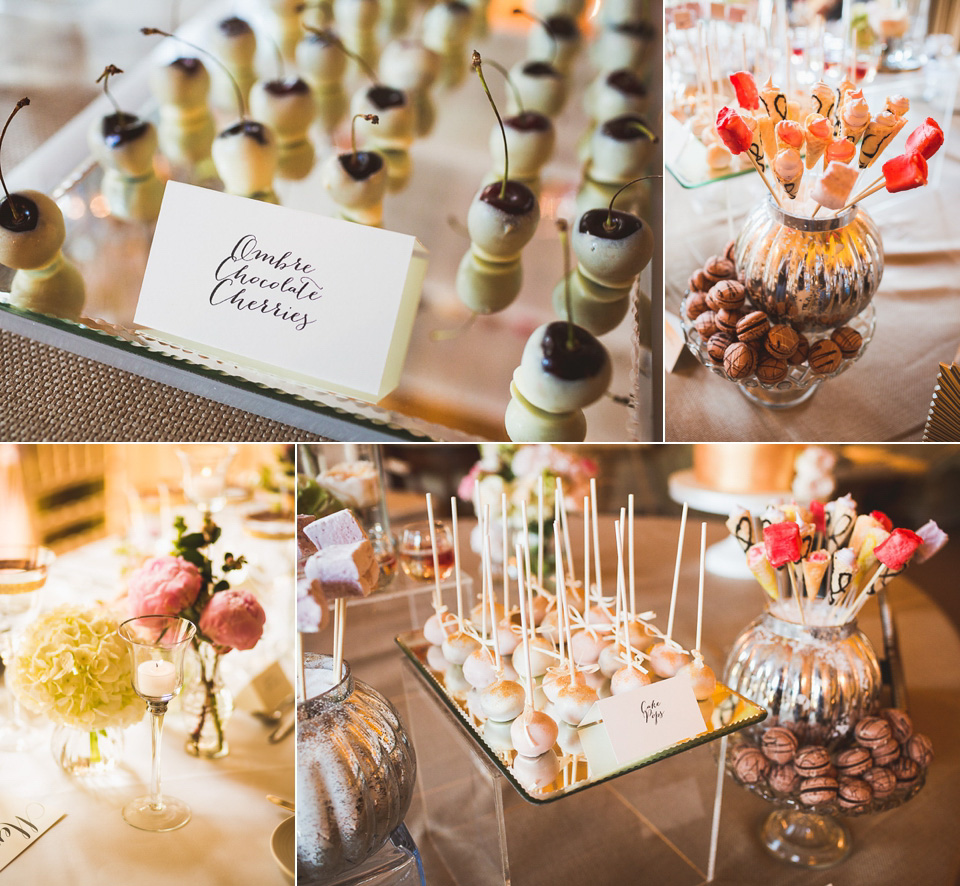 "Our cake was made by Leslie's Cakes. Even though we planned and designed it together I still couldn't believe how beautiful it looked on the day! I was inspired by a picture I saw of a two tier cake where the top tier was plain white and the bottom tier was gold. It was so simple and elegant. I really wanted to incorporate the asymmetrical draping on the bodice of my dress. We chose to have four alternating tiers with either ivory white chocolate ruffles or gold metallic brushed icing. Each tier was a different flavour; the bottom tier was red velvet and cream cheese (our all time favorite), the third tier was hummingbird with cream cheese, the second tier was a vanilla sponge with a passion fruit mousseline and the top tier was German chocolate.
The cake was topped and decorated with fresh flowers, in the same style as my bouquet, by Steph at FairyNuff Flowers."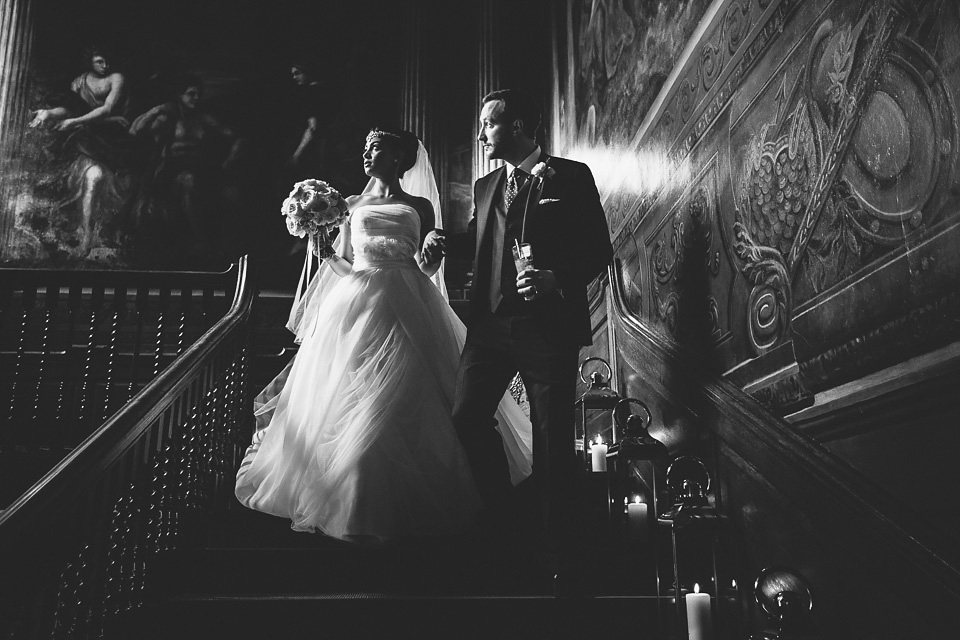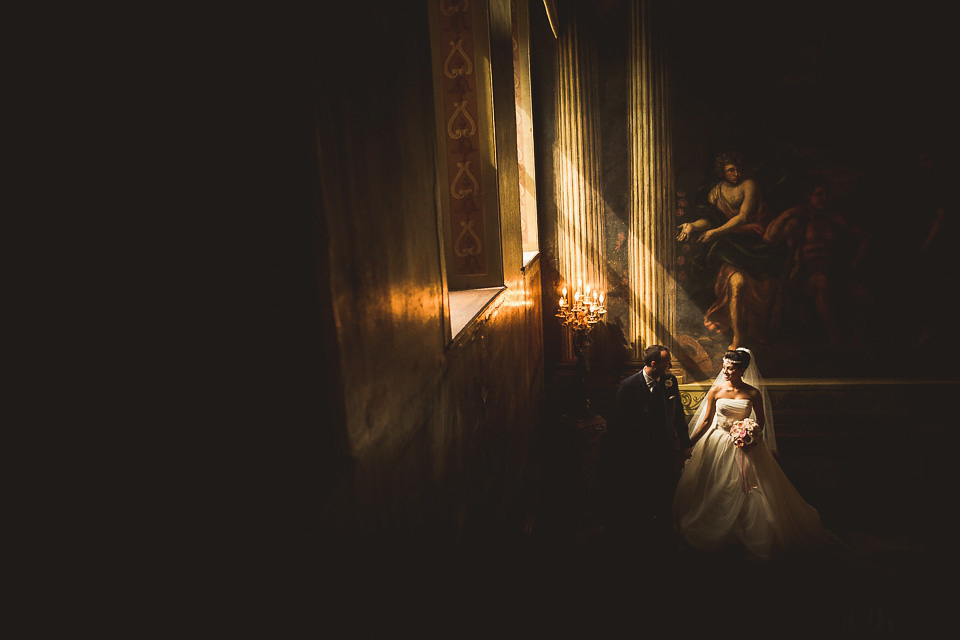 "Niki and Ben at Allora Visuals were our film makers. They were recommended to us by Laura. After watching some of their films online we loved their style and were really excited to have them film our day. We loved how calm and unobtrusive they were in the morning whilst we were getting ready and throughout the day itself. They were so pleasant and we can't wait to see our film and relive the magic of our day."
"There were so many wonderful moments that took place on our wedding day. I had the best time getting ready with my bridesmaids and our mums. I couldn't believe my eyes when I saw my bouquet or my cake for the first time. My 'toss the bouquet' moment was so much better than I ever imagined. All of the speeches made me laugh and brought tears to my eyes."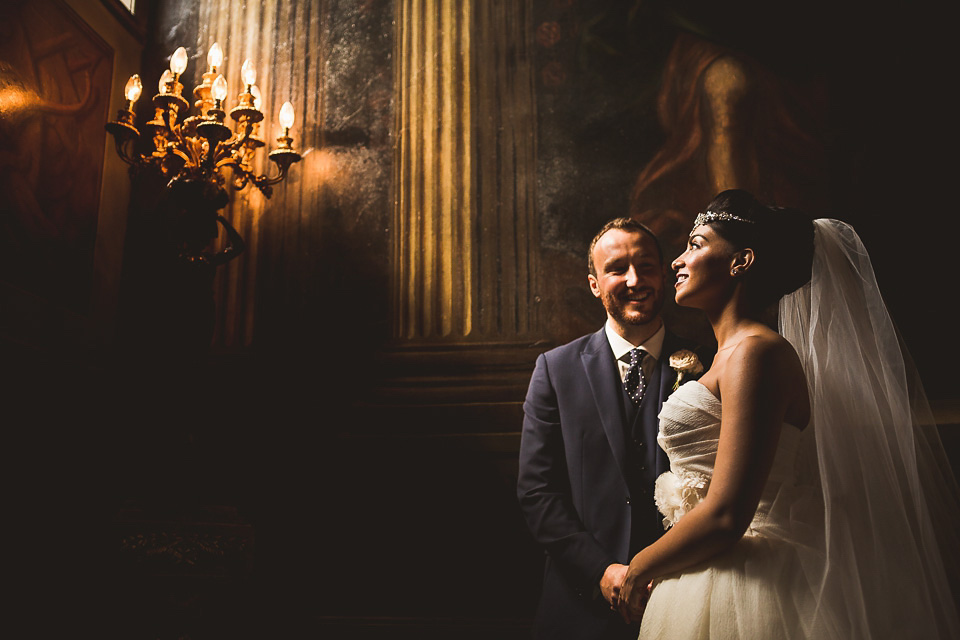 "But my absolute favourite part of the day was our ceremony. I remember when I turned the corner of the staircase and I first caught a glimpse of all of our loved ones staring up at me. I actually stopped breathing and exhaled with an 'oh wow'.  For what felt like forever I paused, looked around and made sure I soaked it all in. I loved reaching the bottom of the staircase and seeing the beautiful smiles of my proud parents. I loved seeing Kieran's beautiful smile ahead of me and I couldn't wait to get to the end of the aisle to meet him. It's each of these little moments that are most precious to me and they are the memories I will treasure forever.
We wouldn't have done a single thing differently. All of our decisions led to us having the most magical day and we could not feel more blessed."
"Our DJ, Matt Maurice was recommended to us by Laura. Matt DJs at some really prestigious events so we trusted him explicitly to deliver the perfect soundtrack and get our party going!"
"There are so many beautiful songs that have had meaning to Kieran and I at some point over the course of our relationship. However, as soon as we heard the acoustic version of Sam Smith's 'Latch' the words particularly resonated with us in the months leading up to our day and so it became our first dance.
For months I had abandoned the idea of having a second dress because I loved my first dress so much. I really did feel like a goddess wearing it. However, at one of my final fittings exactly one month before the wedding I laid eyes on a beautiful ivory satin Galina Signature gown, also at David's Bridal.  I loved its plunging v-neckline, the crystal embellishments on both straps which matched my headpiece, its ruched waistband which defined my figure and its front side slit.
It was such a departure from my first dress and was the perfect dress to continue dancing the night away in."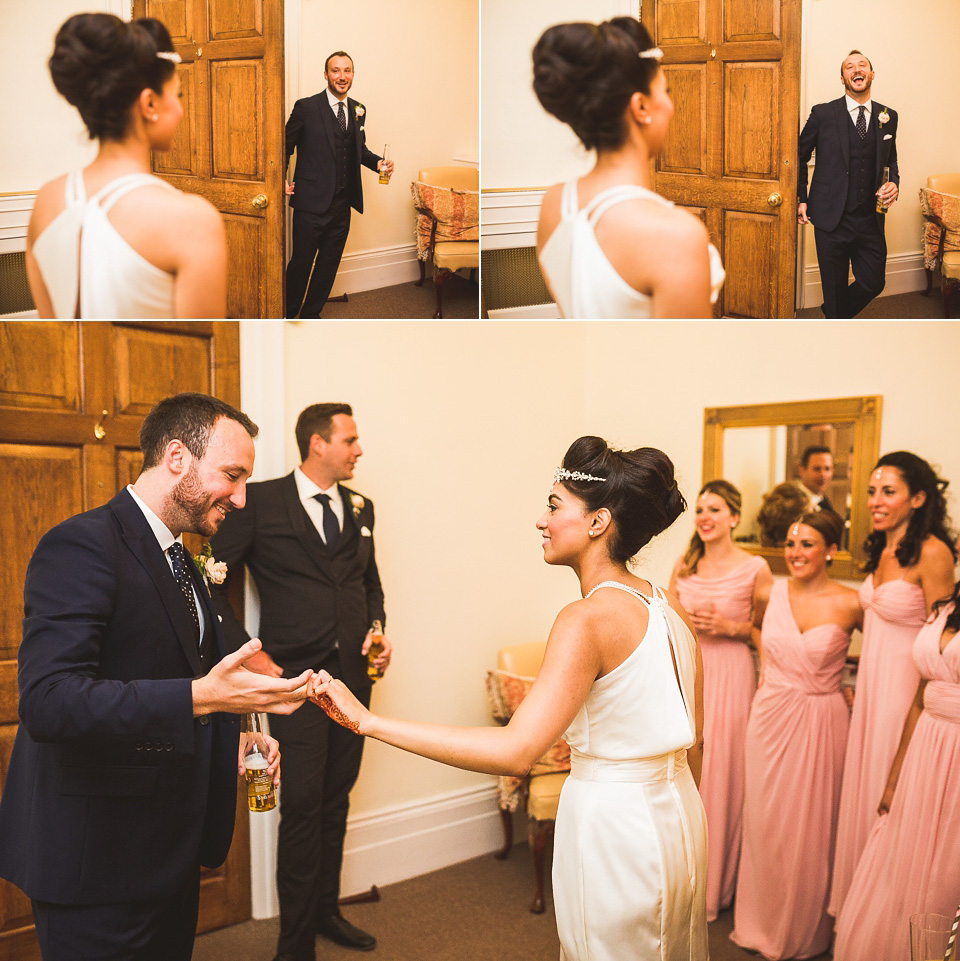 Words of Wedded Wisdom…
"My advice to any bride to be is to enjoy every moment of planning. You'll never get your moment back so have fun with everything you do.
On your wedding day make sure you are mindful of everything. Take the time to appreciate the moment and those around you. We loved looking around and seeing how happy all our family and friends were. To know they were there to celebrate us is a feeling I won't ever forget."
"Choose suppliers you actually like and trust. We never worried about something going wrong on our day because we knew that even if it did they were more than capable of sorting it out."
"Put things into perspective. The little details make your wedding your own. I love details and we were always going to have them. But I still knew the most important thing was that we got married and that our loved ones were there to celebrate with us.
Our wedding day was like a dream. It was so much better that we ever imagined it could be. We never set out to have the best day ever but it really was our best day ever to date."
"In the evening Michael and Hannah set up a photo booth back drop for us. We really wanted to include a photo booth in some way because I always love how entertaining they are at the time and how amusing the photos are afterwards! We chose a New York skyline backdrop in keeping with our New York inspired midnight munchies. The picture showed the view of the Empire State Building from the Top of The Rock.  
We specifically chose that view to include the view of Newport in Jersey City which is where I lived for my year away."     
In ending this feature I really wanted to share this email that arrived in my inbox last May from Vinita.  We receive lots of lovely emails like his, but this one particularly stood out…
"Happy Friday! I am a bride to be and will be marrying my fiance, Kieran, next year on 16 August 2014 at the beautiful Fetcham Park. 🙂 Kieran and I met at university and will have been together for 10 years next year.
I have been an avid reader of Love my Dress since we got engaged at Christmas! I have even started making Kieran read it! The best part about that is: 1. He thinks it is "really good"; and 2. He has just found our photographer on here, Jackson & Co. We then subsequently realised that Michael shot a friend's wedding last year and we loved their pictures. So, thank you!
Your name has popped up on a few occasions when I have spoken with Laura at Fetcham. She speaks very highly of you (and let's face it, Laura is too amazing for words too!) so I thought I would touch base.  Love my Dress has definitely become an integral part of my day. I love reading about all real weddings, your view on things and seeing new suppliers. My favourite real wedding so far has to be Bridge and Matt's and also your associated piece on the emotion that is conveyed through a picture. It is so easy to get carried away about the want want want aspect of a wedding. But I have still always thought it is really all about the marriage and the people!
I hope you enjoy a wonderful weekend in the sun. All the best, Vinita."
How lovely is that? And what an absolutely wonderful, wonderful day, no little detail was overlooked – every last little thing that made this wedding that little bit extra special
Huge, huge thanks to Vinita and Keiren for sharing so much of their day to inspire other readers, I really am completely blown away by this wedding and really hope that readers are as inspired and uplifted as I am by looking through these wonderful photographs. TaLking of which, immense thanks also to Michael of ackson & Co Photography.
Now, talk about an epic supplier list below!
Love Annabel xx
Photographer – Jackson & Co Photography
Planner/Stylist – Louise Grace
Venue – Fetcham Park
Wedding Dress + Veil – Vera Wang at David's Bridal
Headpiece – Jo Barnes
Shoes – Evelyn by Jimmy Choo
Underwear – La Perla + garter from The Wedding Garter Company
Accessories – Earrings via Carat
Bride's Scent/perfume – Chloe Signature
Groom – Reiss suit + shirt + tie via Charles Thyrwitt + shoes via Aldo
Bridesmaids – Dessy via The Wedding Library in New York
Bridesmaids tikka headpieces – ShopKP on Etsy
Florist – FairyNuff Flowers
Cake – Leslie's Cake
Transport – Father of the bride's Rolls Royce
Entertainment – DJ Matt Maurice
Catering – Kalm Kitchen
Stationery – Minted
Hair Stylist – Sharon Roberts of Wonderful Hair
Makeup Artist – Ana Ospina
Personalised drink stirrers – GoAgainstTheGrain on Etsy
Gold table-numbers – BetterOffWed on Etsy
Personalised napkins + stickers for popcorn bags – Wedding Paper Divas
Giant light up letters – Vowed and Amazed
Gold rimmed glasses + large lanterns – Couvert