This chilled out couple have mastered bohemian, relaxed styling and combined it with loads of gorgeous vintage 1920's touches to create the perfect day for them. Photographed by Verity at Rabbit & Pork Photography, Laura and Ferdy were married on 27th July 2014 at St Andrews Church in Beddingham, Lewes, with a walk through the fields to the reception at Blue Door Barns.
"The wedding venue was our main source of inspiration. Blue door barns has a relaxed vintage seaside/rustic style which was the type of theme we wanted for the wedding. A blue, white and yellow colour theme and lots of little vintage touches pulled it all together perfectly."
Photography Copyright (c) 2014, Rabbit & Pork Photography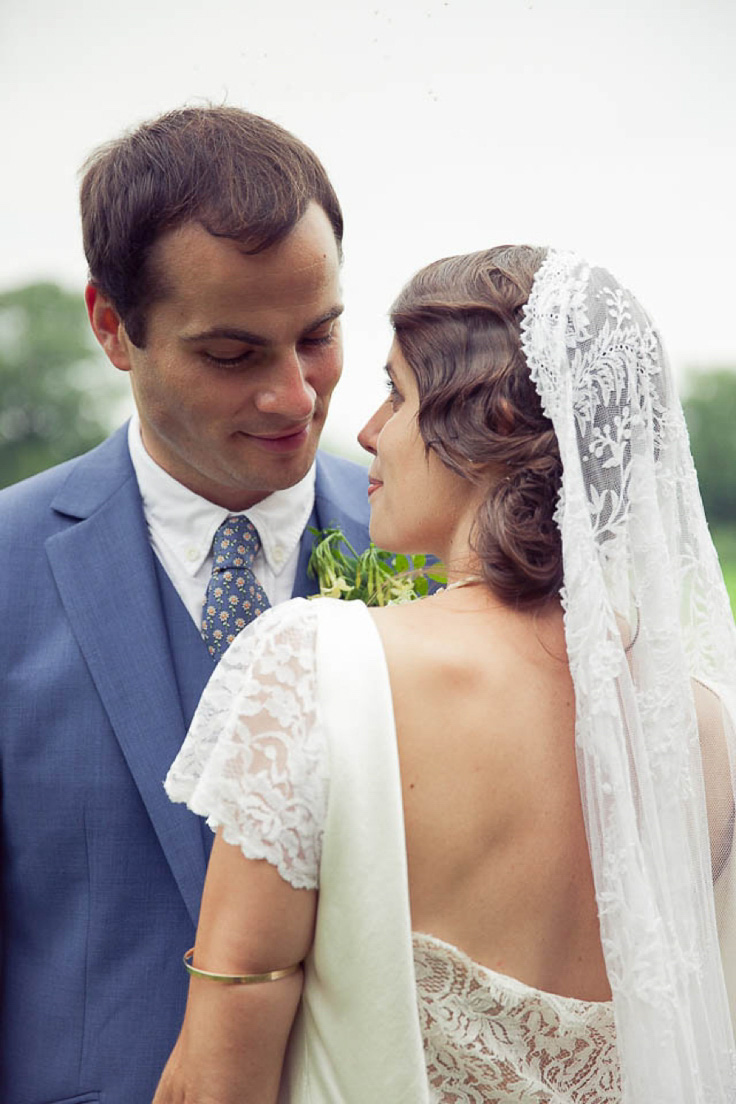 "I was working in Sri Lanka and Ferdy flew out to spend Christmas with me and proposed on Christmas day at the top of mountain overlooking tea plantations in Ella, Sri Lanka. We were engaged for 18 months before our wedding day."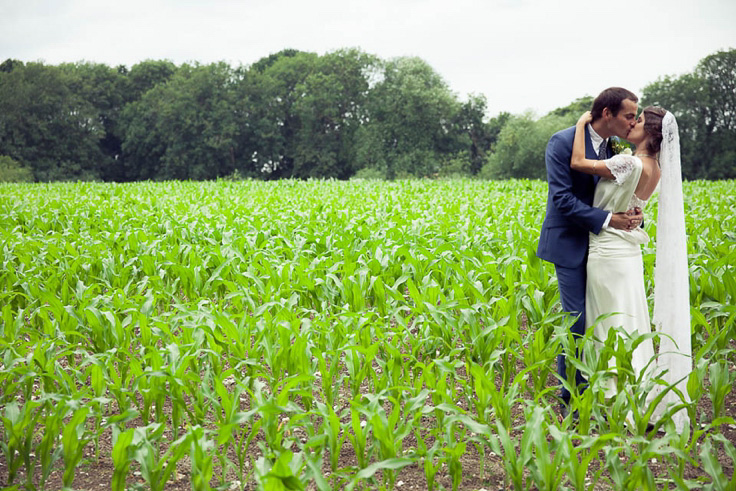 "Both Ferdy and I have connections with Sussex (we both went to Uni there and Ferdy's family live in Brighton). The beautiful B&B is run by a family friend – although unfortunately they no longer do weddings.
The barns (where we stayed with some of our family) surround a courtyard where we had our drinks reception. We then had a few different areas in their garden with a kids' tent, marquee for dining and also a dance tent. There was a "rum & tequila" bar outside under the trees and a fire pit. The other guests were camping at the adjoining field and could book tents through Loveabell or pitch their own."
Laura's 1920's style ivory gown was by designer Charlie Brear. Once Laura was wearing the dress, some additional lace was sewn at the shoulders to create delicately ruffled capped sleeves.
"I liked the 1920s style, simple backless design with drop waist and beautiful fabric."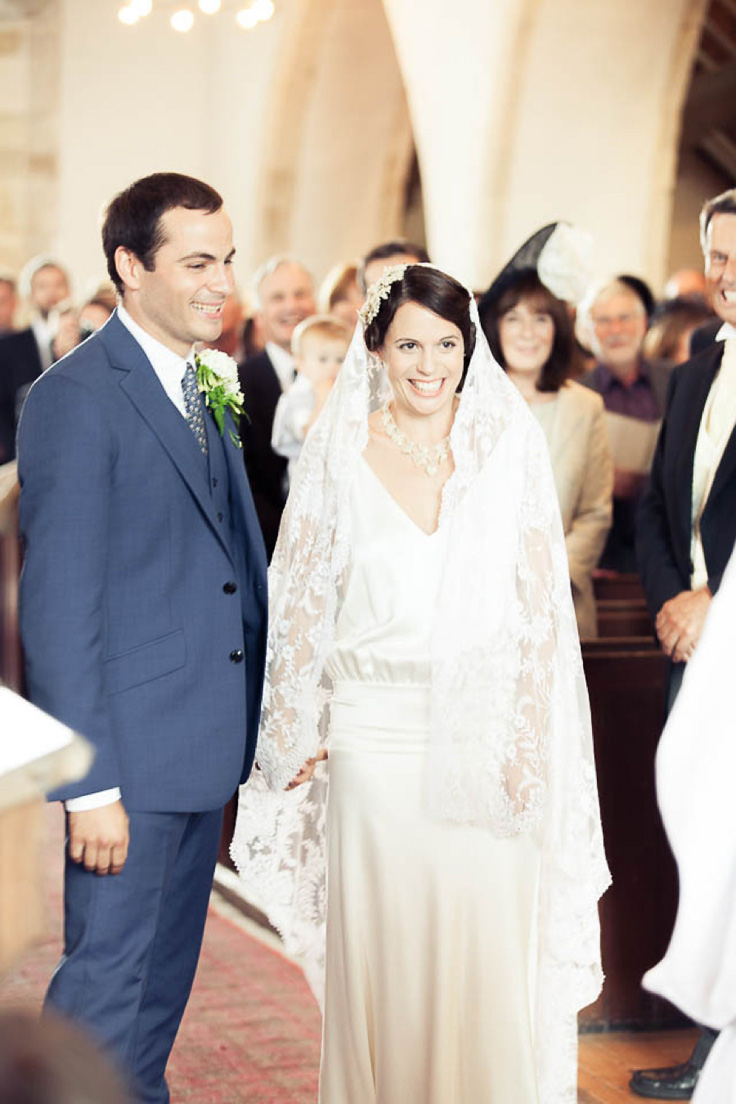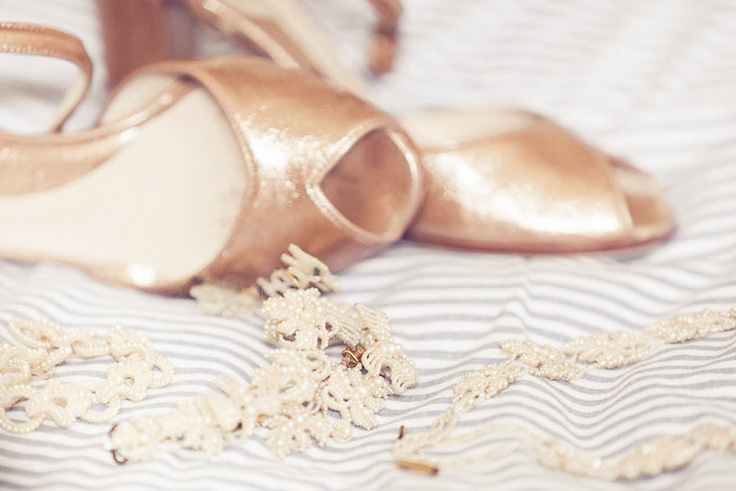 The bride's beautiful lace veil belonged to Ferdy's grandmother and was also worn by his mother on her wedding day. Laura had the fragile lace restored at Lunn Antiques.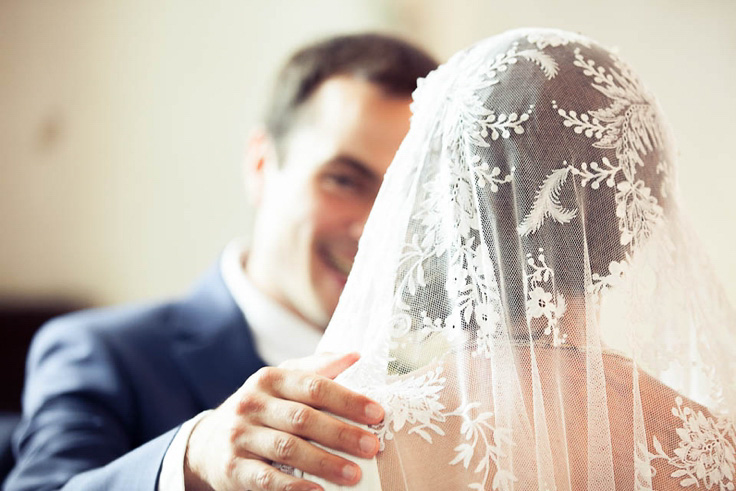 The bridesmaids all wore the same floaty skirt from Mango, then chose their own vintage style lace tops to match. The pretty little flowers girls looked adorable in cream dresses from Next and the page boys were smart as new buttons in striped waistcoats and shorts from BHS.
"All invitations, menus, order of service and seating plan etc were designed by Gale & Hayes – they were absolutely fantastic and I couldn't recommend them highly enough. They paid incredible attention to detail and completely knew the type of thing we were after.
There were two marquees which we decided would be the left and right side of the brain so Gale & Hayes designed a seating plan based on this idea. All tables were situated in a corresponding part of the brain with a description. Not sure why exactly but I guess because I'm a psychologist and I like the brain!"
"We were photographed by Verity at Rabbit & Pork Photography. I couldn't recommend Verity highly enough. Other than being an absolutely wonderful person to be with you on the day, we couldn't have wished for a better photographer. We had a pre-wedding shoot which helped us feel relaxed and more comfortable on the day with the photos (and kissing in front of the camera).
She also went through our wedding day so she could get a feel for how it would go and discuss the type of photos we wanted. She took incredible care with the photos, paying attention to all the moments we hoped would be captured and the details of the wedding."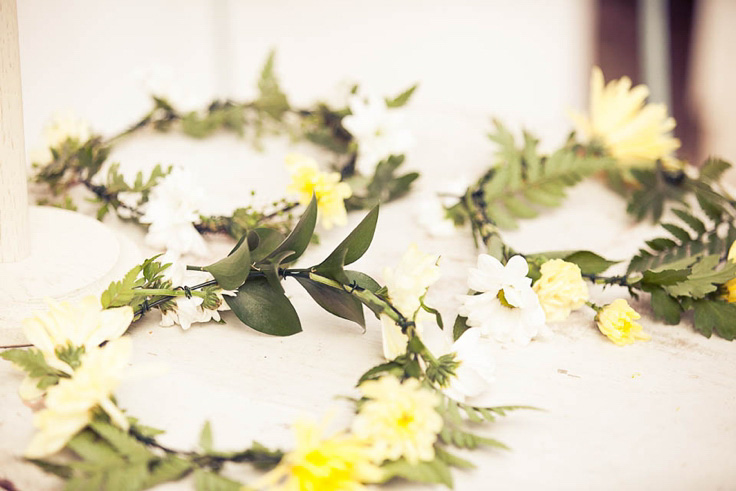 To accessorise her gown, Laura wore a pearl headdress and matching pearl beaded necklace, handed down to her by her grandmother from the 1920's. These are simply stunning don't you think? They are intricate yet understated, which suits Laura's look perfectly. She also wore her grandmother's gold armband and some fabulous gold sparkly peep-toes, purchased in Camden Passage.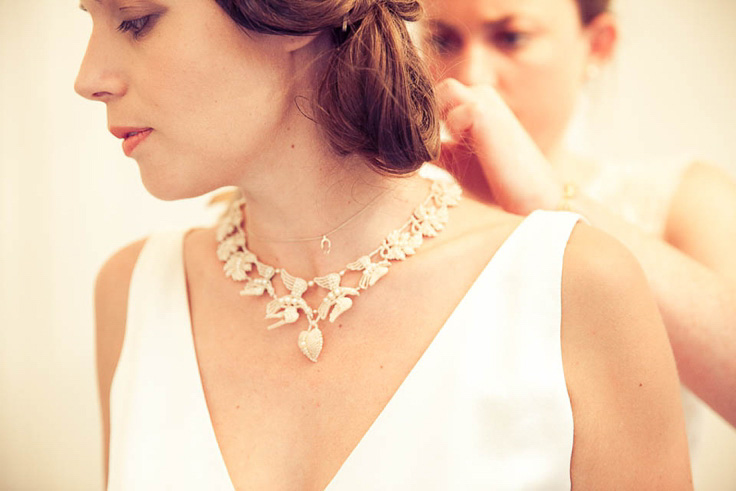 As the bridal party was quite large, Laura had a couple of stylists on hand to work miracles with everyone's hair, including her personal hairdresser and close friend Marius. Scarlett McPherson created the bride's vintage style hairdo.
"Scarlett was absolutely fantastic – I wanted a specific 1920s hairstyle with finger rolls which she practised a few times to get perfect and I would recommend her highly."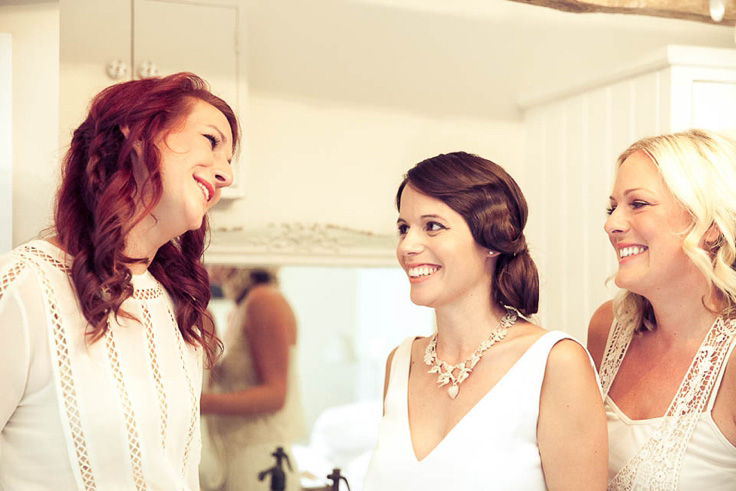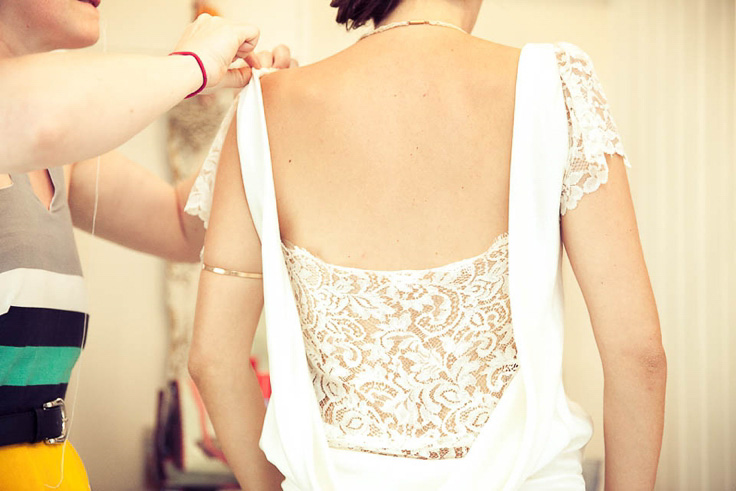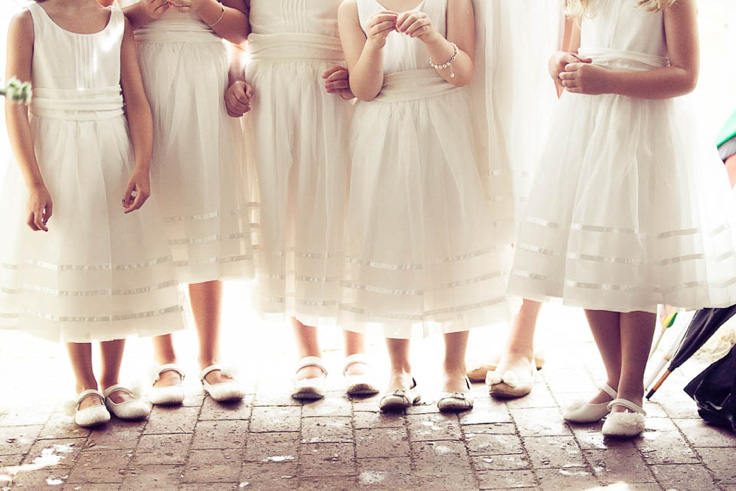 The groom wore an electric blue three piece suit from Reiss, with a daisy printed tie from Vineyard Vines and a bespoke yellow handkerchief. These bright silk pocket squares were printed by Tansy Hamley and all the groomsmen wore them, each with their own personal prints. A lovely touch.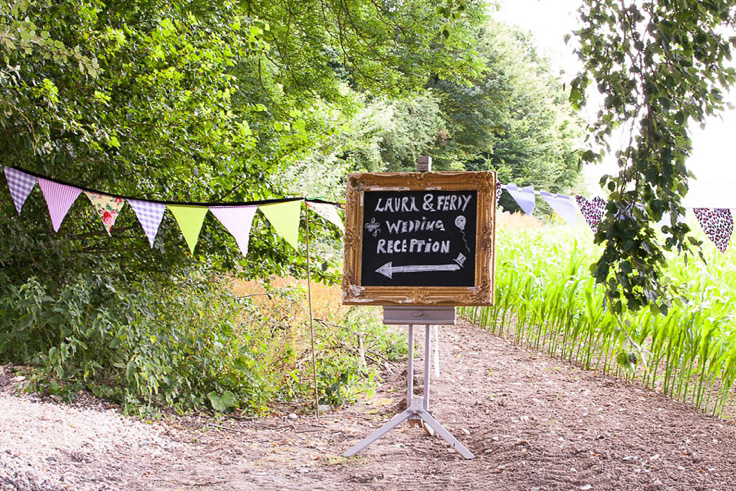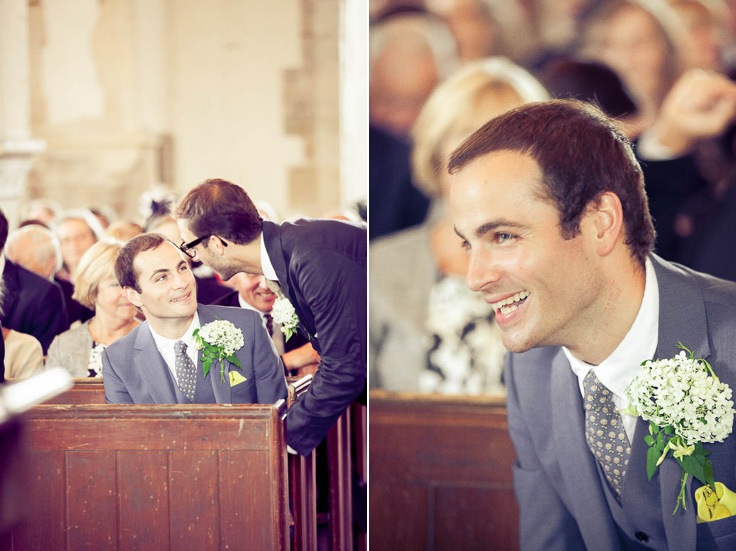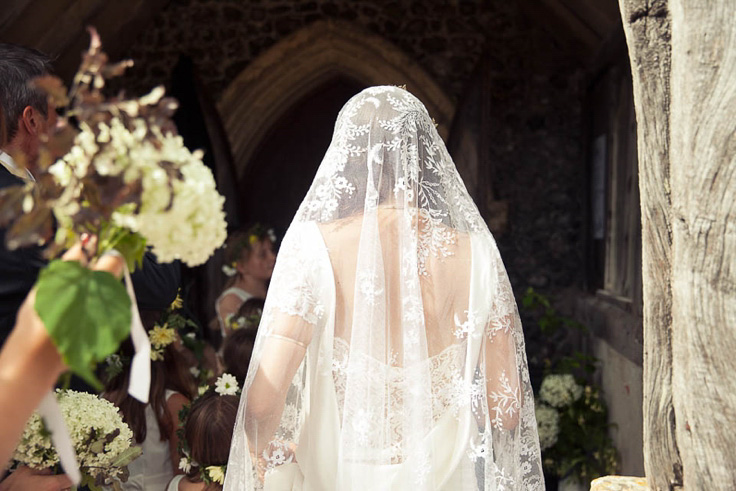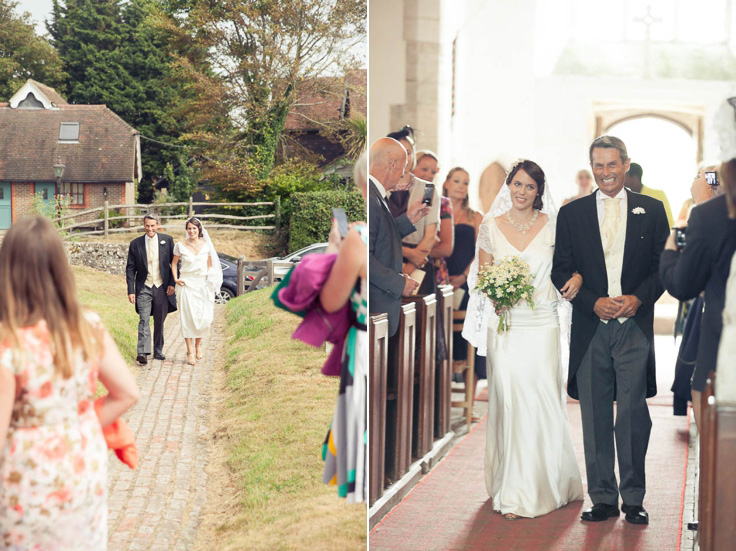 Laura walked down the aisle with her father for the traditional Church of England ceremony. They chose one of the most lovely excerpts from 'A Little Prince' by Antoine de Saint-Exupéry as a reading.
'"To be sure, an ordinary passerby would think that my rose looked just like you. But in herself alone she is more important than all the hundreds of you other roses: because it is she that I have watered…because it is for her that I have killed the caterpillars; because it is she that I have listened to, when she grumbled, or boasted, or even sometimes when she said nothing. Because she is my rose. And he went back to meet the fox…
"And now here is my secret, a very simple secret: It is only with the heart that one can see rightly; what is essential is invisible to the eye". "What is essential is invisible to the eye," the little prince repeated so that he would be sure to remember.'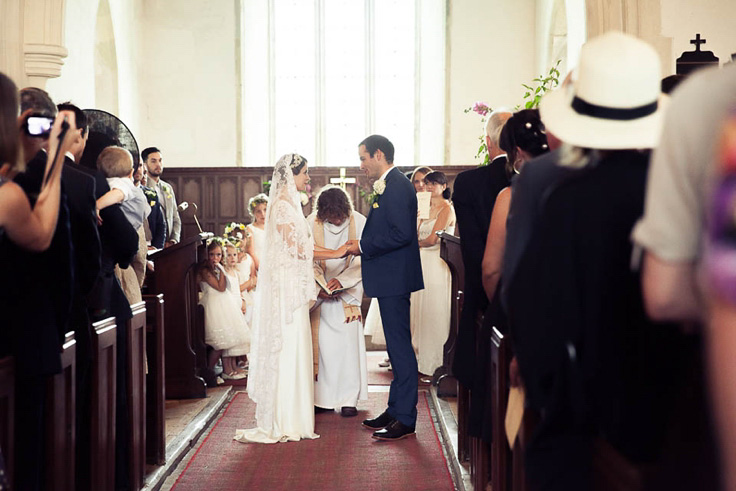 "My engagement ring is a 1920's gold, pearl and emerald design so we chose vintage rose gold wedding bands to match, all from Andrew R Ullmann in Hatton Garden.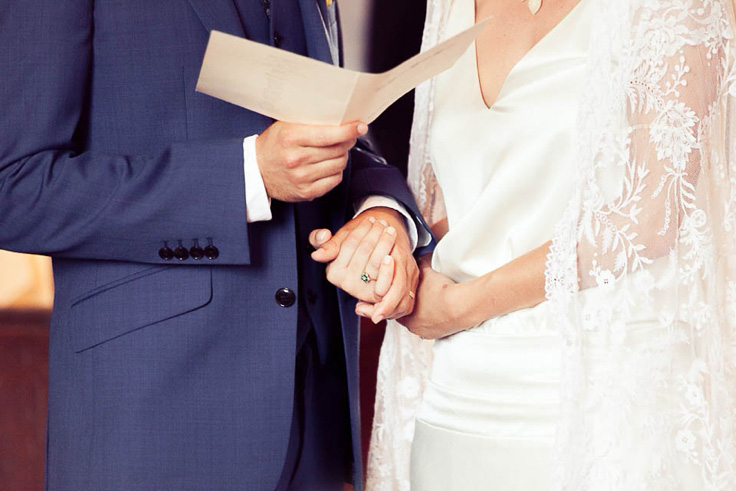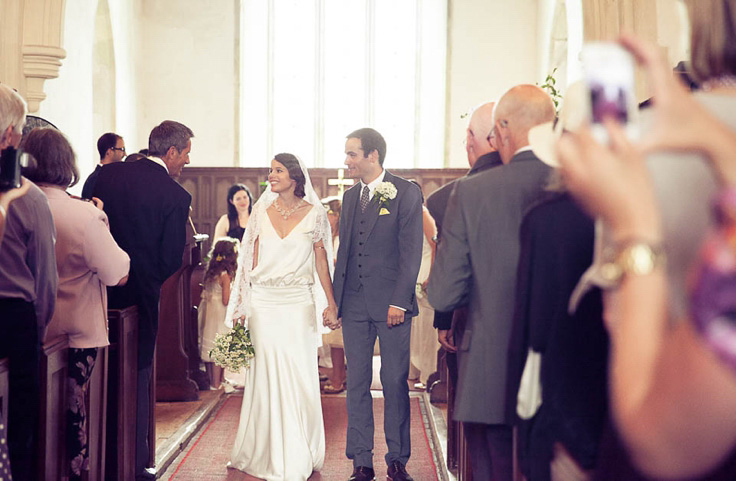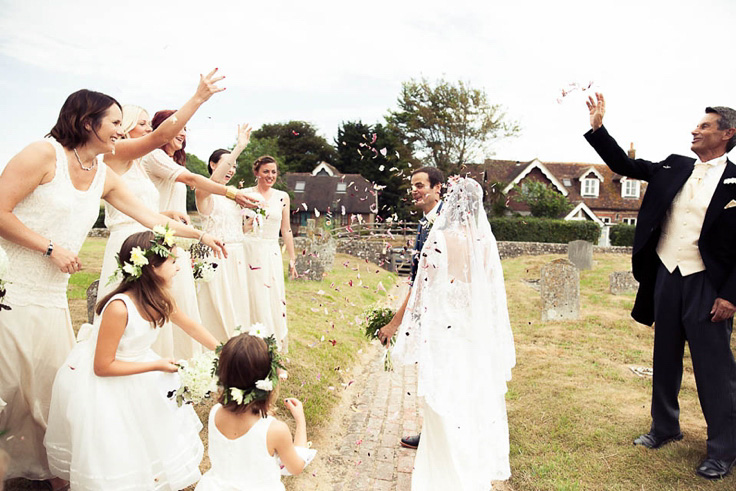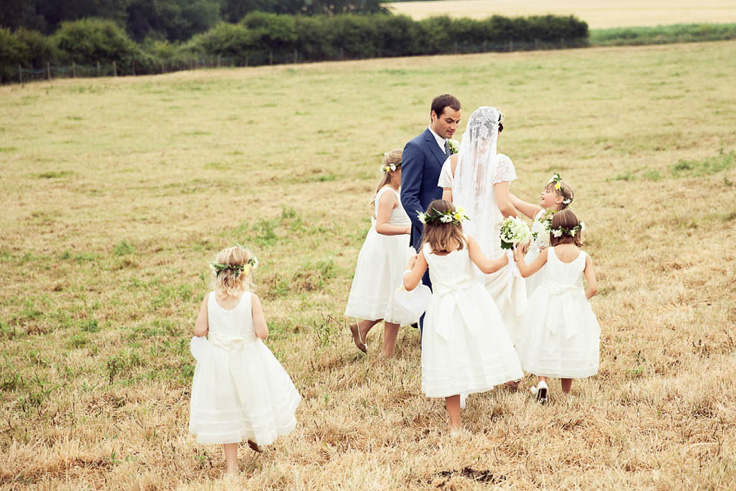 "All the flowers were home grown by Ferdy's mum who is a keen gardener. She made the bouquets, I wanted a natural looking white, yellow and blue colour theme. My bouquet was made of different types of daisies and Ferdy wore a daisy tie to match. Table flowers were potted in recycled tins that were painted. We also made flower head wreaths for the flower girls."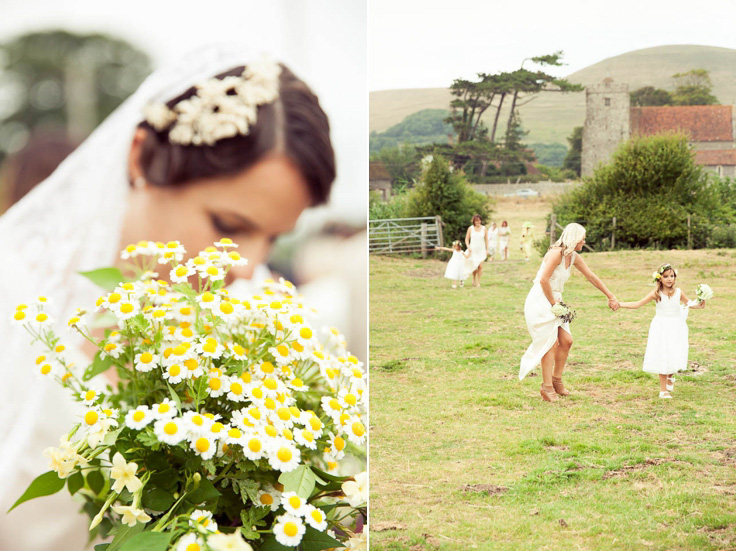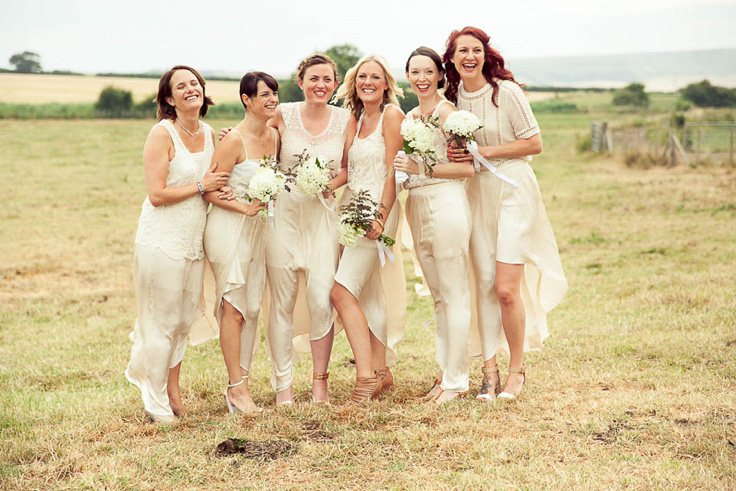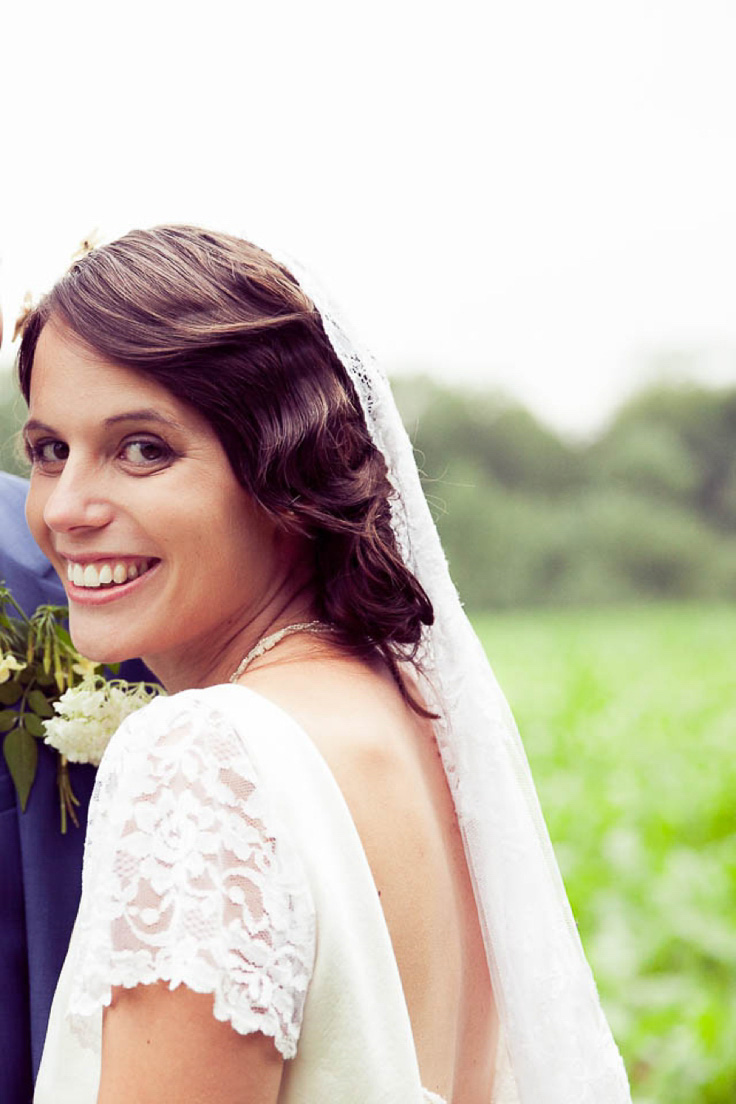 Laura and Ferdy used Handmade Food as their caterers, with home made canapés, breads and gazpacho to start.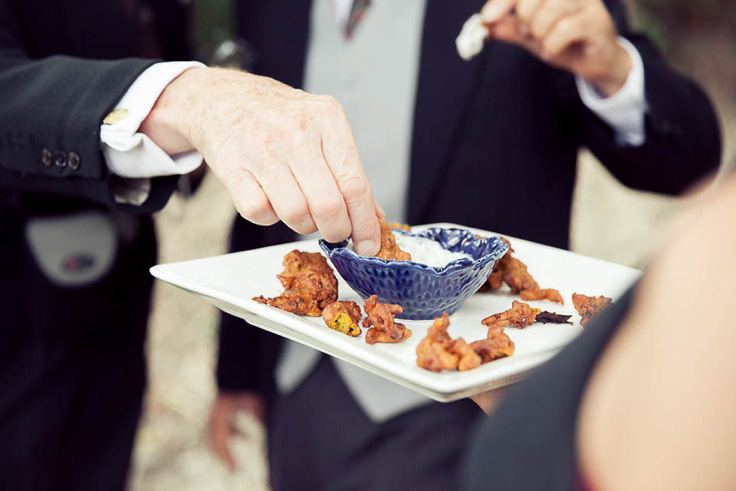 "We decorated the main marquee with vintage tins and milk bottles with potted and loose flowers, lots of candles, bunting and fairy lights. The dance tent had a large disco ball and yellow and blue paper lanterns suspended from the ceiling. Outside, the rum and tequila bar had a palm tree, cactuses and brightly coloured tropical designs."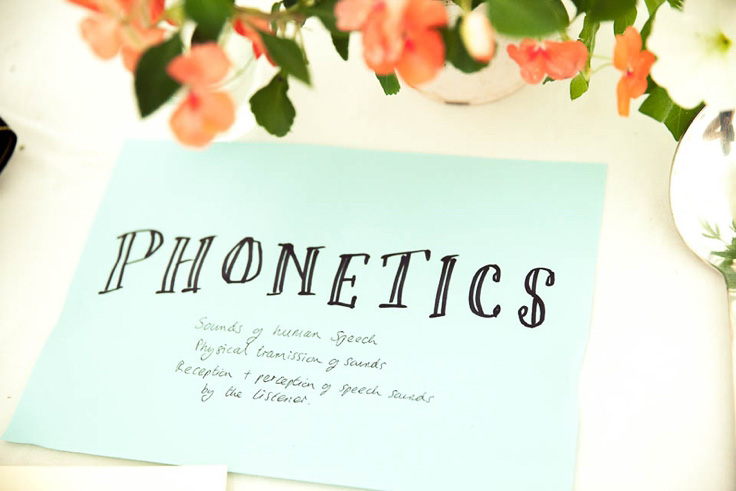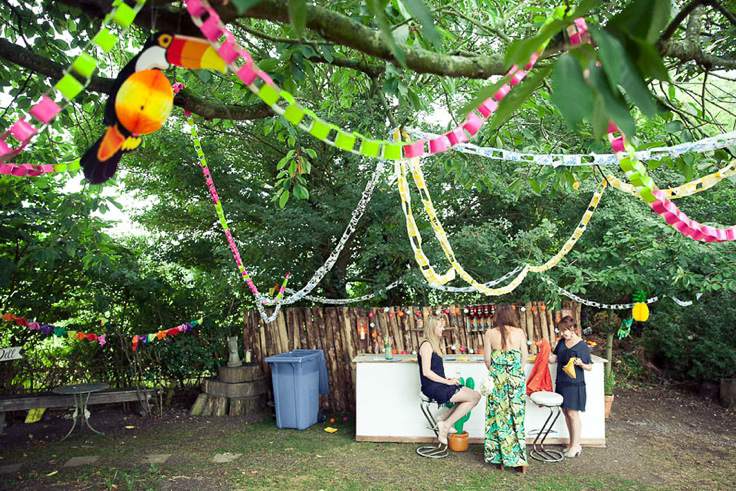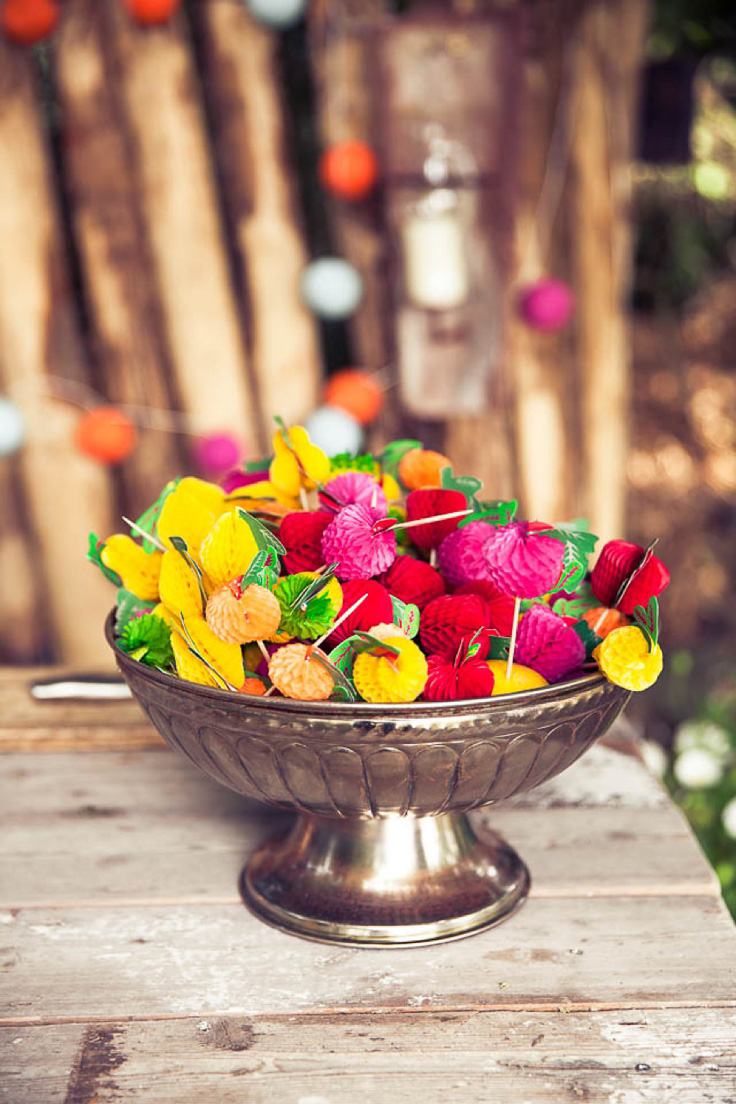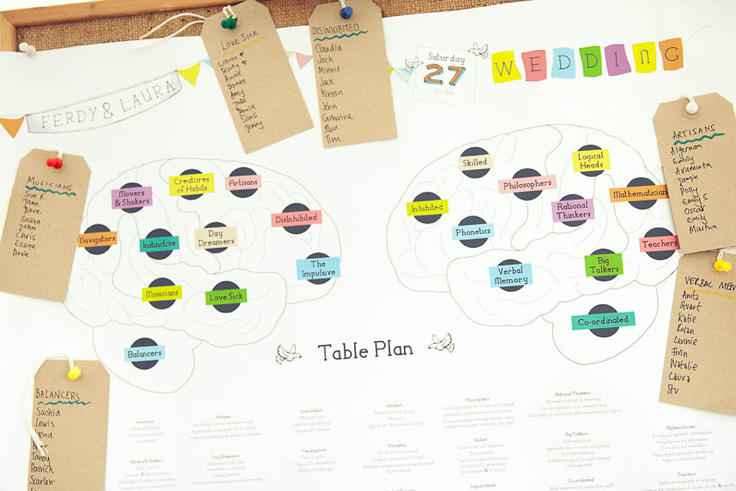 "For the individual seat names, Gale & Hayes created a wedding stamp on a brown baggage label which we tied to the antique cup and saucers. On one side it had the guest name asking them to draw a self-portrait and the other side asked them to leave a message for the bride & groom.  
The illustration for the wedding invitation was by Algernon (Ferdy's brother who is a children's book illustrator.)"
To keep the children entertained there was a special kids tent with face painting, hoops, drawing books and crayons, party bags and a maypole outside.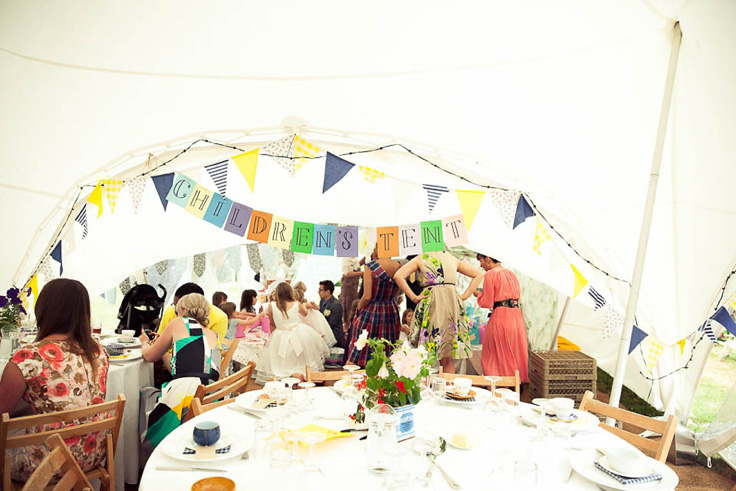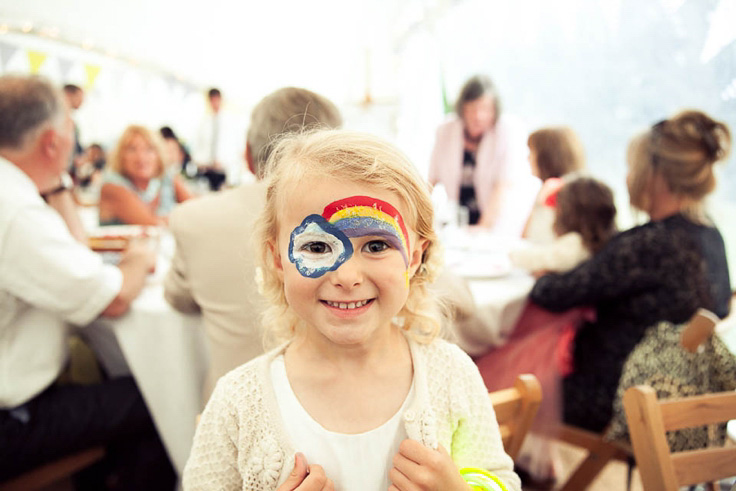 "The cake was made by a wonderful friend (Katy – based in Sussex) who recently set up a cake business. She took the flower theme for our wedding and used this for the main cake (which was a daisy themed lemon cheese cake with an amoretti base) and then a variety of different cup cakes to tie in with the other flowers."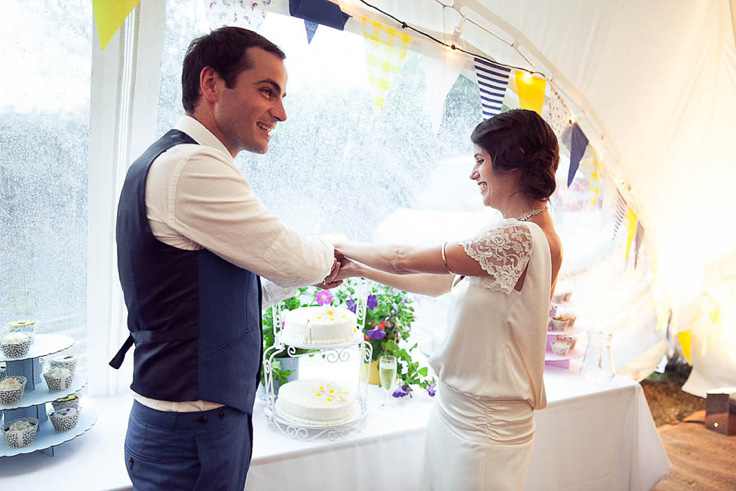 "For our first dance track we had The Smashing Pumpkins 'Tonight'. We are both of The Smashing Pumpkins era and we like the music video – a couple going up in an air balloon defeating all those who try and get in their way."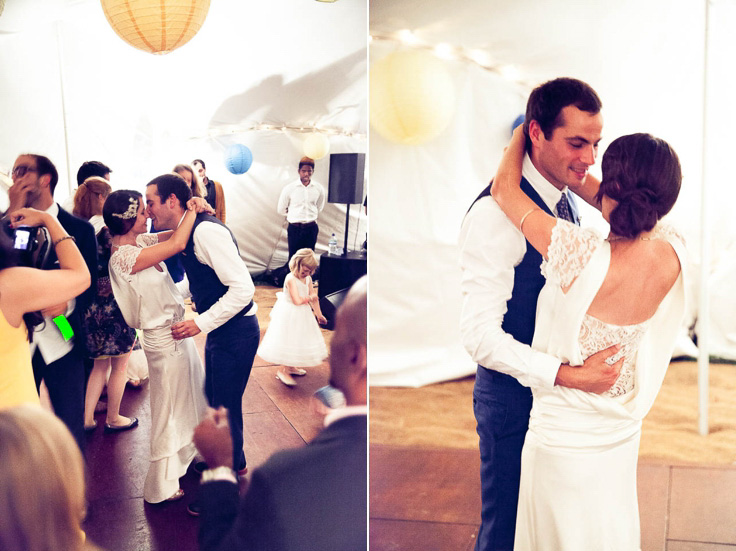 "I have so many favourite moments and I couldn't chose just one! The only thing that would have been nice is if the weather had been a little better. There was torrential rain and a thunder storm which caused a power cut… but it added to the drama and I guess that's the problem with planning an outdoors wedding in England!"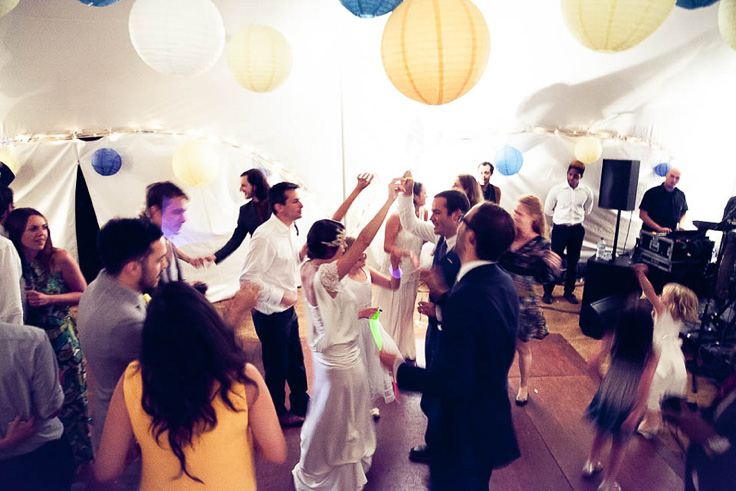 Words of Wedded Wisdom
"Don't worry too much about all the small details as you are the only person that is going to know if they don't go how you imagined. The most important thing is to be happy, enjoy your day and have enough food, wine and good music.  
Invest in a good photographer who will capture your day, as after it's all over, you can enjoy the beautiful photos and memories."
Thank you so much Laura and Ferdy for sharing this completely gorgeous day with us. Thank you also to Verity at Rabbit and Pork for capturing the relaxed vibe so beautifully.
Love Susie x
Photographer – Rabbit & Pork Photography
Venue – Blue Door Barns
Wedding Dress – Charlie Brear
Groom – Reiss + Vineyard Vines
Bridesmaid's skirt s- Mango
Flowergirls dresses – Next
Pageboys suits – BHS
Cake – [email protected]
Rings – Andrew R Ullmann
Catering – Handmade Food
Stationery design – Gale & Hayes
Hair – Scarlett McPherson
Tent hire – Loveabell