Hello there Love My Dress readers, and a very happy Wednesday afternoon to you.  Bride Laura and Groom David were married on the 6th June 2014 at Manchester Town Hall with a reception at The Black Swan in Hollins Green. Photographed in a series of truly beautiful images by Pixies In The Cellar, this wedding was all about fun, relaxation and a play on the colours red, white and blue.
"We wanted to put a personal touch on the wedding and to make and do as much as possible. We wanted a vintage, relaxed feel and inspired by a vintage Union Jack we went for a red, white and blue colour scheme. We loved the grandeur of Manchester Town Hall and the juxtaposition of the city and country settings."
Photography Copyright (c) 2014, Pixies in the Cellar
"We met twelve years ago in 2012 in Kefalonia both on a family holiday. We got engaged last June 2013 in Brussels. We then went to Kefalonia for our honeymoon, to the hotel where we met."
Laura's dress was purchased at a bridal factory outlet. The structured, 1950's hip hugging shape with the lace and cut-out detailing at the back are incredibly flattering.
"I definitely didn't want strapless and loved the material. The cut out back was the deal maker."
The bride also made her pretty birdcage veil! Told you there was talent abound here! To set her toes a-twinkling Laura treated herself to a pair of sparkly Louboutins. Her wedding scent was the richly decadent 'Boudoir' by Vivian Westwood.
Laura and David's wedding photographs are particularly gorgeous. They have an almost crystalline quality to them that just sets everything ablaze.
"Pixies in the Cellar were AMAZING and I can not praise them enough. From our first meeting over biscuits and tea in the studio at their home, Peter and Sara could not have made us feel more relaxed."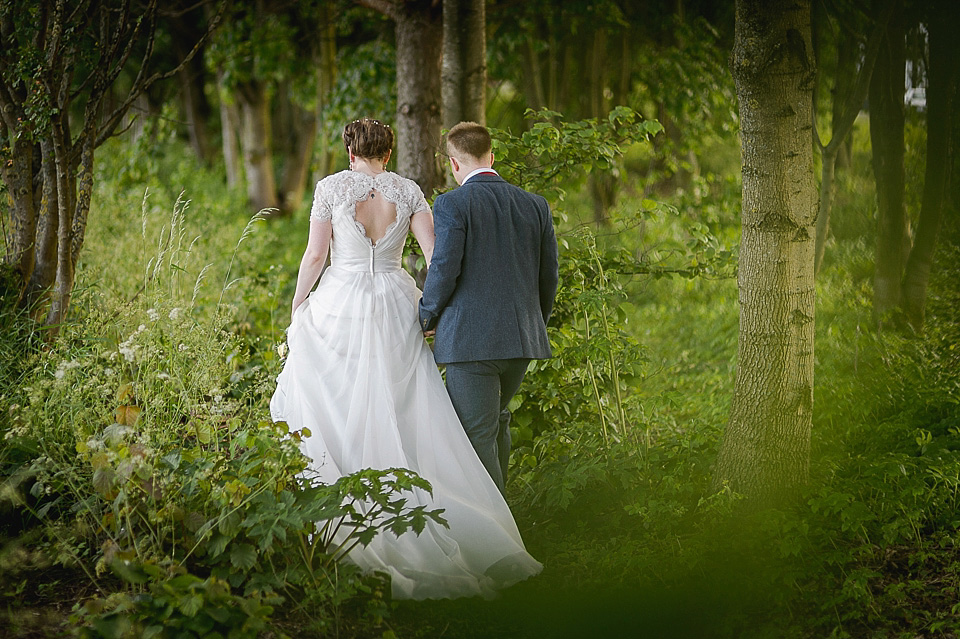 Love this shot of the bride and her father below….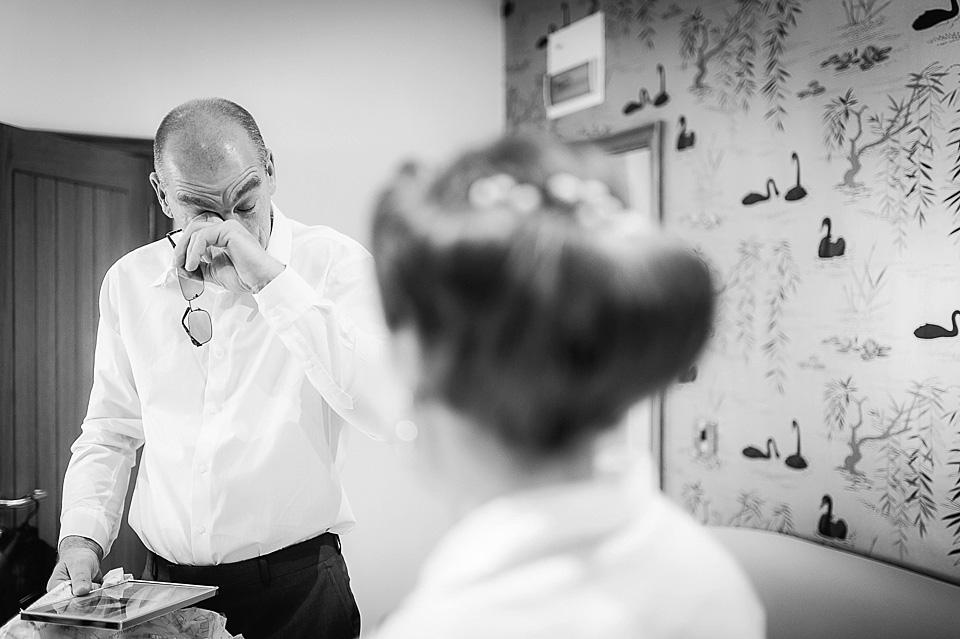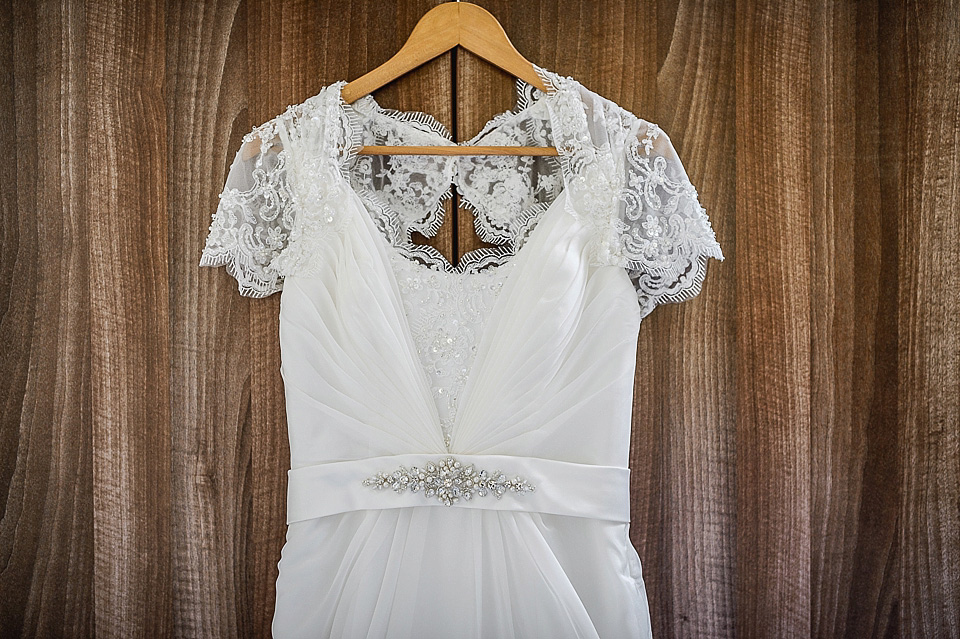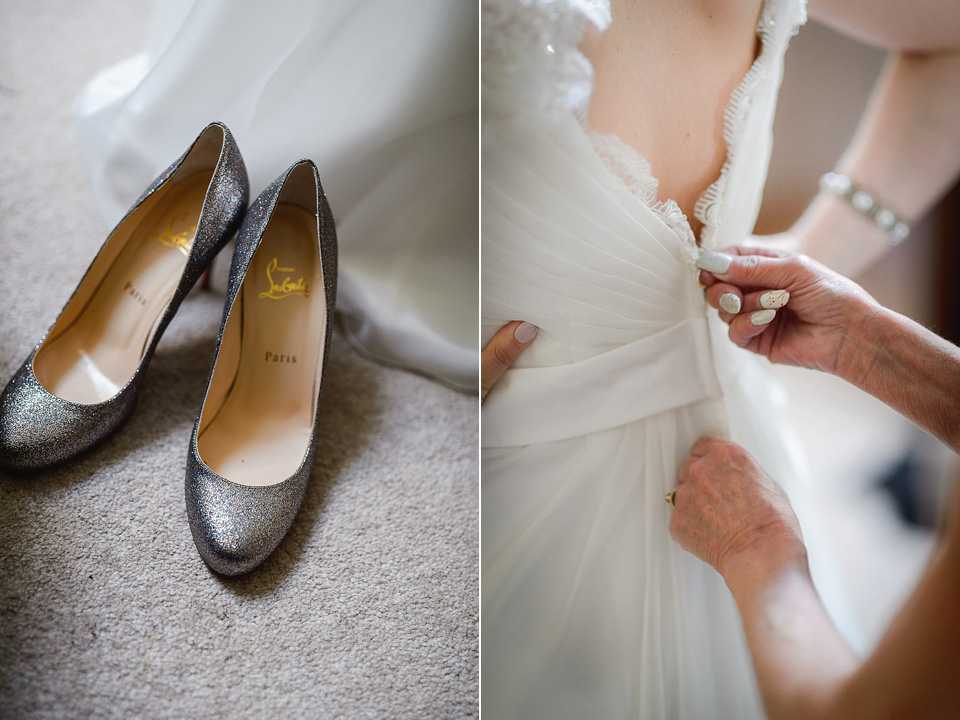 The wedding party had their makeup done professionally by Xanthe and Danielle, with hairstyles created by Trinity Hair Company.
"As my bridesmaids are all so different they each chose a different dress, the only condition was that is had to be navy blue. The two shorter girls had short dresses whilst the taller two had floor length. They were all purchased from the high street." 
Laura walked down the aisle with her dad and was presented with a very special ring that the couple had been keeping for years.
"My wedding ring was bought in Krabi,Thailand during our backpacking trip in 2011/2012 – although we were not engaged at the time we knew one day we would get married. Its nice to have the sentimentality of it, even though it is a modern handmade ring."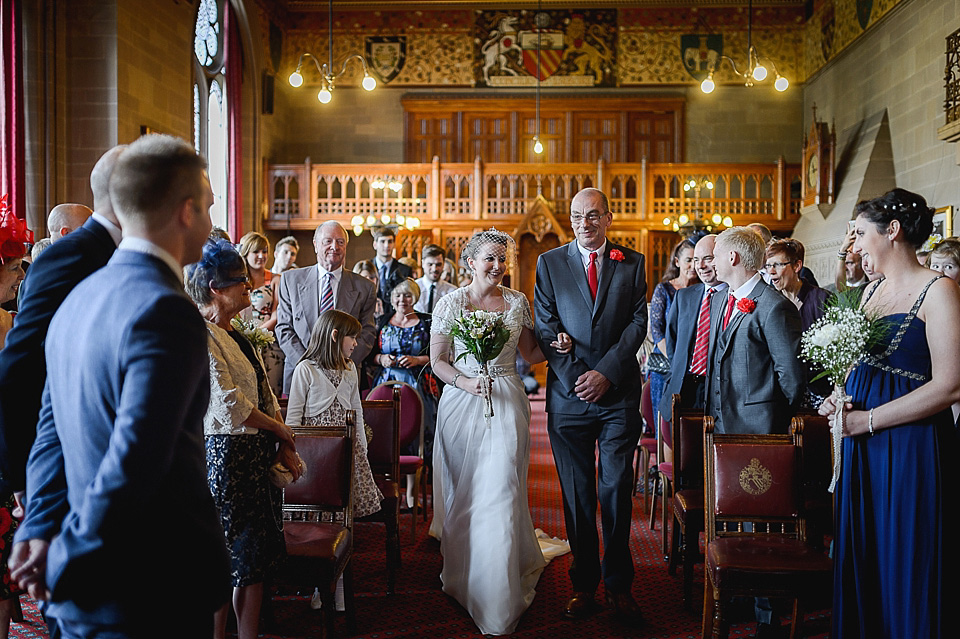 There were three readings during the ceremony, all touching and heartfelt.
On Your Wedding Day
Today is a day you will always remember
The greatest in anyone's life
You'll start off the day just two people in love
And end it as husband and wife.
It's a brand new beginning, the start of a journey
With moments to cherish and treasure
And although they'll be times when you both disagree
These will surely be outweighed by pleasure
You'll have heard many words of advice in the past
When the secrets of marriage were spoken
But you know that the answers lie hidden inside
Where the bond of true love lies unbroken
So live happy forever as lovers and friends
It's the dawn of a new life for you
As you stand there together with love in your eyes
From the moment you whisper 'I do'
And with luck all your hopes and your dreams can be real
May success find its way to your hearts
Tomorrow can bring you the greatest of joys
But today is the day it all starts.
"Two of my best friends read an adapted version of Chakka Khan – Aint Nobody – which even after the ceremony some people found hard to believe was actually the 80s classic."
Chapter One of One Thousand, OJ Preston
For two people this dawn brought on a magical day
Now husband and wife they head on their way
As a boat setting sail may their journey begin
With calmest of waters, most helpful of wind
And if they should stumble upon turbulent sea
May it pass them unharming – leave them be.
For here are two people whom love has well bitten
Here opens their book which has yet to be written
As the first page unfolds and their life inks its path
May it write a true story where forever love lasts
Let their journey be happy till death do they part
Of one thousand chapters may this be the start.
"We played 'On top of the World' by Imagine Dragons as we walked out of the room as husband and wife. This was also the very last song played at the reception."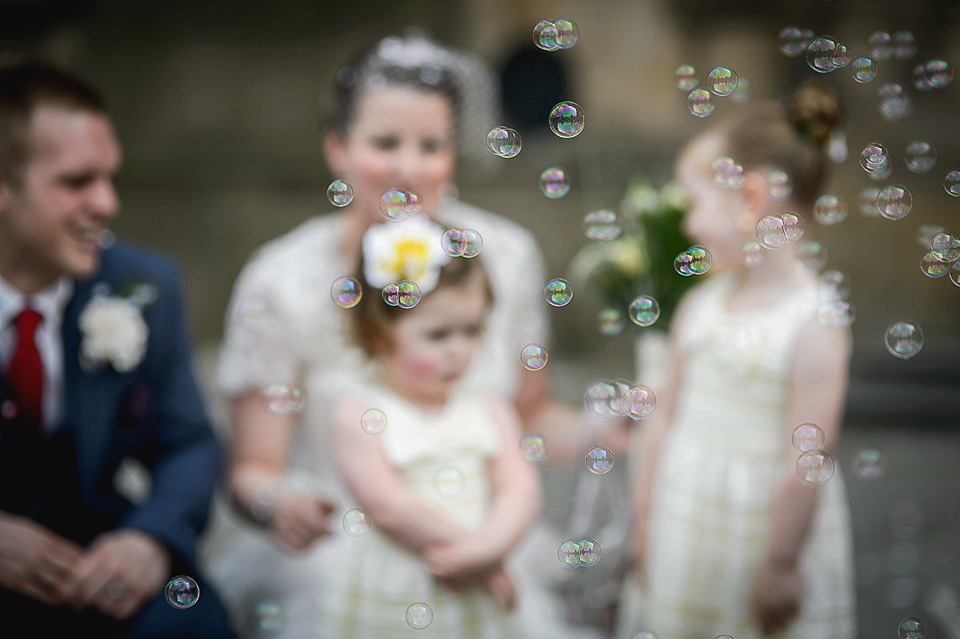 I think I can honestly say that these are some of the nicest flowers I've seen that have been arranged at home! It's the natural simplicity of them that really does it for me and how well they compliment the strong colour scheme.
"My mum did all of the flowers – they were amazing and a great way to spend some quality time together the night prior to the wedding. We went to the flower market at the crack of dawn to choose the flowers and went with whites and wild flowers mainly but a red carnation on each table in my Nan's memory. The jam jars were collected for almost a year to act as the centrepieces and filled with flowers." 
The couple chose the iconic british double decker bus in which to transport their guests.
"It was lovely to travel to the ceremony on the bus with the bridesmaids, closest friends and my mum as well as my dad. The journey back was a lot of fun with all of the guests and the bus also acted as a bar while the guests waited at the town hall while our pictures were taken, with Dave's dad being the bar man and keeping the champagne flowing."
David wore a heritage blue wool suit from Topman, with a sharp white shirt and red tie. I think the gentlemen at this wedding look really excellent, I love the vintage british colour-way.
"The groomsmen all wore their own suits – we loved the relaxed look that mismatched suits gave. They all had matching red ties and paper flower buttonholes that I made."
"We chose to decorate the venue with things that complimented the charm that it already had and which made us choose it. With the help of family and friends we collected thousands of jars and I painstakingly decorated them by hand before filling them with wild flowers. We added some personal touches with the addition of a suitcase which was Dave's granddad's. This also served as our card box decorated with Dave's dad's Union Jack, photos from our parents and grandparents own wedding days and little personalised signs."
"To allow our guests to be involved in the wedding (and to overcome the eternal question of 'what can we do to help?'), we had a bake-off, with medals, where many of our guests brought cakes to the wedding."
"For our cutting cake we chose a yellow birthday cake from M&S and had a cake pop bride and groom as the cake topper made by Love Baker."
It's always great to hear from the groom and David has shared his favourite moments with us…
"I don't think that there is any one part of the day that was better than any other part. It would have been a totally different day had we not had the sunshine and that complimented the venues and laid back nature of the day. A day where you have all your friends and family in one place is always going to be memorable.
We'll both have dozens of fond memories from the readings at the ceremony to serving cake to our guests, to giving prizes, the speeches, becoming a lord and lady and even some impromptu karaoke but watching Laura walk down the aisle and catching the first glimpse of her dress was pretty special for me." 
Laura says "We had friends travel from as far as Alabama, USA and Perth, Australia, as well as from all over the UK to be part of our day – that was so special. My favourite parts were revealing my dress to the bridesmaids in the morning, I had kept this a big secret and their faces made it all worth it.  I also loved sharing a moment with my dad and giving him a print of a poem and a photo of the two of us on  my christening day.
It was maybe only the 2nd time I have seen him cry.  And Dave surprising me with a ladyship during his speech was amazing!"
Words of Wedded Wisdom
"Don't sing through the first dance – it ruins the pictures!   Have someone record the speeches, even if it's just on a phone as you will not remember any of it afterwards which is such a shame. Listen to your photographer and go along with their ideas, just relax and enjoy the process, the results are so worth it."
I really want to mention how this wonderful bride and groom were missing some important loved ones on their special day, and how they chose to remember them…
"My uncle was diagnosed with a brain tumour only a couple of weeks before the wedding, meaning neither him nor my Auntie were able to attend the wedding. Brain tumours are the biggest killers in the under 40s yet of the £500m spent on cancer each year brain tumours receive only 2% of the funding. In order to raise awareness for the Brain Tumour Charity, Dave and I, along with Dave's parents and brother (and with my dad as the trusty driver) are taking on the Three Peaks Challenge on the 6th September. You can find our JustGiving page here."
Thank you so much to Laura and David for sharing their wedding with us and also to Pixies in the Cellar for their delightful photography.  I hope you've found some inspiration looking through these photographs.
Love Susie x
Photographer – Pixies in the Cellar
Venue – Manchester town hall & The Black Swan
Wedding Dress – Bridal Factory Outlets
Shoes – Christian Louboutin at Selfridges
Groom's Suit – Topman
Cake Toppers – Love Baker
Transport – Wedding Buses
Rings – ChockDee Handmade & Erica and Edwards
Hair – Trinity Hair Company
Makeup – Makeup By Xanthe