Hello lovelies, I'm so super excited today – we fly to New York this morning – a part pleasure (to celebrate my birthday) and part business (it's bridal fashion week in NYC right now) trip that I've been looking forward to for months now. Given that I wasn't able to attend the main UK consumer wedding event last weekend (though Tamryn blogged about it here yesterday), I'm extra excited that I get to see the brand new collections of some of my very favourite designers over the next few days, including Halfpenny London, Claire Pettibone, Belle & Bunty, Emmy Shoes, Freya Rose and Jesus Peiro, The only downside is that I'll miss the Wedding Magazine Blog Awards event this Friday – BUMMER – though Tamryn and Caoimhe will be attending on behalf of Love My Dress®, so please keep your fingers crossed that we get lucky on the night – it would be just amazing and the cherry on the cake of a week – ok, fortnight 😉 – of birthday celebrations to win something.
This morning's feature is the wedding of Pam and Adam, who tied the knot on 12th April this year at Kincaid House Hotel, based in Milton of Campsie Glasgow.  Their wedding was a sweet, smiley affair with shades of pastel pretty and elegant floral crowns.  Pam explains how she bought the aesthetic of the day together, which was inspired by her fondness for fashions and style of the past.
"I am in complete awe of all things 40s and 60s, and was keen for a wedding that was laid back and that felt like a good old-fashioned house party.  After choosing my dress and the rest of the wedding attire I began to see a vision of what I wanted for us both, and how it could come together.  The pastel colour scheme quickly adapted too – they were colours that I were most drawn to when researching for our wedding. 
We chose Kincaid House Hotel as our venue, because it was relaxed and homely. As it is a family run hotel, we were given the opportunity to decorate as we pleased and weren't forced into modern/sparkly centrepieces.  Also Adam was a massive fan of the Tartan carpet – which rather complimented his kilt!"
Photography Copyright (c) 2014, Feelin Groovy Photography
"Both my dress and my veil were by Scottish designer Joyce Young.   I booked to visit Joyce's store with my mum and my Maid of Honour – who just so happens to be my best friend from school, Andrew (and yes, I did insist of calling him my maid of honour throughout the wedding!)."
"My dress was called 'Patience' and was based on the design of Grace Kelly's wedding dress.  It truly did have a royal look with the beautiful Satin finish and the subtle lace detailing. It was the first dress I tried on and nothing compared."
"Liggys Cake Boutique was the first cake shop we visited and there was no reason to go elsewhere.  We received exceptional service and for such a reasonable price.  We opted for four tiers of all different flavourings, two tiers of lemon and poppy seed sponge with lemon curd and cream filling, one with carrot cake and cream cheese frosting and the latter with a vanilla sponge, cream and raspberry coulis middle.  The lemon and poppy seed was my favourite, it was deliciously light and fresh (perfect for when you're trying to hit the moves on the dance floor when wearing a heavy wedding dress!).
I wanted and eventually found the beautiful swans on BHLDN."
"Our flowers were by Amy of The Black Orchid – also an old school friend.  I adore flowers, so opted for a big bouquet of beautiful spring blooms. I spent a lot of time with Amy researching wild flowers that would be in season in spring. My only ask was that the flowers were muted pastel tones to fit in perfectly with the day.
I have a particular obsession with hydrangea and gypsophila but quickly realised that all spring flowers are equally as beautiful with Astible looking almost like a perfect little feather – just gorgeous.  Everyone I know that it getting married in the near future have been in touch with Amy as they were so impressed with the flowers at our wedding, and rightly so.  They were the most beautiful flowers."
"I met Adam the night of my parents 25th Wedding Anniversary.  A friend and I had left their party and travelled into town to go to a local nightclub were I bumped into an old school friend who worked with Adam at the time. We chatted for a while shared a cheeky kiss and that was pretty much that.
After our mutual friend re-introduced us I couldn't refuse the challenge :)"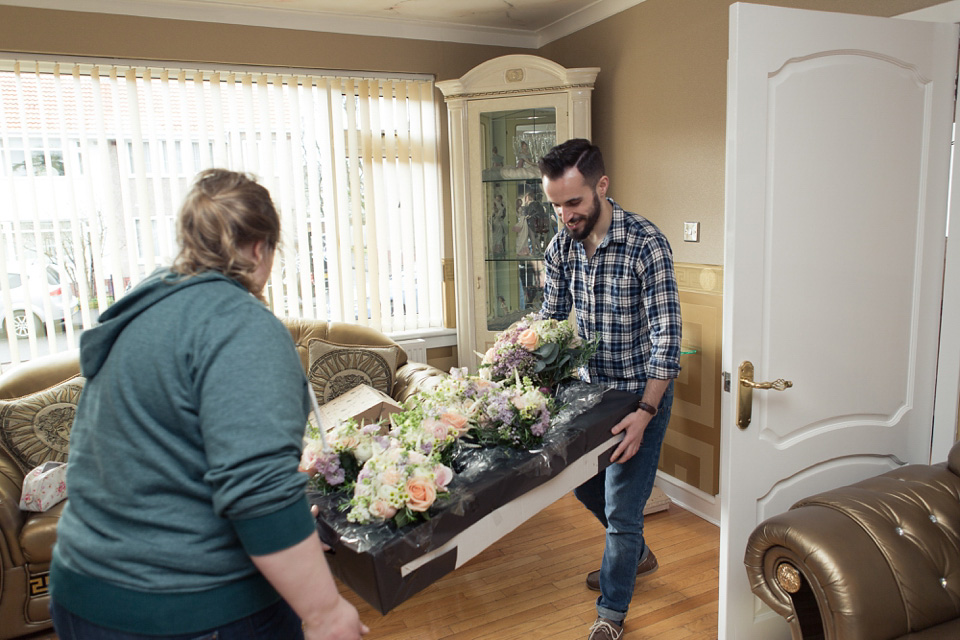 "Adam asked me to marry him on Christmas morning 2012.  After seeing my beautiful vintage opal ring, how could I refuse?
We were engaged for around a year and a half.  I had some crazy idea to get married the April after and quickly realised that the wedding planning wouldn't be quite so straight forward. In the end, our timescale was perfect, I didn't feel rushed and I certainly wasn't sitting twiddling my thumbs either."
"Our photographer was Josephine Tunney of Feelin Groovy Photography, who we met at a wedding fair. After chatting for about 45 minutes we knew Jo was the photographer for us – her laid back personality and brilliant sense of humour were exactly what we wanted on our wedding day.  
It felt like a friend had arrived when she turned up on the morning of the wedding and I had to stop myself from distracting Jo too much! We received some pre-view photos the day after the wedding and hundreds of beautifully edited photos in the weeks following. I recommend Jo so highly that I feel slightly insulted when my friends choose other photographers for their weddings!"
Those beautiful gold shoes below are 'Ginger' in gold, by Rachel Simpson.
"My something old was my beautiful antique opal engagement ring, something borrowed was my mother's pearl watch, something new was my dress and blue was some pretty ribbon on my underwear!"
"My necklace was from Joyce Young and my earrings were simple opal studs that my parents bought me for my birthday after Adam proposed – they go gorgeously with my ring! My watch was my something borrowed  – it belonged to my Mum."
"I have a very special relationship with my mother and father and I cried lots on the run up to our wedding purely because I was losing my family surname!  My father wasn't keeping well on the run up to the wedding and wasn't sure if he would be able to walk me down the aisle. I am so glad he did. I felt so brave and confident when walking down, it was one of the most proud moments of my life.
We both walked down the aisle to Cat Power's 'Sea Of Love'. This song gives me goosebumps and when it comes on during our wedding film I get more emotional than I did on the day itself!"
"As our ceremony was performed by a registrar we didn't have any tailor made vows. To be honest everyone who knows us and obviously us ourselves know how we feel about each other. We were both emotional and so in love I doubt we could have coped with reciting any particular vows (cheesy I know).
Our registrar did read some beautiful words however, she had contacted me prior to the wedding to ensure we were happy for her to read some words she had written which I was very happy about.  We were told registrar weddings could be impersonal and short but It was a beautiful, intimate ceremony.
We had a reading by my bridesmaid Aimee who is a close friend but also my brothers partner.  She works within the theatre business and I thought she would be perfect for the job.  She read 'The Owl and the Pussycat' by Edward Lear, this was an obvious choice from the start. Adam doesn't like to be taken too seriously and anything else would have been far too soppy. It was also a bit of a reflection on myself as an Early Years Practitioner."
"Our rings were from Bejouled – a beautiful little shop located in the centre of Shawlands. We were finding it difficult to find a wedding band that fitted with y engagement ring as it is quite a high setting and when looking into having one made to fit it was all looking a bit expensive..and a bit scary! Darren instantly made us feel relaxed and took into account our tastes and budget without sniggering!! Within a few weeks we had a wax model of my wedding ring made and in another few my ring was ready to collect. I was and still am totally in love with it! The finish on the gold keeps it looking vintage and brings out the diamonds in my engagement ring.
As I loved my engagement ring so much it was really important to have a wedding band that only increased this and Darren definitely made that happen. Now it's only a matter of saving money to have another band made for the other side – hehe!"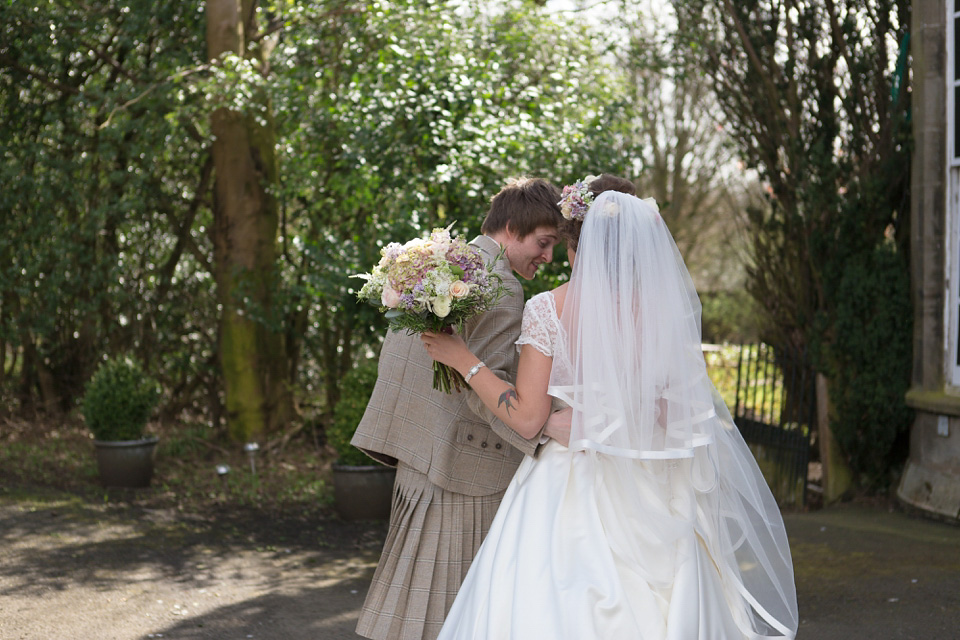 "Both of our lives have been greatly impacted by cancer. Unfortunately, at the time of the wedding, Adam's grandmother was poorly with cancer and couldn't attend our special day. This was devastating to us both. We decided to use the money saved for favours to donate to Cancer Research who kindly gifted us in return for pins for each guest. Shortly after, Adams grandmother passed away.
This only reinforced the weight behind our decision to donate and it is such a special part of the wedding which we will always remember."
"As mentioned, Adam's Grandmother wasn't well enough to attend the wedding, she had previously given me table cloths and other items of embroidery that herself and her mother had hand made. I knew as soon as I received one cloth in particular It was made for our cake table.
Before she passed, she was overwhelmed with the photos of our cake table and said her mother would have been so proud which meant the world to me.  I also bought copious amounts of lace to cover our tables, collected china ware for table place settings, lace bunting and pompoms! I also re-lined a little vintage case with the help from a friend. It was a steal from the local cancer research charity shop and looked excellent as a place for people to drop off cards. Of course this is just one of the ideas I gained from my obsessive trolling through Love My Dress every night before bed!"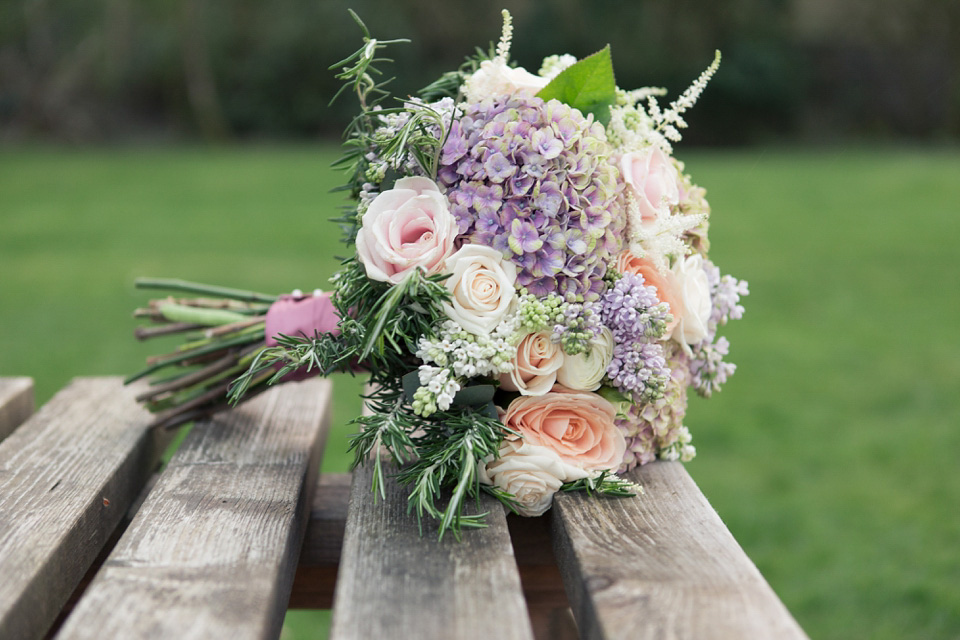 "I have a few favourite moments of the day – my first would be walking down the aisle and seeing how emotional Adam was. He's a bit of a man's man and it totally wasn't expected but it was so overwhelming for me. I feel it just showed how special the day was for him and how strong his emotions were.
In addition to this, I am extremely close to my Auntie Betty who lives in Canada! I had hoped they could make the day and saved a space for her and my Uncle right up until the last minute. My parents told me the flights were simply too expensive and they couldn't make it over. Straight after the ceremony my Dad told me someone was trying to get into the wedding and didn't know who they were. I followed him out to the front of the hotel and they were both there! What a fabulous and truly special moment.
The last would be my father's speech. I spend quite a lot of time thinking of what he would do and hoping I make him and my mother proud. During his speech he mentioned 'embarrassing moments' which there are many of! I awaited a list but instead he said I simply had never embarrassed him and stated how proud they both were. I will never forget that moment."
"Our first dance was to Sam Cooke's 'Cupid'. I am a massive fan of this era of music and having discussed the possibility of it being our first dance song it seemed to follow us everywhere!! From our first meal in Kincaid house prior to the wedding to a local cash and carry! It just had to be chosen."
Words of Wedded Wisdom…
"When it comes to flowers, don't under estimate the power of them. My parent's worried I was keeping too big a budget for the flowers but they were worth every penny! And they are the main thing people comment on when they see our pictures and film.
I realise it's possibly the most common piece of advice, but everyone told me to make sure I took Adam away for five minutes to allow us to take in everything that had happened so far. We took a few minutes in our room to just enjoy the moment and have a bit of alone time. It's easy to get lost from your new husband and find yourself moving from one guest to another!
Also, try not to rush things too much! It's easy to panic and have everything booked within a few months. Plan specific things and decide when you are going to research each, as if not the planning will be over too quickly. It should be the best part.
Lastly and not least, get yourself a notepad, a pen and a cuppa. Sit down and troll through Love My Dress every night, take notes of the ideas you love or the suppliers you wish to contact! This was my most enjoyable part of planning!"
Oh lovely Pam, thank you so much for your kind words about Love My Dress – I'm so happy that this blog was helpful in inspiring you in the run-up to your wedding day.
Brides, if you are located in Scotland (or London too, as she just happens to have opened a new store there), you might want to visit designer Joyce Young to discuss your own wedding dress requirements.  I'd love to hear from you if you do.
Have a very lovely morning everyone *waves from somewhere high-up over the Atlantic ocean*
Love Annabel xx
Photographer – Feelin Groovy Photography
Venue + Catering – Kincaid House Hotel, Glasgow
Dress + Veil – Joyce Young
Bride's Shoes – Rachel Simpson's 'Ginger' in gold
Perfume/Scent worn on the day – Jo Malone – Pomegranate Noir
Grooms Suit – Mckenzie Menswear
Bridesmaids – Sarah Louise Bridal + gypsophila crowns via The Black Orchid
Florist + Floral Crowns – The Black Orchid
Cake – Liggys Cake Boutique
Cars/Transport – Bothwell Bridal Cars
Rings – Bejouled
Stationery – DIY
Hair Stylist – Anne Marie McElroy
Makeup – Julie de Placito