As you'll be aware by now if you're a regular reader of Love My Dress®, this past few days has been somewhat hectic!  Planes, trains and the collection of two rather fabulous awards have meant that we've not been able to tend to our usual 2-3 times daily schedule for some of this past week, so I thought that I'd share some posts today to make up for this, starting with this gorgeous little summer wedding that was sent in by photographer Tamryn Henn of I am Tamryn.
Fashion Buyer Amy married her beau Paul on 12 July this year, and celebrated with a marquee reception in Paul's Mum's garden in the picturesque village of Burlingjobb in Powys, Wales. This is a sweet wedding with many charming little DIY touches that were very personal to the couple.
"The country inspiration for our wedding was a no brainer because of the rustic setting, and the fact that we both wanted the wedding to be quite relaxed and informal. Paul picked the colour red, due to our's and my family's mutual support of Arsenal football club!, the Welsh dragon (Paul is Welsh) and it being his favourite colour. Despite my initial concerns that it would be a difficult colour for a high summer wedding, I felt it was more important that decisions about the day were personal to us as both as a couple – rather than just an aesthetic style chosen to style our day but with any lack of meaning."
Photography Copyright (c) 2014, I am Tamryn
"My best friend Lauren and Paul's friend Brett are husband and wife, so we have known of each other for years, but we only really got talking at a Halloween fancy dress party in 2012. We've been a couple for about 18 months, and we were only engaged for about 10 months, so it's been a bit of a whirlwind!
Paul's Mum and her husband Chris have an old farm-house in the hamlet of Burlingjobb, Powys, Wales, surrounded by the beautiful Welsh countryside.  It was the perfect backdrop for our wedding day."
"Our florists were The flower Shop in Hay on Wye.  Roses because they are a classic and a symbol of England, Ivy and Orchids because I think they have an ethereal quality. The florist also managed to get some sweet William as my mum had mentioned the significance within the family. My great granddad grew them in his garden, mum remembers visiting him and they would be all you see and smell walking up his front path. She knew it would mean a lot to my granddad to have them included.
I left the rest of the flowers to Gordan at the flower shop, I was confident he would create the country garden feel I wanted and I was delighted with the result.
Our stationery was all handmade with support from members of our family."
"Both the bridesmaids dresses were from on-line Vintage boutiques, Maggie Anne Vintage worn by Hayley, and Lauren's dress was from an American website."
"We have been absolutely delighted with our photographer Tamryn – she captured the magic of the day and real moments which matter the most to us both, in the most natural way.  She was also a delight to have around – she even fanned me when I got too hot getting ready and fetched us water when we were gasping after the service!"
"I already had some ivory satin courts from Monsoon which I had worn to be my friend Lauren's bridesmaid.  My dress had blown the budget so saving money here, and wearing shoes which I knew would be comfortable all day was an easy sacrifice."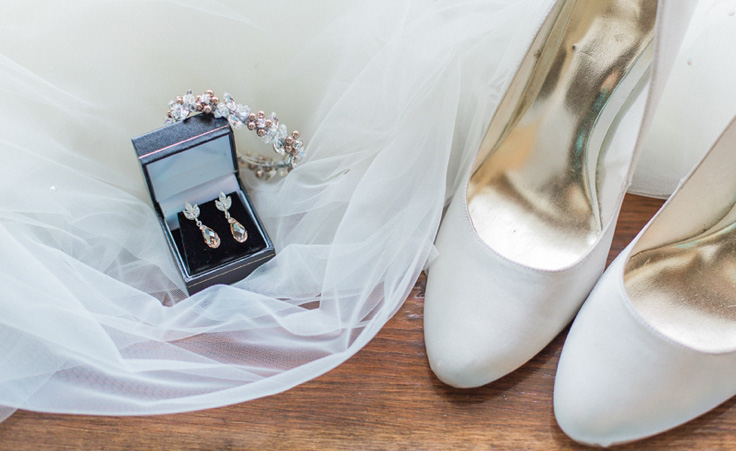 Amy wore a gown by designer Maggie Sottero that she purchased from Mariposa in Sawbridgeworth.
"My dress was by This was easy for me, I knew it was my dress almost immediately I saw it. The unusual asymmetric fan detail on the top, was something which really stood out. I was looking for something quite plain as I don't really like embellishment, this dress is more about the impact of the silhouette. Also, the light material felt right for a summer wedding."
Amy wore real flowers in her hair provided by the couple's florist, The flower Shop in Hay on Wye.
"My veil was  was given to me by Paul's mum Lucy – she got married in 2011, and just by chance had the same shade and length veil which I was looking for. The fact that it is hers made it extra special. With her permission (and with my mum's help) I added Swarovski crystals to it.
I wore a pair of handmade earrings and a bracelet by Gail's Crystal designs in Hertfordshire. The ribbon belt that I wore with my dress was actually from a different Maggie Sottero dress –  my dress came with a plain black ribbon. I had the idea of a nude coloured sash in my head as soon as I saw the dress, interchanging the accessories meant I could have a combination that was just right for me."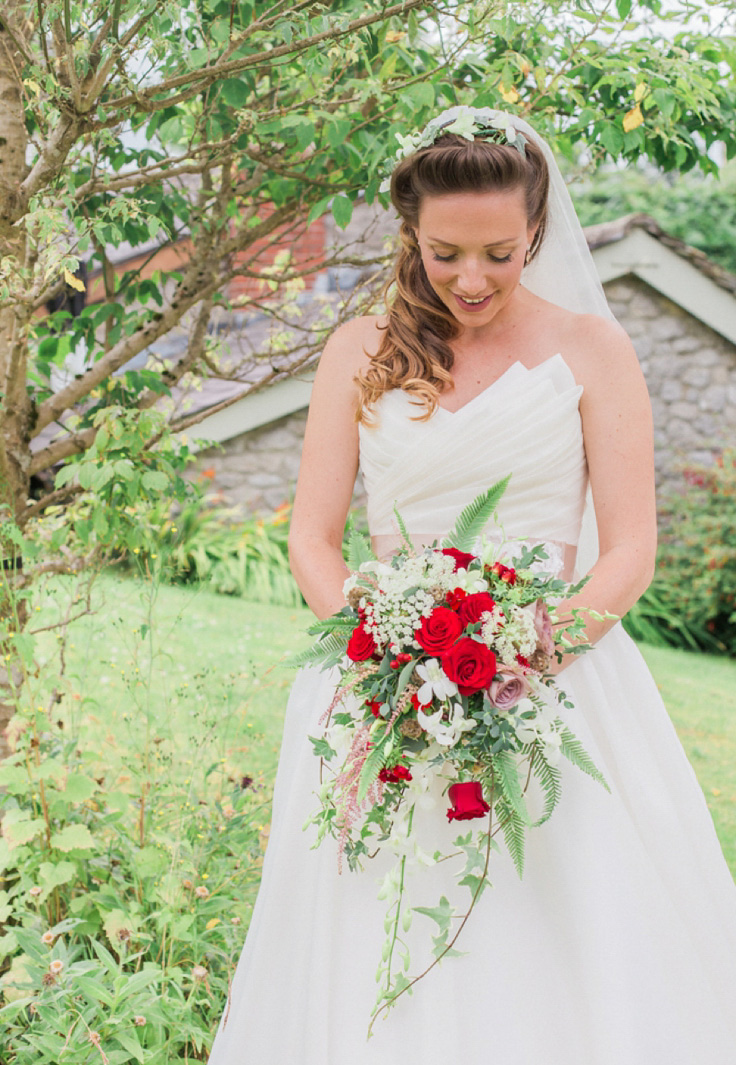 "We travelled the short distance from the church to the reception in my brother's VW Lupo GTI, my brother David died in 2007 aged just 20 years old, so it was lovely to have something of his involved in the day."
"My Dad Colin walked me down the aisle whilst a live string duo, Artisans Ensemble, playing Pachelbel's 'Canon in D'."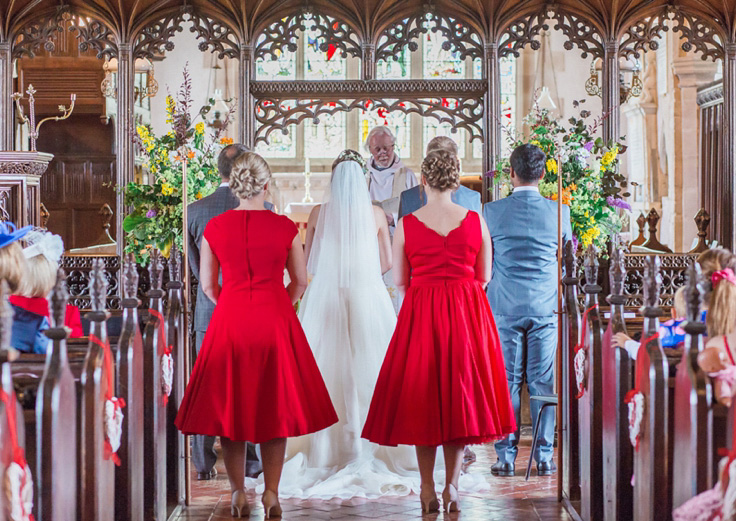 "Our ceremony reading was Pablo Neruda's Sonnet XVII, translated from Spanish and read by my best friend Lauren. She had written this Sonnet in our engagement card and we loved it. We also had the traditional bible reading, 1 Corinthians 13:4–8a."
"Our venue decor was collected slowly over the period of our ten month engagement, and included fairy lights, floral garlands, and lanterns all from high street shops ranging from Wilkinson to John Lewis. I made the English rose and Welsh Dragon themed bunting myself, so it had symbolism relevant to us as a couple."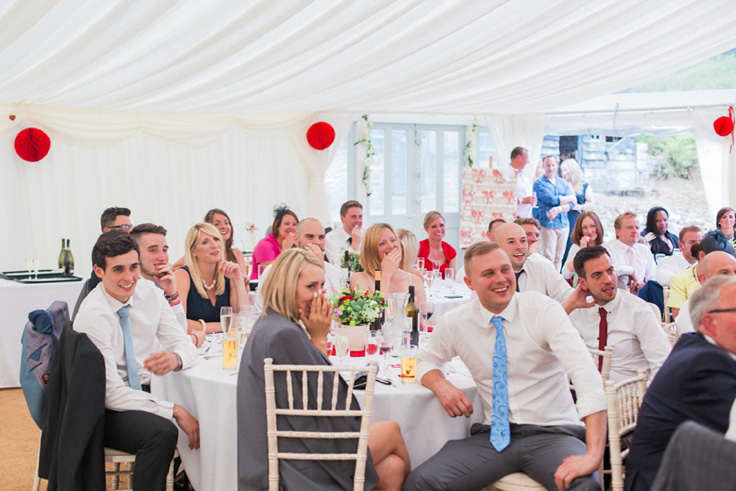 Paul says "I chose Michael Buble's 'Everything' for our first dance track – I heard the lyrics and felt they were perfect for our lives. The song is upbeat, which I also felt suited us both."
I love the response received when we asked the couple about their most favourite moments of the day…
"For me, it was waking up with my best friend in a four-poster bed, looking out to the Welsh hills and revelling in the excitement of the day ahead together. Of course, seeing Paul's face as I walked down the aisle towards him was an incredibly magical moment.  There is actually nothing I would have changed – I am so happy with how the day went – I'd have perhaps not eaten garlic the night before but Paul say's he didn't even notice!"
Paul says "Seeing Amy was incredible and I will never forget it.  I didn't know if I wanted to cry or smile! Aside from that, knowing that all our guests where having a great day felt amazing and made me proud that we had achieved something special."
Words of Wedded Wisdom…
"Don't sweat the small stuff! We ran out of time to organise favours, there weren't quite as many fairy lights as I would have liked. I didn't finish the sweetie tree I had planned. In reality, none of these things effected the day, keep things in perspective! Secondly always massively over estimate the time it will take to get ready!
You've probably heard this a thousand times, but the time really does fly in the morning, I had two hairdressers for four people and we still only just finished in time."
What a charming day – so many thanks to you Amy and Paul for sharing with us, and thanks also to you lovely photographer Tamryn too.
Readers, you can see more brides wearing Maggie Sotterro here on Love My Dress here – are you a Maggie Sottero bride? I'd love to hear from you if so.
Otherwise, have a lovely morning all and a very lovely weekend too 🙂
Love Annabel xx
Photographer – I am Tamryn
Venue – The groom's parents's garden using marquees
Dress – Maggie Sottero, from Mariposa, Sawbridgeworth
Veil – borrowed
Shoes – Monsoon (pre-owned)
Accessories – Gail's Crystal designs in Hertfordshire
Perfume – Miss Dior
Grooms Suit – Next + Aldo shoes
Bridesmaid's Dresses – Vintage + shoes via Monsoon
Page boy –  Chinos + shirt via M&S, shoes + tie via H&M, waistcoat via John Lewis
Florist – The flower Shop in Hay on Wye
Rings – Honey Bourne Jewellery + Alba Rose
Catering Company – Charlotte Roskill Catering
Stationery – DIY