There is simply nothing not to love about this wedding. It has some of my personal faves: a bespoke dress, gorgeous, vibrant styling with fairy lights, paper fans and flag waving galore, plus inspirational creativity and unique little touches. All set in the beautifully dramatic Scottish landscape of St. Andrew's and caught on film by Lindsey of Mack Photography.
Primary school teacher Debbie married her fiancé Angus on 12 July 2014 in Kinkell Byre in Angus's home town of St. Andrew's, Scotland. The wedding planning was made all the trickier by the fact that the couple are currently living in Kentucky in the US.
"I knew I wanted a barn venue after seeing many weddings in barns in Kentucky. We both love the outdoors and wanted our wedding to reflect that. We loved the rustic-ness of Kinkell Byre paired with the scenic beauty of St Andrews. The venue was a perfect combination of both of our personalities. We also both have colourful and fun personalities and wanted our colour scheme to be exactly that.  I love all things vintage and shabby chic so was greatly inspired by a handmade décor feel with my own touch of creativity."
Photography Copyright (c) 2014, Mack Photography
"Angus and I met in October 2010 during a night out in the Buff Club in Glasgow. It was one of those 'eyes met across the room scenarios'. Before we knew it we were edging our way towards each other, trying to impress with our best dances moves! After that we were hooked and spent the next year making our own adventures.  A short year later, Angus was offered a job in America. We spent the next year apart and survived a long distance relationship, which only made us closer and stronger.
In January 2013 I moved across to America to be with Angus and during a trip home that summer, he proposed to me at the top of Lochnagar! We both love to climb Munros and regularly go walking on the hills. This was the perfect place to solidify our commitment to one another."
"Our décor was based on floral fiesta bunting and paper fans bought from a great craft store just outside of Glasgow. I loved the mix of colours and floral pattern. I also created a lot of signs and decorations myself using some great ideas I found on Pinterest. The DIY photo-booth was my favourite. It went down really well with the guests. We also had giant light up letters that we hired from Doris Loves. They really added to the atmospheric lighting in the byre!"
"Phyllis of Pathhead Nurseries in Fife was amazing to work with. She filled the whole barn with stunning plants and flowers and also created the wedding party flowers. She listened to exactly what I wanted and made some great suggestions. I trusted her to do a great job and she did. She also made our wonderful 'hot air balloon' style centrepieces and delivered our giant red heart balloon!"
"One of the first things I started doing when Angus proposed was trying on dresses! It was also one of the hardest things as I have such a particular taste and wanted my dress to reflect my style as well as be unique to me.  I originally wanted a tea length dress but knew quite quickly that that style wasn't for me. After trying on many different dresses my sister pointed me in the direction of Charlotte Grace Bridal in Doune. As soon as I arrived at the shop I knew that the dresses Carol stocked were exactly what I was looking for. I quickly decided that I wanted a combination of a few.
The lace from one, matched with the silk from another.  Carol immediately called Sassi Holford and assured me that she could design a bespoke dress just for me! I was sold. I designed the back of my dress and my dressmaker created a vintage inspired pearl embellishment for the front. It was just perfect."
Debbie and Angus chose Lindsey from Mack Photography to capture their day. Her approach is to be as natural and unobtrusive as possible, letting the day happen as planned. I love how she has captured the emptions, the stunning venue and the many handcrafted and thoughtful touches.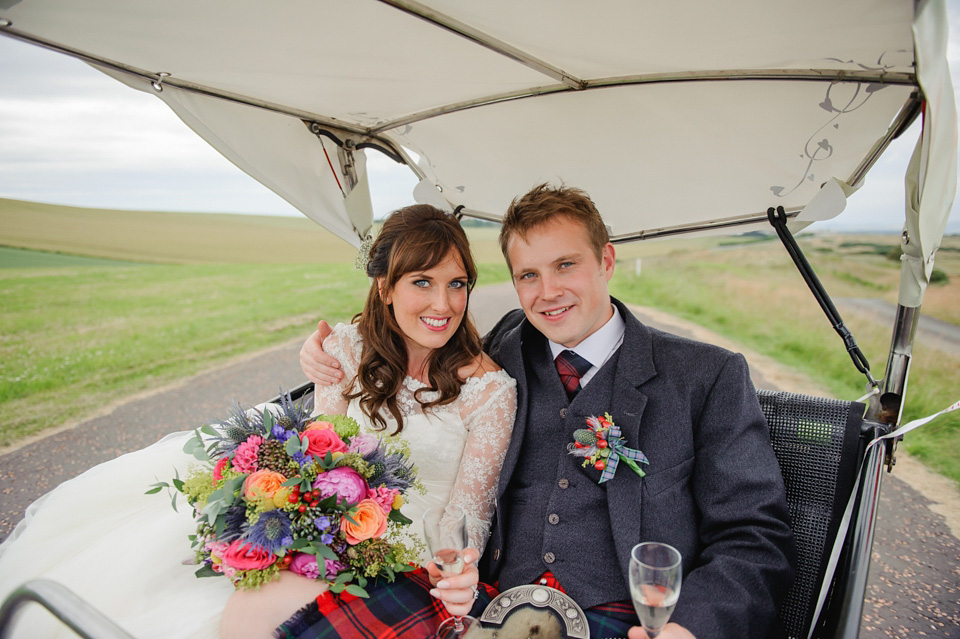 The florist also provided flowers to use as hair decorations and the gorgeous floral crowns for the flower girls whose dresses were from John Lewis. The big girls wore pretty dresses from Ted Baker along with Dune shoes.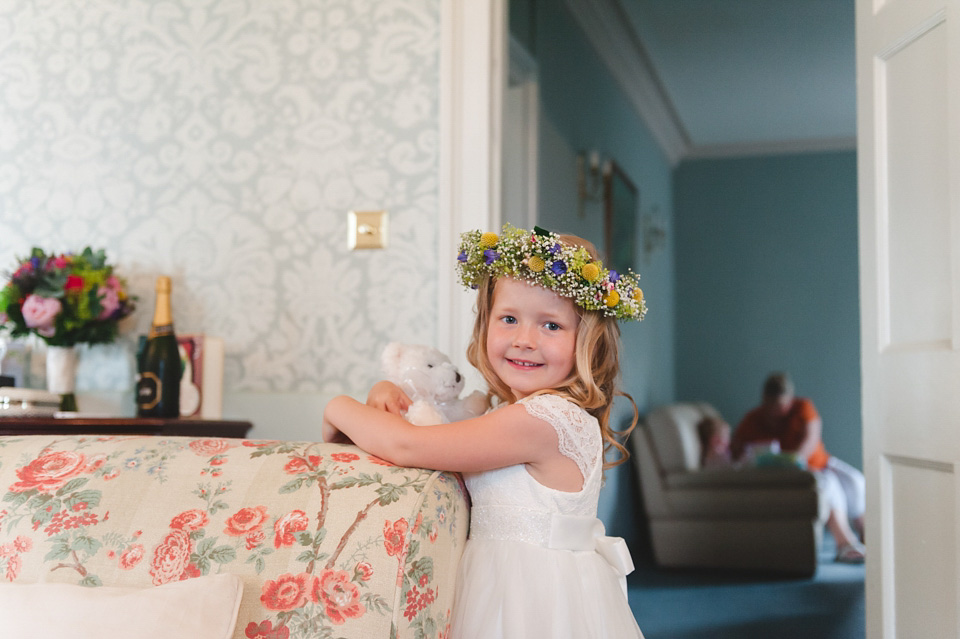 Debbie accompanied her dress with these unique Vivienne Westwood lady dragon heart shoes and loves them so much that she has already worn them several times since the big day. She opted to keep her jewellery simple and wore pearl and Swarovski crystal stud earrings along with a spray of Laura Mercier's heavenly Amber Vanilla perfume.
The handsome groom wore his own kilt teamed with a jacket hired from McGregor and Duff in Glasgow.
Debbie was walked down the aisle by her father to the piano version of Des'ree's beautiful song, Kissing You. "Angus and I decided to write our own vows to keep it very personal. We decided not to share them with each other until the big day. This was one of my favourite parts and I found it difficult to hold back the tears. We have promised to read them every year on our anniversary."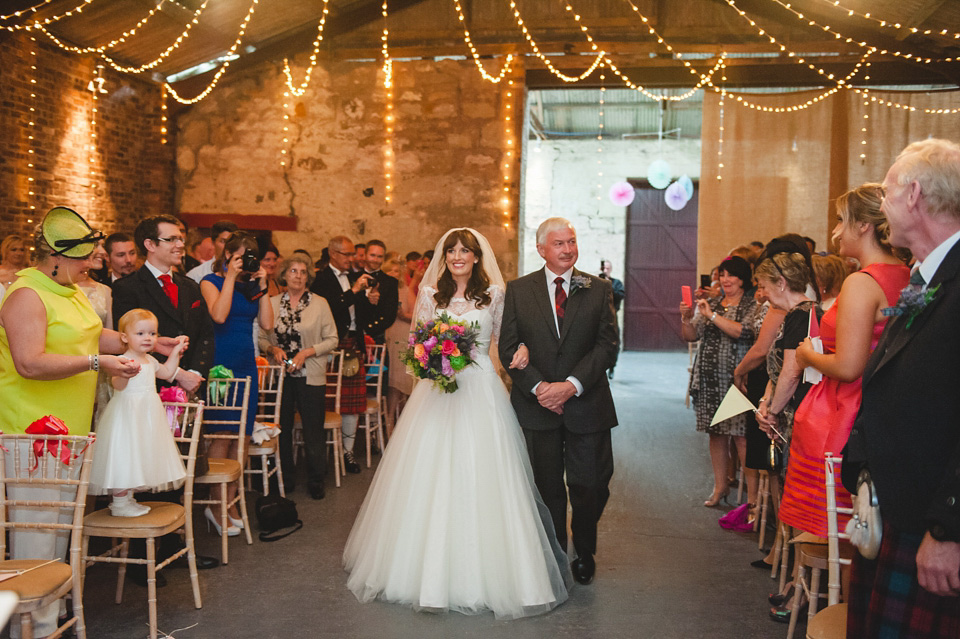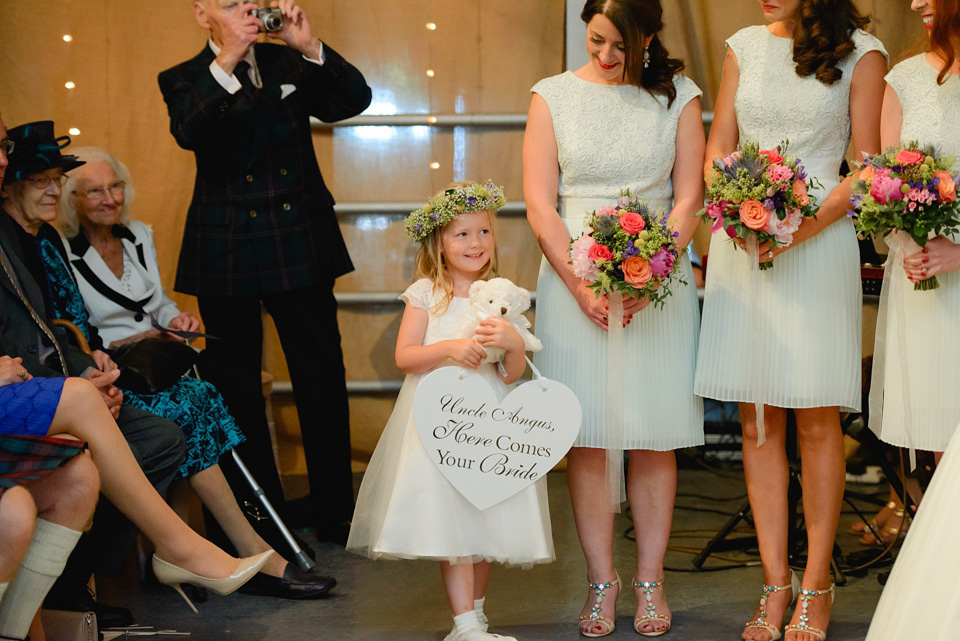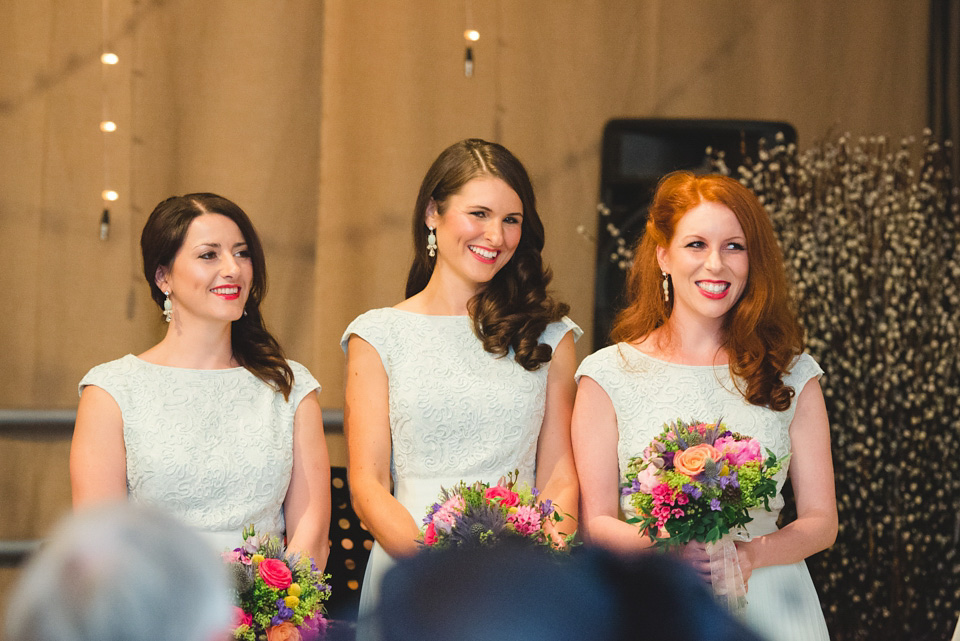 "Our rings are from Gabriel and Co in New York. I always wanted a sapphire as it is my birth stone and was also the original engagement ring before diamonds. I love how the sapphire sits in the middle with the diamonds surrounding it. It reminds me of a flower and the continued growth of our love."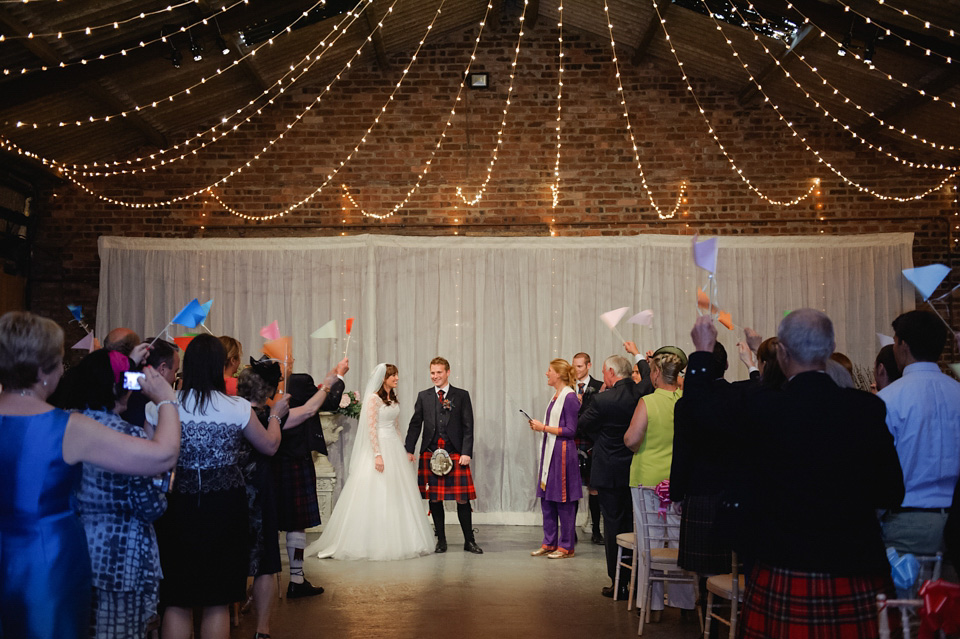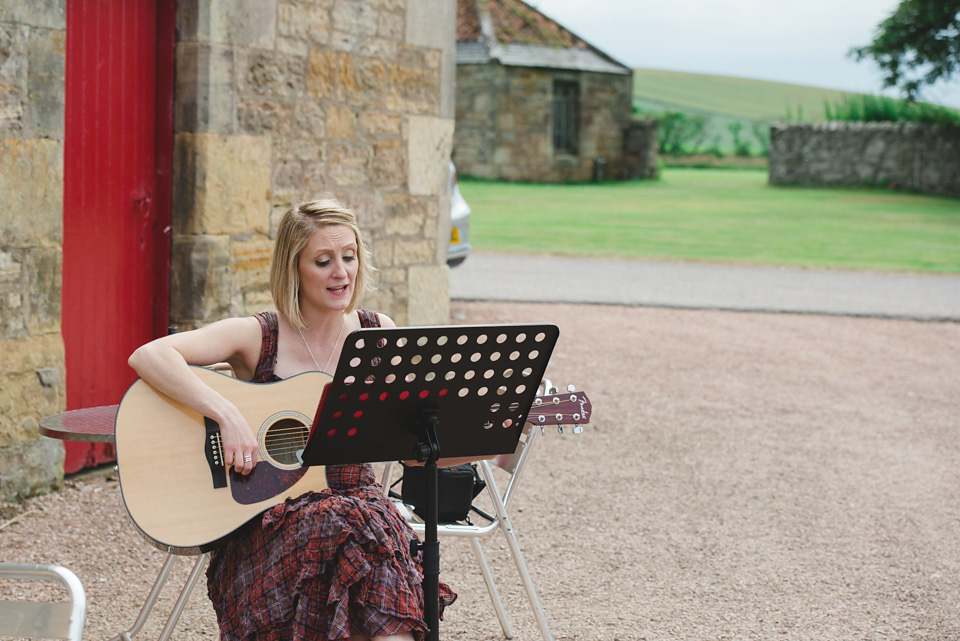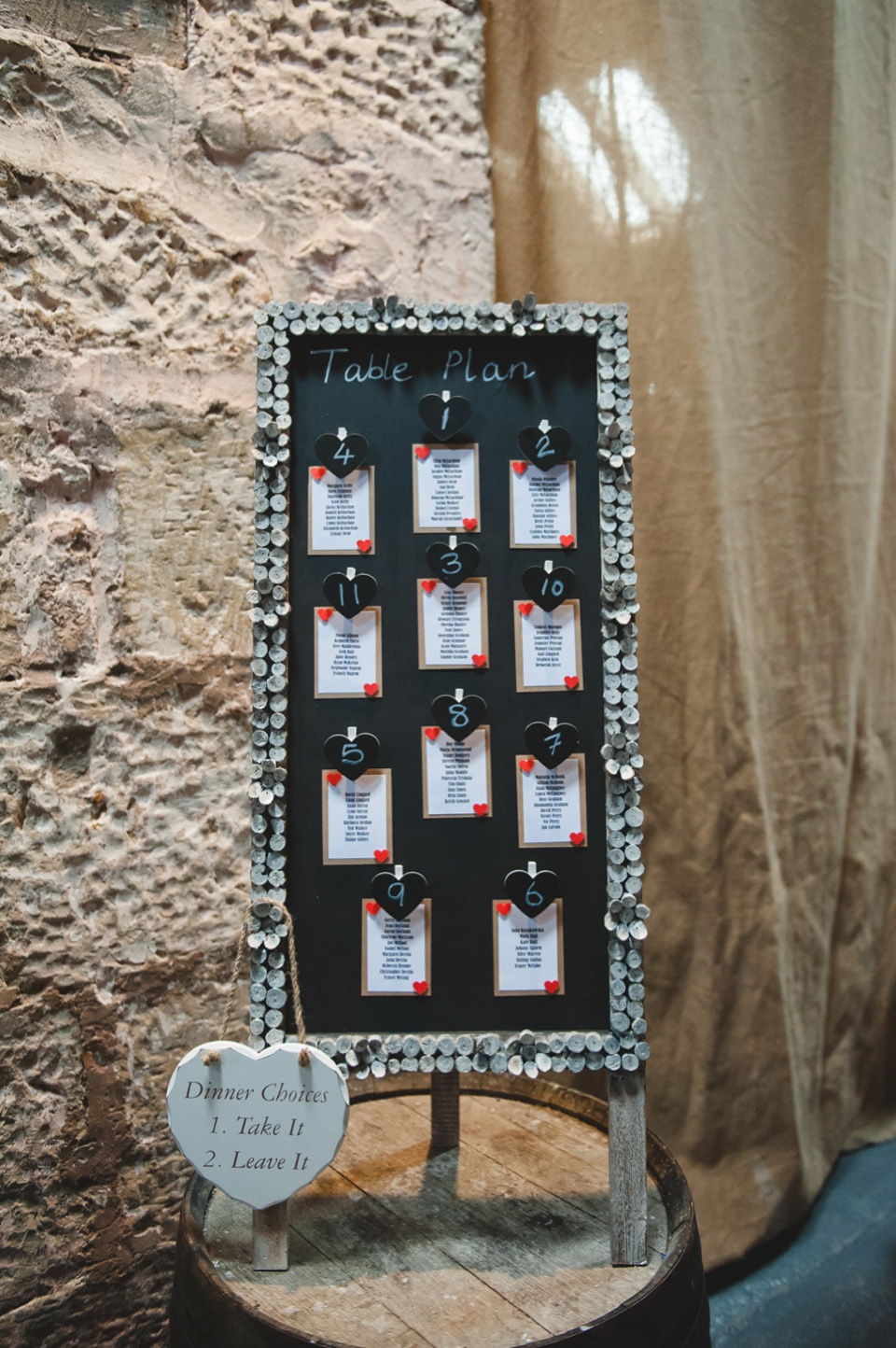 "We gave our guests tea towels invites from The Original Wedding Tea Towel company. These doubled up as favours. Karen, the designer was so accommodating – she included a barn and highland cows on our tea towel just for us! Then together, me and my mum Janice, designed all of our menus, stationery, place names and tables plans using the red heart theme from my shoes.
I wanted to keep it simple and rustic. I liked the black and white with a touch of red, it reminded me of the I heart NY logo. My mum did an amazing job and everyone loved her handy work. I don't think she will be making any more flags in a hurry however."
"Our cake was by Sandra's Cakes of St Andrews. She came highly recommended by Angus's mum. She designed our naked wedding cake exactly how we wanted it and created some delicious flavours for each sponge layer. My favourite was orange and raspberry. I made the cake toppers myself and brought them all the way back from America along with a case full of DIY props!"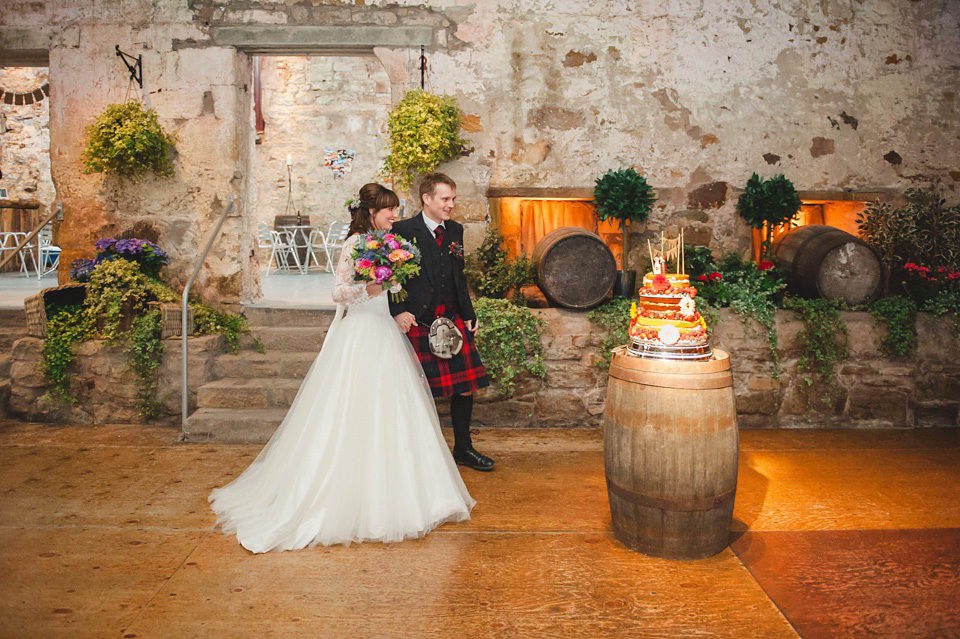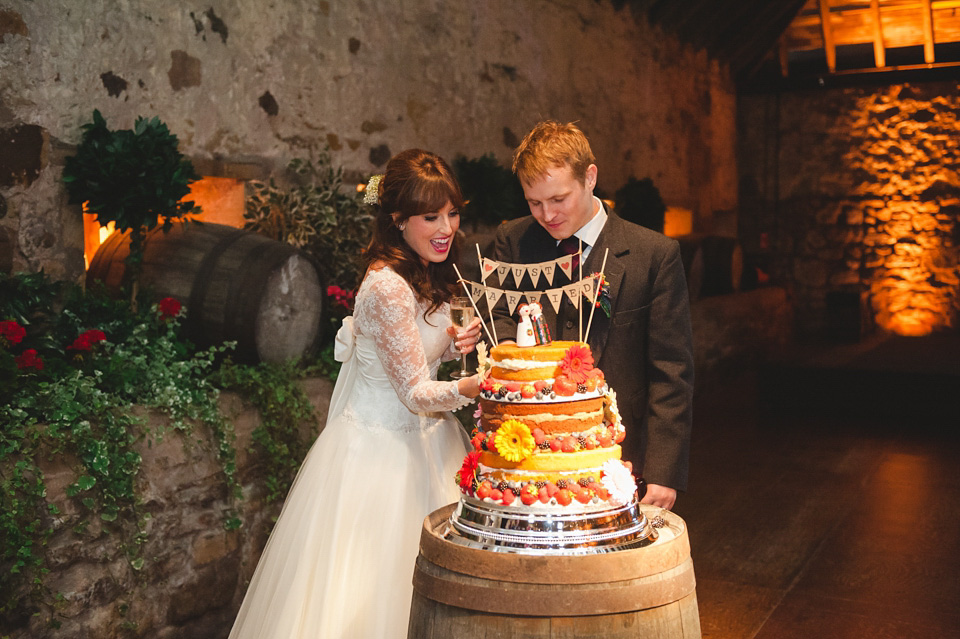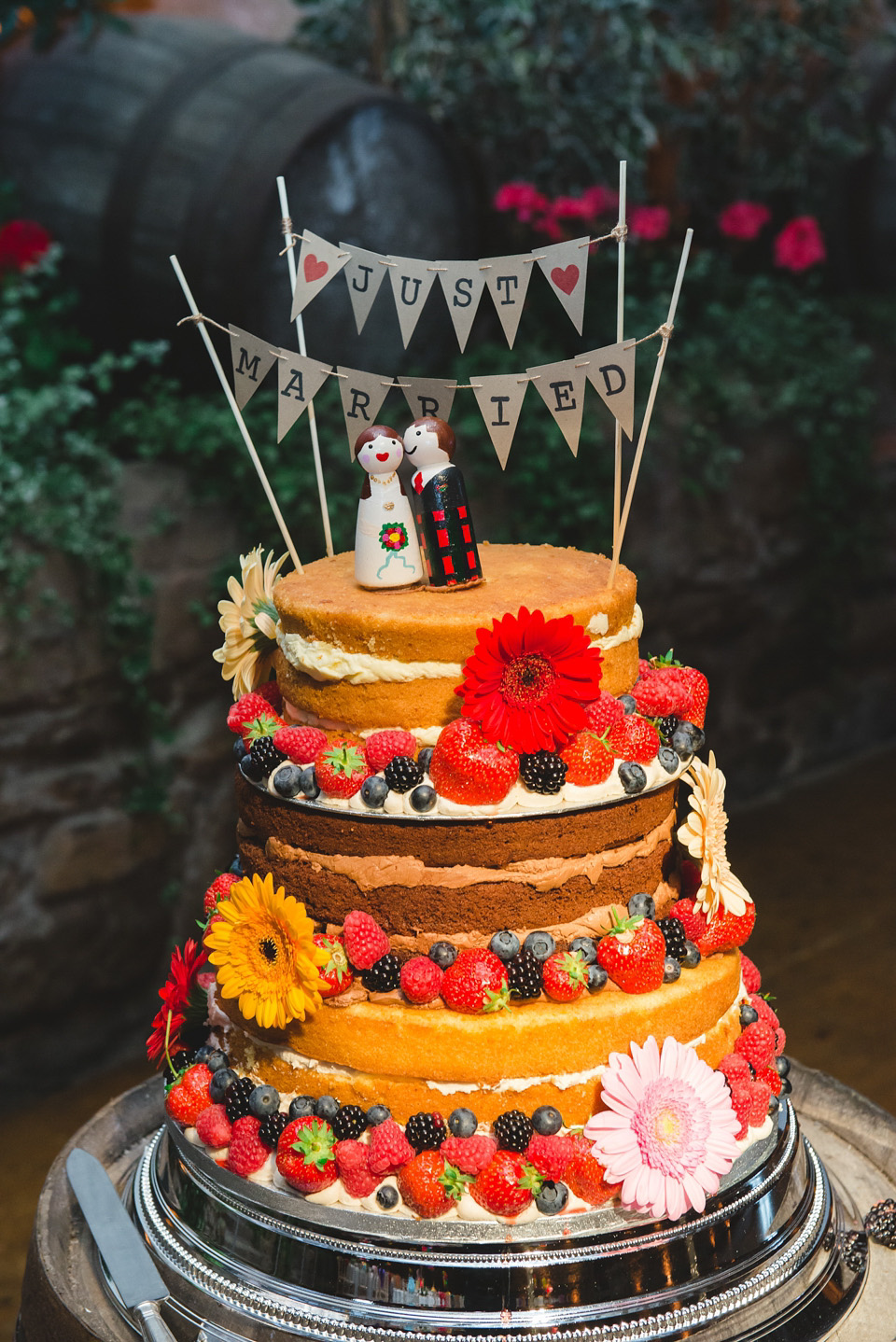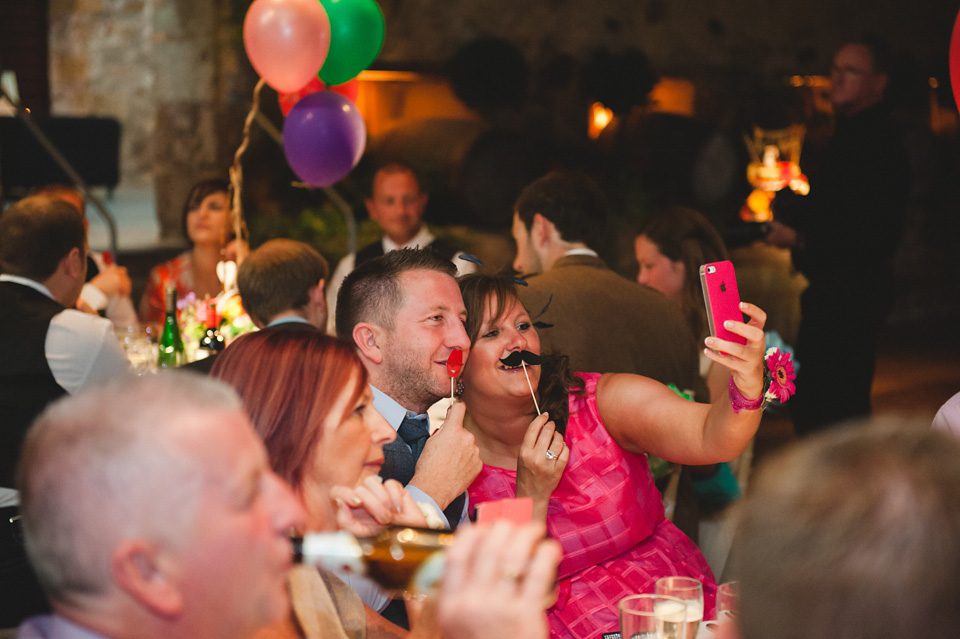 The couple's first dance was to 'First Day of My Life' by Bright Eyes. "Angus and I always used to sing it to each other or listen to it over the telephone or Skype when we were separated by distance. The words were significant to us and our life back then and they were just as significant on the day of our wedding." This was followed by Whisky Kiss an AMAZING ceilidh band complete with their own highland dancers and break dancers. "They really got the crowd going. I can now see why Prince William chose them to perform at his 30th birthday party!"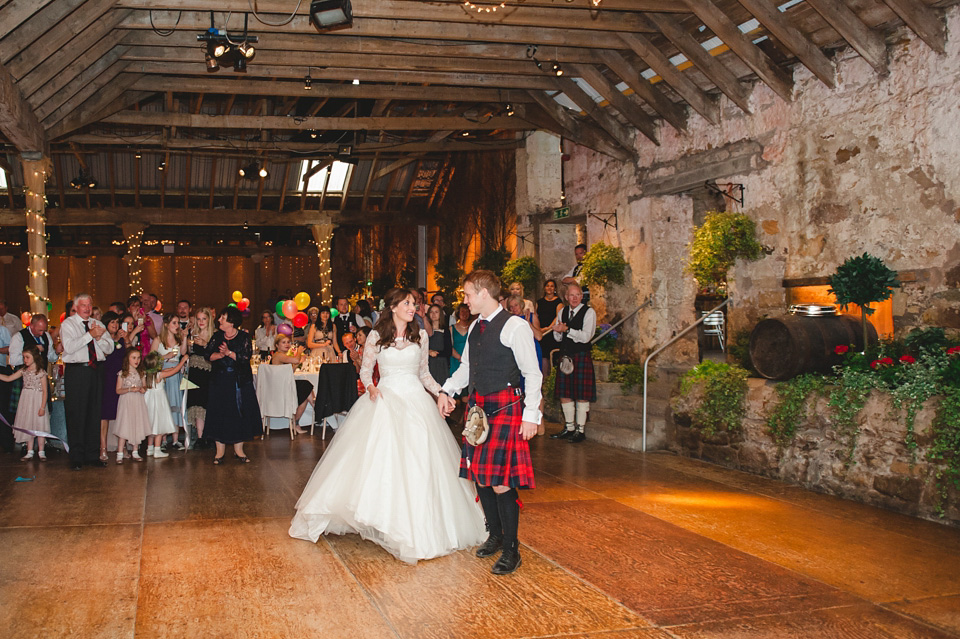 "My favourite bit of the day was standing across from each other, with our hands tied together, reciting our vows. It was in that moment that we both knew how far we had come and how much further we still had to go but that there was no one else in the world that we would rather take the journey with."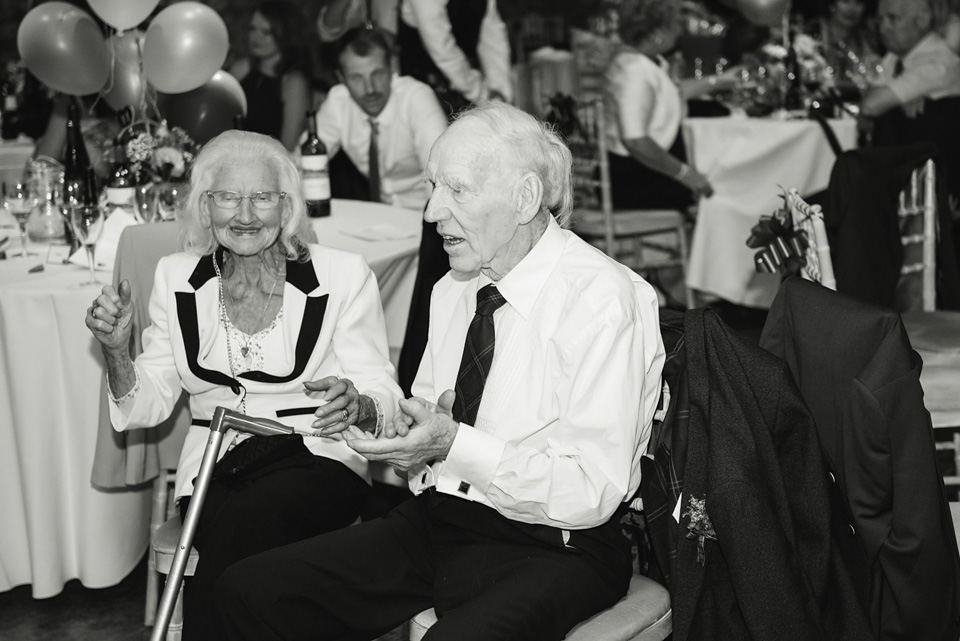 Words of wedded wisdom
"Always remember the true meaning of your wedding day. You are choosing to be married to someone for the rest of your life. Make plans beyond the day itself and get excited about becoming husband and wife. Look to the future and visualise how you want your life to be after your day is over. The fun shouldn't stop there, it should only be beginning!
If I could do it all over again I would have managed my time a bit better! It was very difficult trying to plan a wedding from overseas. If it wasn't for my family and friends I am not sure what I would have done. The time just seemed to creep up so quickly! However, with everyone pitching in, we got there in the end!"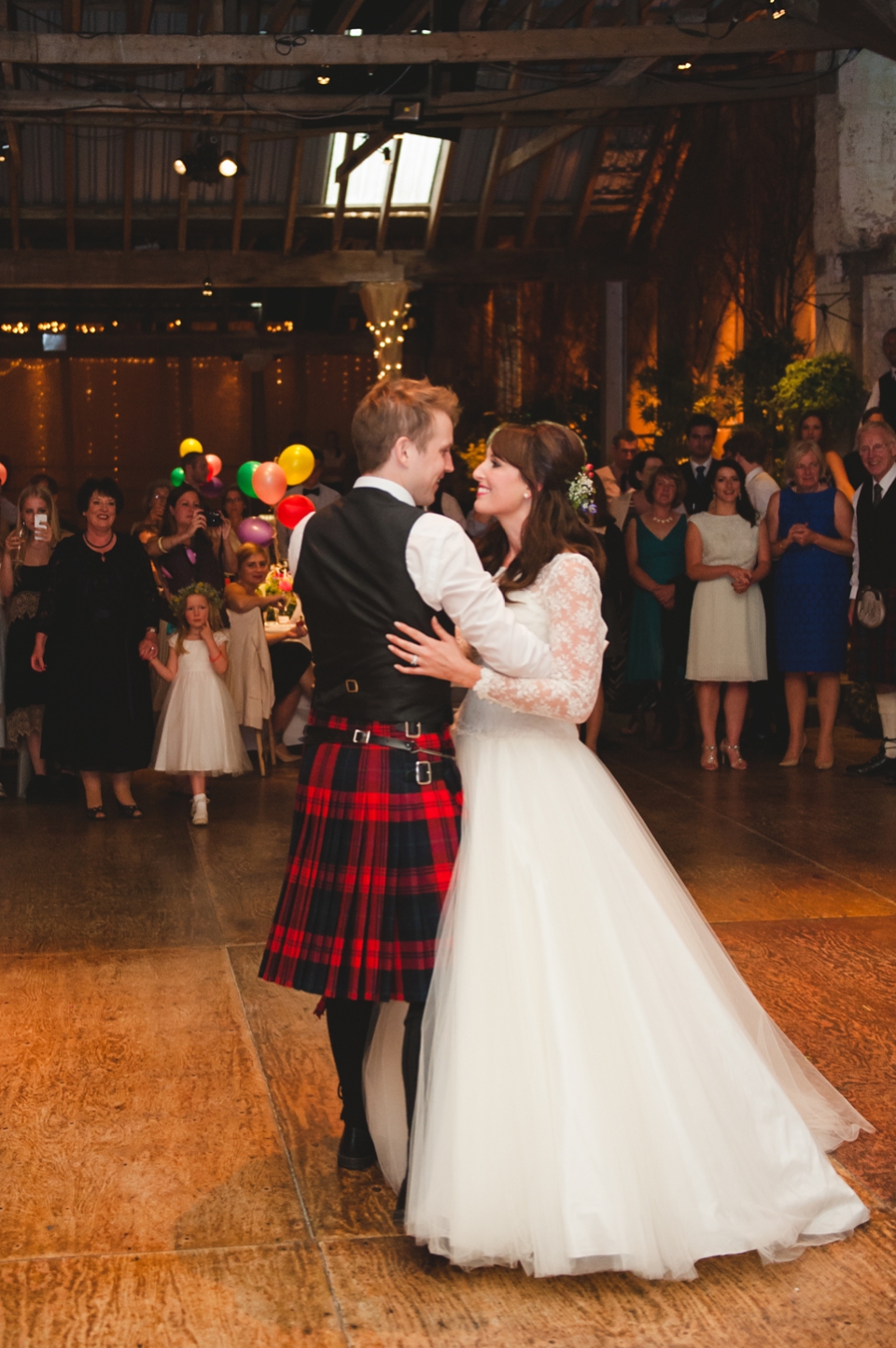 Debbie and Angus, your day looked so beautiful with so much thought behind it. I hope the rest of your adventurous lives together continue in the same way. Many thanks to Lindsey for sharing your work with us all and capturing so many of the details. Truly photographs to treasure forever.
Much love
Katie xx
Photographer – Mack Photography
Venue – Kinkell Byre, St. Andrew's
Dress –Sassi Holford from Charlotte Grace Bridal, Doune (no website)
Shoes – Vivienne Westwood
Bridesmaids – Ted Baker
Shoes – Dune
Earrings – Next
Flower girl – John Lewis
Groom – Own kilt + Jacket – McGregor and Duff
Flowers – Pathhead Nurseries in Fife (no website)
Make up – Lynsay Reid (no website)
Hair – Sophie Butler
Cake –  Sandra's Cakes
Rings – Gabriel and Co
Catering – Mairi Finlayson (no website)
Entertainment –  Whisky Kiss & Aimee Penman
Rickshaws – b-spokes
Tea towel invites – TheOriginal Wedding Tea Towelcompany
LOVE light up letters – Doris Loves