I have to tell you, my heart skipped a beat when I opened the file of images for this wedding. I have a secret board on Pinterest filled with my dream houses; the kind of place I'd like to live if I ever win the lottery. Beccy and Paul chose to have their reception at Iscoyd Park in Shropshire and this totally stunning Georgian property is one of the places I've been lusting after! It makes the most gorgeous backdrop for their understated and elegant November wedding.
These beautiful images were captured on film by Victoria Phipps.
"There are so many reasons we chose Iscoyd Park – it is so beautiful. Phil and his team were absolutely lovely throughout all the planning process, it felt so relaxed and we essentially had our own country house for the weekend. And the perfect country church round the corner was an extra bonus!
I'd love to say that we had a vision and knew what we wanted everything to look like from the outset when in reality it all grew quite organically. There was a loose use of blue throughout, but nothing too matchy."
Photography Copyright (c) 2014, Victoria Phipps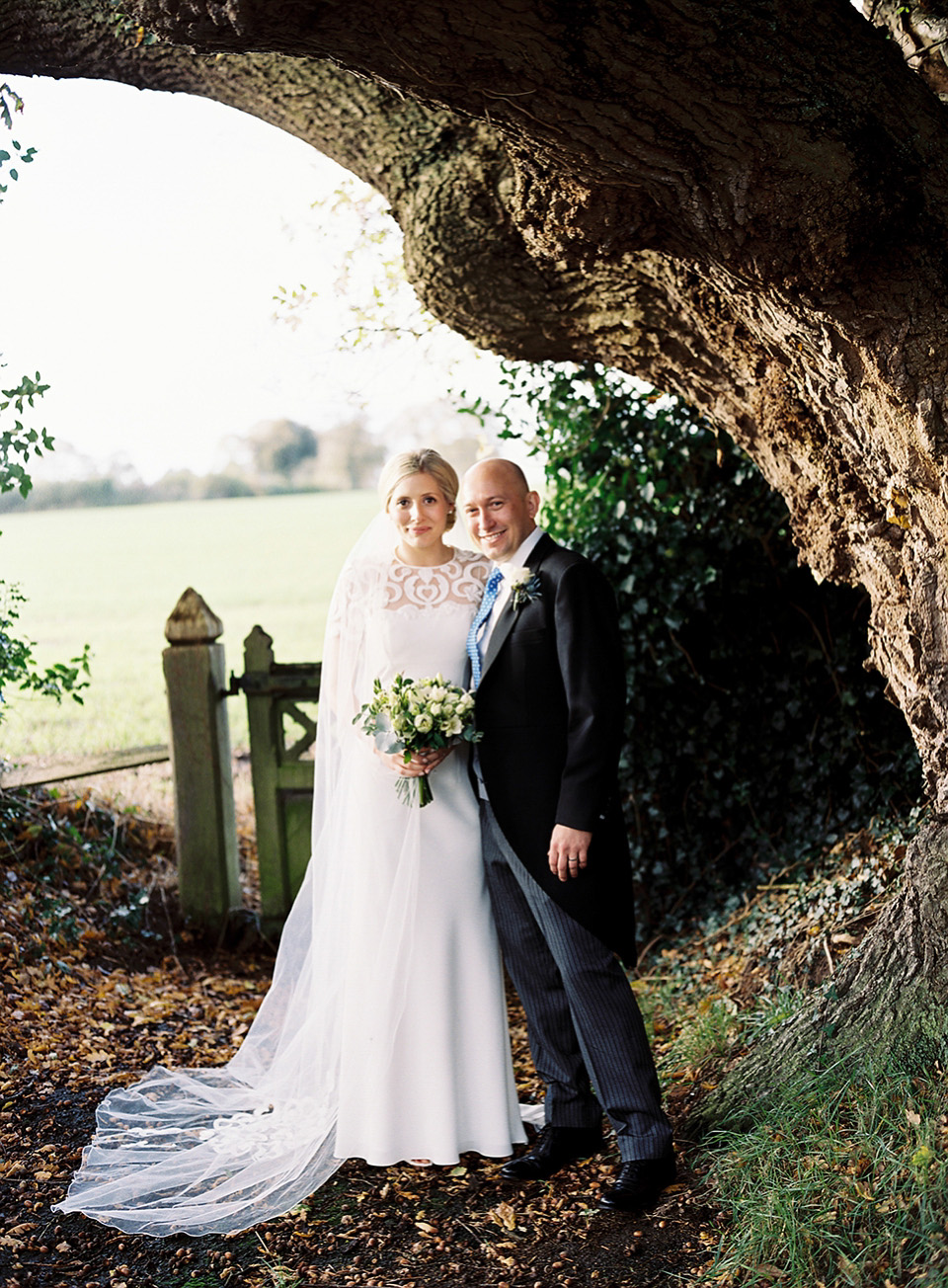 "Caro styled my hair and also the four bridesmaids, flower girl and my Mum. All of us were really pleased. The ladies at the The Secret Spa (which has a salon at Iscoyd) did our make-up and again it was lovely, I'd not had a trial but I looked me 'but 100 times better', as did all the girls and Mum.
Infact, I loved the morning with the girls and my Mum, actually all the family as they were all staying on site.  My bridesmaids' two new born babies were with us whilst we got ready; there were hair driers, breast pumps and god knows what else going on!  I also loved the short ride back to Iscoyd after the ceremony where Paul and I got to look at each other and say 'we did it!'"
The bridesmaids dresses were chosen last minute as two of the ladies had only given birth a few months previously. These deep blue beauties were from Debenhams, accessorised with dove grey pashminas.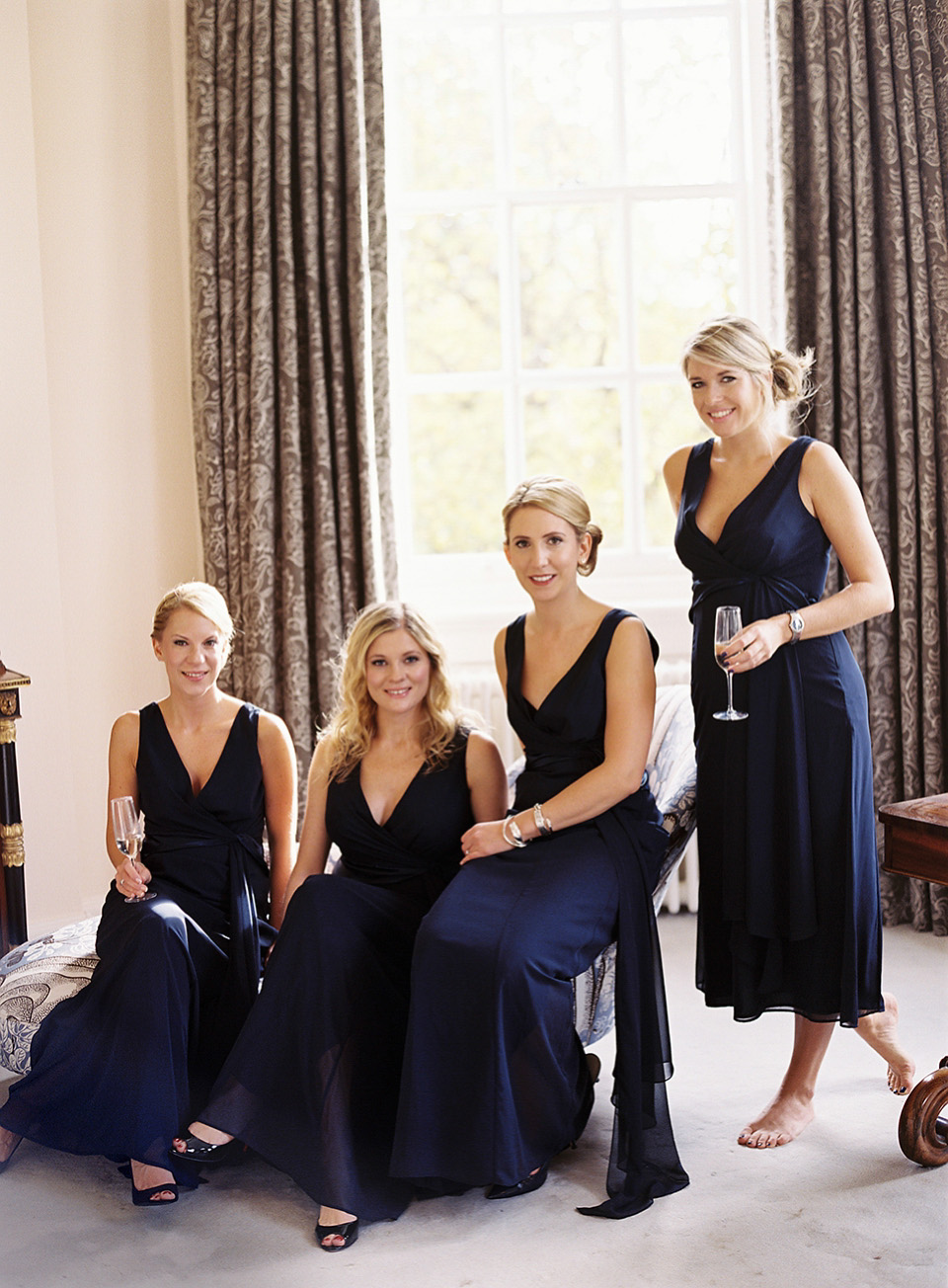 "When I started looking at dresses I knew I wanted something a bit different, I'd never seen anything like this David Fielden dress with the ribbon work at the top and I had pretty much decided it was the one before my Mum and I made the trip to the shop! I am actually looking to sell it on to another bride if anyone is interested.  I chose a ribbon trimmed veil that worked really well with detailing on the dress and some 1930's style low heels. Perfect as I am a smidge taller than Paul and I could dance all night in them.
I really wanted a very traditional bridesmaid's dress for Elizabeth our niece and was delighted to find it in Next. Our pageboy James was only 3 at the time and we were so pleased to be able to get a mini morning suit from Moss Bros in his size."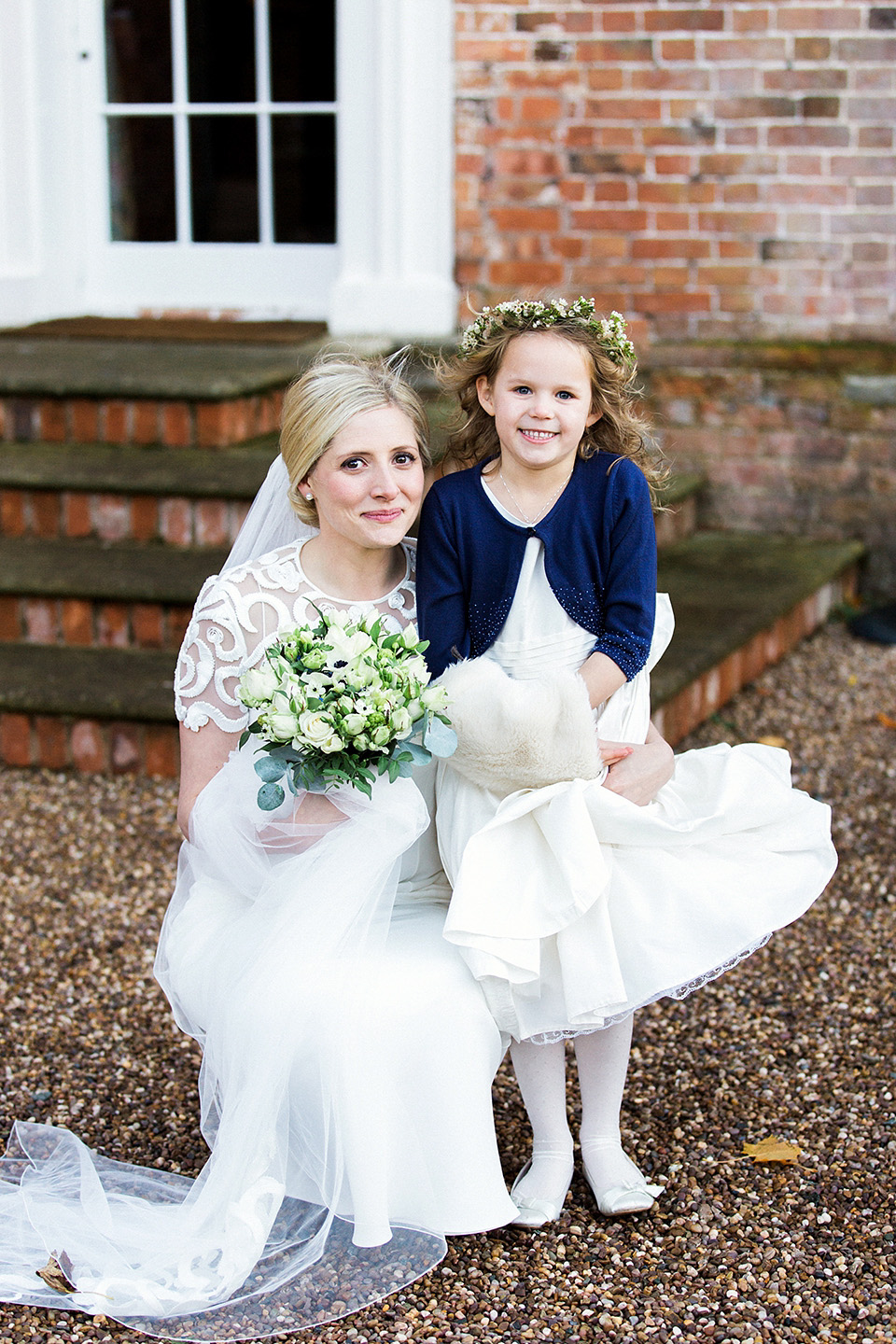 The flowers are one of my favourite things about this wedding. November is such a colourful month, all the fiery leaves falling from the trees and cloud strewn wild autumn skies. Selena at Iscoyd Park really captured that feeling in the beautiful arrangements.
"I wanted the flowers to be autumnal given the time of year and Selena did a fabulous job using reds, creams and shots of blue. I especially loved the wreath on the front door!  Mine and the bridesmaid's bouquets were made up with white anenomes which I adore."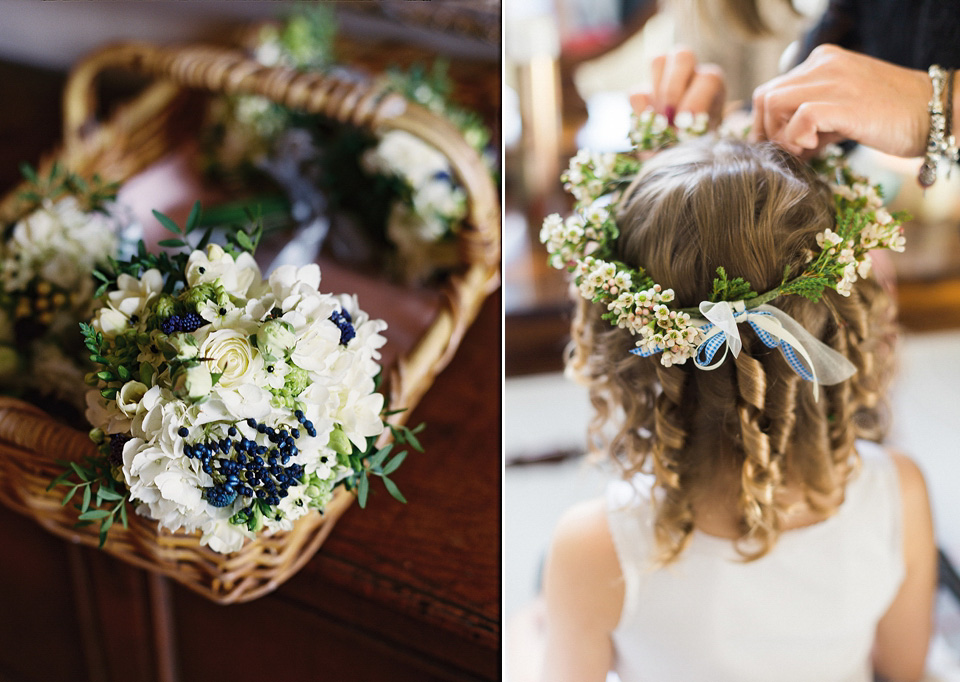 The couple chose Victoria Phipps as photographer on their wedding day. The images are lovely; clean and gilded with happy emotion.
"Victoria was brilliant. She had already captured some really fab photos (the only ones we'd ever liked of the two of us) on our engagement shoot so we knew we were in good hands.  On the day she worked really hard to get all the shots we wanted and seemed to be everywhere, in a really great 
Beccy wore Prada 'Infusion d'Iris' as her wedding scent; an extremely classy, softly powdered perfume that she knew her husband loved. Her only accessory was a pair of pearl and white gold earrings, bought by her parents for her 30th birthday.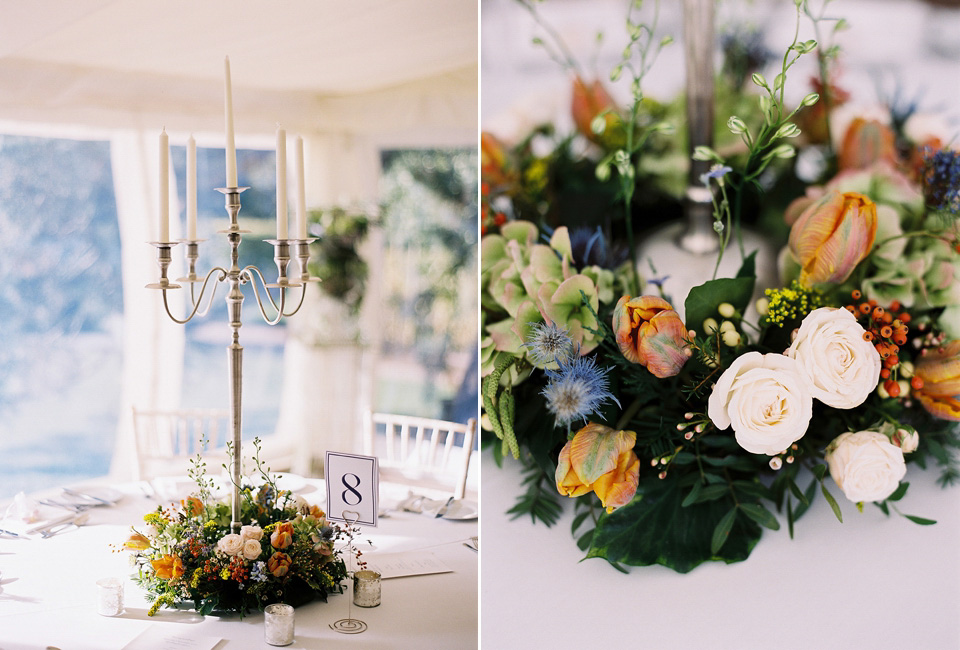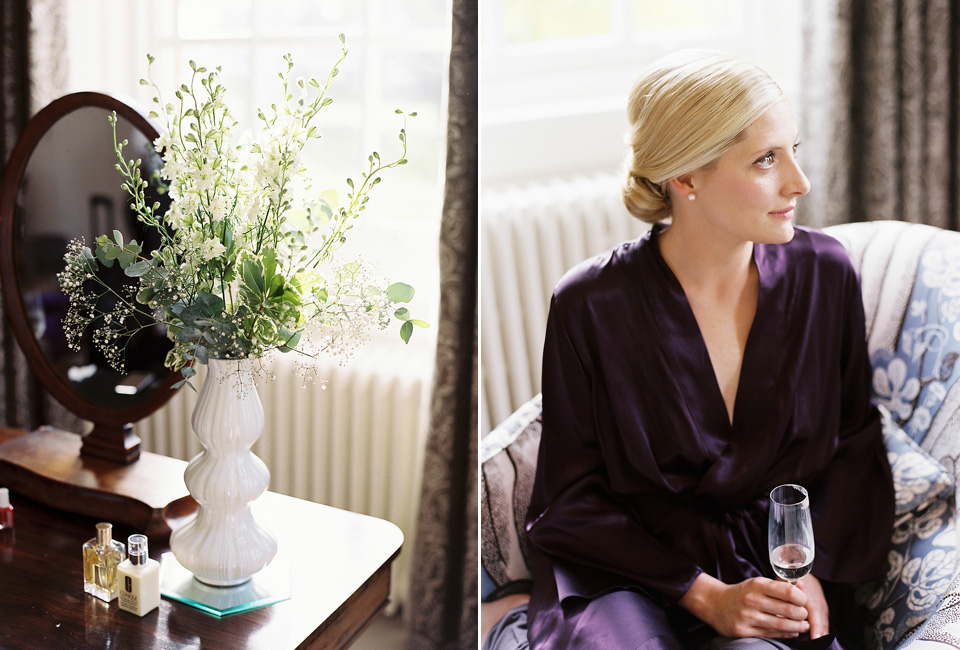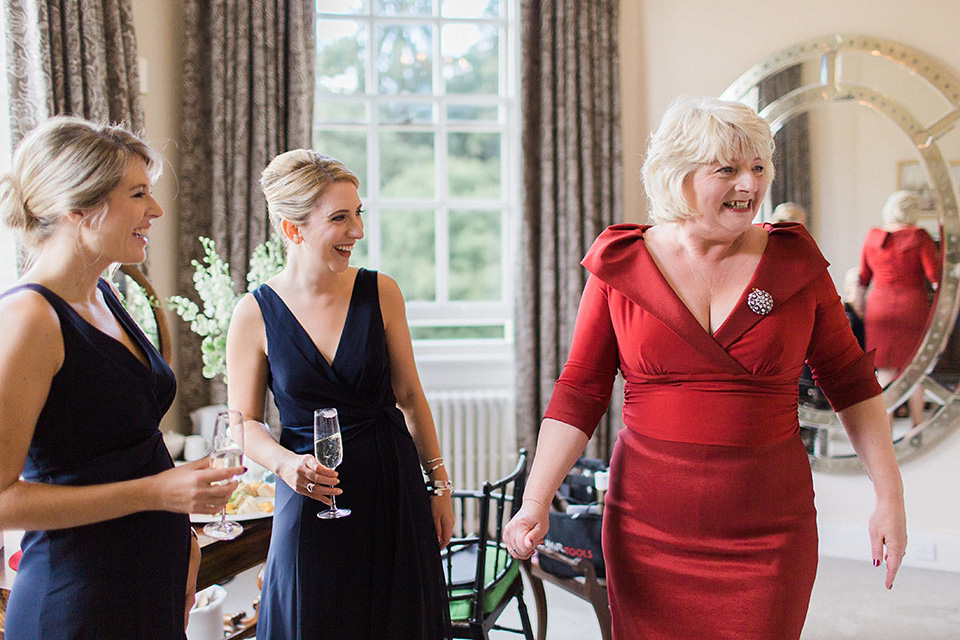 "As we were getting married in Shropshire but live in London, we wanted to bring a bit of our life with us so hired two London Cabs. Paul and I met in 2004 at work.  We've been happily together ever since and much to my surprise (that's a complete lie I was putting major pressure on) we got engaged on New Year's Eve 2012. We'd been on holiday in Costa Rica over Christmas and despite carrying the ring around with him he never found the right moment so he ended up on one knee in our living room half an hour before we went to meet our friends at a New Year's party. 
It felt really special that it was in our own home and I wouldn't change it for anything."
"Paul wore a made to measure morning suit from Dress 2 Kill which he assures me he will wear again and again. He also wore a vintage Rolex from the year he was born which I gave him (via the best men) on the morning of the wedding. I'd been scouring the internet for the right one for months."
The bride walked down the aisle to the classic 'Here Comes The Bride' processional with her dad – that was, after a small delay!
"I was late for the church, 25 minutes late! I won't go into the details but despite the slight panic it was really lovely to spend that time with my Dad even though we were both a little too full of adrenalin to say much."
Beccy and Paul were married in a traditional ceremony in a local country church.
"We didn't want to alter our vows as we really treasured the historic and symbolic nature of the traditional."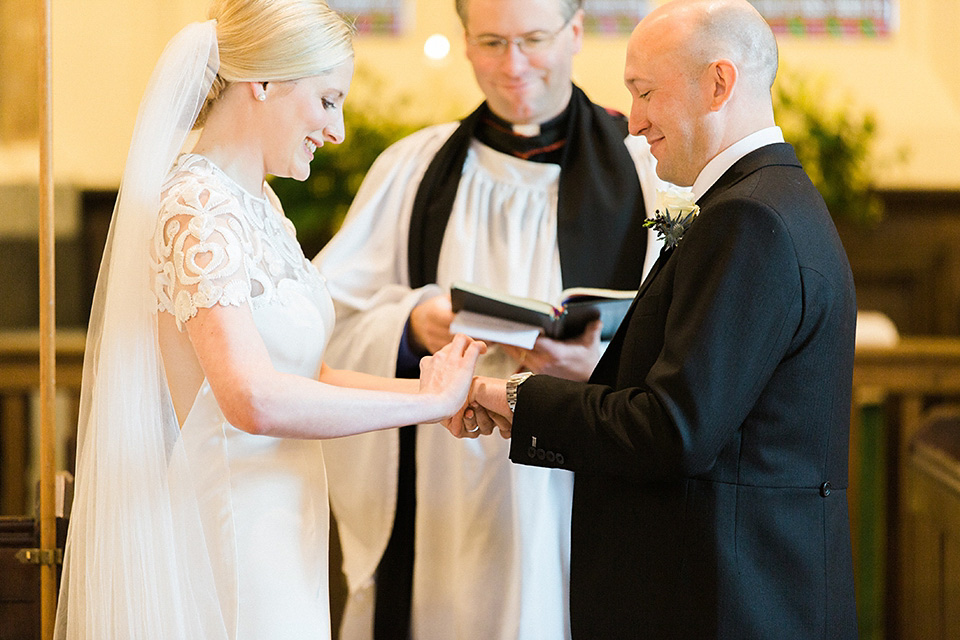 The couple exchanged rings from the The Wedding Ring Workshop in Hatton Garden and during the readings Beccy was able to bring a little bit of country music to the ceremony.
"I'm a massive Dolly Parton fan and absolutely had to include her in the wedding. My great friend Katriona read 'Love is like a Butterfly'. Just as she finished and was making her way back to her seat, our 3 year old nephew announced to a silent church at the top of his voice, 'That was silly!'.  We were literally in stitches!"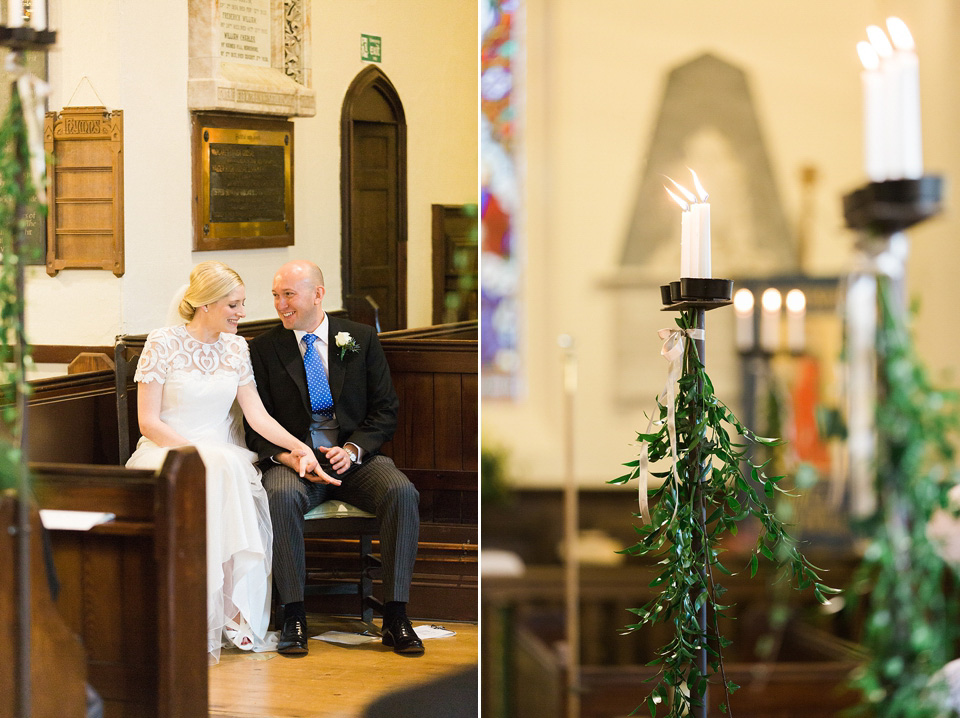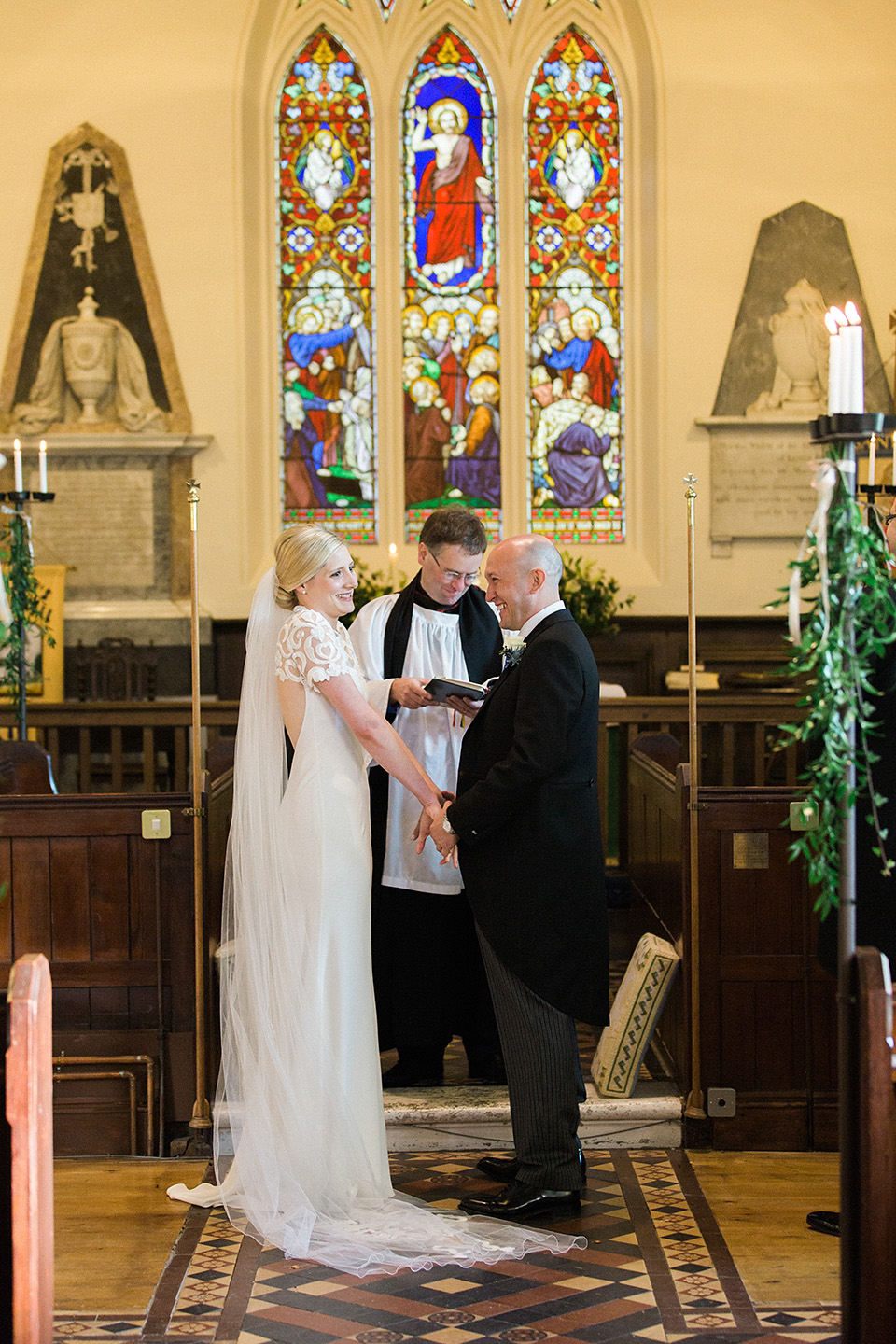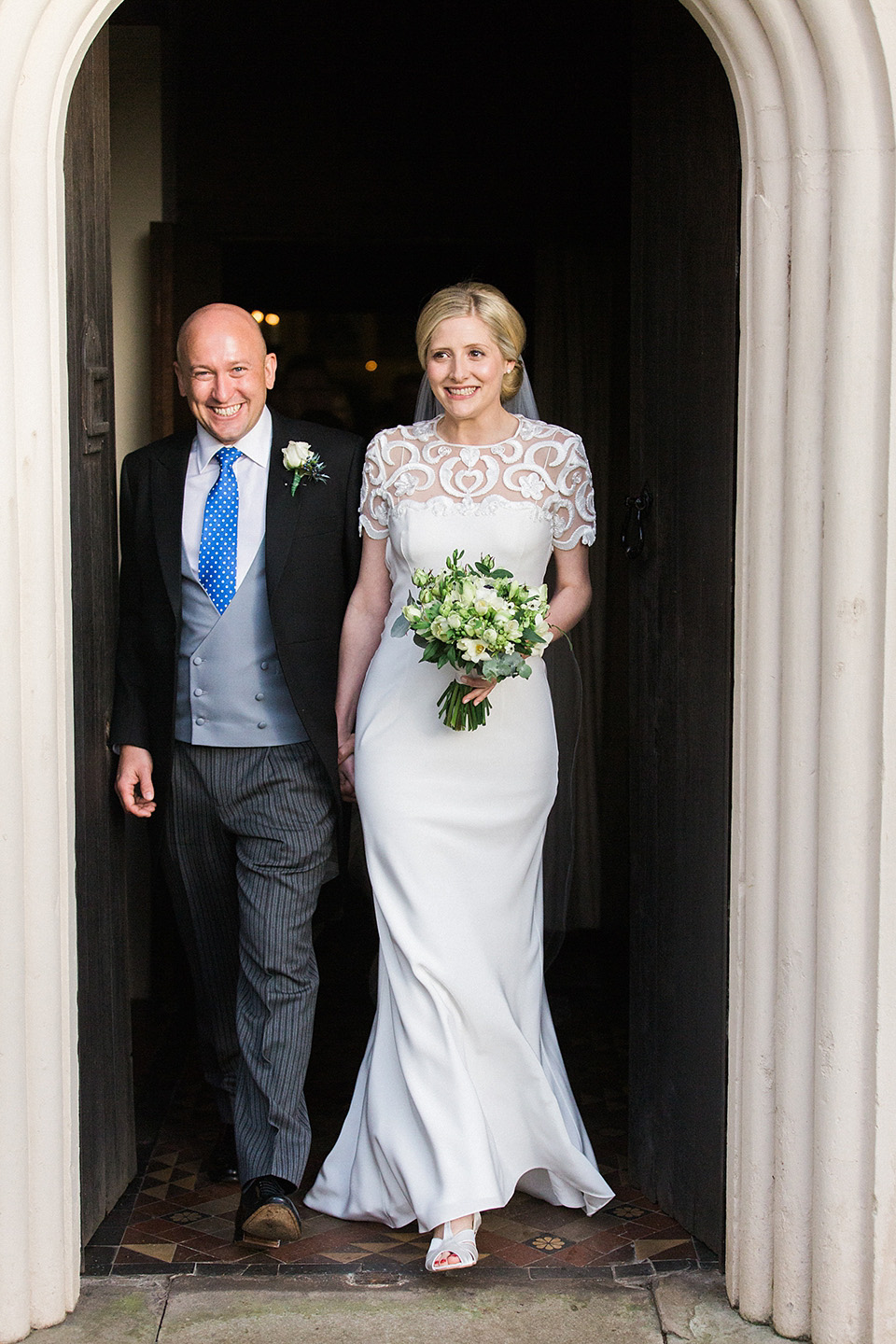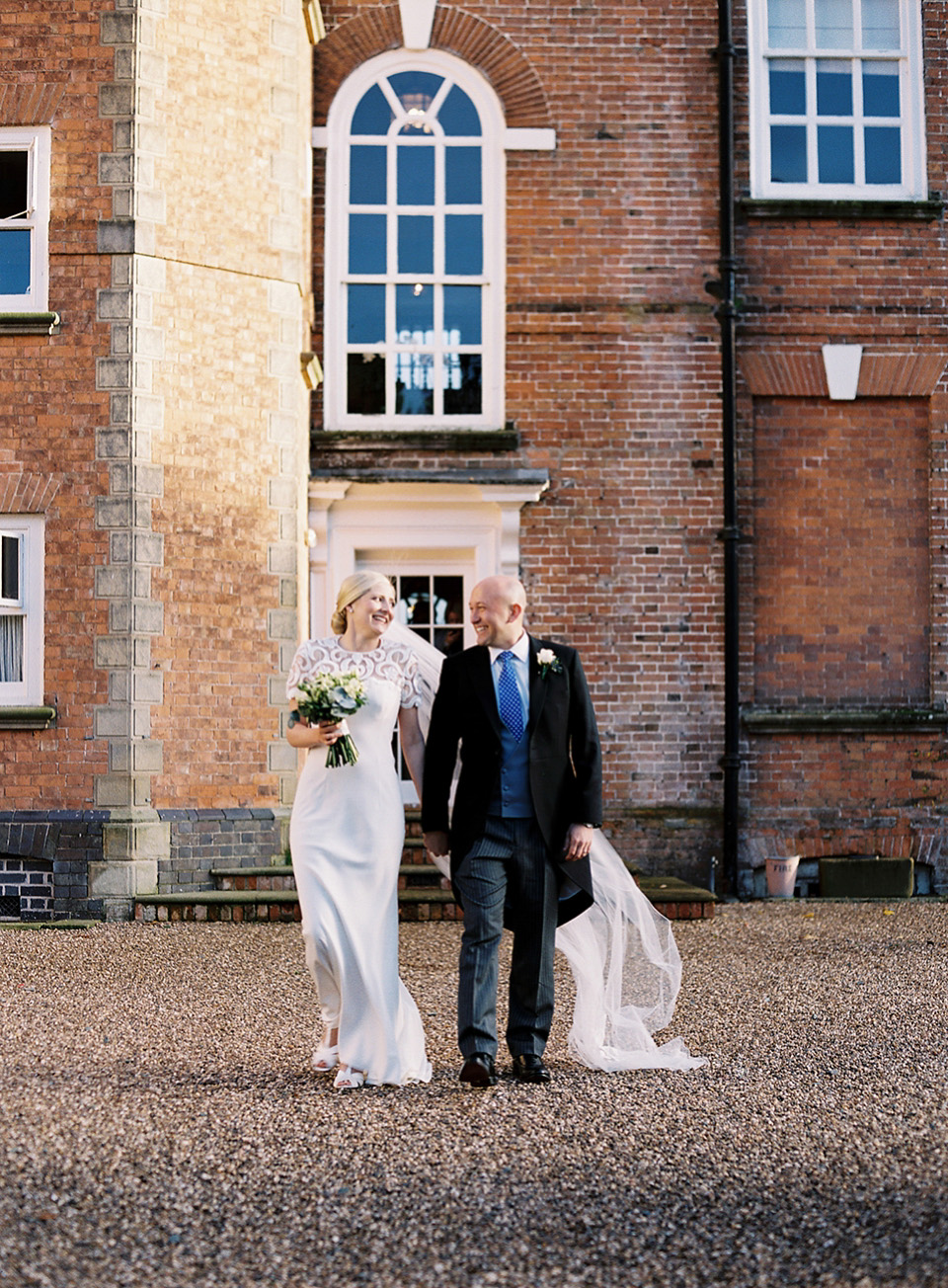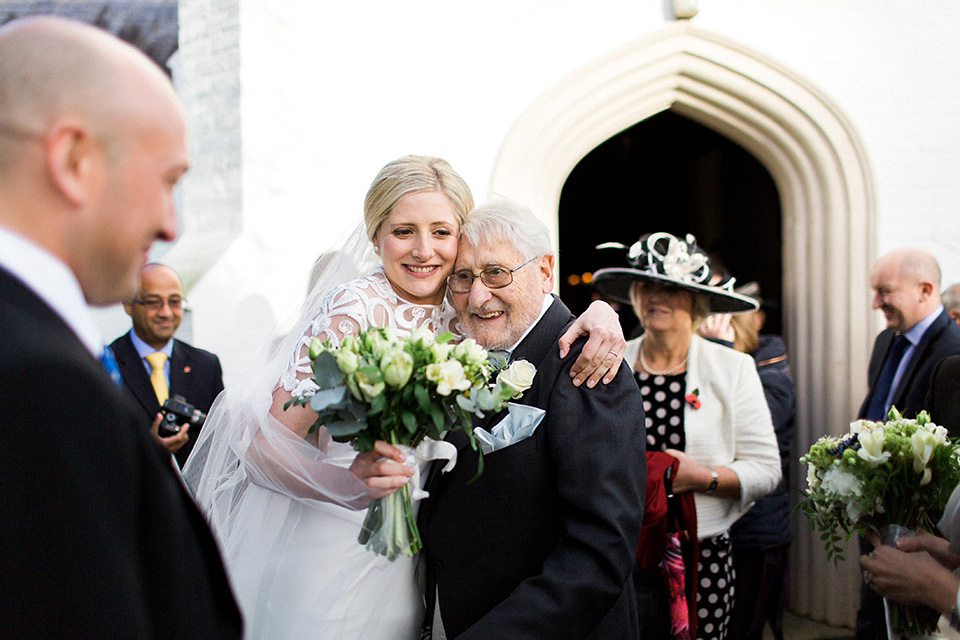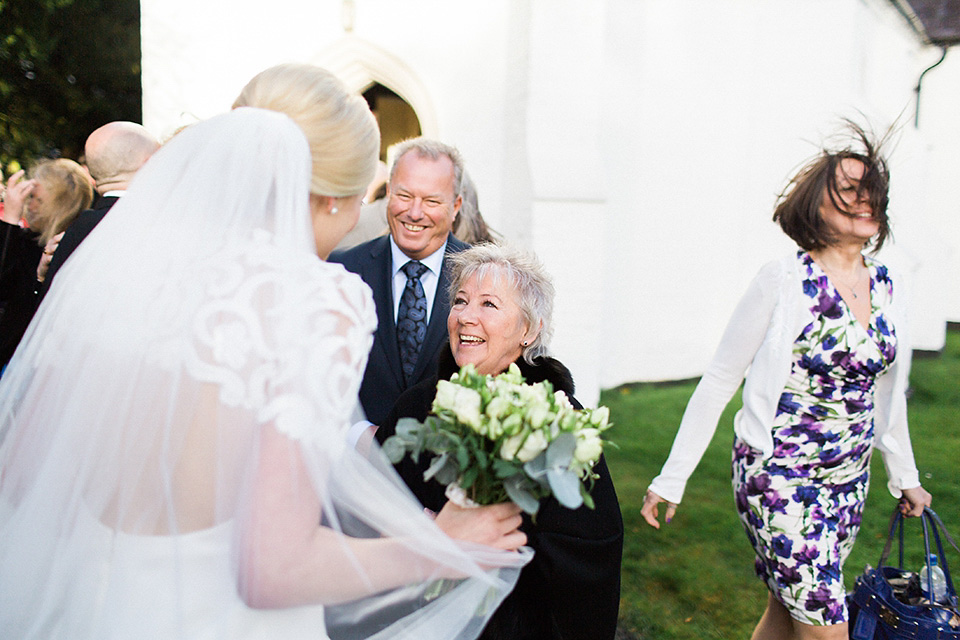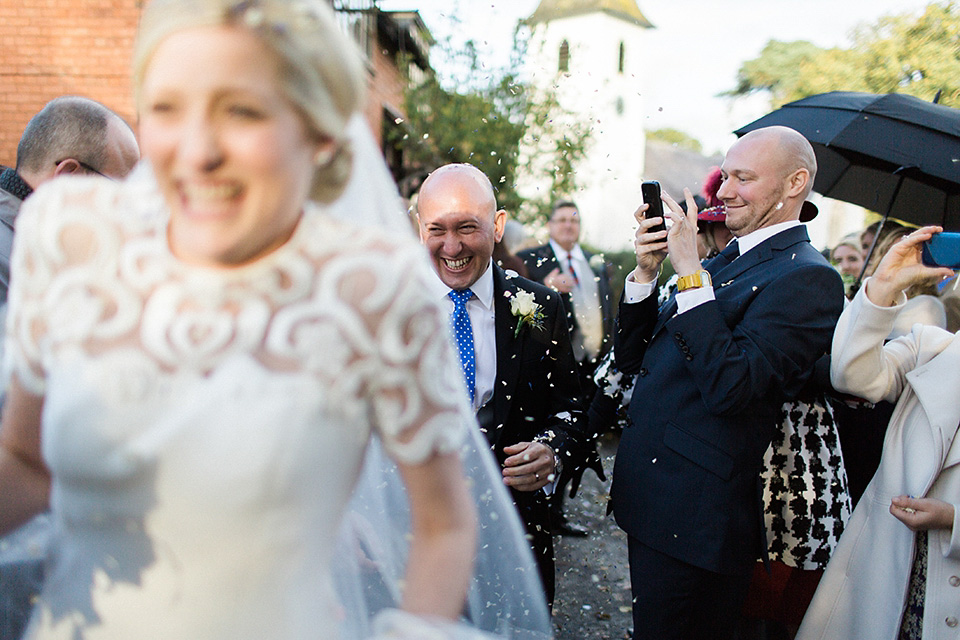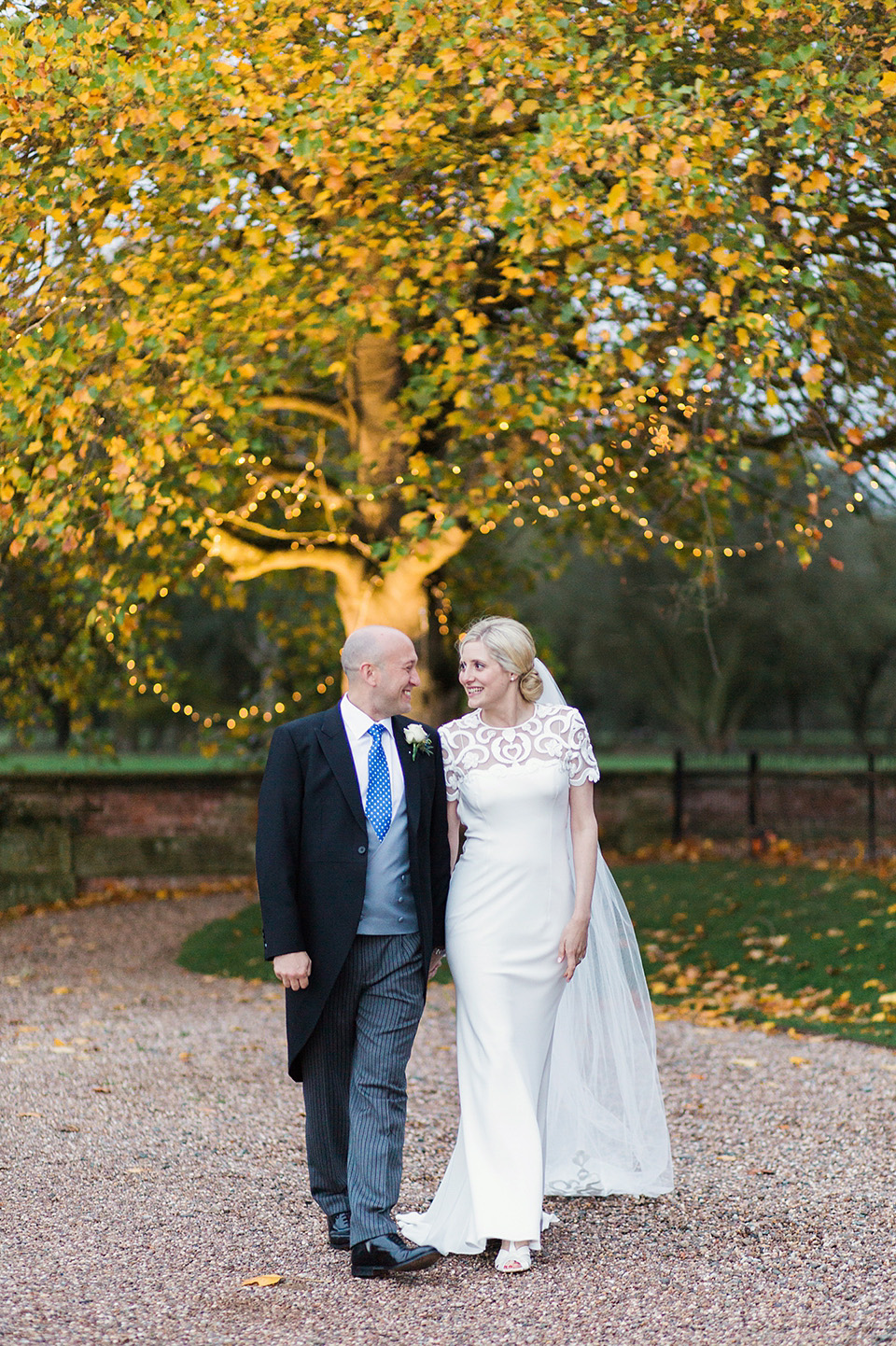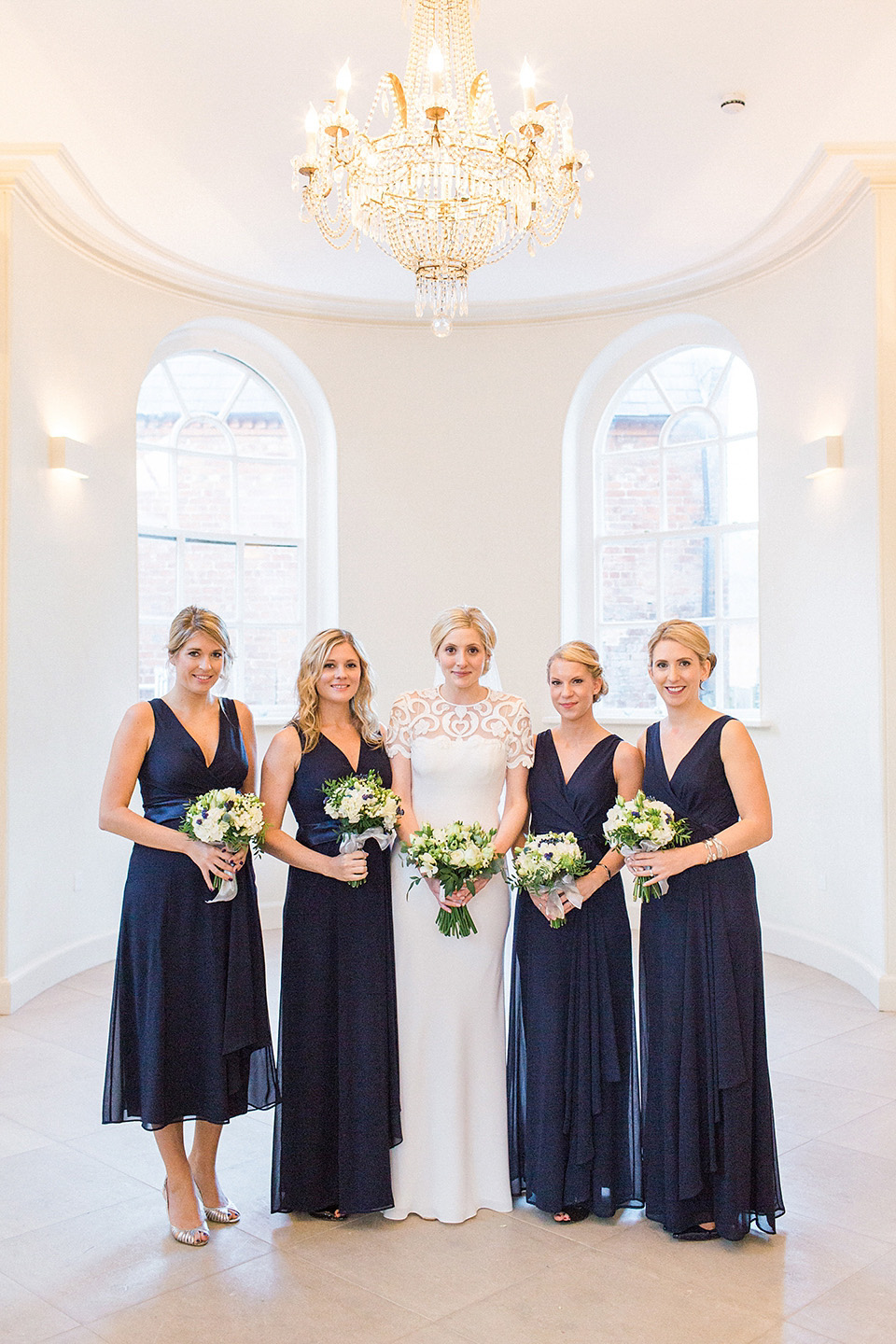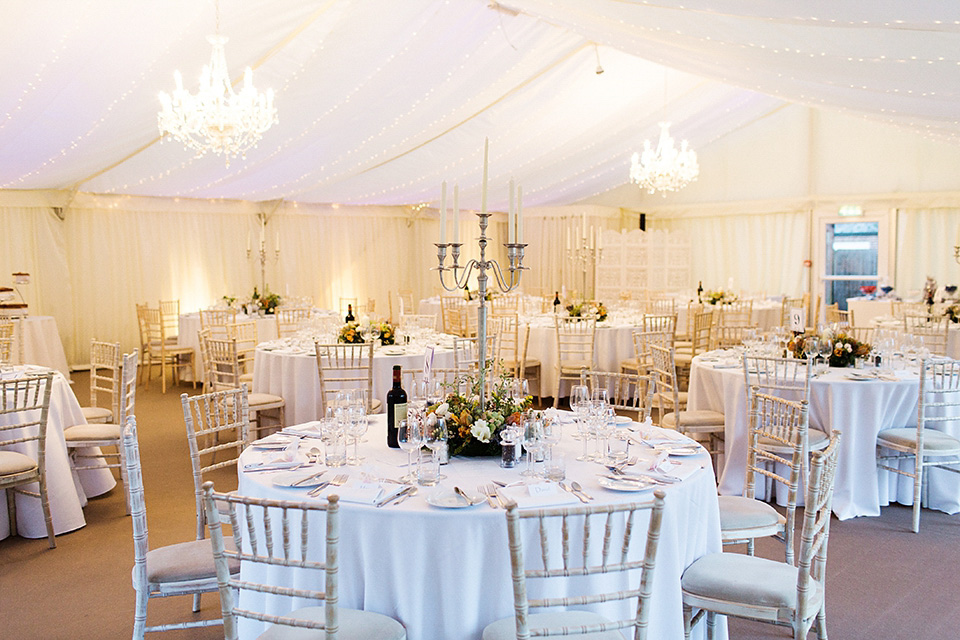 "My mum found a fabulous model of a penny farthing that we used to display the table plan and the sweety jars were a great find from TK Maxx. We filled them with our families' favourite sweets; Walnut Whips, Raspberry Ruffles and (because apparently it is not a wedding without them) sugared almonds for guests to help themselves to."
"Iscoyd's in-house caterers were excellent, many people commented that it was the best wedding food ever. We certainly thought so! They were also able to create the menu that we wanted rather than picking from a pre-defined list.  The all-day breakfast canapé was immensely good. We also had a three tiered pork pie cake from the Ginger Pig, which we served along with cheese in the evening. I didn't get to try it but the feedback was all positive!"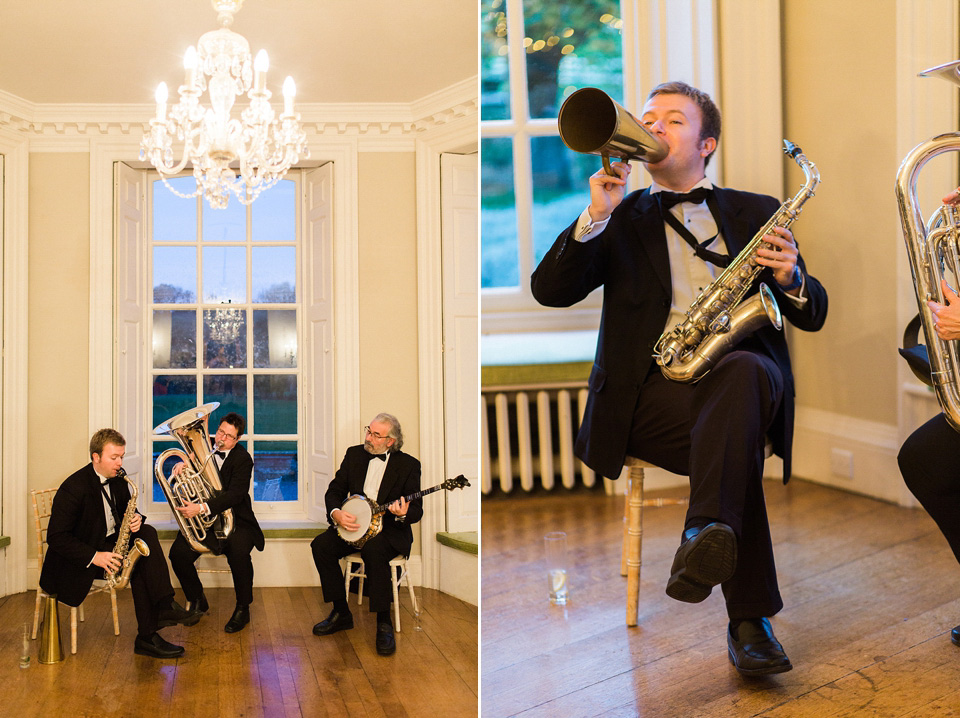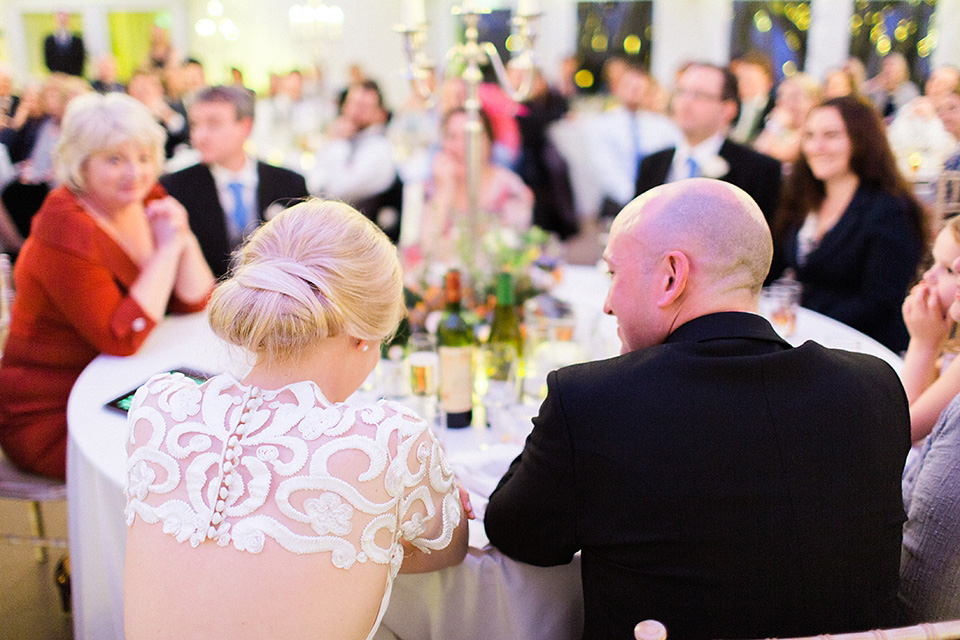 "I feel I need to share that we had Jagerbombs for all as part of the toasts. My 89 year old Granddad was a little surprised, but I think he liked it!"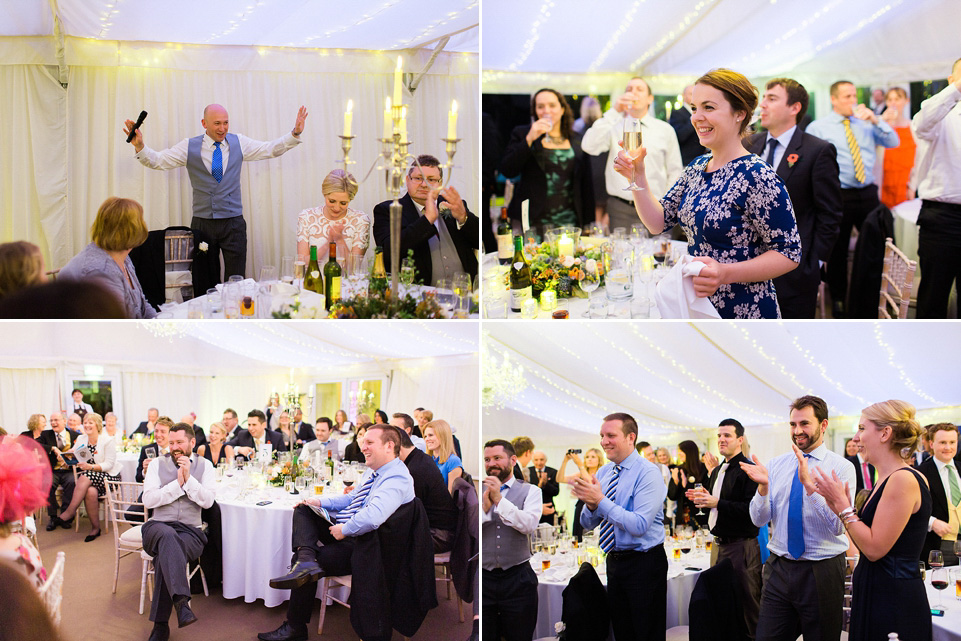 "For our first dance we chose Peter Cetera 'The Glory of Love'. We are not dancers and a really romantic song would have added to our discomfort.  We chose a song from one of Paul's favourite films – Karate Kid 2 – and we hoped it was cheesy enough to be funny (we thought it was anyway)."
Words Of Wedded Wisdom
"This might be a bit cringe worthy but it wasn't until a few weeks before the wedding that Paul and I really considered the implications of being married and what it meant for us. Taking some time to think about it was really valuable. Whilst there is no real shift in the way you live post nuptials there is a special feeling that comes from knowing that you have both promised to be there for each other through thick and thin.
Large amounts of alcohol and photo booths don't really mix, ours was unfortunately damaged by an over enthusiastic guest but that was the only thing to go wrong and we didn't even notice!"
Oh what a pretty wedding day in truly glorious surroundings! Thank you to Beccy and Paul for sharing their day on Love My Dress and also to Victoria Phipps for all the lovely photographs.
Our huge thanks to photographer Victoria Phipps for sharing these exquisite images today.
Love Susie x
Photographer – Victoria Phipps
Venue – Iscoyd Park
Bride's dress – David Fielden
Groom's suit – Dress 2 Kill
Bridesmaids dresses – Debenhams
Flowergirls dress – Next
Pageboy's suit – Moss Bross
Rings – The Wedding Ring Workshop
Transport – Manor Bridal Cars
Pageboy's suit – Moss Bross