Oh what a gorgeous, joyful little wedding this is! There is happiness pouring copiously from every single image, captured by the talented Louise Holgate. Sally, a surface pattern designer and John, a company owner, tied the knot in Hatton, Warwickshire on mid-summer's day. There are delicate little touches running through the whole wedding which seem to perfectly portray the character of the bride and groom. I'm also suffering from serious dress envy! Read on for prettiness…
"As we were getting married in the country we opted for an English country garden/vintage feel which suited Hatton Village Hall really well.  I love putting together mood boards so I had a clear vision of how I wanted to dress the venue. I collected vintage enamel jugs, vintage glass bottles and china tea cups from ebay and charity shops.  I also made well over 50 metres of bunting, with the help of my mum who cut all of the pennants, I did the sewing and ironing!"
Photography Copyright (c) 2014, Louise Holgate
"We met online in March 2010! I only logged on for a bit of fun and to cheer myself up on a cold winters night and a couple of weeks later I was face to face with (unbeknown to me) my future hubby! We have happily been together four years, John proposed on the New Years Eve of 2013."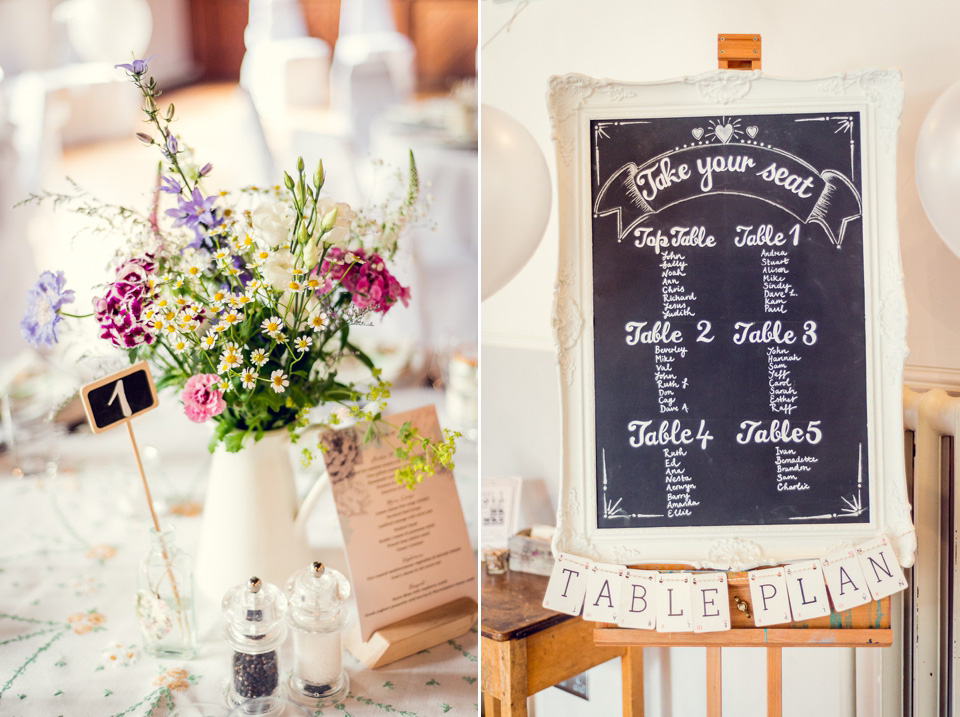 Don't you think that Sally's dress is just the prettiness creation ever? I adore the delicacy of it and how well it suits her slim frame. And that veil! It's perfect. She wore Dior 'J'adore' as her wedding scent, a perfume first bought for her by John.
"I spent many hours- in fact what seemingly felt like forever- searching online for a very simple, long floaty ethereal dress that was within my budget. Every bridal shop I went into only had corseted dresses, I almost lost hope until I stumbled across Indiebride London. As soon as I saw her online collection I fell in love and immediately made a date to head down to her London studio. When I saw them up close they were stunning, each dress is made from lace and silk georgette which evoked a slight vintage style.
I chose the 'Phoebe' dress from her new line this year, it felt so light and floaty perfect for a summers day. I also chose the 'Kate' veil by Indiebride London."
"I almost chose my son who is two and a half to be our page boy but he is a ball of energy and very strong willed so decided to relieve him of such a duty! I wanted to dress him in something that matched John's outfit and chose a cute blue floral shirt with matching bow tie from Marks & Spencer and a pair of chinos with braces. I finished the outfit with a pair of converse high tops in blue."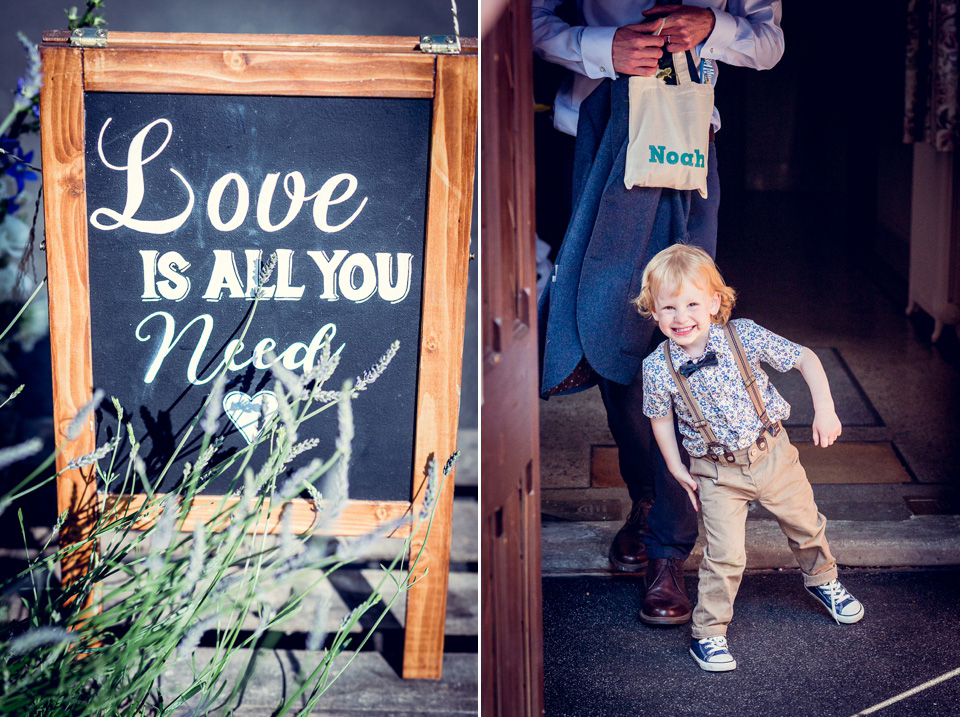 I have serious floral lust for Sally and John's incredible wildflowers. It's been beautifully done with a fab balance of colours and textures. The floral table cloths that Sally has used on the tables are incredibly pretty too. She also designed all the wedding stationary herself, clever lady!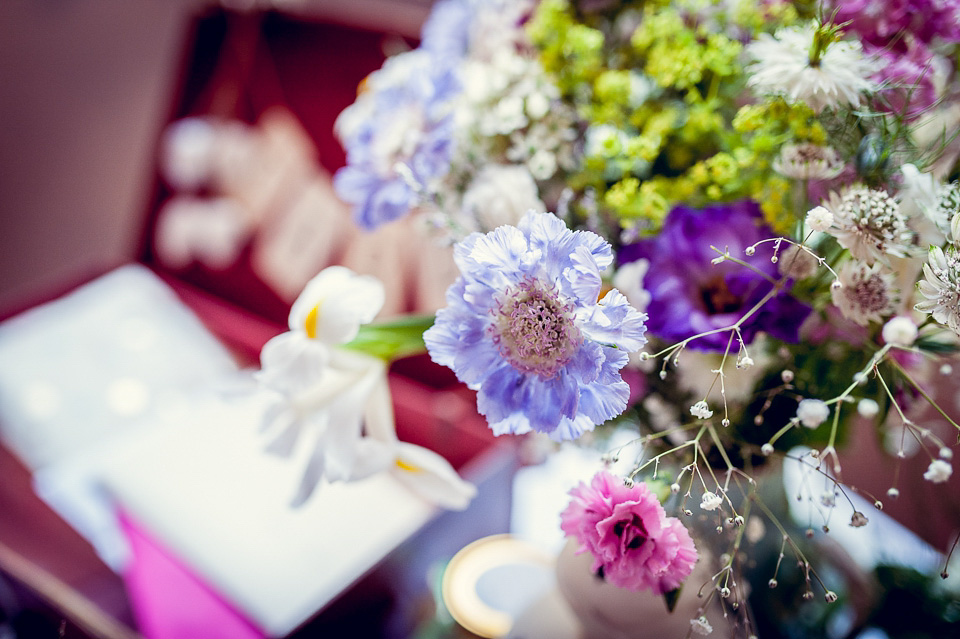 "To me the photographer was a really important part of the day and after booking the venue we made our booking with Louise Holgate whom I found at a vintage wedding fair. Louise was the first photographer I met but I knew she was the one for us! Louise did such an awesome job on our day, her relaxed documentary style was a perfect match to our laid back wedding.
Louise captured moments of our day beautifully and with such grace and poise. If you are getting married in the Midlands I highly recommend Louise, go check her out!"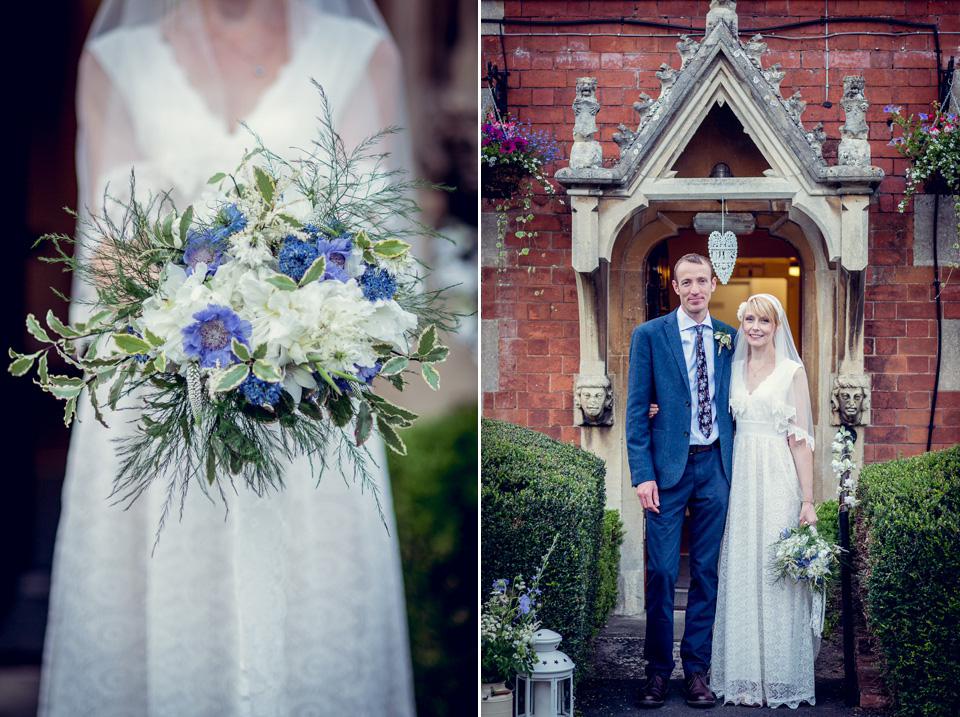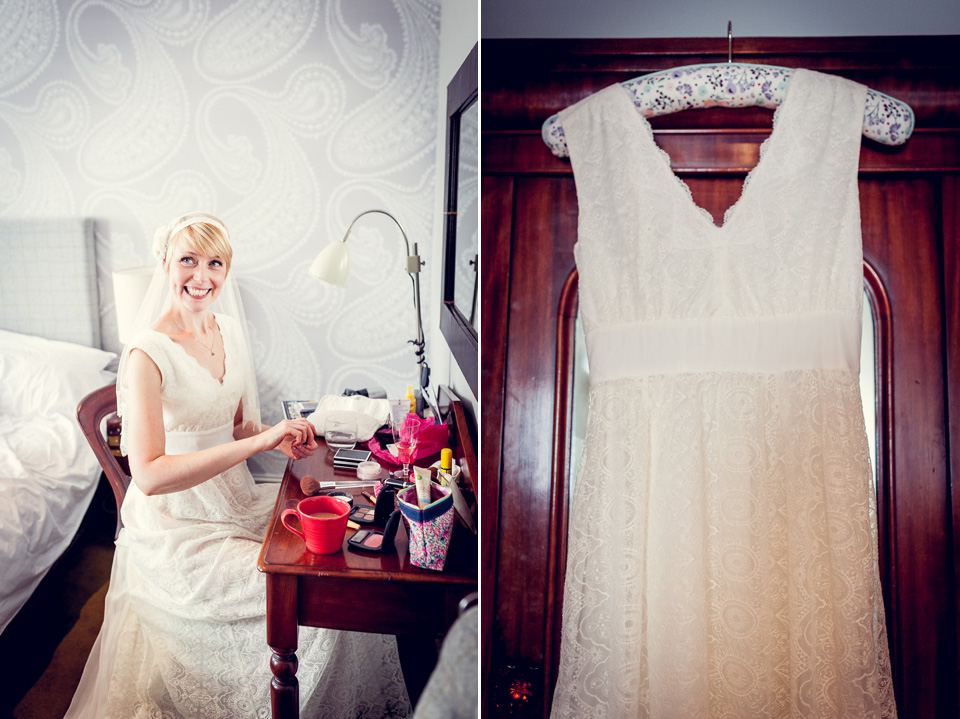 "I have only worn flats since having my son two years ago, the thought of wearing heels just for one day was a 'no no' luckily at 5ft 10 I have height on my side so flats it was. I was going to buy a simple ballet slipper but then stumbled on a cute pair of ankle straps with a slight point from good old Debenhams. They were SO comfortable!
For the 'something blue' my mum wanted to buy me a necklace. She showed me a week before the wedding and it was a gorgeous blue aquamarine heart shaped stone hung on a simple gold chain. It was vintage and went beautifully with the dress."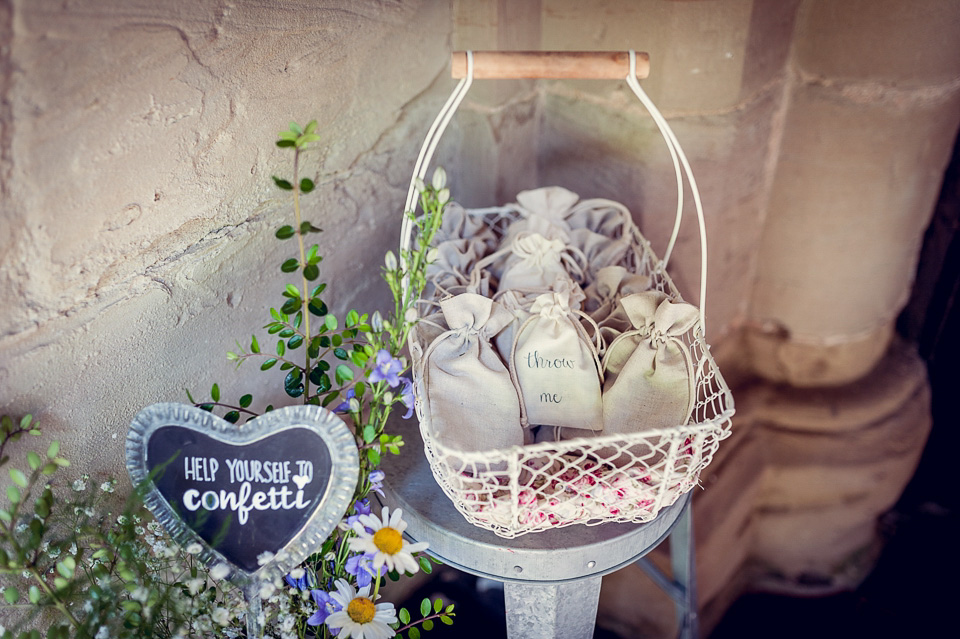 "We didn't want to go down the traditional route with John's outfit as it just wouldn't have suited his laid-back style. We opted for separates and began a hunt for a wool/ tweed jacket, we found a lovely blue wool jacket in Next, they do a long length which is a must for John's 6ft 4″ frame.  We matched it with some blue chinos from Gap and found a floral tie from St George by Duffer at Debenhams which tied in with the vintage theme."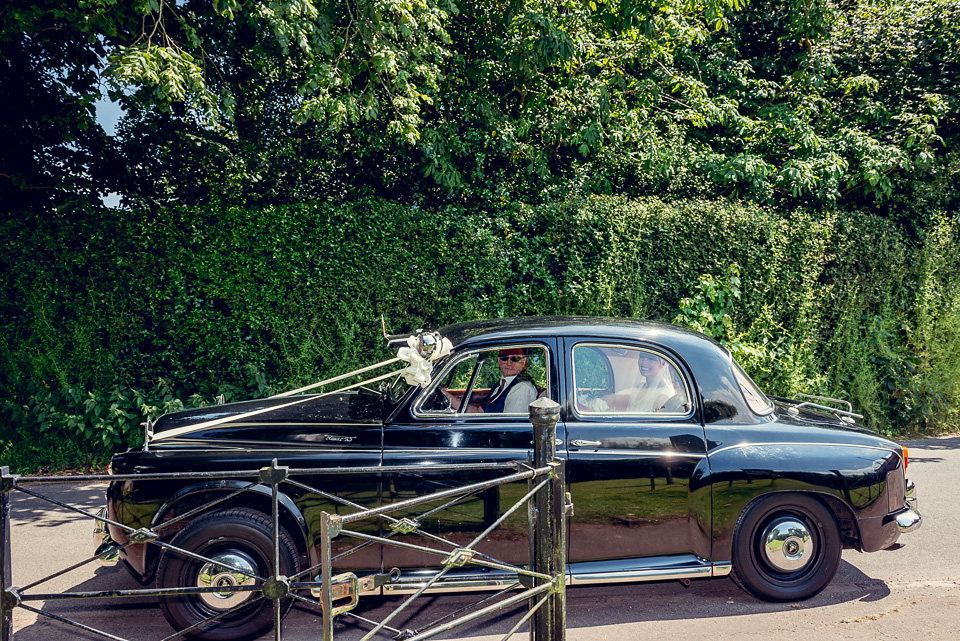 "As one of my bridesmaids had recently had a baby and another was due a few weeks before the wedding I needed a style that was flattering. I hit the high street due to my budget and there is so much choice out there now, especially for the maxi style dress which is what I wanted. I ended up finding the dresses at Jane Norman, in the beautiful aqua colour that I love. I bought them all a horseshoe necklace from John Lewis, for luck!"
I love that aqua colour too. It gives a really fresh lift to the classic country wedding theme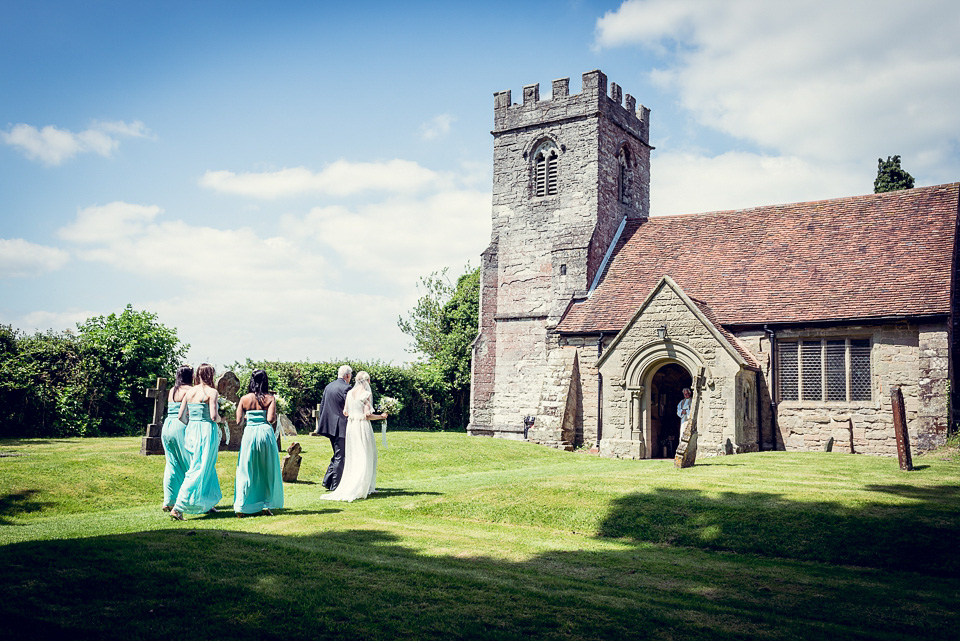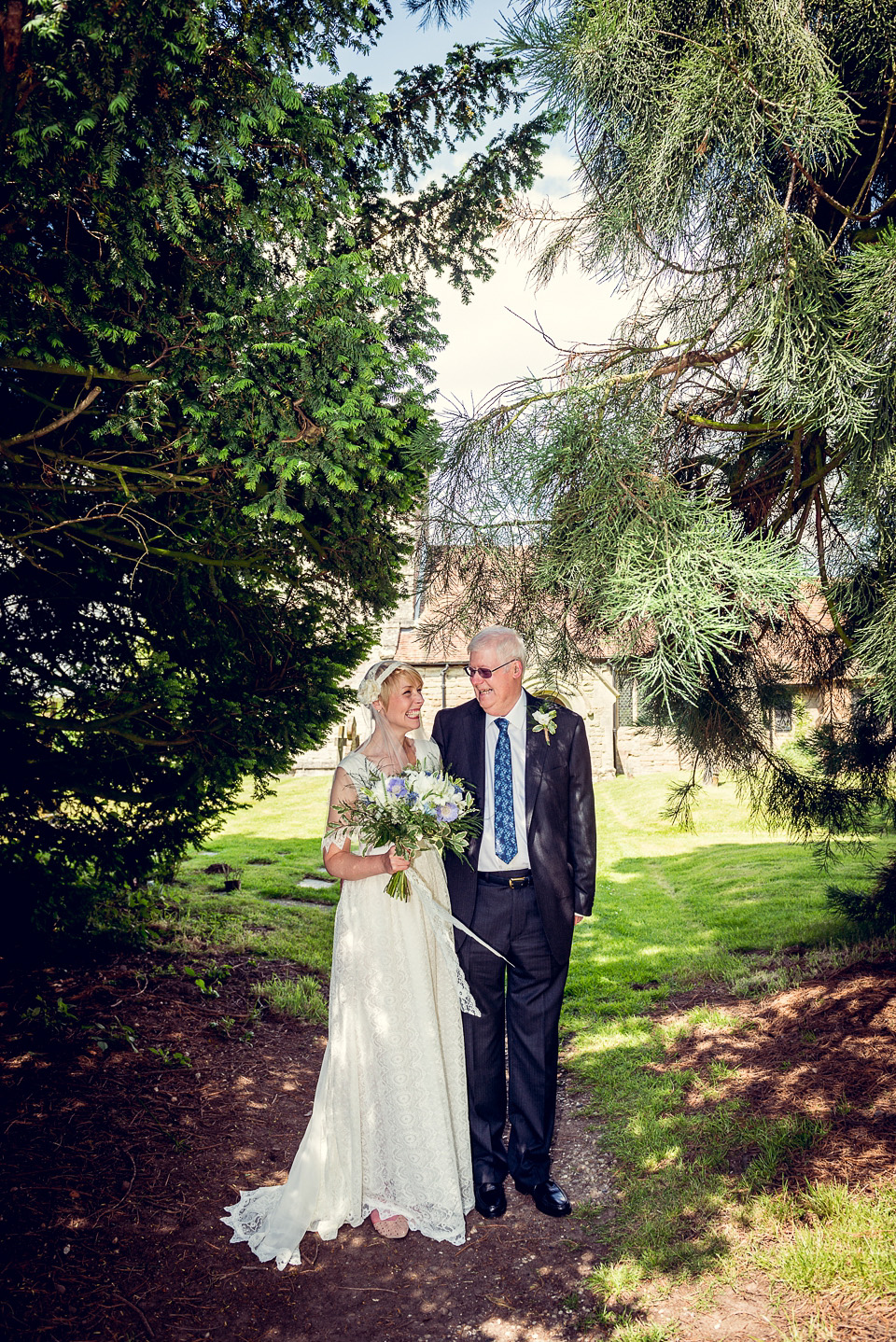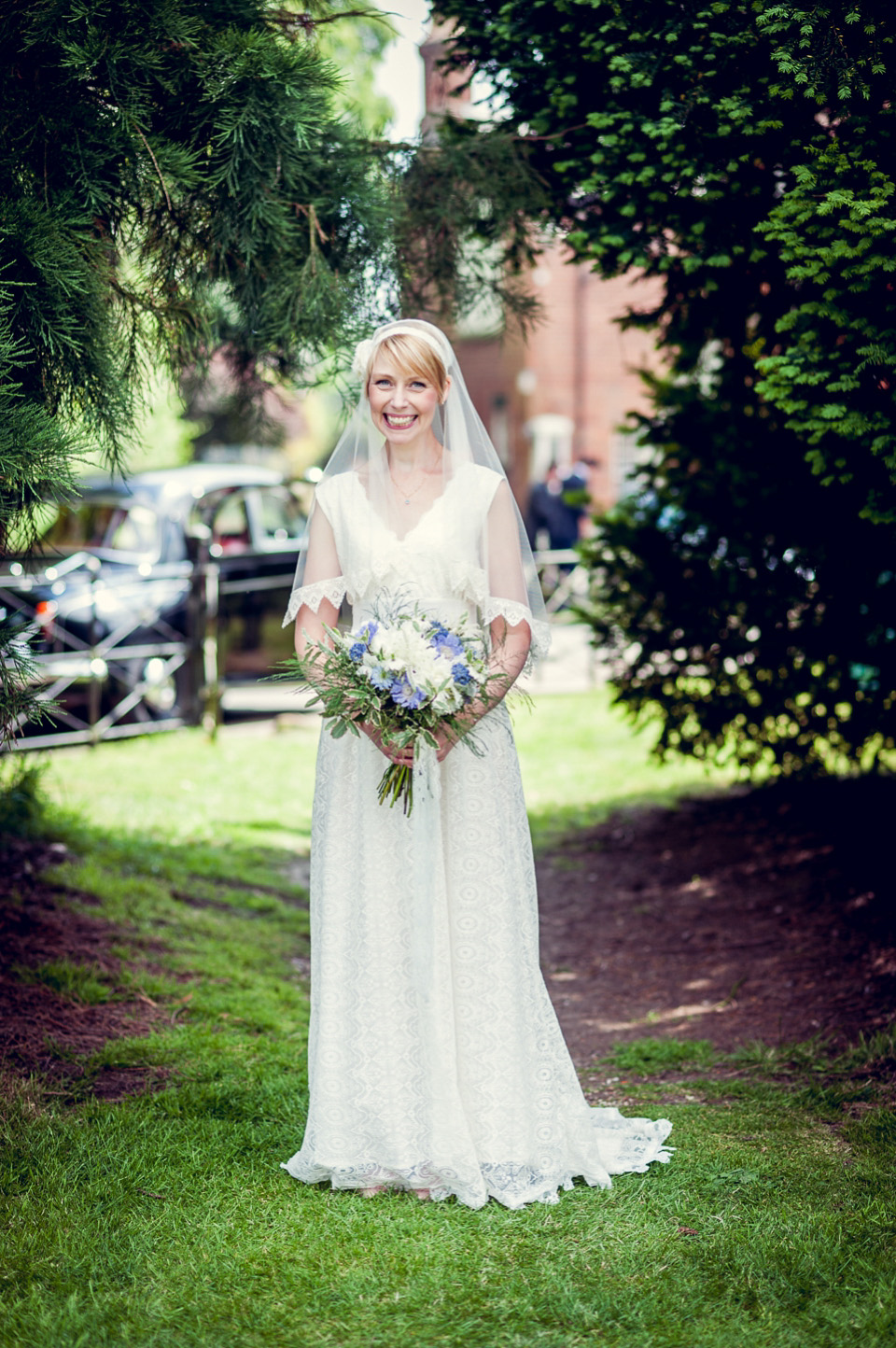 Sally walked down the aisle of St. Mary's Church in Hatton with her dad and the happy couple were married with traditional vows.
"I chose a Sanskrit poem called "Look to this Day" and the traditional and the popular Corinthians Verse 13. I love the second verse of the Sanskrit poem which goes "For yesterday is but a memory and tomorrow is only a vision. But today well lived makes every yesterday a memory of happiness and tomorrow a vision of hope, Look well, therefore, to this day.'
I thought this was incredibly appropriate as it was the first day of our married life together."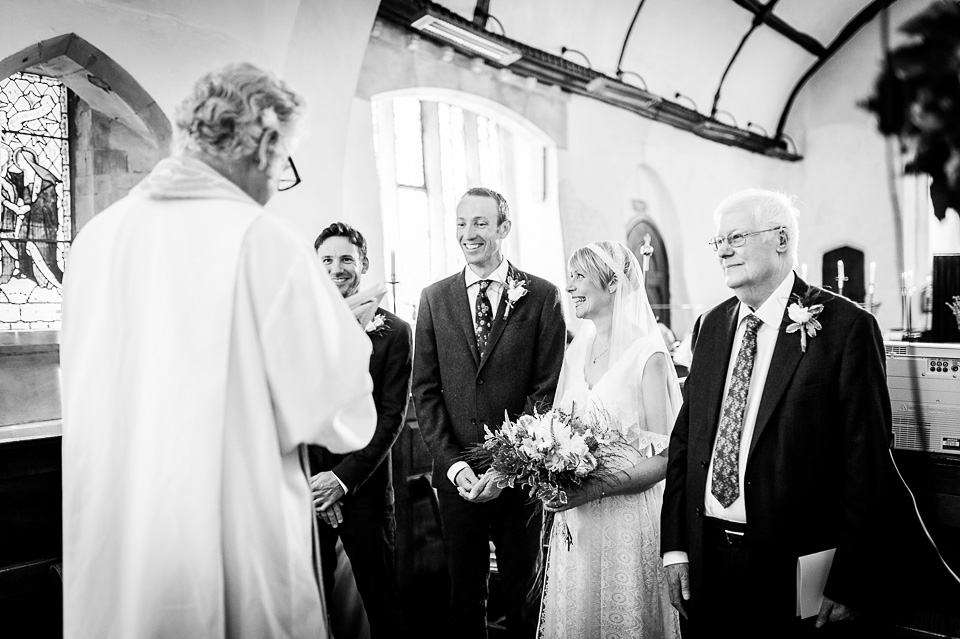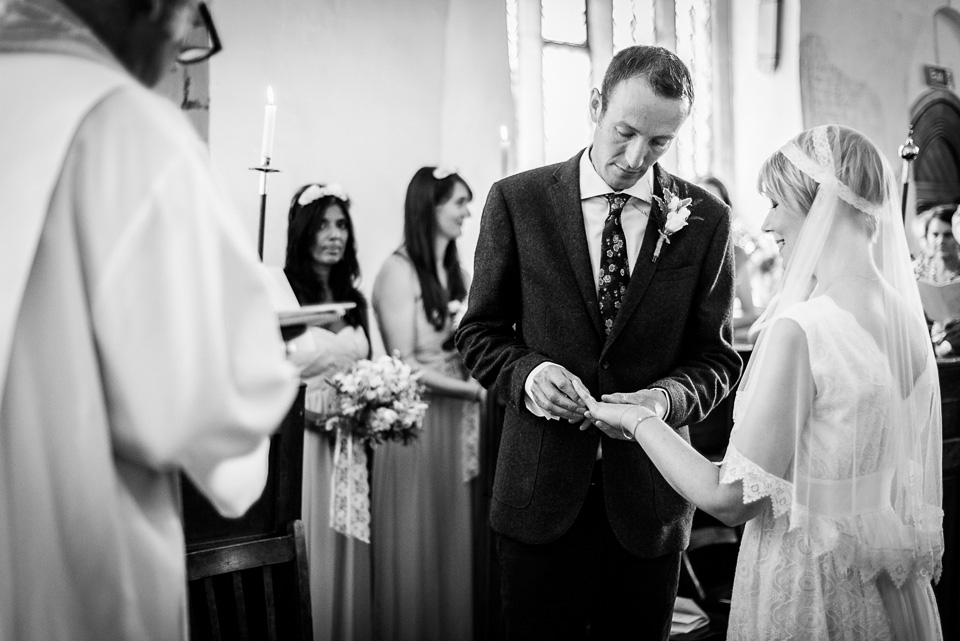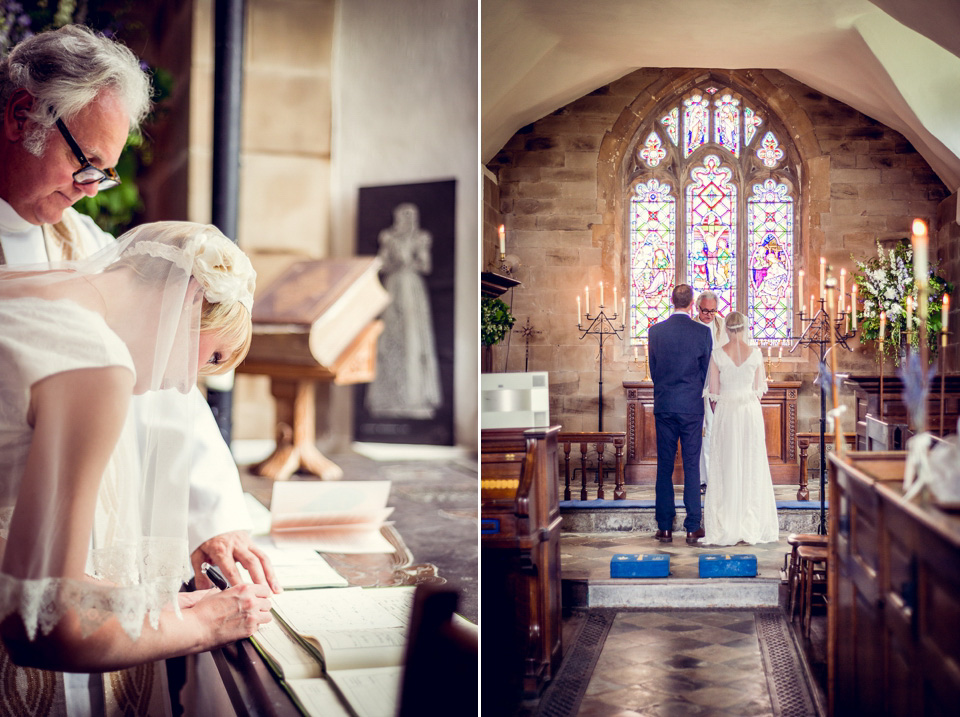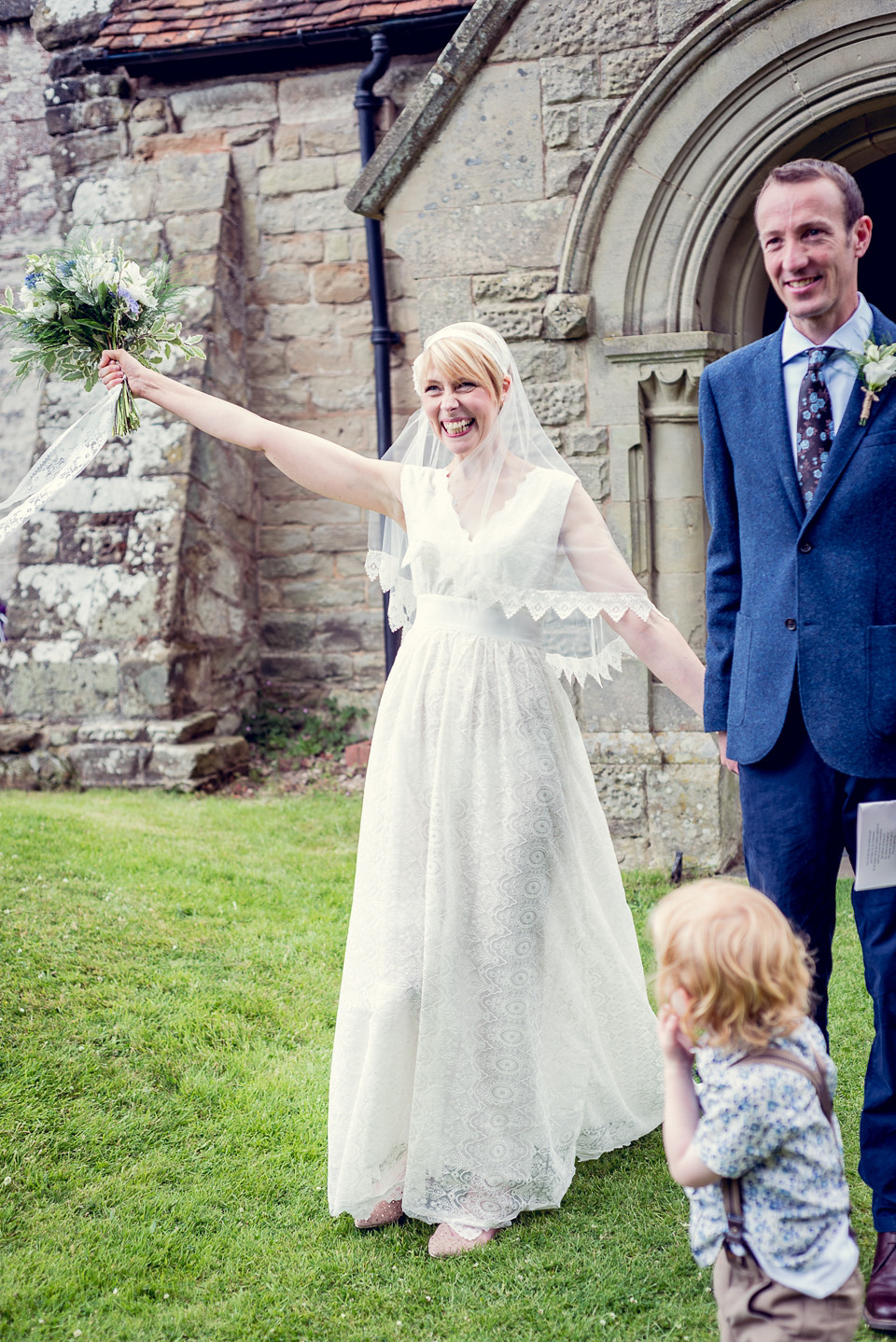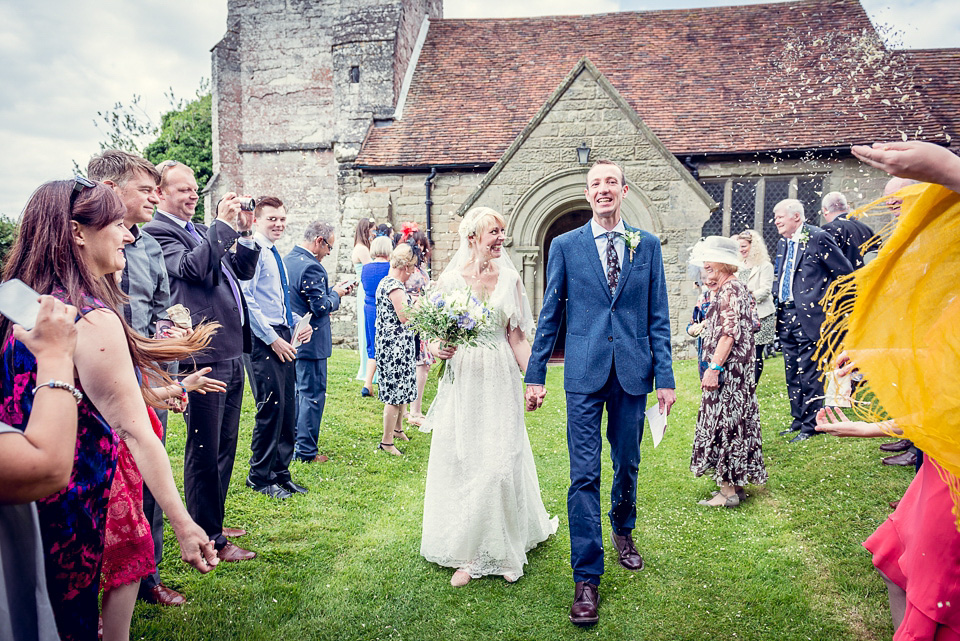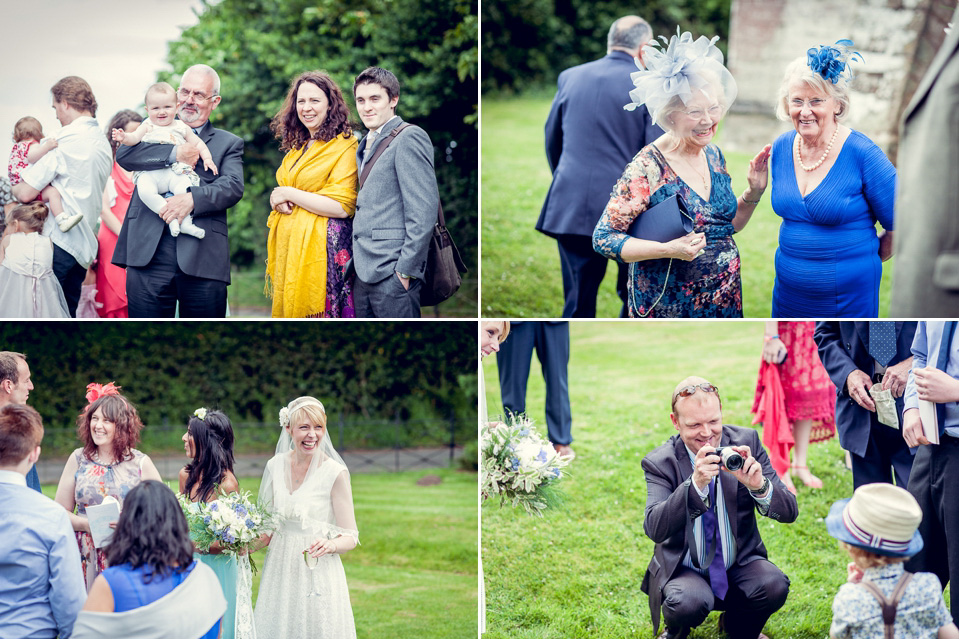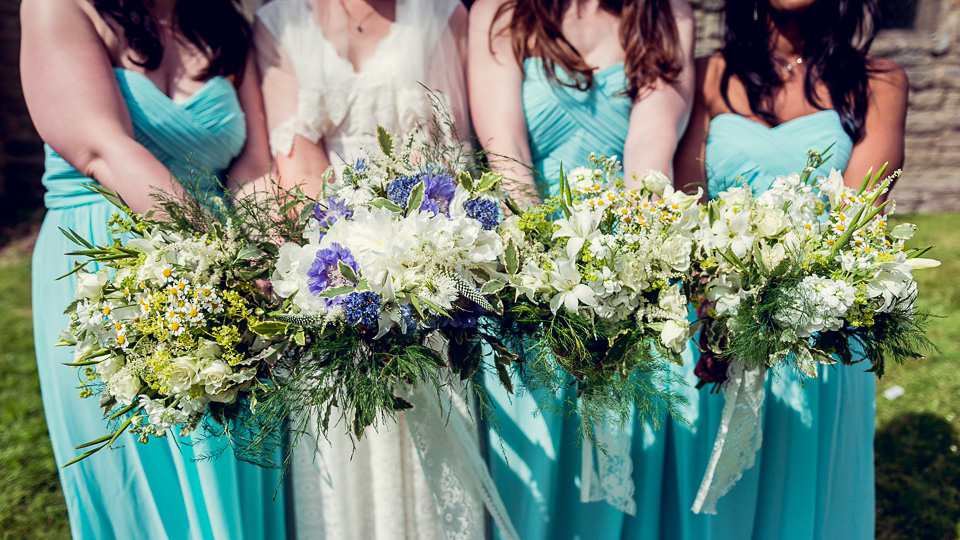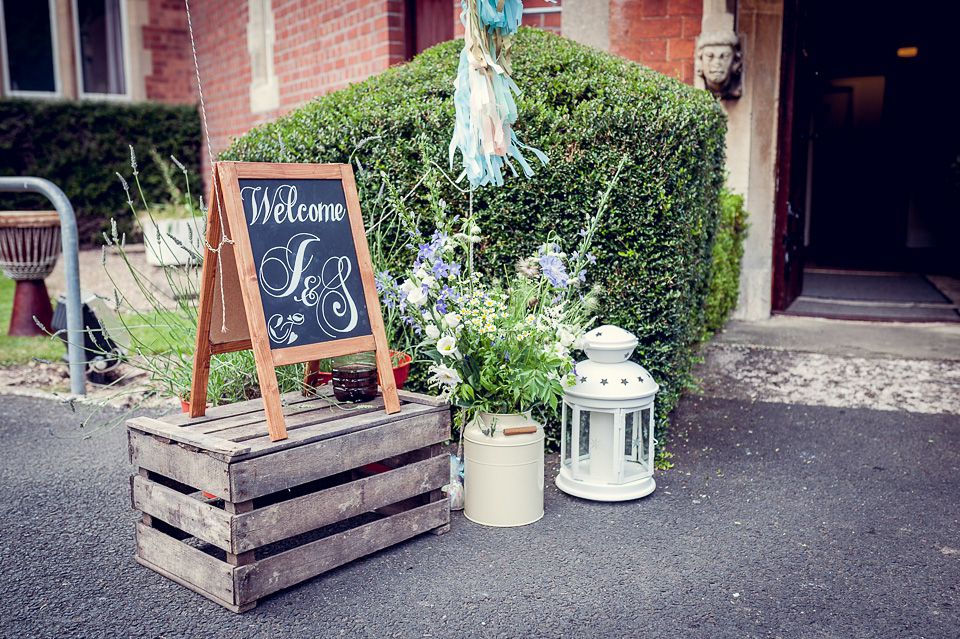 "Our catering was provided by Mark Hayden at The Woodland Kitchen. John found the company through an internet search then realised the owner Mark was an old school friend from way back. Mark's food was delicious and we had a lot of compliments from our guests too!"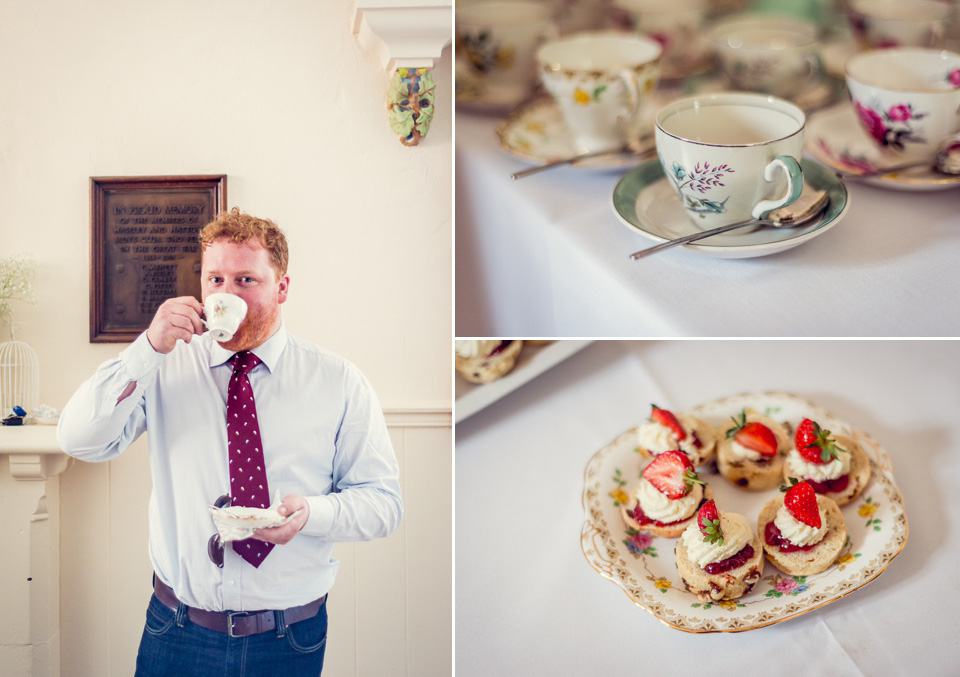 "My vision for the flowers was something very ''Midsummer Night's Dream' as though they had been plucked from the hedgerows around the venue. I spent a while googling organic flowers and found lots of companies in Devon, not much good to me! I then found the brilliant blog for The Natural Wedding Company and looked in their flower section and luckily found Carol the owner of Honey Pot Flowers, who lived just minutes from our venue, meant to be! She grows country garden flowers in her garden.
I initially wanted flowers just to dress the venue and church and then realised she did wedding bouquets as well so luckily I was able to do all my wedding flowers through her company. Her flowers were gorgeous, and went above and beyond my expectations! I was very fortunate to have a mum with previous flower arranging skills as she arranged all the flowers in the vintage jugs at the venue. Honey Pot Flowers also made a little topper for our M&S cake."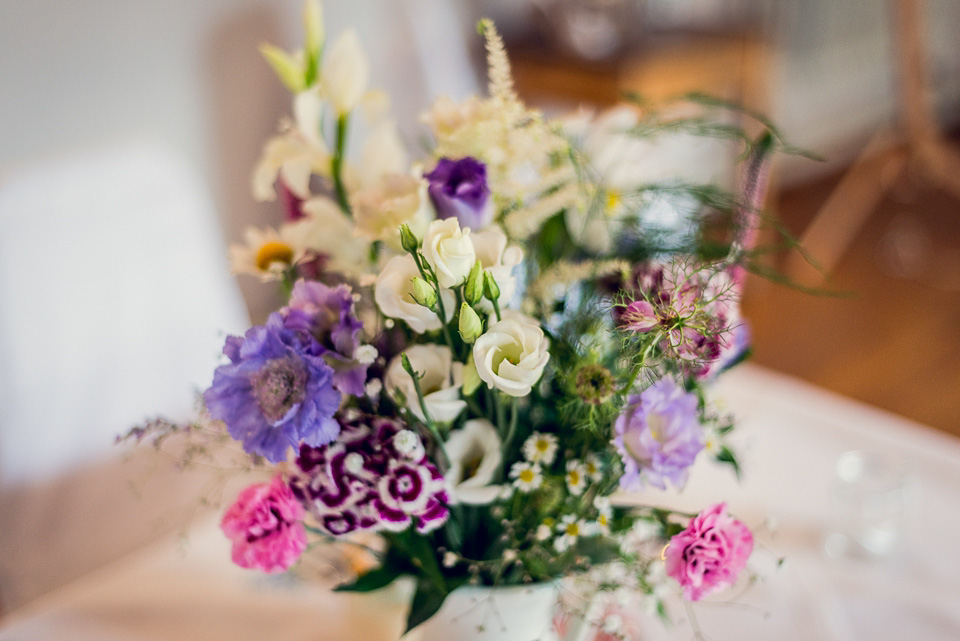 "As wedding favours I made soya candles in jam jars. I designed a sticker for the lid and dressed them with twine and ribbon. I have never made candles before, but I like a challenge and wanted to make something by hand that had a personal touch."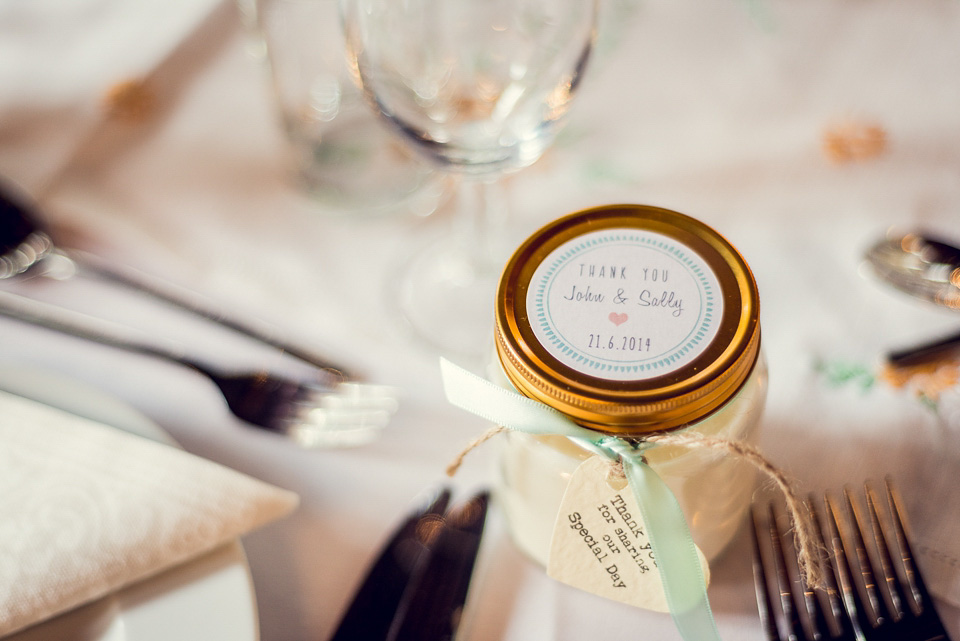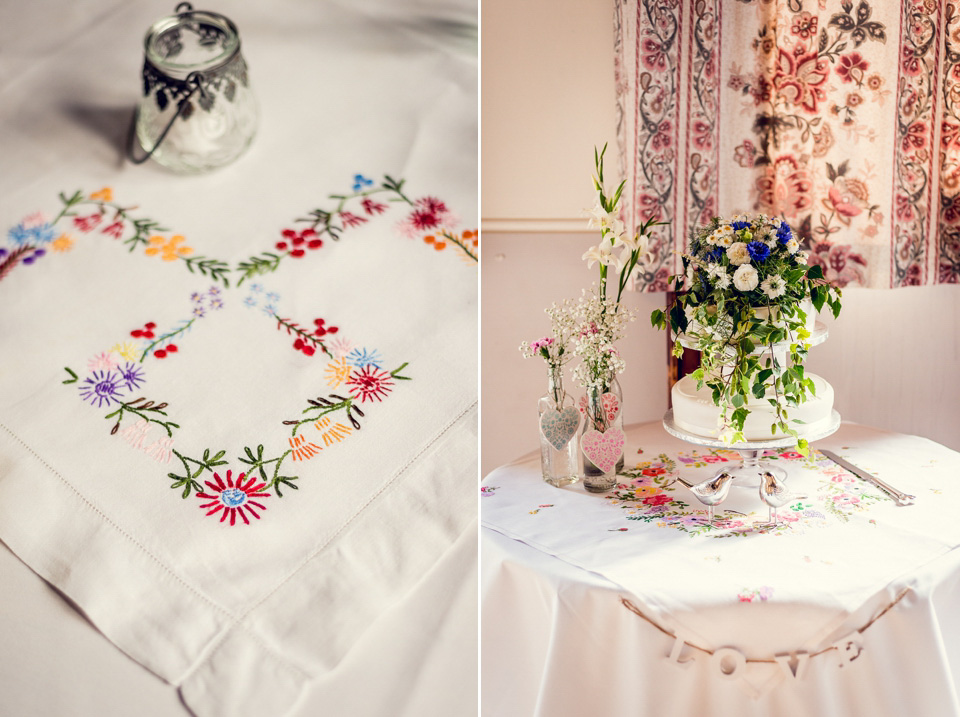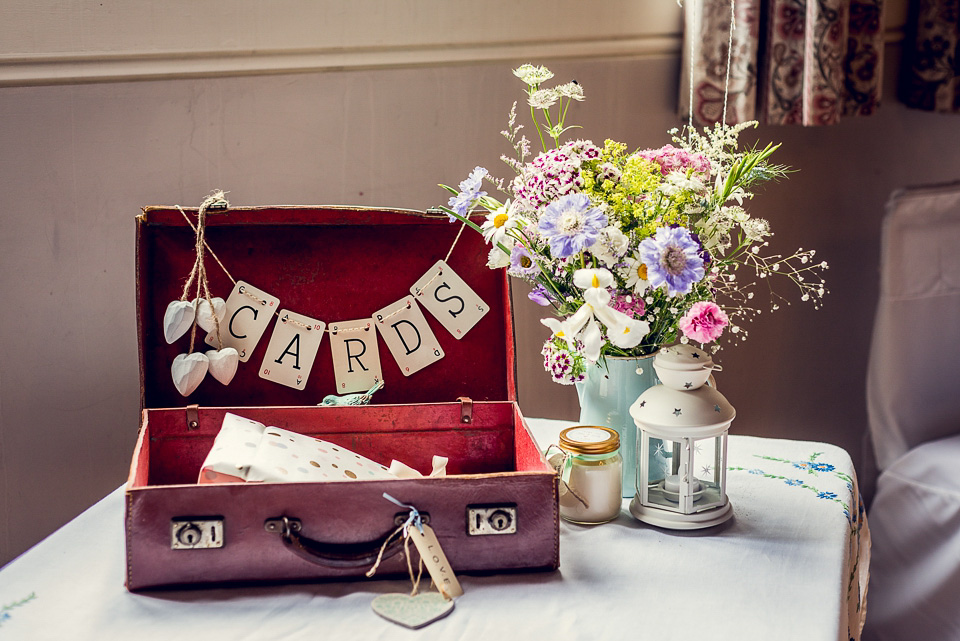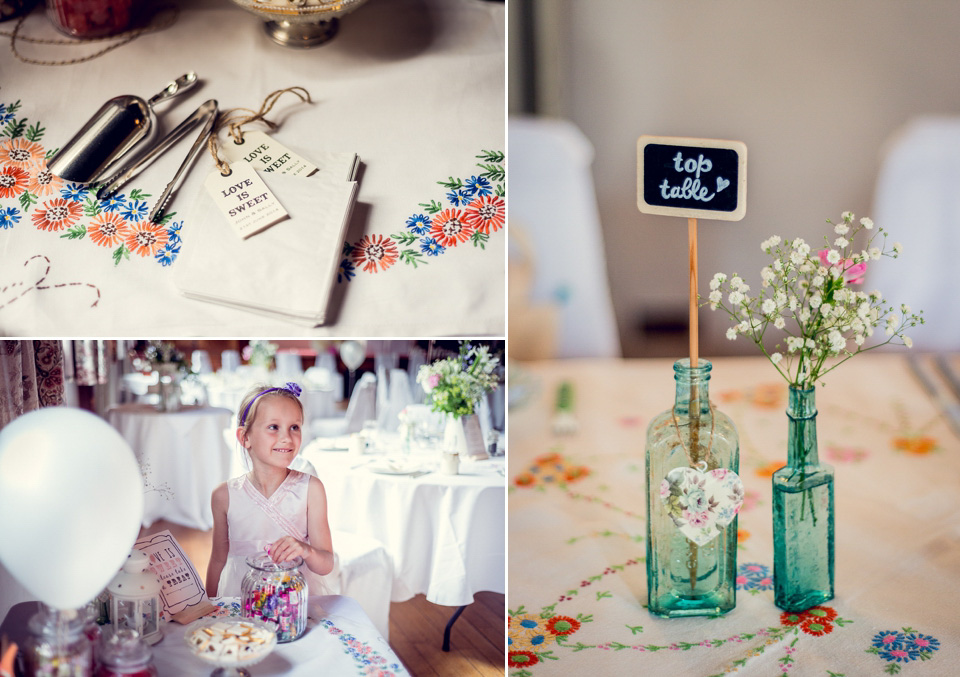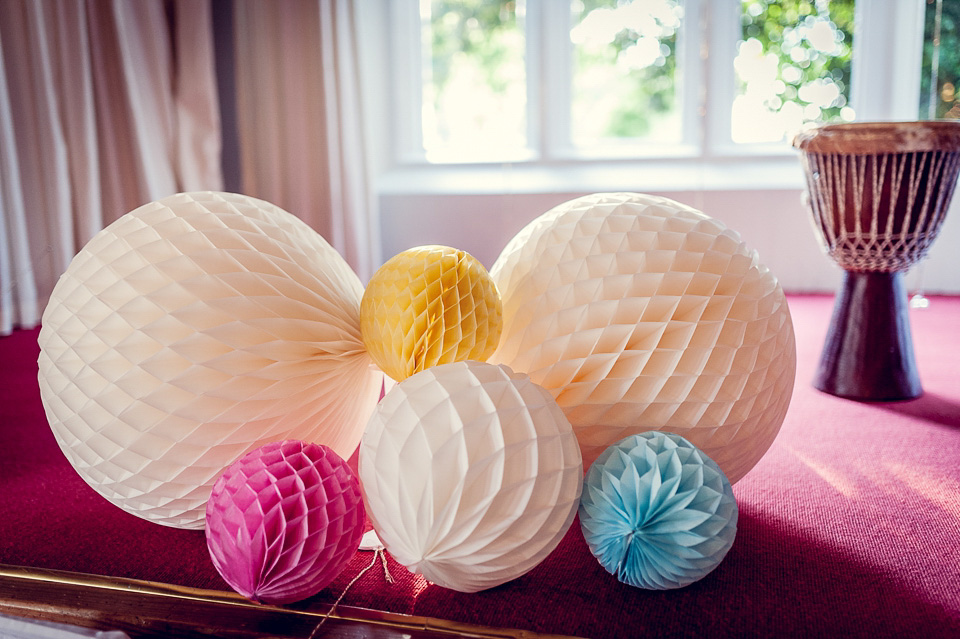 "Our best man Richard is friends with a brilliant fiddler so we thought that would be great as background music for the welcome drinks, Richard later on in the evening did some drumming with Henry the fiddler. We also hired a 'caller' for some ceilidh dancing later on in the evening which was a lot of fun and a great way of getting all of guests dancing together."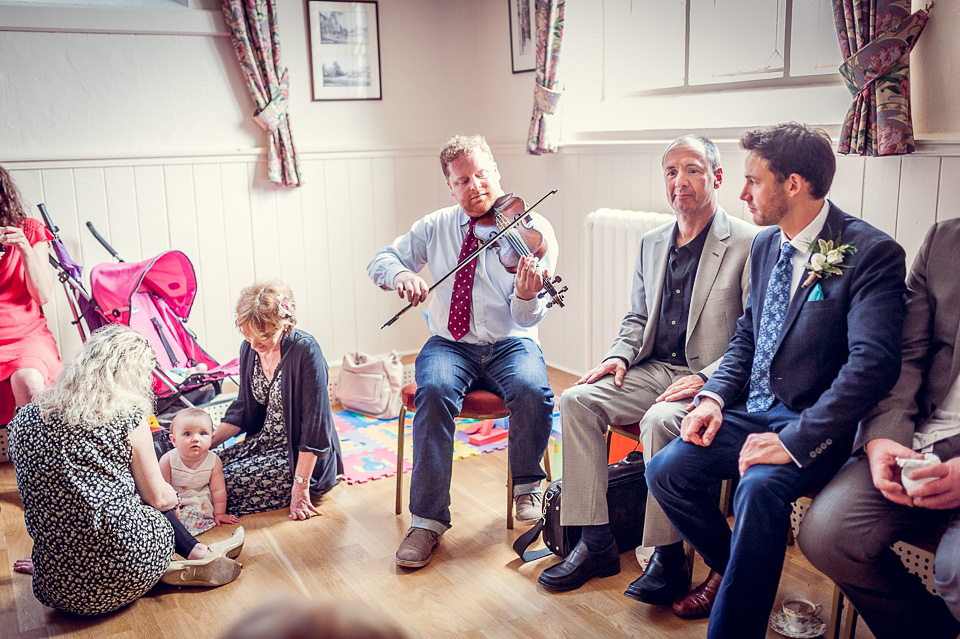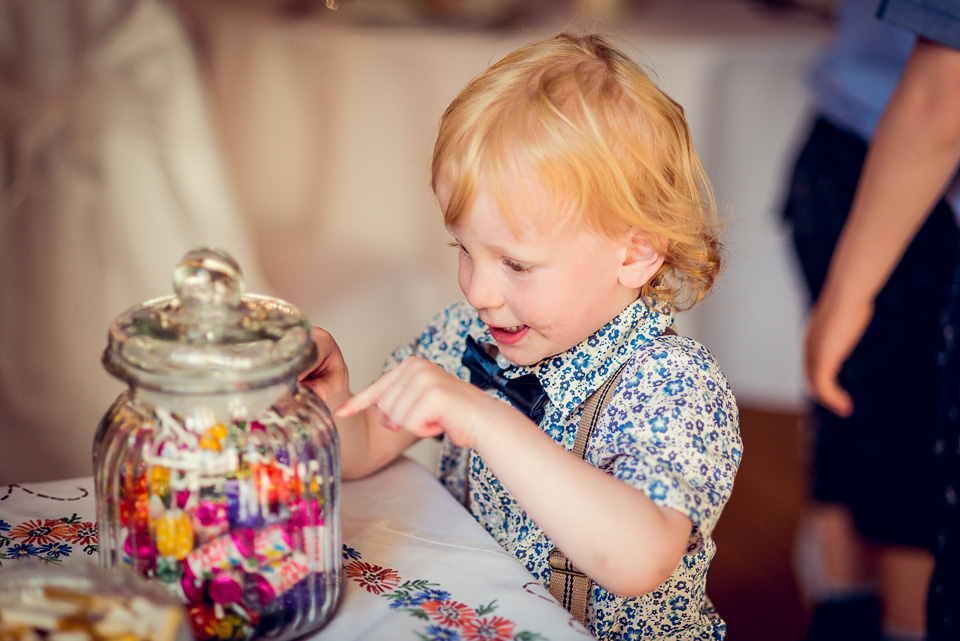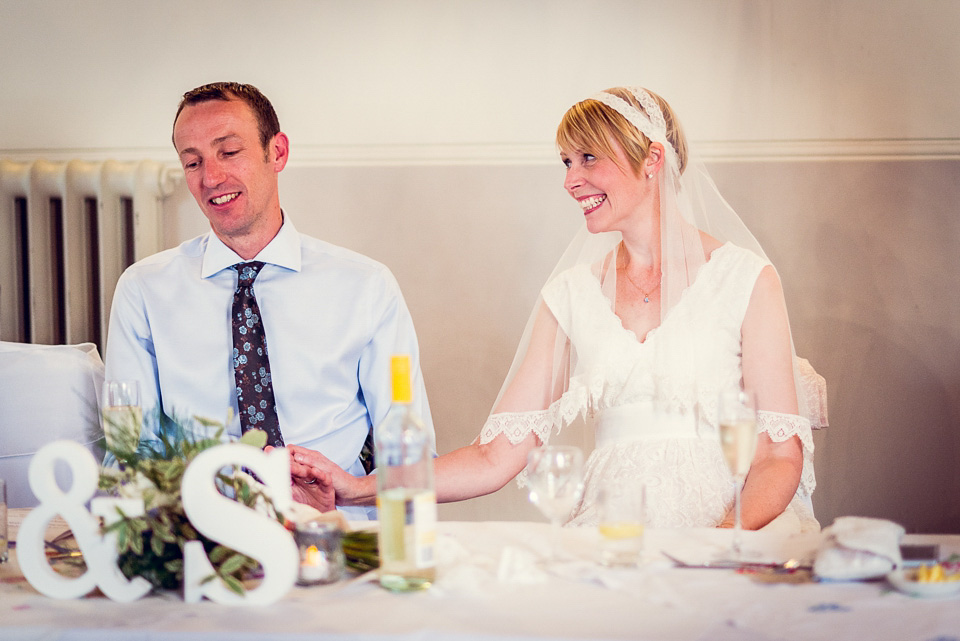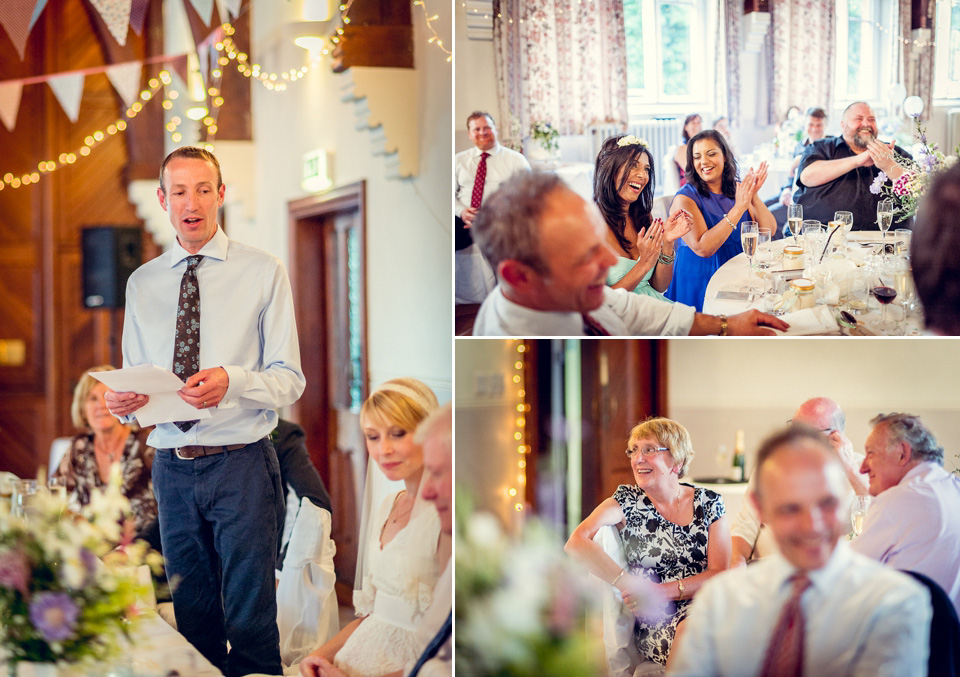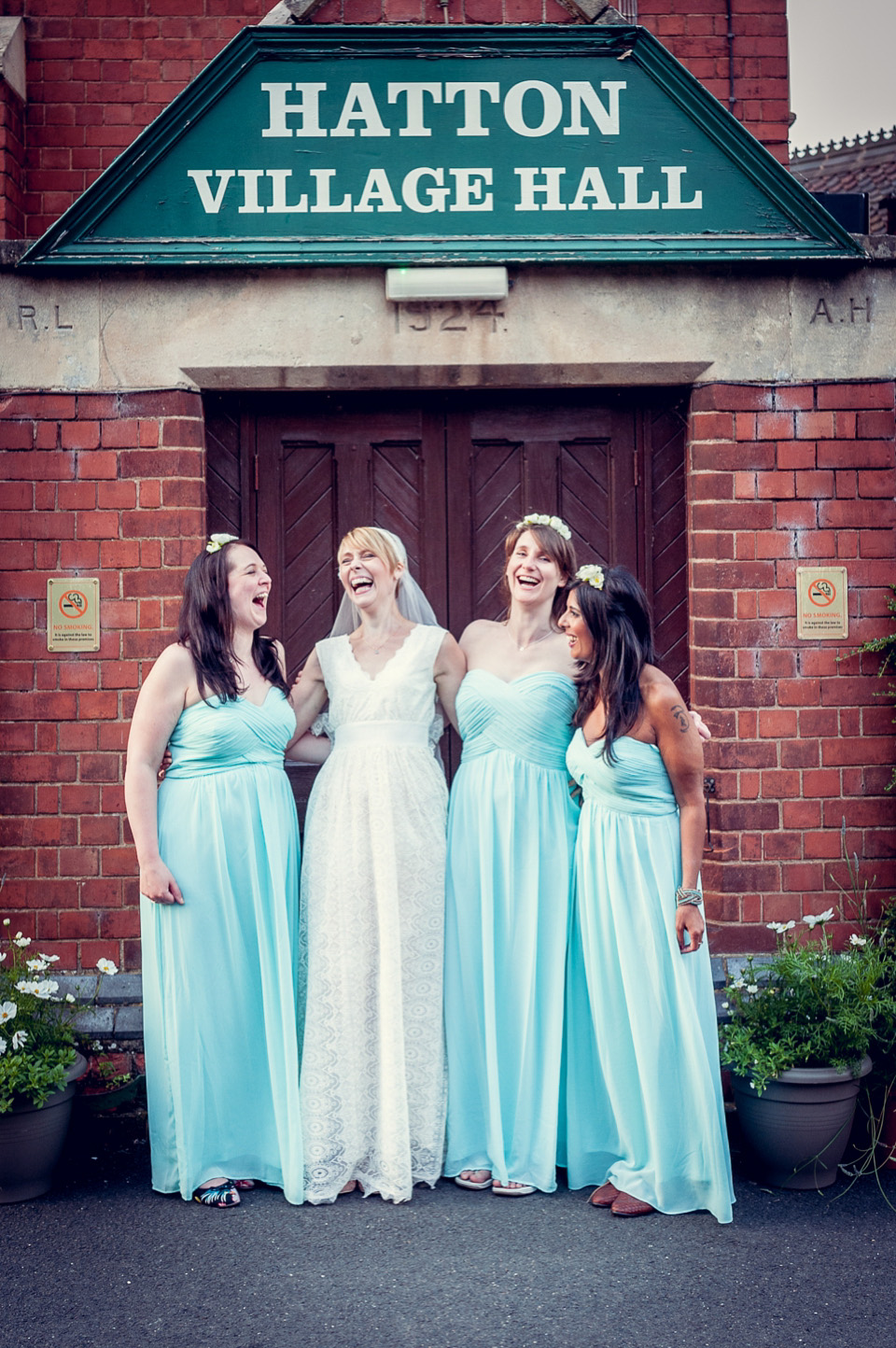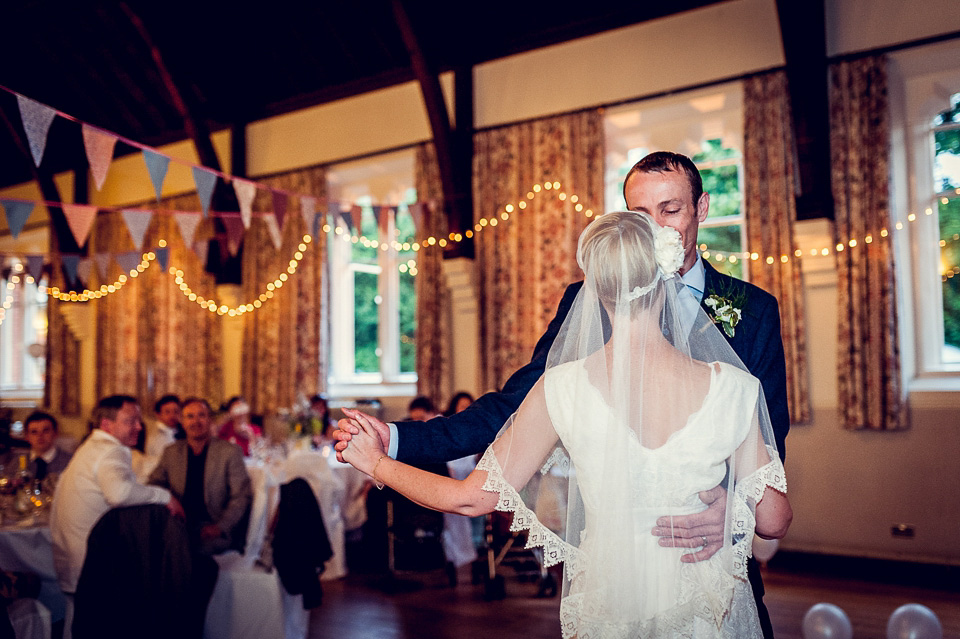 "As you can tell from the insane grin I had on my face all day, I enjoyed every single moment. I can quite honestly put my hand on my heart and say there is nothing we would have done differently. We hired some fantastic people who made our day truly special and I wouldn't have wanted it any other way. Everything seemed to fall into place beautifully, whether this was luck or all the hard work we put into the preparations."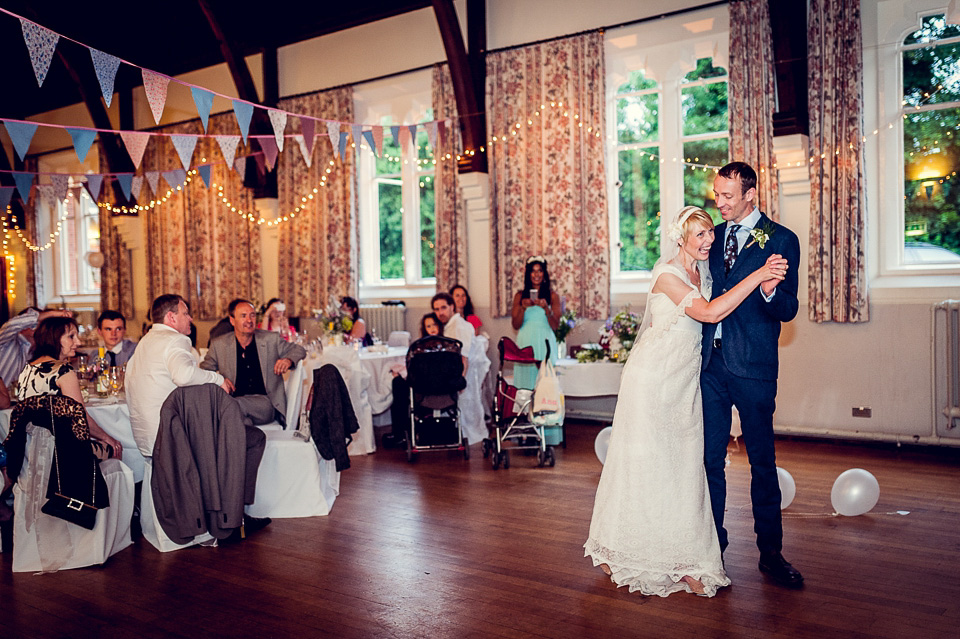 Words of Wedded Wisdom
"Stay true to who you are. It is all too easy to be swept up by your Pinterest boards, wedding magazines and blogs which of course are brilliant for inspiration, but don't lose yourself in the planning."
Sheer loveliness! Thank you so much to Sally and John for sharing this perfect day with us and also to Louise Holgate for the heartwarming photography. Are you planning a midsummer wedding? I hope this one had given you lots of inspiration.
Love Susie x