Following on from Tamryn's introduction to Midlands based photographer Jordanna Marston yesterday lunch time, I was keen to share these truly inspirational images with you – shot by Jordanna herself and created in collaboration with stylist P J Parker of Emily Harmston Cakes.  The creative duo were inspired by the concept of an autumn /winter shoot based on the Dutch master's still lifes.
I love the use of strong light and rich colours and how one of the UK's most talented stylists, Sammy Aki, has teamed contemporary groomswear with the most beautiful original vintage wedding dresses.  I hope that you love looking through these images and can draw some beautiful seasonal inspiration from them.
were used with the simple authentic background of a local, unrestored barn with an earth floor, stripped wood and lime washed walls. The feast table was filled with loose flowers, indulgent cakes and autumnal fruits and the beautiful original vintage dresses and grooms wear from the best contemporary British tailors used lovely pieces in fine wool, tweeds and velvets, perfect for a wedding in the colder months.'
Photography Copyright (c) 2014, Jordanna Marston
"Foxtail Lilly's vintage shop and florist in the market town of Oundle, Northamptonshire provided the backdrop for this photo shoot. The tumble of 18th century buildings that is the home and shop of Tracey Mathieson, includes an original and unrestored grain barn complete with earth floor, stripped wood and lime washed walls.  The restricted light here brought a unique darkness and mood with strong light and dark contrasts – which was perfect." 
"The bridal dresses from The Pocket Library were a mix of authentic vintage from their original archive and pieces from their made to order collection. Every dress in Rebecca 's archive is exceptional in its detail and craftsmanship. Her brilliance is in her ability to allow these vintage pieces to appear effortlessly contemporary with her precision to detail and understanding of couture.
Additional vintage dresses and accessories including a special Balmain dress were sourced from Hope & Harlequin."
"One wedding cake didn't seem indulgent enough so Emily Harmston Cakes provided three. The largest tiered was adorned with a mass of hand painted chocolate flowers capturing all the scarlets, browns, russets and yellows of the season's palate. Another cake gave an opulent flash of gold leaf with delicate hellebore sugar-flowers.
The third was an extravagant dark chocolate cake with oversized sugar rose, which impressively filled the barn with an amazing chocolate aroma."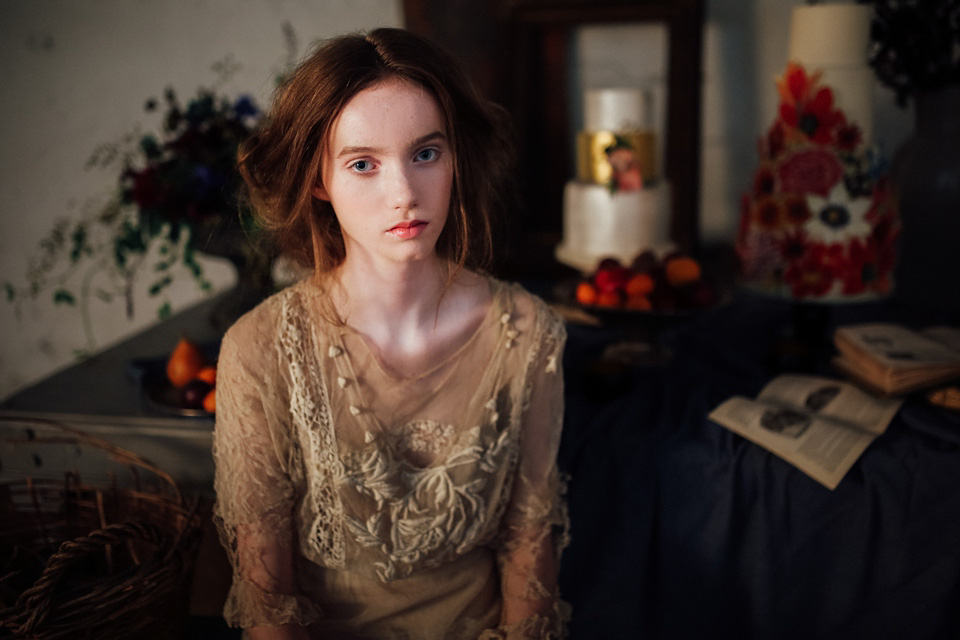 "The feast table was a central theme with its strong imagery evocative of Dutch master's still lifes. The soft paleness of the vintage dresses and muted natural fabrics of the grooms wear were enlivened with the flamboyant sweep of autumnal fruits and flowers. A large planter was filled with a loose and unstructured array of dense black Dalias and Cala ,Briza grass, fern, sweet pea tendrils and Astrantia mixed with old fashioned roses grown in the surrounding gardens.
The massive shooting flowers of actual Foxtail lilies were a lovely addition from Foxtail Lilly giving surprising height and a flash of warm yellow."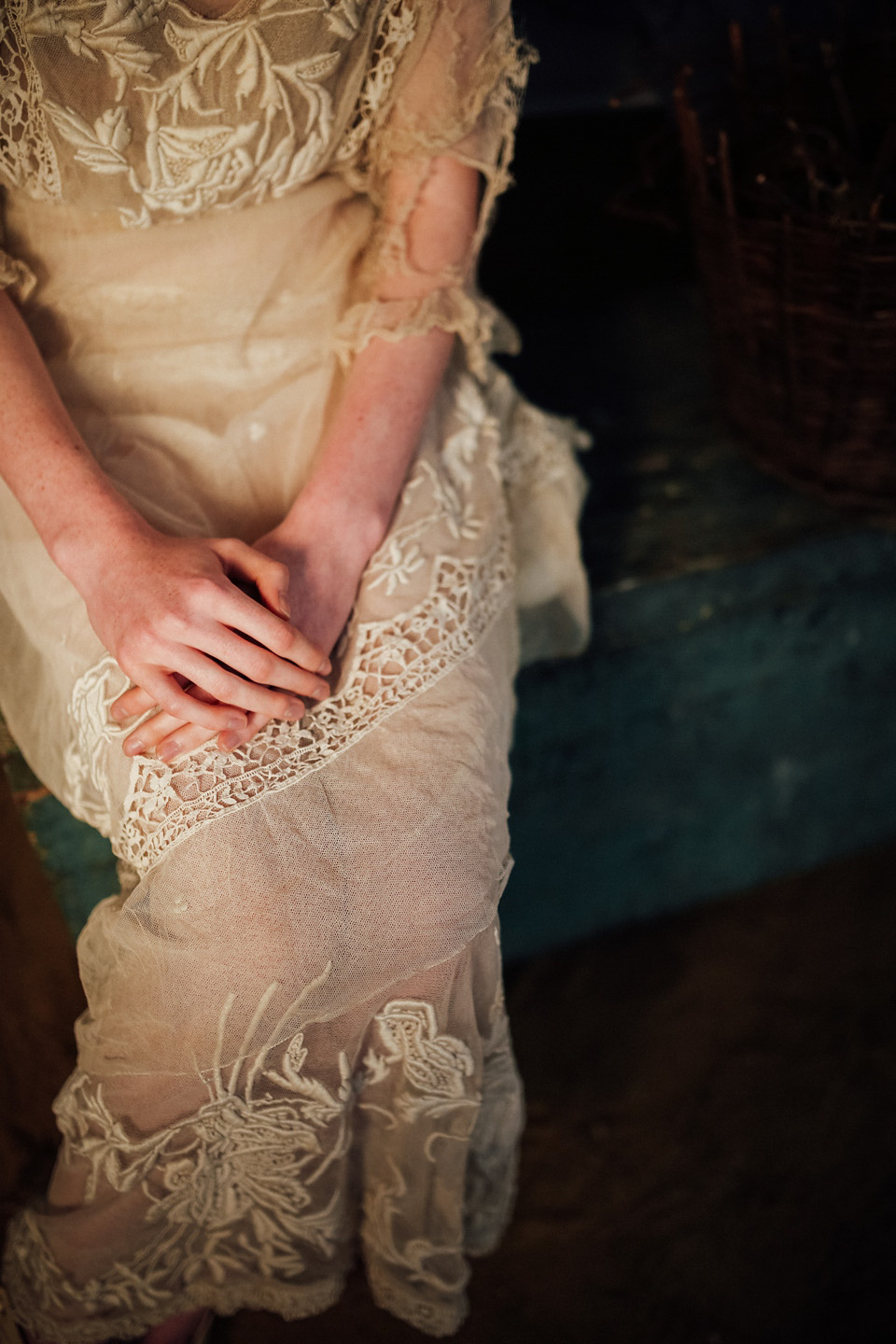 "The intensity and atmosphere of the scene suited the mix of masculine colours and textures chosen by Sammy Aki for the grooms tailoring. Sammy works with the best of British tailoring and brought together brands that included Richard Anderson, Emma Willis, Peckham Rye and Marwood.
The fine wool tweeds and velvets brought tactile warmth, perfect for an autumn or winter wedding. The accessories complemented the feel using soft antique rose and vintage silk prints in blues and deep burgundy."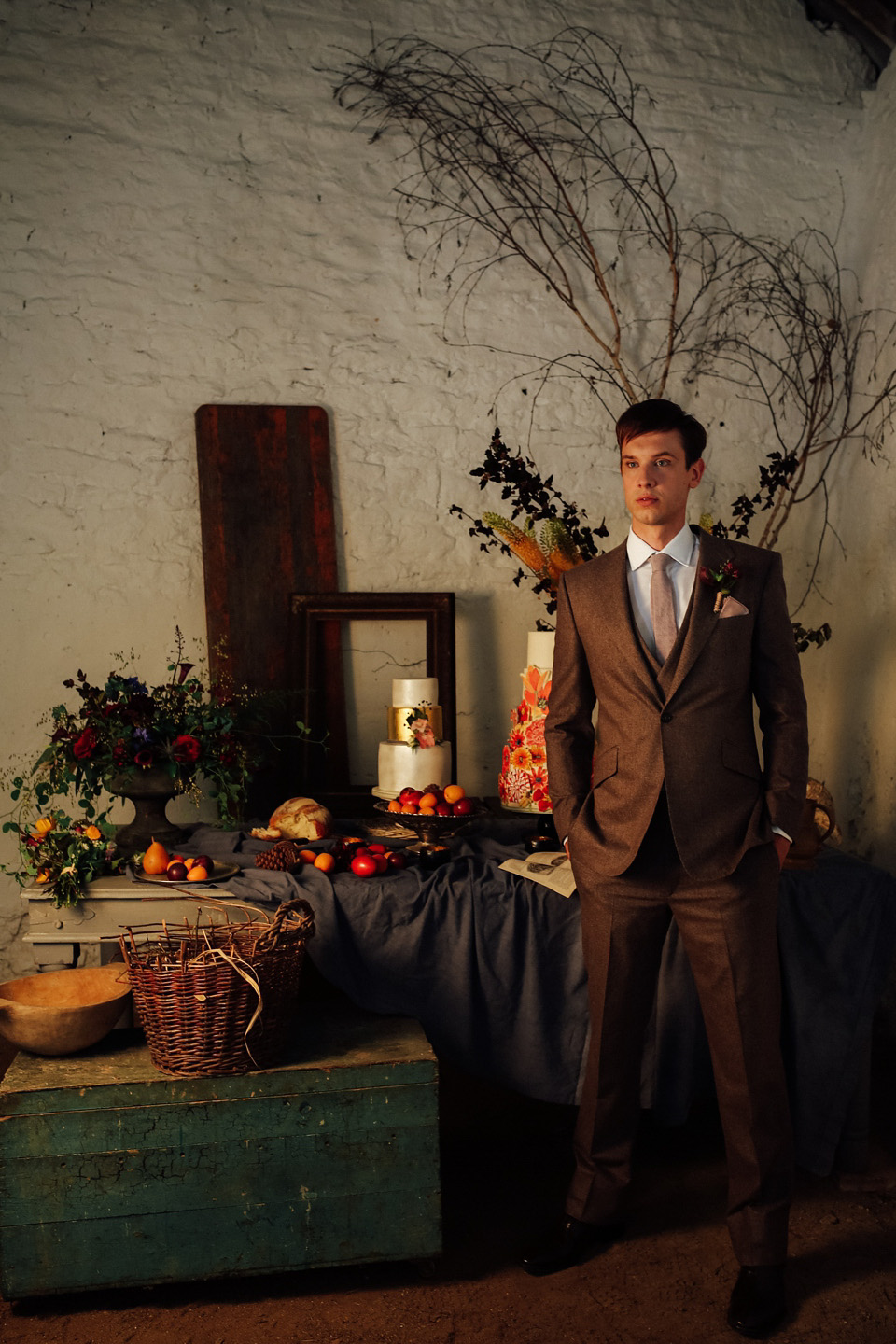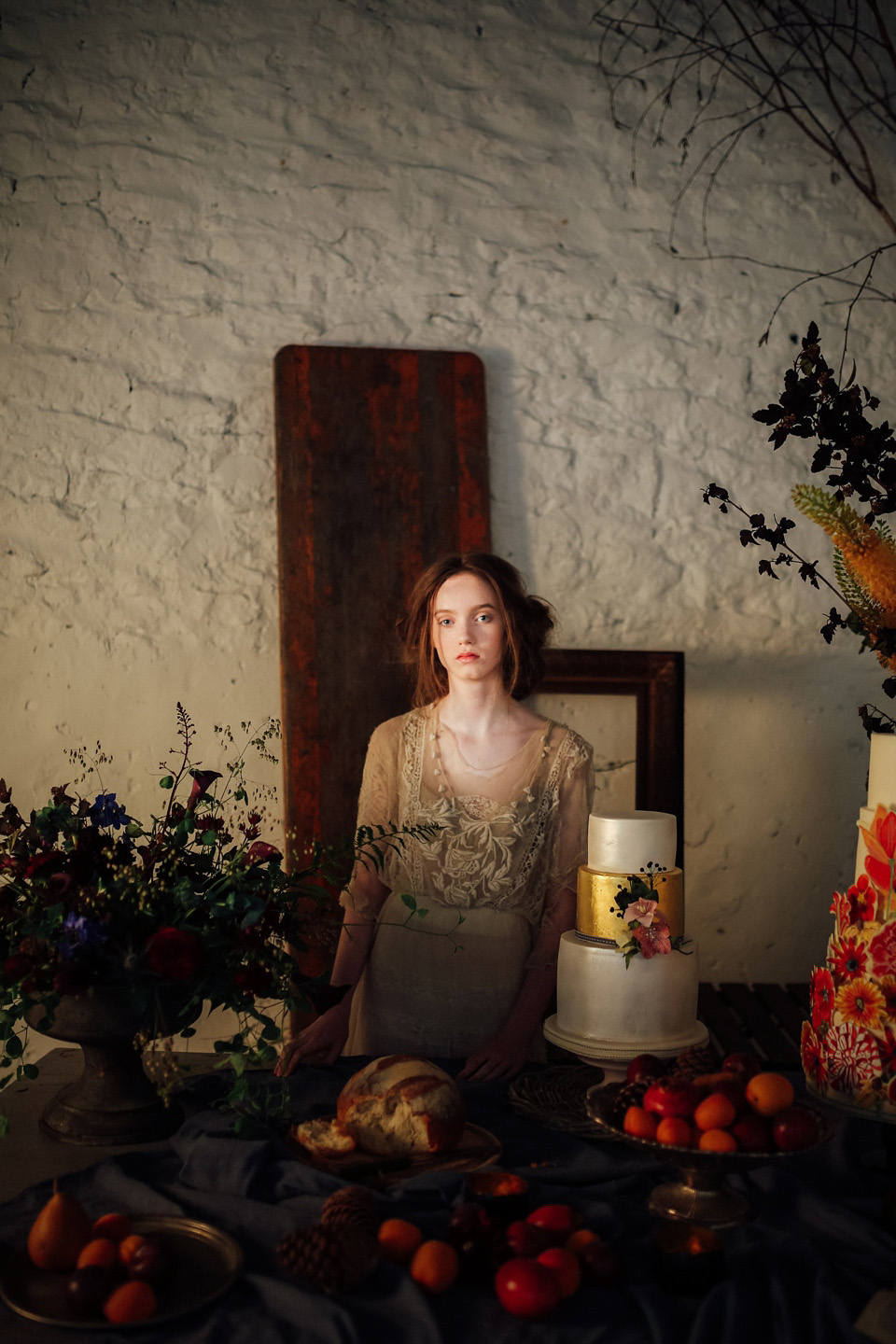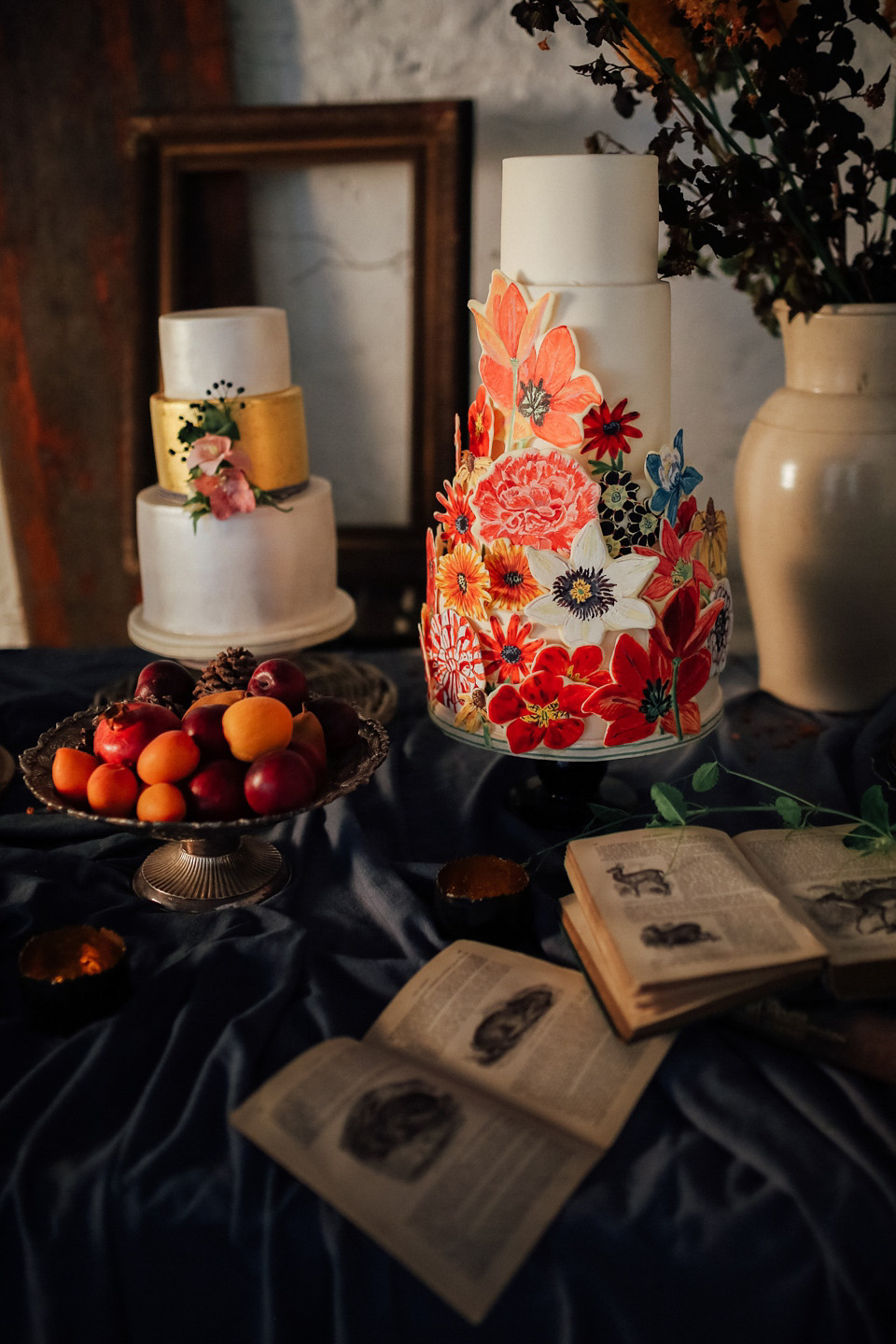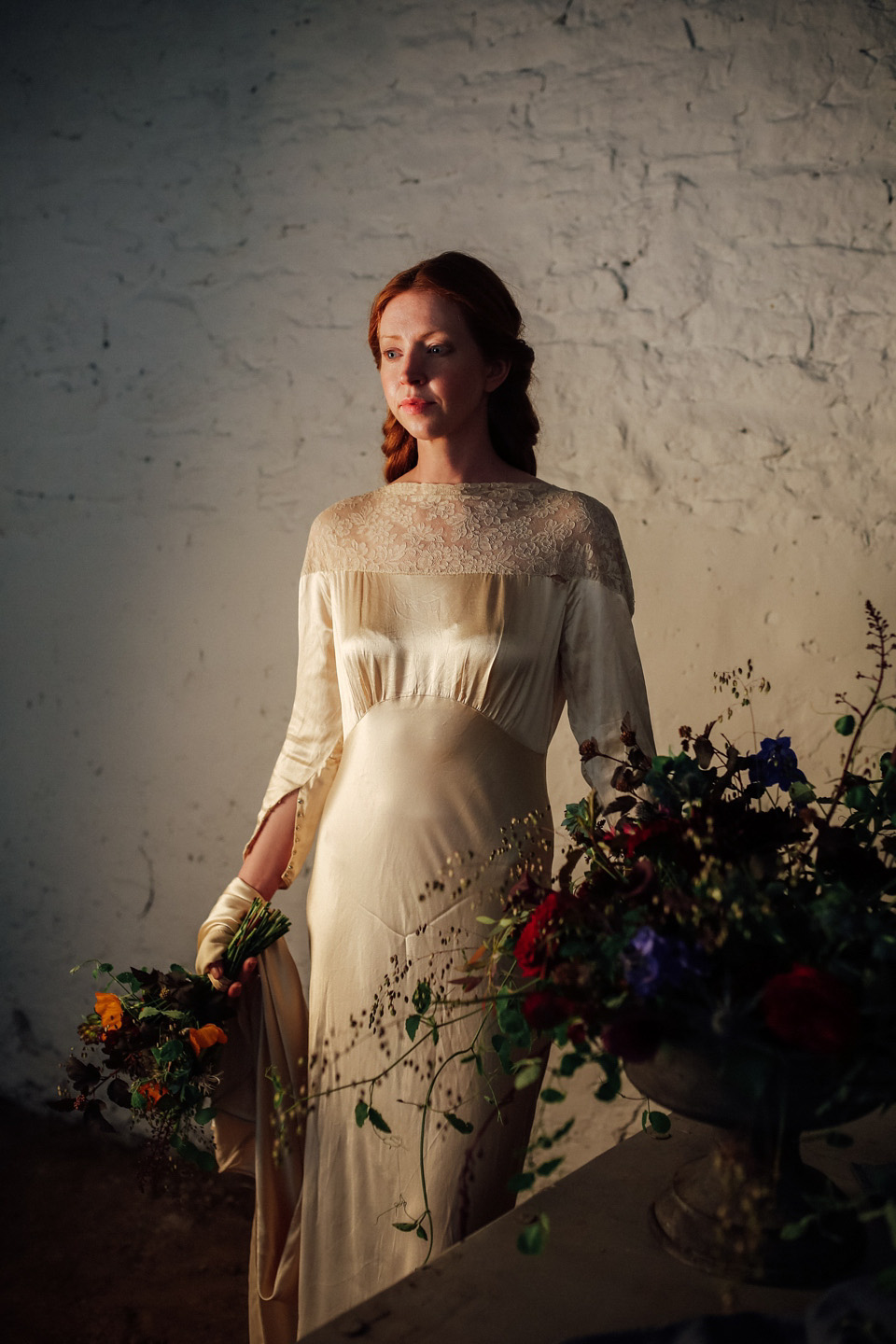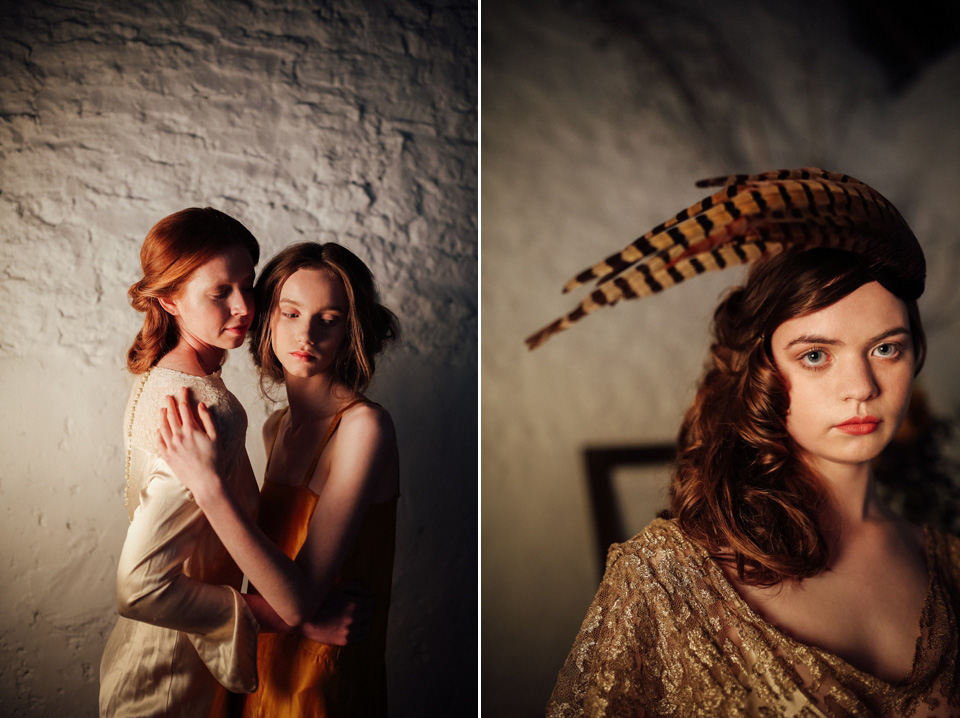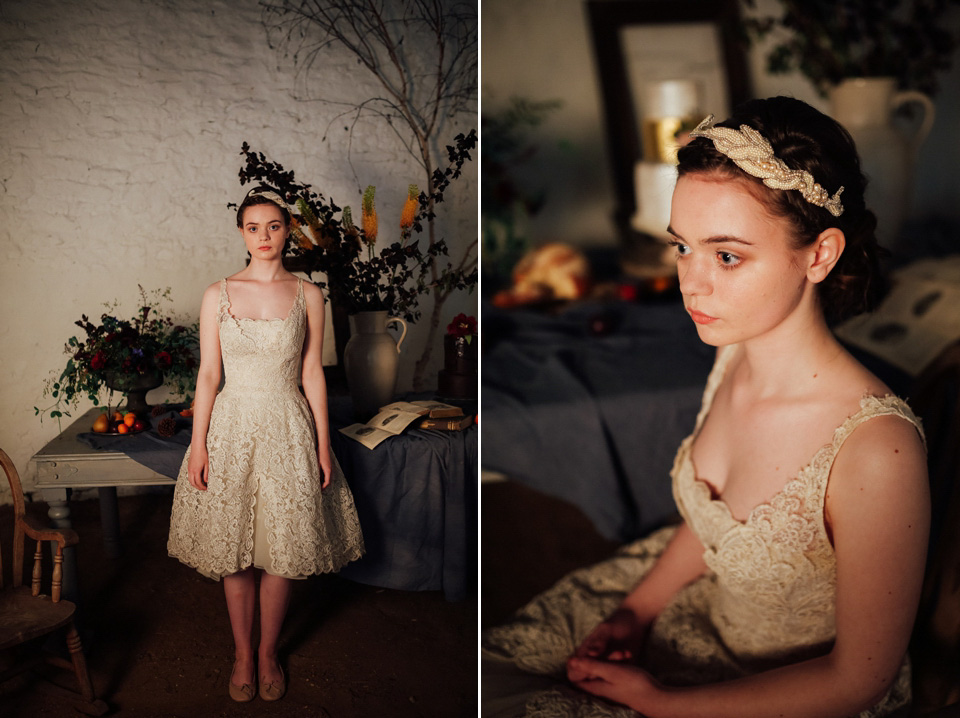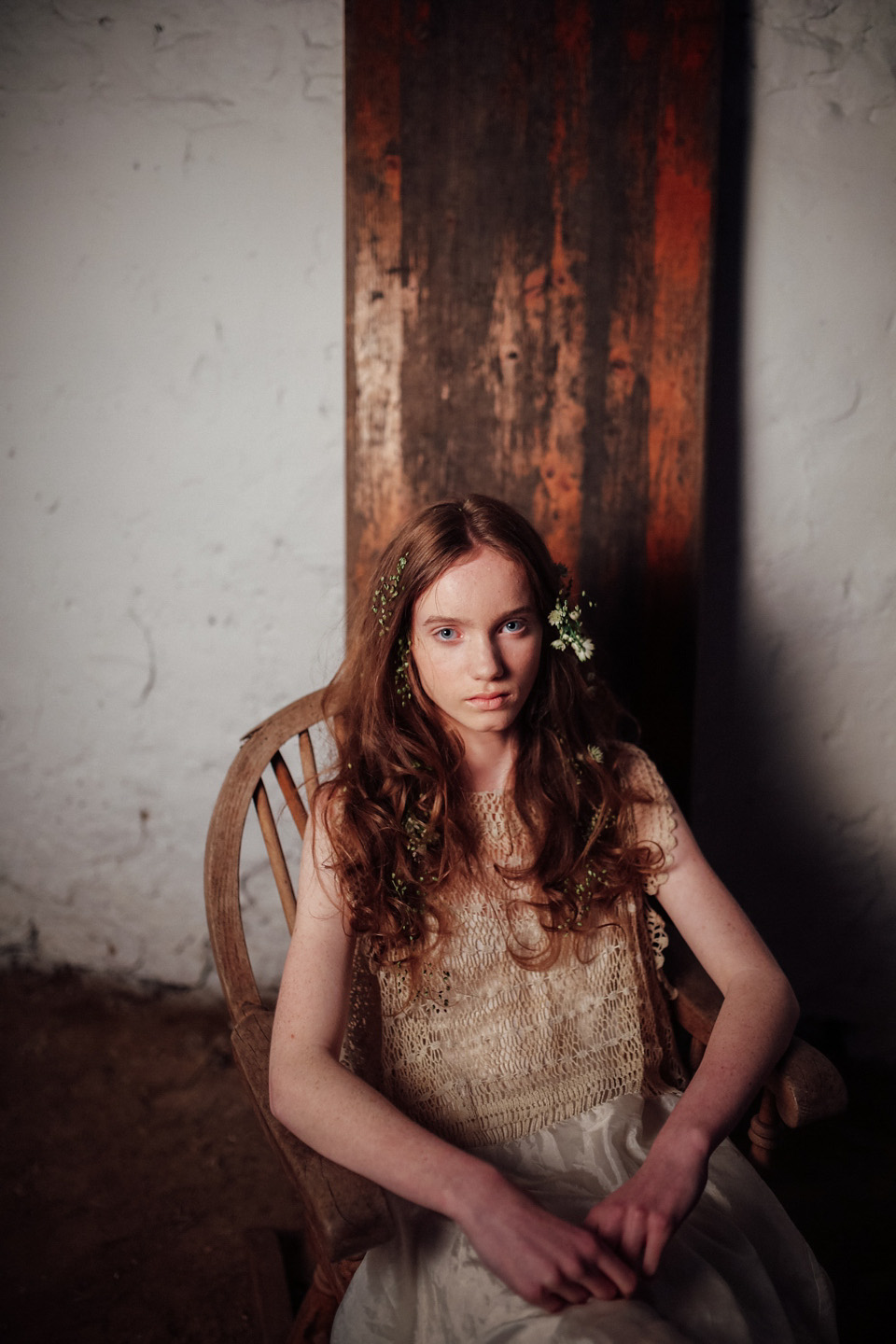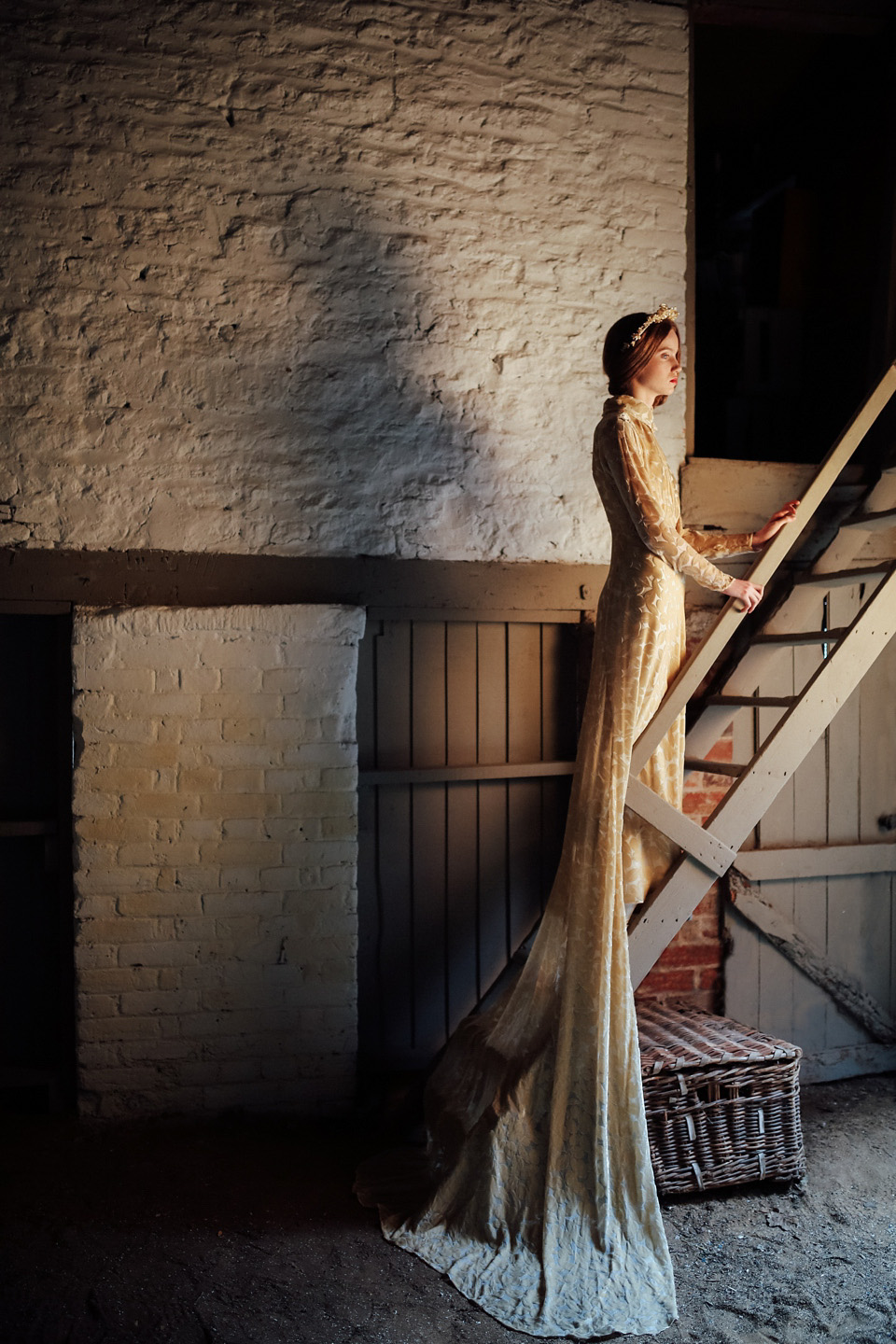 I hope you've enjoyed looking through these images today – please take a moment to explore the websites of the creative team of suppliers listed below.
Love and thanks to Jordanna Marston for furnishing our pages with these inspirational images today.
Love Annabel x
Photography – Jordanna Marston
Shoot stylists and coordinators – Jordanna Marston + P-J Parker of Emily Harmston Cakes
Cakes – P-J Parker of Emily Harmston Cakes
Venue for hire and flowers : Tracey Mathesion of Foxtail Lilly
Hair stylist – Alison Jenner
Makeup artist – Aimee Garner
Grooms stylist – Sammy Aki
Vintage and bridal stylists: The Pocket Library + Hope & Harlequin
Models: Poppy, Milli, Shane