I couldn't resist sharing these sweet photographs with you today – something about the childlike, whimsical nature of them, and those absolutely delightful dresses created by two of our sponsors and wedding world's most talented designers, Claire Pettibone and Nicki Macfarlane (Nicki dressed the pretty little flowergirls for Prince William and Princess Kate's wedding!).
These images were sent in by Lisa Adnitt of Serendipity Brides a beautiful Northants bridal boutique.  The photographs embrace the beautiful natural surroundings and open space inspired by Kenneth Grahame's classic 'The Wind in the Willows' novel and feature woodland, a riverside and even a 'Toad Hall' inspired car scene. I just thought that little pale blue flowergirls dress was the loveliest…
Photography Copyright (c) 2014, Niki Wright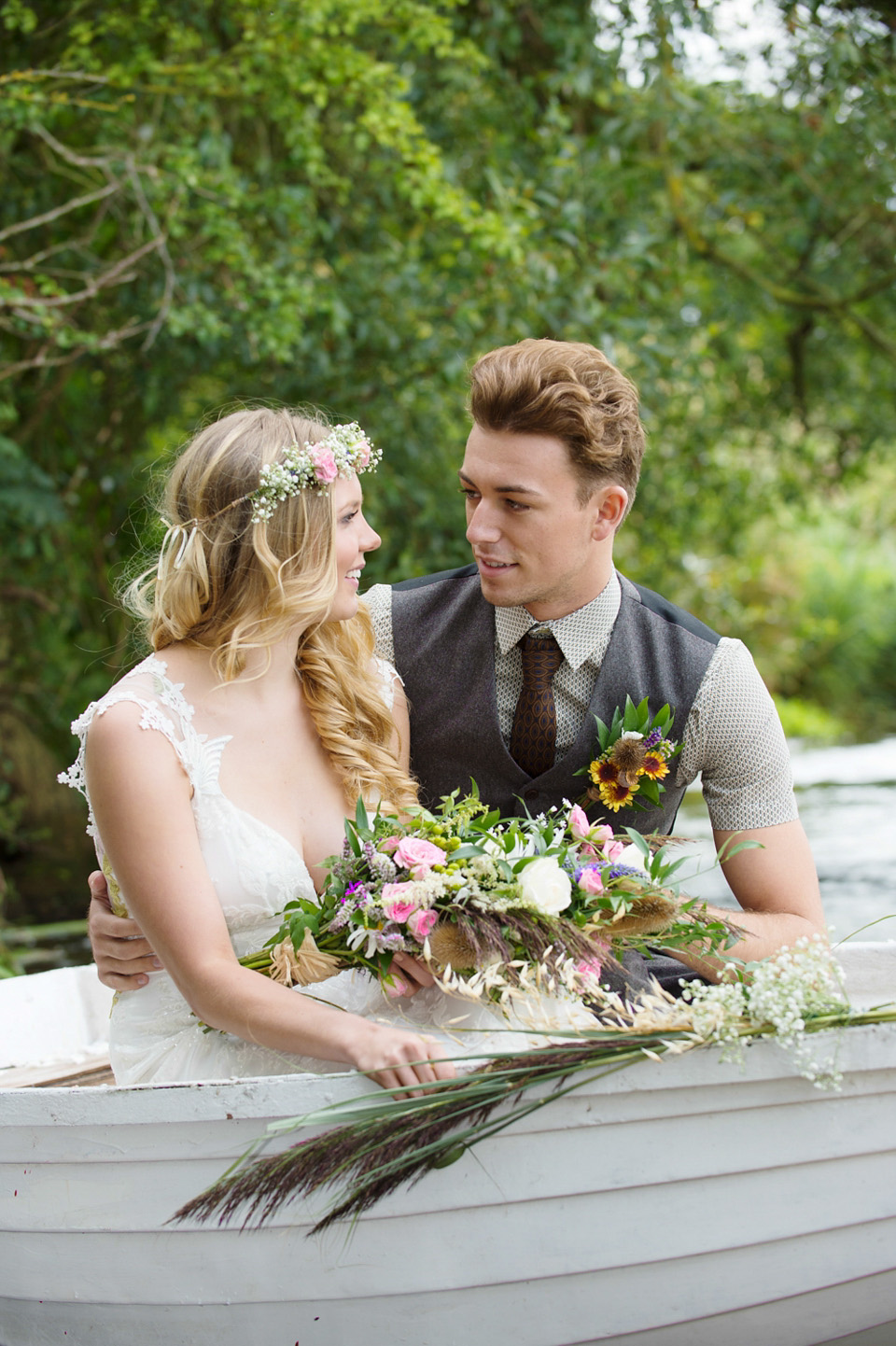 The charming florals with a pretty pink accent were supplied by Fieldgate Flowers using only british grown and wild flowers/grasses.  And how cute are these little people? I love the little gypsophila floral circlet and bracelet and the darling little dress and page boy outfit by Nicki Macfarlane are just so very sweet.
"The mother and daughter team behind Nicki Macfarlane  has been designing award-winning outfits for bridesmaids, flower girls and pageboys for many years.  Their bespoke service allows a bride to introduce her own style into her big day – and the introduction of a ready to wear collection brings the classic elegance and exquisite styling of a Nicki Macfarlane design to a new audience.
But it's not design alone that is the secret of Nicki and Charlotte's success. The warm welcome, personal service, attention to detail and the peace of mind of working with people that really care – are equally important to the thousands of brides that have enjoyed Nicki Macfarlane dresses."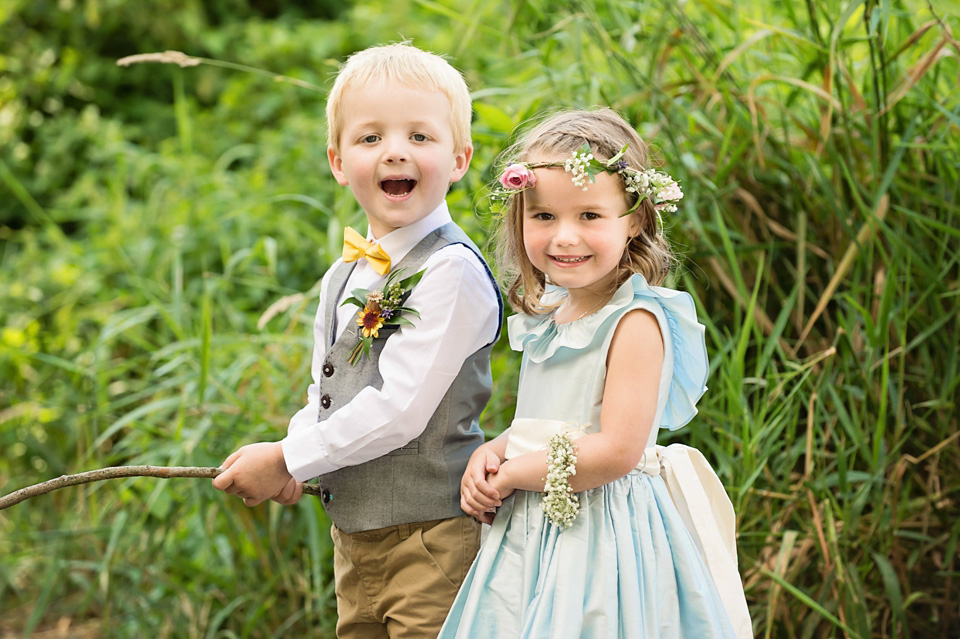 I adore this cake! It was handpainted and topped with sugarcraft by Buttercup Tea & Cakes – clever people!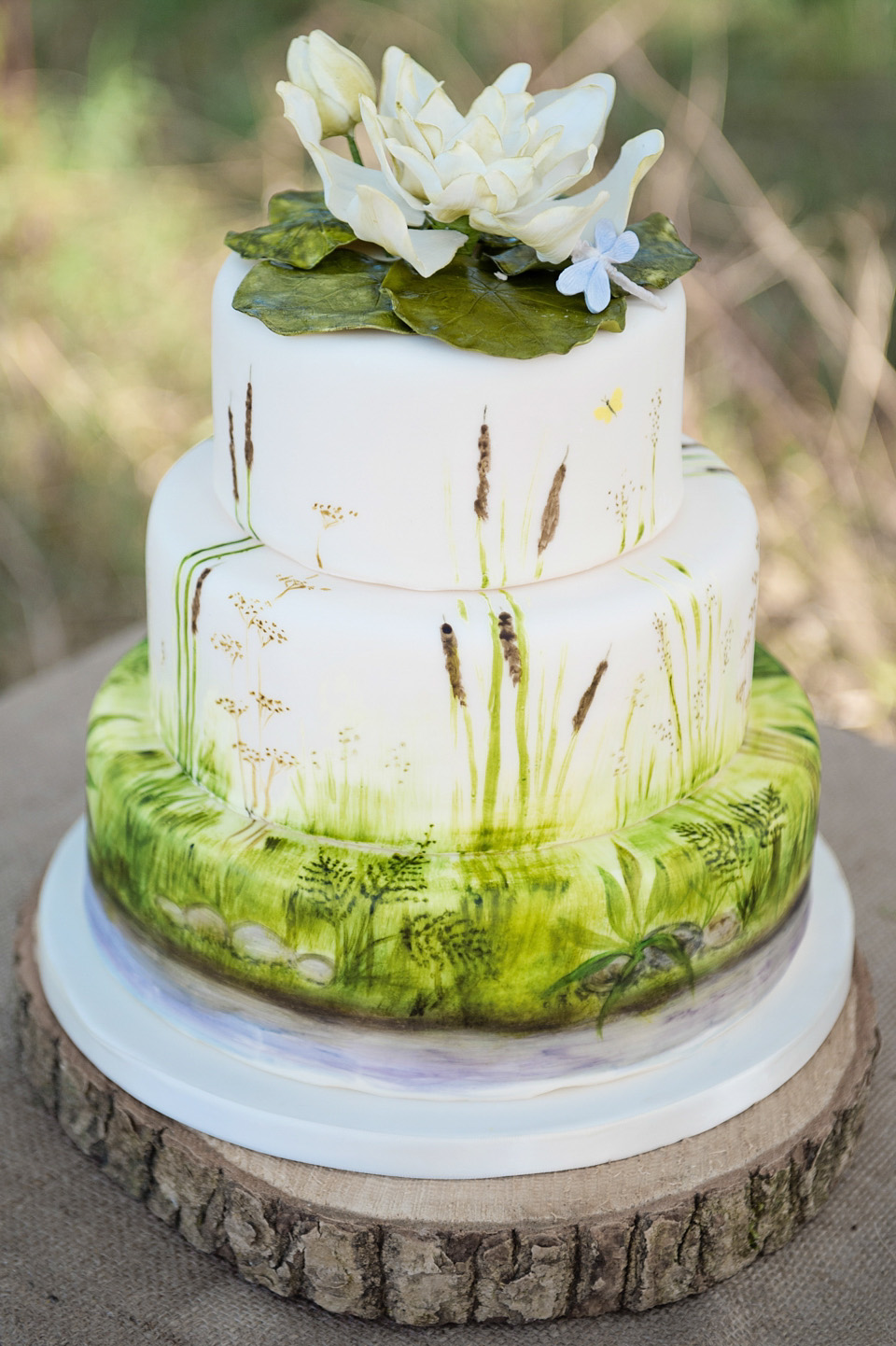 The setting used to create these 'Toad Hall' inspired images was Lyveden New Bield, a National Trust Property available for wedding reception hire. This unusual building was designed and built by Sir Thomas Tresham from 1595 to 1605. Lyveden was intended for entertaining guests, allowing them to gaze out over the estate. It lies virtually unaltered from when work stopped. Sir Thomas died in 1605 and his son, Francis, couldn't finish it. He ended his days in the Tower of London following his involvement in the Gunpowder Plot.
The 'Papillion' gown by Claire Pettibone features one of the most wow-factor backs I've seen, with pretty butterflies embroidered on to an illusion panel, the most wonderfully striking and feminine design is created. I just adore this gown…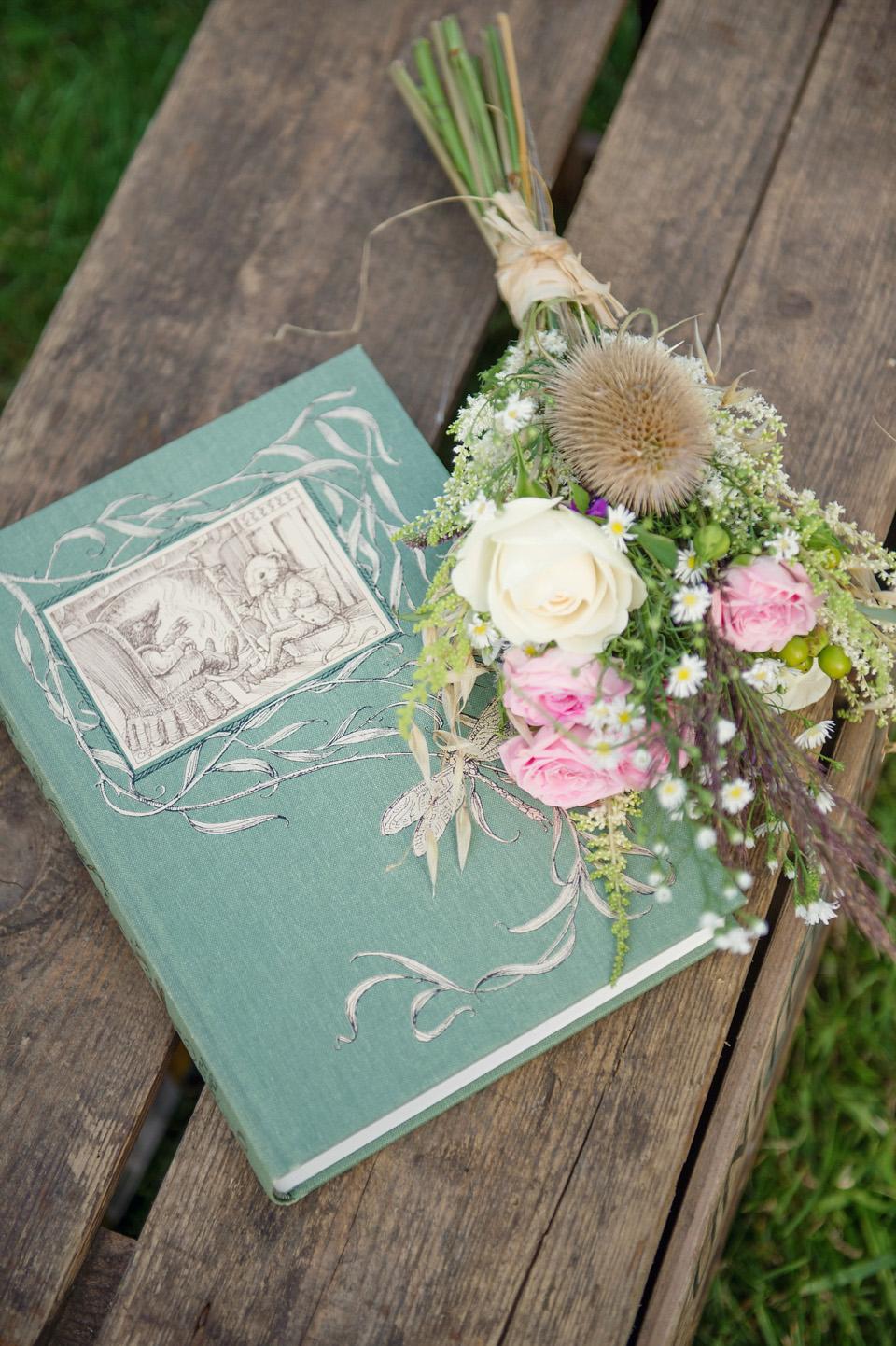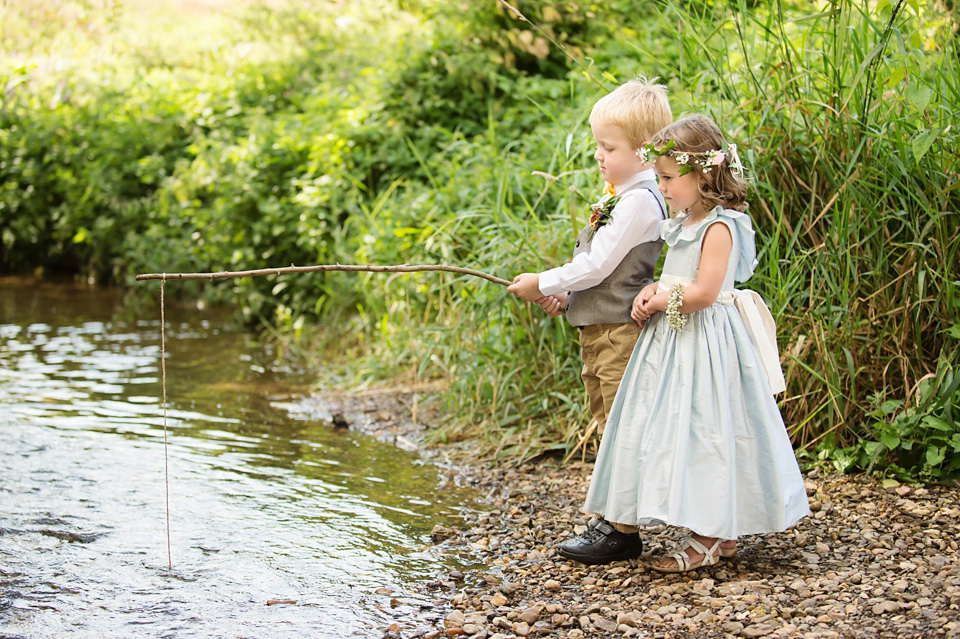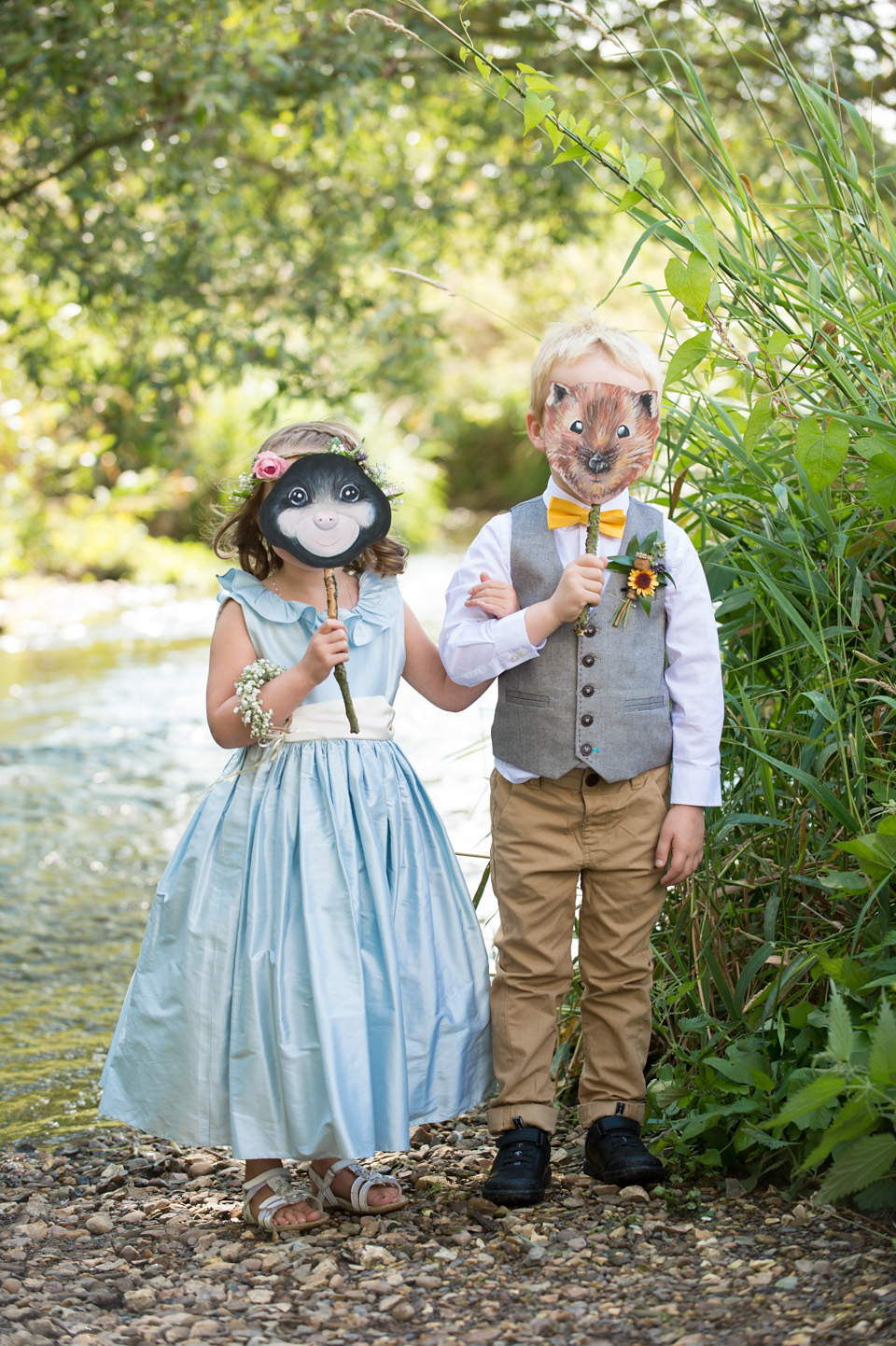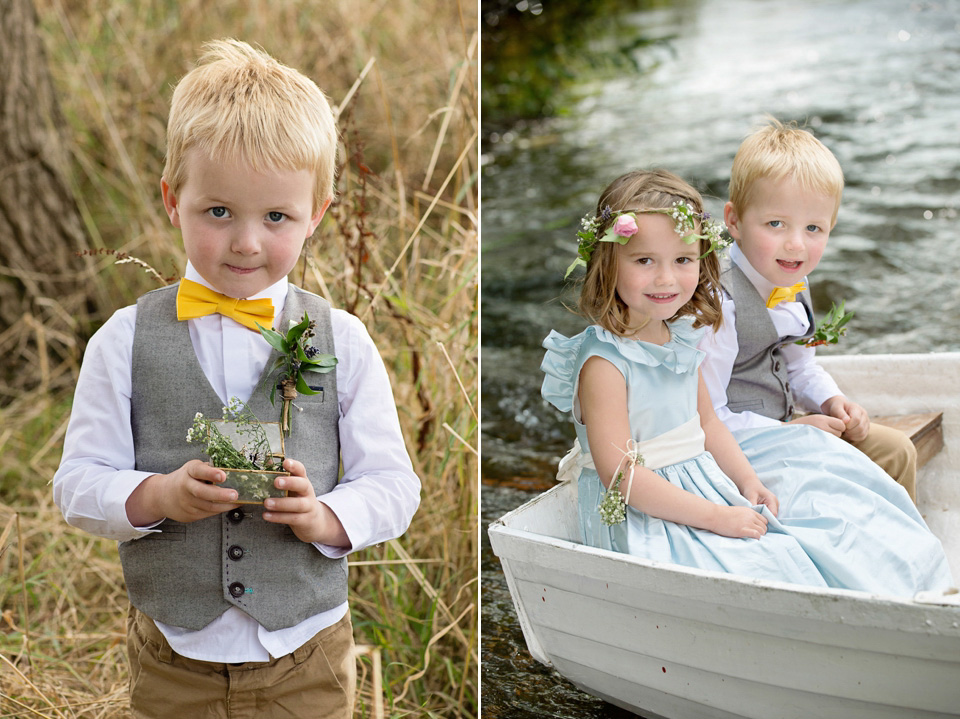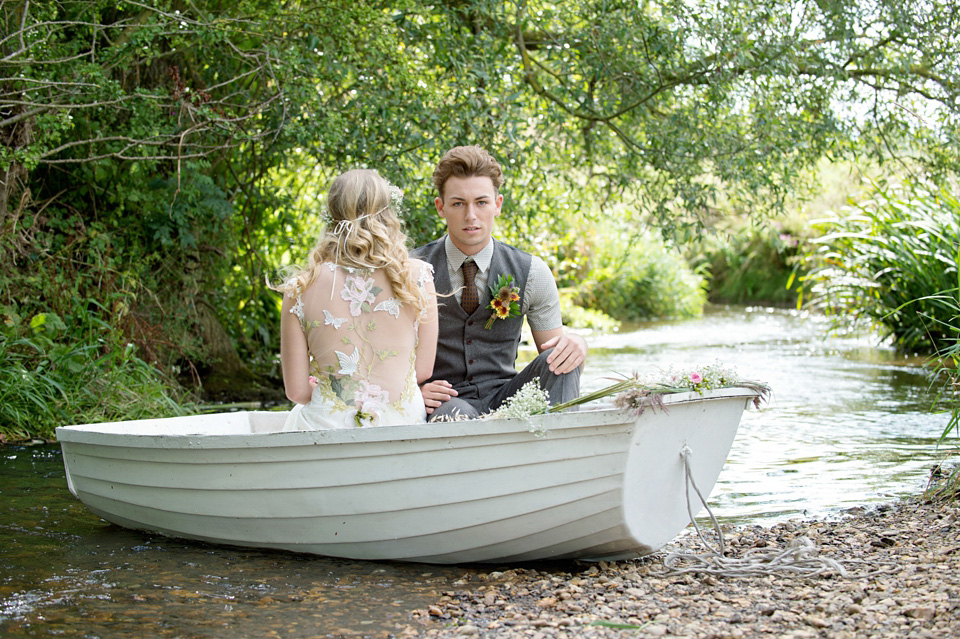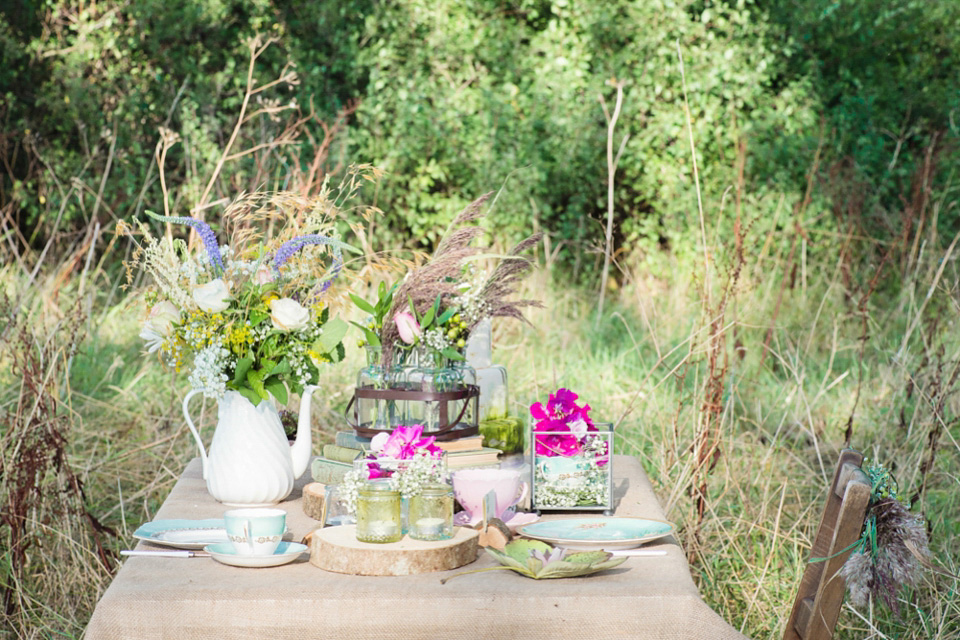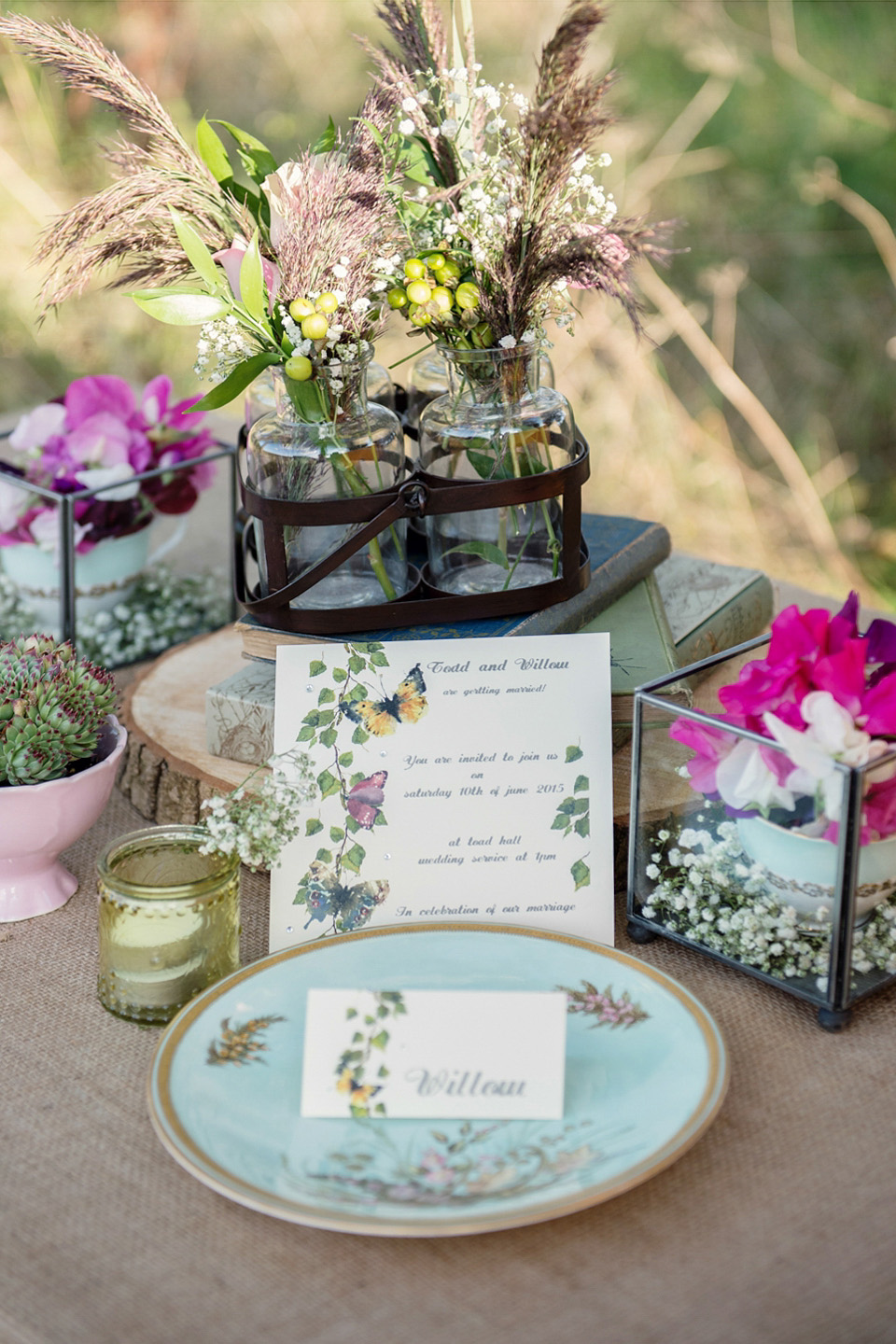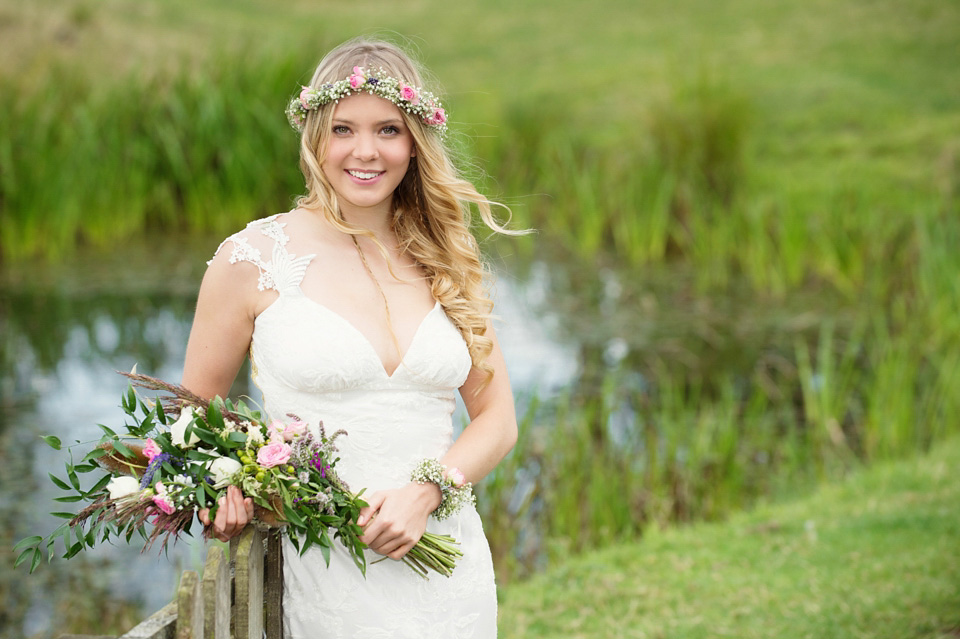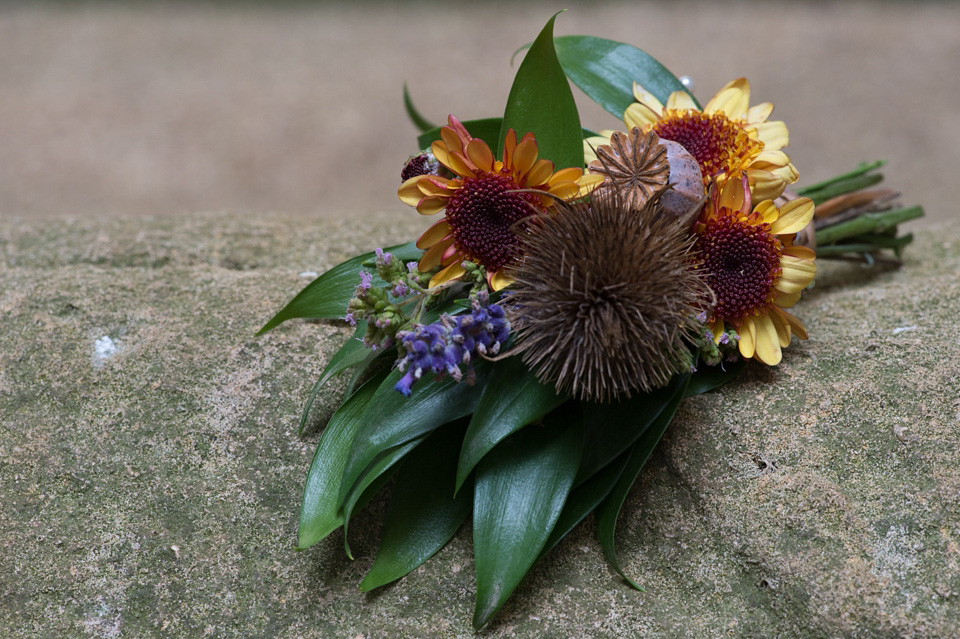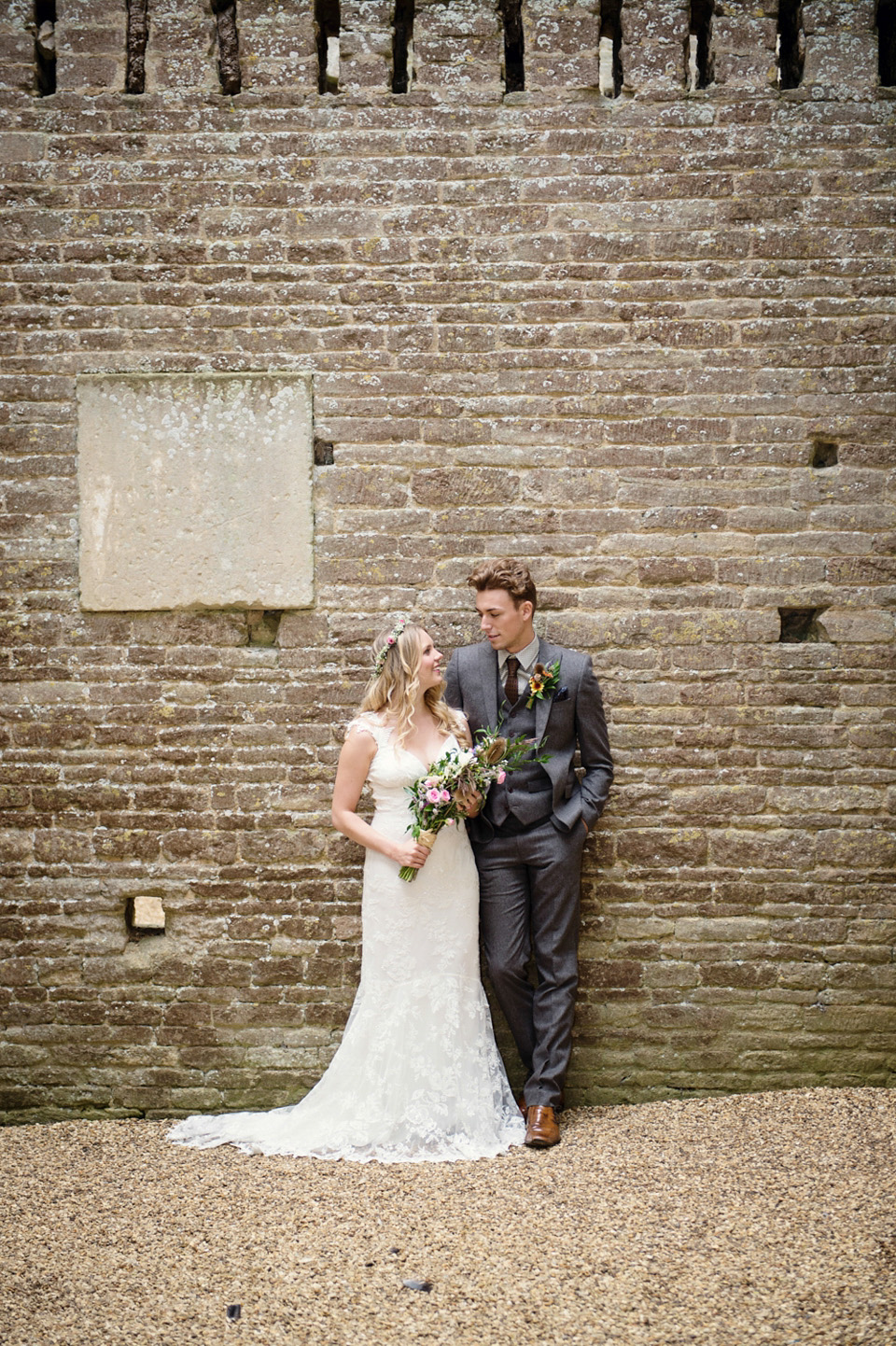 The dresses you see featured on this page here today are all available at Serendipity Brides.  If you love them as much as I do, and you're a bride in or close to the Northhants area planning a wedding, why not drop the lovely owner and founder Lisa a line – she would love to hear from you and you can find full contact details on this page.
A lovely 'thank you' to the team behind these images for sharing them with our readers today.  Please take a moment to visit their respective websites and blogs using the links below.
Love Annabel x
Photography – Niki Wright
Venue – Lyveden New Bield a National Trust Property
Wedding dress – 'Papillion' by Claire Pettibone, via Serendipity Brides
Flowergirl Dress – 'Emmeline' by Nicki Macfarlane, via Serendipity Brides
Groomswear – Next
Hair  Stylist – The Cutting Room
Flowers – Fieldgate Flowers
1928 open top Rolls Royce – Peterborough Wedding Cars
Hand illustrated masks – Megan Ashwell Design
Stationery – Connie Bench for Serendipity Brides