Good morning all. I'm quite pleased to be able to inject a little colour in to the day today – for after this most epic of purple and pink starts to the day, the morning has turned out to be rather grey.  Step forward then bride Liv and groom Purvis, both lawyers, who married on 29th June at the Château de Saint-Privat-des-Prés, in the Dordogne region in South West France.
I love this wedding for how it embraces Purvis' cultural heritage as well as the beautiful French countryside and for that truly elegant dress of Liv's – which doesn't surprise me to find out was designed and made by Joanne Fleming.  Joanne is one of my favourite independent British dress designers – I wore one of gowns for my own book launch last year and felt like a million dollars.
"We wanted to create a bright colourful day that fused a 1920s/30s vintage feel with the colours and vibrancy of the indian heritage of my husband and his family. Also the region in France is famous for its beautiful sunflower fields, so we incorporated that into our day in our flowers and stationery."
Photography Copyright (c) 2014, Jake Morley
"We also incorporated a hand binding ritual in to our ceremony, as before the 1700s, most unions in Europe were celebrated by a simple binding of the hands with a knot over the village anvil. That is why the phrase 'tie the knot' is often used in place of the word marriage.
We used coloured ribbons with colours that reflected our flowers and represented Eastern and Western symbolism – Green symbolises nature, a new beginning and happiness. It is also the revered colour of Islam and has a large religious presence in India. Blue is seen as trustworthy, dependable, and committed, as the collective colour of the spirit. Yellow symbolizes sanctity, it shines with optimism and enlightenment and Pink is the colour of happiness."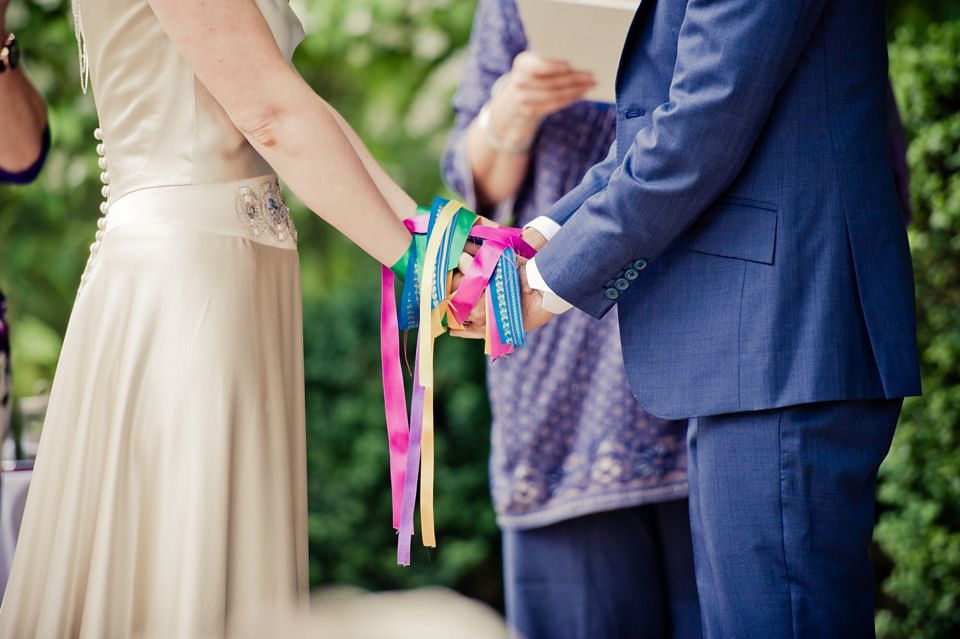 "Our florist was Philippe from Fleurs de Famille in Perigueux.  We chose sunflowers to reflect the area of France we were getting married in and the rest of the bouquet I wanted to be bright colourful cheerful flowers with different textures and scents. Philippe prepared the most amazing bouquet which was exactly what I wanted."
"We met whilst working together at the same law firm, in the same team! Purvis proposed in Edinburgh after we had stayed there for a friend's wedding. We were engaged for 10 months before the wedding day.
We chose France as we fancied doing something abroad so we could enjoy a long weekend with our family and friends and somewhere that wasn't too far for people to travel. We looked at some venues in Provence and then Dordogne, and it was this venue and location which we fell in love with. There was something magical about the chateau, with its beautiful grounds and buildings arranged around a courtyard, which could accommodate 30 people so all our close family, best man and bridesmaids could stay with us at the venue."
"I tried many dresses in different styles and traditional ivory/white shades but I knew I wanted something slightly different and less traditional. When I found Joanne Fleming and this dress, I knew it was perfect – the glamorous style, the gorgeous champagne gold colour, with its vintage feel.
The dress was so beautiful to wear, the silk was so light and floated over my skin, I loved the beautiful back of the dress and the beading detail. It was a delight to work with Joanne to create such a wonderful dress."
"Our photographer Jake Morley was fantastic, not only is his work incredible but he is such a genuine nice guy. He really put us at ease and worked tirelessly until late into the night capturing amazing photos and memories of our day. We chose Jake as we loved his vintage reportage style of photography."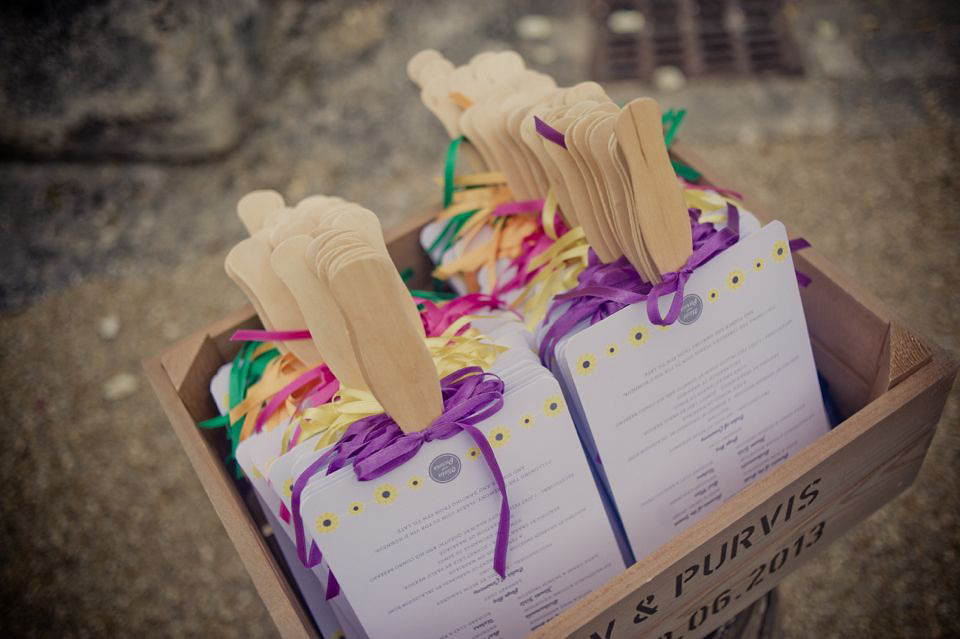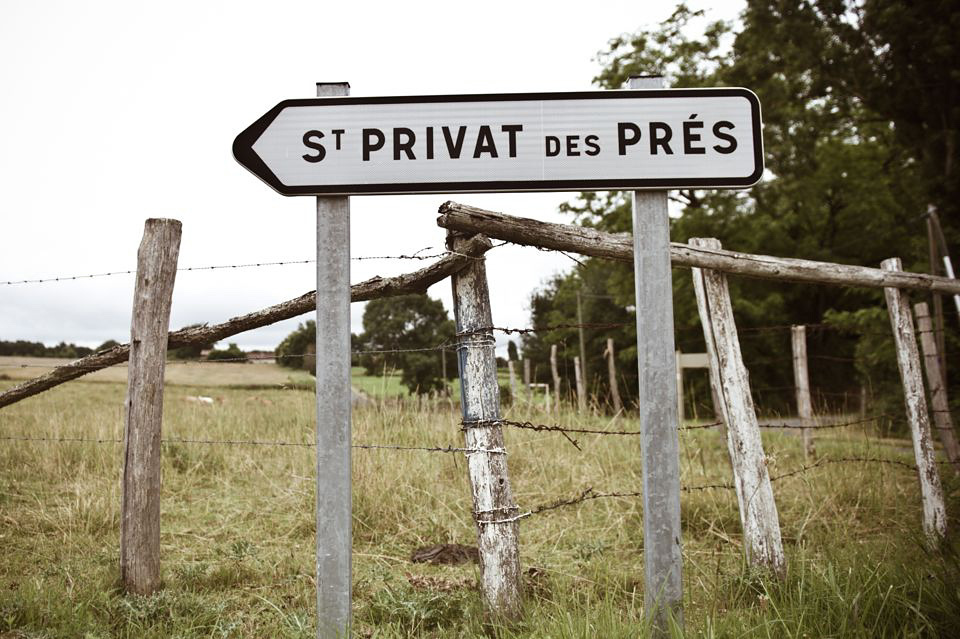 "My hair was styled by a local hairdresser called Angela, who was fantastic on the day and she created a perfect hair style to match the feel and style of my dress and the day.  My amazing make up was done by my sister – we had a make up lesson together in London with Kylie McMicheal. Kylie was an absolute star and she worked with my make up, to help us decide on the look to match my dress and style, and she then taught my sister how to apply it step by step."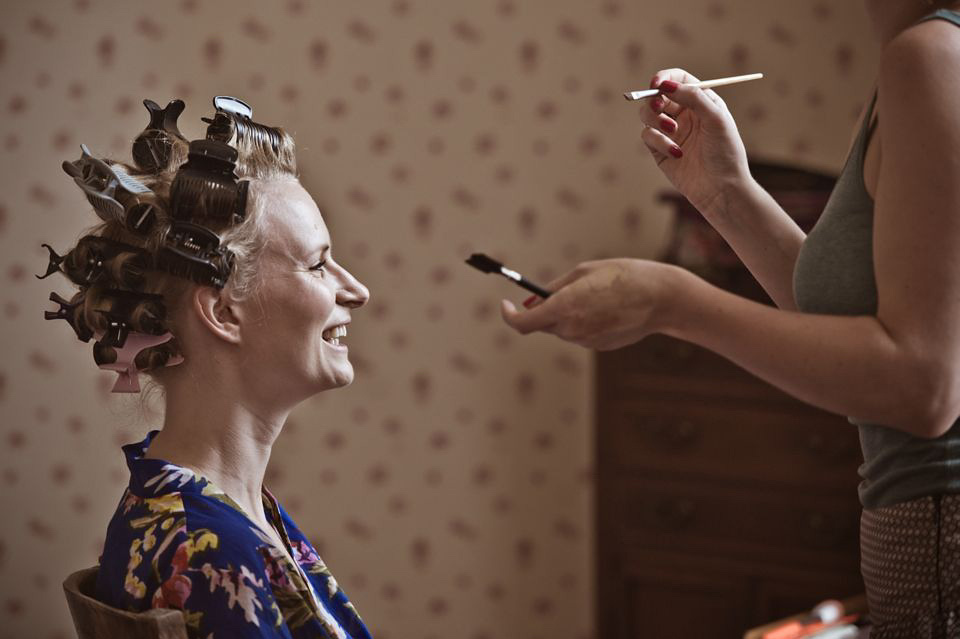 "I wore a bargain pair of shoes which matched the beading detail on the dress perfectly from Indian shoe shop, Unze."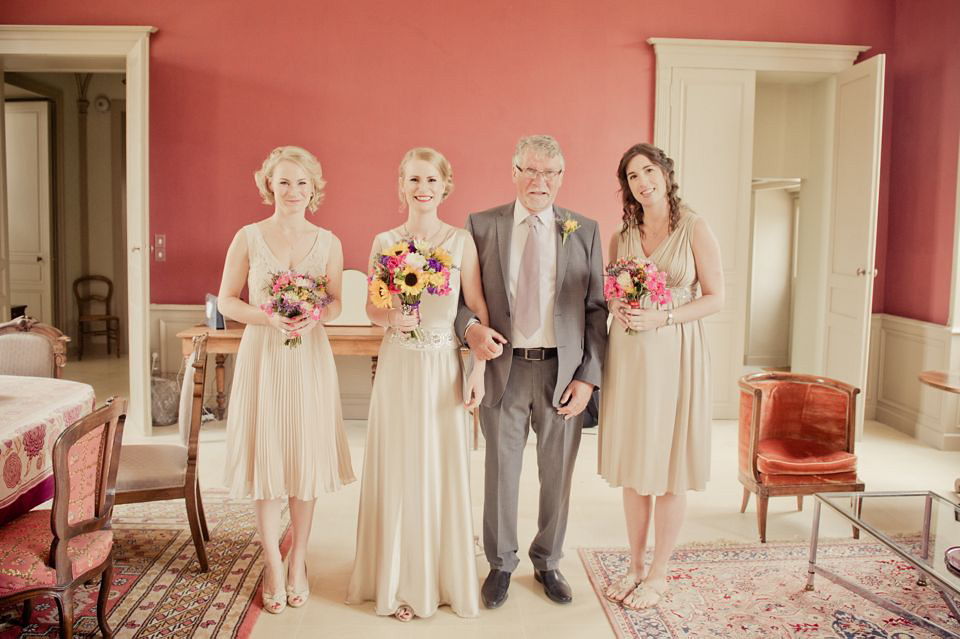 Purvis wore a suit by 'A Suit That Fits' and the groomsmen were to wear a grey suit and we provided the yellow ties.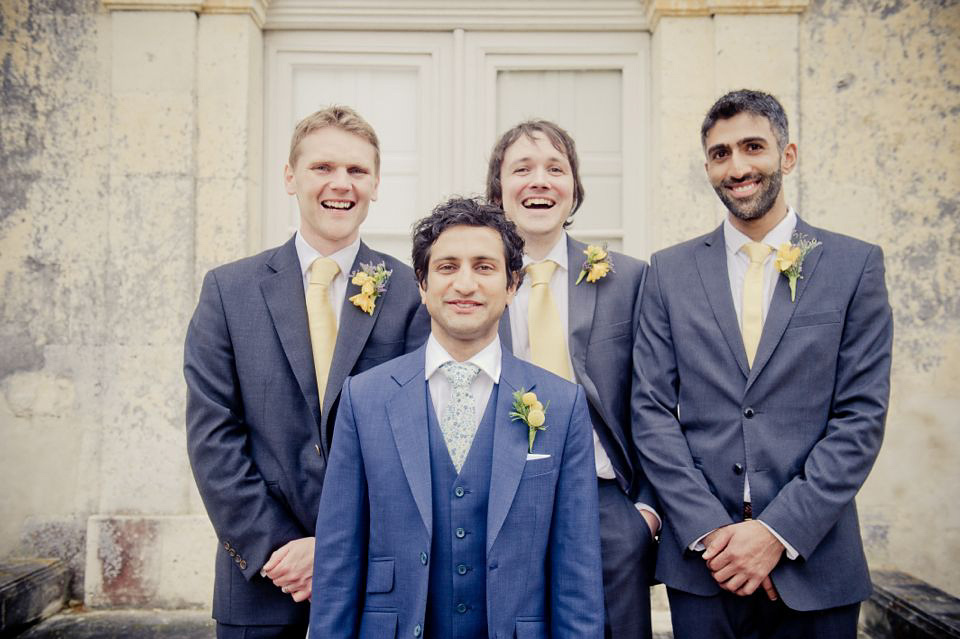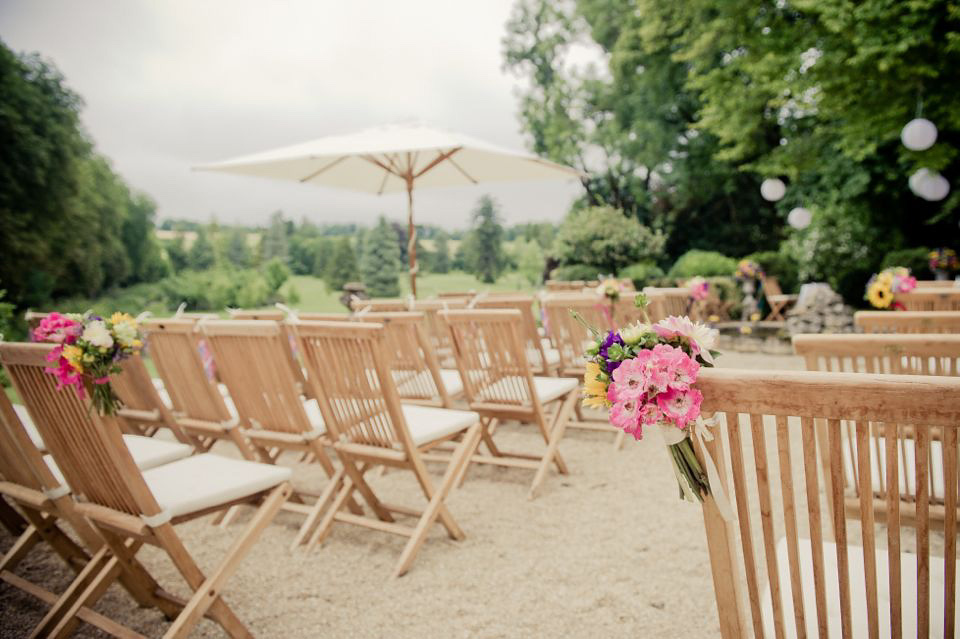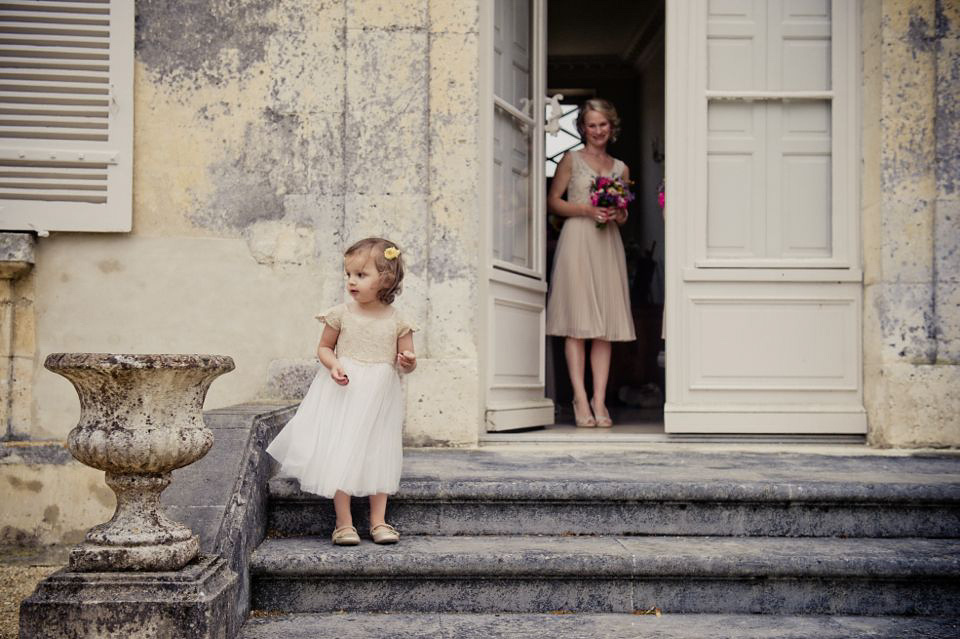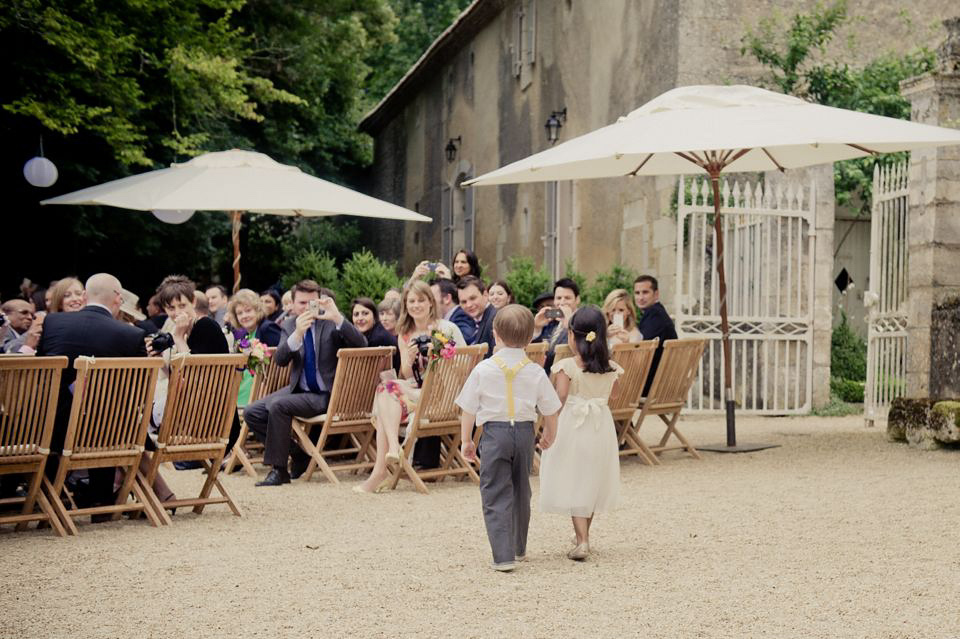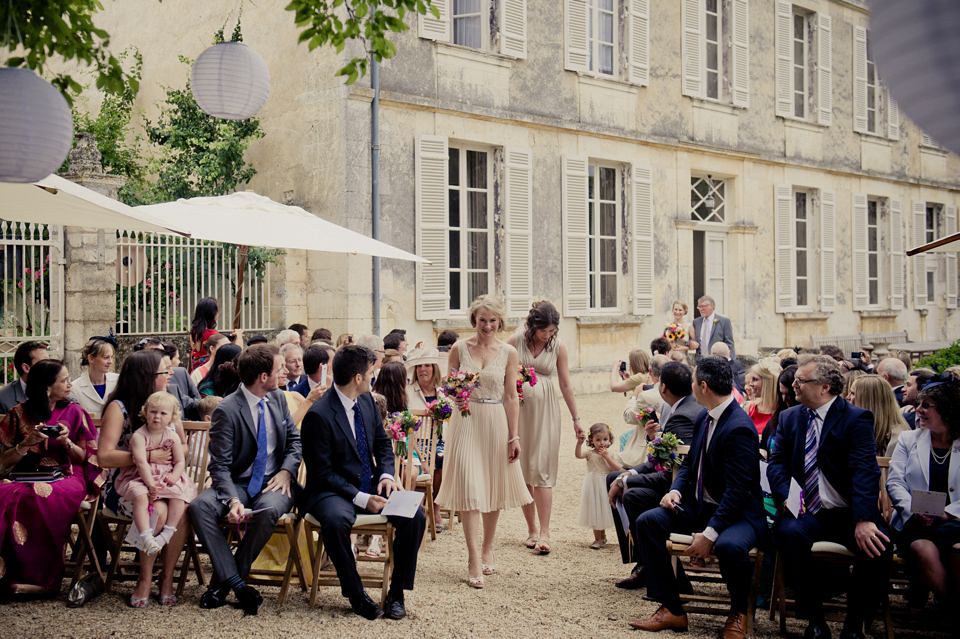 "My dad, Mike, walked me down the aisle to Nitin Sawhney's 'My Soul' – we are both fans of Nitin Sawhney having seen him and his band many times in concert and we felt the words of this song were particularly moving.
We had a humanist ceremony and our celebrant, Sandie, was wonderful and worked with us to put together a ceremony that reflected our values and beliefs."
"We tailored our vows which were as follows; ''I promise to walk by your side, to love, help and encourage you. I promise to take time to share with you, to listen and to care. I promise always to respect you and honour you as an individual and to be conscious of your needs. I shall seek through kindness and compassion to achieve with you the life we have planned together. I give you my hand, my heart, and my love, from this day forward for as long as we both shall live.'"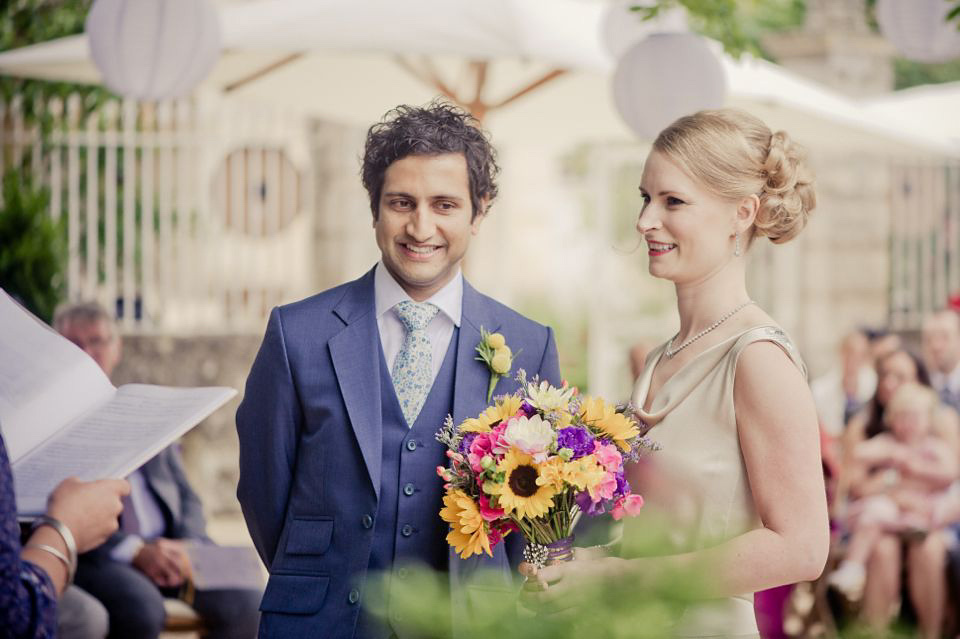 "Our first ceremony reading was chosen by Purvis and read by his sister, Shareen. It was a poem called A Moment of Happiness by Jalaluddin Rumi, a Persian poet and theologian. We chose this because Rumi's poetry had Islamic influence."
A Moment of Happiness by Jalaluddin Rumi
A moment of happiness,
you and I sitting on the verandah,
apparently two, but one in soul, you and I.
We feel the flowing water of life here,
you and I, with the garden's beauty
and the birds singing.
The stars will be watching us,
and we will show them
what it is to be a thin crescent moon.
You and I unselfed, will be together,
indifferent to idle speculation, you and I.
The parrots of heaven will be cracking sugar
as we laugh together, you and I.
In one form upon this earth,
and in another form in a timeless sweet land.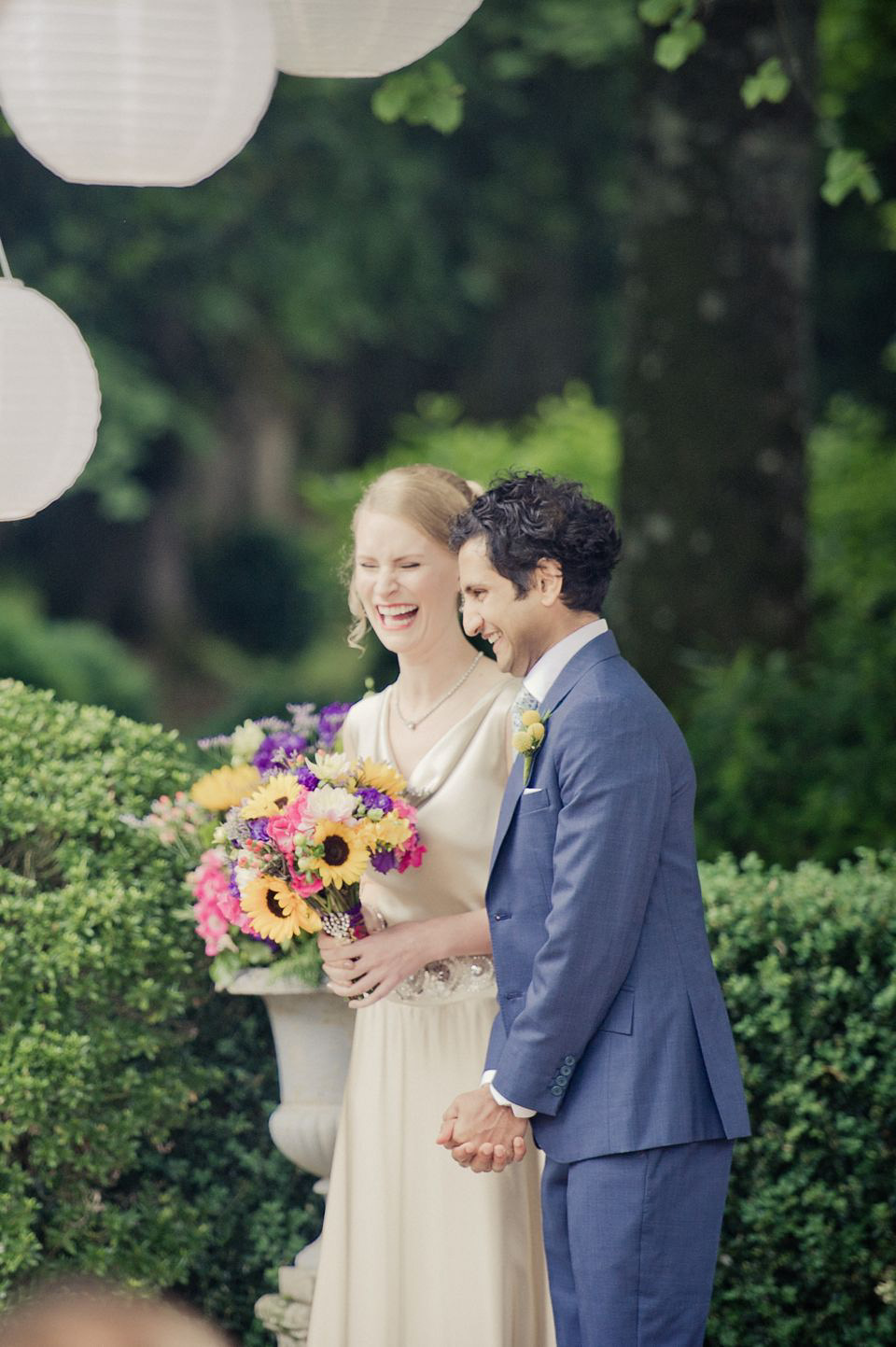 "The second reading was a translation of a poem by Pablo Neruda, a Chilean poet-diplomat and politician, who I studied as part of my Hispanic Studies degree at University."
'Perhaps not being is being, but without you,
without you moving, slicing the noon
like a blue flower, without you walking
later through the fog and cobbles,
without the light you carry in your hand,
which maybe others will not see turn to gold,
that maybe no one knew was growing
like the red beginnings of a rose.
Without, in the end, your being, without your coming
suddenly, incitingly, to know my life,
gust of a rosebush, wheat of the breeze:
and since then, I am because you are,
and since then you are, I am, we are,
and through love I will, you will, we will be.'  (Pablo Neruda)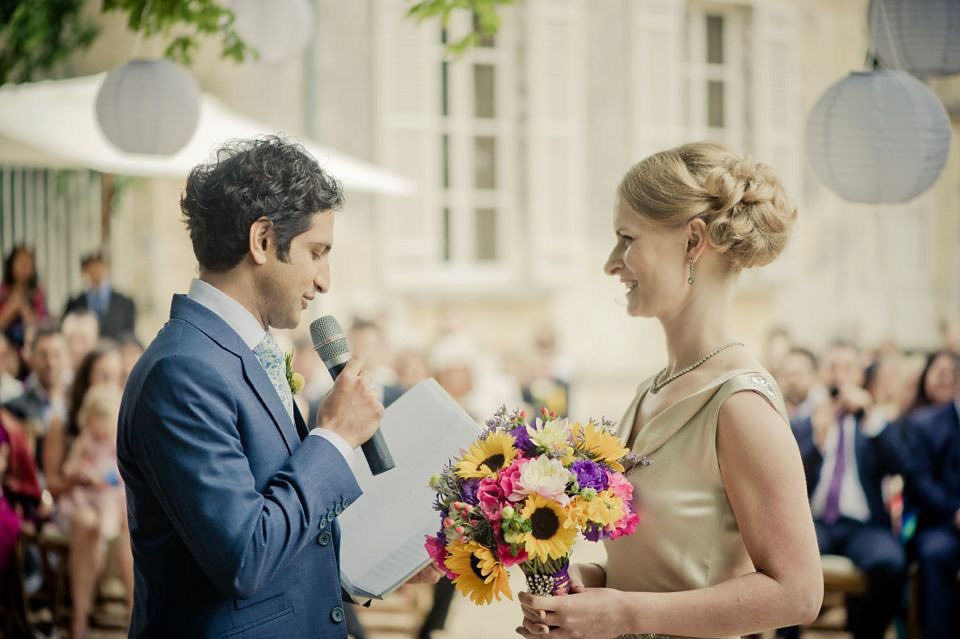 "Whilst our hands were wrapped in the ribbons
by our family, Sandie recited the following:
'These are the hands of your best friend, young and strong and full of love for you, that are holding yours on your wedding day as you promise to love each other today, tomorrow and forever. These are the hands that will work alongside yours as together you build your future.
These are the hands that will love you and cherish you through the years, and with the slightest touch will comfort you like no other.
These are the hands that will hold you when fear or grief temporarily comes to you. These are the hands that will countless times wipe the tears from your eyes, tears of sorrow and tears of joy.
These are the hands that will tenderly hold your children, the hands that will join your family as one.
These are the hands that will give you strength when you need it, support and encouragement to pursue your dreams, and comfort through difficult times. And lastly, these are the hands that even when wrinkled and aged will still be reaching for yours, still giving you the same unspoken tenderness with just a touch.'"
"Our wedding rings were from the Wedding Ring Workshop in Hatton Gardens where we designed and had our rings made to suit exactly what we wanted. My wedding band had to be made to match the shape of my engagement ring."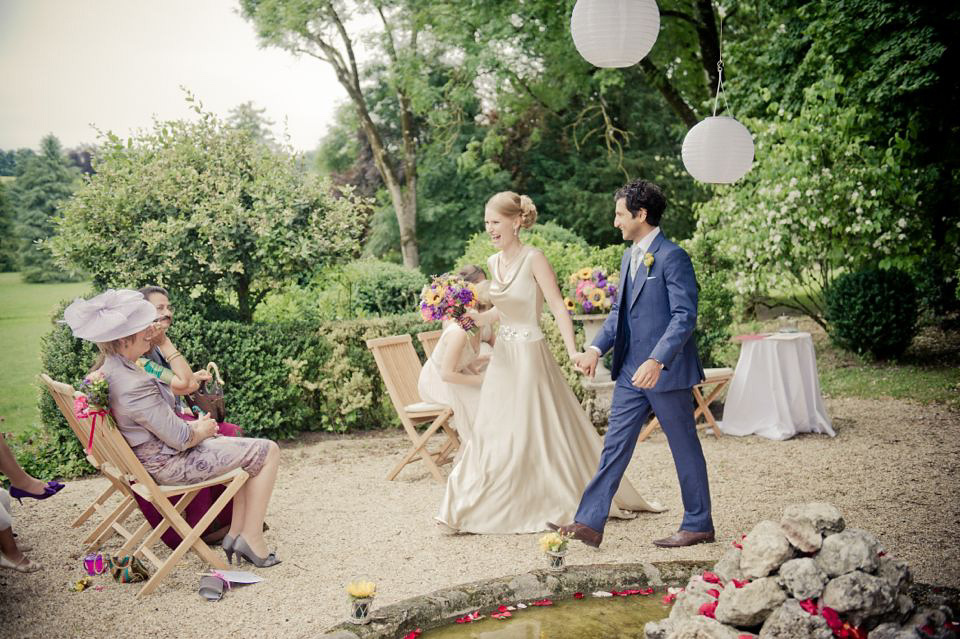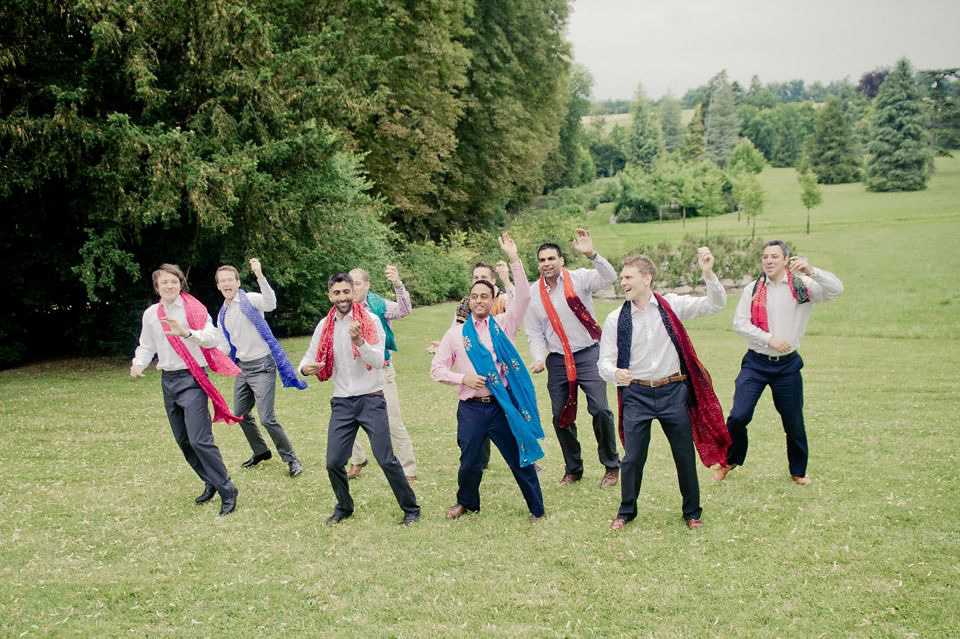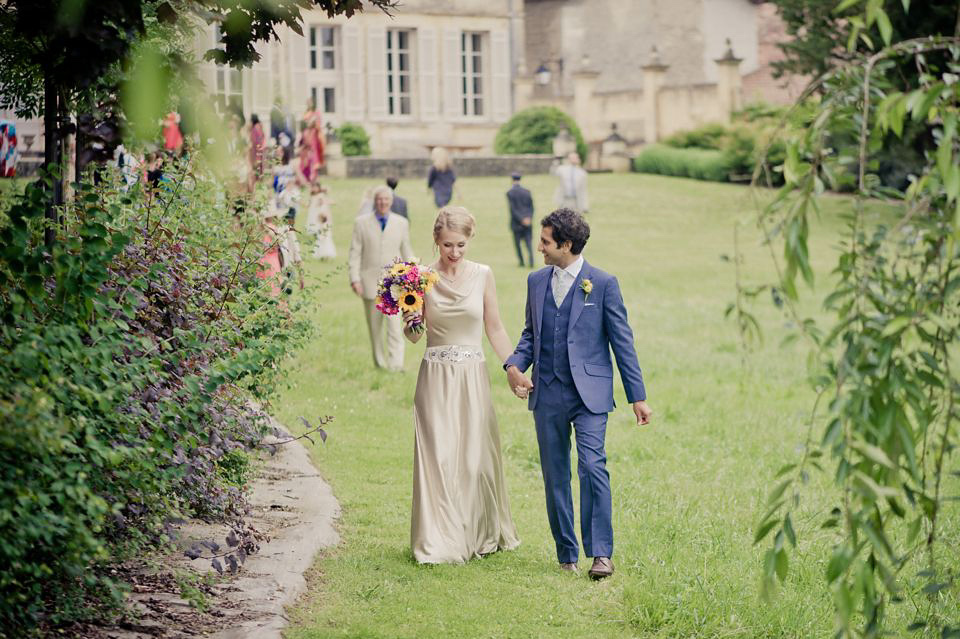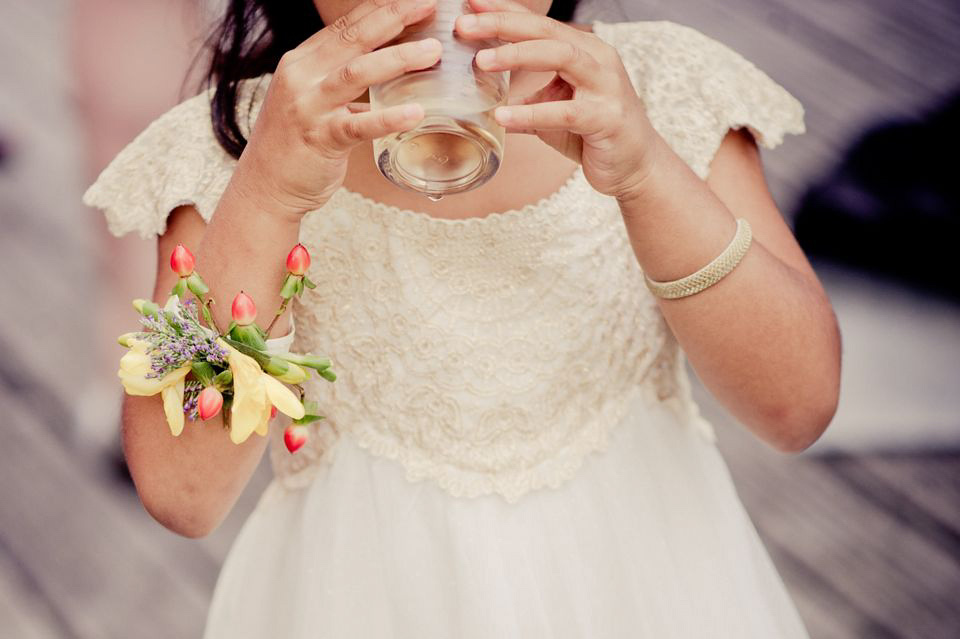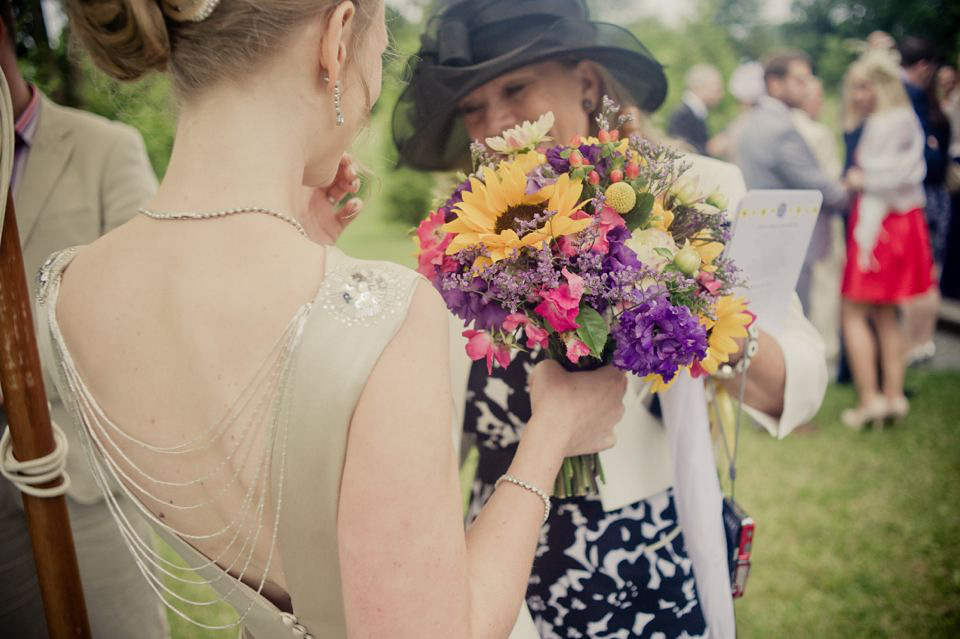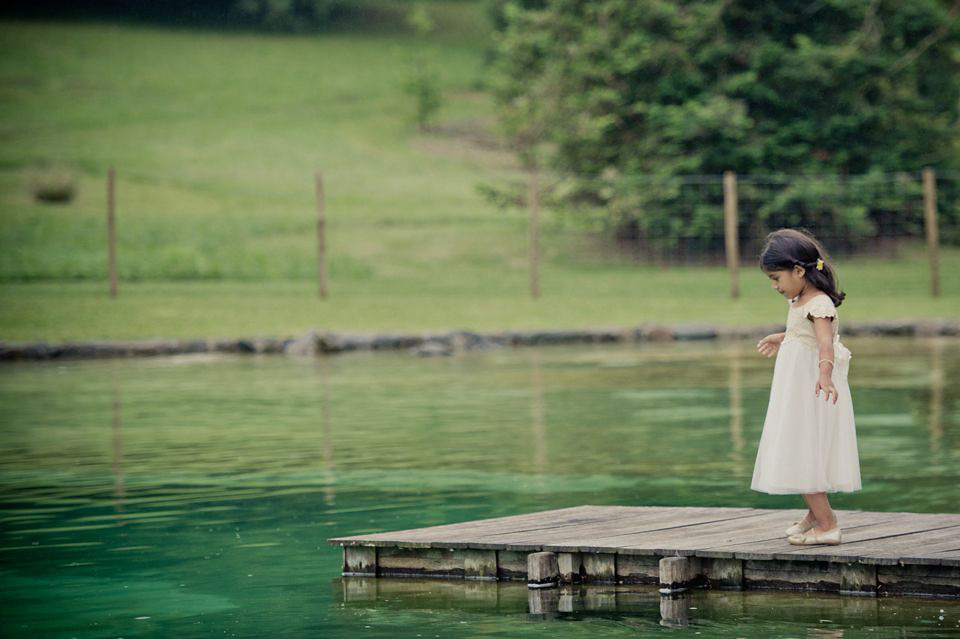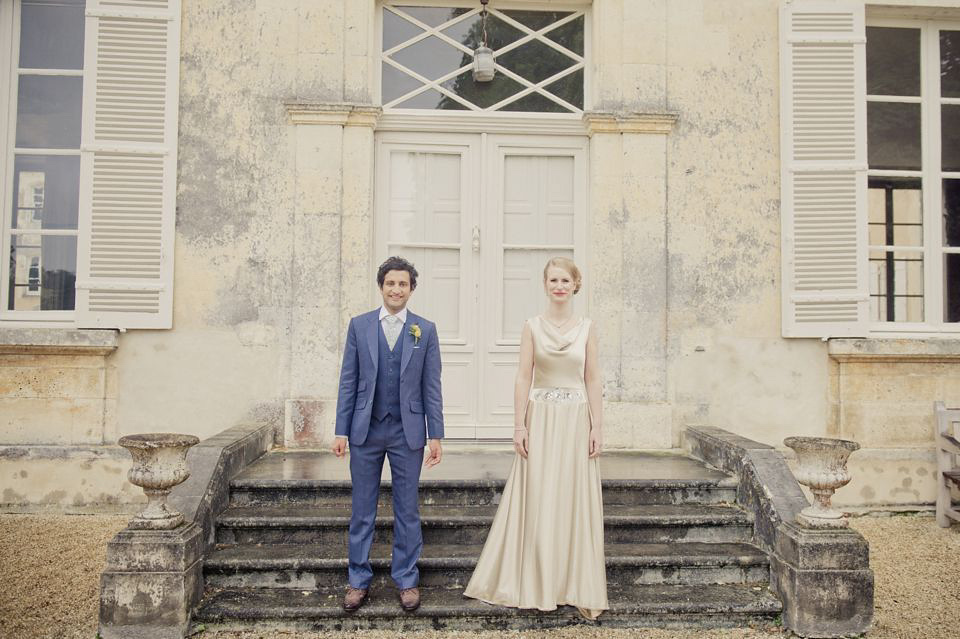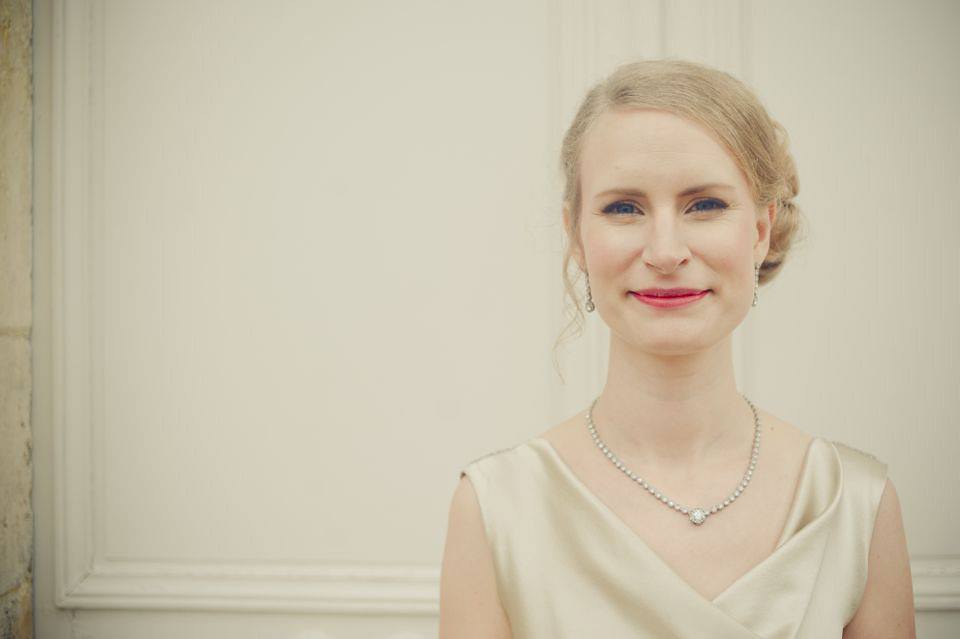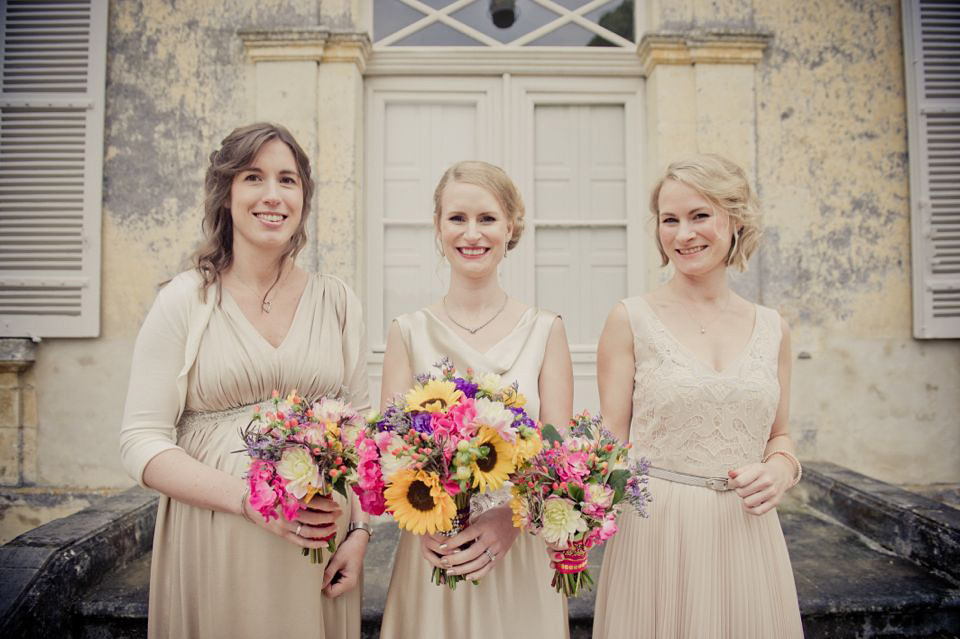 "We used sarees from Kerala in India to decorate the barn, behind the DJ, where we had the evening meal and dancing. We also hired vintage antique French furniture (chairs, sofas and tables) which we arranged down one side of the barn where people could relax and my mum made colourful cushions from the sarees to decorate the furniture.The colours of the sarees matched the colours in my bouquet. We also used ribbons to decorate our chairs again to match the bouquet colours.
A local lighting company lit the venue with lots and lots of candles and tea lights which looked stunning. We also had vintage drink dispensers for welcome drinks when guests first arrived to the venue in jam jars and colourful straws. We also used vintage postcards which guests wrote for our guest book."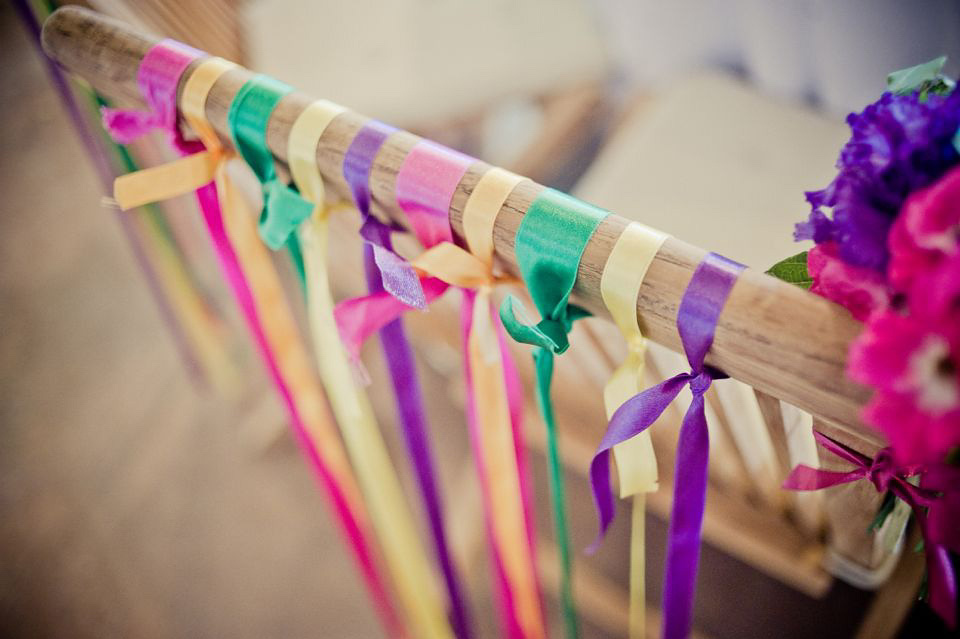 "We used luggage tags for place cards which we handwrote ourselves and sourced vintage postcards for the table names relating to places that meant something to us as a couple.
When it came to favours, for the men we gave a lottery ticket for that night's lottery draw – we had one winner of £10! For the ladies, we gave beautiful colourful silk scarves from India which we bought whilst on holiday there earlier in the year."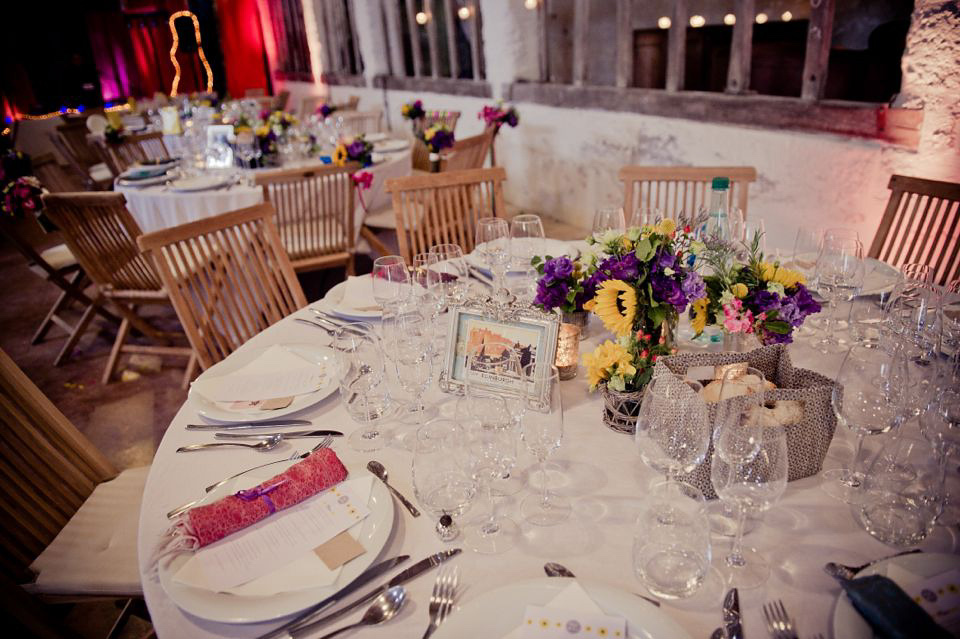 "My dad helped us to create the table plan using a world map and some pieces of wood to create the frame. Our stationery (save the date, invitations, menus and order of day) were designed by Erin from Bow & Arrow Paper & Design Co on Etsy.  She helped us design our stationary template around the sunflower theme.
We then printed all the stationary ourselves and my mum spent many hours putting together all the Order of Day fans."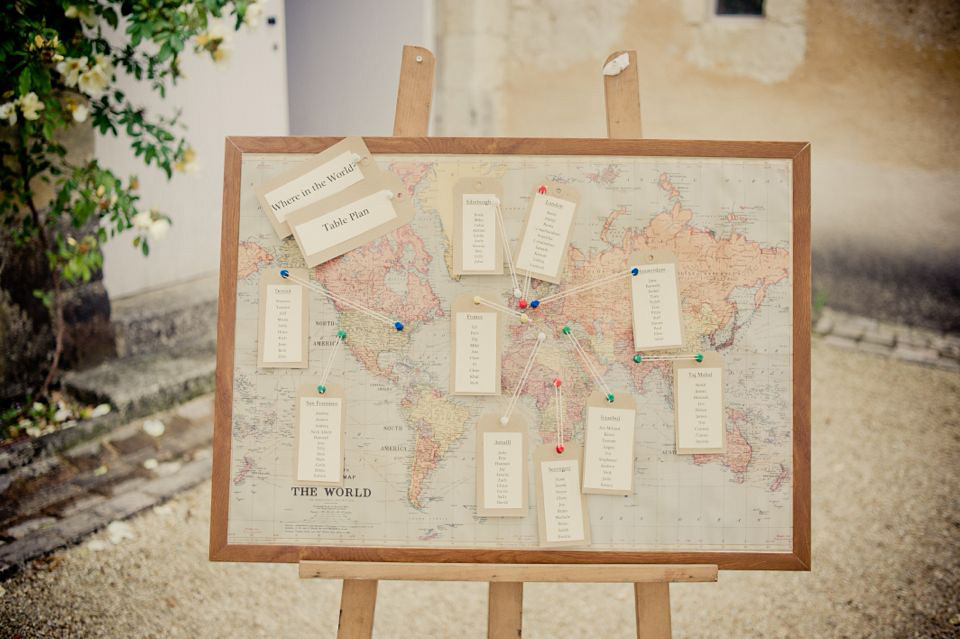 "It's so hard choosing a favourite part, as I enjoyed every minute of the whole day – from getting ready in the morning with my bridesmaids, to the wonderful ceremony and sharing that with our friends and family, to the surprise Bollywood dance that my sister-in-law choreographed and arranged (the morning of the wedding!) which was performed by all the girls from my hen party and the boys from Purvis' stag weekend.
We were really pleased with how the whole day turned out and there isn't anything I would have changed or done differently."
"In addition to our wedding in France, we had an indian marriage ceremony (called a Nikah) and an indian wedding reception. Our wedding ceremony was held at Purvis' parents house with family only and the wedding reception was held on 14th September 2013 at the Radisson Hotel Heathrow with 250 guests.
Then the final part of our wedding celebration was held in Kerala, India. Purvis' family are from Kerala and we celebrated with his family and friends in Kerala in February 2014. We had a traditional mehndi or henna party one night, followed by a reception the next night."
(The following images were not taken by Jake Morley)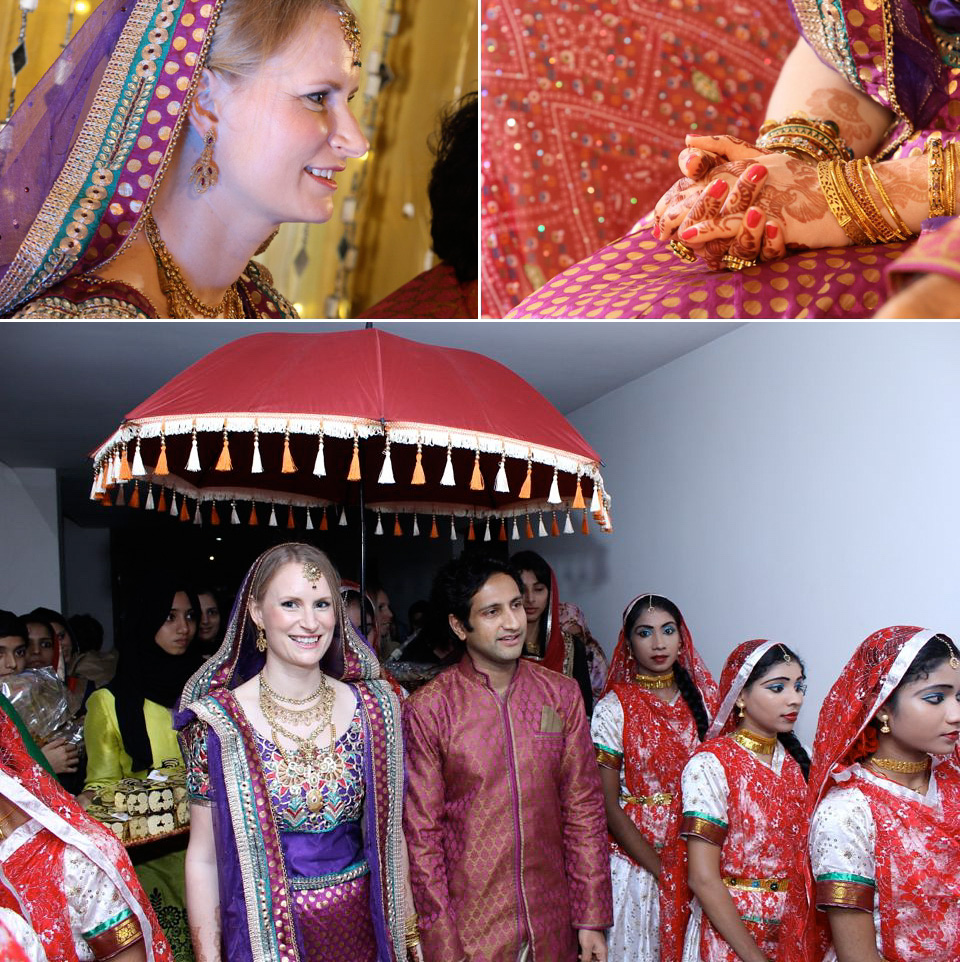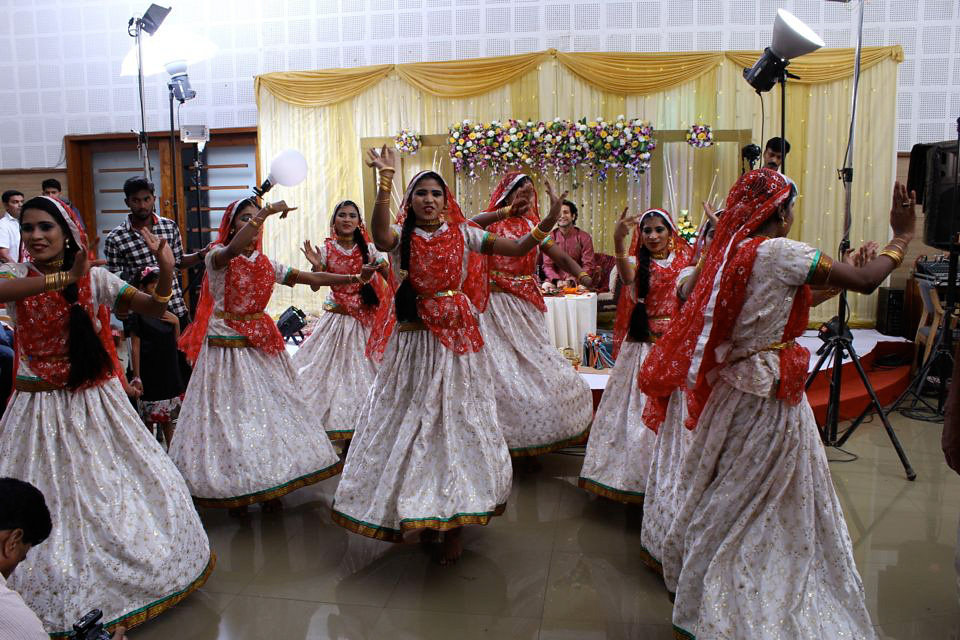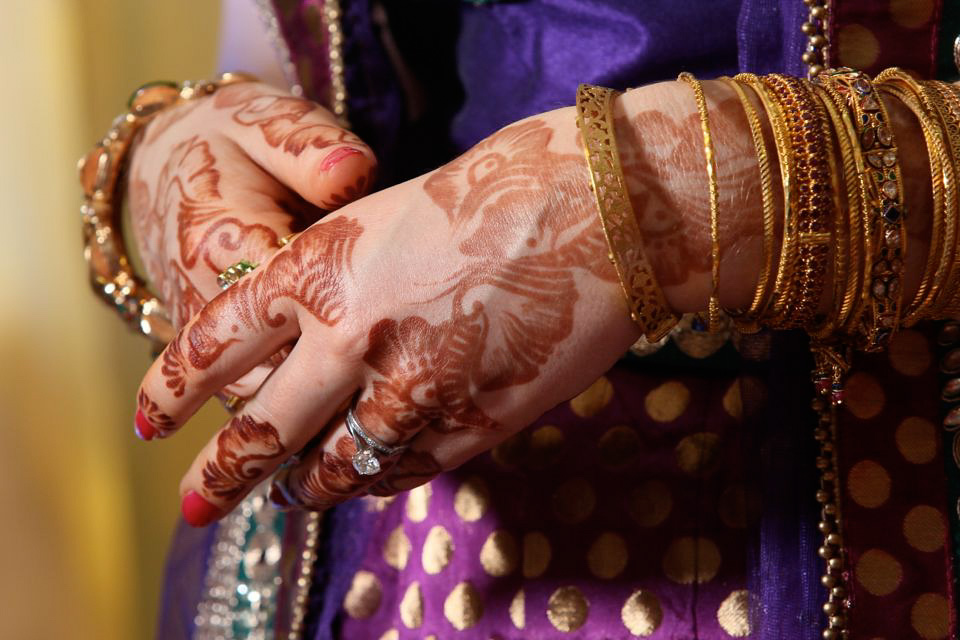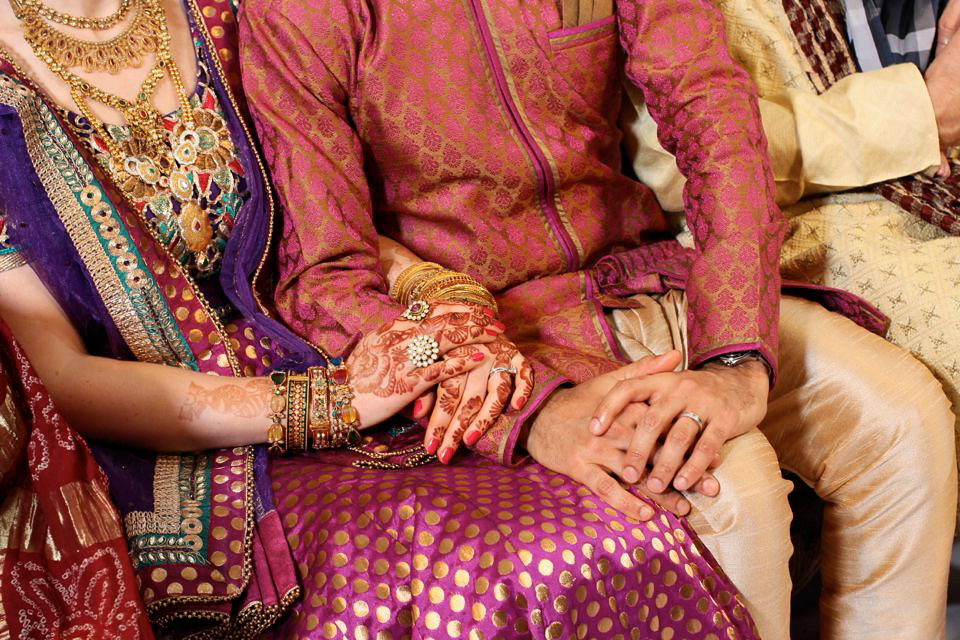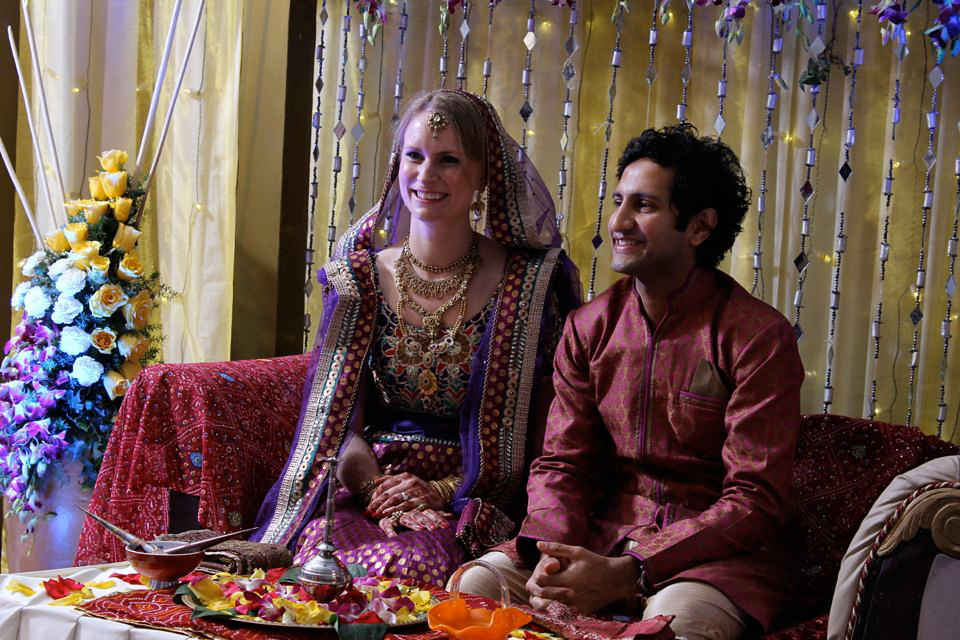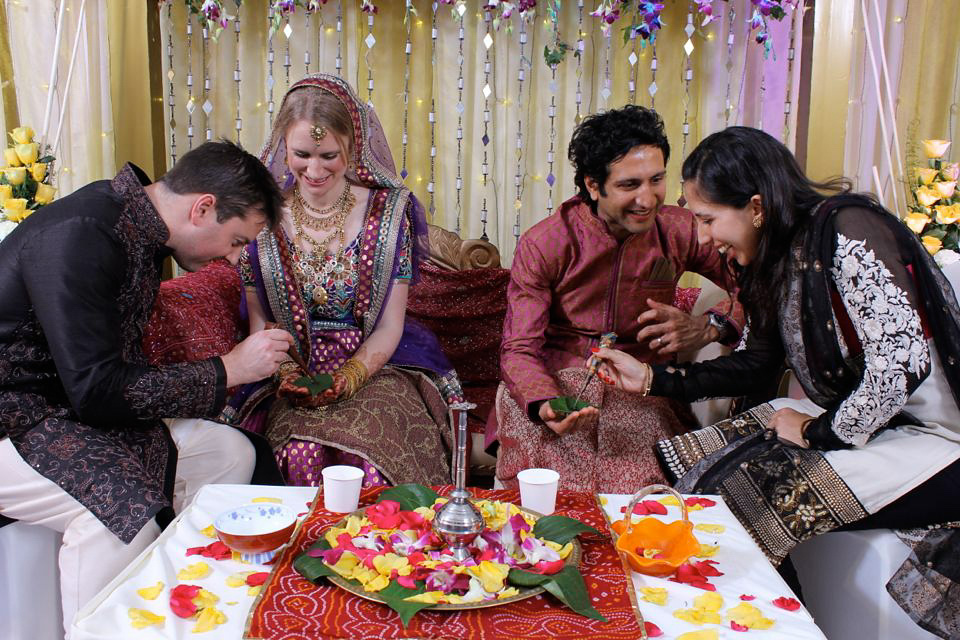 Words of Wedded Wisdom…
"Don't worry on the day about whether things are going to come together, just enjoy and relish every second of the day as it flies by so quickly. When planning, don't be afraid to delegate as family members will love to get involved and help in any way they can, however small the task.
Consider writing and choosing our own vows – it is easy to get lost in the detail of wedding planning, but doing this made our wedding ceremony really personal and made it feel so much more powerful and emotional when we then said those vows to each other. It also helps you to remember what you are planning for."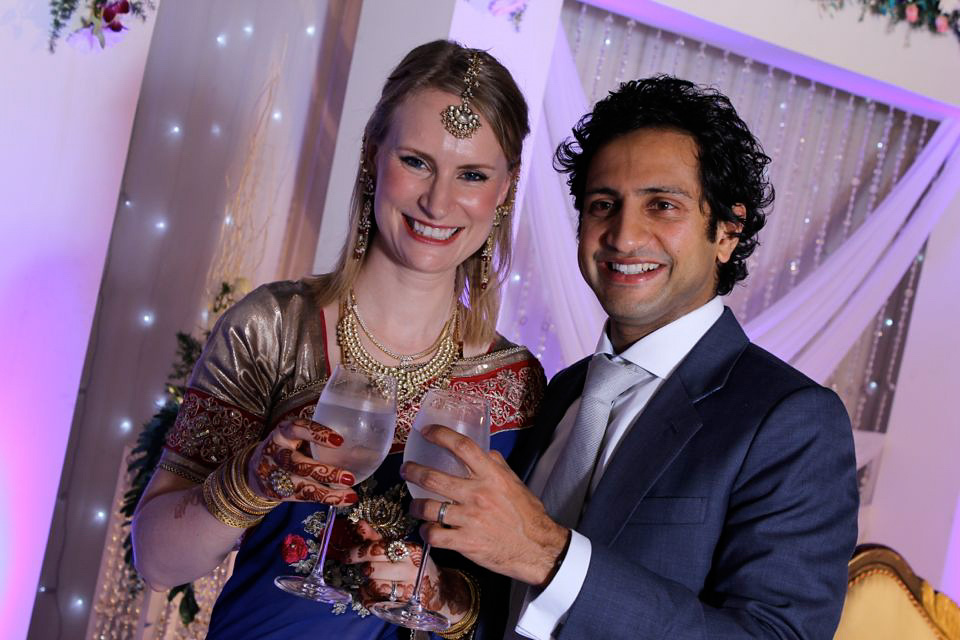 Huge thanks to photographer Jake Morley for sharing these photographs and our love and congratulations to you Liv and Purvis too.
You can see more weddings held in France and more destination weddings around the globe here.
Love Annabel x x
Photographer – Jake Morley
Venue – Château de Saint-Privat-des-Prés, in the Dordogne region in South West France.
Wedding Dress + headpiece – Joanne Fleming
Shoes – Unze
Accessories – No1. Jenny Packham
Bride's Scent/perfume – Chanel – Coco Mademoiselle
Grooms Suit – A Suit That Fits
Bridesmaids – Oasis + Tiffany Rose
Flower girl Dresses – Monsoon
Florist – Fleurs de Famille in Perigueux
Rings – Wedding Ring Workshop in Hatton Gardens
Catering – Domaine des Vignes in St. Romaine
Stationery – Bow & Arrow Paper & Design Co on Etsy
Makeup Artist – The bride's sister (having been trained by Kylie McMicheal)