You've been waiting for another feature today right? Well consider this a little evening treat 🙂 University Marketing Assistant and part-time bridal and occasion cake baker at The Sugared Rose, Sarah, tied the knot with Teaching Assistant Dave on 9th August this year, with a legal ceremony in the morning at Derby City Registry office, followed by a blessing at St Bartholomew's Church at Elvaston Castle Country Park and a reception at Birdsgrove House in Mayfield.
This is one of those lovely honest weddings where the bride and groom did everything their way – meaning the entire celebration was a very genuine reflection of the couple, their lives, and love they share for one another.  I also love how much energy Sarah invested in to her wedding day, from making all of the bridesmaids and little flowergirl's dress, to decorating her own cake and dedicating months to collecting vintage finds to help decorate the venue.  This wedding planning experience was a complete love affair all of it's own.
"When Dave and I first got engaged six years ago, we had a very clear idea on what we both wanted – a 'vintage'  style wedding. I had always loved anything pre the 1950's era, especially the 1930s and 40's and Dave loves anything with a history especially, but especially if it is related to the Great War.  Between us,  we had our own little collections – me with china and vintage lace, him with vintage weapons and war memorabilia, so turning to this to seek inspiration for our wedding day seemed perfect."
Photography Copyright (c) 2014, Chris Seddon
"There weren't as many vintage wedding vendors about then, so as we approached the planning of our wedding, it was a given that we knew we'd be doing it all ourselves – but that was exciting. It all felt very unique.  Then we pressed pause.  I had lost my bridal design job and needed to re-evaluate my career choices.  We decided to buy a house and as life took over, our wedding was pushed to the side.
When we picked up the pace again and set a date, 'vintage weddings' had become all anyone was doing and I had a bit of a wobble about our own wedding because of this. I had still been collecting and sourcing china and props, but it suddenly felt as though our wedding was going to end up being a carbon copy of everyone else's, and not the unique, special day we both envisiged. Then Dave said two words to me; 'who cares'.  And then a few more, like 'it's our day, we should have what we want and shouldn't worry about anyone else'.  And he was right.  The day was a true reflection of us, and everything we love and will always love."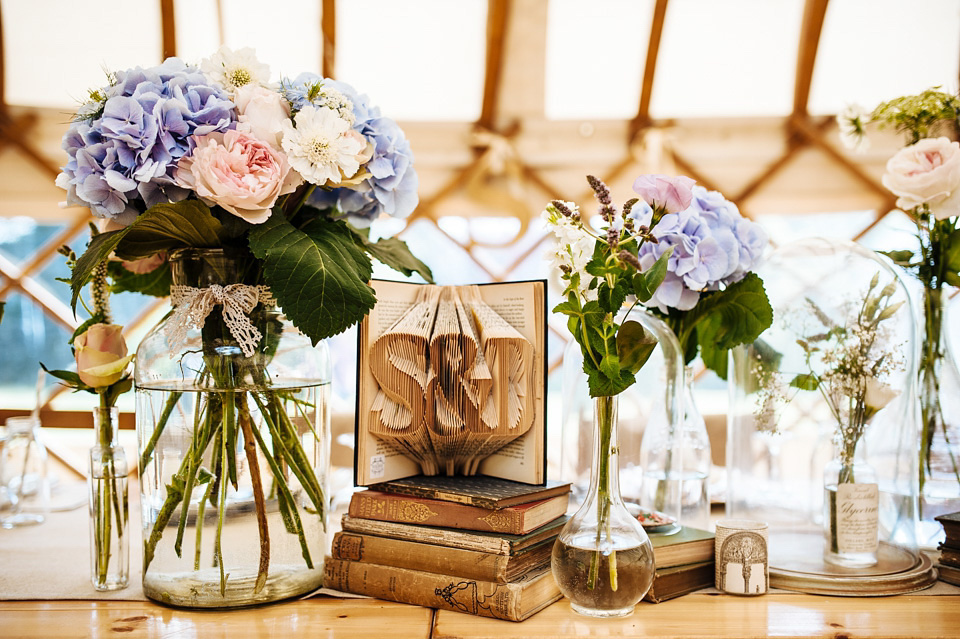 "I actually wore two dresses on the day, but the dress I wore for most of the day was Jenny Packham's 'Aspen', brought from The Wedding Club in Edgbaston Birmingham.  With my background in fashion, I had always planned to make my own wedding dress as I did the bridesmaids, but then in 2012 I saw Jenny Packham's Aspen and made my mind up there and then that there was no other dress for me. It had just the right amount of lace and glitz without being over the top. It was perfect.
The dress I changed in to for the late evening part of our wedding was the Ana Sui 'Aiguille' gown from BHLDN, which I had actually purchased second hand from a woman in America through eBay."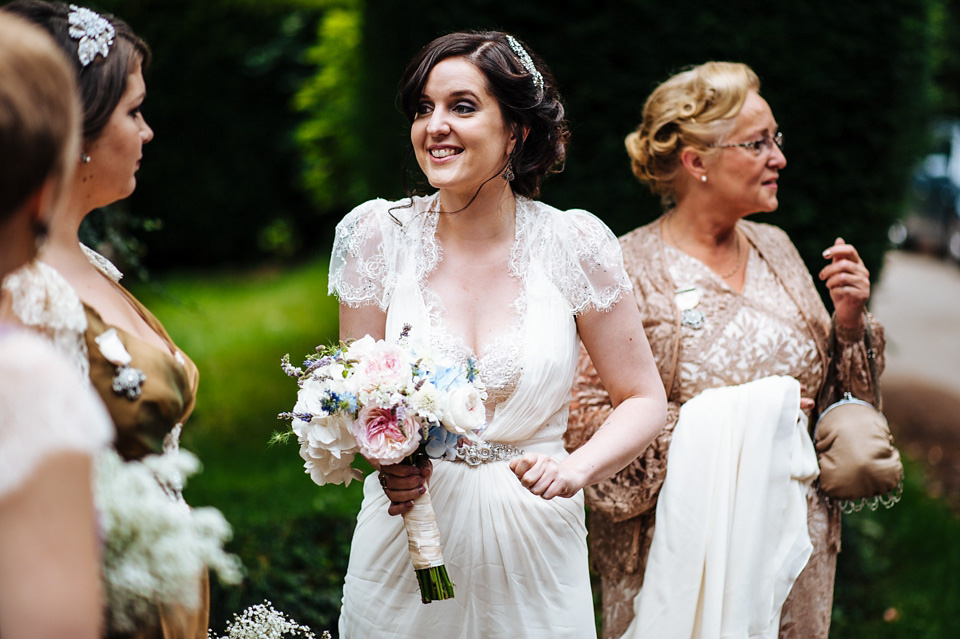 "The bridesmaid dresses were all a labour of love as I knew from the outset that I wanted to design and make them myself.   I wanted each dress to be individual enough for each girl and we had so many fittings to make sure they were just right. Most of the lace used were vintage pieces that I'd been collecting over the years.  Each dress had a vintage Victorian lace motif at the centre and I sourced vintage paste brooches for each of my maids, so they all had their own little piece of sparkle.
My mum was the hero of that wedding story though as although I did the designs, patterns and some of the sewing, she actually made almost all the dresses – I am still working out how she managed it all!"
"Millicent our Flower girl loves dressing up and she didn't escape the 'homemade/diy' feel as we made her dress as well. I had an amazing Victorian flounce that I have been desperate to use for ages and adding that to her dress gave it a very 'fairy' like feel which I have been reliably informed she loved."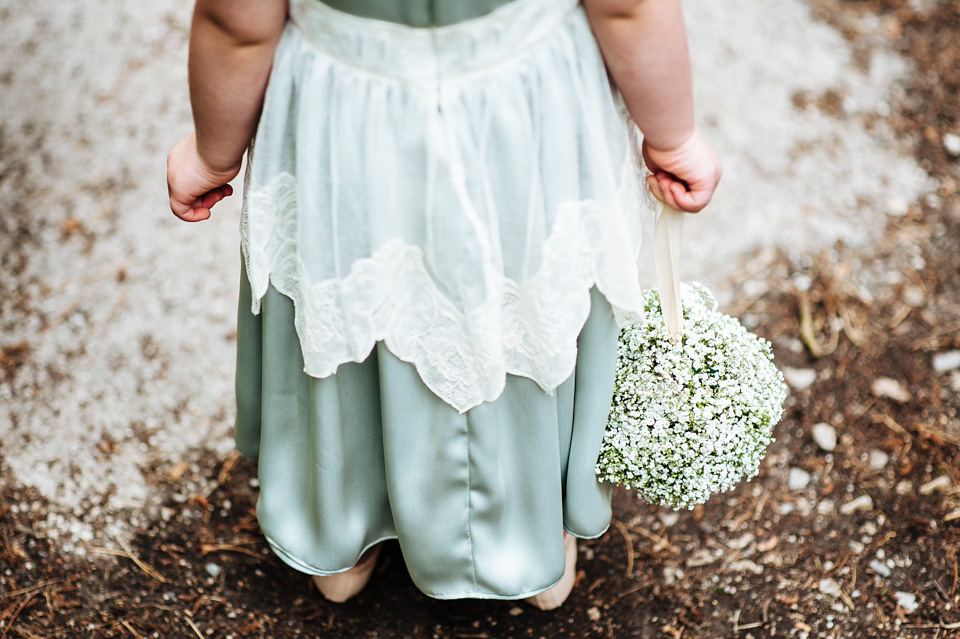 "We did all the planning, styling, flowers, organising buffet catering, decoration and everything else ourselves,  with some help from Lizzie and Jim from Wedding Yurts and Kerry and Ian of Birdsgrove House. On the day all the guests and bridal party were fully involved in everything from plating up food to putting out the flowers and moving tables.
The yurts provided by Wedding Yurts  were so stunning – I knew I wanted them to be filled with flowers and to combine that with our love of all things, vintage and antique by using vintage music paper, vintage books and various vintage props that all came out of our home. One of my bridesmaids spent hours making bird garlands from vintage music paper that she hung from the roof of the yurt in the bar area and it looked amazing."
"Dave and I were introduced to each other by a mutual friend within the first few weeks of University, and slowly started spending more and more time together until eventually we spent all our free time together. A few years into study I moved away to London when I worked at Temperley and Dave came down as much as he could but when I moved back we moved in together and really were inseparable. After being together for four years Dave and I were sitting together watching TV and I was 'window shopping' on eBay on my laptop and came across a gorgeous original art deco ring. Dave saw and said 'there's no way you are spending that much on a ring unless it's an engagement ring'.
The rest, as they say, is history! And although it doesn't sound that romantic it was really romantic to us."
"It actually took us another six years to finally get married and within those six years my best friends and now bridesmaids decided they were not that happy with our engagement story so decided to write their own version which contained phrases such as: 'a sea of flowers where a message had been sewn' and 'Dave in full period dress galloping towards her on horseback'.
Their version of events gathered such a life of their own that we asked our stationary designer Selina to design a book with their story in to go on all the tables at the reception so we could share their creativity with everyone."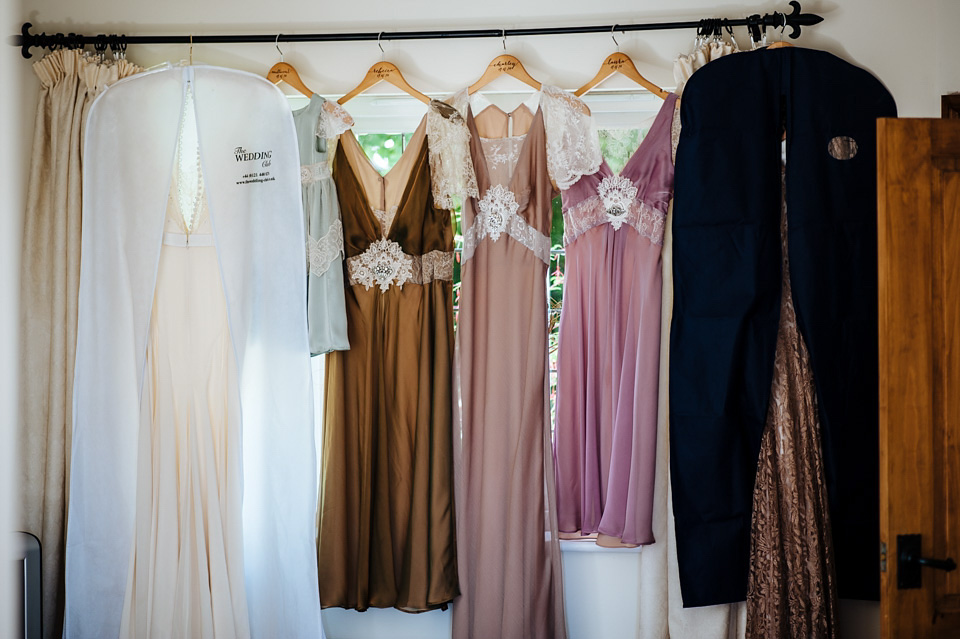 Aren't these personalised hangers just lovely? Better than having photographs of cheep plastic hangers (I see it *all* the time ladies! It doesn't look good on a set of otherwise absolutely beautiful wedding photographs – trust me).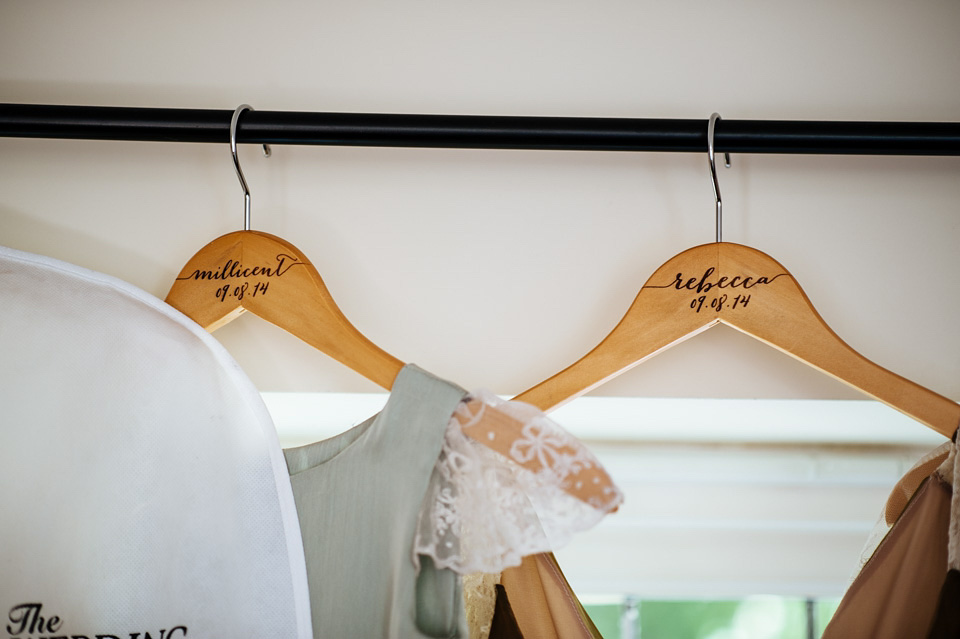 "When it came to perfume, I wore Chanel's Coco Mademoiselle. I love this scent but ran out a while ago so to be honest hadn't thought about planning on wearing anything. But then on the day my mum gave me a little gift after helping me in to my dress and it was this perfume. It was a really sweet moment for us."
"Whilst it hadn't been a huge priority for me during the planning process, my hair and makeup was styled by Sarah Russell.  Sarah did the hair for me and my mum and the make-up for myself and two of my bridesmaids and it was so much fun and we all loved the end result. I know I have never felt so beautiful. What made it even better was that both Sarah and of course her sister Amy were guests and shared the whole day with us.
My marcasite earrings were vintage that I had brought many years ago at a vintage fayre. My bracelet was by Alex Monroe from a few years ago that Dave actually saved up and brought me as a surprise. I cried when I opened it back then so had to wear it for our wedding."
"My Dad arranged the wedding car. I grew up with vintage cars and motorbikes and at one point, my Dad had a beautiful 1937 Morris Cowley that was to be our wedding car. But circumstances changed and that car had to go so he arranged for us to have a gorgeous Daimler Consort DB18 from Wedding Classics in Nottinghamshire instead."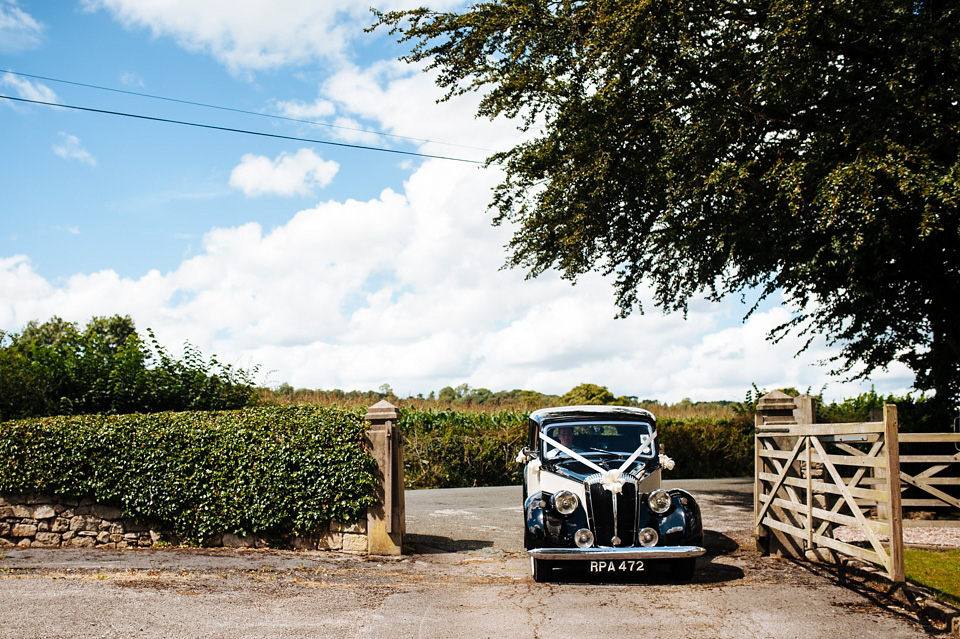 "The bridesmaid's hair pieces were as individual as them. I brought my maid of honour Rebecca's pretty much as soon as we got engaged six years ago, so she had to wait a long time to wear it. It came from Glitzy Secrets. My cousin's Charley's was also brought years ago from Etsy.  For my other bridesmaid Laura I knew it needed to be special and it had to be glitzy, but as her hair was so short I didn't know what she would want.  
So I brought some feathers and pearls and gave those to her along with a load of old broken vintage paste and marcasite jewellery I had and told her to go nuts and create what she wanted. She didn't disappoint she had the best dressed head of all of us!"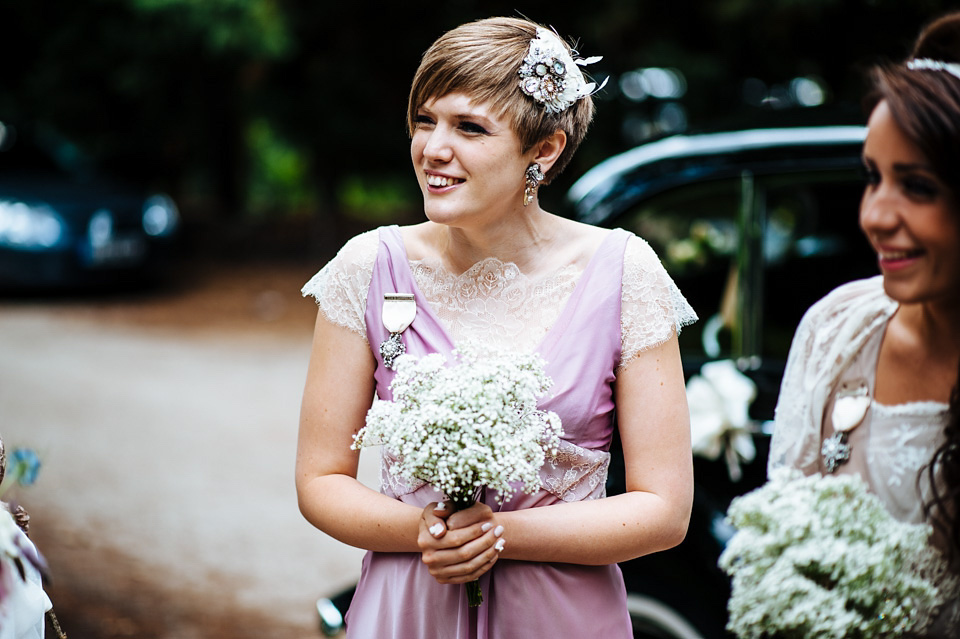 "The whole day mainly focussed around our marriage blessing at St Bartholomew's Church at Elvaston Castle Country Park in Derby. It is a beautiful and very old church that Dave grew up a stones throw away from so it meant a lot to us to have our marriage blessed somewhere so special to him."
"Even though we had already been legally married earlier on in the day, for the blessing in the church, the Reverend actually arranged the service so my dad could walk me down the aisle and give me away as if in a normal marriage service. This was a really lovely moment as I had originally thought we wouldn't get to have that happen."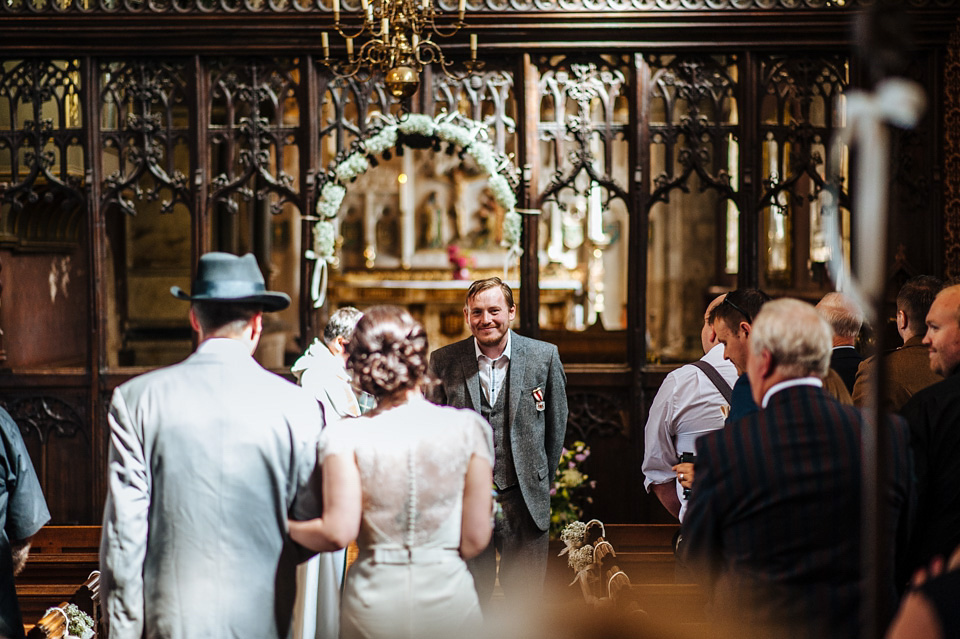 "We chose not to write our own vows, mainly because we found the traditional ones actually said everything we felt and already lived by. Then there was also that Dave is amazing with words he is one of those people who reads his heart out to you so earnestly and I would have just cried and cried.
We asked our reverend what reading resonated with him and he suggested 1 Corinthians 13, and then we realised that had been the exact reading that Dave had included in his best man's speech at our friends Haydn and Ann's wedding years previously and as Haydn was instrumental in us meeting in the first place it felt like fate."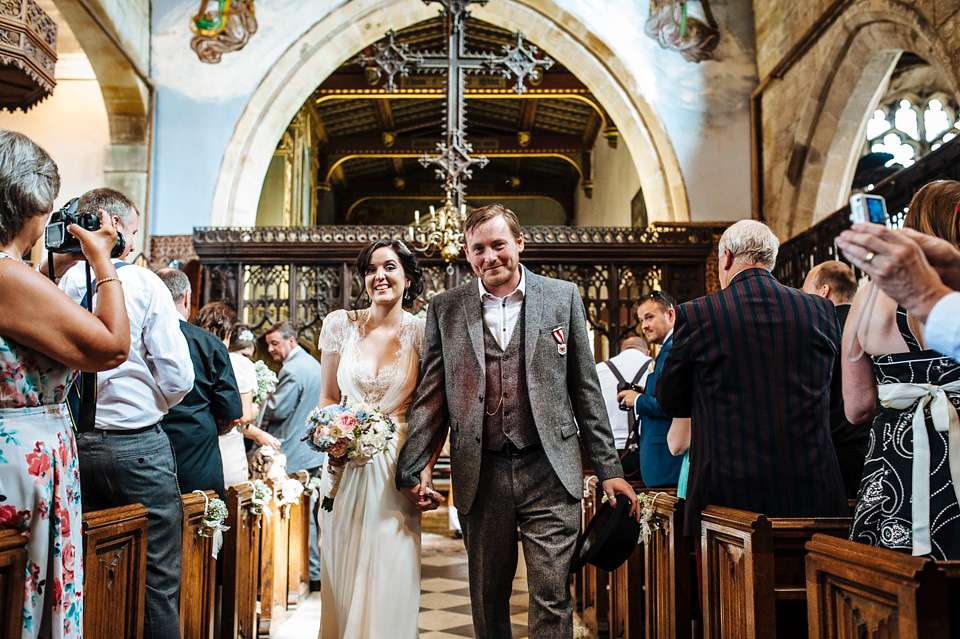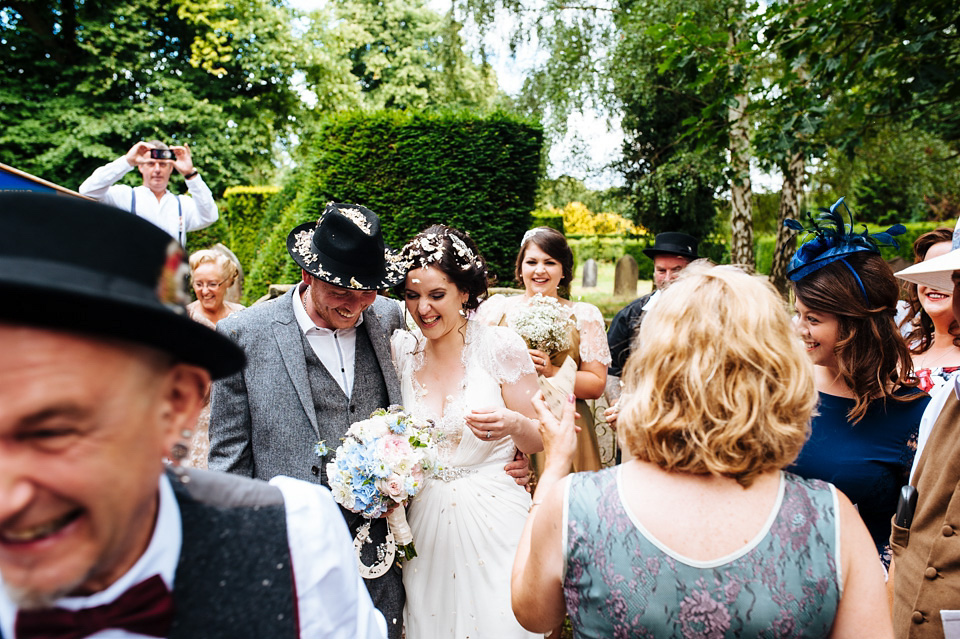 "I spent a week covered in blackboard and chalk paint creating various signs to show guests where to park and walk and the girls helped with larger signs in the yurt like the bar menu. We also unfortunately lost a lot of special people since getting engaged six years ago and like many other weddings we have seen we decided to have pictures of them with us on the day hung up around the yurt so they were still with us."
"We had some great vintage activities for our guests like lawn games such as croquet and skittles also hired from the lovely Amy and Phill of Penny lane Vintage Hire and the Swedish garden game Kubb. I also made a bird theme treasure hunt with birds hidden all over the grounds on the house and clues were put on each table but unfortunately the change in the weather meant that I don't think anyone got to play that!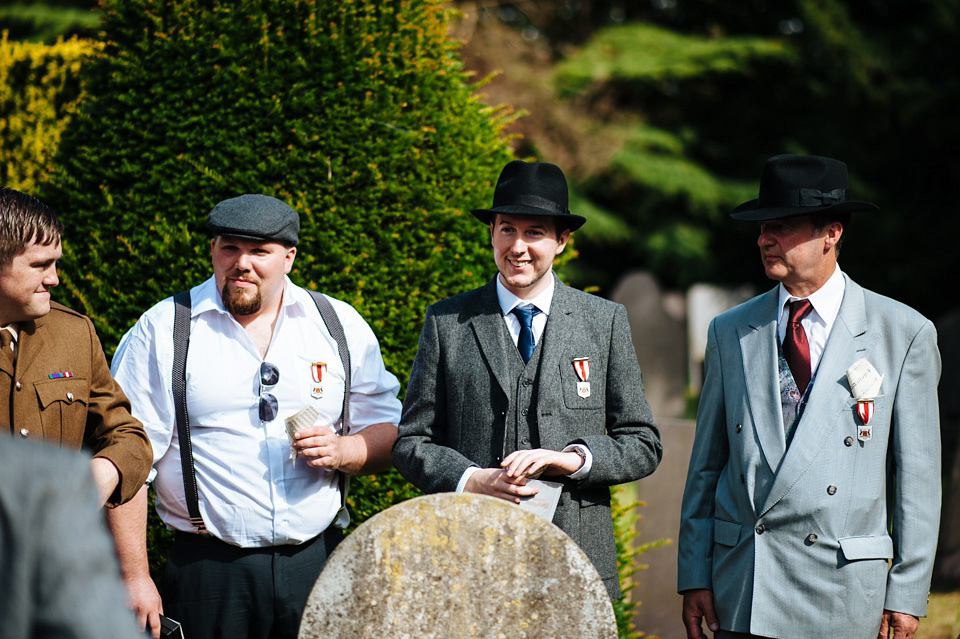 "I knew I wanted everywhere to be filled with flowers and hydrangeas and David Austin roses have always been my favourite's so I Knew I wanted to include those. We grew some lavender and bright blue hydrangeas in our own gardens, but brought all larger paler blooms as cut flowers from The Blossom Tree Boutique Florist in Melbourne, Derby, and also Flowers of Solihull.
Mum created all the arrangements and bouquets and then the night before the wedding about 10 of us sat filling vintage bottles and jars with the remaining flowers for all the tables. It was actually a good laugh all of us in the kitchen with a glass of wine and a table full of flowers."
"We had a tea and coffee area as I had spent years collecting china trios so everyone could have a cuppa and we were lucky enough to be one of the last china hires for Penny lane Vintage Hire, who we hired babycham glasses and beautiful china dinner plates from to make up the tables."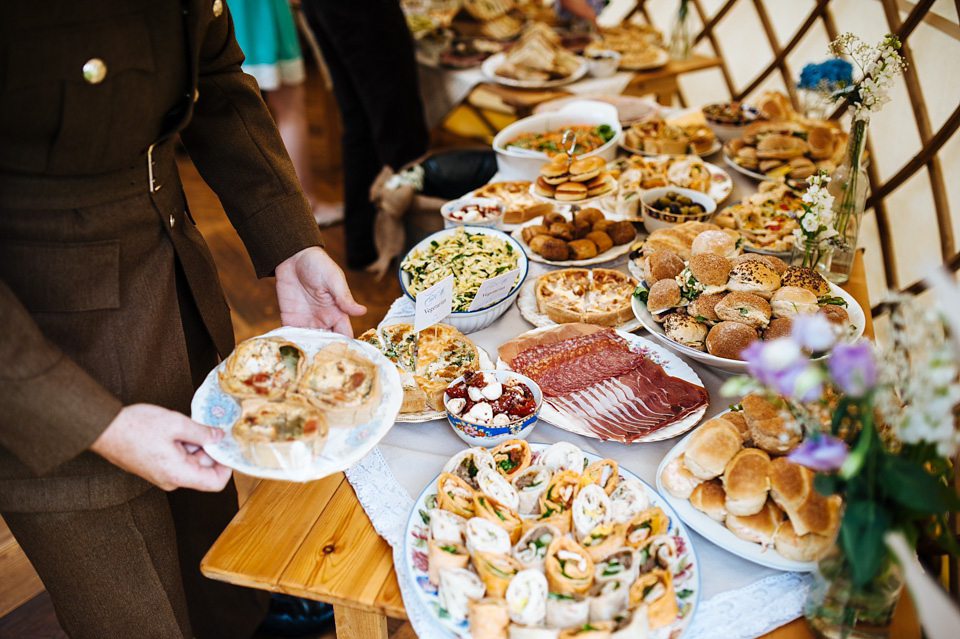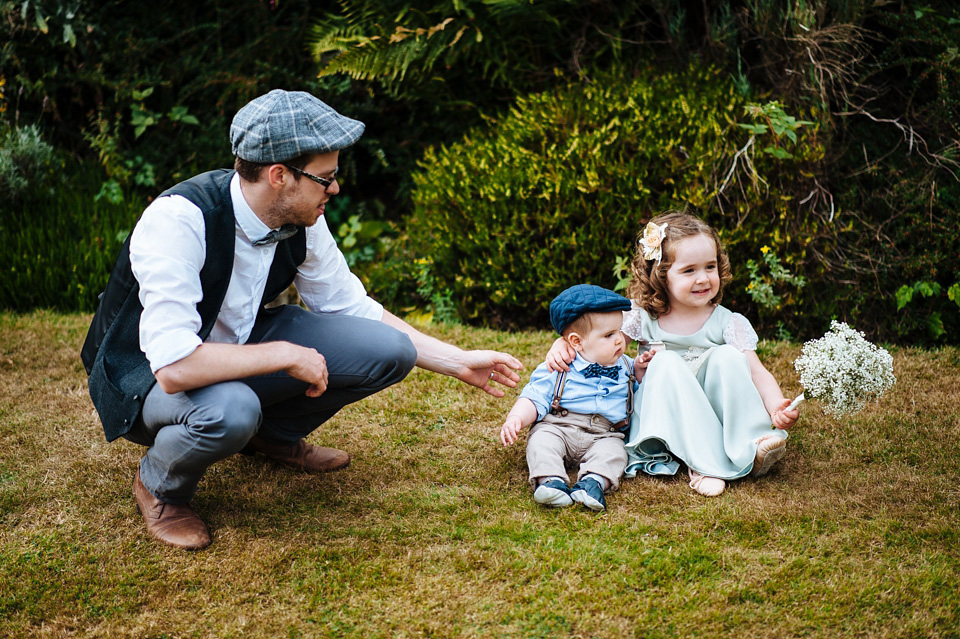 "Our photographer Chris Seddon was amazing. I met him through a mutual friend Katie who had designed my website and it turned out I actually worked with his Dad at the University so we always followed his work, wedding and otherwise. We spoke to him very early on as there wasn't any question that we would go with anyone else.
We knew we didn't want very formal/structured photos as I am awful in front of a camera and Chris captured the whole day perfectly. Everyone has commented on how he just melted into the day but was brilliant at making everyone feel at ease when a few formal pics were needed. He was so unobtrusive and his attention to detail is stunning. We absolutely love every single photo."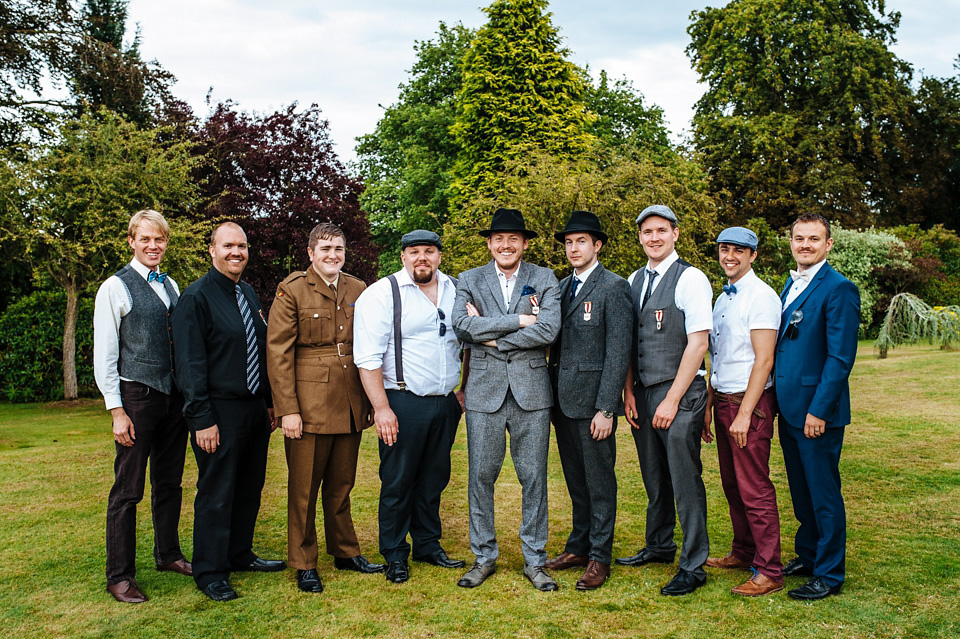 Can I let you in to a secret? I've never been fond of the idea of providing 'flip flops' for people to dance in at weddings. But real ballet pumps? Now this is an entirely more elegant option all together…
"I can't walk in heels for very long so from the very beginning, I knew I wanted to help out our other women folk (and myself) by giving them a helping hand on the day. I have periodically brought traditional leather ballet pumps over the years as they are comfy and fold up in your handbag quite well (I was actually introduced to this by my best friend and maid of honour, Rebecca, so I decided to bulk buy a load for anyone to help themselves to on the day and sure enough at the end of the night there was only an odd pair left (so who knows who went home with two different sizes?!).
Dave and I also considered what we could gift as favours to the men.  We had seen another wedding online that had temporary tattoo favours and loved this idea, especially as our own wedding presents to each other had been to have actual tattoos.  I found some really great temporary ones online on Etsy from sellers like Burrowing Home and Pepper Ink, and there were none left at the end of the night so there was definitely some fun had!"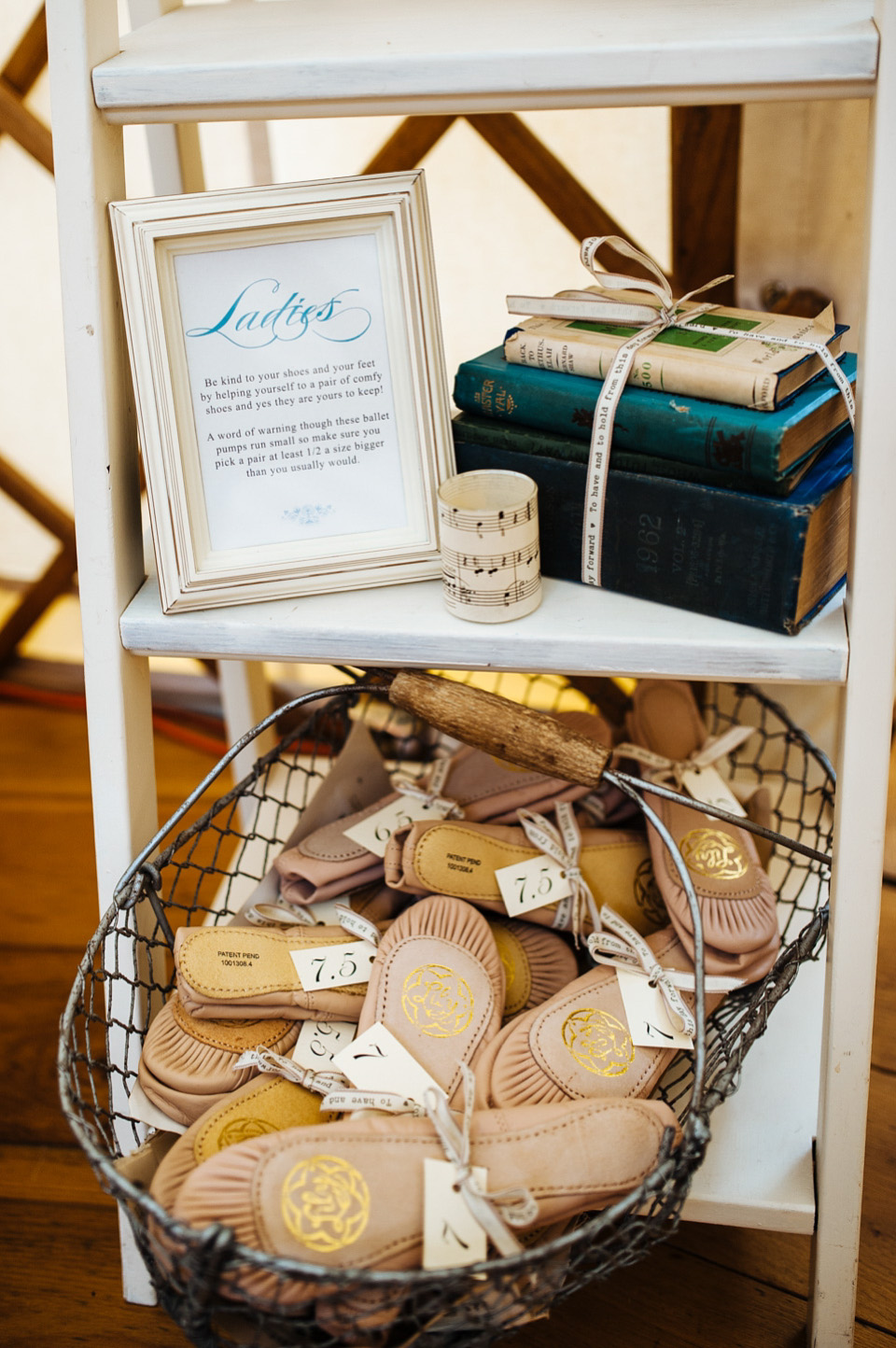 "We hung lanterns from trees in the grounds of the house and vintage frames with a beautiful huge one that created a photobooth area (together with our own huge chest of true vintage dress up props mixed with a few home-made flower headdresses [my bridesmaids again] and stage props). My dad made a load of wooden signs for us that together we made into a finger post and various other signs around the yurt."
"For music, Dave knew from the outset that he wanted to be heavily involved in that side of the entertainment. Dave created a playlist of music for an iPod to play though a friends PA system and then having been in bands all his life and being surrounded by a huge amount of musically talented best friends he put together a band specially for the day.
 They started practicing every week from February and everyone was blown away by them. I am biased but they were amazing, by the end of the second set the majority of the guests were dancing. They even had their first proper booking after that for three weeks later and have decided to keep going as they are having so much fun."
"Our reception was held at Birdsgrove House in Mayfield in Derbyshire.  We actually found Wedding Yurts first, and they were just perfect and exactly what we had in mind so we then had a frantic search to find a venue that we could have time to style and decorate ourselves and that actually had the space suitable for the wedding yurts to sit. Birdsgrove had everything and more.
We were able to hire it for the whole week and really make a family break out of the whole wedding preparation.  On top of that, the grounds and house were just so stunning, that we actually booked it without even having seen it in person!"
"I first met Selina from Alice Tree at the Designer Vintage Bridal Show at Hagley hall in 2012 and fell in love with her story book collection. I had originally planned on doing all the stationary myself but Dave (desperate to save my sanity and more importantly his) persuaded me that I had to give some things away and I am so glad he did. Selina captured the essence of everything we wanted and she completed our Save the dates, Invitations, order or services and our bespoke engagement story's in a way that perfectly complimented us and the whole feel of the wedding.
We have also gone to her to make our thank you cards as well as we have been so chuffed with everything she has done for us."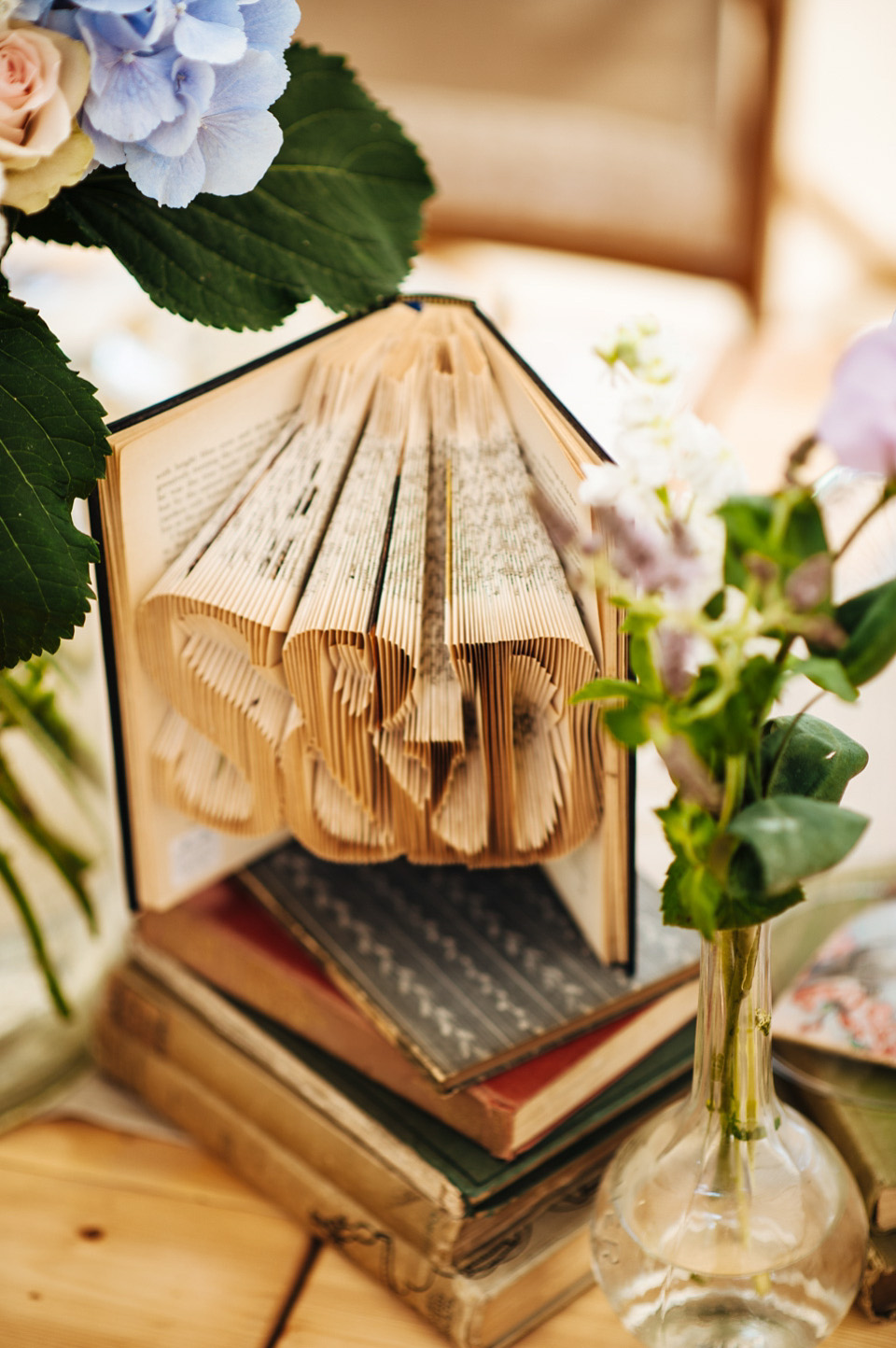 "I bake and was always going to make my own cake and then a year before the wedding had a panic about just how much I had taken on. I couldn't release the whole thing though especially as I make wedding cakes for others it seemed a bit counter productive so I approached Cake Decor in Derby to make the actual cake.  I just stacked it and decorated it quite simply with a few tiny sugar flowers and hand painted it with food colouring."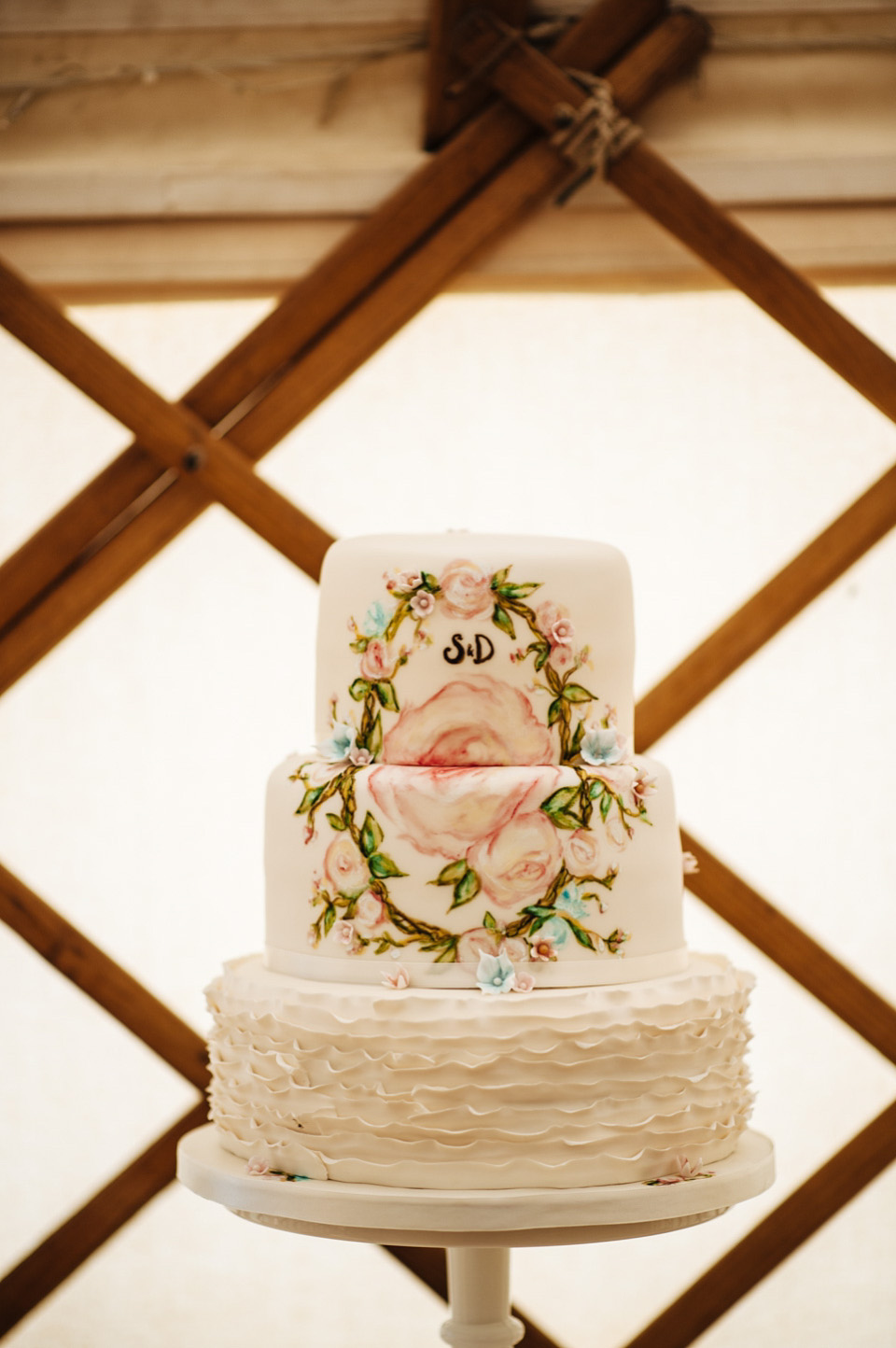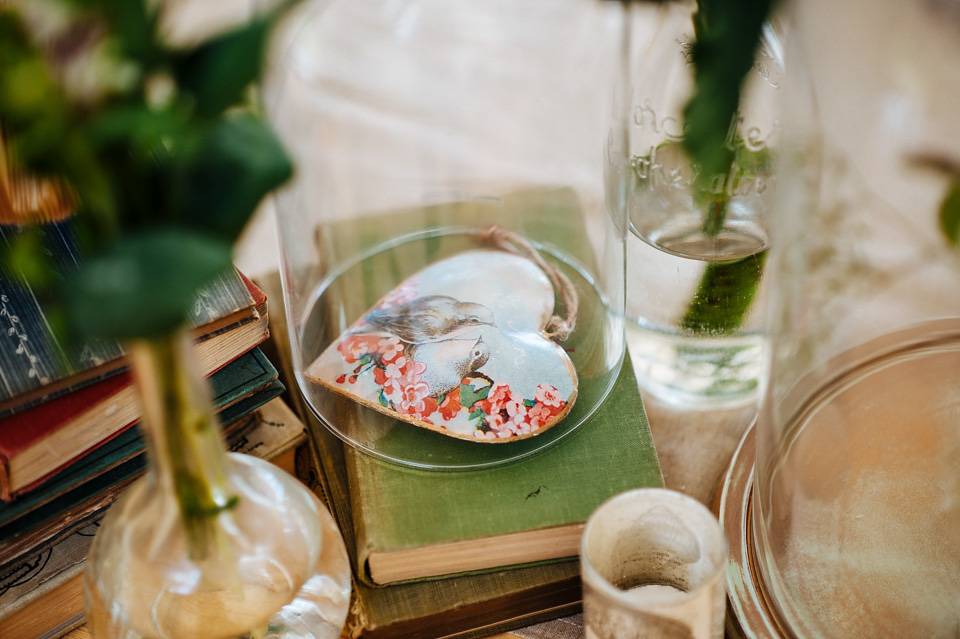 "We ordered buffet food from Marks and Spencers, which we set out on vintage plates ourselves and then later on in the evening we hired a pizza van from KK Catering, which guests braved the rain to grab a bite from."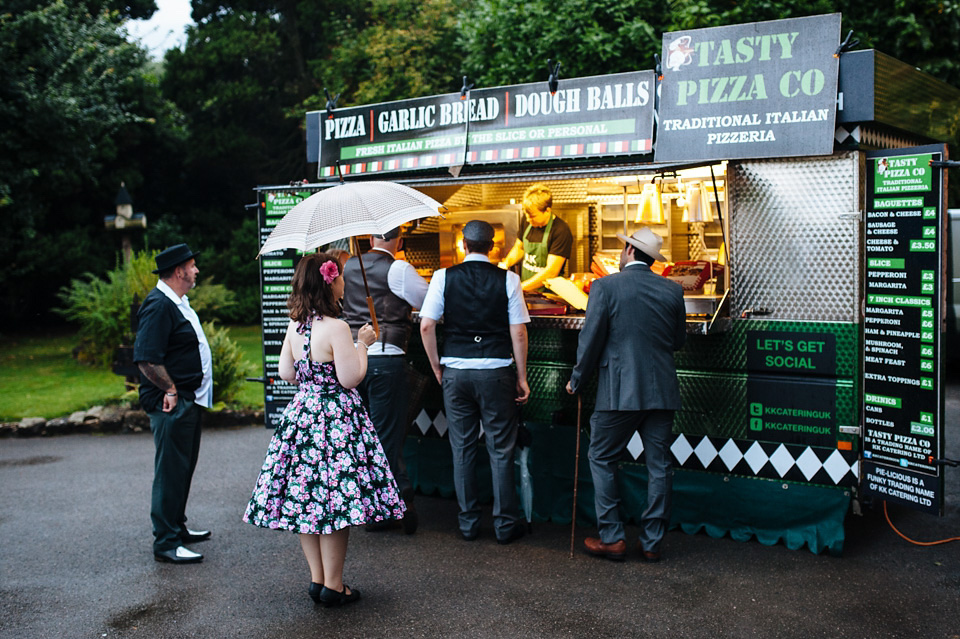 "We had no first dance as Dave and his band were the entertainment instead I had my first dance with my Uncle Nigel. I was besotted with my uncle Nigel when I was little so it was perfect to get to dance with him and it was so much fun just me and him dancing with Dave singing."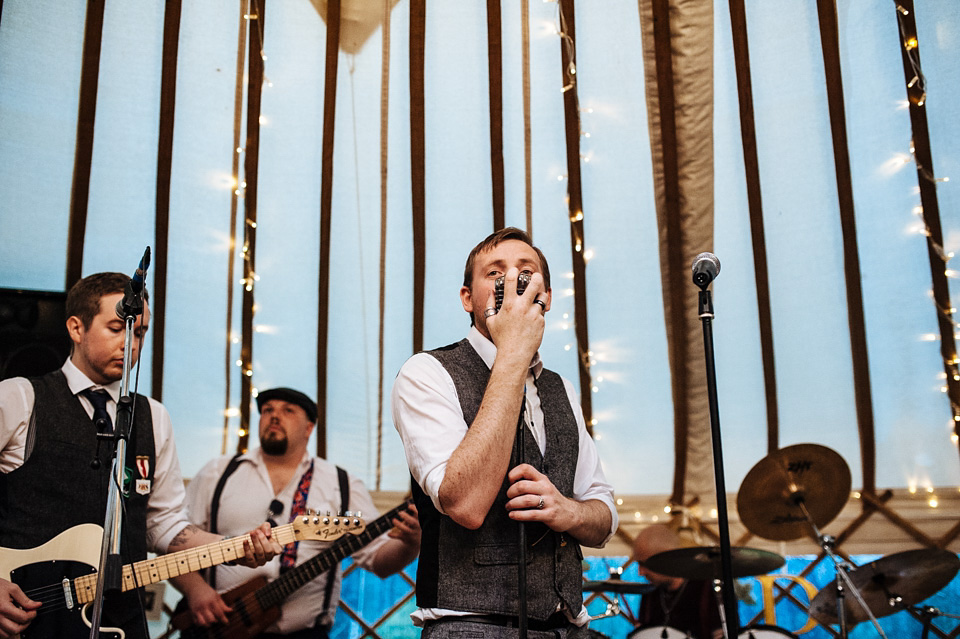 Words of Wedded Wisdom
"Ask for help – everyone says it and you won't listen but you really really should! You honesty can't take on everything yourself. In the end it won't matter as you will have the perfect day and no one will notice the things that didn't go to plan.
I think if we had thought about it more we would have hired a couple of people to set out the food and help tidy up after the festivities were over. It would have meant that Dave and the boys could have had more time for themselves in the morning and that it wouldn't have been such a panic for everyone to muck in and get the food out when everyone arrived at the reception and then again tiding up the yurt after everyone had left (ladies planning a wedding, please do take note!).  We are however incredibly lucky to have such amazing friends and family that just got stuck in with everything but it would have been easier on everyone if we had thought about that and planned a bit better.
Sometimes though you don't know that until it's too late and this was just one of those times and with everyone getting involved, although it was hard work there was some funny moments that could have been missed if we had done it differently."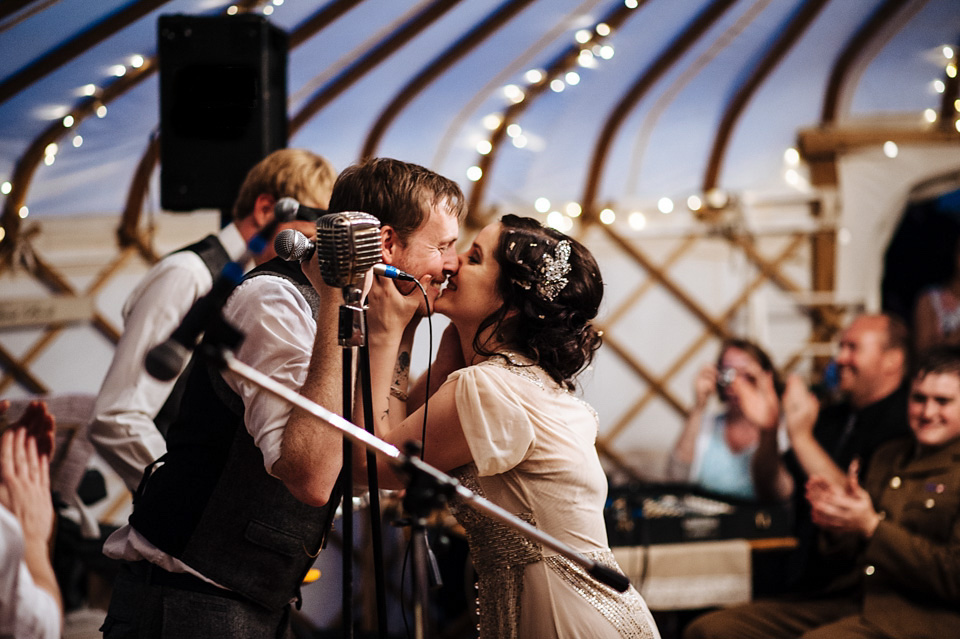 What a lovely day – what a huge effort made by Sarah to personalise everything with such consideration and a very genuine personal touch.
Huge thanks to photographer Chris Seddon for sharing this lovely, laid back and fun weddding. I hope you've found something to be inspired by dear readers.
Love Annabel x
Photographer – Chris Seddon
Venue – Birdsgrove House in Mayfield in Derbyshire
Yurt Hire – Wedding Yurts
Wedding Dress –  Jenny Packham's Aspen via The Wedding Club
Bride's Hair Accessories – Jenny Packham Acacia hair comb via Preloved
Bride's Shoes – Jenny Packham No.1 from Debenhams online
Perfume – Coco Chanel Mademoiselle
Grooms Suit – Next
Bridesmaids + flowergirl dresses – made by the bride
Florist – The Blossom Tree Boutique 
Cake – Baked by Cake Decor in Derby, styled by the bride, aka The Sugared Rose
Transport – Daimler Consort DB18 from Wedding Classics in Nottinghamshire
Entertainment – The groom's band
Rings – The Wedding Centre Studios
Catering – Marks and Spencers + KK Catering
Hair + Makeup – Sarah Russell