Hello everyone! It's almost Christmas Eve and if you're getting sticky tape everywhere instead of on the presents you're wrapping (those silly dispensers never work!), it's time to take a break. Grab a hot cup of tea and relax – as I have such a quirky and sweet DIY wedding treat to share with you, with lovely natural shots by The Retreat Wedding Photography. Just wait until you see the bride's beautiful Claire Pettibone gown from Blackburn Bridal in London – it will take your breath away.
Meet Lucy and Nick – who wed on 17th August last year at Walcott Hall in Shropshire. The couple wanted the freedom to design a bespoke three-day event that perfectly fitted their brief.
"We christened our upcoming nuptials 'Wedfest' and planned a three day event of revelry, great music and unbridled indulgence. We didn't stick religiously to a festival theme throughout, rather the styling was inspired by the venue – quirky, bohemian, romantic. This also influenced the dress and flowers."
Film Production Copyright (c) 2014, Rebecca Reville Videography
"Our criteria was no corkage or curfew, large enough to seat 170 people and with the flexibility to have what we wanted and not stick to a package. It was a tough brief and took a while find something that fitted. Walcott Hall was a recommendation from an usher and as soon as we saw the website we knew it was the one. A stately home, steeped in history set in stunning grounds amongst dramatic scenery, but unlike most stately homes it wasn't stuffy. It has a whimsical, laid back quirky charm – the 'hidden treasures' said it all!"
Photography Copyright (c) 2014, The Retreat Wedding Photography
Lucy and Nick found most of their wedding jewellery at Loveweds Jewellers in Harpenden: the wedding rings, groom and best men cufflinks (engraved with initials and the wedding date) and Lucy organised a special present for her bridesmaids.
"I gave each of my maids a gold heart necklace with their initial, and the wedding date on the reverse."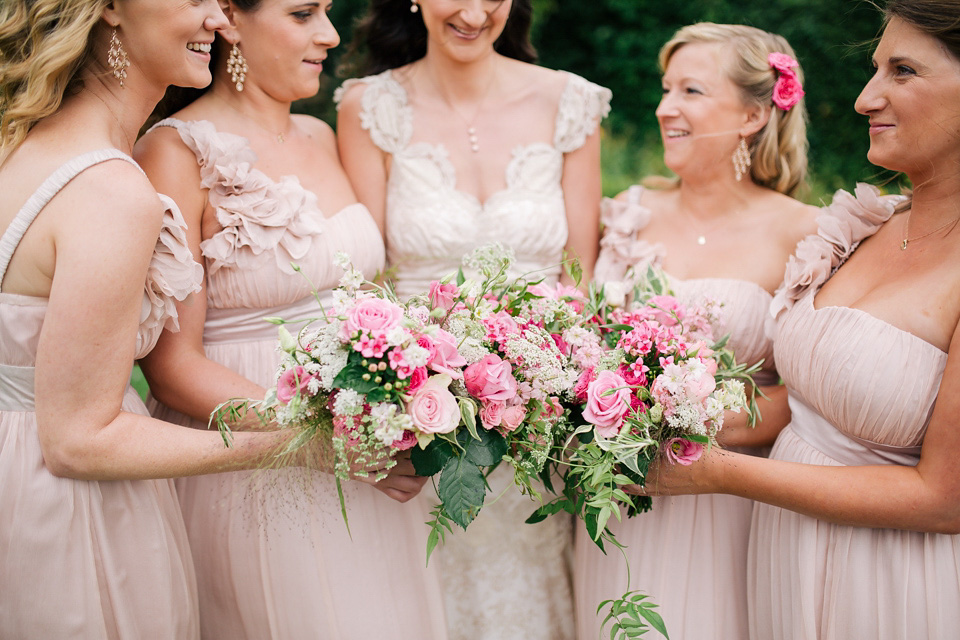 A local florist to Shropshire, Caroline Ede,provided the pretty floral arrangements and brought to life just the right look Lucy was after.
"Caroline was lovely to work with and realise my dreamy, laidback look. Bouquets were English roses different shades of pink with whispy green foliage, roses & seasonal English garden flowers for the tables. Button-holes were mid pink spray roses with gypsophila tied with string and spray roses for the bride and bridesmaids' hair."
The bride's wedge-heeled shoes were bought from Fever London. The three bridesmaids wore the same shoes and pretty nude gowns (also from Fever) and looked absolutely beautiful!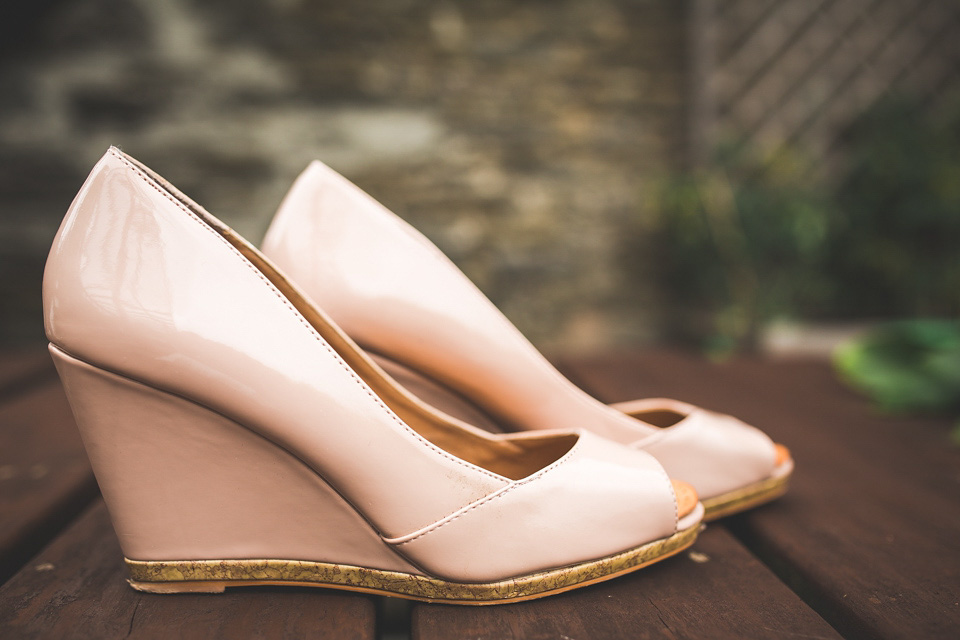 Lucy wore the absolutely stunning 'Provence' by Claire Pettibone via Blackburn Bridal in Blackheath, London and is a huge fan of the brilliant designer.
"All her dresses are wonderfully different, vintage, so beautiful, ethereal, with a bit of an edge. I wanted something that would stand apart without looking too out there. The 'Provence' was love at first wear – the rose print fabric on a pale champagne gold / beige colour fitted into the romantic feel of the venue and the low back looked fabulous (if I do say so myself). Classic yet modern and playful – it felt just right."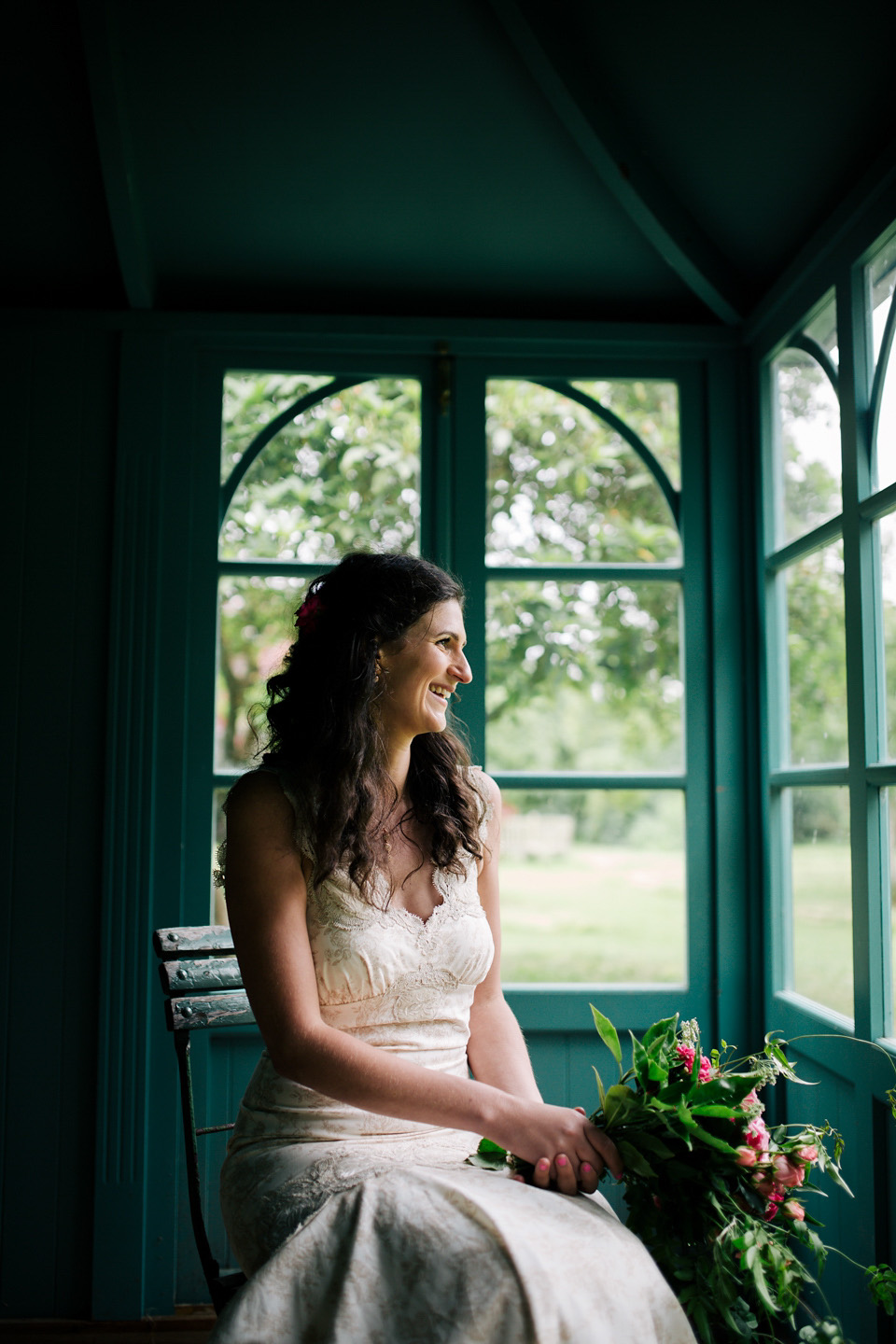 Lucy and Nick chose Matt Bowen from The Retreat Wedding Photography as their photographer and were very happy with the results.
"We highly recommend him. Matt put everyone at ease and took beautiful, natural photos and really captured the spirit of the day."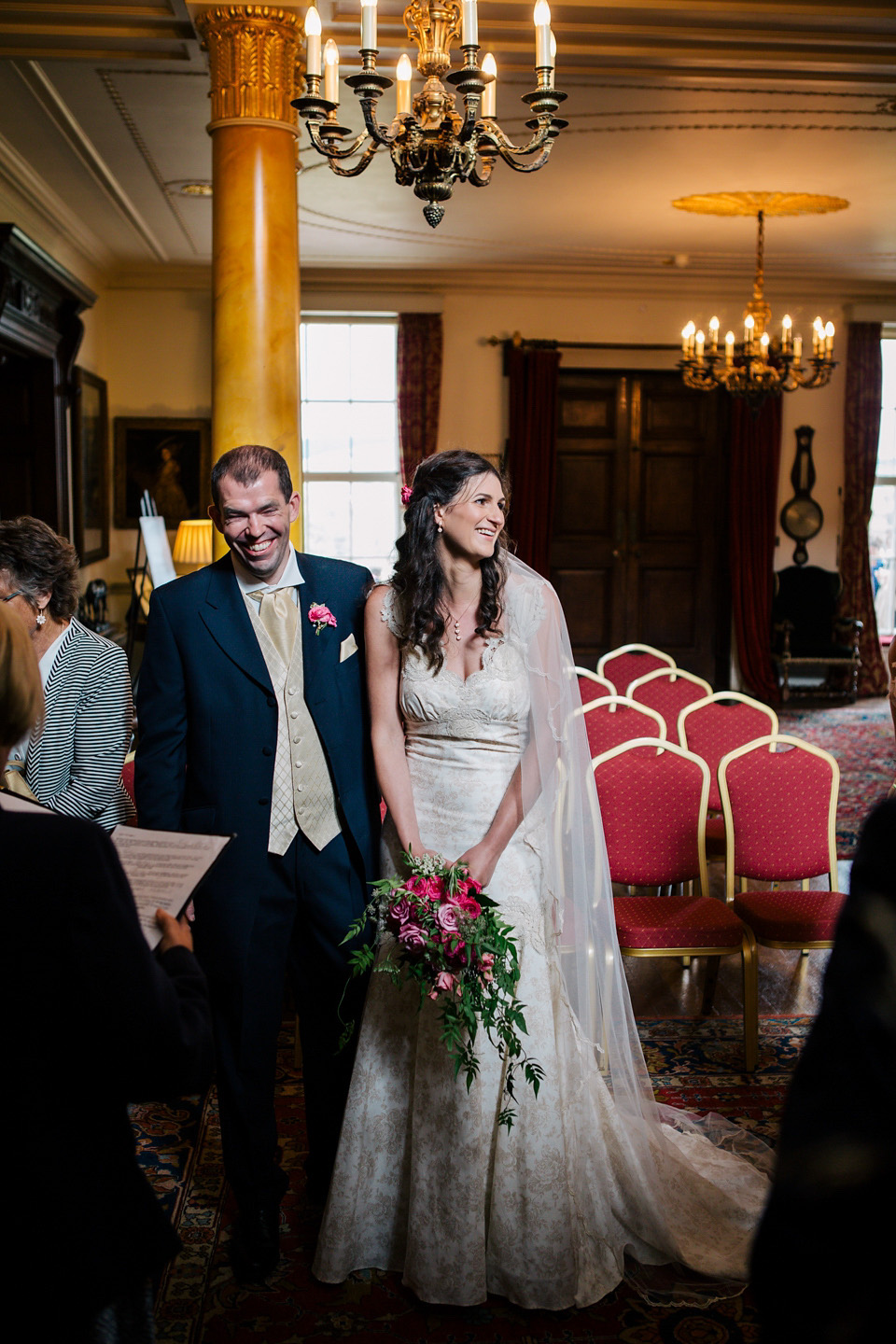 Lucy and Nick met via an online dating website and although their first date very nearly didn't go ahead, Nick asked the big question 3 years later.
"We met the day after fireworks night in 2009. It was an online date – via the Guardian. We both nearly bailed on each other as tired & hung over from the night before. Nick proposed to me June 2012 on the way home after a birthday dinner (at the Hawksmoor) on South Bank in public – my birthday had thrown me off the scent. Even though I'd been waiting for that moment I was completely stunned – like a rabbit in the headlights apparently! Not the reaction I'd imagined. But once I had calmed down I was over the moon."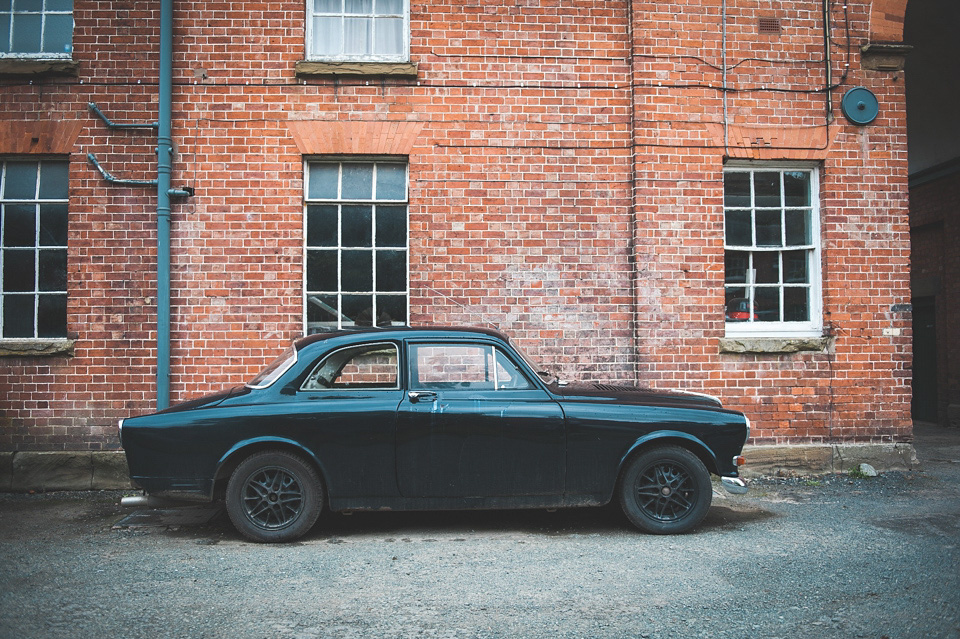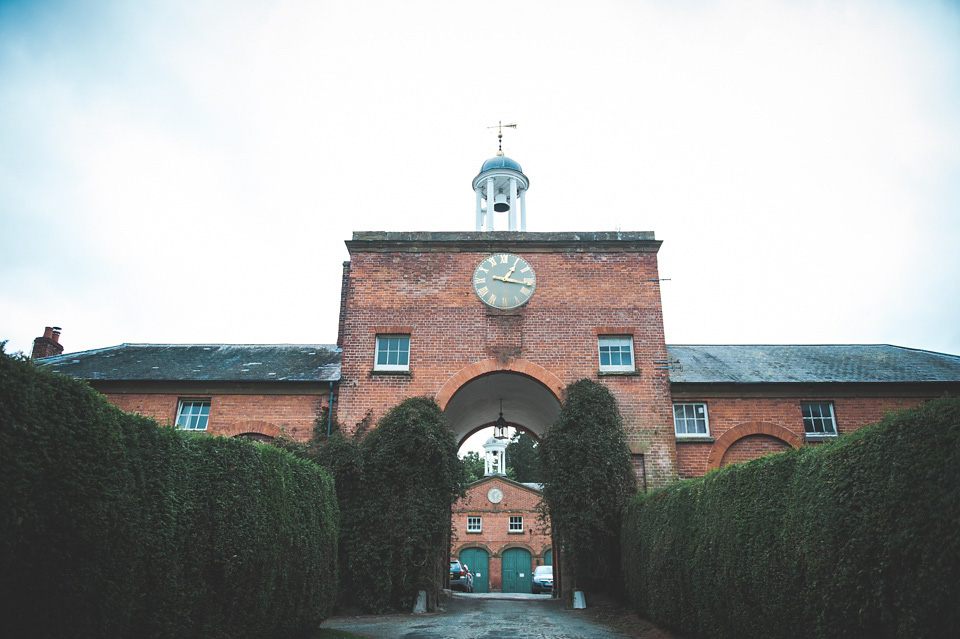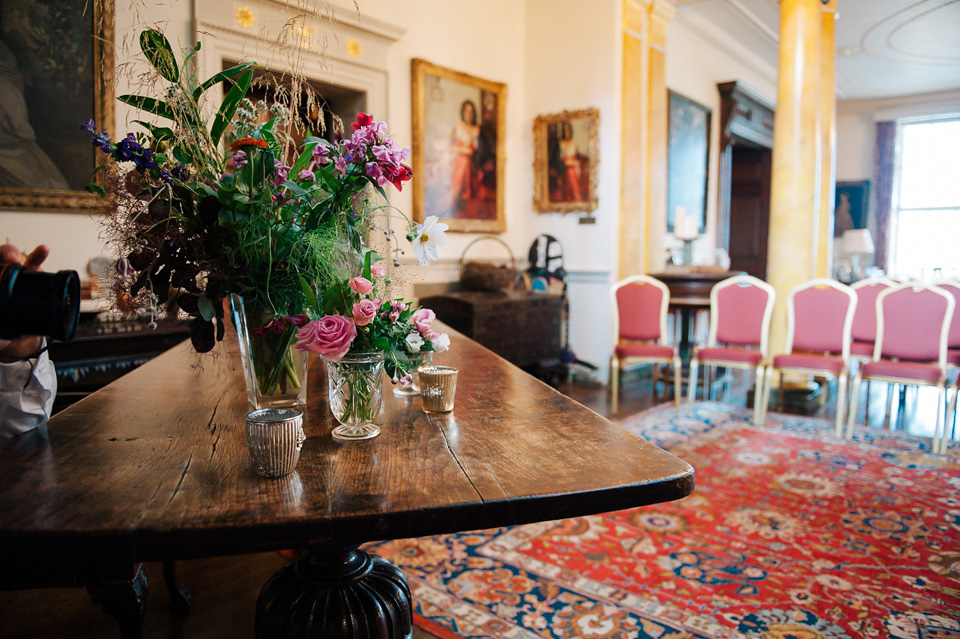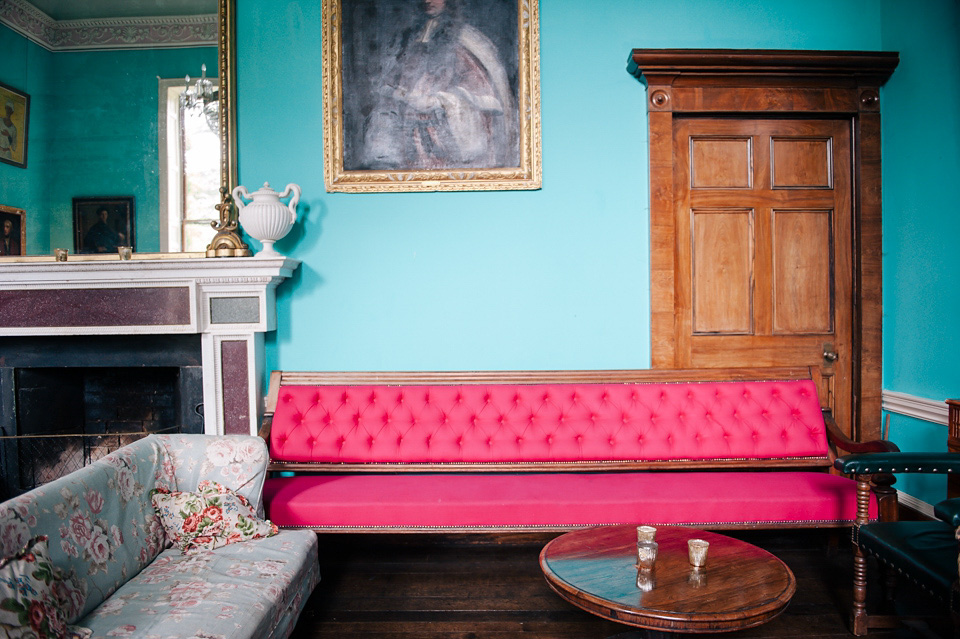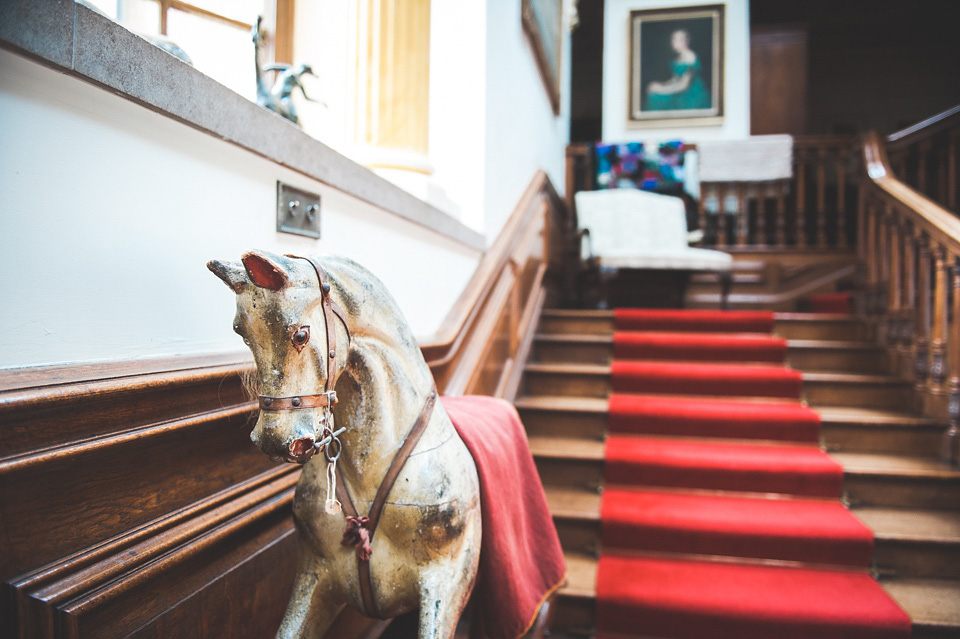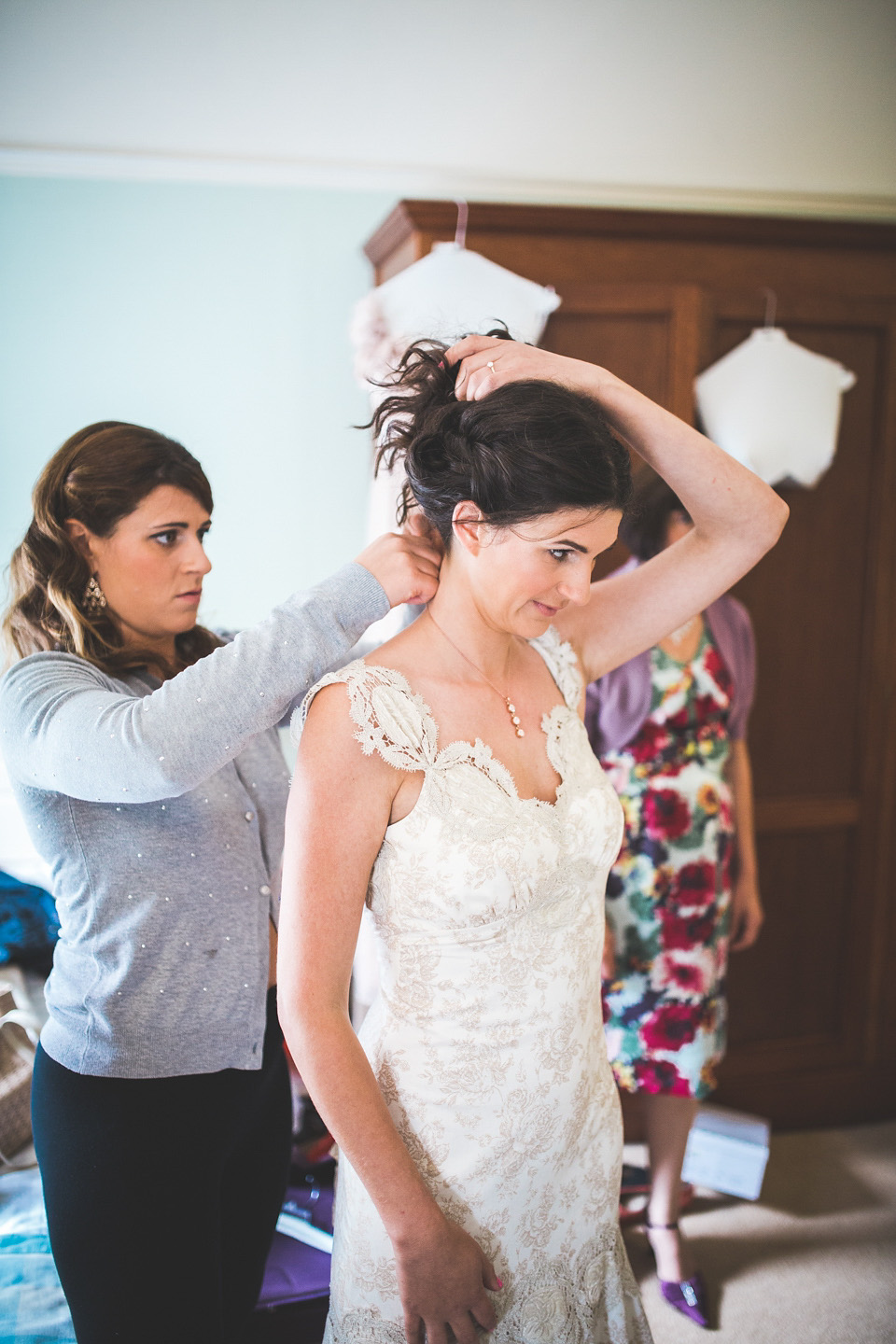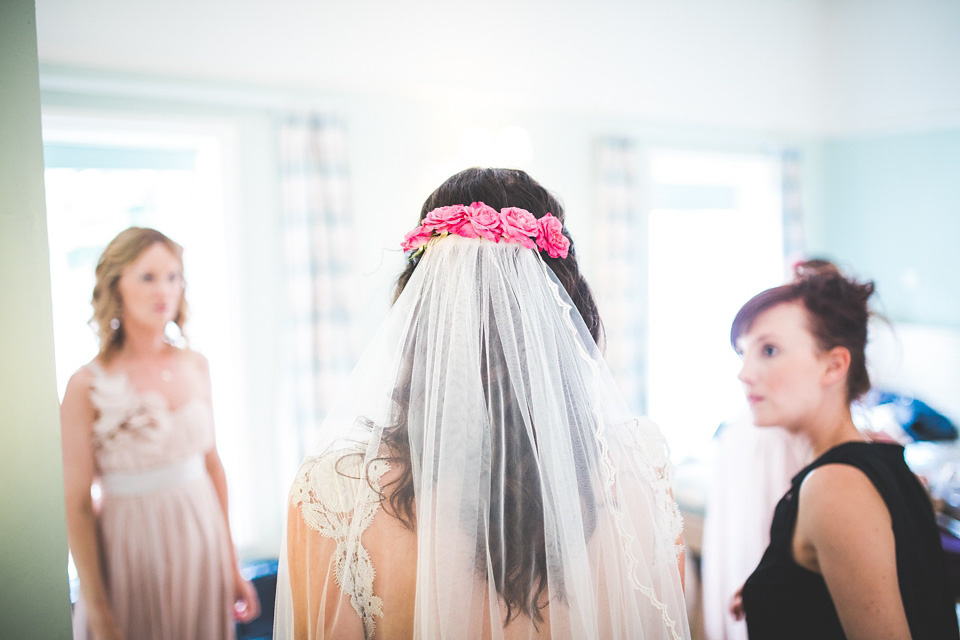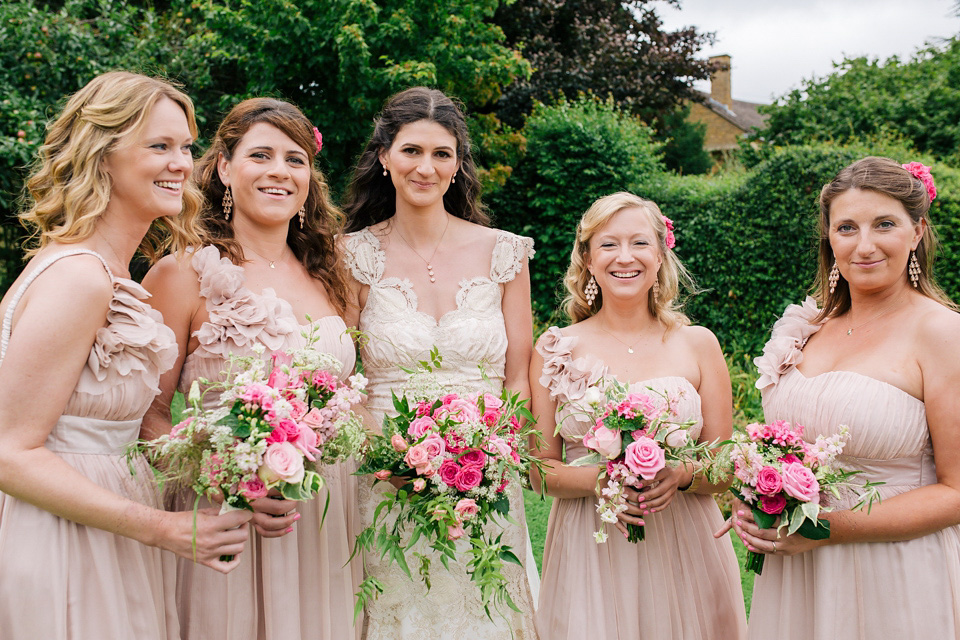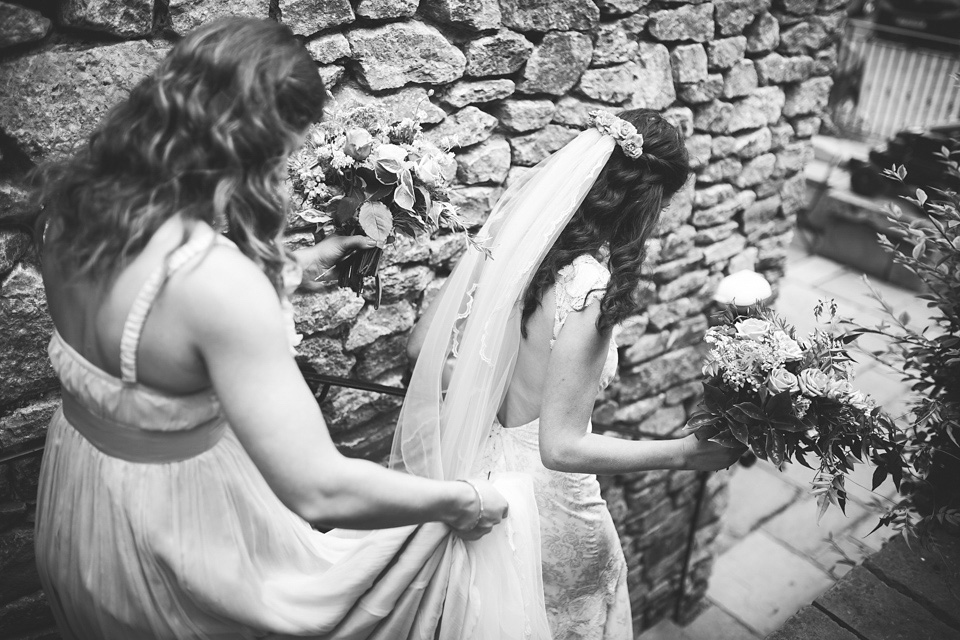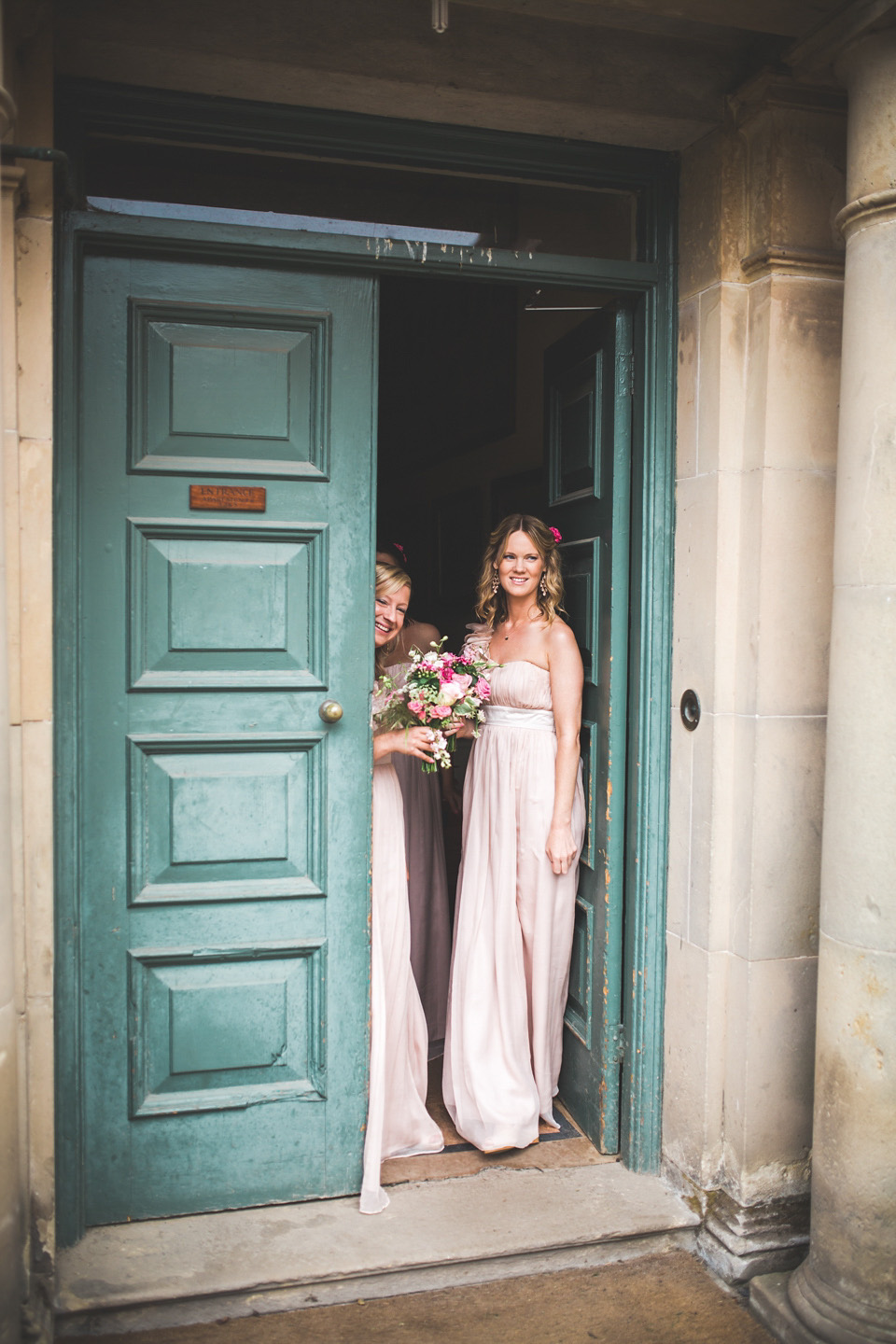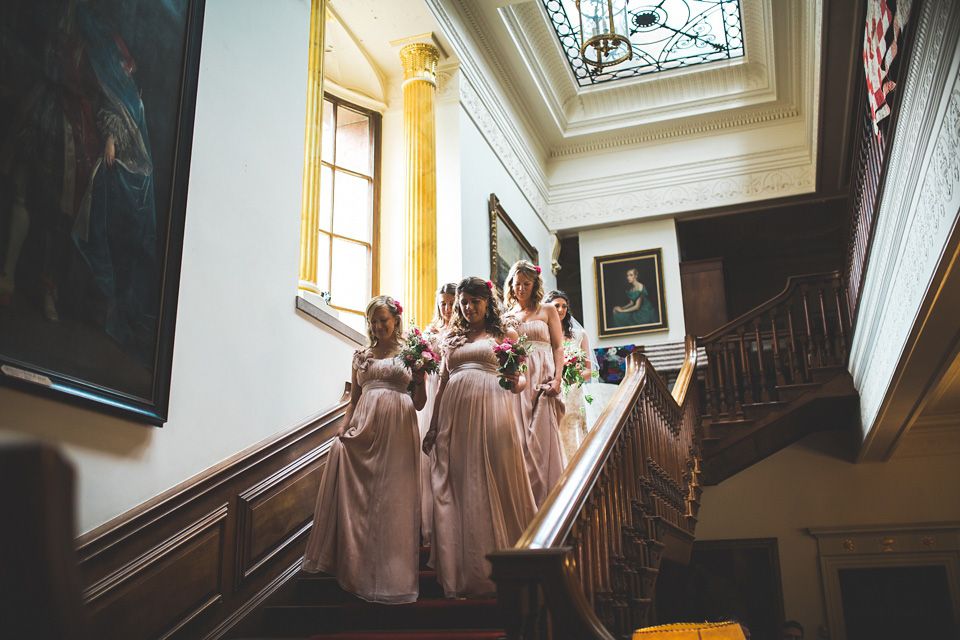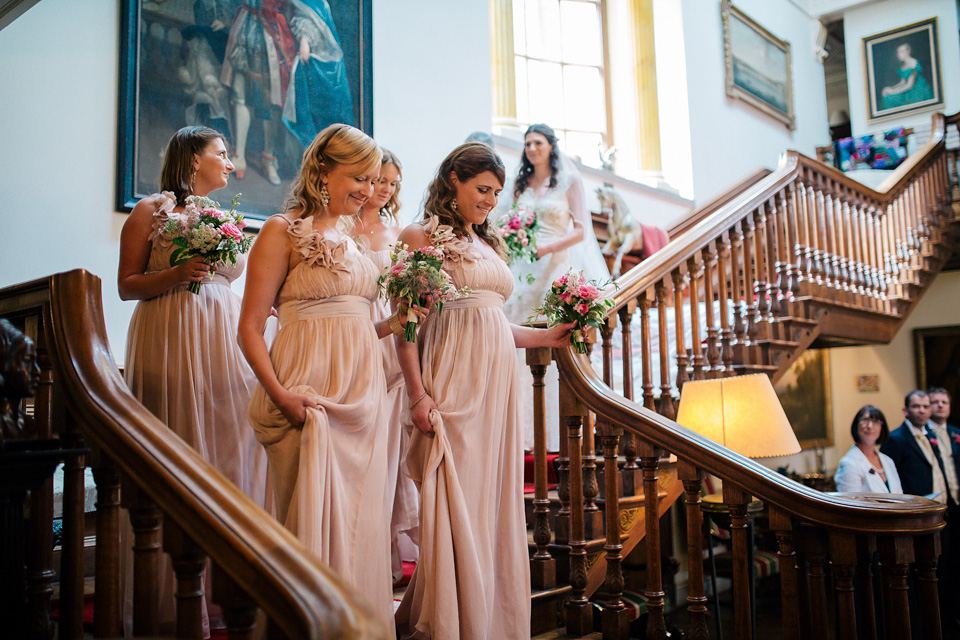 The couple decided upon a Humanist ceremony, with celebrant Victoria Denning, together with a hint of religious rituals.
"As my husband is an atheist we opted for a Humanist ceremony, but emulated some of the rituals and formality of a religious ceremony, so had stature & didn't feel too strange for my traditional family. We had flexibility to shape it how we liked. Many guests commented on how memorable & wonderfully personal it was."
Lucy and Nick chose two readings; Louis de Berniere's 'Captain Corelli's Mandolin' and 'A Lovely Love Story' by Edward Monkton and the following sweet vows:
"I vow always to stand beside you always. I will shelter you in
my arms as you will shelter me in yours. We will face the sun, the
wind, the rain, and the cold together. We will face the world
together and we will face it with a smile because I vow I will make
you happy. We will face the world together knowing we are loved."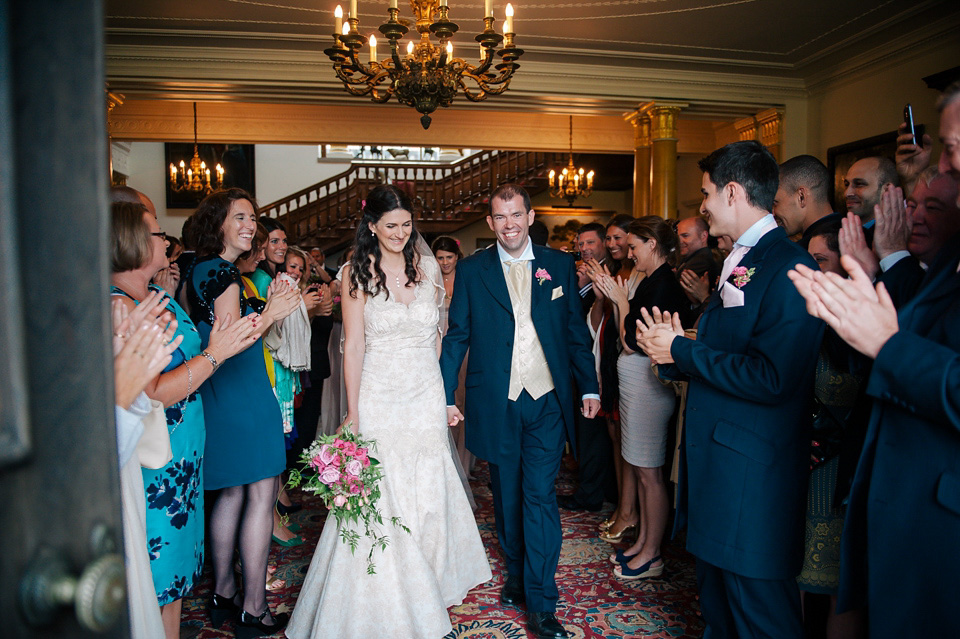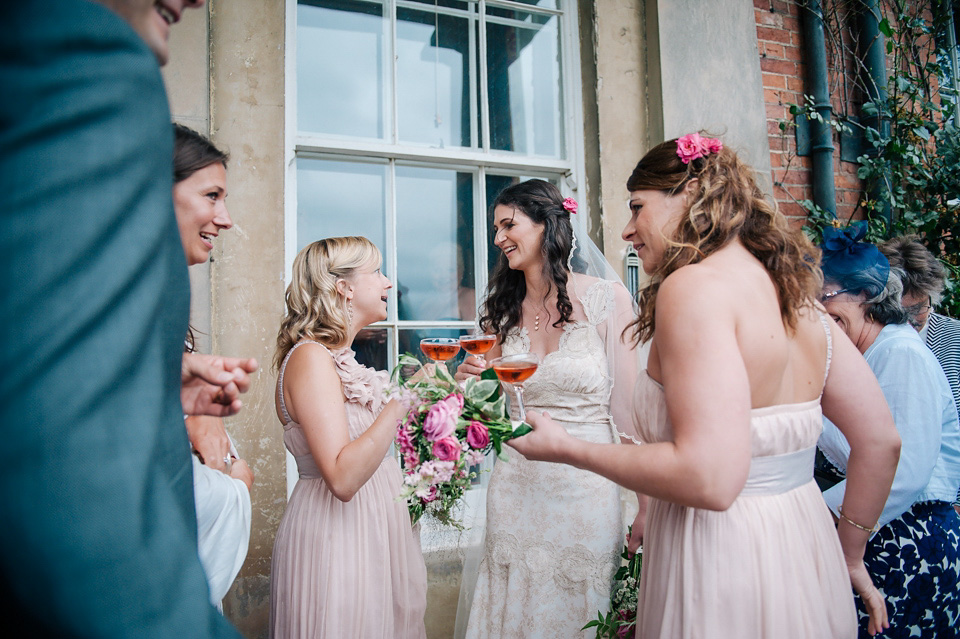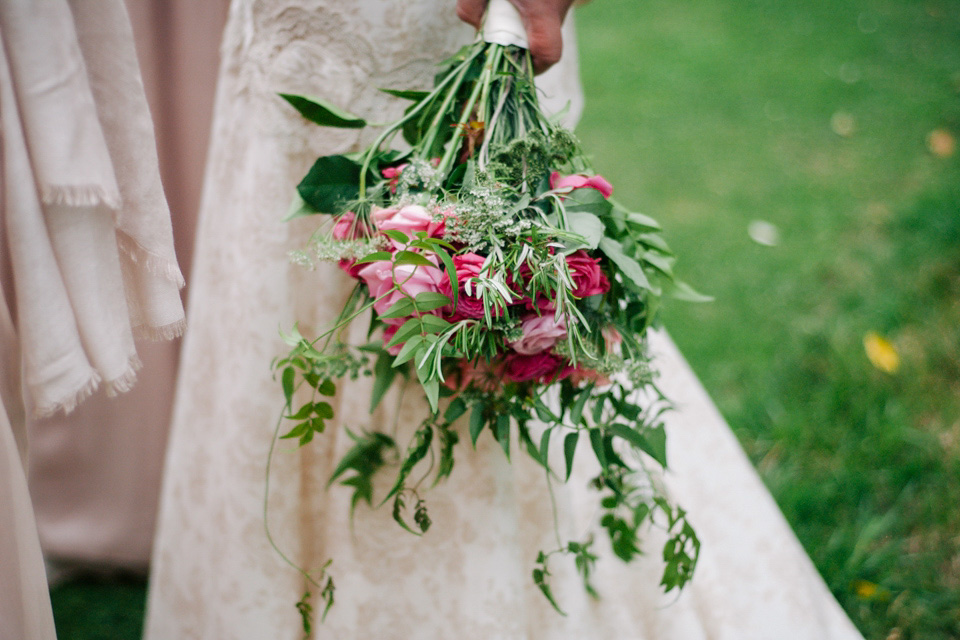 The groom and his groomsmen sported navy blue suits with a champagne gold waistcoat to match Lucy's dress.
"Nick had nine ushers and two best men – the suits were all ordered from Moss Bros– the best value, and easiest in terms of accessing stores from different locations around country e.g. Manchester & London."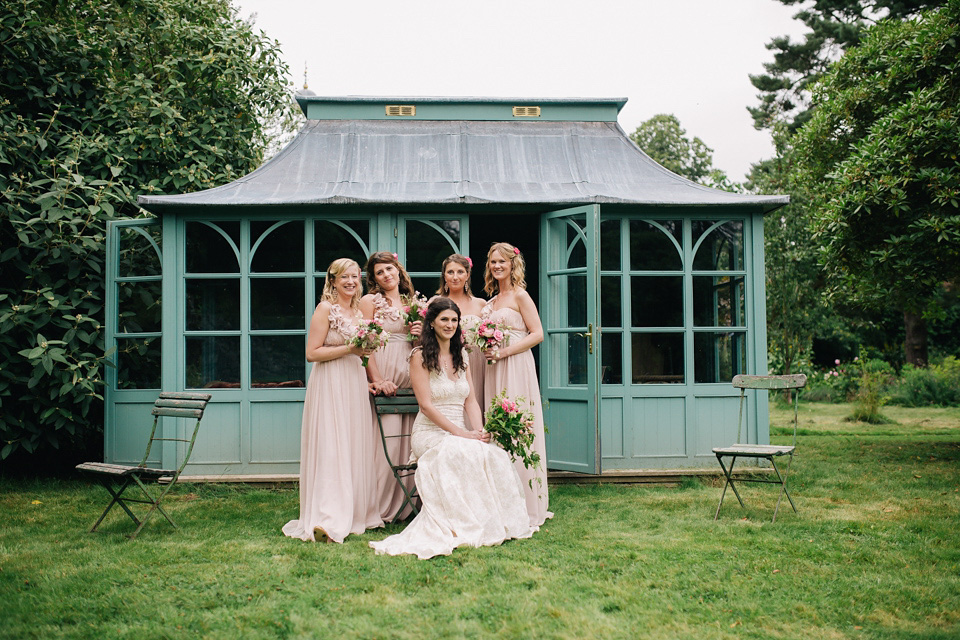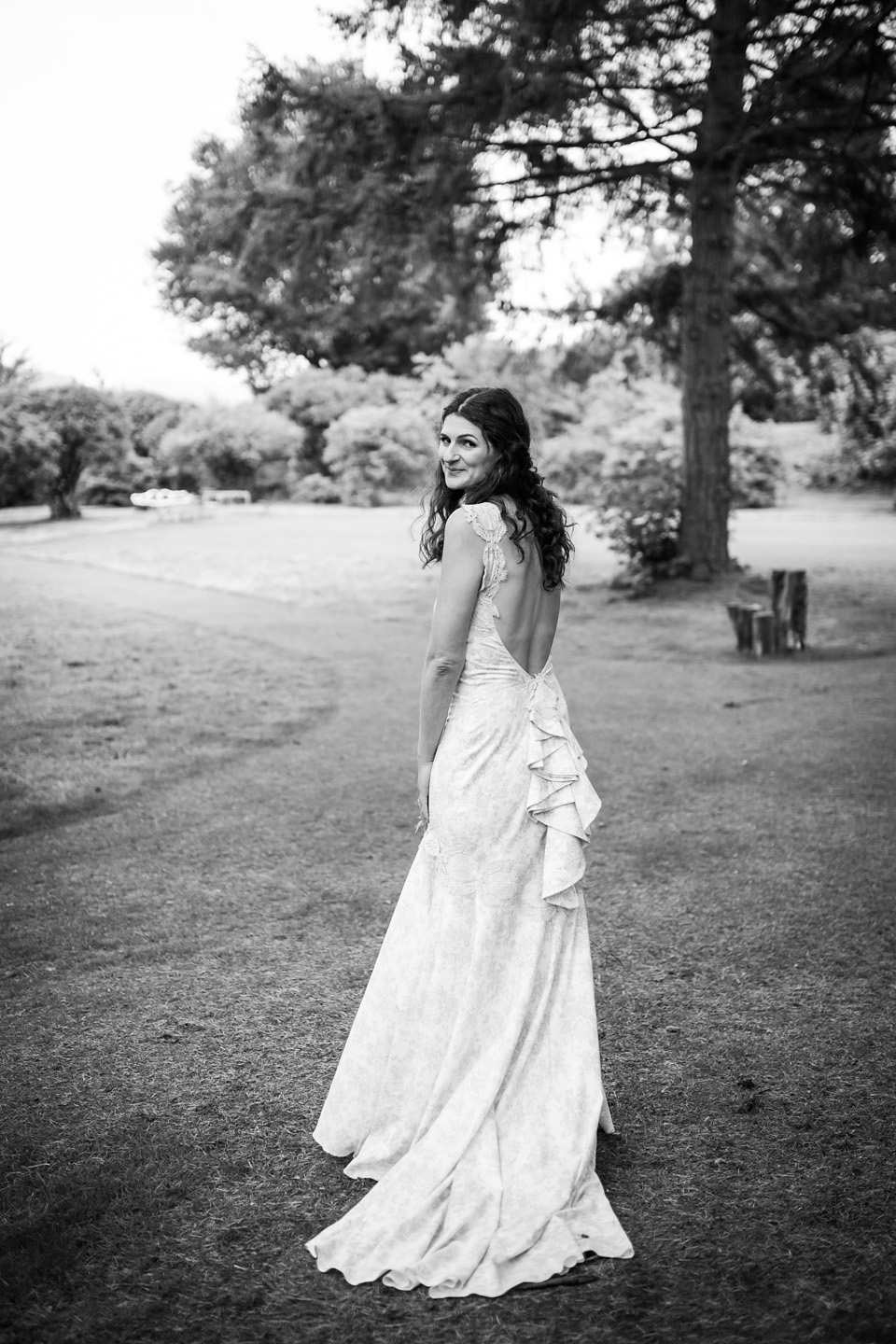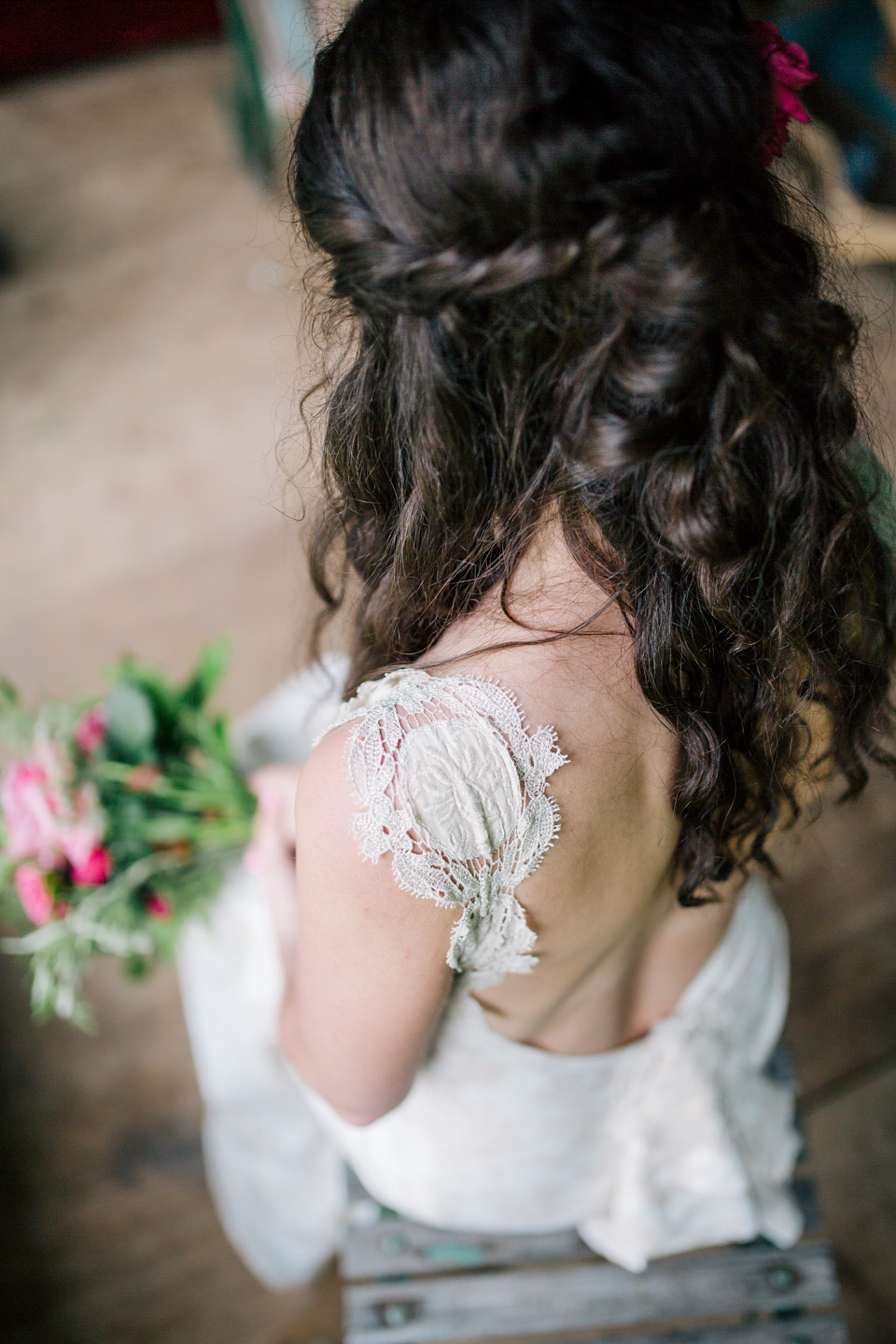 The couple had plenty of help to continue the DIY feel.
"Nick's mother and her partner, Patricia, created favours. These were pots of delicious homemade jam inside a small bag made from newspaper, with a nametag on a label, so doubled up as a place name.
They also made very cool, playful signs up the drive and around venue – which help set the tone for the day."
Lucy sang the praises of Shropshire local caterers, Roslin Catering, who created a fantastic selection for the guests over the three days of celebrations.
All food was local and in season – we had sharing pies for the main course, which was a bit of an ice-breaker and proved popular. We had selection of mini puddings for dessert served on the lawn outside as the ballroom was cleared for the dancing. Roslin Catering also produced a Hog roast with salads & Bloody Mary's, which went down a treat on Sunday, as well as lasagna and salad for all the late stayers on Sunday evening. They took excellent care of us, and are lovely people."
The PB Band from Silver Dog Music played a mixture of swing classics and modern covers for their drinks reception and the couple hired a DJ fromThe Disco Shed for the day, complete with glow sticks for when it came to the evening dance party!  Lucy also describes the sentimental reason behind choosing their first dance song: 'Something Changed' by Pulp.
"We were in a ballroom for dinner and dancing, but hired a Bedouin tent as a chill out area from Oasis Events – they were brilliant, and the tent proved such a success, especially as it rained so we very much needed shelter during the drinks reception. They band played in there and we had a mini bar set up. We also had it until Monday so could enjoy it on Sunday too – perfect for wedfesting
The DJ came for the whole day (so could play music at the ceremony too) for a flat rate rather than pay by the hour. The party was the important part of the day for me (well apart from getting married) so wanted to ensure they rocked. But not to the tired old wedding classics, rather a more eclectic mix that is with a nod to the a range of genres we've been into over the years from indie, 80s, Motown, even drum n bass. Everyone raved about the music; he got everyone dancing and kept going until 3am!
The genius of Jarvis Cocker's lyrics really captures our feelings about how we met, and how when we did, everything changed. What would happened if we'd stood each other up and never gone on that first date – how life could have been very different. Or were we destined to have met somehow anyway?"
Words of wedded wisdom
"Plan for rain and try not to fixate too much on the weather. It became an obsession of mine for nearly a year and nearly took over my sanity as the day approached! Needless to say it was a rainy day between two very sunny days – but did it matter in the end? No, it's not the important thing. Try not to waste tears & too much headspace on it.
We also recommend booking a videographer, as the day all flies by in such a blur."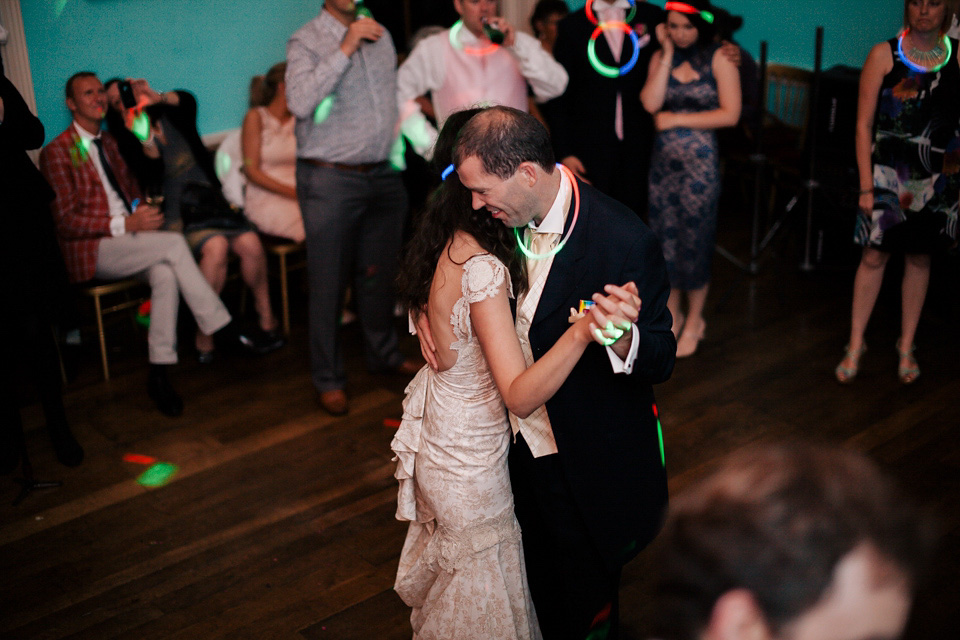 A very big thank you to The Retreat Wedding Photography and Lucy and Nick for sharing your very special 'wedfest'.  And if you've fallen in love with Lucy's dress like I have, you can check out more wonderful Claire Pettibone dresses we've previously featured on Love My Dress.
Wishing you all a very happy, magical, relaxing Christmas and see you next year!
Love Jo -xxx- 
Photographer – The Retreat Wedding Photography
Videographer – Rebecca Reville Videography
Venue – Walcott Hall
Catering – Roslin Catering
Humanist Marriage Celebrant – Victoria Denning
Bedouin Tent Hire – Oasis Events
Bride's Dress – Claire Pettibone via Blackburn Bridal
Bride's Shoes/Bridesmaids Dresses and Shoes – Fever London
Bride's Jewellery – Folli Follie
Groom's Attire – Moss Bros
Rings, cufflinks and maids necklaces – Loveweds Jewellers
Flowers – Caroline Ede
Stationery – via a 'wedsite' and The Printing House
Hair – Beauty Call
Make up Artist – Chloe McCall
Entertainment – PB Band from Silver Dog Music and DJ from The Disco Shed