I don't know about you, but despite the distinctly un-Christmassy weather (as I write this, its blowing a gale outside and the rain is lashing against the windows), I'm still feeling rather festive, wrapped in a snuggly thick jumper, the tree is twinkling in the corner and I'm hoping that a glass of mulled wine might make its way in direction in the not too far distant future.  However, as soon as Annabel sent me the images for today's feature I instantly began dreaming of warm summer evenings, rose lemonade and floaty chiffon dresses, as found in this midsummer dream of a wedding, which took place in the Dordogne at the picture-perfect Chateau de Lacoste.
This truly is one of the loveliest destination weddings I've seen, with so many pretty details, a stunning venue and incredible views across the Dordogne valley.  But what stands out for me the most is the intense emotion evident in so many of the pictures (that photo of her Dad seeing her for the first time- sob!), and the beaming smiles on almost every shot.
Photography Copyright (c) 2014, Louise Adby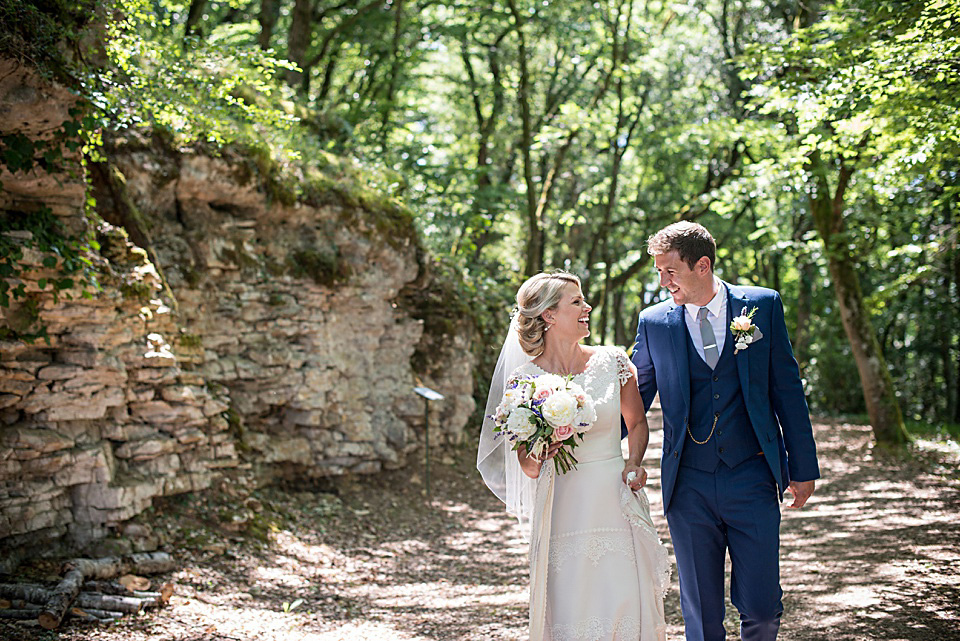 Today's bride, Emma, had a clear idea of the type of 'feel' she was aiming for on their wedding day from the very beginning; which is always helpful when viewing venues, in order to make sure they can cope with the kind of day you're hoping for.  Judging by their smiling faces, they got everything they wished for!
"We wanted our wedding to be as relaxed as possible with lots of personal touches to keep our guests entertained. I'm a huge fan of the Edwardian era and was inspired by the beautiful summer garden parties they used to hold. After finding our venue, I knew this was exactly the feel we wanted to re-create. The chateau had a beautiful rose garden with perfectly manicured lawns. As soon as I saw it, I imagined our guests sipping champagne in the sunshine laughing to the sounds of Glenn Miller and Ella Fitzgerald.
I'm not a big fan of colour schemes, so I didn't opt for a particular colour; I just wanted things to look romantic and fresh."
Emma and Stuart met four years ago through a friend of a friend and bonded over a moving van and dismantled wardrobe!
"I live a long way from home and was struggling to find someone who could help me move house. Stuart has his own plumbing business and was recommended to me as 'a man with a van' who may be able to help. Having nothing to lose, I sent him a text asking him to be my knight in shining armour and he replied straight away, even borrowing someone else's van because his wasn't big enough.
I remember feeling nervous waiting for him to arrive as I didn't really know him very well and thought it would be awkward. However as soon as he walked though my door we didn't stop talking. When he took apart my wardrobe with his power tools, I went giddy at the knees and knew he was the one for me."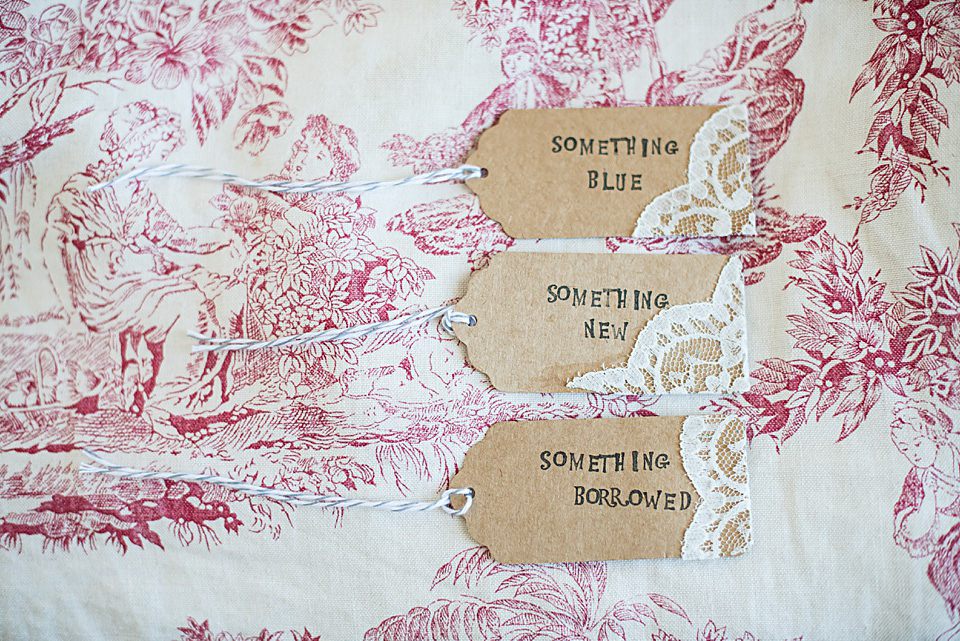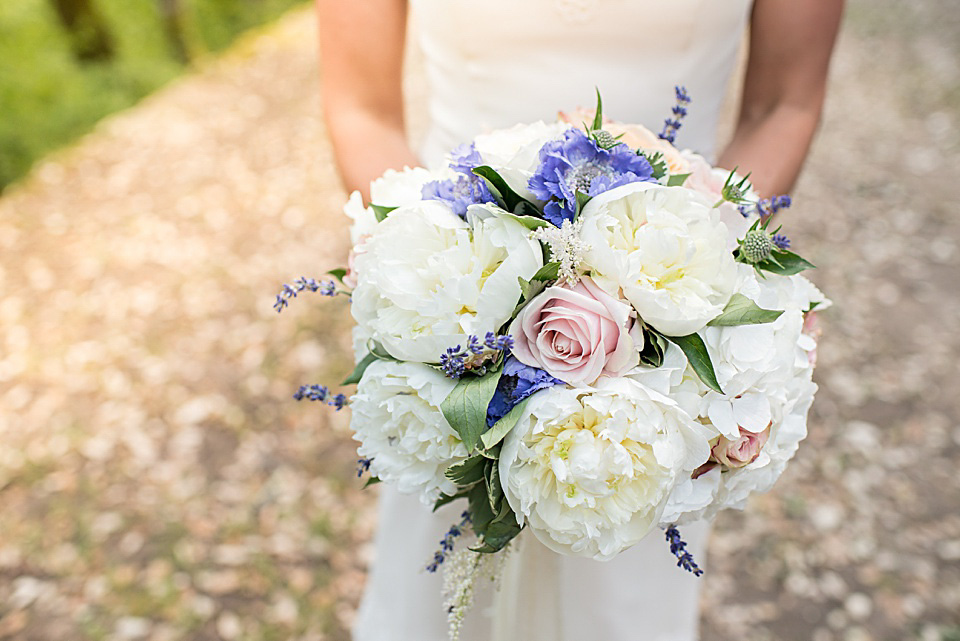 Emma's bridesmaids wore dresses from BHS, which came in a range of lengths and colours.  Different coloured bridesmaids can be a lovely way of breaking up a colour scheme and adding interest to photos- it also allows your girls a bit more choice as to what colour suits them best!
Emma's classically lovely, and understated, lace dress was of her own design, created in close collaboration with the helpful staff from an independent boutique in Brighton.
"I designed my dress myself with the help of Emma and Blanka from White Leaf Boutique in Brighton. They were amazing from day one, putting my mind at ease and telling me exactly what was and wasn't possible. I couldn't recommend them highly enough.
I tried on many dresses in my search for 'the one' but couldn't find anything which felt right. I knew I wanted lace as I love the softer vintage look, however all the styles I tried seemed too old for me and weren't suiting the image I had in my mind. After hours of searching Pinterest I came up with the idea of having a chiffon base with lace round the neckline. When I explained this to Blanka and Emma, they couldn't have been more accommodating, drawing up a design of how they thought it might look and then pinning many swatches of lace and fabric to me until we came up with a design I was happy with."
"I absolutely loved my whole wedding dress experience, from sourcing the lace, to choosing how the back would look and exactly where the lace trims should be positioned. I feel like my dress is unique to me and it really is my most treasured possession. When I saw it hanging on the mannequin for the first time, I felt like I was greeting an old friend. It's exactly how I imagined my wedding dress to look and I could not be more happy with the results."
Emma accessorised with a pearl bracelet and pearl drop earrings, a cameo necklace (her something old) and gypsophilia in her hair- fresh and simple, but very effective.  She added a mid-length veil for the church ceremony.  Her feet were lucky enough to sport Rachel Simpson shoes, which always add a hint of vintage glamour.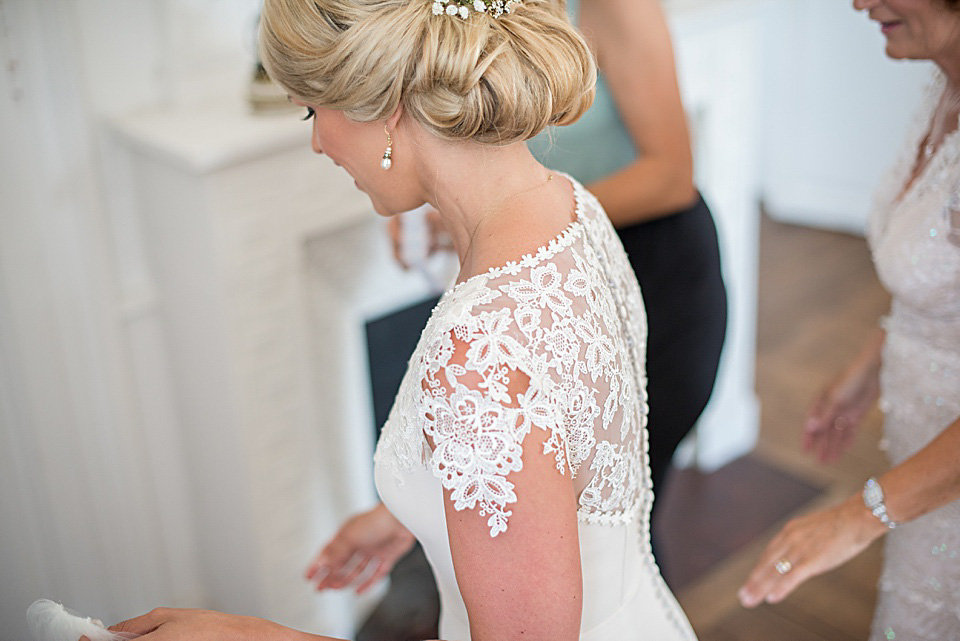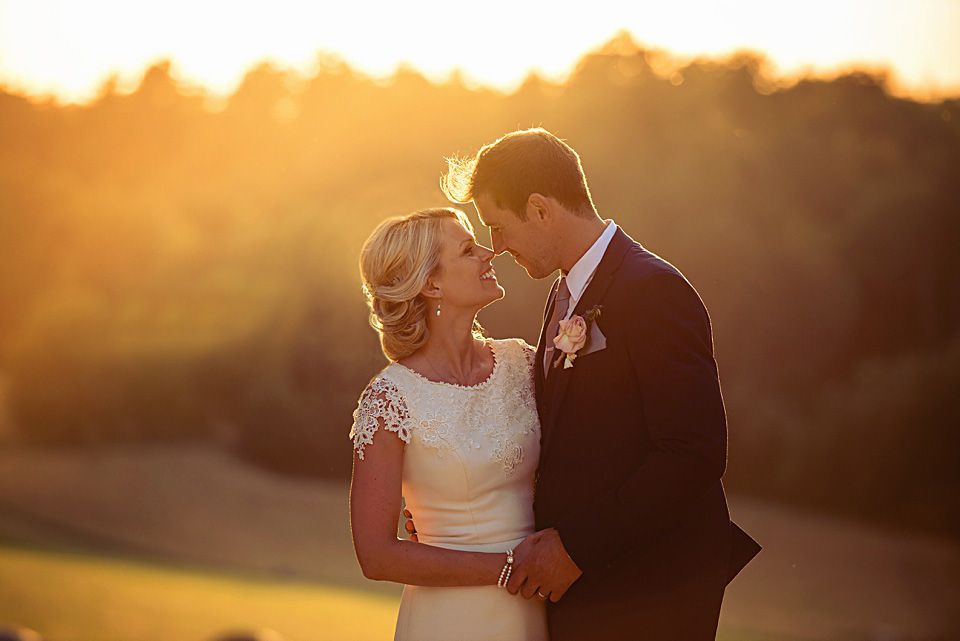 Emma and Stuart thought long and hard about where to get married, as Emma's childhood home, in Cumbria, and Brighton, where the couple now live, are so very far apart, and finding somewhere where half the guests wouldn't have to travel much further than the others was difficult.  Thus the idea of a destination wedding was born.
"The idea to get married in France came about because we were struggling to find a venue where 50% of our guests wouldn't have to travel.  I am from Cumbria and have a large group of fantastic friends who had already made a lengthy twelve-hour bus journey to Brighton for our engagement party so I didn't want to subject them to that twice within the same year. We also didn't like the idea of making our southern friends travel all the way to the Lake District just for one night so we decided quite early on to look for options abroad where everyone could travel and we could make a holiday of it. A destination wedding also meant that I could spend some quality time with my family and northern friends on the days leading up to the wedding and afterwards, which was important to me as I don't get to see them as often as I'd like."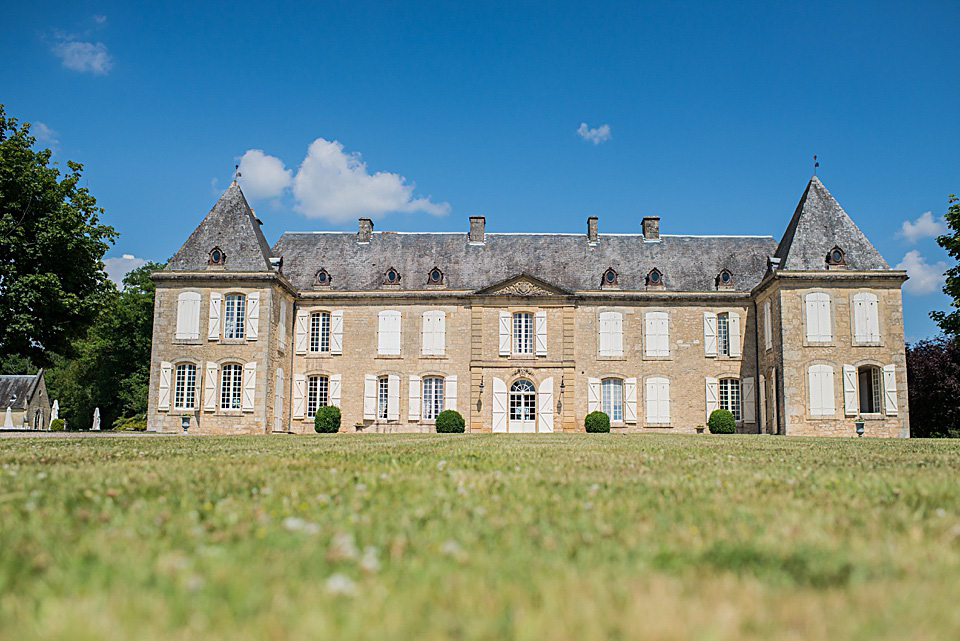 "We took a holiday to France in September after getting engaged in the July and viewed what seemed like 100 venues. I already had Chateau de Lacoste in my mind after finding it on Google, because it had a chapel on site and it was important to me that we got married in a church. Typically however we could only get an appointment on the last day of our trip, so I made poor Stuart drive all around the Dordogne and Charente area of France viewing other places just in case we didn't like it.
As soon as we arrived however, I need not have worried as I knew instantly it was the one. We were shown around the grounds first and then the main house, it was a cloudy day and nothing like how the place had looked on the photos; however, I could imagine all our friends and family being there, filling the place with laughter.
When we were shown the chapel, I'm not sure why but I ended up being left in there on my own and it was like my whole wedding day flashed before my eyes.  I imagined being in there making my vows to Stuart with all our friends behind us – it was a definite sign that we'd found the right place and it is somewhere we will hold dear forever."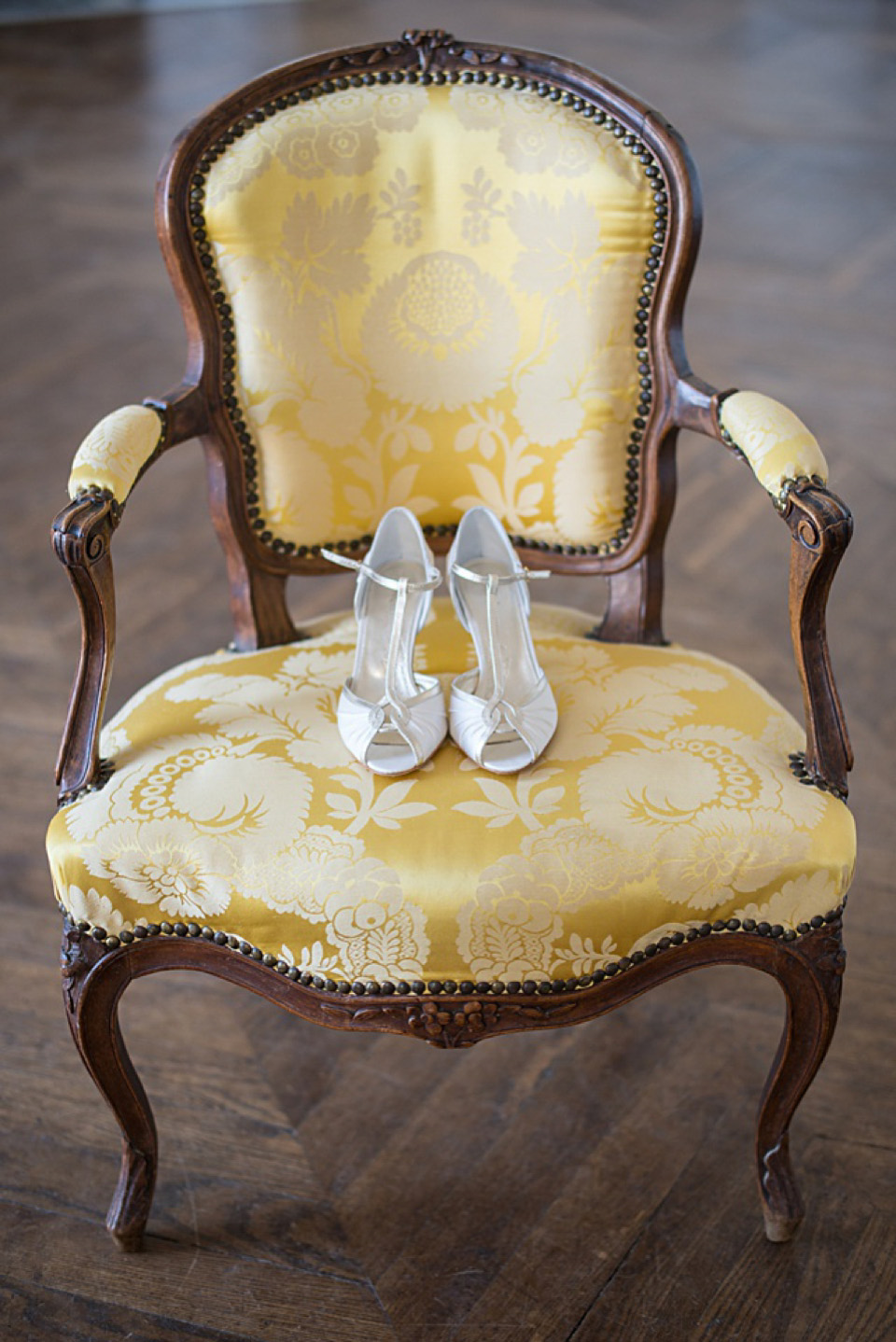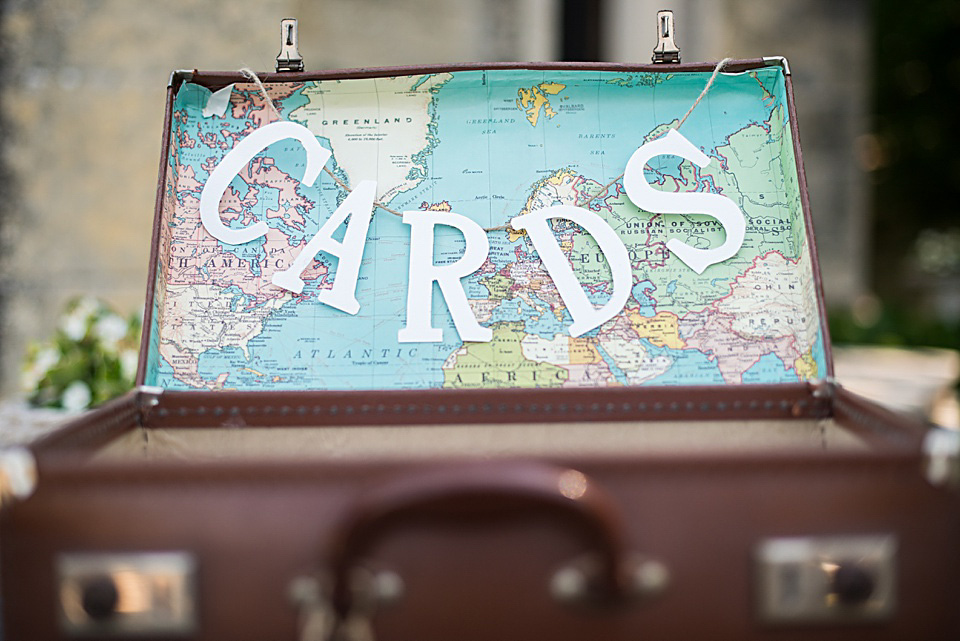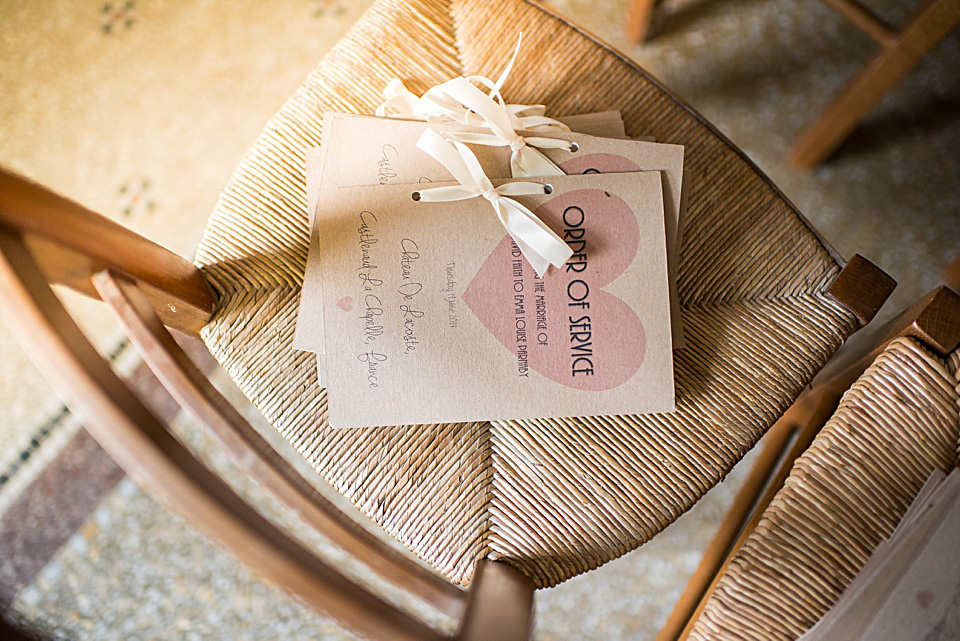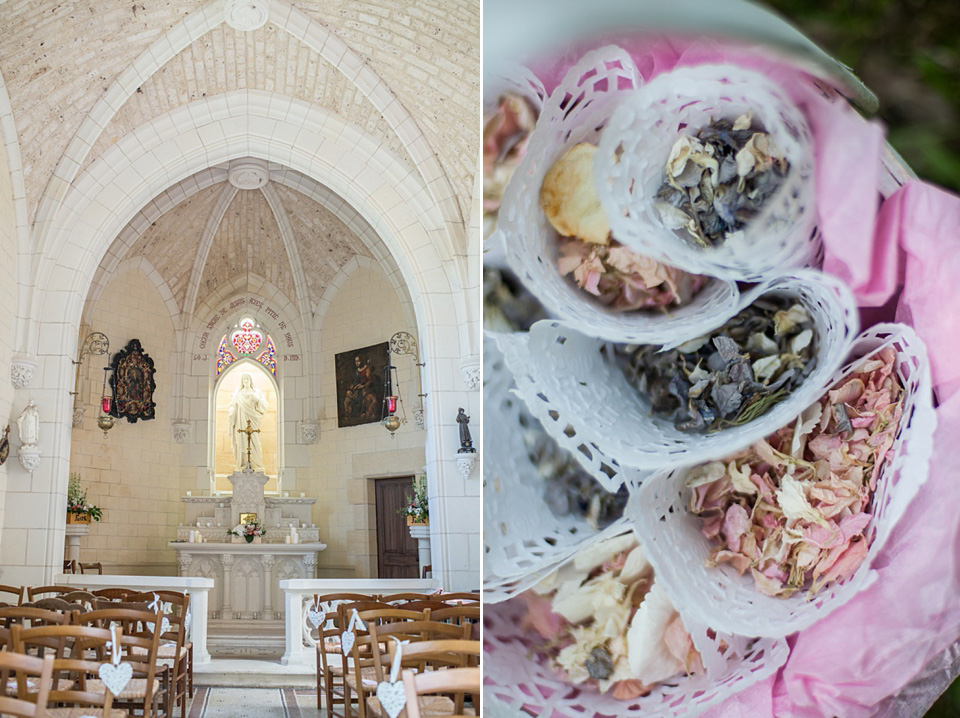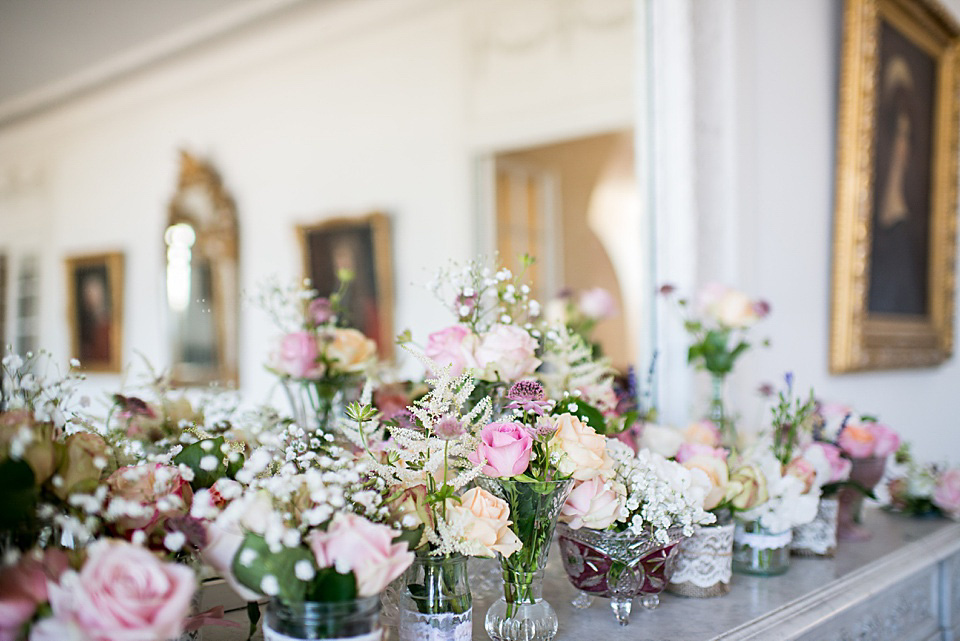 Emma's fabulous bouquet was a pastel burst of French country chic:
"Our flowers were put together by our amazing florist Jenny Moss who is a Brit based in the Dordogne area. As soon as I met her over coffee and cake we hit it off and she knew exactly what I was looking for. I said I wanted something big and blousey, using flowers which could have been picked from a country garden. She got it exactly using white Hydrangeas and Peonies which smelled incredible, pale pink roses, lavender and cornflower."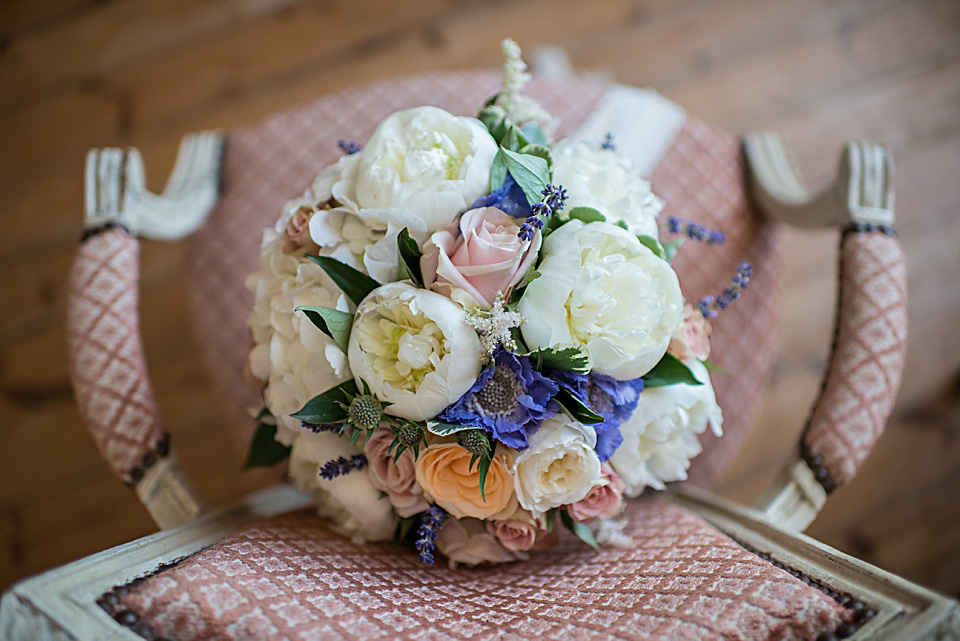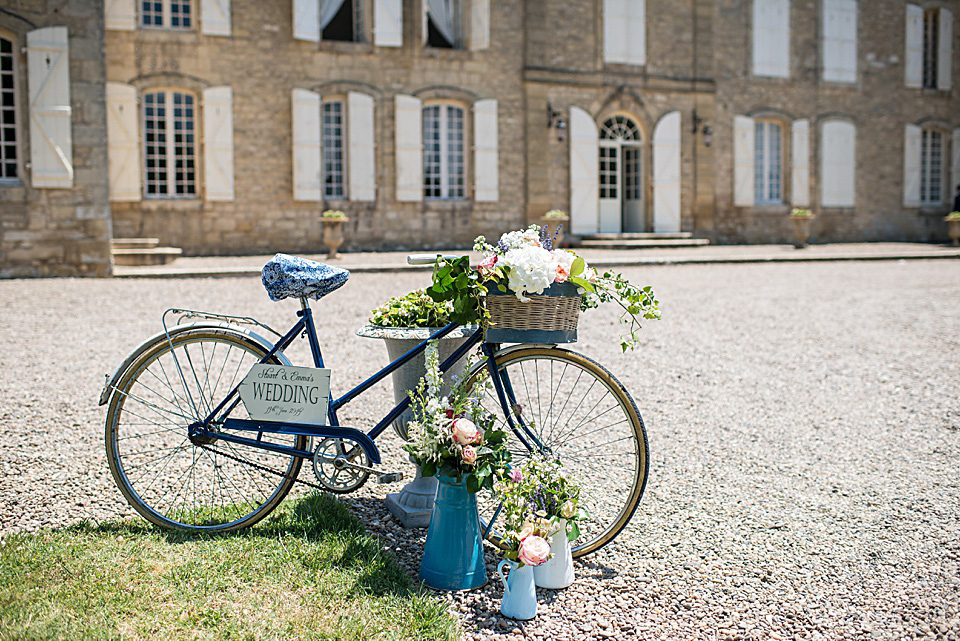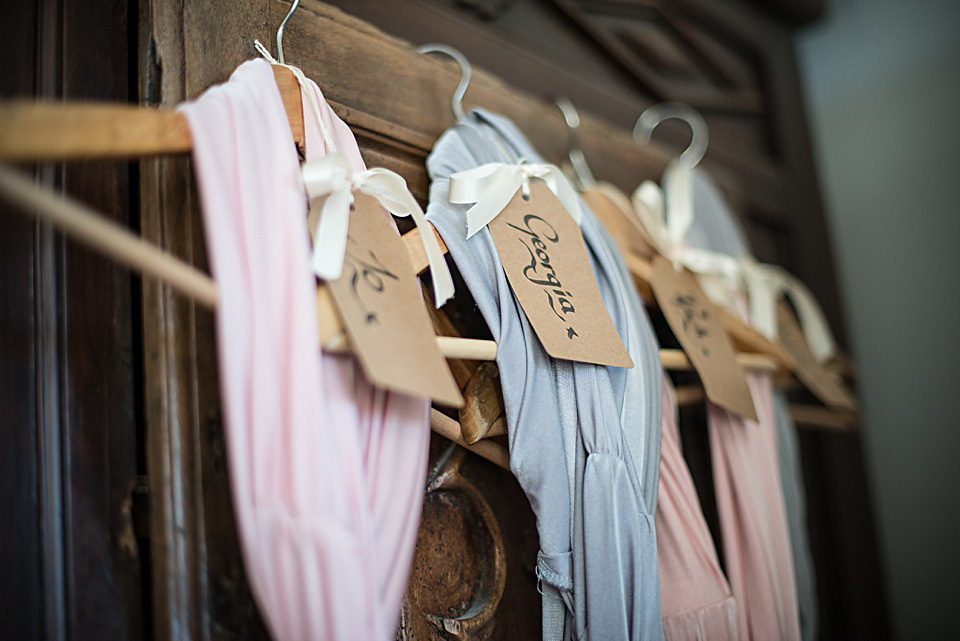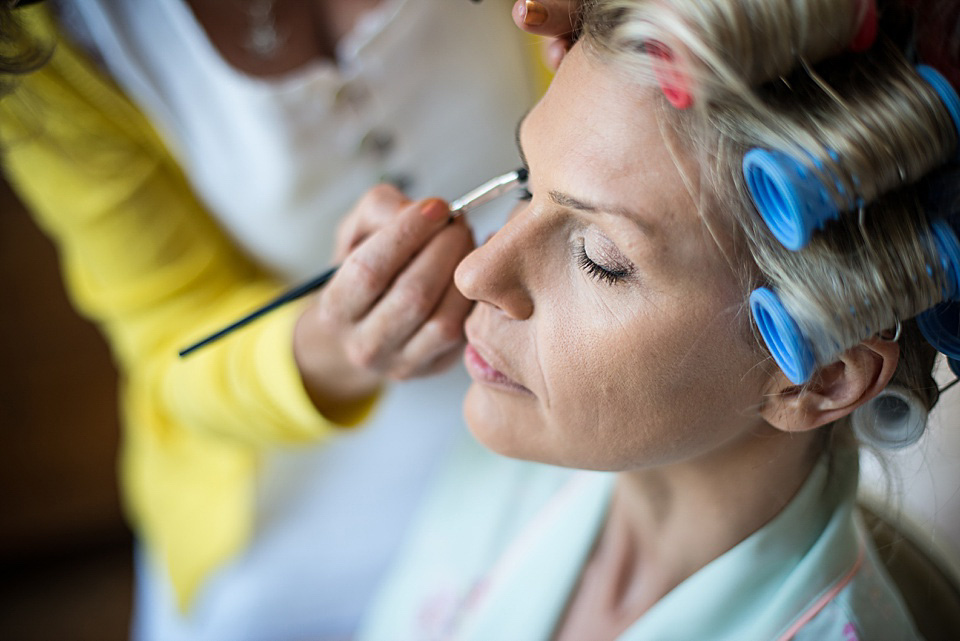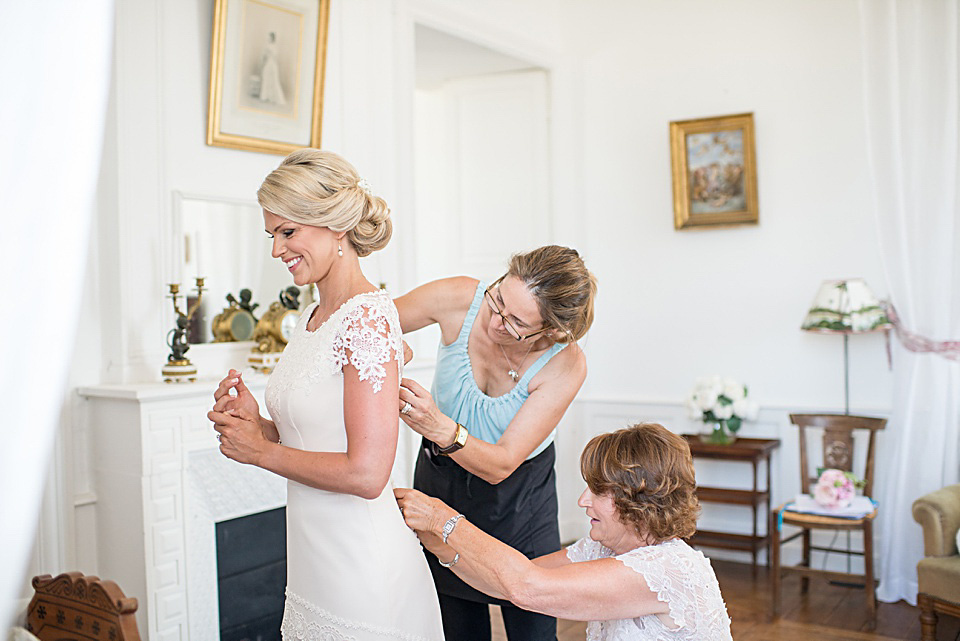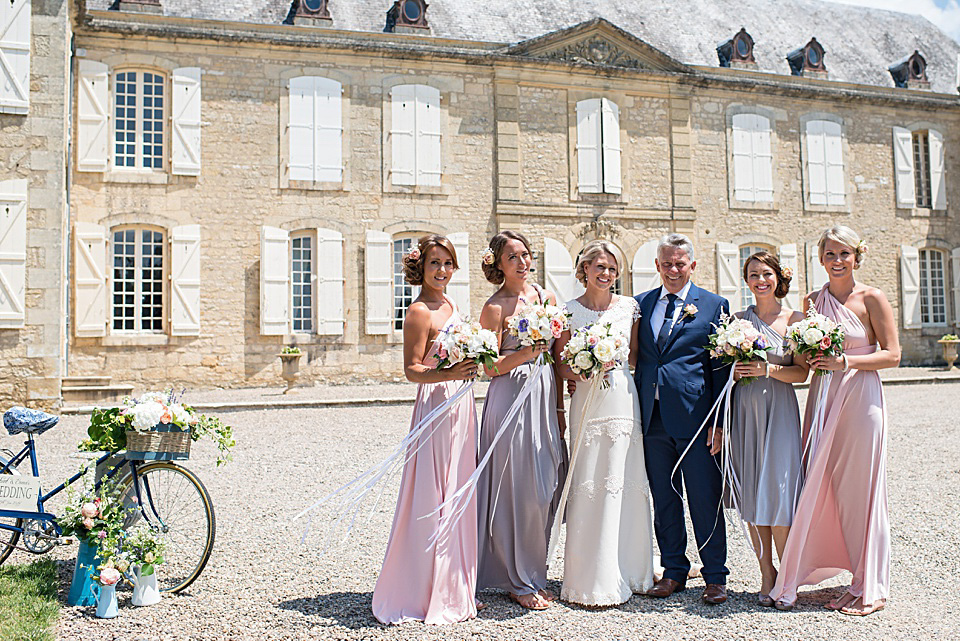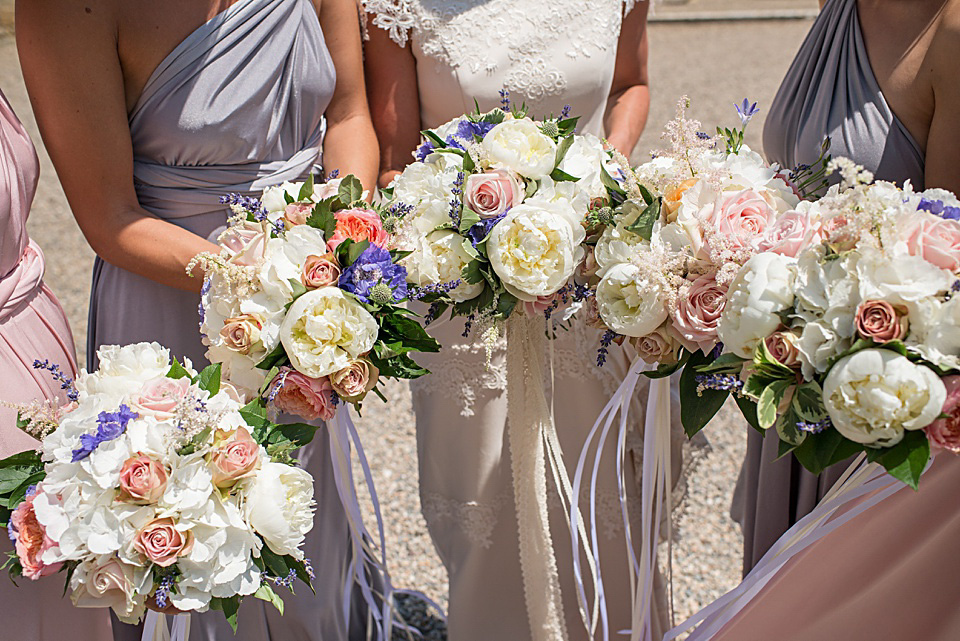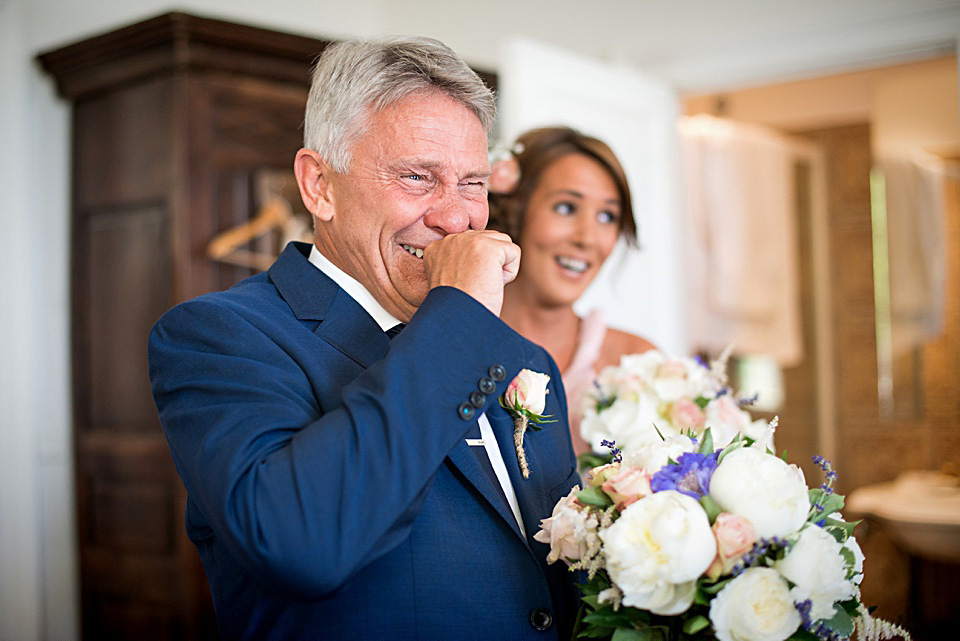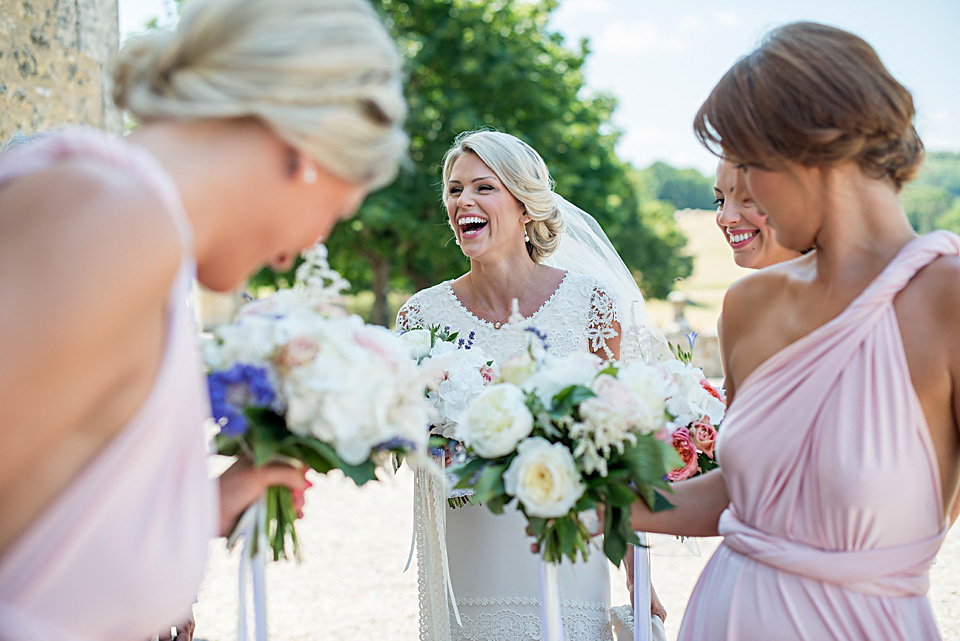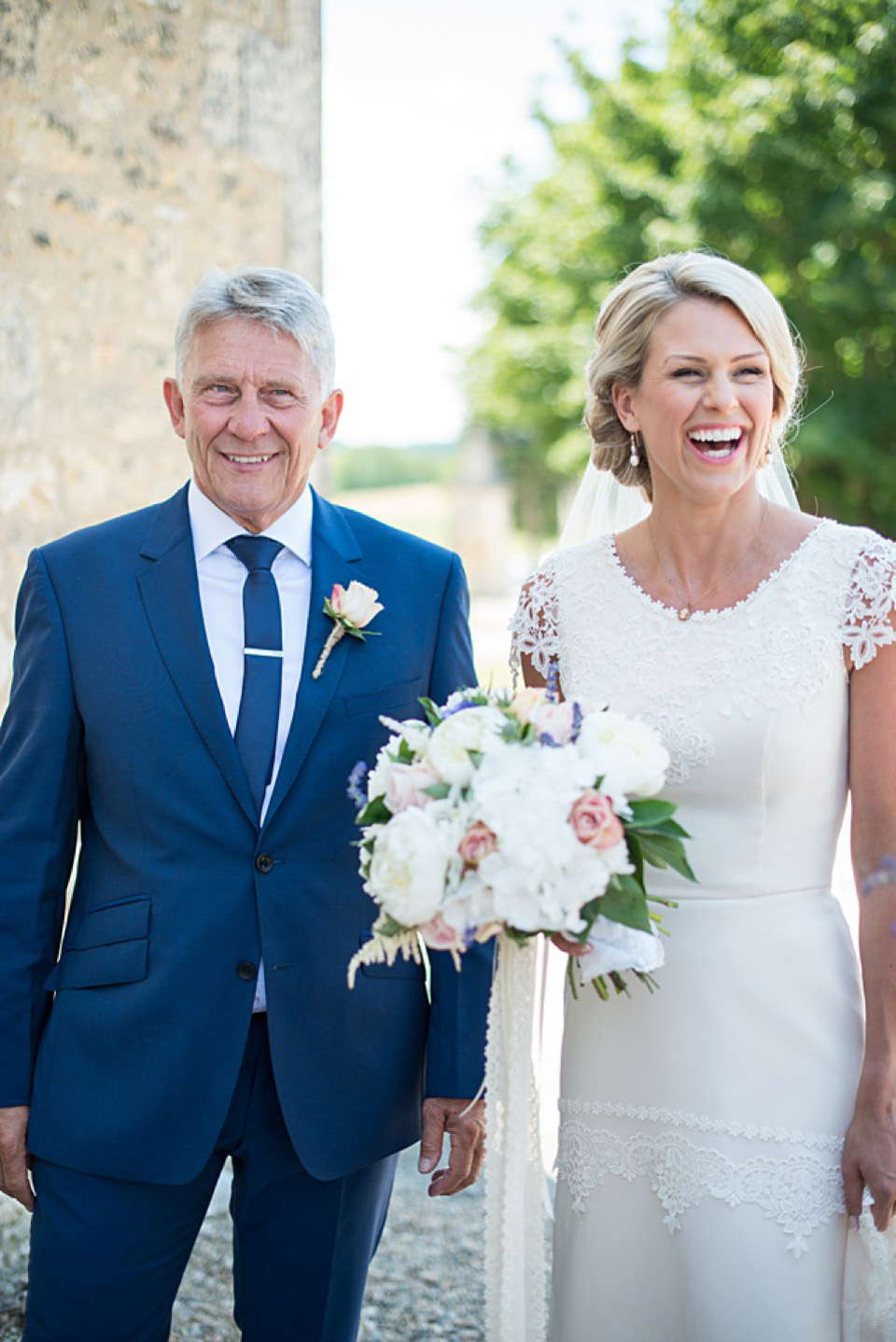 Stuart sported a suit from Next, with shoes from Ted Baker, and accessorized with a watch from Brighton Laines and tie pins from Etsy– very dashing he looks too!
The wedding ceremony took place in the on-site chapel; a natural stone building on the hillside, surrounded by lavender bushes (which must have smelt incredible!) with a pure white interior, showing off the stained glass windows to perfection.
"The ceremony was by far my most favourite part of the day. Until that moment things had been quite hectic. I remember seeing my Dad cry when he first seen me in my dress and thinking 'why am I not emotional?' but I think it was because I hadn't yet had time to take it all in. When I walked into the church it was the first time no one was asking me any questions and I could finally start to relax. I remember saying my vows, thinking back to the time when I stood in the Chapel on my own, thinking 'This is amazing!!!' I then looked at Stuart and realised I was making a vow to be with this amazing man for the rest of my life and he was saying the same back!! It was the happiest moment of my life and my voice nearly cracked, but I was determined not to ruin my make up so I held it together."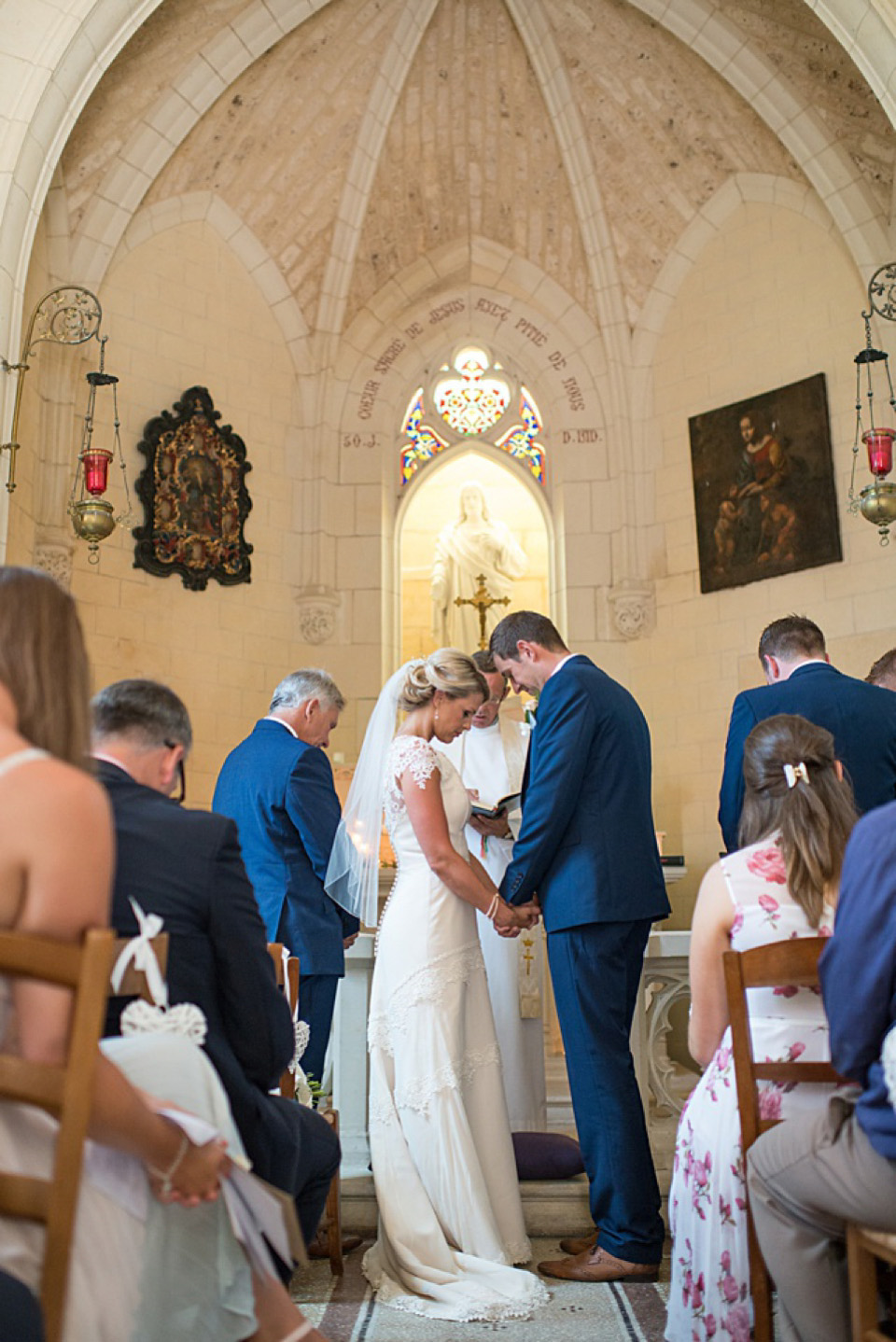 I don't think either Emma or Stuart stops smiling throughout- so lovely…
"Our Vicar was fantastic too and really made everyone feel welcome and part of the service which is exactly what we wanted. At one point there was even some cricket heckling with one of our guests who had flown over from Australia which we thought was brilliant. We had two readings, one religious from the Corinthians and the other a short poem called 'The One' which my Mum had found.
I really wanted my Mum to be involved in the service so I'm glad she found the reading we actually used. Coincidently my Maid of Honour had used it without knowing in a book all the girls made me on my hen party so it was even more special when it was read out on the day."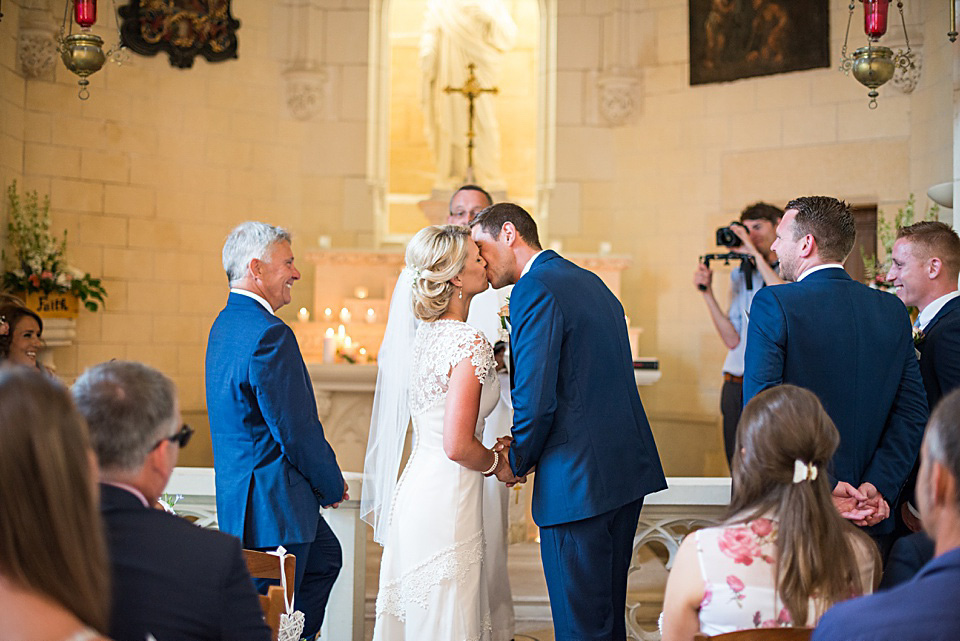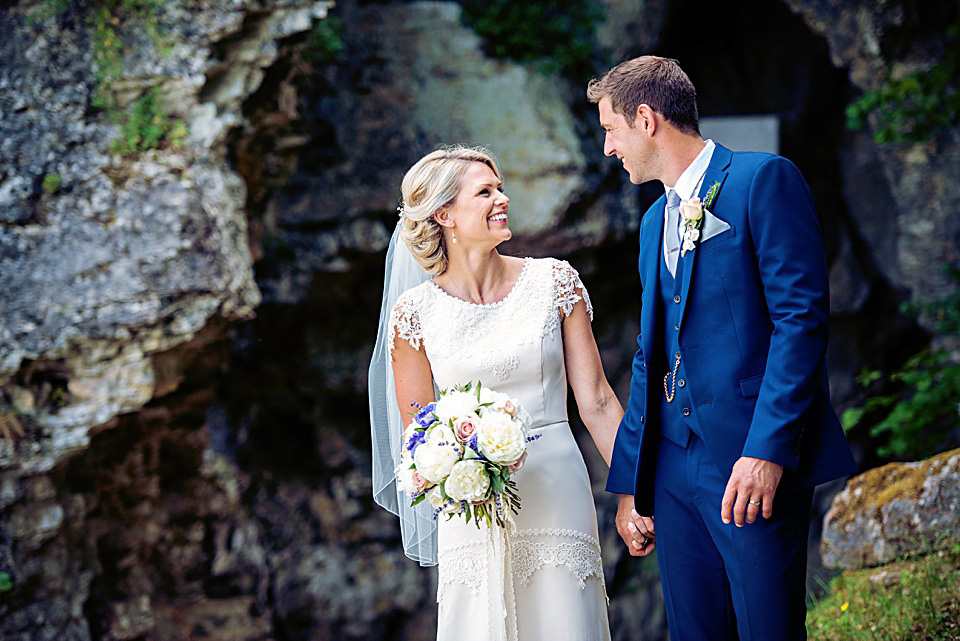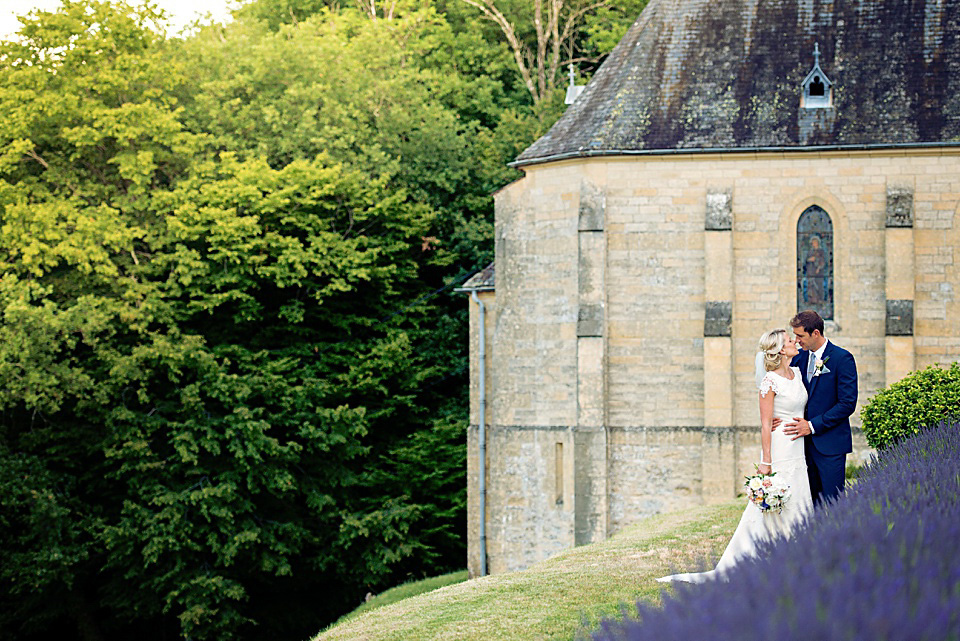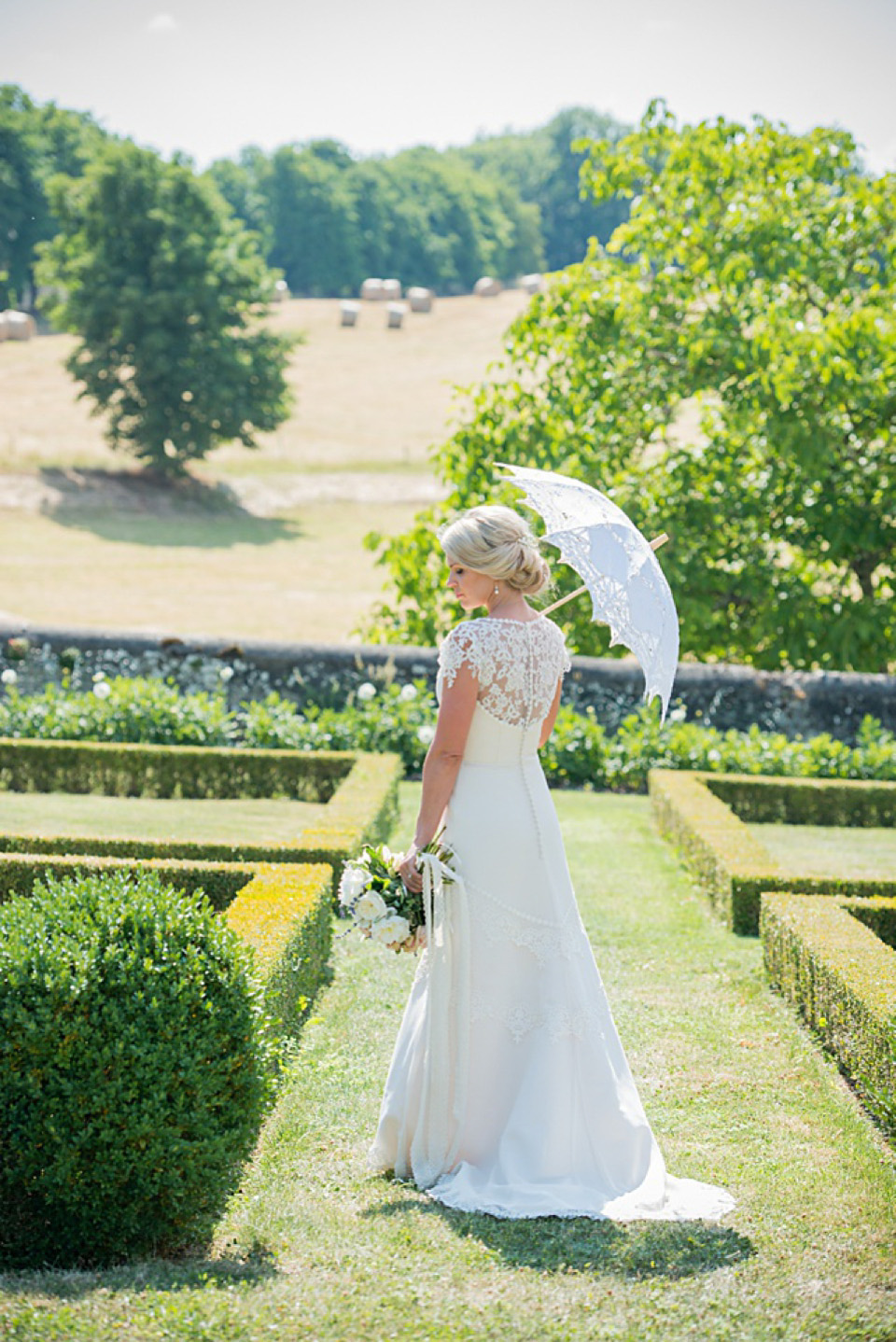 "For the flowers, I wanted something really informal, which looked as if it had been picked from the garden that morning. My Mum and I collected lots of crystal vases leading up to the wedding which we used as centre pieces with some old books and I decorated lots of jam jars with hessian and jute twine and pages from old novels.
Finally we created two plinth stands for the church with the words 'Faith' stencilled onto the boxes as this is our new family name. I loved these as it created a real personal touch to the day and we were able to use them again on the top table and drawing room as we danced the night away."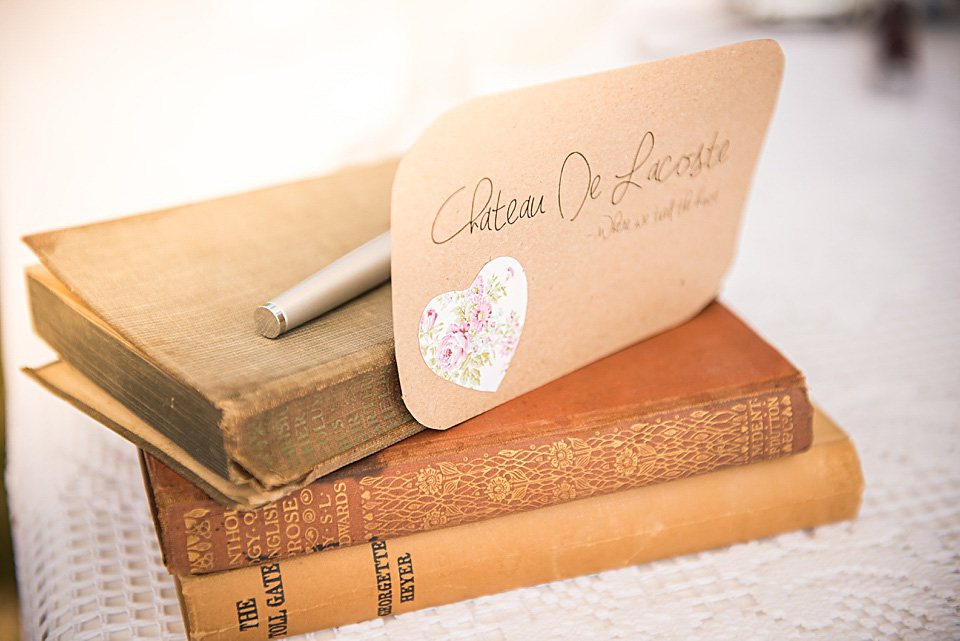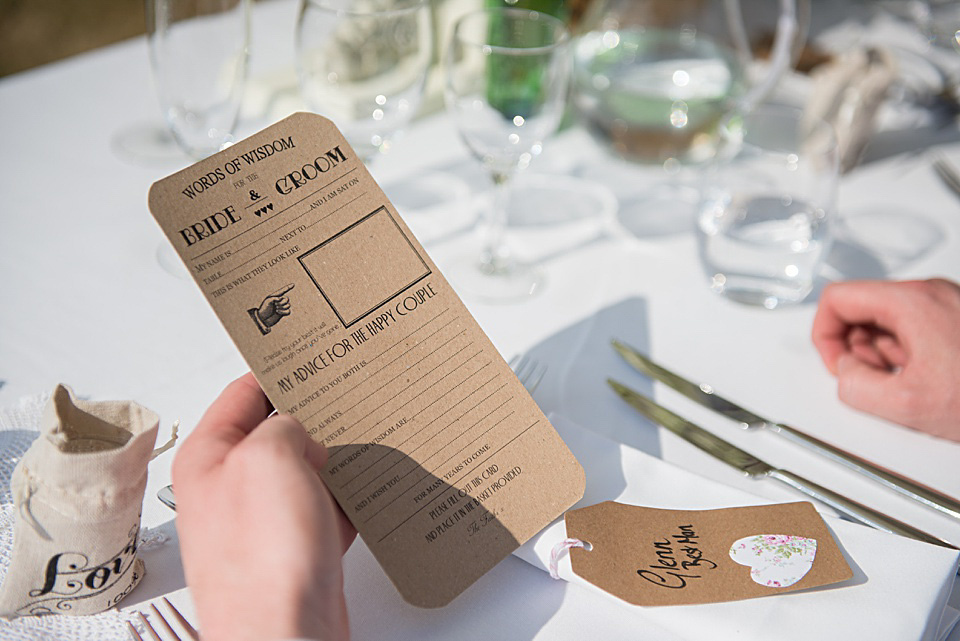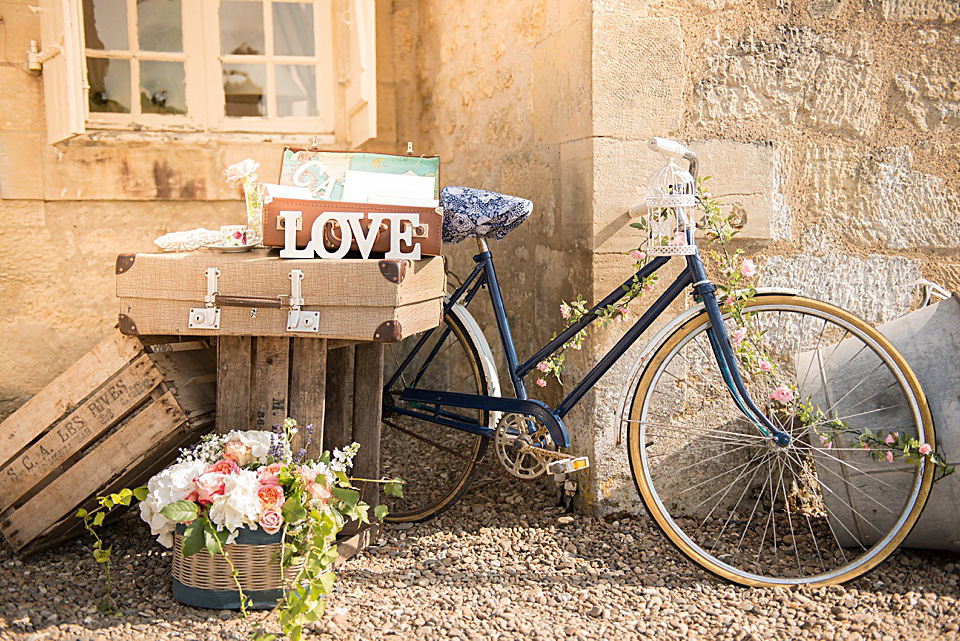 Being in France, what other cake could the couple really go for than one made of cheese?
"We opted for a cheesecake wedding cake as we were in France, and what better way to sample the local cheese! This was made up of various wheels of cheese, topped by a rose cake topper made by our florist and a little bunting sign saying 'Just Married' which I sourced on Etsy. I loved how rustic our cake looked."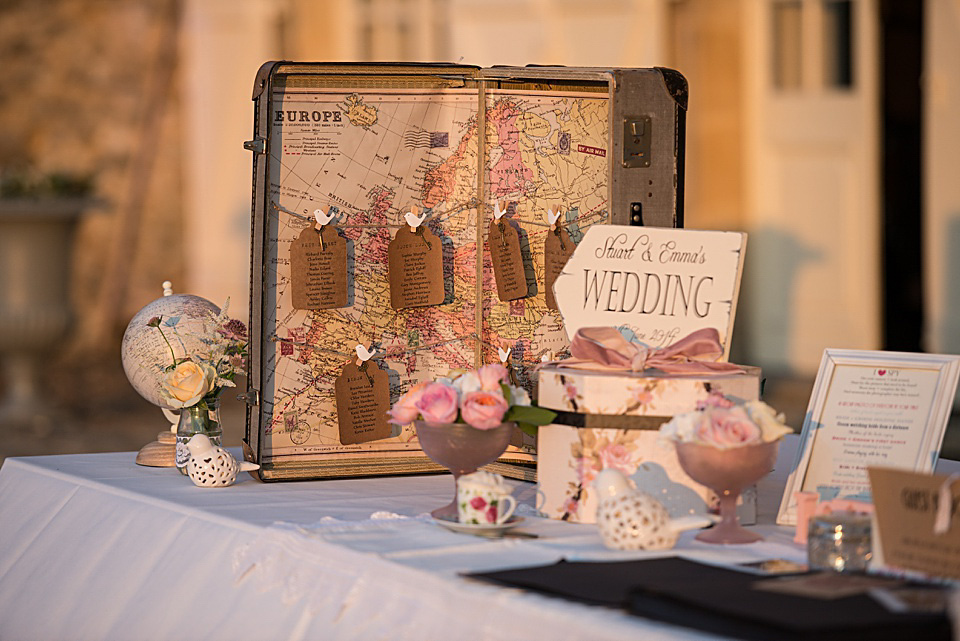 Such genuinely happiness in every picture, and so very pretty and sophisticated too (the last few party pictures not withstanding! I adore the one of Emma dancing wildly with her friends!).  Congratulations to Emma and  Stuart; thank you so much for sharing your day with us, and a huge thanks to photographer Louise Adbyfor her wonderful images.
Love and best wishes for the festive season; I can't wait to see what 2015 brings us all.
Shona x
Suppliers
Photographer – Louise Adby
Bride's dress- Custom design from White Leaf Boutique in Brighton
Bride's Shoes – Rachel Simpson
Grooms Suit – Next
Grooms Shoes – Ted Baker
Tie pins – Etsy
Pocket watch – Brighton Laines
Bridesmaid Dresses – BHS
Bridesmaid shoes – Accessorize & Karen Millen
Wedding Stationery – designed by bride
Florist – Jenny Moss
Venue – Chateau De Lacoste