This wedding is seriously cool! It's laid back, it has pretty florals in abundance, great graphic design and it also has one hideously talented mother of the bride! Just check out the wedding dress that was made from a broderie anglaise top and a tablecloth, along with the cute little bridesmaids dresses and home-grown flower arrangements. Add in a sprinkle of helpful friends and Jordanna Maston's stylish photography and you have this lovely summer wedding from earlier this year.
Hayley and Rez tied the knot on 7 June at The Three Tuns Inn, Bransgore in Dorset. The couple chose this venue because it had the laidback feel they were looking for, whilst still being pretty. "It just had a nice vibe and the barn was beautiful."
"We wanted the venue to have lots of flowers and a nice natural feel to it.  We did not have a colour scheme and wanted to stay away from being too structured. We strived to bring out the beauty of the natural surroundings and just enhance the venue with flowers and natural decoration."
Photography Copyright (c) 2014, Jordanna Marston
"Rez and I met at work nine years ago when we were in our first post-uni jobs at a publishing house.  Rez proposed to me on my 30th, during a weekend away and we were engaged for 2½ years. We were slightly delayed in getting the wedding sorted as we bought a flat and renovated it in the meantime.  Finally, we decided we needed to get the wedding sorted as it was in danger of turning into a very long engagement."
"My mum is a dressmaker and made my dress but we had no design, just a few pieces of material that I wanted to incorporate into it.  I had a lovely, old broderie anglaise top that I wanted to work the dress around.  At the beginning, I really had my heart set on a short dress, but after this was made I decided it didn't suit me after all.  Sorry mum! 
After approximately five incarnations of the dress – I was finally happy! Eventually, the dress incorporated the broderie anglaise top, an old tablecloth and some voile material for the skirt.  I loved the back of the dress (the old tablecloth part) that my mum spent ages beading to make really special.  I also had a gold ribbon tied around the middle that went to the floor."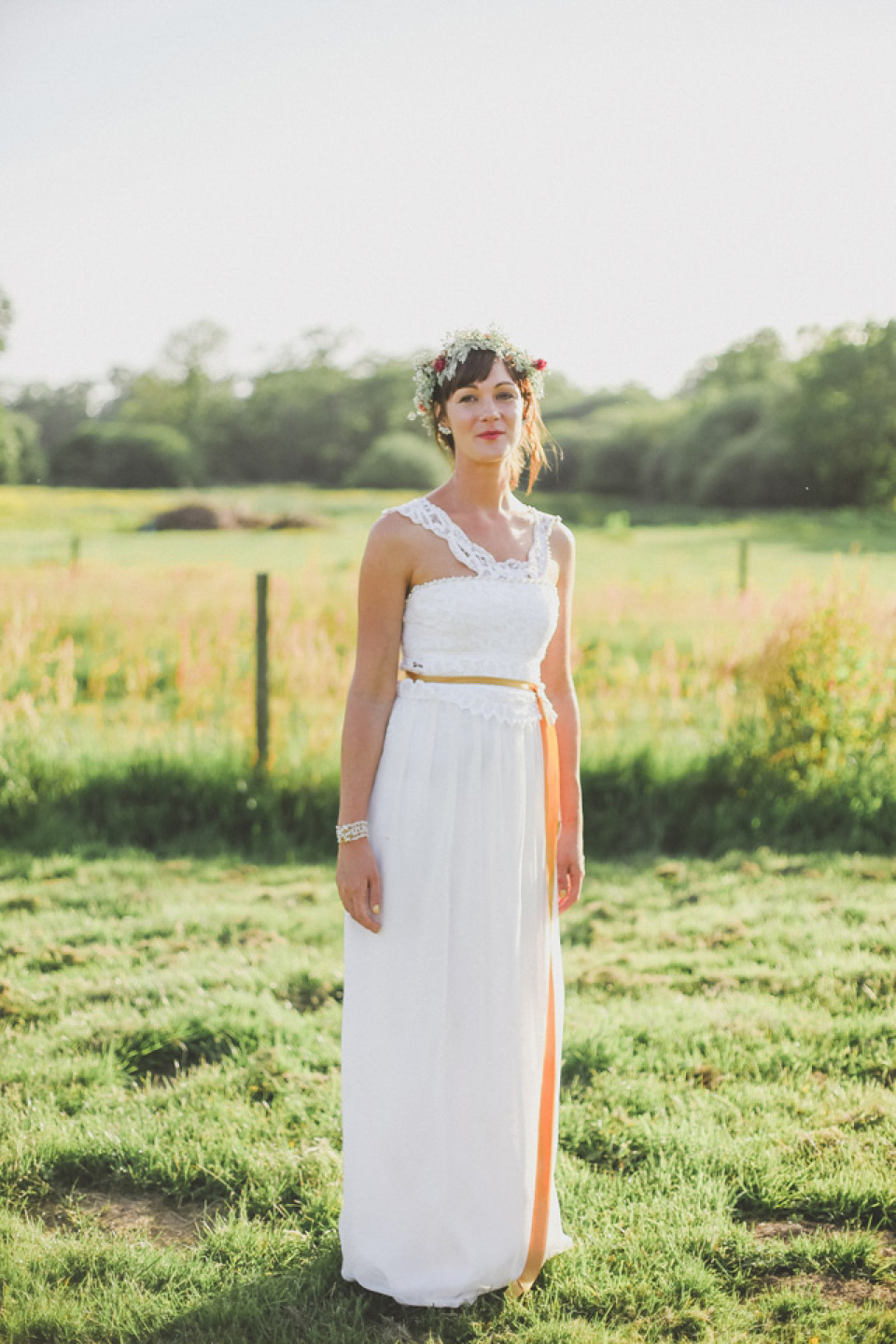 Personally, I love how Hayley's flower garland co-ordinates so perfectly with the girls' floral prints. To finish their outfit she found some nice shoes from Primark… that were the wrong colour. However her mum dyed them pink to match the coloured bands on their dresses…
"My fabulous mother made all the bridesmaid dresses too.  I had a dress that we replicated the style of, rather than follow a pattern.  I bought four different coloured floral fabrics and tied them together with a pink band across them all. They looked amazing and are one of my favourite parts of the wedding.
I ordered gold coloured name necklaces for each of the bridesmaids and my mum also made each girl a pink bag and I pinned a mixture of vintage brooches onto them.  Each was lined with their dresses' floral material."
"Our photographer was the lovely Jordanna Marston.  I loved her laidback approach and I'm so pleased with the photos.  We really wanted natural shots that captured the day as it really was and she achieved that for us.  I felt she listened to what we wanted, which made the photos turn out so well."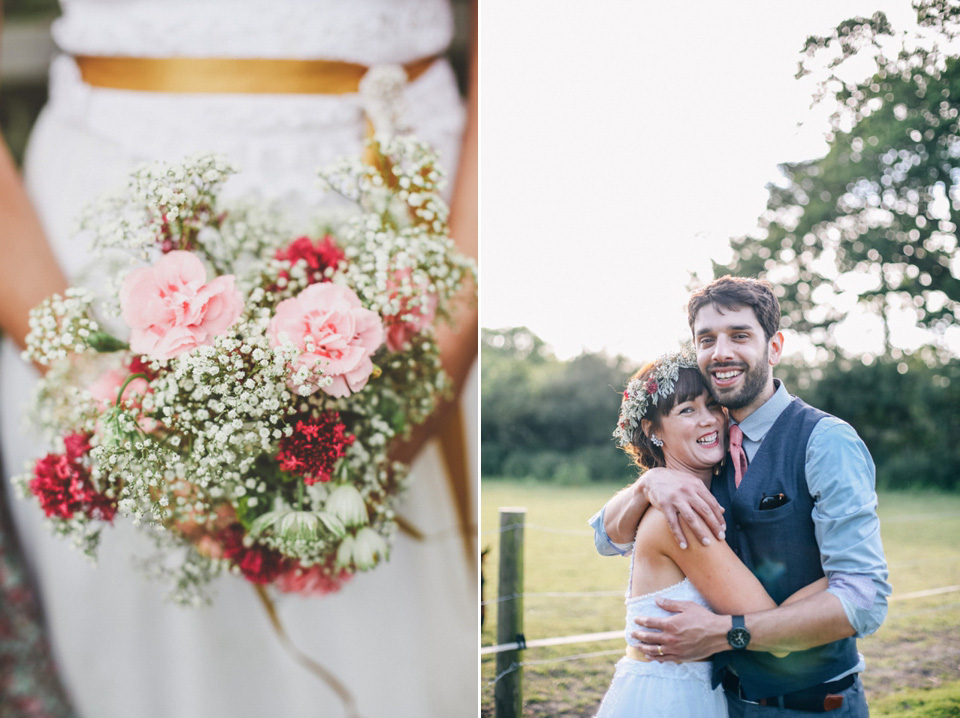 "My gorgeous friends helped me out with hair and make up and did a fab job. My friend Cheryl did my make up, and my friends El and Layla did mine and the bridesmaids' hair.  It was really nice to have them doing this on the wedding morning, rather than strangers.  They did an amazing job and they were free of charge!"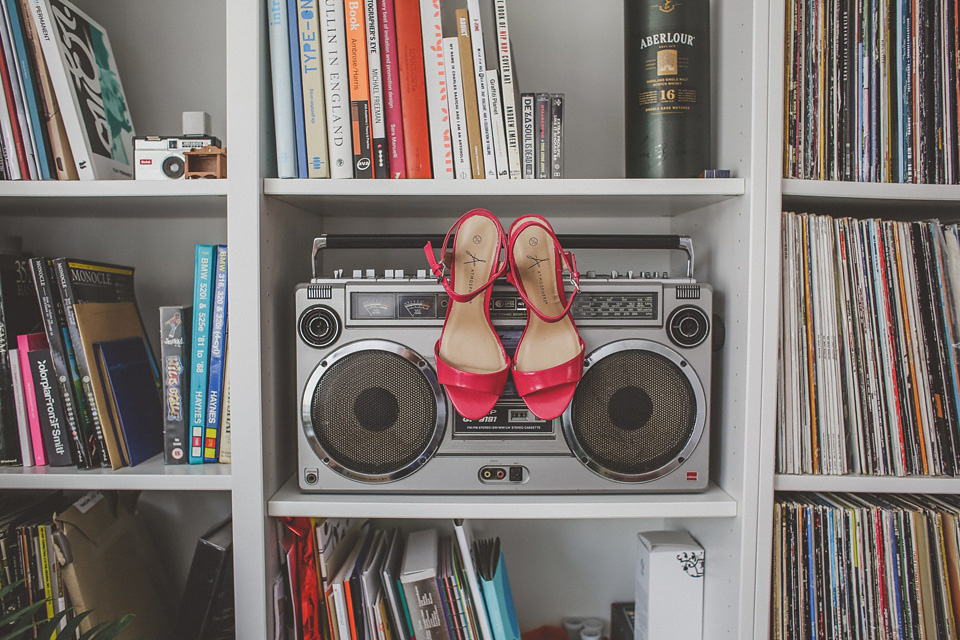 Just like me, Hayley struggled to find some shoes she really liked and finally settled on a pair of gold and silver peep toes from eBay.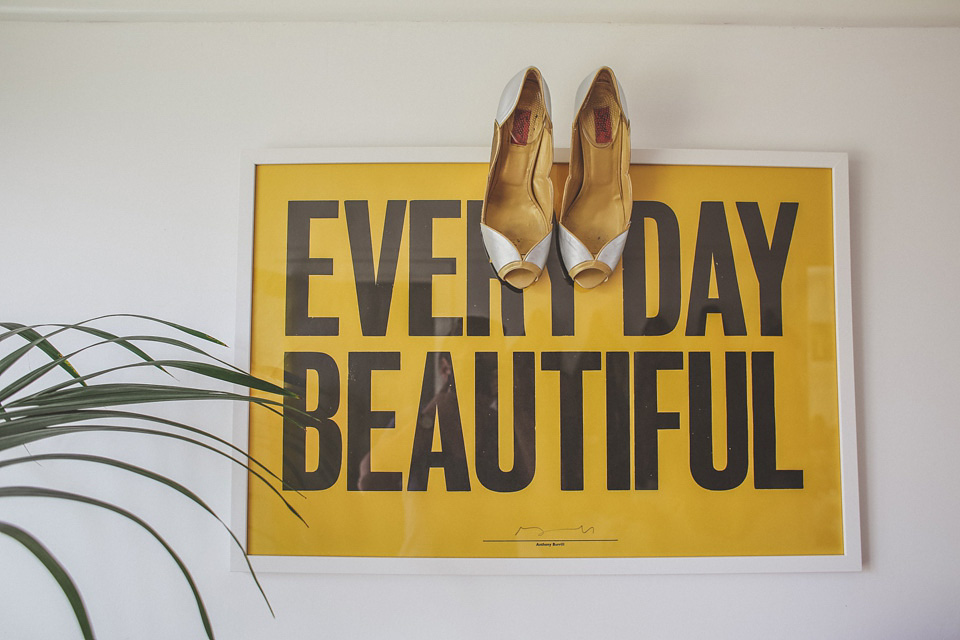 "In place of a veil I wore a floral wreath that my mum made from flowers picked from the garden on the morning of the wedding.  There's a great photo of her snipping off the bits, after I've put it on, which makes me smile.
I had some lovely vintage earrings which were a gift from my bridesmaid Bex.  She hadn't seen the dress at the time but they matched perfectly.  My mum also made me a bracelet from an old brooch and some beaded lace."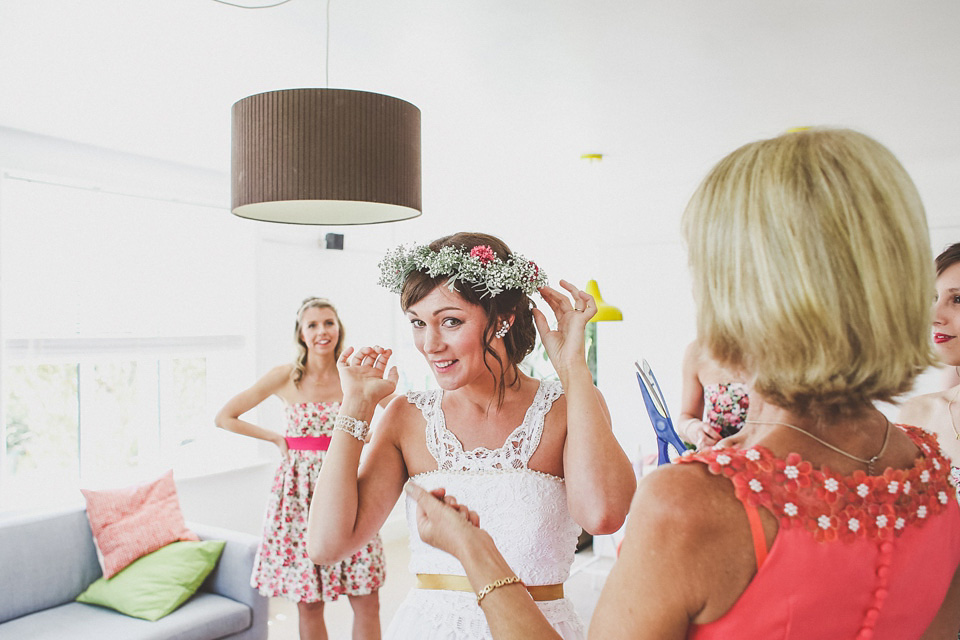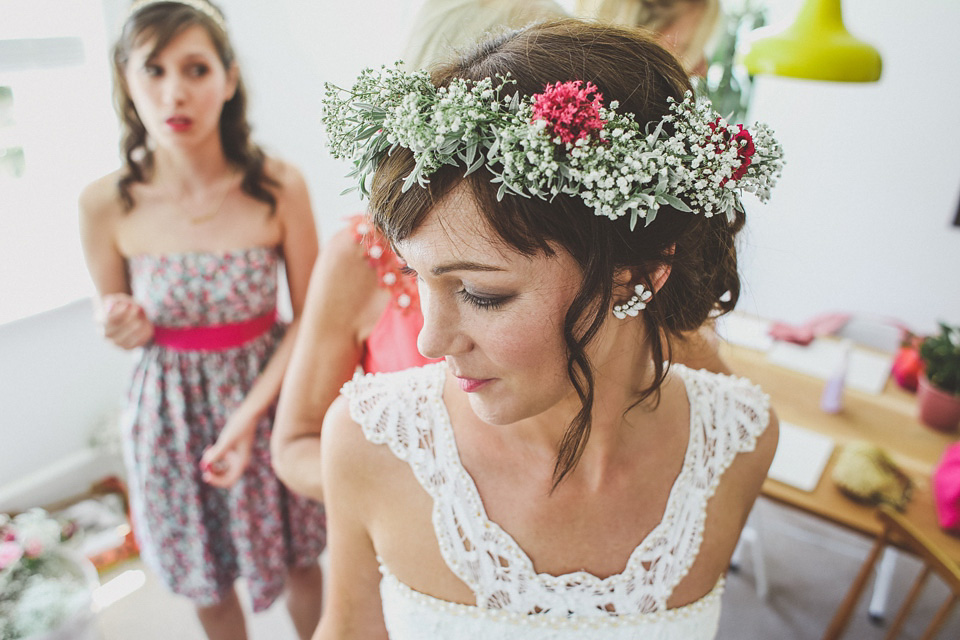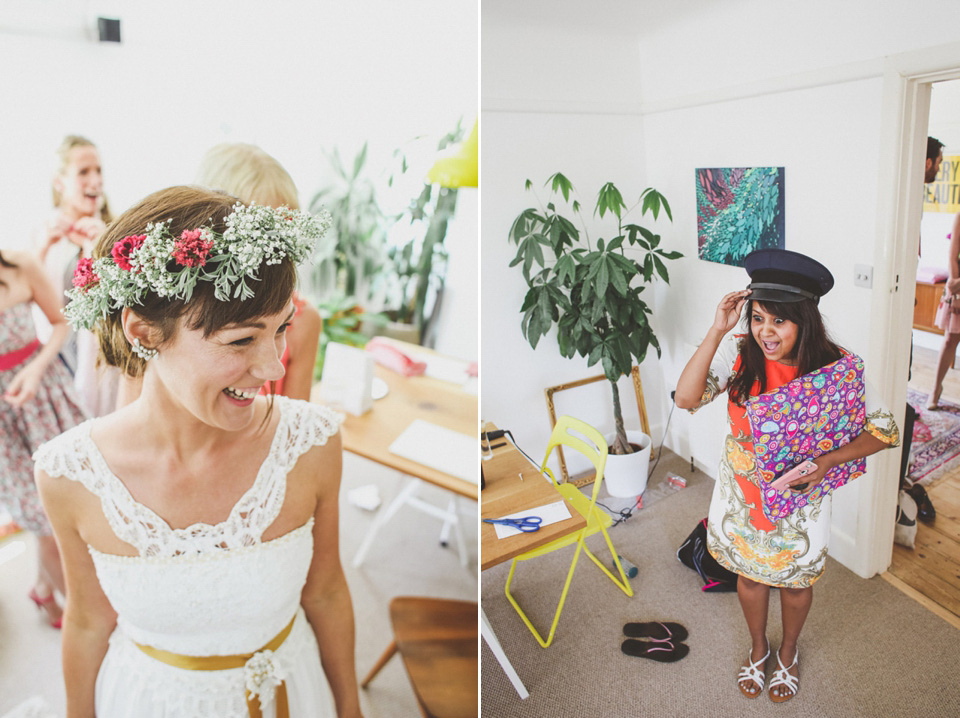 The groom wore a Ted Baker suit however, they struggled to find a tie in a material they were happy with so supermum stepped in again and made ties and pocket squares for all the men in the wedding party. As Rez is a graphic designer the job of creating all the stationery fell to him.
"The ceremony was the bit I was worrying about the most; being the centre of attention with everyone watching.  Yet it was actually my favourite part of the whole day – making the commitment to get married was really special. However Rez's favourite part was when we went to have the portrait shots done, as this let us spend some time on our own. There were a few teeny tiny things on the day that I thought I would've done differently but we had such a wonderful day that they were really nothing."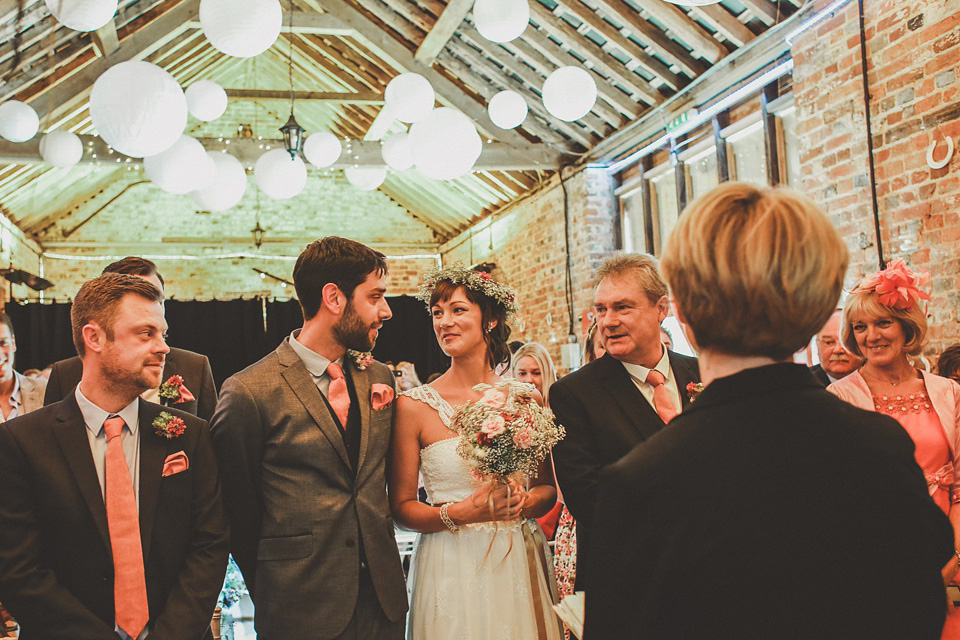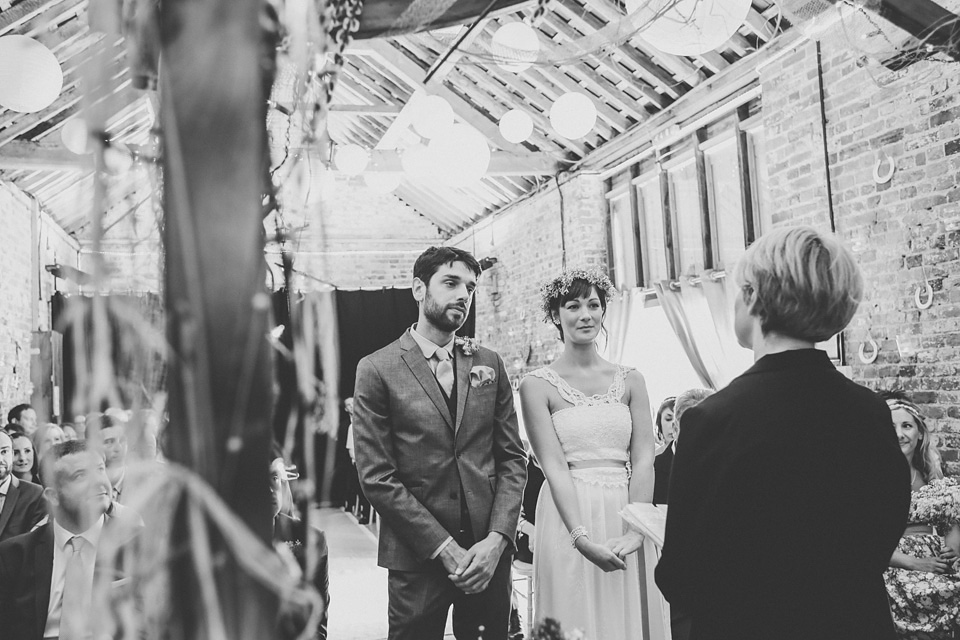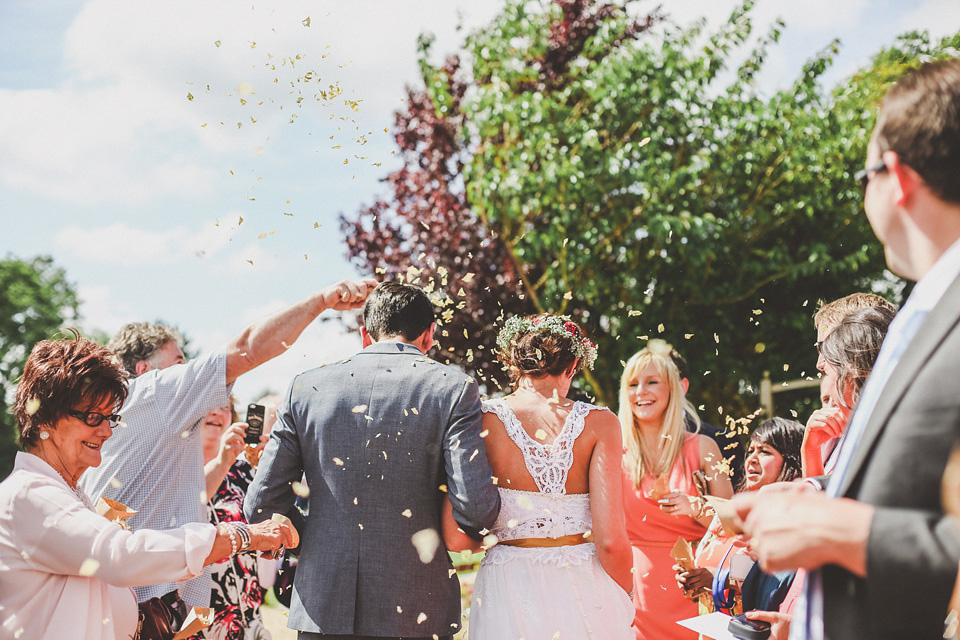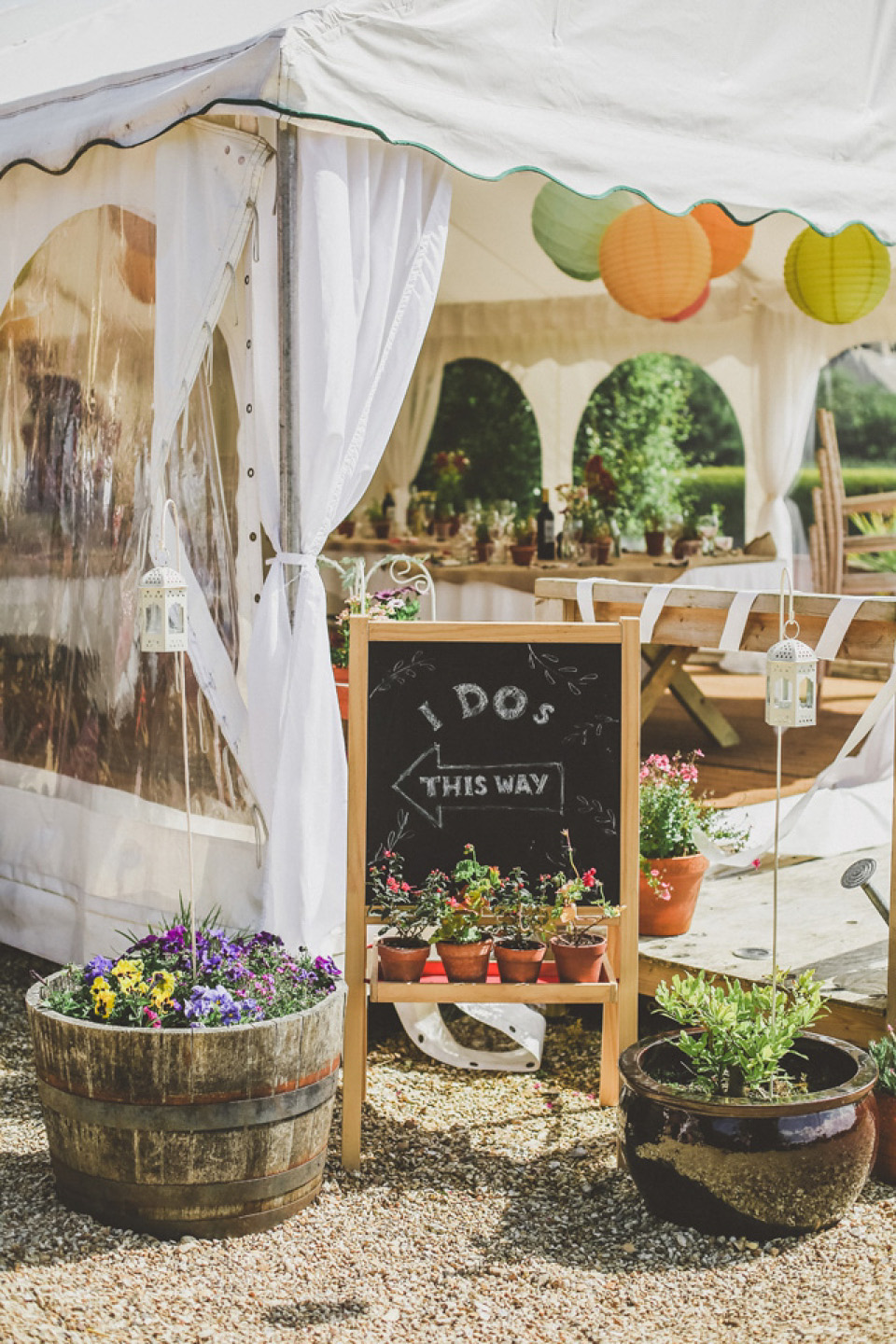 "Our lovely venue put on a fab barbecue for us for the wedding breakfast then Rez's parents made all the evening food for us which was just lovely.  My bridesmaid Bex also made her famous sausage meat pie which had our initials made out of pastry on the top.  A triumph indeed!"
"My mum grew all the flowers and we grouped them in vases at the venue the night before.  We wanted an unstructured, natural feel that we really got from them having been homegrown and arranged in this way.
My mum also grew loads of marjoram and we scoured car boot sales for old, small terracotta pots which we then planted up and gave as favours.  We added a plant marker and had a stamp made to add a message.  They looked great and added even more greenery to the tables."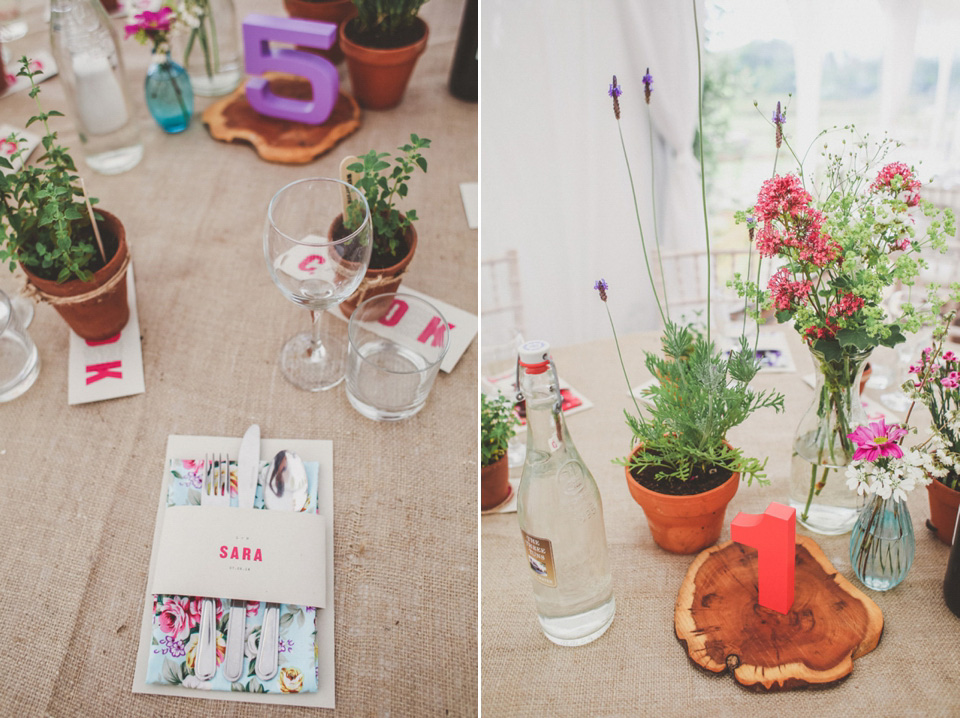 "For the final touches to the décor my mum made tablecloths out of hessian as well as napkins for all the guests in different colour floral fabric.  A family friend was able to provide us with lots of horseshoes and I put my dad to work scrubbing them with a wire brush and painting them white.  We hung them in the barn and all around the venue as good luck charms.  We also added absolutely loads of potted plants and flowers."
"I have always wanted a croquembouche for my wedding to the point of obsession!  Rez's parents kindly gifted this to us and it was made by Le Petit Prince, a local patisserie.  It looked and tasted amazing and the baker even travelled to the venue on the morning to assemble it on site for us.  Friends and family also made other cakes for a cake table and the venue assembled some cheese and fruit I had bought into a marvellous cheese cake."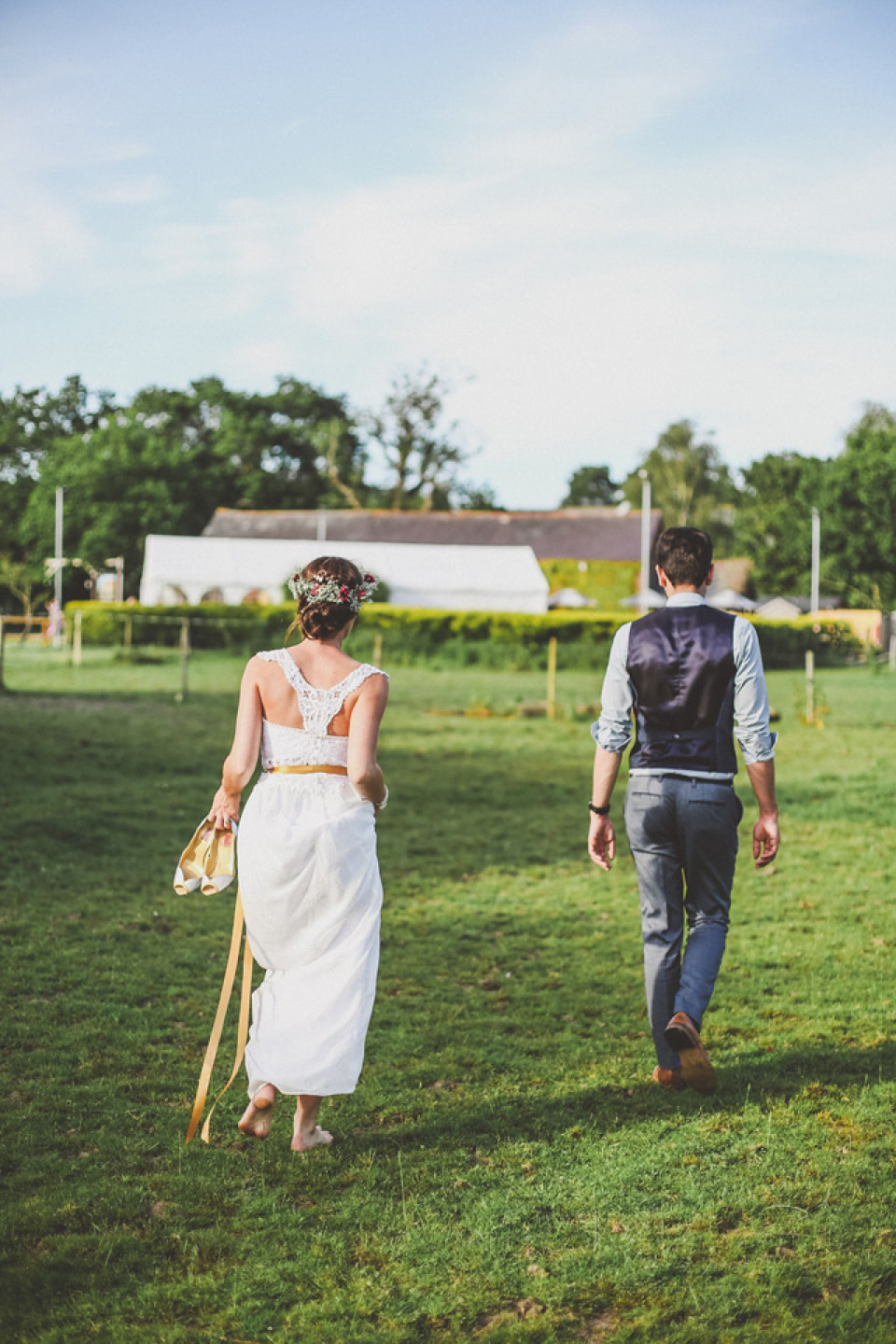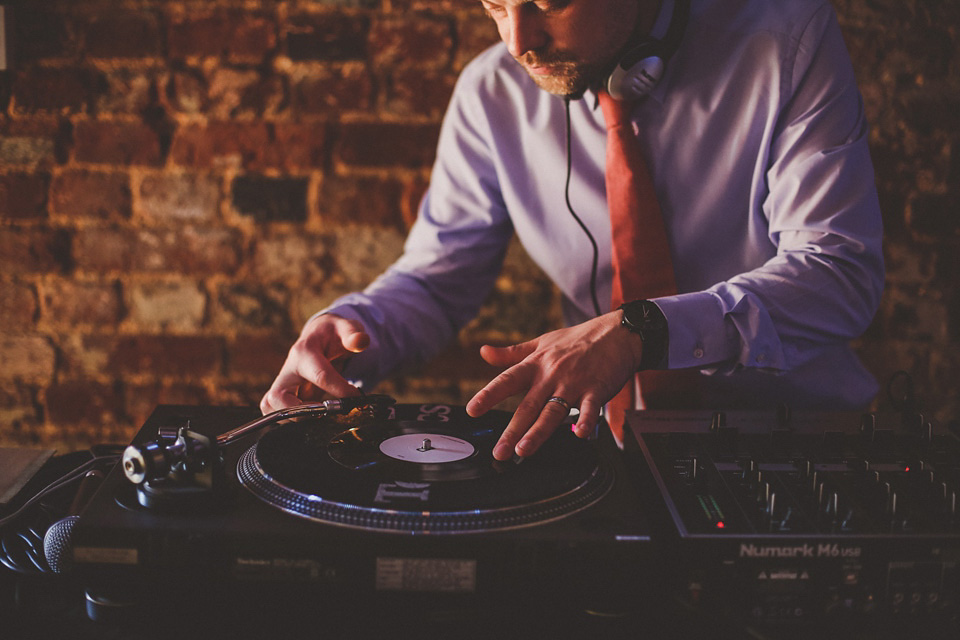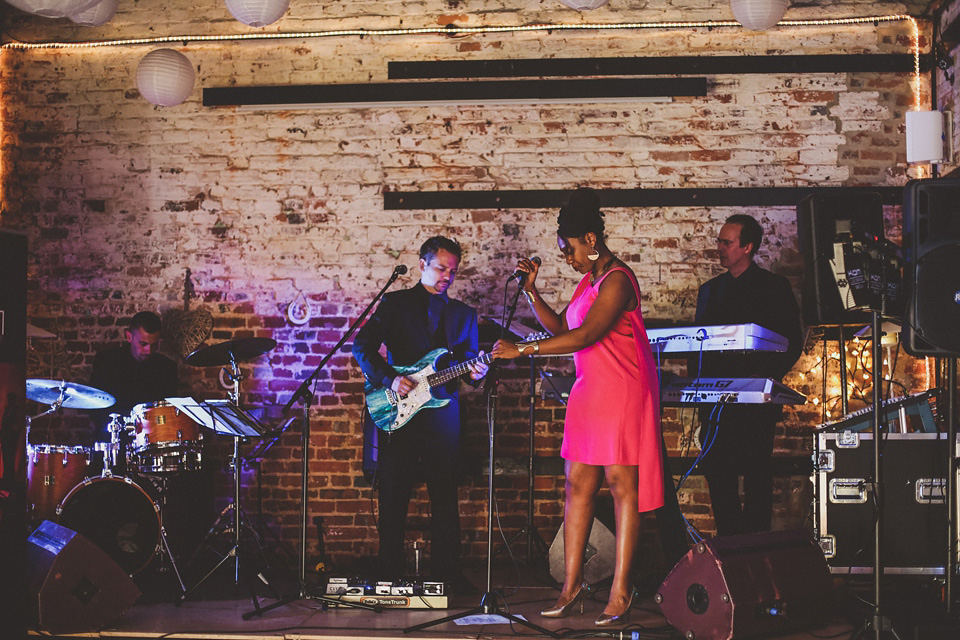 Words of wedded wisdom
"Try not to get too stressed in the final days running up to the wedding.  I had a huge fear that my wedding would be rubbish and everyone would be bored which was totally unfounded.  Also, earlier planning would have helped me avoid some of that last minute stress!" 
Naturally, mothers of brides tend to be very important people however I think it's fair to say that this wedding simply would not have been the same without the involvement of this one: dresses, bracelets, flower garlands, dyeing duties, bag making, flower growing, table decorating…wow! I hope that you are super proud of yourself Hayley's mum!
Congratulations and best wishes to the lovely couple and thanks to you and Jordanna for choosing to share your stylish day with us.
Much homegrown love,
Katie xx
Photographer – Jordanna Marston
Venue –  The Three Tuns Inn, Bransgore
Groom – Ted Baker
Croquembouche – Le Petit Prince
Everything else – homemade, homegrown and DIY