It's the last Saturday before Christmas and my first feature for Love My Dress®, which means I have a lot to be excited about today! How are your Christmas plans coming along? With turkey and trifle just a few days away, I'm glad you have still found time to enjoy another gorgeous real wedding. This one's a cracker!
Nathaniel, an audio visual technician, and Emma, a university administrative assistant, were married in May at the groom's parents' home in Black Forest, Colorado. The couple were just about to put down a deposit on another venue in Kansas, when, sadly, a fire devastated Black Forest. But Emma and Nathaniel were determined to see hope and happiness beyond the tragedy:
"After nine days, 14,000 acres had been burned, 500 homes were destroyed, and two people had died. 13,000 homes and 38,000 people were evacuated over the course of the active fire. The fire came within feet of Nathaniel's parents' home, damagixng their property, but the house was spared, saved at least in part by some incredible firefighters."
Photography Copyright (c) 2014, Levi Tijerina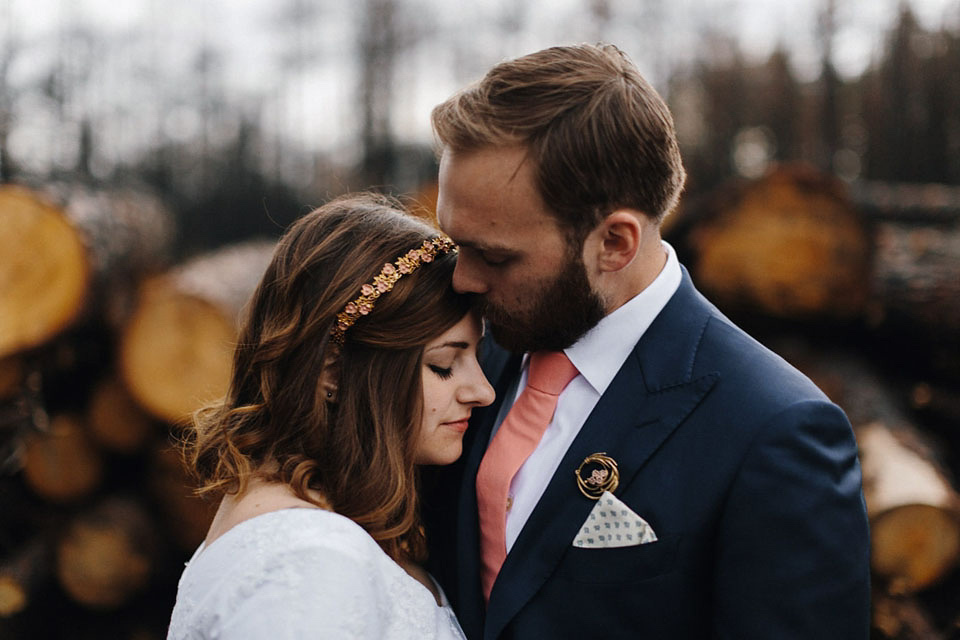 "When we visited the Forest the month after the fire, we knew pretty quickly that it was the right place for us to be married. Our ceremony was held in a clearing that was made after a lot of burned and dead trees were cut down; the benches our family and friends sat on made from those trees, and our arbor made out of the branches.
It was very poignant to promise to love one another in this place that reminded us of the destruction the world is capable of bringing to our doorstep."
Unusually, the couple led their own ceremony.
"Getting married in Colorado, we were able to self-solemnize and "lead" our own ceremony, which was perfect because we didn't want anyone standing between us as we read our vows to each other. It was important to us that our vows reflected our equal partnership. No one asked if Nathaniel would take Emma to be his wife or if Emma would take Nathaniel to be her husband; we asked this of each other. We were worried about how things would flow without cues like "you may kiss the bride" being said, but it went smoothly."
I love Emma's pretty tea-length dress, which she found on Etsy, and her stunning headpiece, which she made from a choker necklace she found in an antique shop.
"It started to rain just after we cut our cake, and it rained all night long. Friends helped get everything inside quickly and ushered people from the house to the tent. The ground in the tent was uneven and our first dance was less than graceful, but dancing to our song and the sound of the rain coming down on the tent was a really great moment."
Nathaniel's description of his favourite part of the day is so heart-warming.
"My favourite parts of the day were the times I spent with Emma alone, like when we snuck away to take portraits. Getting away from everyone and everything for a while and spending time with my new wife was really nice."
This extraordinary venue inspired the couple's unique styling and there was an abundance of gorgeous, quirky, DIY features.
"The Forest itself and its state of regrowth played a big role in the 'styling' of our wedding. We also like old or antique things with some history, and we like to make things, so our wedding had a sort of vintage/handmade feel. Since Emma loves animals and taxidermy, we had taxidermy and animal skulls and bones here and there."
"Emma made collages with pictures from each year of our relationship. We had a glass dome with a tree-slice base on each dining table, an animal bone or a felted animal one of us made for the other over the years underneath. We made our table runners from tons of scraps of fabric, sewn together for length. Nathaniel made the pink and blue buntings and our dessert stands. Our "guestbook" was a pair of mailbox coin banks saved from Emma's childhood; her dad is a retired letter carrier. There were little paper coins people could write messages to us on and then put in a mailbox."
I love these evocative photos, taken by Levi Tijerina, which really capture the atmosphere of Black Forest and the spirit of the wedding.
"The photography was hugely important to us. I found out about Levi and loved his artful documentary approach to wedding photographs. Levi was enthusiastic about our wedding and our story, which meant a lot. We wanted to connect with our photographer, especially since he would be one of only a couple of people at our small wedding who wasn't a guest. Levi is easygoing but also very professional."
"Nathaniel's grandmother helped us pick out and arrange our flowers. We spent a day with her wandering around a wholesale florist. We wanted our flowers to be less formal and more messy/wild, and we chose mostly misty blue, baby's breath, marguerite daisies, and sunflowers."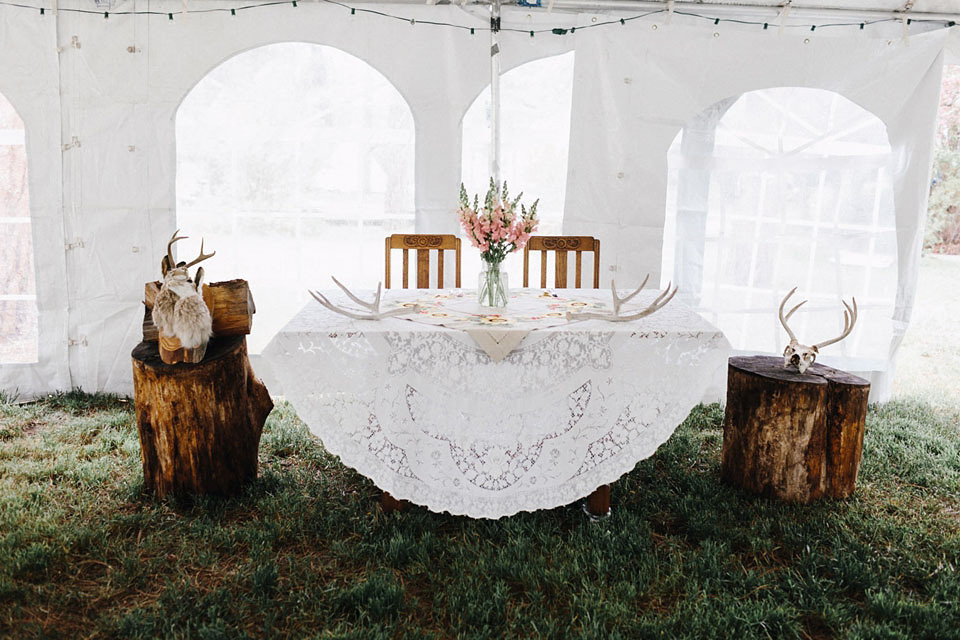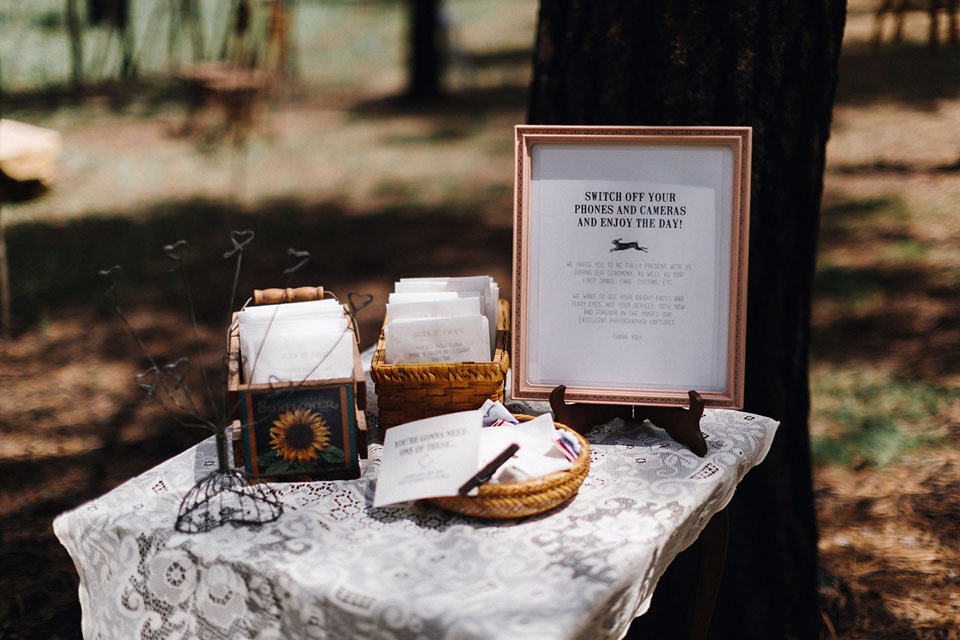 "We bought small glass vials with cork tops from various places online and filled them with the black ashy soil from the property. We wanted to give our guests something meaningful, a reminder of what the Forest had been through and what humans can make it through, too.
Emma designed our save-the-dates, invitations/RSVPs, and programs (which were printed on paper bags filled with wildflower seeds; our guests ripped them open and scattered the seeds after our first kiss to help regrow the burned area where we held our ceremony), as well as our wedding website. We both designed our Quaker marriage certificate, which everyone signed as witnesses after our ceremony."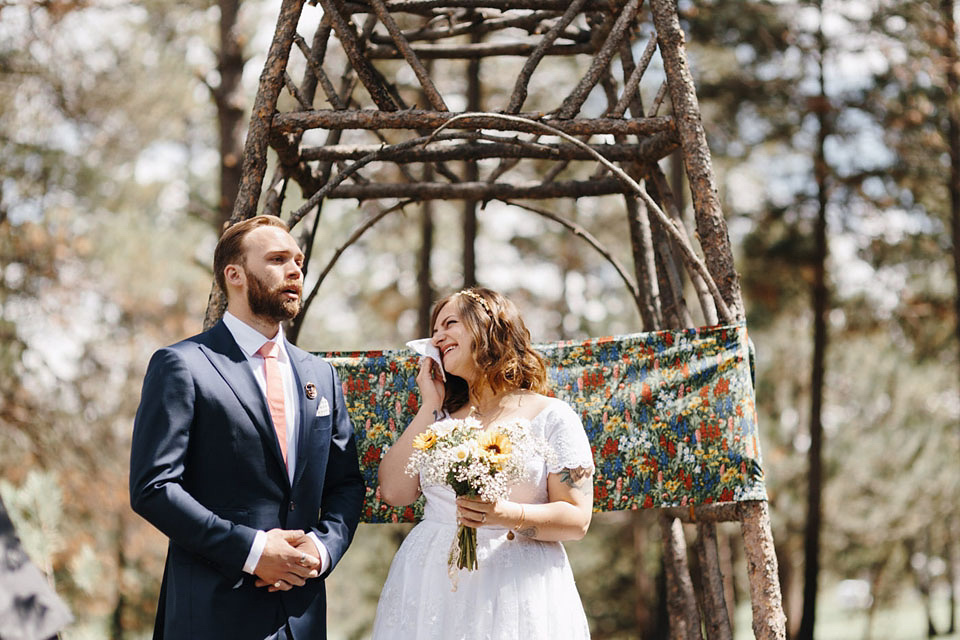 "Emma's best friend read the A.A. Milne poem "Us Two" and a prayer he wrote for us. Emma's dad read the Desiderata, and Nathaniel's dad read a message he wrote. We also had a ring-warming ceremony, wherein our wedding rings were passed from guest to guest and each person thought or said aloud well-wishes for us.
At the end of our ring-warming, Nathaniel's aunt surprised us by singing "Give Yourself to Love," which she and Nathaniel's mom sang at Nathaniel's parents' wedding. She sang the words "love is born from fire; it's planted like a seed" and pointed to the ground we were standing on, and I'm sure there wasn't a dry eye amongst all of us."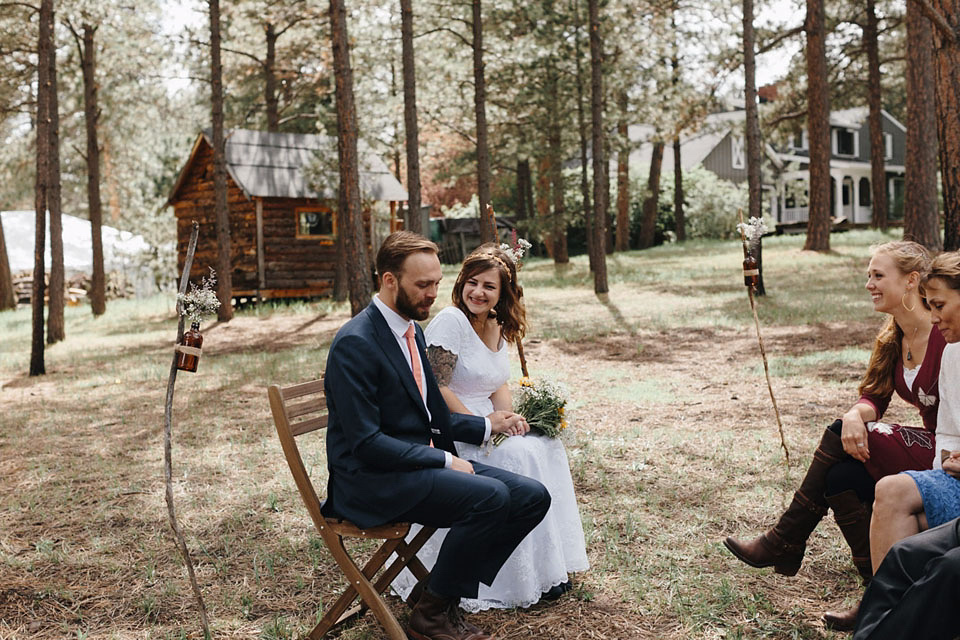 The couple drew on support from family to help with the day.
"Nathaniel's grandpa made dozens of wooden sunflowers to put at the entrance of the driveway to greet everyone as they arrived. Our mothers and grandmothers made desserts from favorite recipes.  Nathaniel's mom made our wedding cake (red velvet with cream cheese icing) and we had a chocolate and a vanilla sheet cake from Costco with rice paper designs of the "logo" from our wedding stationery."
Words of Wedded Wisdom
"I felt a lot of pressure to be persistent about what we wanted, that our wedding day was 'our day'.  The truth is that a lot of other people will be a part of your wedding day, if you ask them to, and some people will be more affected than you could anticipate by what you choose to do or not do. The phrase 'pick your battles' applies.
I think you're in a good place if you feel like the most important thing is that you get to marry your person, and all the other stuff—where, when, why, how—is secondary. If you're happy about who you're getting married to, you'll remember all the good parts and memories of your wedding day as not exactly how you wanted it to be will fade away."
Nathaniel says "Be firm in your choices and needs, but realise there are things you will not be able to control. Plan a honeymoon (preferably long) that happens right after your wedding. You will need a break from weddings, life, and other people. Also, it's fun to extend the fairytale and test out your new names and the terms 'husband' and 'wife'.  
Also, Be sure to give yourself a buffer day to relax (but don't spend it at home) before you leave for your honeymoon."
Some sound words of advice there that I think will resonate with many of you planning a wedding at the moment! Thank you to Emma and Nathaniel for a wonderful account of your beautiful, meaningful wedding – and to Levi for sharing these stunning images with us.
Enjoy the countdown to Christmas!
Louisa x
Photographer – Levi Tijerina
Videographer – Kevin Ihle
Dress – Lawrence Aitken, Etsy
Bride's shoes and necklace – ModCloth
Groom's suit – Suitsupply
Groom's accessories – tie from The Grunion Run, boots from Wolverine, pins (inside jacket) from SleepyMountain, Etsy
Wedding cake – Groom's mother and Costco
Cake topper – BonjourPoupette, Etsy
Rings – Emma's from Field Museum, Chicago and Nathaniel's from Steve Goodspeed, Etsy
Catering – Bird Dog BBQ
Stationery – designed by the bride and printed via Vistaprint and Zazzle