Ahead of letting the author of this morning's feature introduce herself, I wanted to take a moment to let you know that over the past few weeks, we've been busy expanding our team of writers! I'll be blogging more about this soon but for now, please welcome me in saying hello to Hannah Olsson – who you can find on Instagram and Twitter if you want to say hi 🙂
Hello! I'm Hannah one of the brand new Love My Dress interns. I'm really looking forward to sharing lots of beautiful weddings with you over the next few months, and I'm starting with a gem. Whenever I see pictures of Crear in Argyll it always makes me want to jump on the next train to Scotland, drink a dram of whiskey and soak up the immense views.
I love the remoteness of the venue, and the weddings there always look so fun and relaxed. Andy and Aster's day on 12th July was no exception. They had a weekend full of music, love and sunshine, all organised from thousands of miles away in Singapore.  Look out for the brilliant sunglasses favours, and Leon, the big hairy dog who makes a cameo appearance in the photos.
"We just threw in things that we love in life: travel, music, dramatic isolated scenery, good food and drink and of course dancing! We wanted the day simple and relaxed, it was about the gathering more than the style" 
Photography Copyright (c) 2014, Claudia Rose Carter
Andy and Aster met six years ago and within a year had moved to Singapore. 
"We got engaged on the beautiful Indonesian Island Nikoi and got married two year later."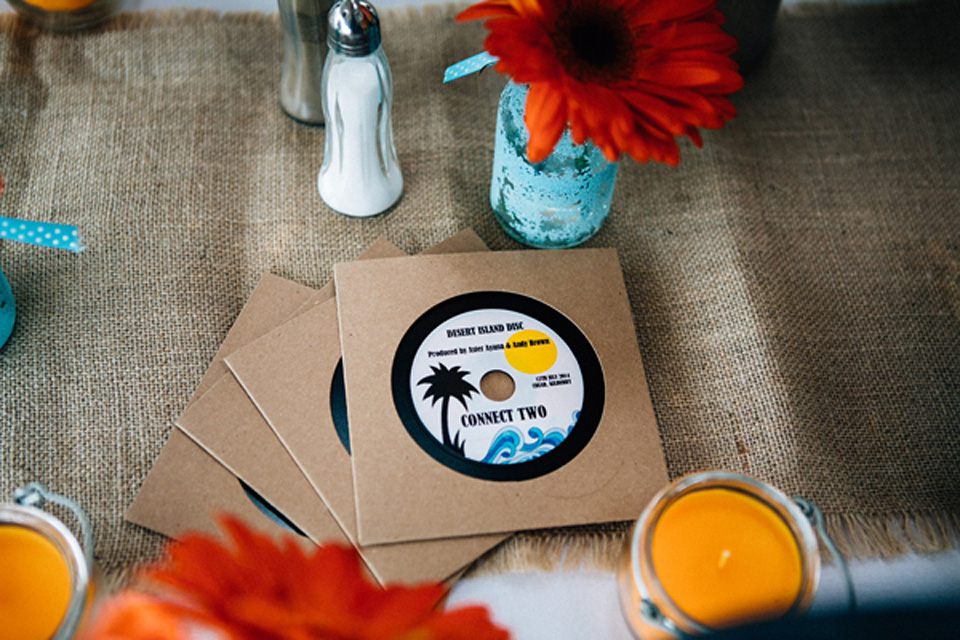 Aster was pregnant until 3 months before the wedding so searched online for her dress and found a design by Elliot Clare.
"I wasn't looking for an amazing dress that was "the one" – I just wanted something I'd feel comfortable in – especially so soon after having a baby and not knowing what kind of shape I'd be in…"
 We think you looked amazing Aster! Hair was styled by Catherine at Style Argylle in Tarbet, finished by a side tiara that was Aster's something borrowed. Her bracelet was a Christmas present from her mother in law "with an A and a * ('Astar' – get it!)".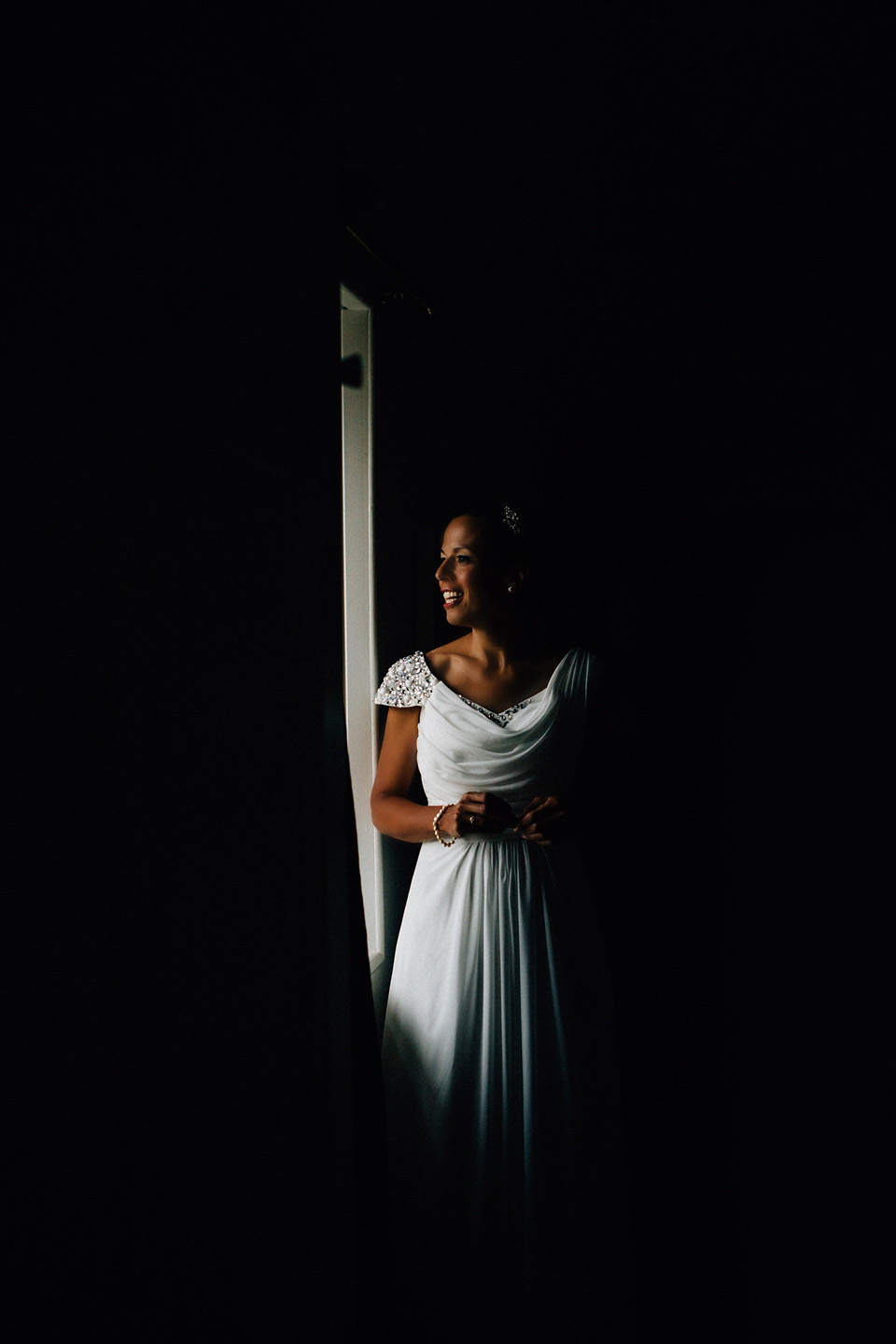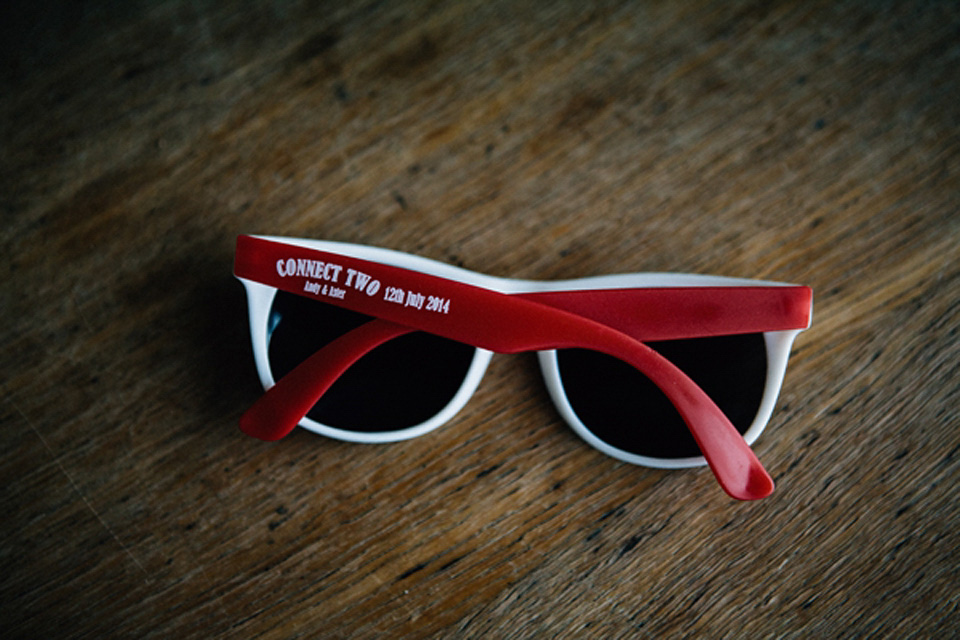 The very talented Claudia Rose Carter made the journey up from London to photograph Andy and Aster's day, doing a great job of capturing the emotion and atmosphere.
"She was lovely, unobtrusive, and gave us a wonderful collection of photos of the day before and the wedding itself.  Tears all round when we got them."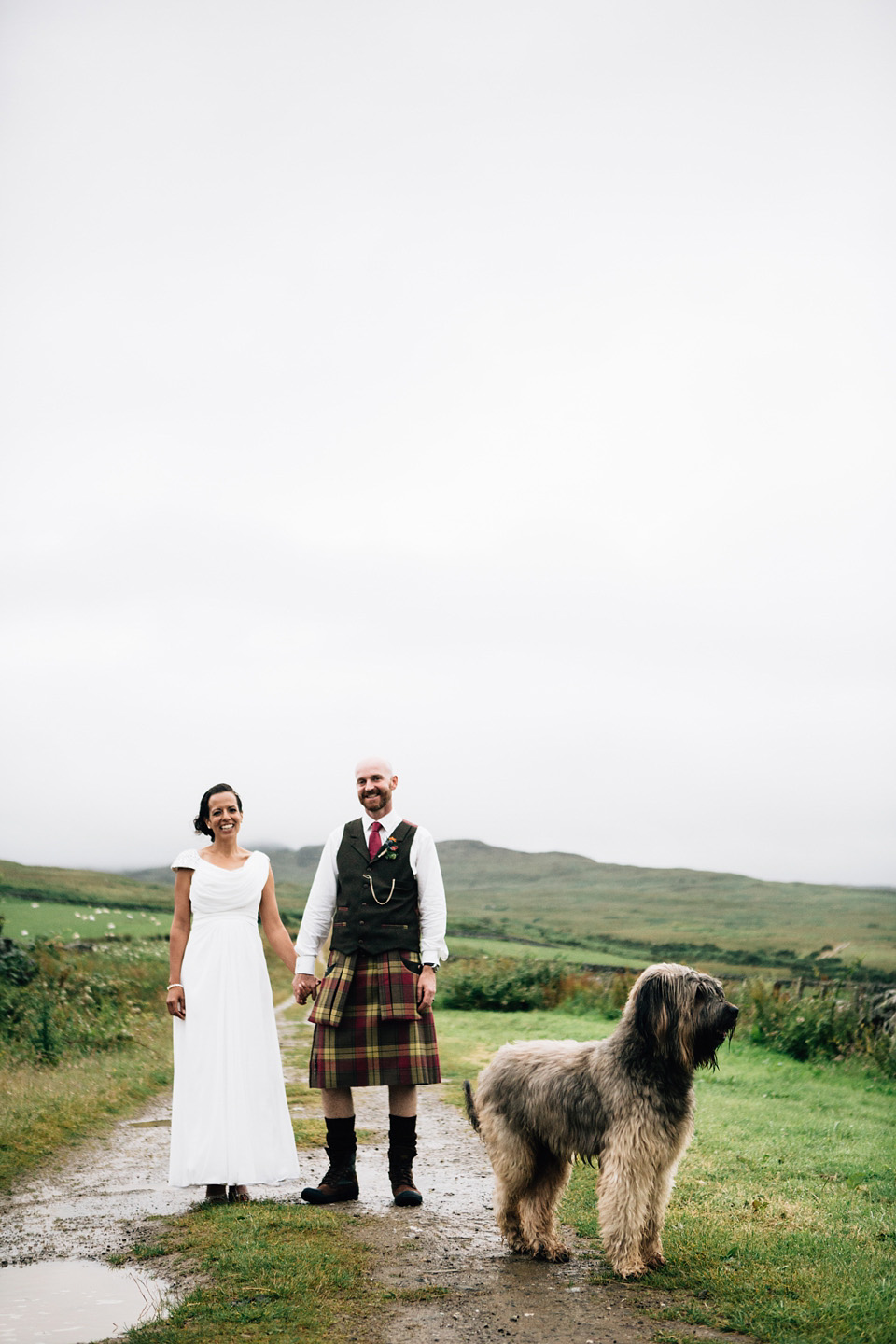 "When we were deciding if to have the wedding in Scotland or in Asia, we set ourselves the task of finding a suitable Scottish venue online in two nights.  Within a couple of hours we'd found Crear and it was exactly what we'd envisaged for a Scottish wedding. As soon as we walked in to the studio with the views across to Jura, we knew it was the right place for us."
I love how the decor and flowers give a nod to Andy and Aster's home in Asia, with bright colours that really pop against Crear's White Walls.
"We hung colourful Chinese lanterns and pom poms from the roof, we used vibrant colours of Turquoise, orange and pink against a white room. The simple flower arrangements in the same colours complimented the theme.  Melody, our florist, brought along the orange and pink lanterns which were perfect in the room."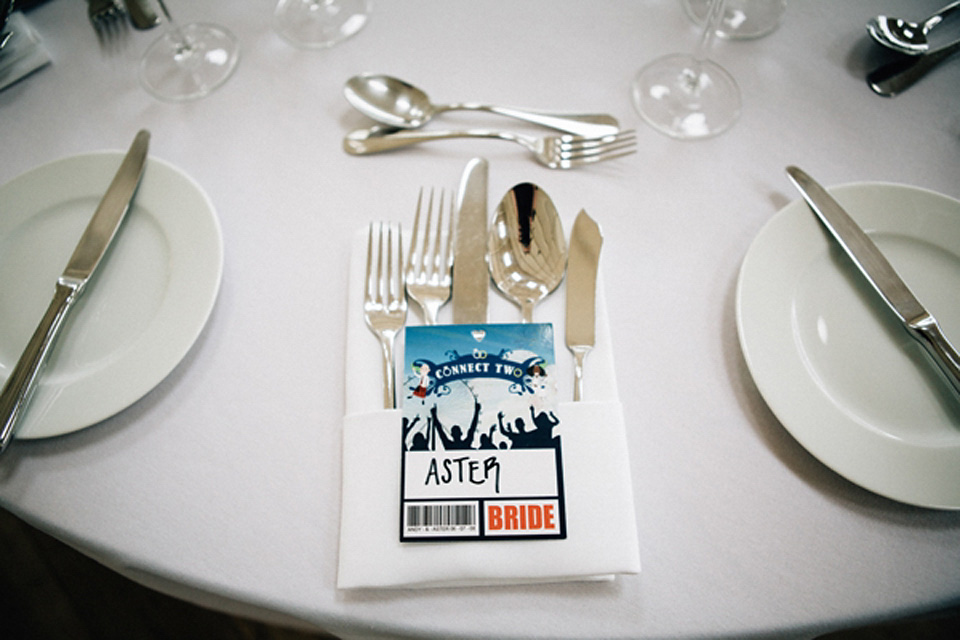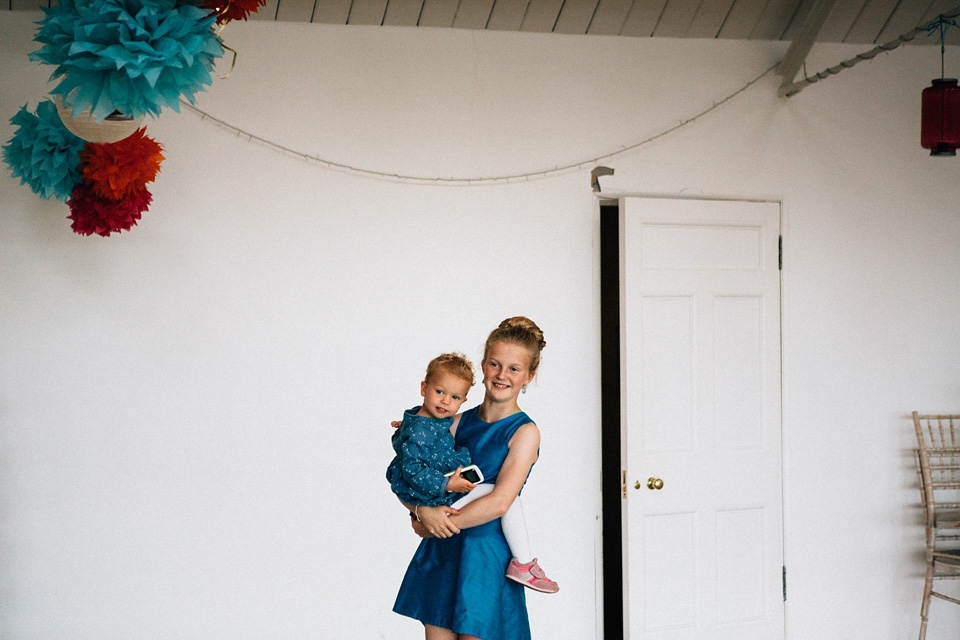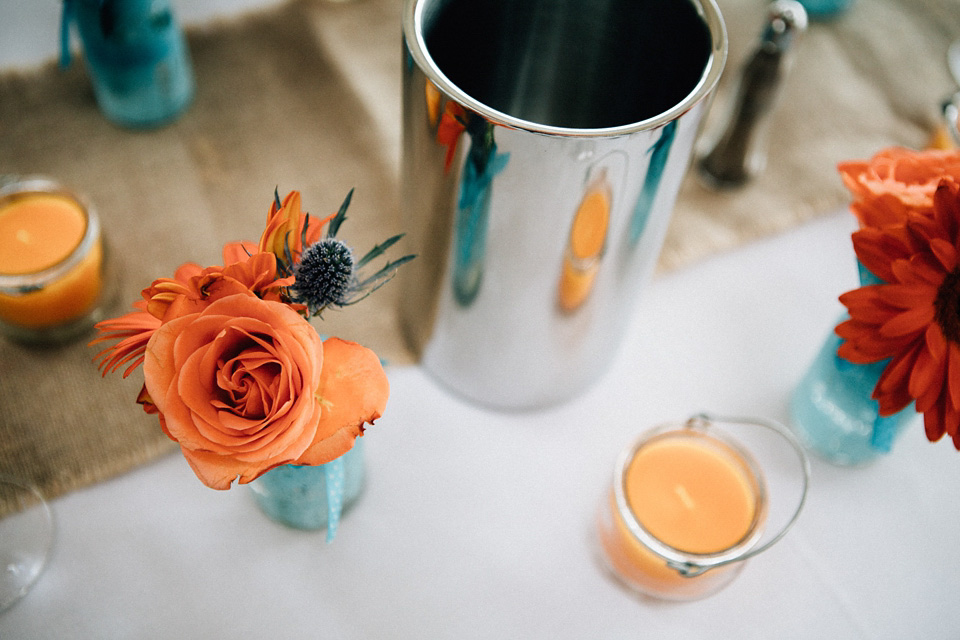 Music was a big part of Andy and Aster's day, starting with the invitations.
"Invites were based on a festival ticket, then on the day the various pieces of info were added to a lanyard for everyone – the order of service, day play, menu, place card for table, plan for the Sunday (it was a three day affair)."
Andy also looked very smart in a suit with pink details from 21st Century Kilts in Edinburgh, with a pocket watch that was gift from his bride.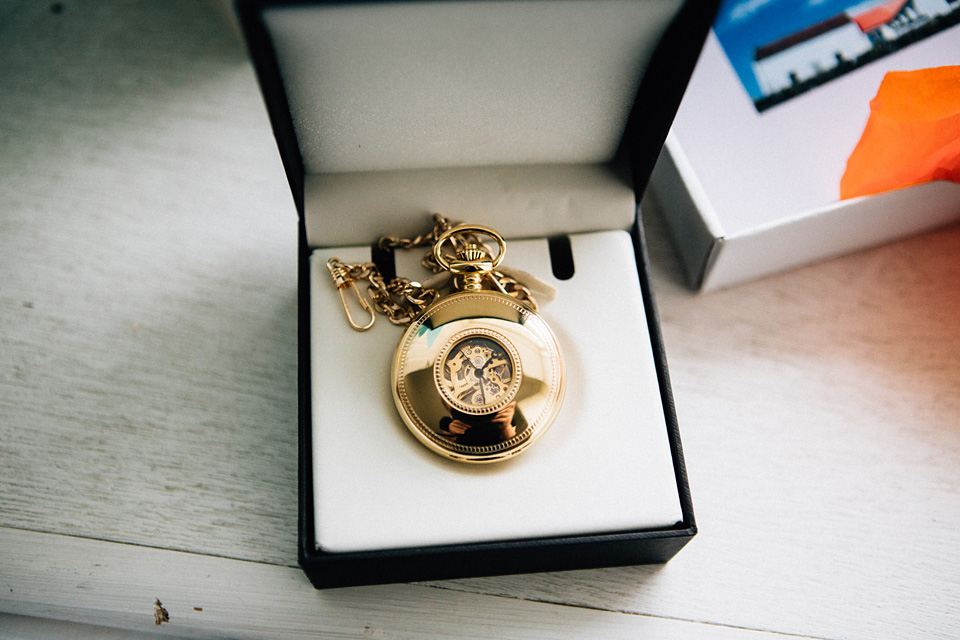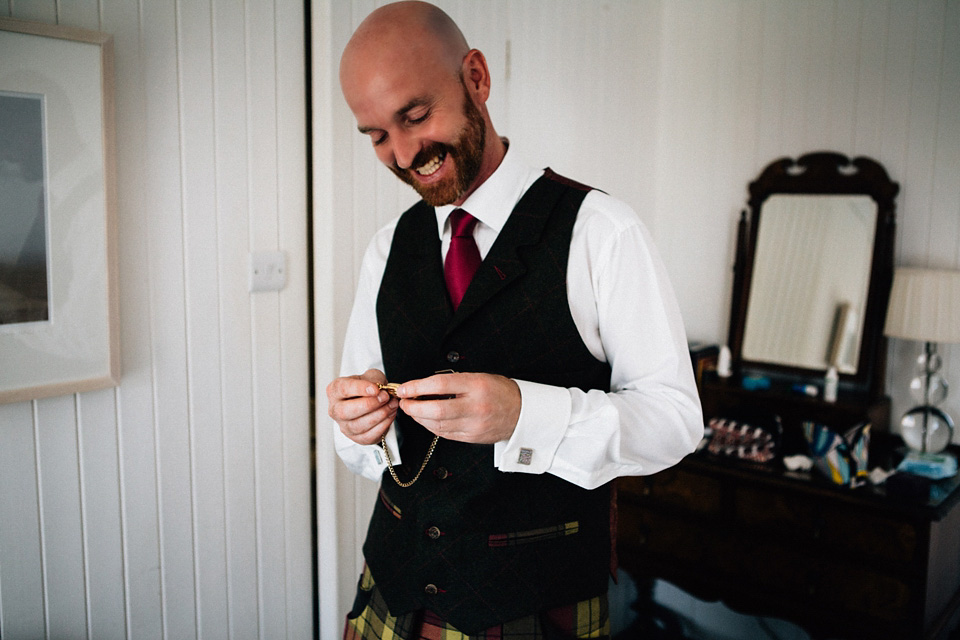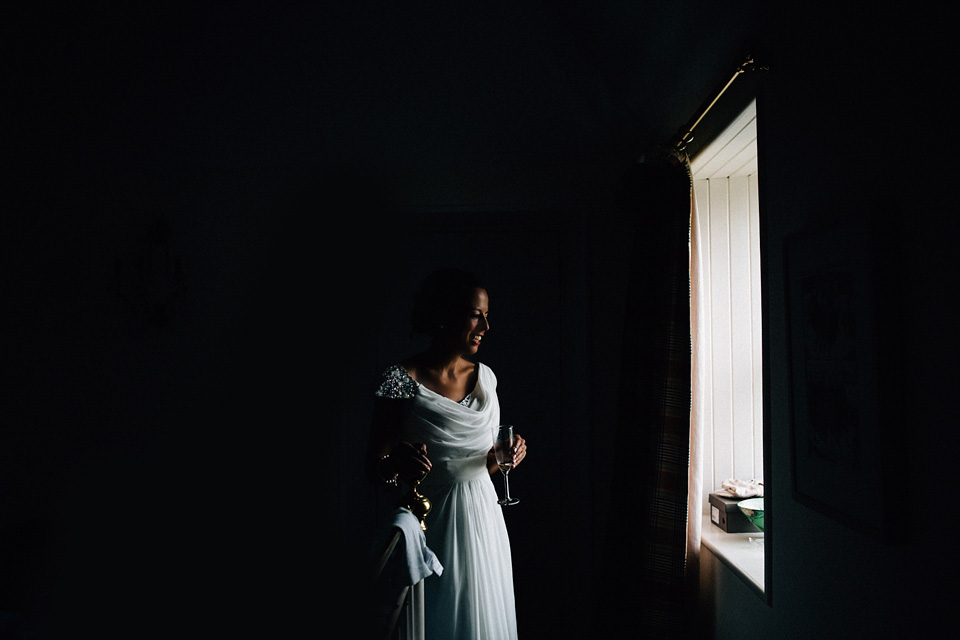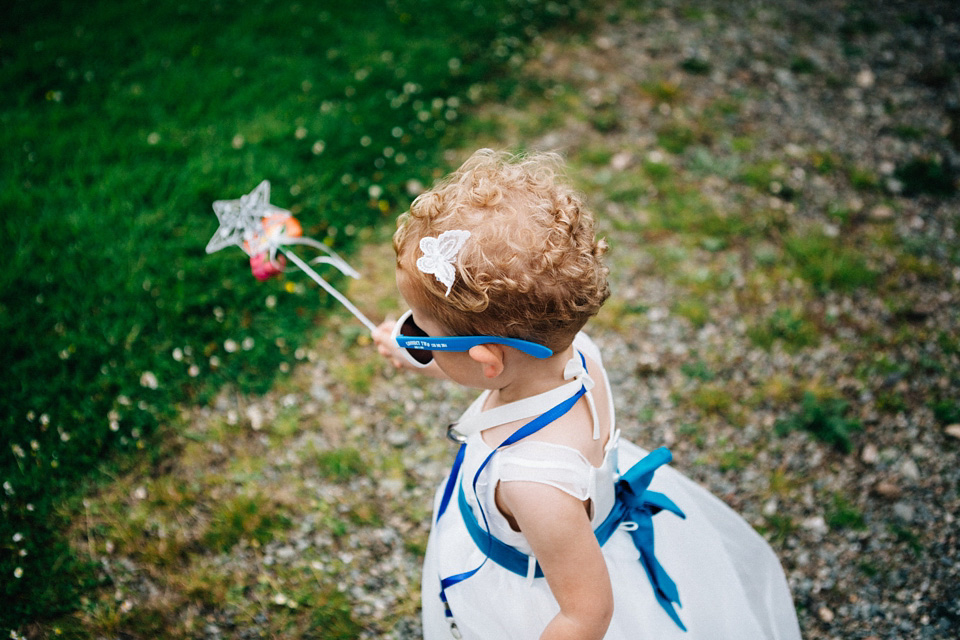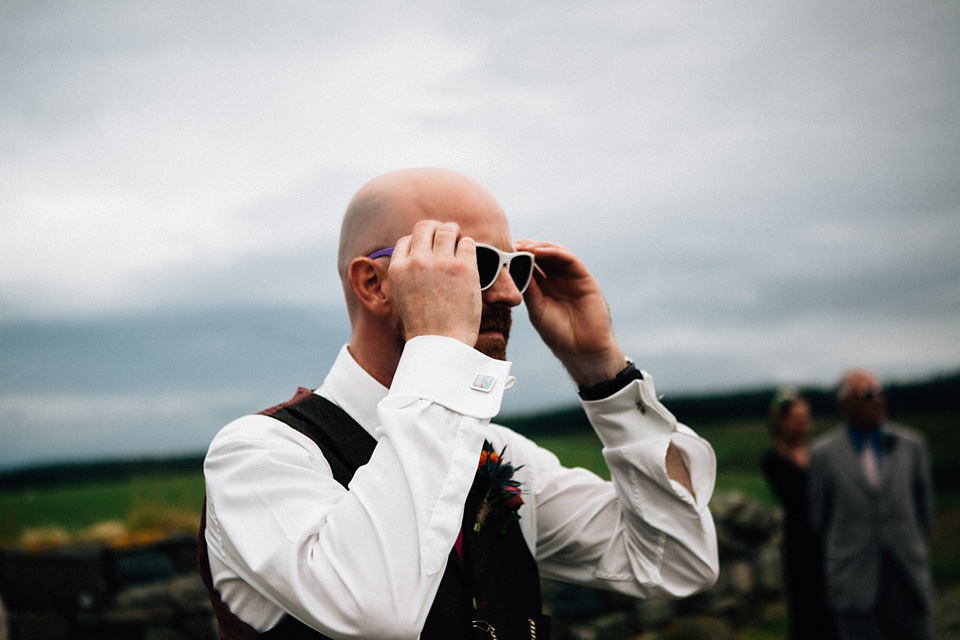 "Aster walked down the aisle with her Dad Ergate, to a ceremony full of music and some lovely readings."
Blessing on a Marriage by James Dillet Freeman.
May your marriage bring you all the exquisite excitements a marriage should bring, and may life grant you also patience, tolerance, and understanding.
May you always need one another – not so much to fill your emptiness as to help you to know your fullness.
A mountain needs a valley to be complete; the valley does not make the mountain less, but more; and the valley is more a valley because it has a mountain towering over it.
So let it be with you and you.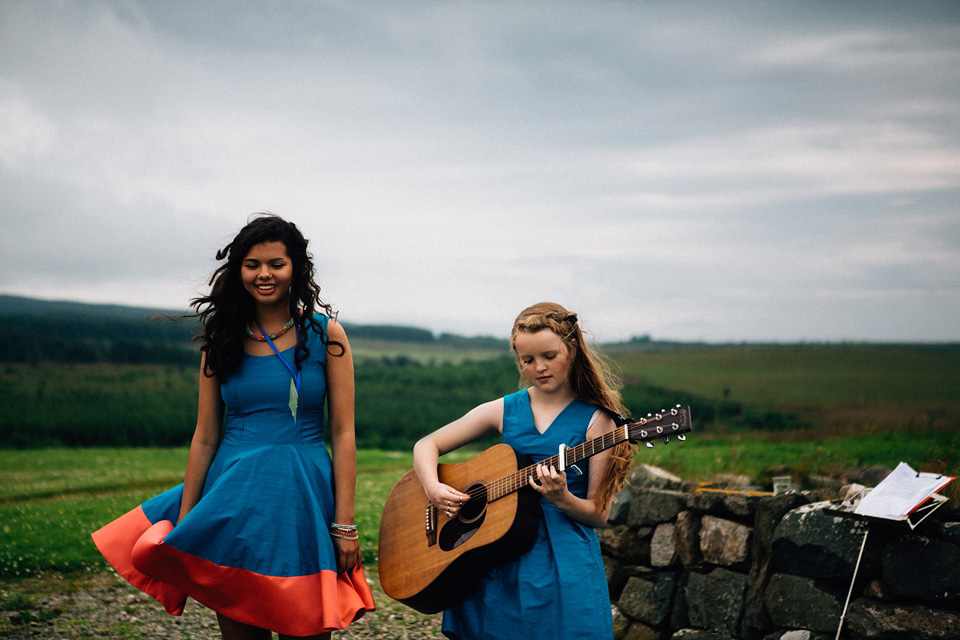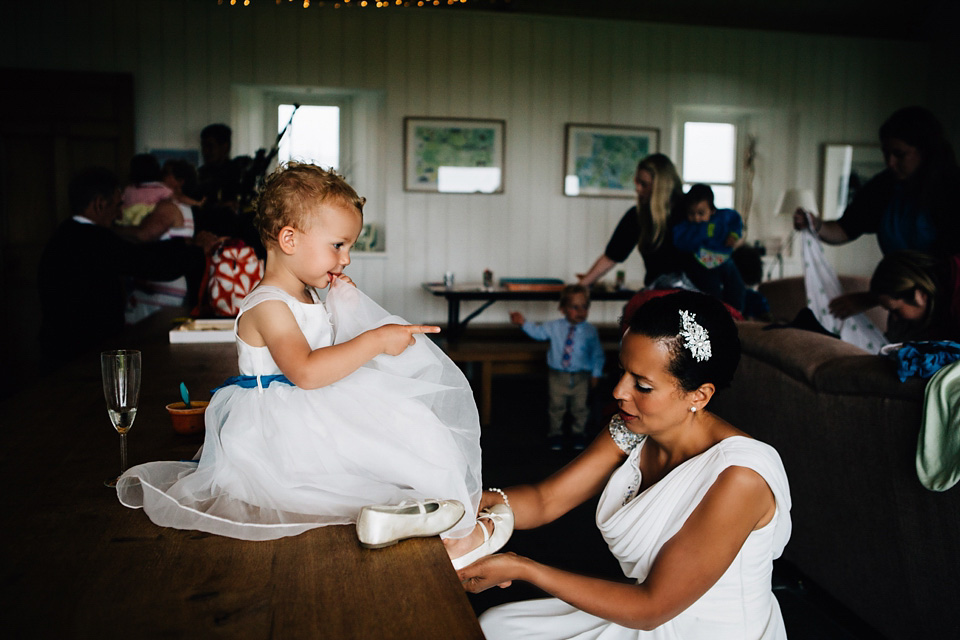 "When we were piped into the main hall, our hands came together and our rings locked. We looked up to see all the people and memories of our lives before us and there was so much happiness.  We had done it, life's twists and turns had brought us to this fantastic moment. Everything made sense. It was wonderful."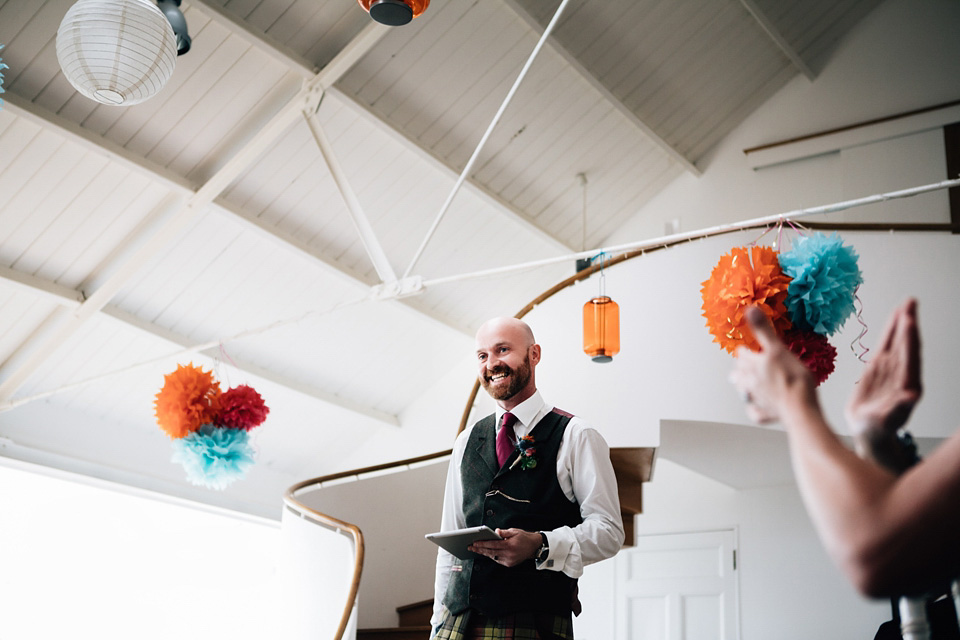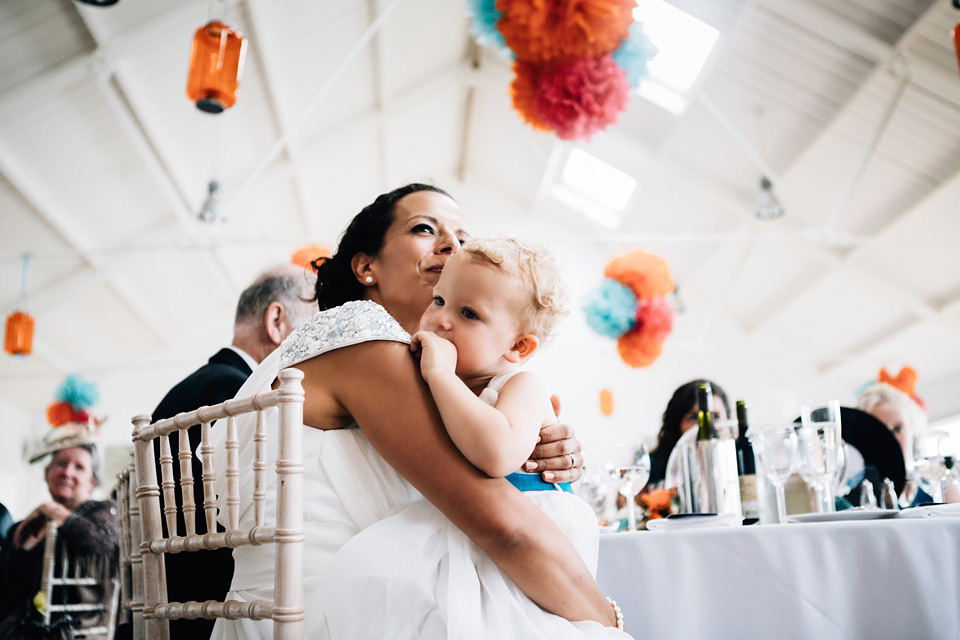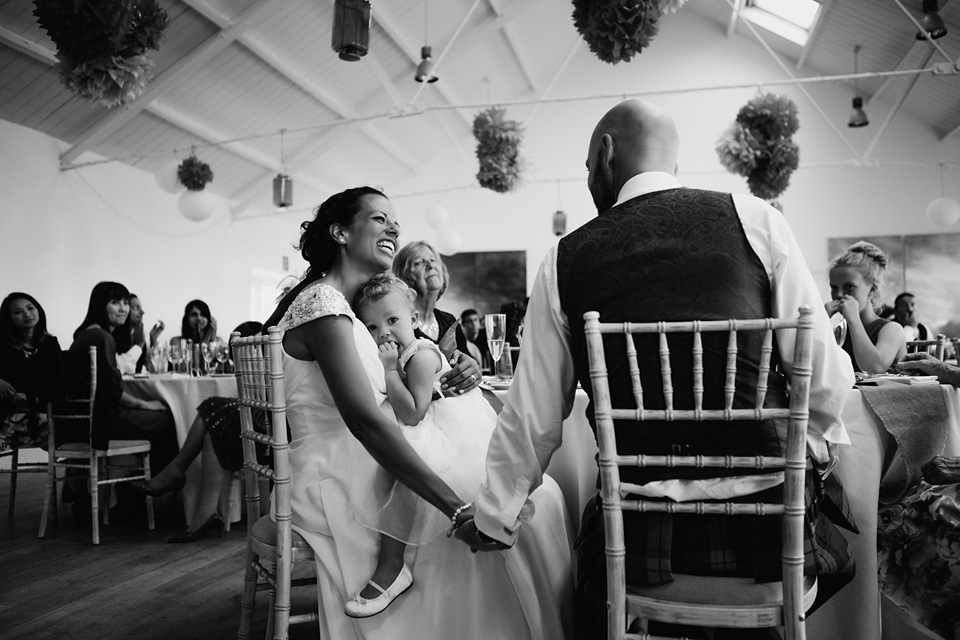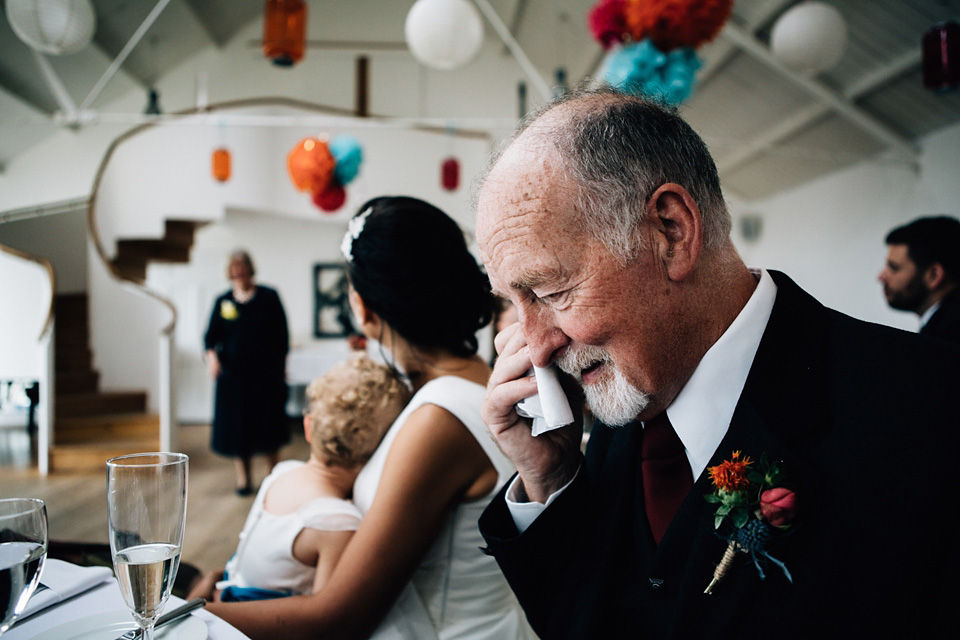 The evening entertainment was by ceilidh band Whisky Kiss, who Andy and Aster describe as "truly brilliant."  Guests were also given a CD of Andy and Asters favourite songs and some brilliant sunglasses from Sunglassville USA, which look very cool in the photos.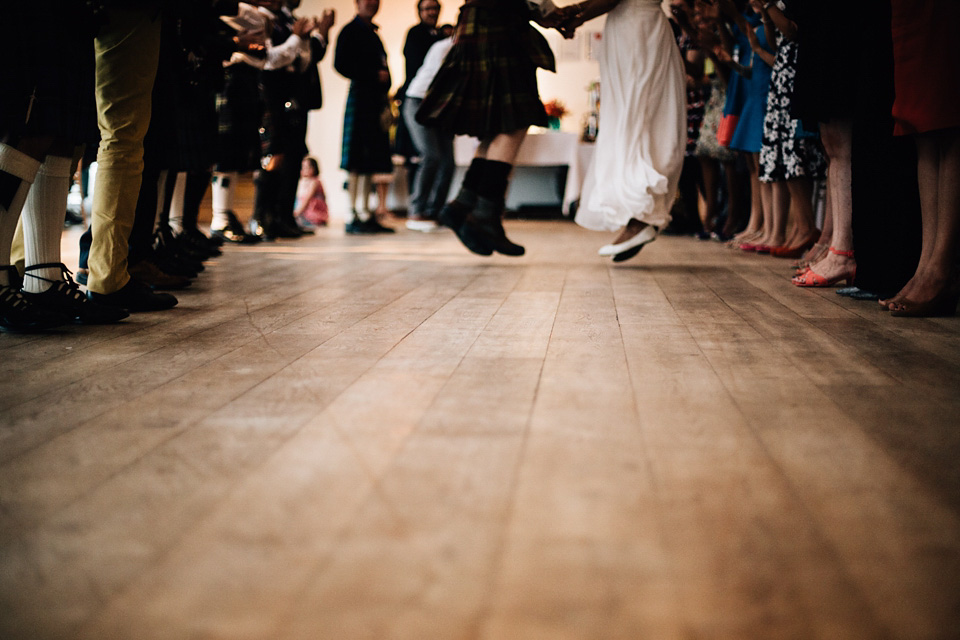 Words of wedded wisdom…
"Remember what is really important when planning your wedding and don't stress on the rest.  Everyone says it, but its true, the day passes so quickly – enjoy every moment.
Oh, and we would probably not have a second baby, move continents, start a new job, buy a new house and plan/get married all within 4 months next time!"
I couldn't agree more! There's no doubt your friends and family enjoyed their day at Crear as much as you did, and I think every wedding should have a big hairy dog!
I hope life has slowed down a bit for you Andy and Aster, thank you for sharing your special day with us.
Readers, you can see some more of the lovely weddings at Crear we have featured here and more beautiful images from photographer Claudia Rose Carter Photography here.
Have a lovely morning everyone, and the best start to a new week,
Hannah x
Photographer –  Claudia Rose Carter
Venue and Catering – Crear, Argyll,Scotland
Bride's dress –  Elliot Claire
Bridesmaids dresses – BHS
Groom's suit – 21st Century Kilts
Florist – Melody at Crear
Celidh – Whiskey Kiss
Cheese cake – Cheese Shed
Bus – West Coast Motors
Sunglasses  – Sunglassville USAalt