So what do you picture when you a think of an English country wedding? Lace dresses and wildflowers? Strawberries, marquees and croquet on the lawn? Rare roast beef, pork pie and homemade chutney? This celebration is crammed full of all sorts of gorgeousness and is a clever mix of the traditional with the contemporary along with some fancy graphic design – definitely check out the appearance of a fabulous bespoke magazine that replaced the usual speeches. Luckily for us Gemma Williams was on hand to finely photograph this whole load of wonderful!
Tim and Miriam, who both work for the same trading company in London, married on 5 July 2014 in Tupsley, Herefordshire, which is where Tim grew up and then celebrated at Homme House, in nearby Much Marcle. (Isn't that just the cutest place name?!)
I could rave about this romantic wedding forever, however groom, Tim is far more eloquent in his description of his and his pretty, Australian bride's day so I'll let him take up the story.
"When Miriam and I started planning our wedding in June 2013, the thing we both kept coming back to was making it a celebration of not only our marriage, but of local, seasonal produce showing off the location we were in. In many ways it was a classic English country wedding; country house, croquet, jam jars, jazz on the lawn and other details reminiscent of other postings on Love My Dress. But at its heart, it was unique.
"We struggled to find a florist as all our searching was bringing up 'traditional' wedding floristry with structured bouquets and centre pieces. We came across our florist Chloe from BareBlooms whilst searching through our photographer's recommended suppliers page. Chloe was such an amazing person to work with. She not only delivered on the broad range of requirements we had, but she also helped with any last minute emergencies!
Chloe grows a lot of the flowers herself, and where she doesn't, she makes sure she sources them from British growers, and you could see the care and attention she put in to making everything perfect.  We chose to go with wildflowers and gave Chloe ultimate power on choosing what should go in the centrepieces. What we ended up with was a beautiful burst of colour in the room. For the bouquet Miriam wanted more feminine colours such as peach & pink whilst still sticking to the wildflower theme."
"We also named our tables after local wildflowers and each guest was asked to take a corresponding flower from a jam jar by the table plan and plant it in their table centre piece."
"Our photographer was Gemma Williams. When looking for venues we kept getting directed to Gemma's amazing blog and fell in love with her style of photography. She manages to capture true, honest emotion whilst also focussing on the small details. We couldn't have been happier with our photos as Gemma managed to capture amazing moments we had missed. I knew we had a good photographer when I looked back at the pictures having no recollection of her even being there."
Miriam had limited time to choose her wedding dress as she wanted to ensure that her sister, and only bridesmaid, was there with her, she says,
"This was made difficult by the fact that my sister lives in Australia. When she visited me in July 2013, right after we got engaged, I made sure I set up a few dress appointments in the hope of finding 'the one' or at least a short list of potentials. My sister actually picked out this Pronovias dress from the rack at Mirror Mirror in Angel, Islington, and convinced me to try it on. I knew the moment I stepped out of the changing room that this was the dress I would wear on my wedding day. I love that it is made of light-weight tulle and tastefully embellished.
My friends know me as 'the one who always wears a dress' so I knew I had to find the perfect one to get married in! I wanted something romantic and girly. It made me feel absolutely beautiful."
"We used a friend for all our wedding stationery as she owns her own print business. Nicole Thompson from Paper Heart prints all the products herself using silk screens. She has an amazing eye for design so we let her run with it! We sent out Kraft-brown luggage tags as our 'save the date' and then sent a traditional invite with an RSVP postcard enclosed. It was so lovely receiving the RSVP postcards every evening in the mail. Nicole also printed our amazing table plan with the flower designs and the individual table names."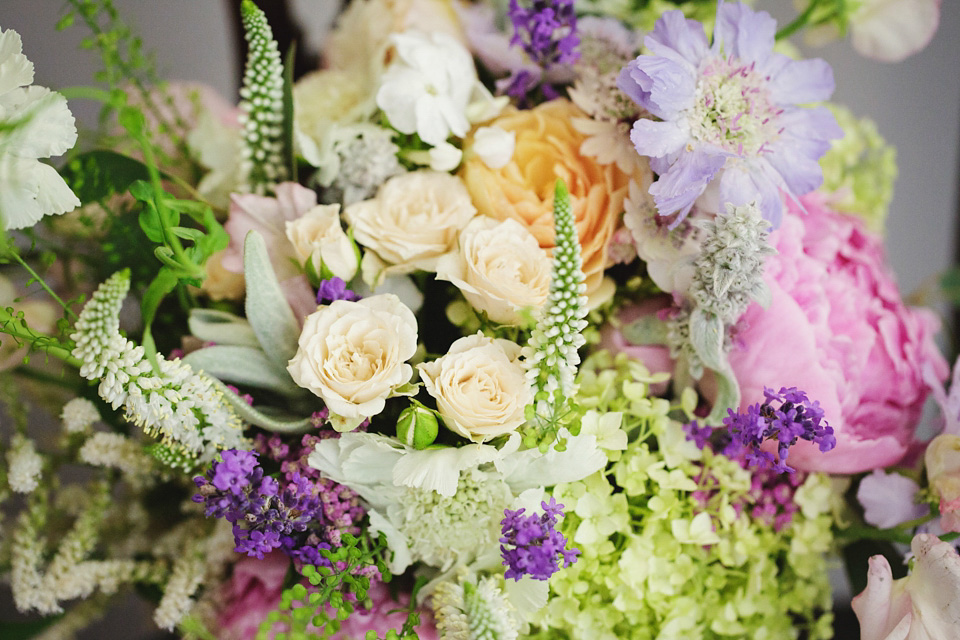 "Miriam and I work together in the London office of an Australian securities trading firm.  In fact, I met her on my first day. Of course, I wasn't to know that the inspirational, bright, young Australian vision that I was being introduced to was more than merely my new employer.  As it turned out, I'd turned up to work in stocks and options, and in the first meeting, on the first day, I'd met my future."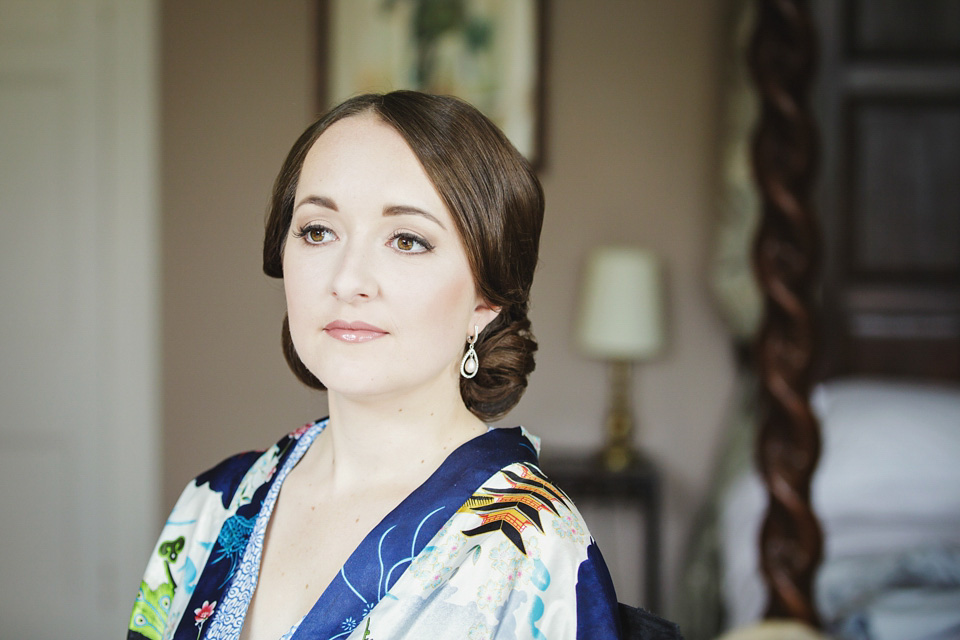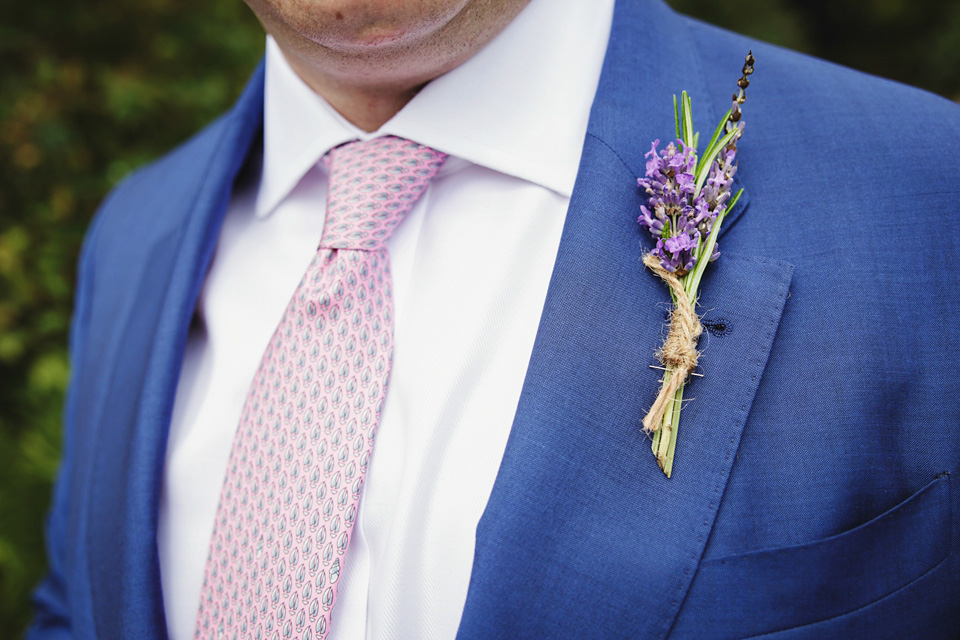 "We used a friend for all our wedding stationery as she owns her own print business. Nicole Thompson from Paper Heart prints all the products herself using silk screens. She has an amazing eye for design so we let her run with it! We sent out Kraft-brown luggage tags as our 'save the date' and then sent a traditional invite with an RSVP postcard enclosed. It was so lovely receiving the RSVP postcards every evening in the mail. Nicole also printed our amazing table plan with the flower designs and the individual table names."
"Our ceremony took place at St. Paul's Church in Tupsley which is the church attached to the primary school I went to as a child.  Our reception followed at Homme House, Hereford. Miriam and I fell in love with the house the first time we saw it, even though the only time we saw it in the sunshine was on our wedding day. We chose the venue – a classic country house, as I grew up in Herefordshire and we wanted a countryside wedding that showed off the best of the English countryside to all our guests from overseas.
Set to the backdrop of the Malvern Hills, and in the middle of cider country, you couldn't get a more fitting example of Herefordshire at its best."
"I've always liked the classic simplicity of a Tiffany setting, so I chose Miriam an engagement ring in platinum in the six-point traditional Tiffany style.  To celebrate our engagement, Miriam and I travelled to New York for the weekend, and we decided it would be nice to choose our wedding rings together at Tiffany on Fifth Avenue, to complement the engagement ring.  Jetlag drove us to be the first through the door one Saturday morning. 
I'm pleased to say they served us breakfast (well, coffee and a Tiffany blue cupcake), so perhaps there is some truth to the film after all…"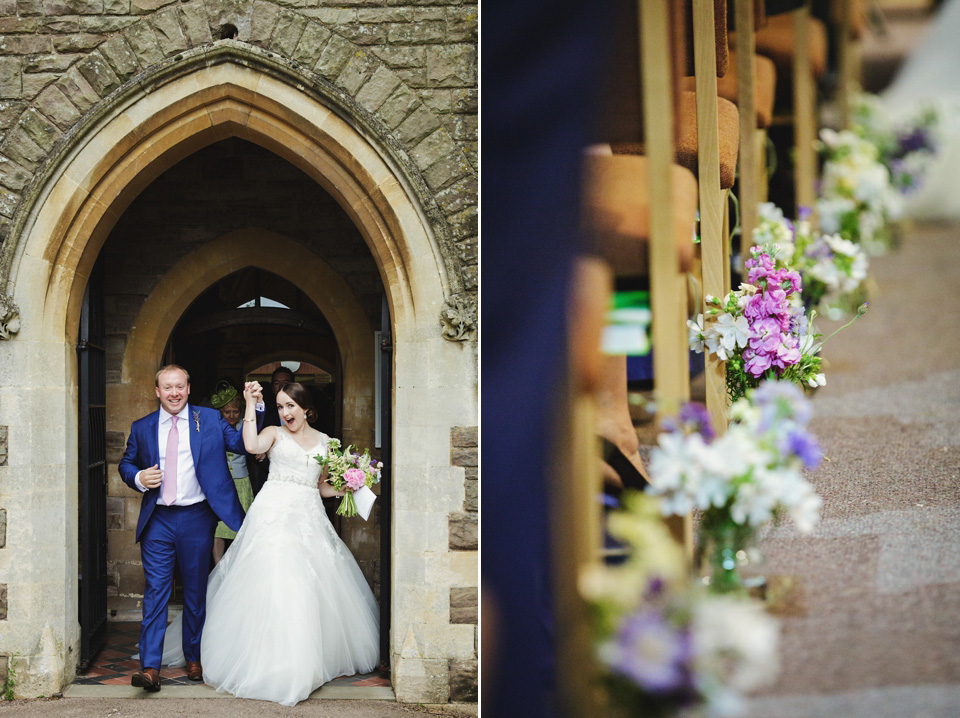 "Miriam and I wanted neither to be the centre of attention, nor to miss the opportunity to spend as much of the day with our guests as possible. As such, we eschewed classic speeches, cake cutting, first dances and thrown bouquets and instead built the reception around two things. First, a series of voluntary toasts (as is seen in Scandinavia), with the aim of giving as many of our guests as possible a chance to share in our celebration. Second, and more uniquely, we printed and published both our speeches and other information about the day in a 'wedding magazine' given to each guest on their place setting.
I say uniquely because, in searching for precedents on the internet whilst putting it together, I could find few – if any – similar examples. Ostensibly, this ensured we said everything we wanted in the way we wanted. More importantly, I could say in writing what I couldn't say out loud with dry eyes."
"We wanted a caterer that shared our passion for local ingredients and seasonal produce.  We selected A2Zest after Jan prepared an incredible tasting that included Herefordshire beef, lamb and Wye Salmon, homemade horseradish sauce, and a starter platter with Wye valley asparagus and local ham hock terrine, amongst other things.
The meat for the main course and the appetisers were cooked on a barbecue outside during the canapés reflecting Miriam's Australian heritage and a nod to our Aussie guests – and the smell of local chorizo cooked in Weston's cider over the coals certainly got people ready for the wedding breakfast."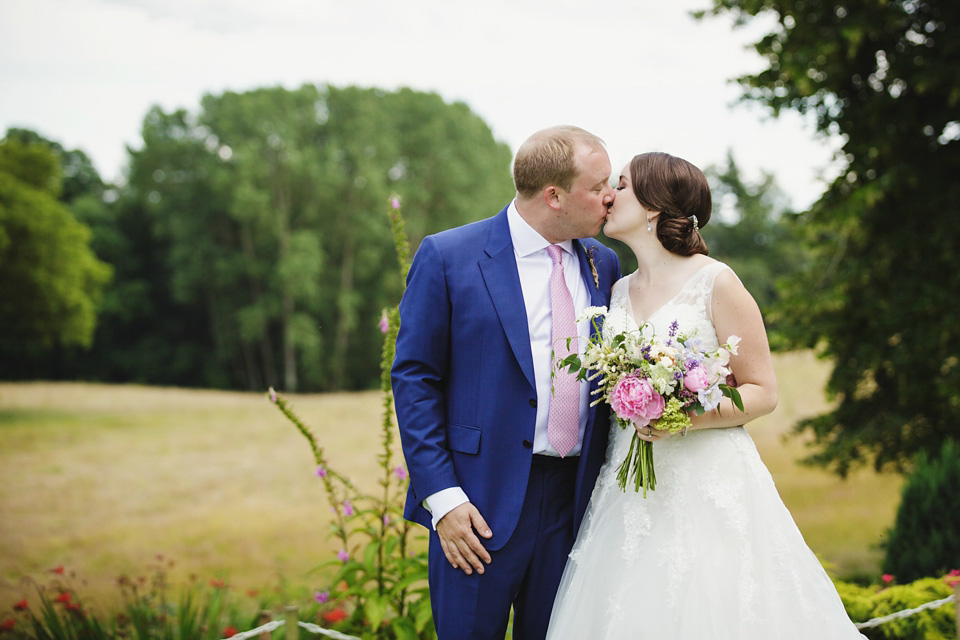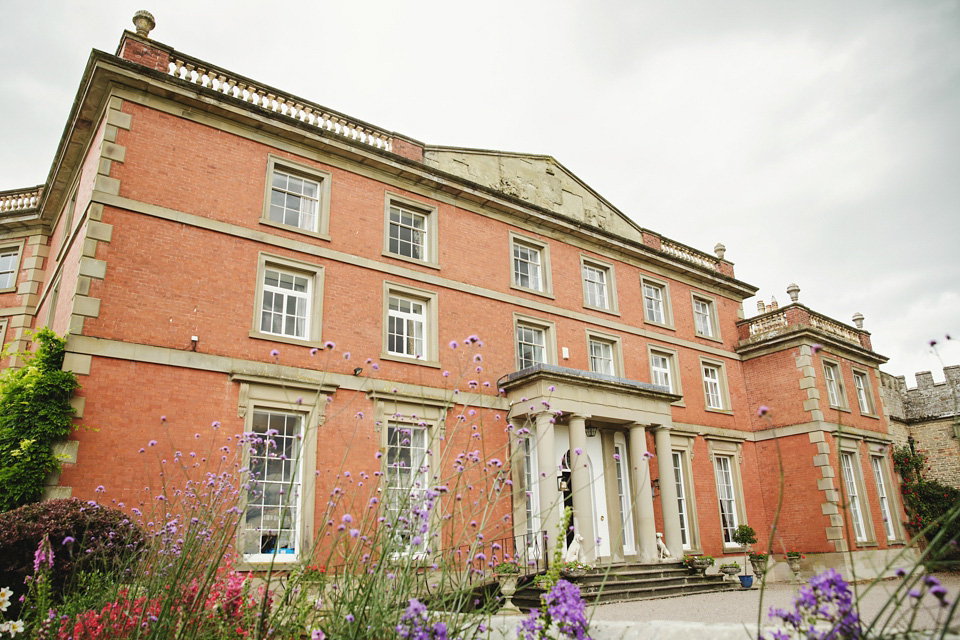 The magazine also included details about the meal, the venue, the suppliers along with the all-important groom's speech.
"We asked our amazing sister-in-law Katherine Gibney, who is a graphic designer from Accurate Yak, if she could help and she was up for the challenge.  She understood our desire to replicate something of a cross between a weekend glossy supplement and a gossip magazine, and did an excellent job editing, designing and laying out the content for us."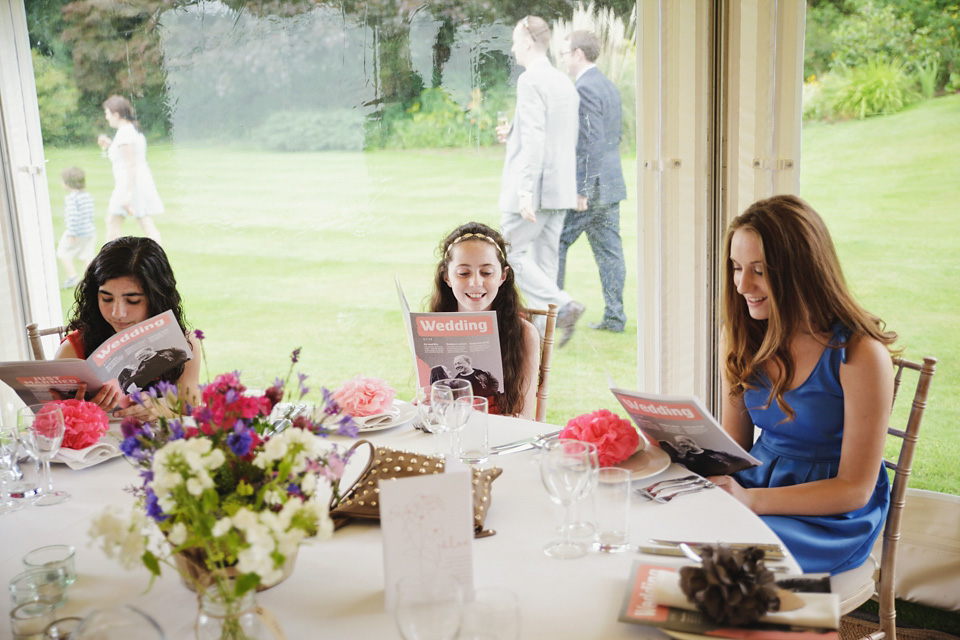 "My favourite part of the day was driving off from the church with Miriam.  It was just the two of us in the car, and I knew that all of the hard part of the day was done, and we simply had to look forward to spending the rest of the day (and our lives) together, and with our friends and family.  As we headed off to the venue, the clouds cleared, the sun came out, and we cracked open a little bottle of bubbly in the car.  It doesn't get better than that. I would recommend this as a good opportunity for the newly married couple to spend a little time together immediately after the ceremony."
"We wanted to keep our decorations simple so found some great tissue paper pom-pom napkin rings to use. Whilst it was time consuming hand-fluffing 140 pom-poms, I think the visual effect worked really well. We also ordered some very simple paper bunting that was flown all the way from Mexico! Miriam saw another couple on a Love My Dress feature use this and snapped up the supplier's details right away. The bunting is called papel picado (paper cutting) and was handmade by a 74 year old master papel picado artist. It was a great touch as we could have our names and wedding date hand-carved into the paper."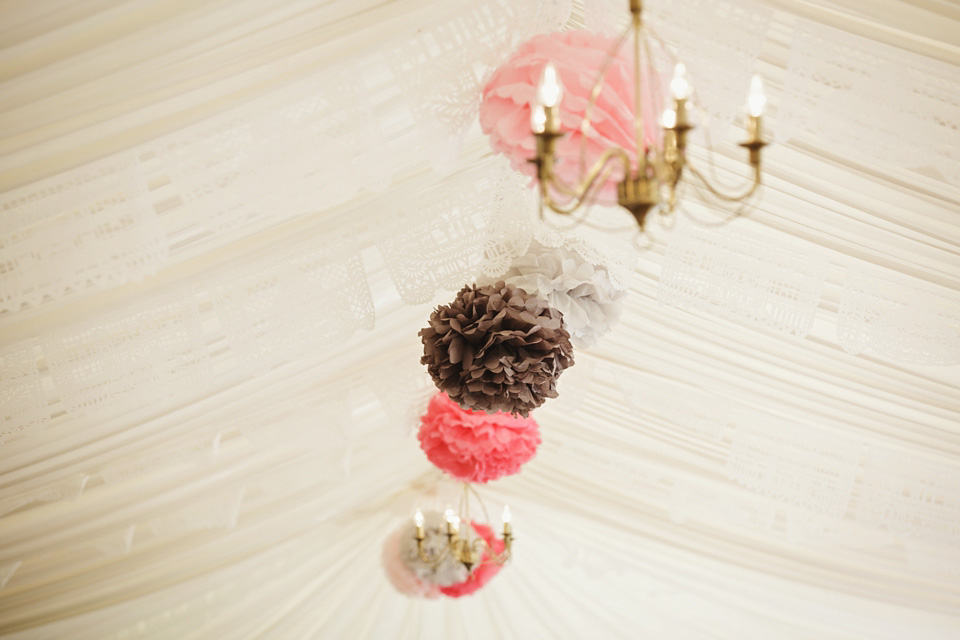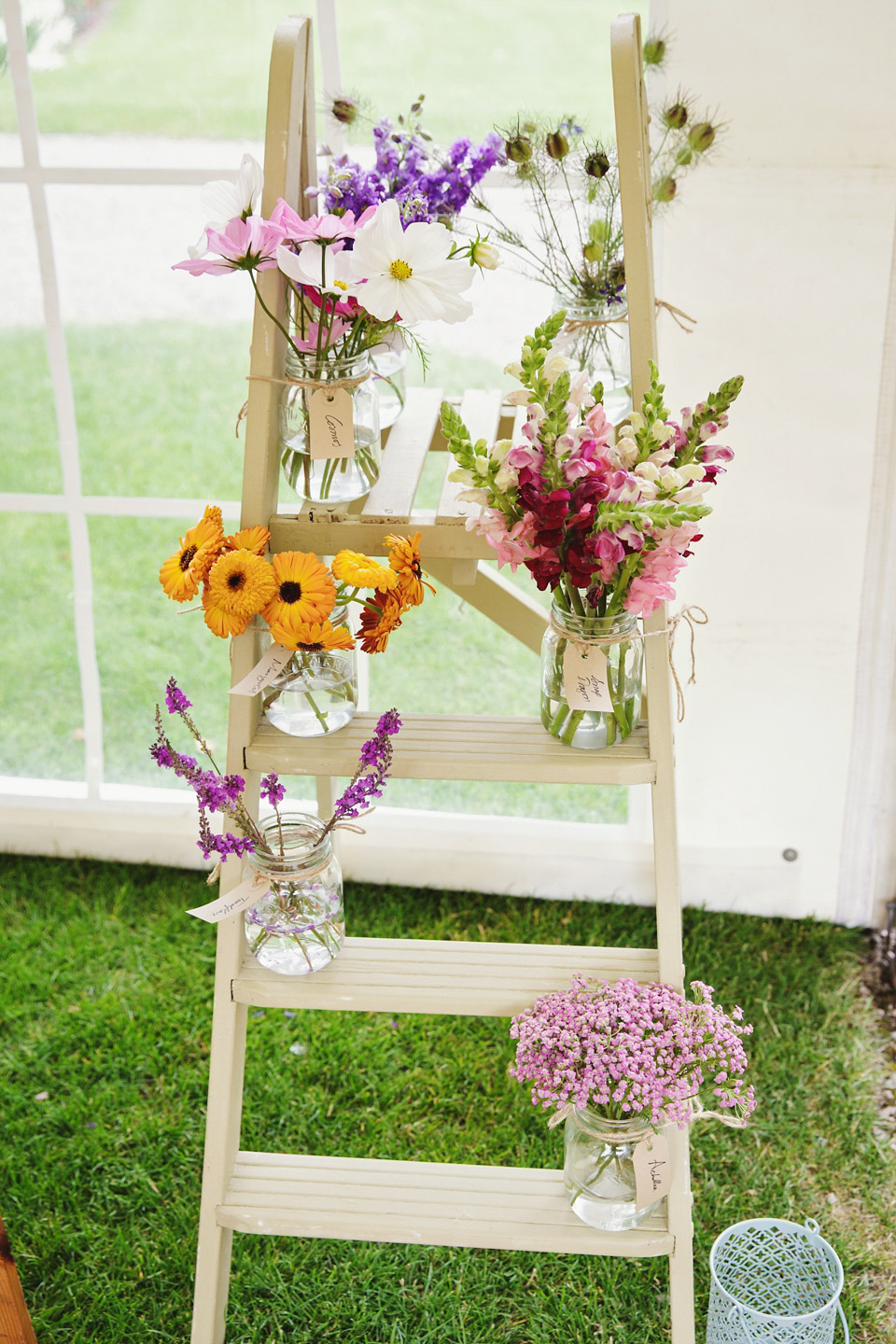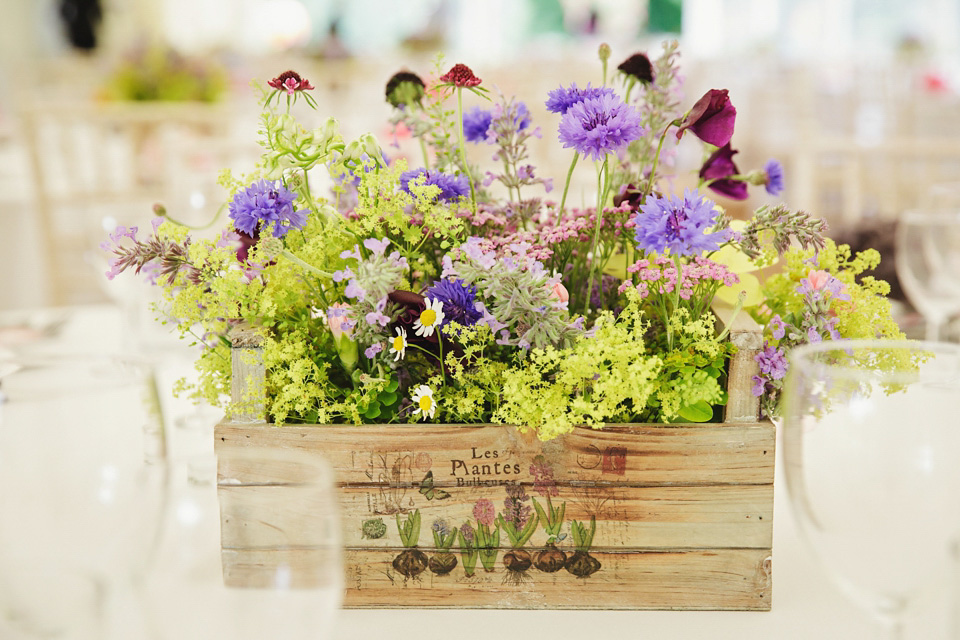 "We wanted the meal to be interactive.  To start, platters of local meats, chutneys and pâtés were served on sharing boards.  As a main course, the joints of meat and fish were delivered to a nominated guest carver on each table, who served the other table guests.  Each carver was given a butcher's apron and a personal card from Miriam and me asking them to carve for the table."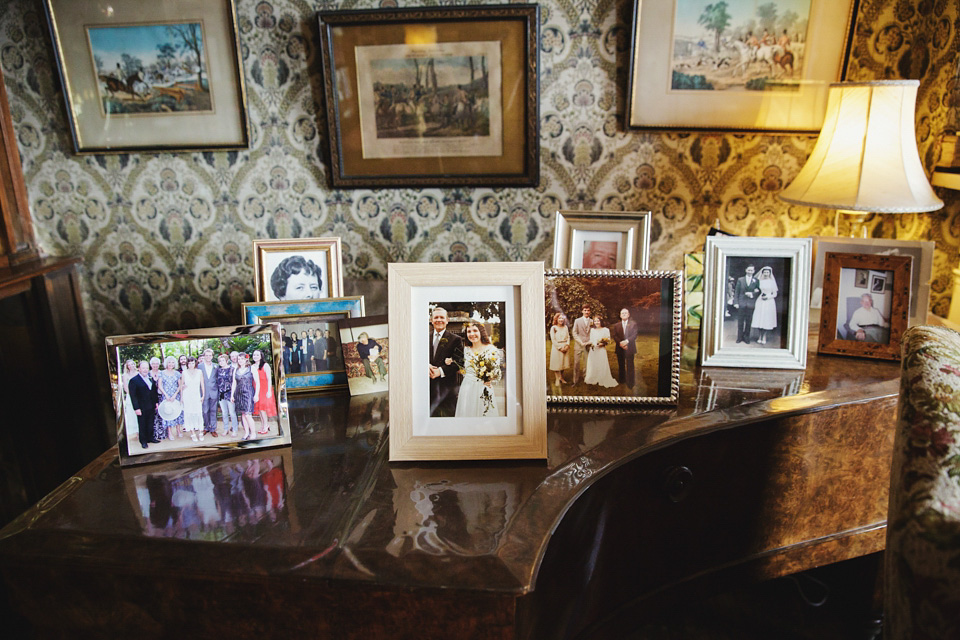 Words of Wedded Wisdom
"Hopefully the readers of Love My Dress won't mind some words of wedded wisdom from the groom? Don't let the little things bother you.  You've spent months planning every detail, but your guests have no idea what to expect and will assume that everything is planned to perfection.  Try to enjoy it for yourselves, because you'll never get to do it again!"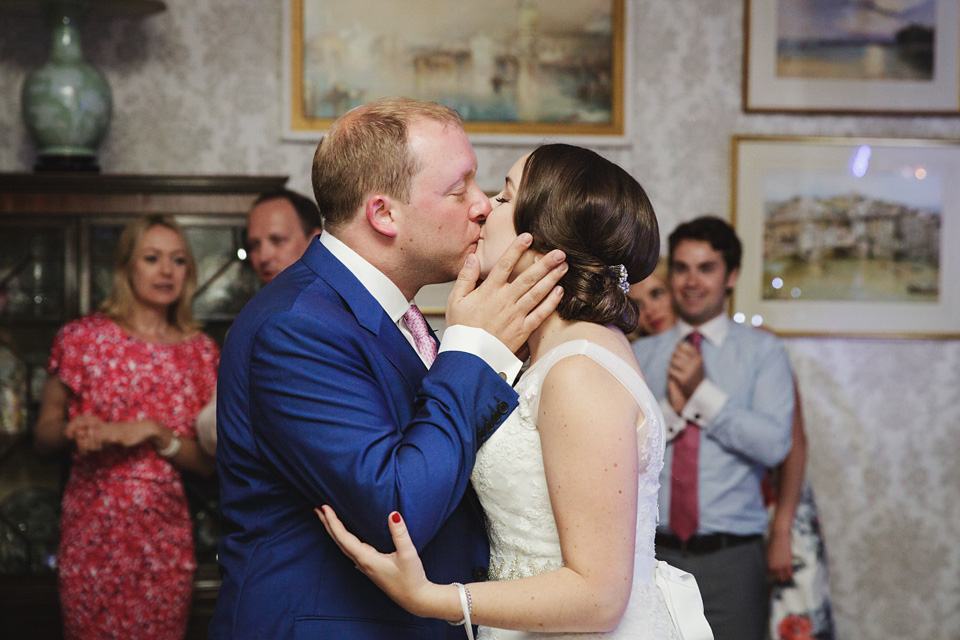 The way that Tim and Miriam have described this gorgeous wedding really touched me. I would like to wish you both much happiness for the future. It has been lovely to write about a Midlands wedding with a great list of local suppliers. There are so many more to share, please check below for full details.
Many thanks to Gemma Williams for sharing your wonderful photography, and all the fine details, with us.
Has this wedding inspired you to do a spot of idea poaching???
Much love, Katie xx
Photographer – Gemma Williams
Venue – Homme House
Dress – Pronovias from Mirror Mirror, Islington
Shoes – Rachel Simpson
Groom – Suit – Paul Smith, Tie – Hermes, Shoes – Jaime Mascaro, Cufflinks – Oroton, Shirt – M&S
Bridesmaid – Pronovias
Rings – Tiffany
Stationery – Paper Heart
Wedding magazine – Katherine Gibney at Accurate Yak
Florist – BareBlooms
Caterer – A2Zest
Cheese cake – Mousetrap Cheese Shop
Hair & make-up – Doreen & Angie at Le Glow
Perfume & cologne – Acqua di Parma
Knitted mice – Laura Long
Paper cut bunting – papel picado
DJ – Pete Stead
Jazz band – James Tartaglia