Everything about this beautiful barn wedding in the gorgeous Dorset countryside is so pretty, rustic and fabulously at ease. Filled with handmade and hand sourced items from the cute handpicked blooms to the vintage bread-bin doubling up as a box for gifts, with tweed and burlap details and deep rose pink touches throughout.
Matthew and Lovey were married on the 21st June 2014 in Matthew's family church in Dorchester with celebrations at the stunning Stockbridge Farm Barn. Lovey, a receptionist and Matthew, who works for a not-for-profit organisation, originally met and fell in love in the UK but planned their whole wedding from their new home together in Australia. Rather wonderfully, today we have groom Matthew to tell us all about their day.
"With my parents living in the countryside we went with a very relaxed country wedding. We got married in the local church as Lovey's family are religious and we were limited with living in Australia and gaining a wedding license. Our style was very handmade, simple and rustic. We did it all ourselves to get the look and feel we wanted."
Photography Copyright (c) 2014, Richard Skins Photography
"We met in a pub in Brixton when Lovey was travelling from Australia on a working holiday. I left my job in the UK to move to Australia when her visa expired 9 months later. I proposed in our flat in Adelaide by surprising her with a tent made of bed sheets when she got home from work. We were engaged for 18 months before the wedding.
As I left the UK to live in Australia we both agreed to get married back in the UK. We planned the entire wedding from Adelaide in Australia using email and Skype. We got engaged 2 weeks before we flew back to the UK for Christmas in 2012 so took the time then to research and book a venue, we also talked to the local church to make sure we were able to get married there. Everything else was then done via email and Google research and a lot of help from my parents in Dorchester.
We were married at St Peter's Church in Dorchester. Chosen as it's the local church to my parents and the family knew the Vicar from the pub. There were limitations on marriage licenses due to living abroad. We held the reception at Stockbridge Farm Barn as wanted a barn wedding and it was nearby."
Lovey had in mind when choosing dresses for the bridesmaids something that they could easily wear again. She selected some beautiful halter neck tea length style dresses in a sweet deep pink floral rose design for her girls, sourced from Amordress on Etsy.
Lovey and the her bridesmaids also wore delicate petite deep pink roses in their hair from a local florist with their hair styled individually by Fern Vickery Hair Stylist…
"Fern did an amazing job of styling everyone's hair to suit faces and personalities."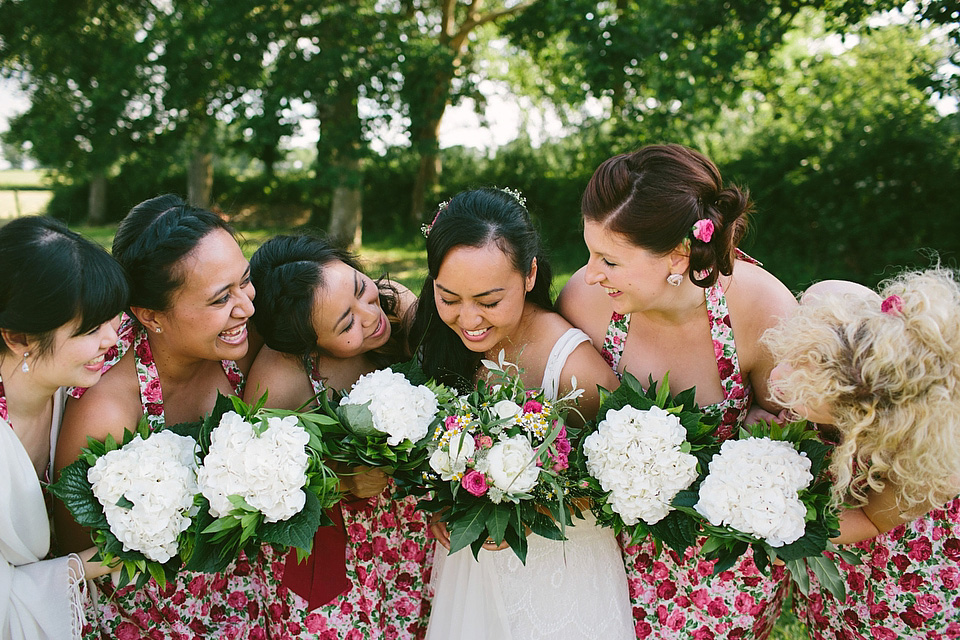 "The bouquets and buttonholes were from Poundbury Florist, a multi award winning florist a 20 second walk opposite my parent's house. We bought the rest of the flowers whole sale."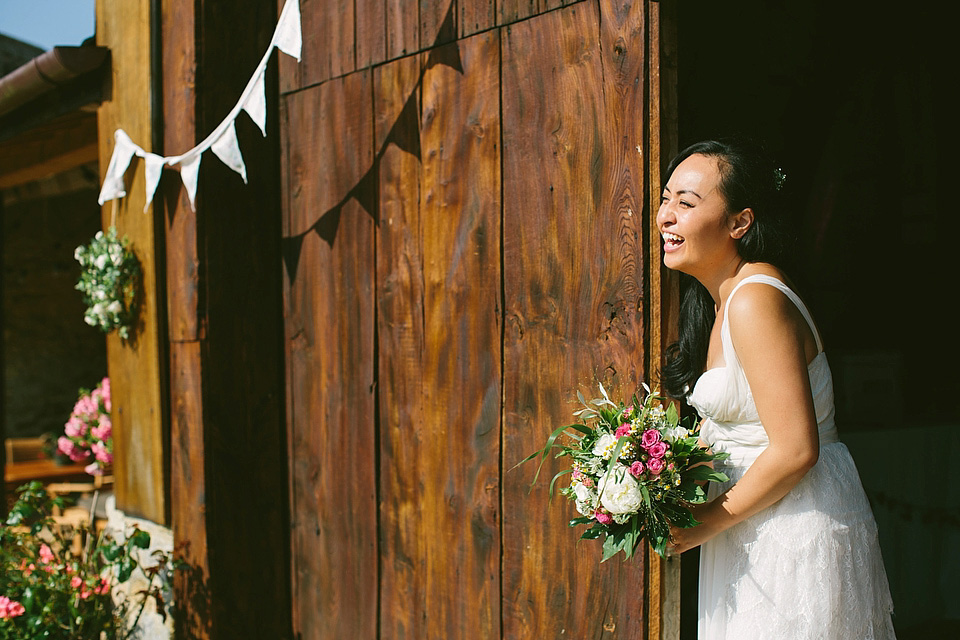 Matthew and Lovey chose Richard Skins Photographyto capture their day;
"I researched and booked Richard for our wedding from Australia, he is the best Google find ever! He offered the best price and style of photography I could find and I am so glad we booked him a year in advance before he won his award as wedding photographer of the year!
I cannot imagine anyone better to be apart of our day and produce the best candid, relaxed, detailed and formal shots. We are absolutely delighted with our photos"
Lovey wore a beautiful delicately layered wedding dress that she sourced back home in Australia from designer Mignon at Misses Dressy with pretty little ballet pump shoes from Modcloth.
Lovey's father walked down the aisle with her to 'The Wedding March'.
"We went with traditional Church Of England vows. Nothing fancy. With reading, 1 Corinthians 13, chosen by the Vicar and read by Adam, one of the groomsmen."
Matthew's tweed jacket was from Crew Clothing with jeans from Wrangler, a white shirt and a knitted tie from Marks & Spencer. His dapper rustic country gent look was completed with shoes from Hush Puppies.
"The groomsmen all wore the knitted ties from Marks & Spencer too, the rest of their gear they sourced themselves. Were asked them to have a tweed or wool jacket, jeans and white shirt."
"Lovey's engagement ring is from Tiffany. The wedding bands from GW Cox of Adelaide. We chose them as are an established Adelaide family jeweller and we wanted very plain, simple bands."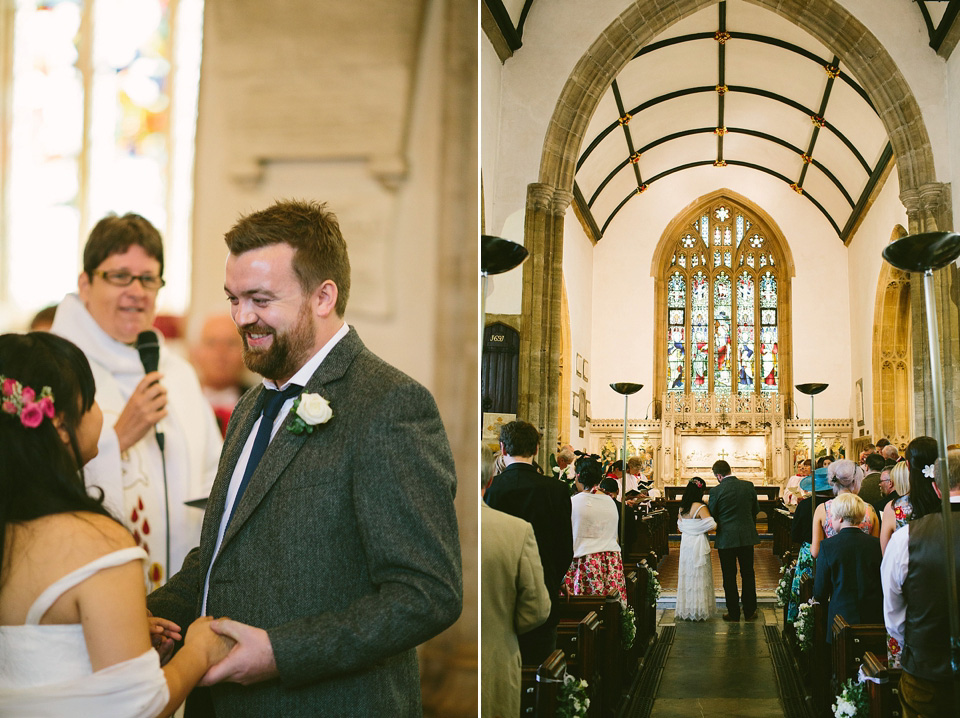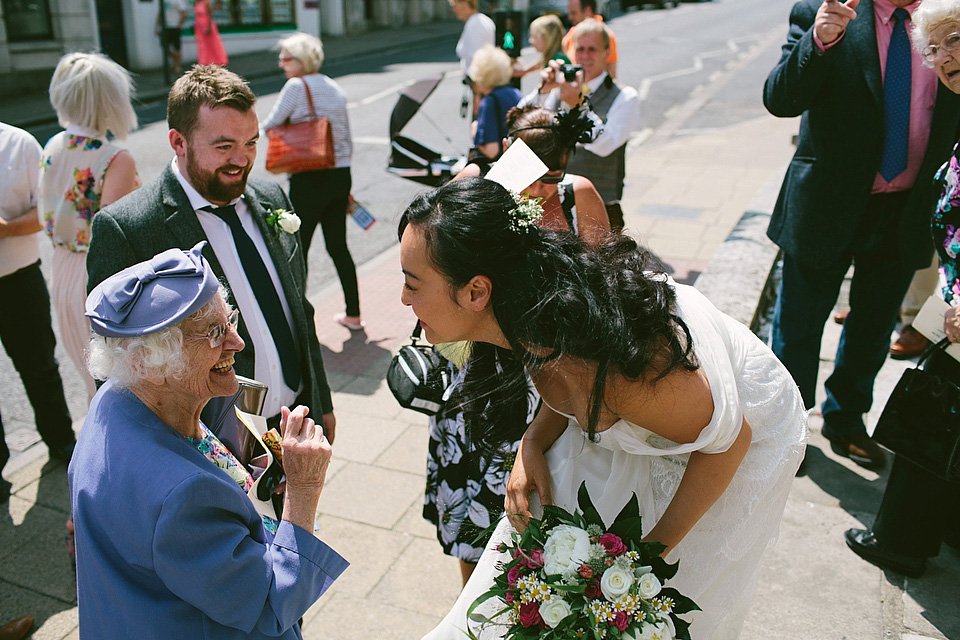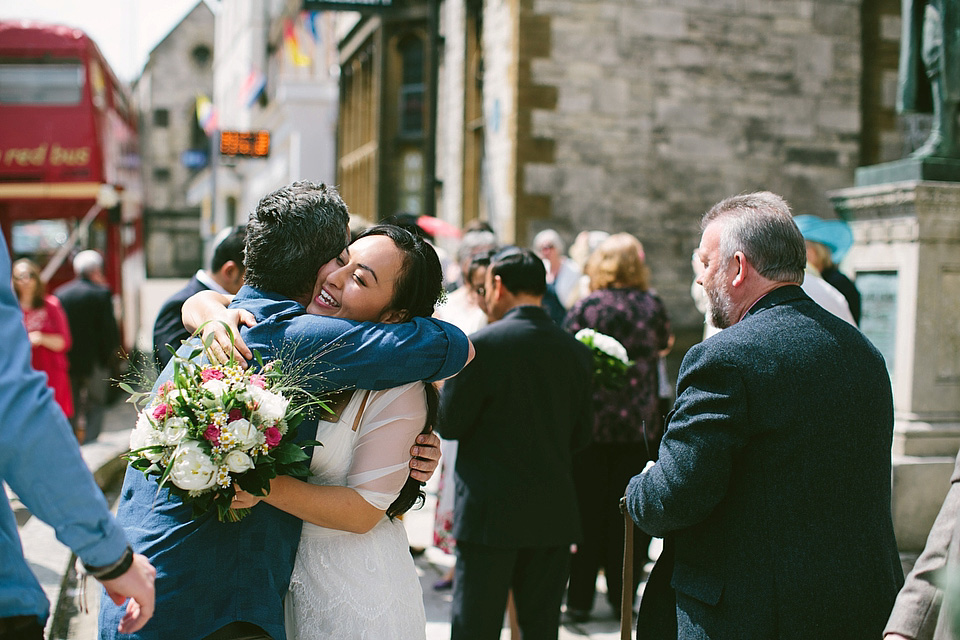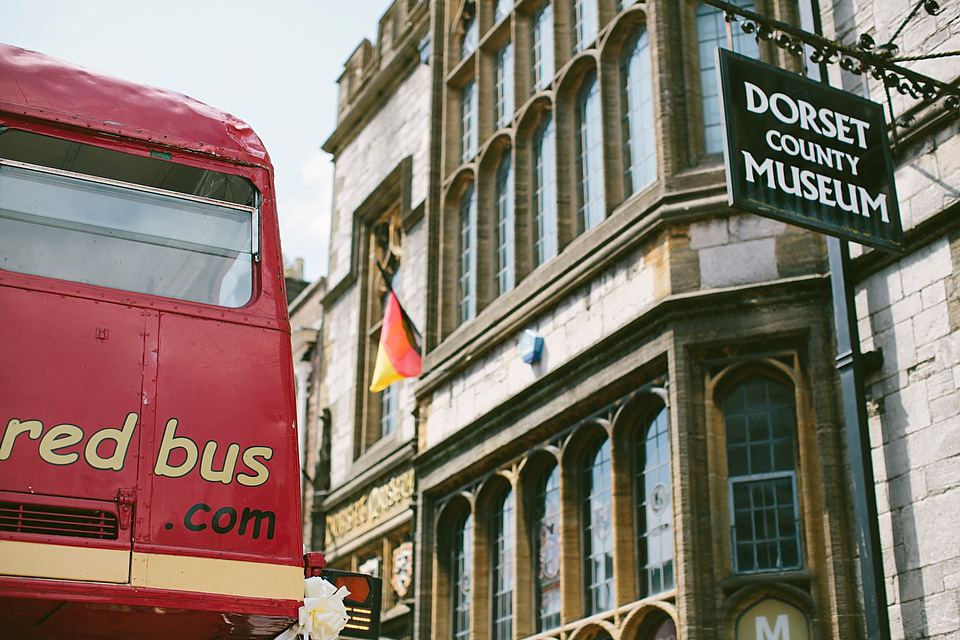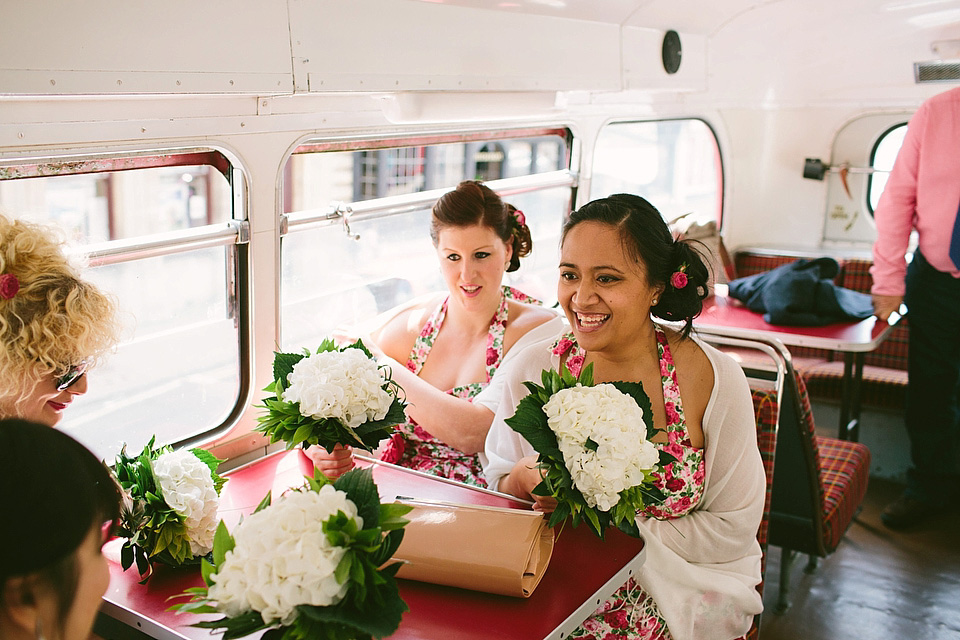 "A local friend provided the vintage car to take the bride to the church for a donation to the local hospice. The Bus was provided by The Big Red Bus Company. We then got a range of local taxi firms to get guests home."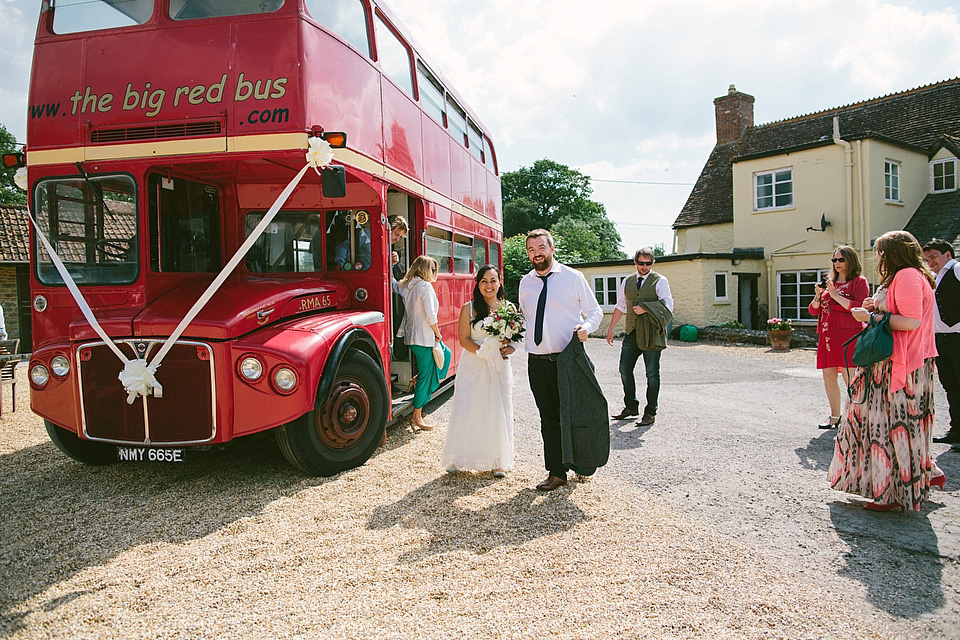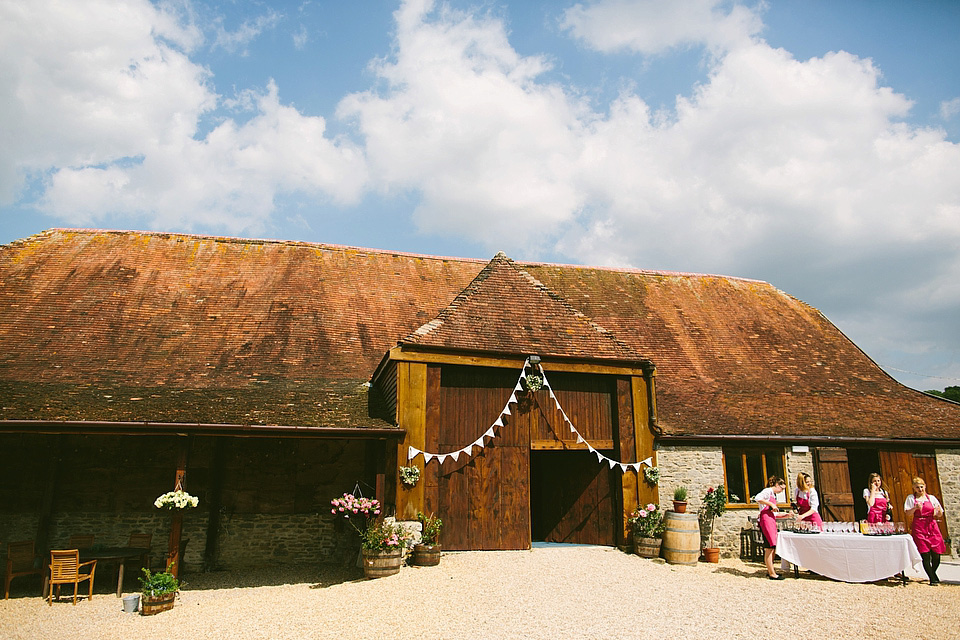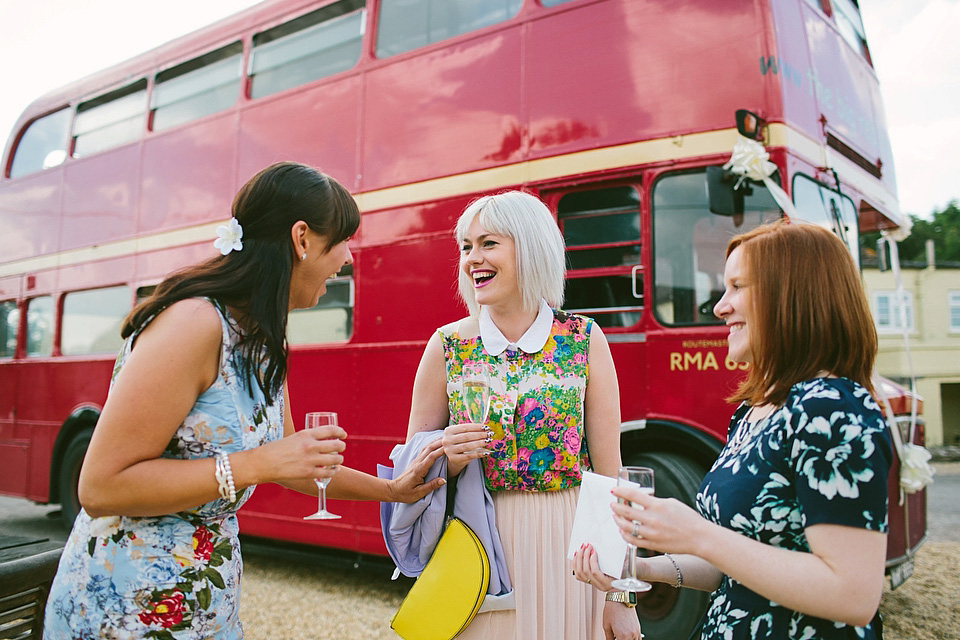 "For decor we had whole-sale flowers and potted flowers from my parents backyard with jam jars collected throughout the year, home made bunting from Australia and other bits and pieces picked up by my Mum. Including the Bread Bin from my parent's pantry!"
"The stationery was all made by ourselves,Lovey just printed the thank you cards and our wedding designs through a ink jet onto brown card."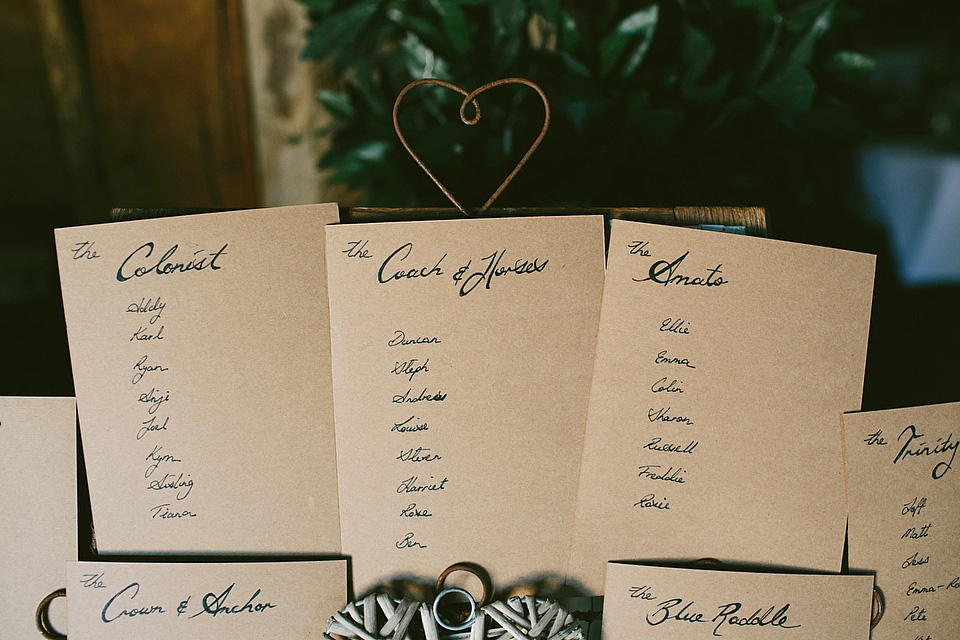 Matthew and Lovey selected the talented Gideon Hitching to cater on the day;
"We had canapés, pork spit buffet and sharing platters for dessert of tarts and macaroons. Gideon if a former river cottage chef and his food looked amazing, we were right! He won Dorset caterer of the year after we had booked him, which was nice to know."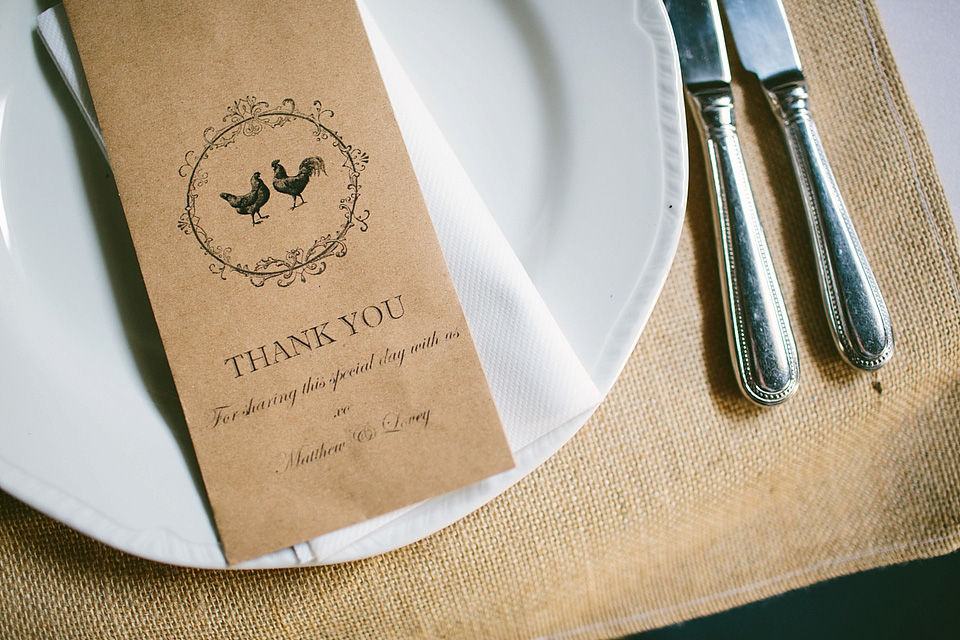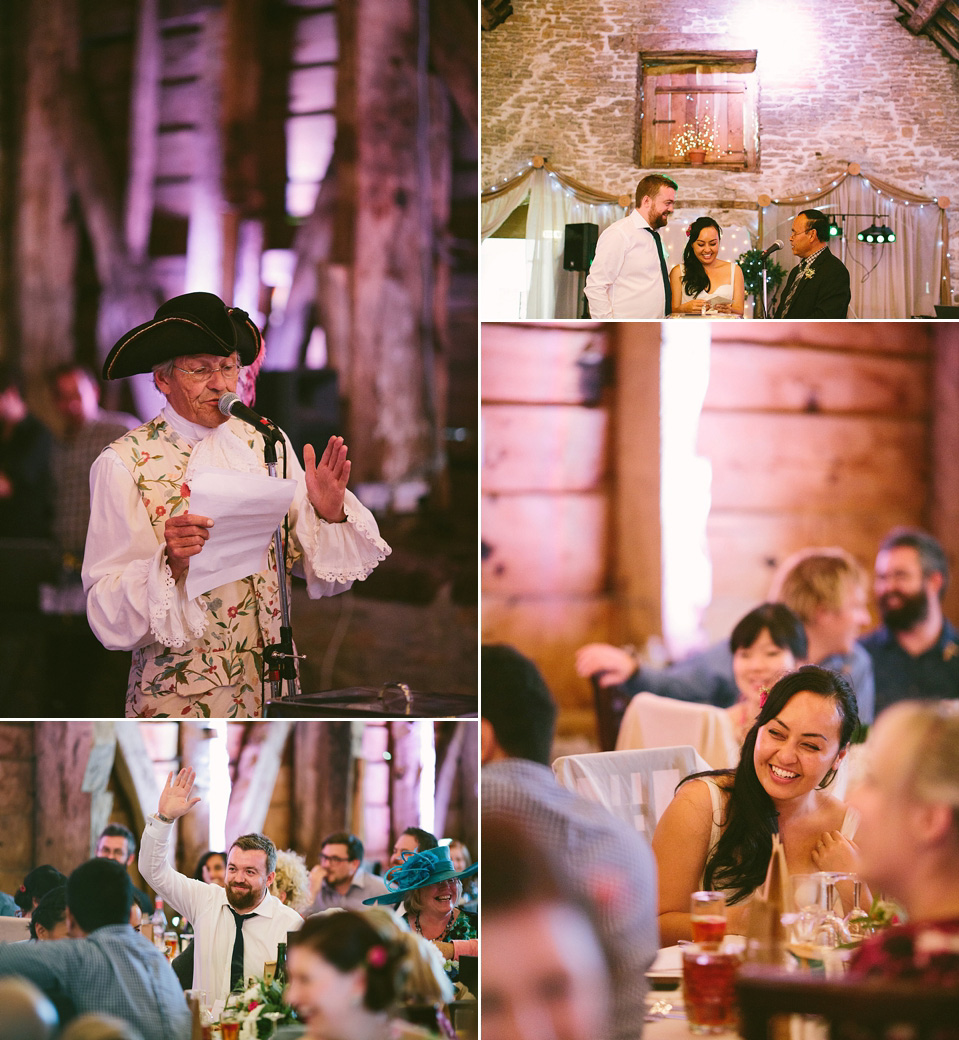 "We had a local folk band called Fingers & Fretz, they consisted of 2 fiddlers and an accordion. They did a traditional barn dance with calling which got everybody going. Also a local DJ for later in the evening. Both came from local pub The Blue Raddle who also helped supplied the beer and extra staff. We also had the town crier Alistair Chisholm, another local friend from the pub to be our master of ceremonies. Very useful to have a man with a bell and a very loud voice."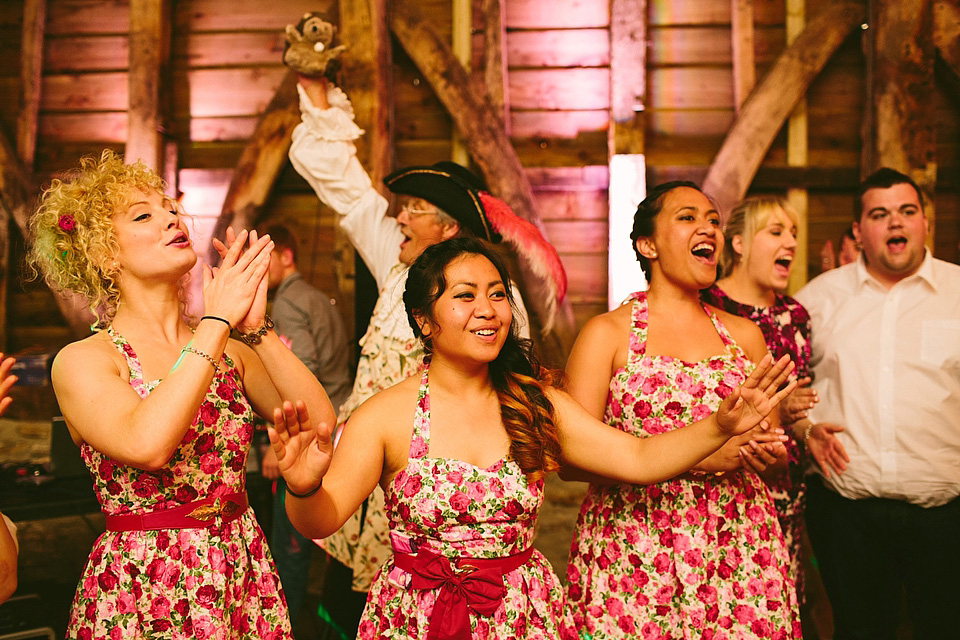 "Our first dance was 'Hey Ho' by The Lumineers, as it was a contemporary song we both liked, was short (so we didn't have to dance for too long) and fitting to the occasion and location."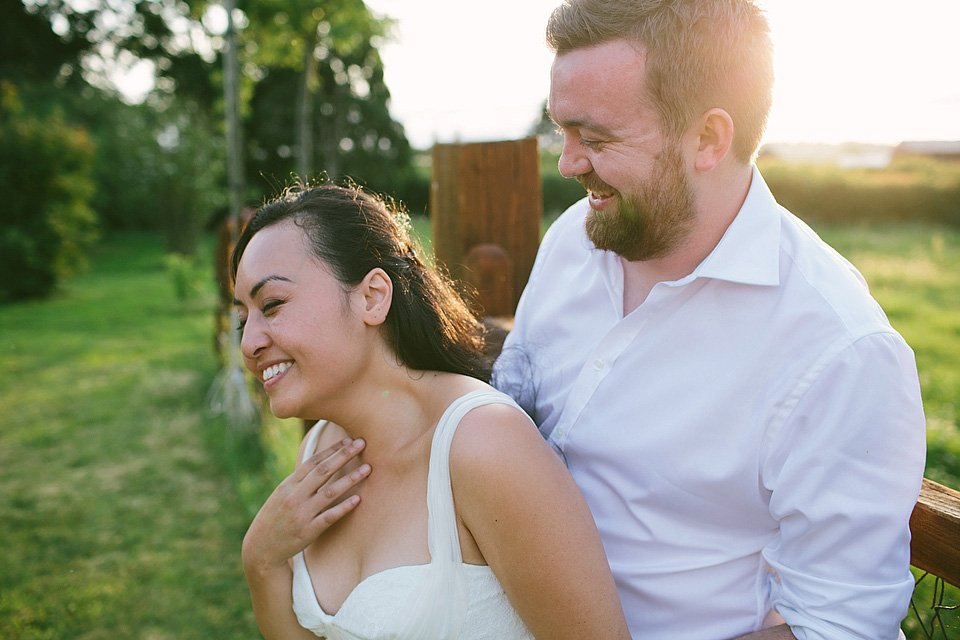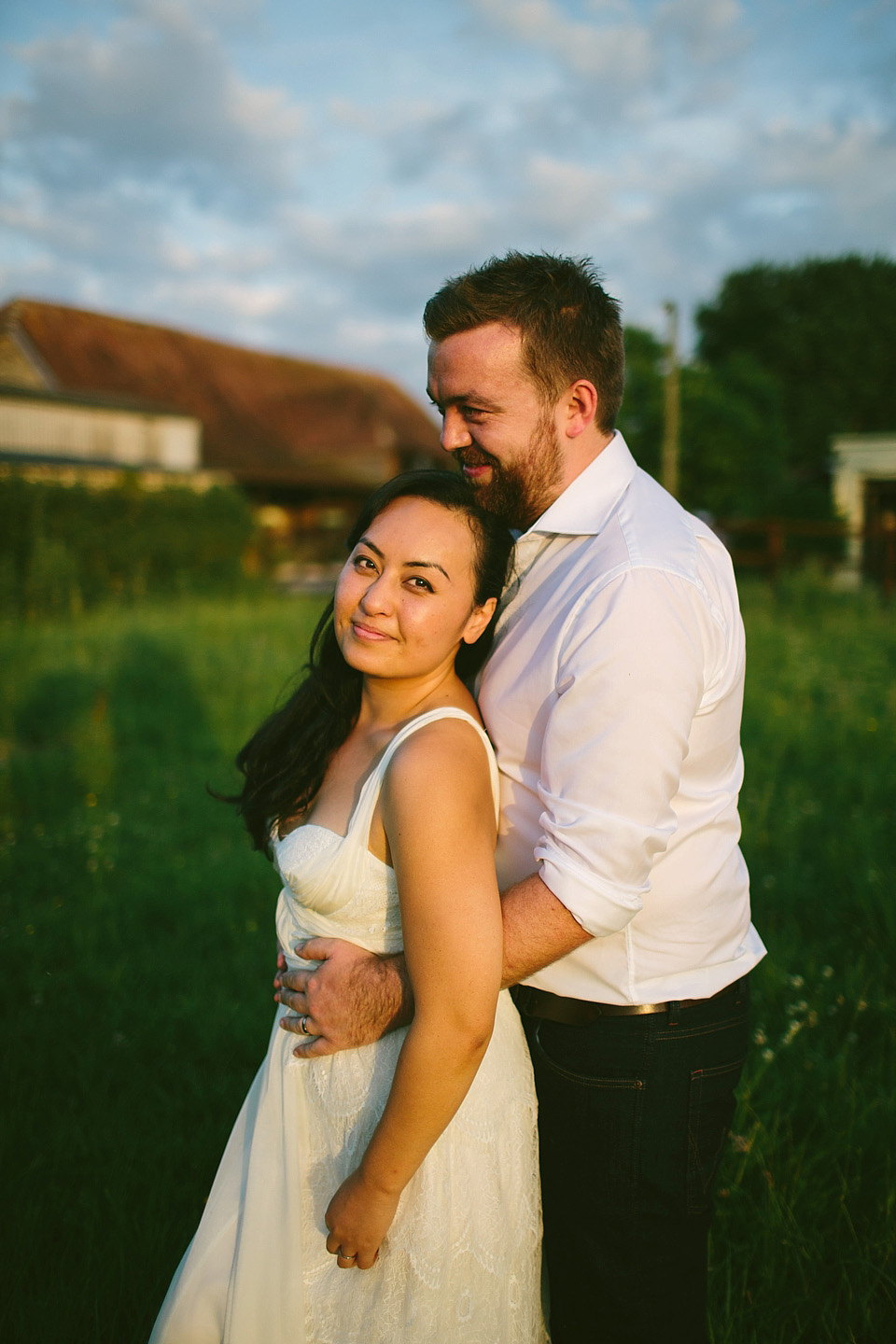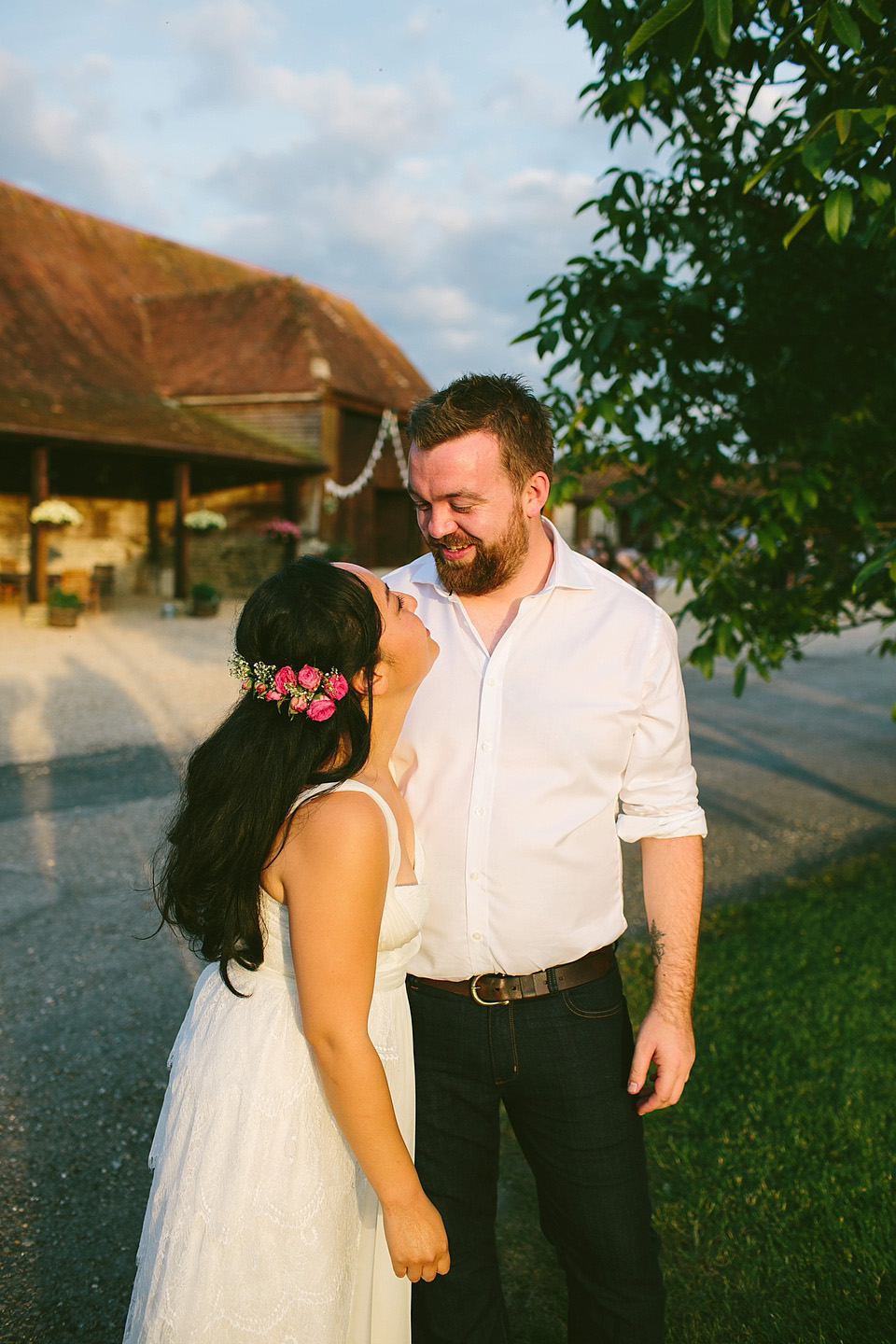 And finally a few words of wisdom and reflection from our gorgeous bride, Lovey;
"My favourite part of the day was taking Matt's arm when I reached the end of the church aisle. Taking couple photos were also lots of fun as we found it difficult not to pull faces!"
Words of Wedded Wisdom
"Don't focus too much energy and money on things that will inevitably end up in the bin –flowers for centre pieces go wholesale and raid the gardens of family and friends, home made favours are cheap and personal, double side print invitations with information on location and accommodation on the other side. Invest in your photographer –the day goes by so quickly so take time to take it all in!"
"If I were to do anything differently I would have started getting ready a lot earlier, but I was lulled into thinking I had lots of time because I woke up at 8am and the wedding was at 2pm. I wish I had more time doing my own make-up and I should have set out all the things I was going to wear the night before, as I forgot to put on my mother's necklace I had carried with me all the way from Australia."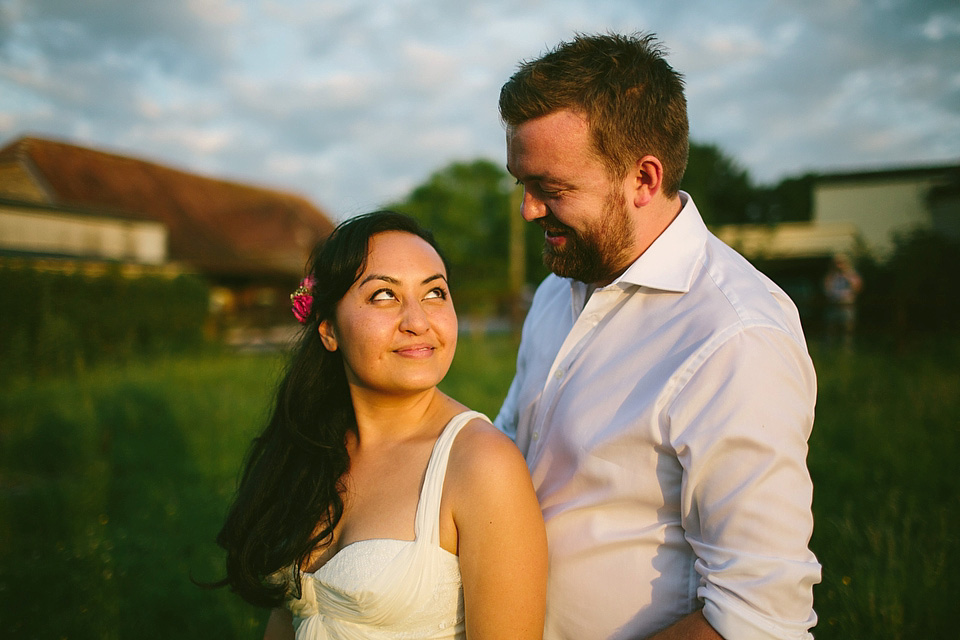 Thank you so much to Matthew and Lovey for telling us all about their fabulous wedding day and its charming laid-back country feel. Thanks too, go to photographer Richard Skins for his beautiful images of the celebrations.
Are you planning your wedding day remotely and doing lots of online research? Don't forget to check out all the fabulous Love My Dress recommended suppliers when sourcing your wedding online, Annabel has some wonderful suggestions to help with your big day,
Love and daisies,
Rebecca x
Photographer – Richard Skins Photography
Wedding Film – Dead Ready Productions
Venue – Stockbridge Farm Barn
Brides Dress – Mignon by Misses Dressy
Brides Shoes – Modcloth
Bridesmaids Dresses – Amordress on Etsy
Hair – Fern Vickery Hair Stylist
Grooms Tweed Jacket – Crew Clothing
Grooms Shoes – Hush Puppies + Jeans – Wrangler + Knitted Tie – Marks & Spencer
Bouquets & Buttonholes – Poundbury Florist
Engagement Ring – Tiffany
Wedding Rings – GW Cox of Adelaide
Catering – Gideon Hitching
Cheese Cake – Angel Cake Company
Vintage Bus – The Big Red Bus Company
Master of Ceremonies – Alistair Chisholm
Entertainment – Fingers & Fretz from The Blue Raddle