Hello lovely readers, how are you today? If you're like me and would rather forget that it's December already, I have the perfect antidote: a glamorous London rooftop wedding filled with love, laughter, plenty of sunshine and not one but two beautiful dresses. Best get settled and make a cup of tea!
Bride Connie, a legal administrator and long-term Love My Dress reader, married her groom Patrick, a credit analyst, on 26 July this year. And she looked – to point out the blindingly obvious – absolutely stunning, thanks to a makeover by bridal styling experts and Love My Dress favourites, Lipstick and Curls. The couple shared their photographs by Nicholas Lau as well as this lovely little film from videographers Lamp on the Hill.
"I've always loved vintage style, and knew exactly what kind of style I wanted to achieve. I didn't stick to any particular era though – I think I'm inspired by a mixture of beautiful things from different eras."
Film Production Copyright (c) 2014, Lamp on the Hill
Connie and Patrick chose Kensington Roof Gardens in West London for their ceremony and reception drinks, followed by an evening banquet at Phoenix Palace Chinese Restaurant.
"I fell in love with the garden when I saw the photos on their website. So we went to have a look in person and just couldn't bear to not have our wedding there. It's such a special place as it's very modern inside, but the gardens give it the feel of a traditional English wedding."
Photography Copyright (c) 2014, Nicholas Lau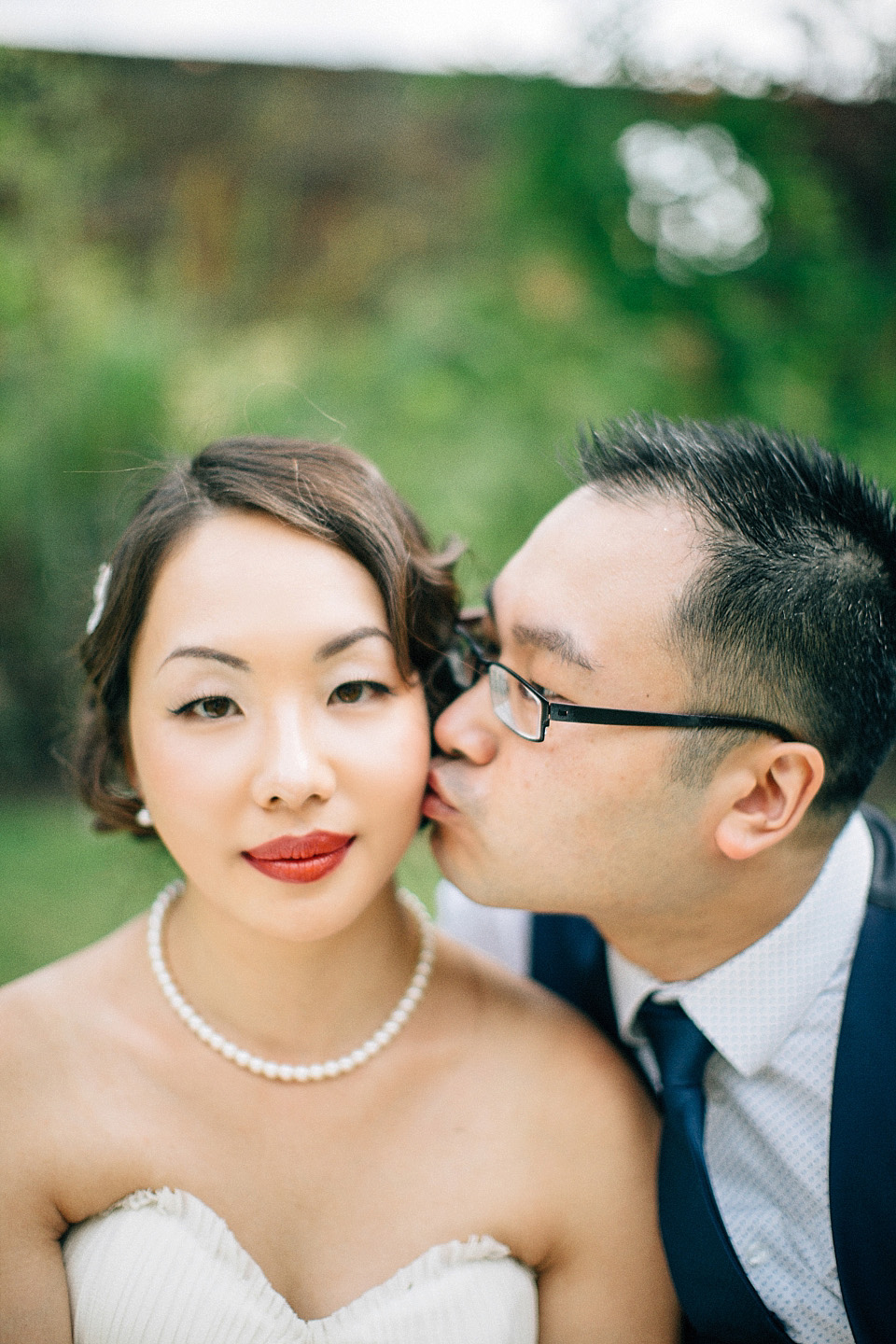 Connie and Patrick met in 2007 when she moved from Hong Kong to London to finish her degree.
"At that time I was living with my Auntie and Uncle. Patrick went to the same the same badminton club as my auntie and we met on a Christmas karaoke party she organised in 2008.
Patrick proposed on the May bank holiday last year. He'd suggested having dinner at the OXO tower, which I thought was suspicious, but neither of us likes attention so I knew he wouldn't propose there! After a very pleasant dinner and bottle of wine I was feeling a bit tipsy when we left the restaurant, and it was a bit windy that day so I just wanted to go home. Instead Patrick suggested sitting on one of the benches for a bit by the river. I remember asking what we were doing sitting there when it was so cold, and after some awkward fidgeting he went down on one knee!"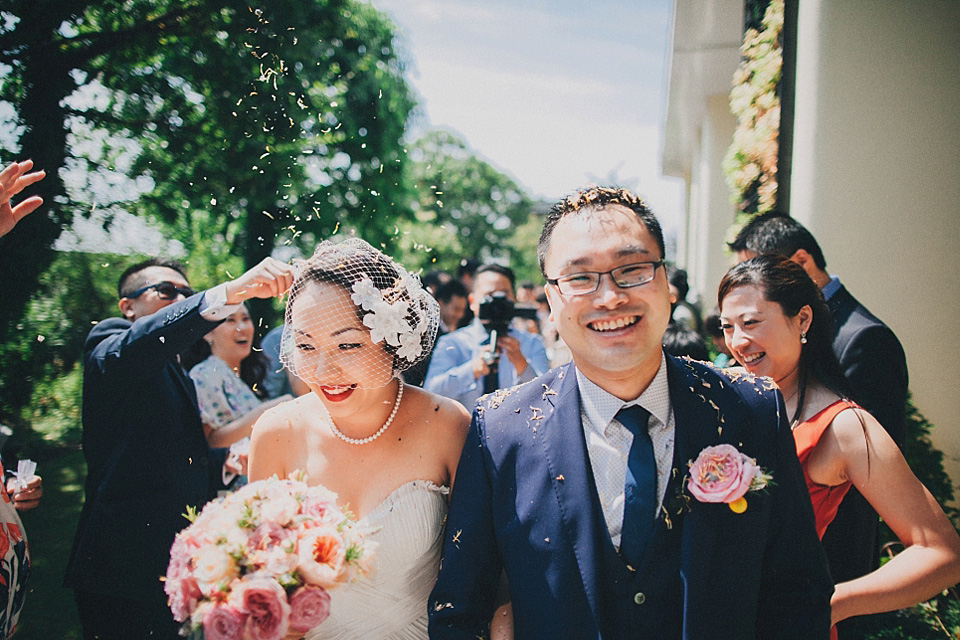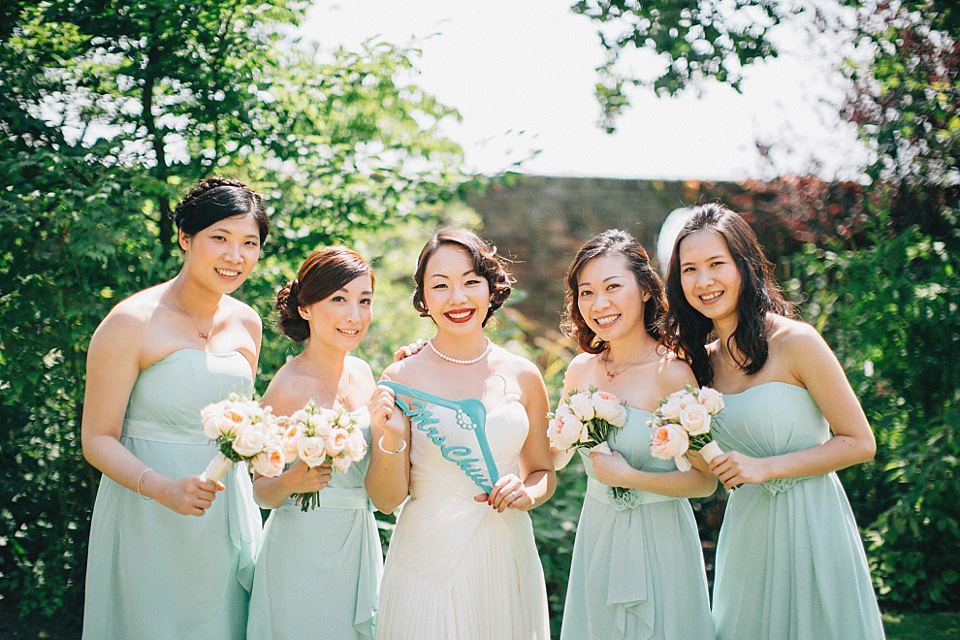 "The dress I wore for the ceremony was a vintage-inspired design by Sarah Houston, bought from the Vintage Wedding Fair in Chiswick Town Hall. I wasn't expecting to buy my dress then as Patrick hadn't even proposed yet! It was actually the first dress I saw at the fair but didn't jump out at me. I tried a few others on then came back to it and my Auntie Moni persuaded me to try it on. It was so different to the others and the tulle meant it felt really soft and comfortable to wear.
Auntie Moni said 'I think this is the one!' She was right – that was my dress. I think life is like that sometimes – you think you want one thing but something else you never even considered ends up being perfect."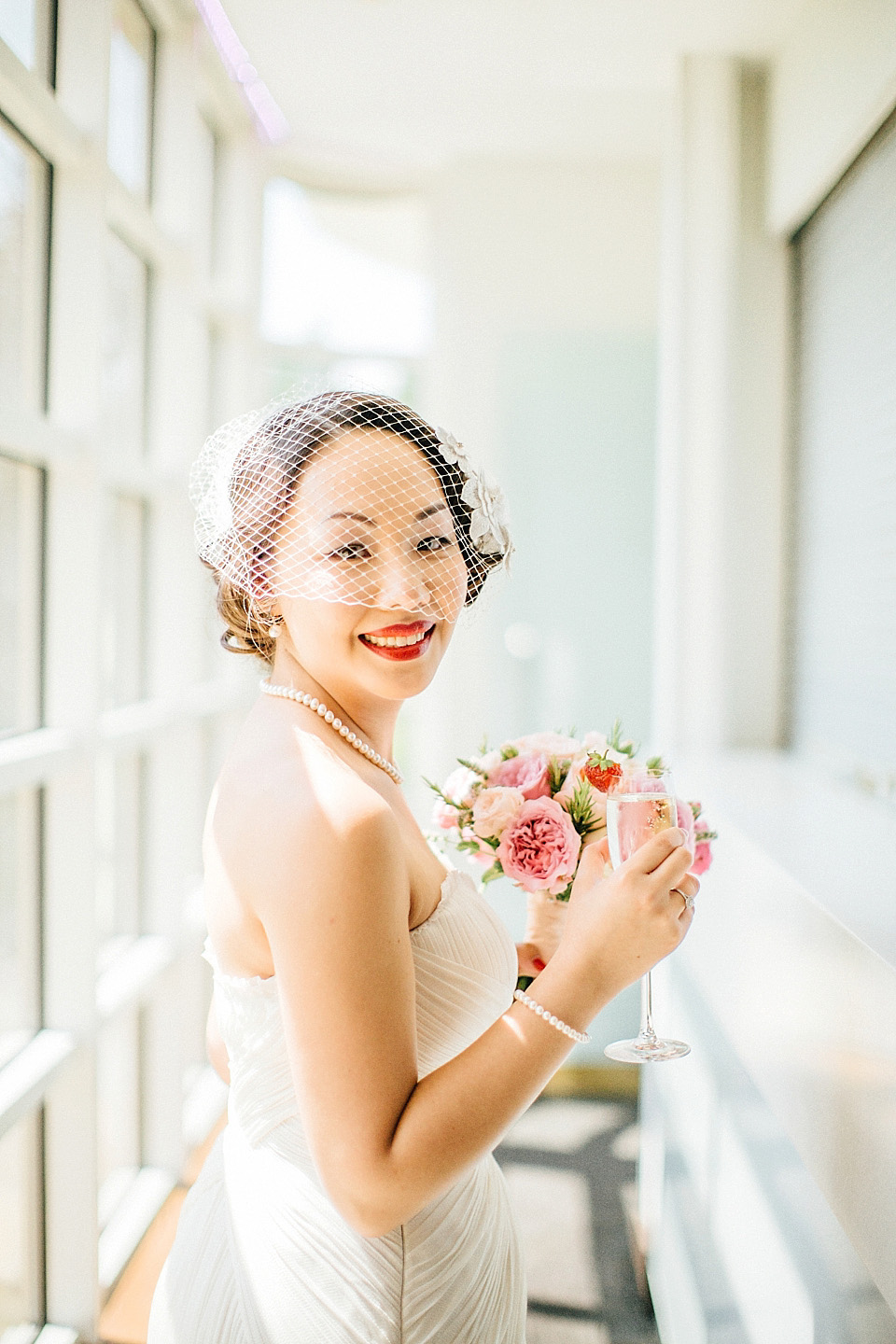 "It's traditional for Chinese brides to wear red, but I thought the proper traditional Chinese wedding dress, which is red and covered in gold and silver embroidery, would feel over the top. The style of red dress I wore is called 'Qi Pao' or 'Cheongsam'. I had it tailor-made because I always wanted a backless wedding dress but didn't get one, so this was my compensation! It has a touch of old Shanghai to it I think."
Both dresses were set off to perfection with red lips and red carpet-worthy hair by Love My Dress favourites Lipstick and Curls.
Connie chose Daisy Dream by Marc Jacobs as her wedding scent. "Patrick bought it for me just before our wedding and I love it. Normally I like to stick with the same scent, but as this was a new chapter in my life it felt like the right time to try something new.
I made my birdcage veil myself. At first I couldn't find a headpiece that I liked which was affordable, so I'd decided to try and make one that is truly unique. I now have a tiny little shop on Etsy, Peony and Mockingbird."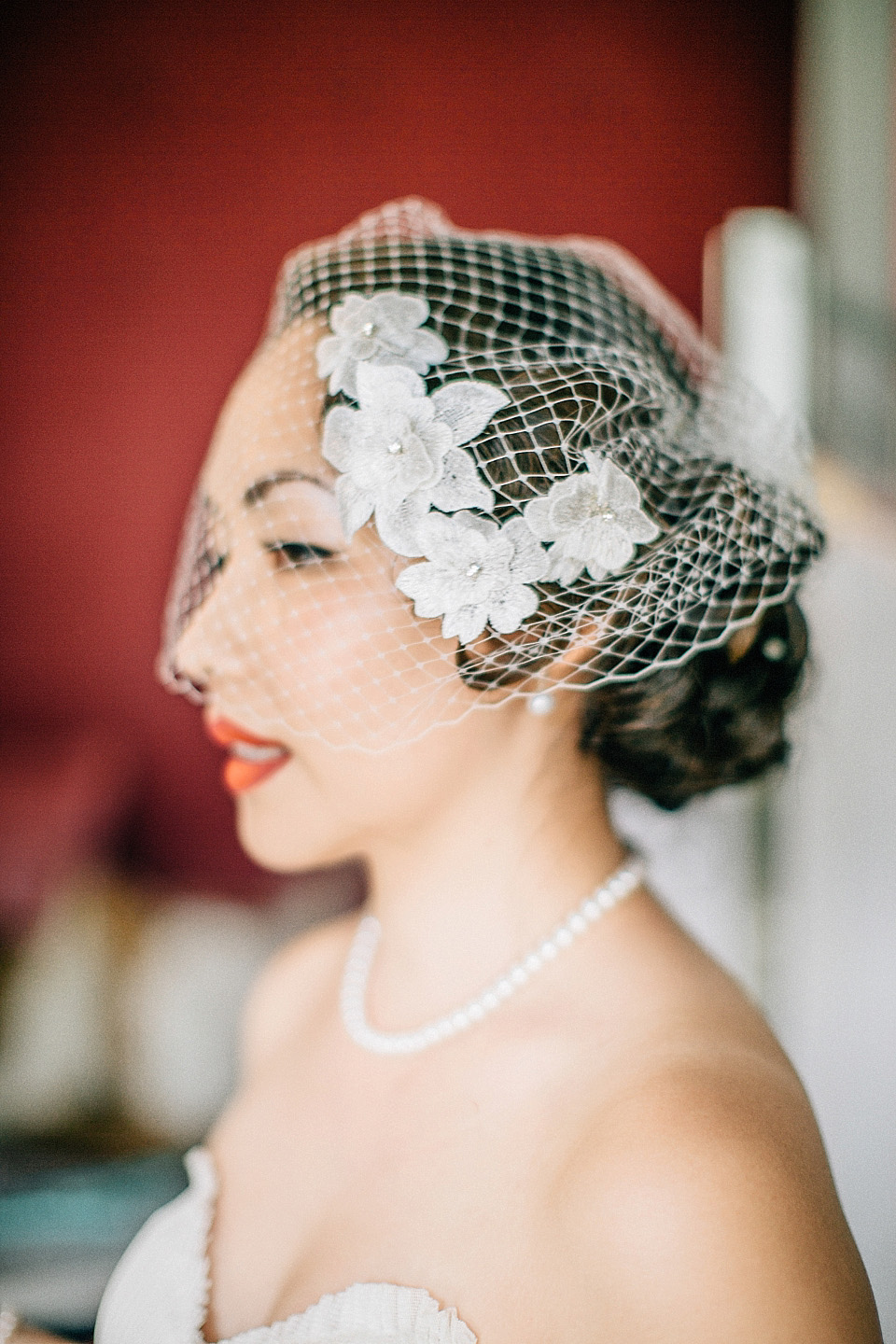 After researching online Connie and Patrick wrote their own beautiful vows, which they've kindly shared:
'I promise to laugh with you and cry with you;
Care for you and share with you;
To run with you and walk with you;
To live with you and to grow old with you.'
"The last sentence was actually inspired by an old Chinese saying, translated as 'white heads until old', which means living and growing old together until our hair turns white."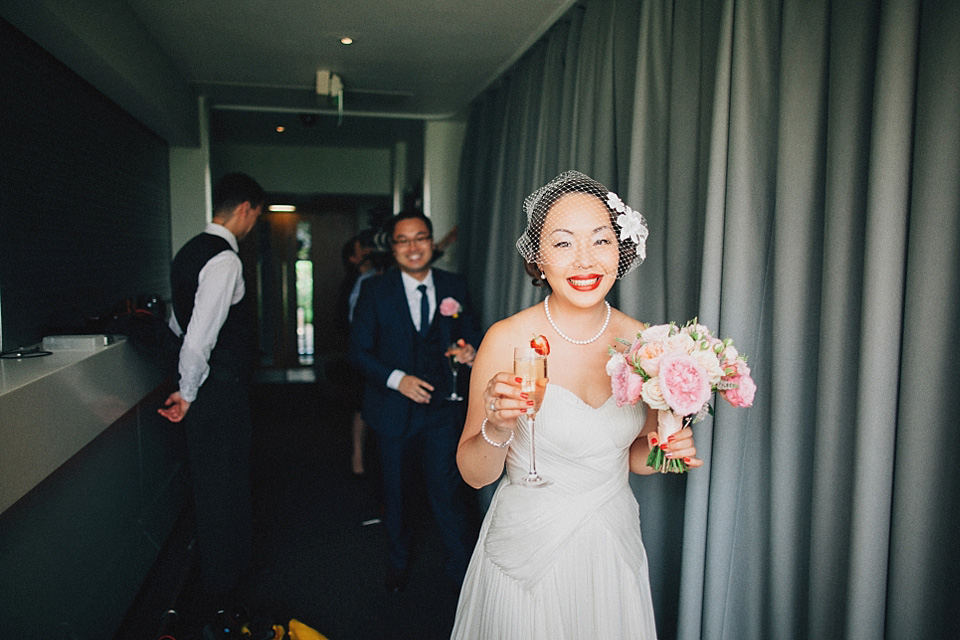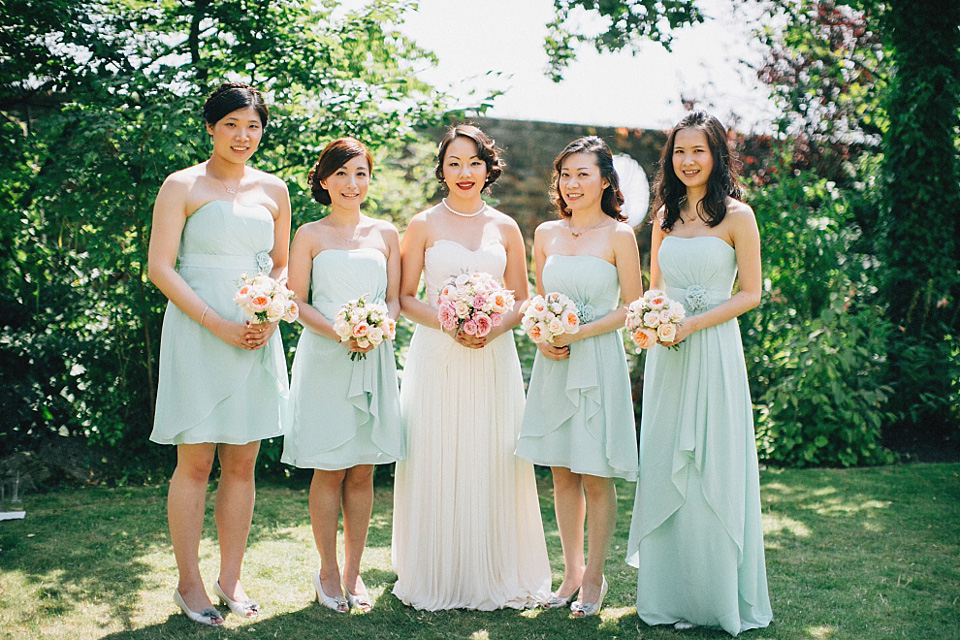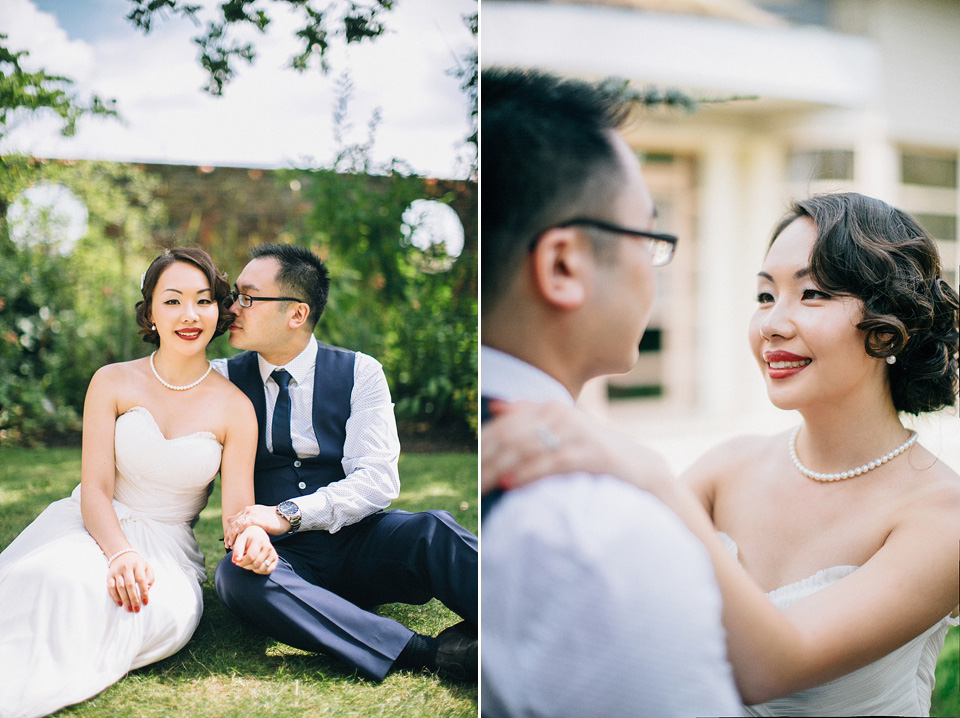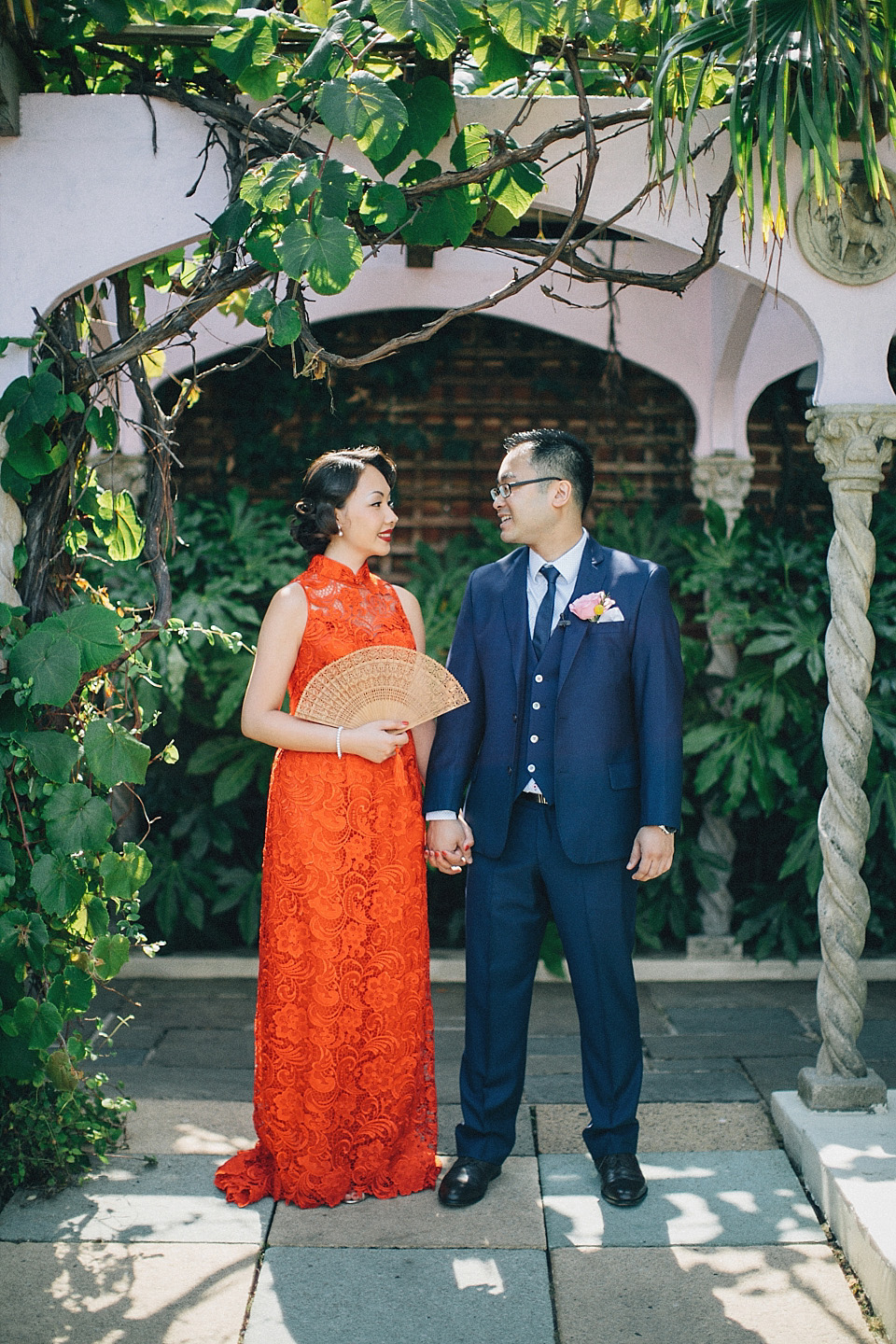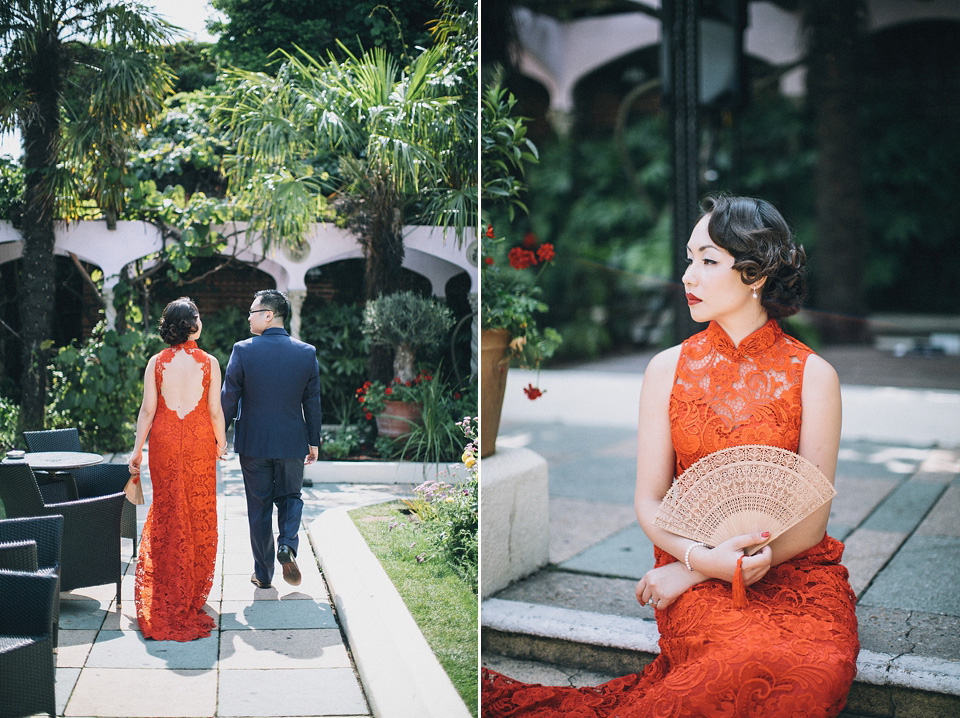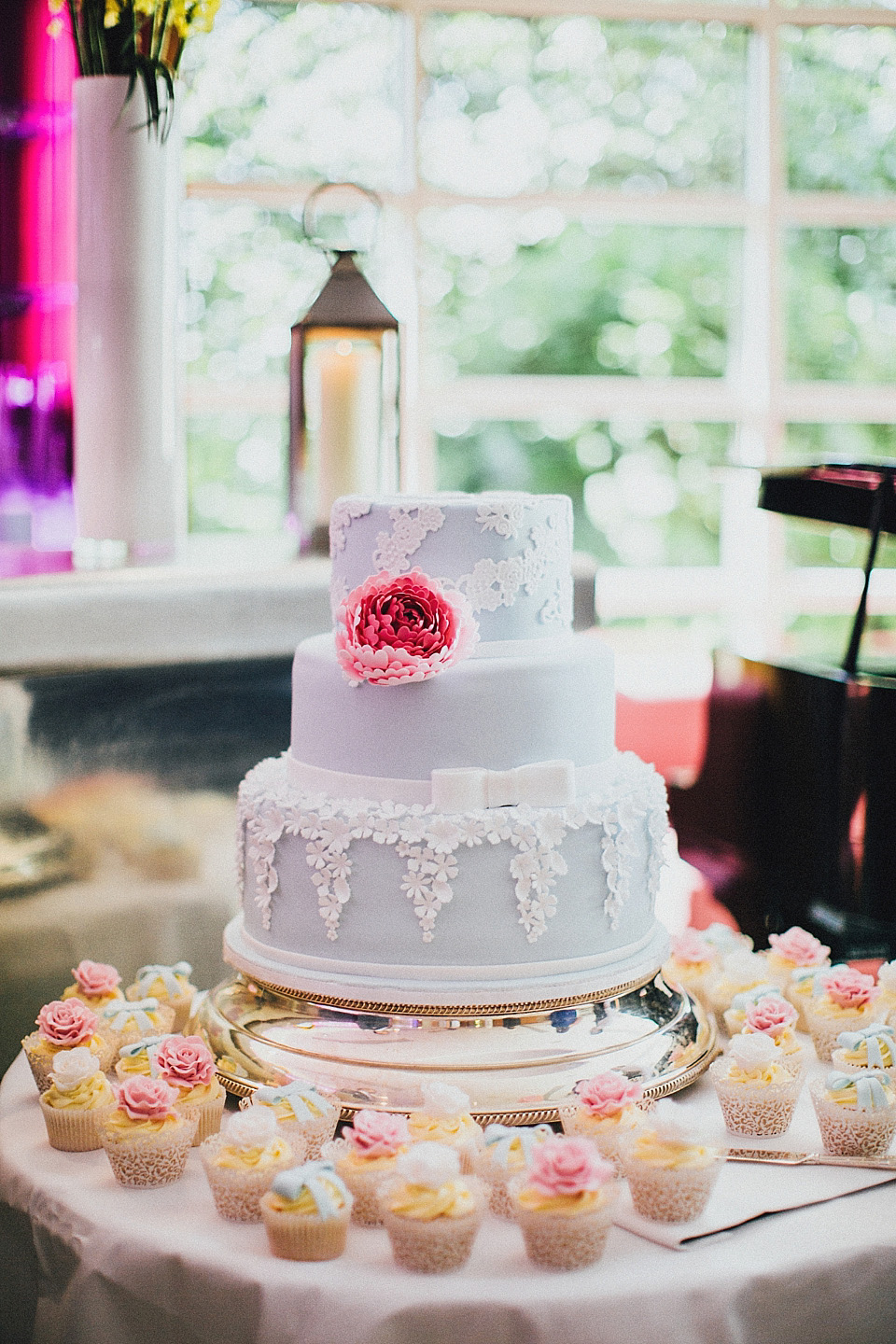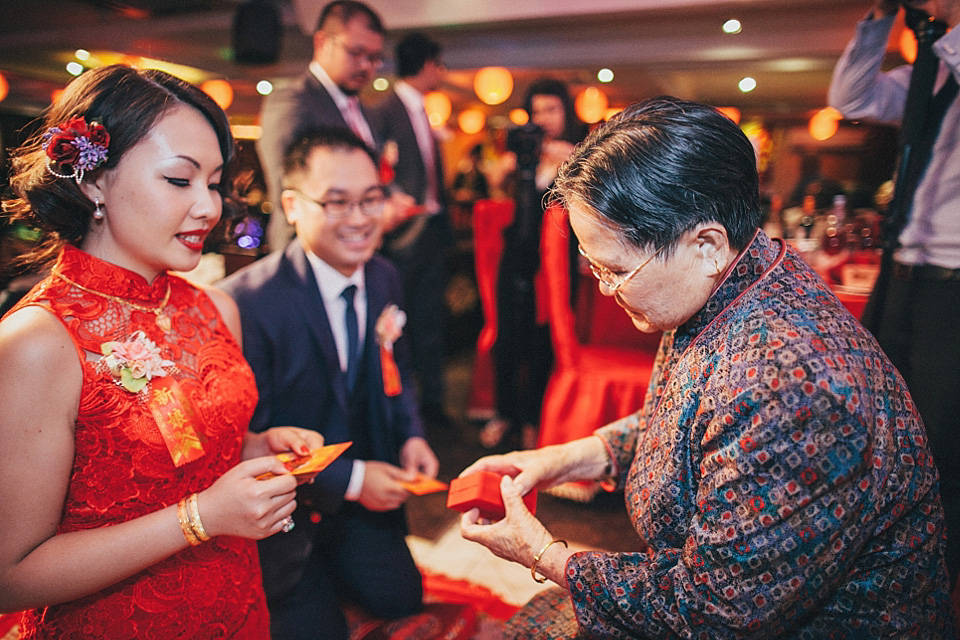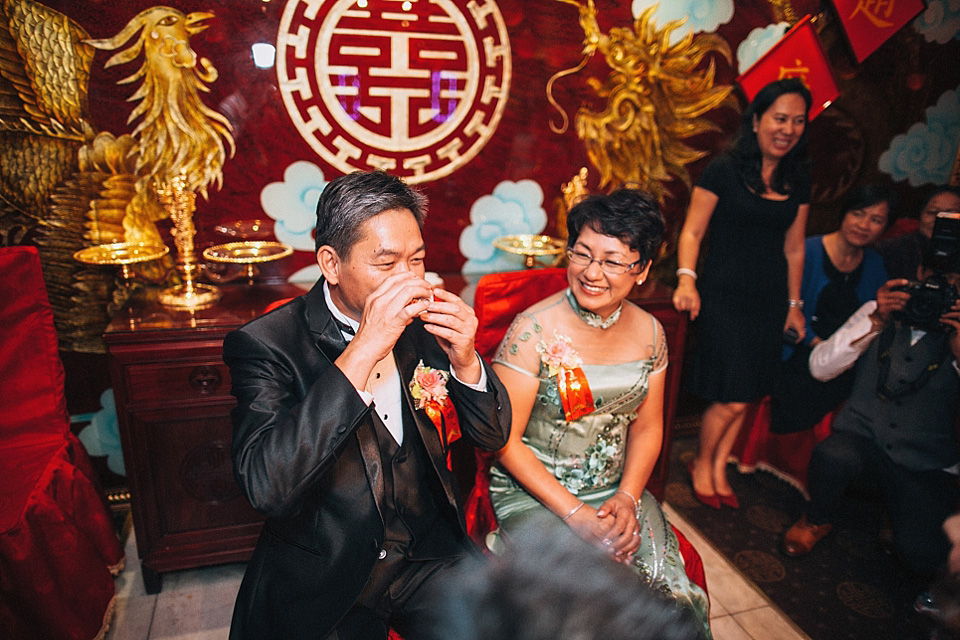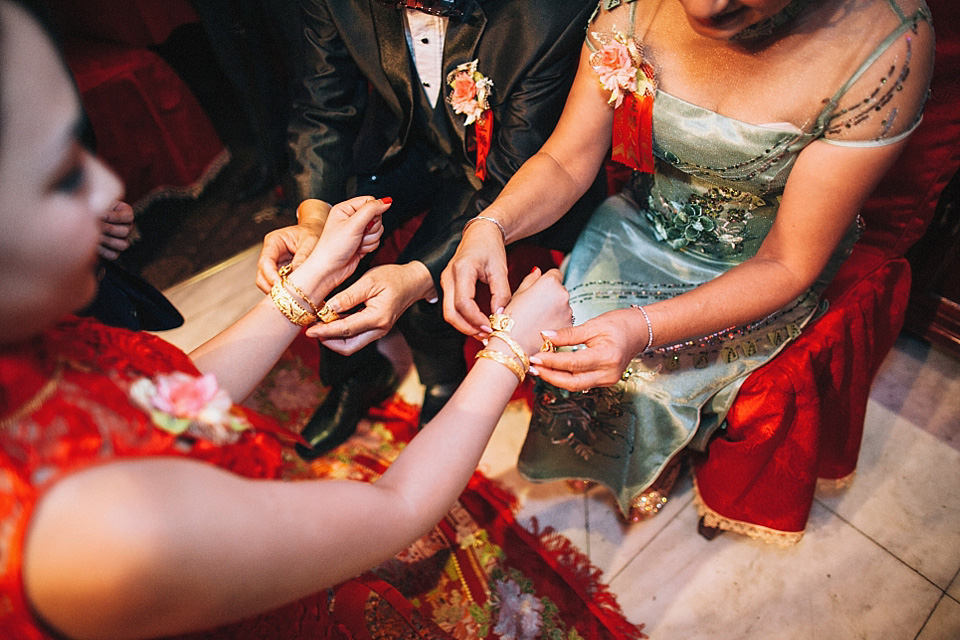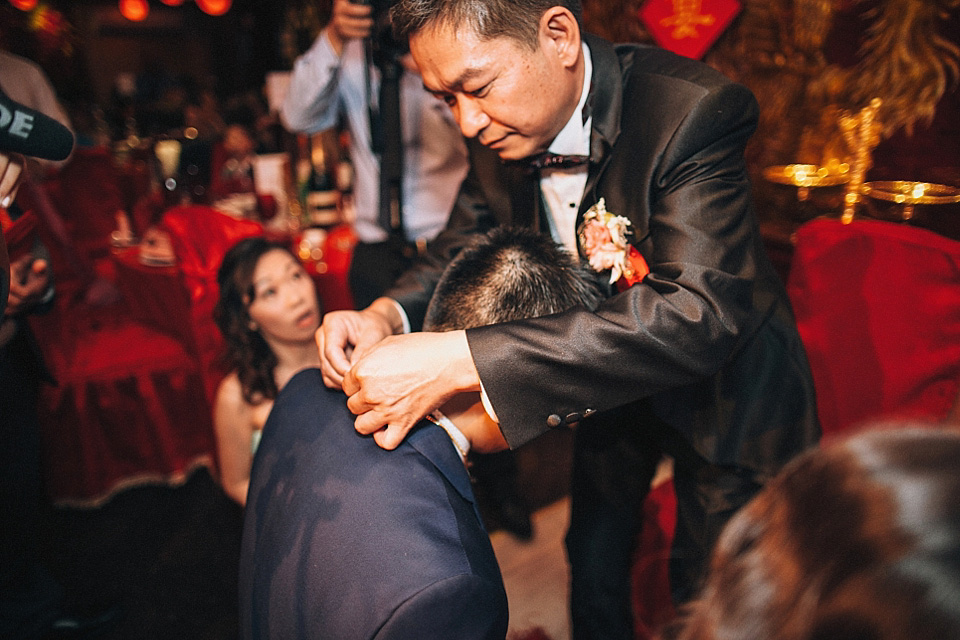 "My favourite part of the day was after we exchanged our rings and I sat down to face all our guests. The first thing I saw was all the happy faces – some smiling, some crying – and I thought, what have I done in my past life to deserve all these wonderful people, who love us so much? All of my family, bridesmaids and a few dear friends actually travelled all the way from Hong Kong for us. It meant so much that they were there to share our day.
I also loved the tea ceremony at the Chinese restaurant – where, traditionally, the bride and groom kneel down and give tea to the senior members from both families to 'announce' the new family member. Senior members of both families give red envelopes with money inside to the couple or gold jewellery to the bride as a symbol of good luck and to wish the couple a happy married life together. Family love was overflowing in that half and hour or so."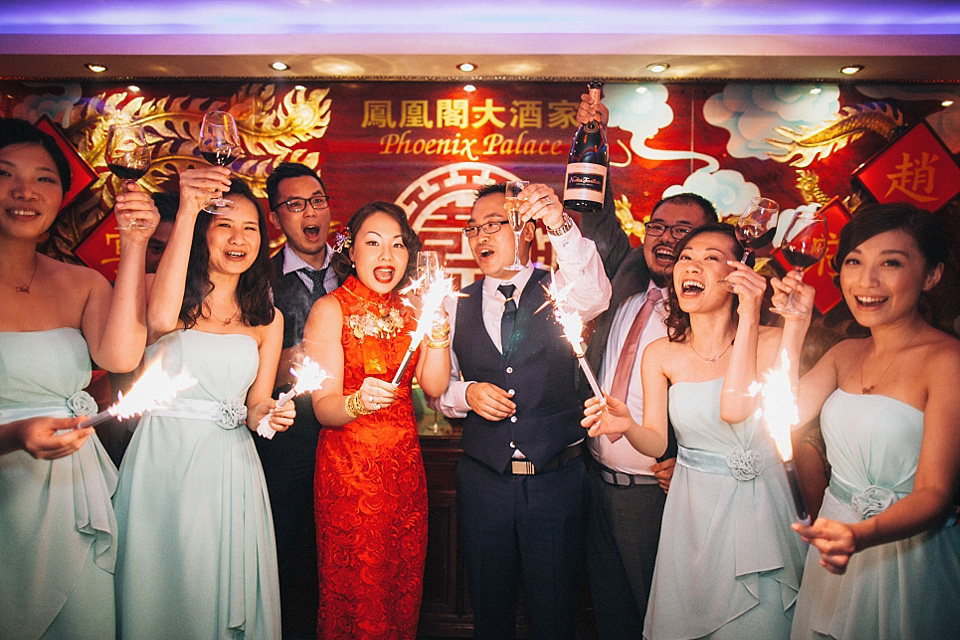 Words of Wedded Wisdom
"If I could do anything differently I'd make a timetable for before the ceremony. We thought we had all the time in the world but no! Time just flew by and we didn't even have time to rehearse walking down the aisle. But I guess these small imperfect parts were part of this perfect day!
Towards the end of the wedding planning I became quite stressed and kept thinking 'it's our big day, I should be focussing on just us, so why am I changing the seating plan yet again?' A friend reminded me that 'the ultimate goal of the wedding is for you and Patrick to become husband and wife, as long as that happens all the other things in between are not important!' Isn't that true?!"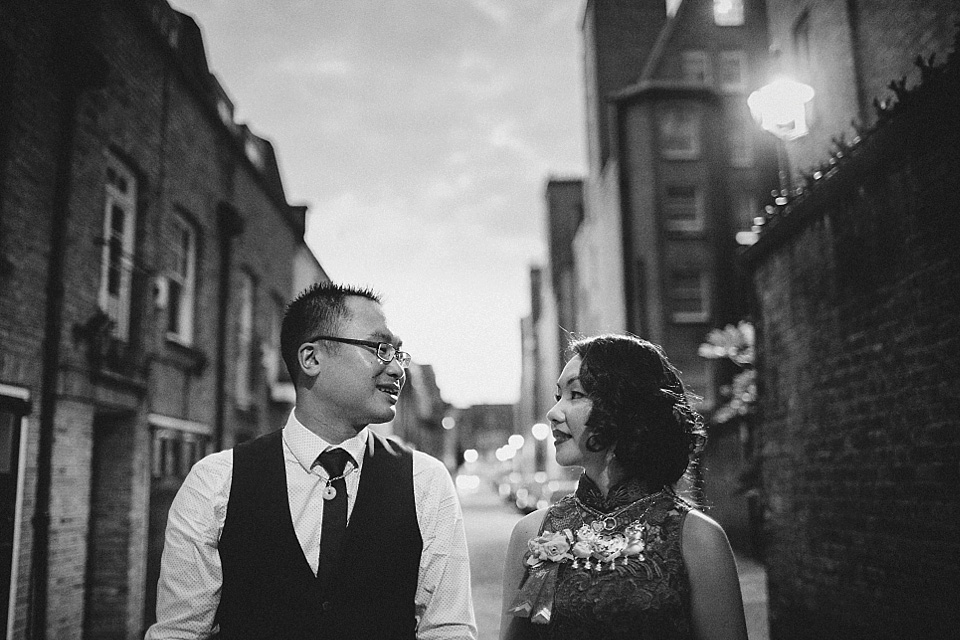 I love everything about this and I love that Connie is a devoted Love My Dress reader. Isn't it nice to think that this wedding will now inspire a whole new set of brides to be? Congratulations Connie and Patrick and thank you so, so much for sharing so many wonderful details of your day.
Love Kate x