Good morning everyone, I've truly the loveliest of weddings to share this morning – a vibrant mix of bright colours, exceptionally beautiful flowers, a red haired beauty and lots of lovely DIY detail.  Professional make-up Artist Emily Porter married tattoo parlour owner Ben on 20th September last year – the first day of Autumn.
"I wanted the colours and feel for the day to be as luxe as possible, no pastels here! I love clashing hues like rich pinks and red which dictated the flower design (flowers were something I knew I wanted to feature heavily from the word go) and paired them with metallics throughout, such as in my sequin cardigan and our rose gold sequin cloth on the cake table."
Photography Copyright (c) 2015, Bhavna Barratt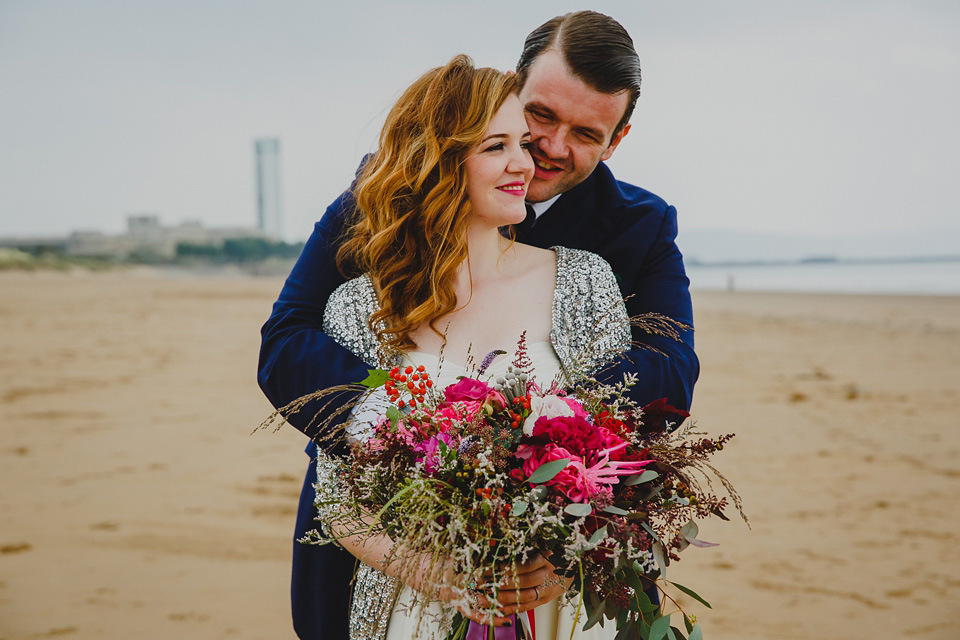 "We met in Brighton in 2007 but became an item early 2011. I relocated to Wales shortly after and Ben proposed in our living room in August 2012. A big fancy proposal was planned, but he cracked under pressure and did it as soon as he had the ring! We enjoyed a lovely 2 year engagement before we tied the knot."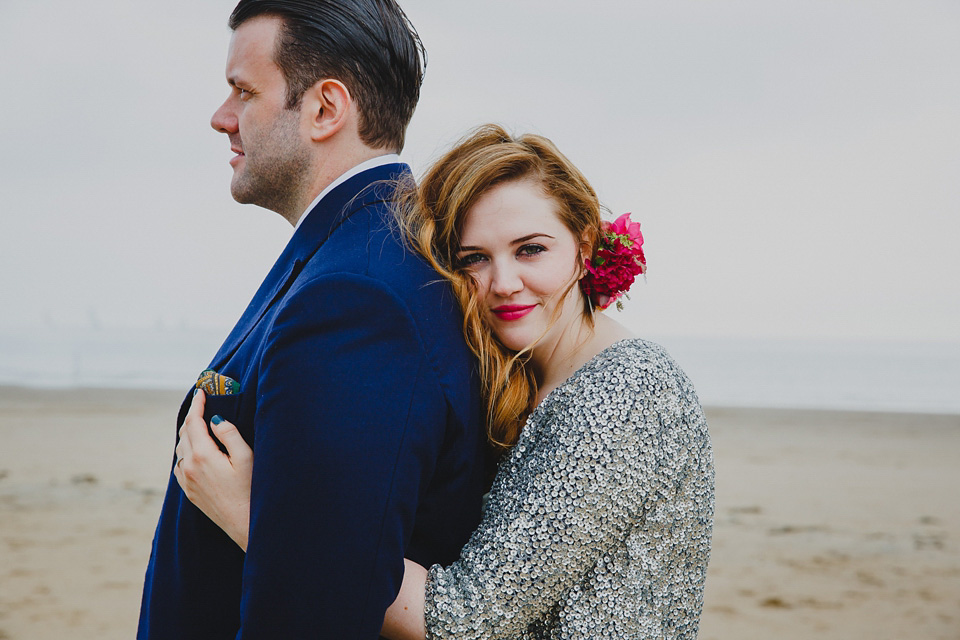 "Our stationery had a running 'tied the knot' rope and heart graphic and was always on a grey background. It was a combined effort, tattoo artist Bradley Tompkins designed our Save The Date as well as the chalkboards at the wedding, and graphic designer Marc Evans did our invitations and menus.
Instead of a guest book we used brown paper bunting and it is a lovely touch to be able to look through now. The perks of having lots of tattooers as wedding guests meant that we were left with lots of pieces of original pieces of art along with childrens doodles, drunken adult doodles and sweet messages!"
"I asked the girls to pick their own bridesmaids dresses – with them being scattered all over the country, it was going to be difficult to organise a shopping trip, but I trusted their abilities completely.  The only thing I asked were that they were navy. Navy is one of my favourite colours and I think it suits absolutely everyone.
All the dresses were sourced from various sales, including ASOS, TopShop and Fever London. The ultimate bargain was the Jenny Packham for Debenhams dress that Hannah wore- she got it for £15 when it was originally priced at over £100!
I didn't see the girls wear their dresses all together until the wedding day itself, and it all worked out perfectly. I thought they looked great!"
"Our  florist was the fabulous Beth from Forbesfield Flowers. I met with a few florists as they were such an important and integral part of the day to me, but Beth was on my wavelength and totally understood my rambling of what I wanted, my general disfavor for gypsophila and white flowers, and totally delivered on the day with beautiful opulent bouquets along with a fantastically dressed venue all within budget.  Unable to have peonies due to the time of year, Beth offered fantastic substitues and as a result my bouquet was full of pink piano roses, dahlias, blackberries and echivera succulents.
She created beautiful tree installations at Mozarts and I loved that she included some gold apples on the tables, alongside beautiful relaxed table displays of more succulents and bloom carnations. The overall creation felt autumnal without being typical."
"Our photographer was the ever lovely Bhavna Barratt. She was referred to us and we are so glad that she was. She has a true creative mind, and is an all round friendly and happy person, a joy to be around. So many family and friends have since told us that they thought she was fantastic on the day and our wedding photos have turned out beautifully- we love her use and love of colour, her style definitely complimented our wedding perfectly! Thankyou Bhavna."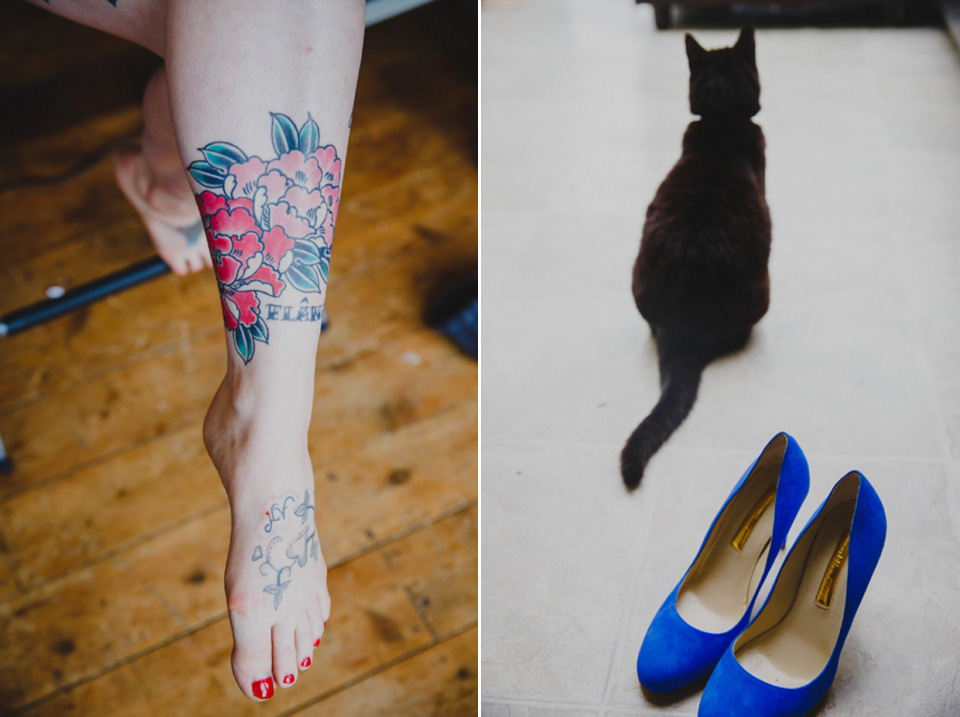 "My shoes had to be blue! They were the Malone heel in a limited edition blue suede by British designer Rupert Sanderson. For the beach photos and the evening dancing I switched to some not so classy £4 jelly glitter sandals from ASOS.
My bridesmaids all chose their own shoes to fit their tastes and comfort levels! They varied from vintage (emerlad green and pink polka dots) to Kurt Geiger (red), and TopShop (orange) (via eBay- there's always a bargain to be had!) The different colours looked amazing and suited their personalities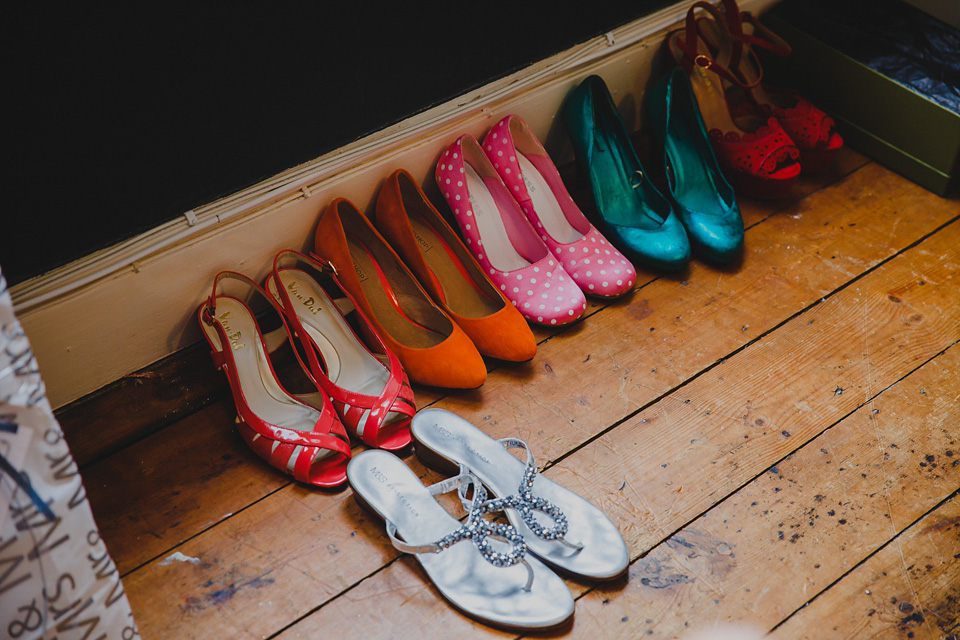 "My chosen scent for the day was a present from Ben after a few not so subtle hints! He got me a huge bottle of Penhaligon's 'Violetta'– a super beautiful perfume that smells like Parma Violets. It's very distinctive, deep but sweet and soapy. Ben wore a fragrance by Tom Ford."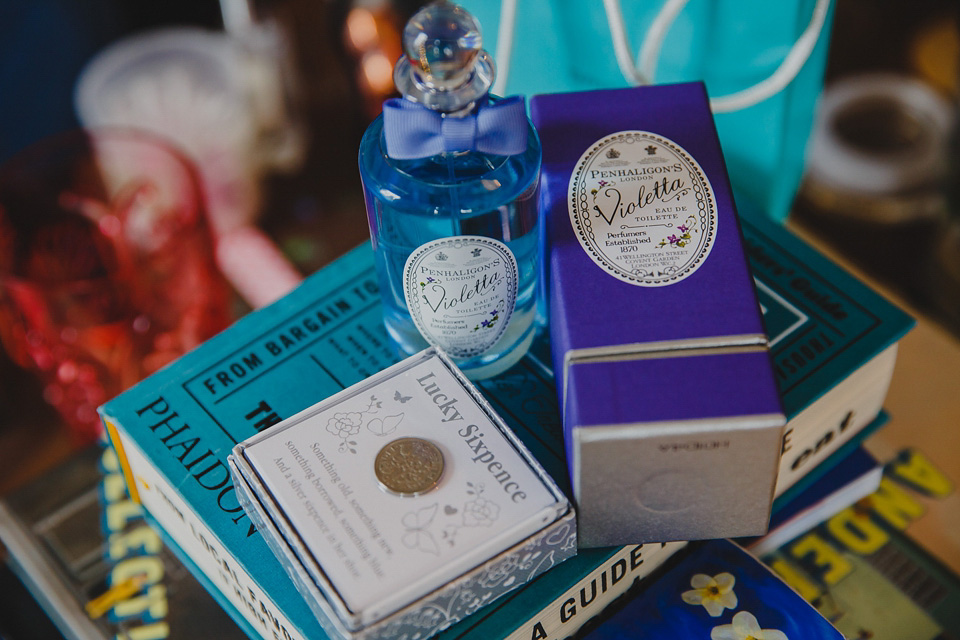 "I'm a professional makeup artist so I did my own makeup, and also got roped into doing my sisters on the morning! My lip colour was the result of a custom mix of Illamasqua Climax and MAC Rebel lipsticks which ended up matching the colour of some of the flowers in my bouquet. I knew that my makeup would be done on instinct on the day, so while I test run products I knew I liked before the occasion, the colour choices were made on the morning.
My hair was by Lee Brown at Lara Johnson Lifestyle, he is also a hair artist for Wella and Sebastion Pro and is uber talented! He has come to be a good friend of mine having worked regularly on editorial shoots together. I trusted him completely with my hair and am very thankful to him for agreeing to do it. We had a hair trial the week before the wedding and came up with the hollywood waves, they had to be pinned to one side to allow room for the fresh flowers on my hair comb. He brought Jenny (also from Lara Johnson) along with him to help on the day and between them they did my me, my mum and bridesmaids. They did a fab job and everyone felt a million dollars!"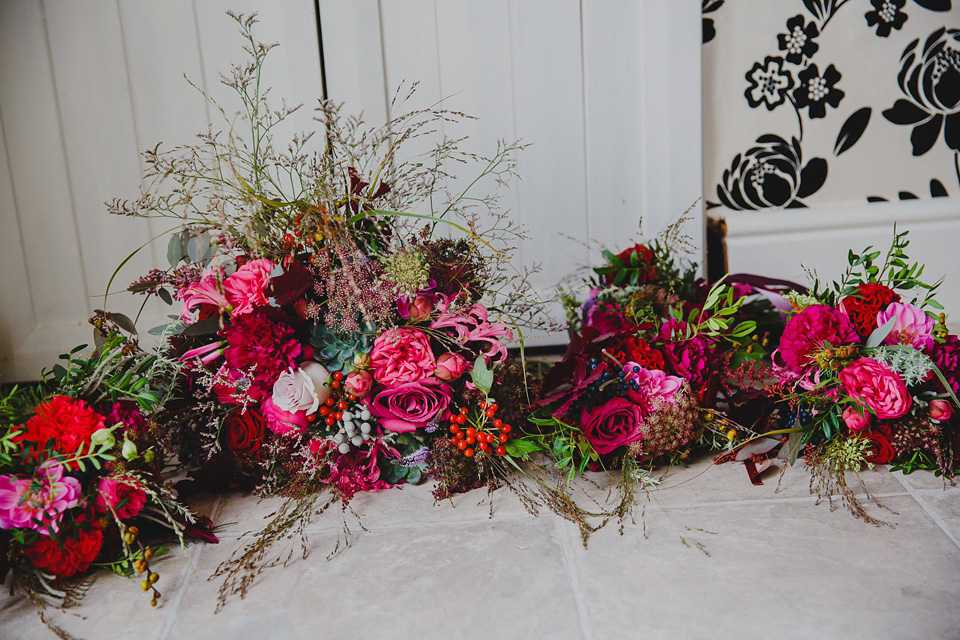 "The dress hunt felt like a long and exhausting one. I tried on so many that I liked and found it really hard to make a decision. The dress I ended up with was 'Aurea' by Jenny Packham, I got it from the lovely Sally at White Bride in Narberth, Pembrokeshire. Sally had it in a sample sale and it fit like a glove.
I wasn't planning on wearing a strapless gown, but Aurea was so comfortable and I felt like me in it. Our wedding was in September so I knew I wanted an optional accessory to keep me warm! I spotted a silver sequined cardigan from the Kate Moss for Topshop collection on eBay which was ideal for the time of year and suited the dress and styling of the day so well! My sister Jessica bought it for me as a wedding gift."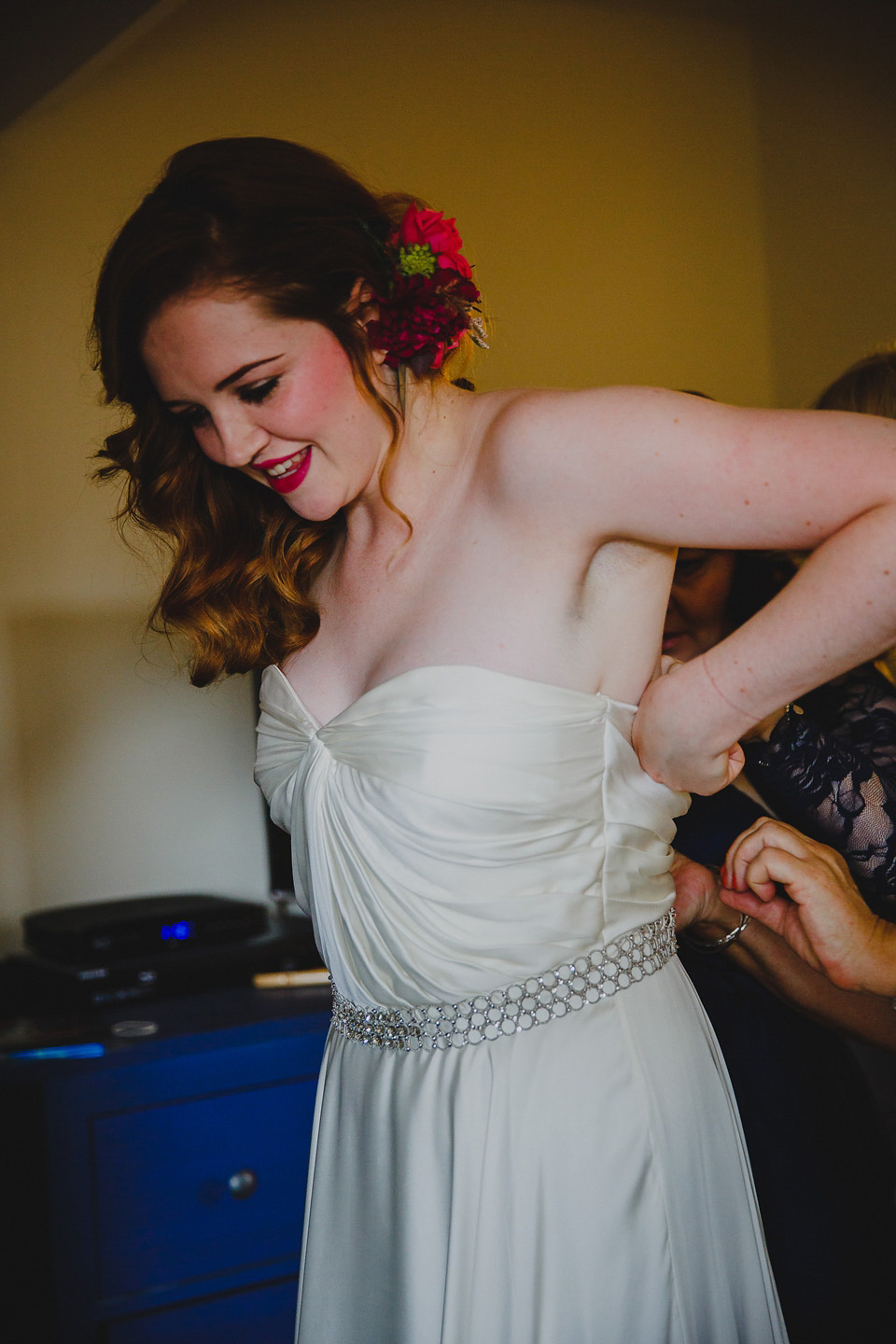 "Each bridesmaid wore jewellery that they already owned and liked! As individuals they are all so different that I wouldn't have been able to supply jewellery that they all liked, plus I didn't want anything to be too matchy matchy. Instead I commissioned an illustrator to draw individual pieces for them as their bridesmaid gift. Thankfully this seemed to go down well!"
"I tried on a few veils but I didn't feel like 'me' in any of them so I opted to have my florist attach fresh flowers to a hair comb that I bought from Hobbycraft!"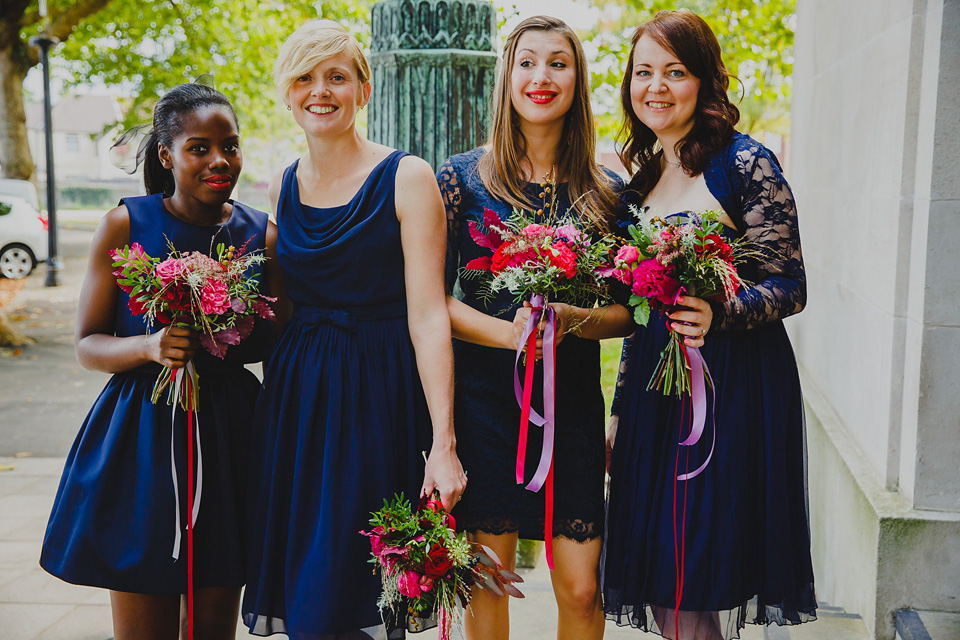 "Both of our venues were in the heart of Swansea, and both held great significance to Ben as they were next to the area that he grew up in. Our wedding ceremony was held in the Lord Mayor's Suite in the Guildhall, a building that was built in the 1930's with beautiful architecture to match the era. Our friends Nik and Wendy let us use their bar 'Mozarts' for our wedding reception. A city wedding appealed to us the most, and the perks of the Guildhall is that it is 5 minutes walk from Swansea Bay!"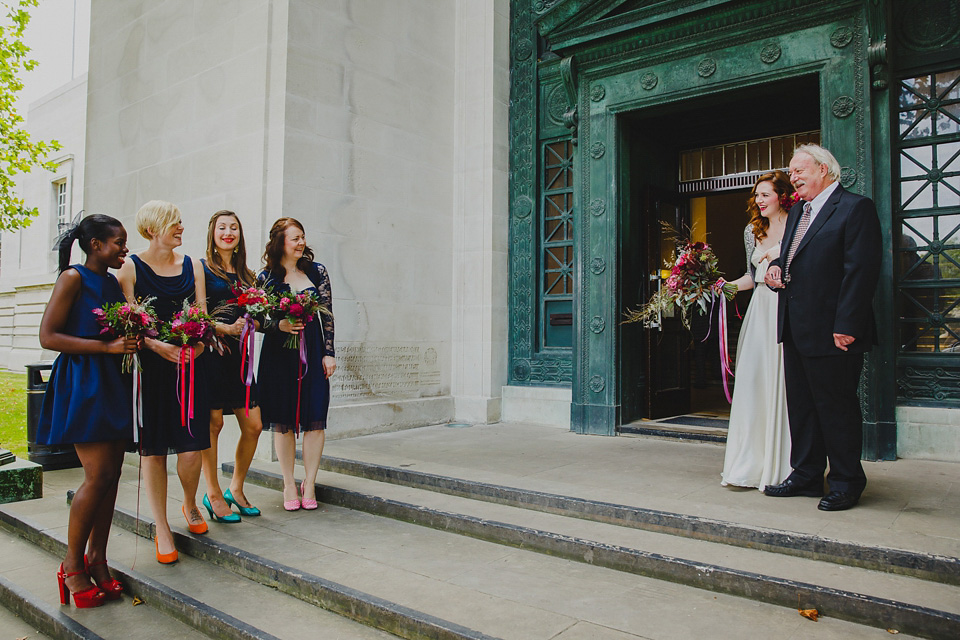 "Ben's suit was a bespoke navy flannel three piece made by his friend Fred Nieddu who is a talented cutter at Timothy Everest in Shoreditch. He chose navy because it wasn't as formal as black and was a colour he knew he'd wear again in the future. Ben's white shirt was also made bespoke at Timothy Everest.  The suit was heavily influenced by the 1930's era with the wide lapels and high waisted trousers.
His tie and pocket square were from Drakes and his maroon socks were purchased from Sunspel.  Ben's braces were made for him by another friend Kei Hemmi who owns At Last & Co clothing company in Tokyo and he wore black cordovan monk strap shoes by Alden. The shoes were gifted to him by his friend Nate who lives in the US. They were a $5 thrift store find!"
I love how Ben explains how he felt seeing Emily walking down the aisle for the first time…
"I loved seeing Emily for the first time on the wedding day walking down the aisle. I realise this is incredibly corny but it's just true. My best man gave a great and touching speech and I'm really glad we did the first dance too because we were nervous about it and hadn't practiced it."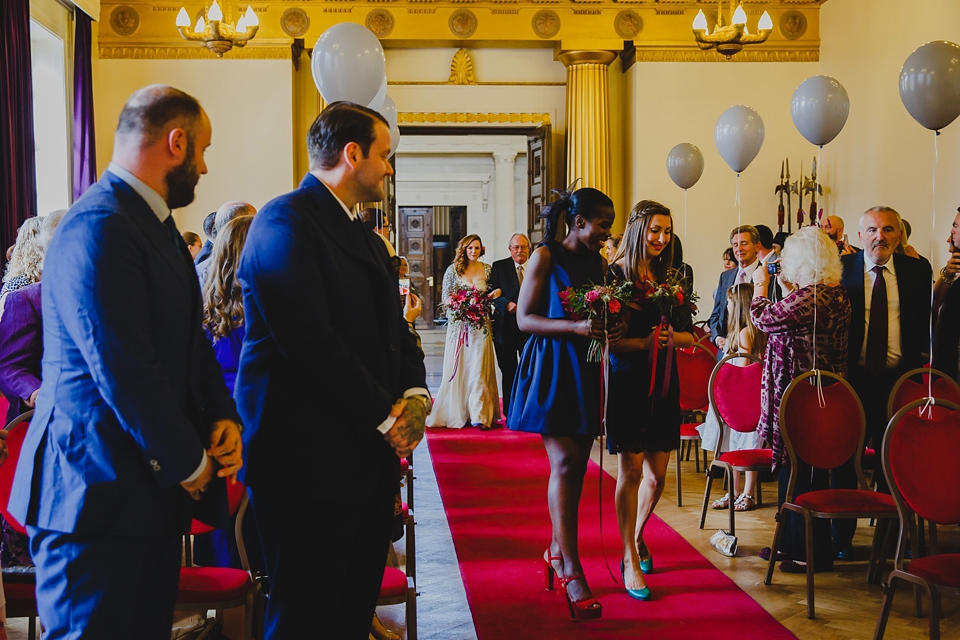 "Ben's best man Tony wore a suit by Secret Empire which was also navy blue. He had two ushers, Barry wore a suit also by Timothy Everest bespoke and his business partner Lee wore his Parachute Regiment blazer and trousers by Ralph Lauren."
"My wedding band was a bargain and came from the Carmarthen Antiques and Flea market. I wasn't shopping for a wedding band at the time, but I saw this one and it was exactly what I wanted- fitted perfectly and complimented my engagement ring! Ben's wedding band was from Crouch jewellers in Swansea, as was my engagement ring. Jason at Crouch provides an outstanding and helpful service!"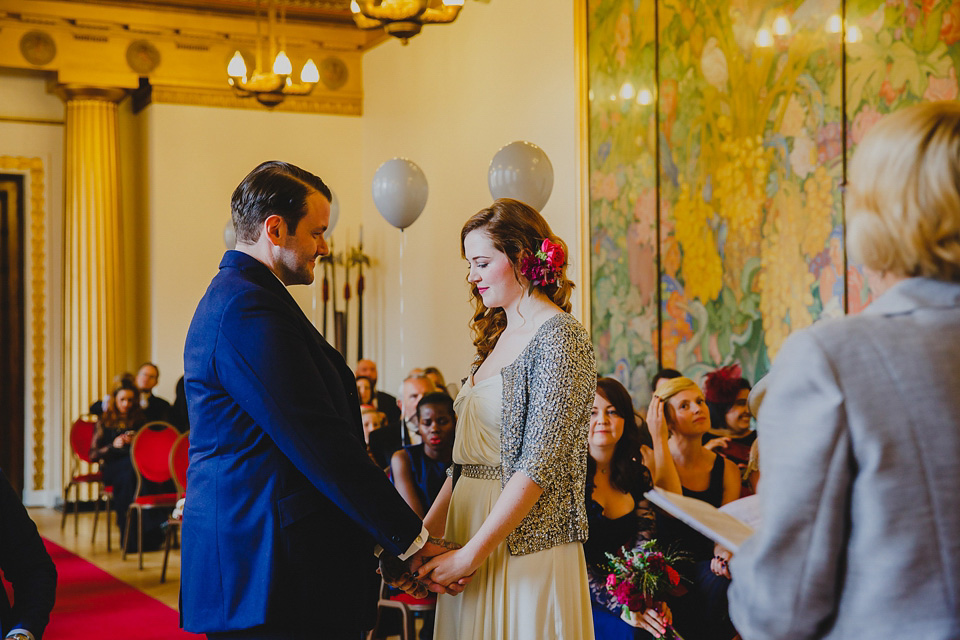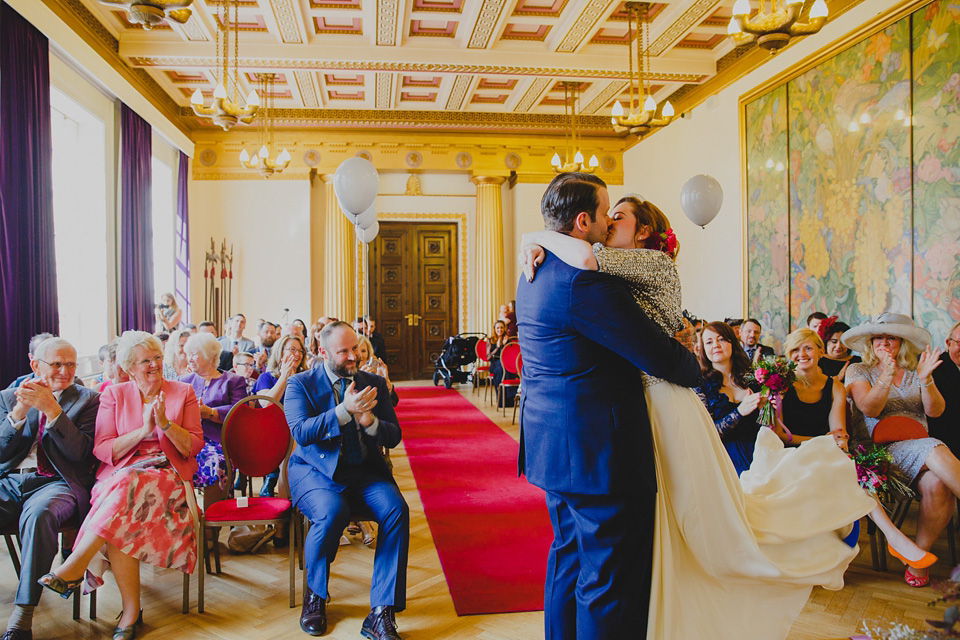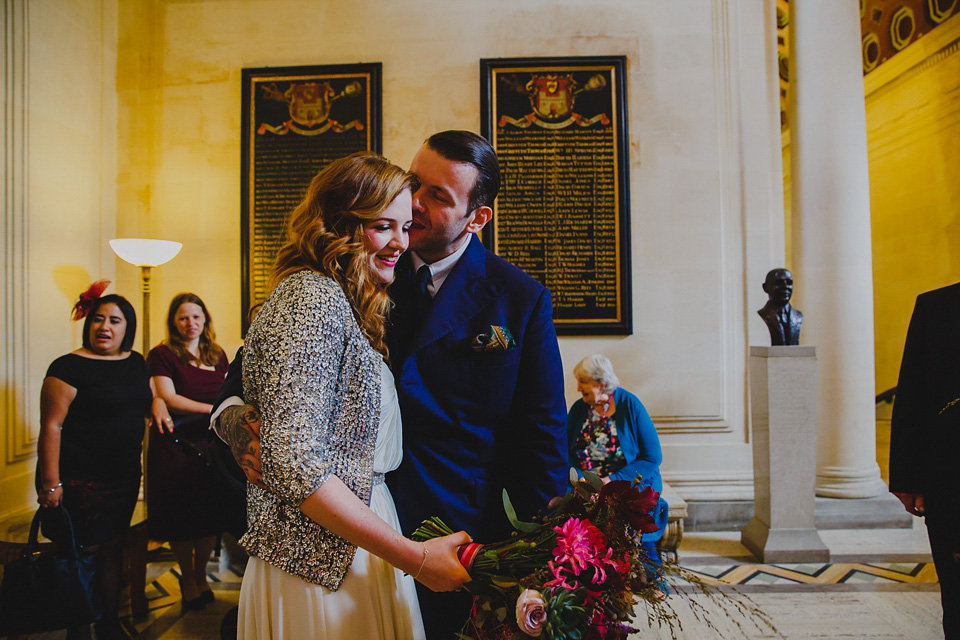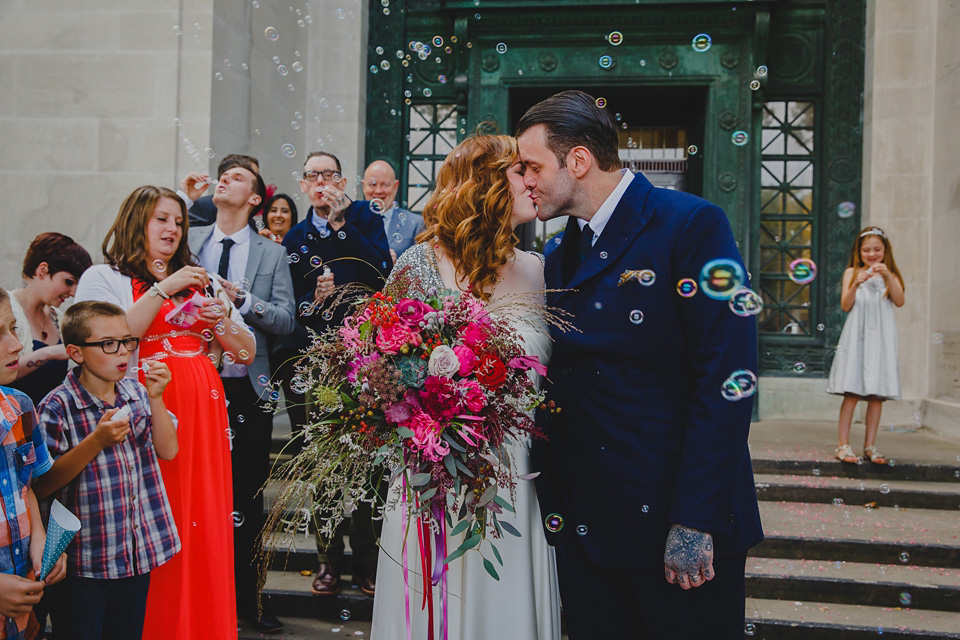 "Although the ceremony venue is a 5 minute walk from our flat, I booked two black cabs to get me and the bridal party there. The second one never turned up so it was left to me and two remaining bridesmaids to hail a cab. At 1pm on a Saturday afternoon in the city centre we got quite a lot of attention! A funny memory."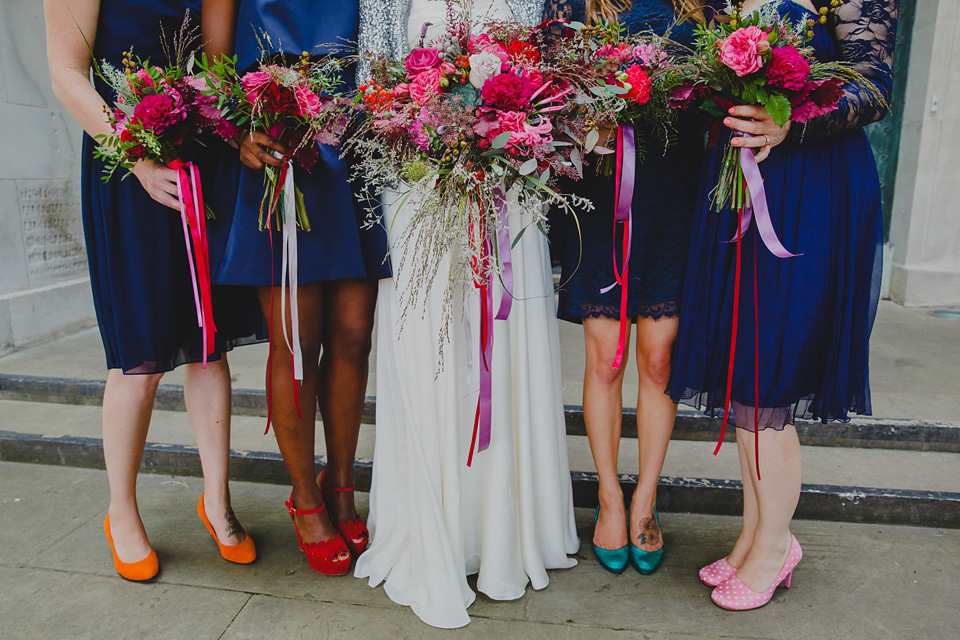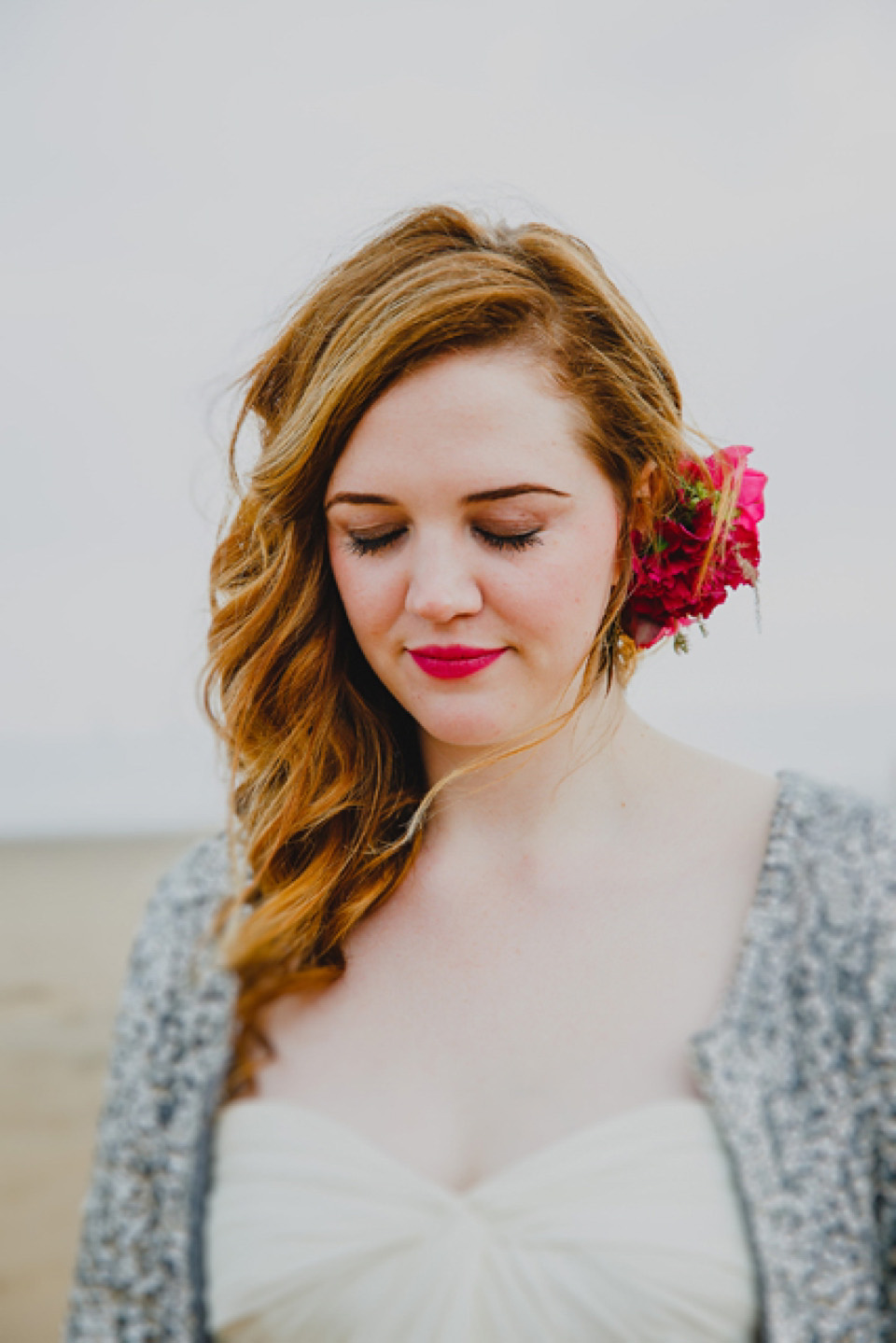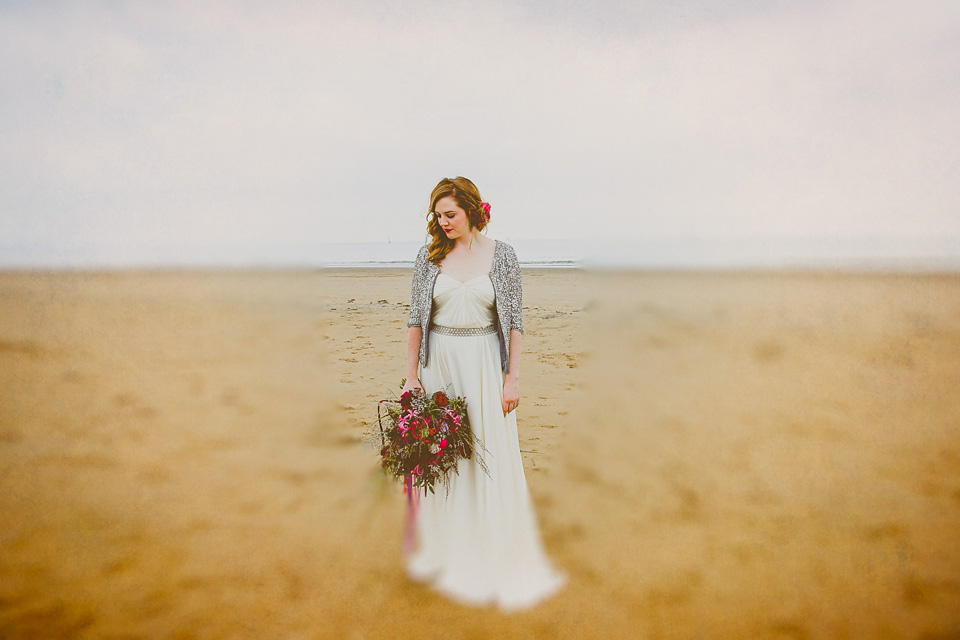 "One of the reasons we didn't book a regular wedding venue was because we were put off by the lack of flexibility with the catering. We are regular visitors to the SA3 Bistro, owned by Sam Thomas who is a good friend and Ju Jitsu sparring partner of Bens. We really wanted him to cater the wedding, he agreed and pulled it off so well! It wasn't an easy job especially as he had to work in a kitchen that wasn't his. The menu Sam created catered amazingly well for the meat eaters, veggies and vegans amongst us. It meant so much that he agreed to help us!"
"There were lots of 'DIY' aspects to the decorations at our wedding, these personal touches made it even more special to us. The reception venue was a blank canvas so everything from the tables and chairs to the napkins had to be found and bought or hired by us.
"My bridesmaid Makeda used to work in events and helped so much dressing Mozarts on the wedding morning. It was such a transformation that I screamed with shock when I walked in!  Makeda made and printed off personalised stickers and attached them to all of the prosecco bottles that we provided as well as the beers in the fridge. She designed and sourced a vinyl that attached to the fridge next to the bar, it had our names on it and it was all in the style of our wedding invitations."
"In the weeks leading up I collected lots of jars and dipped them into rose gold and bronze glitter, a messy job but super pretty result. Makeda then planted rosemary in them the night before and dotted these along the tables and throughout the venue. She wrapped the cutlery and napkins with 'E & B' printed on ribbon, and along with the help of a helium tank decorated the room with big round balloons as well as another silver E & B at Mozarts' entrance.
So many friends and family helped us out, both on setting up with Makeda on the morning and with important details such as sourcing tablecloths and helping us collect all of the dinner plates for the wedding breakfast. My lovely mum made about 22 metres of bunting from old and new fabrics with a loose colour theme of navy, blue, grey and coral!
"We booked 'E & B' light up letters from Doris Loves which completely transformed the room and acted as a focal point and a good conversation starter! We also had uplighters installed to help brighten the room and set the mood.  
A couple of weeks before I bought what felt like a million metres of white tulle and along with Wendy, the owner of Mozarts, we made wall hangings by knotting lengths of tulle to curtain wire. Wendy attached them to the top of the high walls and they helped create a soft back drop which were complimented by her fairy lights and our uplights."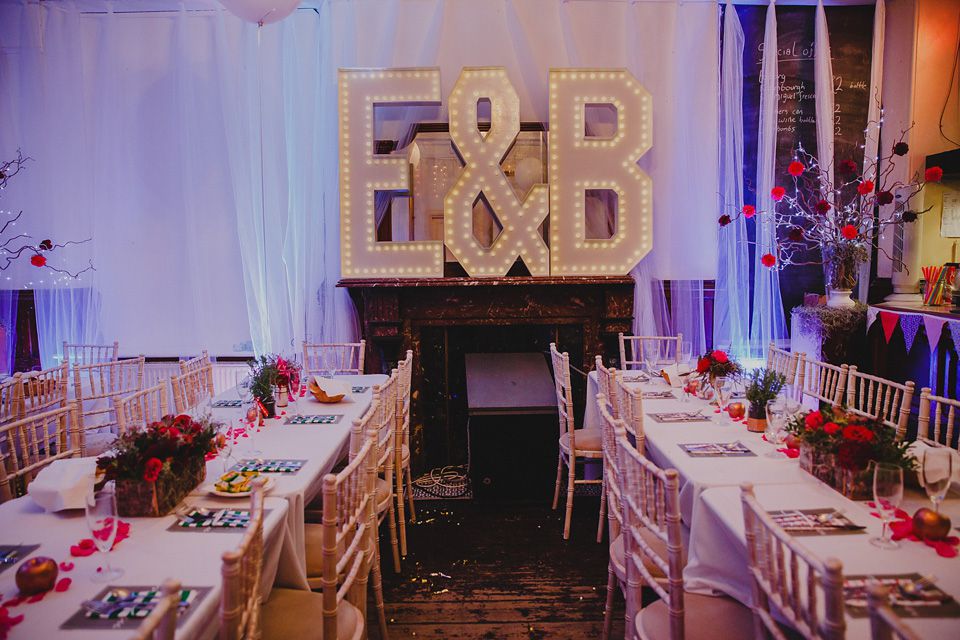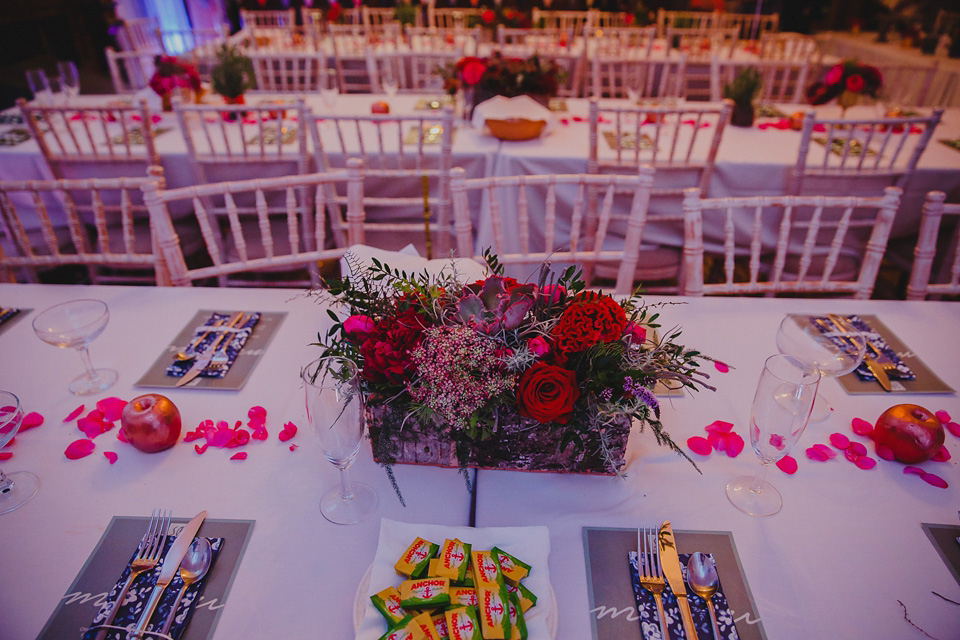 "Our wedding cake was made by one of my bridesmaids, Hannah. A housing officer by day, amazing cake maker by night! I don't think she slept very well on the week leading up the wedding due to cake induced nightmares, but her effort didn't go unnoticed and she made the most beautiful cake that we'll always be thankful to her for. I asked for a nod to autumn so she included blackberries and leaves as part of the decoration, she also spent hours hand crafting a coral peony from sugar icing because she knew they were my favourite flower. It looked so professional! The tiers consisted of victoria sponge sandwiched with a layer of fresh cream whipped with blackberries (cue amazing lilac coloured filling!), chocolate cake and lemon sponge. The cake was covered in white chocolate buttercream – it was delicious.
I sourced a tree trunk cake base from eBay for it to be displayed on and the day before the wedding I made a batch of sugar biscuits and two vegan lemon drizzles so that all of our guests were catered for. Ben's mum had friends who made us a tonne of cupcakes for the evening buffet too!"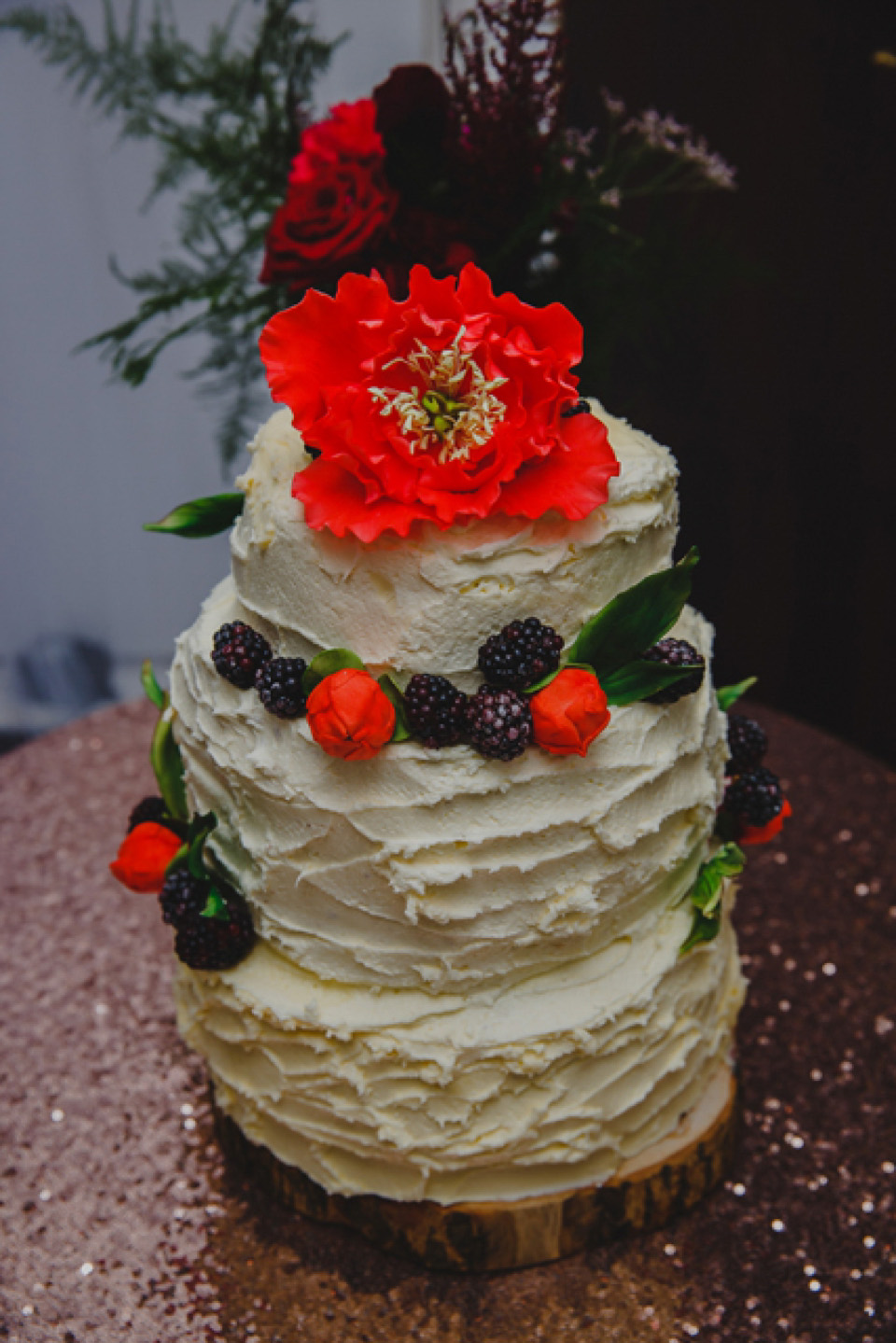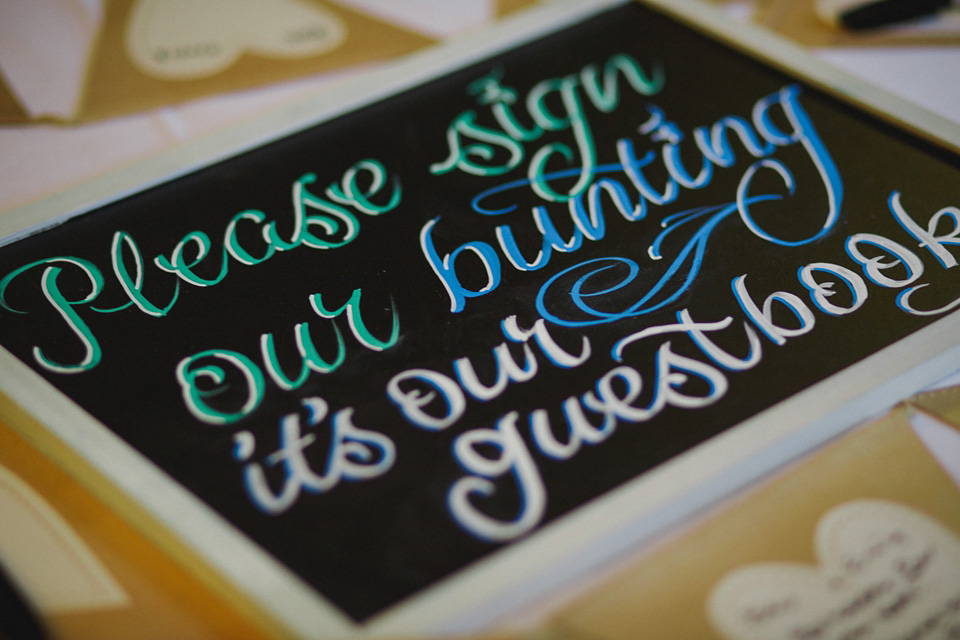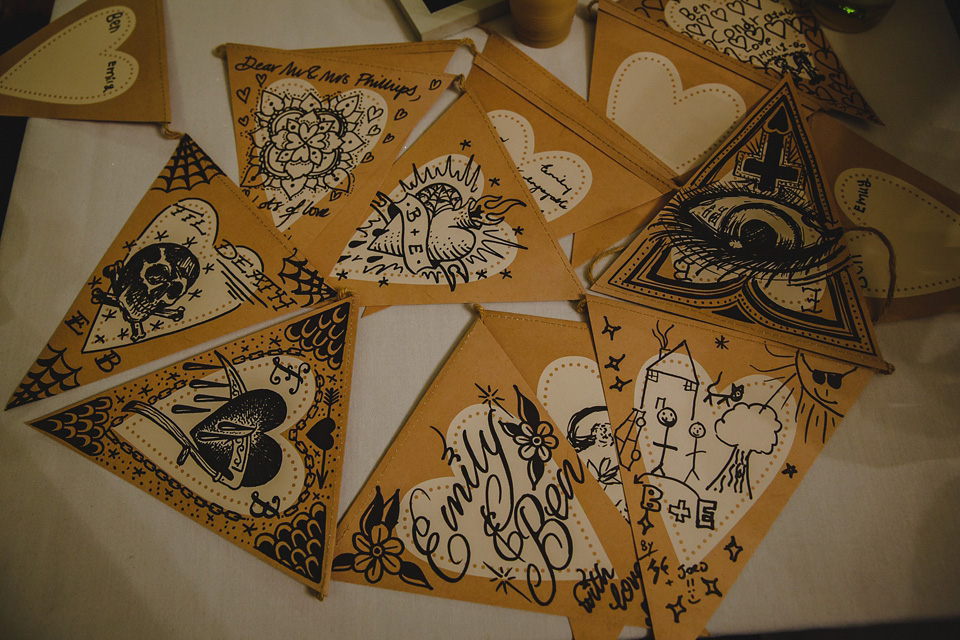 "Ben was set on live music for the ceremony and booked an acoustic guitarist who did a beautiful job covering some of our favourite songs. Various friends shared the DJ duty throughout the night, which resulted in an amazing variety of music from 80s pop to motown. Ben did a hip hop set which got everyone up and dancing, bridesmaid twerking happened and Bhavna's got the evidence!"
"Our first dance was our own rendition of the Pulp Fiction scene between Mia Wallace and Vincent Vega at Jack Rabbit Slim's to Chuck Berry's 'You Never Can Tell'. You know the one! This was Bens idea, but we didn't get time to practice or rehearse, so it really was spontaneous on the night. A few champers before hand helped me muster the courage, because we nearly chickened out! We're so glad we didn't though as it was one of my mother in laws happiest memories of the day!"
"My favourite part of the day was seeing my friends and family in the same room, an occasion that will probably never happen again. Lots of people travelled so far to be there and it meant so much to us. Taking time to go the beach with Ben to take photos is something I'm so glad we did, the ceremony was such a blur that it was nice to take some time out together afterwards and Bhavna took some of our favourite photos of the day on the beach. There's also hilarious memories of friends and relatives all dropping it like its hot to Bens DJ set!"
Words of Wedded Wisdom…
"Stay true to the wedding that you both want and to you as a couple. Planning the details and taking on creative projects are fun but always keep in mind why you're planning a wedding and that will help ease any little stresses or minor setbacks you might have during that time. Be confident that you are going to have a great day! Make sure you do confetti!
Also, on reflection I wish we had done a seating plan. We wanted people to feel relaxed and to mingle with each other which is why we didn't made one, but in hindsight, it would have helped organise people in the small space we had."
So much beautiful, eye-poppingly vibrant colour!  Huge thanks to photographer Bhavna Barratt for sharing these images, and Emily and Ben – thank you so very much for sharing your day, I'm feeling inspired by your style!
All my love,
Love Annabel x x
Photographer – Bhavna Barratt
Venue – Lord Mayor's Suite in the Guildhall + Mozarts
Wedding Dress – Jenny Packham via White Bride in Narberth, Pembrokeshire
Shoes – Rupert Sanderson + ASOS
Accessories – Tiffany & Co. bracelet (a gift from the groom)
Bride's Scent/perfume – Penhaligon's 'Violetta'
Groom – Bespoke suit by Fred Nieddu of Timothy Everest in Shoreditch
Bridesmaids – ASOS, TopShop, Fever London + Jenny Packham for Debenhams
Florist – Forbesfield Flowers
Cake – A friend
Entertainment – acoustic guitarist + DJ set by the groom
Rings – Carmarthen Antiques and Flea market.
Catering – SA3 Bistro
Hair Stylist – Lee Brown at Lara Johnson Lifestyle
Makeup Artist – The bride, Emily Porter