Interrupting this afternoon to share these images from a most beautiful styled shoot full of inspiring images for all those who like something a little glamorous and quirky.  This whole shoot was the brainchild of Georgia Westwood of Westwood Design, who specialise in wedding and event flowers, styling and set design – and who you can find lots of yummy inspiration on Instagram from here.  Westwood Design is a new business on my radar and one I'll be watching closely from here. I adore how Georgia has taken her inspiration and crafted these beautiful images in partnership with photographer Anna Ambrosia of Bianco Photography and a team that includes bridal boutique Heart Aflutter, hair stylist and make-up artist Laura Anne, incredible cake design by Little Bear Cakery and the most beautiful calligraphy and stationery products by  Lamplighter London.
Georgia explains how she, Anna and their creative team went about crafting these exquisite images.
"Anna of Bianco Photography and I shared a love of dark powerful imagery, inspired by still life paintings and old film photography. Therefore our collaboration was extremely natural! I wanted the shoot to look extravagant and full of deep intense colours, inspired by the nostalgia that I always feel about the early 1900's. The period stretching from the 1920's through to the 30's and 40's seemed so glamorous and decadent.  The women always looking perfectly pristine and the men sharp and well suited. In a world very much dominated by men, setting our scene in a Gentleman's Club in Soho, London, seemed appropriate and was a nod to how much our culture has changed, for both the good and the bad."
Photography Copyright (c) 2015, Bianco Photography + Styling by Westwood Design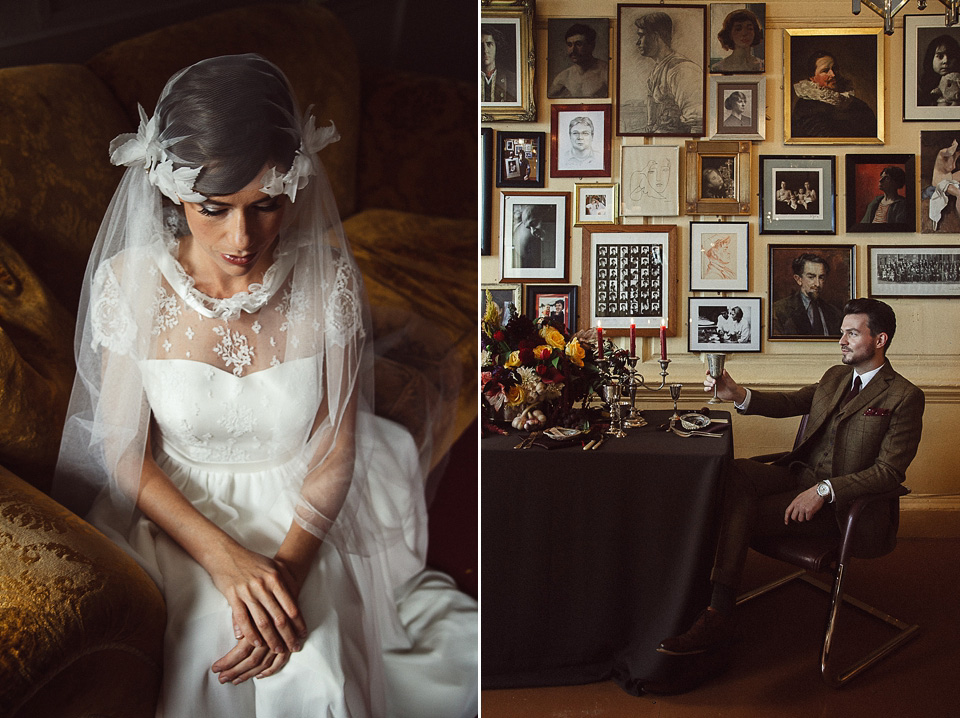 I love the bridal styling in this shoot, but particularly love the veils and headpieces by Blackbirds Pearl.  Blackbird's Pearl are a new design brand to watch out for, providing exquisite hand-crafted headpieces, veils and silk flower accessories for the bride.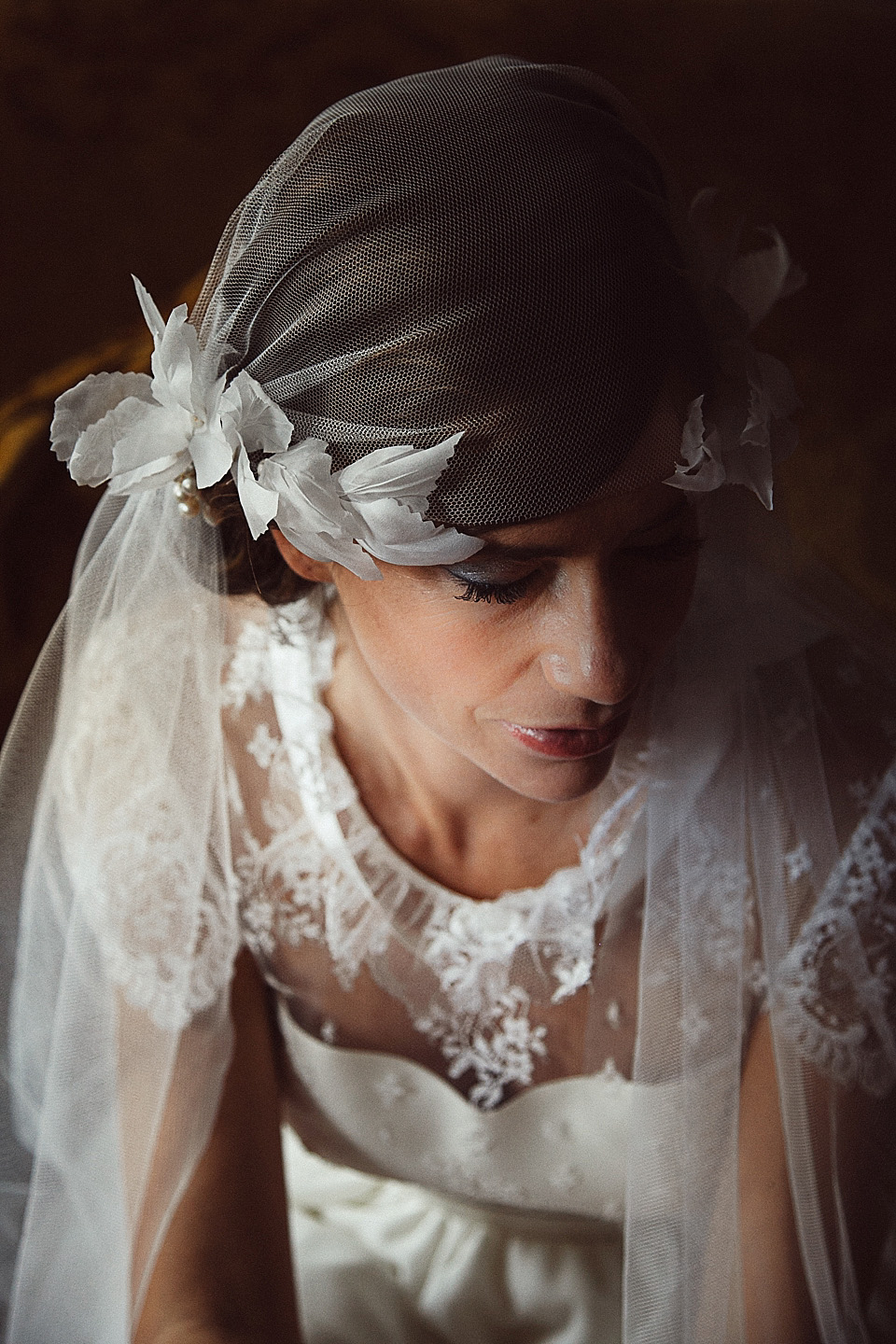 Blackbirds Pearl was founded by Johanna…
"Every piece is designed and carefully made by hand in my small London studio with great love, care and attention to detail from the finest silks and chiffons – for brides and their maids.  My designs range from intricate, ethereal hydrangea halos to vintage inspired birdcage veils & each piece is carefully created by me to order. This means I can offer options and each piece can be customised to make it a perfect fit for you, your dress and your vision of your wedding day."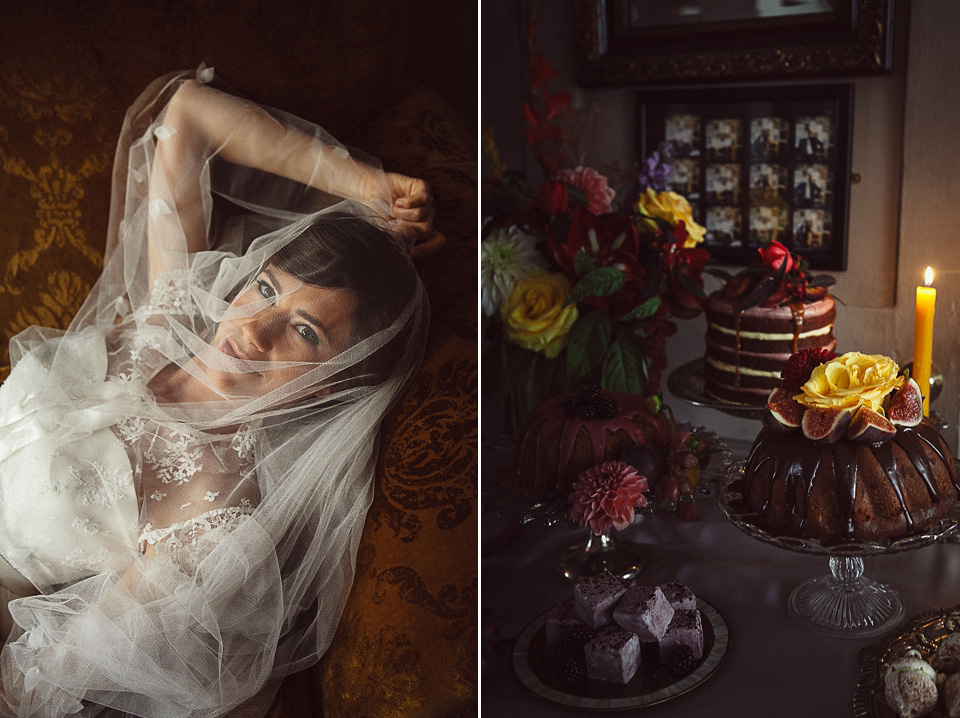 The dresses featured in this shoot were designed by Nadia Manzato and supplied by bridal boutique Heart Aflutter, a unique, stylish and exciting bridal boutique in vibrant East London.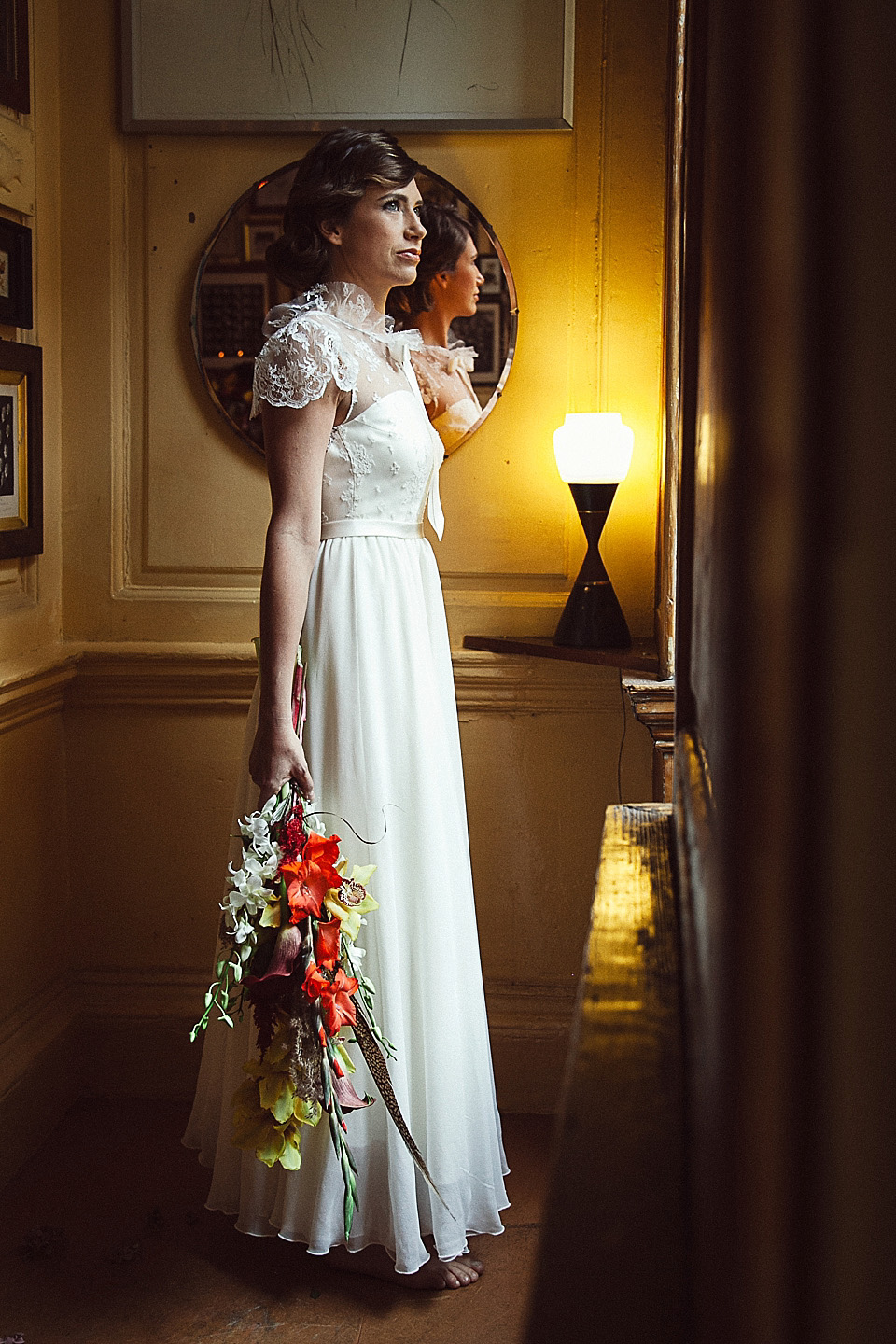 It was also a joy to see the work of Lamplighter London in this feature.  I have long been a fan of Chiara Perano's beautiful calligraphy, ever since discovering it via this sublime feature on Love My Dress.
"Lamplighter London design studio provide a variety of creative services, from personalised maps, modern calligraphy, branding, social stationery and bespoke artwork pieces. We offer unique, fresh designs combining hand drawn elements and artistic, opulent finishing touches, for our stylish, discerning and high profile clientele."
"The flowers were opulent and overflowing and I didn't want to create a normal bouquet, choosing to go with a more unique long stemmed style. I included garlic, fruit and vegetables to represent a feast on the table, with items such as mussels and oyster shells, polished silver, dark silk table linen and an unbelievable selection of incredible cakes to convey this glamorous lifestyle."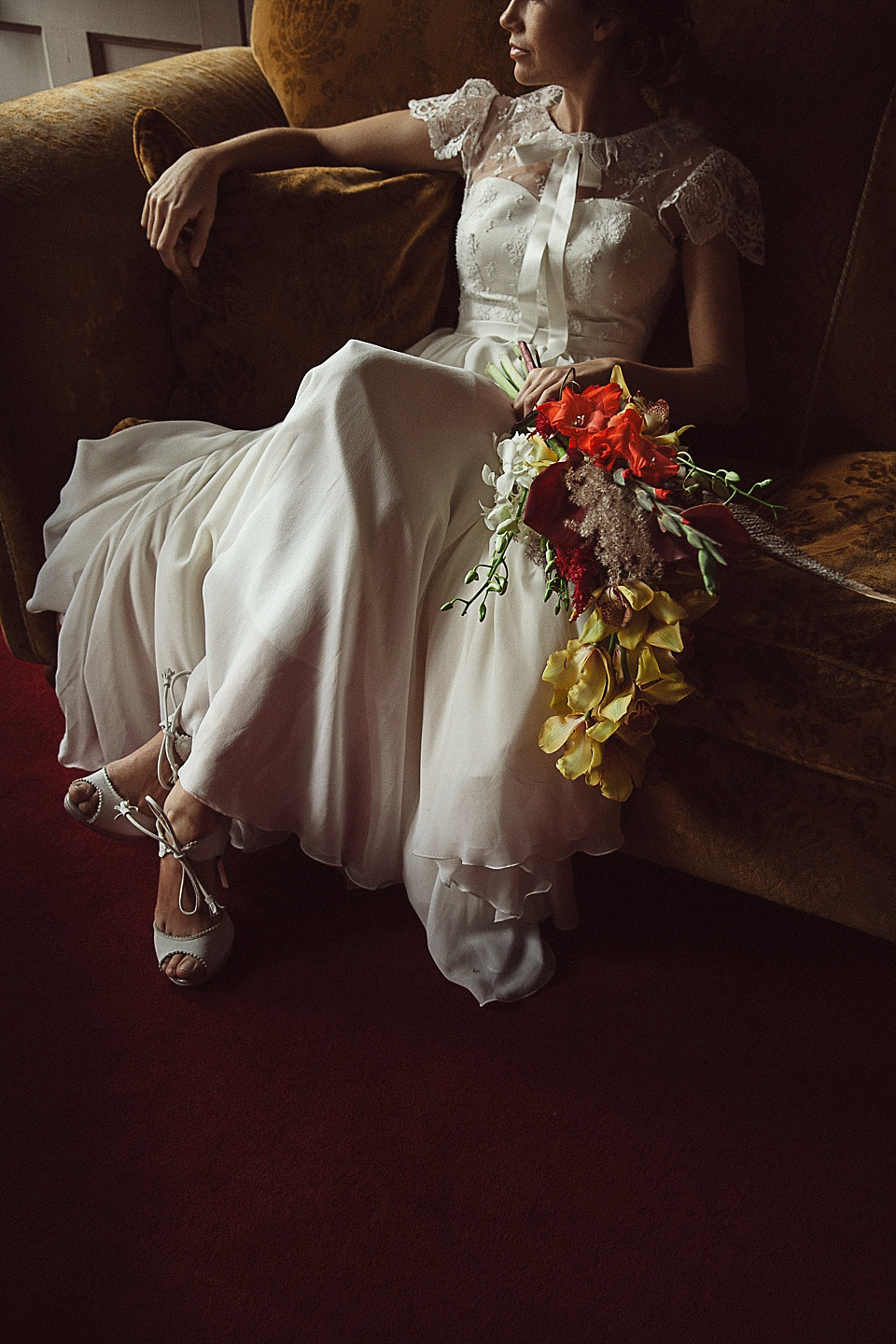 The amazing cakes that feature in this shoot are the labour of love of Clare from 'Little Bear Cakery'.  A chef trained in Professional Cookery and Patisserie & Confectionery, Clare has worked in many areas of the catering industry, from hotels and restaurants to corporate fine-dining.
After making birthday cakes for friends, Clare realised she had a talent for cake decoration and set up a blog to record her journey before establishing The Little Bear Cakery in 2011.
Since then, Clare has been turning heads with her quirky designs and is fast becoming East London's alternative cake decorator. Clare's own style incorporates her love of the 3 F's….. feathers, flora and fauna, and she loves experimenting with different materials and textures as well as drawing inspiration from fashion, wedding and lifestyle trends.
Just completely beautiful!
The Union Club provides a darkly exotic style wedding venue in the heart of London.  Situated in Soho, deep in the heart of London's media and theatre land, The Union Club occupies a 270 year old, listed Georgian town house of exceptional character and charm.
"Time, love and wit have been employed to conceive an interior that is both contemporary and bohemian. No nook or cranny escapes the unmistakable Union style.  The venue provides space for an intimate London wedding or engagement party, and is available to hire in its entirety.  Our cooking is hearty and unpretentious; our staff, quite lovely and the ambiance, cosy and inviting."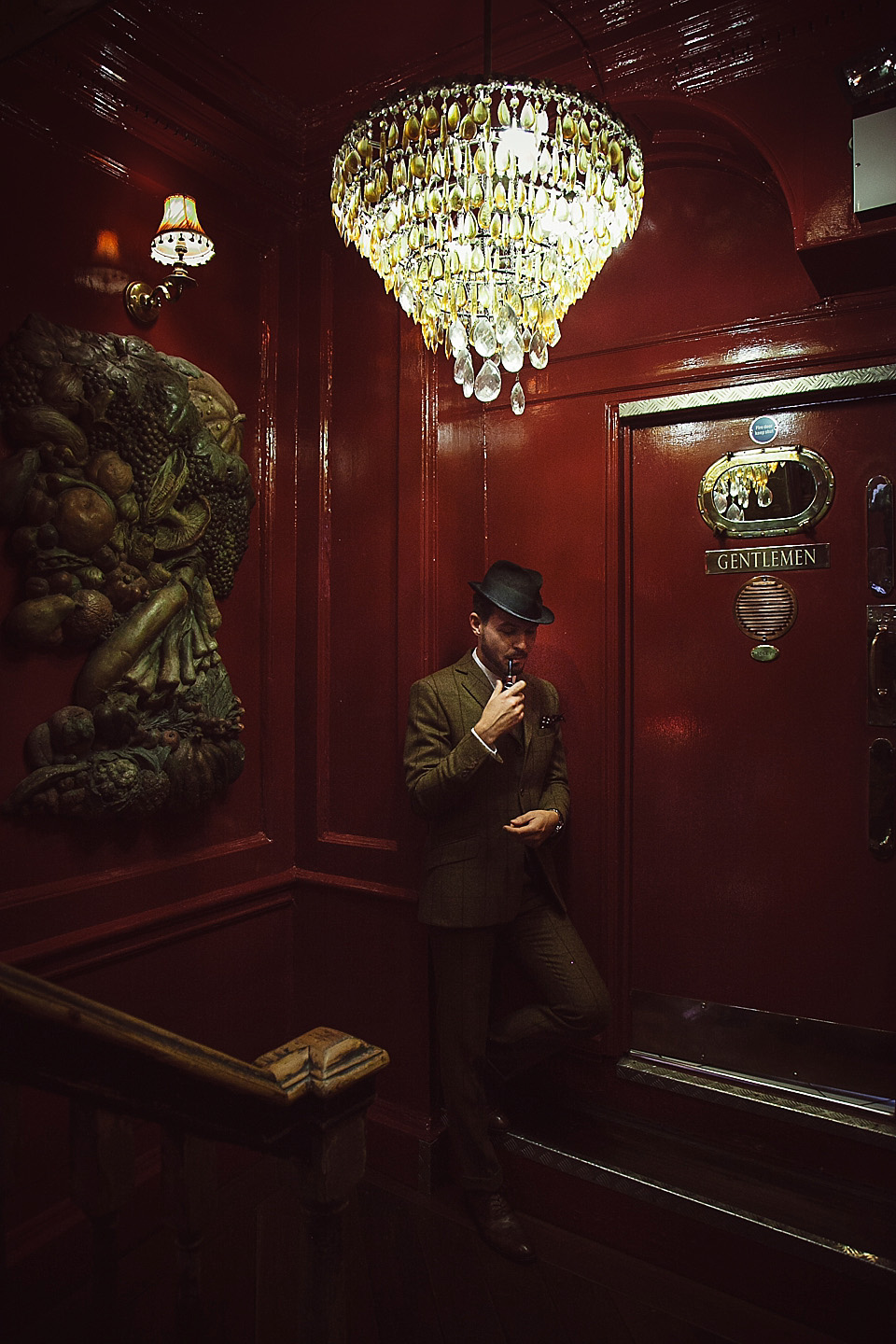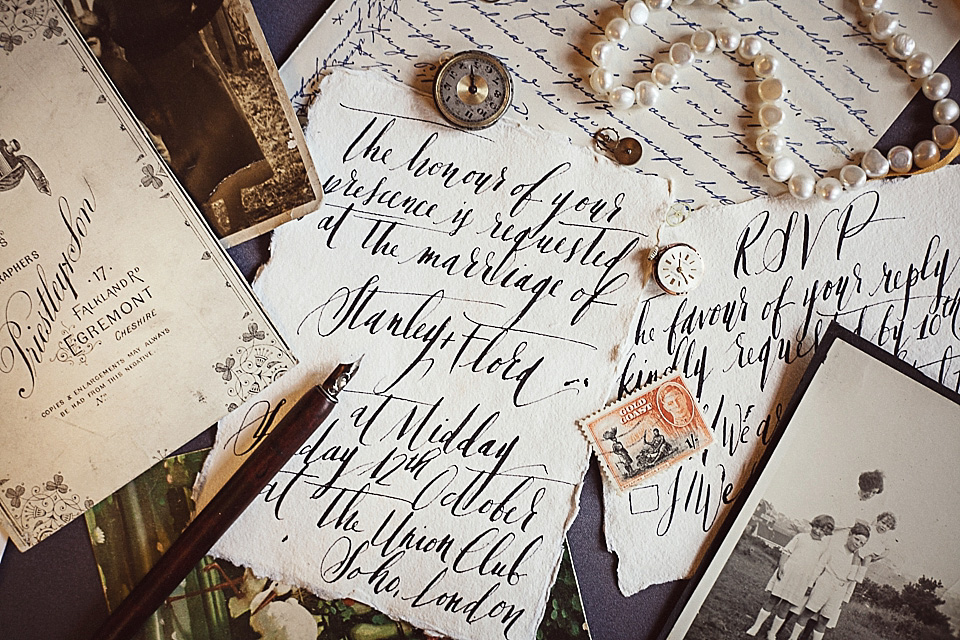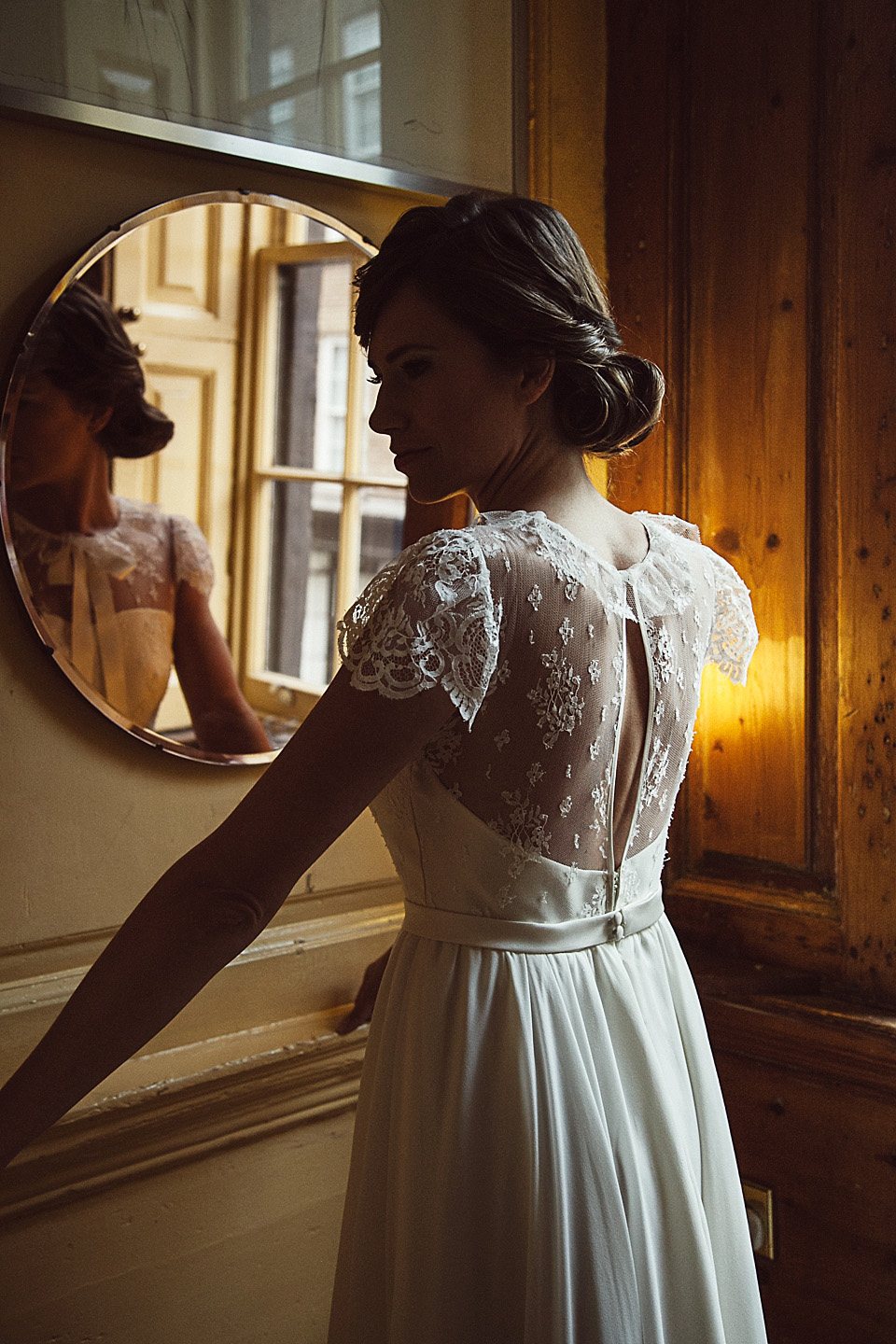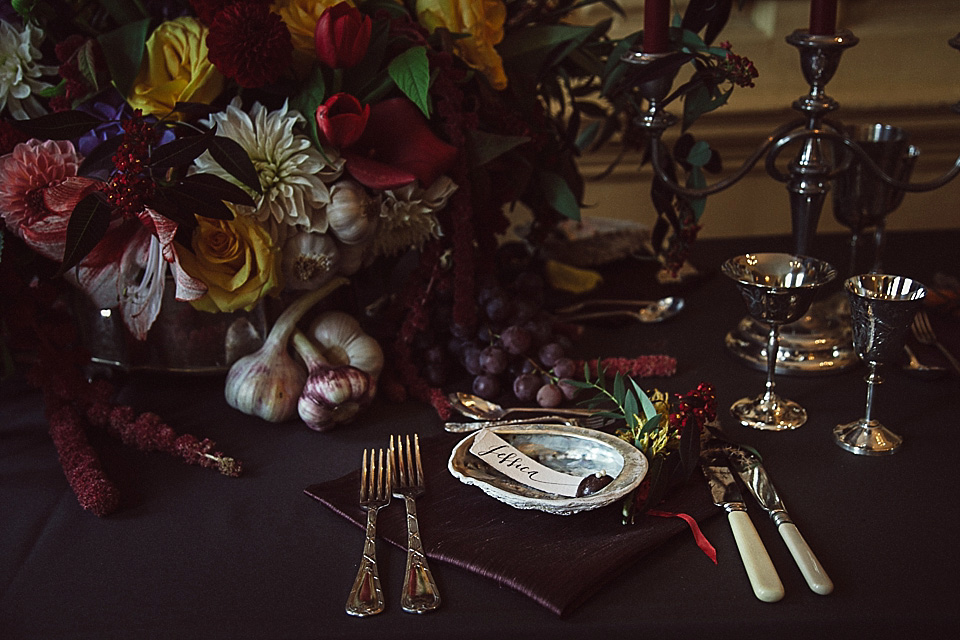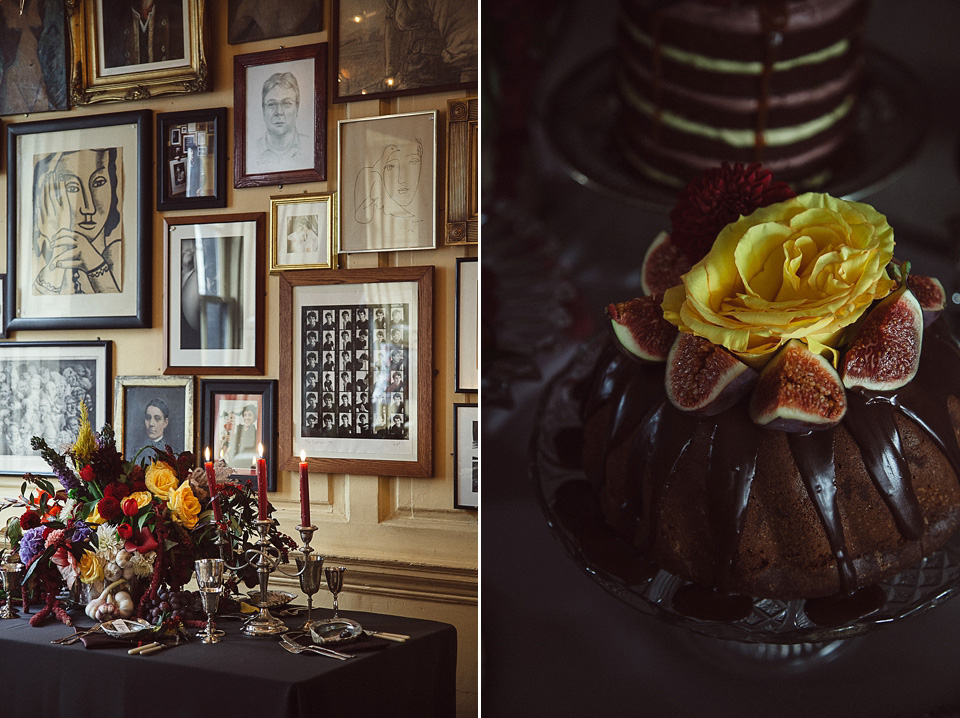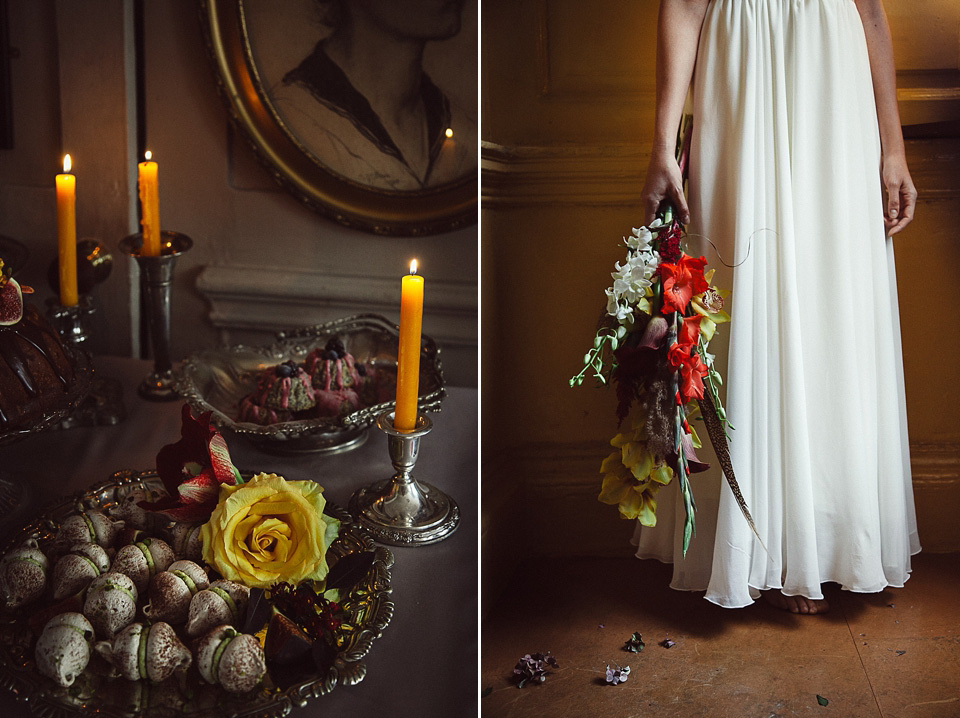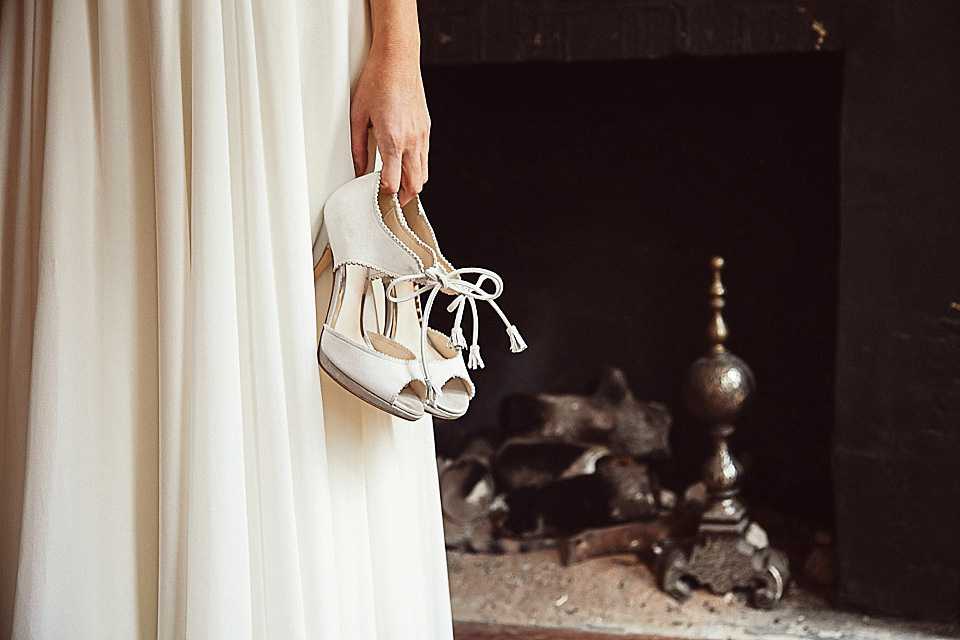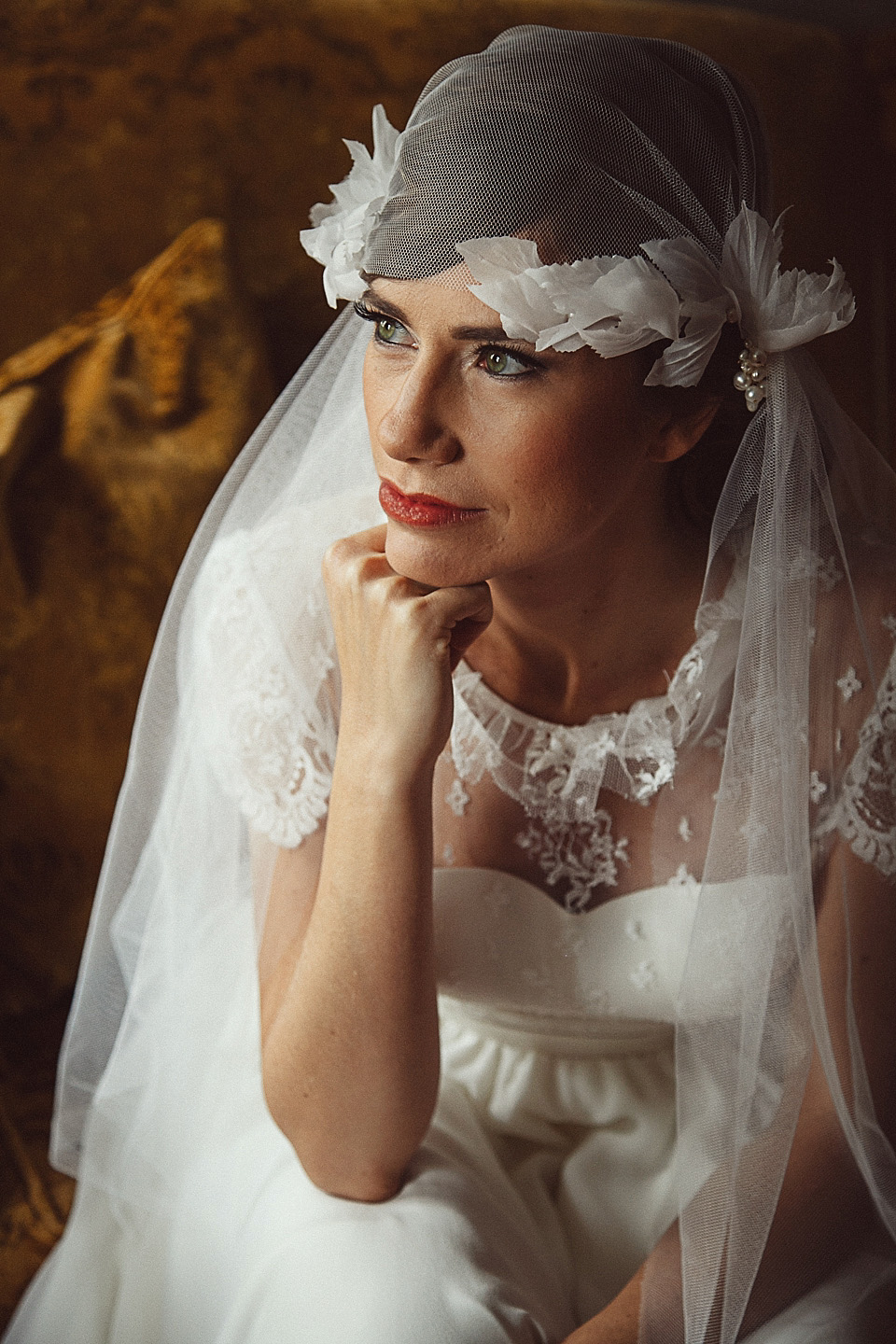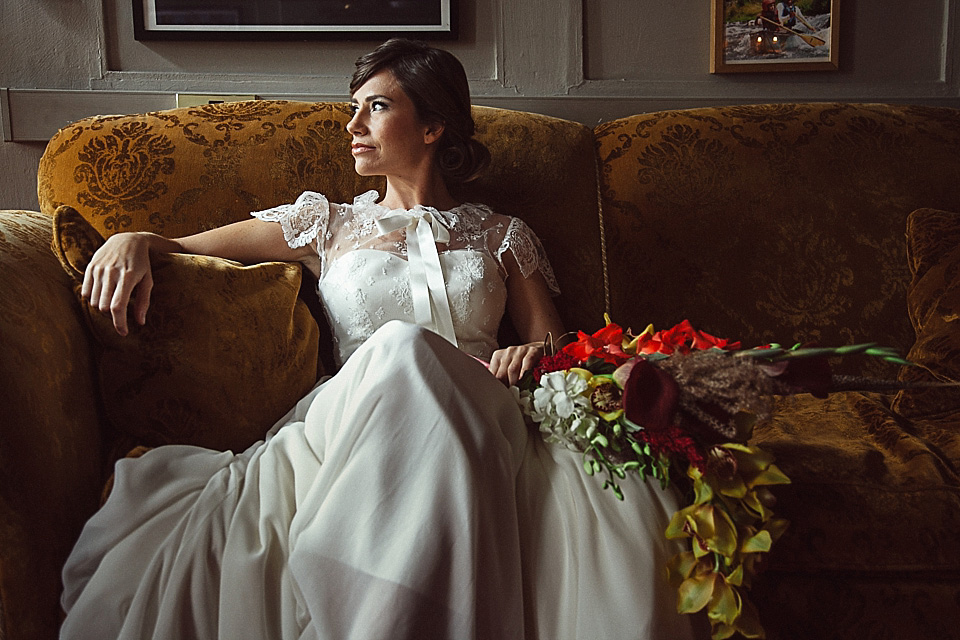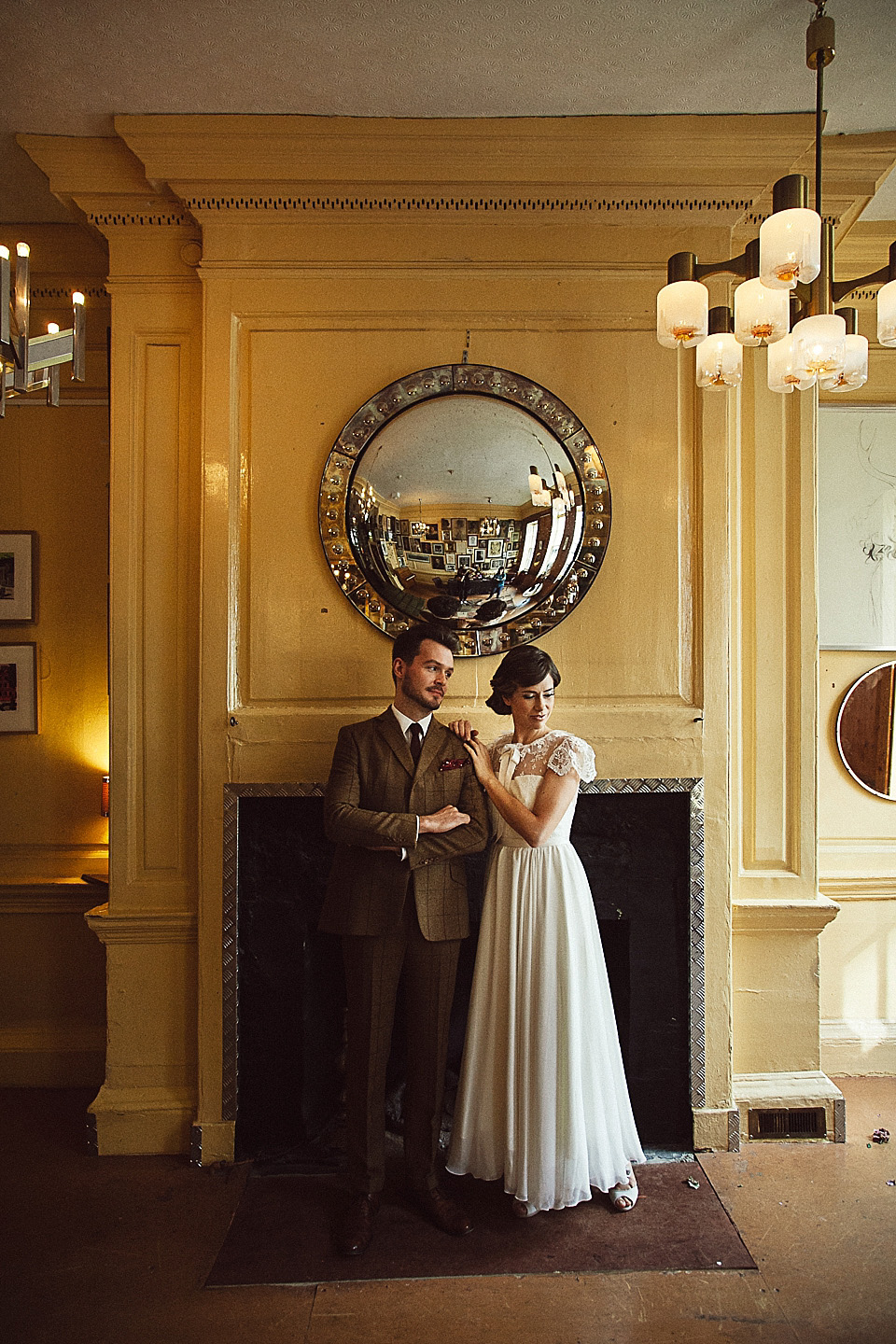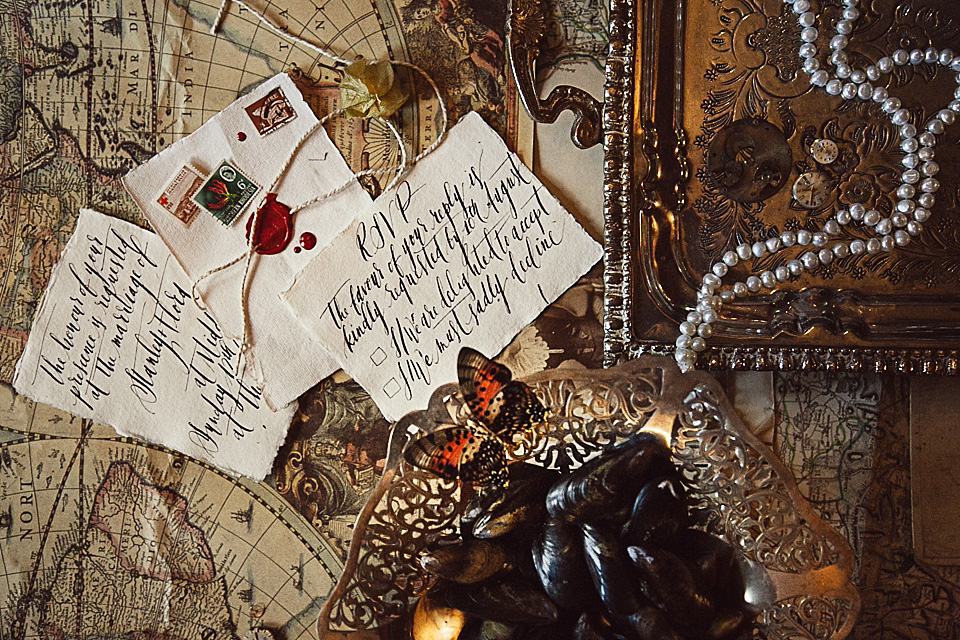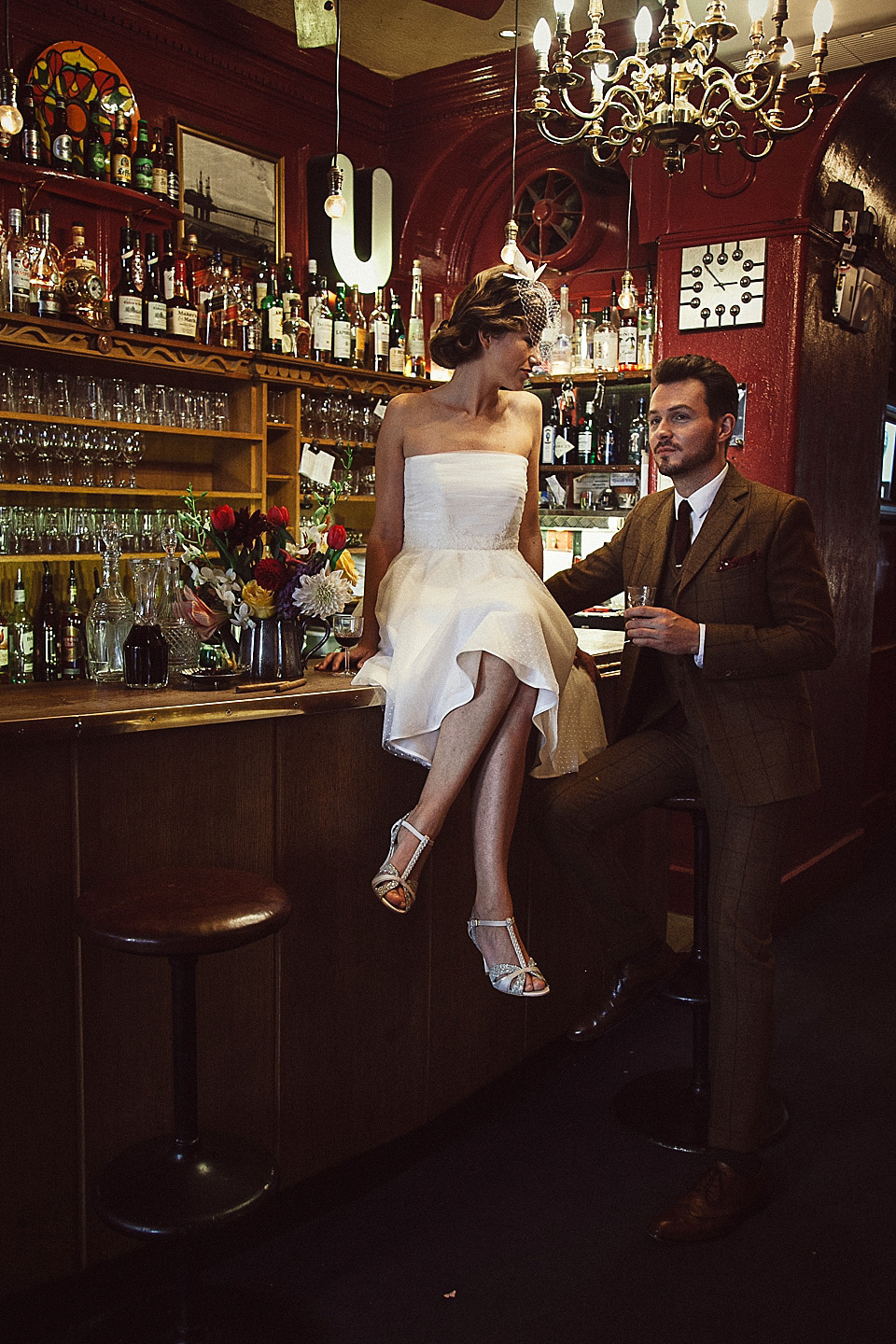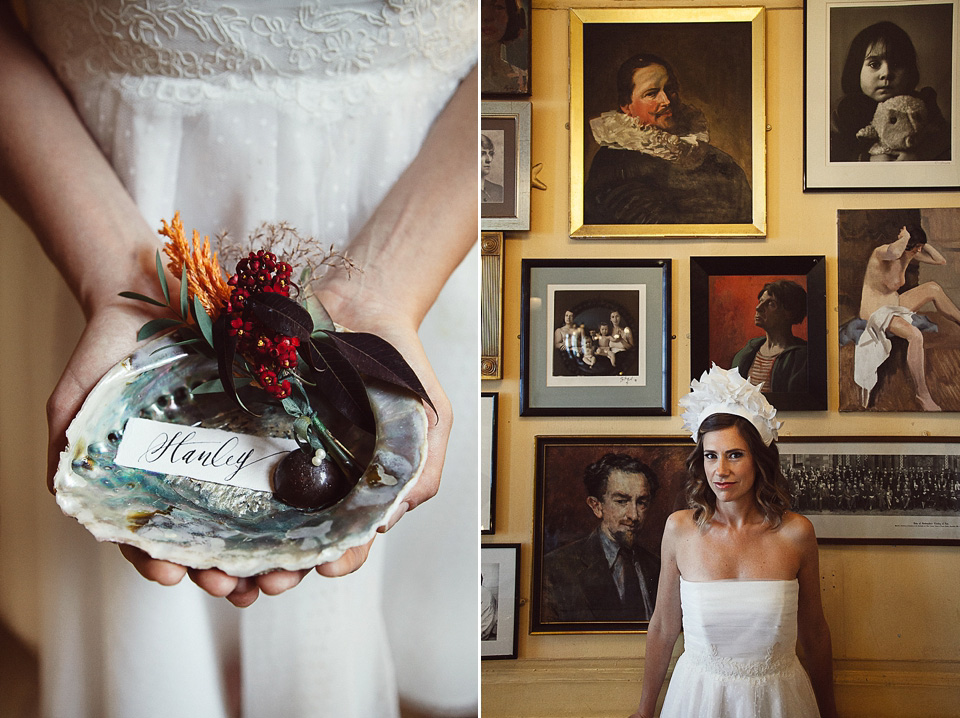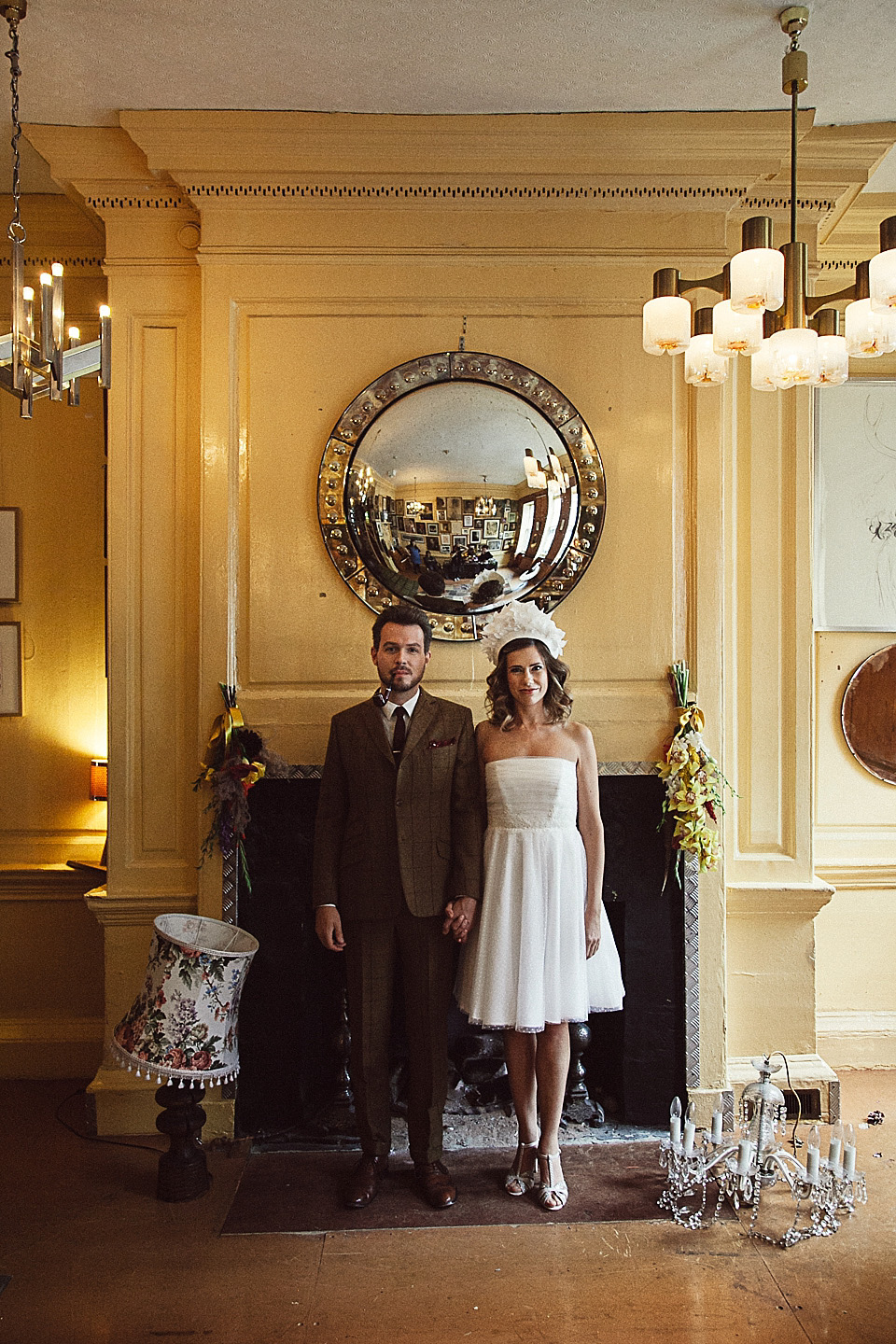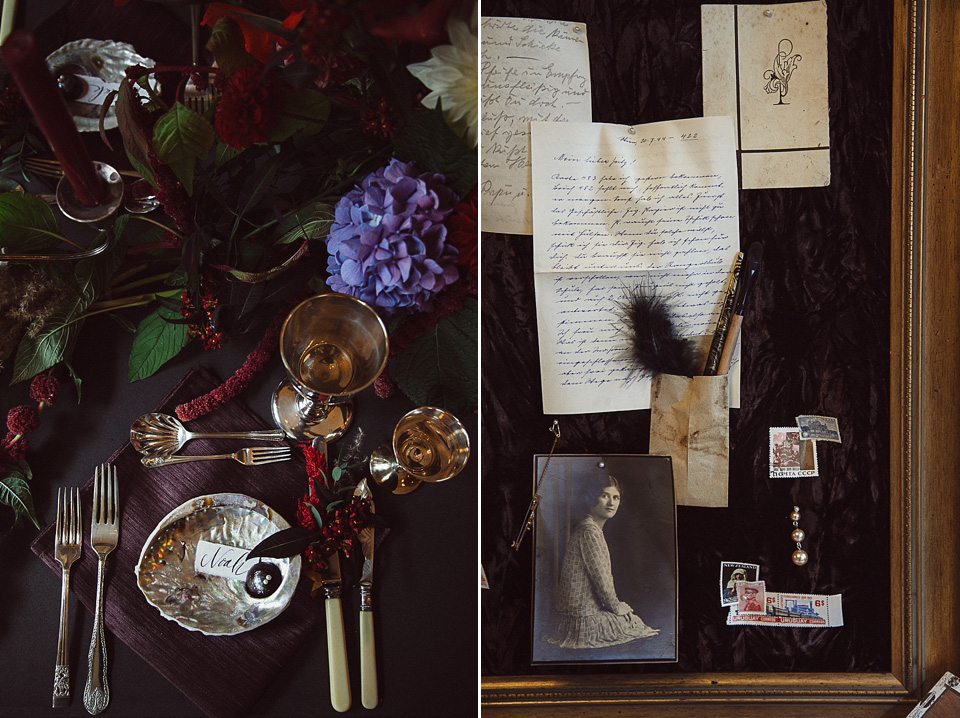 I hope these images have inspired you today – please take a moment to explore the websites of the most talented suppliers listed below who made these images possible.
My huge thanks to the whole creative team, but especially to Georgia of Westwood Design, and to Anna of Bianco Photography for being so lovely to liaise with.  To find out more about how Georgia could work wtih you on styling your own wedding, please visit her website at westwooddesign.co.uk.
Love Annabel x
Photography – Bianco Photography
Flowers, Styling & Props – Westwood Design
Venue – Union Club, Soho
Dresses – Nadia Manzato via Heart Aflutter
Headpieces – Blackbirds Pearl via Heart Aflutter
Shoes – Love Art Wear Art Via Heart Aflutter
Hair & Make-Up – Laura Anne Make-Up
Tweed Suits – Tweed Addict
Table Linen – Table to Dine For
Tableware – The Vintage Hire
Stationery – Lamplighter London
Cakes and Deserts – Little Bear Cakery
Models – Clio Gressani and Ryan Szanyi