Good Morning, as this is my first feature of 2015, I'd like to start off by wishing all of our Love My Dress readers a very Happy New Year!  As we've all made it through the first work week of January, let's have a mutual 'hooray!' for the coming weekend. I'm sure you are all ready for it after getting back into the swing of things this week, so to make this Friday even better, I've got a beautiful wedding to share with some fantastic vintage touches, including a unique vintage travelling temperance bar to fit with the couple's Great Gatsby, 1920's, prohibition era inspired day.  This isn't the first wedding inspired by this period that we've shared this week – you can see the others here.
Production Operative Scott married part-time secretary for the NHS Emma in Richmond on August 26th 2014 at Middleton Lodge in Richmond, North Yorkshire. Their special day was captured by the very talented Sally Thurrell of Sally T Photography.   With the help of their close friends, Scott and Emma found true love. Even a little food poisoning incident couldn't keep these two from meeting.
"Our close friends had arranged for us to meet at their wedding in 2005, but as Scott walked in, I walked out (I had food poisoning) so we were never introduced. A few days later, we started talking on Match.com and we had our first date on the 1st of October 2005.
We wanted a very relaxed and informal wedding. As neither of us are religious, we didn't want a long ceremony, readings or songs. We didn't think our boys would sit still long enough either.  I loved the party scene in Baz Luhrmann's The Great Gatsby and remarked to my friend that one day, I'd love to throw a party like that. That one day became our wedding day; it was all about the party!"
Photography Copyright (c) 2015, Sally T Photography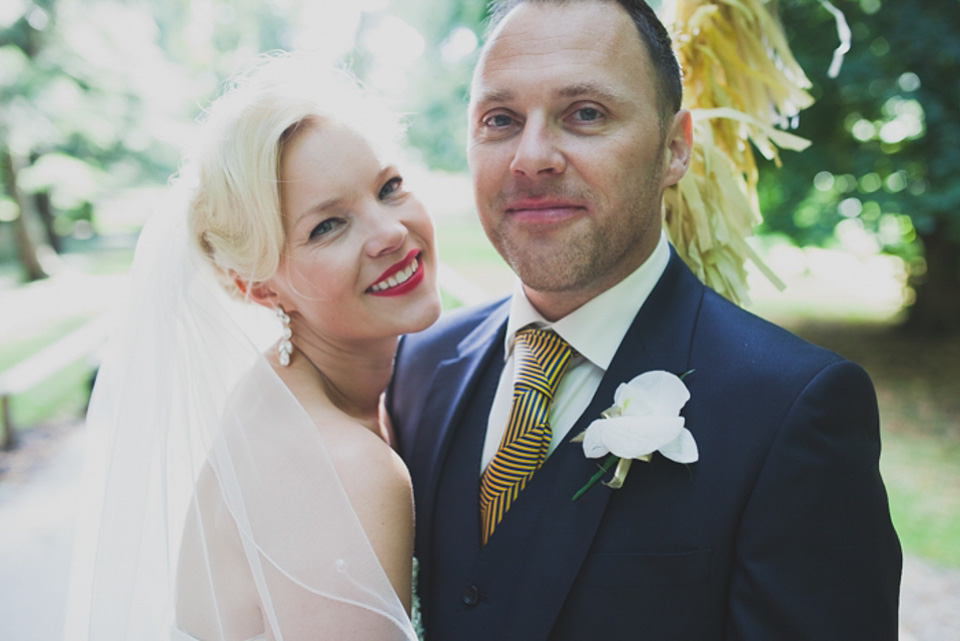 I related to Emma's dress dilemma so much as I too did not have the tears and champagne dress experience that many brides talk about. It always comes together in the end though as they say and Emma with the help of her lovely Mum found her Hilary Morgan dress at Dobinsons of Darlington.
"Every wedding magazine I'd read had stories of how a bride had known that her dress was 'the one.' Unfortunately this didn't happen for me, there was just too much choice & too many styles.  I found dress shopping very overwhelming. After despairing that I was never going to find a dress…..my mum didn't like lace, I didn't like silk/satin, we visited Dobinsons of Darlington.
I let my mum choose the styles and we ended up with three dresses, all very different styles and one was even blush pink. As I wasn't where I wanted to be weight wise and I was very self conscious of standing in a room where every wall held a mirror, I went along with my mum's choice of dress, If I'm honest, I just was relieved that she found one that she really liked (she was paying for it) and that I thought looked 'ok' on me."
"It was all about the shoes! They were the gold, Christian Louboutin 'Volpi' design.  I knew that I didn't want typical bridal shoes as I wanted to be able to wear them again after the wedding."
Emma is a true planner at heart and even though life was stressful with Scott working away she managed to plan a wonderful day as well as bringing up their boys, running their home and working part-time.
"I spent months ensuring that all eventualities were covered and everyone would be kept happy. There were garden games for the children, a champagne fountain and buckets of beer for the ladies and gents, as well as canapés. I was lucky enough to win the services of a travelling temperance bar – (a non alcoholic vintage bar) Steve came along with his cordials, shaved ice and sweets for the guests and this was a massive hit!**
I had mints and lollipops in jars at the bar. We had a basket of toiletries in both the ladies and gents toilets. Colouring books and pens for the children at the children's table. I hand designed the order of service with an art deco font which was displayed on a chalkboarded large gold framed mirror next to the champagne fountain in the entrance of Middleton Lodge. I also hand painted the direction signs leading up to Middleton Lodge."
** Annabel has actually blogged about Browne's Travelling Temperance Bar last year.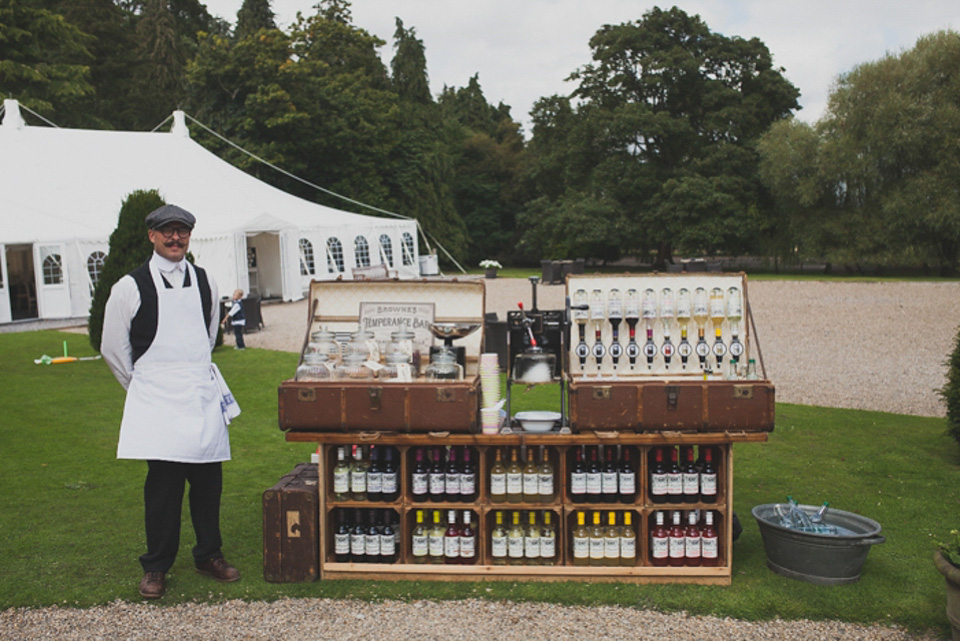 "Deb Riddle of Hand held designs created all our beautiful navy and gold stationery – Deb was amazing and had the patience of a saint. The bespoke navy blue invites were embossed with gold lettering."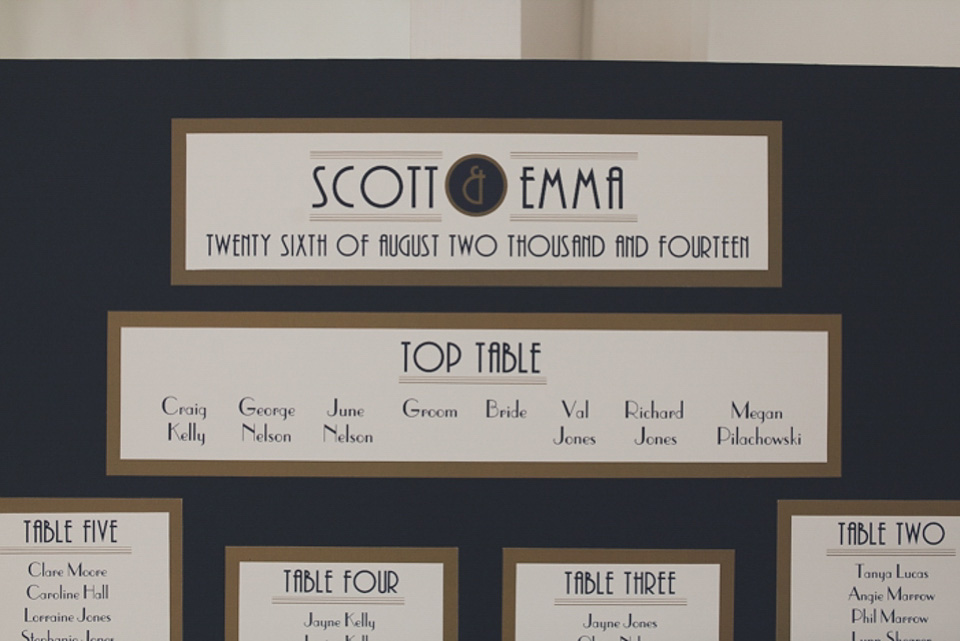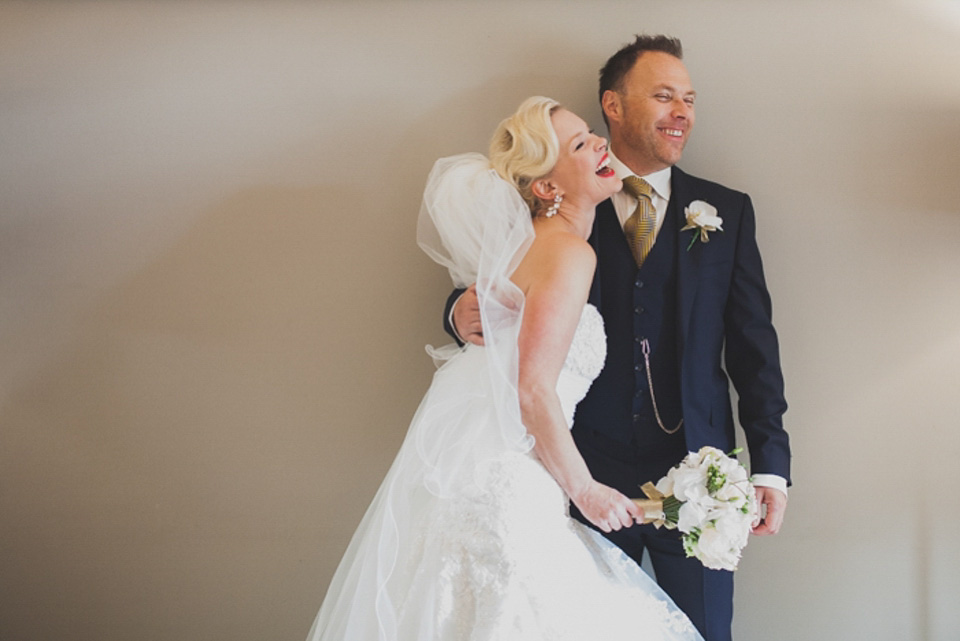 "We used Kelly's Event Boutique and Zoe was fantastic. I had navy table clothes with gold napkins and small votives. The top table had a gold sequin table cloth and each table had handmade numbers which I had made using paper mache numbers and very fine gold glitter."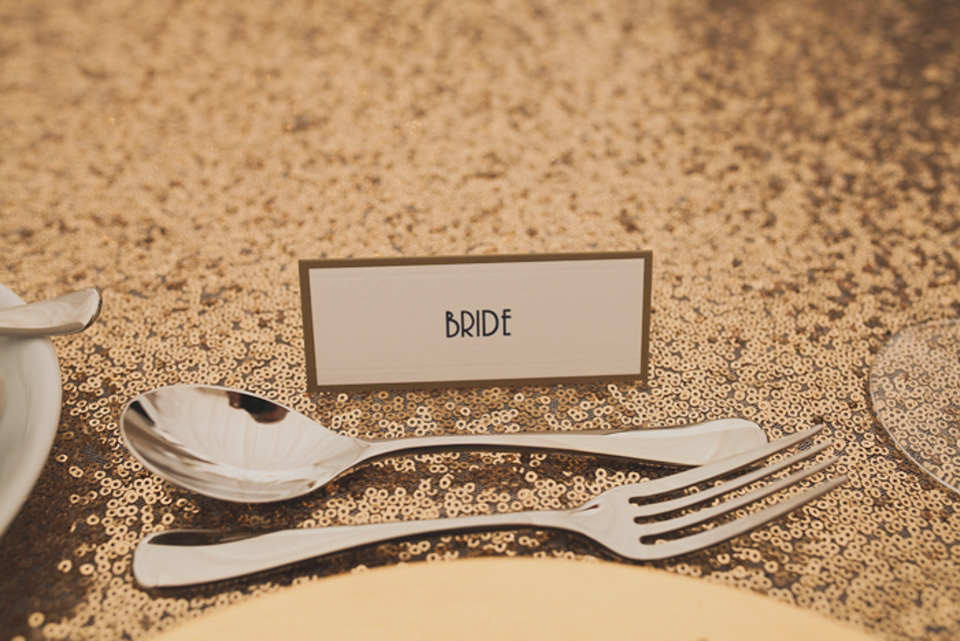 A photographer after my own heart, Sally not only captured the day beautifully but she also went the extra mile as Emma explains…
"Our photographer was Sally Thurrell.  What can I say about Sally, apart from the fact that she is amazing? You wouldn't think that Sally was a photographer as she is so personable, you would think she was a guest at the wedding.
Sally's style is so laid back and informal and her work is perfection!  Anyone that offers to give my mum her own earring back when Mum had lost hers is wonderful in my eyes – that's a lovely gesture!"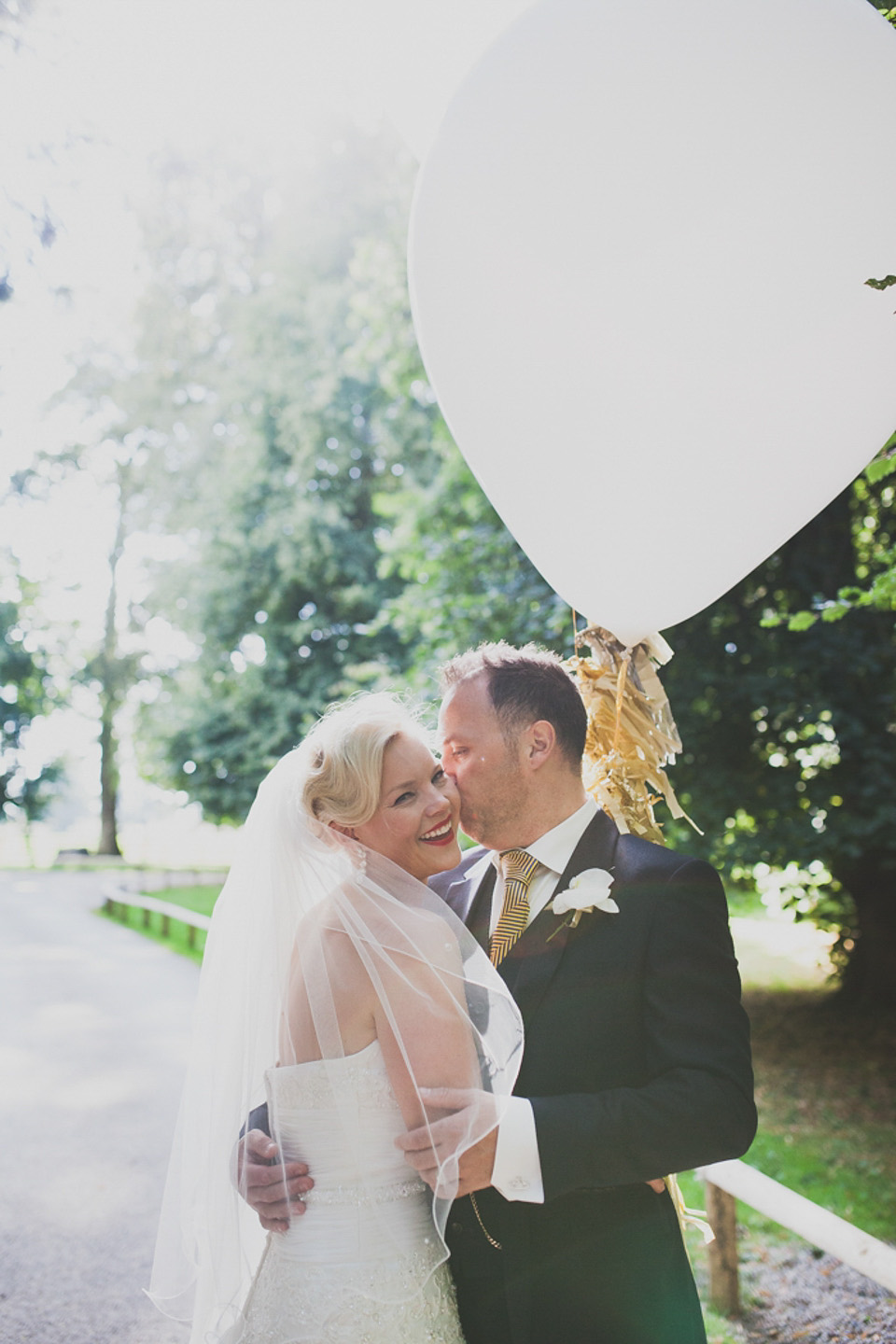 Emma knew she wanted a 1920's look for the day so with the help of her friend Lynn Shearer she choose a loose finger wave hair style and loved it! To add to Emma's 1920's style she wore Kate Spade Crystal drop earrings and a complimentary bracelet from Next. Emma's make-up was by the lovely Jo Leversuch.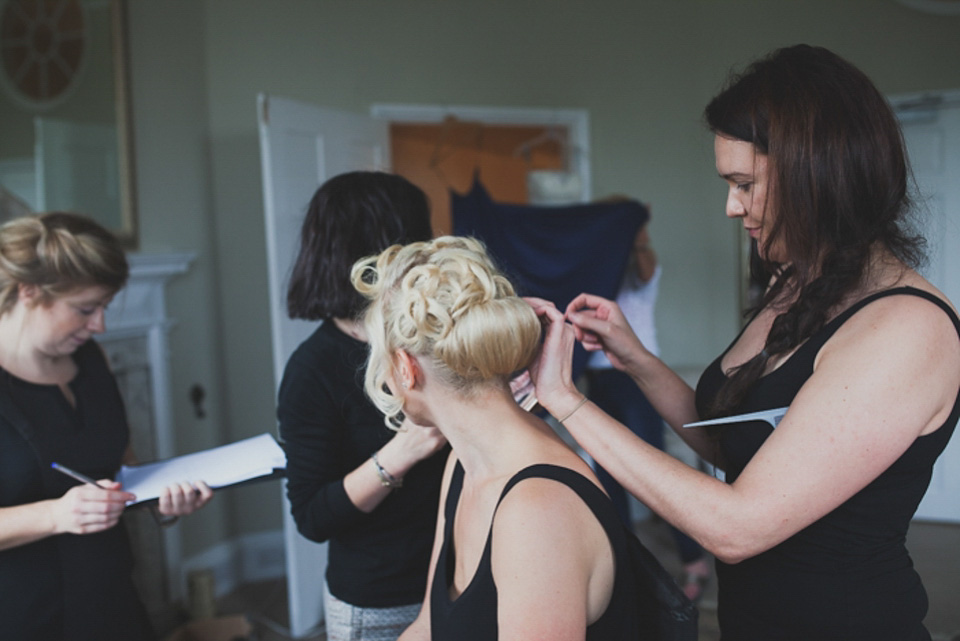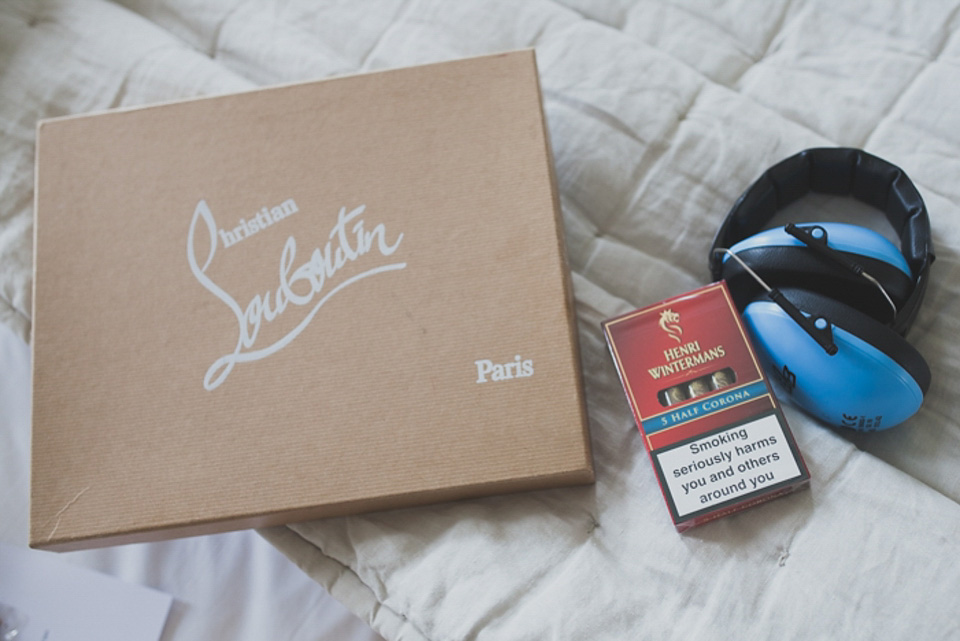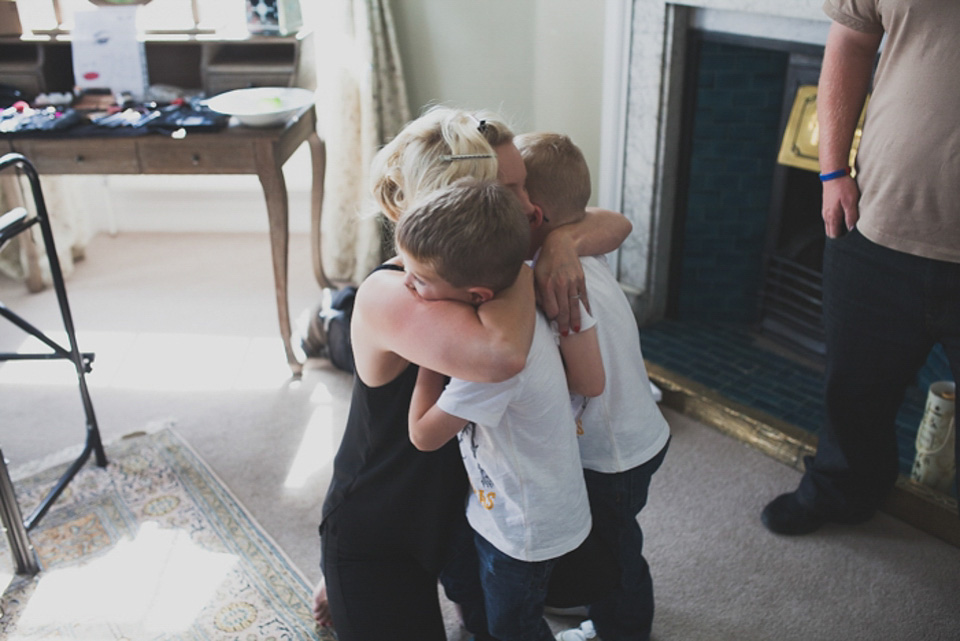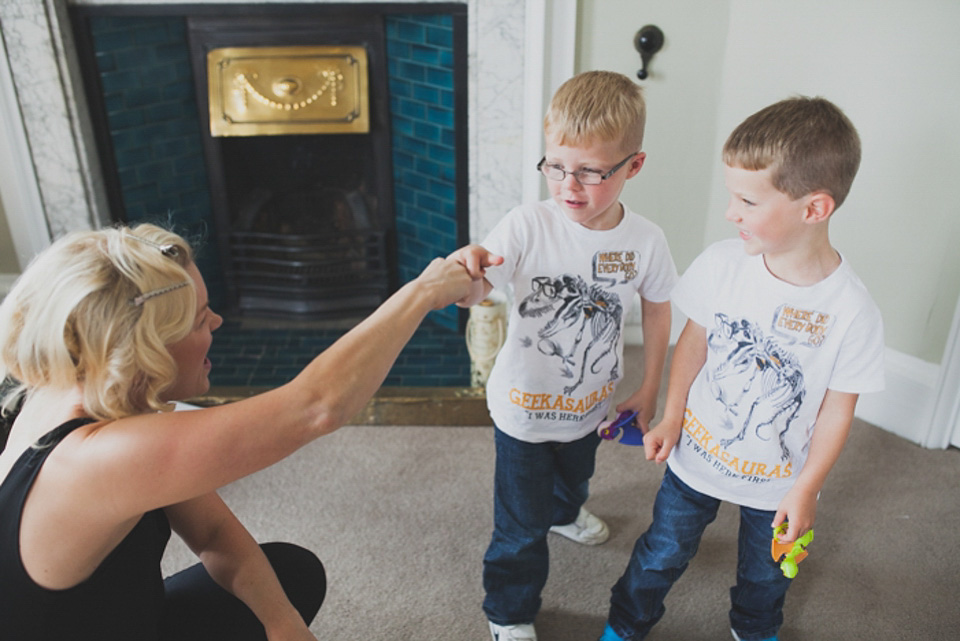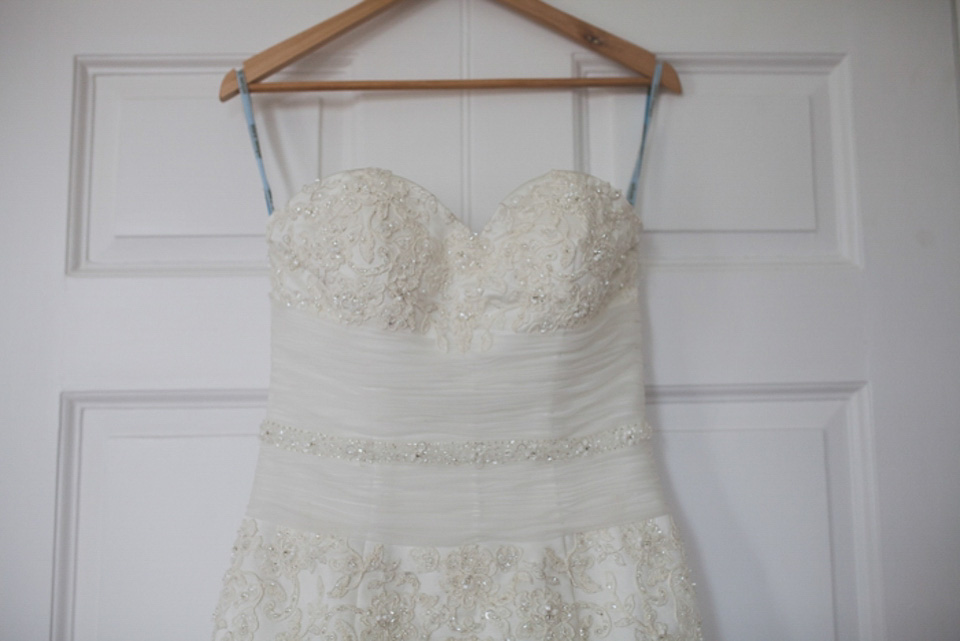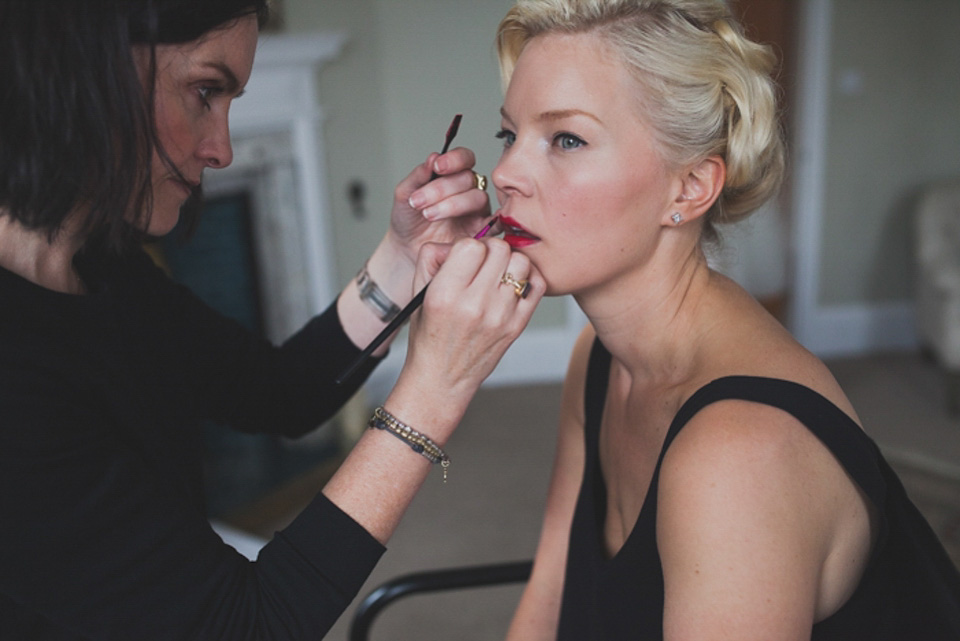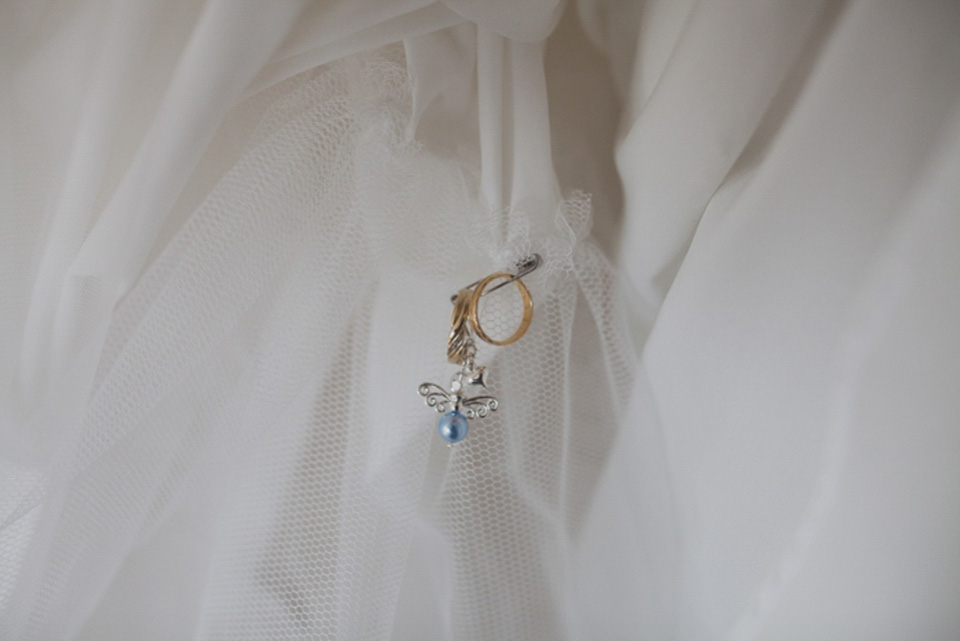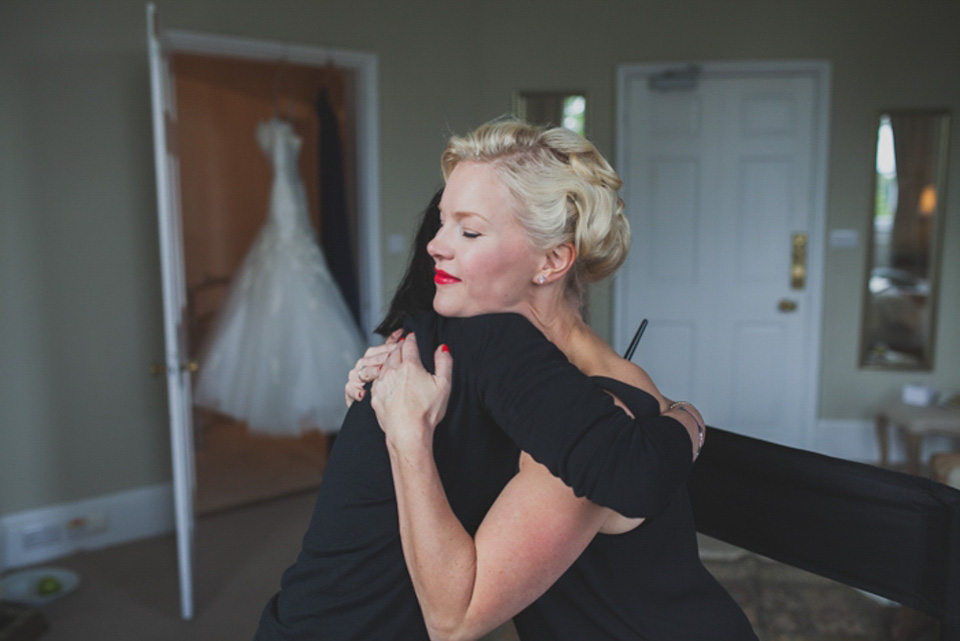 I'm a veil kind of girl and what better veil than a Cathedral length. Emma's mum sourced a vintage cathedral veil which she personally hand beaded with Swarovski crystals.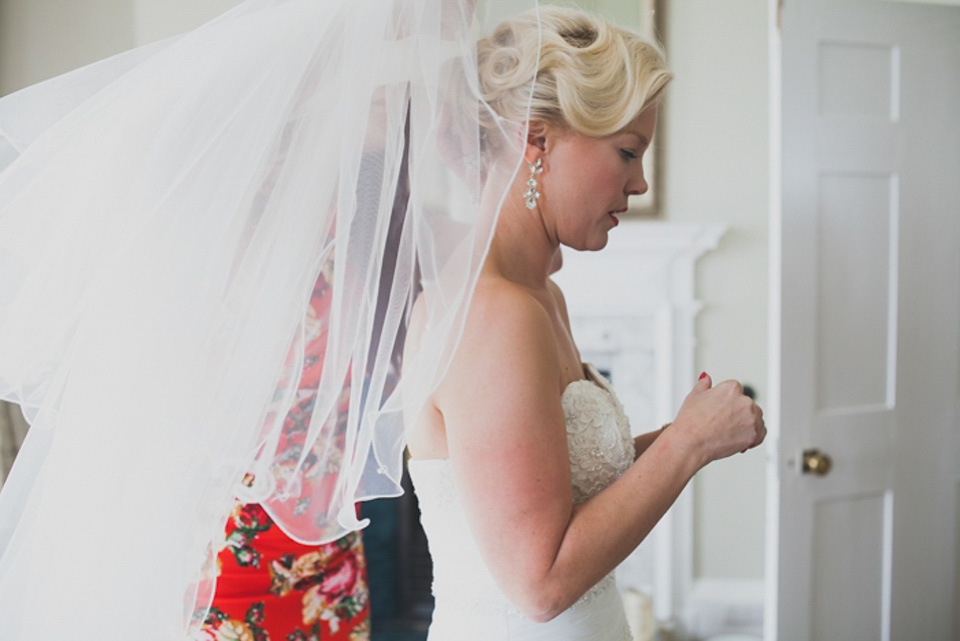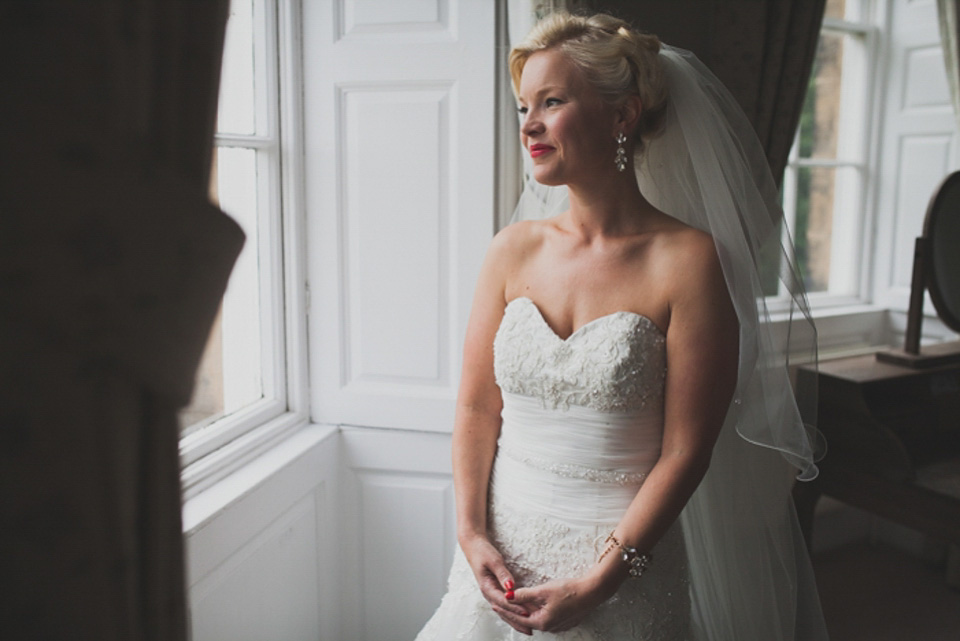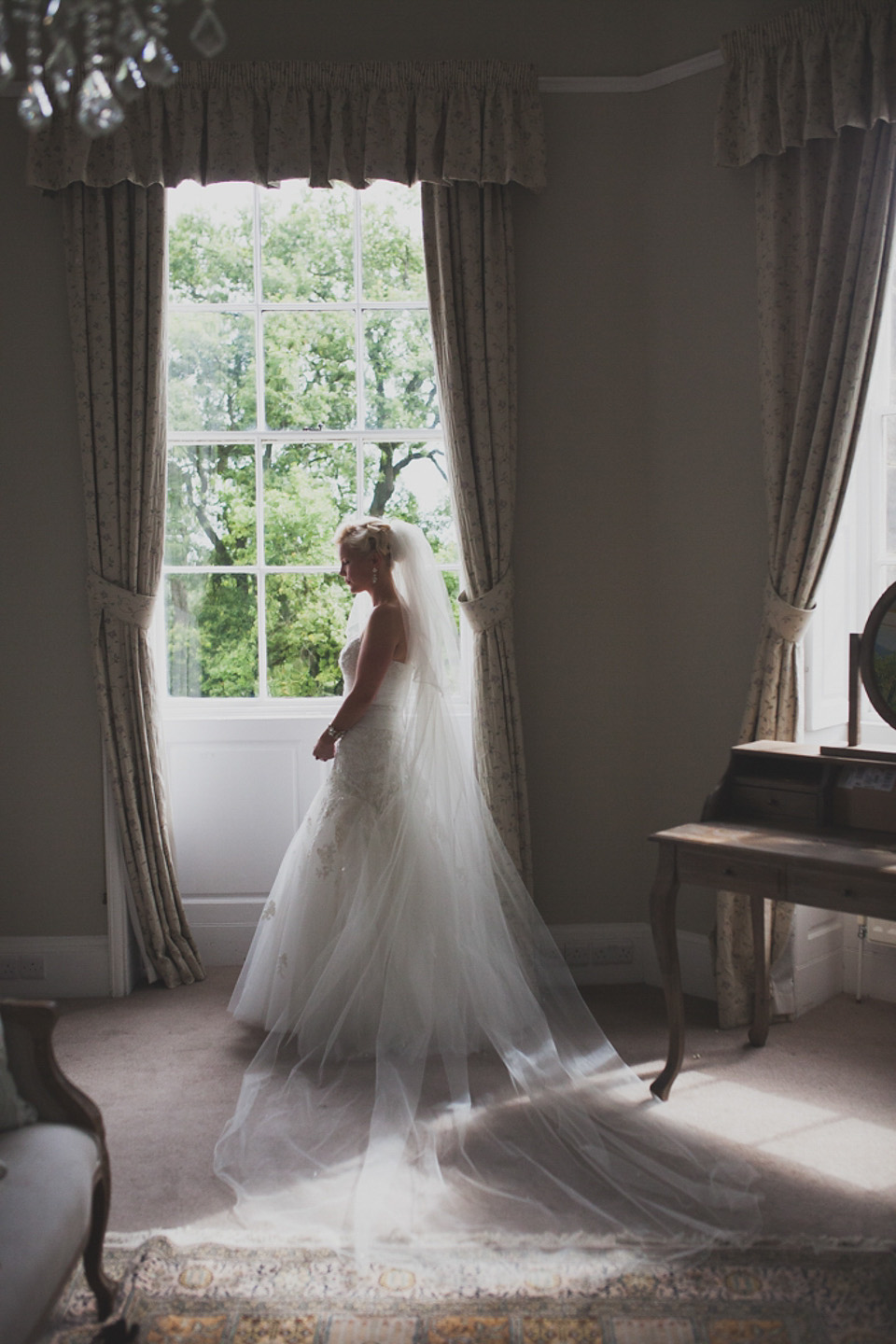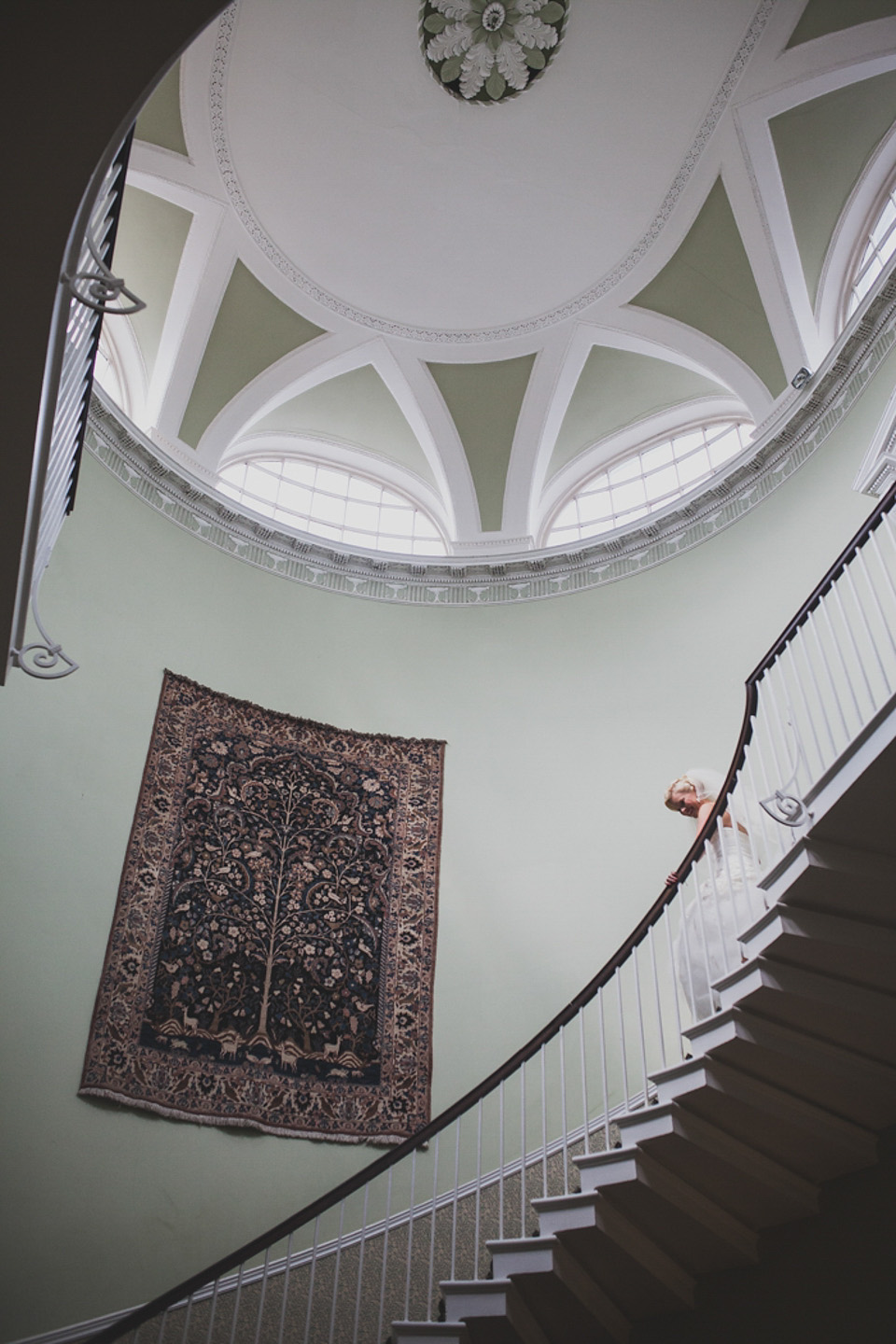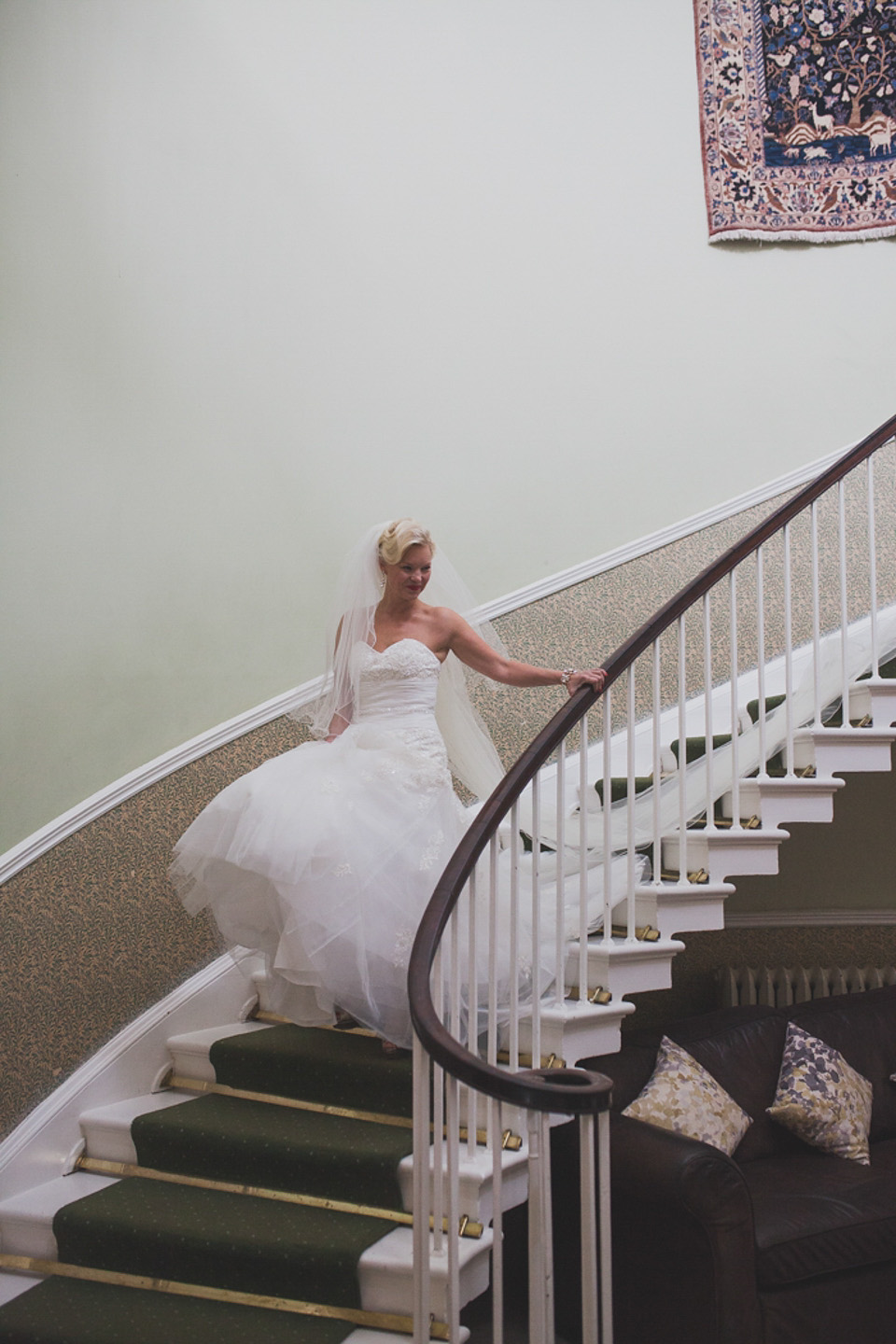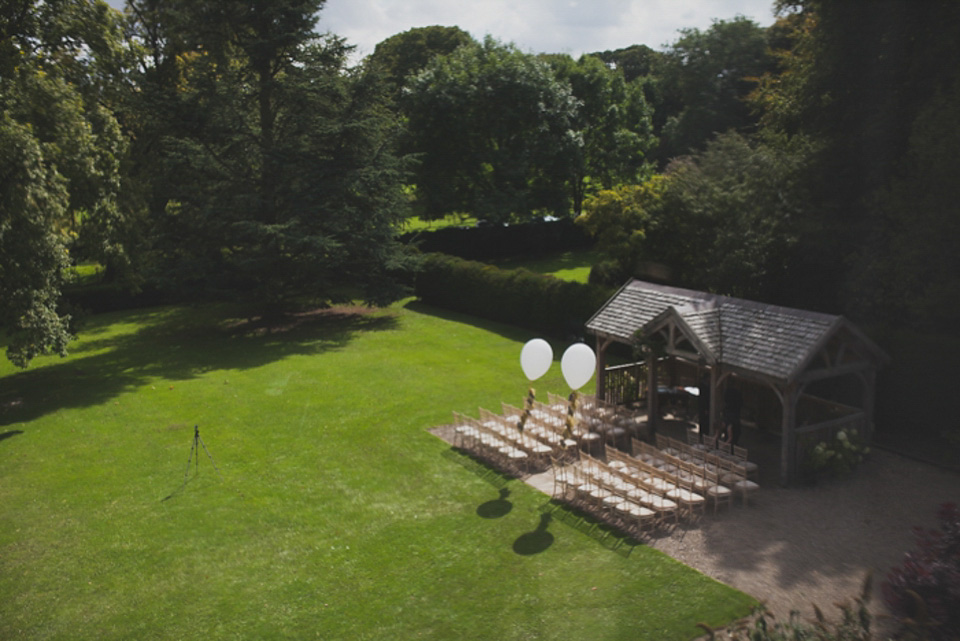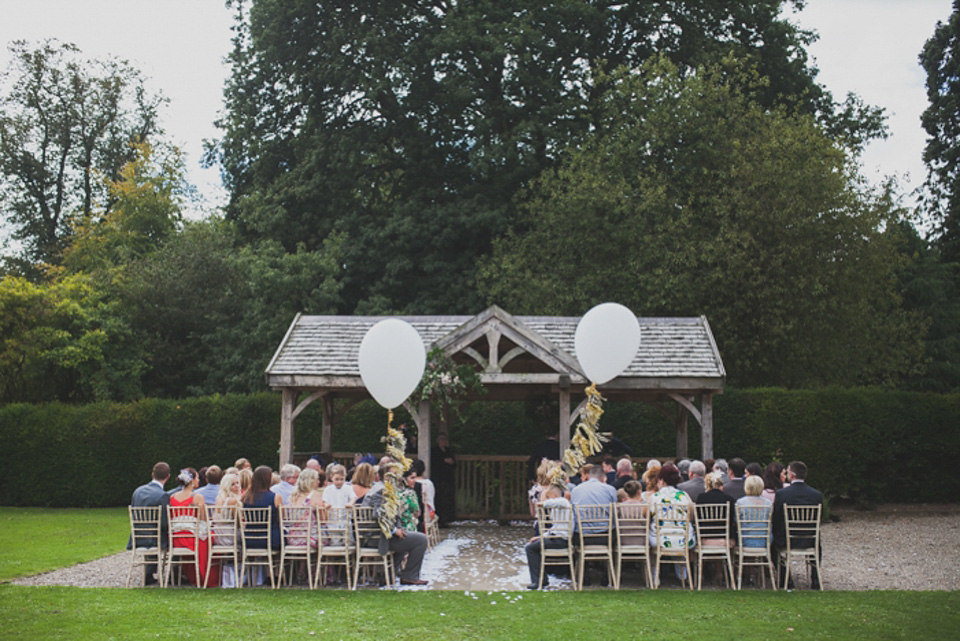 Scott looked very handsome in his Paul Smith suit and finished off his look with shoes and a tie from Pysche. For that extra special touch Scott was gifted a vintage gold pocket watch from his Bride.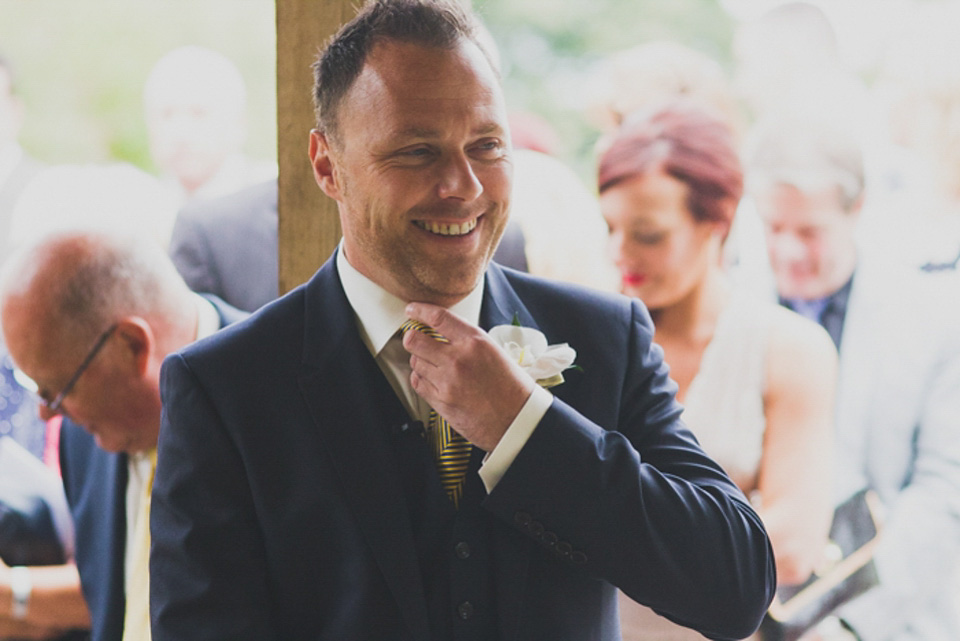 "My dad passed away a few years ago and I asked one of my younger brothers to walk me down the aisle. We had a bet who would cry first, I won, he did!"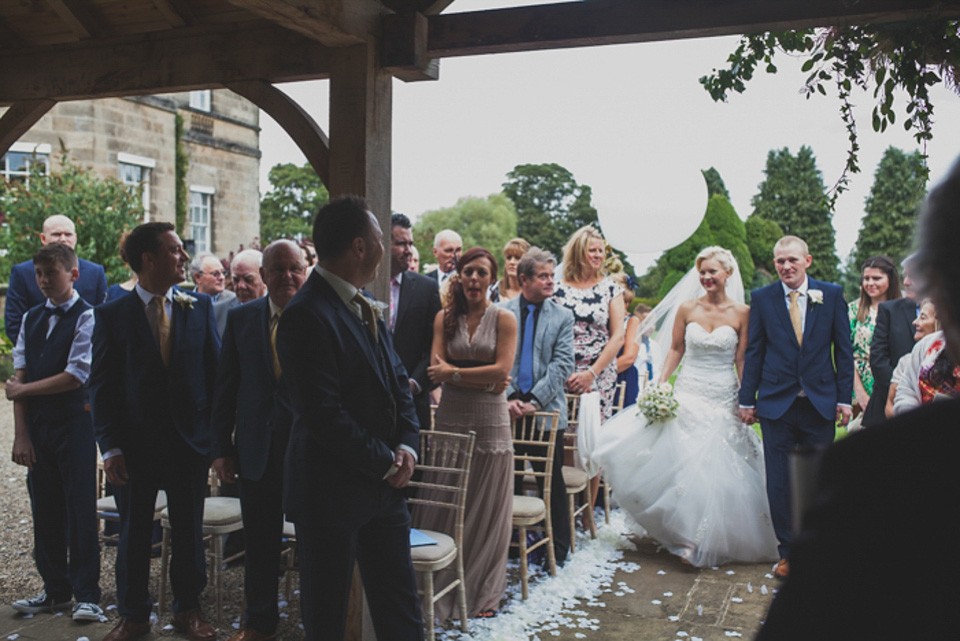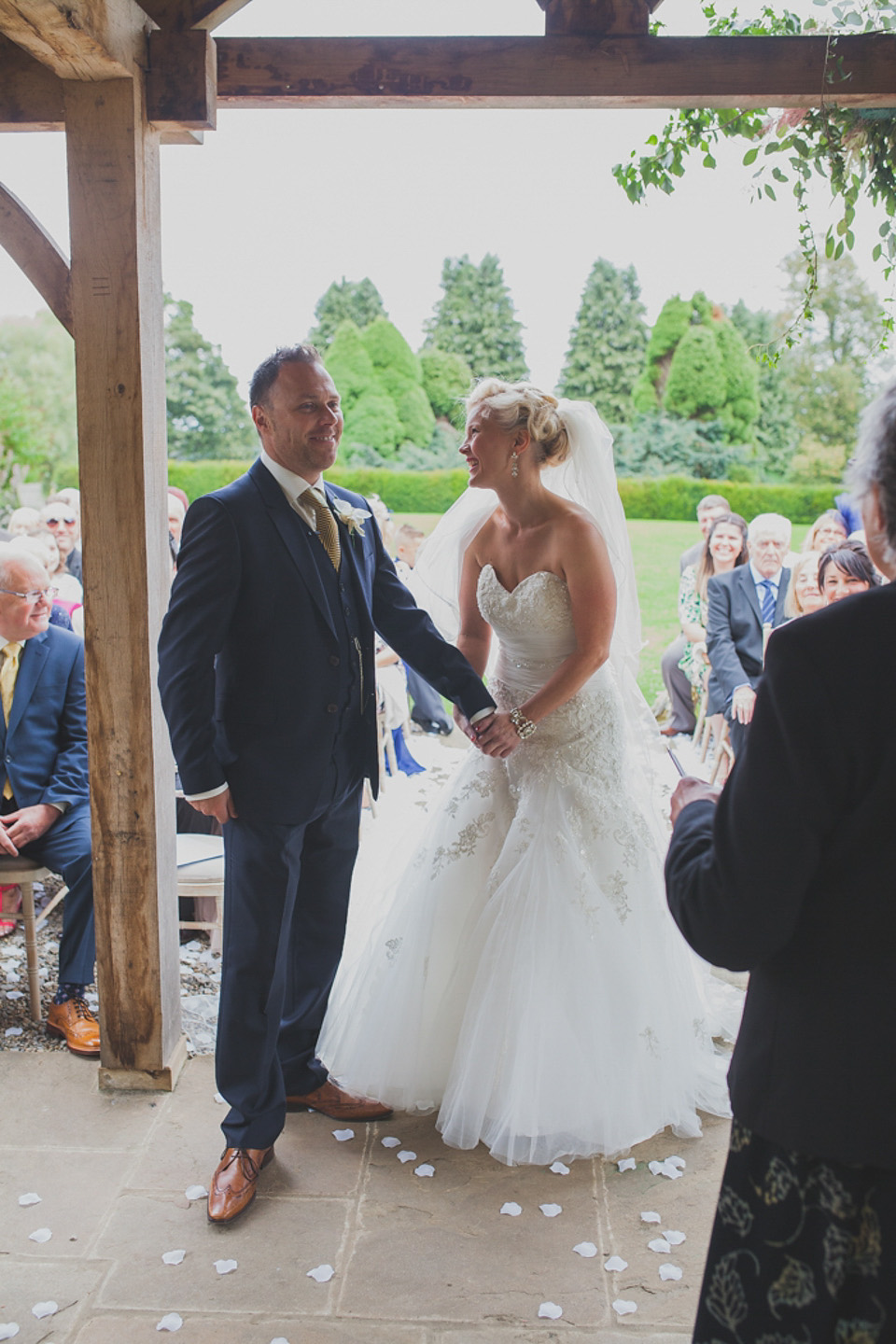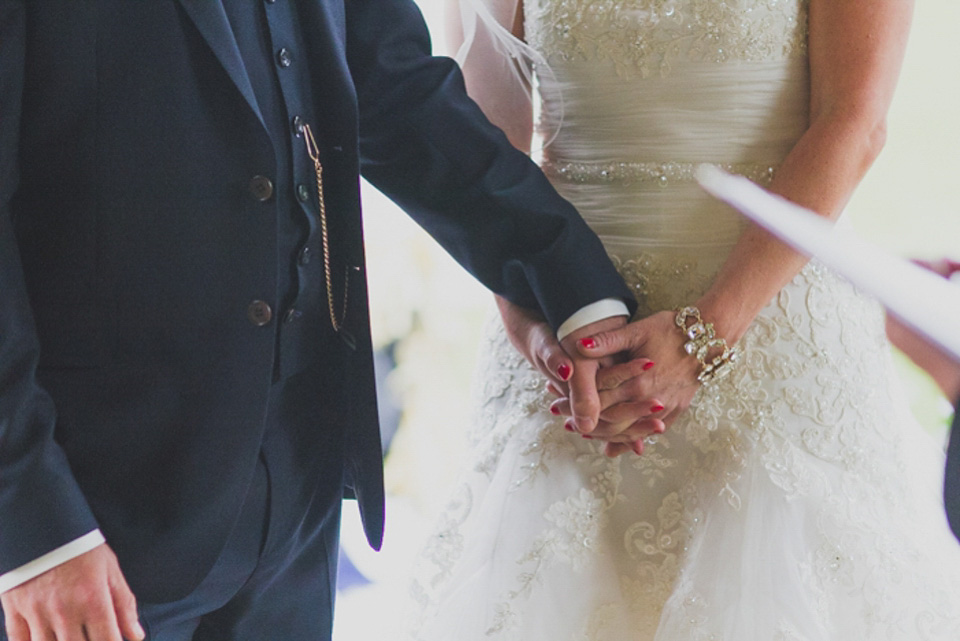 I love this heart touching ring idea by Emma's Mum.
"On an Egyptian holiday a few years ago, I had bought Scott a silver ring in the Ritz Carlton and as I had been losing weight my engagement ring was starting to twist and the stone was digging into my hand. As I didn't know what style of ring I wanted we decided to use these as our wedding rings and during our vows, when Scott was repeating ' I give you this ring' he added 'until I can get you another' which made me smile.
Unbeknownst to me, my Mum had sewn my grandmas wedding ring and her own wedding ring from my dad (who passed away a few years ago) into one of the linings of my wedding dress. She had said that she wanted me to walk down the aisle with something of theirs but to also have a 'proper' wedding ring too. We have said that we will exchange 'proper' wedding rings on our 1st year anniversary."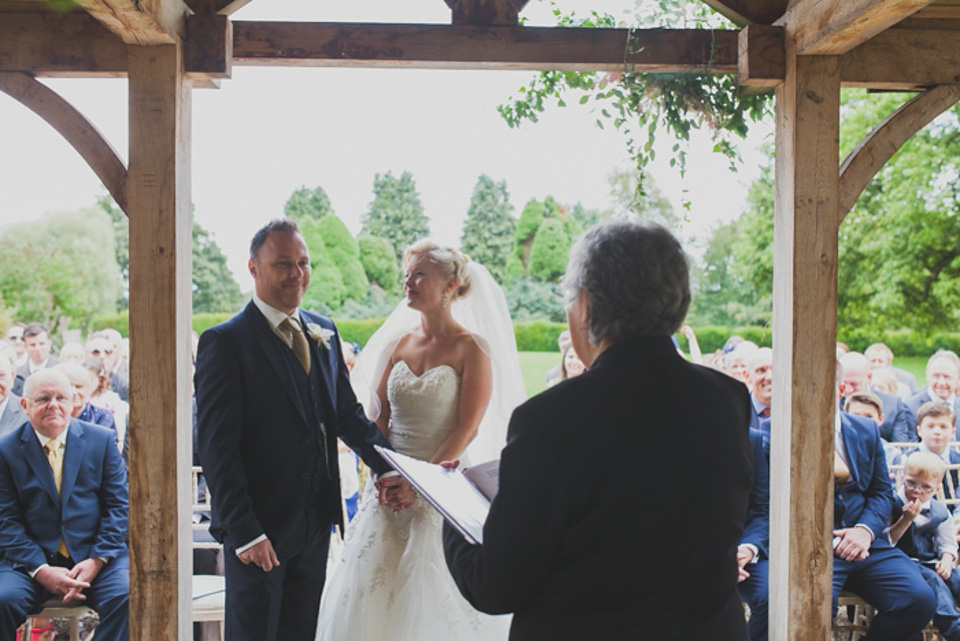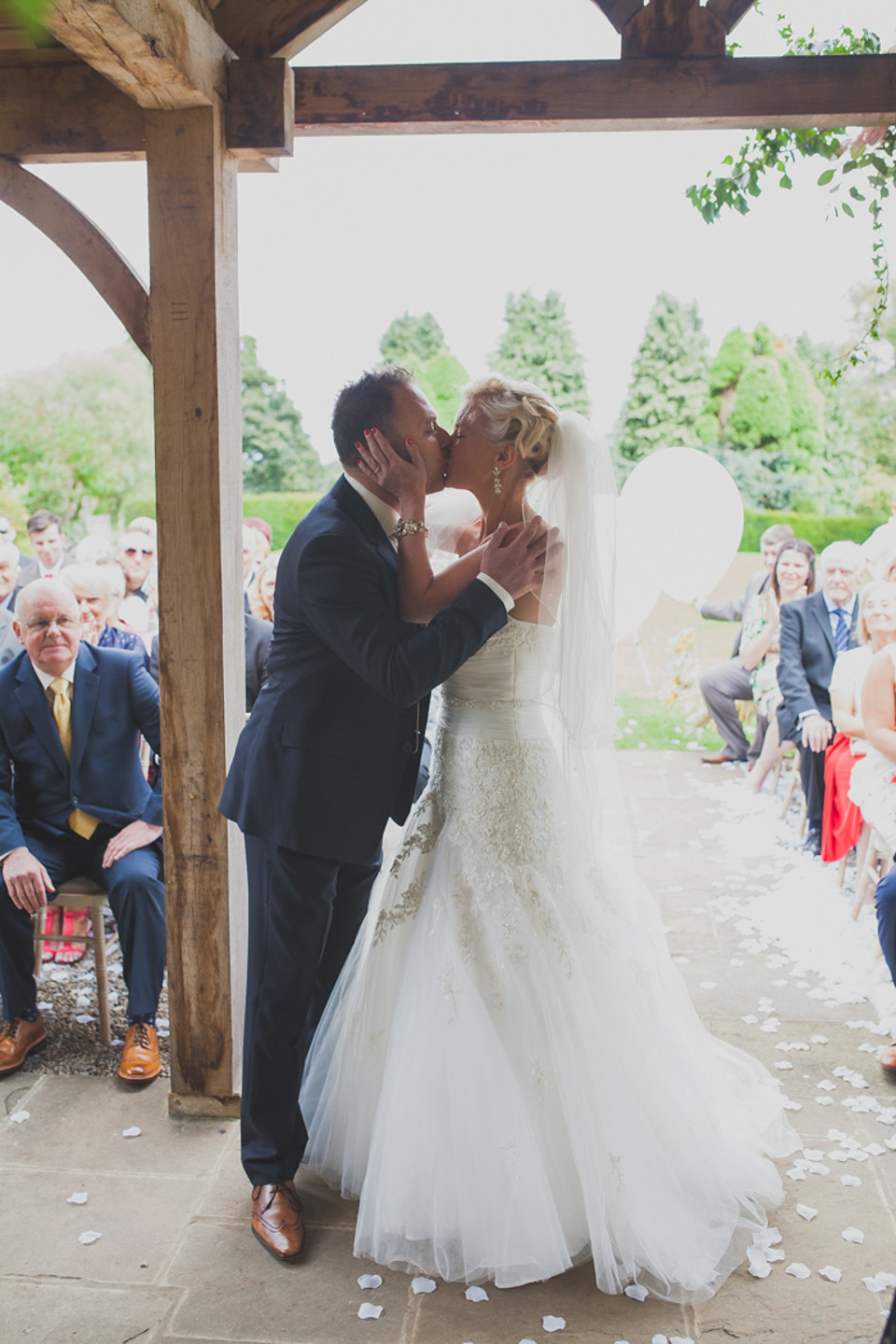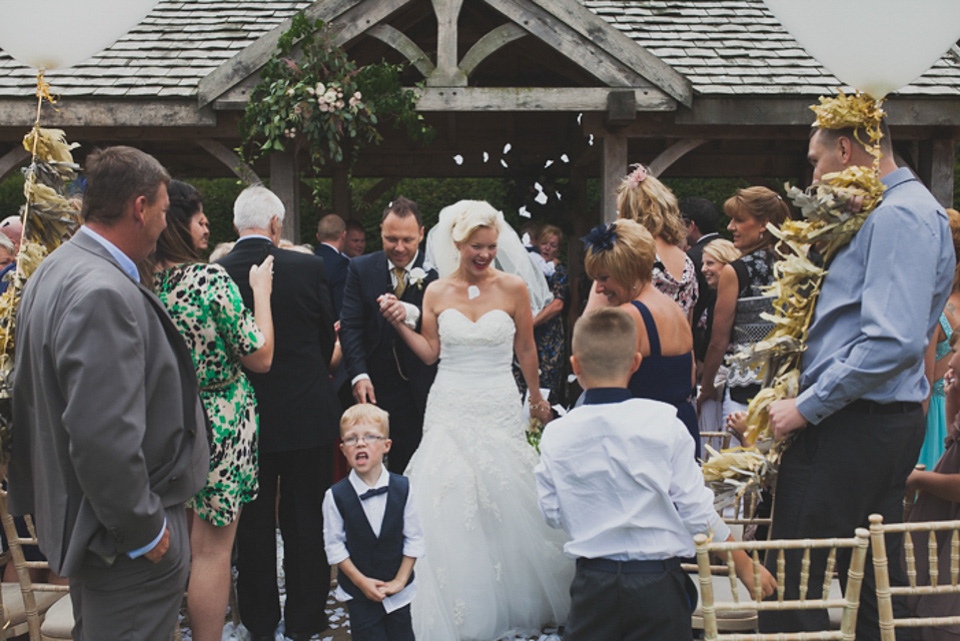 Scott and Emma have three son's who all wore navy converse and looked very dapper in their outfits all sourced off the high street from M&S, Debenhams, Next and Gap.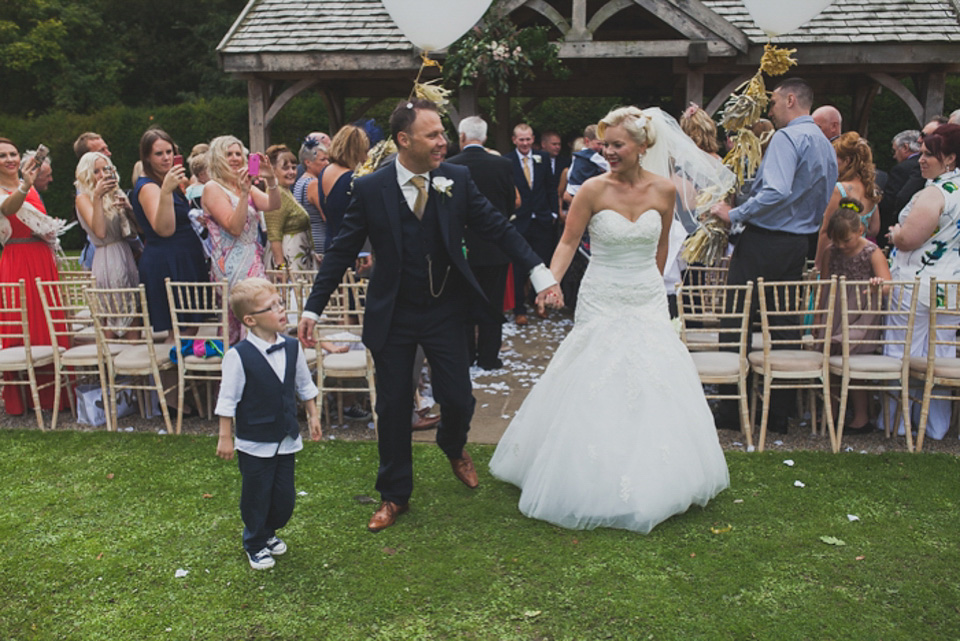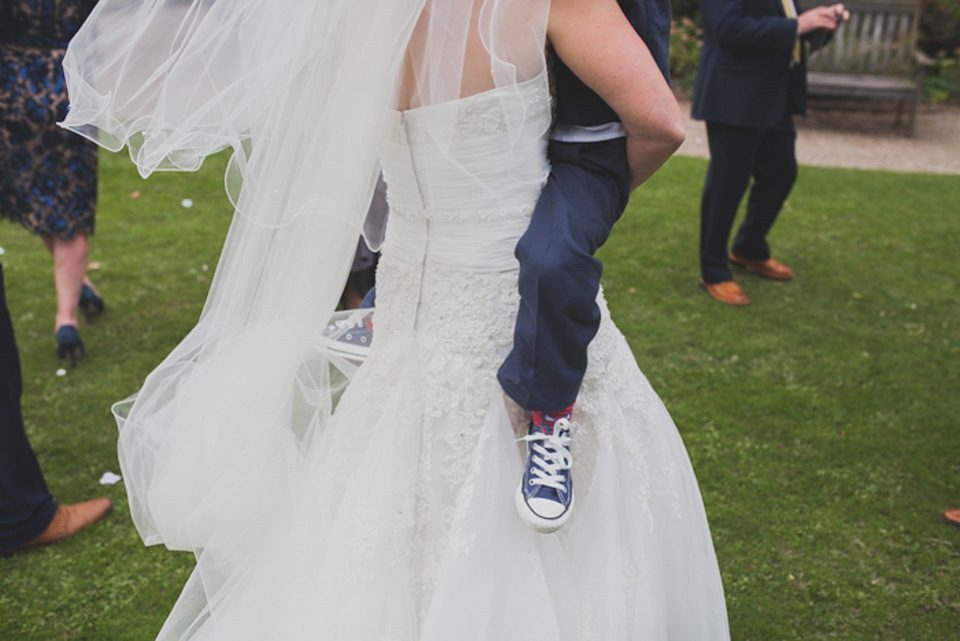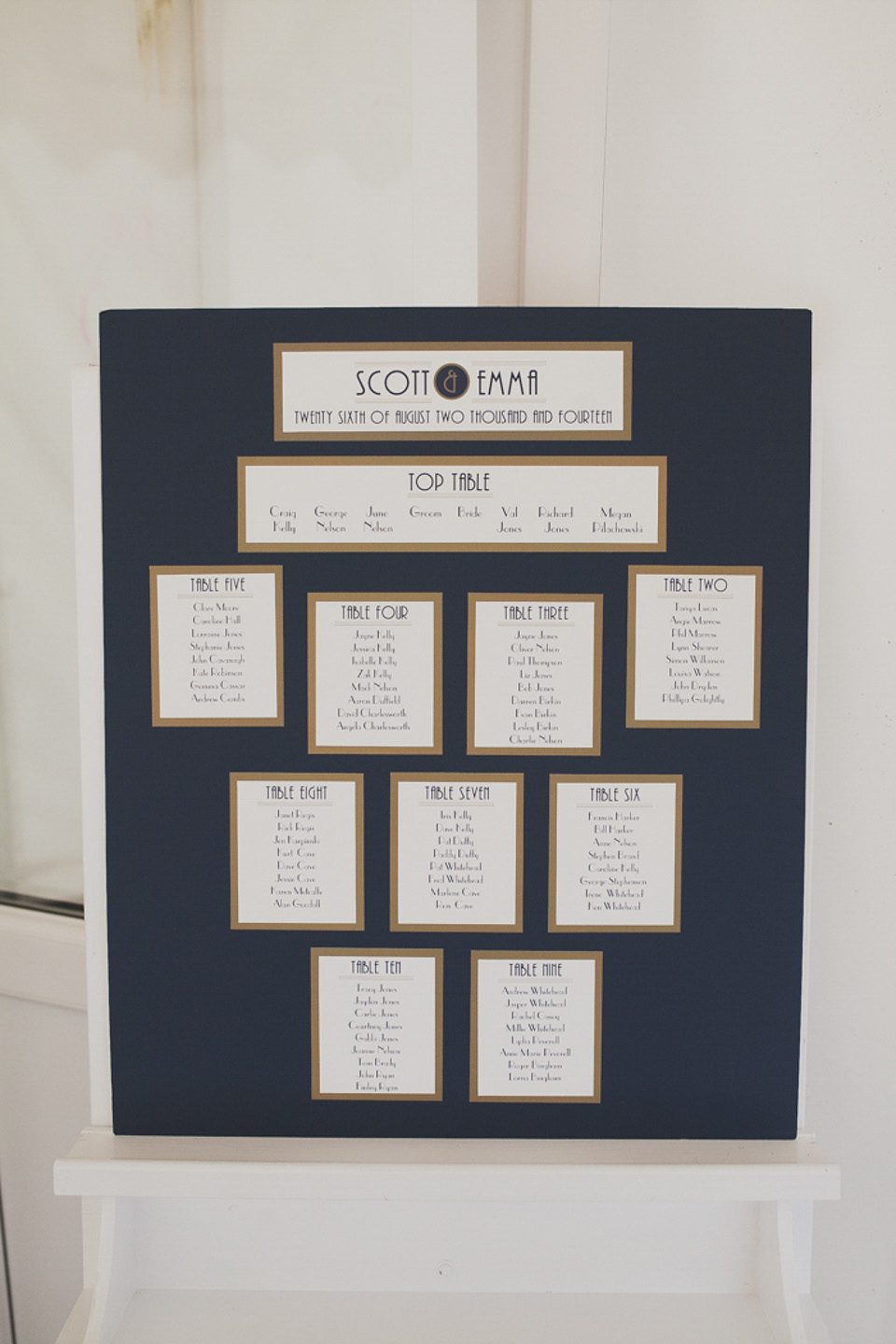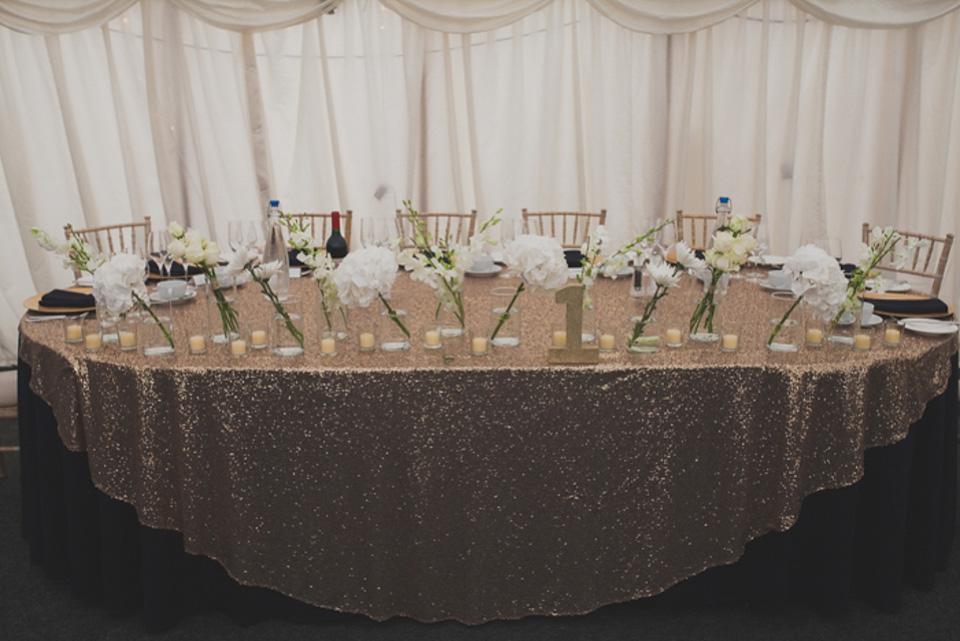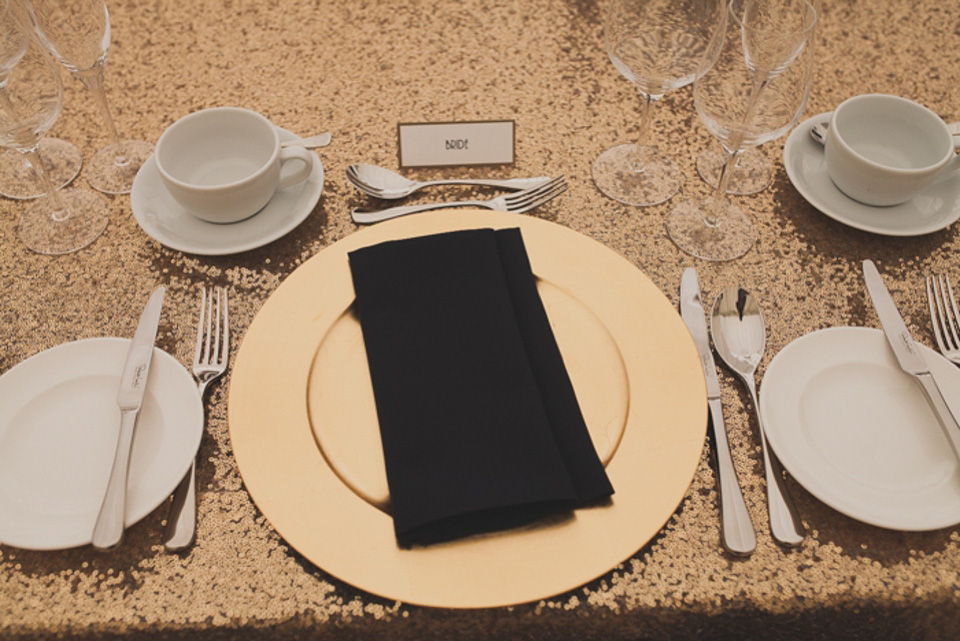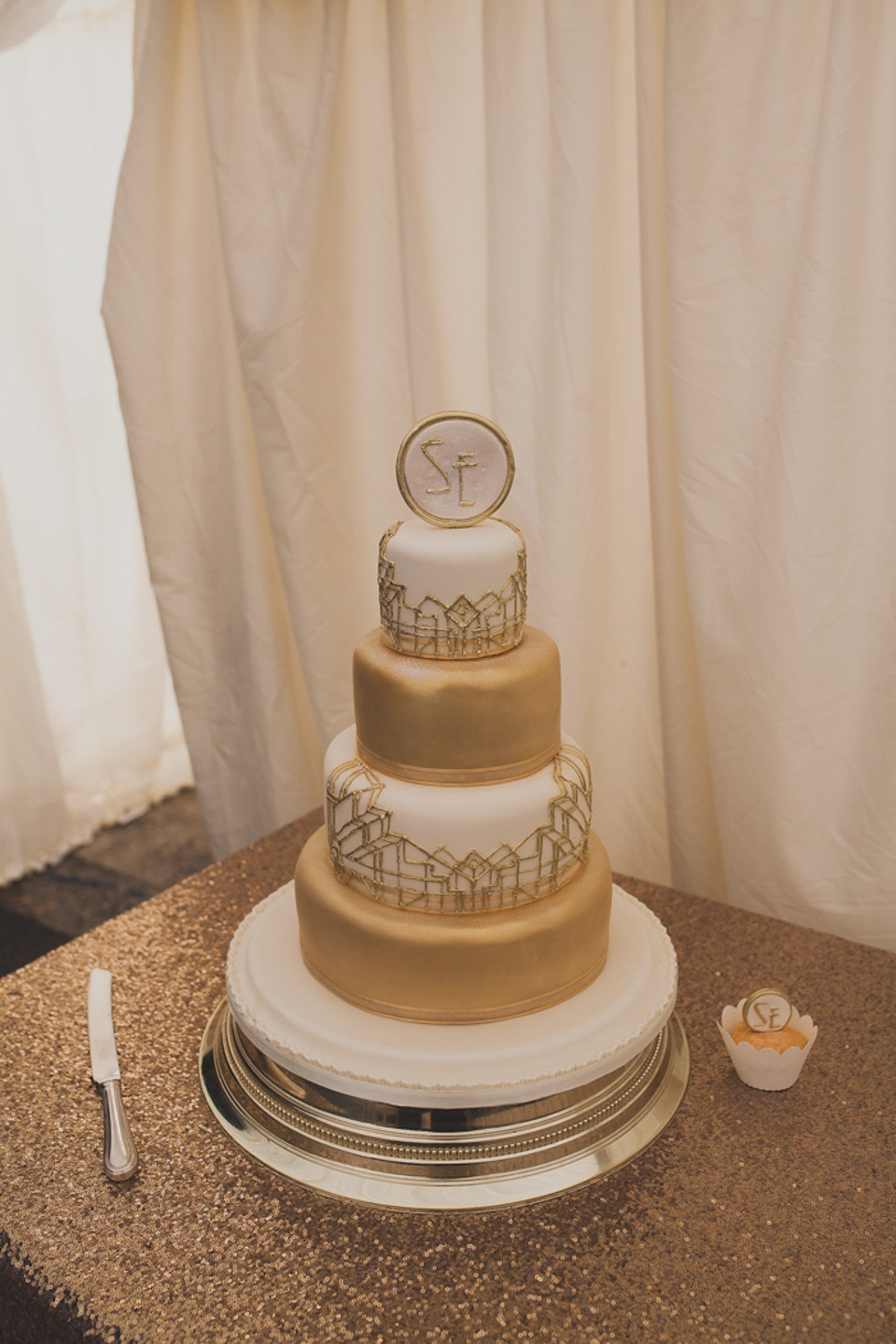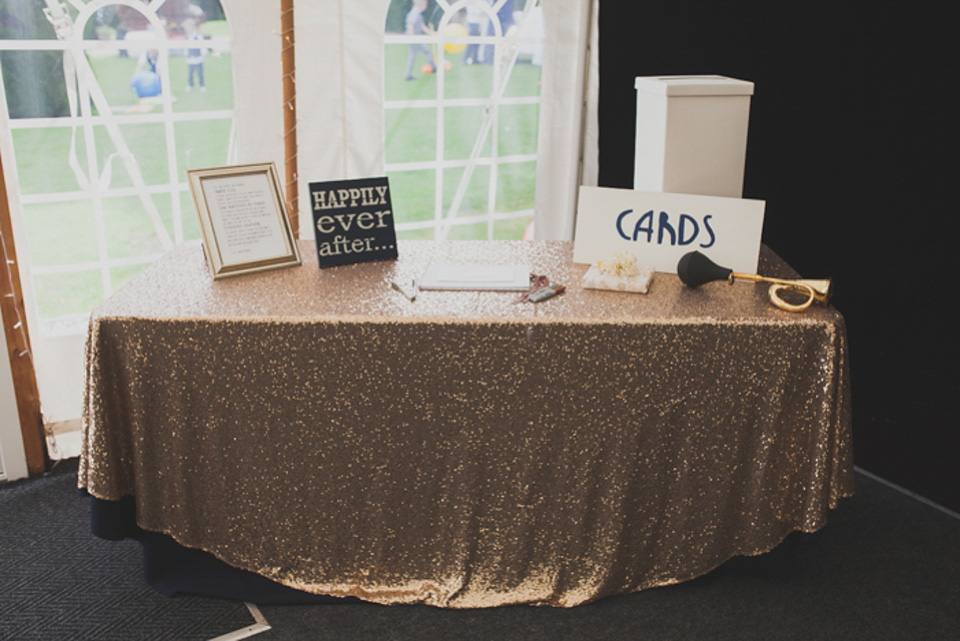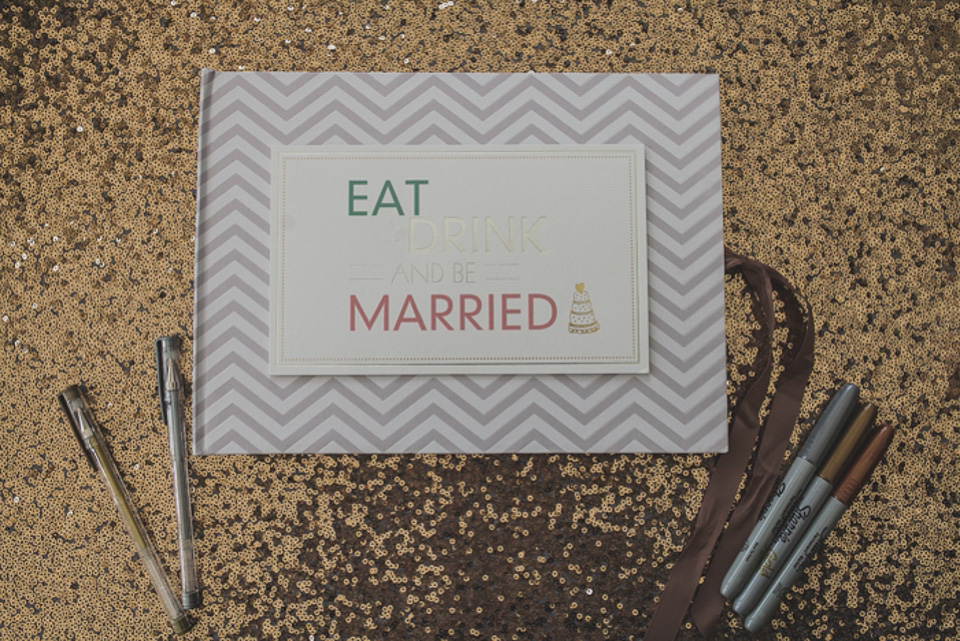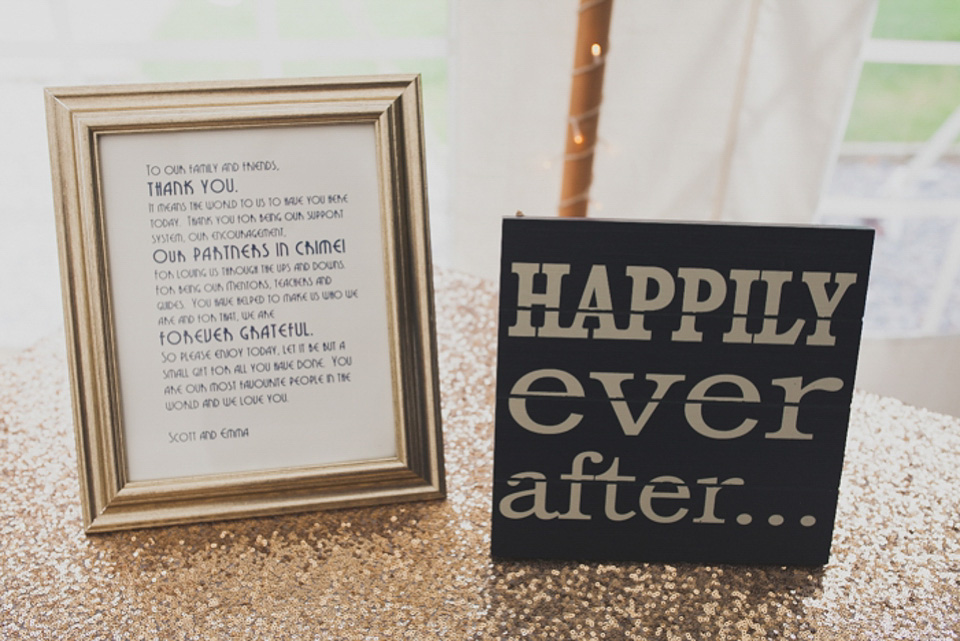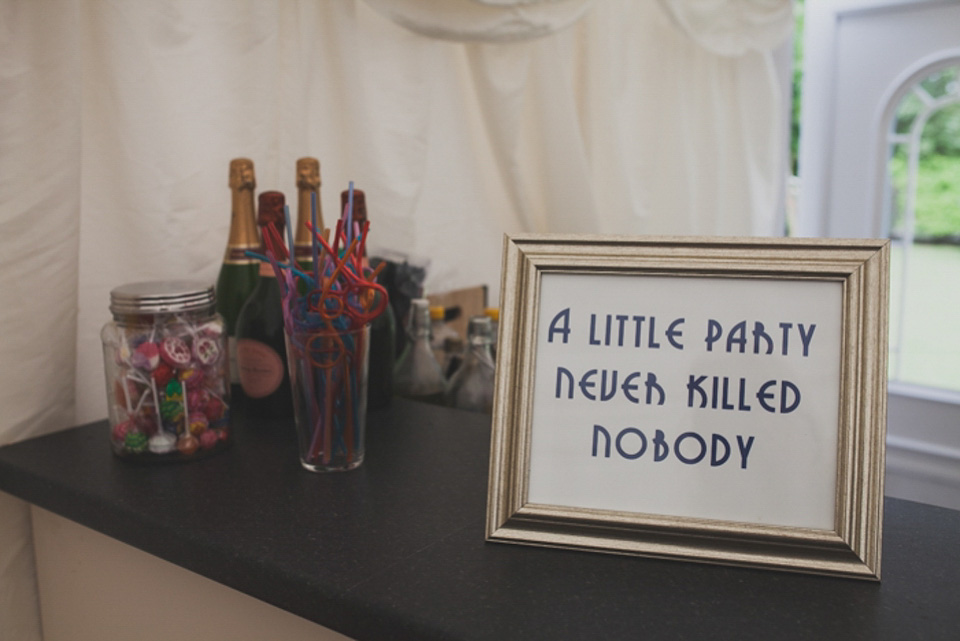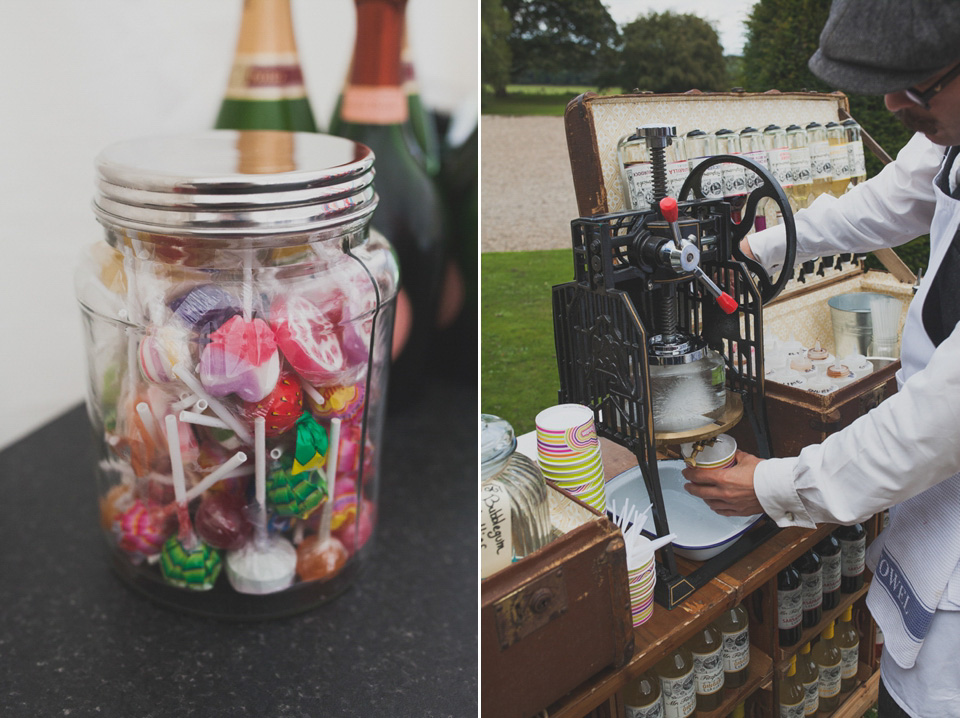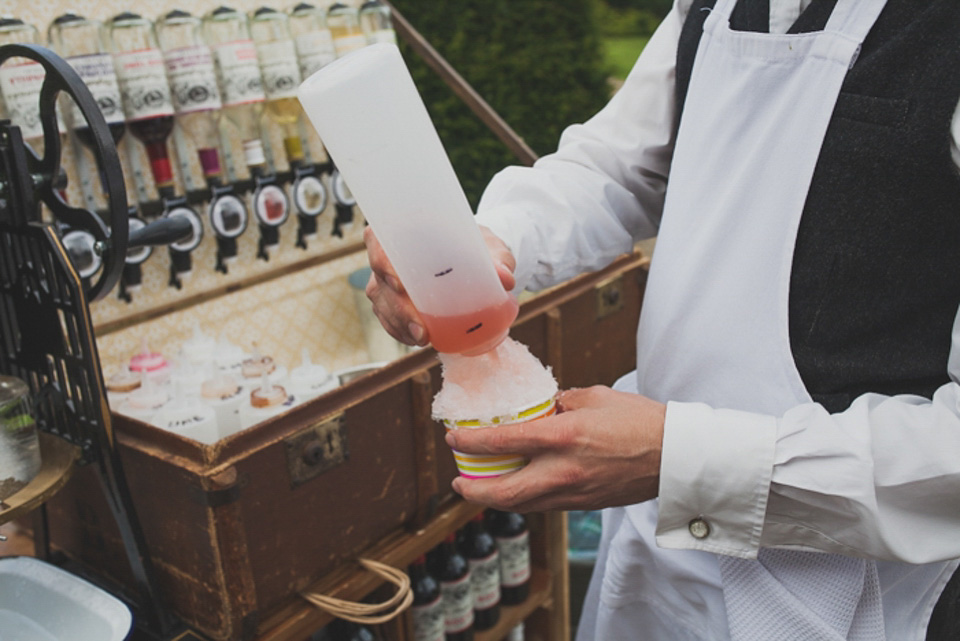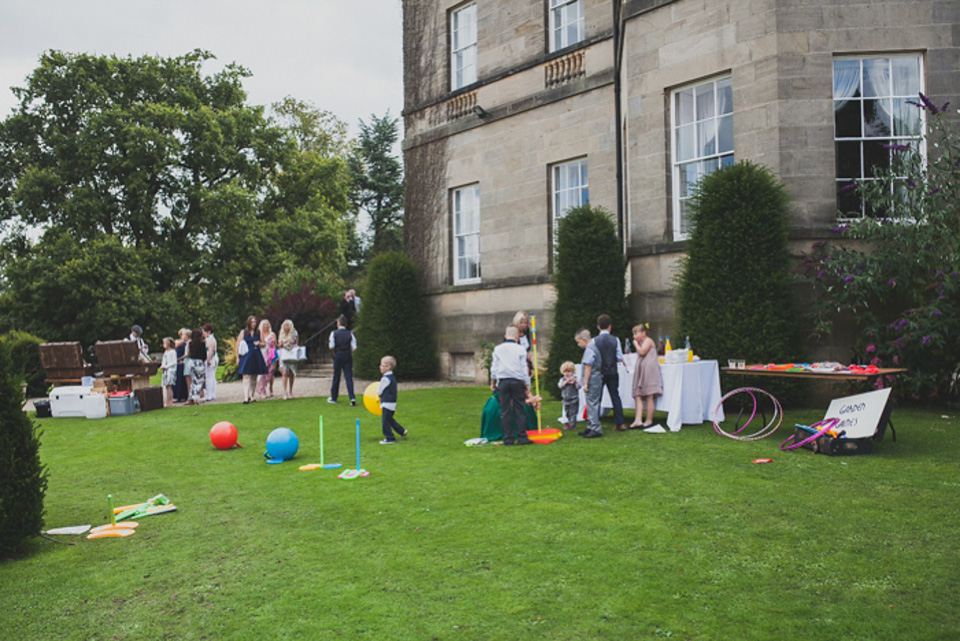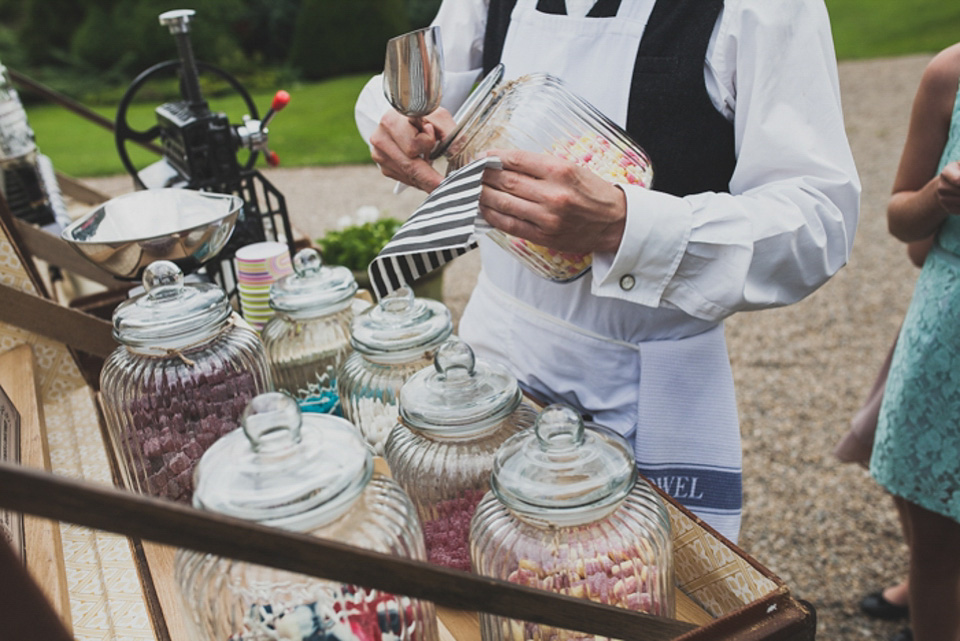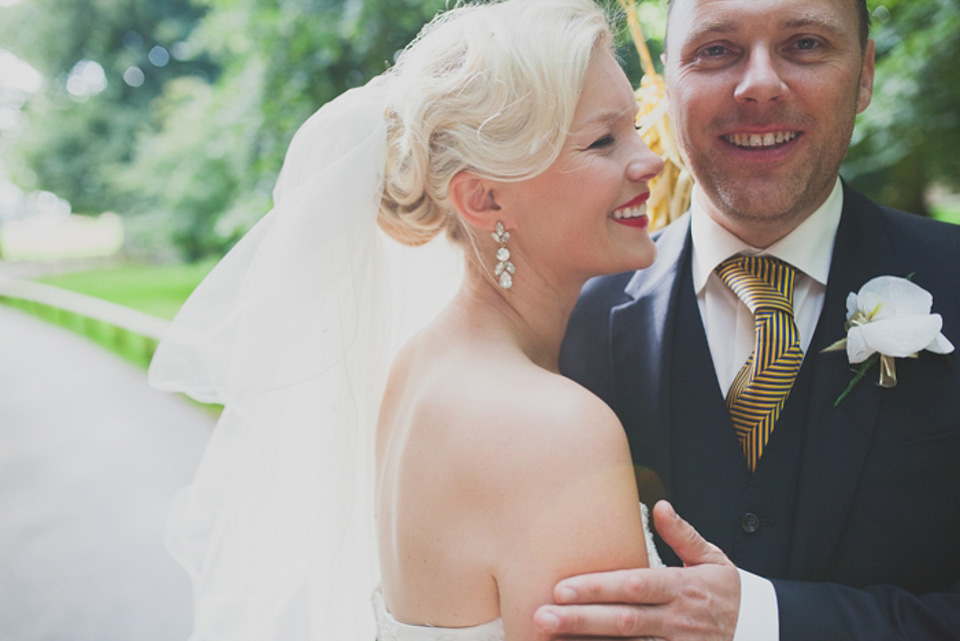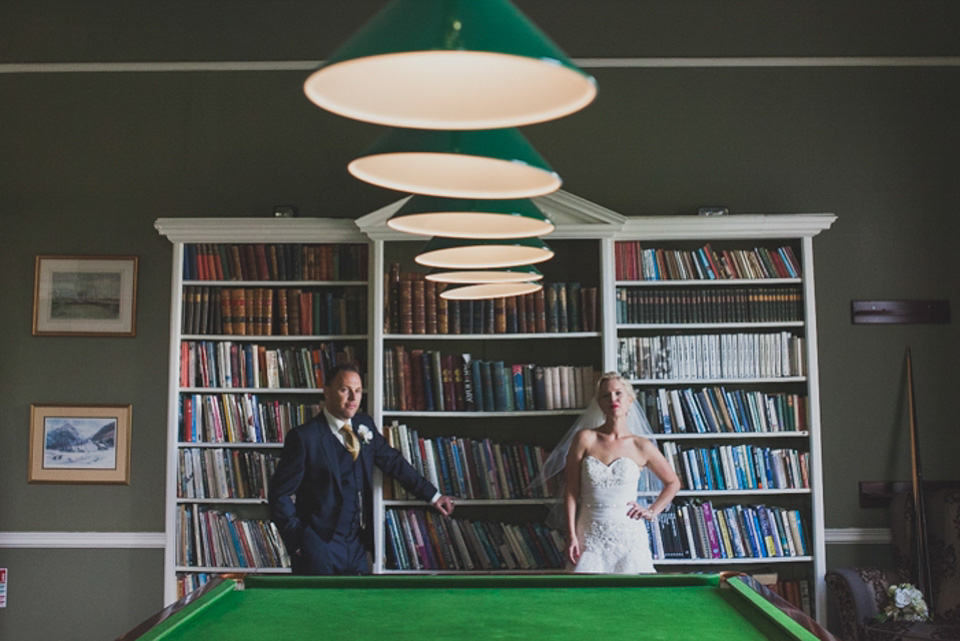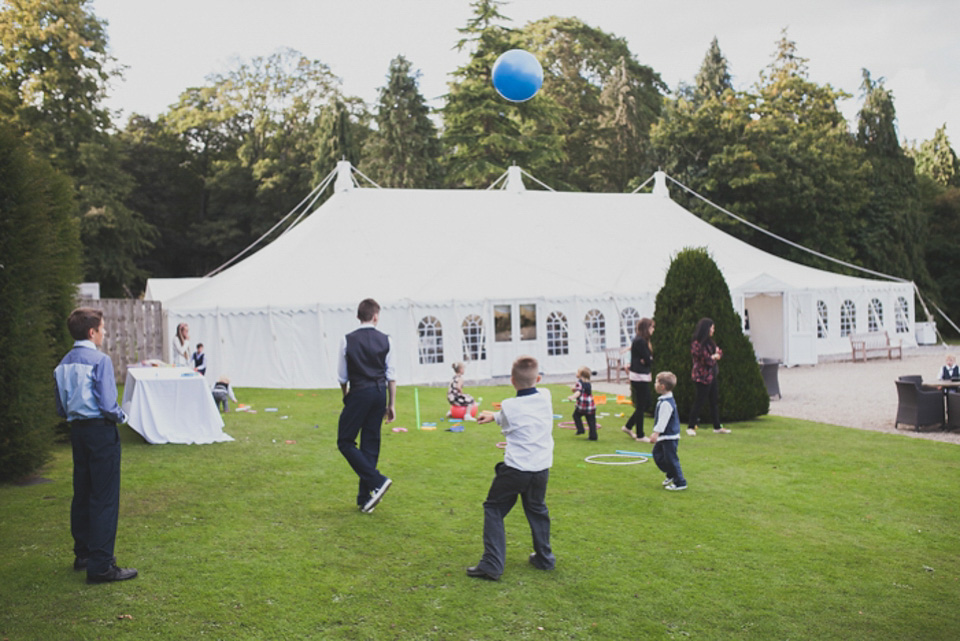 "Instead of a traditional guest book – we had a very large poster – where guests had to write a little note next to a character this was bought from www.notonthehighstreet.co.uk – the idea is to display this in a frame in our home."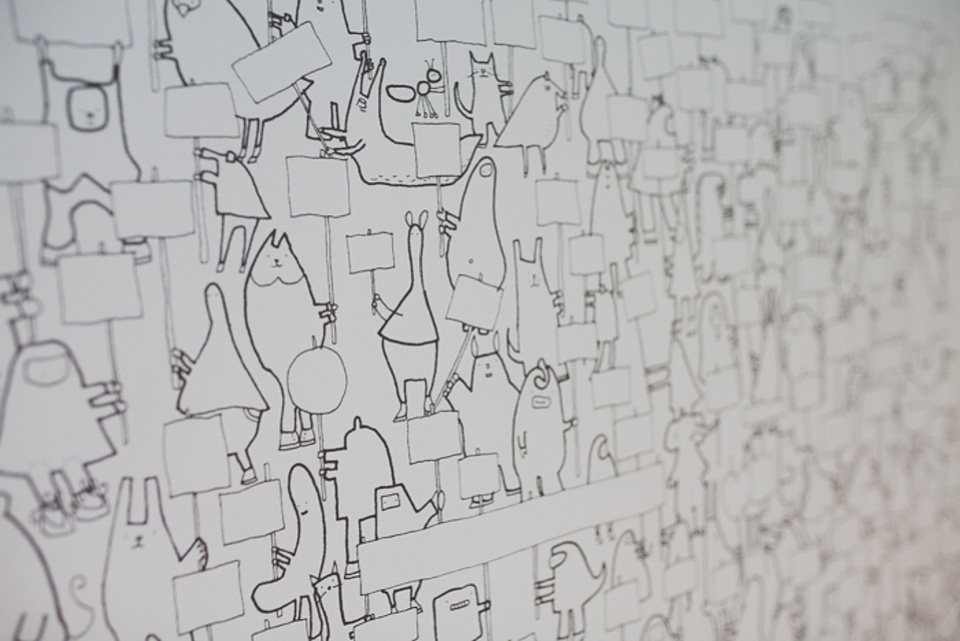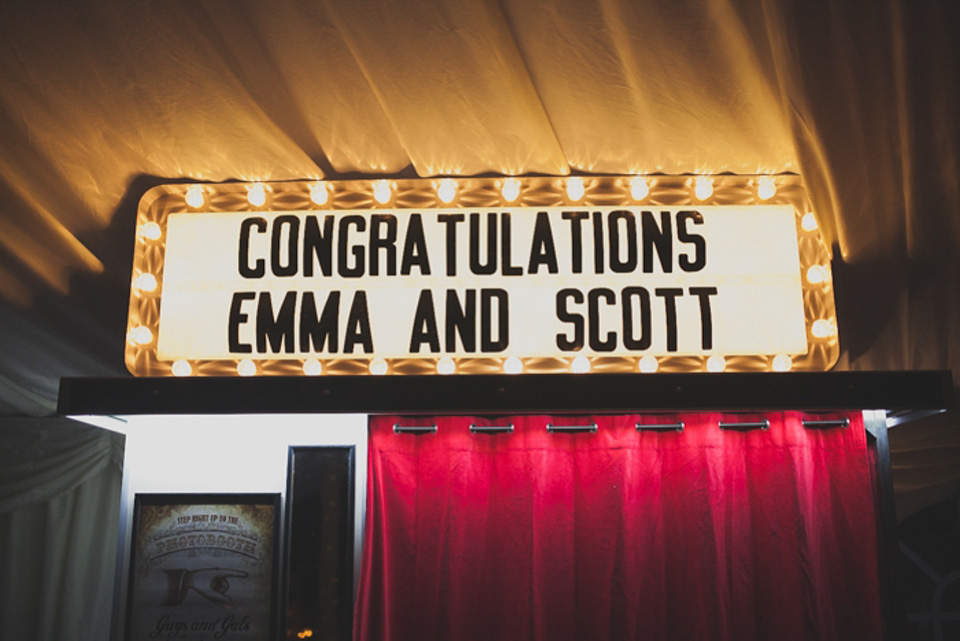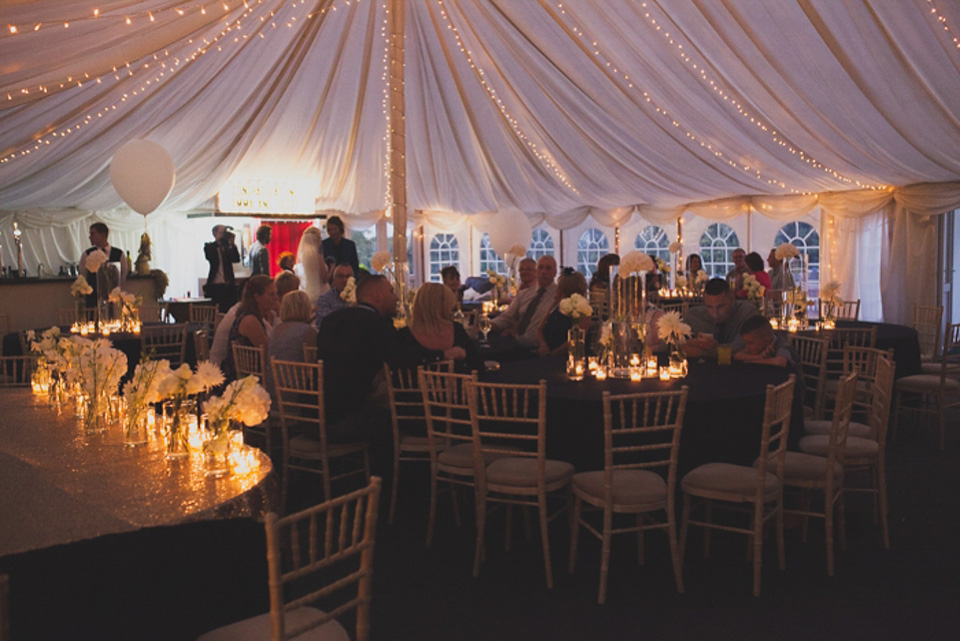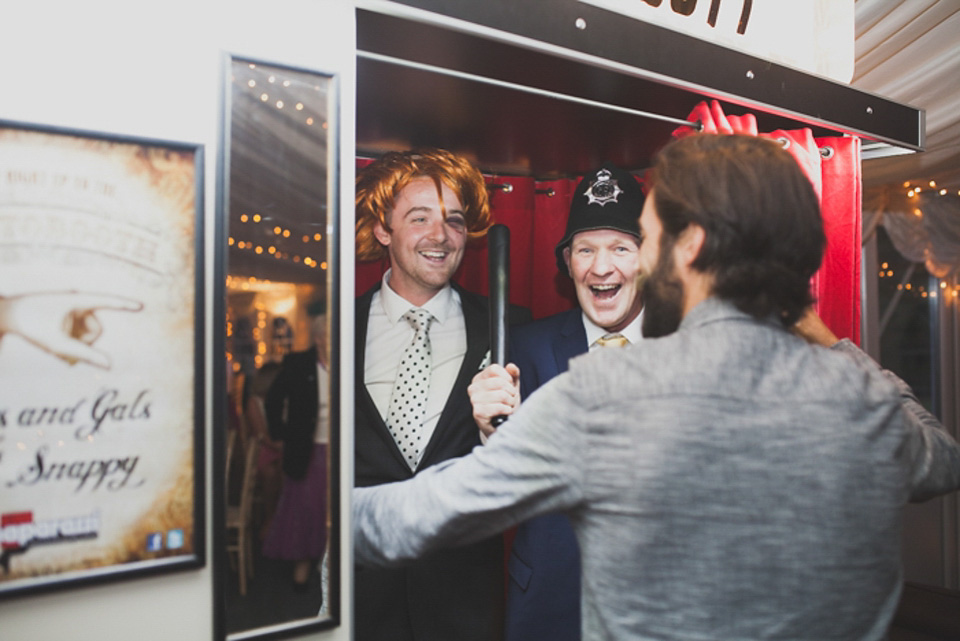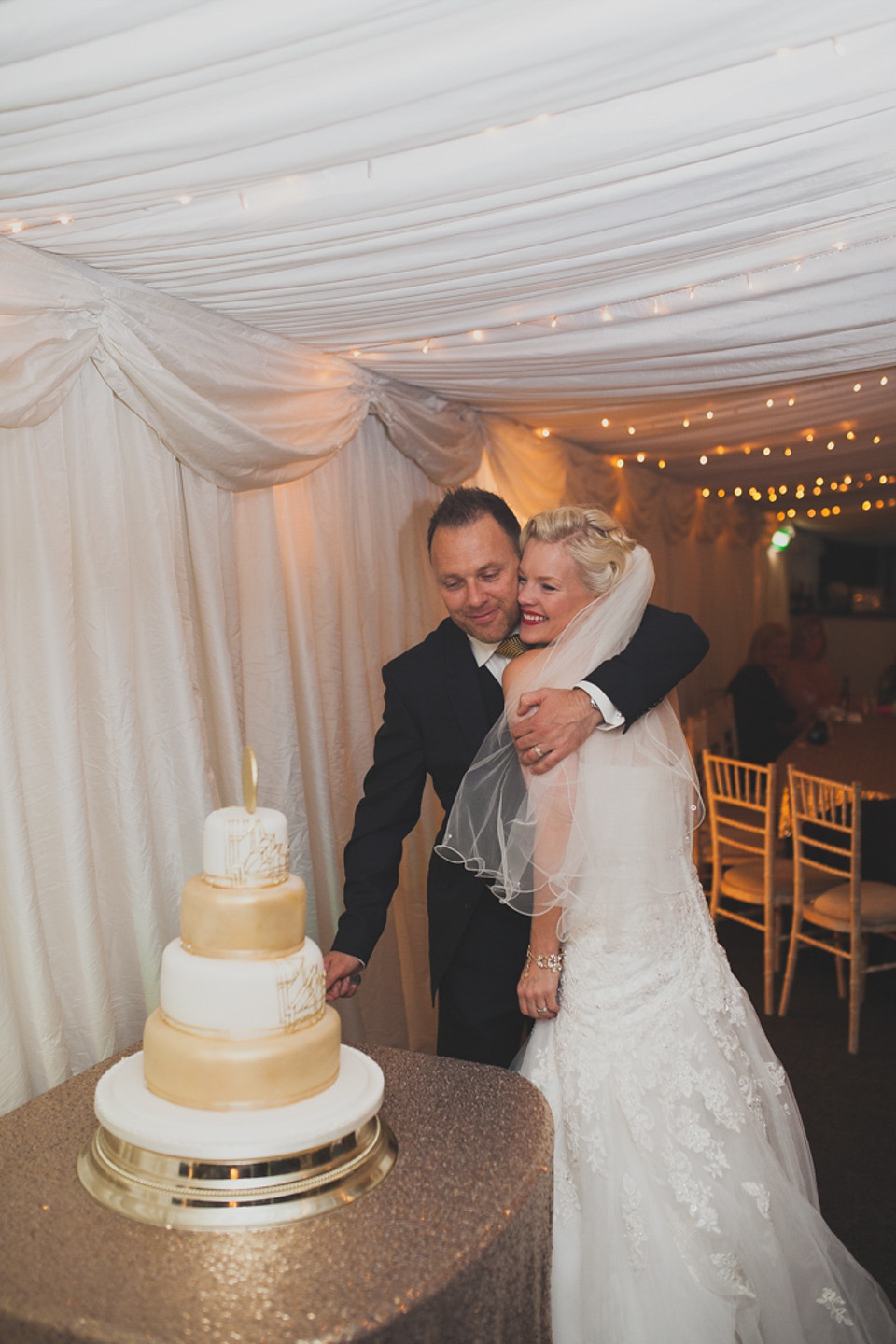 Emma choose award winning band The Deadbeats from Lancashire as their entertainment and Scott was given the task of choosing their first dance song.
"I asked Scott to pick this – but I ended up choosing it as he had called me one day whilst at work with his choice of song blasting down the phone…..The Bee Gees – More than a woman…..not quite what I had in mind. We both love Al Green and 'stay together' was our first dance."
Words of Wedded Wisdom
"I know everyone says this, but take five minutes to take some time out. I remember running back up to our bedroom to reapply my lipstick and looking in the mirror, grinning and saying 'Oh God, I'm married!'.  And then I did a little dance!  I'd spent months planning this day and it went so so fast."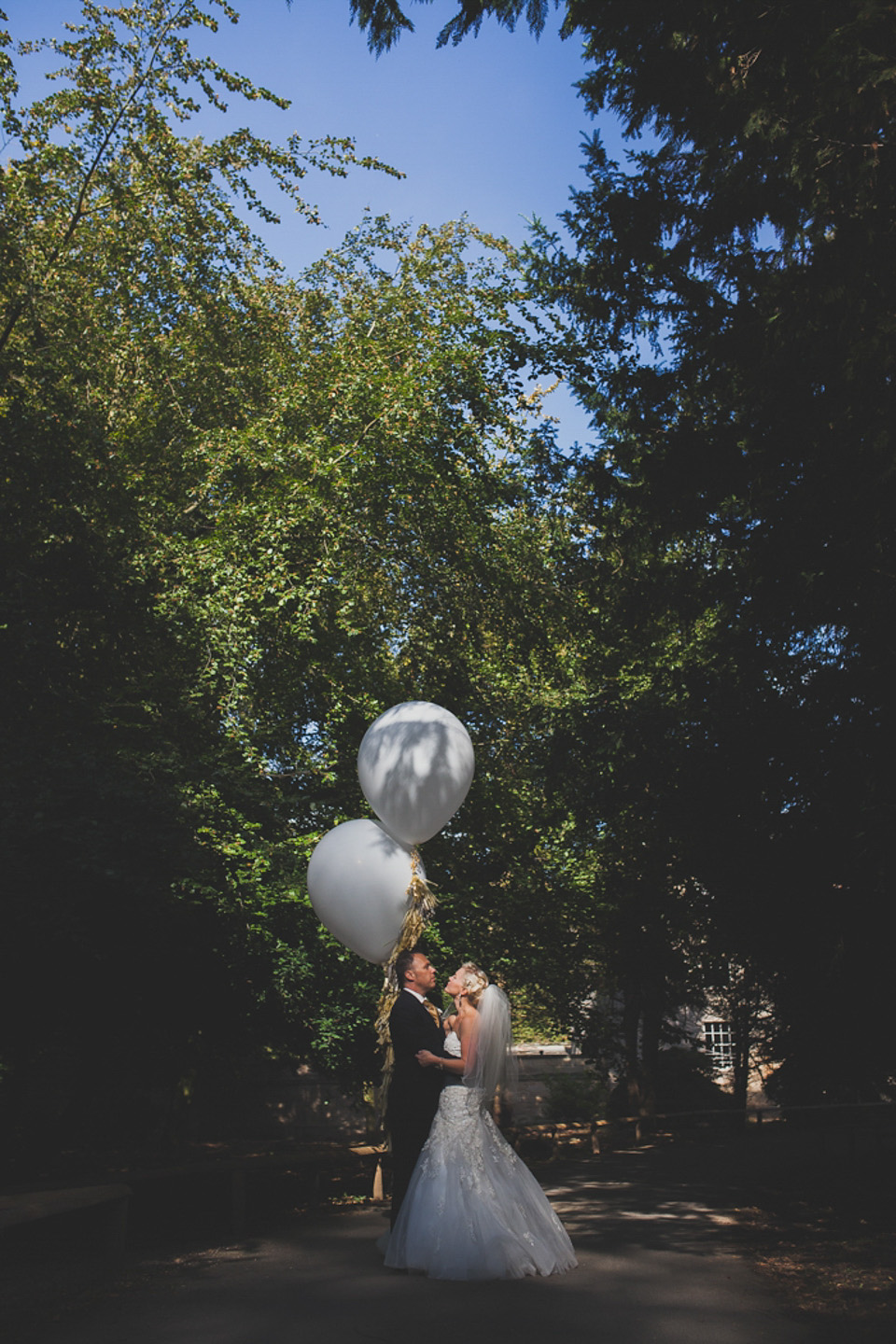 Congratulations to Scott and Emma I hope you enjoyed your first Christmas together with your boys as Husband and Wife. May 2015 be a wonderful year for you both. A big thank you to Sally Thurrell for sharing these lovely photographs with us.
For more Gatsby inspired weddings check out Love My Dress here.
Have a wonderfully relaxing weekend,
With Love, Christina x
Photographer – Sally Thurrell
Venue – Middleton Lodge, Richmond
Brides Dress – Hilary Morgan dress from Dobinsons of Darlington
Bride's Shoes –  Christian Louboutin – Volpi
Bride's Jewellery – Earrings – Kate Spade + bracelet via Next
Hair – Lynn Shearer
Make-up –  Jo Leversuch
Bride's Scent – Chanel Allure
Grooms Suit – Paul Smith
Grooms Shoes/Tie – Psyche
Stationery Designer – Deb Riddle of Hand held designs
Decor/styling – Kelly's Event Boutique
Bar – Temperance Bar
Entertainment – The Deadbeats
Videographer – JuggerNaut
Shoes – Christian Louboutin – Volpi