Happy New Year!  I hope you all had a lovely break and are looking forward to the adventures of 2015!  For those of you getting married this year – congratulations, its here!  January can sometimes seem like a very long and dreary month though, while we wait for payday to arrive, begin our New Year's resolutions and head back to work (sans reindeer headwear and 'cute' Christmas earrings) but fear not, because the wedding we are sharing with you today has enough joy, colour and smiles to last you all the way through until spring.
Veronica, a secondary school teacher and Alexander, a playwright, married on the 26th July 2014 at the gorgeous Newburgh Priory in North Yorkshire and styled the day with a 1920's prohibition-era theme- what fun!  This couple are a definite example of doing your day, your way, and making it work beautifully, with lots of unusual features, a mix of male and female attendants for both bride and groom, charmingly individual clothing style and a very different first dance!  Enjoy….
"Alexander and I are both inspired by 1920's and 1930's fashion, music, décor and lifestyle. Although neither of us are American, the prohibition was an era of underground fun which it may sound a bit odd but has a strangely close feel to our life together! We've been good at finding underground places of dancing and drink often by accident – from the Shunt bar in London to a jazz bar in some archways underneath the Latin quarter in Paris to a secreted away beer loft in Bruges. If it has tried to hide, we want to find out why!"
Photography Copyright (c) 2015, Paul Joseph Photography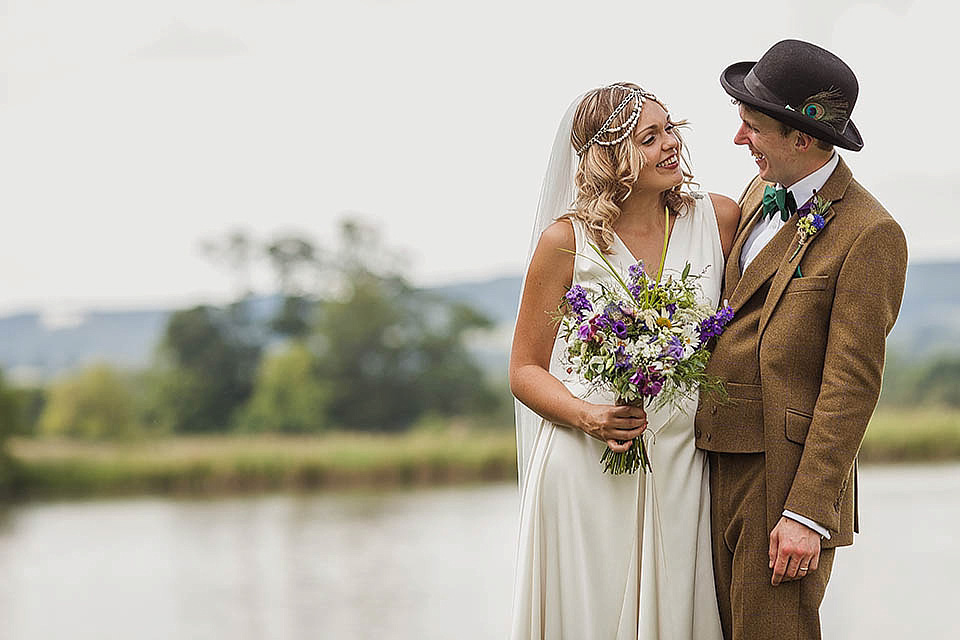 The couple bravely opted to arrange every aspect of the décor themselves; quite a feat, as the interior of the reception marquee was absolutely festooned with wonderful vintage bits and pieces – strings of hanging teacups, fringed lampshades, books, clocks  and fans, to name just a few.  I absolutely love the overall look though, which just screams personality and fun, so it was well worth the work!
"We spend weeks trawling car boots, vintage fairs and even went to an auction to collect everything 1920s-1930s vintage we could find! Ranging from bottles right the way up to Singer sewing machines!"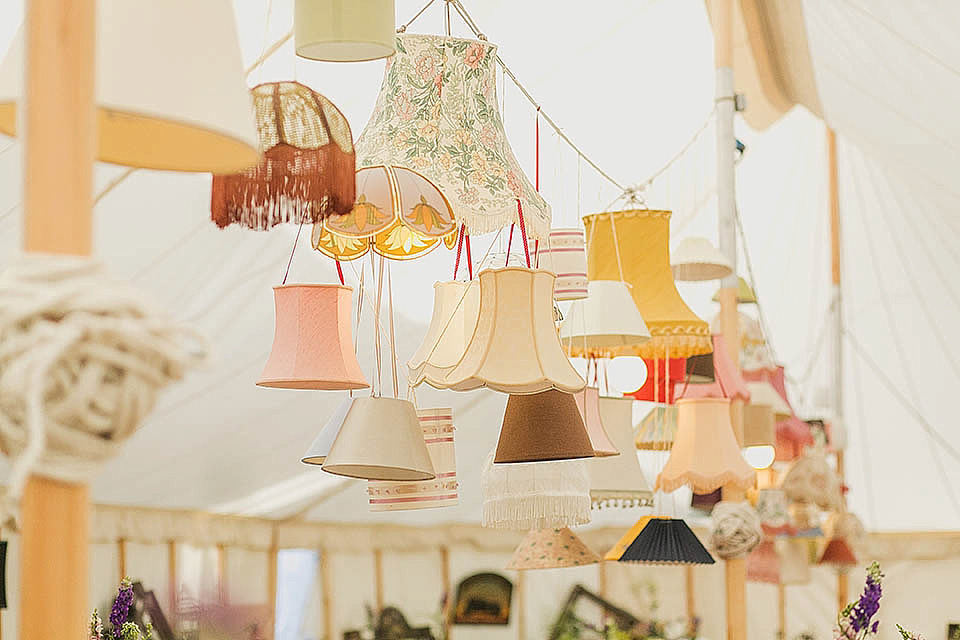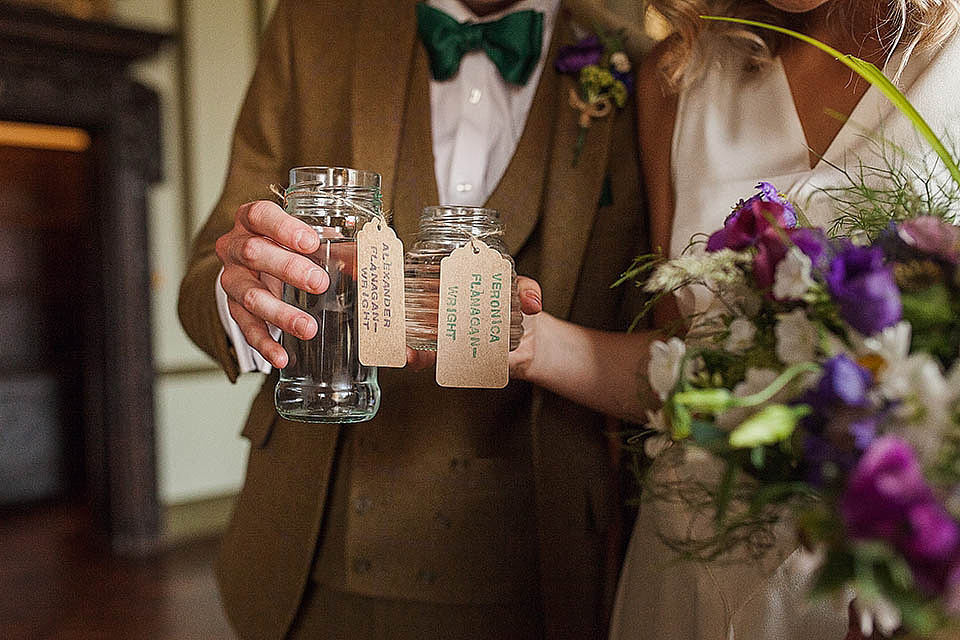 Veronica's day dress was designed and made by Hayley Neil from Glory Days Vintage in York, who both stock original vintage dresses, and create bespoke gowns for their brides.  I just adore the 1930's inspired diamond panelling in the dress below…
"I tried on a similar version of the dress in the shop and all of my friends nearly cried when they saw me in it… enough said! I love the way it was so simple but so elegant. I never wanted something that would feel like I was squashed into or misshaped to fit into it – I wanted to feel free and floaty!"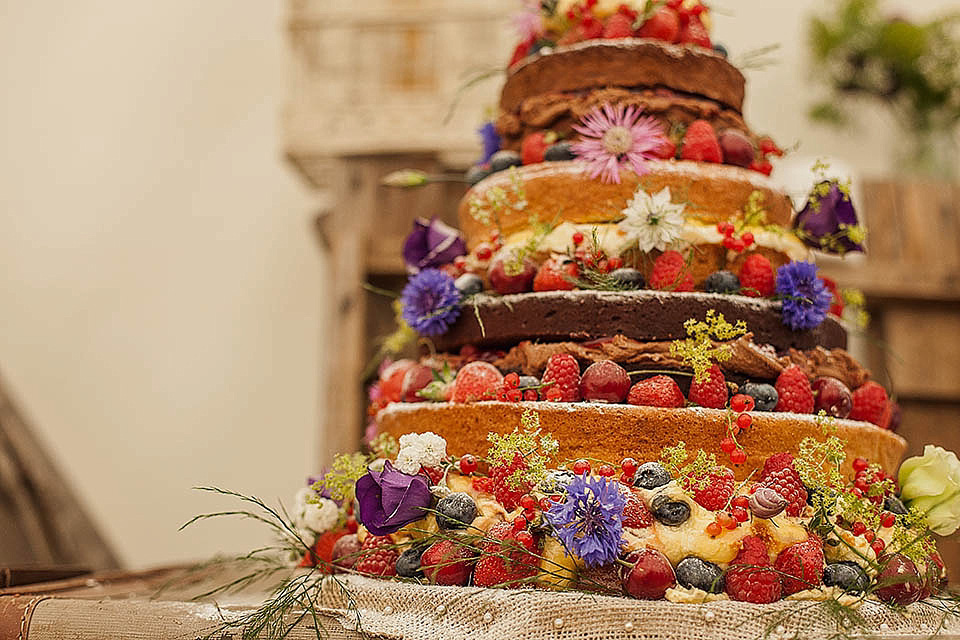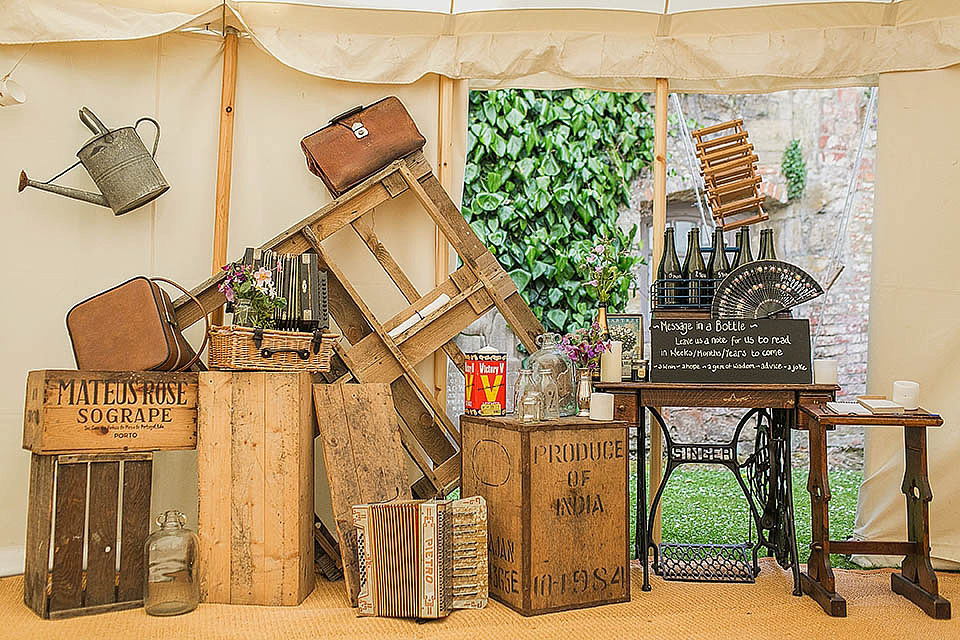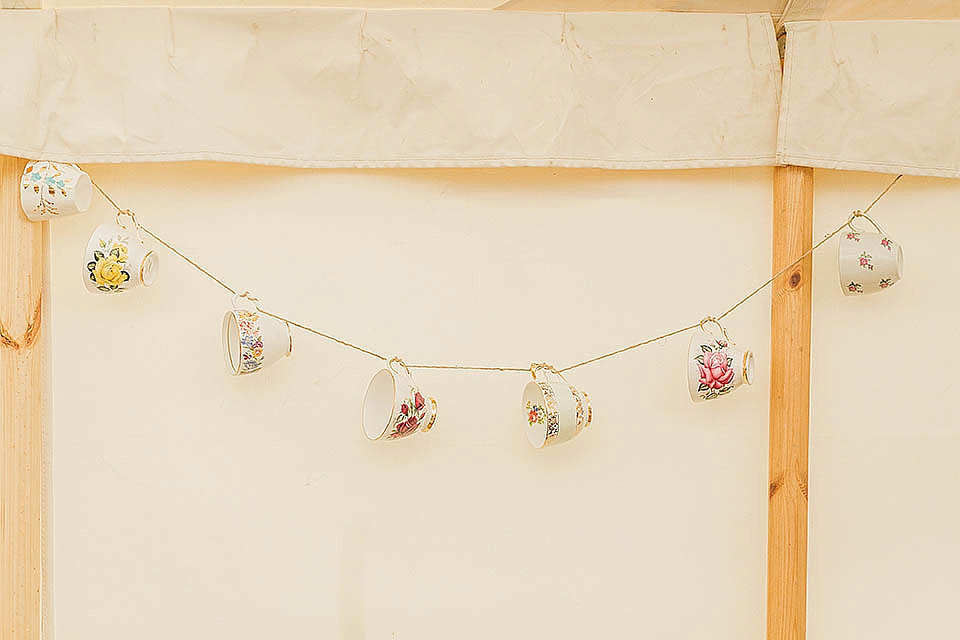 Veronica's bouquet was a hand tied mix of brightly coloured summer flowers, with smaller versions for her brides-folk.
"We had a florist from our village called 'The Plantsmiths' supply the flowers, that we arranged into a variety of vases. We mostly used a collection of champagne / prosecco bottles we'd been collecting since before we got engaged! Judy (the florist) made the bouquets, corsages and buttonholes"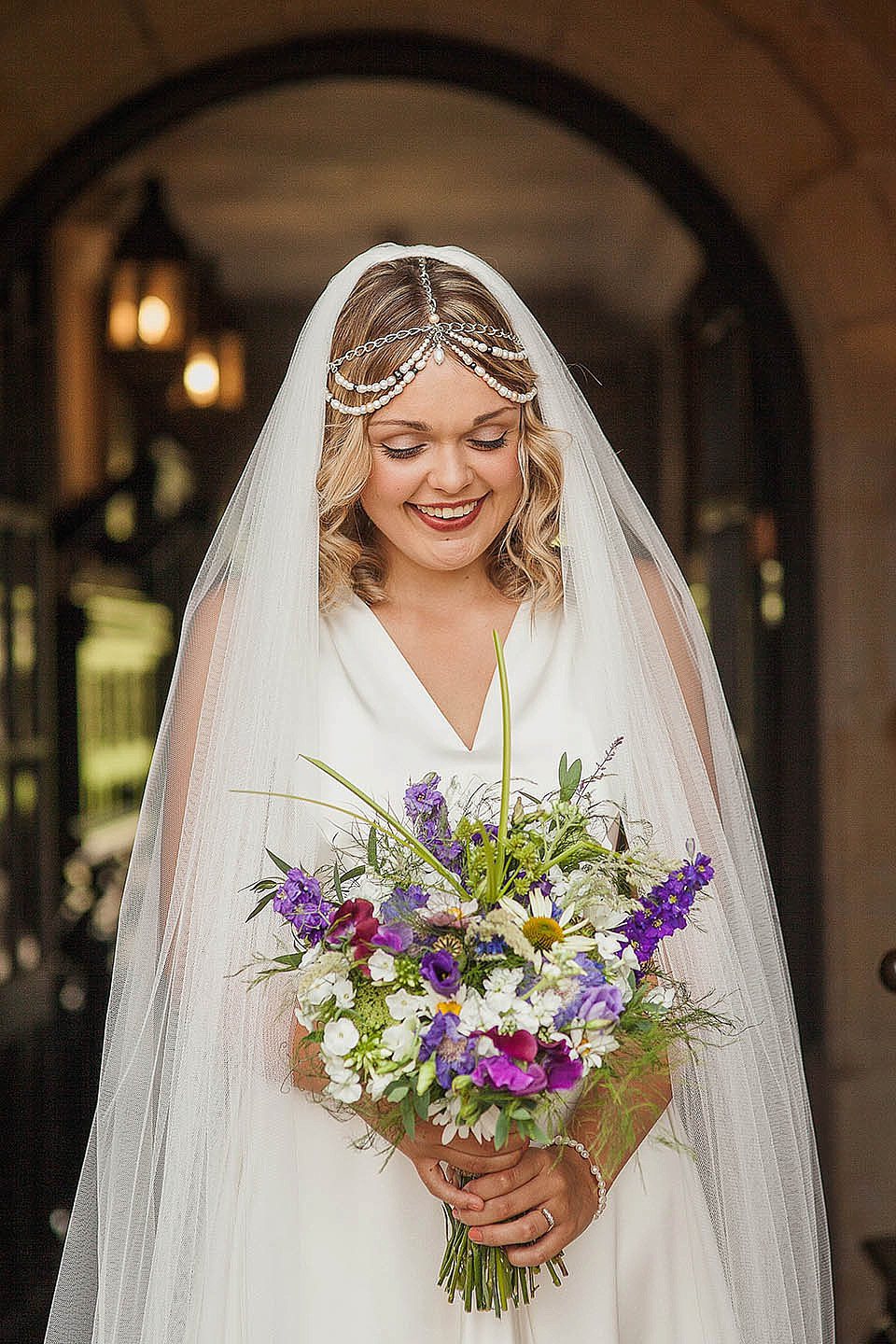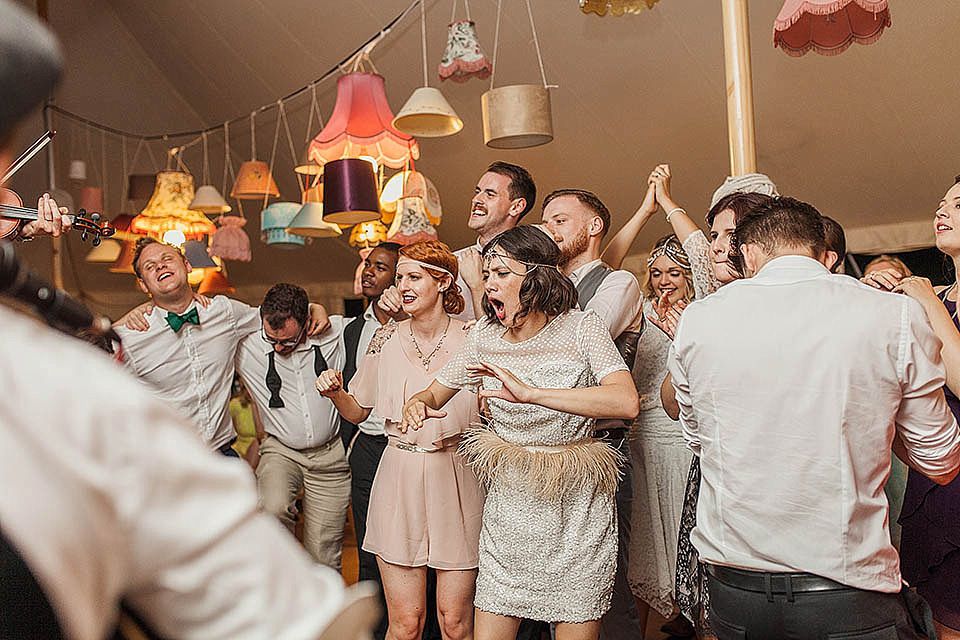 Veronica's lace evening dress (yes, she had two- lucky thing!) was vintage and also purchased from Glory Days Vintage in York.
"The second dress I bought so that I could dance the night away without falling over the main dress or worrying about damaging / dirtying it! I had to be able to enjoy the party just as much as everyone else."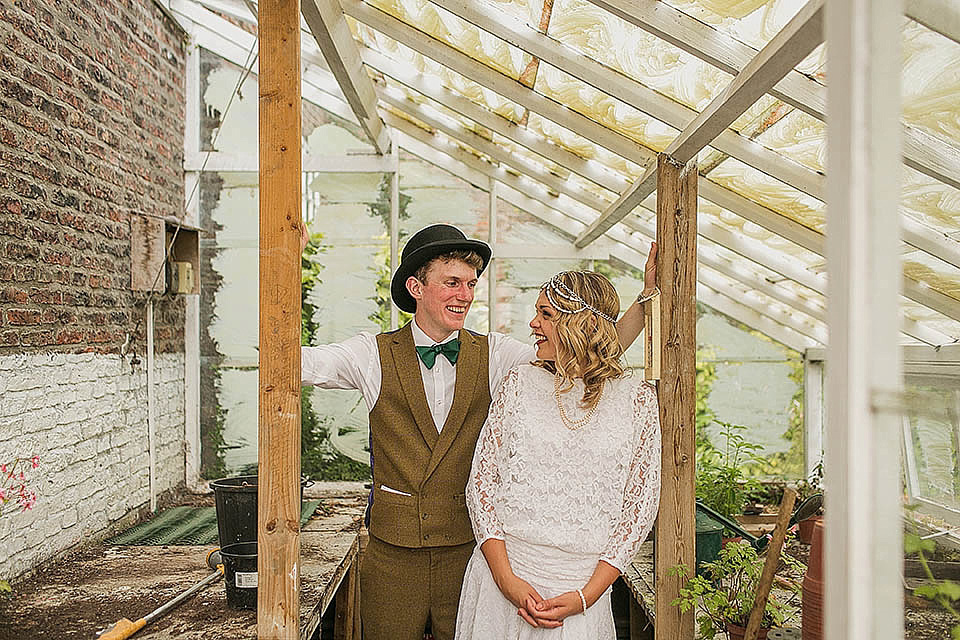 The splendour of the day was captured by Paul Joseph Photography, who Veronica describes as;
"Absolute superstars. They were everything we could have ever dreamed of! They were there from the start right the way through until the end of the night – they caught every single moment like we could never have imagined them doing"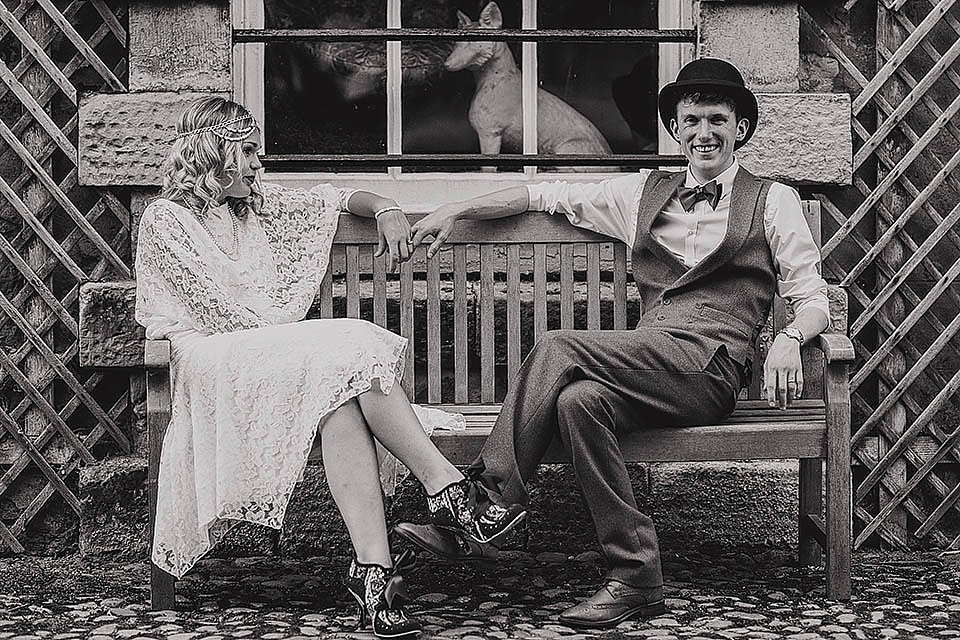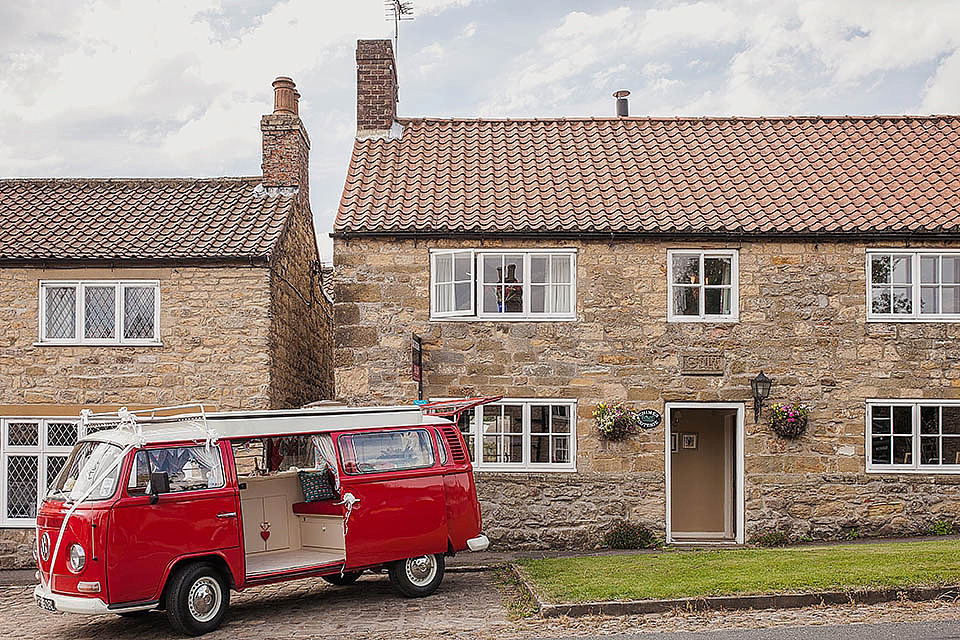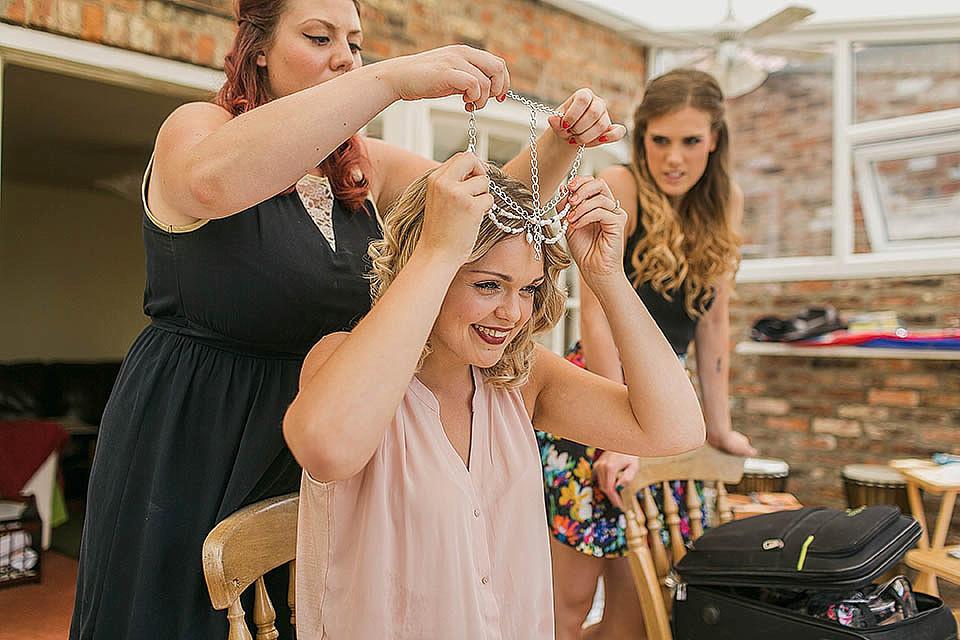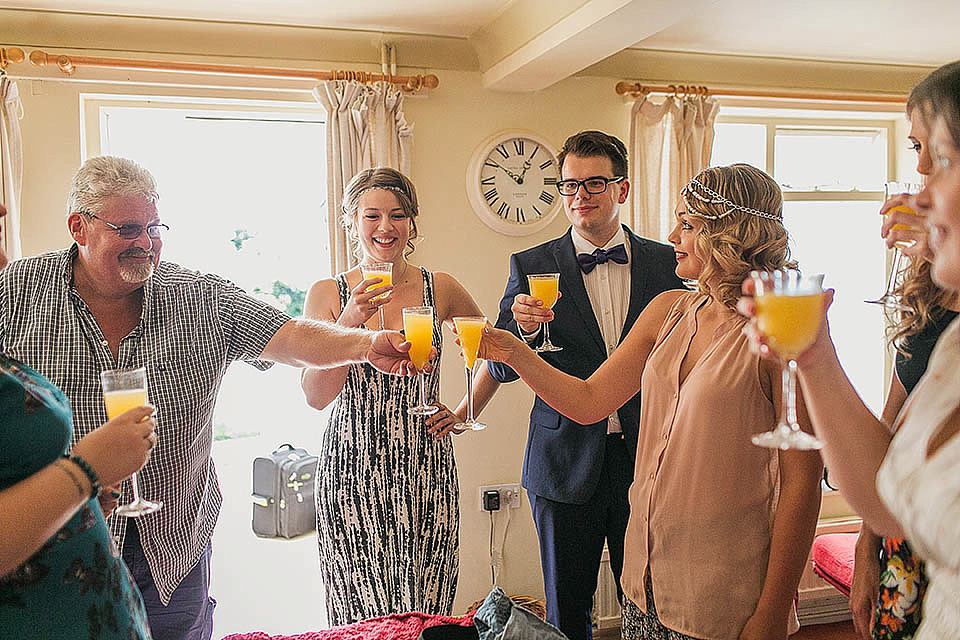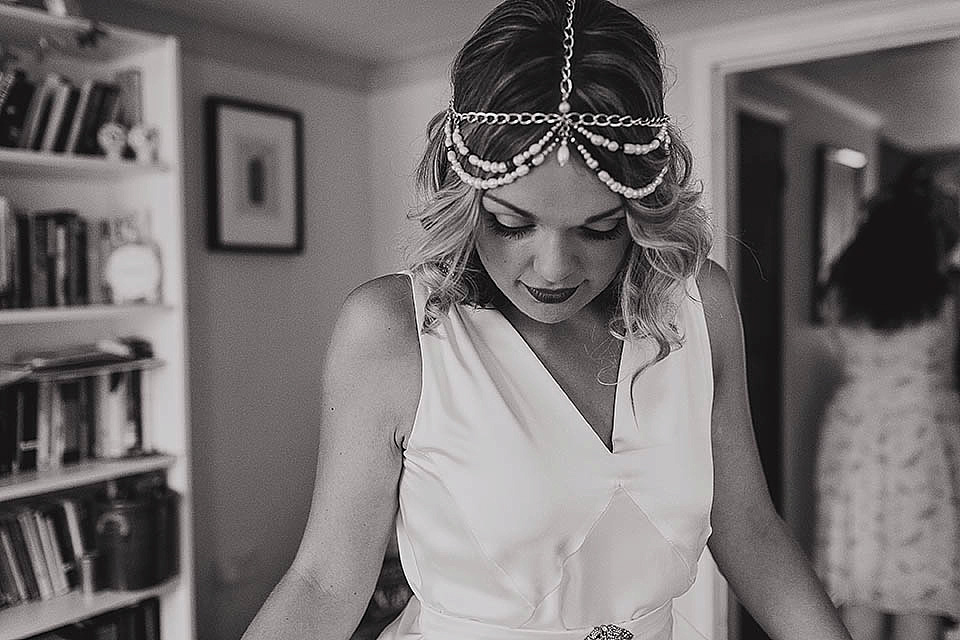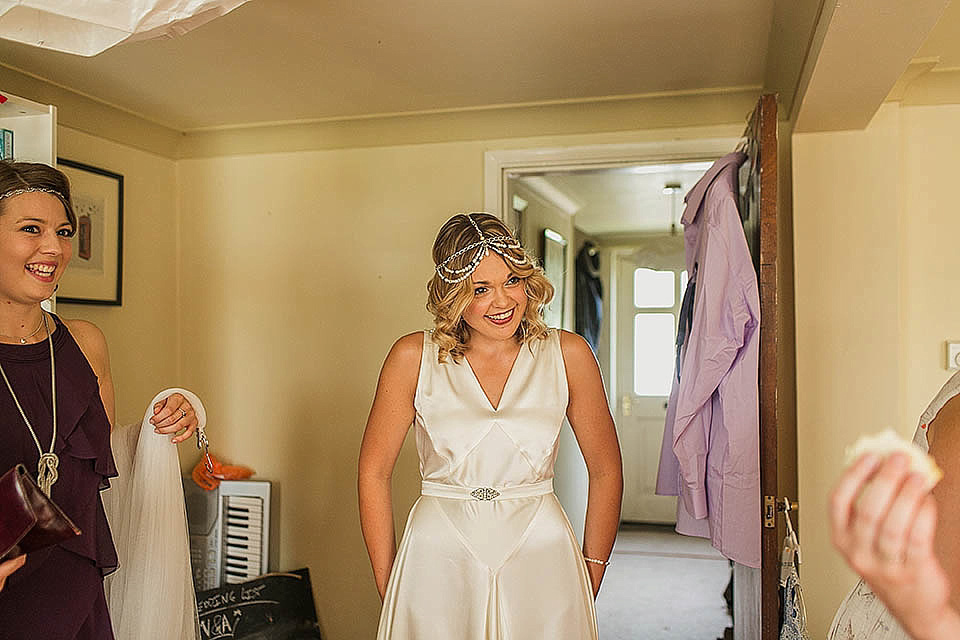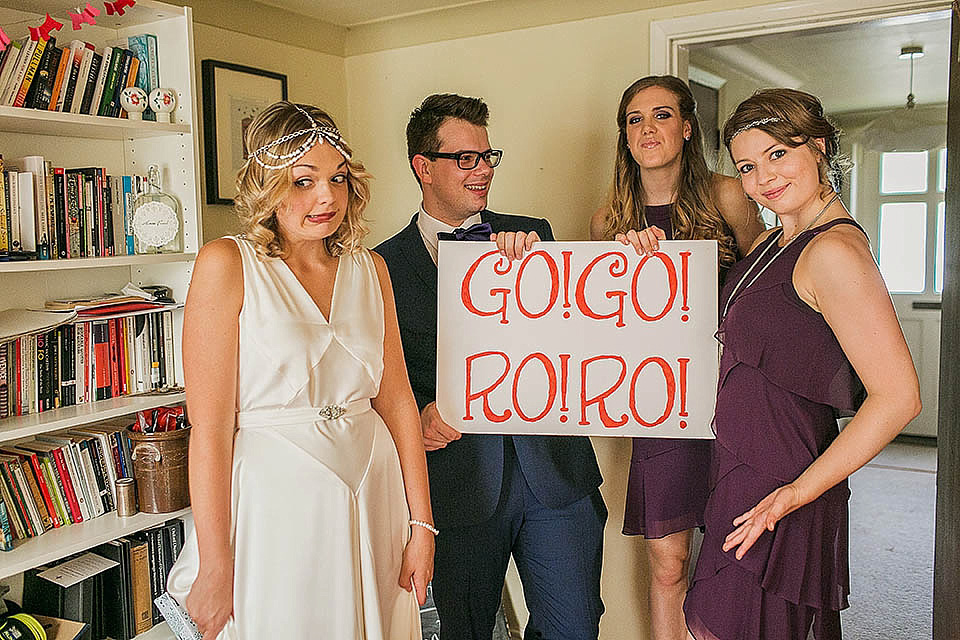 Veronica teamed her dresses with a pair of quirky statement shoes from Irregular Choice (with which I am absolutely and completely in love)  and vintage jewellery, alongside hair accessories bought from Etsy and her favourite perfume, Chance by Chanel.   The look was completed with hair and make up by Aimee Long.
"My earrings and evening necklace were both bought from a stall at a vintage fair, and my bracelet was a present from one of my sisters when I was her bridesmaid"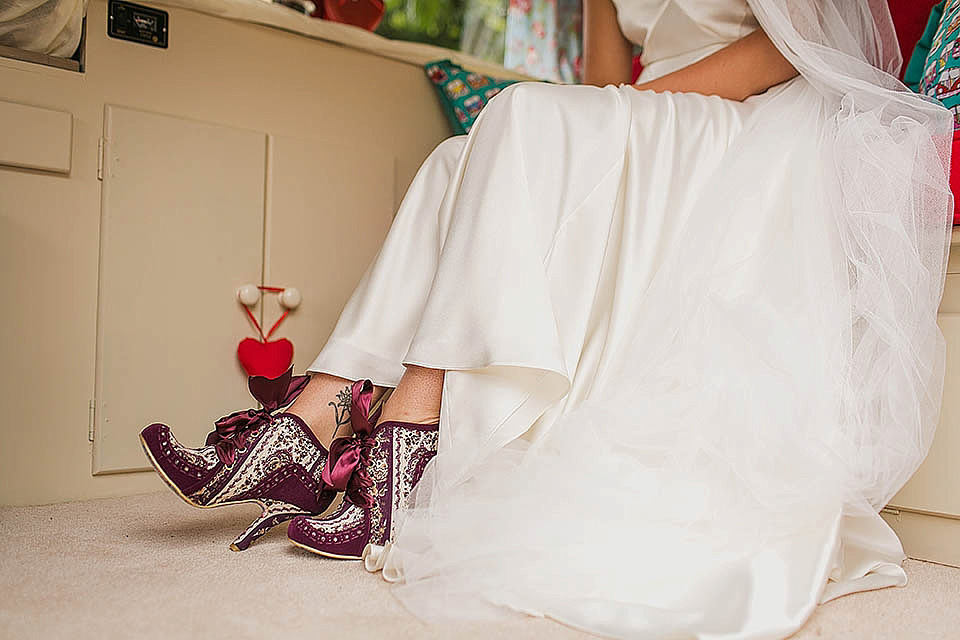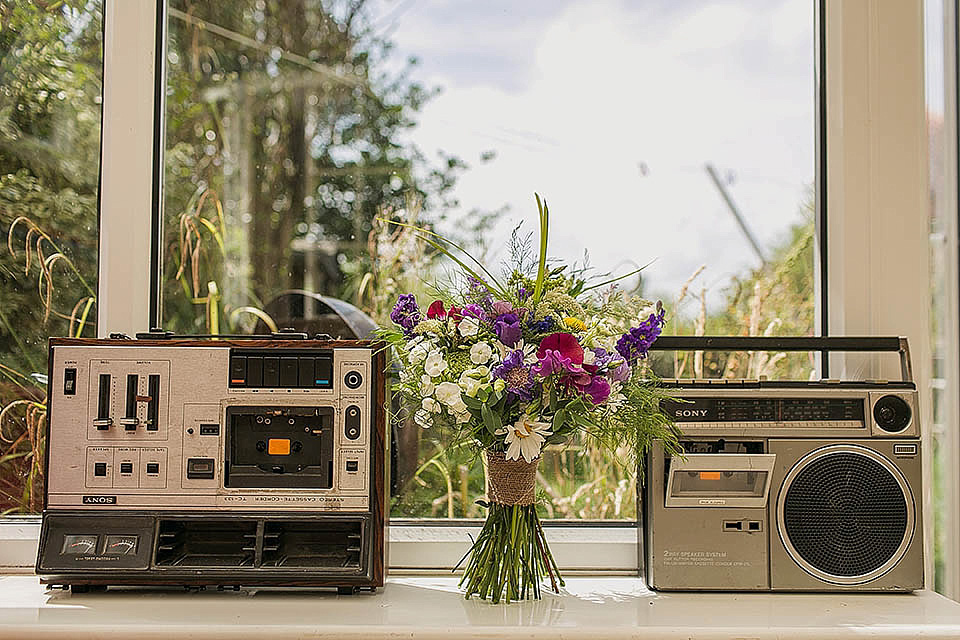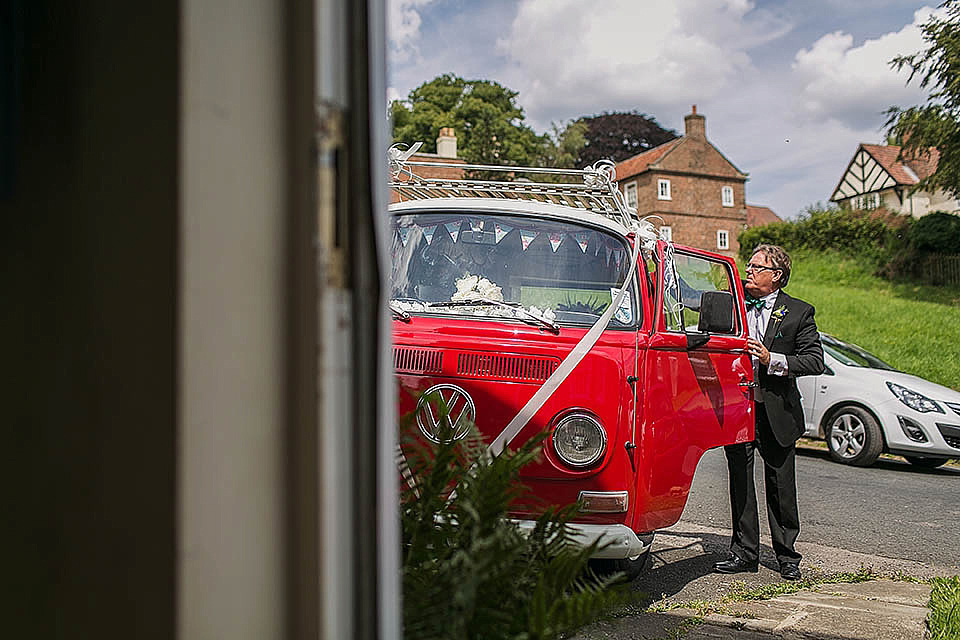 Veronica rode to Newburgh Priory in her very own version of a wedding carriage – a beautiful bright red VW Campervan, called Betsy (complete with floral bunting!) which she and Alexander own together.  How lovely to be able to use your own vehicle to travel to your wedding- and such a pretty one too!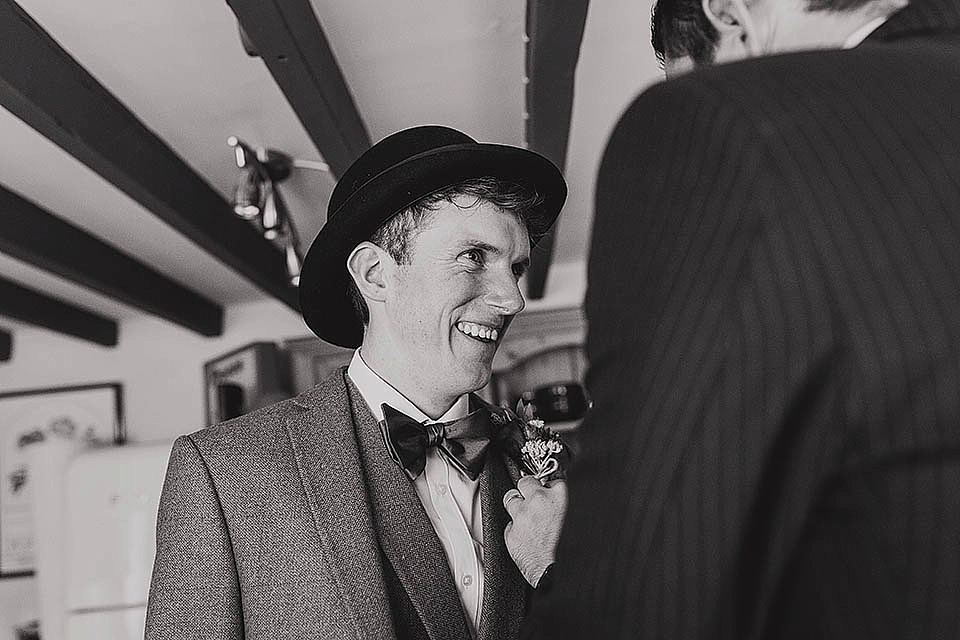 Alexander treated himself to a made-to-measure suit from Thirsk-based men's outfitters, 'Humphrey and Tilley', which he  teamed with a terribly dashing bowler hat, purchased while at Wilderness Festival.  His attendant chaps sported purple or green bow ties, purchased from eBay– purple for all men on the Bride's side, green for all those on the Groom's.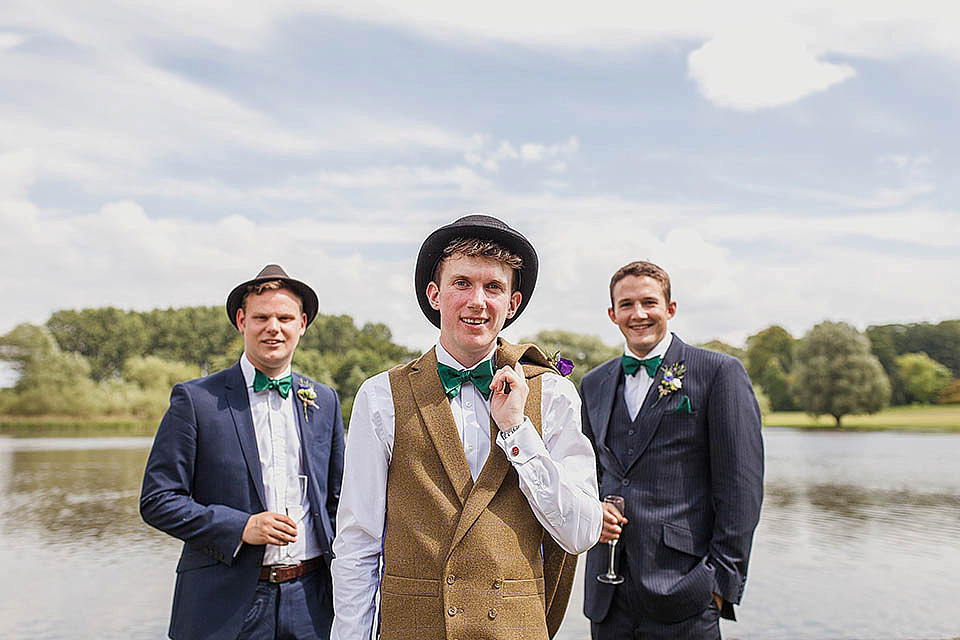 The couple chose their attendants, speeches and pre-wedding celebrations to match the independent and individual feel of the day.
"We had 3 brides-folk and 3 best-people (both a mix of men and women) – we don't believe these things should be based on gender. We even had a shared 'hag' doo before the wedding.  Our speeches, although lengthy, had men and women speaking. The brides-folk and best-people all gave speeches, the father of the bride and mother of the groom both spoke – as did the bride and groom!"
The ceremony was a wonderful compilation of friends' talent, music and readings- many from Alexander's own work.
"My Dad walked me down the aisle (I told him I wasn't his to give away!) to my friend Ed playing a harp solo that was written for a musical Alexander wrote called Babylon"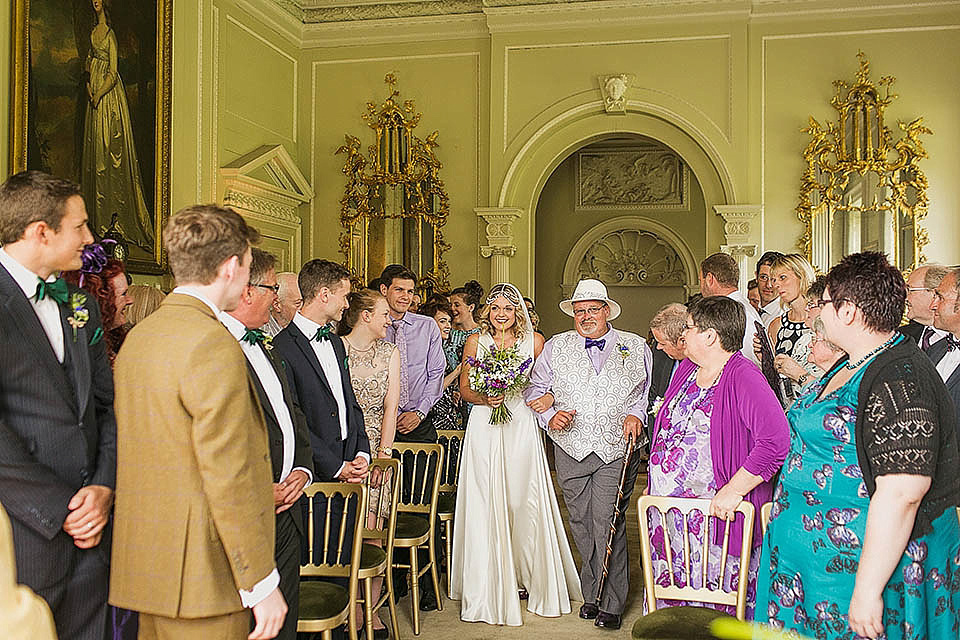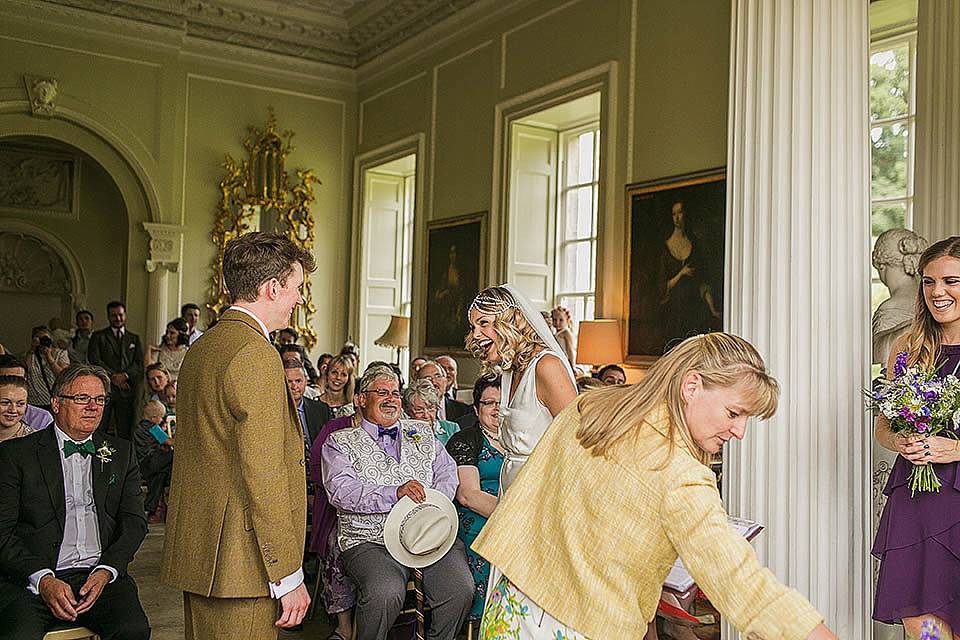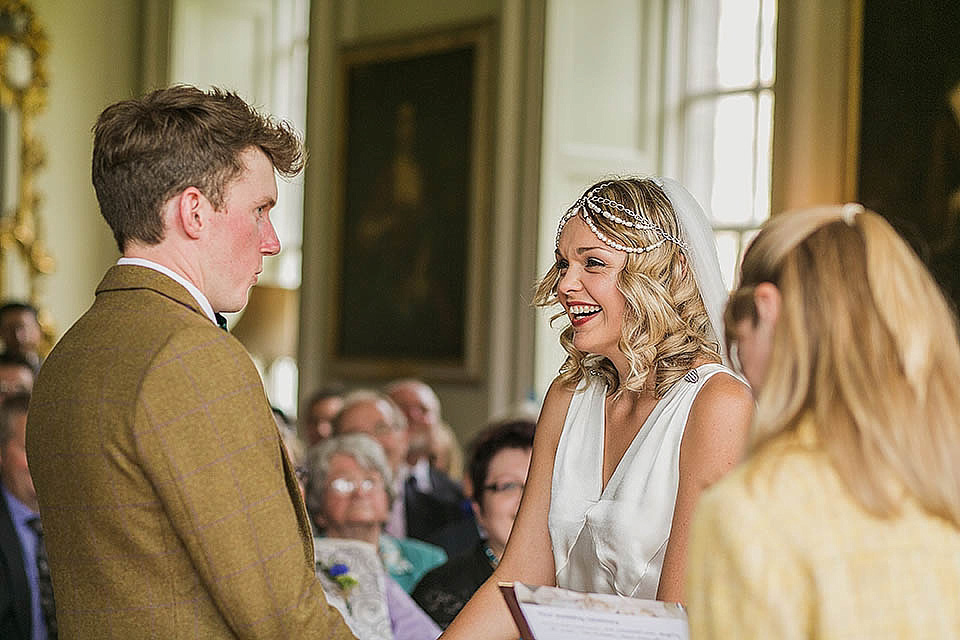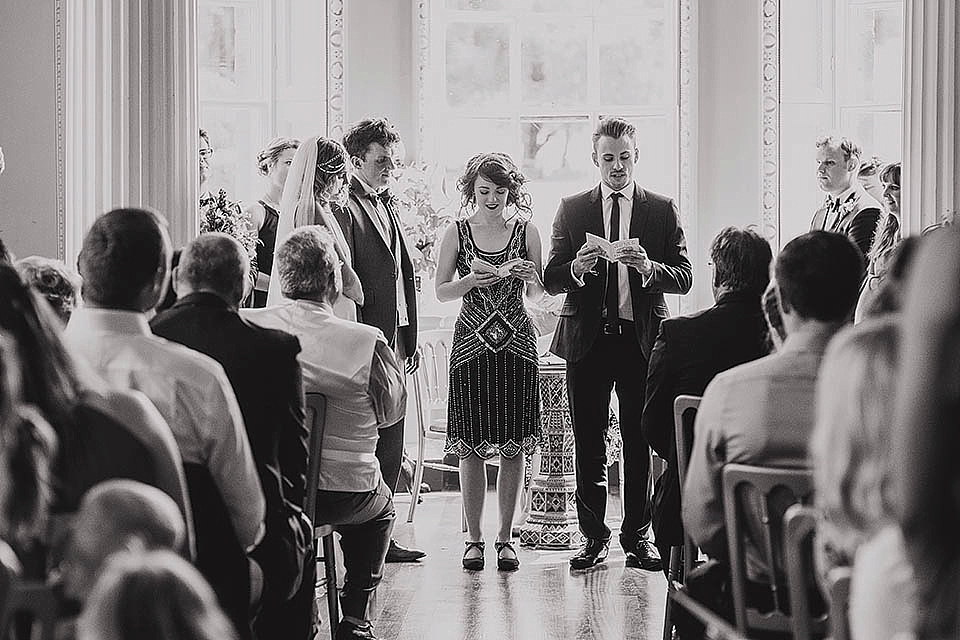 "We had a song called 'Balloons' sung and played from the musical 'Some Small Love Story' that Alexander wrote. We also had another song sung and played called 'Cruise in the bathtub' from another musical Alex wrote called 'Beulah'. We also had 2 spoken stories, one was the story 'Guess how much I love you' by Sam McBratney, and the other was a story Alex wrote for me just before we started dating called 'Johansa; The American Dog', which told the story of a drunk tap dancing dog facing the streets of New York…"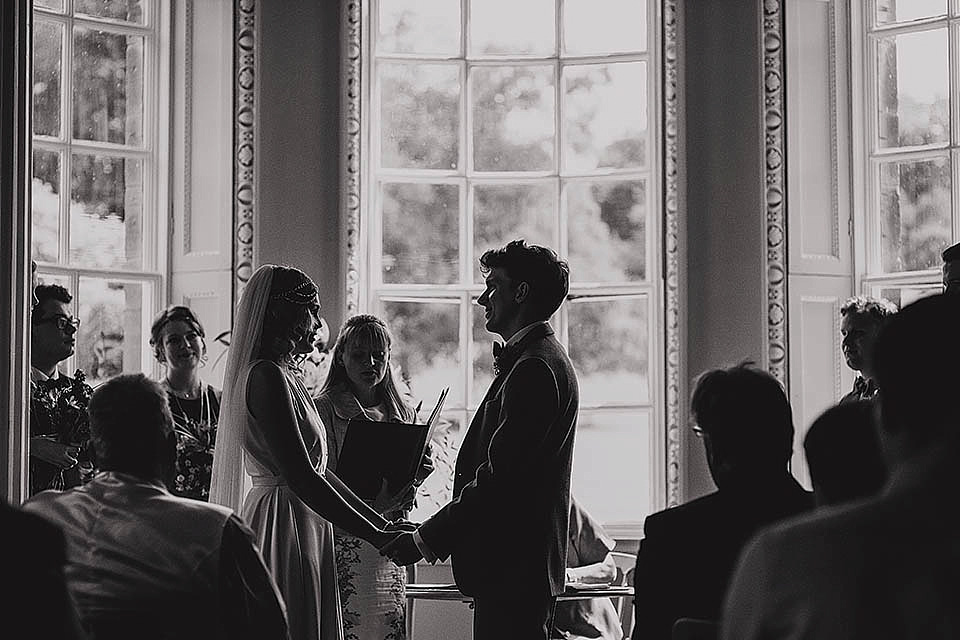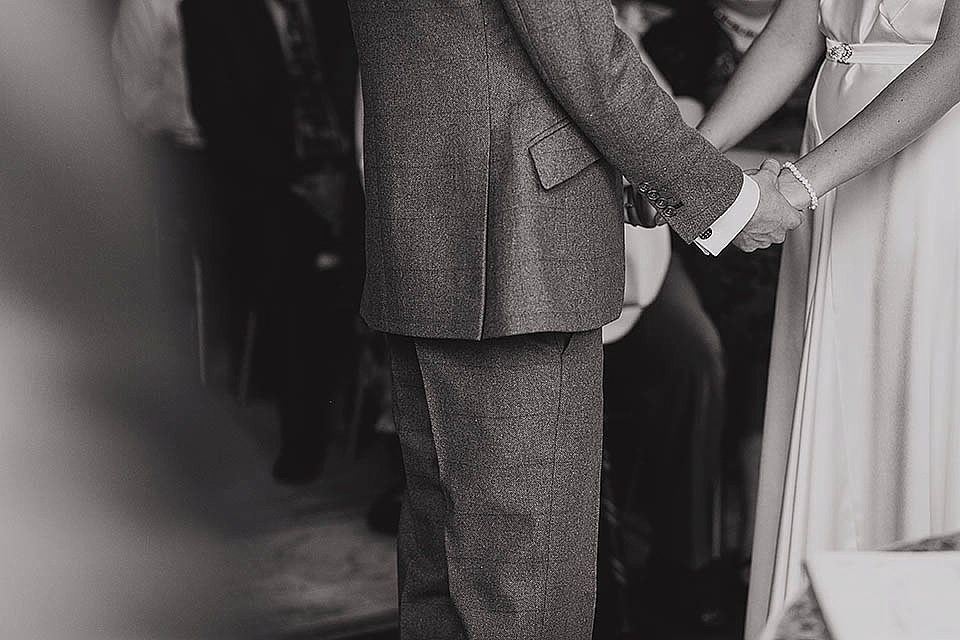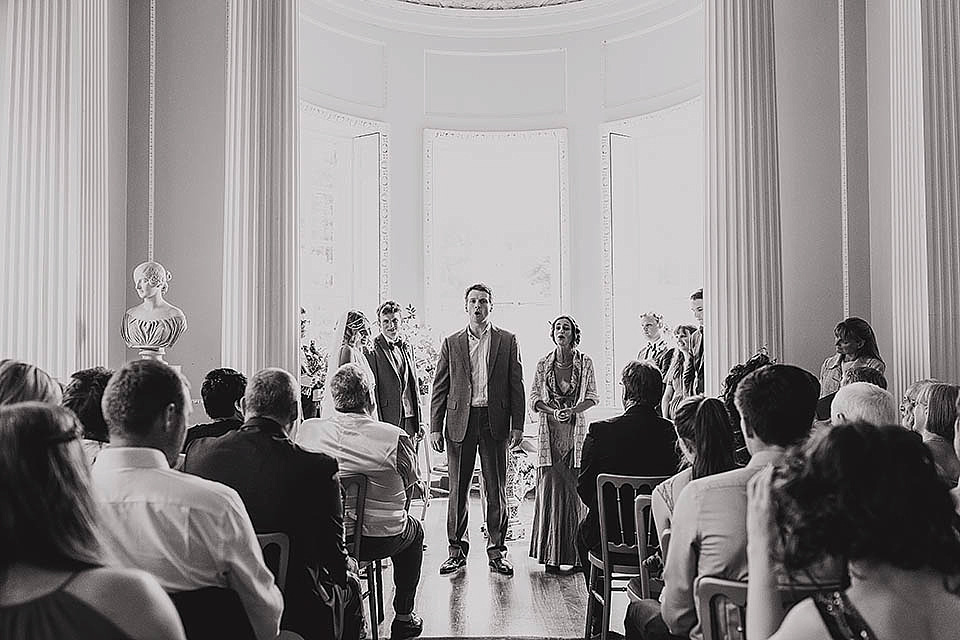 The couple chose to tailor their vows from the suggestions made by the registrar and came up with some very touching and beautiful words:
"I promise to love you tenderly, to cherish and respect you, to laugh with you and cry with you, to comfort you with my gentleness and to support you with my strength.
I promise to walk with you in joy and in sorrow, facing life's adventures together wherever they may take us though the spring of our time together and the winter of our years.
I promise to care for you always, to keep our love and our friendship and to share with you my hopes and dreams for now and forever."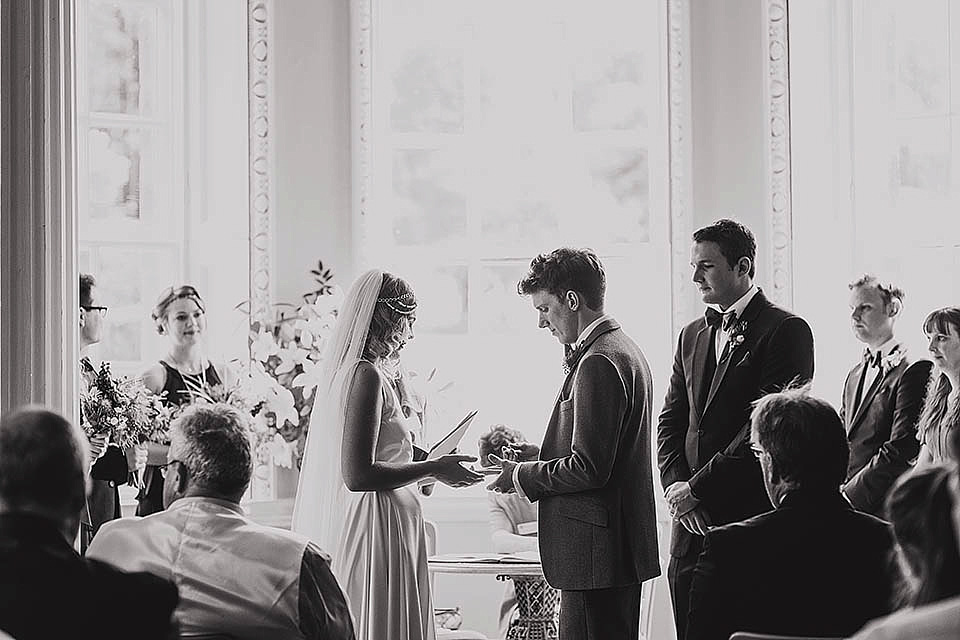 Their rings were family heirlooms; a really lovely 'something old'.
"We used Alexander's mother's parents' rings – my engagement ring was also from the same grandma. We had them altered and engraved, but wanted to keep this family link."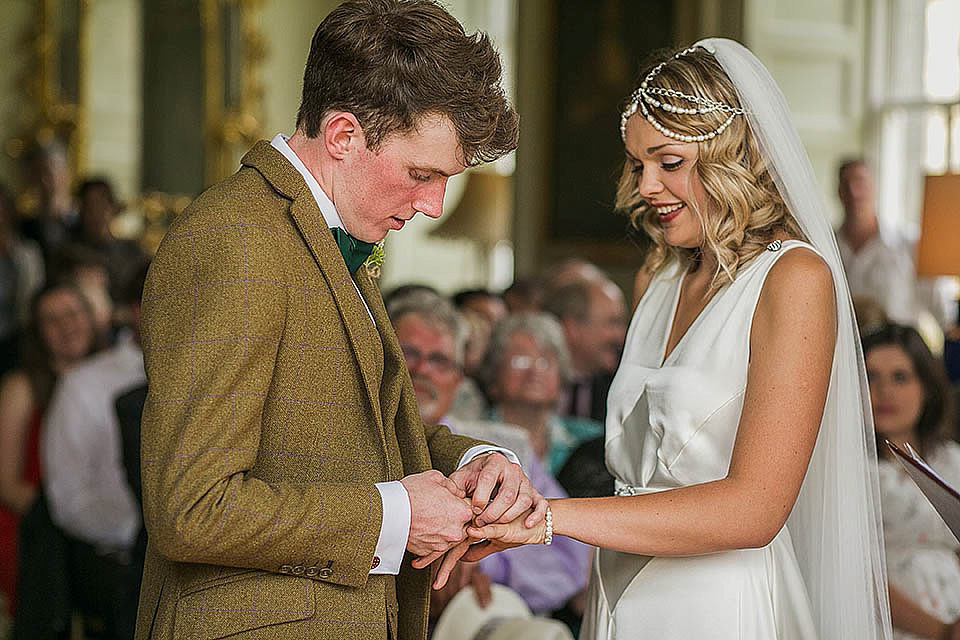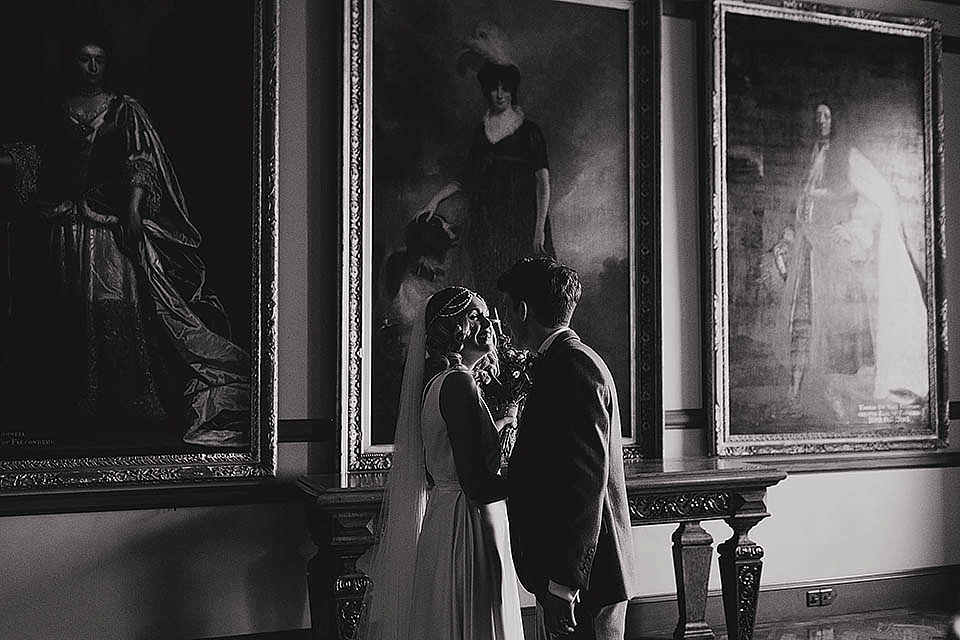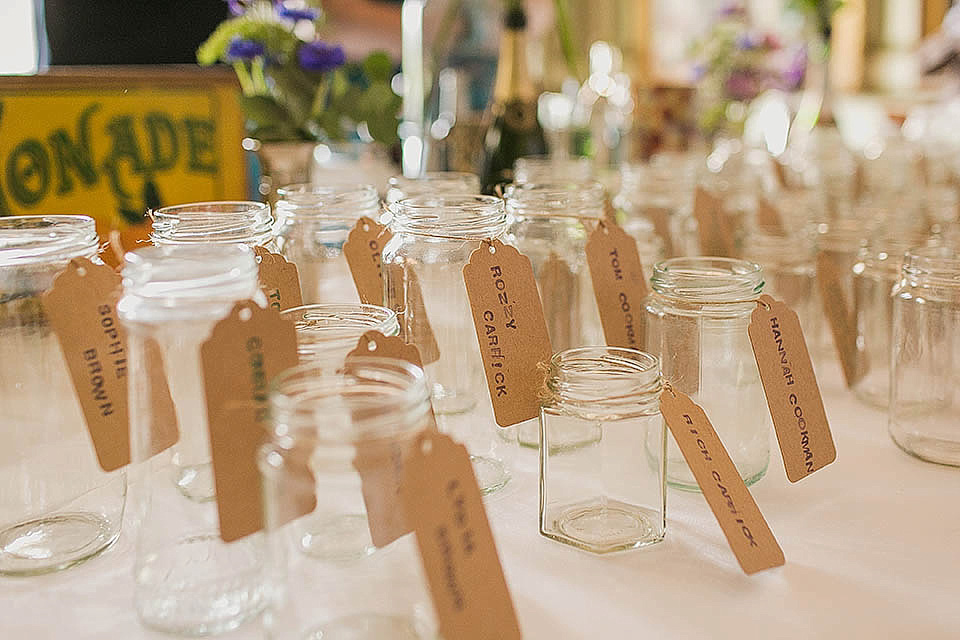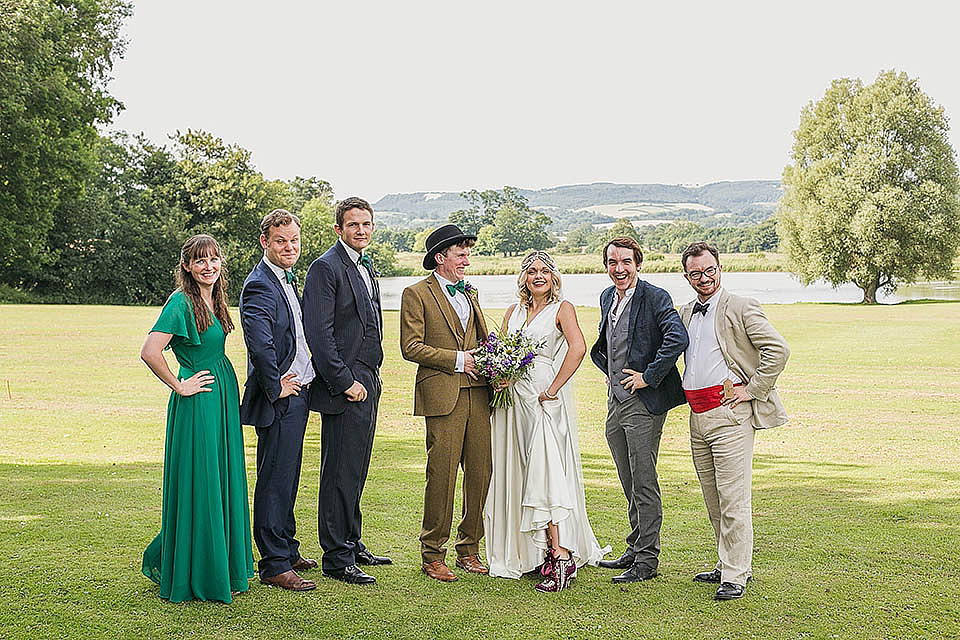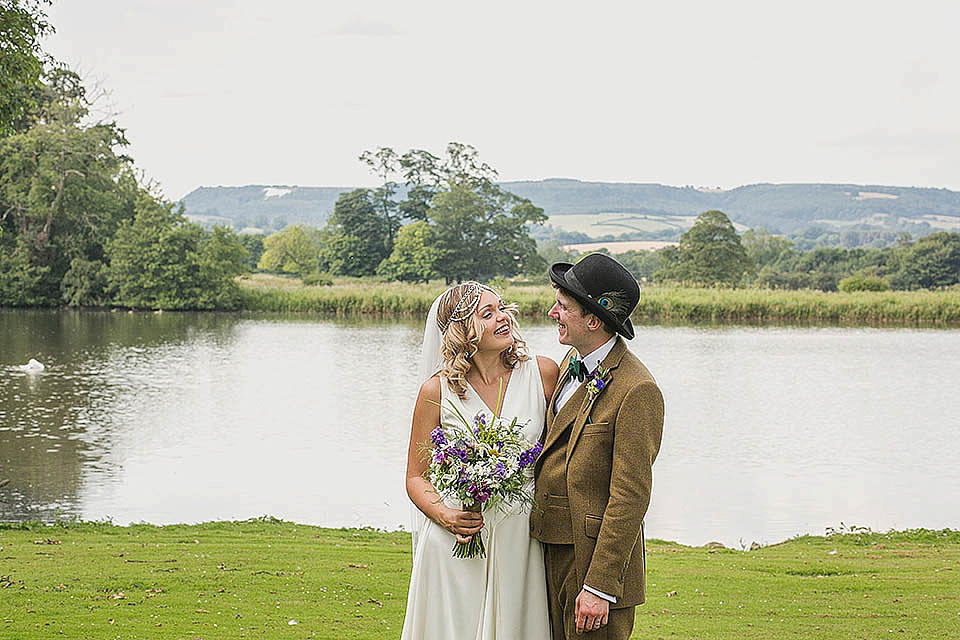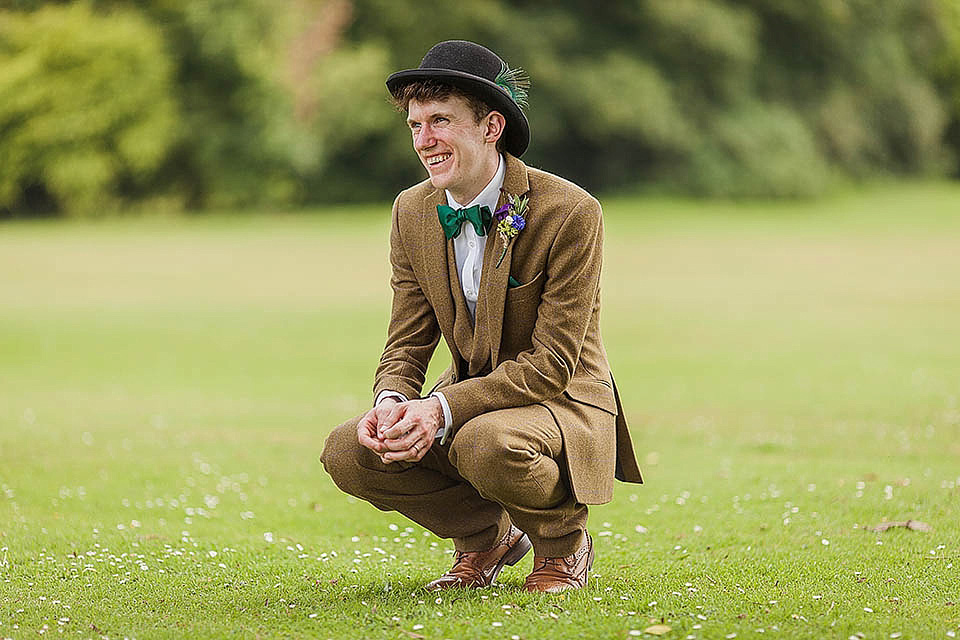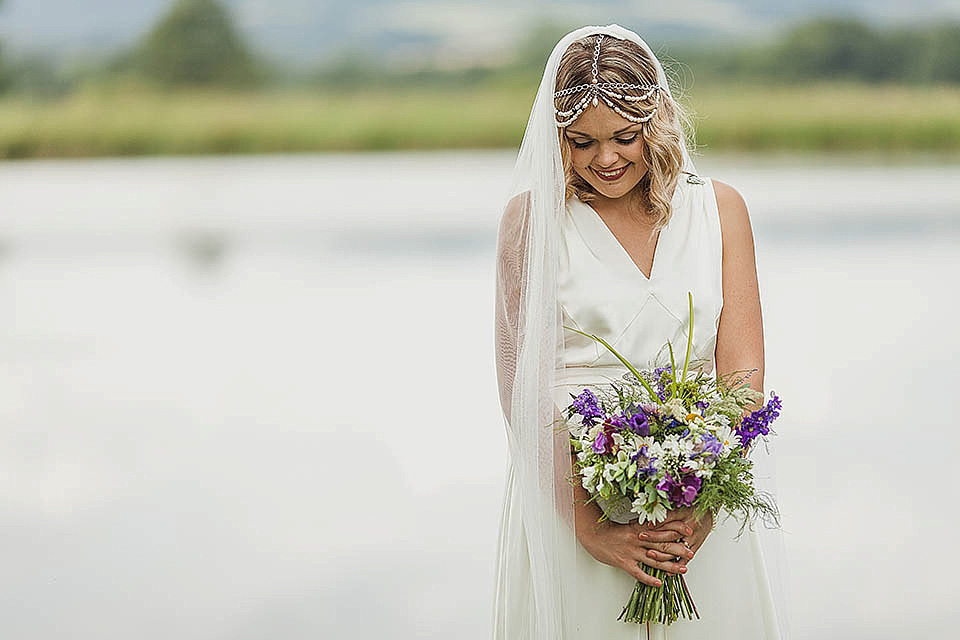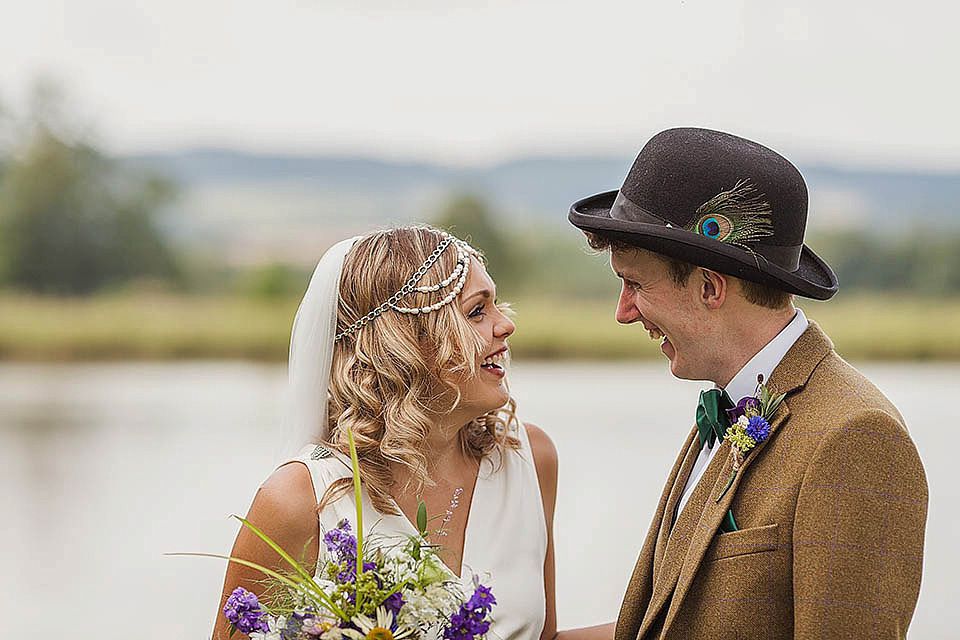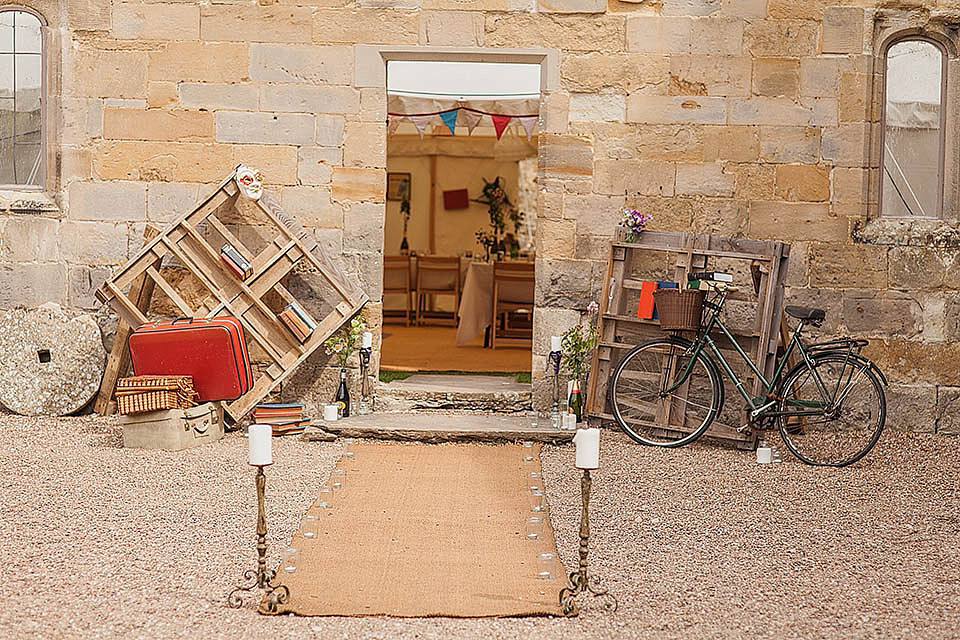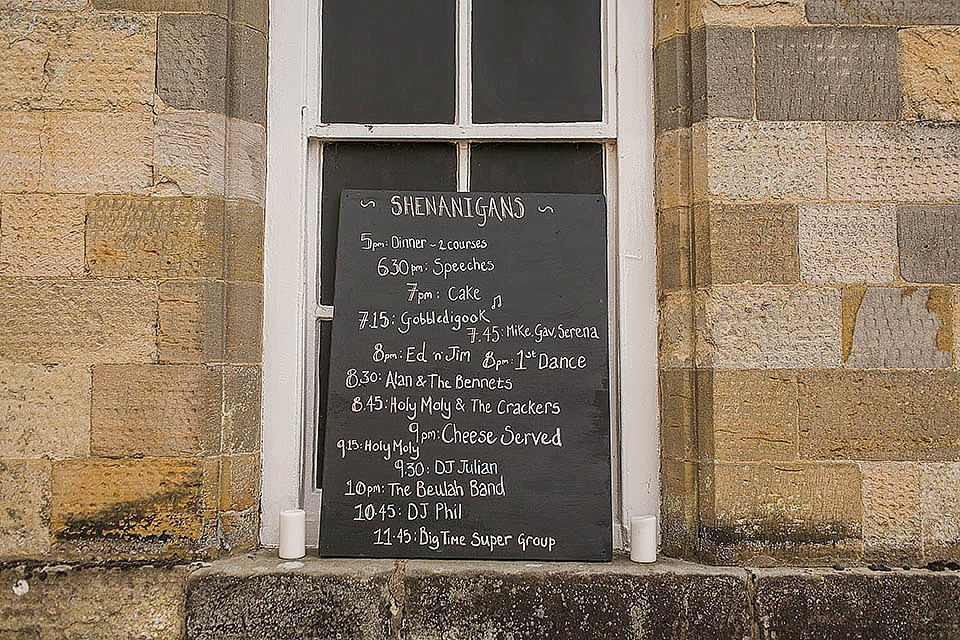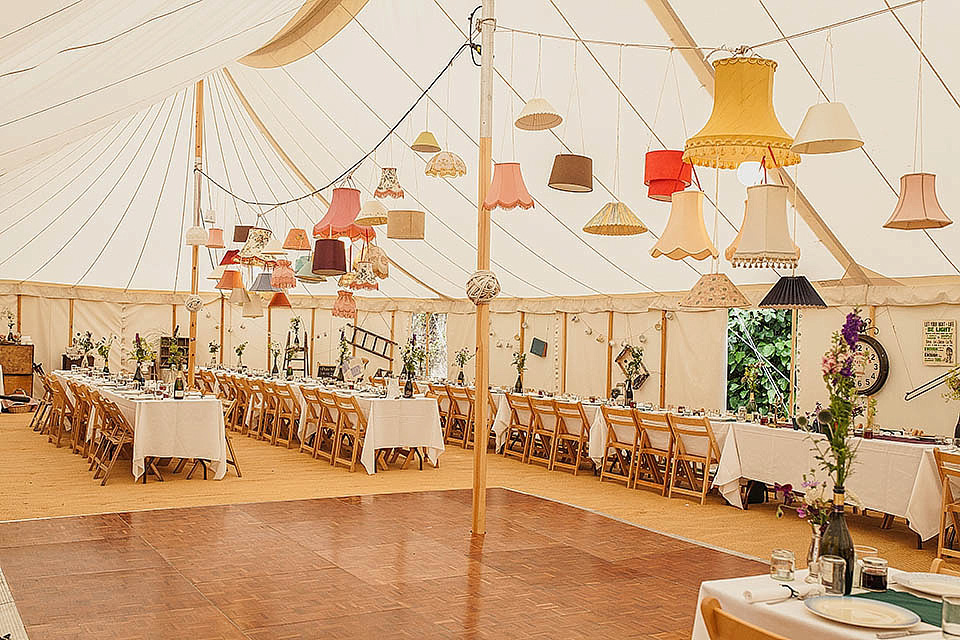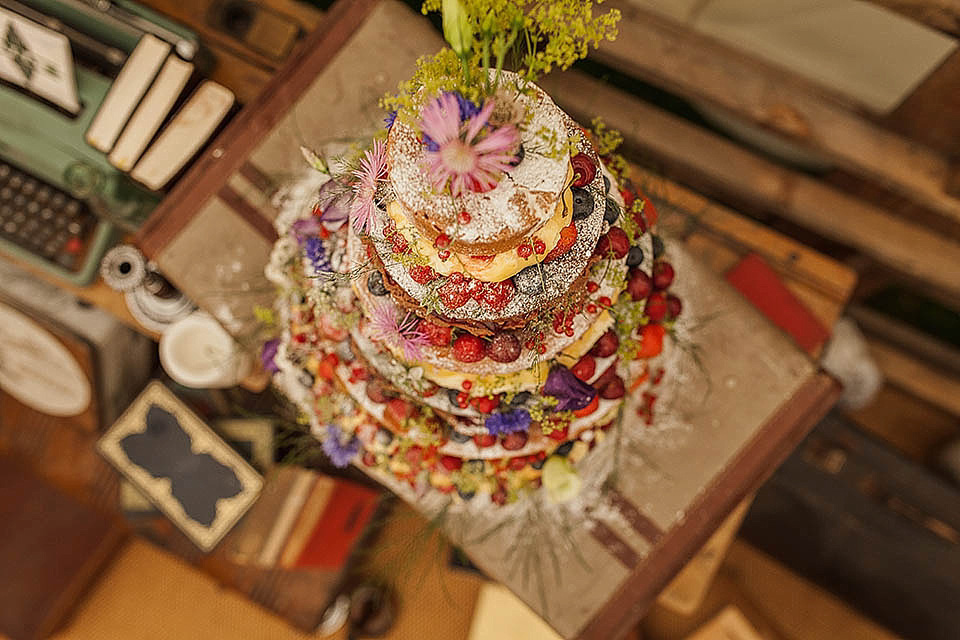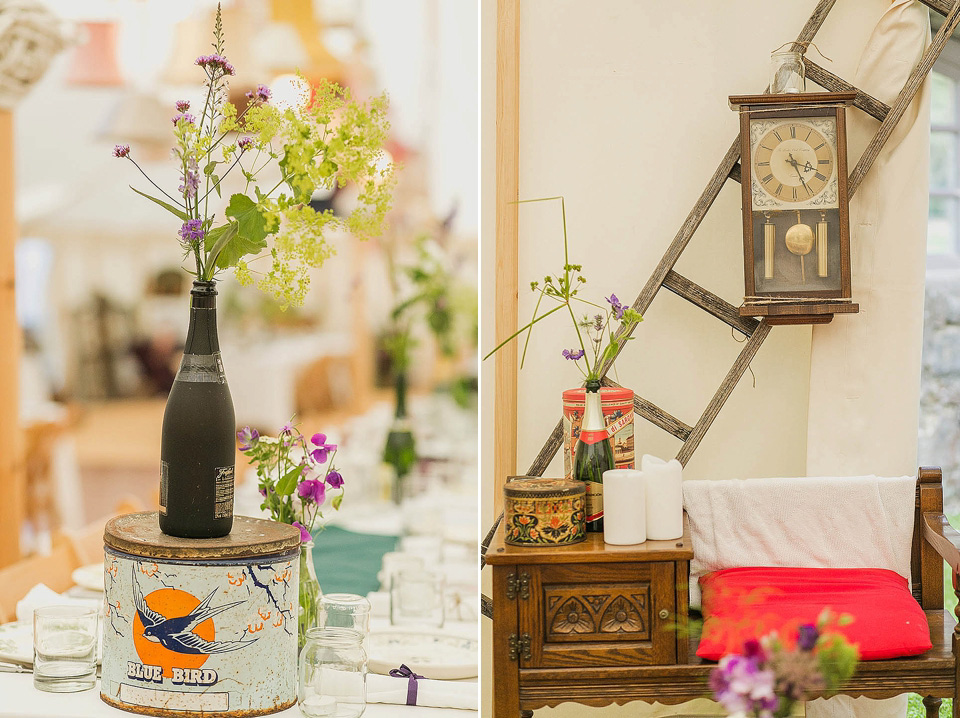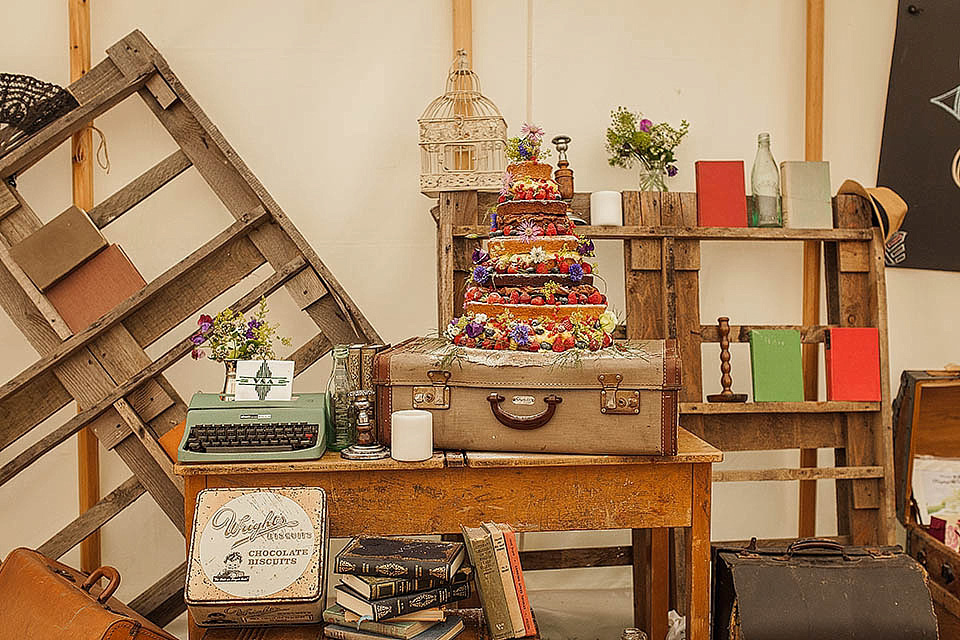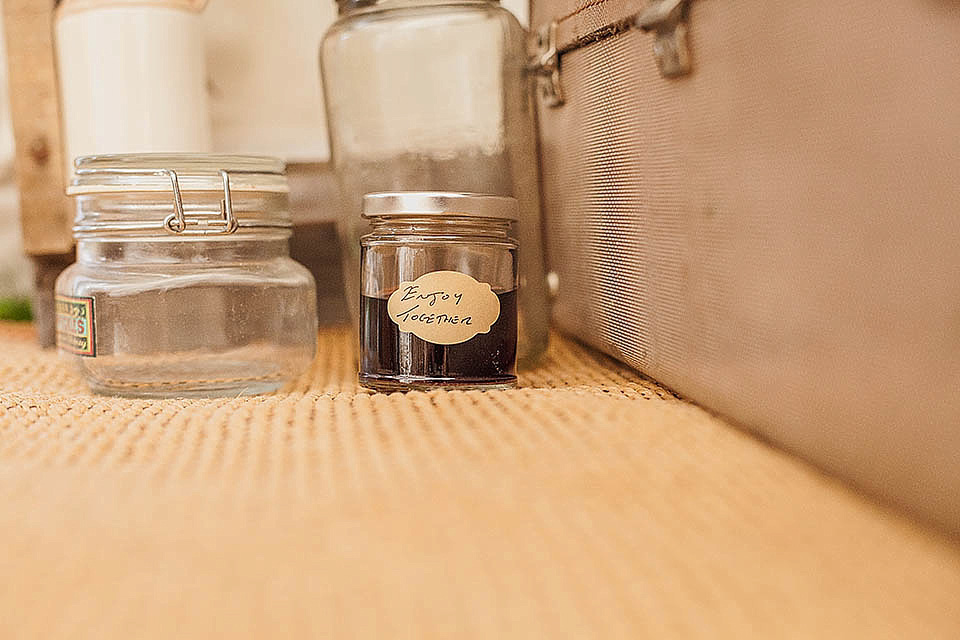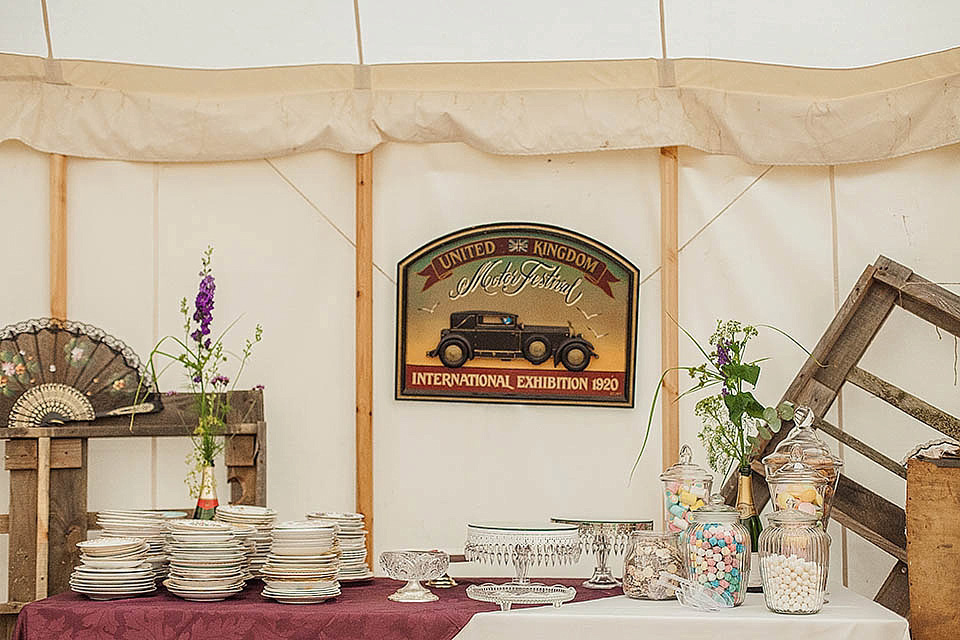 Catering was provided by their favourite local pub, The Durham Ox, while the five tiered, fruit –and-flower-adorned cake was created by Alexander's sister Abbi, who runs a baking company called 'Uppleby Cakes'.
 "We had some friends make some cherry brandy for us, which we provided on the tables in jars. We also had a sweet buffet, the sweets provided by our local sweet shop, Sugar Mouse."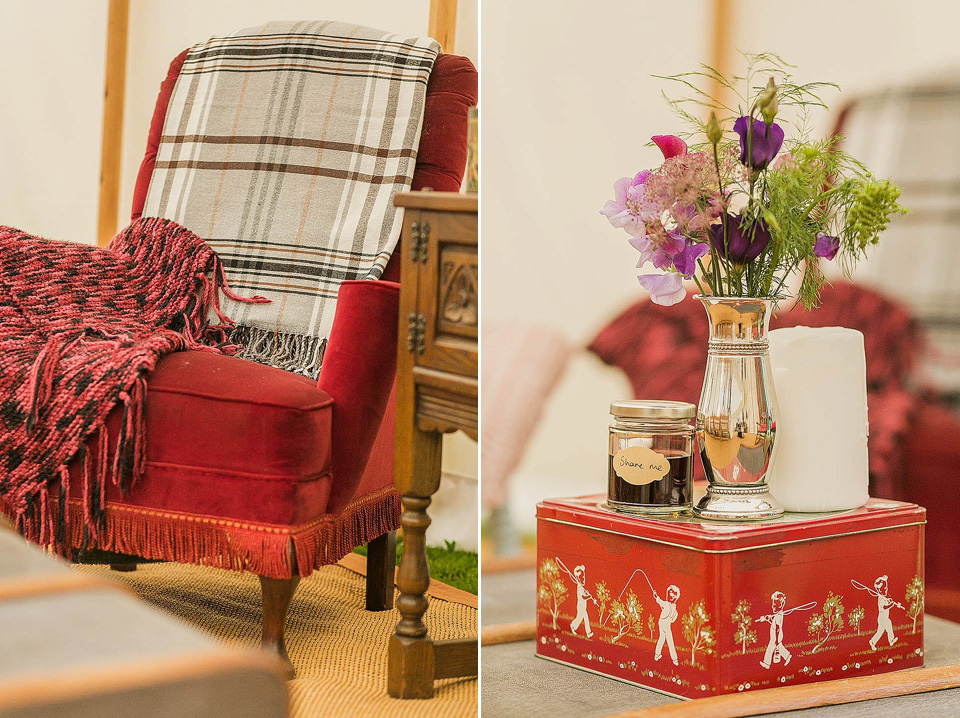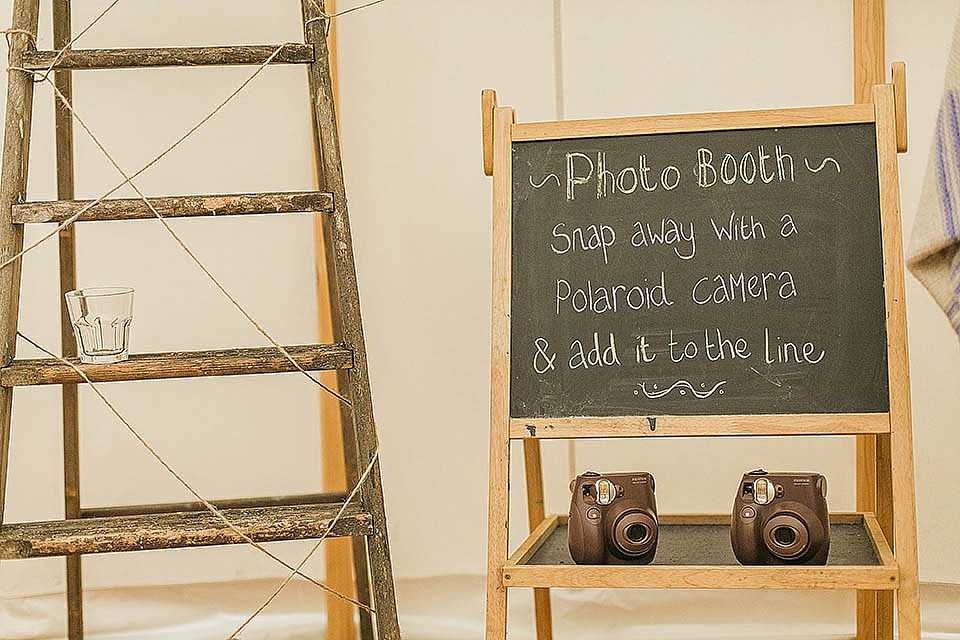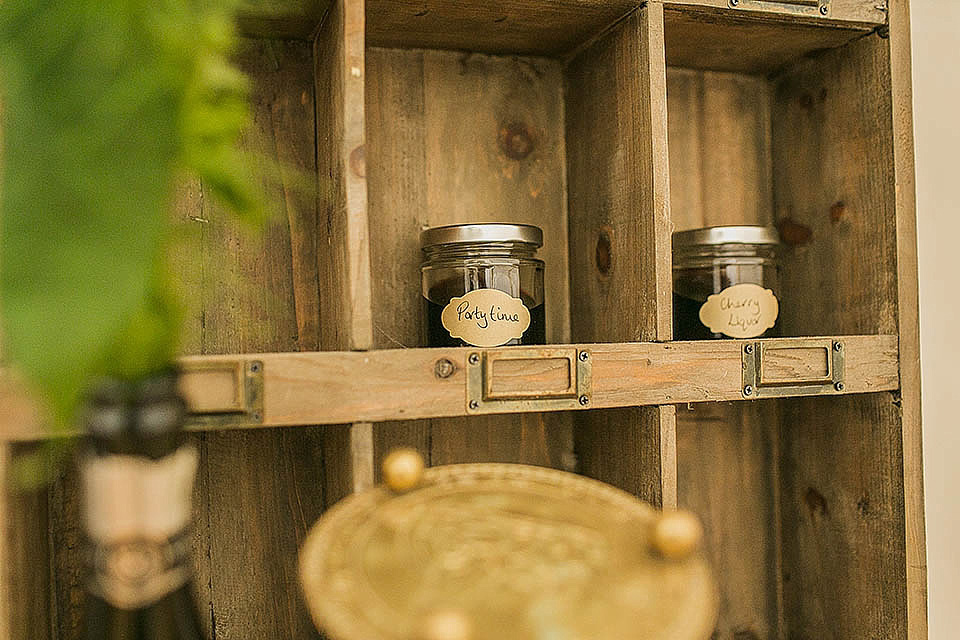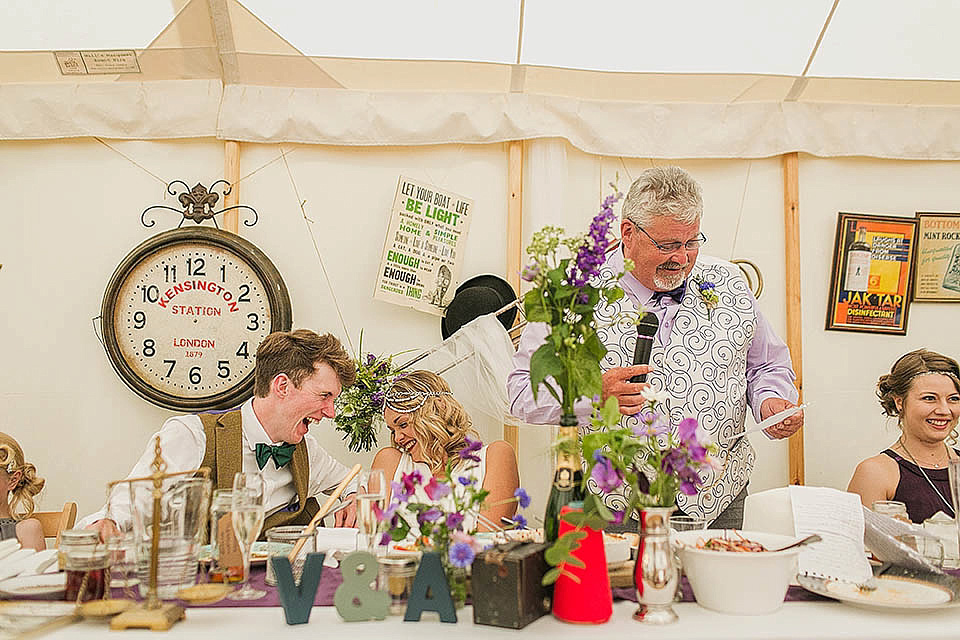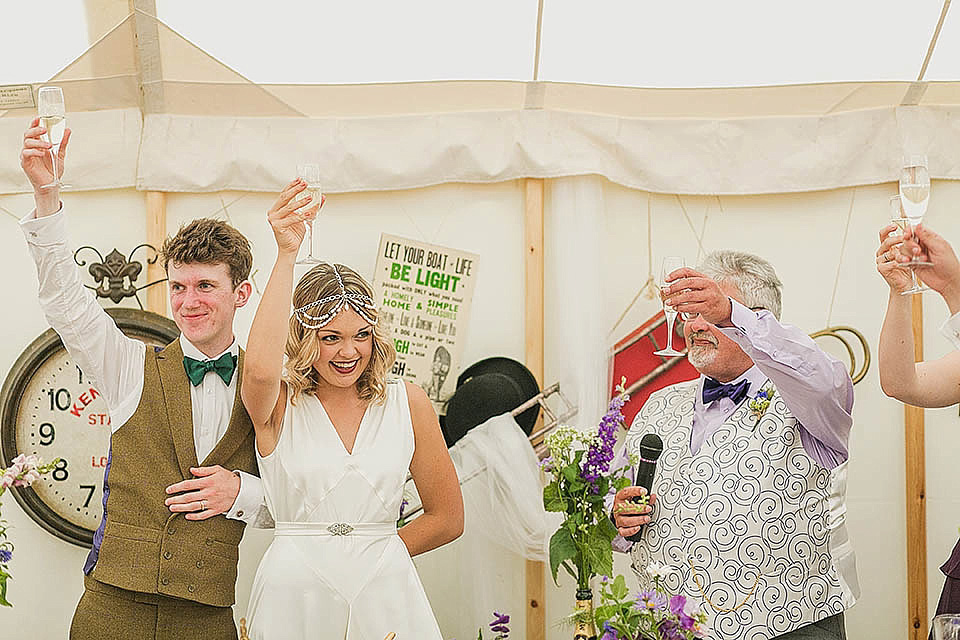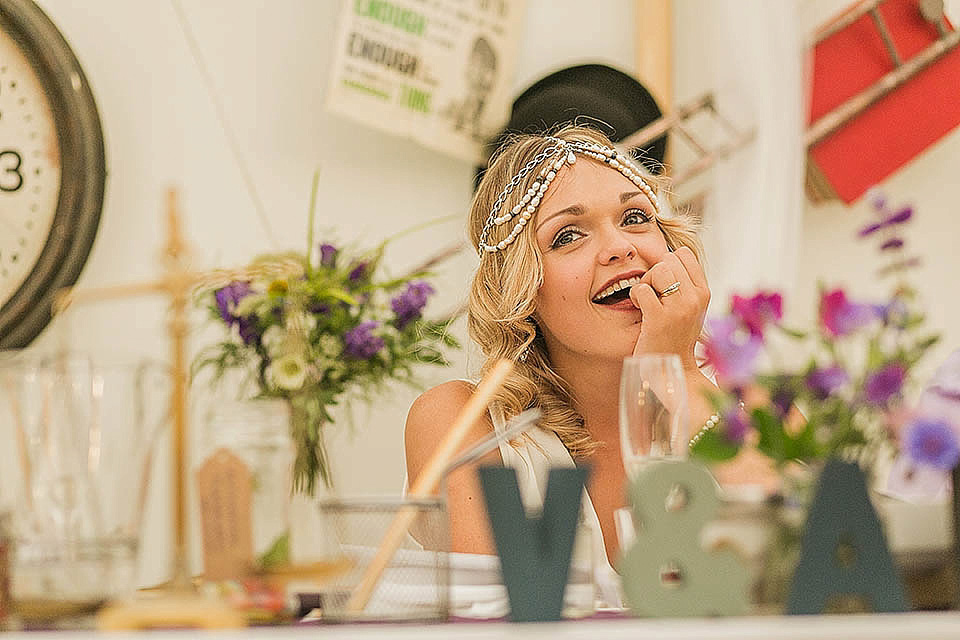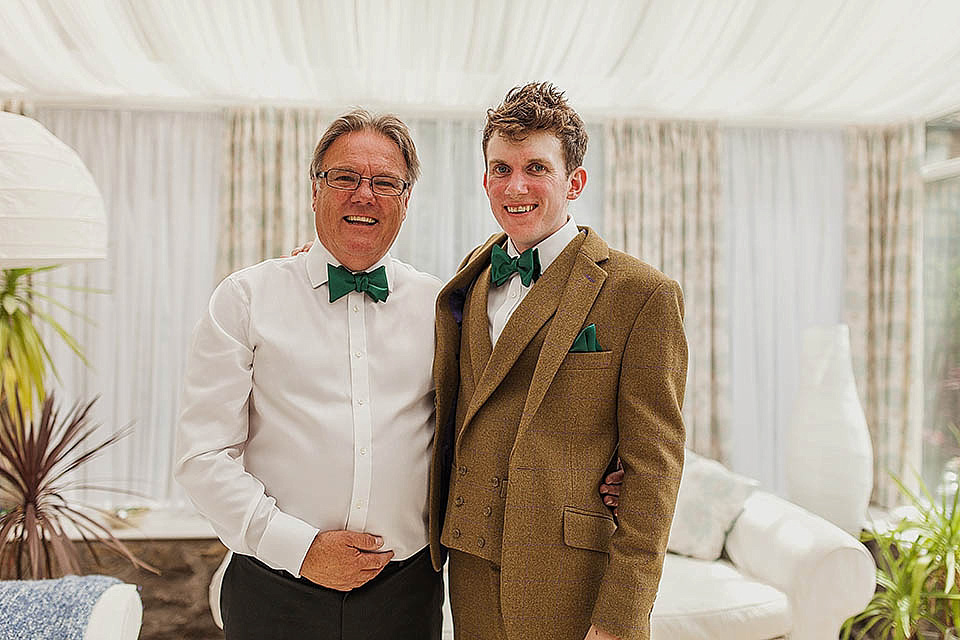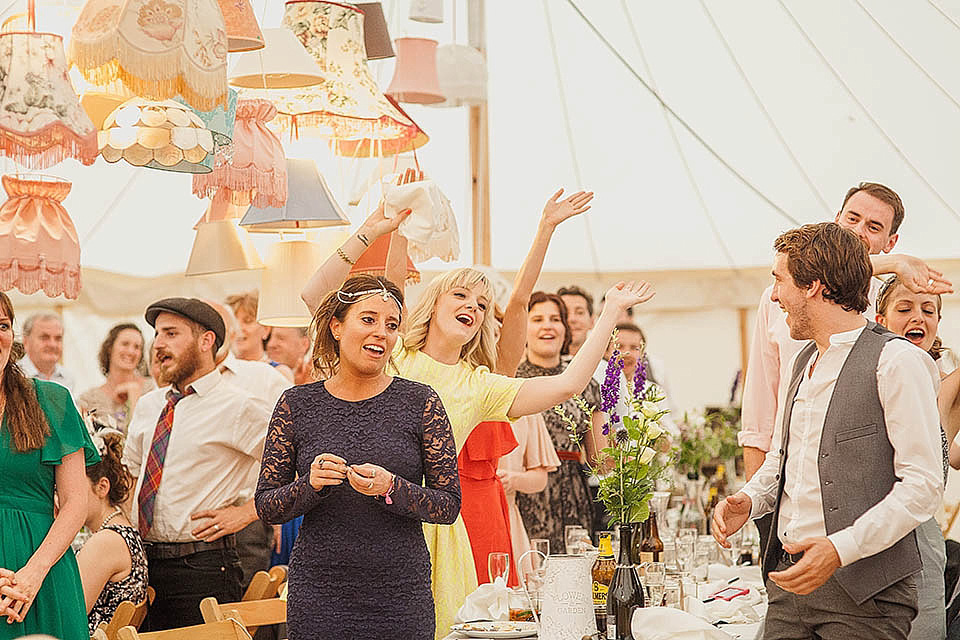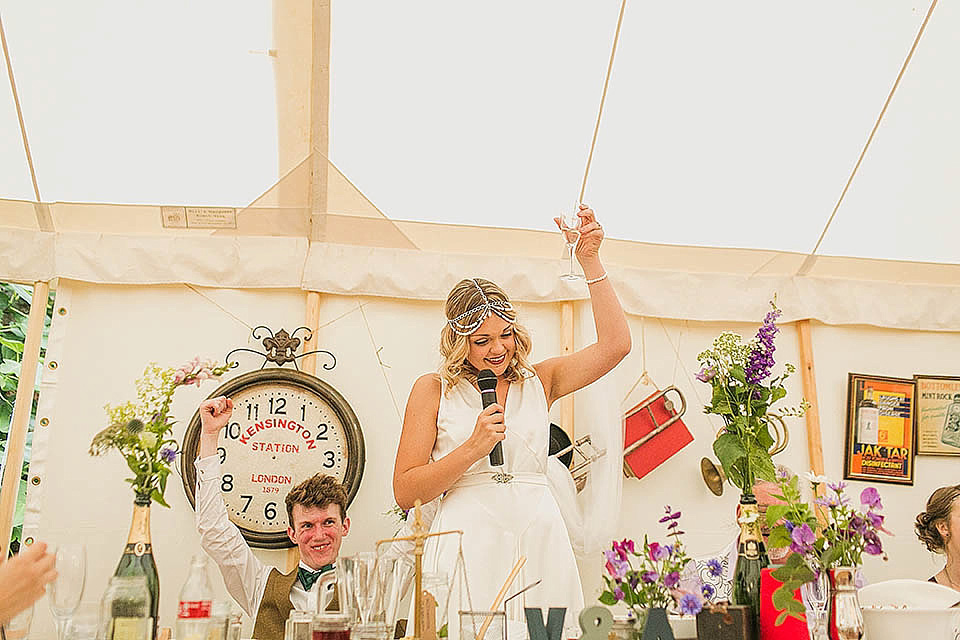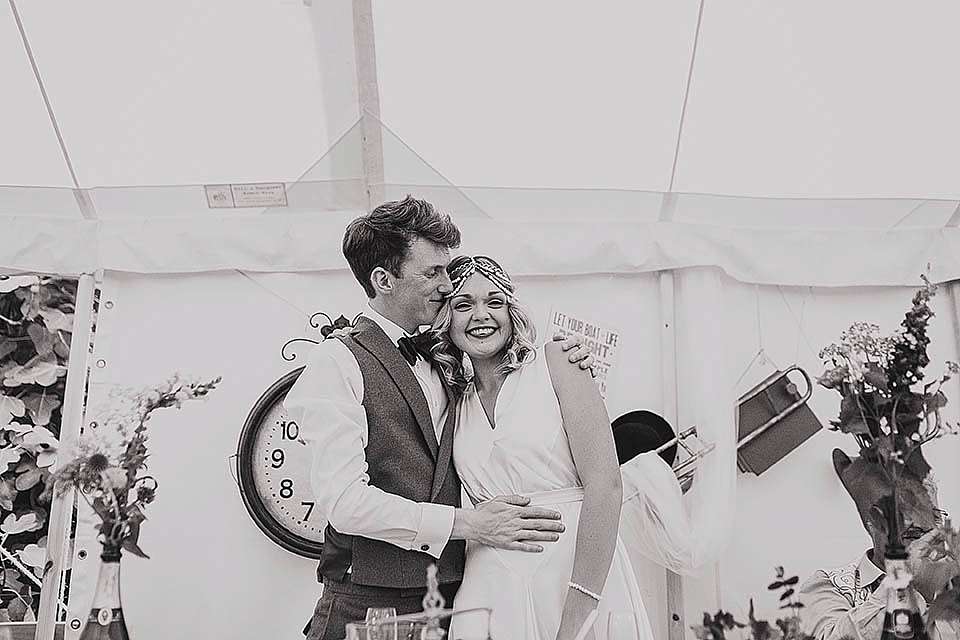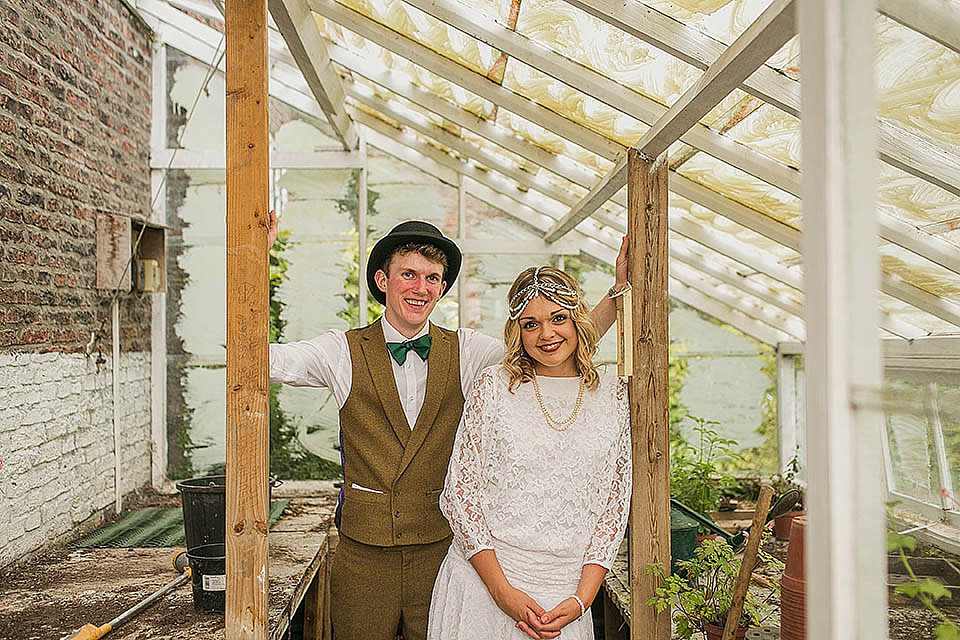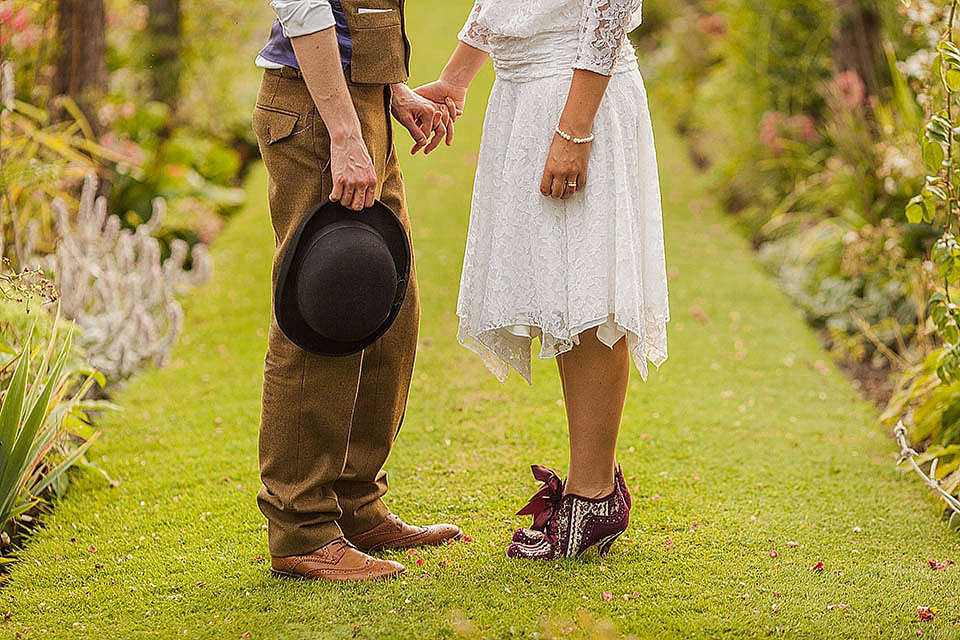 As I hinted at earlier, Veronica and Alexander chose something a bit different for their first performance as husband and wife, which I just love- play to your strengths and do what suits you best!
 "Alexander and I didn't want to dance a first dance, so instead we sang a first song. We sang 'Falling Slowly' from the musical 'Once'. We wanted to do something a bit different and in lieu of being able to dance some amazing dance, we decided to sing – something we could both actually do!"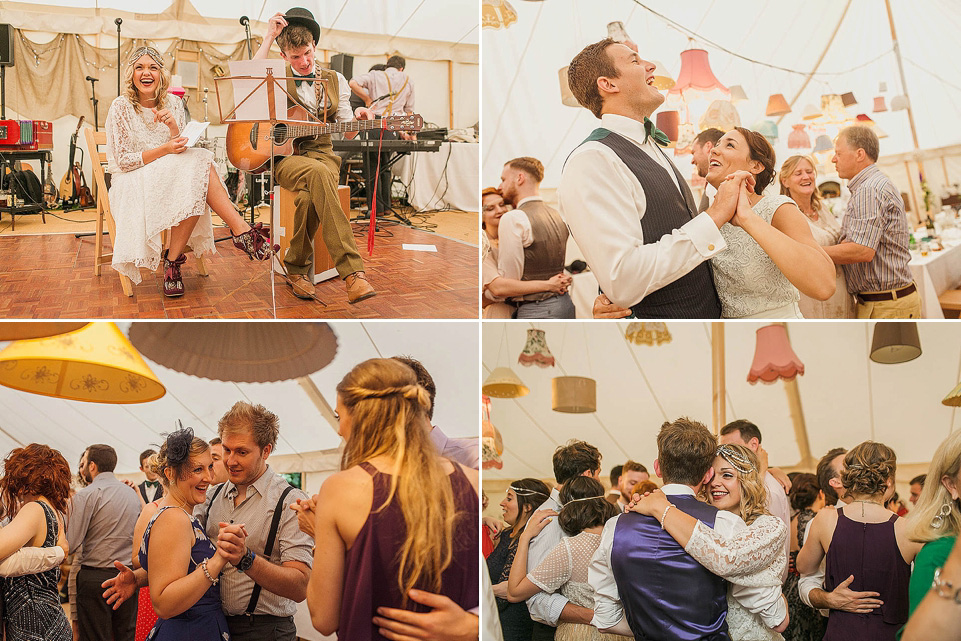 The musical talent of their friends and family was also responsible for Veronica's very favourite part of the day; a group rendition of Elbow's 'One Day Like This.
"At the end of the night everyone that had performed during the day got up for one final group song, which everyone that had survived until the end stayed to sing and dance along to. It felt utterly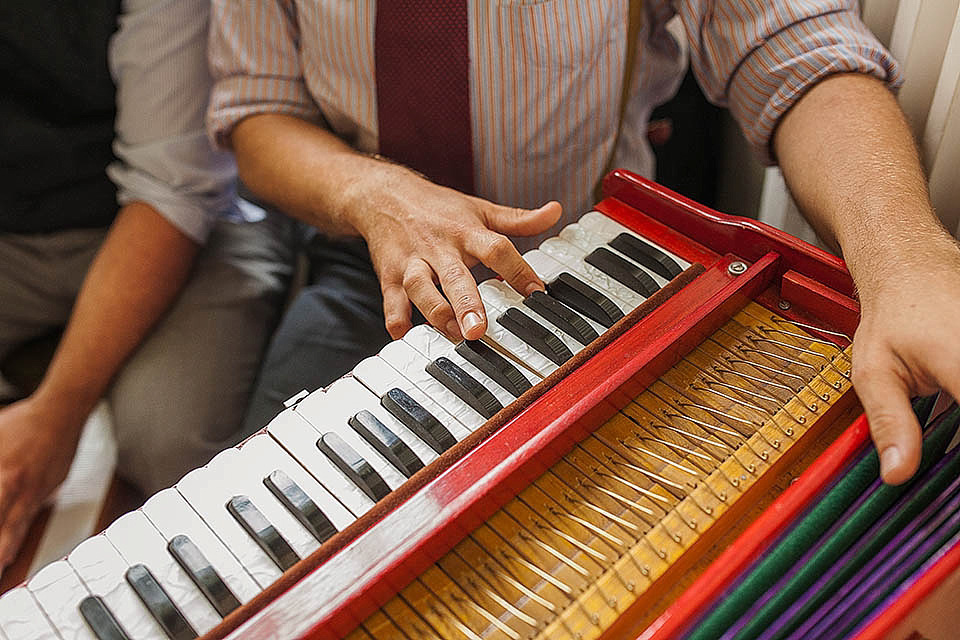 Music certainly played an important role in this wedding, from the songs and readings during the ceremony, to the plethora of performances that took place throughout the evening!
"Across the day and night we probably had about 20 people perform at different points. Having lots of live music was really important to us, partly to showcase our amazing friends – but mostly so people could get merry and dance into the night."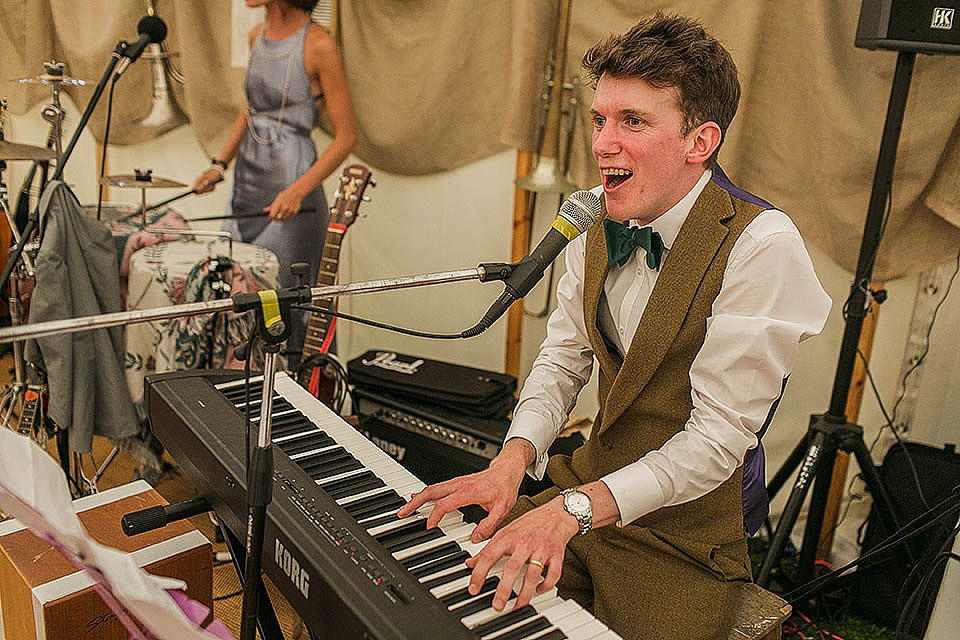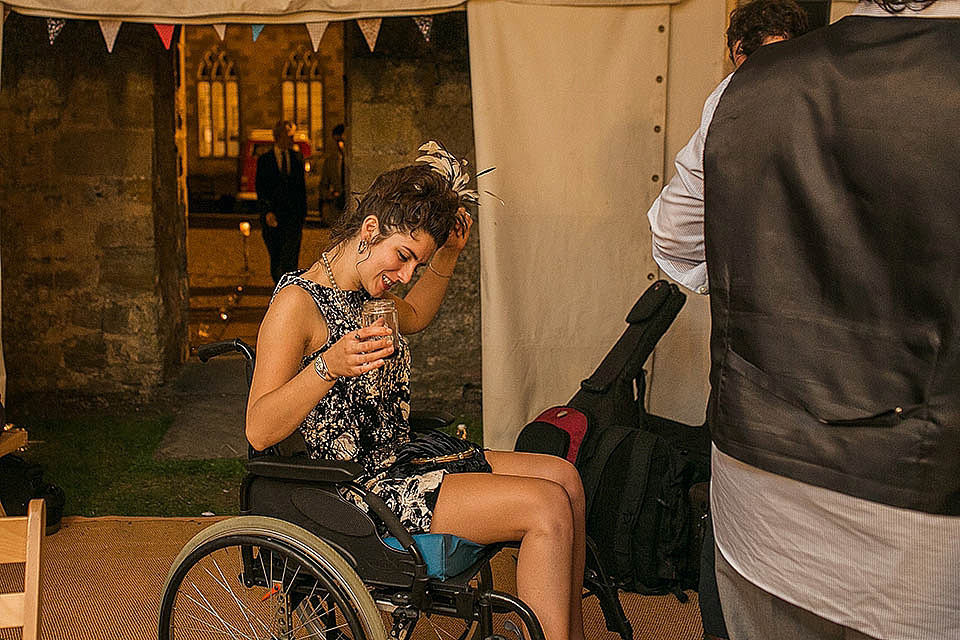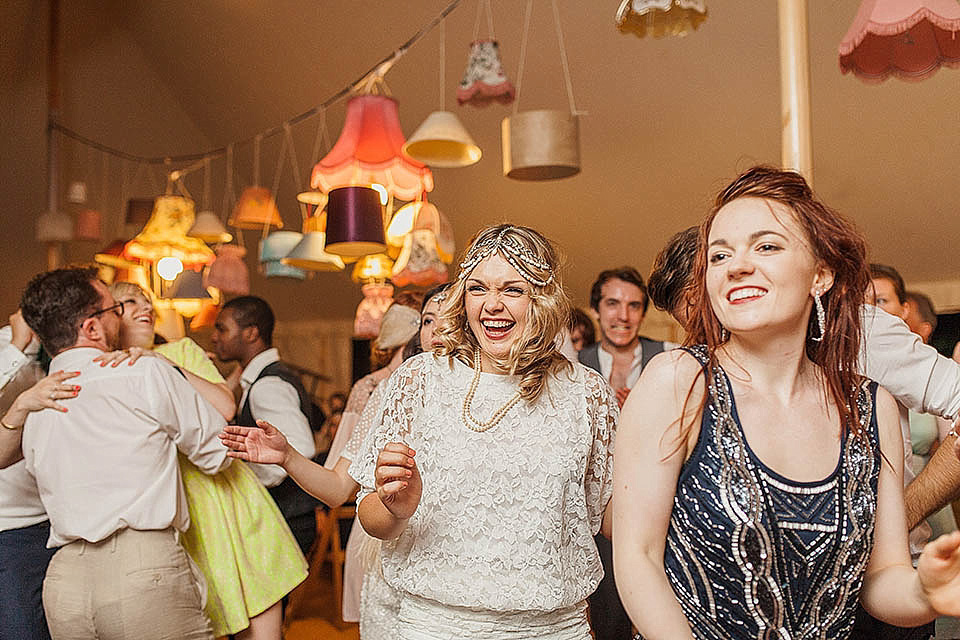 Words of wedded wisdom
"Have a flipping joyful time. Remember that it is as much about you celebrating your joy as it is for those who want to share in your joy. Think about how the day would be for everyone involved – from the babies to the grandparents. Most of all  do what you can to make sure everyone has a flipping joyful time.
As a bride, my main interests were finding ideas of things to entertain guests – the more of that, the better!"
An enormous thank you to Paul Joseph Photography for allowing us to use these gorgeously detailed images today.  Has anyone else had an alternative first dance?  Such talent and so many happy faces.  I love the cheeky grins, wonderful detail and the fun and laughter throughout.  I think it says it all that Veronica told us she wouldn't change a thing, as she enjoyed every moment so much!  Huge congratulations Veronica and Alexander!
With love,
Shona x
Photography – Paul Joseph Photography
Venue – Newburgh Priory, North Yorkshire
Dresses + Veil – Glory Days Vintage, York
Bride's shoes – Irregular Choice
Bride's hair accessories- Etsy
Flowers – The Plantsmiths
Cake- Uppleby Cakes
Catering – The Durham Ox
Sweet Buffet – Sugar Mouse
Perfume – Chanel's 'Chance'
Bridesmaid's dresses – TK Maxx
Pageboys outfits – Next
Hair and Make-up Artist –  Aimee Long
Stationery – Artcadia