Hello! I do hope you're having a good week so far. I really enjoyed composing this feature for Love My Dress – I know it's likely to inspire many of our readers who appreciate elegant art deco and 1930's glamour inspired style – the bride looks out of this world with her marcel waves and splash of red lipstick – a Love My Dress bride through and through.
Weddings are about looking ahead and making a commitment for the future, but it's really special when a couple also chooses to celebrate their past, and pay tribute to their families.  Lauren and Ian, who got married at in October last year at Royal Botanic Gardens at London's Kew Gardens,  celebrated with  with an elegant and art deco inspired day, that was filled with little touches that celebrated their heritage.
"Our wedding was a lot about mixing our families and heritage and so we included some English and American traditions and food.  There were touches of art deco throughout – being a nod to America, along with the music and late night food.  The seated dinner, the signature cocktails (Pimms martini and Silver Bullet), the ceremony music and the garden atmosphere were all very English. 
We chose Royal Botanic Gardens as our wedding venue because we went on our first date near here, and we both love the gardens."
Photography Copyright (c) 2015, Lily and Frank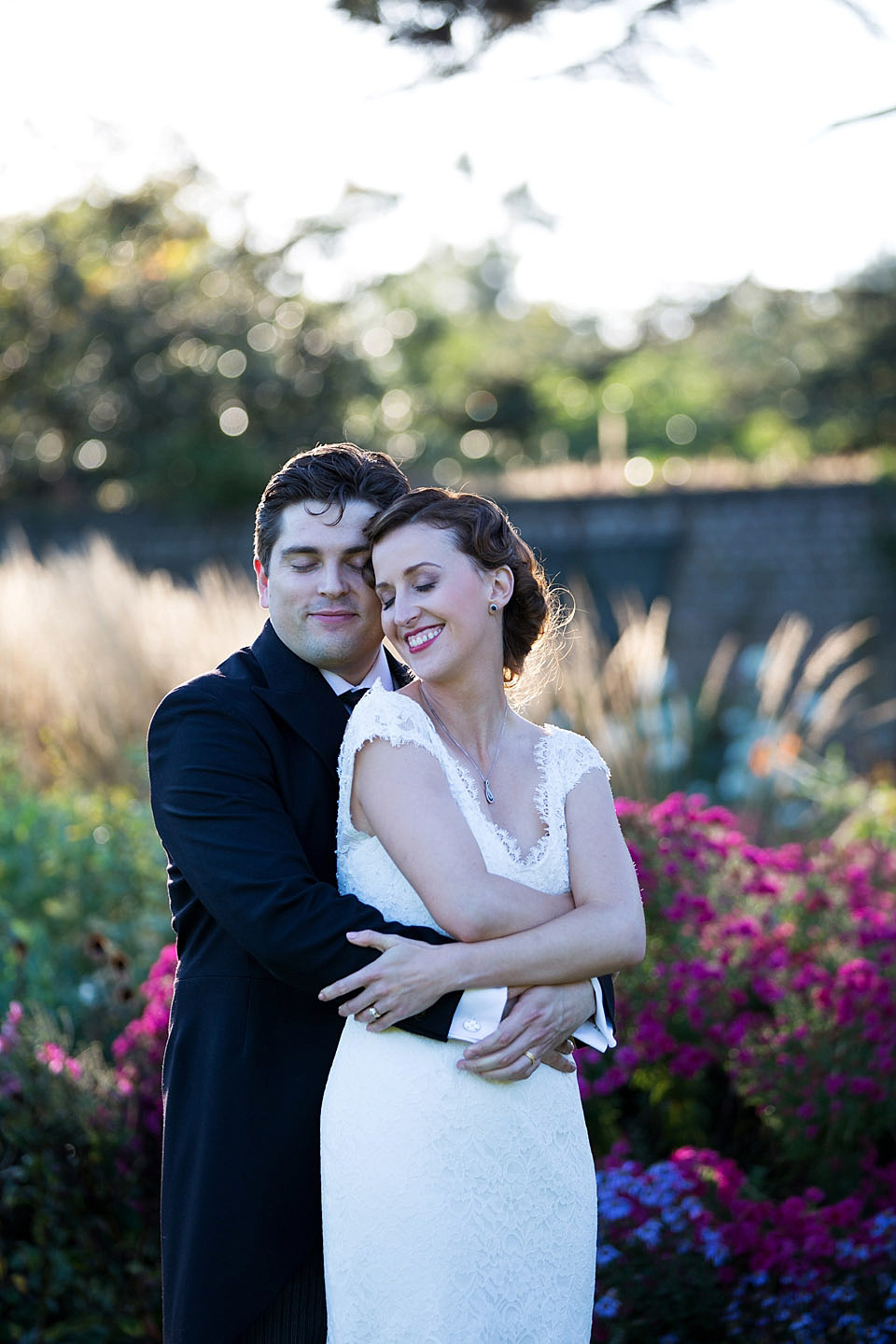 The cake by Sparkle Parties with its elegant art-deco accents was perfect for this elegant, era inspired celebration.
"Our cake was simple art deco design with sugar paste lilies. The thing I wanted most was an Earl Grey cake, and I was so pleased when they made it – Earl Grey and lavender. Something different." 
Lauren's beautiful lace dress is from Mikaella Bridal, bought from London Bridal Couture.
"It was the second dress I tried on, and I never got over it. I knew I wanted a low back, but there was something about the lace. It had a softness that suits me. I never wanted something overwhelming. I wanted something traditional and delicate. The cap sleeves and the back of the dress made it for me – I felt I came alive in that dress."
"The table flowers, supplied by The Urban Flower Firm, were inspired by paintings my mother did of my father's garden. It was a lovely tribute to their memory (I lost my parents almost ten years ago). The flowers for the ceremony and the groom and best man ties were Armstrong tartan, which is Ian's family tartan.
Kew Gardens is careful to only use ethical florists, and The Urban Flower Firm were fantastic. They had several meetings with us, and they worked from my mother's paintings. It was Ian's decision to do that, as a way to recognise and remember my parents. My father loved the garden I grew up in, and he always said that if we ever needed him we could go to the garden. My mother's paintings are one of the things I brought with me from America when I moved to England. They feel like her. They are up in our flat now, and the florists did a great job when some of the flowers weren't available, using the colours as a palette."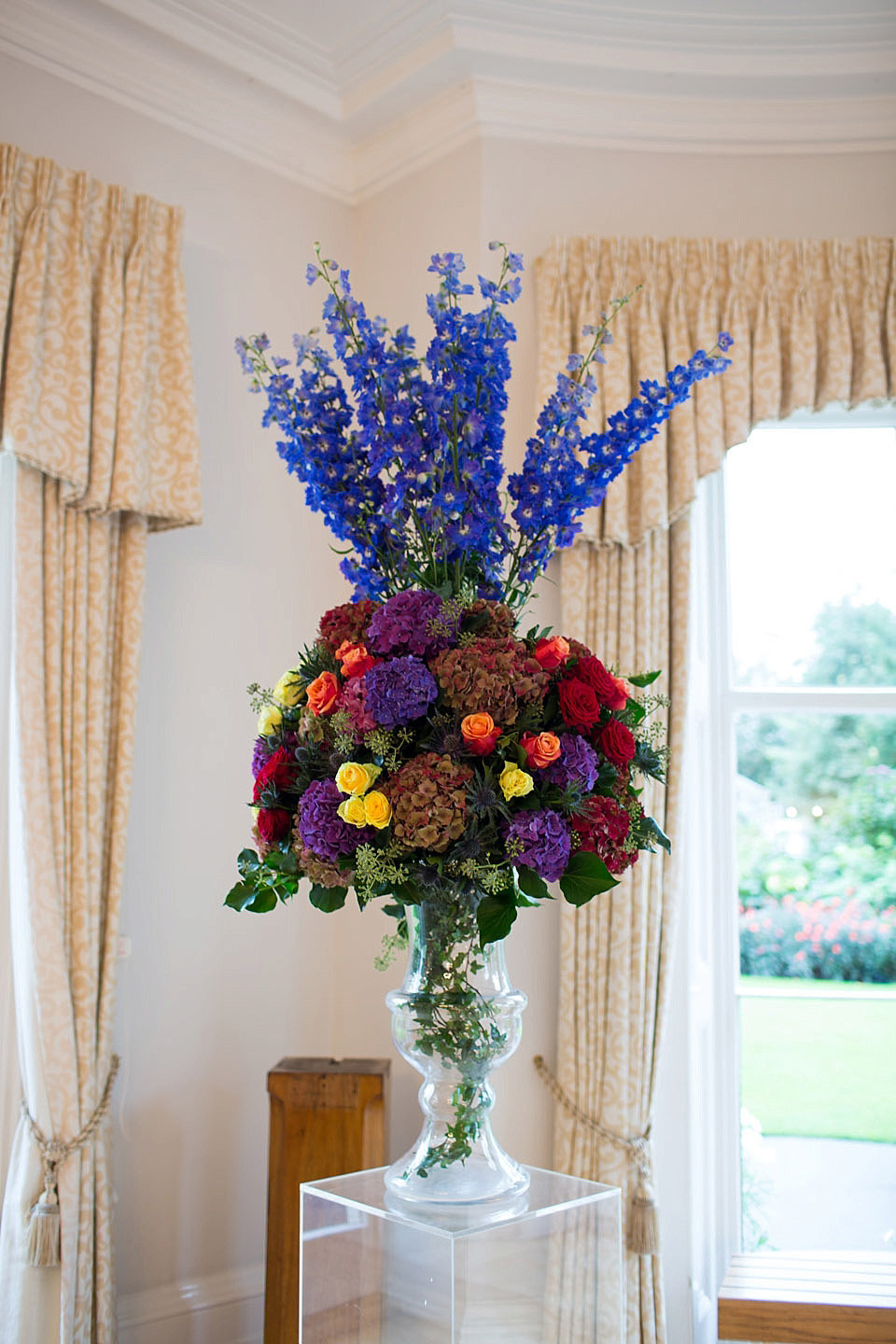 I love how Catherine from Lily and Frank always manages to capture so much fun and emotion in her pictures, this wedding is no exception.
"Catherine was amazing, and we constantly get compliments on her photographs. She got to know us and really captured us beautifully, but she also captured our friends just as they are. You can see so much personality in the photographs, and it was the personality that made the wedding. It was a very small wedding, so it was always about everyone we loved being there, and she captured them in a way that is hard to describe – you just look at the photo and think 'yup, that is tom!' We are so lucky to have her, she was incredible."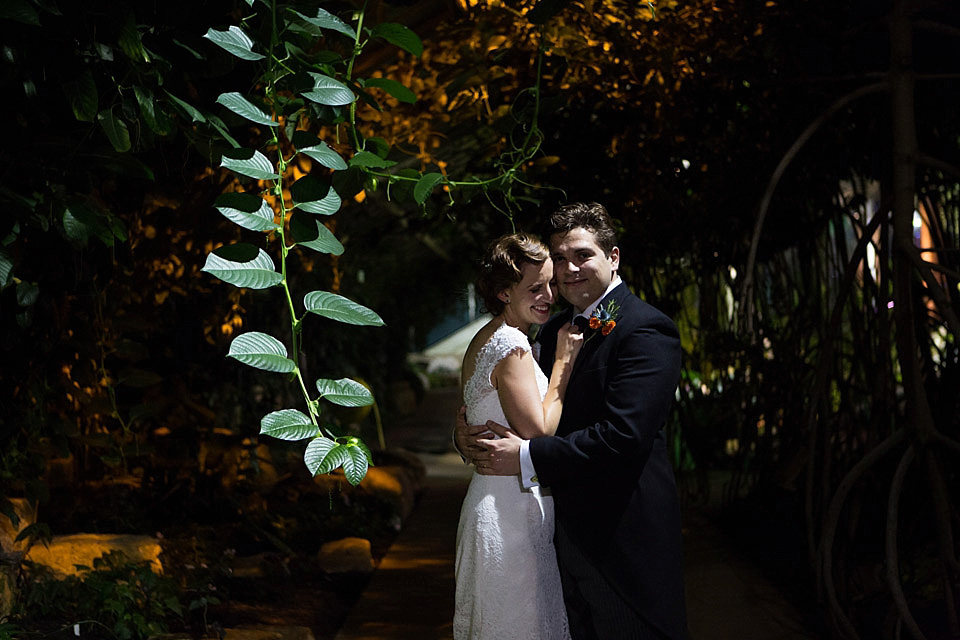 People always say weddings are a good place to meet your spouse. I've never actually met anyone who that's happened to, but it seems it is true!
"Ian and I met at a wedding – the groom from that wedding was Ian's best man. I had just met the bride and she graciously invited me to her wedding. Ian was the best man and I fell for him immediately.  We were together a few years before we got engaged. He proposed on my 27th birthday. Throughout the day he sent me 27 things he loved about me, and the 27th was asking me to marry him."
"Instead of a bouquet I walked down the aisle with a silver-beaded deco handbag that was passed down to me by my grandmother."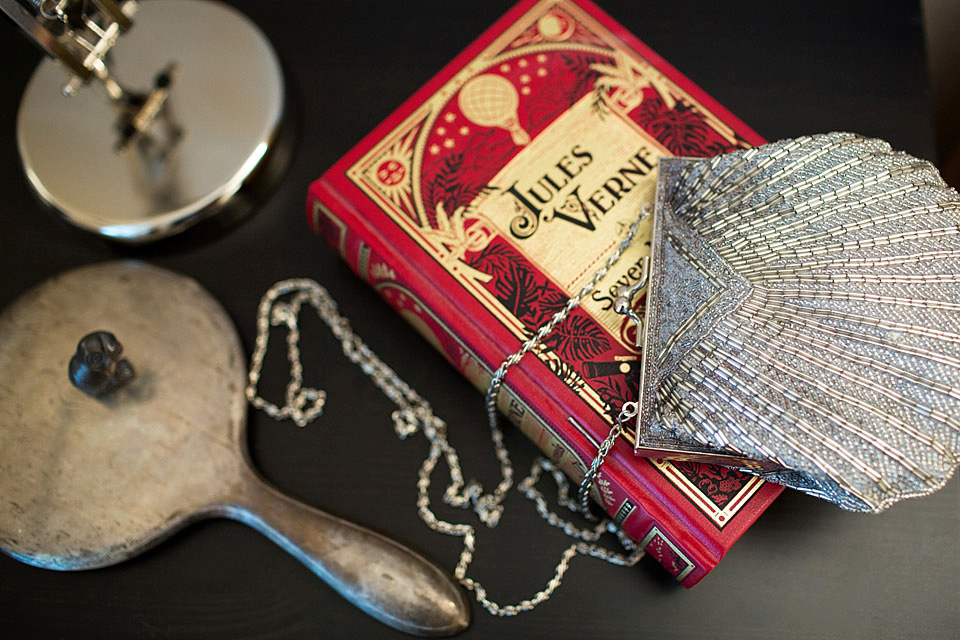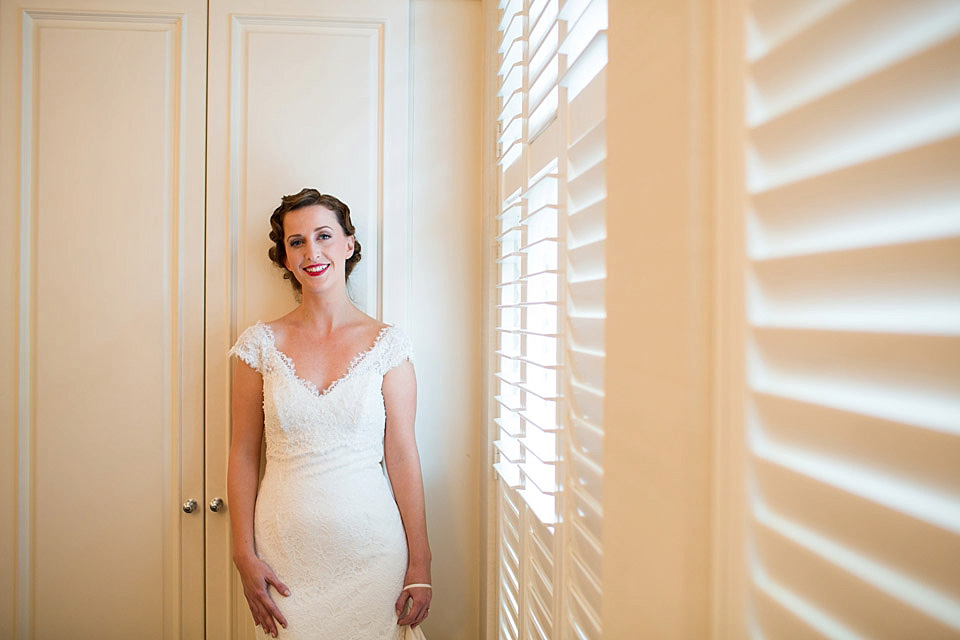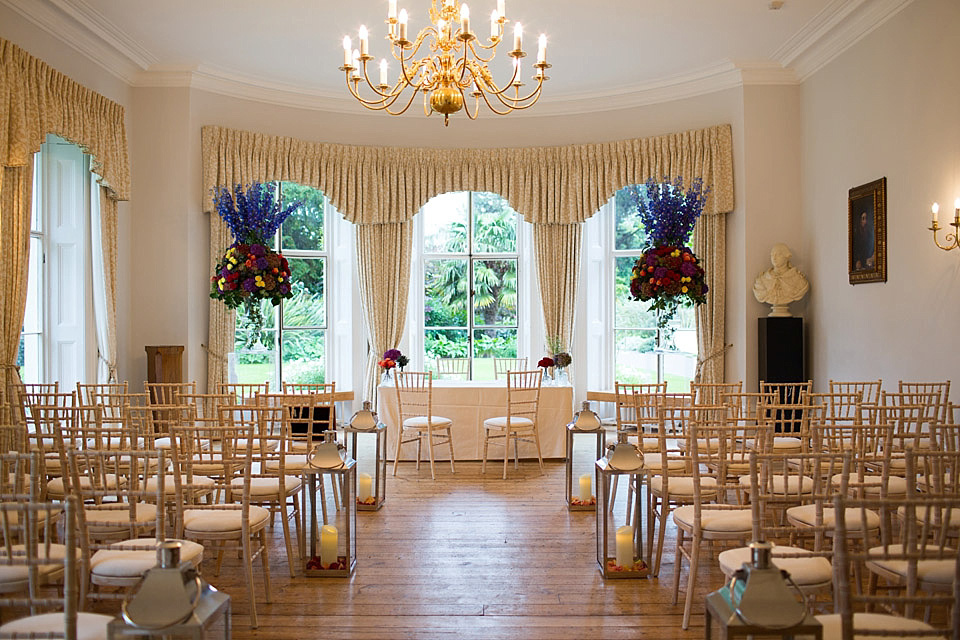 "The earrings I wore were my mother's – lovely sapphire with diamonds. They were my something old, and Ian's parents, as a wedding gift, bought me a matching sapphire and diamond pendant necklace. It was lovely to walk down the aisle with something from both sets of parents, and the way they compliment each other is reflective of life."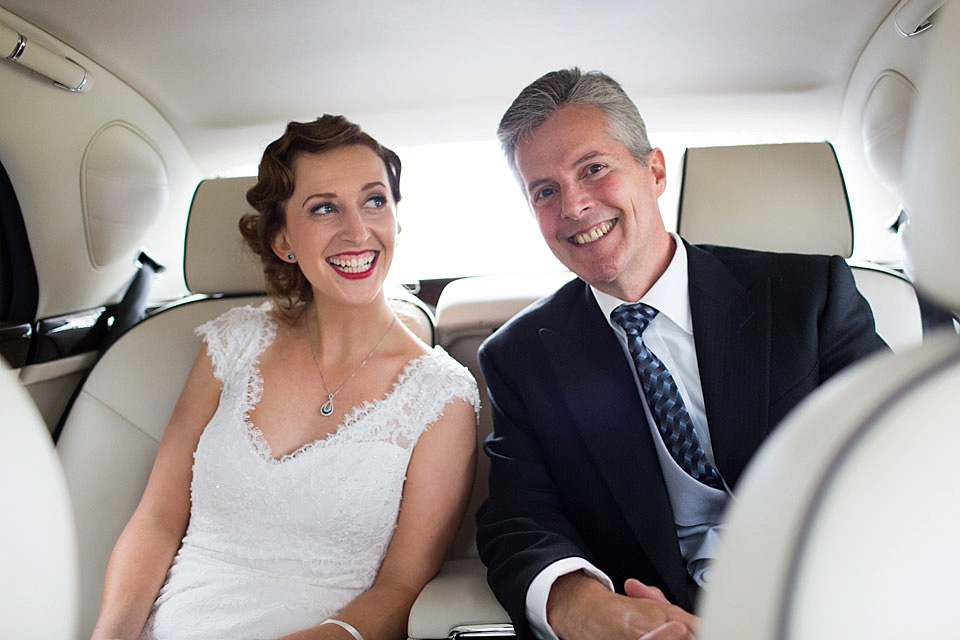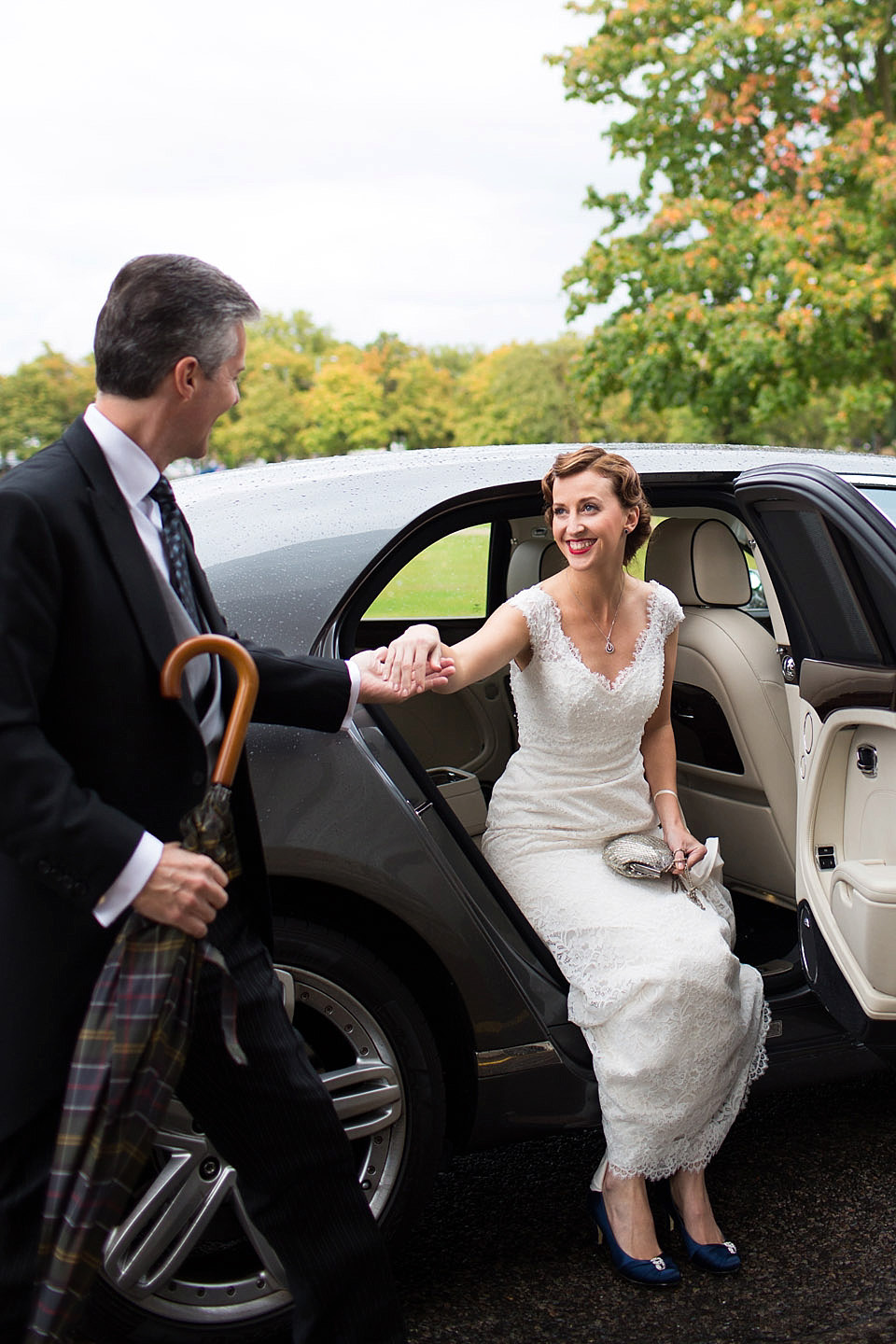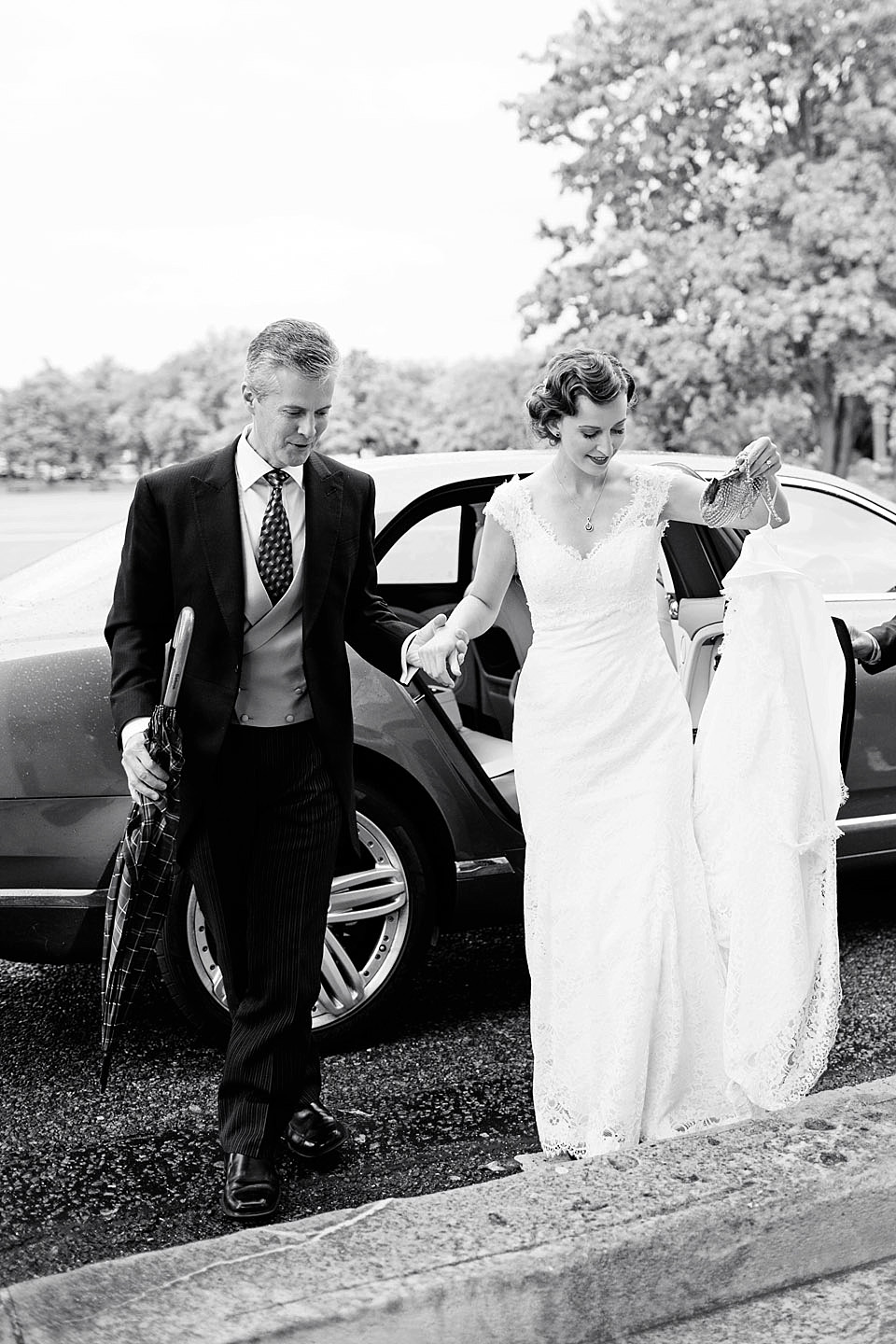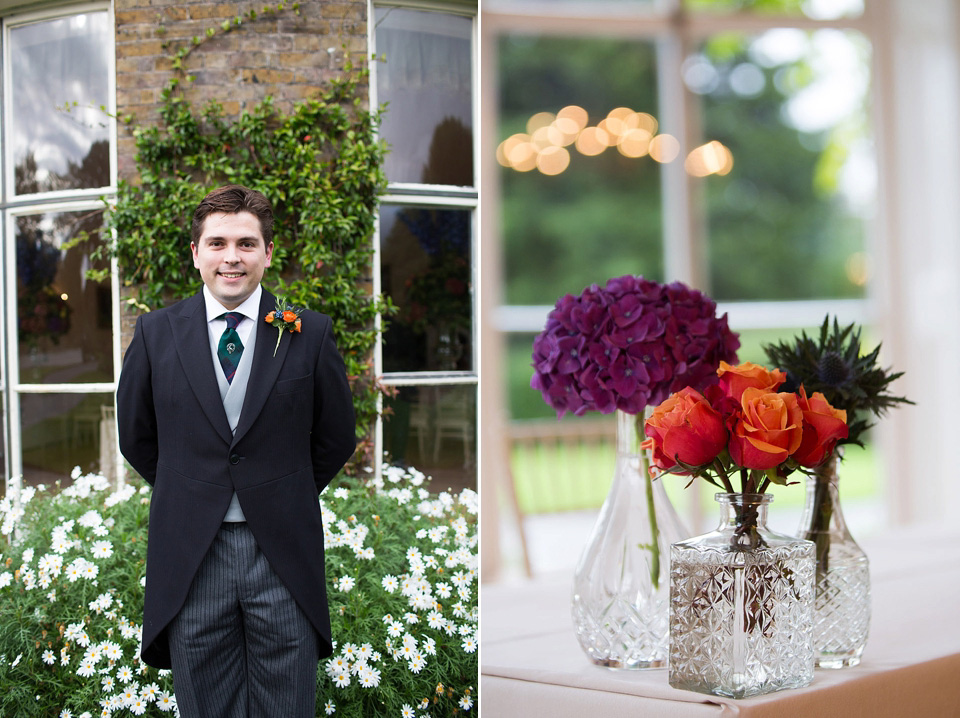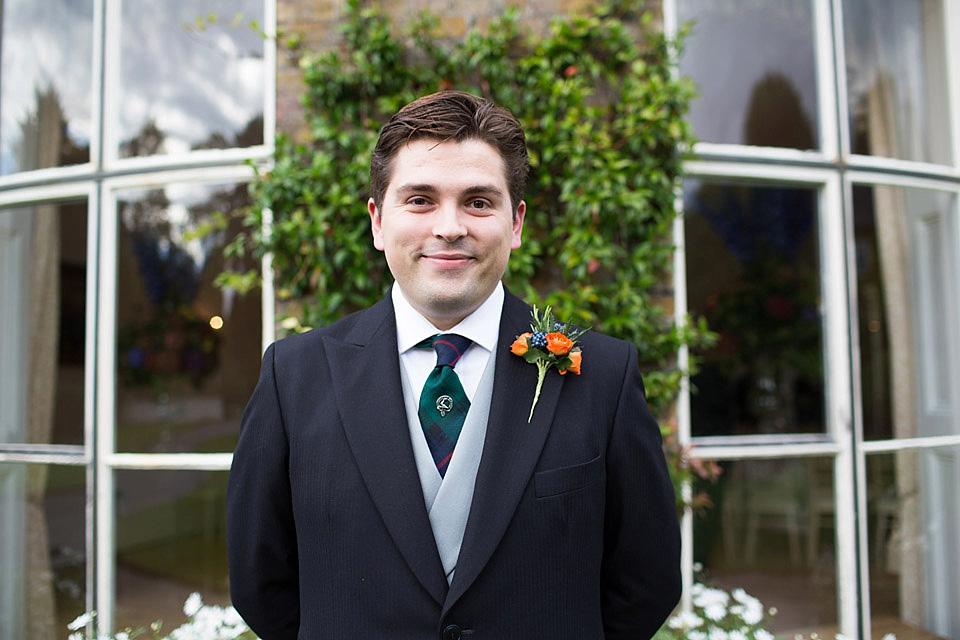 Lauren walked down the aisle with her Uncle Dean, to a traditional song from the American South called Ashokan Farewell.
"My favourite part of the day was seeing Ian and the end of the aisle. It had been raining all morning and when we arrived, so it was grey out. By the time I turned the corner to see Ian the sun was shining so brightly and it was like it broke through to shine on us. He looked so happy and I know I just burst into a smile."
 "Ian and I wrote our own vows, we never thought of doing it any other way. It was funny because they were secret, but we both ended with 'I Love You'."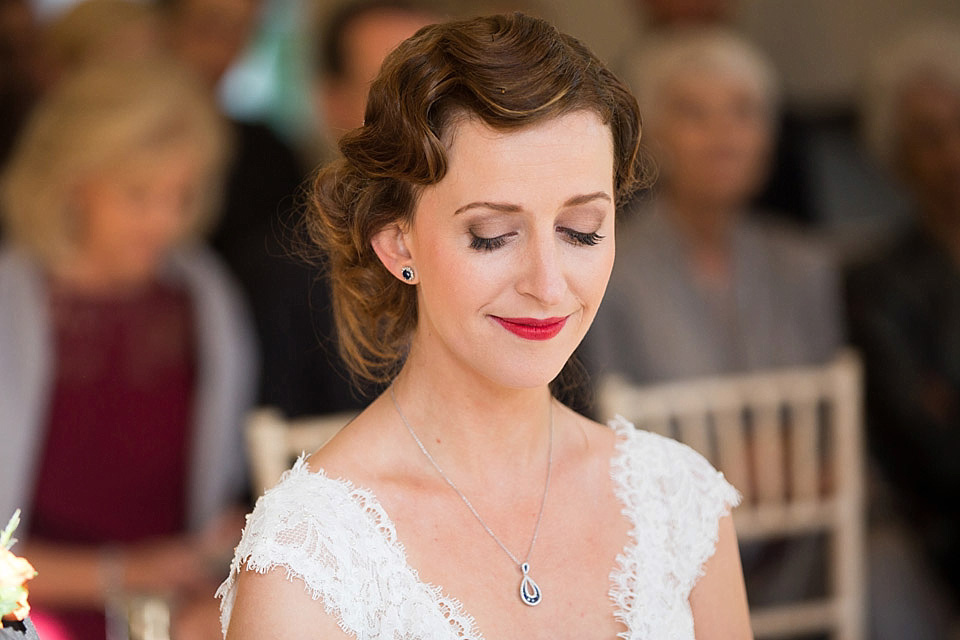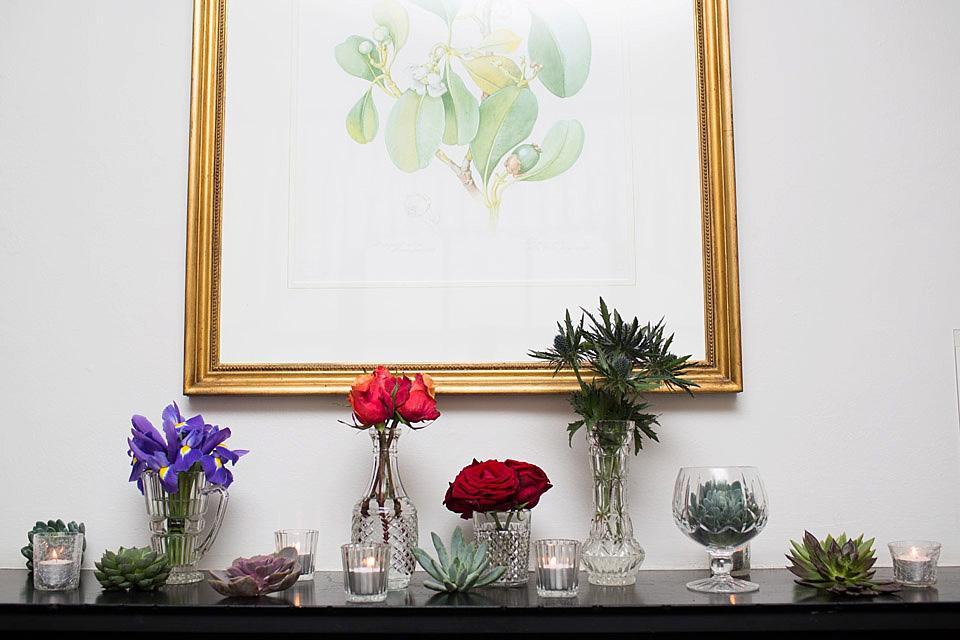 Lauren and Ian's rings are wonderfully unique, all custom designed by Ingle & Rhode…
"Ian's has a Laurel pattern on it, the flower that is my namesake, and mine fitted my unusual engagement ring. The stone in my engagement ring was from my mother's wedding ring. We had our wedding bands engraved: mine has the Armstrong motto inside ('Invictus Maneo'), and Ian had a Greek Maxim: 'Be Grateful'"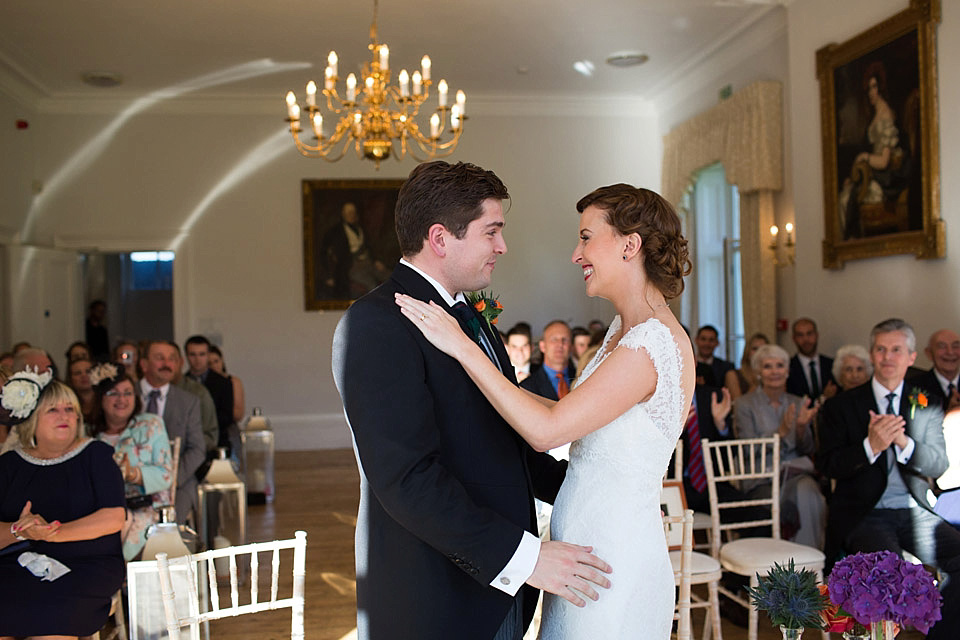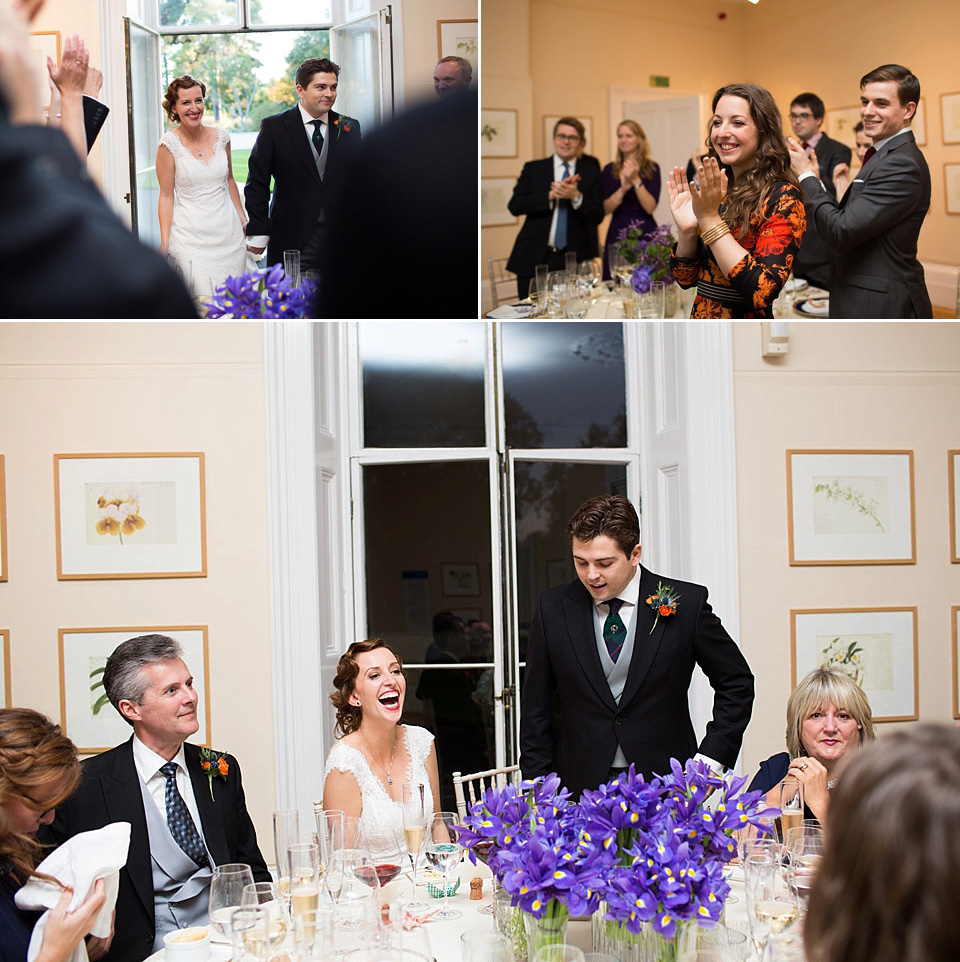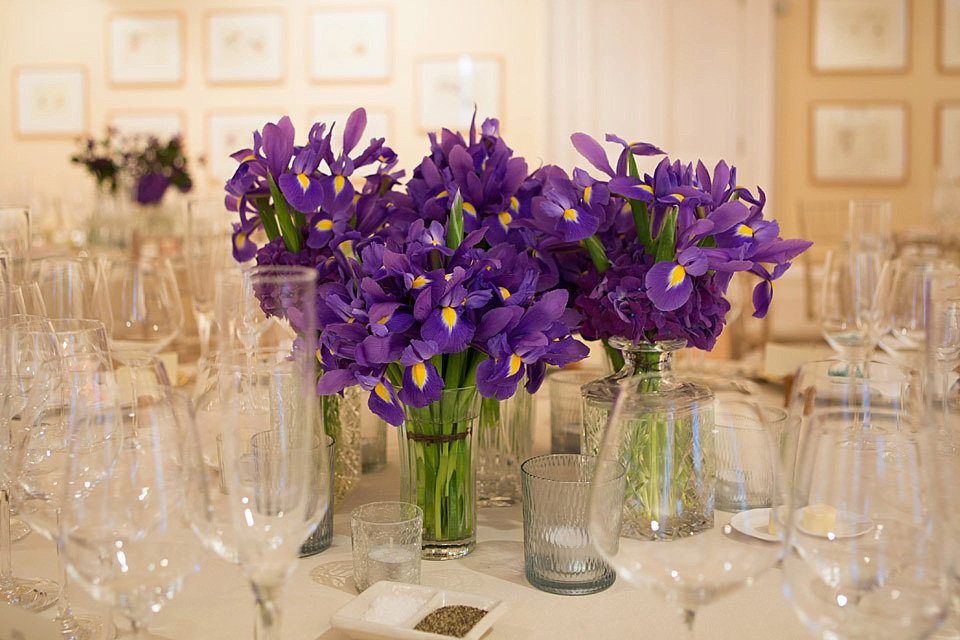 The vases full of flowers on the tables look stunning, but Lauren added some more little touches.
"I made an origami butterfly for everyone, as a nod to the Japanese tradition of the bride folding 1000 cranes for her wedding day."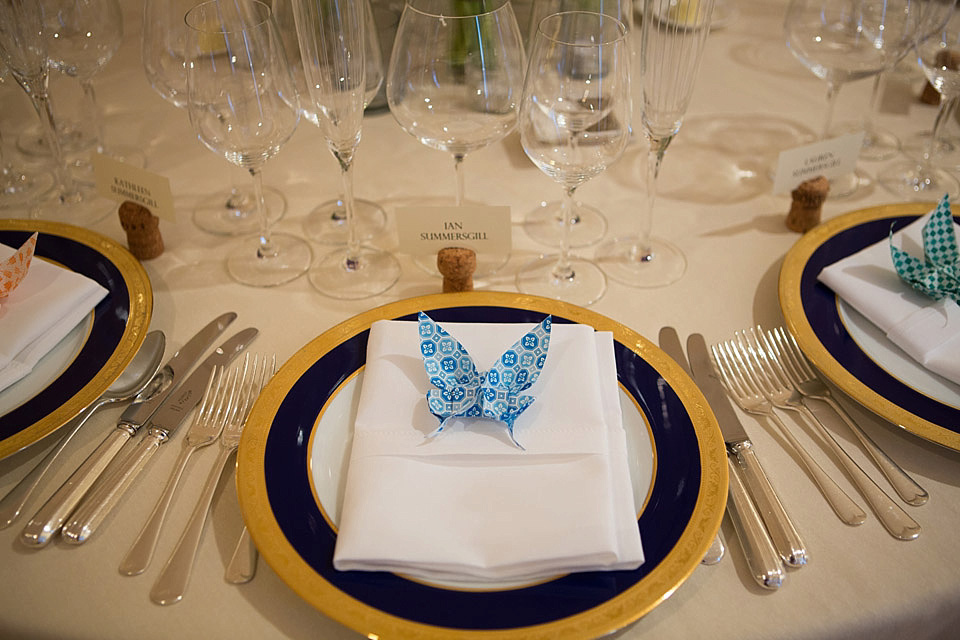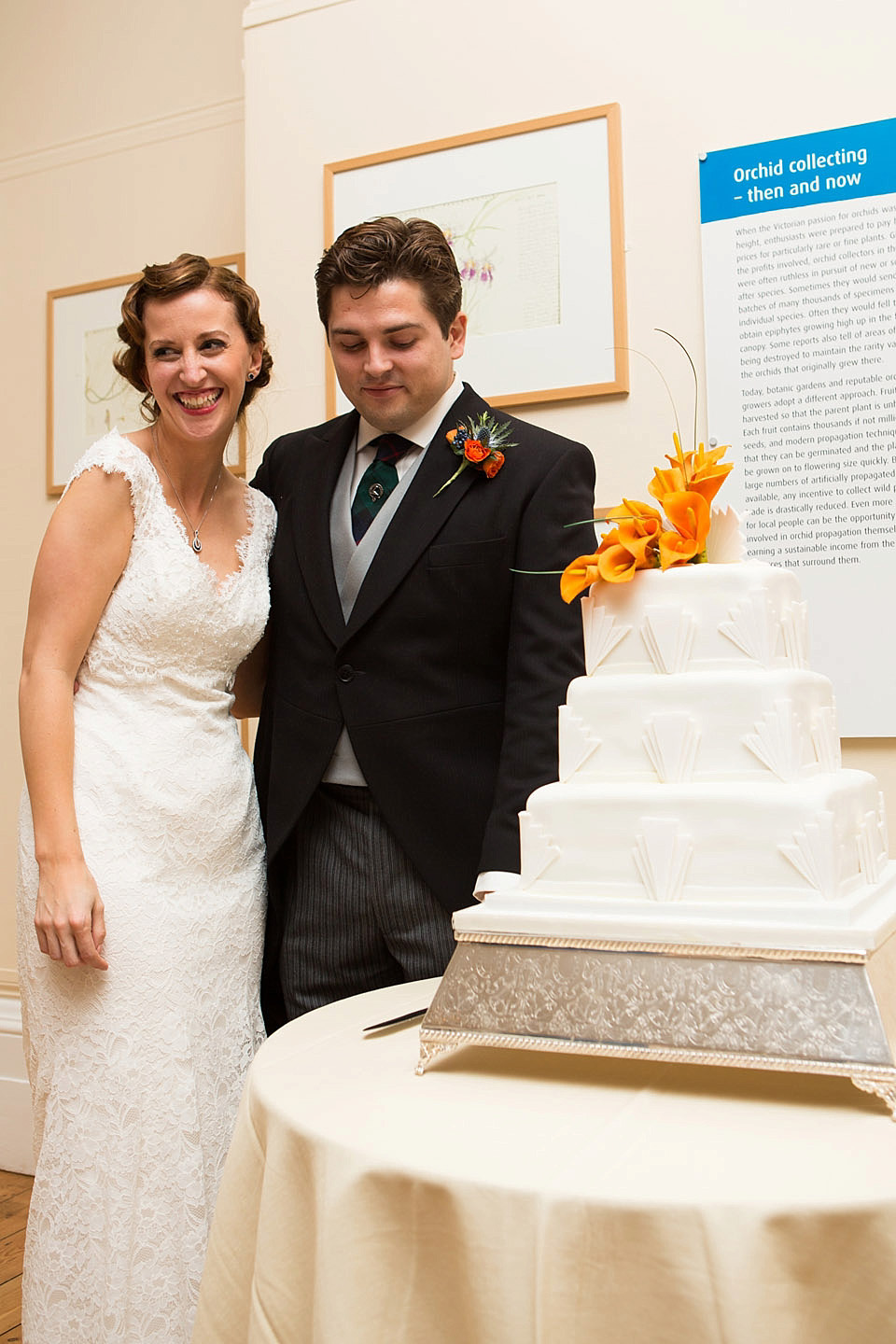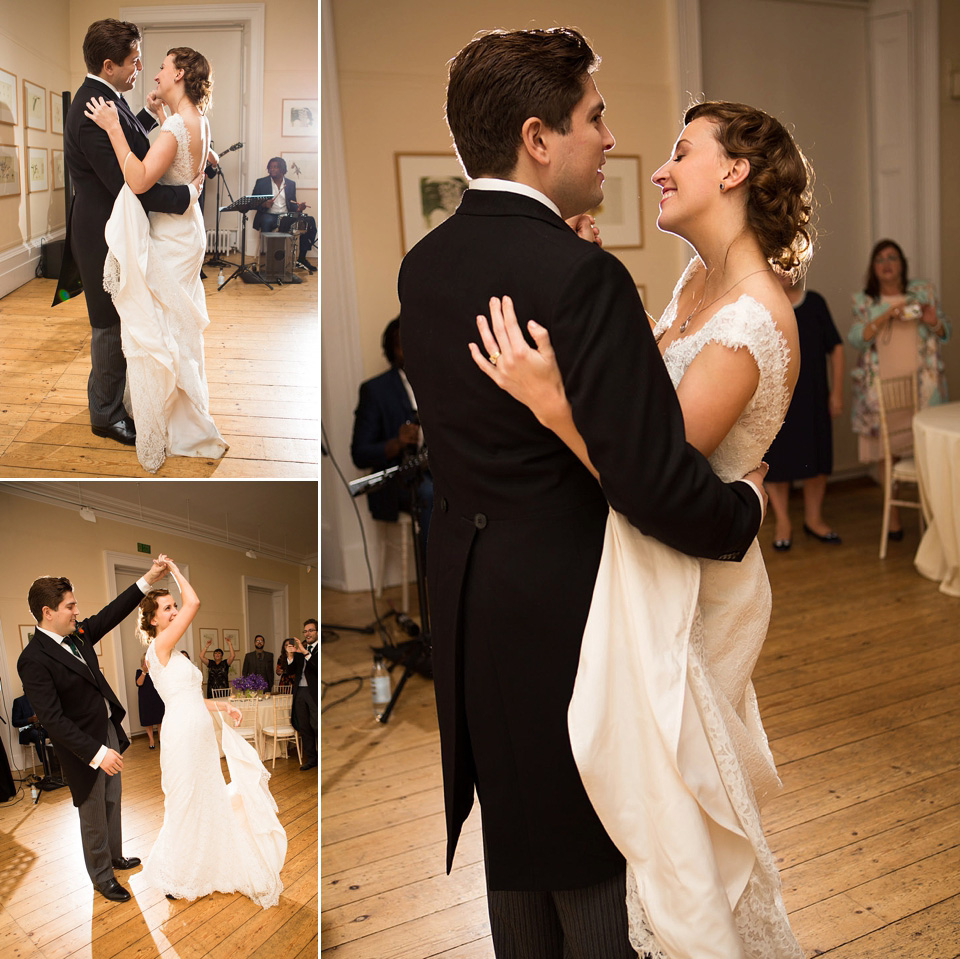 Eton place Music provided the evening entertainment…
"We danced to '(Your Love Keeps Lifting me) Higher'. It was the first song we ever danced to, several years before.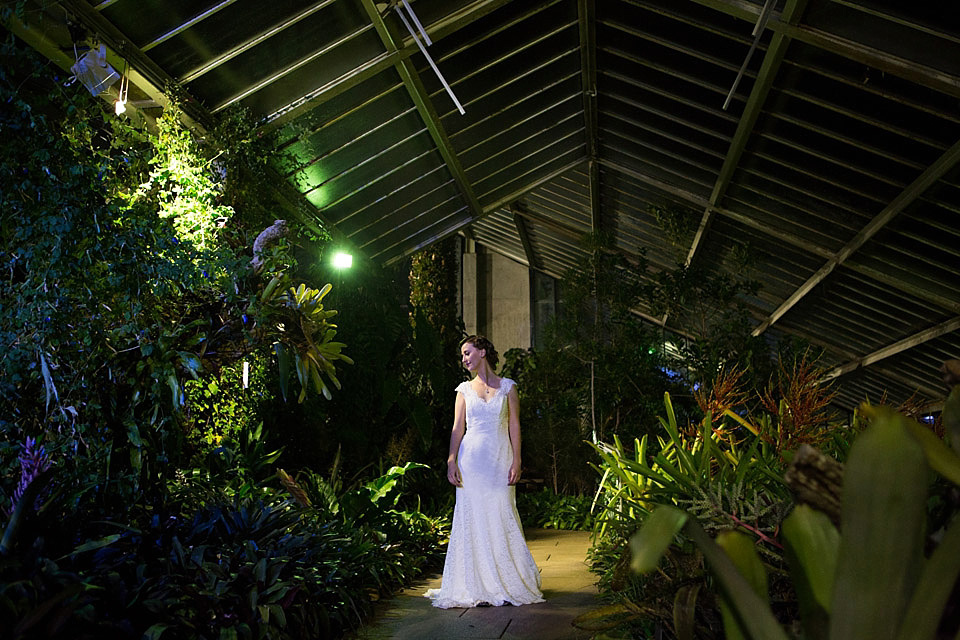 Words of Wedded Wisdom
"Take a breath to enjoy it. Everyone will tell you it happens so fast, but if you even take a second to just enjoy the moment, it really does stay with you.
If I could have done something differently it would have been to take my time in the morning. I was so excited to get to the venue and get married that we were ten minutes early and Ian was with the registrar and I waited in the car for a bit. I should have just enjoyed being with my friends and aunt. Let the moment happen."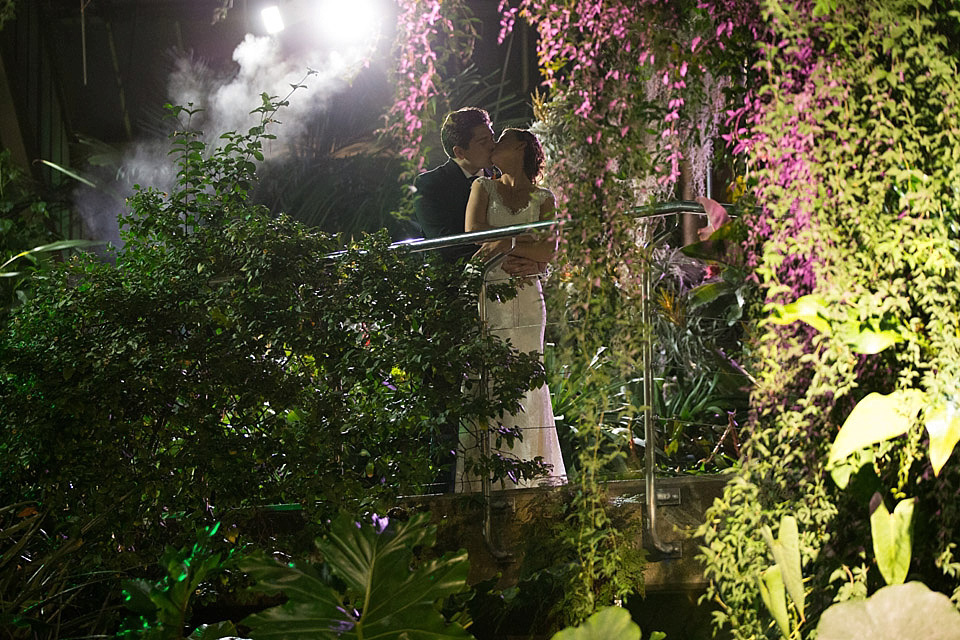 Thanks very much to Lauren and Ian for telling us all about your wedding, and to Catherine for sharing it with us.  I do love it when a bride wears red lipstick, especially when she has a big smile on her face all day.  Have a lovely Wednesday afternoon folks.
Lots of love,
Hannah x
Photographer – Lily and Frank
Venue – Cambridge Cottage at the Royal Botanic Gardens in Kew Gardens
Wedding Dress – Mikaella Bridal via London Bridal Couture
Groom – Ede and Ravenscroft
Florist – The Urban Flower Firm
Cake – Sparkle Parties
Entertainment – Eton Place Music 
Rings – Ingle & Rhode
Catering – Blue Strawberry
Hair Stylist –  Toni at Andrew Barton Salon
Makeup Artist – Claire Bache makeup