Hello beautiful Love My Dress readers! I hope you all had a relaxing break over the holidays and that you're ready to tackle 2015 feeling refreshed and energised. I had the most wonderful time celebrating the first Christmas with my new husband and our family and I'm so looking forward to all of the adventures 2015 will bring (but first, I'm going to return to my exercise regime as I had a few too many pigs-in-blankets with Christmas lunch, so it's definitely back to daily workouts!).
If you've come back to work today to loads of emails and you're already missing reading your new book from Santa, now's the time for you to take a tea break and to hear about the sweetest little tale with such beautiful handmade décor and the prettiest antique lace dress designed by Jane Bourvis. Our lovely couple, Laura and Nathan, were married in Gloucestershire at The Matara Centre on 25th July last year and their spectacular shots were taken by Julie Anne Images. Laura is one very creative lady with her own sewing business, Dimple Stitch, making patchwork quilts, whilst Nathan works as a Software Developer.
Laura explains the inspiration for the style of their big day.
"I had always wanted our wedding day to be relaxed, rustic, romantic, handmade, whimsical and a little bohemian. I took inspiration from the eclectic style of the venue and was very much inspired by nature and greenery. I didn't want the day to feel too formal or to get bogged down in making sure everything matched, I just wanted to make it pretty in a natural way, and include little personal touches that reflected us as a couple."
Photography Copyright (c) 2015, Julie Anne Images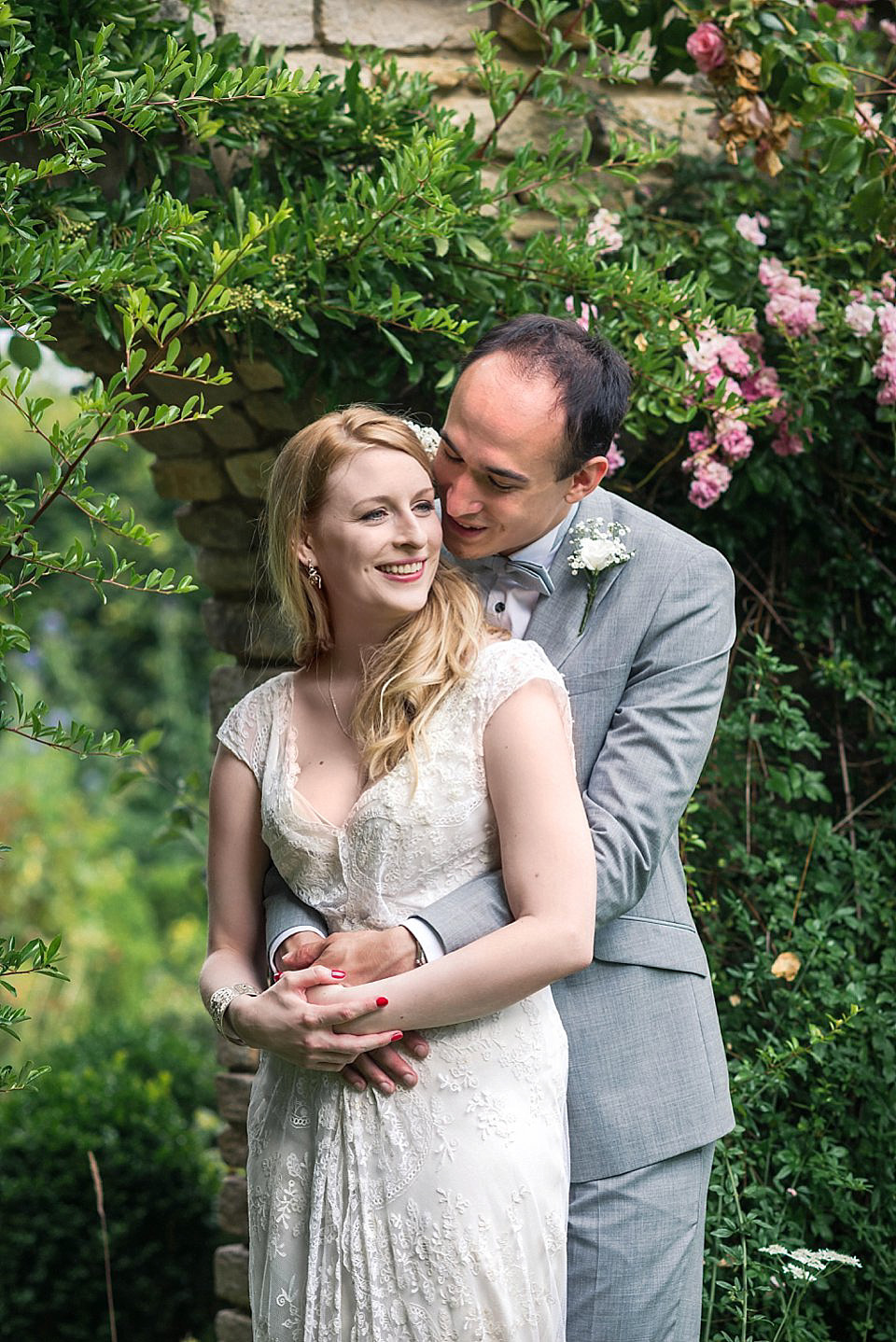 Being crafty and creative, Laura gave the wedding a handmade feel, from designing the invites and stationery, to making 1000 paper cranes (with help from her mum!); influenced by the Japanese-style courtyard at the venue.
"My previous job was as a stationery designer for an events company so I always knew I'd design my own invitations and wedding day stationery. The invitations were letterpress printed by a seller on Etsy, and I made the embroidery hoop menus myself by printing onto fabric. Unfortunately my Order of the Day booklets weren't delivered in time, but these were also in keeping with the soft grey colours and rustic style.
With the help of my mum, we folded 1000 origami cranes as a centrepiece to hang under the dome in the dining room. I loved the legend and meaning behind this Japanese tradition and it tied in well with the venue's Japanese inspired courtyard where we had the ceremony. This was an inexpensive yet super effective way to fill the space and ended up being one of my favourite details from the day. They looked very pretty dancing in the sunlight."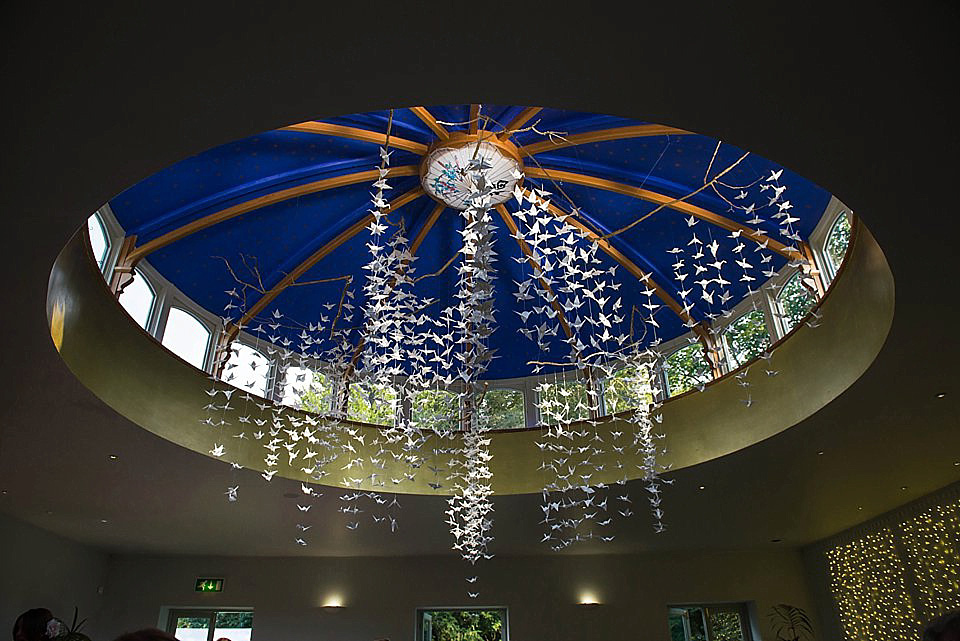 The couple went with a wholesaler for their flowers, in keeping with the natural, relaxed feel of the day and also kindly donated them after the event.
"I was pretty relaxed about flowers, I knew I wanted lots of them, but wanted to have a loose and natural look. I arranged all the flowers and bouquets myself with the help of my mum, auntie and bridesmaid the day before the wedding into decorated jam jars I'd collected throughout the previous year.
I had sent pictures to a wholesaler of the sort effect I wanted to create; seasonal, freshly-picked, wild and soft in pale muted colours, and he suggested flowers within my budget and style. Some showed up more pinky than expected, but actually it all came together how I had hoped and I was really pleased with how beautiful they all looked. After the wedding, we had our venue donate the flowers to a local care home as I couldn't bear to see them thrown away."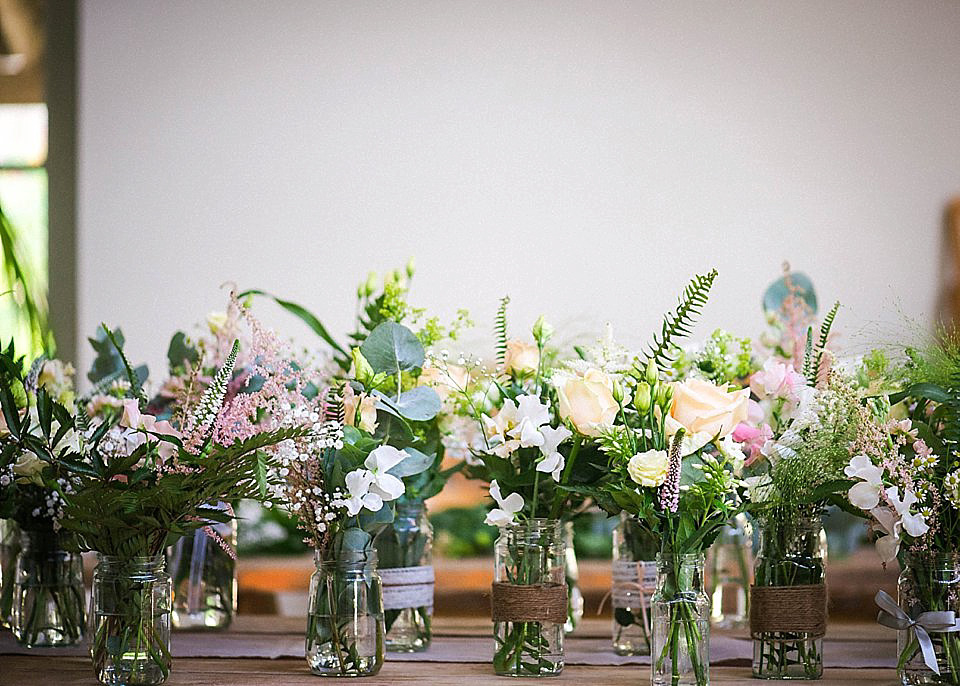 Laura chose bespoke designer Jane Bourvis, who runs an atelier in London, to create her vintage antique lace wedding dress – a decision very close to her heart.
"As many women before me, I had dreamed of a beaded Jenny Packham gown. Not having the budget for this, my bridesmaid had suggested visiting Jane's treasure trove boutique in Ladbroke Grove. Jane had me choose 5 pieces of lace to try, and then came into the fitting room and pinned each around me with her magic hands, creating an exquisite gown. I knew before even looking in the mirror that I was wearing and experiencing something very special – a feeling the regular bridal boutiques hadn't given me.
Seeing my bridesmaid's reactions only sealed in my mind what I already knew, and I was set on buying one of her dresses. I loved the soft ethereal style as well as the history behind the very old antique lace, that my gown was one of a kind, and that I'd be buying handmade from an individual rather than a big brand, which is important to me as a small business owner."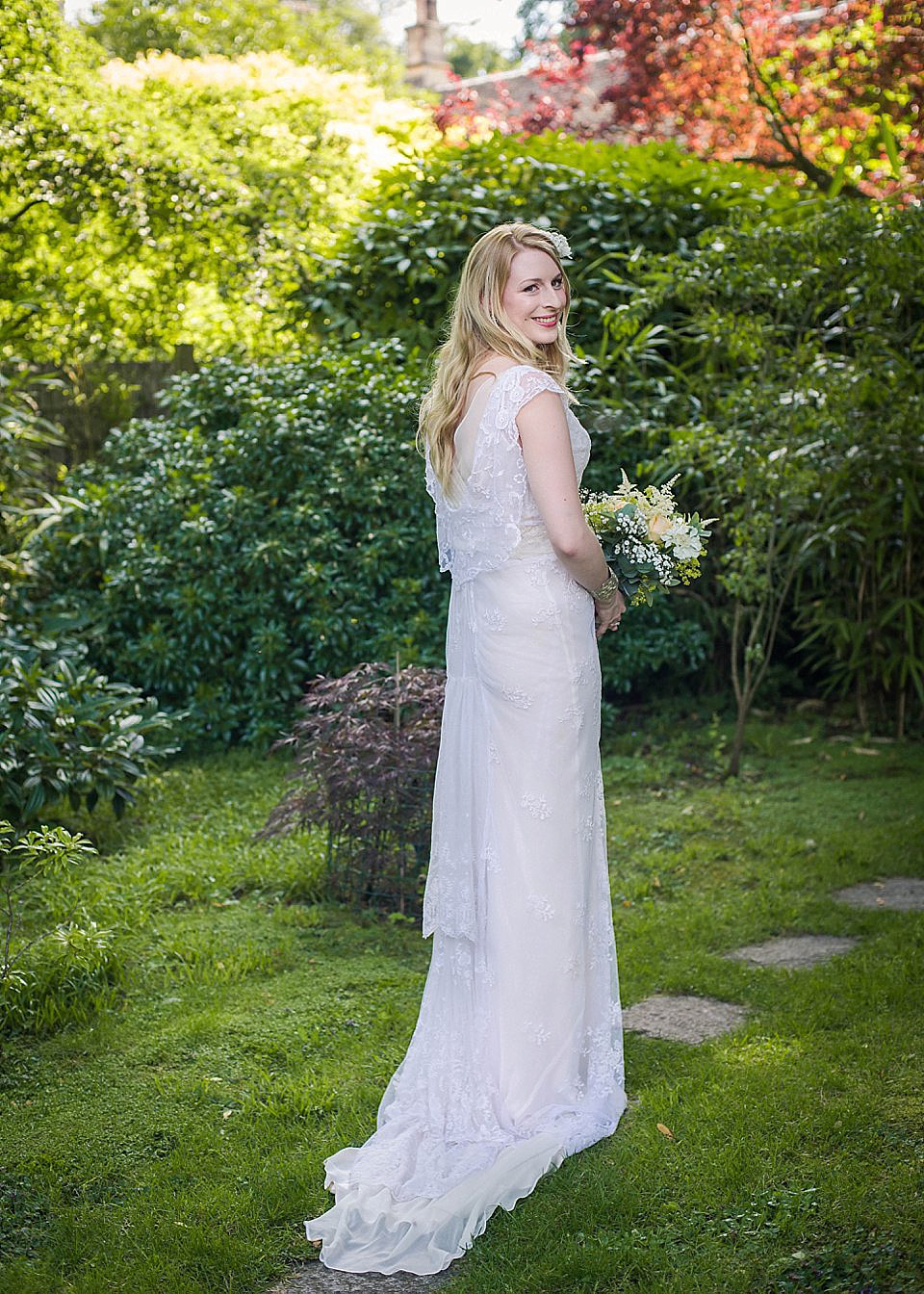 Laura's three bridesmaids and flowergirl all got to choose their style of dress.
"I let the bridesmaids each chose their own dress from For Her & For Him and I then I chose the colour. Not being a 'pink' kind of girl, I surprised myself when I went for a pale blush peachy pink.
I wanted my flower girl to feel excited so I let her pick her own dress too. I gave her a choice of three, and her favourite (being 5yrs old) was of course the most princessy one, a lovely champagne coloured dress from BHS which I then customised with a lace waistband and white flowers."
The couple were very happy with their photographer, Julie from Julie Anne Images, who very kindly helped out with arranging flowers before the big day.
"I can't say enough lovely things about Julie – I was instantly drawn to her photographs very early on in our wedding planning and even though I looked at lots of different people, I kept coming back to her. Her images really seemed to capture the emotion and story of the day and make you feel like you were there yourself – which is exactly what she has done for us. She is such a warm and friendly person who really put us at ease, got to know us as a couple and even joined in to help us do some flower arranging the day before the wedding!"
Laura and Nathan have quite the proposal story!
"We met at a mutual friend's birthday party in 2006, and hit it off quickly. Nathan was working in Leamington Spa at the time while Laura was at Uni in London so Nathan would make the 2 1/2hour trips down to see Laura every weekend. Several years later we had bought our own house together and were both working from home, happily spending 24hrs a day with each other. One Thursday afternoon after 7 years together, Nathan popped the question out of the blue, next to the ironing board after returning from the gym! After a romantic weekend away to celebrate, we set the date for 16 months later."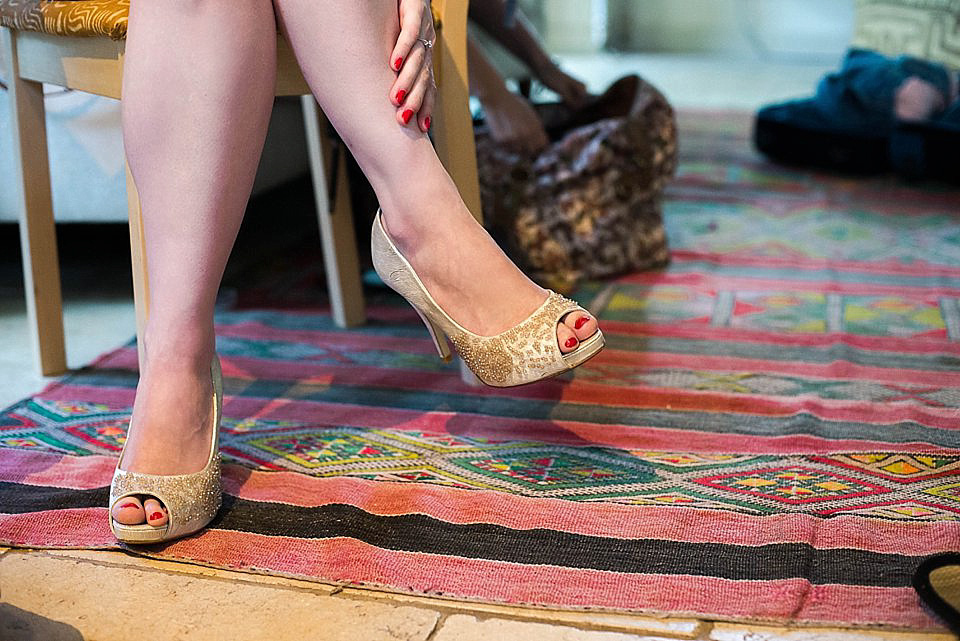 Laura did her own hair with help from a bridesmaid, whilst Sophie Chamings was her makeup artist.
"Sophie was another really lovely person to have around, and gave great skincare advice in the lead up to the big day."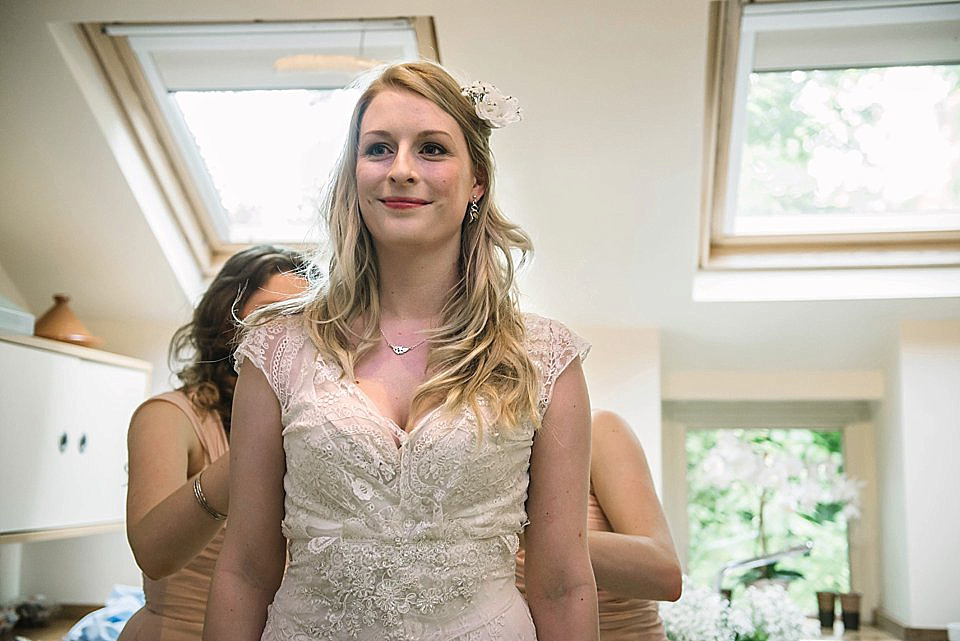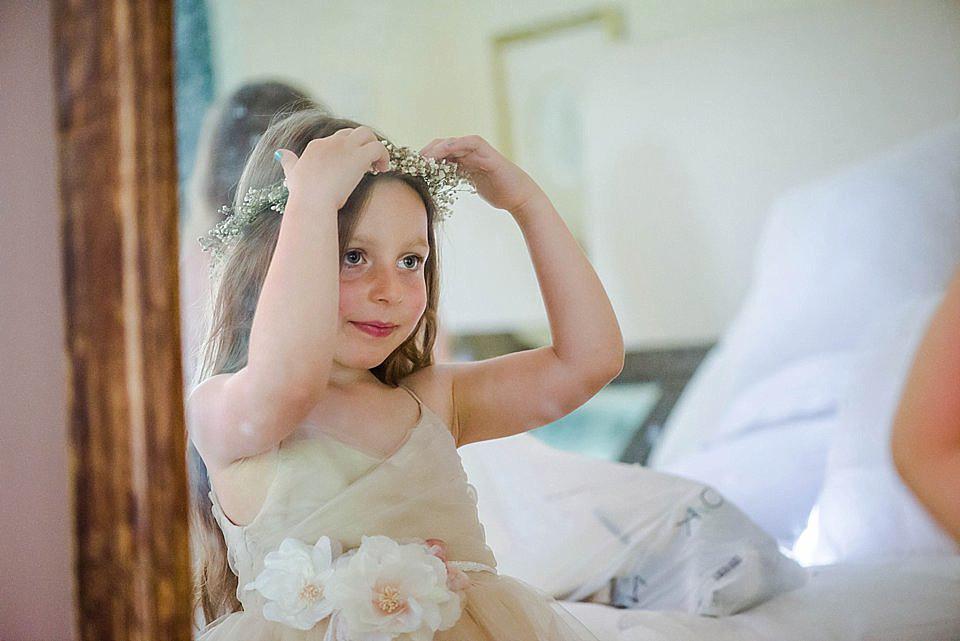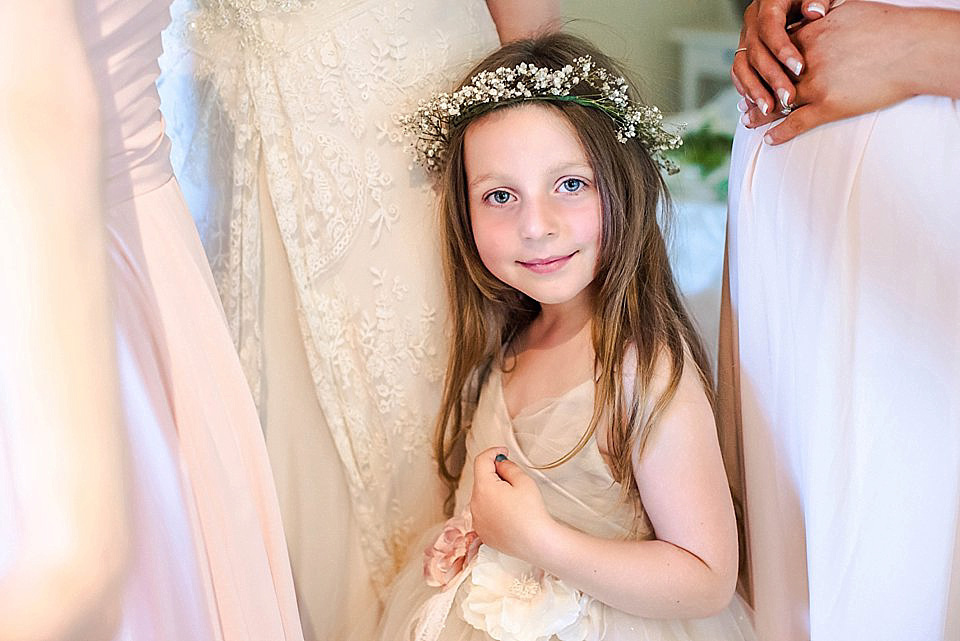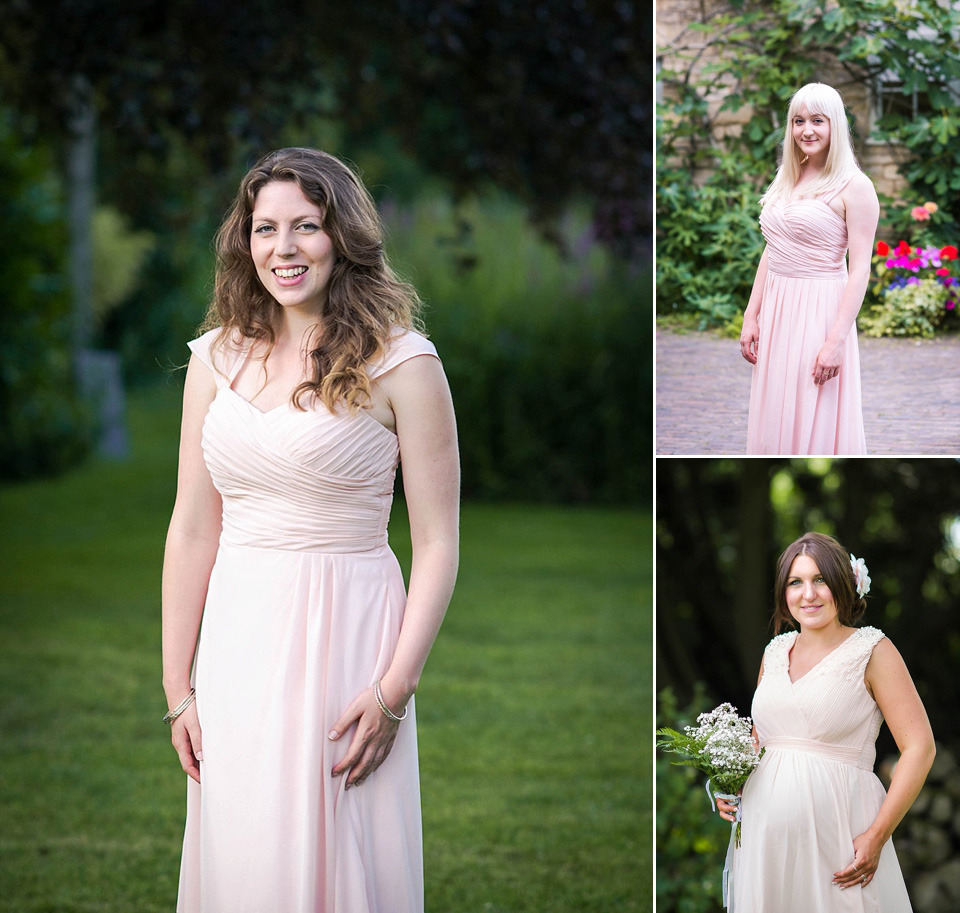 Laura had a slight change of heart with her floral headpiece at the last minute and sported jewellery with very special meaning.
"I wore fresh flowers in my hair.  I had a baby's breath floral wreath ready to wear, but I didn't love it and changed my mind the morning of the wedding and kept it simple with a couple of flowers pinned to one side.
I also wore my most treasured piece of jewellery given to me by my grandmother – a chunky silver cuff. My late grandfather had bought it for her from Cambodia in the 1950s and it is intricately engraved with dancing characters. It is very special to me and although not the traditional dainty bridal jewellery, I couldn't imagine wearing anything else."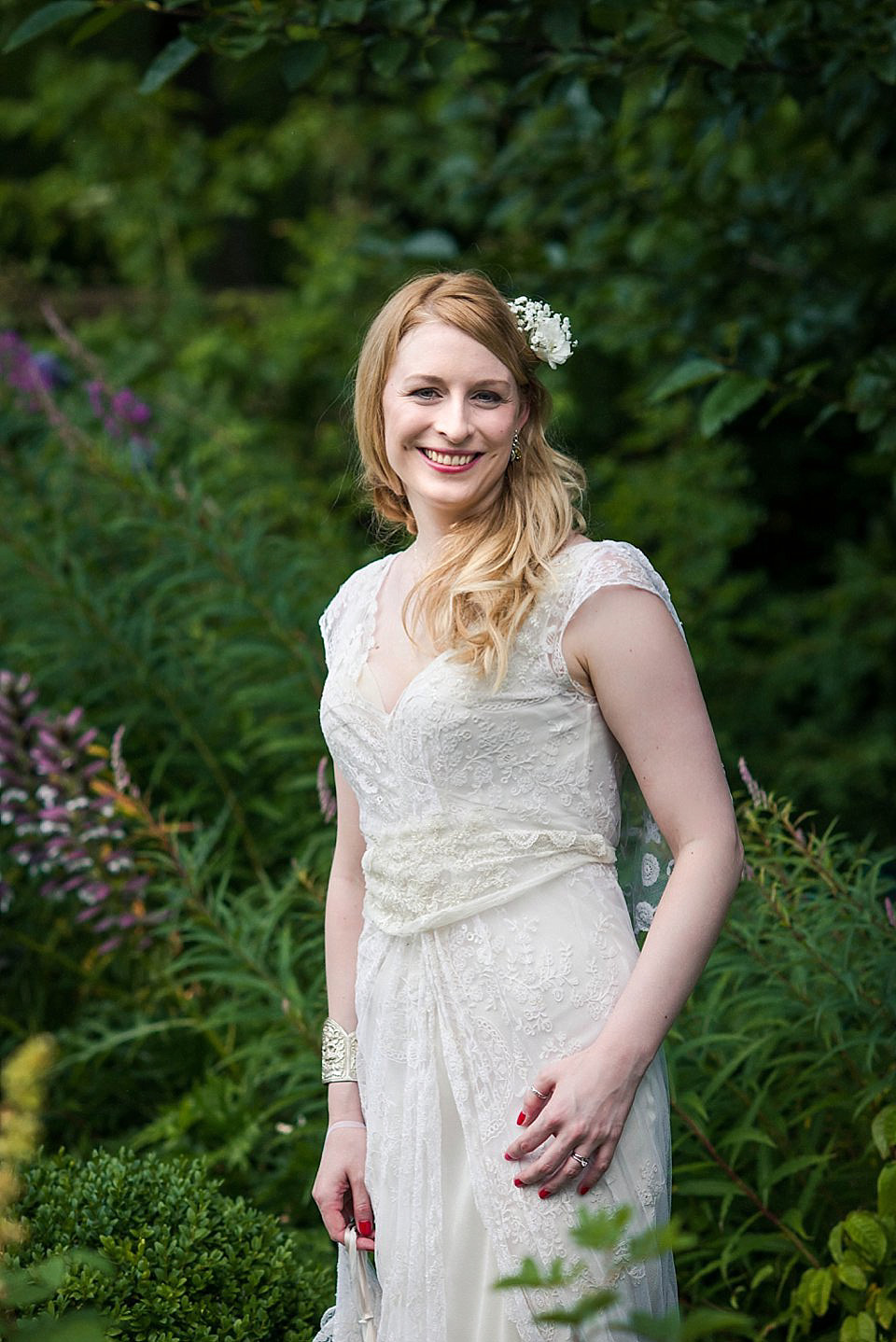 The couple knew they had found the one when they saw their stunning eco-friendly venue.
"We viewed no less than 11 venues and nothing felt quite special enough. Matara was the only venue that had us both grinning like cheshire cats and buzzing on the way home – it is unique, beautiful, we could get married outside, and their whole ethos on life and focus on marriage (not just the wedding day), individuality and celebration, was in line with our own values."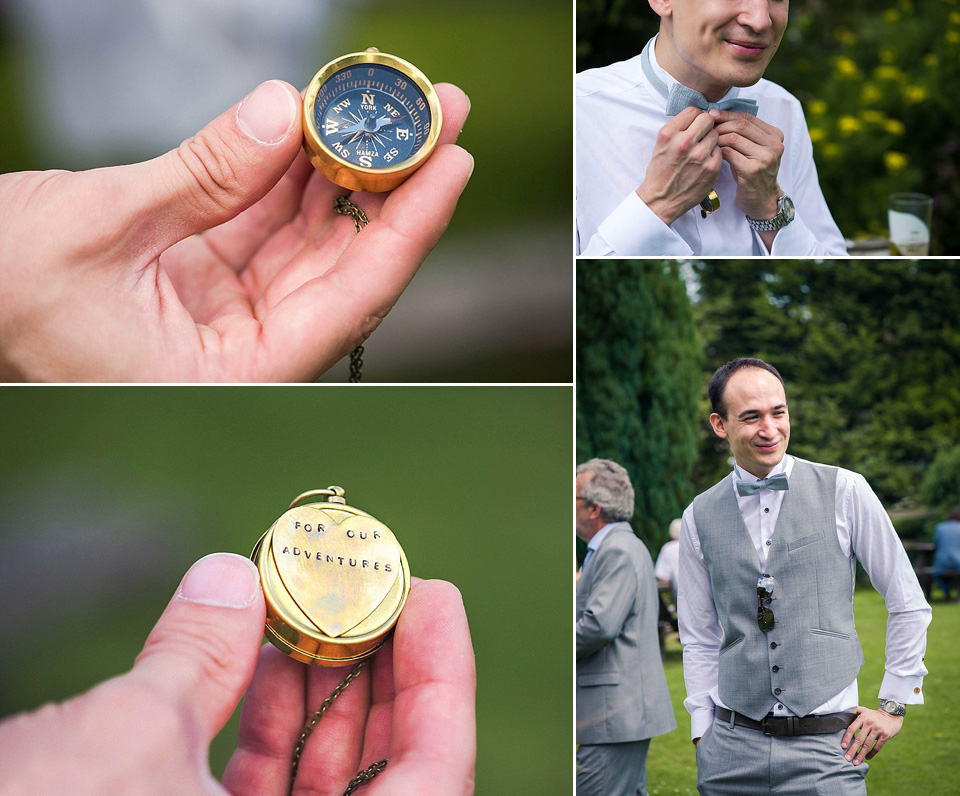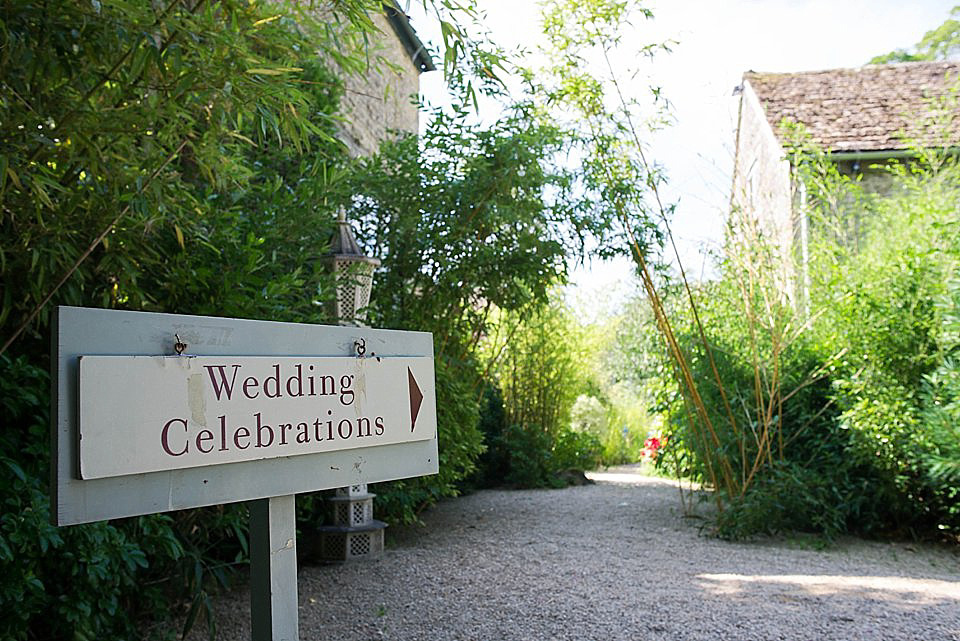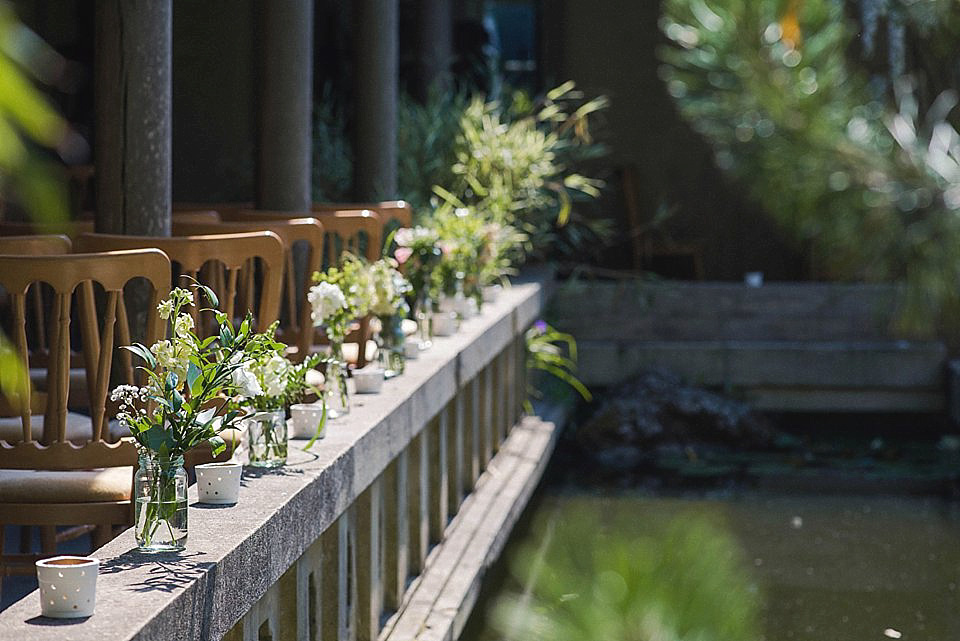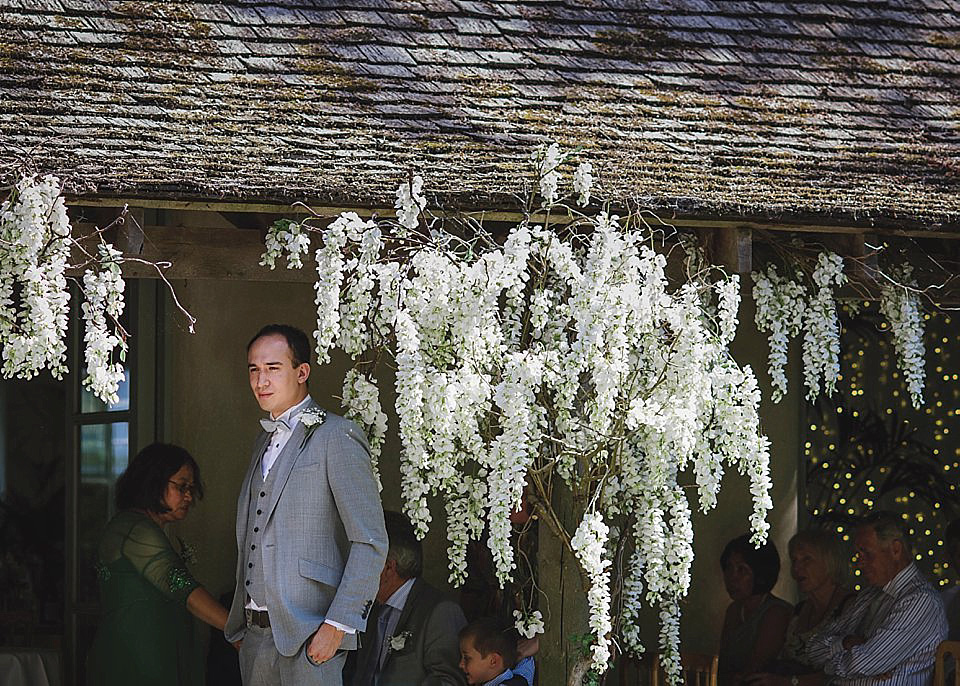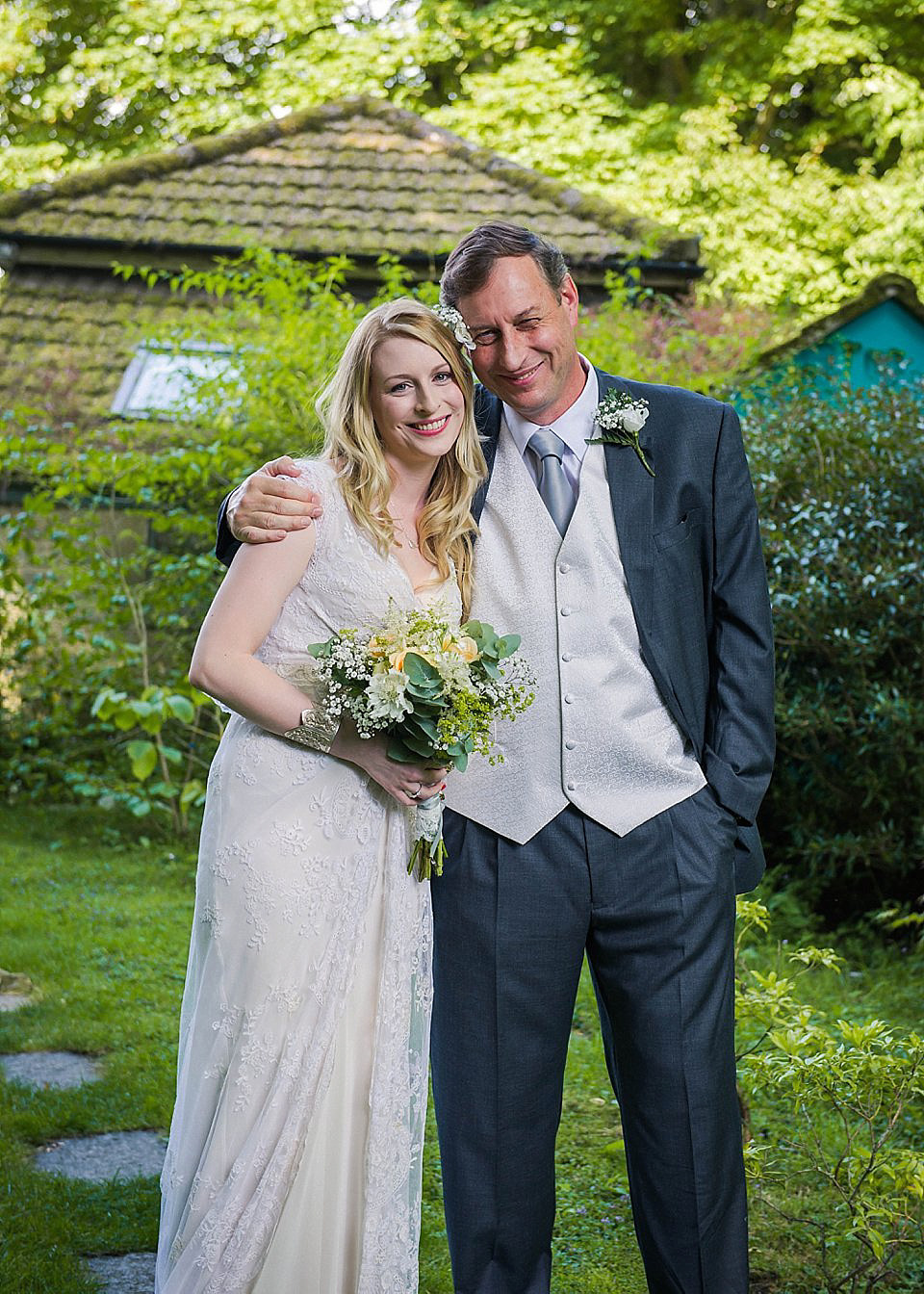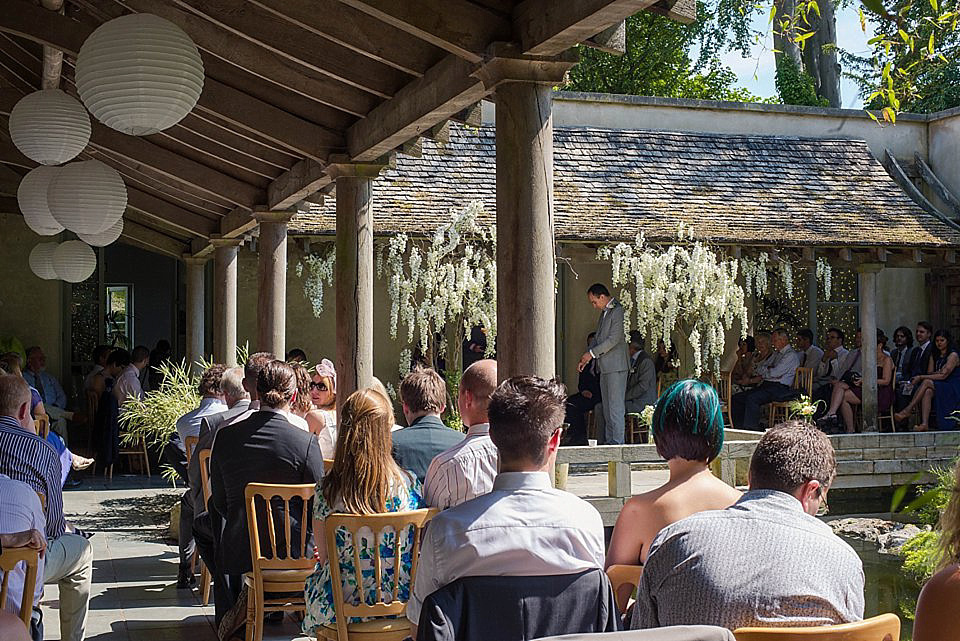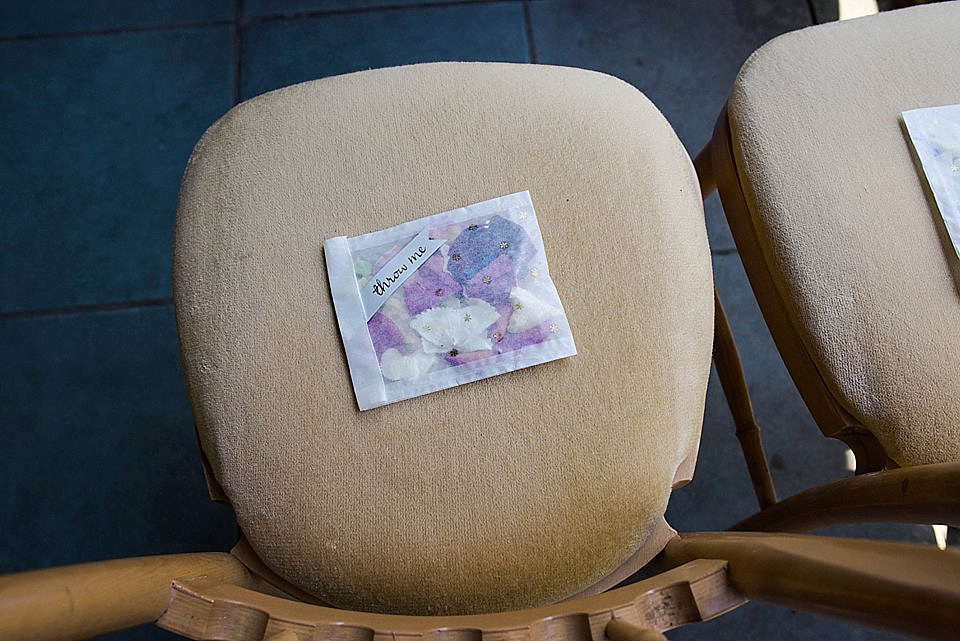 Laura was given away by her dad as she walked down the aisle to a string quartet instrumental version of Jose Gonzales' 'Heartbeats' – and the ceremony represented the couple's own beliefs on marriage.
"Geoffrey, who owns Matara, was very passionate about couples creating a ceremony which truly reflected each couple and what they wanted for their marriage together. We were inspired by this idea and while we wanted the ceremony to follow a traditional format, we wanted to choose our own promises which really meant something to us, rather than just choosing from the list the registrar gave us and not put any thought into what we were saying."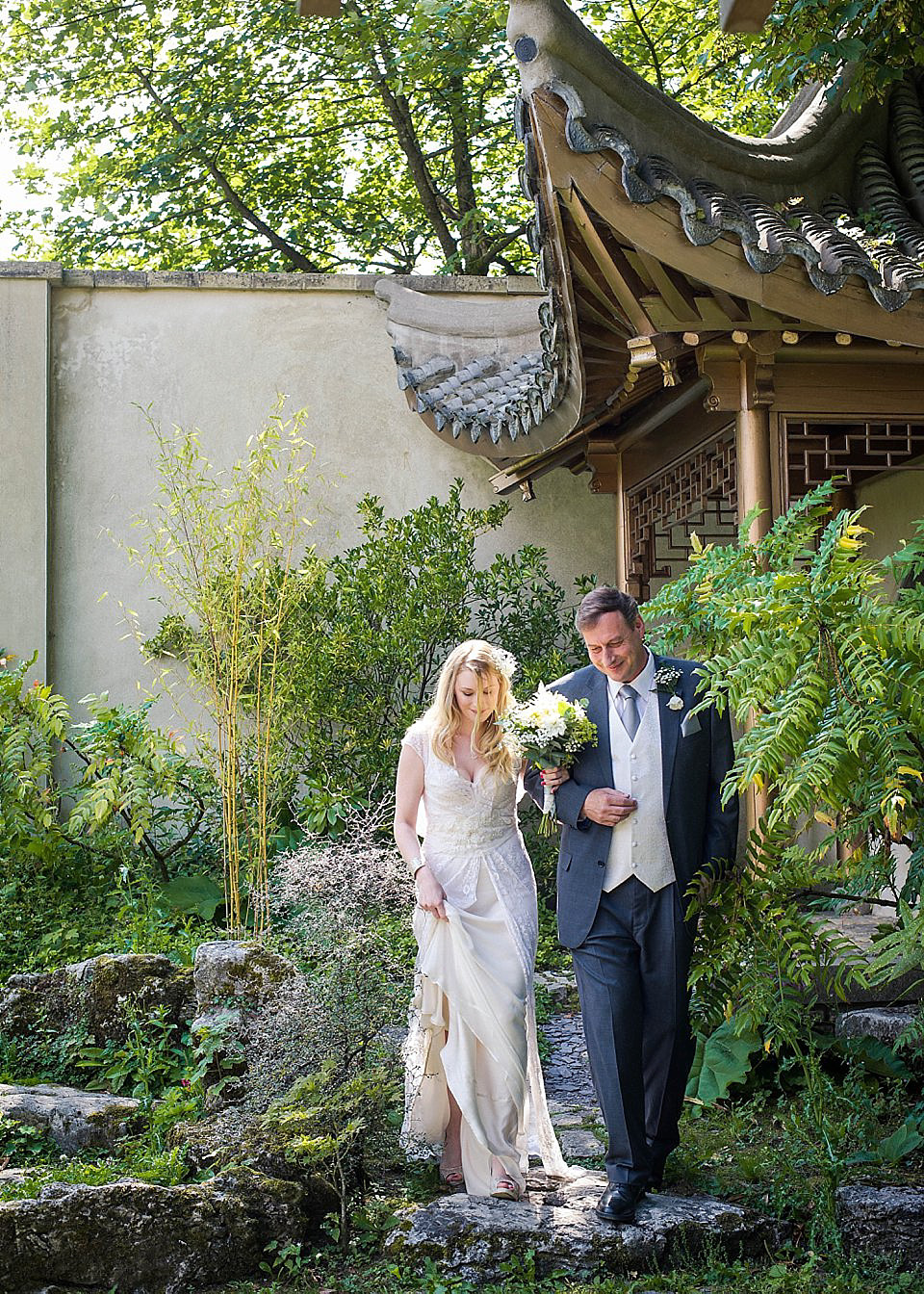 "Not being good with words ourselves, we turned to Mark Twain and used his 'These I can promise' poem (adapted slightly so as not to be too repetitive) as his words really seemed to hit the spot for us. I couldn't help but get a lump in my throat when reading them to Nathan and I was so glad we customised this part of the ceremony as it felt very special."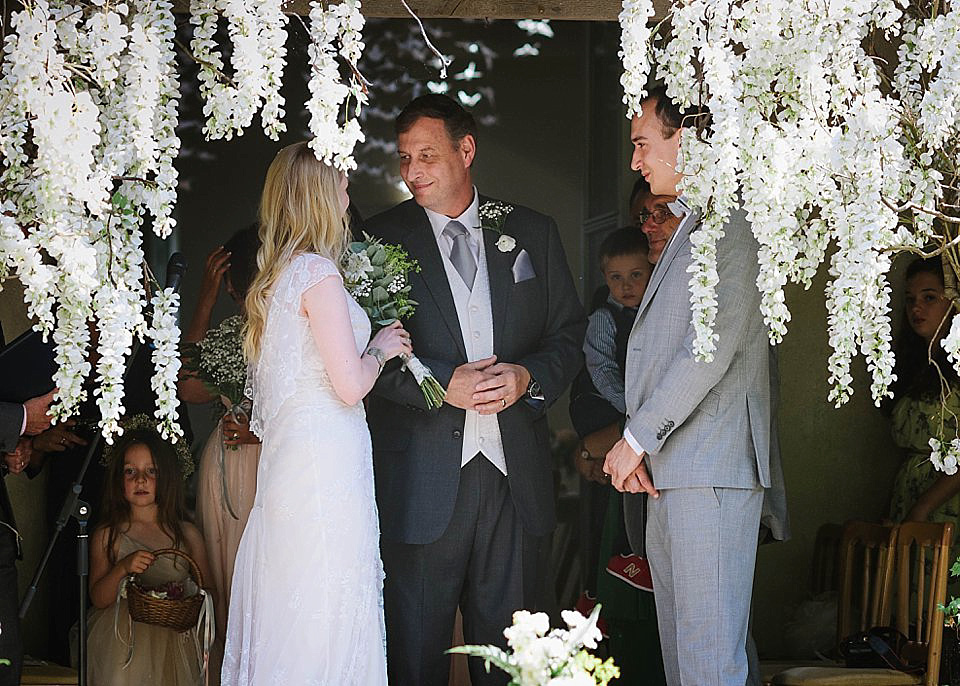 Laura and Nathan decided upon two readings, 'The Key to Love' and 'The Beauty of Love' – the second one chosen as a poignant nod to their future.
"The question is asked: 'Is there anything more beautiful in life than a young couple clasping hands and pure hearts in the path of marriage? Can there be anything more beautiful than young love?' And the answer is given: 'Yes, there is a more beautiful thing. It is the spectacle of an old man and an old woman finishing their journey together on that path. Their hands are gnarled but still clasped; their faces are seamed but still radiant; their hearts are physically bowed and tired but still strong with love and devotion. Yes, there is a more beautiful thing than young love. Old love.'"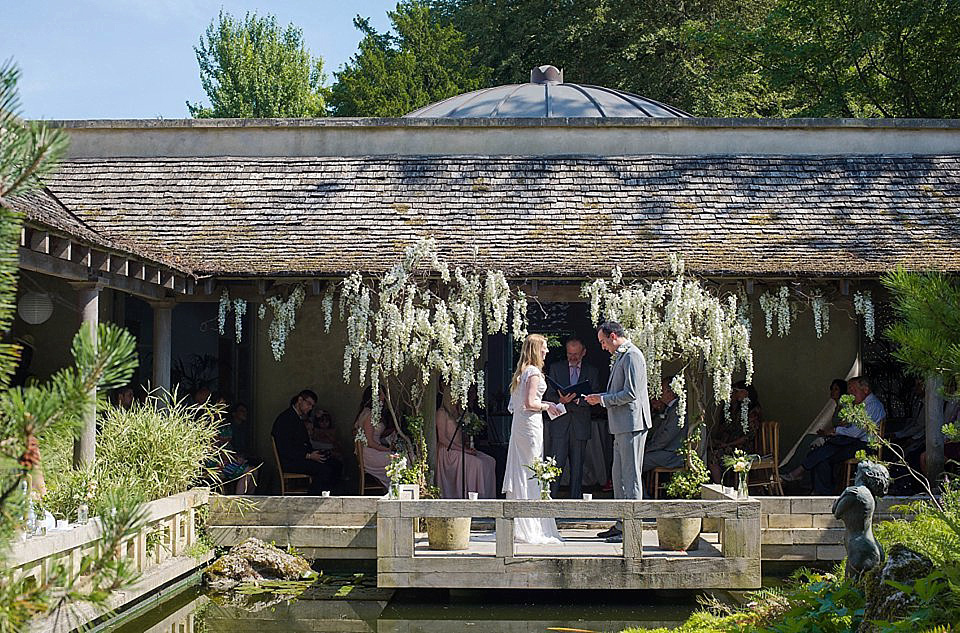 The couple had bespoke rings made for the occasion, continuing the handmade feel.
"Like many of the things we bought for our wedding, our rings came from a handmade seller on Etsy. Prang at Sundari Gems worked with us to create bespoke rings which we absolutely love. Mine fits my engagement ring perfectly and I couldn't be happier with it."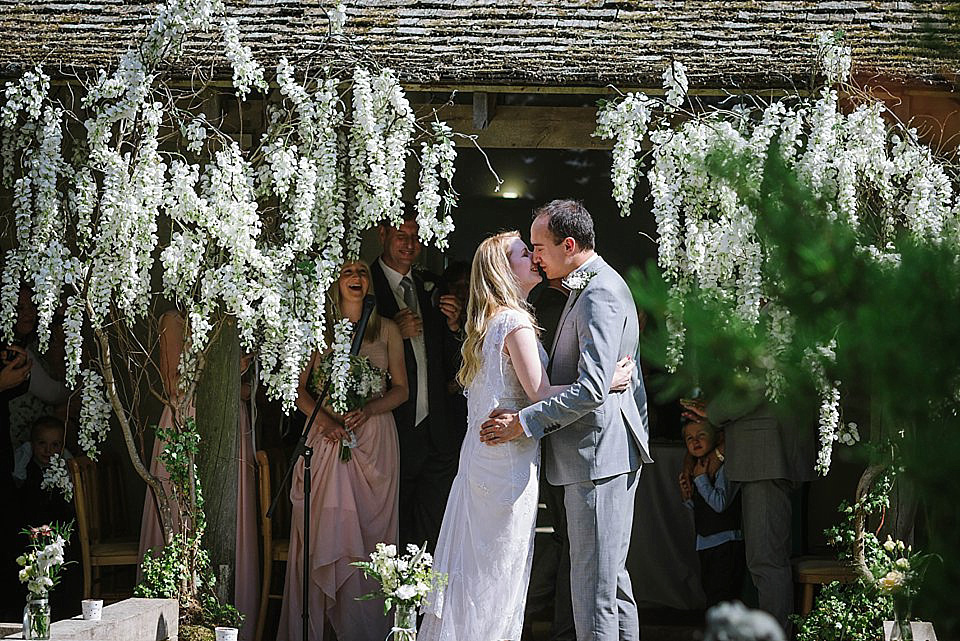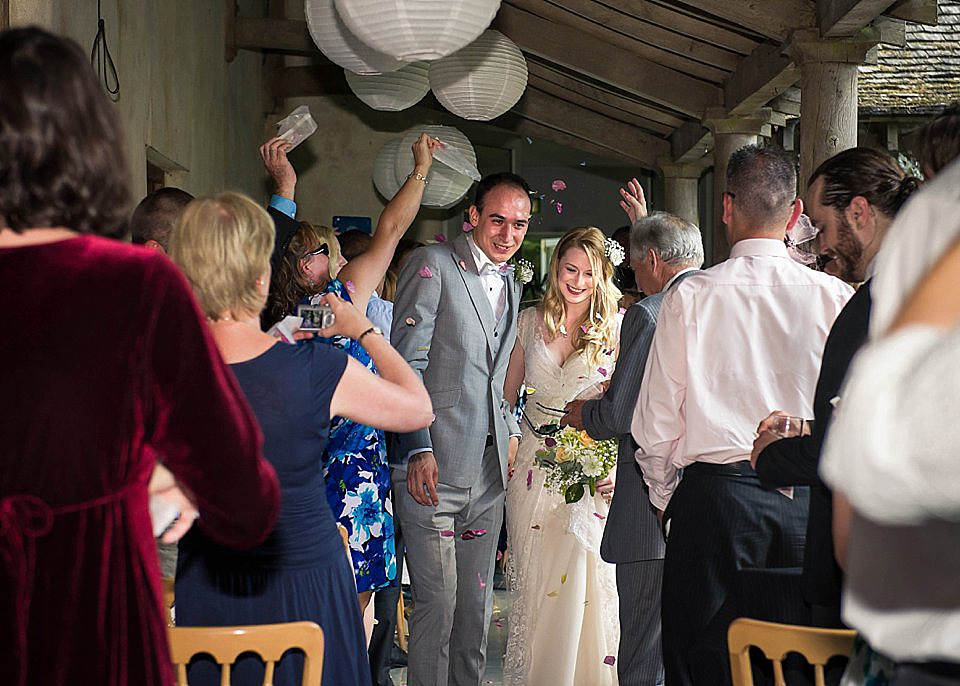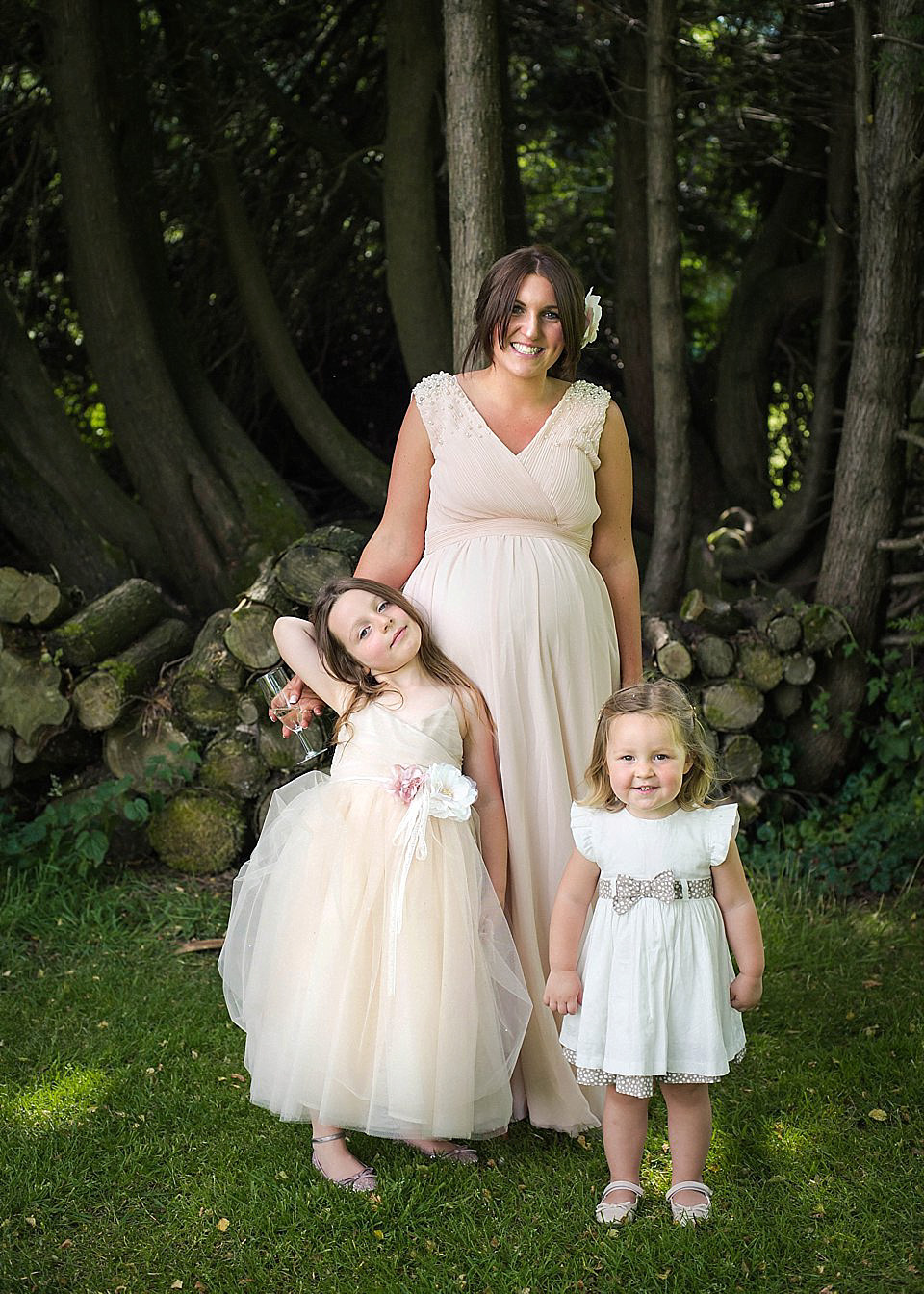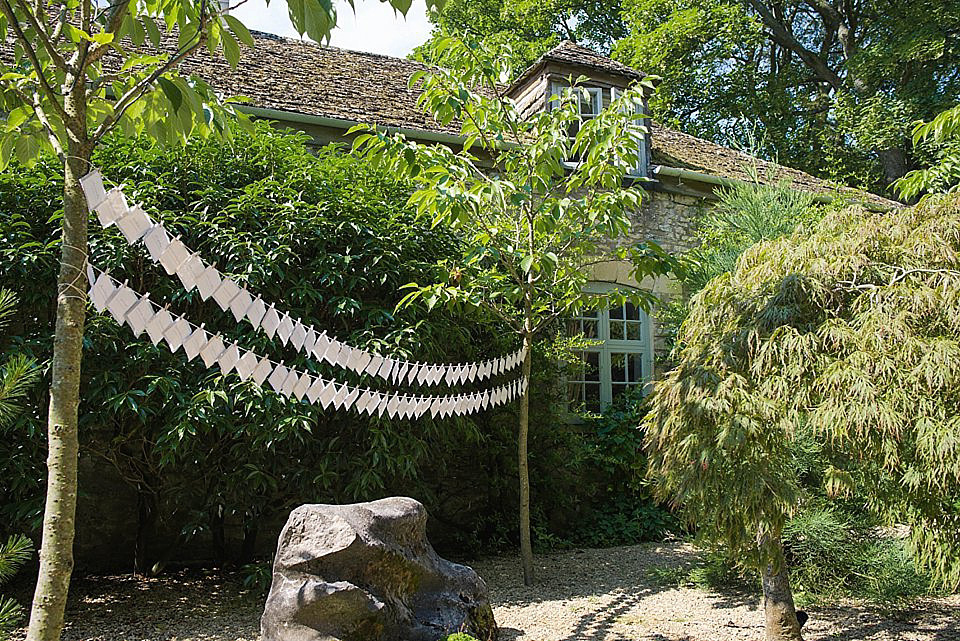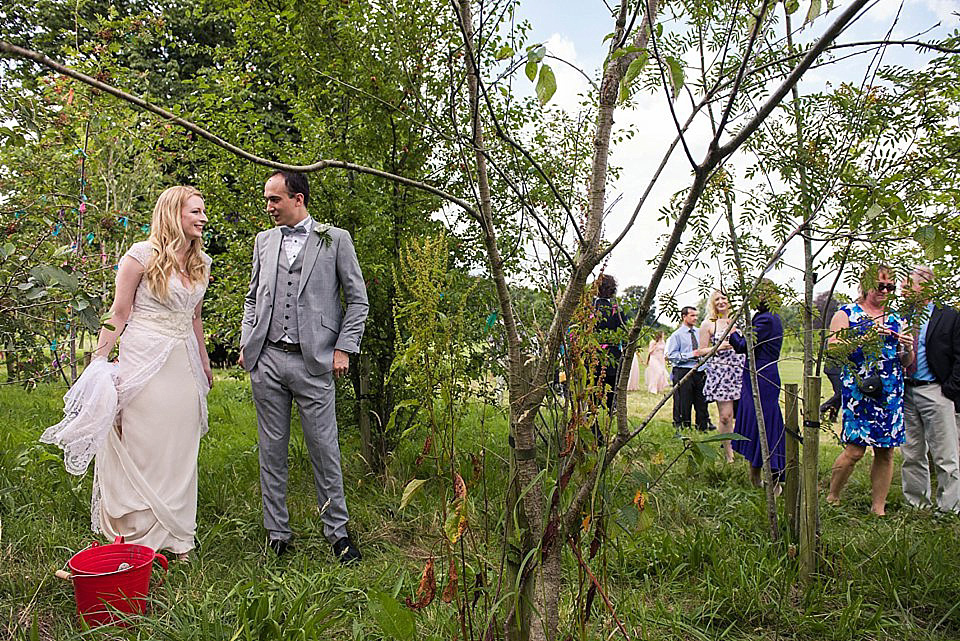 One very special and eco-friendly feature of Laura and Nathan's wedding was something the venue arranged.
"Our venue is very eco conscious so they plant a tree for every wedding they hold there. During our drinks reception we held a tree dedication where we added soil and water to our tree and then each of our guests were encouraged to come up and tie a ribbon to it and make a wish for our marriage together. It was a really nice and unique event to include in the day, and is one of the many things that helped make it memorable for us. We can't wait to go back and visit our tree in years to come and remember the magical day we had."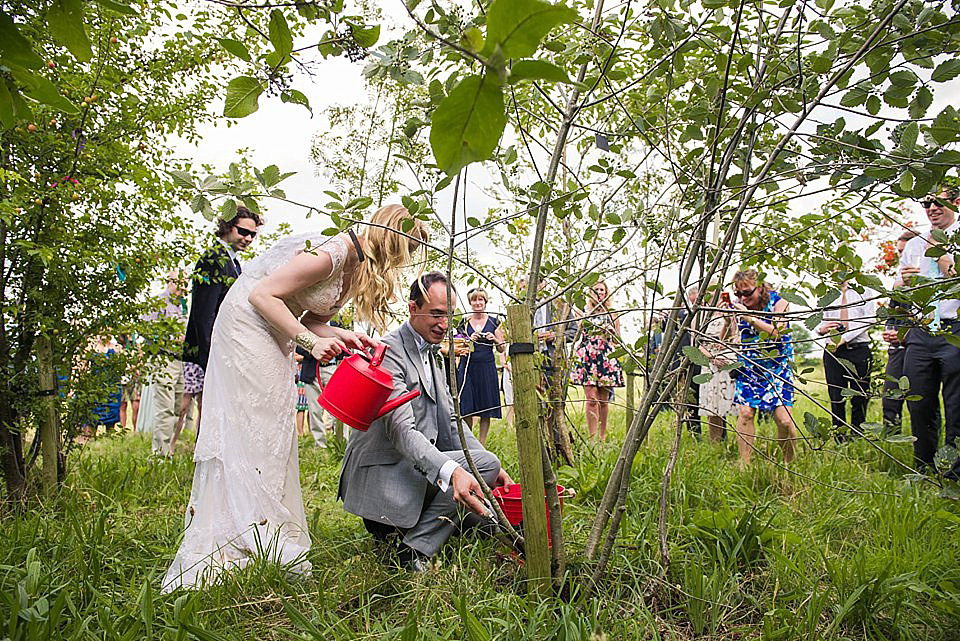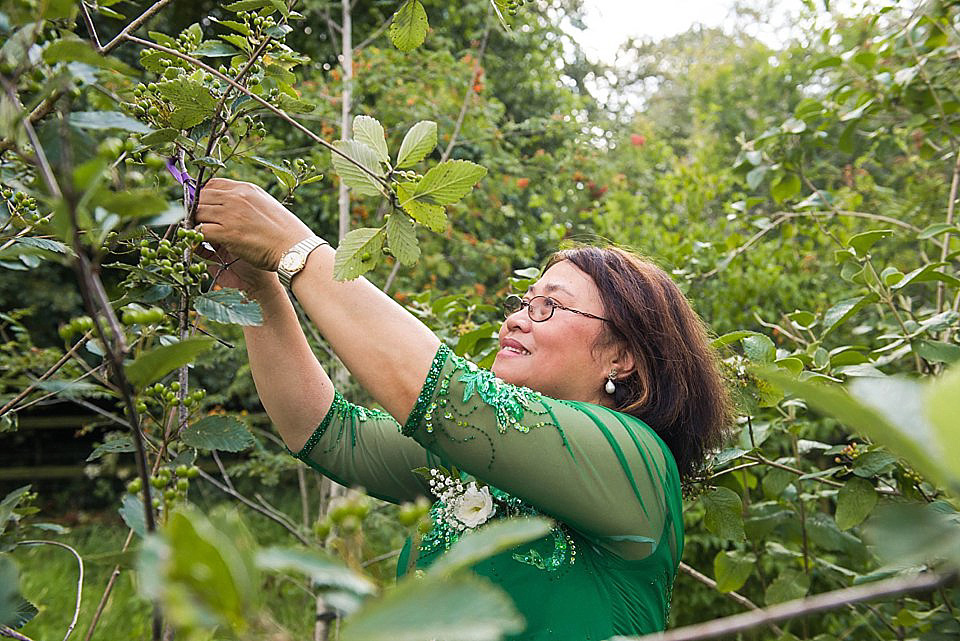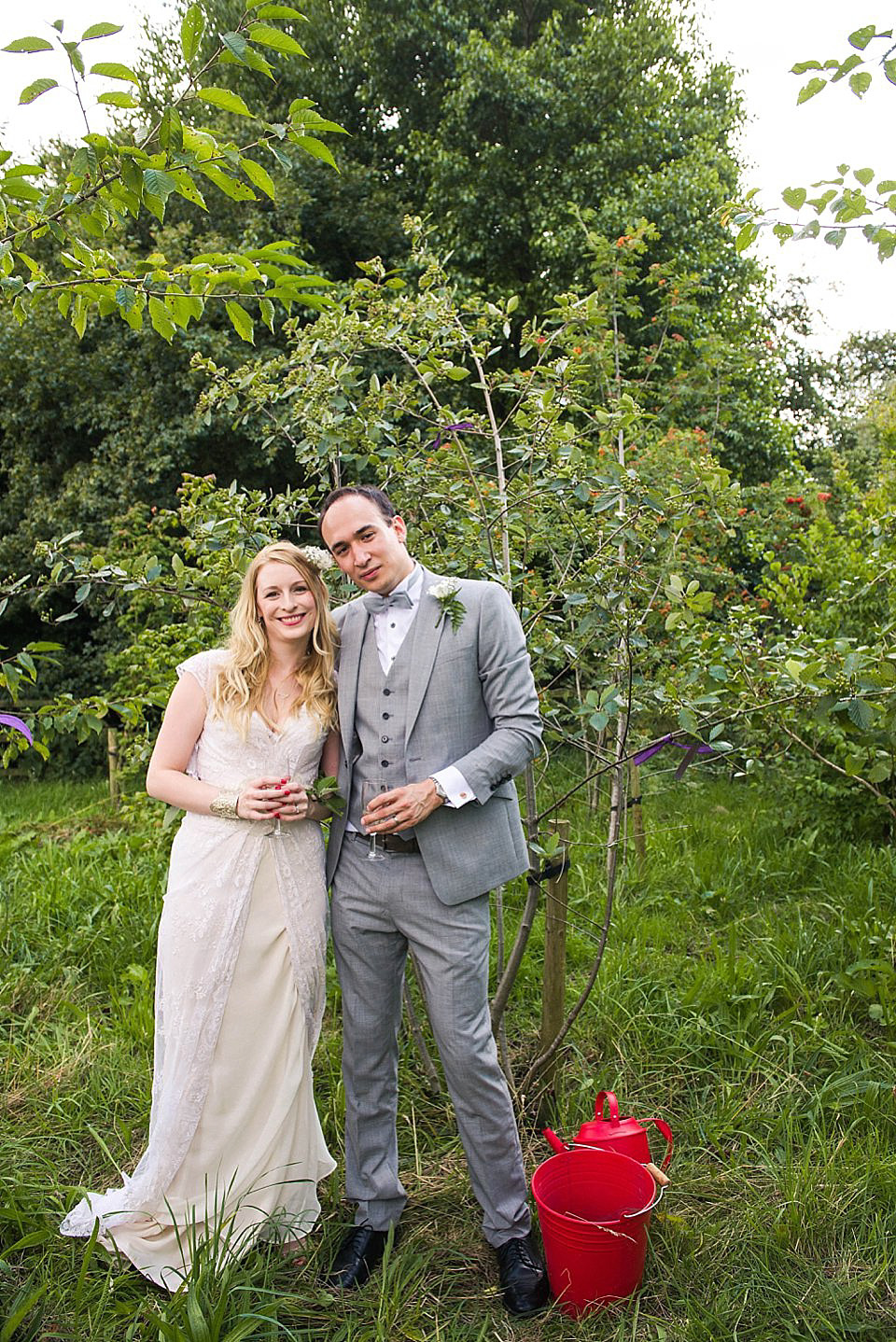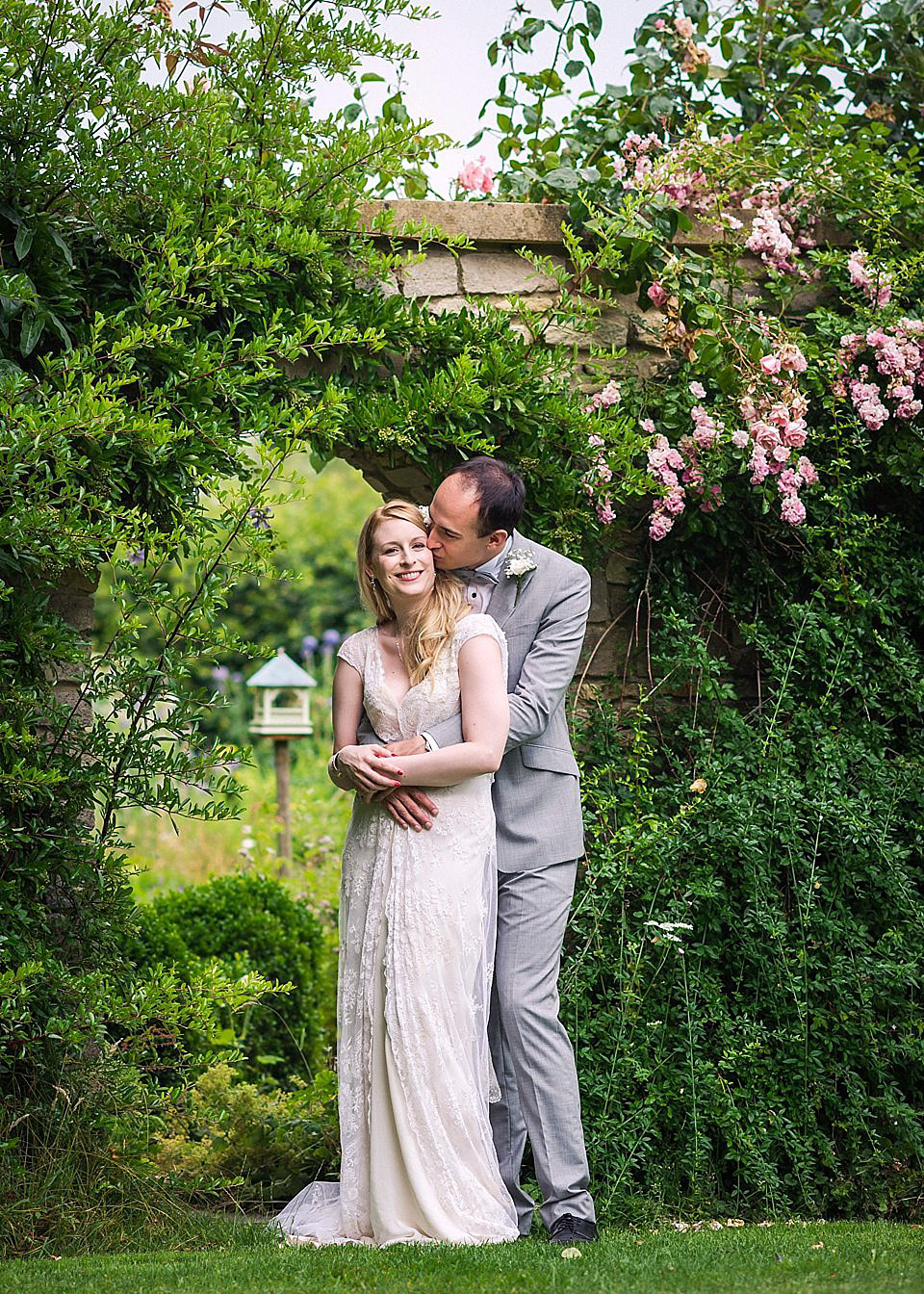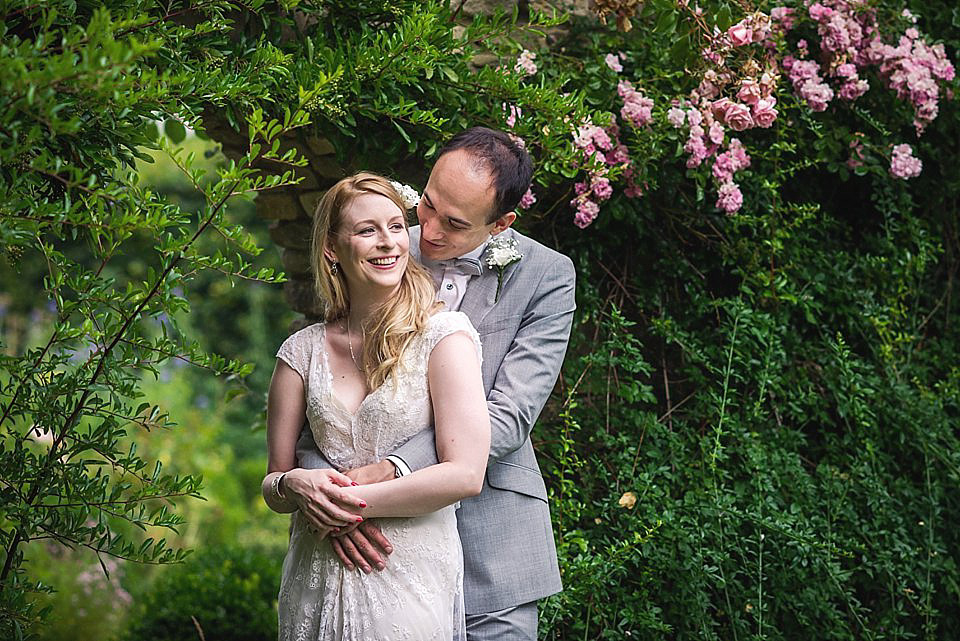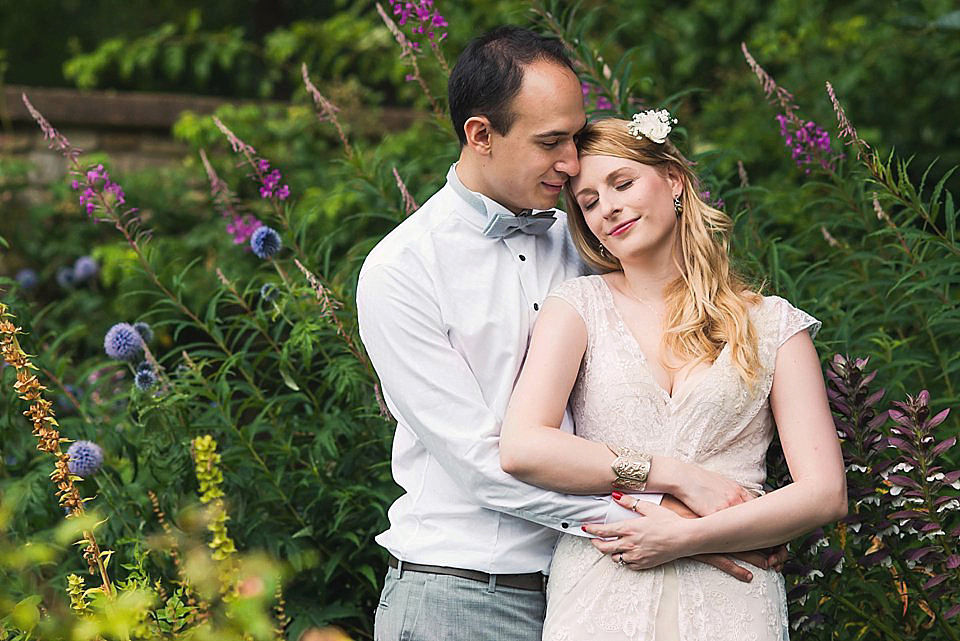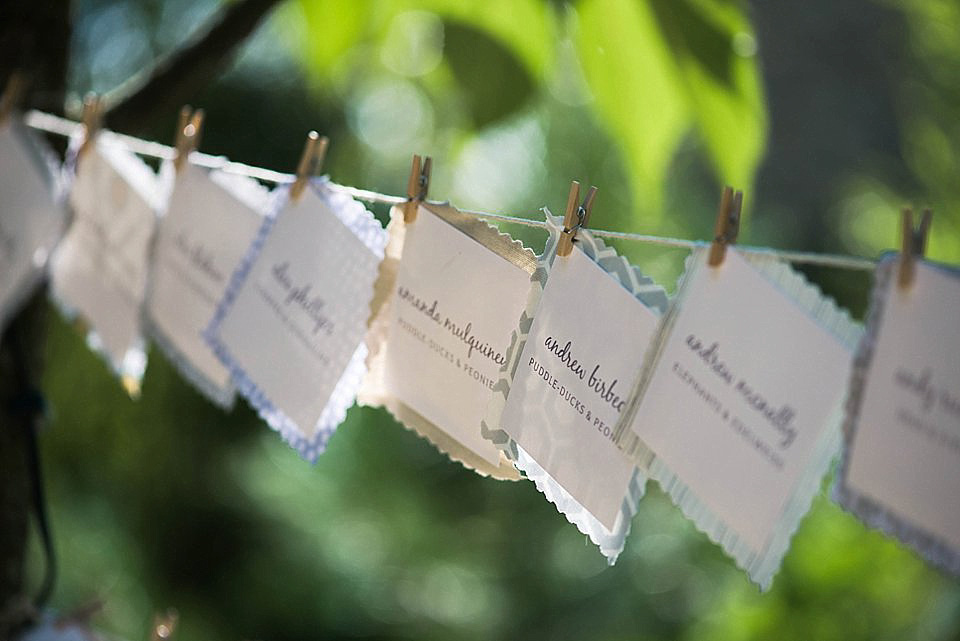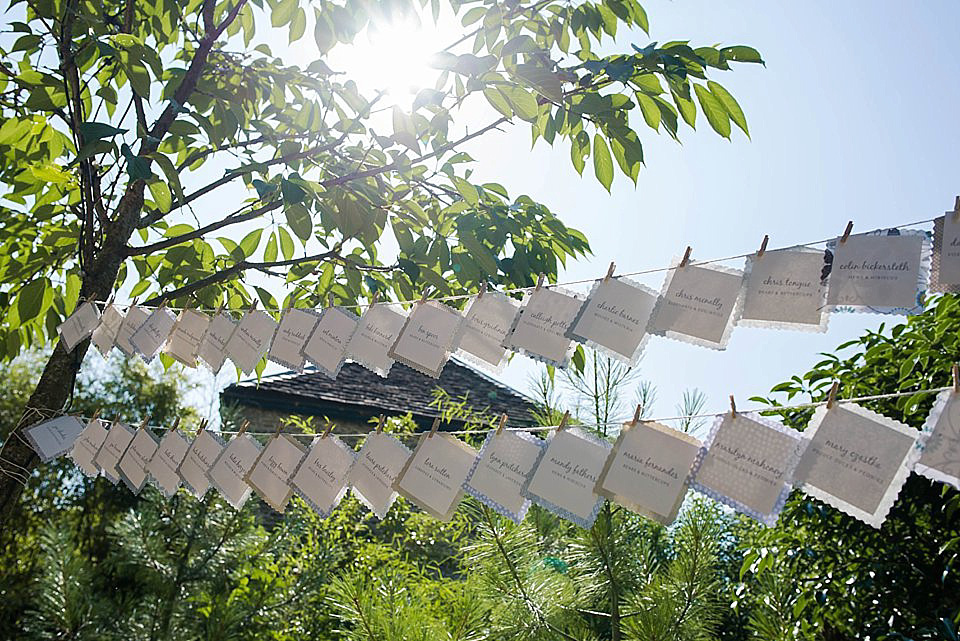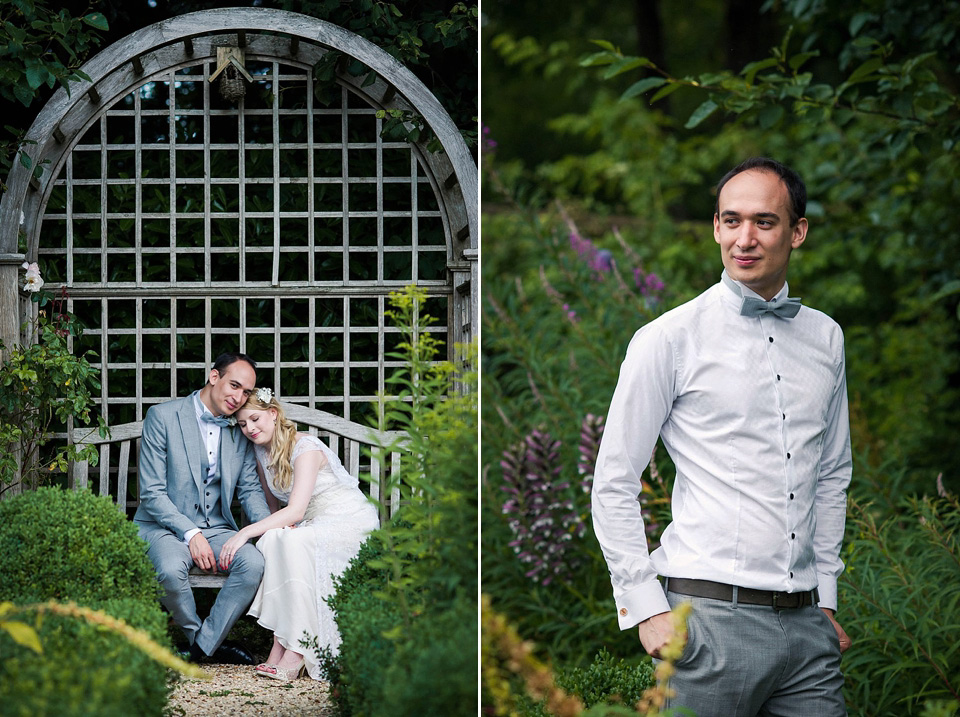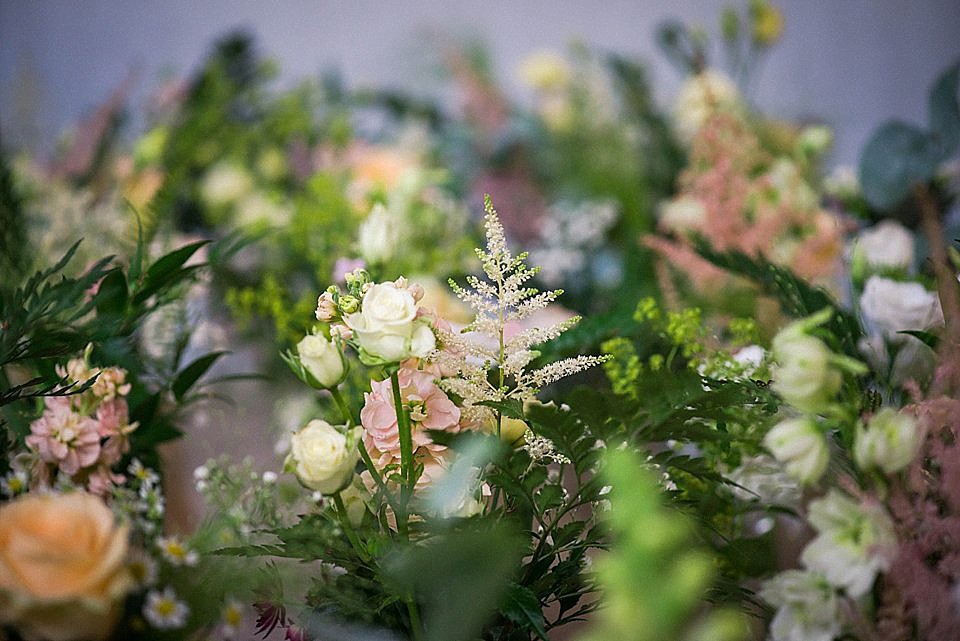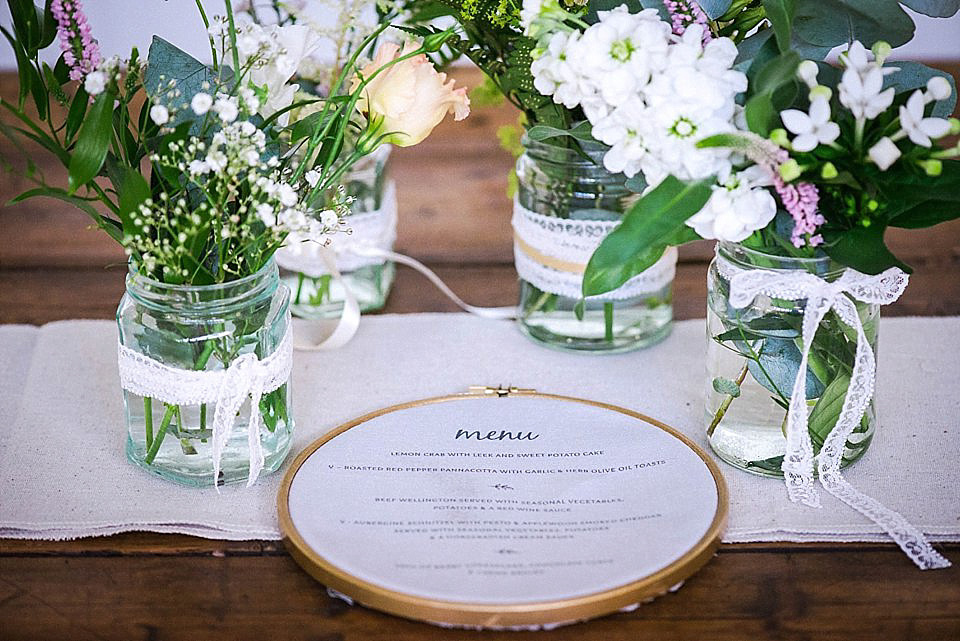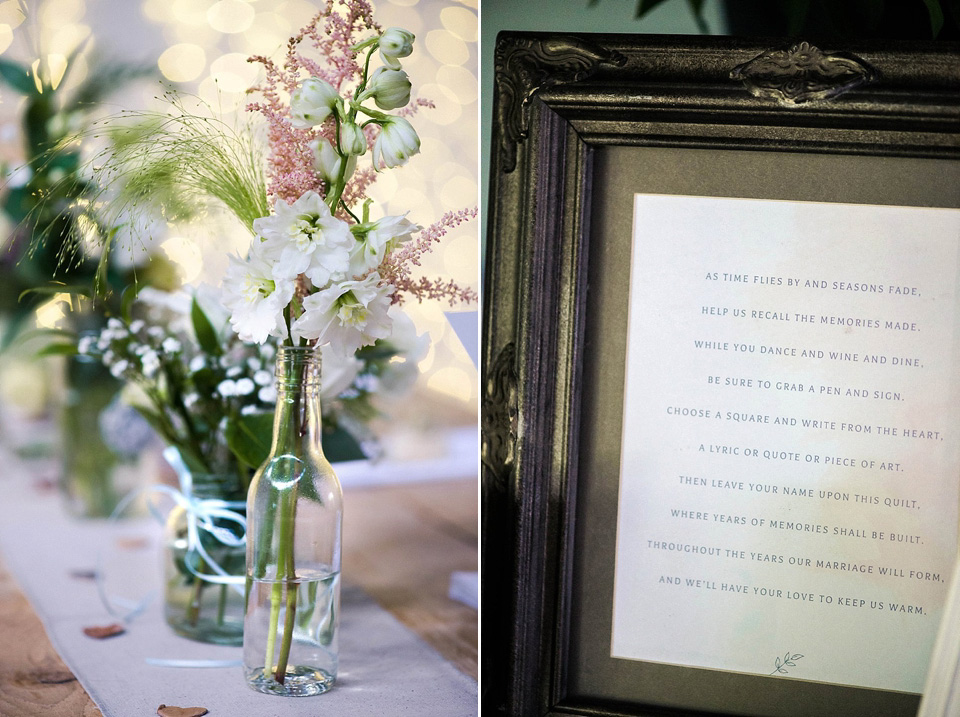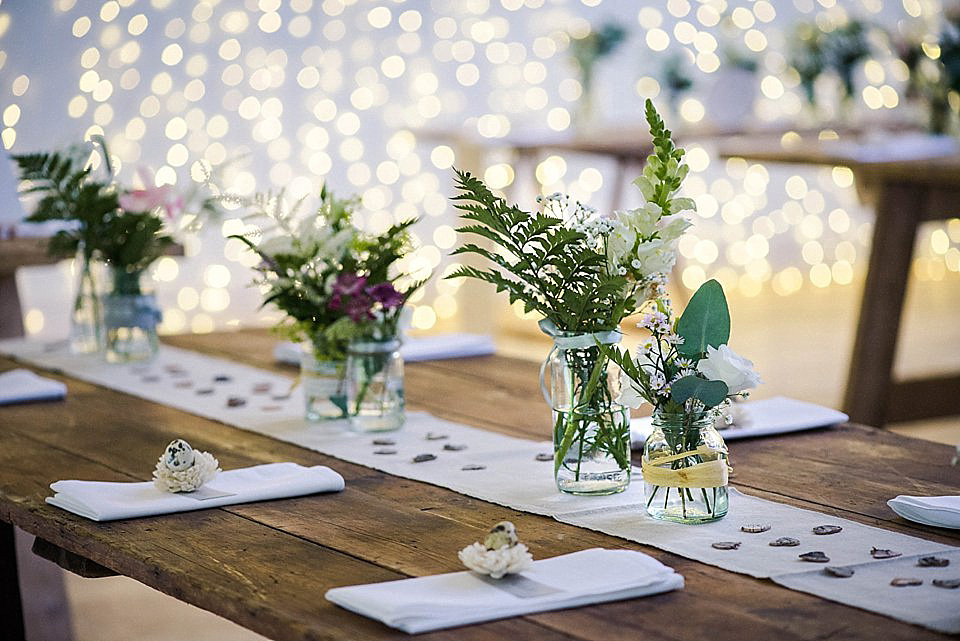 And to pay homage to their love of cats and their pet chickens, Laura and Nathan made sure to have quirky and fun 'favours' for their guests.
"Not favours as such, but each place setting had a 'fortune' quails egg resting in a paper flower. When cracked open they revealed a fortune or proverb, all of which were cat-themed (we're quite obsessed with our cats!). We wanted something a little quirky and silly, to bring a touch of humour and fun, and be a talking point amongst our guests and the eggs were a nod to our pet chickens."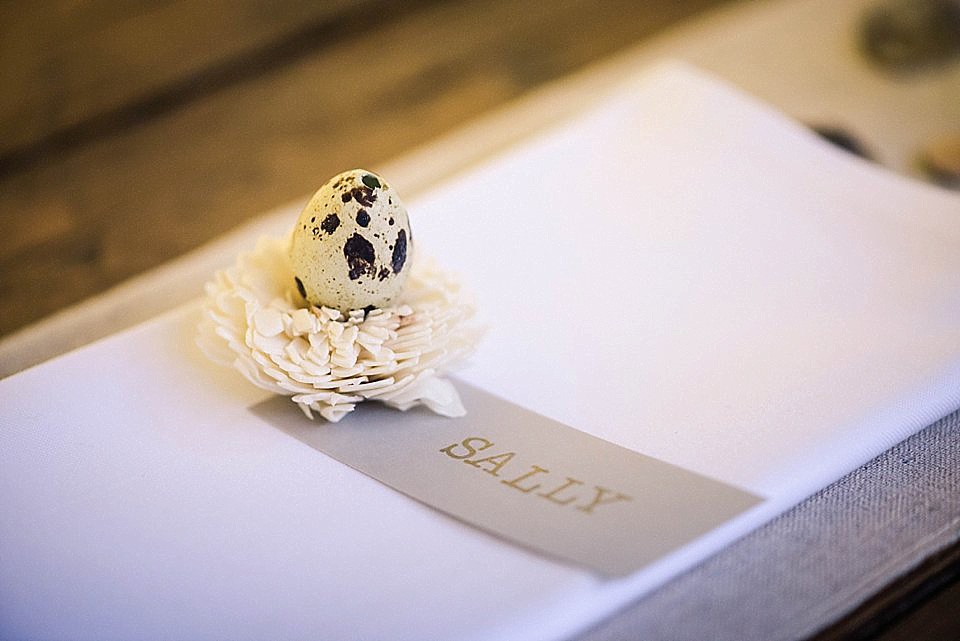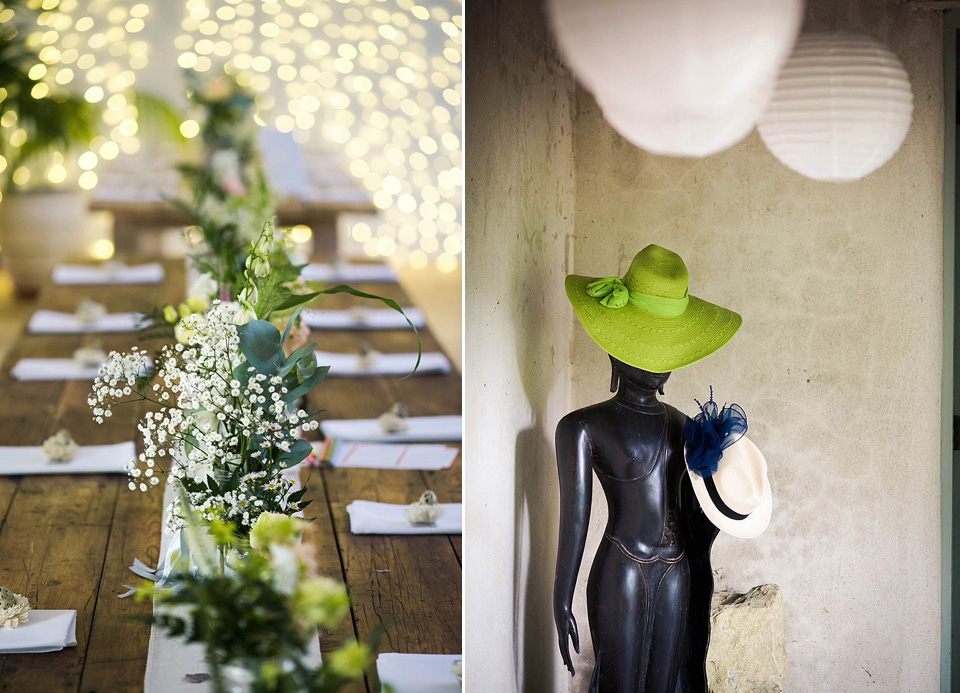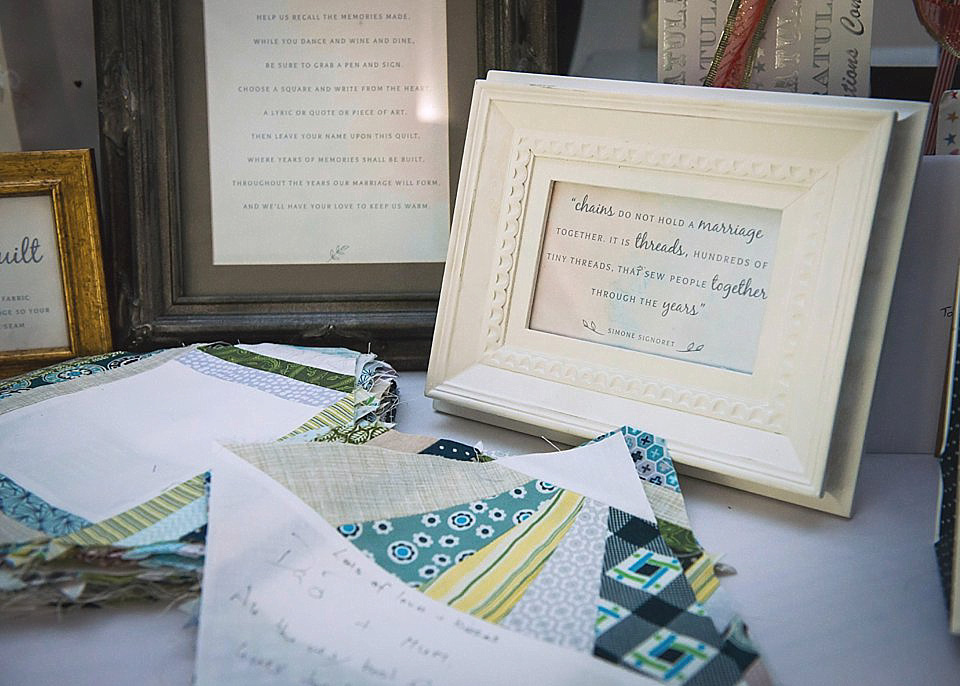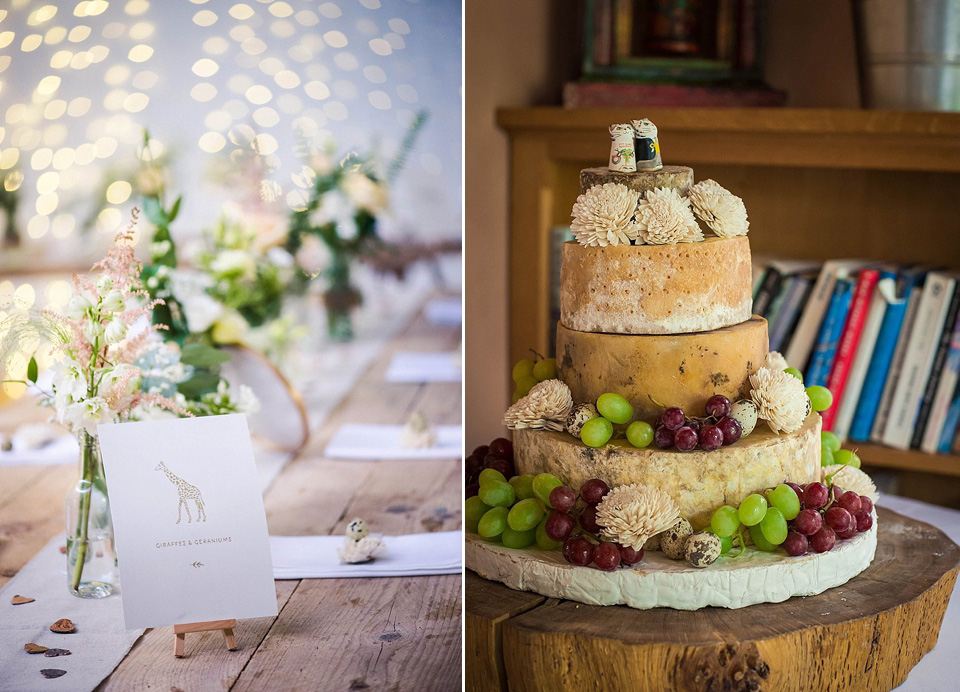 They chose wheels of cheese as an alternative to a traditional wedding cake.
"I've never had much of a sweet tooth and we wanted our cake to be something people would actually nibble on later in the evening while they were drinking and dancing. We opted for a cake made up of wheels of cheese, ordered from The Cheese Shed, and bought lots of crackers and chutneys to go with it. It was a great feature, although it was a little whiffy on a midsummer afternoon!"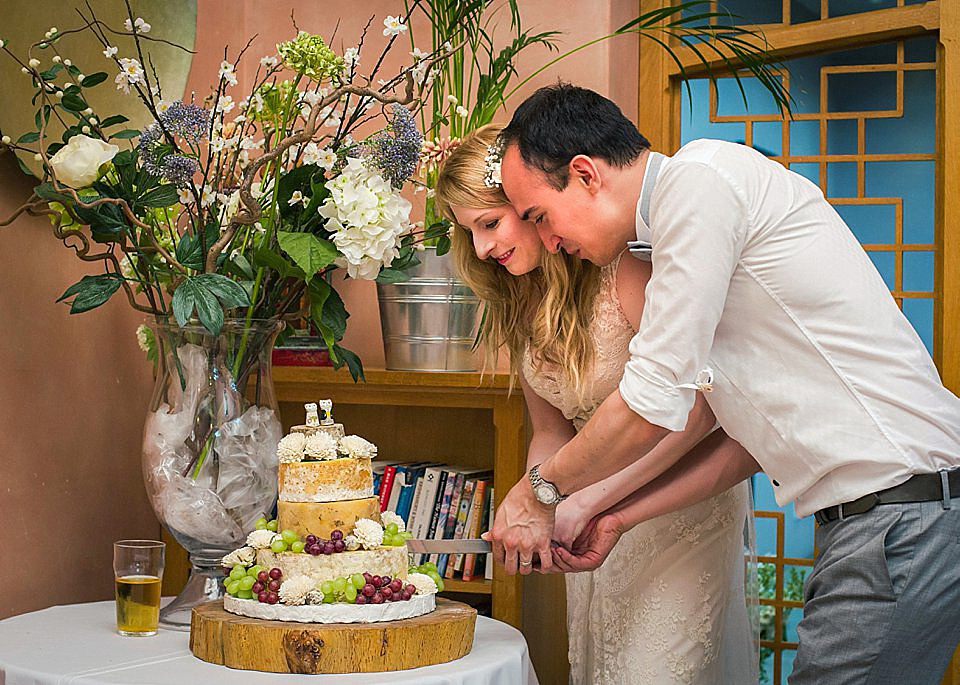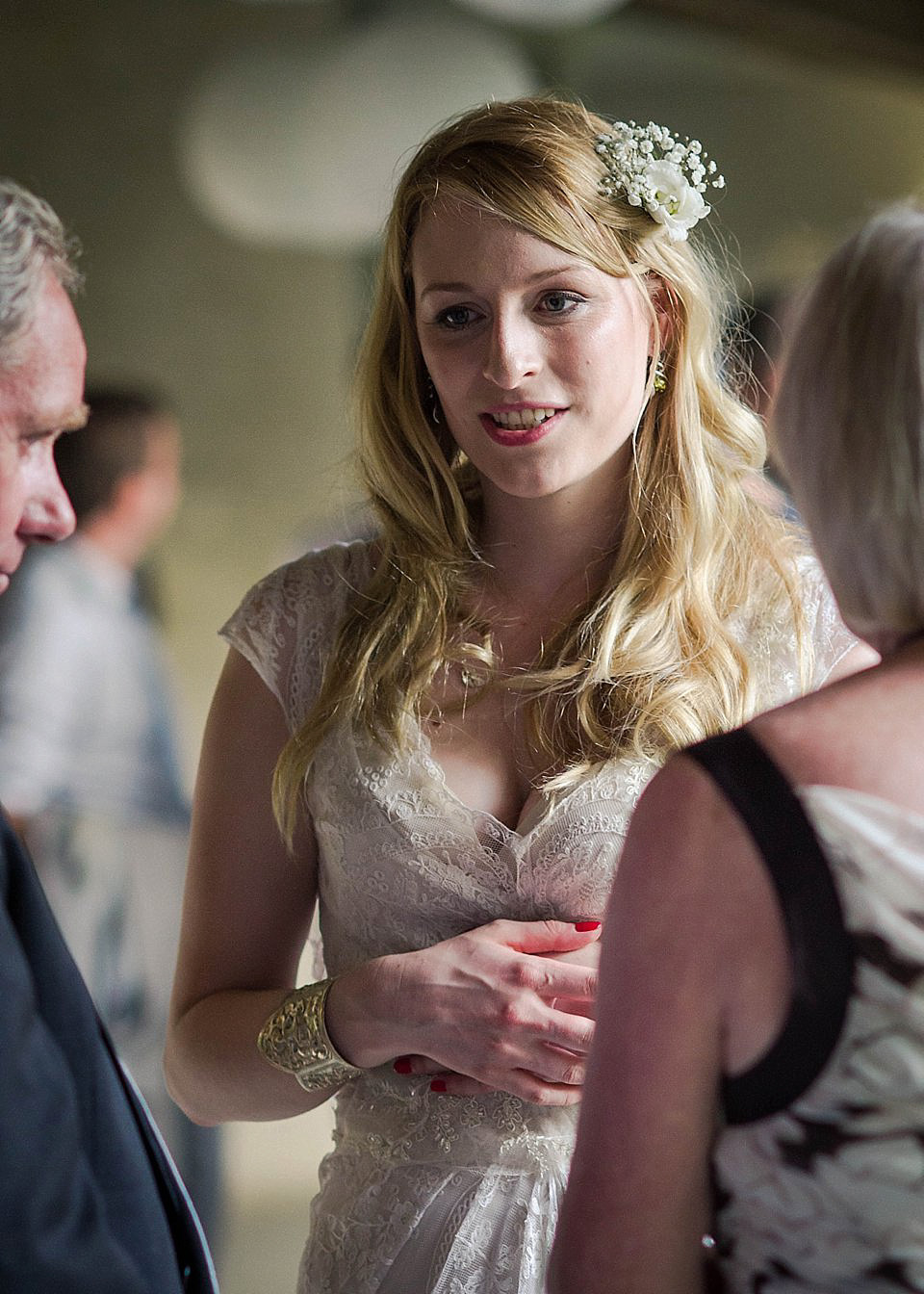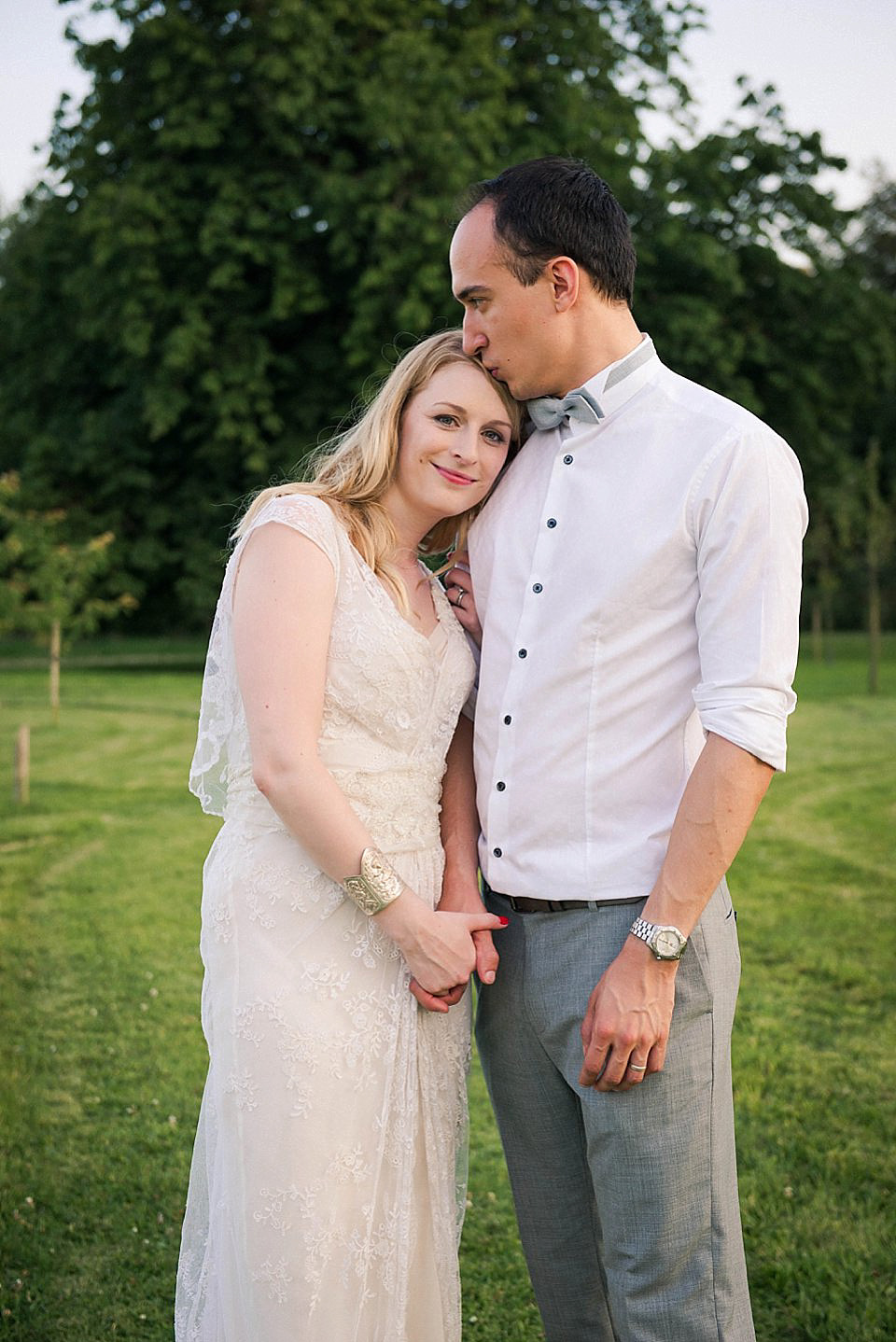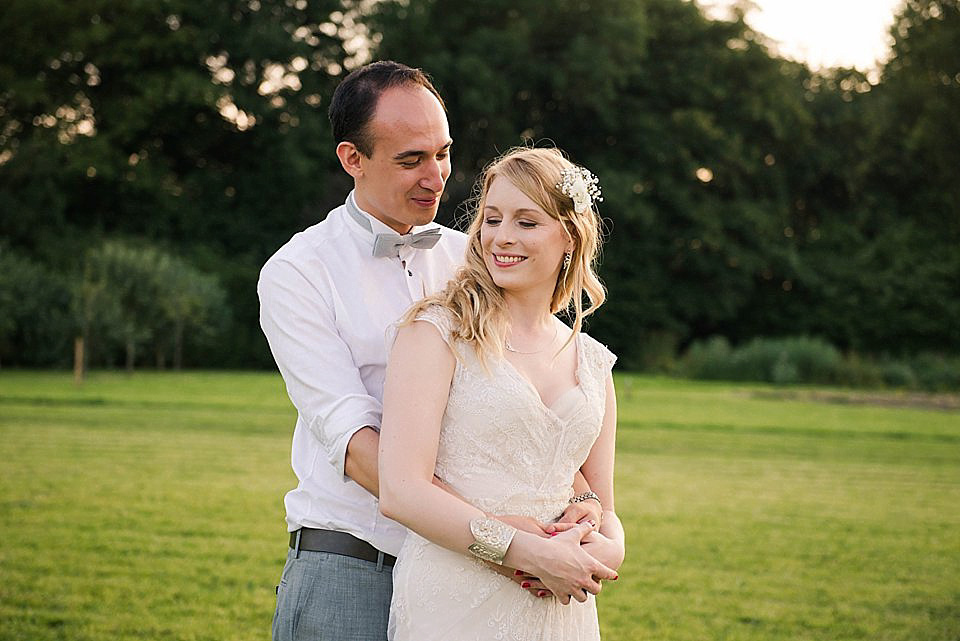 "I designed and made the gold-ink flora and fauna themed table name cards, as well as the escort cards for the table plan which were made from scraps of grey fabrics and strung between two trees at the venue entrance. Our handmade cat cake-toppers came from eBay and adorned the cake alongside more quails eggs, paper flowers and grapes. Linen table runners on long wooden tables helped to create the laid-back country vibe I wanted, and the venue's existing fairylights gave everything a lovely twinkle and glow."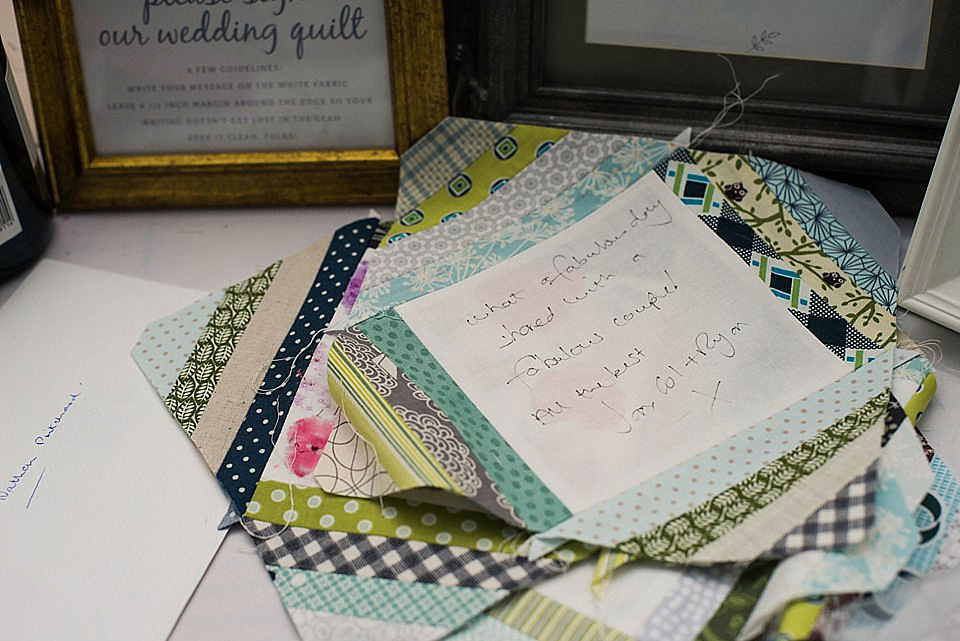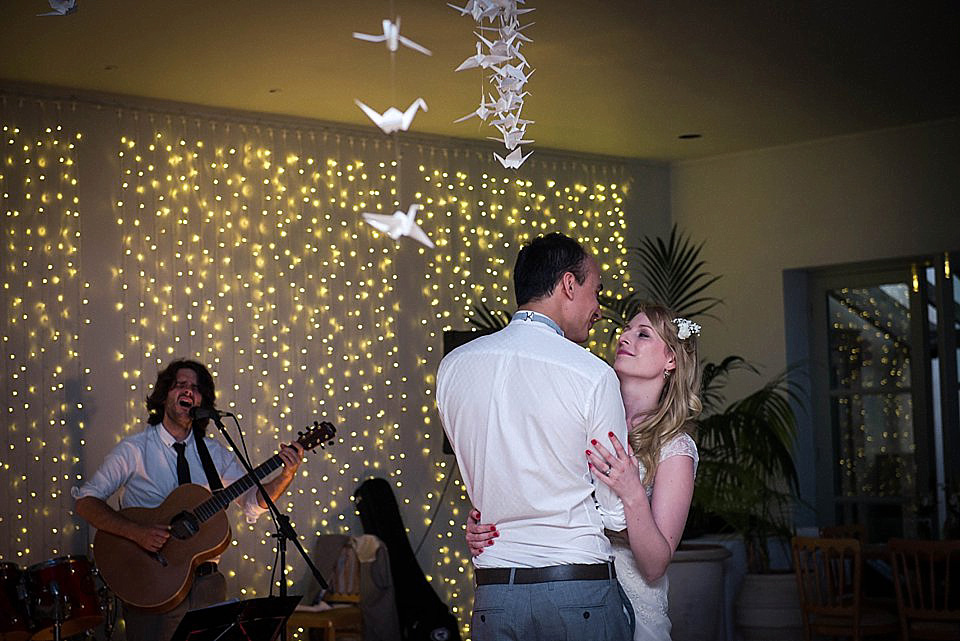 You are just going to LOVE Laura and Nathan's quirky choice of first dance song!
"Our first dance song was 'Harvest Moon' by Neil Young, which was played live by two good friends of ours acoustically on guitar and harmonica. Nathan and I have very different music tastes so we thought it would be hard to agree on a song. The reason for choosing it is quite unconventional – one of our cats gets super affectionate when I play Neil Young(!), and we've spent many evenings snuggled on the sofa with the cats feeling loved up and happy and listening to this song.  It reminds us of home and our little family, and the lyrics just captured the tone of the wedding evening perfectly and ended up being one of our most favourite parts of the day."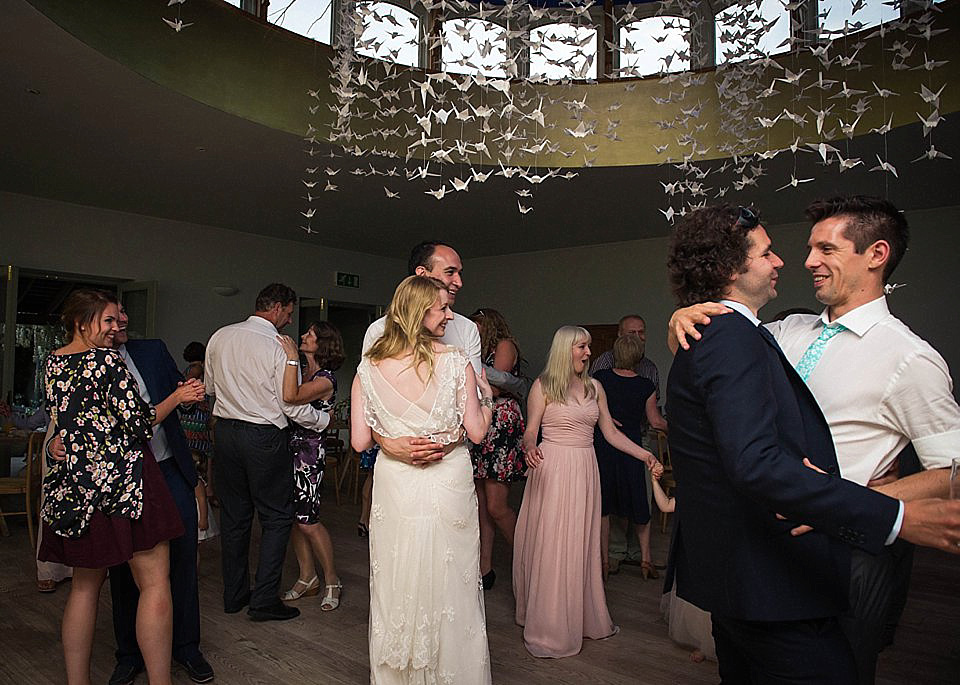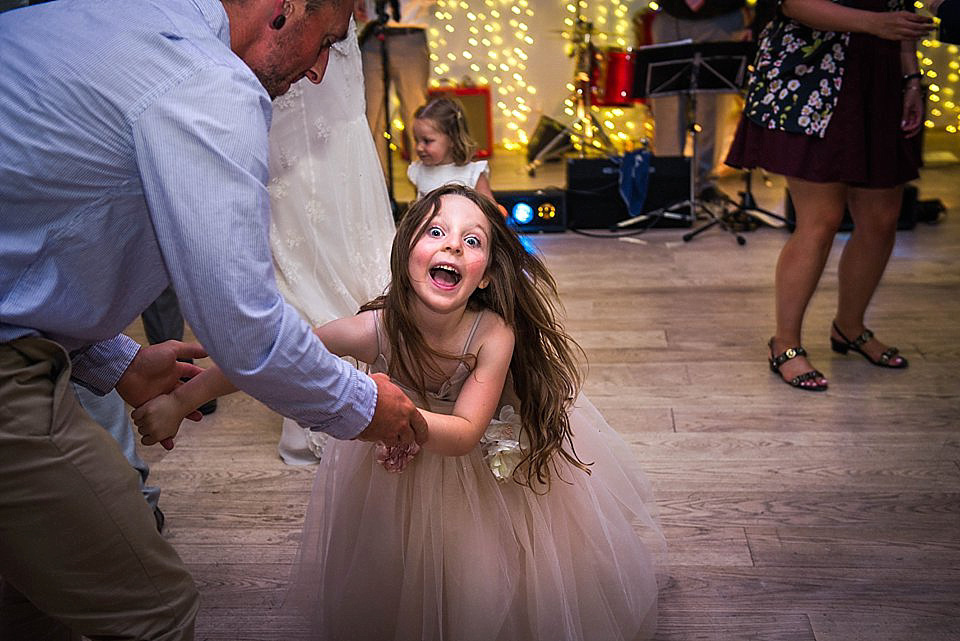 "We are very fortunate to know several talented musicians. Our good friends have a band called The Shindig Engineers and they played a set of popular songs for us which got everyone on the dance floor and kicked off the party. Later, a friend of my bridesmaid DJ'd for us until the end of the night so that the guys in the band could join the party. I literally danced all night!"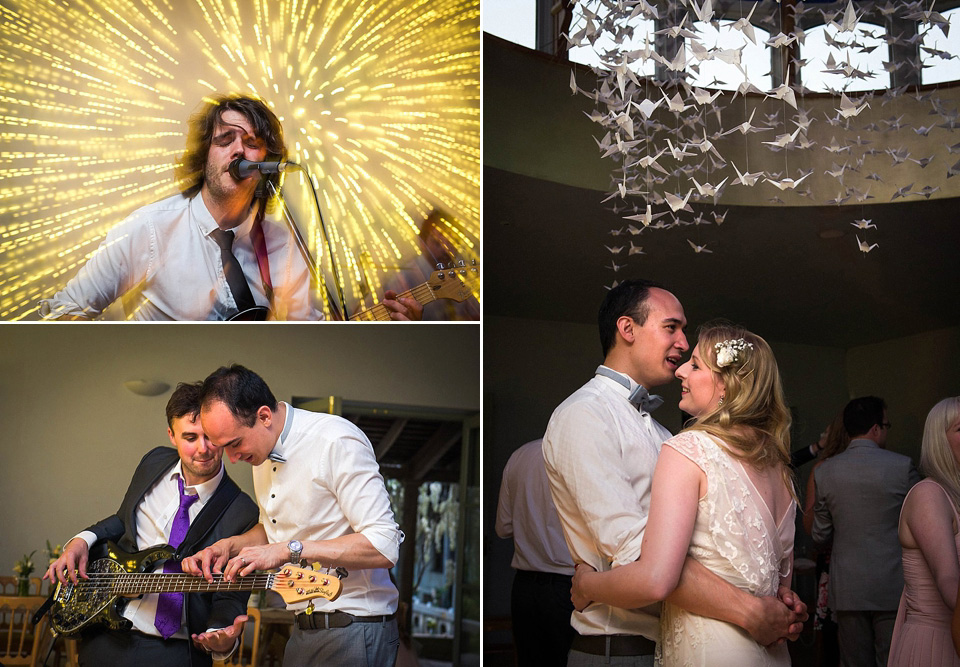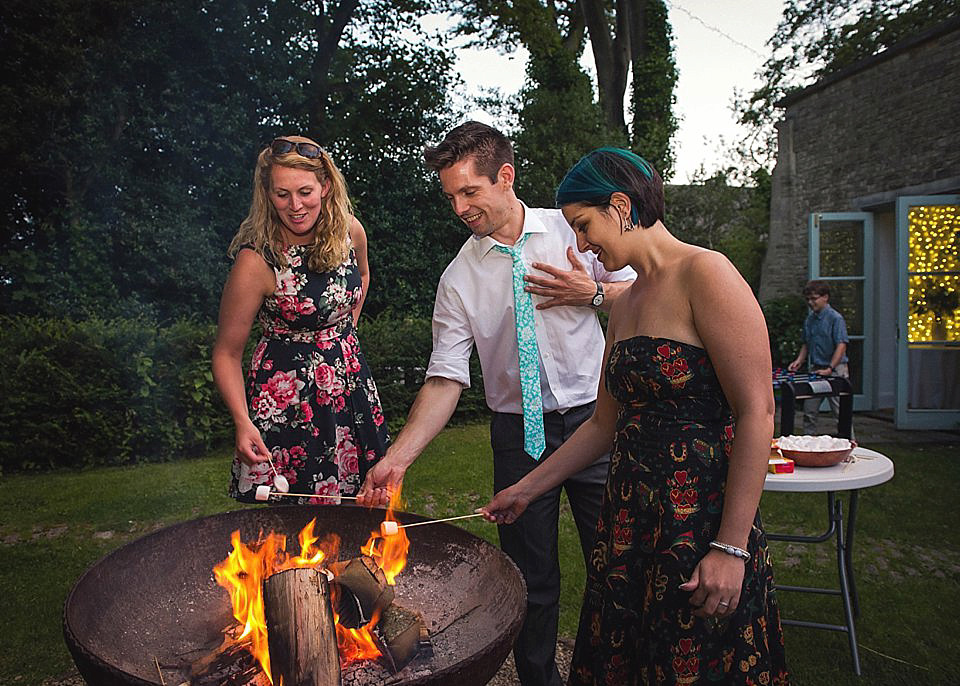 "It's hard to choose a favourite part! I loved the ceremony and our first dance but I think the moments we spent alone (with Julie our photographer!) were the most special as you spend most of the day being pulled in opposite directions talking to your guests and don't get to spend nearly enough time with your new husband. It was lovely to step away from the crowd a few times and take a breather and just enjoy being with one another and to do the whole 'eeeeeh, we're married!' bit.
Nathan says his favourite moment was the end of the night when we were back in our lodge – we stayed up for hours talking and reflecting on the day, feeling happy and full of love and adrenaline, knowing we were married at last."

Words of Wedded Wisdom
"Try to spend as much time together on the day as you can – either have your photographer pull you away a couple of times for portraits or go for a walk around the grounds together. The day is about you two, so make time to enjoy it together.
If you enjoy DIY and crafts, just go for it and enjoy the process. Sometimes it feels like you're making too much work for yourself and that nobody will notice, but people really do notice the little personal details and it's totally worth the extra effort to make it a personal day."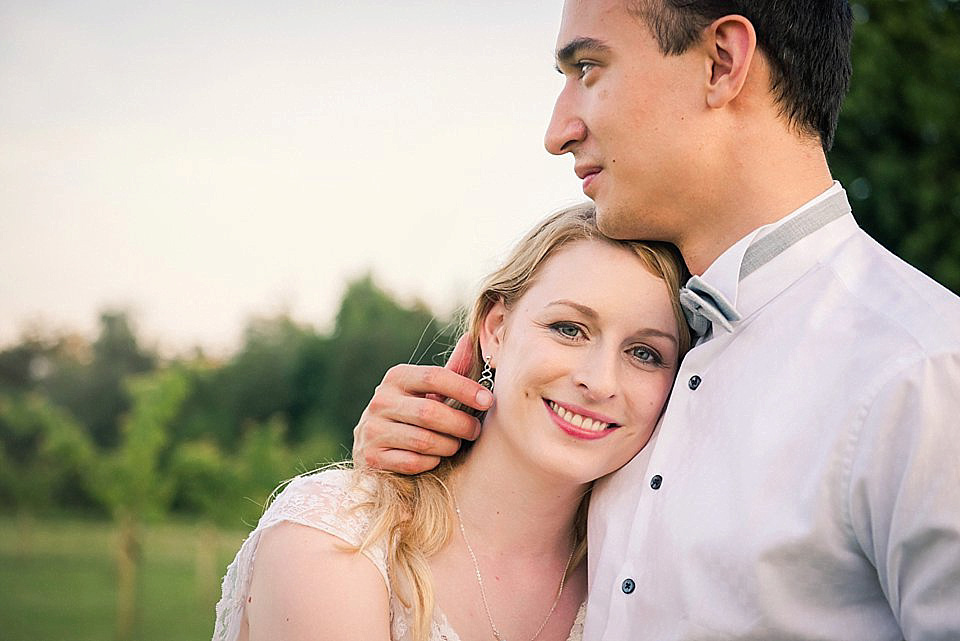 It's been such a pleasure preparing this feature and I want to say a big thank you to Julie from Julie Anne Images – simply stunning pictures. And to Laura and Nathan, what a pretty, handcrafted, and eco-friendly day you created. As a fellow cat lover, I just adored the little cat touches to the décor and as inspiration for your first dance! And I just love the idea of having a tree planted and hope that each time you visit the tree it brings back all your lovely happy memories.
Love Jo –xxx-
Photographer – Julie Anne Images
Venue – The Matara Centre
Bride's dress – Jane Bourvis
Bride's shoes – Debenhams
Bridesmaid's dresses – For Her & For Him
Flowergirl – BHS
Make-up – Sophie Chamings
Flowers – via a wholesaler
Cheese cake – The Cheese Shed
Rings – Sundari Gems on Etsy
Entertainment – The Shindig Engineers