Good Morning on this frosty Tuesday – brrrr! Have you had any snow?  With all this cold weather which is upon, I'm figuring the best remedy is probably heading straight back to the summer.  Join me then on a journey back to August last year, when Doctor Geri and Medical Student Pat tied the knot in St. George's Church near Taunton.  I love Geri's light and floaty, bespoke gown, and how these images show how the couple packed in a lot of fun in to their wedding day – think garden games on the farm, a céilidh and even a silent disco, which apparently went down a treat.
But mostly I love these images for the way they show how the couple embraced their love of nature and the outdoors…
"We were inspired by a local National Trust nature reserve, so wanted a marquee in beautiful natural surroundings and used a palate of greens to form the base of the colours of the day to tie it together.   Our choice of Roughmoor Farm as our wedding venue, was because it had character and so many of the things we loved. It's at the end of a lane, with a beautiful outside space surrounded by trees and fields. We also loved Tom and Claire who run the weddings there. They had just finished their first wedding season when we booked our date with them and we loved that they were so new to it all, open to our ideas so it all still felt very original, not at all prescribed and that they would help us to make it the wedding that we wanted."
Photography Copyright (c) 2015, Simon Biffen
"We made most of our own stationery, using Minted Design for our invitation where we found a woodland design we loved. We then bought an initialled stamp from Noolibird for our orders of service, which we designed and had printed locally onto brown paper."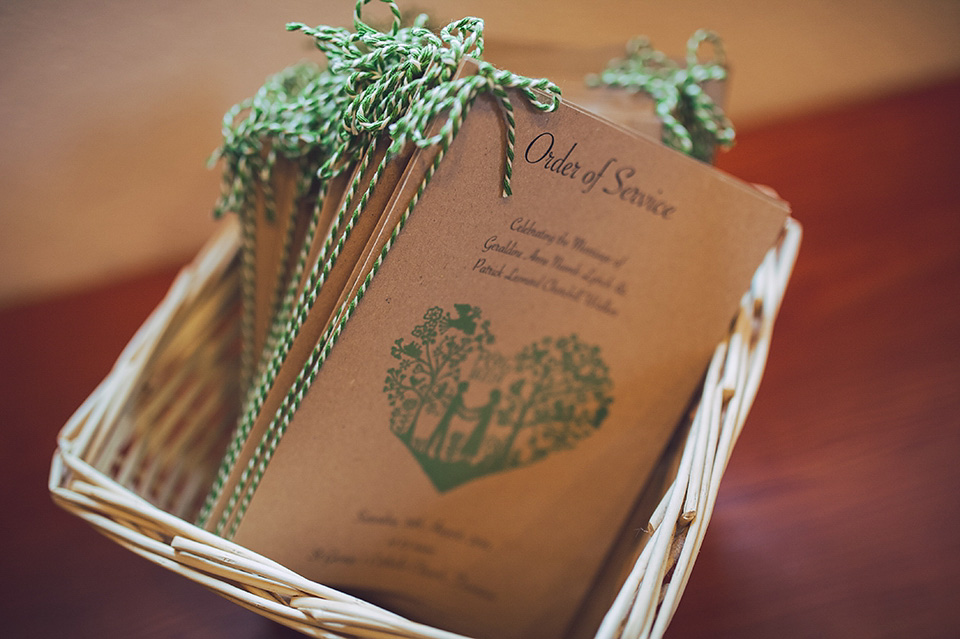 Geri had her beautiful dress and two-tier veil made and designed by Susie Stone after meeting the designer herself at 'Brides the Show'. Adding a touch of gypsophila to her plaited, romantic up-do and wearing her mother's emerald jewellery, the look is simple and incredibly elegant. Geri also had her Rainbow Club shoes dyed to match the vintage tone of her gown.
"Susie Stone drew four dresses for me, and I fell in love with one design in particular. I was nervous at taking the plunge but I'm so glad I did. The experience of having the dress made for me from scratch was incredible. I had two fittings with simple fabric where we got the scissors out, took down the back and cut some off the front!
I had swatches of satin, chiffon and lace in different colours and designs and when I'd chosen these I had two further fittings of the dress in the final fabric. Susie took the time to learn exactly what I wanted and her priorities were the same as mine – a beautiful dress that I felt amazing in, could move and dance easily in, was comfortable and allowed me to eat as much food as I wanted! In particular I loved  the lace back detail, and the way the fabric moved."
"I really didn't want to drag my five bridesmaids and mum around central London shopping, so I bought five different styles – that's thirty dresses! I wanted to find one that was flattering and comfortable for everyone, and we all knew when we'd found it! There were some that looked terrible on as well, but thankfully I was able to bring them all back.
I gave the girls pearl drop earrings the night before the wedding and they all wore these and gypsophila in their hair."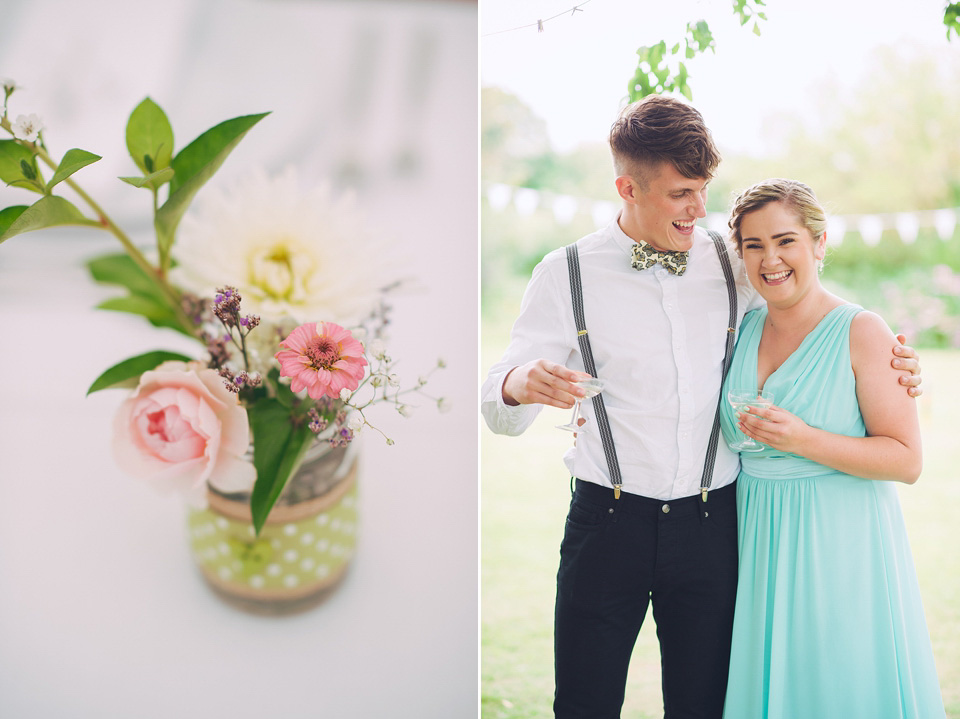 "We loved Simon Biffen's photos – he was keen on our day being relaxed without spending too much time having formal photos taken. Our guests absolutely loved him too and despite staying in the background, even the best man wanted a selfie with him!
Simon made us feel completely relaxed when having our couple photos, we got lost in the moment and I see them as one of the most special times together on our day. He took fantastic shots of all our guests. The photos are romantic, hilarious and capture the atmosphere of the day completely. I couldn't recommend him enough."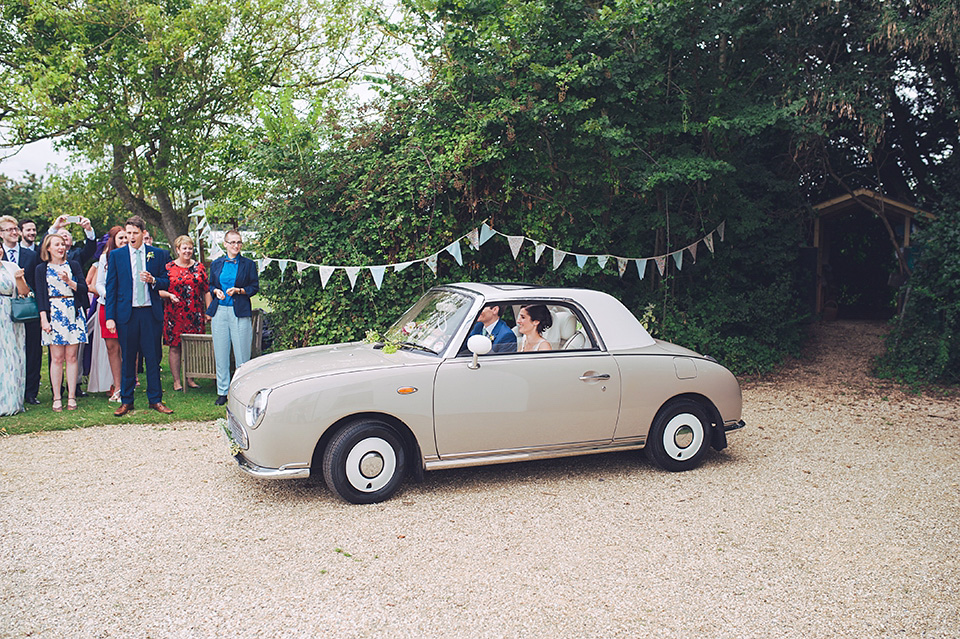 "Pat and I met at university (before we both went back to study medicine!) – after some missed hints, it eventually came down to me to ask Pat out and thankfully he said yes. Pat proposed on a beach in Dunfanaghy, Ireland after a long walk along the coast. It was the same place where I went on my first ever holiday aged 2 (not that Pat knew this at the time) and we were engaged for 2 years while I did my finals and we planned our wedding at a leisurely pace."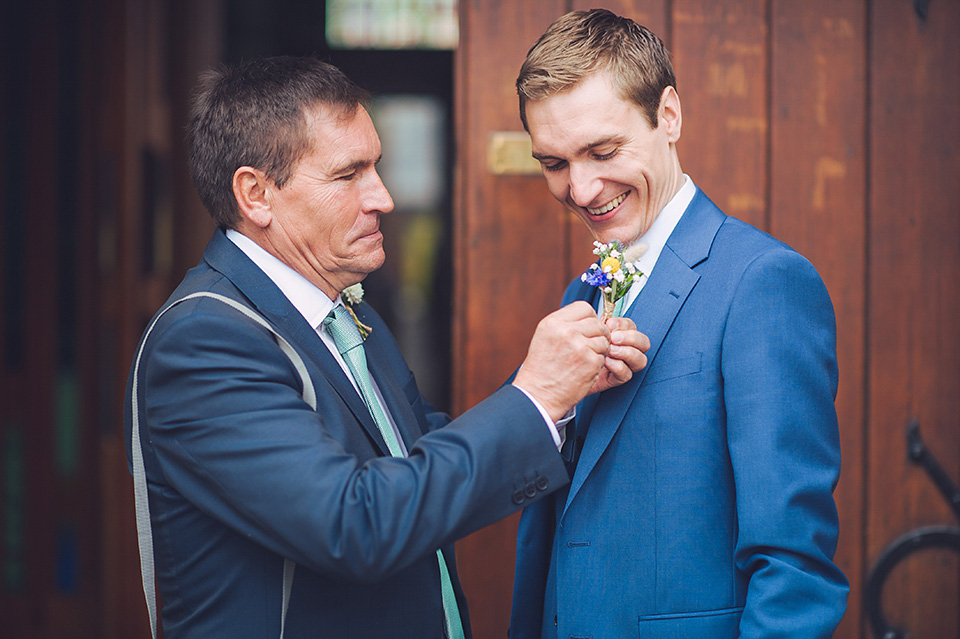 "We found Pat's suit in Reiss. It was a lovely summery blue, and made Pat feel like a million dollars. My parents gave him a vintage watch, which he wore on the day. His American dime cufflinks were given to him by one of his best men(Pat's half American)."
"A VW van took me to the church and we drove away in my sister's Nissan Figaro She'd decorated it with flowers and was quite popular!"
"We used JW Blooms florist, as we loved Jan's ethos. She grows her flowers in a field near Taunton, and I loved the natural look of her bouquets. I went to see her a few days before the wedding and we chose the flowers for my bouquet based on what was growing at the time, which was a lovely experience in itself. I was going to go for green and white but when I saw the vibrant colours of the flowers I couldn't resist choosing a bright summery bouquet."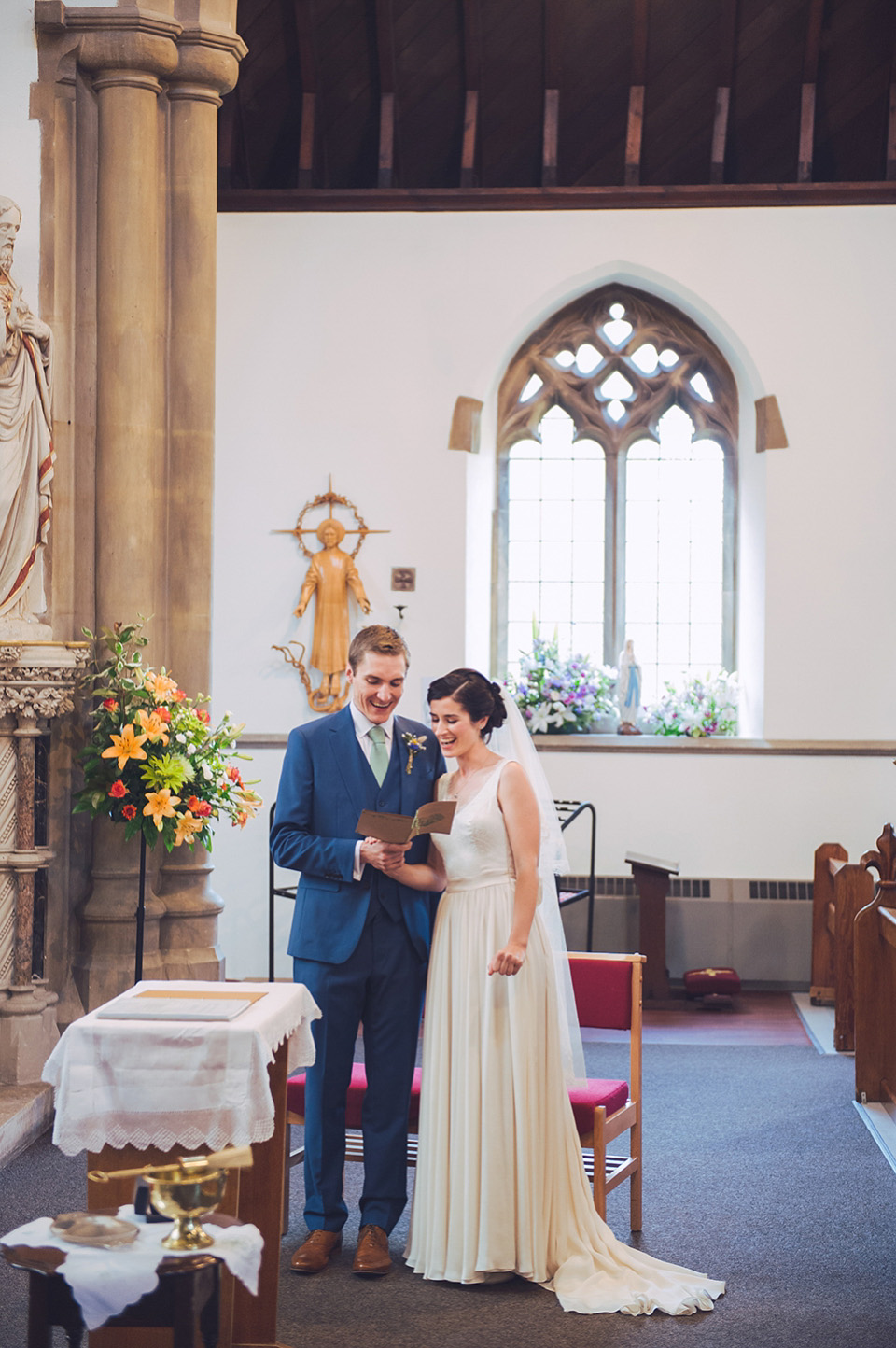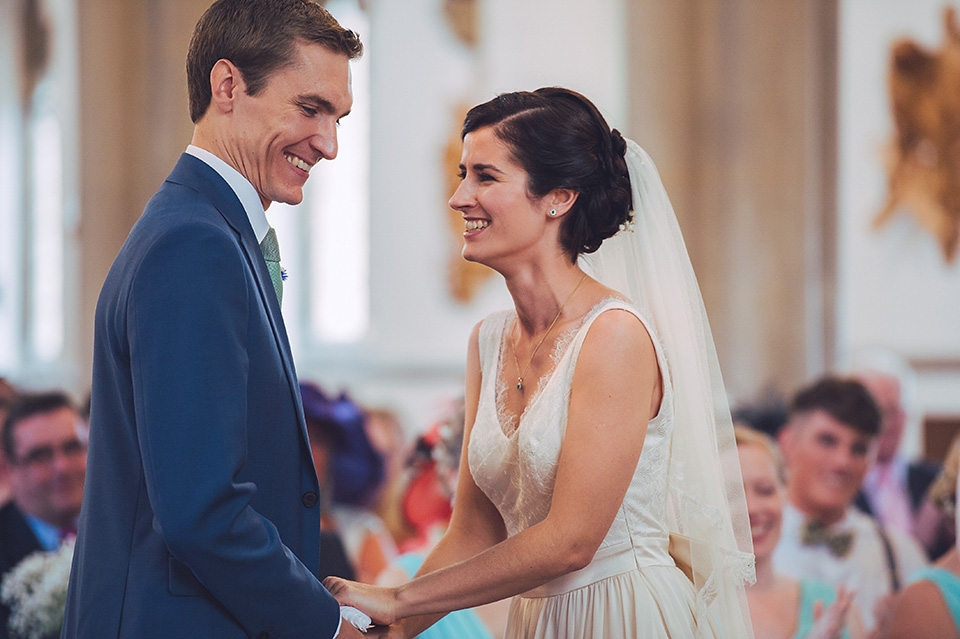 "The ceremony was amazing, walking down the aisle with my new husband and waving to all our friends was a great feeling. I loved the private moments we had when Simon was taking our photos after the ceremony – we got to talk to each other while he stood back. Those were precious and memorable moments. "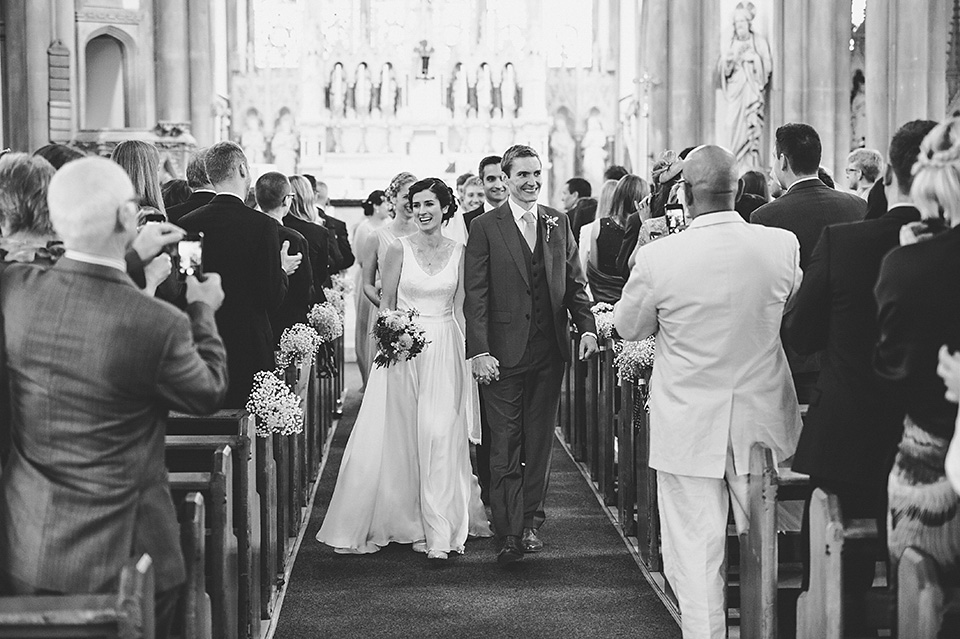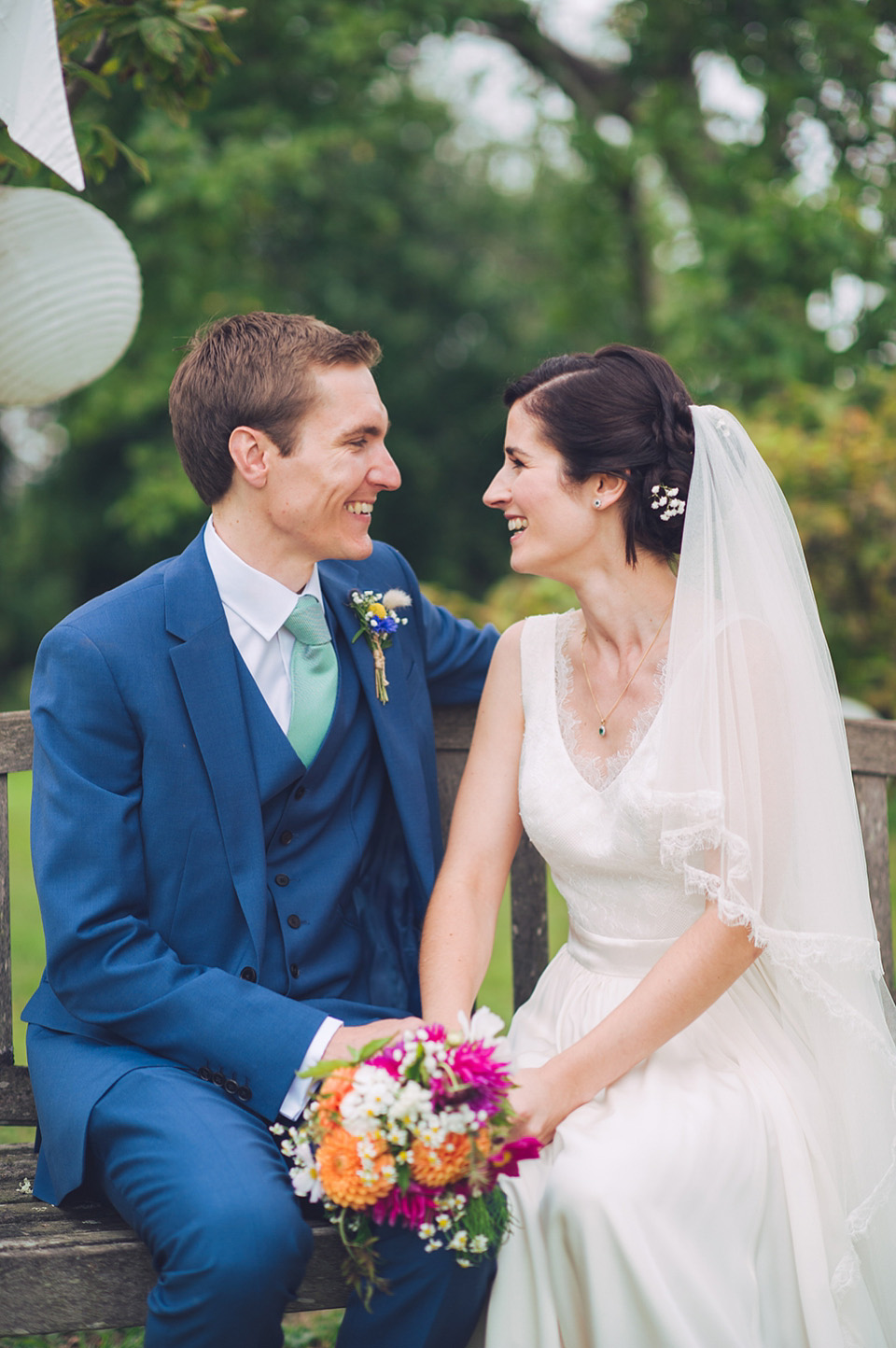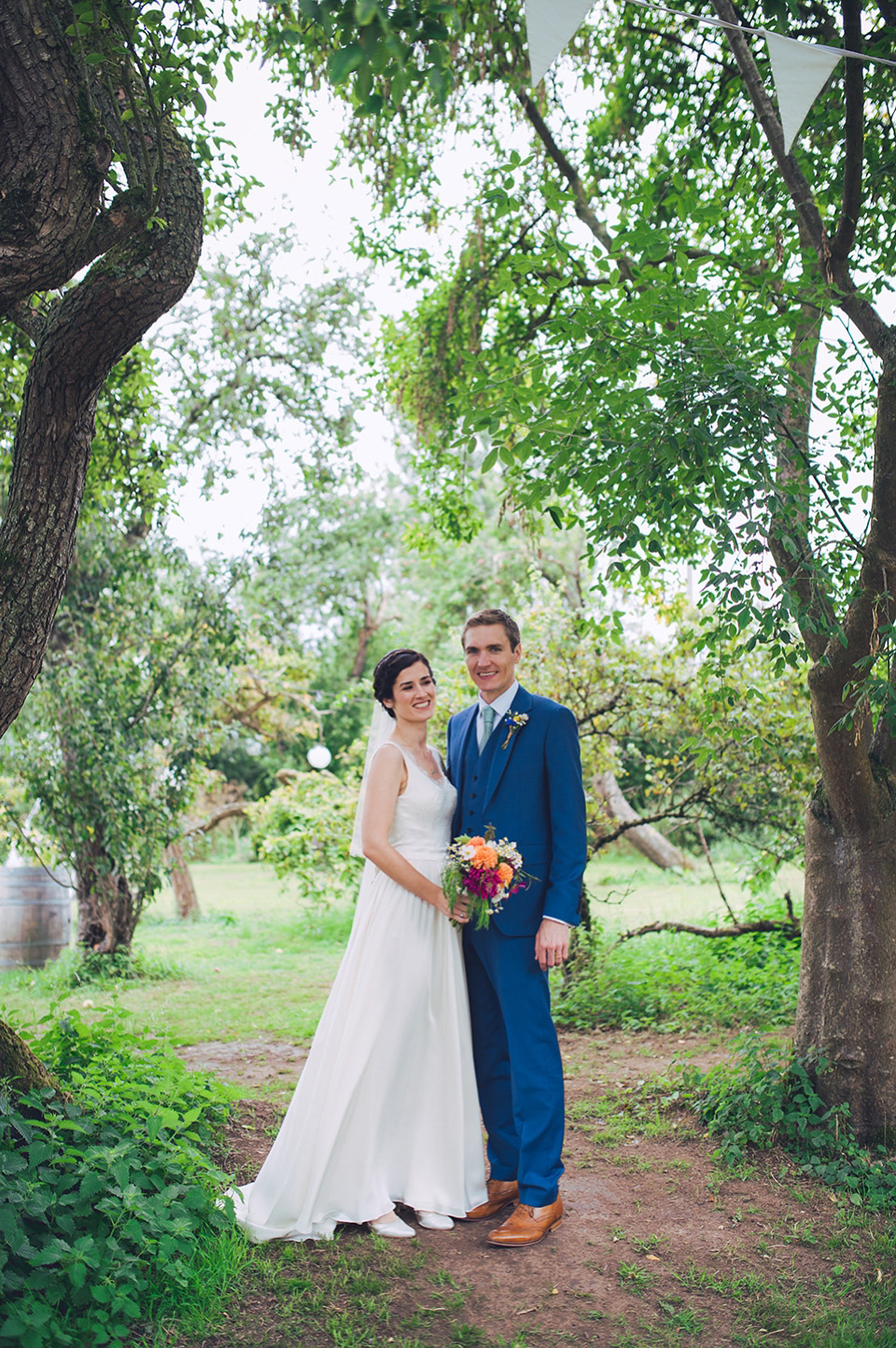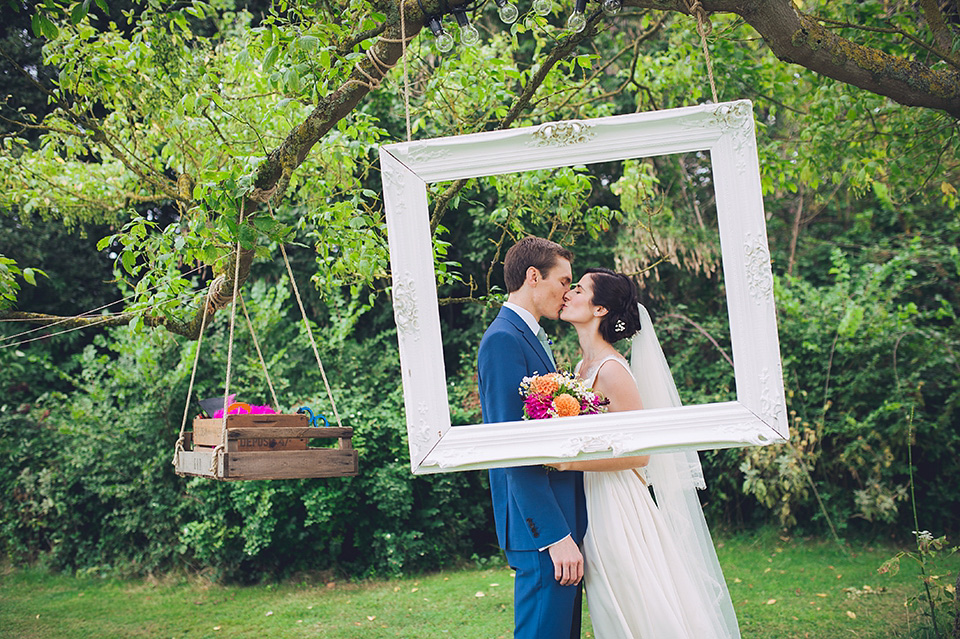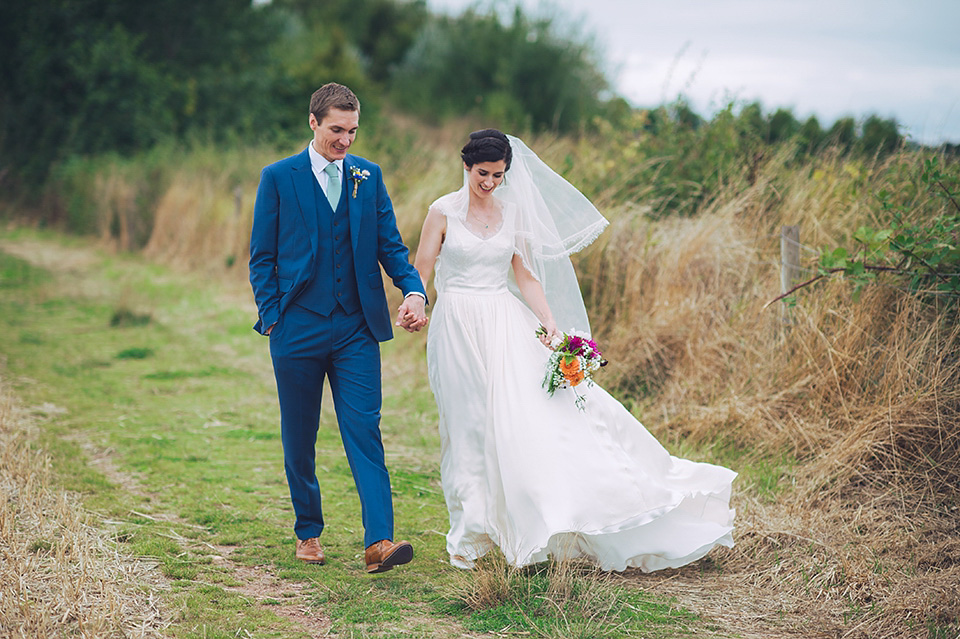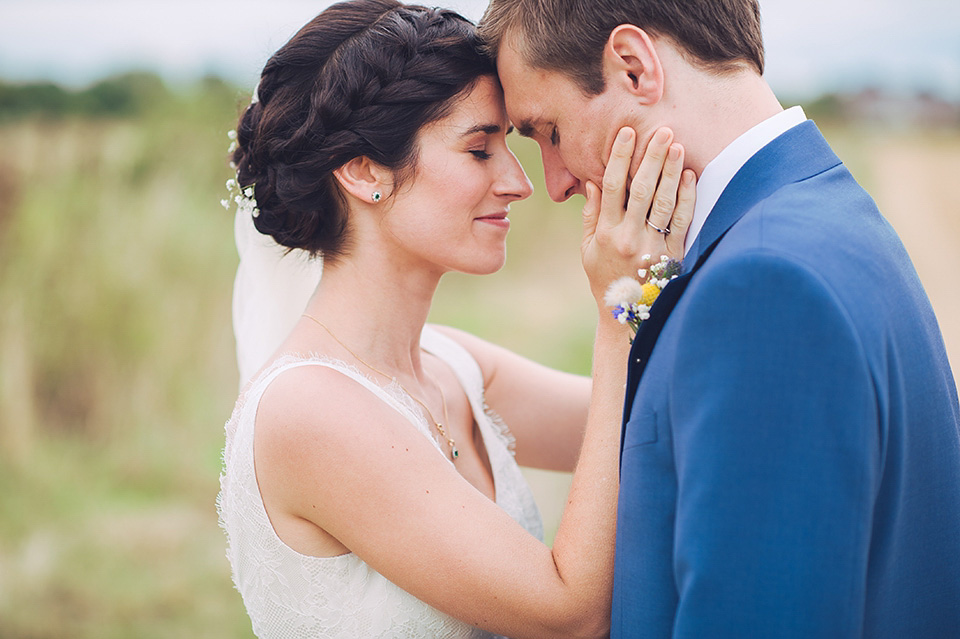 "My mum's friend, Pam, made our cake which she does as a hobby. Pam  made icing posies and bunting for the top and three tiers, each with a different flavour: Carrot cake, red velvet and lemon sponge. It was all eaten!"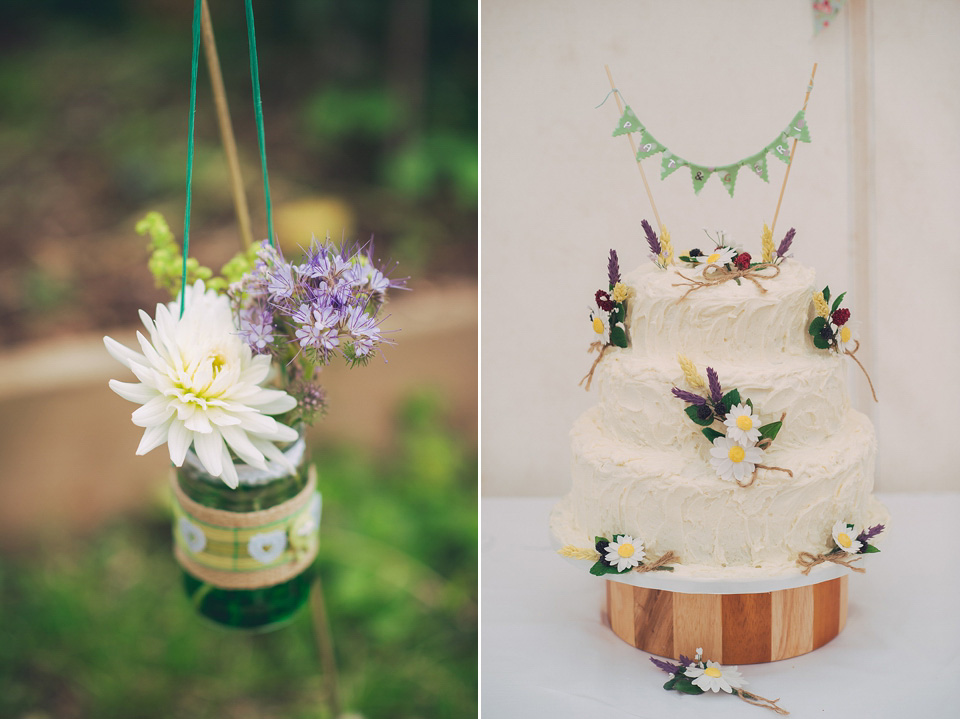 "I'm a vegetarian so it was important for me to have good vegetarian food at our wedding, and Dawn had plenty of ideas, she was amazing. The non-vegetarian food was delicious too and so many people said it was the best wedding food they'd ever had."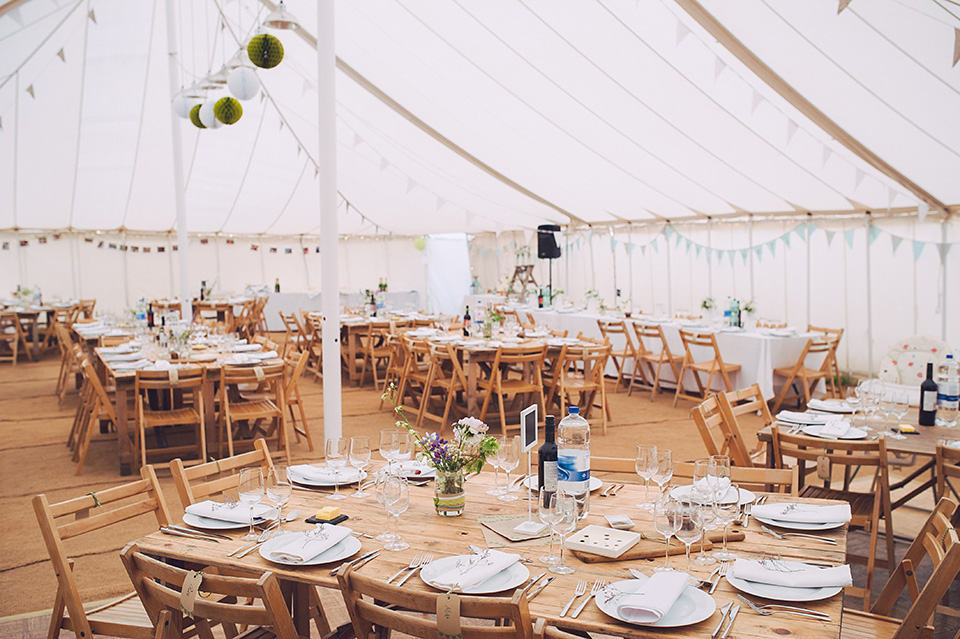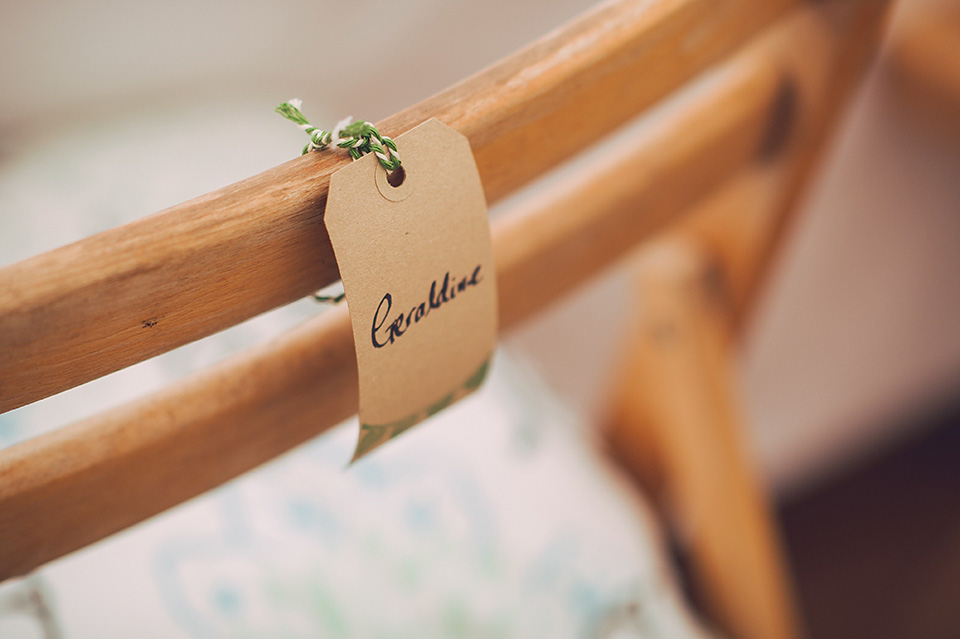 "My husband's step mum decorated a ladder next to the cake table and  decorated jam jars in green and white which we put on the tables with flowers as centre pieces, and along the path hanging from shepherd's hooks. We bought a couple of crates, used one for the do it yourself photo booth and filled another with world map material and used it for the cards."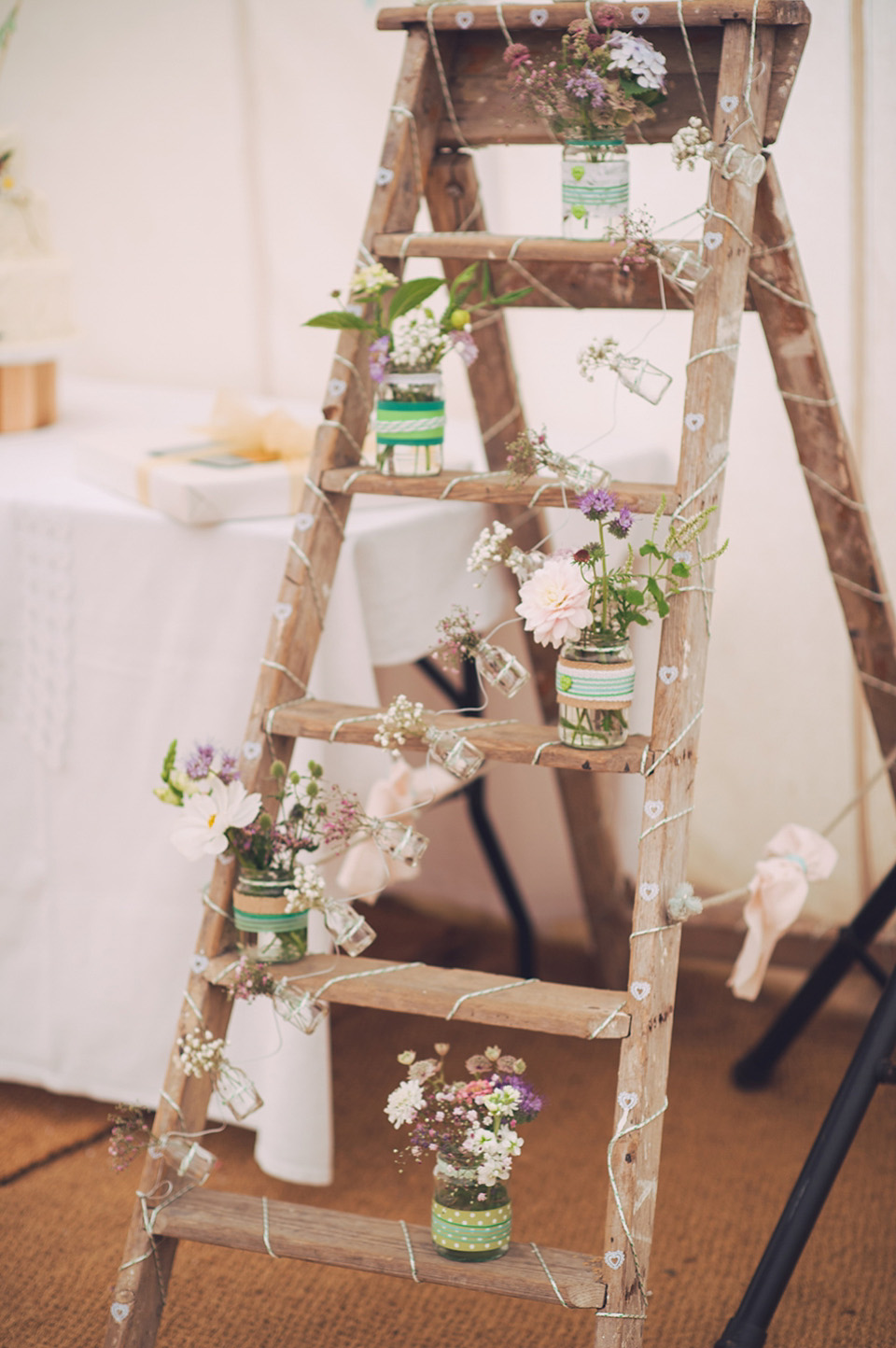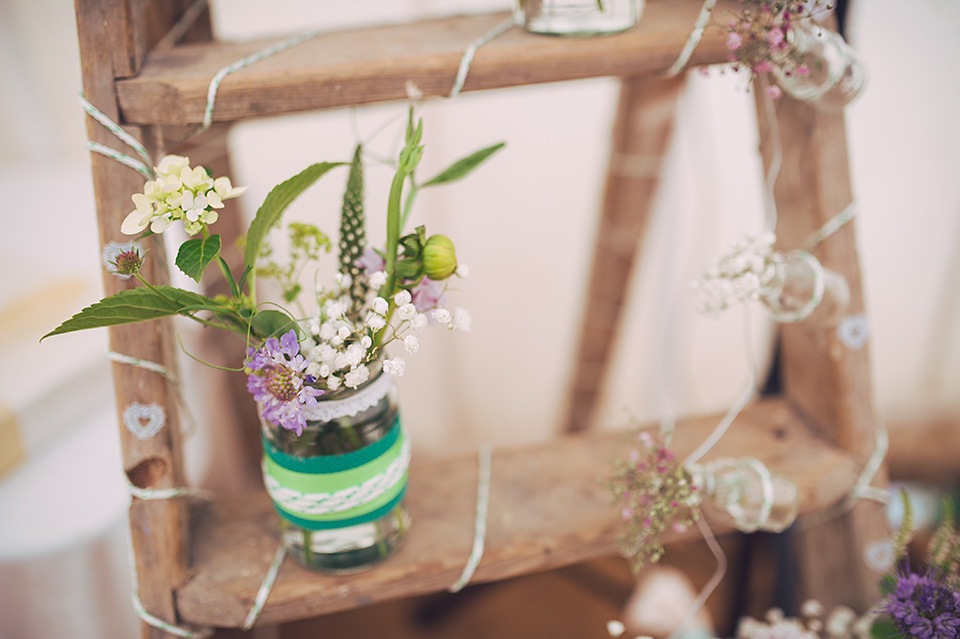 "We strung photos of all our guests around the marquee and some of the trees. My mum and I made metres of bunting, including some 'Pat and Geri' bunting to hang behind the top table."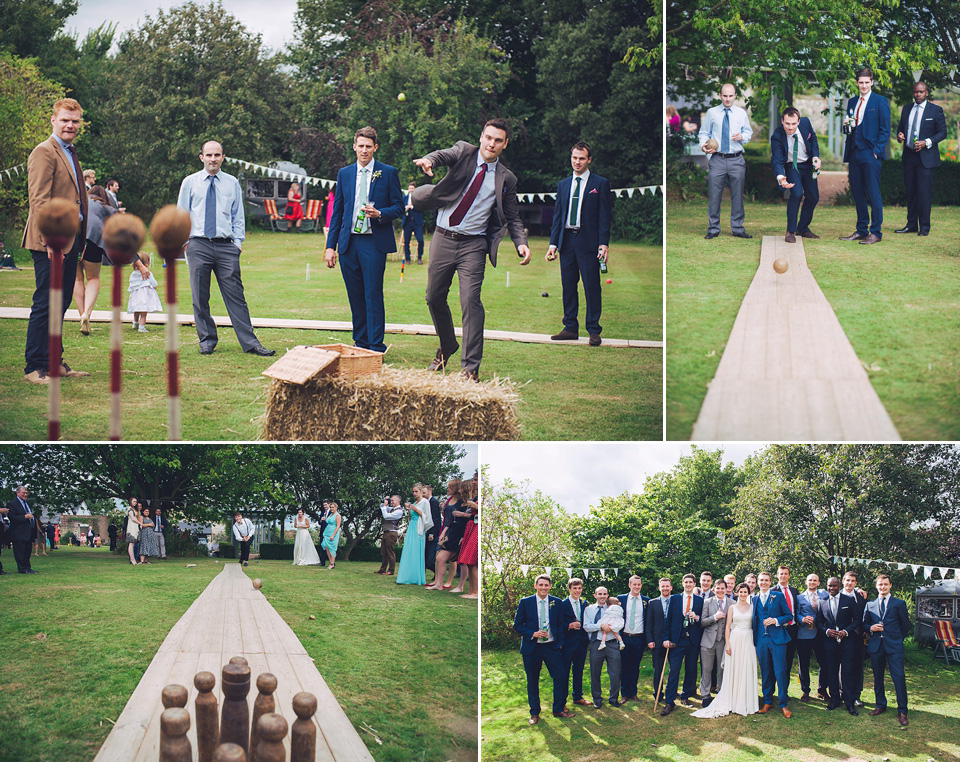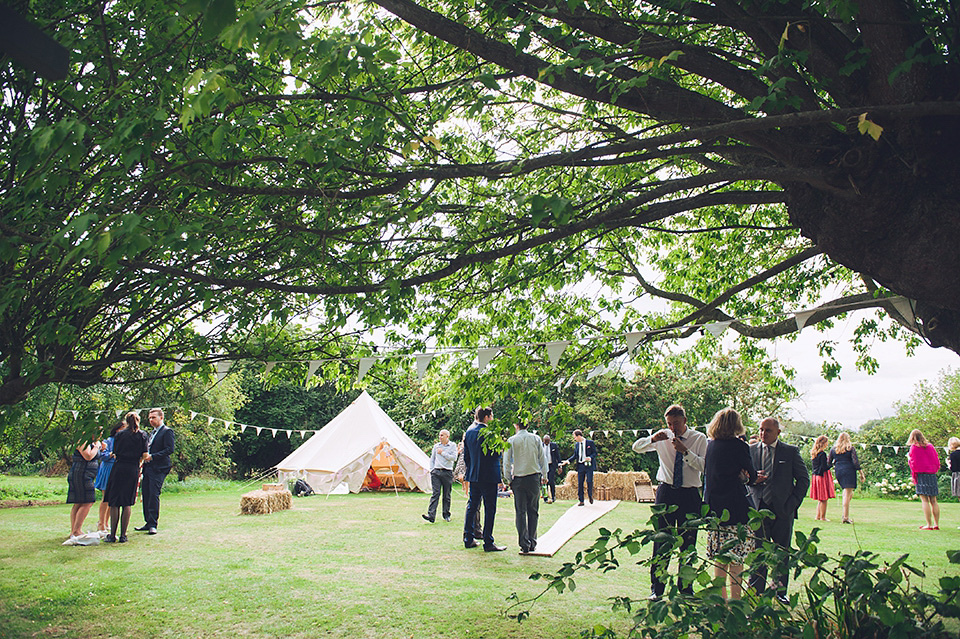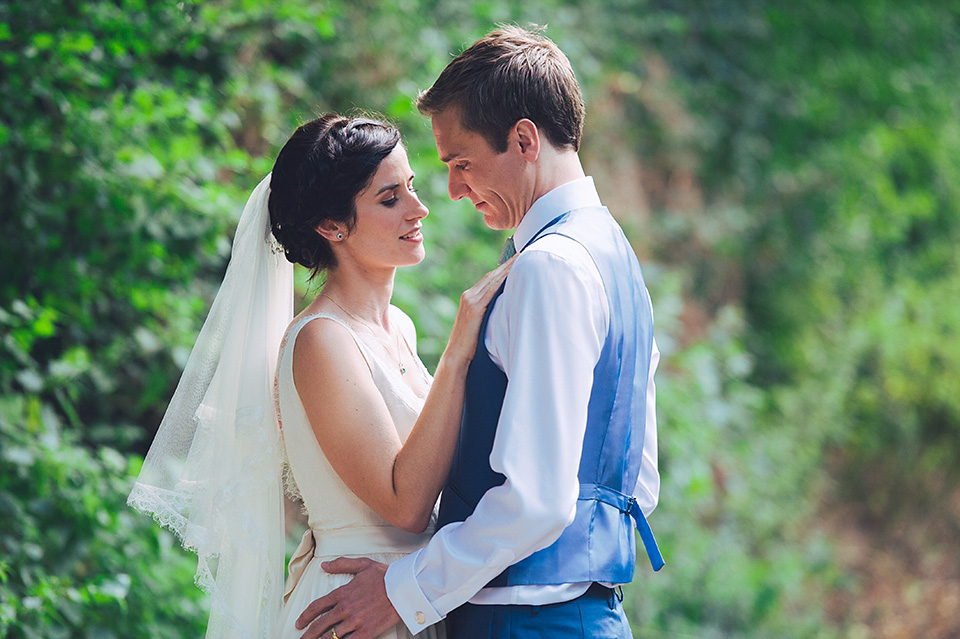 "We wanted an upbeat and fun first dance so we chose 'Feel the Love' by Rudamental and danced like no one was watching so it was the perfect song. Our guests came up when the track really picks up. We have a great photo of everyone with their hands in the air!"
"Pat and I loved the idea of our guests dancing together and letting their hair down. We chose The Ship Band and their fantastic music, patience and sense of fun made the ceilidh one of the highlights. Everyone got involved!
Instead of a DJ we hired silent disco headsets and played two playlists simultaneously. Everyone went crazy for the silent disco and were singing and dancing along to the different songs. I think we could have run it all night! It was incredible fun, everyone really got into it, which is exactly what we hoped."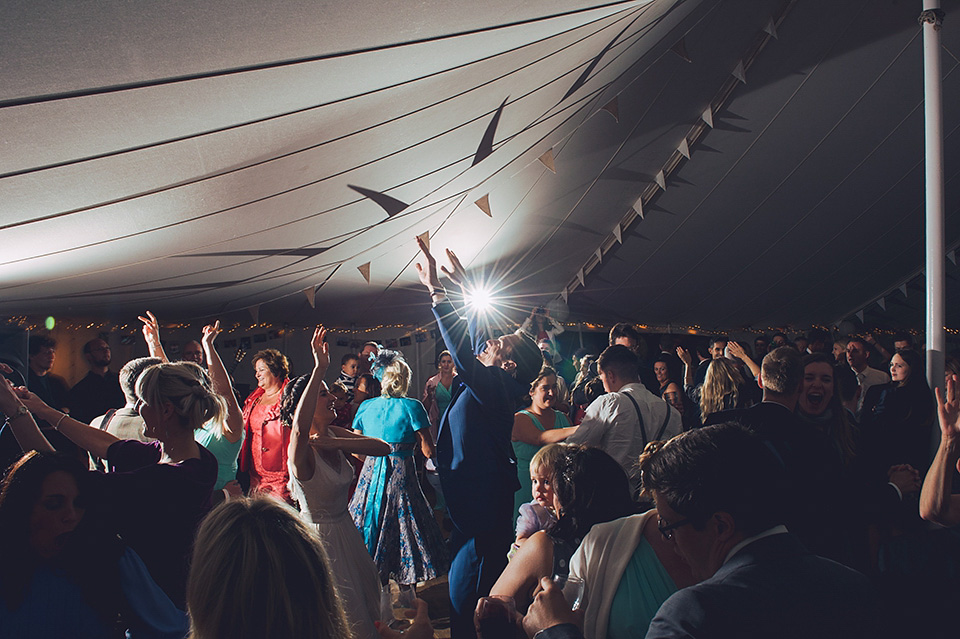 Words of Wedded Wisdom
"Relax, and enjoy the process. It's not worth getting stressed out over. Planning a wedding takes two, so it helps if your other half is organised and keen to be involved. If you're going to ask people to help, make sure that you trust them and that you're happy to relinquish the control!"
An absolutely beautiful wedding I think you will all agree! Thank you very much to Geri and Pat for allowing us to share your day. Our thanks also to photographer Simon Biffen for sending in these images.  We very recently featured another bride wearing a beautiful Susie Stone dress – you can see it here.
Love Caoimhe xx
Photographer – Simon Biffen
Venue – Roughmoor Farm (Cow Parsley Weddings)
Wedding Dress + Veil – Susie Stone 
Shoes – Rainbow Club
Groom – Reiss
Florist – JW Blooms
Transport –Rosie's Vintage Van hire
Entertainment – The Ship Band
Rings – Alsal Watches
Catering – Food 4 You
Stationery – Minted + Noolibird
Hair Stylist – Beckie Lyons from Comber Hair Salon, Taunton
Make-up Artist – Tracey Lear