Good afternoon  lovelies! I hope you're having a jolly week and not suffering too much from the very wintery weather we are all experiencing. I am rugged up in my woolly jumper and socks right now, sipping on a steaming hot cup of tea and day-dreaming about spring and summer. This glorious wedding with simply stunning images by Photography 34 that I'm sharing today will be sure to whisk you right back to last summer.
Samantha and Thom tied the knot at The George in Rye, East Sussex on 8th August last year and as Samantha explains, their chosen venue was the inspiration behind their big day.
"Our beautiful wedding venue, The George in Rye was the basis for most of our inspiration.  The wallpaper in The Ballroom, where our wedding ceremony took place, is so ornate and elegant with soft, muted colours.  To complement this, I chose light peaches and mints  when it came to the bridesmaids dresses and decor – it all added to the very pretty feeling of the ceremony room."
Photography Copyright (c) 2015, Photography 34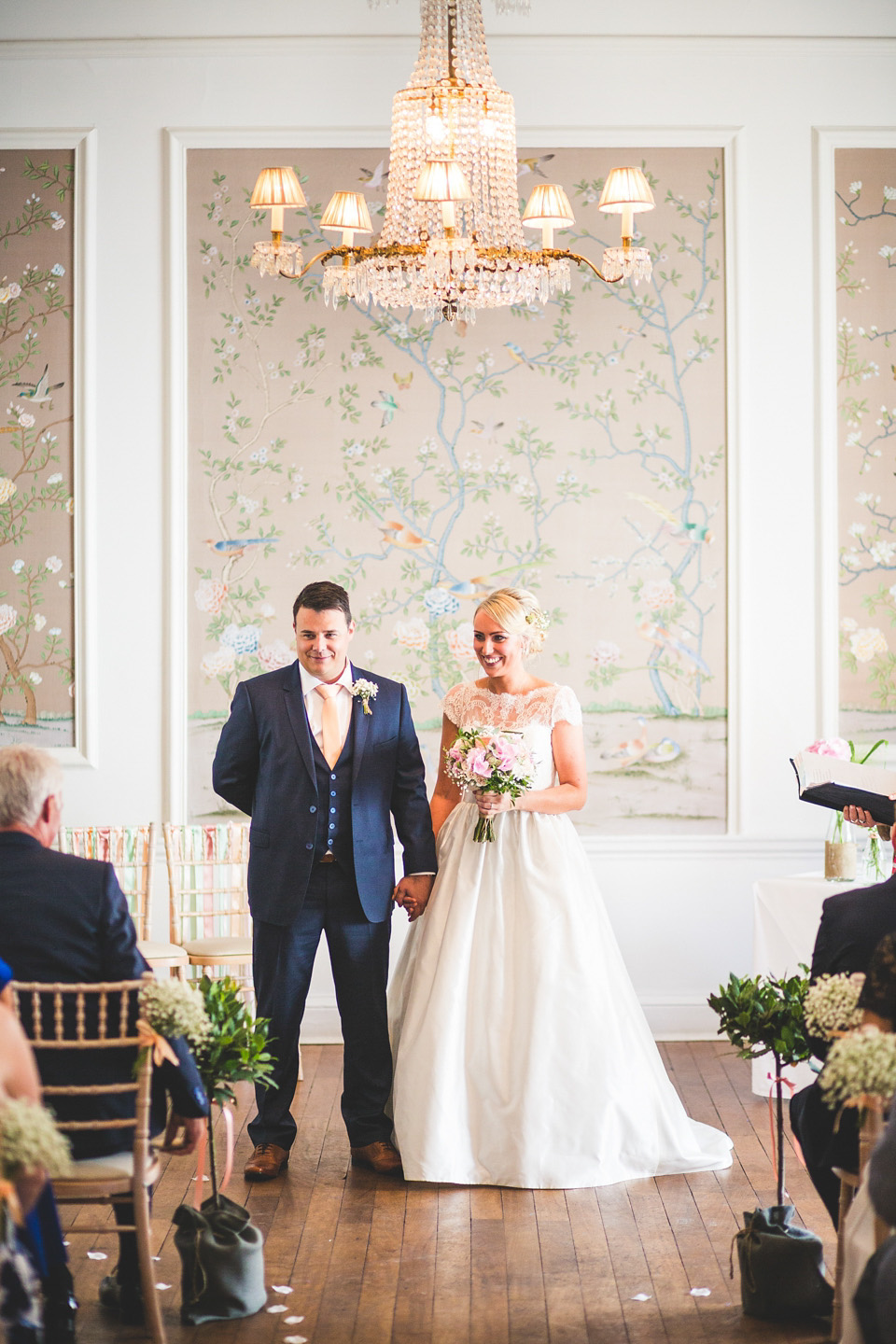 Just take a look at Samantha's Tara Keely wedding dress, purchased from Miss Bush Bridal in Surrey (a supplier we highly recommend).  It's absolutely beautiful and so very elegant.
"I knew from the start that I wanted an element of lace and a backless style. I initially went for floaty styles of skirts with lots of chiffon, but after some thought, decided that I wanted a skirt that felt more like a wedding dress to me. I described my dress as half-princess to anyone that asked in the lead-up to the wedding!
For me it was the perfect balance of the 'big' dress I dreamt of as a child and the elegance that I wanted throughout the day."
I am so in love with the wallpaper! The venue also had special meaning for the couple and was where Thom actually popped the big question…
"Thom proposed in the garden of the hotel a year before our wedding. We looked at a lot of other venues before deciding on The George but none of them had the same sentimental value for us.
Thom and I actually met at university in Lincoln ten years ago, when we were put in the same halls together. Five years ago we had our son Oliver who turned our lives upside down!"
Samantha had a hand in the décor, giving the wedding a lovely handmade feel, and the beautiful flowers were from Café des Fleurs in Rye.
"I wanted the whole day to be as personal as possible so created as much of the décor as I could. We collected jam jars for months which I then decorated with pages of Alice in Wonderland, which had hearts cut into them – we put candles in the jars to make them into pretty tea lights. The tables also featured more jars and milk bottles filled with meadow flowers.
I had really wanted peonies but they were unfortunately not in season for the date of our wedding – Lucy from Café des Fleurs worked with me to create similar styles however and I was delighted with the results. The flowers were placed in jars wrapped in twine and lace on the tables that complemented the meadow style arrangements that Lucy created for us. The aisle was decorated with baby's breath on the chairs and two Bay trees where we stood – I really wanted things we could keep after the wedding and the Bay trees were part of that."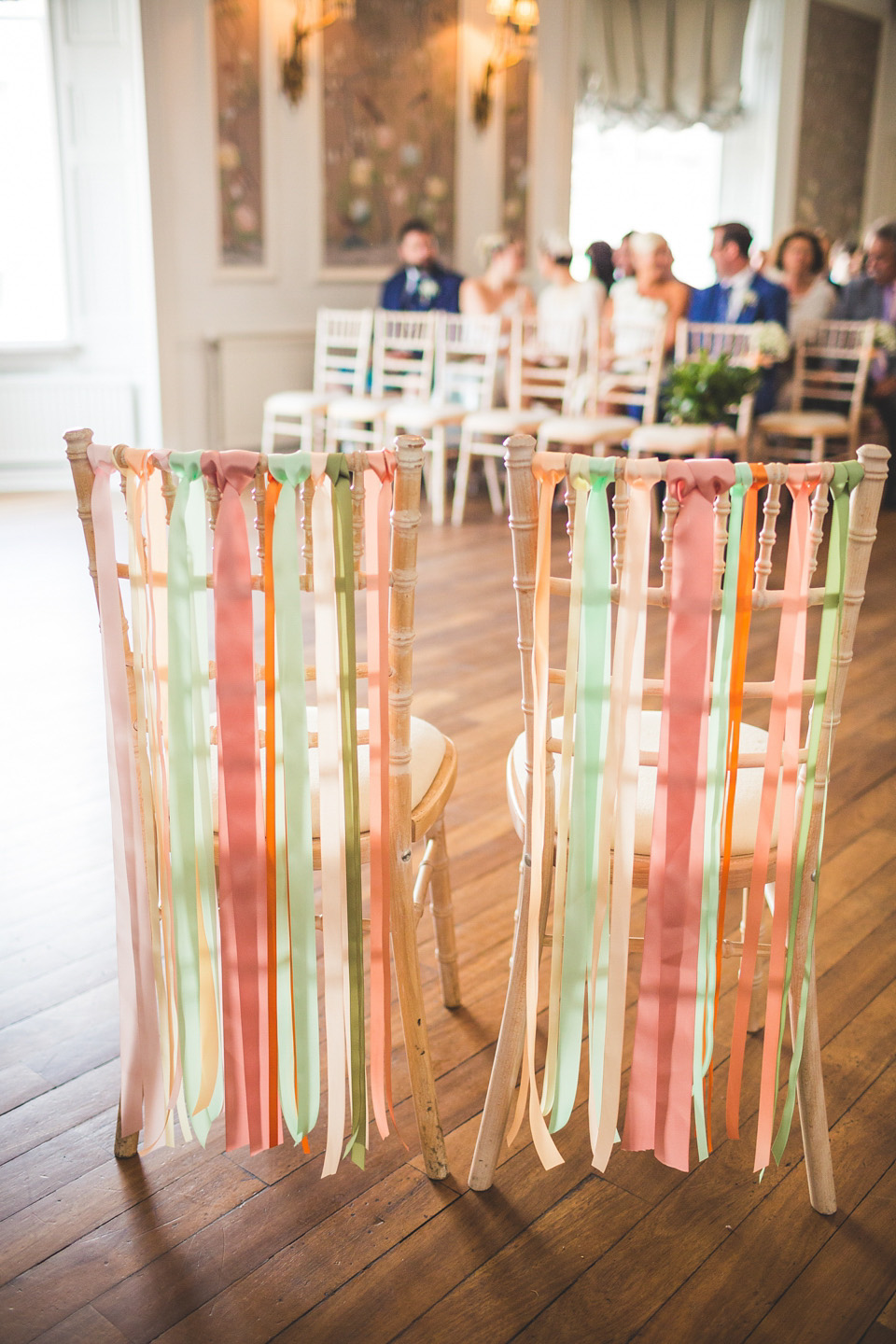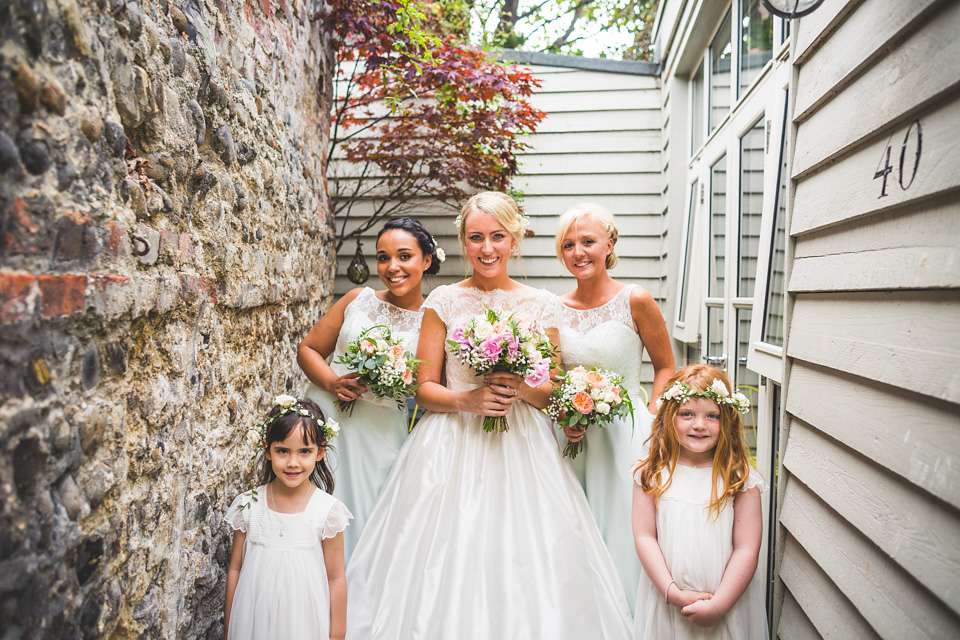 Tony Wilson from Photography 34 shot their big day and Samantha recalls how helpful Love My Dress was in finding their photographer.
"Tony was an incredible find (I actually found him through Love my Dress, after seeing another featured wedding that I loved the photography for).   Despite being from Scarborough on the other side of the country, he made a real effort to keep in touch with us in the lead up to the wedding having Skype calls with us to answer all my endless questions! He arrived a day early to our wedding, taking the time to scout out some amazing locations (of which Rye has plenty!) and to ensure he was there for the start of our day."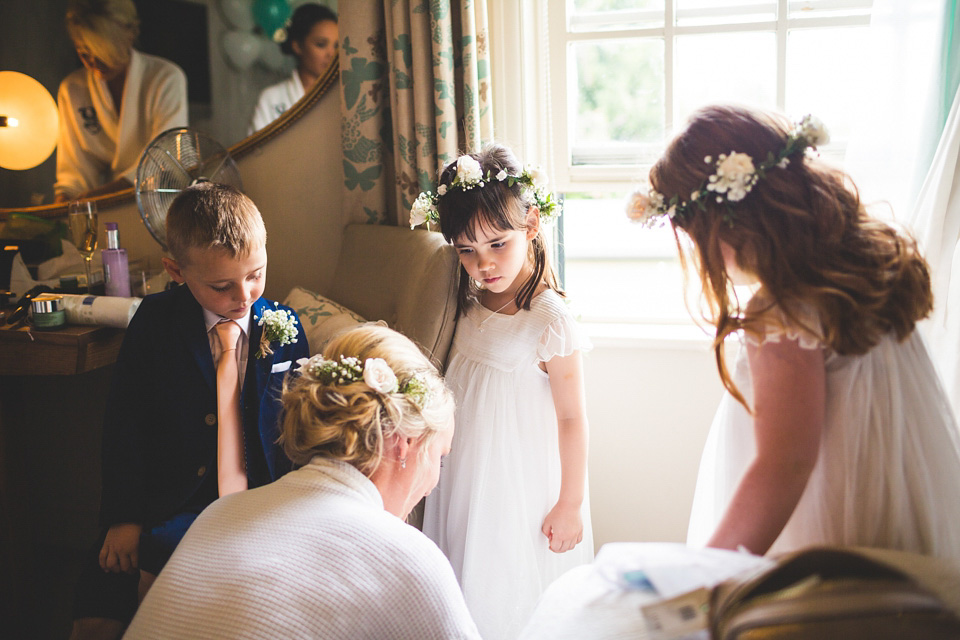 Hair and make-up was by The Rye Retreat and the bride's two maids looked striking in their gowns, also purchased from Miss Bush Bridal. I just love these wonderful pictures of the ladies walking the streets of Rye all dressed up – it looks like they had such fun!
Samantha wore stunning De Beers Aura diamond sleeper earrings and her own white satin ballet shoes, a clever idea to remain comfy all day.
"I love ballet and couldn't think of anything I would be more comfortable in!"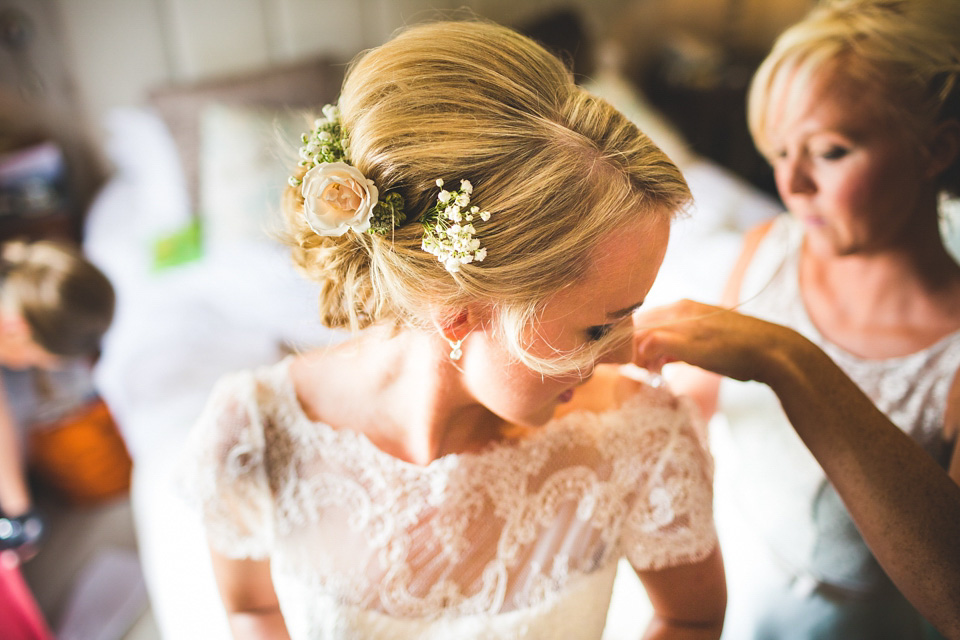 Thom and his best man Joe and usher Jack, old university friends, were very dapper in their suits, with Thom sporting a Ted Baker ensemble and coordinating with the wedding theme.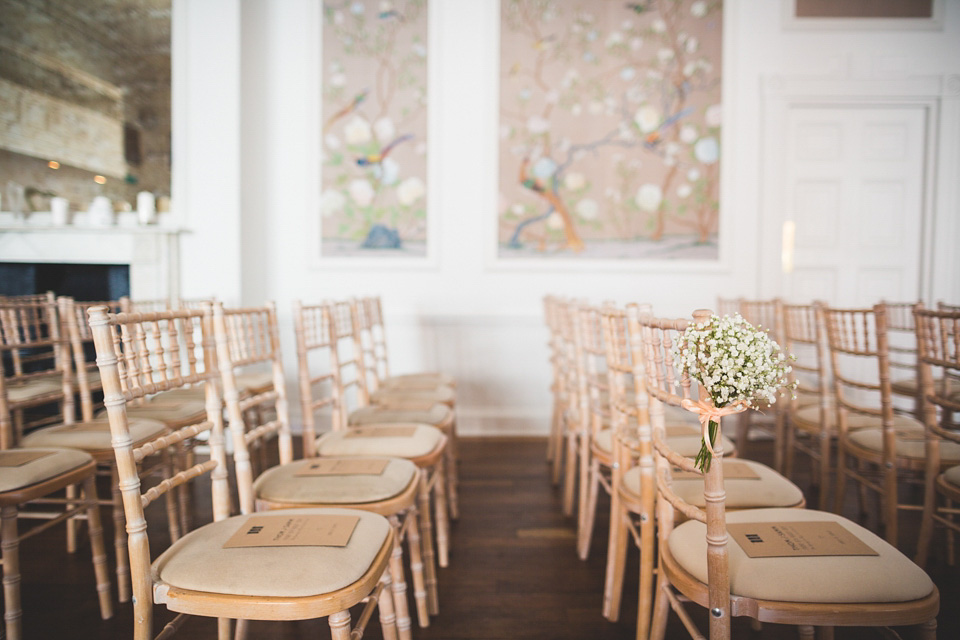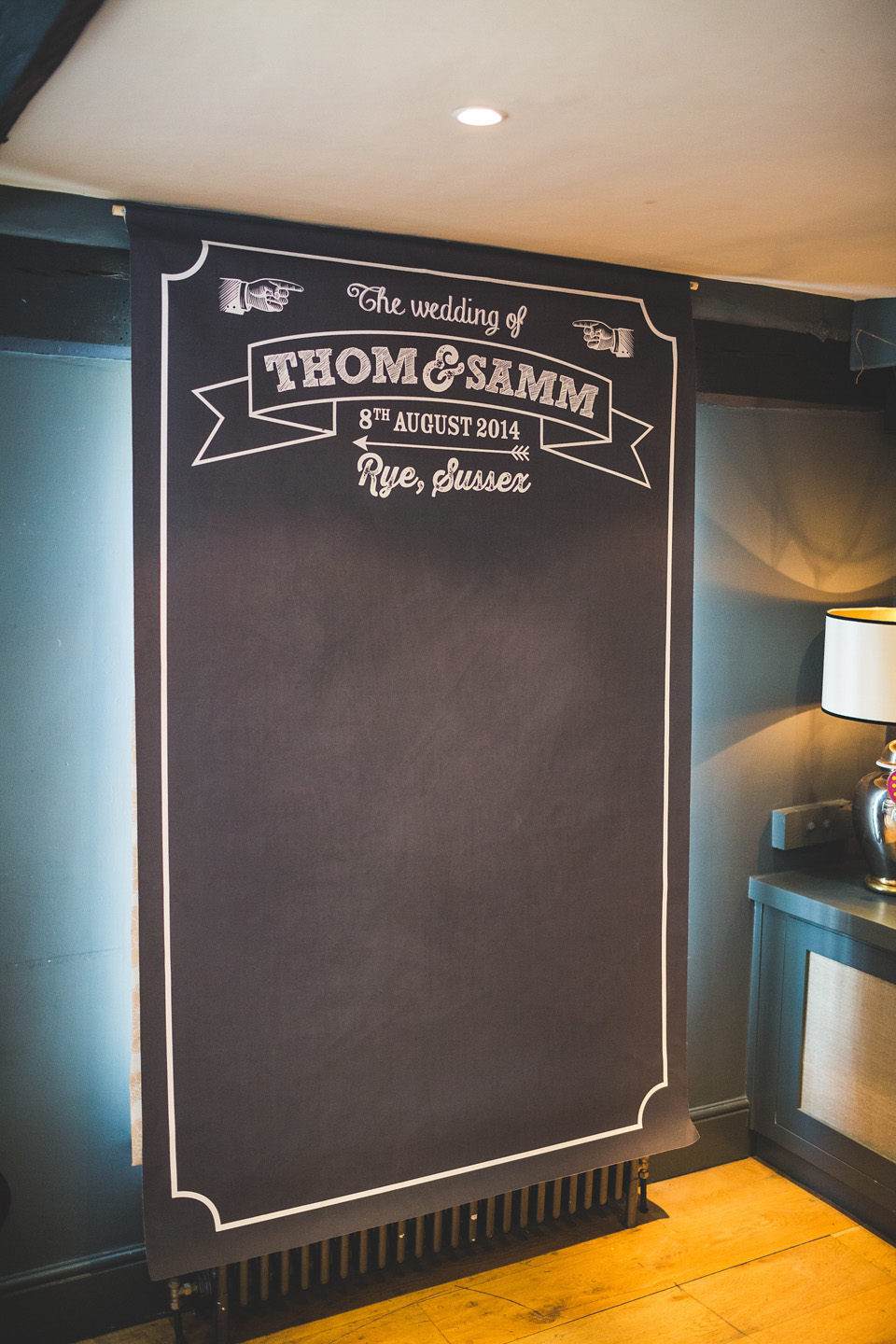 Samantha's dad walked her down the aisle, and she chose a special song for her mum for this moment.
"My dad gave me away which I loved. We also made sure to have a dad and daughter dance later in the evening.
I wanted something different for the aisle with a song that meant something to me. My mum is a BIG Elvis fan and my childhood was filled with his songs playing throughout the house. I found a cover of his song 'Can't Help Falling in Love' by a singer called Ingrid Michaelson which was perfect – it was emotive and fitting of the venue but still meant something to me and my mum."
The couple's son Oliver was the page boy and looked very handsome in a blue short suit from John Lewis with a matching tie to the groomsmen. The two flower girls wore pretty Marks and Spencer white lace dresses.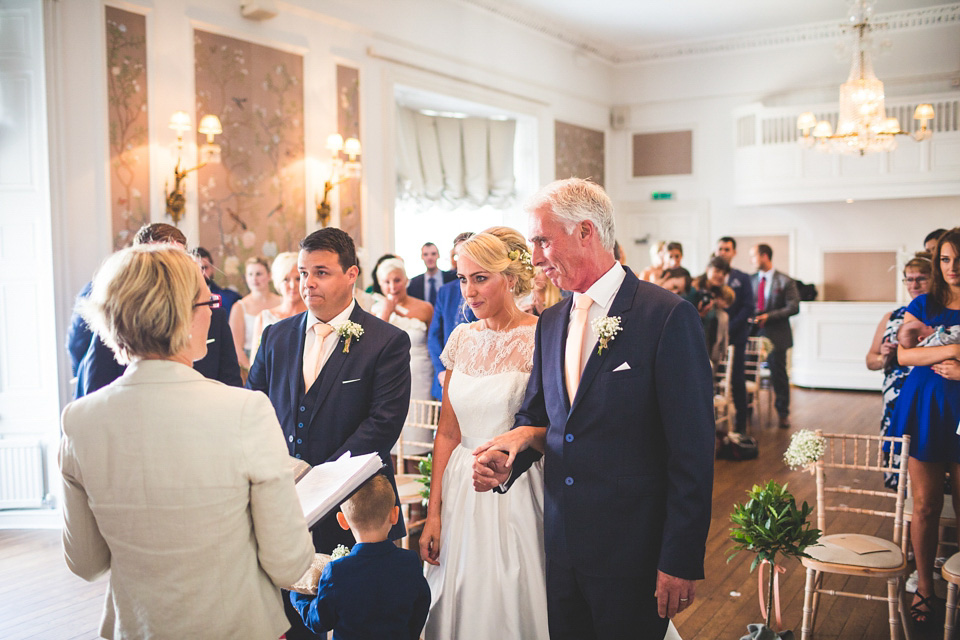 Samantha recalls her memories of the day and considers the ceremony one of her favourite parts.
"There's so many! In particular though I loved the ceremony – we had our son bring us the rings and stay with us for a lot of it, which made it even more wonderful. I was nowhere near as emotional as I thought I would be (although I did break slightly at one point!) and I think having all of our guests share it with us made us feel even more relaxed and in the moment."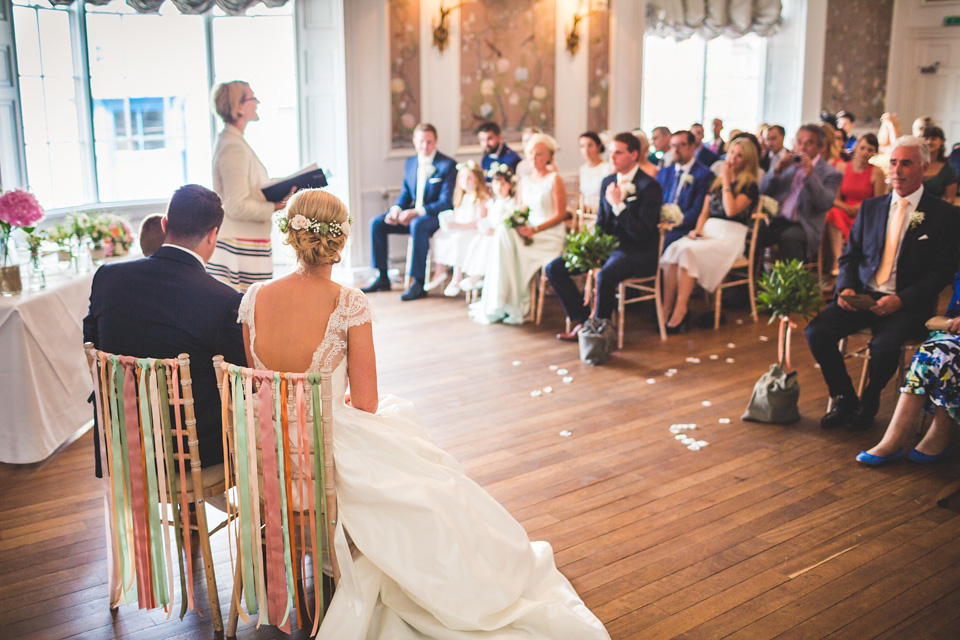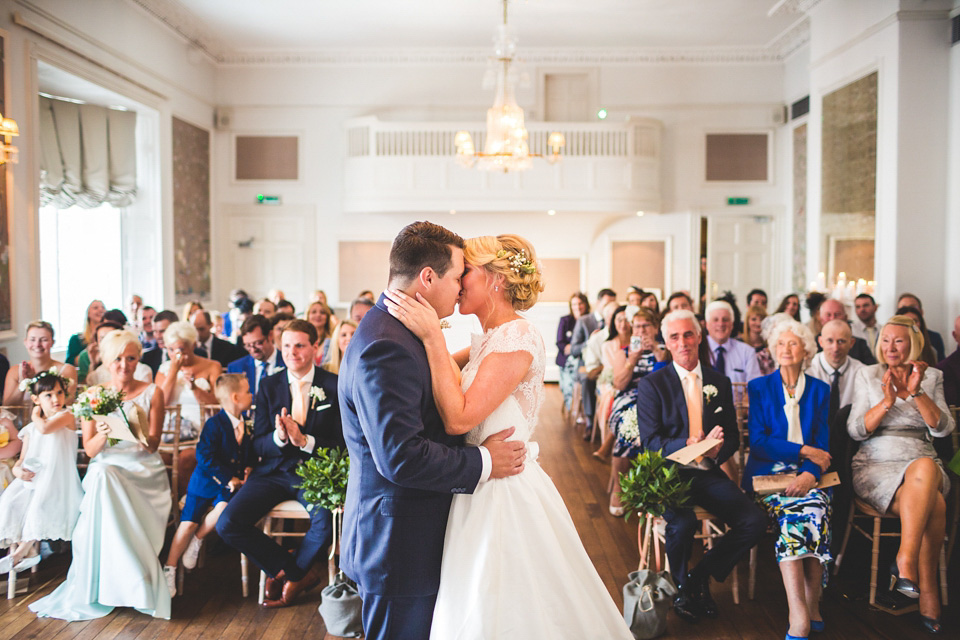 "My bridesmaids were Jade and Emily.  Both wore white and iced mint green dresses by Kelsey Rose."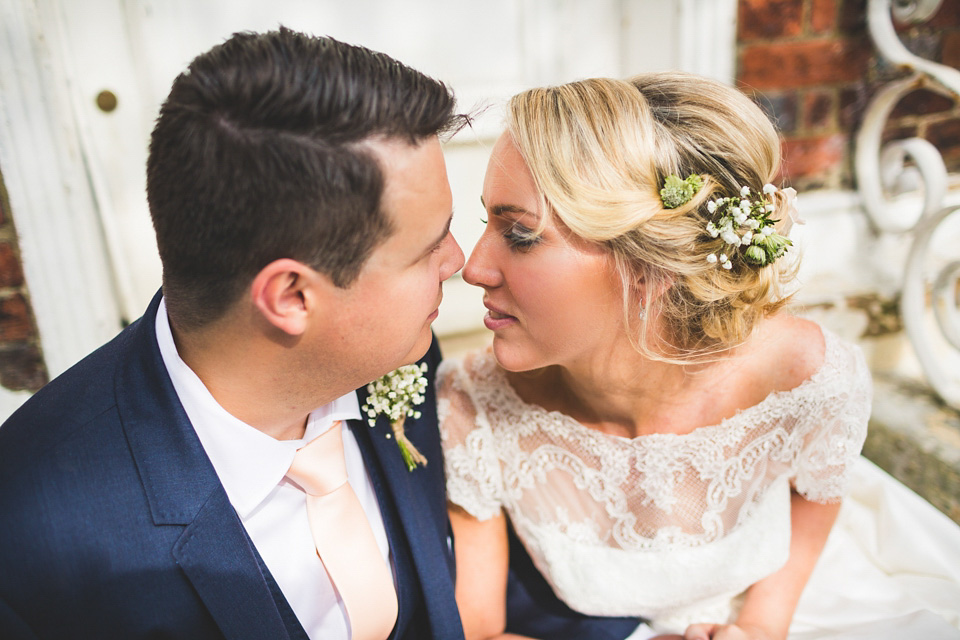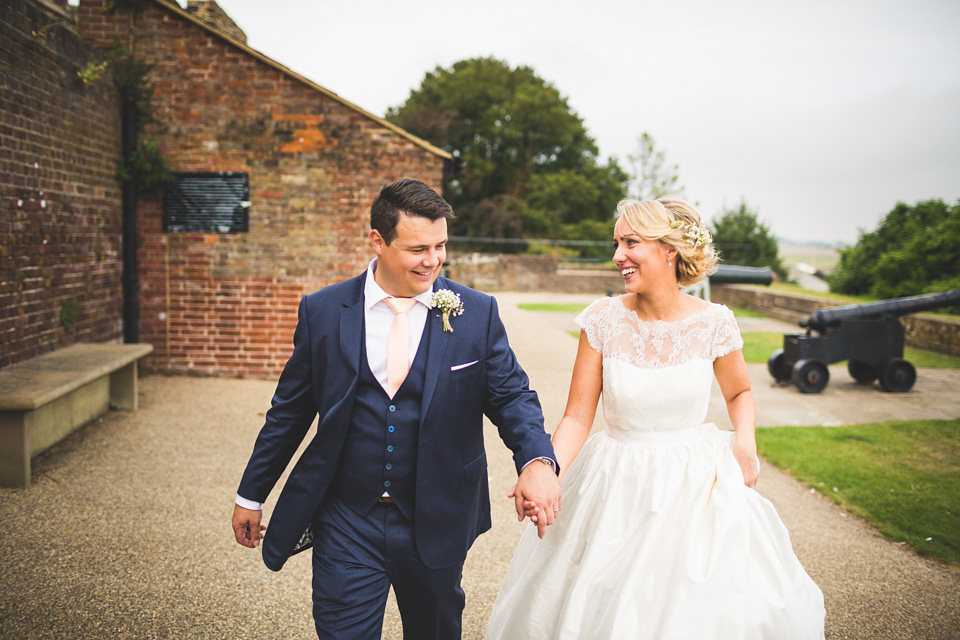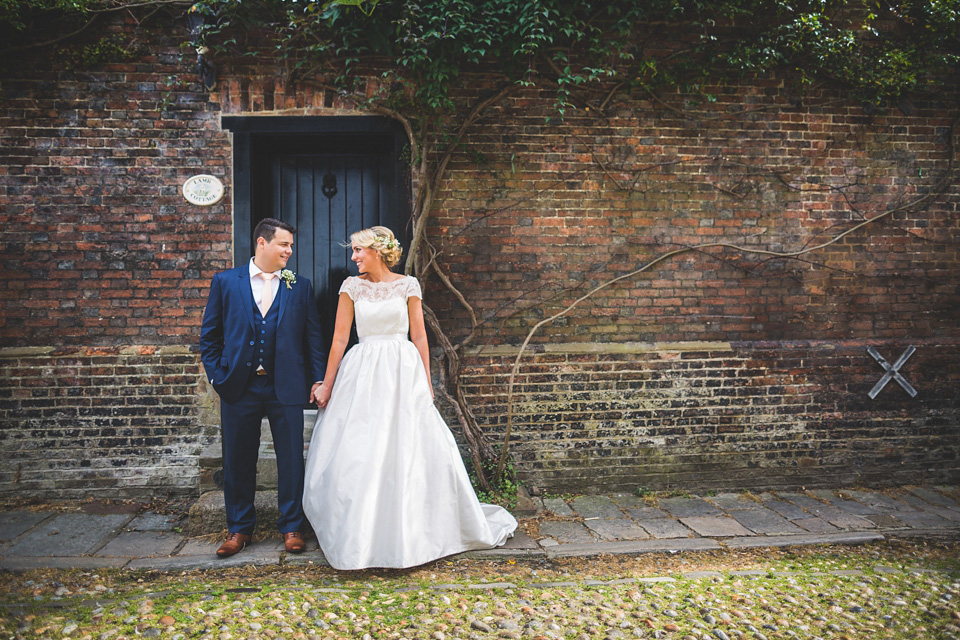 Samantha scoured a variety of second-hand markets and charity shops for vintage glass cake stands to keep as reminders of the day around their house, which perfectly housed the mouth-watering varieties of cake on offer.
"I really wanted a cake that my guests would want to actually eat – I've been to lots of weddings where the cake is beautiful but it hardly gets eaten. I also wanted lots of options – I have such a sweet tooth so it was going to be tough to decide on just one cake anyway!
We had a Hummingbird Bakery Red Velvet Cake as our main cake and also had a 'Mr & Mrs Sargison' (our surname!) personalised cake topper from notonthehighstreet.com on it to add some decoration. Around the cake were a variety of vintage glass cake stands that I had collected filled with hundreds of other mini cakes and larger ones – my friend Jessica made a lemon meringue pie for us too that was delicious!"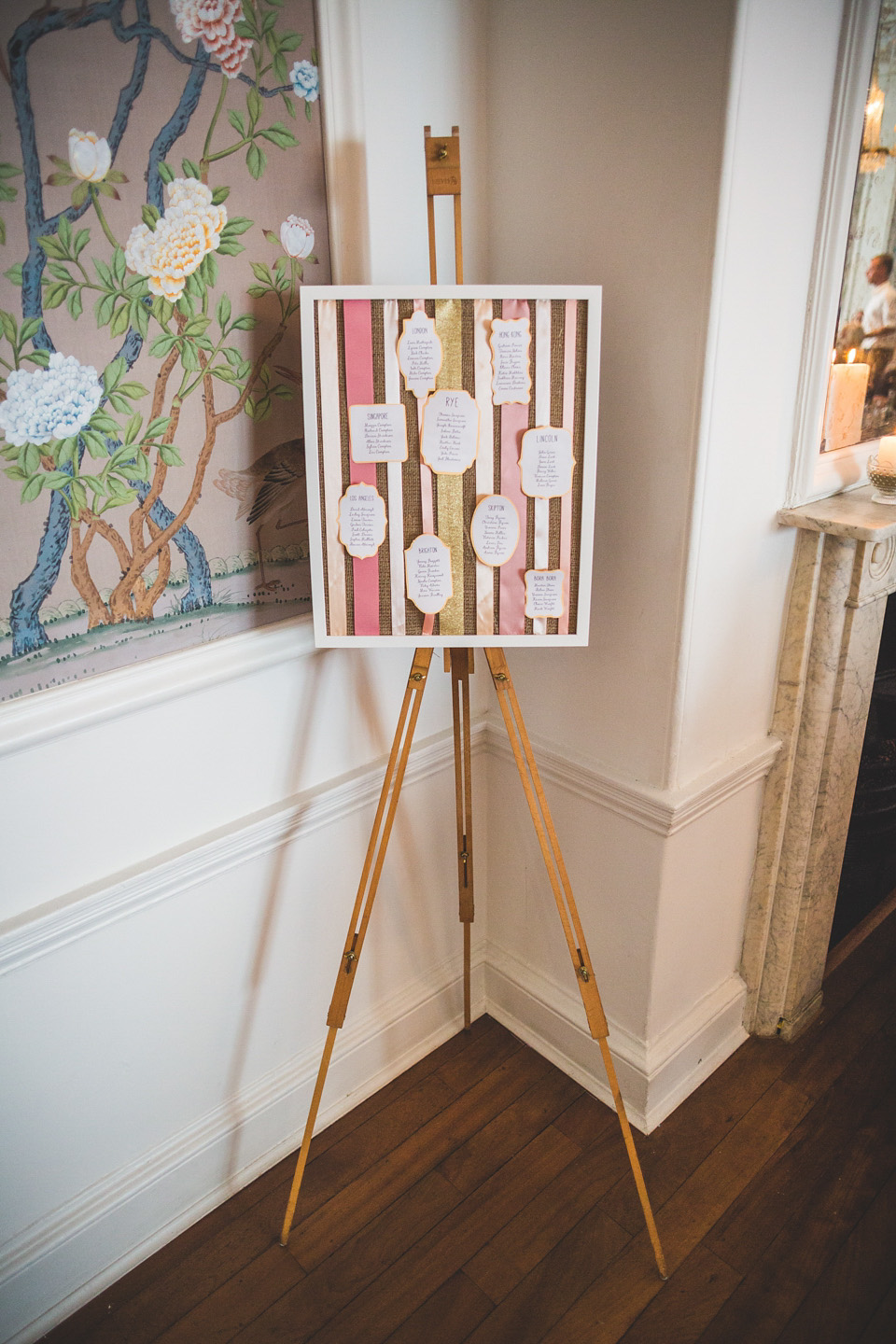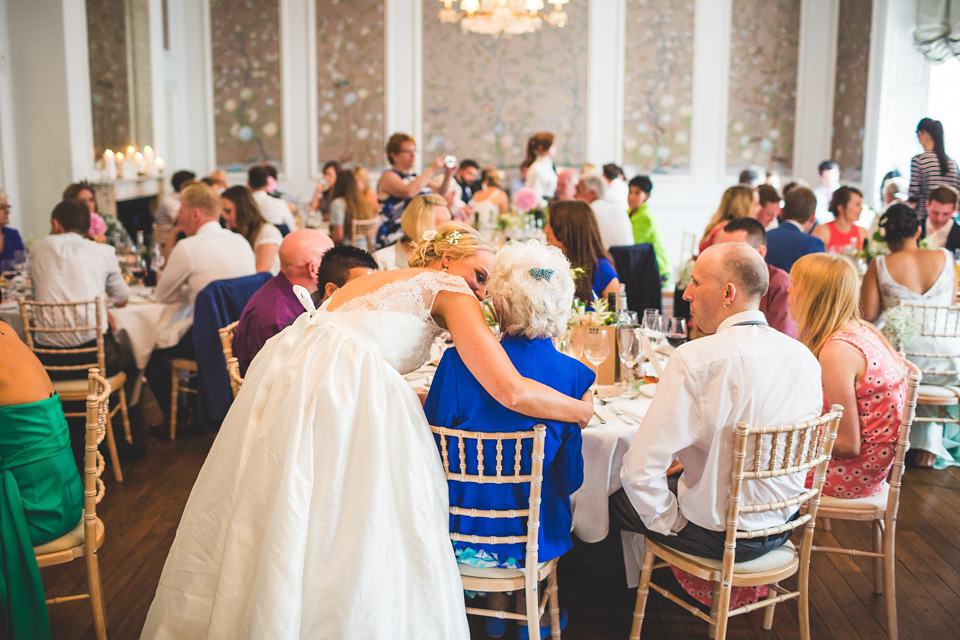 Are you thinking of having a child-friendly wedding? The couple decided upon a wedding crèche; which meant happy kids equalled happy guests!
"The best decision I made by far in the day was getting a wedding crèche in! As we have a son ourselves, we wanted to make sure the day was just as happy and perfect for him as it was for us. When planning I realised that a 3-hour formal wedding breakfast really wasn't going to keep our son and the 8 other children attending entertained and they would soon get cranky and bored.
We used Bearsted Babes who ended up being incredible – the three carers came equipped with their own array of toys for the children and set up a play area that was just amazing! As well as keeping the children entertained and fed, the parents were thrilled and thoroughly enjoyed their dinner, drinks and the speeches while the kids played happily next door."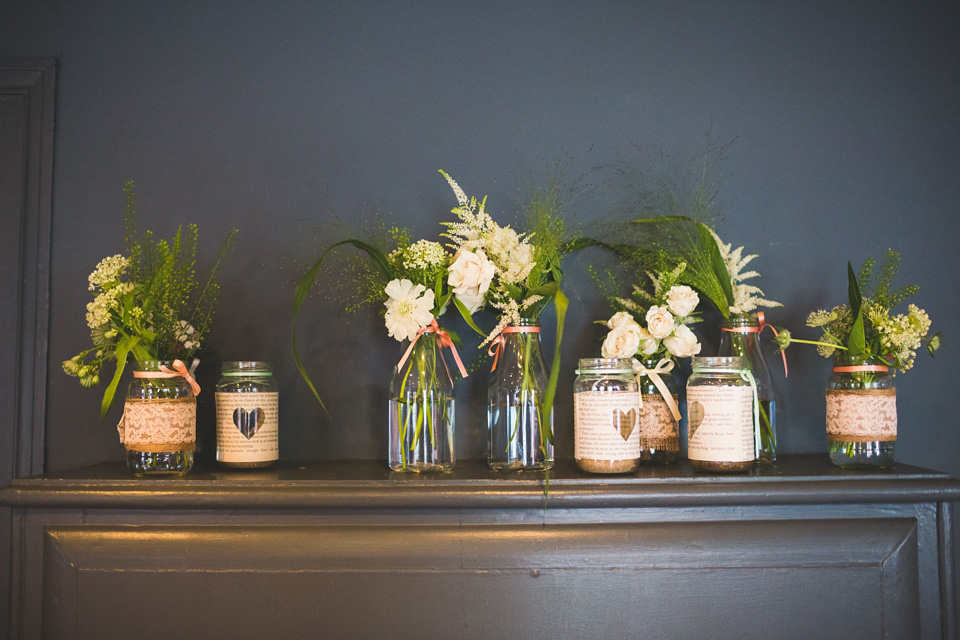 The wedding party continued well into the evening with a DJ for disco shenanigans … with lunges encouraged.
"The dance floor was never empty which was our aim for the evening! We used a DJ recommended by the hotel and he was great – even welcoming my never ending requests of 90s pop!"
Words of Wedded Wisdom
"Create a day that's perfect for you. Ignore the politics that surround weddings and other people's opinions – you get one day that's just yours and if you're amazingly happy with it then everyone else will be. Also, decide between yourselves what are the most important elements of the day for you – wedding's are super expensive and if you want the best for every little part then you could end up crippling your newly married selves!
We decided that the photographs and the venue (and perhaps my dress!) were the most important parts to us so we focused on these things in particular whilst trying to save some costs in other areas that weren't as important to us."
I'm feeling all gooey from sharing Samantha and Thom's special wedding day and it's bringing back such beautiful memories of my own summer wedding. Right, I'm off to see if I can find where to buy that beautiful wallpaper from the venue – I have a blank wall it would look fabulous on!
A big thank you to Tony from Photography34 for sharing the couple's images – you can see more from Photography34 weddings on Love My Dress® here.
Samantha and Thom, I wish you and your sweet son Oliver a very jolly year ahead that's full of fun, laughs and adventures.
Love Jo –xxx-
Photographer – Photography 34
Venue + Catering – The George in Rye, East Sussex
Wedding Dress – Tara Keely via Miss Bush Bridal, Surrey
Shoes – own ballet shoes
Accessories – Aura diamond sleeper earrings from De Beers
Bride's Scent/perfume – 'Sensuous' by Estee Lauder
Groom – Ted Baker
Bridesmaids – Kelsey Rose via Miss Bush Bridal
Flowergirls – Marks and Spencer
Page Boy – John Lewis
Florist – Café des Fleurs
Cake – Hummingbird Bakery + cake-topper via notonthehighstreet.com
Stationery – Designed by Samantha
Hair Stylist & Makeup Artist – The Rye Retreat
Wedding Crèche – Bearsted Babes