You are in for an absolute delight today readers! This stormy wedding, from 12 August 2014, is quite mesmerising. The couple's relaxed and laidback day at Crear purposefully omitted so many of the details we have come to think of as necessary for a wedding – yet, the result is one hundred percent stunning.
Eddy, a software developer, and his bride, journalist Ciara, met doing watersports in London four years ago, and made their home together on a Dutch Barge! They got engaged the day that they brought the barge back to the UK from the Netherlands, and embarked on their wedding journey (quite literally) to Crear a week before the ceremony – cycling some 550 miles up from Berkshire!
"We decided early on that we'd cycle to our wedding, so a week before our marriage we set off from our barge in Berkshire. We cycled between 65 and 90 miles a day, through the Peak District, Yorkshire Dales, Lake District, over the border into Scotland and up to catch a ferry from Ardrossen to Campbeltown, and finally up to the beautiful Crear! We figured if we could survive cycling the length of the country together, we'd probably be on to a winning marriage. We had NO punctures the whole way and it didn't rain! The day we arrived, the heavens opened and it rained for about three days, but we didn't care, because Scotland is beautiful regardless!"
Photography Copyright (c) 2015, Lisa Devine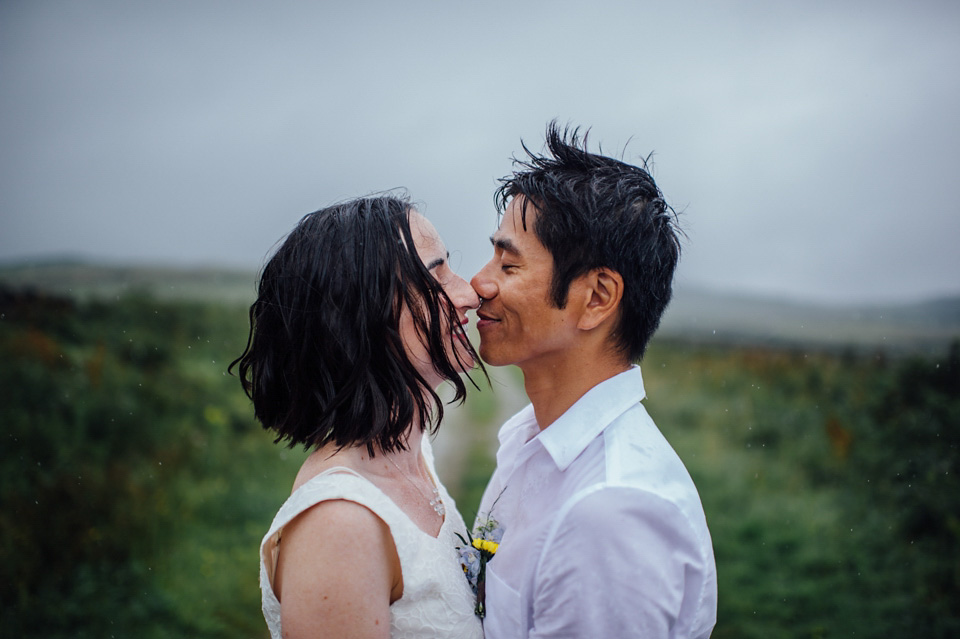 One of my favourite details in this wedding is the inclusion of sunflowers. The bright, sunny yellow just looks incredible against the harsh backdrop of storm clouds and dark seas. I also adore the completely relaxed approach to this whole wedding…
"We mostly just focussed on Crear. There is nowhere like it in the world. The sea, the hills, the huge skies, the lack of phone signal… You're away from everything and we wanted our wedding to reflect that. We wanted the flowers to look wild and rugged. We included sunflowers as they're my favourite flower. We also wanted to include the colour of our barge, Navicula – a lovely French blue."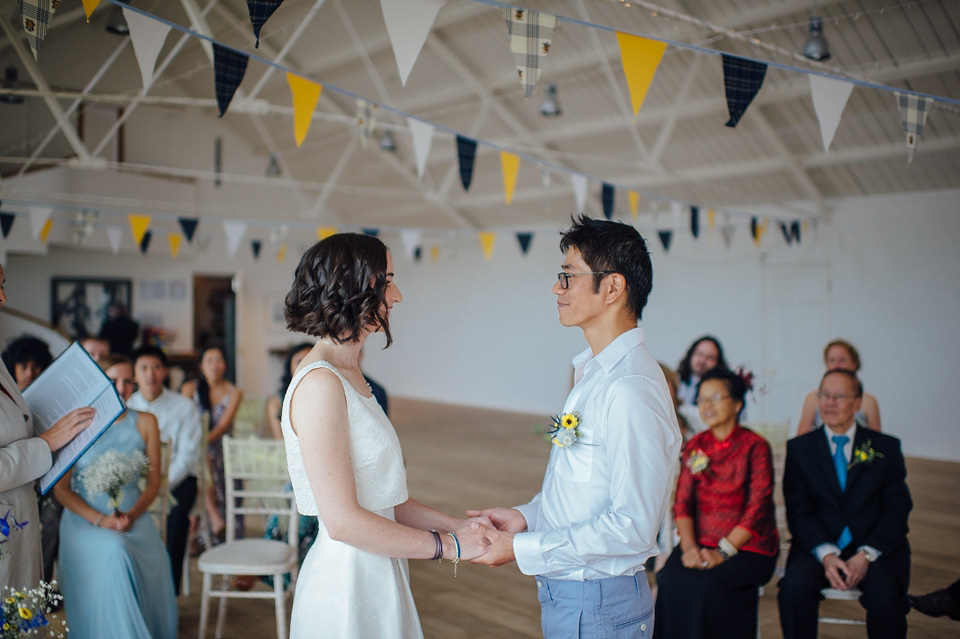 For the ceremony, the rings were placed on a cushion made by the bride's Mum – complete with an anchor to give a nod to the couple's floating home. What a sweet touch!  
"We decided to buy our rings en route to the wedding. We found it quite hard to stop cycling and look for jewellery shops so decided to leave it up to fate. Thanks to some poor map reading from me, we ended up going very off-piste on the penultimate day of the trip. As we cycled through the darkest country lanes (at midnight!) we stumbled across a goldsmith sign in the village of Carradale.
The owner of the B&B we stayed at that night had called them before we got up for breakfast and convinced them to open especially for us. We chose our handmade rings within 10 minutes. They were resized and reached Crear 10 minutes before the ceremony. Perfect!"
Ciara's fantastic two-piece wedding dress was designed and made by bespoke British womenswear designer, Susie Stone.
"I wanted something relaxed that I could play rounders in on the beach! The two-piece silk separates idea came when I told Susie I'd love to be able to wear my outfit again with a bright top or a pair of high waisted trousers. Susie sketches while you chat to her and manages to grasp exactly what you're saying. I think my wedding outfit was possibly the comfiest thing I have ever worn."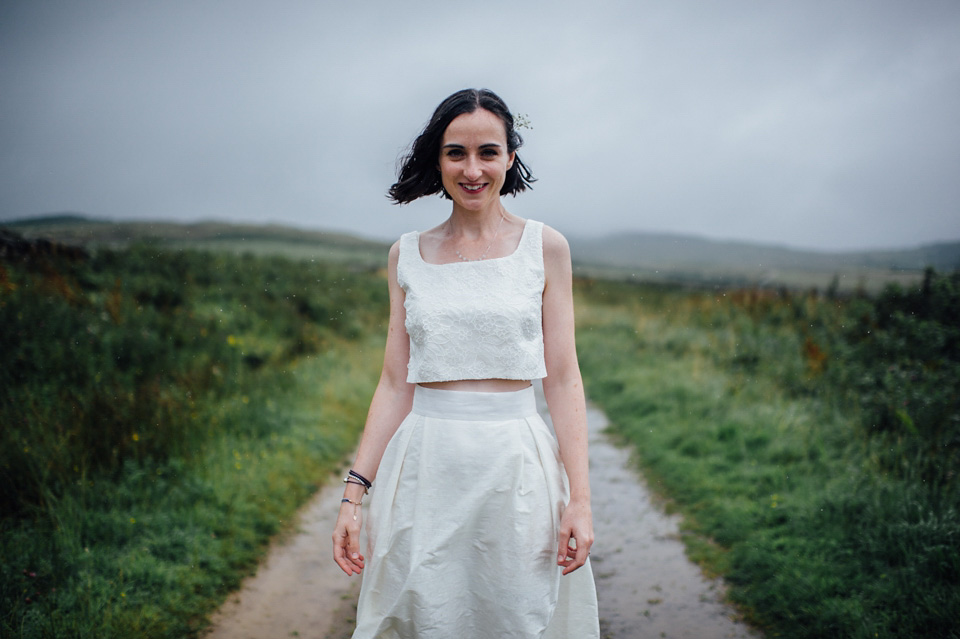 This care-free couple decided against having a planner for their big day, although the venue worked tirelessly to make sure everything ran smoothly.
"Bruce at Crear was the equivalent of a wedding planner. He organised so much for us, including extra meals to feed us in the evening at Crear. He even took it upon himself to tuck Eddy's shirt in about 30 seconds before the wedding. We were perhaps a bit too casual!
We booked Crear because we wanted a humanist wedding by the water. We also wanted something completely different where we could strip back all the wedding craziness and just be in a beautiful place with our immediate friends and family and have a few days of love and relaxation! Melody at Crear did our flowers and would call me from time to time and ask me what colours I liked. Somehow she captured our style perfectly from those funny little chats!"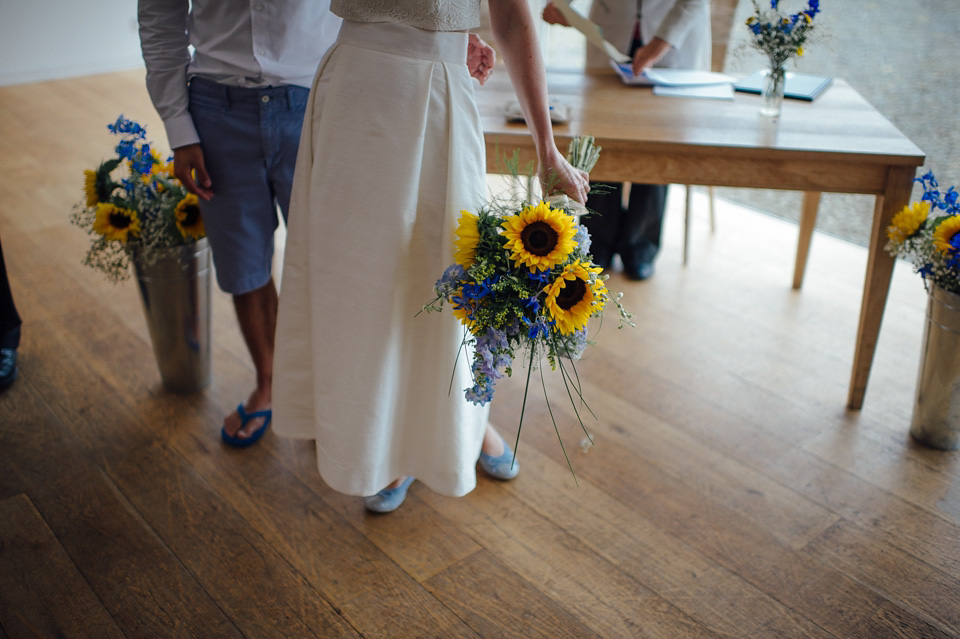 Photographer Lisa Devine was on hand during the lead up to the ceremony, to capture all the intimate moments that made Ciara and Eddy's day special. One of these special moments was an 8am dip in the Jura Sea!
"We knew we'd booked the best photographer in Lisa when she got excited about the idea, despite the early start! We had a quick game of Frisbee on the beach in between rain storms too.
We loved how different Lisa's photos were on her website, and her enthusiasm about our 8am wedding day swim meant we had to book her! It's clear from Lisa's work that she loves capturing the special details and moments at a wedding. She also captures Crear beautifully. People often say they don't want to notice a photographer at a wedding. I don't remember Lisa taking most of the brilliant shots of the day, but I absolutely loved having her there. She slotted into our nutty little wedding party perfectly."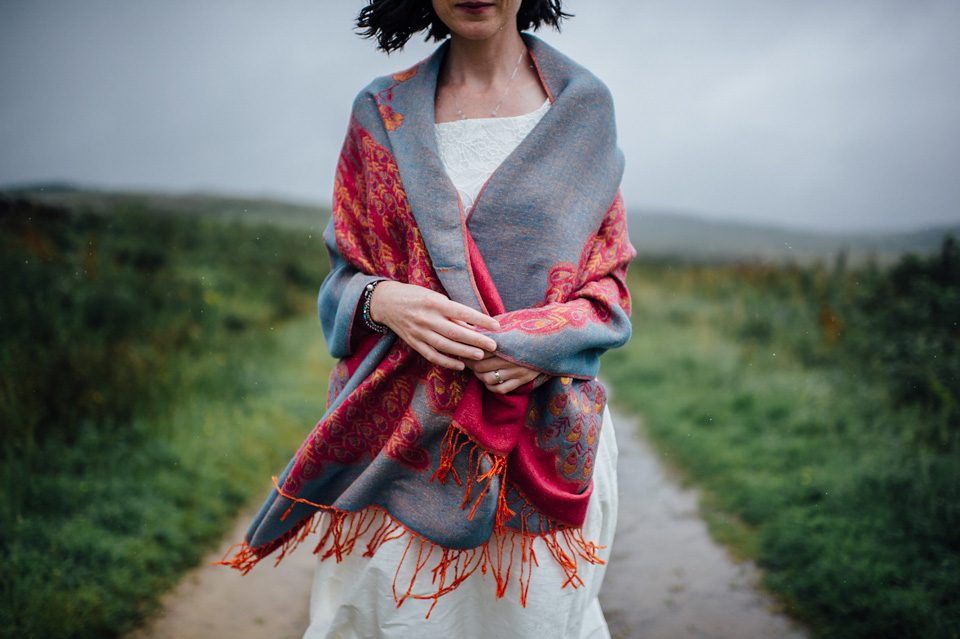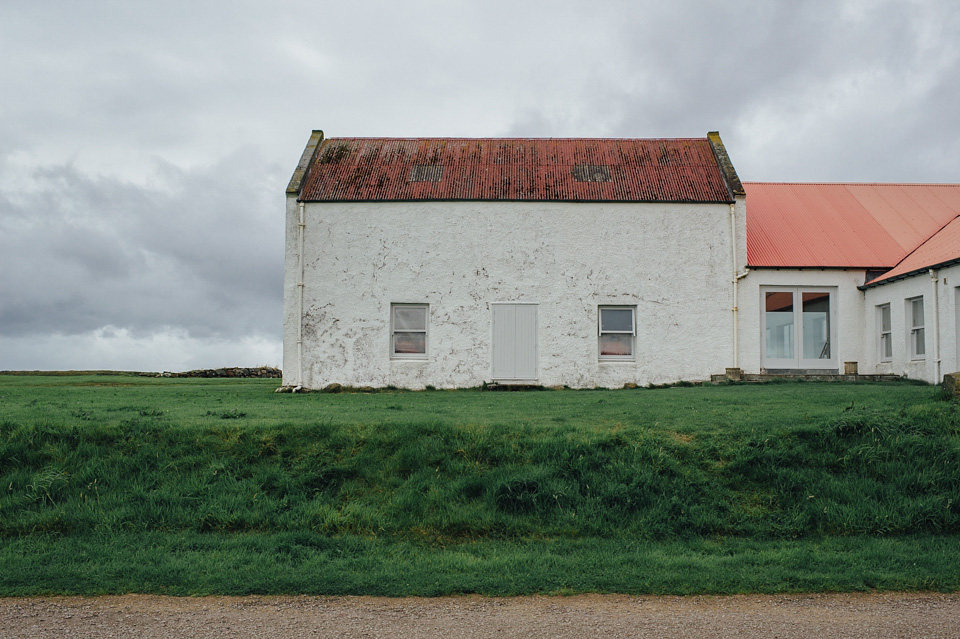 "We kept things simple and pretty rustic. Some bunting, flowers and jam jars did the trick. Our table for 20 people looked so stunning against the backdrop of an angry looking sky. We wanted the incredible landscape to do the talking, and it certainly did. The stormier it got, the more beautiful it became, and Lisa managed to capture the incredible light of the place."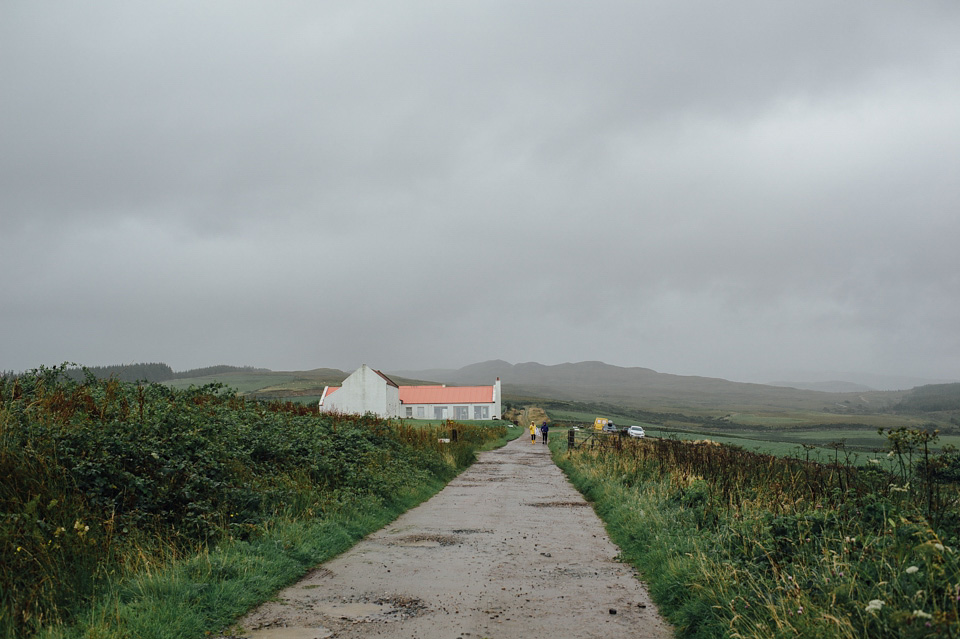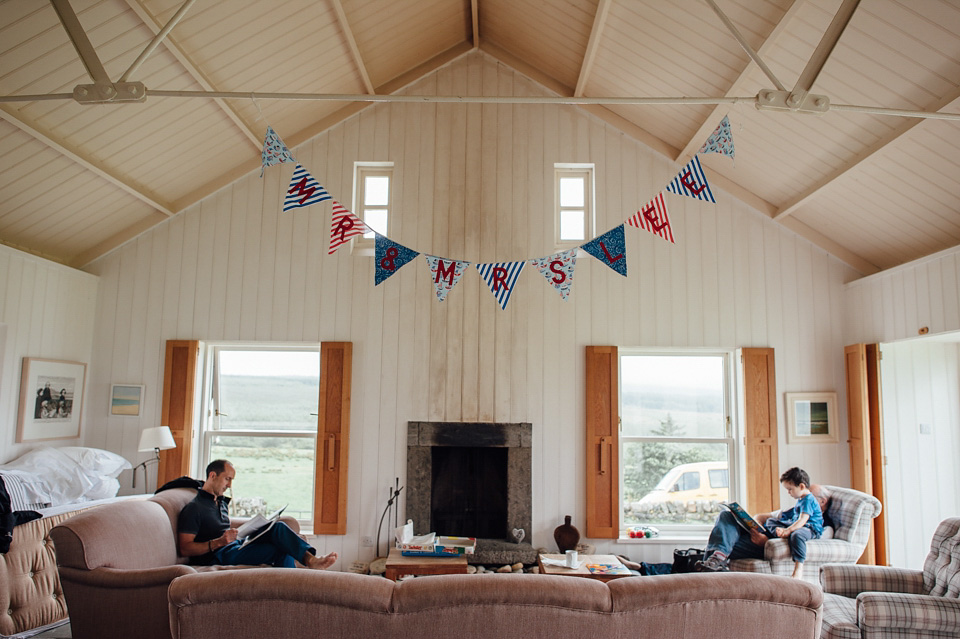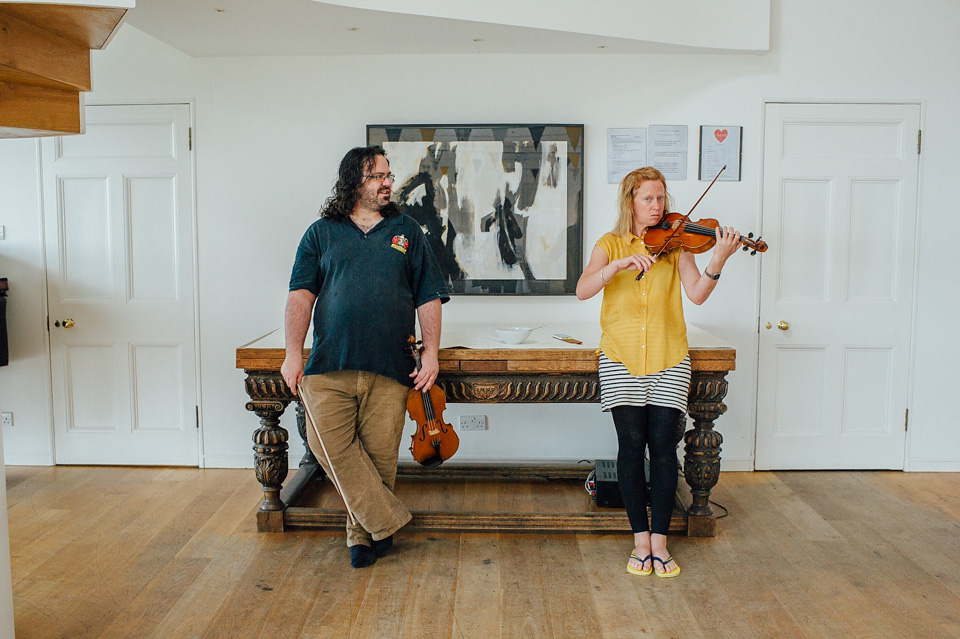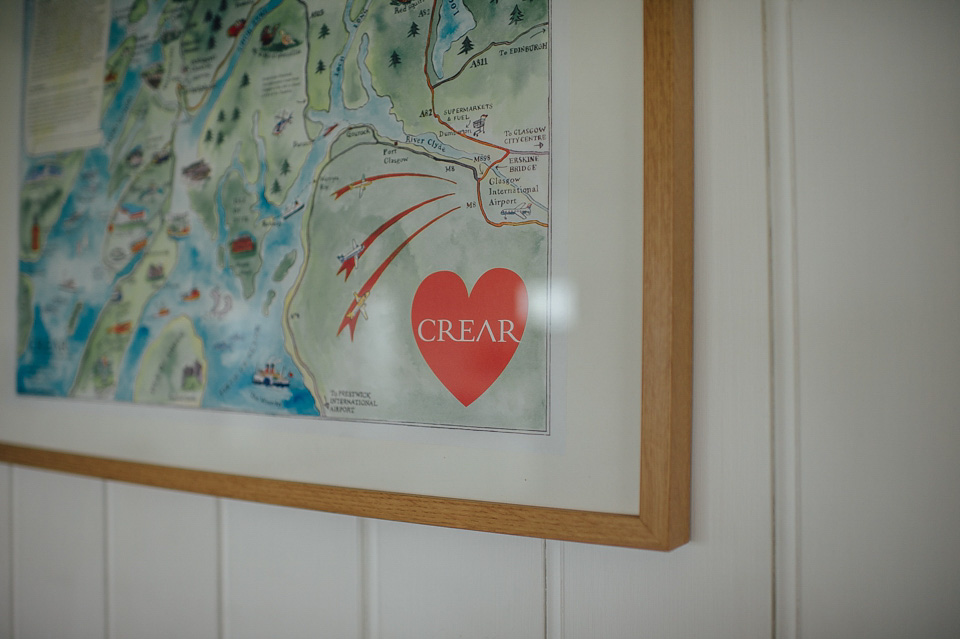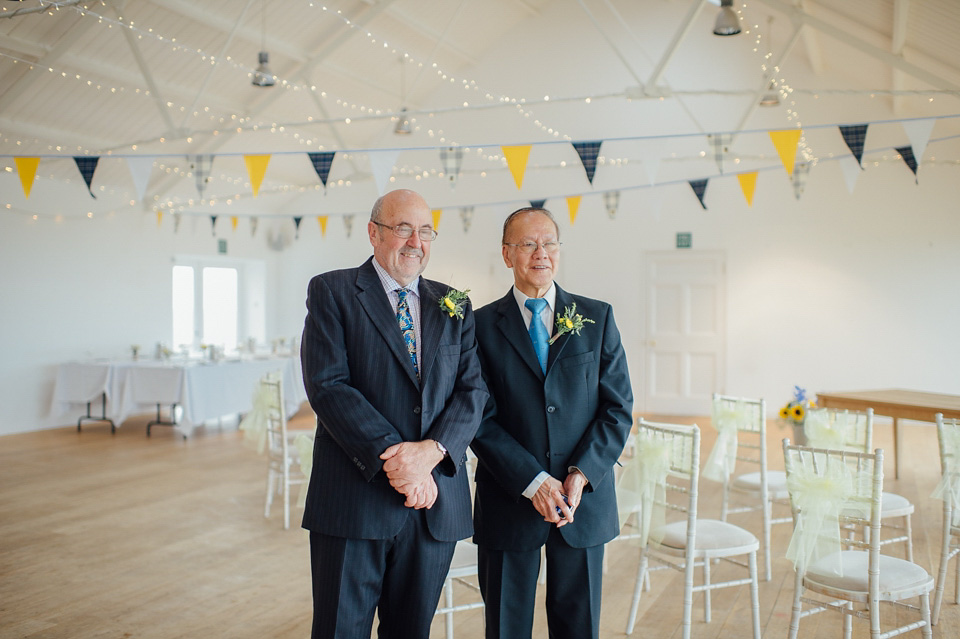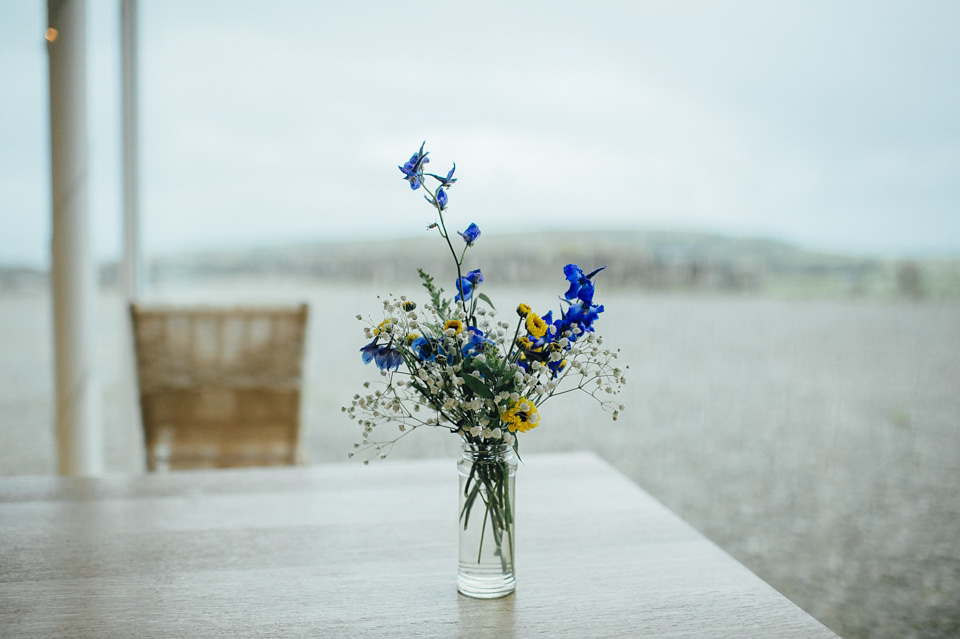 "My sister Fionnuala and my best friend Rosie helped me get ready. Rosie did my hair – she's been doing my hair since I was about 12.! She's the perfectly groomed best friend every disorganised bride needs to get them sorted. We all had fresh flowers in our hair. I wanted everything natural, to complement the landscape. I didn't wear much makeup, just the basics."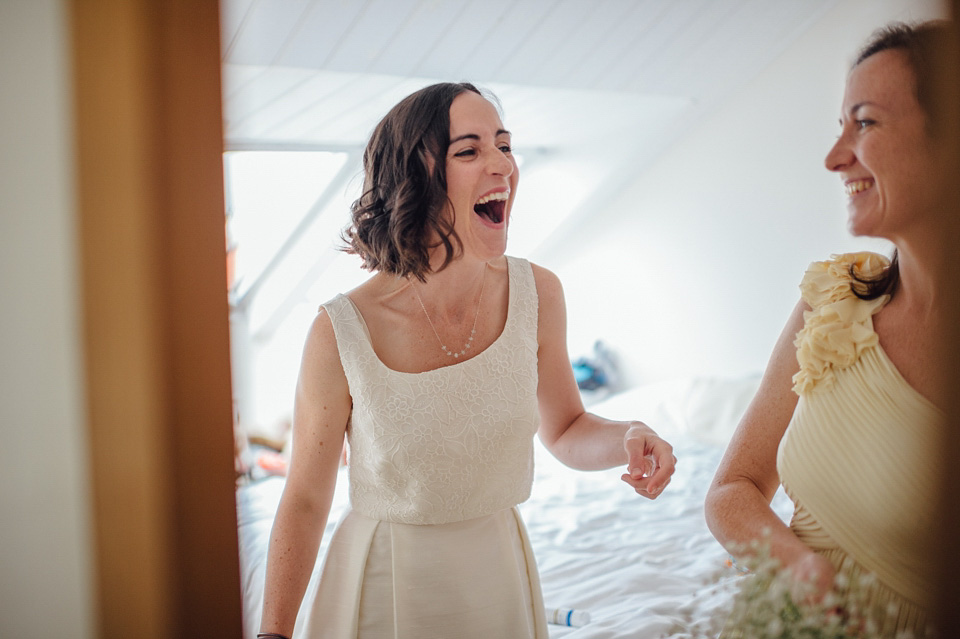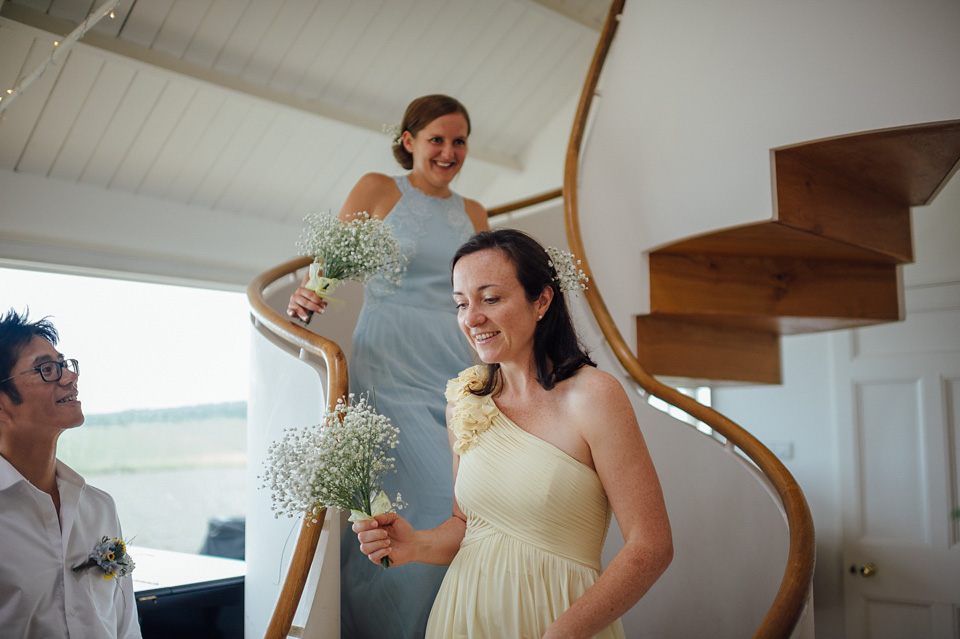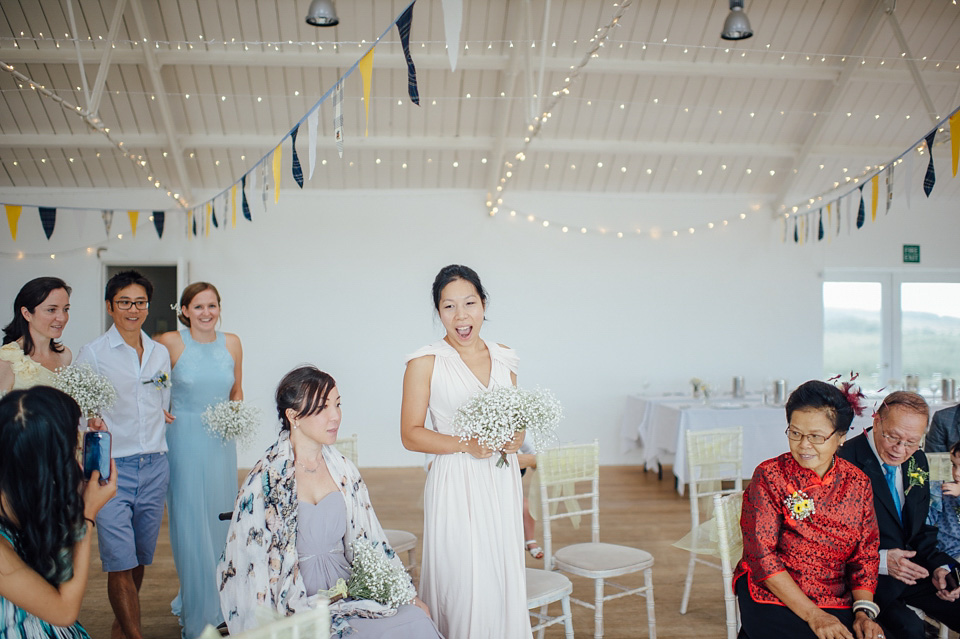 As she walked down the aisle with her Dad, Ciara's brother Owain and friend Cad both played the violin.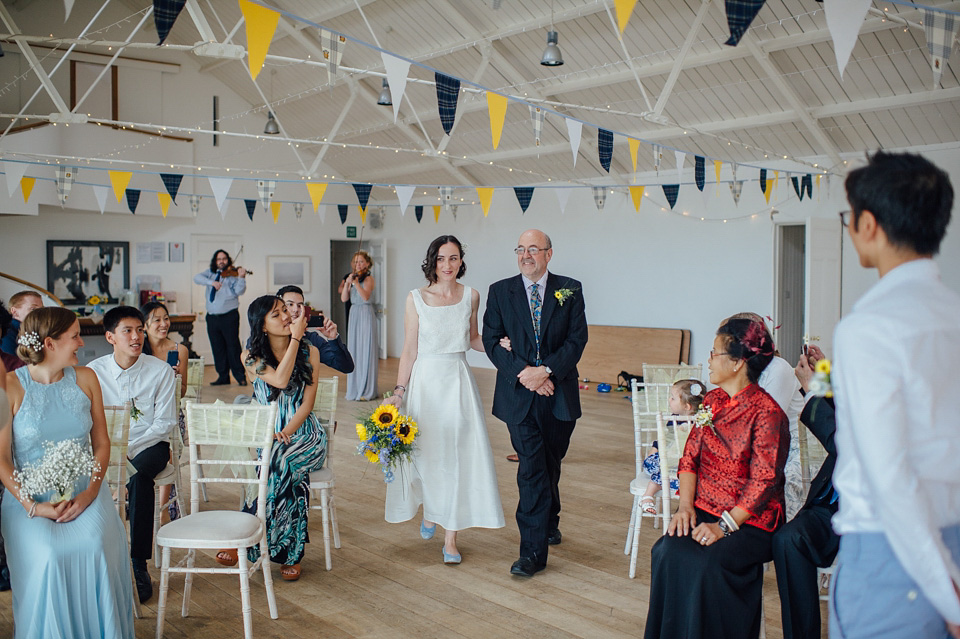 "Our humanist celebrant, Annie Loughlin, was so good. She helped create a humanist wedding ceremony which was everything we hoped it would be! In Scotland a humanist wedding ceremony is legally binding. Our family and friends enjoyed the ceremony so much and really felt part of it. We had a Celtic blessing and a Chinese proverb, so Annie really judged things perfectly for us!
The ceremony took us by surprise. I don't think we were expecting to enjoy it as much as we did. We were so relaxed and happy! My brother and Cad's violin playing was so nice. And going down to the beach in a rain coat after lunch felt like Christmas Day!"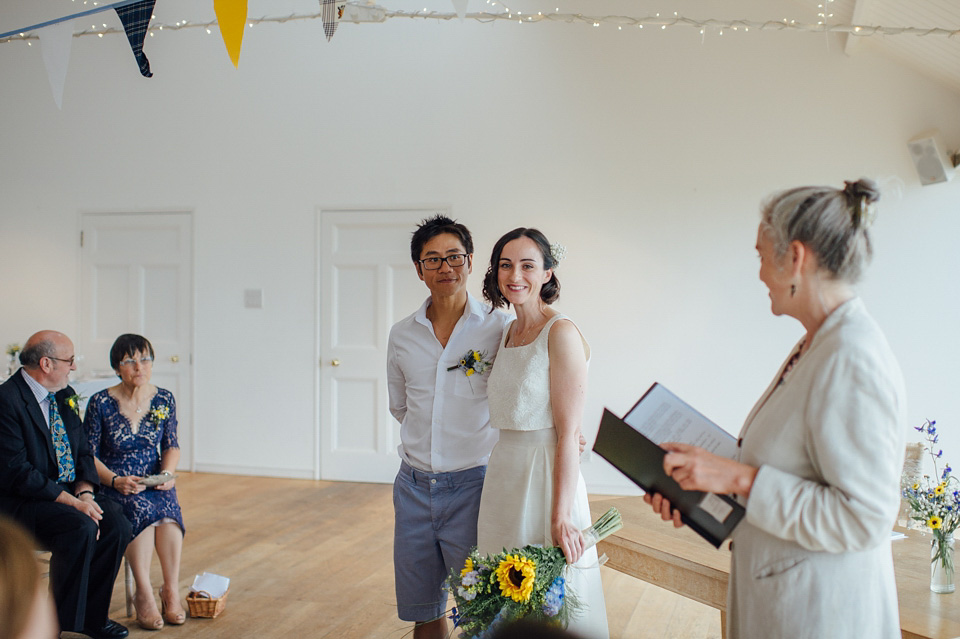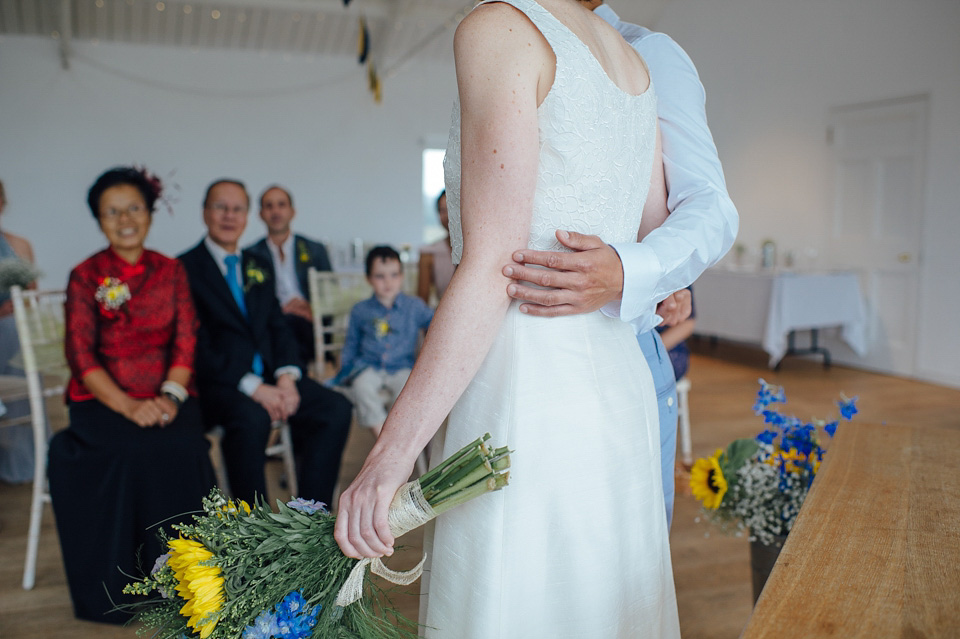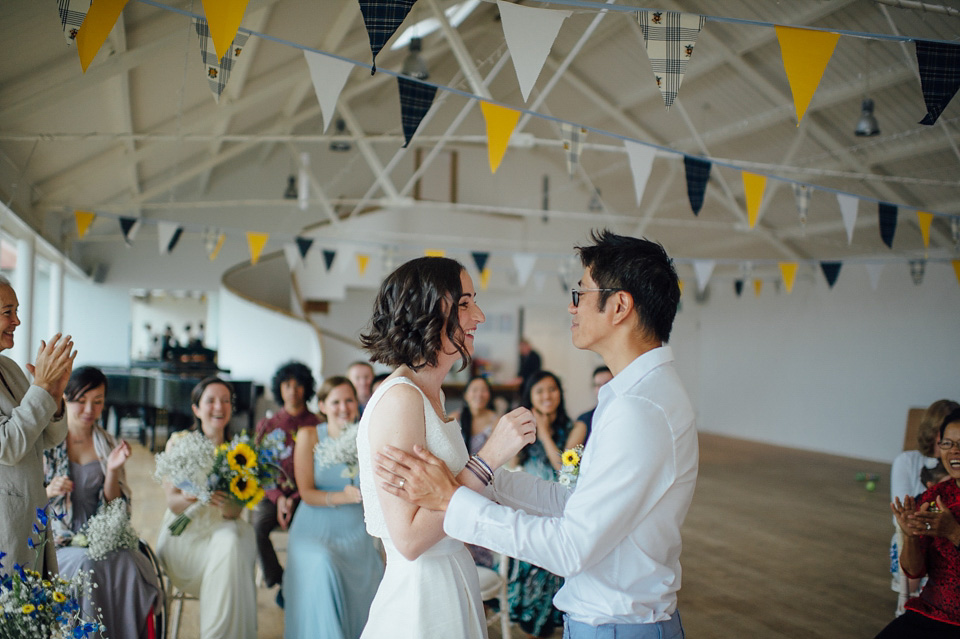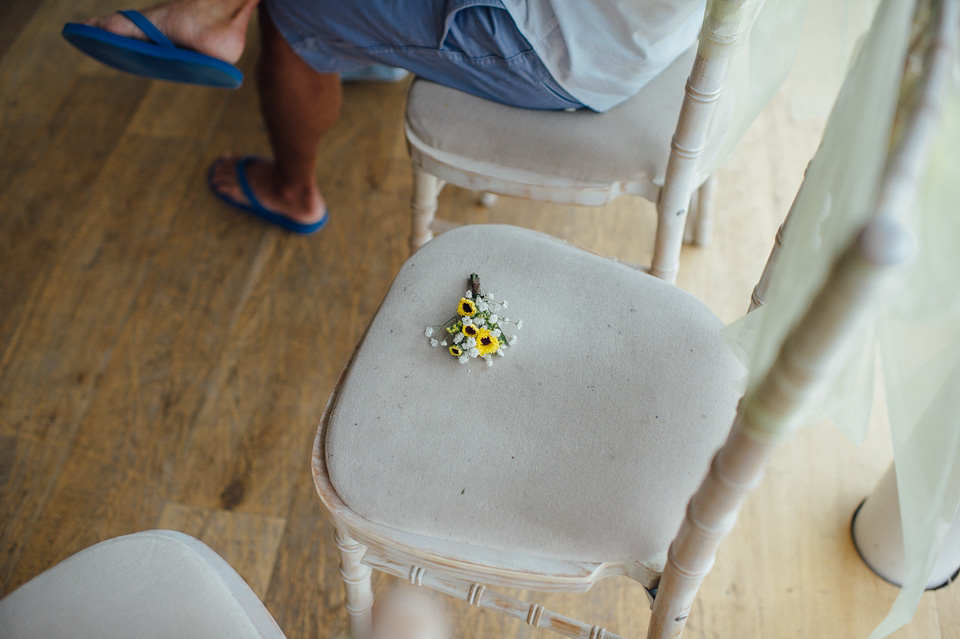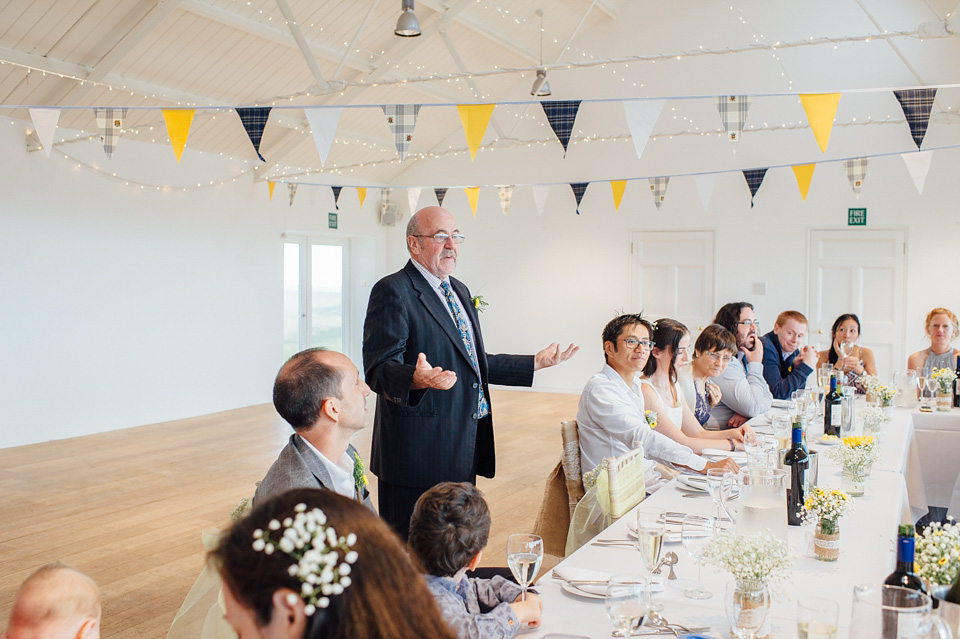 Crear also surprised Ciara and Eddy with a wonderful wedding cake – a map of the UK marking their cycling journey up to the venue, complete with miniature bikes!
"Our cake was an absolute highlight. We had NO idea what they were going to make as my only criteria was that Eddy should be able to eat it despite being lactose intolerant. It was the best surprise. It can be a risk letting people go with their own ideas, but when they take an interest in the couple they're likely to be spot on, and the team at Crear were!"
After the ceremony, the team at Crear displayed their talents once more.
"Crear's chef Alan Boslem made the most delicious meal. Local ingredients and such a high standard, everything looked almost too good to eat. We had a crab starter, a champagne sorbet pallet cleanser, and a beef main. It's so nice having a small wedding and being able to treat your nearest and dearest to excellent food, rather than catering for the masses."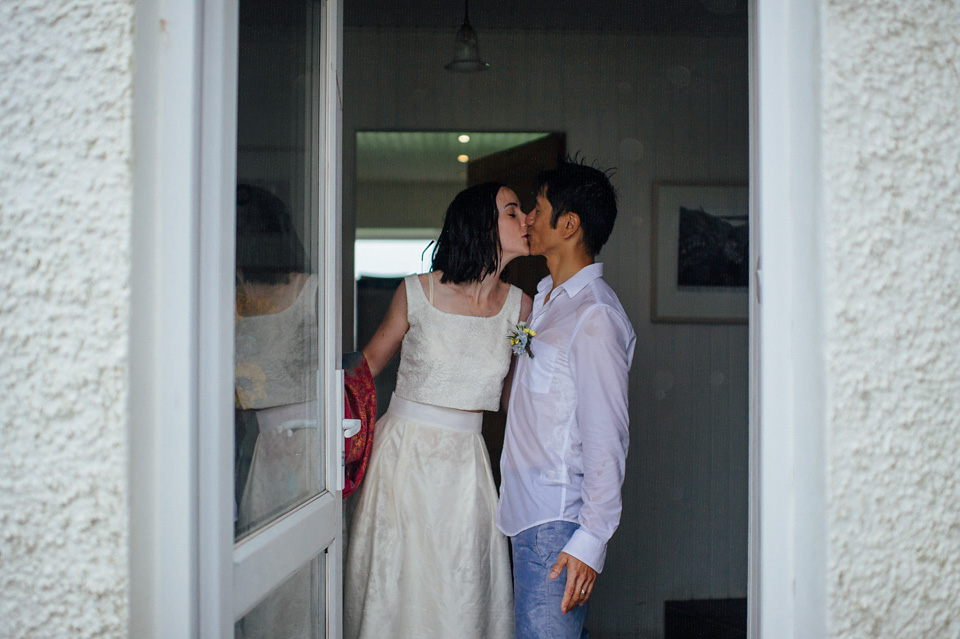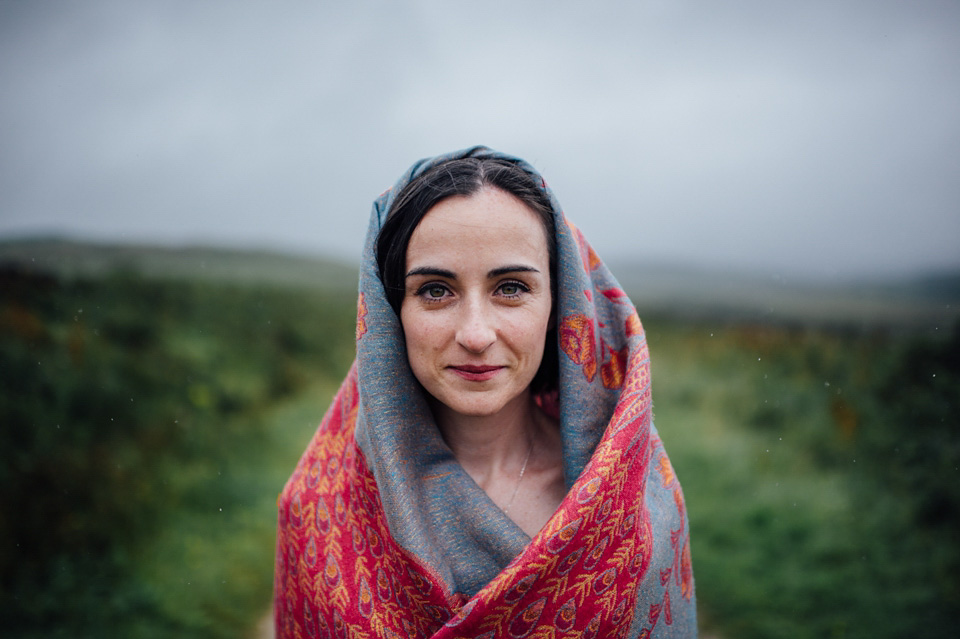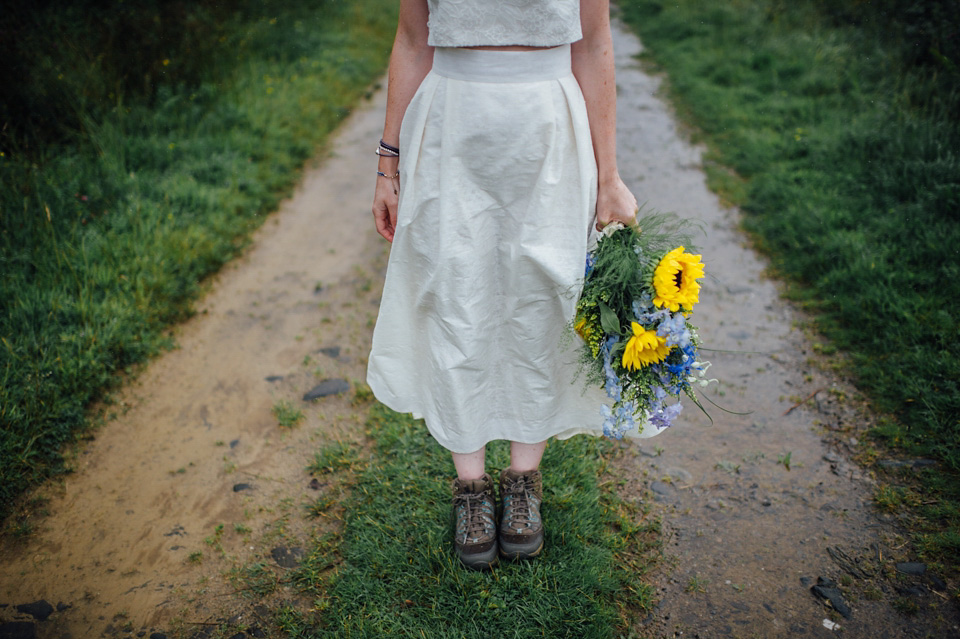 There's only one word I can use to describe that prettily-decorated wedding table, with the storm clouds brewing in the background. Epic.
Words of Wedded Wisdom
"Chill out. Relax. Don't have a massive wedding if you don't want one!"
Wow, I quite agree. Ciara and Eddy have shown that you can take a small, personal celebration and make it truly spectacular. To finish, I take note from one of Ciara's favourite images of the day…
"The photo of us kissing in the pouring rain really sums up our amazingly unique wedding." – indeed, it really does.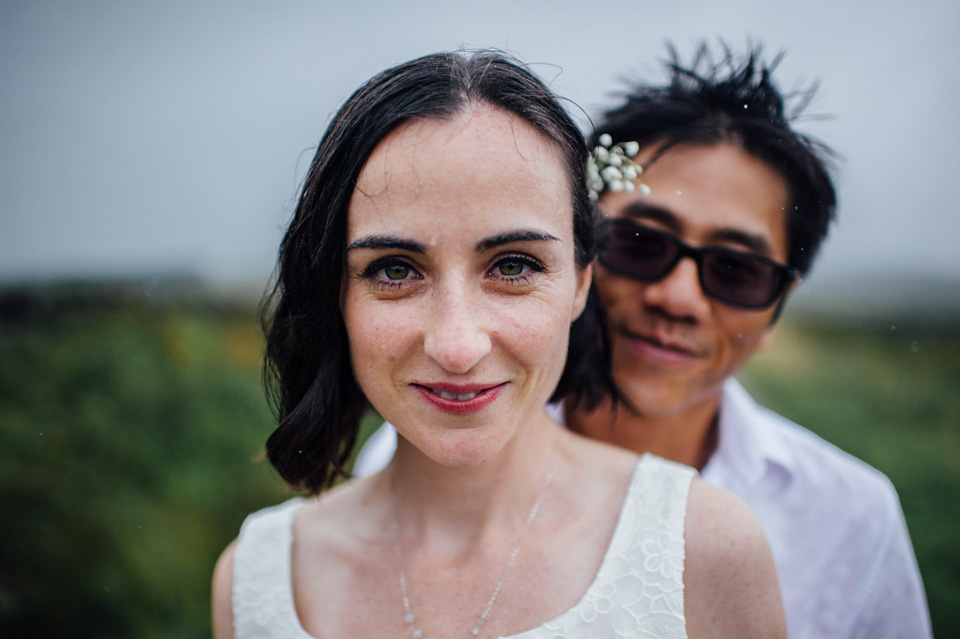 Love, Rachel xxx
Photographer – Lisa Devine
Venue, Florist, Catering + Cake – Crear, Scotland
Celebrant – Annie Loughlin
Wedding Dress – Susie Stone
Headpiece – fresh flowers, florist at Crear
Bride's Scent/perfume – Narciso Rodriguez
Bridesmaids – Coast
Rings – Wallis Hunter
Stationery – Bride's mum
Hair and make-up – bride's sister and friend