Happy Friday! I hope you have lovely plans lined up for the weekend? Perhaps you have things to do for your upcoming wedding? Or maybe you have a good old fashioned laze on the sofa planned with your other half? Either way, I hope you have a moment to take a quick break this late Friday afternoon to enjoy this charming village hall wedding, with all its lovely vintage details and a fabulous original 1950s dress.
Rach, an Orchestra Manager, and Geoff, a web designer, tied the knot in June 2014 in the pretty village of Chipping, Lancashire, with the ceremony at the village church, St Mary's, and the reception just a short walk away at the village hall. I do so love a village hall reception…
"I love vintage style clothes and furnishings. We both wanted the day to be relaxed and fun for everyone with a lot less of the formalities you may find at other weddings so we had long tables (like at a street party) with a massive dessert table with the champagne instead of tea served in the tea cups.  The village was a beautiful setting and both the church and the village hall were perfect for the relaxed and informal wedding we wanted to create.
One of the most important things for both of us was to have people that we knew or friends of friends involved in our day. We also only chose companies and people that were lovely, helpful and felt right that they would be part of our special day.  From the florist right through to the caterers and bands, we chose our suppliers because we liked them as people as well as the fact they were good at what they did!"
Photography Copyright (c) 2015, Bridson Photography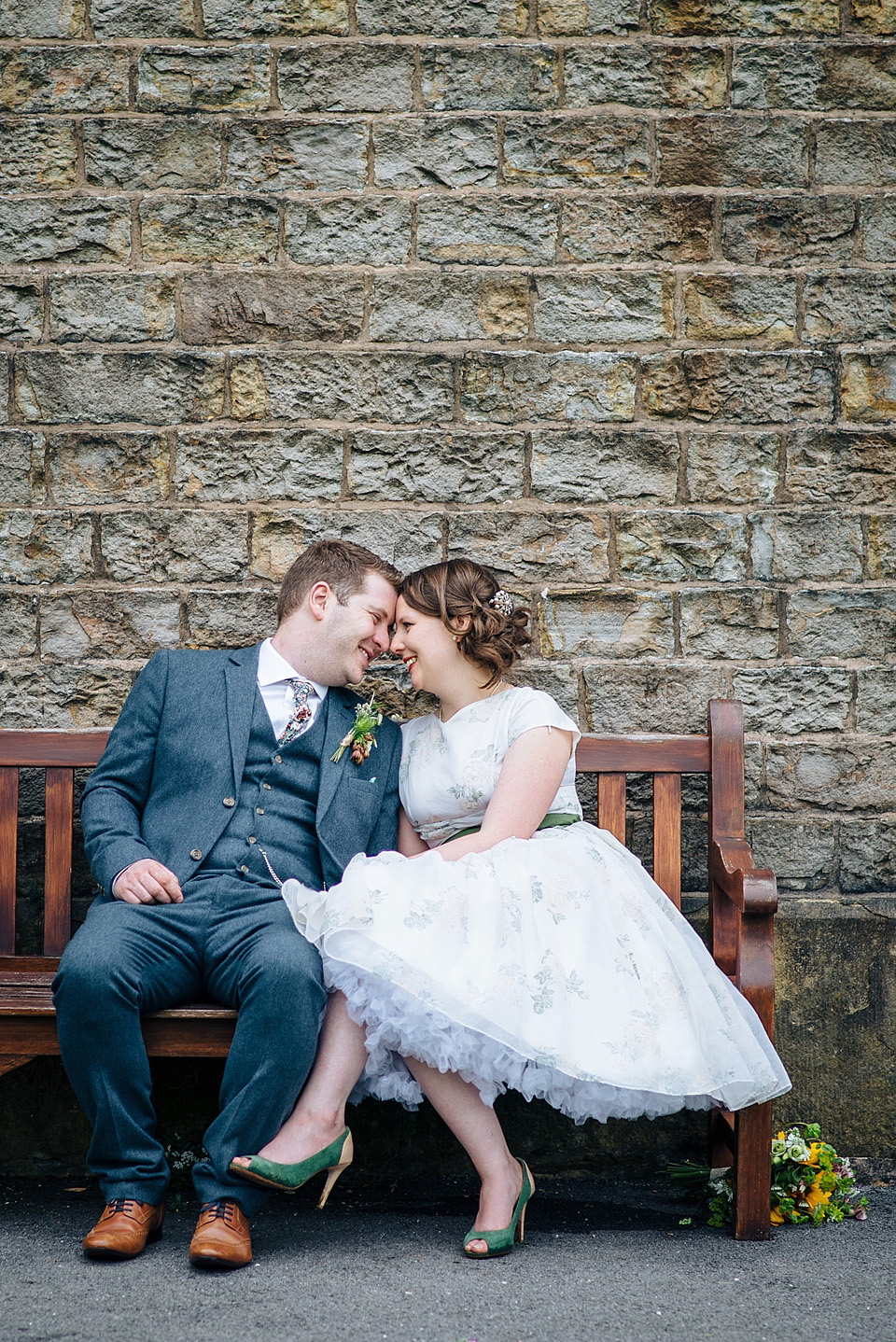 Rach's beautiful and delicate floral frock was an original 1950s vintage dress purchased from Ann at Very Vintage Bridal. I love something a little bit different, and isn't this just charming? The pale peach and green floral design is just so delicate and pretty.
"As soon as I drove up to Very Vintage Bridal, which is based in a Georgian Manor House, I knew this was the place I would get my dress from. Ann was absolutely lovely and very welcoming and the dresses she had were stunning, I was there for hours trying dresses on! I never felt any pressure to buy and she offered to source dresses for me if I didn't find anything I liked."
Rach designed her wonderful green shoes herself, to match her sash, and they were made by Milk and Honey Shoes, and she completed her look with a 50's style over-the-face veil, also made by Very Vintage Bridal, and an array of classic vintage jewellery- a hair clip made from a pearl brooch, a pearl necklace that once belonged to her Grandma, lacy gloves given to her by Geoff's Grandma and opal earrings loaned by her mum's best friend Michelle (which in turn, used to belong to Michelle's Grandma!).
How lovely to have so many items from friends and family to wear on your big day. She finished with a spritz of Dolce and Gabbana 'Light Blue' – a favourite of both her and Geoff.
Geoff and Rach decorated their reception venue, Chipping Village hall, with various archetypal 1950's trimmings – vintage tea cups and cake stands, all collected from charity shops by Rach's Aunty Barbara, pretty floral bunting in green tones, handmade by a lady in the village and floral napkins, as well as a delightful wicker hamper for cards.
One of my very favourite details is that each guest had a tea cup which was used for the champagne toast! How lovely, and just a tiny bit Mad Hatters tea party, especially as each tea cup had a label attached to it, with funny 'wedding advice' given to each guest
The wedding breakfast was catered by Food by Breda Murphy, while for dessert, the couple opted for a whole table full of cakes, created by the Love Cake Company, owned by Geoff's Mum and sister-in-law!
"We didn't just want the traditional one cake; we wanted a full table of cakes which would double as the dessert (afternoon tea style). Sue and Michaela thought of everything from Victoria sponge, to triple chocolate cookies and spent three days before the wedding making them all. The centre piece cake was a two tiered chocolate fudge cake with two swimming pigs as the cake topper. This is Geoff's all time favourite cake!  Everyone was amazed by the cake table and it was a big feature of the wedding with many people saying it was one of their favourite things about the day…so much cake!"
Her bridesmaids wore dresses bought in Matalan, teamed with floral silk sashes which were homemade by Rach and her Mum, and echoed the flowers on Rach's own dress. They accessorised with pearl bracelets, made by Rachel as a gift to each of them.
Rach and her bridesmaids carried wonderfully colourful bouquets, courtesy of Clare at The Flower Farm.
"Clare of  The Flower Farm actually lives on a farm and grows all her own flowers that she sells in buckets and is also a florist too. This was perfect as I wanted her to make the button holes and my bouquet but I wanted to do my own flowers at the venue and for the bridesmaids to be able to make their own bouquets. I loved the idea that she grew her own flowers and this is why we chose her.  I wanted them to look rustic and to be wild meadow type flowers with a range of colours so they didn't all look the same. T
he only flower I was particular about was that I wanted some sunflowers as yellow flowers were my Grandmas favourite.  I love the bright pop of yellow among the other more muted shades."
The day was documented by Damion and Wendy of Bridson Photography, who make their debut on Love My Dress today and come highly recommended by bride Rachel;
"We couldn't have asked for better photographers – we were introduced to Wendy and Damion of Bridson Photography through mutual friends so we knew they were both lovely and easy to get along with. They made us feel really comfortable during the pre wedding shoot and we had a really fun day which resulted in some amazing photographs. From the very start they totally understood what style of photographs we wanted for the wedding and that we wanted a more informal feel to reflect the style of our wedding.
We couldn't recommend them enough…just brilliant and amazing photographs.  They captured the day perfectly."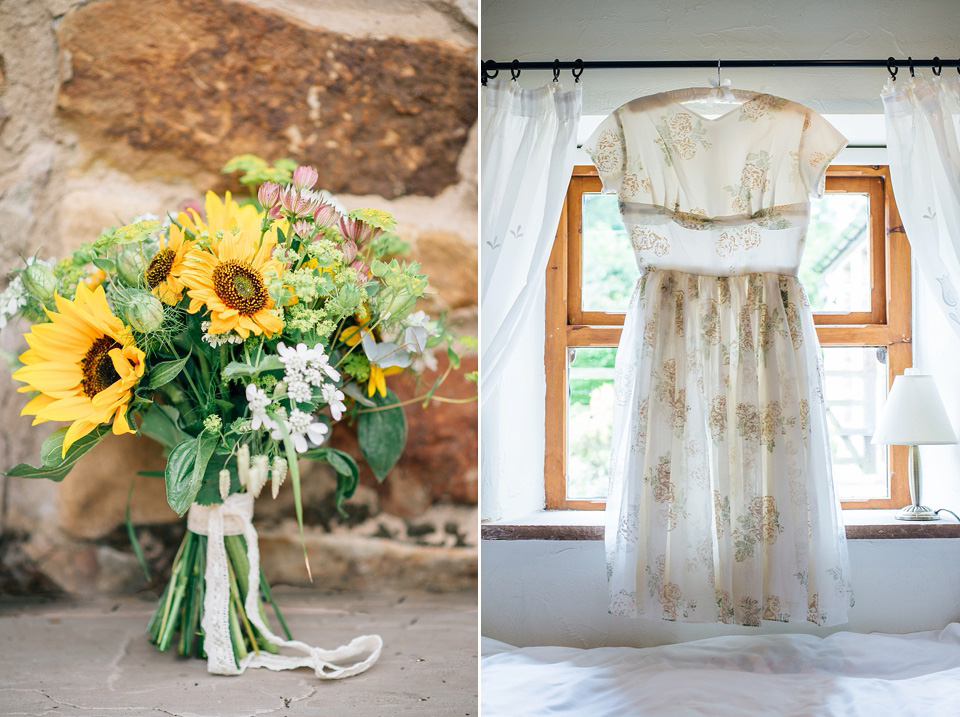 "I had originally toyed with the idea of a coloured dress and when I saw the dress that was to be my wedding dress, with its over-layered pattern in exactly the colours that we had decided on for our colour scheme, it was definitely meant to be….and it fit me!  I loved that it was different and that I felt comfortable in it – it wasn't heavy or restricting and I knew that I would be able to dance the night away with it on."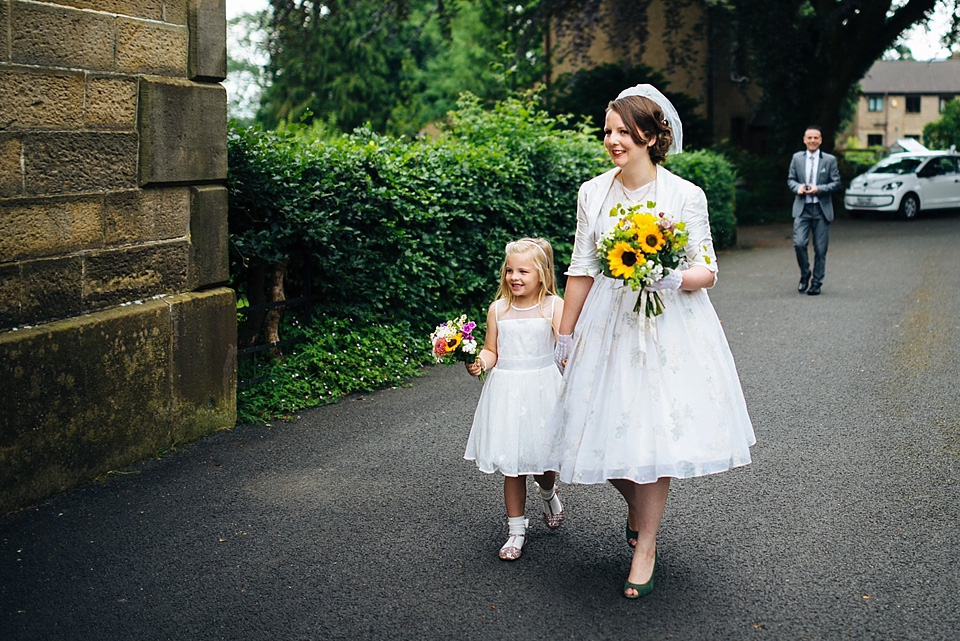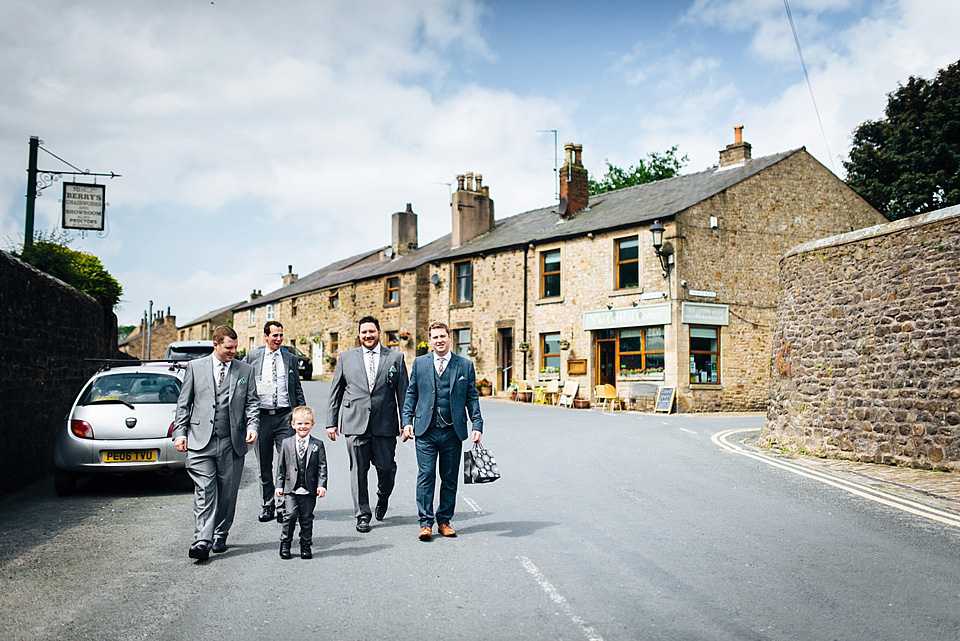 Groom Geoff looked dapper in a suit from the Topman Heritage Range and floral tie from Red Herring at Debenhams. A pair of cheeky Batman cufflinks completed the outfit!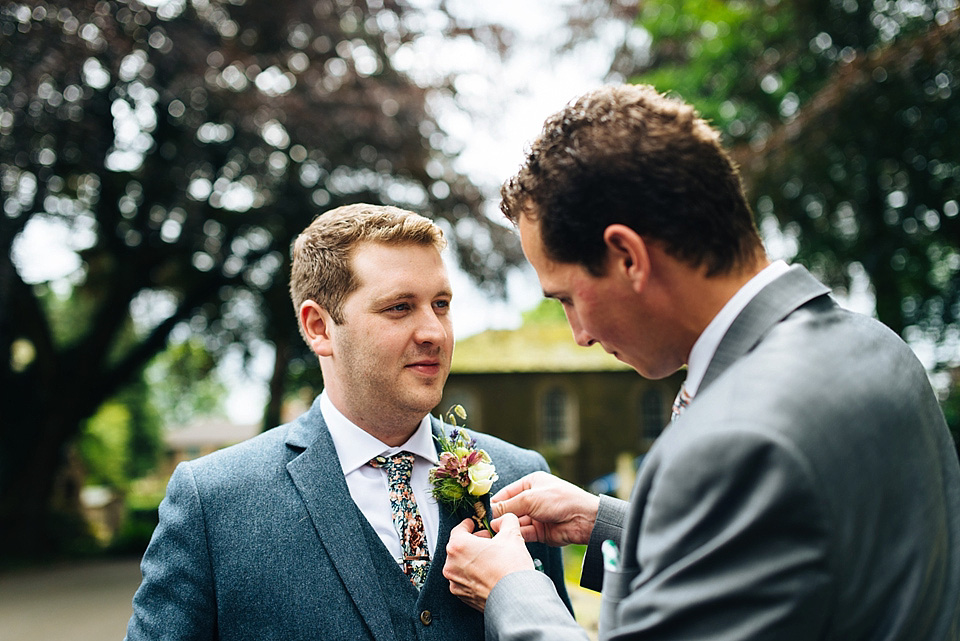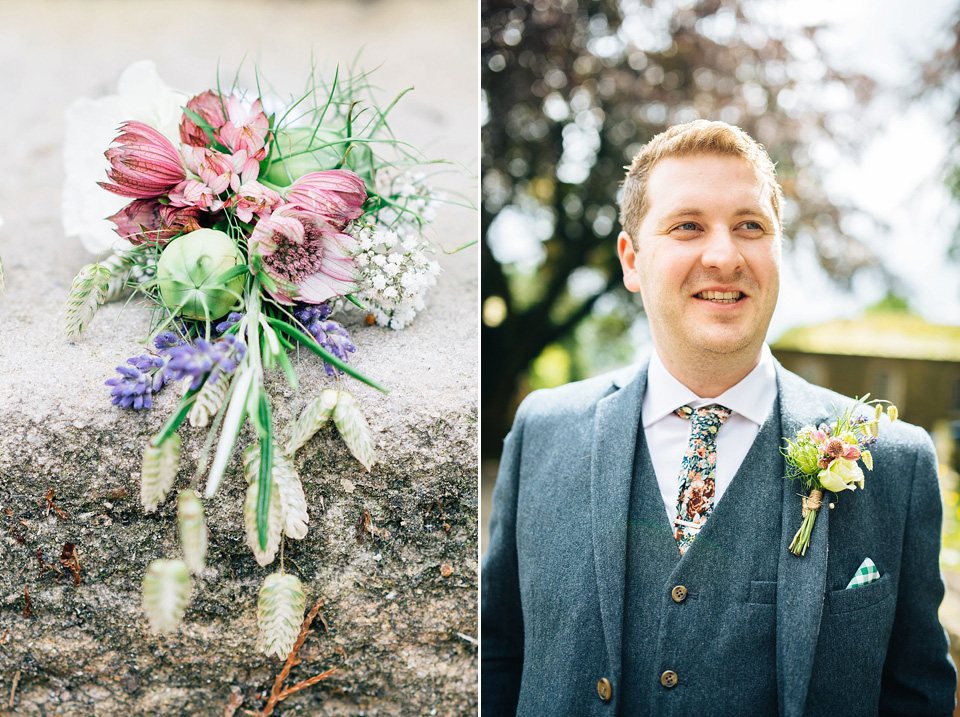 The couple met in a modern twist on the original Eurhythmics story….
"As the song goes… Geoff was working as a waiter in a cocktail bar…. and charmed me with his cocktail shaking skills! After 5 years he popped the question on my birthday and we got married 18 months later."
Rach walked down the aisle with her dad to the traditional Bridal Chorus, but with a twist….
"I wanted it to be different so had the sung version by Wagner sung in four part Harmony in German by the wonderful singers from Royal Northern College of Music"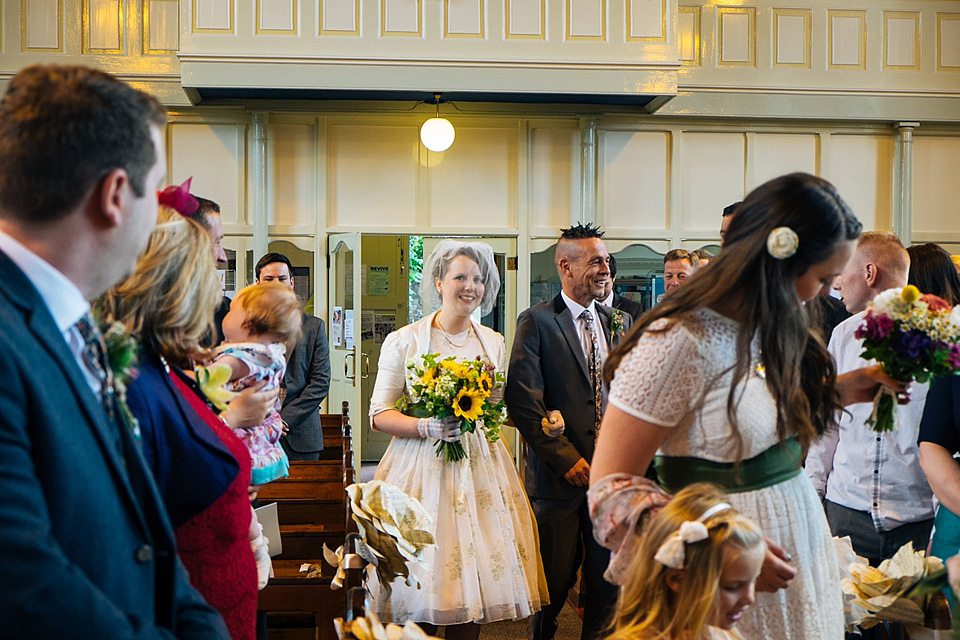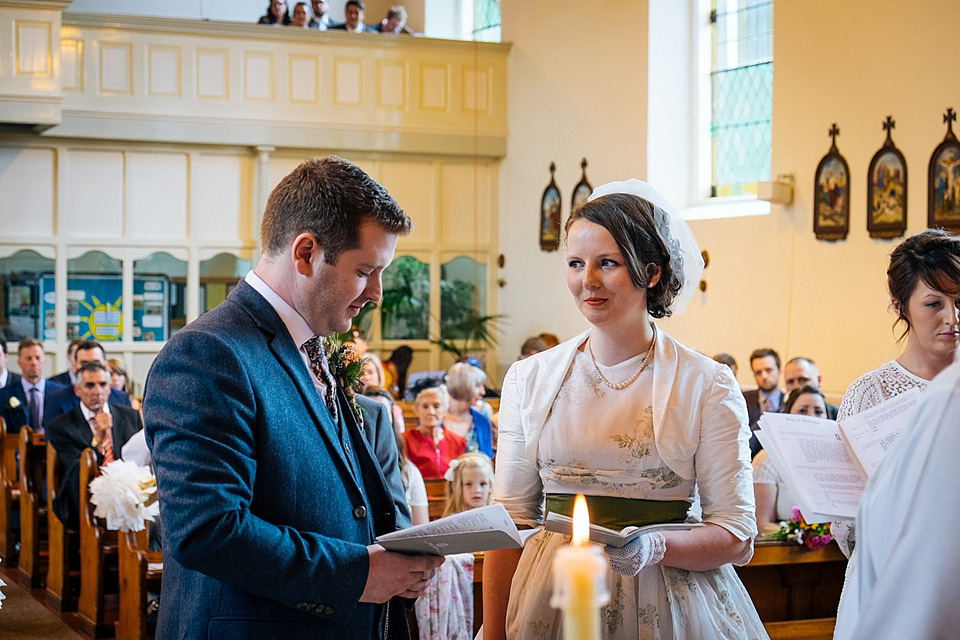 Rach wanted to share with us one of the readings they shared with their family and friends on the day- Widmung (meaning Dedication) – taken from the song Widmung by Schumann, which was written for his wife.
"We chose this because of the beautiful words. Also we were having the song sung in German during the signing of the register so thought it would be nice to have the translation as one of the readings."
'You my soul, you my heart,
You my bliss, O you my pain
You the worlds in which I live;
You my heaven, in which I float,
O you my grave into which I eternally cast my grief
You are rest, you are peace,
You are bestowed upon me from heaven.
That you love me makes me worthy of you
Your gaze transfigures me;
You raise me lovingly above myself
My good spirit, my better self.'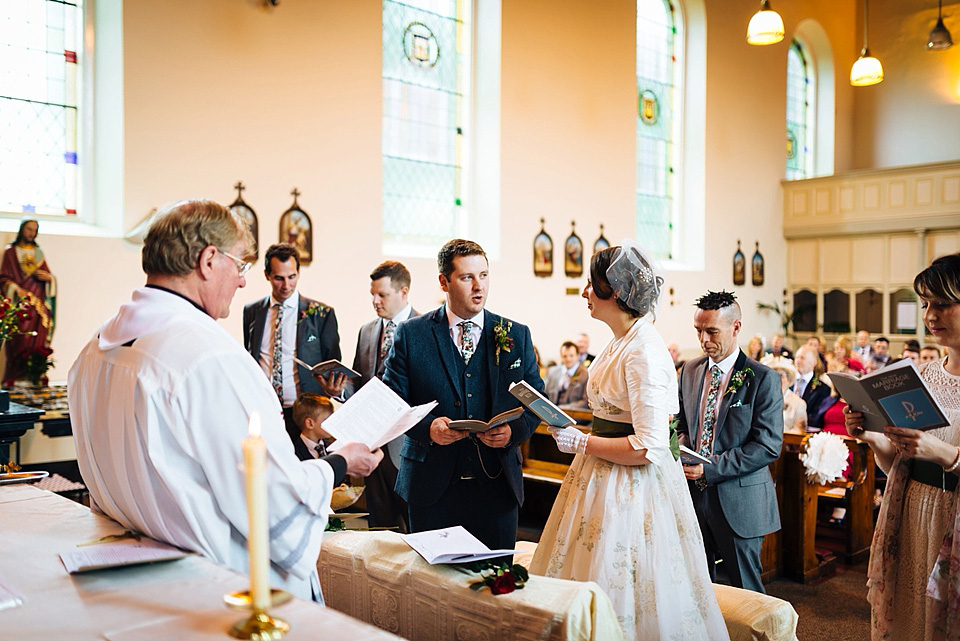 Friends of Rach's also prepared a 'secret song', which they sang and accompanied on the piano during the signing of the register- a surprise for both the bride and groom!
Once the ceremony was over, Rach and Geoff were able to walk to their reception venue through the village, with their friends and family around them. How wonderfully romantic.
"We walked from the church to the village hall with the whole congregation walking behind us."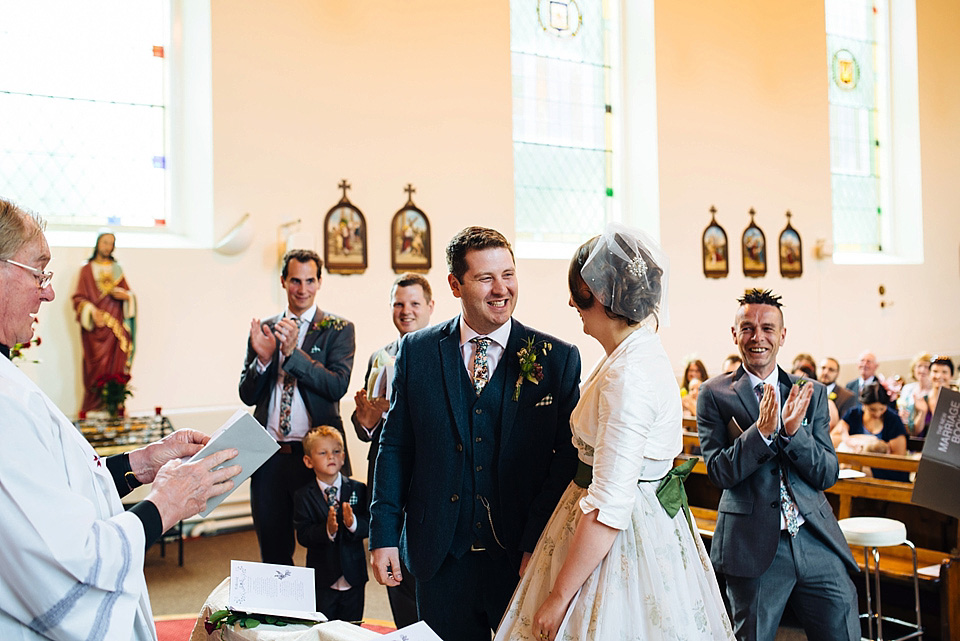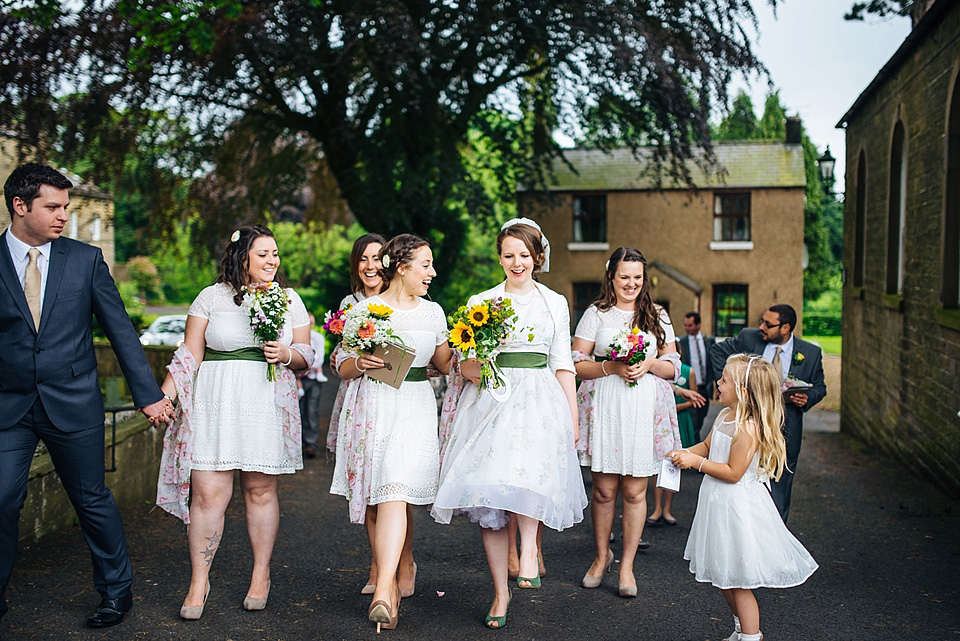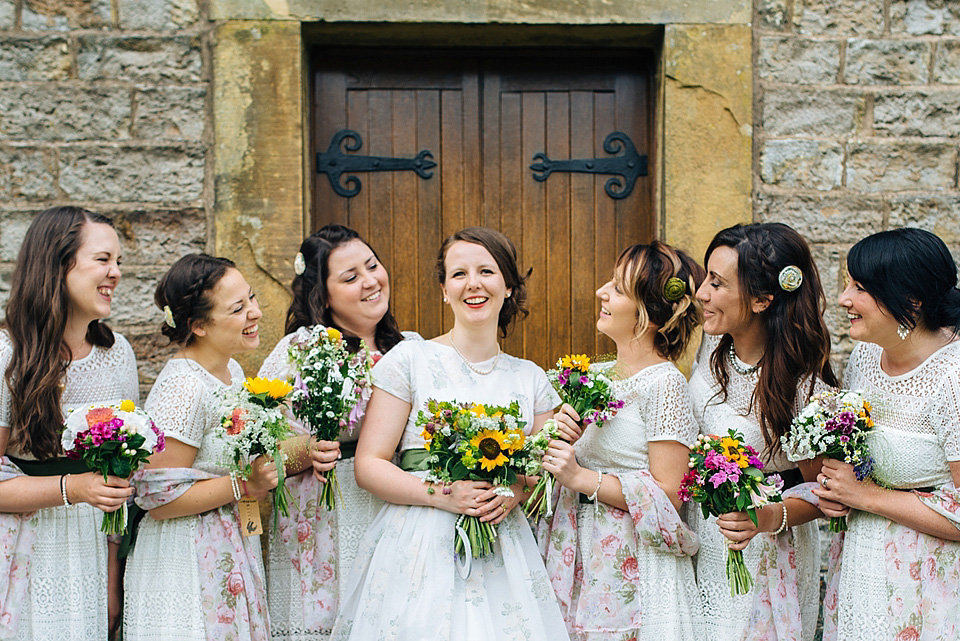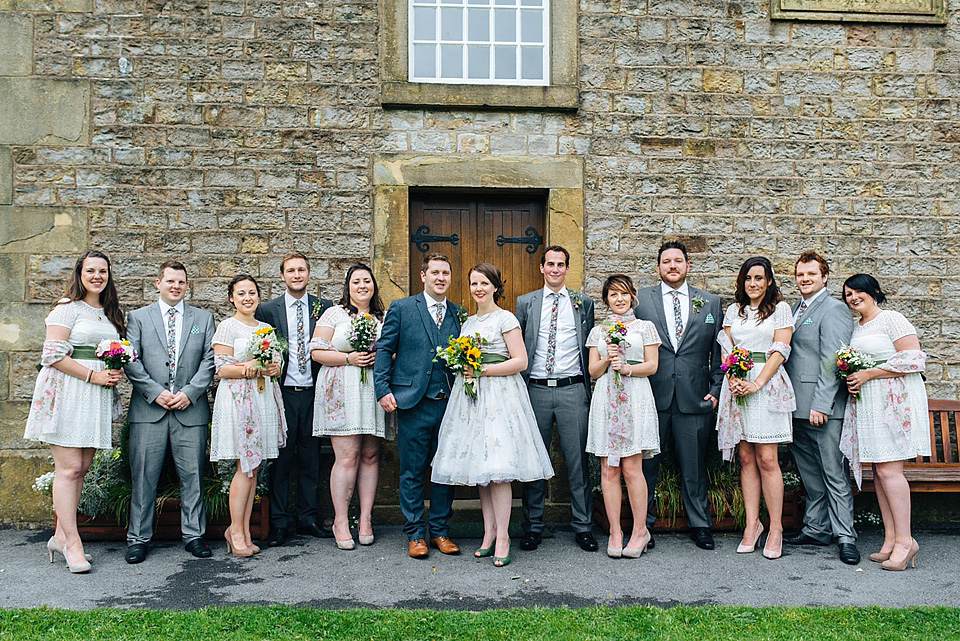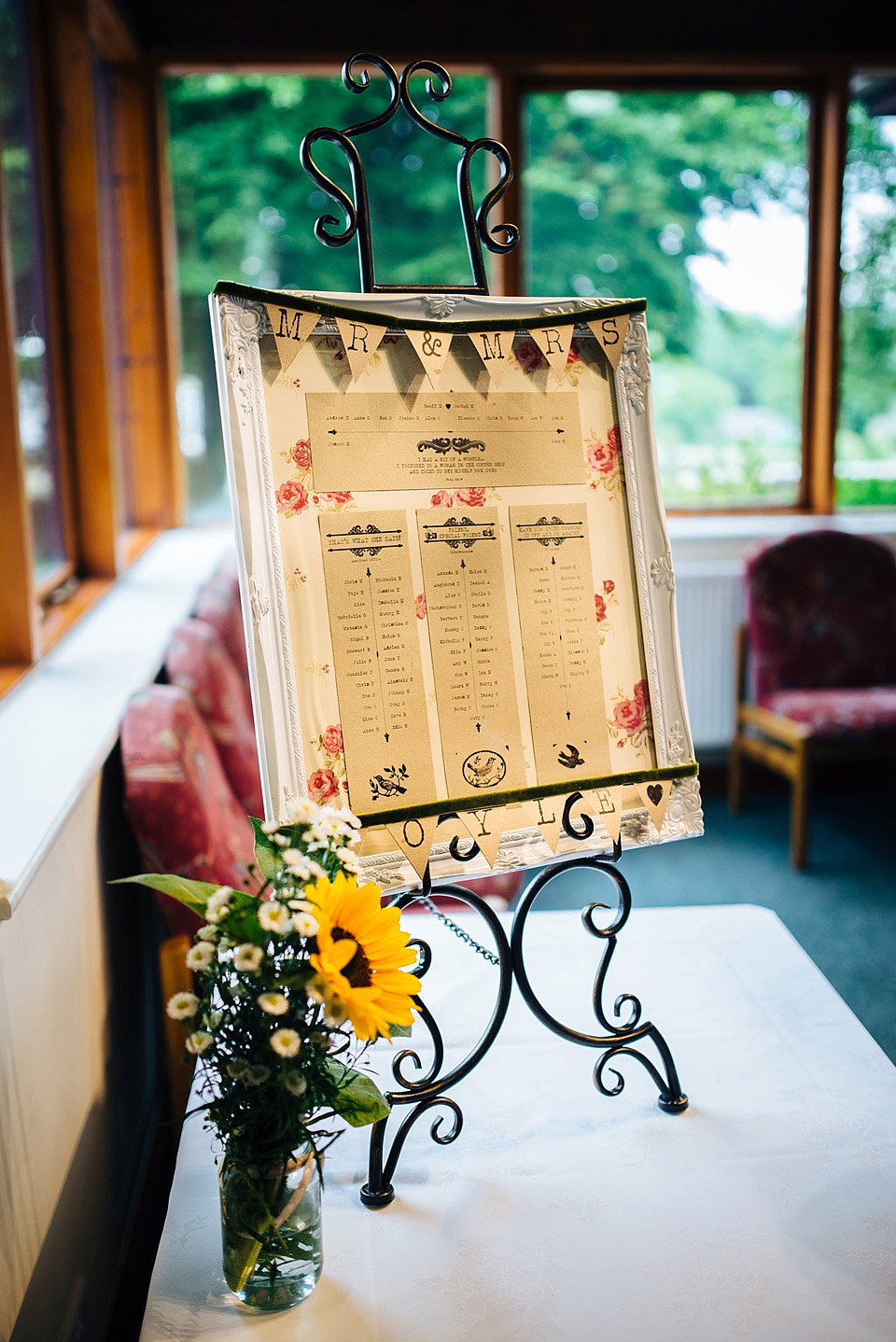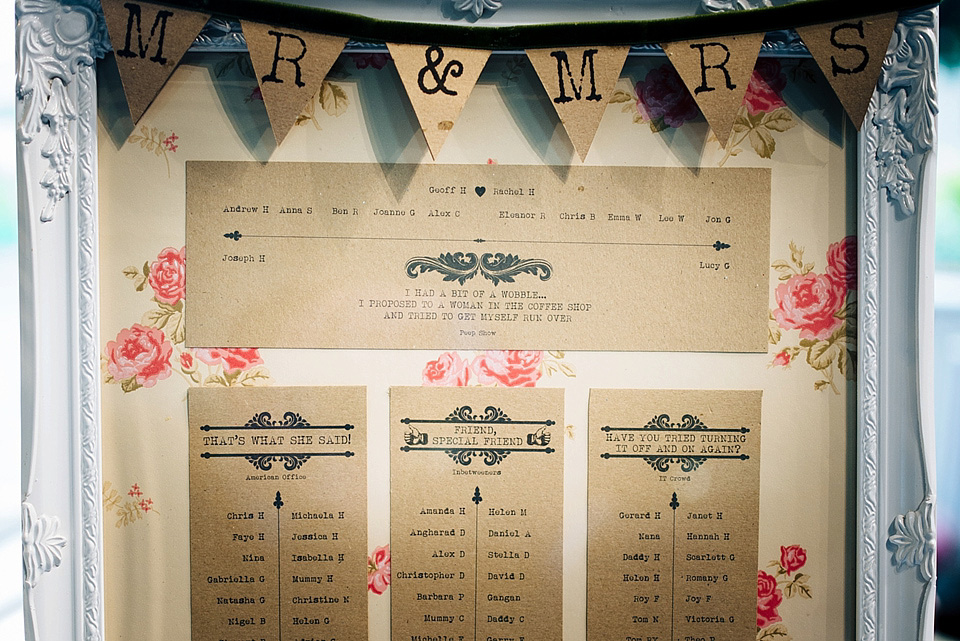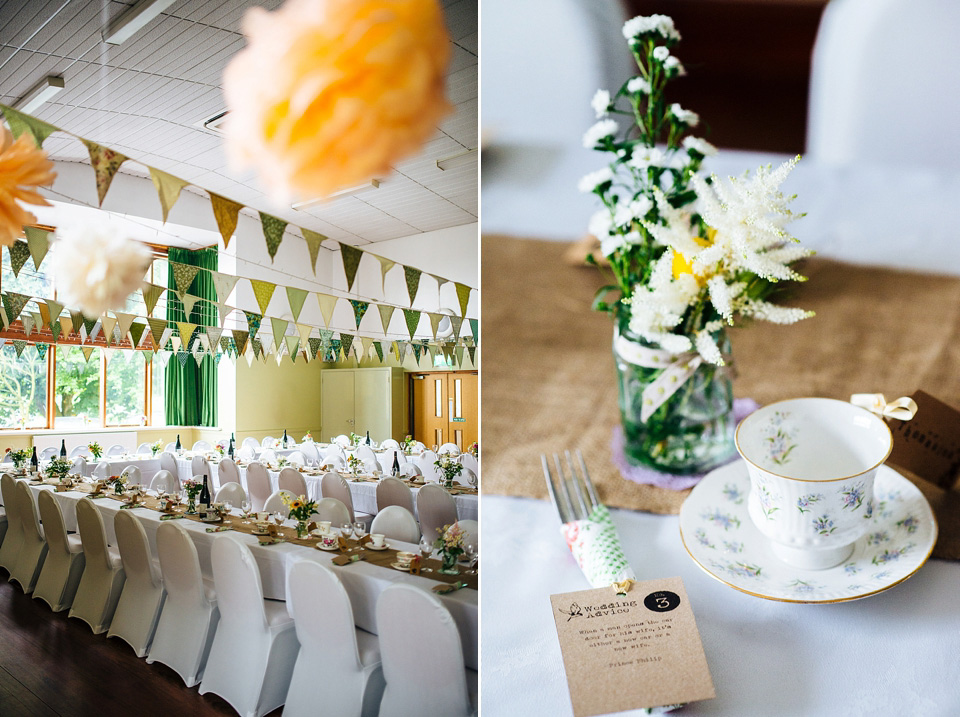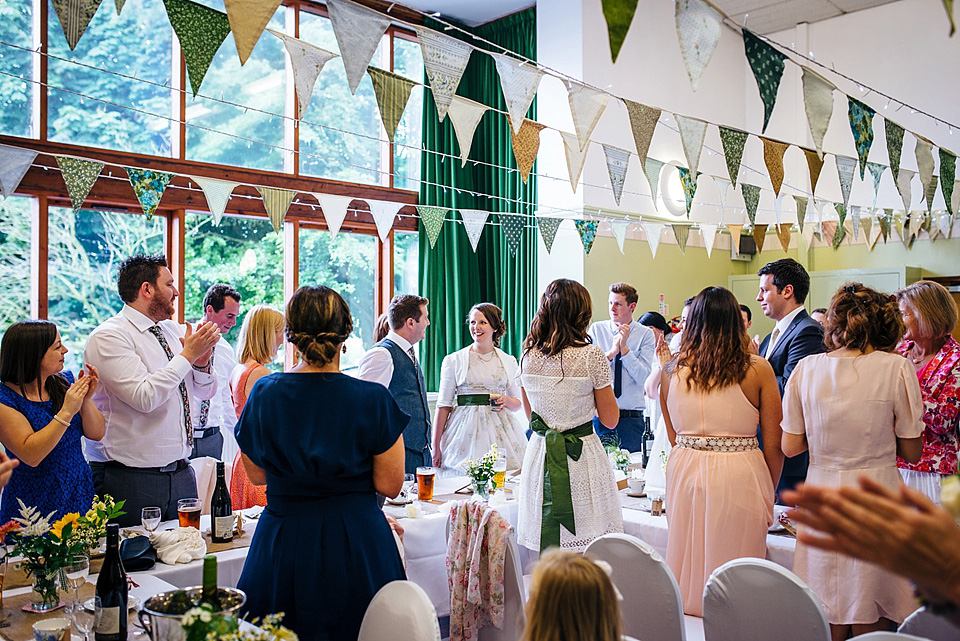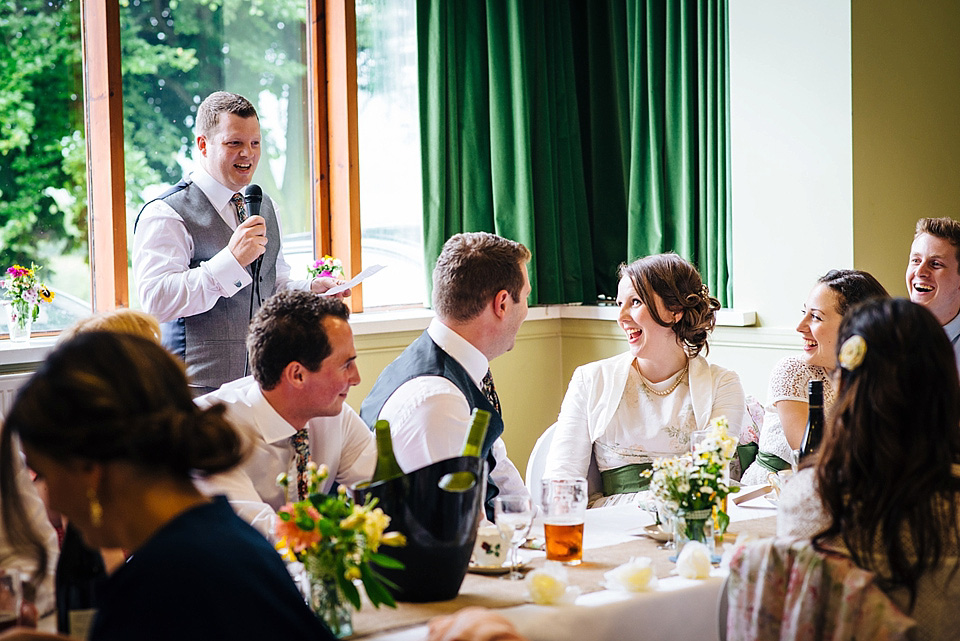 In between slices of cake, guests were entertained by Nick Gunn and Jamie Turner who played during the dessert and whilst the evening guests were arriving.
"It was a brilliant addition to the end of the meal and to keep the guests entertained whilst they were changing the room around for the evening. They were both brilliant performers and a pleasure to have part of our wedding"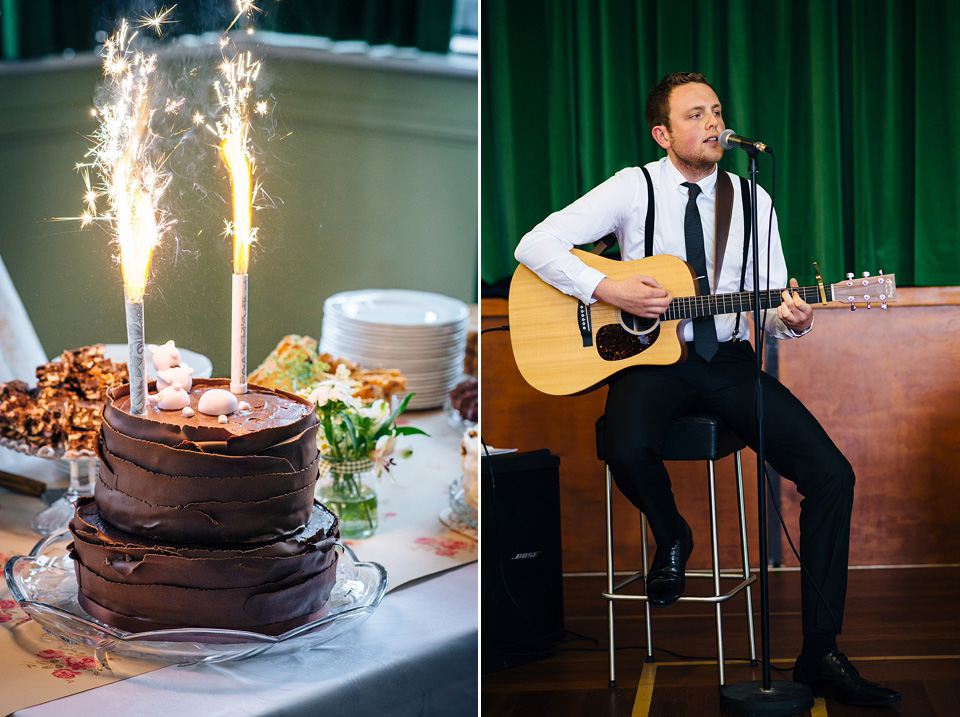 "The whole day was exactly what we wanted, informal and relaxed with good food, amazing music and surrounded by all of our lovely family and friends. There was not one thing or person that was part of our day that didn't help to make it special, which showed by the massive smiles on our faces all day! If we had to choose a moment that was really special it would be the first dance, we had so much fun swinging around the dance floor and it was one of the few moments we were 'alone' together (for a few minutes at least!)
There is honestly nothing we would have done differently apart from less fretting about little things/details (that in the end didn't matter!) in the days beforehand!"
The couple chose The Soul Convicts, a ten piece band which two of Rach's friends are part of, to perform at their evening reception.
"They specially arranged our first dance for us and they were just generally amazing – the dancefloor was never empty during the evening party!"
The band also played their first dance, 'I'm You' by Jason Mraz.
"We chose this because we both love the song (before it got famous!) and we wanted something we could properly dance to and not just shuffle to!"
Even just the pictures make me want to join in!
Words of Wedded wisdom
"Don't do anything that isn't you, the day should be a reflection of you as a couple and you should feel relaxed and comfortable on the day. Also don't be pressured into doing things that you aren't sure of by the venue or people that you are hiring like the band – if it doesn't feel right don't do it and don't book anyone that you haven't met in person. One of the most important things for us was to work with lovely people who understood what we wanted and that we knew would helpful and go out of their way to help make our day special."
Rach asked us to make a special mention to her sister and Maid of Honour, who "helped organise my amazing hen do and put up with me stressing about all the arts and crafts I had to do!"
Huge thanks to Bridson Photography for sharing these lovely images with us today, and many congratulations to Rach and Geoff! Is anyone else wearing an original vintage dress for their wedding? And is anyone else suddenly hungry for a slice of cake…?
Much love, Shona x
Photographer – Bridson Photography
Venue – Chipping Village Hall
Wedding Dress, veil and headpiece – Very Vintage Bridal
Shoes – Designed by Rach and made by Milk and Honey Shoes (now been taken over by Upperstreet)
Accessories – Vintage pieces borrowed from friends and family
Bride's Scent/perfume – Dolce and Gabbana – Light Blue
Groom – Suit, Top Man Heritage Range
Grooms Accessories- Shoes, Jasper Conran at Debenhams, Batman Cufflinks, Ebay, Tie, Red Herring – Debenhams
Bridesmaids – Dresses from Matalan, shoes from Barratts
Bridesmaid's hair accessories – Etsy
Flowergirls – Ted Baker
Page Boys – Debenhams
Florist – Claire at The Flower Farm
Cake – Love Cake Company
Transport – VW owned by Rach's Dad
Entertainment – Actual Music  + The Soul Convicts
Rings – Rach, handmade by Lila Stern-Shewry Geoff, Fraser Hart
Catering – Food by Breda Murphy