So, here we are. Six weeks to go. It's all very real now. It's happening. We're getting married.    People have been asking 'So, how's the wedding planning going?' and my answer has always been 'Just fine and dandy, thanks! No major hiccups, no real burning issues, just fine.' This has invariably been met with a look, half pity, half bemusement, and a knowing sigh. The meaning behind this has only just come to me. I've long been wondering where they keep the actual wedding-drama; turns out it's hiding right there in the final countdown!
Credits clockwise from top left: Total hipsters + Foliage + Red lips + Pals
Suddenly there are a bajillion decisions to be made: How would we like our napkins folded? Where are the string quartet going to sit? What will Dave who's allergic to fish eat? GAH! It's ok though, we're on it, checklist in hand, ticking those mofos off in a most orderly fashion. Planning a wedding involves a lot of questions, and some just aren't worth losing your shiz over. For the bigger ones, it's a cliché to say 'go with your heart', but it's true. So what happens when your heart is that of a dyed-in-the-wool feminist?
Feminism and weddings: some would say the two concepts are mutually exclusive. Given the truly patriarchial bent of most wedding traditions – one man 'giving away' one woman to another man*, the uneasy symbolism of the garter and the veil, erasing centuries of matriarchal lineage in the taking of the husband's name – you can see where the two clash**; but I definitely think there's a way to 'marry' the two (ha! get it?).
Image source: The Guardian
I wouldn't say you could describe our wedding as 'traditional', but I am wearing a wedding dress, I am having my father walk me down the aisle and I'm pretty sure I'll incorporate Jonathan's surname into my own, somehow. As many of the problematic aspects of marriage lie in the symbolism, for me, it was about casting off what we didn't want and bringing in symbolism of what we do want from our marriage and our life: a partnership of equals.
Gone is the throwing of the bouquet (because I have higher aspirations for my awesome pals than being next to be married, 'kay?), and in is a dance-off with my best women (ain't no maids here). Goodbye to tired old gendered favours (oh, the guys get some tasty whisky and the gals get a wee pink keyring, gee thanks) and hello to our alternative, a donation to Glasgow Women's Aid (they do a power of absolutely essential work, providing support to vulnerable women). And, the speeches. Why oh why oh why is it only men's voices we hear from on a wedding day? The father of the bride, the best man, the father of the groom – enough already! Speech fatigue or no, I'm giving a speech on my wedding day, it's just ridiculous to me that women's voices should be silent on such an important occasion***.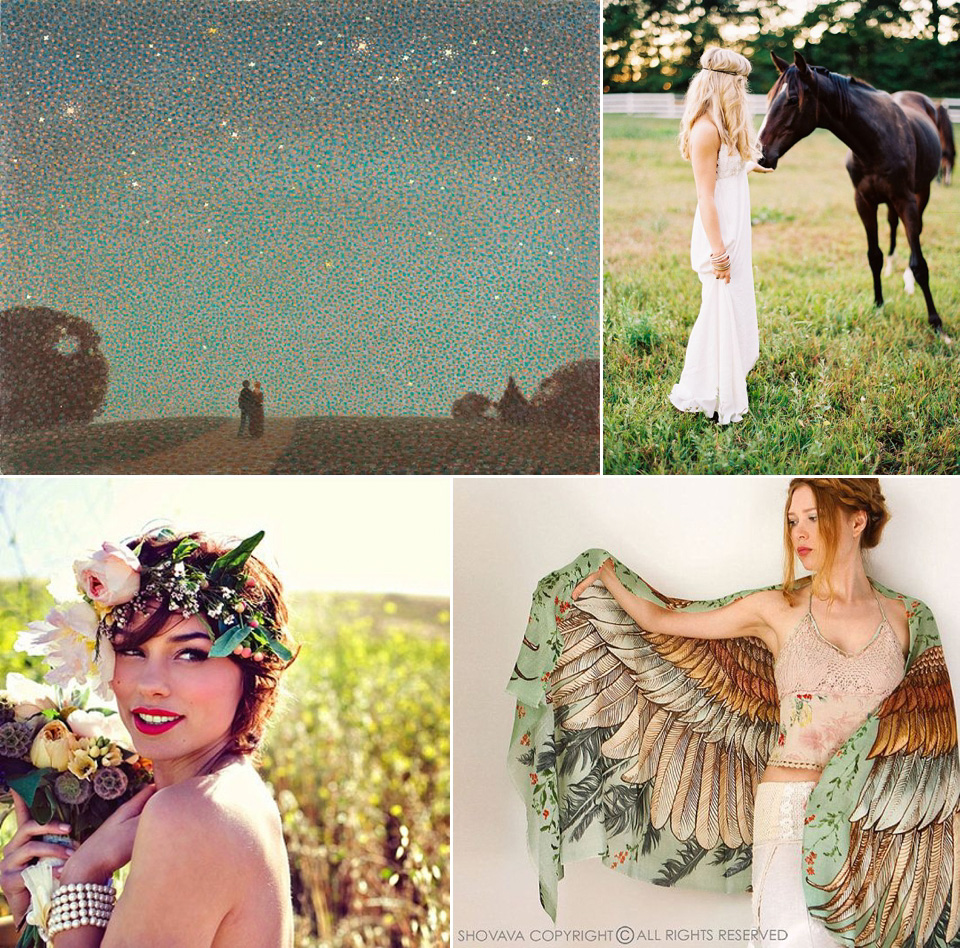 Credits clockwise from top left: Scene + Horsey + Bohemian wings scarf + Boho
Of course, this is our choice, and I offer the above with no judgment of anyone who wants to do anything different. Go full on traditional if you want, or chuck the gender-stereotyped baby out with the bathwater, what really matters is it's YOUR CHOICE. Listen to your heart, don't give in to peer pressure, and your day will be just that, yours.
I'm so excited approaching this final furlong. In two weeks' time I have my 'pre-wedding shindig' which my darling best friends have organised, and I can't wait to see what I have in store. I had offered a suggestion of a Suffragettes theme, but we realised tying ourselves to railings all night would significantly limit the fun factor, so that was quickly shelved. I don't know what I have in store, but if I know my pals it'll be a total belter.
Credits clockwise from top left: Kitty + Quote + Advice for newlyweds + Antlers
All we have to do now really is tidy up round the edges. Final fittings have been booked, witnesses secured (again, bucking tradition, I am having my amazing brother Lewis as my witness, because he's my best pal too), and all necessary booze has been stockpiled.
Credits clockwise from top left: Barn + Vodka + Cake
I'm so lucky to have been a Lovette in all of this, as it has allowed me to observe and document the whole process, and will be such a wonderful thing to look back on, and remember everything all the more clearly for it. Thank you all, fellow Lovettes and dear LMD readers, for your comments and camaraderie thoughout this journey. I'll see you all on the flip side!
Lindsey x
* Clearly here I'm referring to marriage traditions of old, before we got with the programme and made same-sex marriage legal.
** Laura Bates puts this much better than I can here
*** Other, non-heteronormative interpretations of this sentiment are also available