Hello! Welcome to February! Would you look at the snow outside!  As wonderful as it is, I'm looking forward to being able to share some lovely weddings with you over the next few weeks, to help brighten up the second month of the year. This morning's wedding is such a sweet – you kind of know it's going to be a good wedding when the first photograph  you see is a beautiful gown hung up next to a fully stocked vintage bar 🙂
Librarian Leo (Leonora) and Project Manager beau Ollie got married by the seaside, in Poole in Dorset on 11th October last year. Their wedding was full of sunshine and laughter – I love the sense of fun and camaraderie captured in these photographs by Richmond Pictures, but what really stole mine, and indeed Annabel's heart in these images was the bride's choice of dress had headpiece.  Leo sought inspiration from fashions of the past in styling her day, choosing to wear an Edwardian lawn dress inspired gown by Isabel Marant, along with an utterly beautiful original Edwardian wax flower crown from 1910 – a purchase she made from designer Charlotte Casadejus, who she found through Love My Dress.  There is an air of 70's, boho/hippie bride about her look too which I love.
"The most important aspect for us when we started planning was that we kept the day as relaxed as possible, I didn't want to be stressing over details particularly on the day. We also had a very tight budget so we asked ourselves at every decision – do we really need this, will anybody notice?"
Photography Copyright (c) 2015,  Richmond Pictures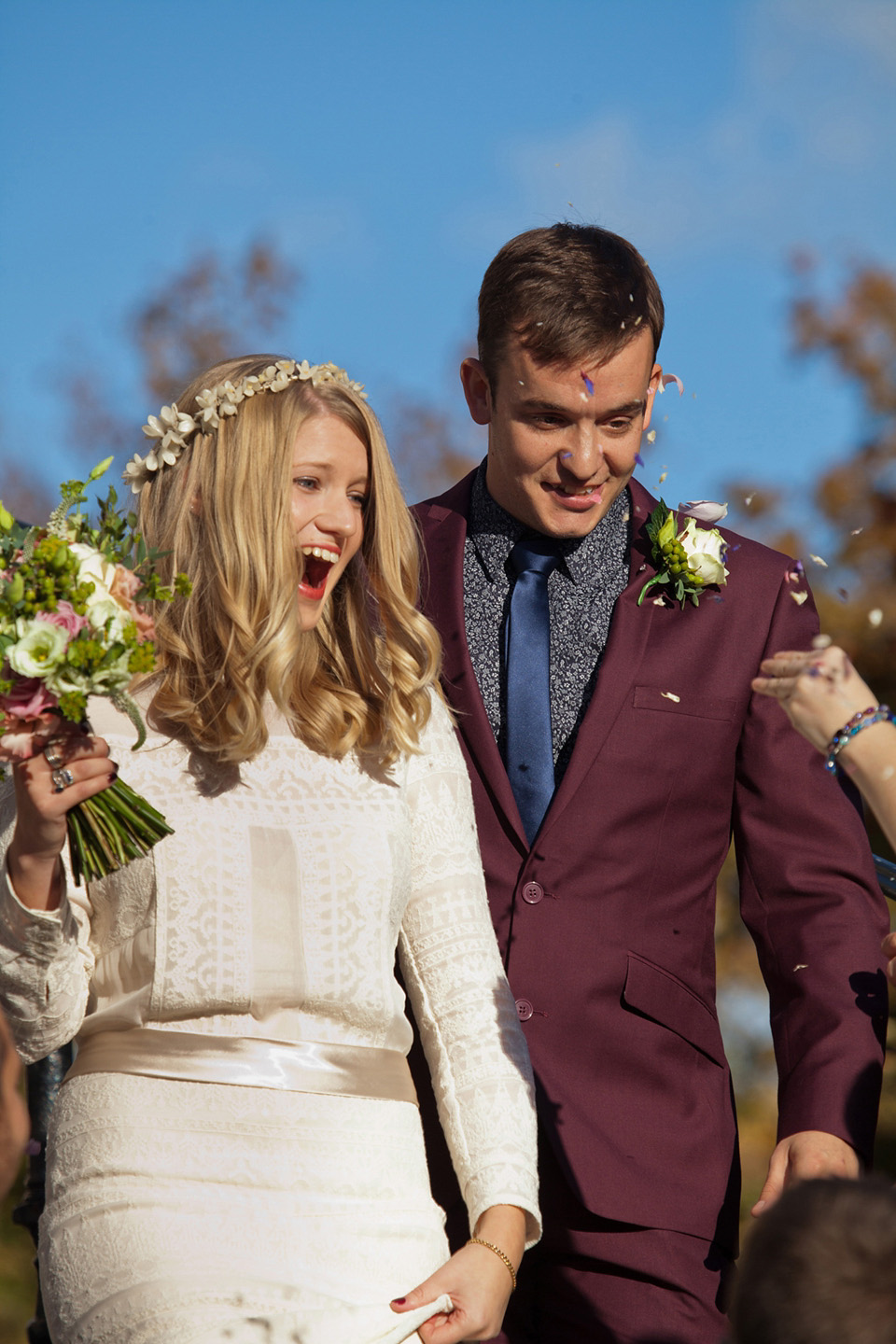 I'm a real romantic so always get ridiculously excited when I find out a couple are childhood sweethearts.
"We met in school and have been together since we were 16 (13 years!) Neither of us had ever been fussed on marriage and hadn't even discussed the idea before but something must have changed for us both. In the few months before Ollie proposed I had been thinking about how to bring up the subject and tell him I fancied getting married after all. He must have somehow known and he proposed on Christmas day 2013, just me, him and the cat in front of the Christmas tree.
We chose to have an October wedding giving us 10 months to organise everything. On the day we woke up to thunder and down pours but then after a double rainbow was spotted over Poole the sun came out and we had the most gorgeous blue skies that we could have hoped for."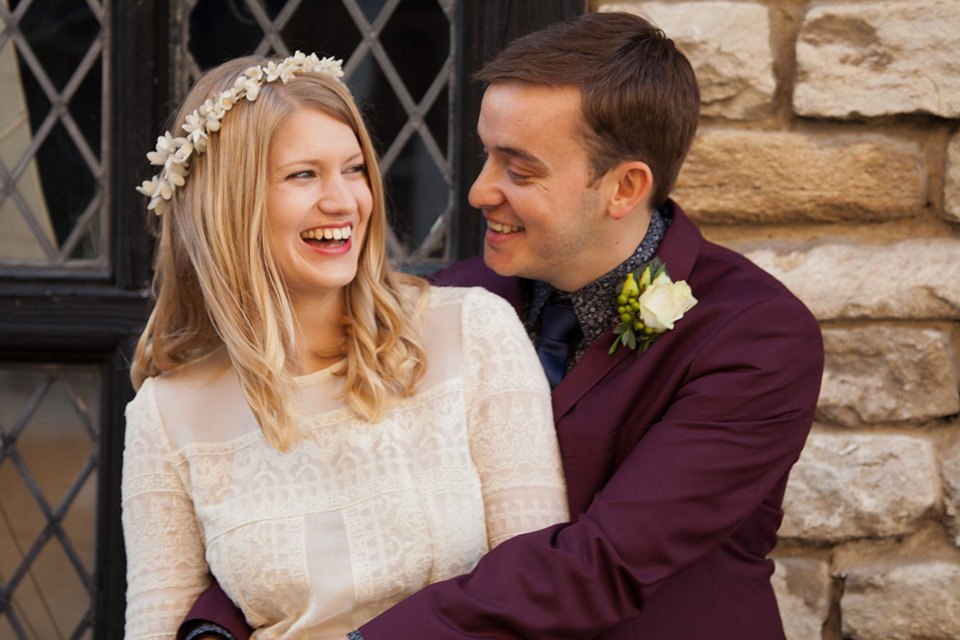 Leo made all the stationery for the day herself, inspired by her job.
"The librarian in me went with a book theme, library cards as invites. and penguin book style RSVPs."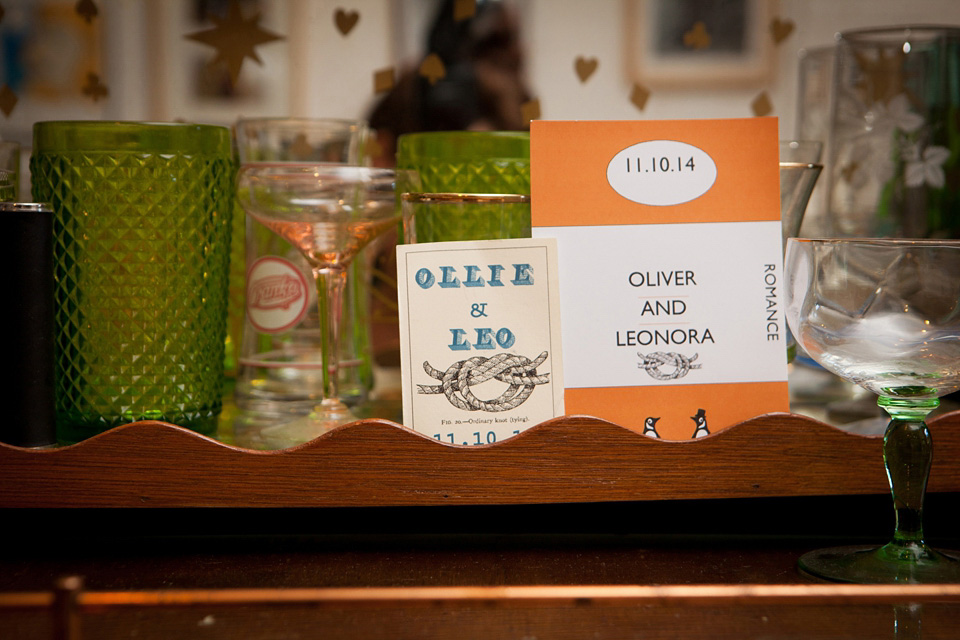 Leo and Ollie got ready separately then met outside their house, before walking down the aisle together. It was right for them, and the pictures of their 'first look' are some of my favourite from the day.
"I decided I wanted to go with Ollie to the registry office and walk down the aisle together. I knew we'd be able to keep each other calm and it worked. We were able to gather our thoughts on our way there and when we were ready we walked through those doors side by side and saw all our friends and family in front of us, it really was magical. Of course I had to make sure my Dad was ok about not walking his only daughter down the aisle, he wasn't worried at all and I'm incredibly grateful to him for being so cool about it."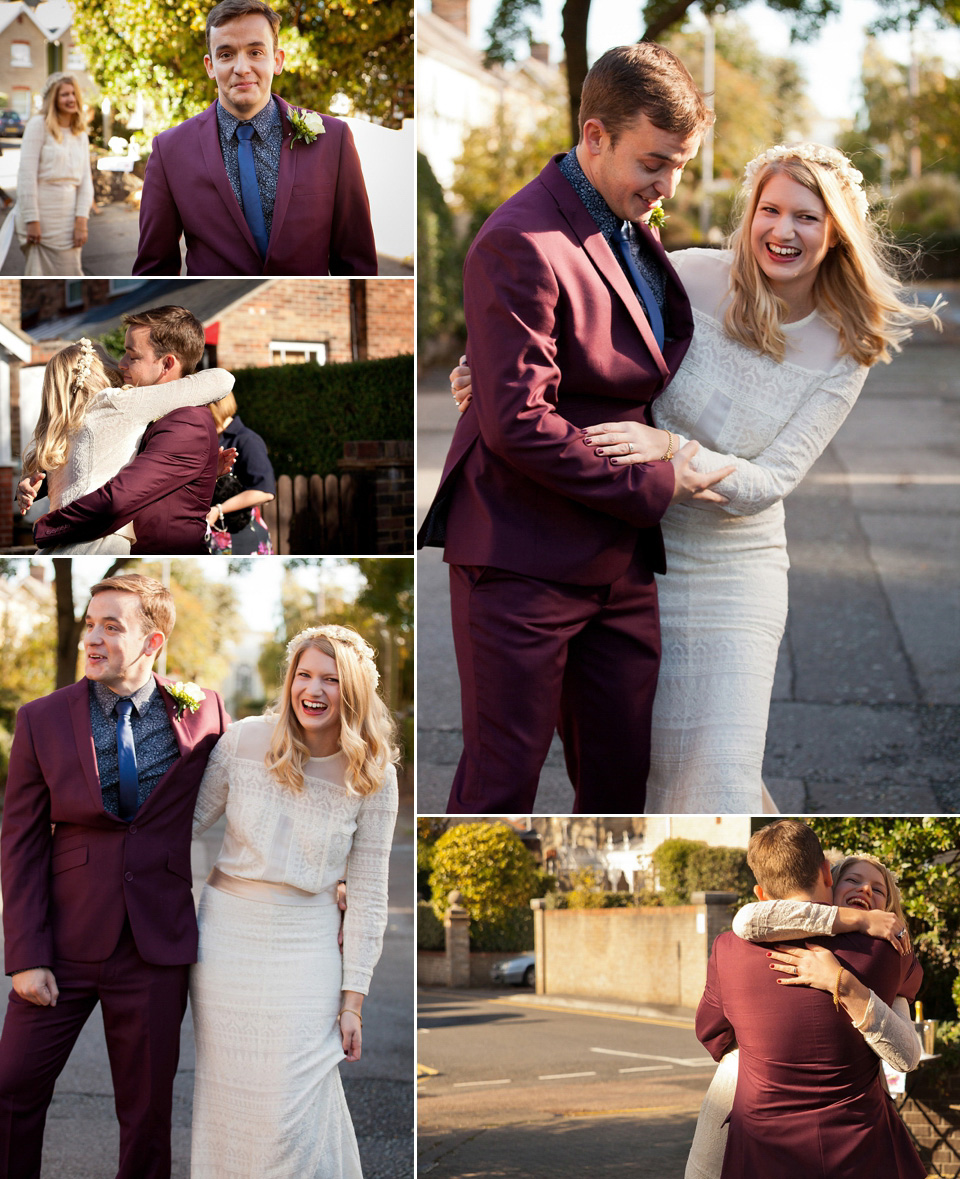 I really love a dress with sleeves, and Leo looks stunning in her Isabel Marant gown. If you are struggling to find your perfect dress, don't forget it doesn't have to be from a bridal shop for it to be your wedding dress.
"I really wanted a vintage dress and had set my heart on finding a dress with antique lace and sleeves, I thought maybe an Edwardian dress but I really struggled to find any that fit me. I then started looking beyond vintage and thought that maybe a new, non-wedding dress might suit the relaxed, boho style I was looking for. I spotted the Talma dress by Isabel Marant on net-a-porter, the embroidery, the sleeves, the high neck- it was perfect, the only problem was that it had sold out.
I signed up to be notified if any came back into stock but didn't hold out much hope and continued to look elsewhere. I was just starting to panic that I still hadn't found a dress when I received an email to say there was one Talma back in stock in my size! I snapped it up and the next day the dress arrived in a big black box tied with a black ribbon, one very exciting moment! The dress was just what I had wanted, even if it wasn't vintage it was gorgeous and I felt relaxed and myself in it."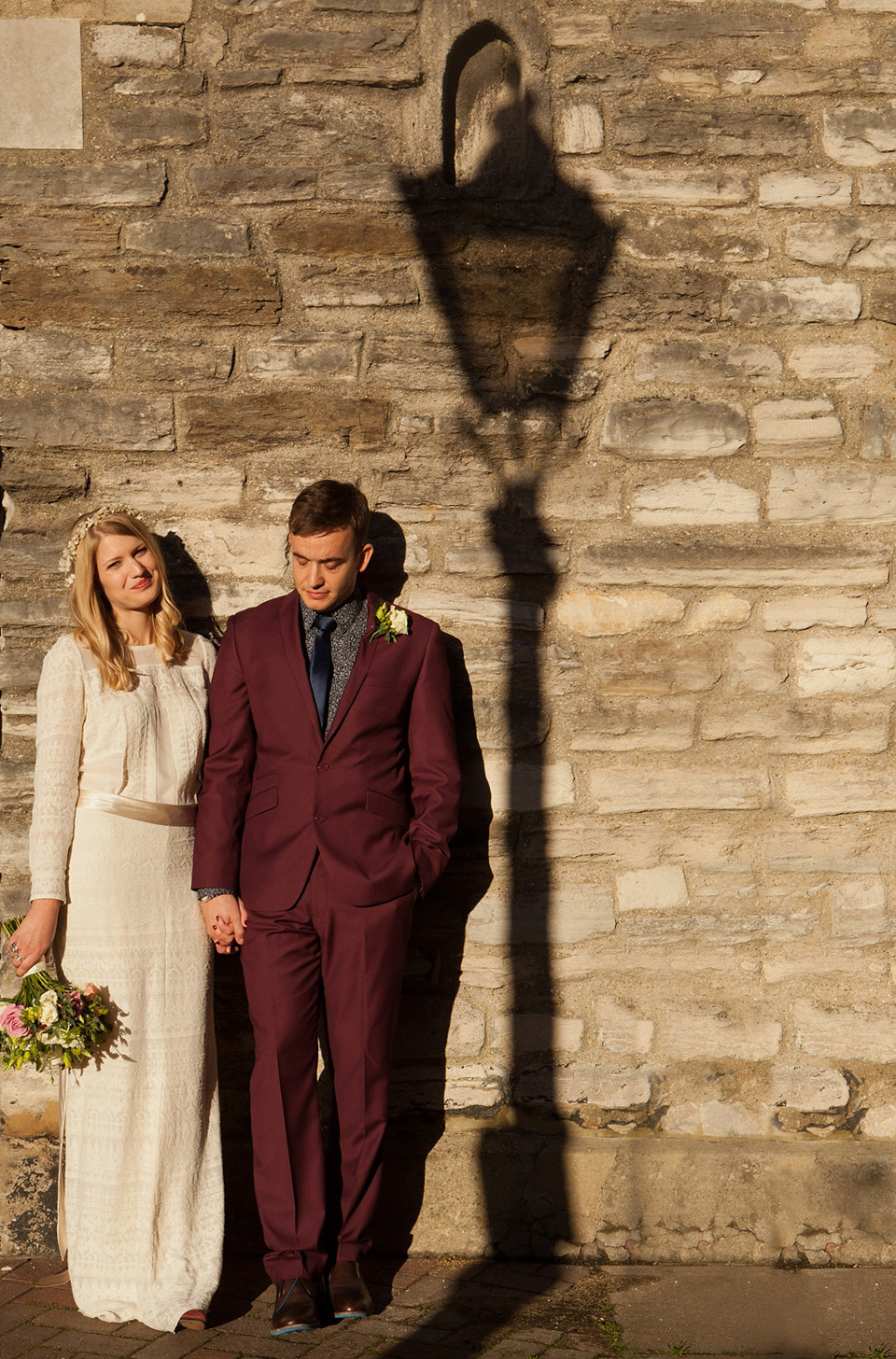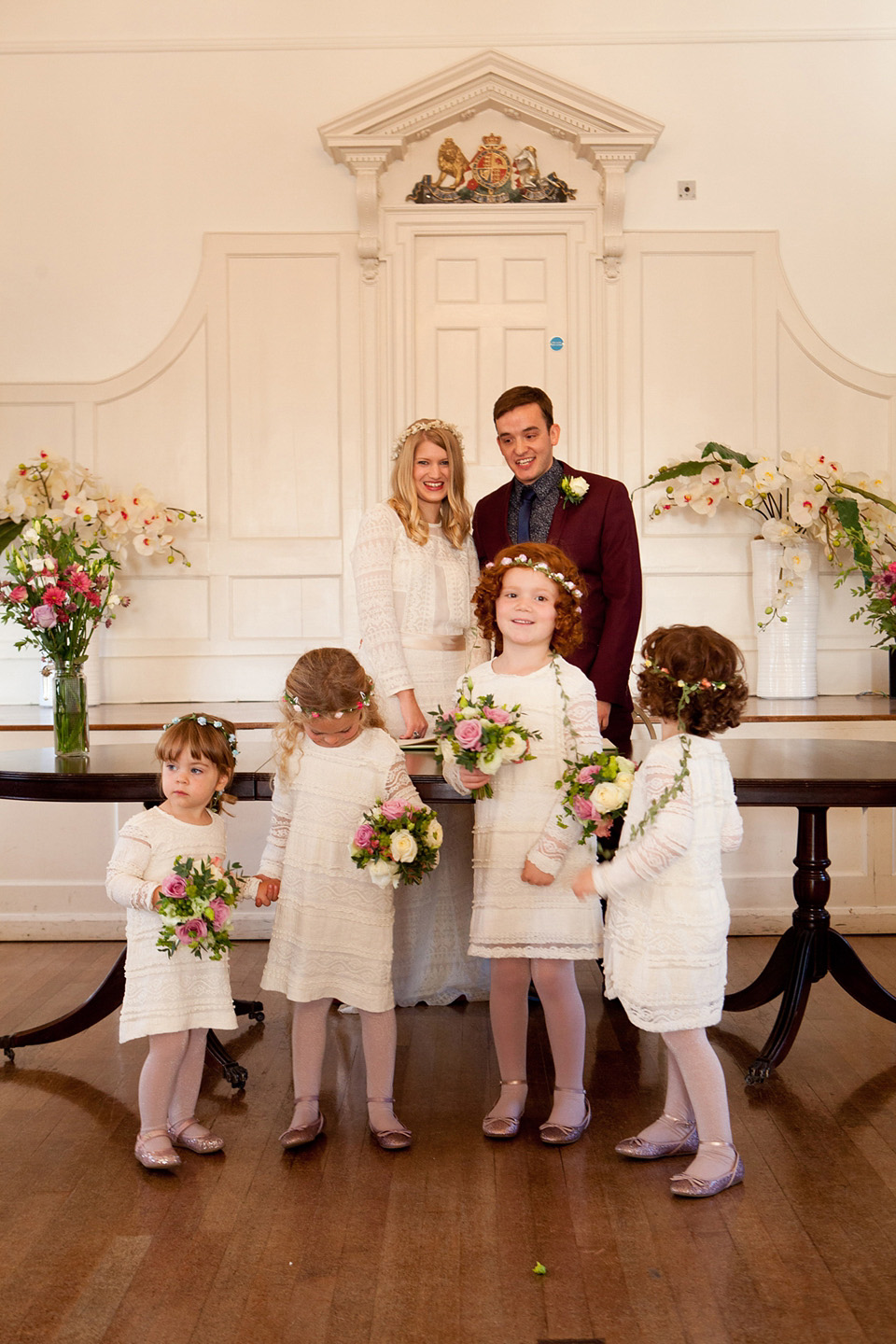 After the ceremony the newlyweds walked through Poole old town in the sunshine with their congregation, stopping for a few photos with their photographers Karina and Tom from Richmond Pictures.
"As soon as we met I knew Karina understood exactly what I had in mind and I loved how excited she was about the wedding and all the ideas she had. On the day they were fab, completely putting us at ease. We thought we wouldn't feel comfortable having our 'couple shots' but it actually turned out to be one of our favourite parts of the day, having lots of fun and taking some time together to relax after the ceremony. Karina and Tom have given us stunning pictures that reflect perfectly the happiness that everyone felt on the day."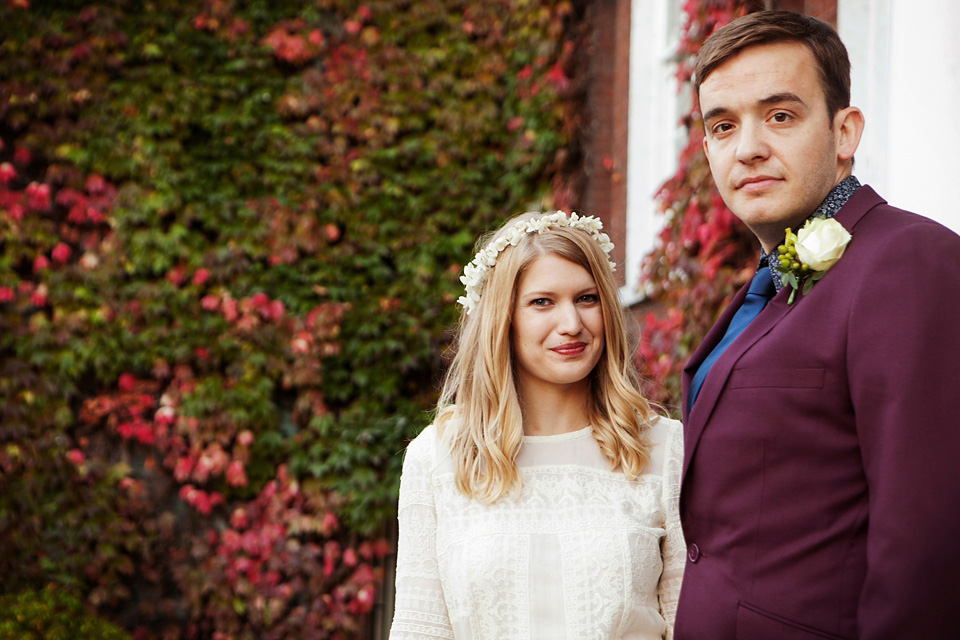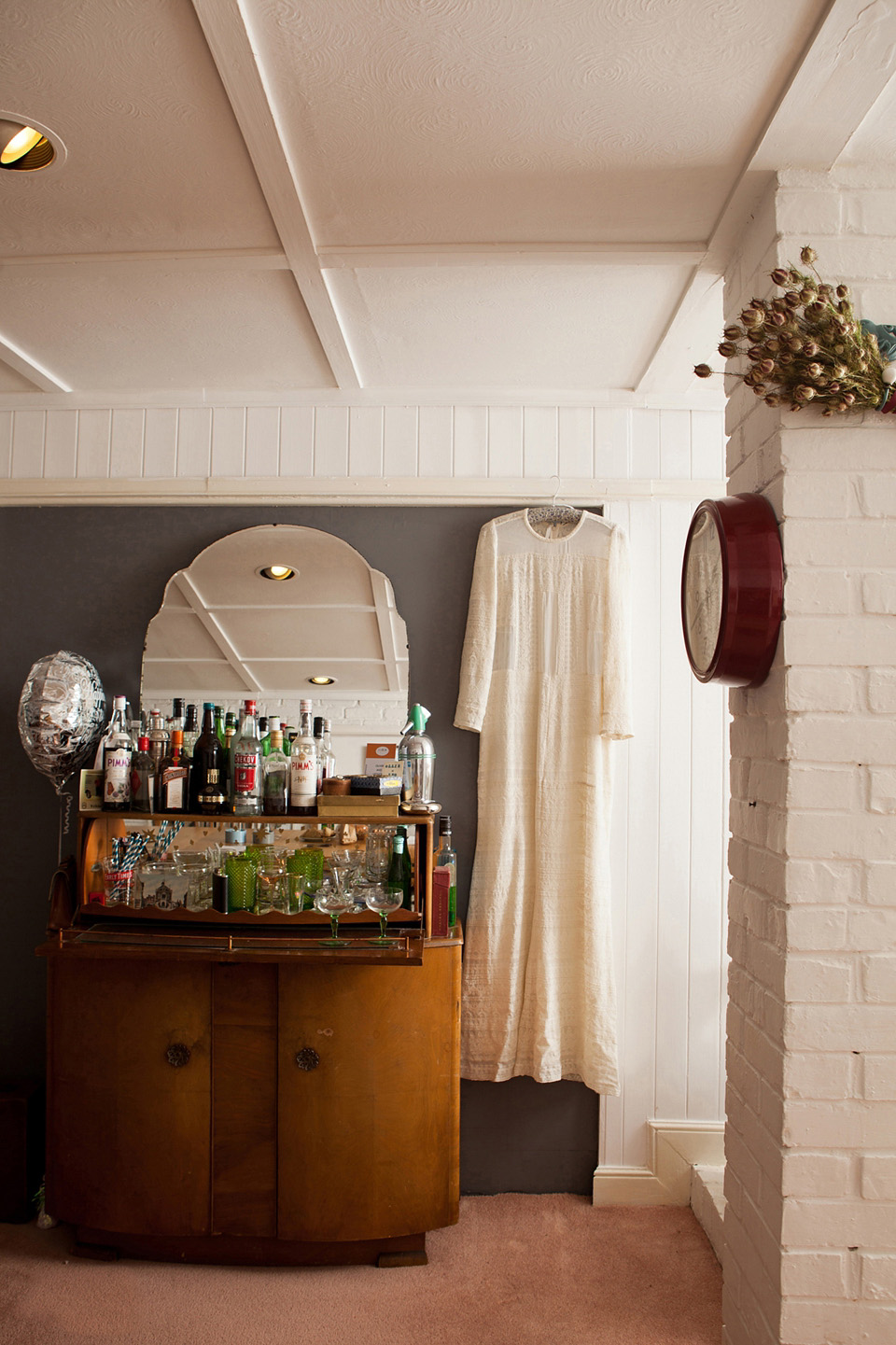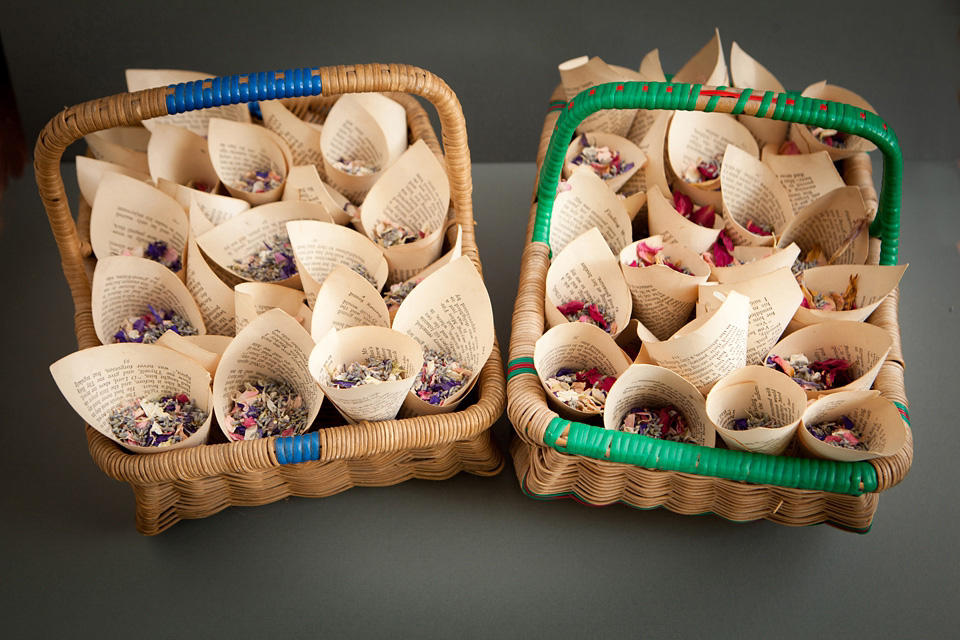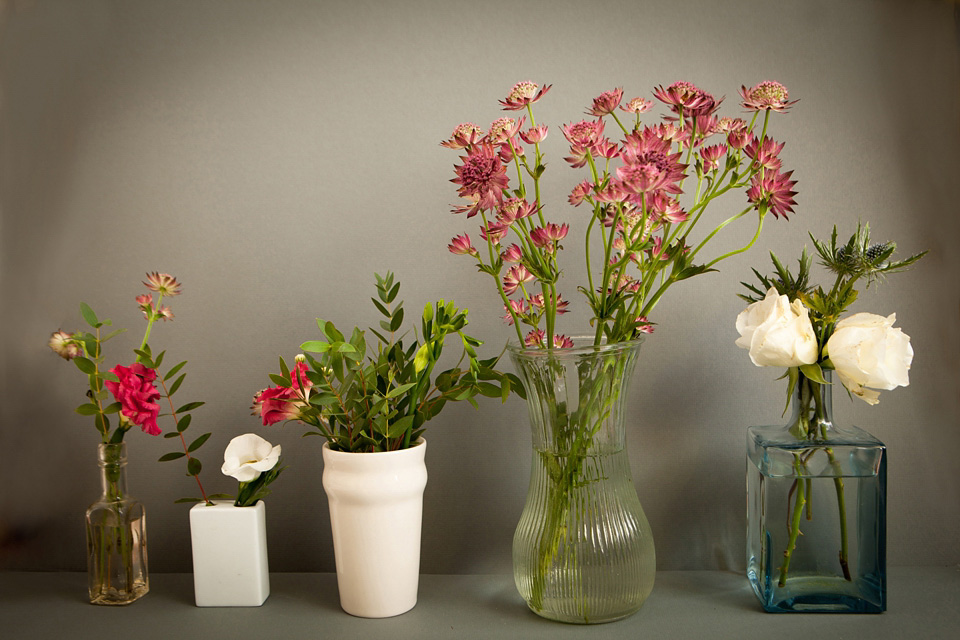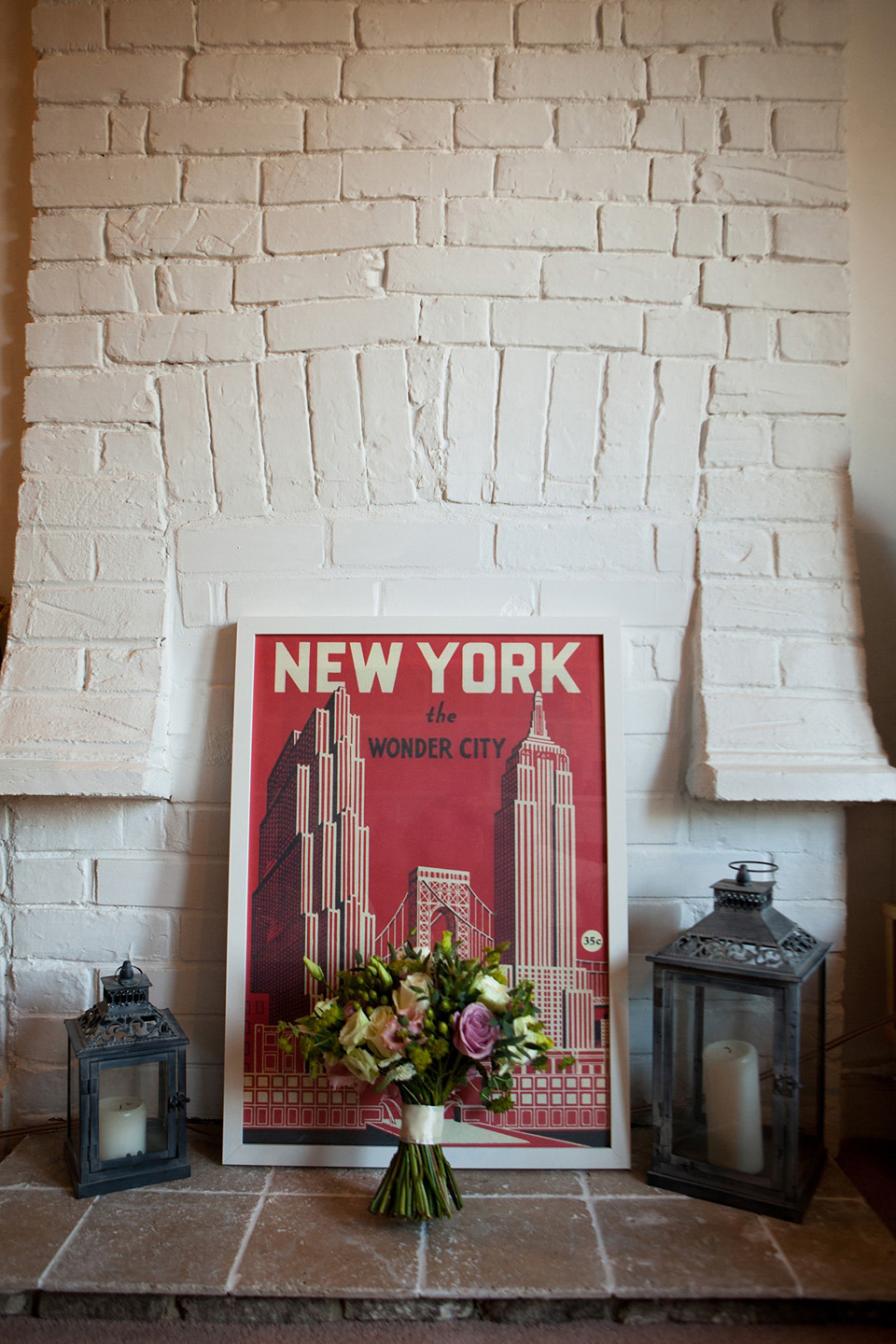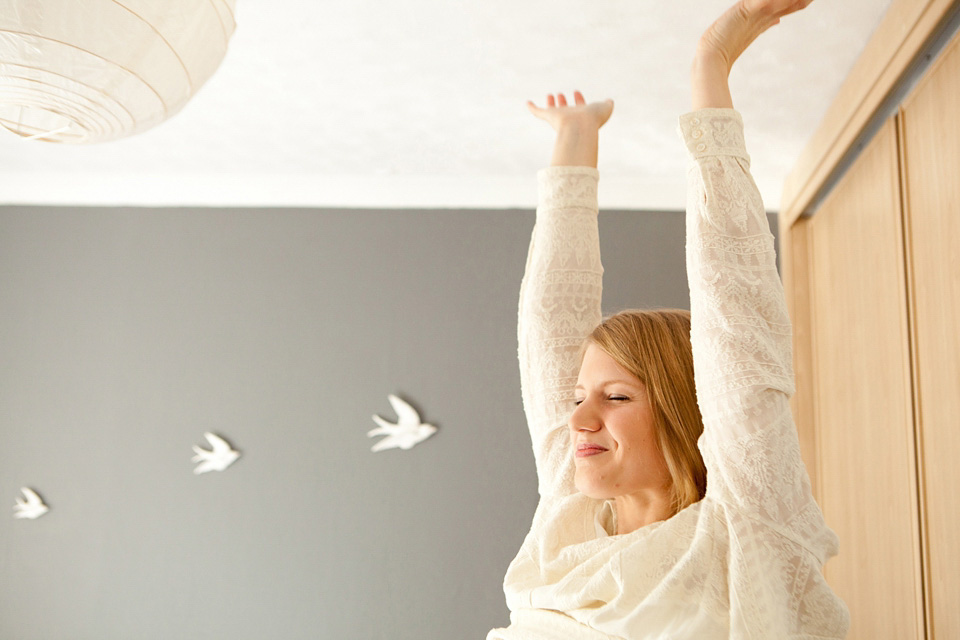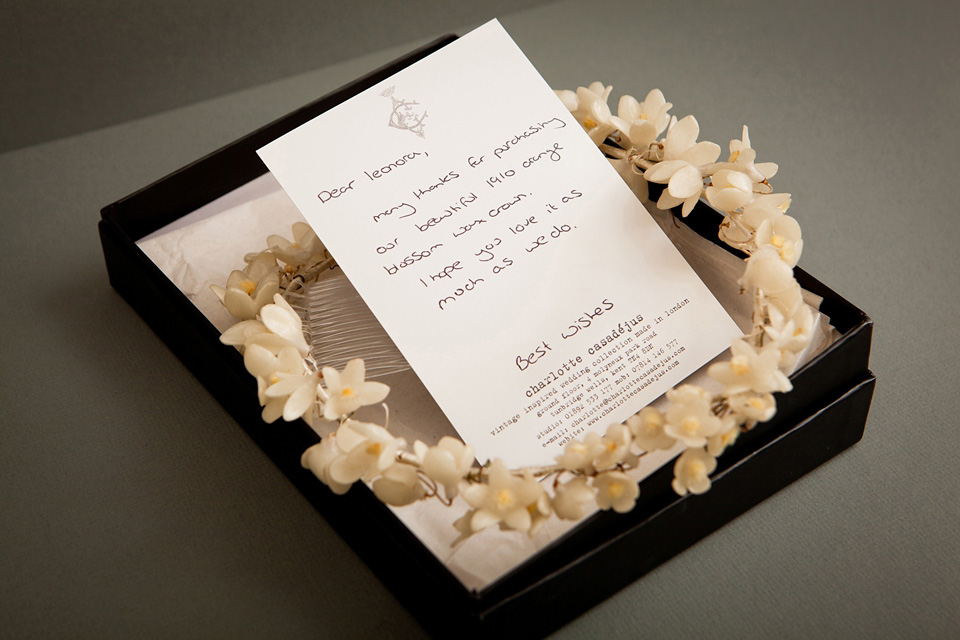 Leo has a great tip for brides on a budget.
"I popped to the local BB hair product counter in Boots who were happy to style my hair for free after I bought a product, and I did my own make-up to make sure I felt like me."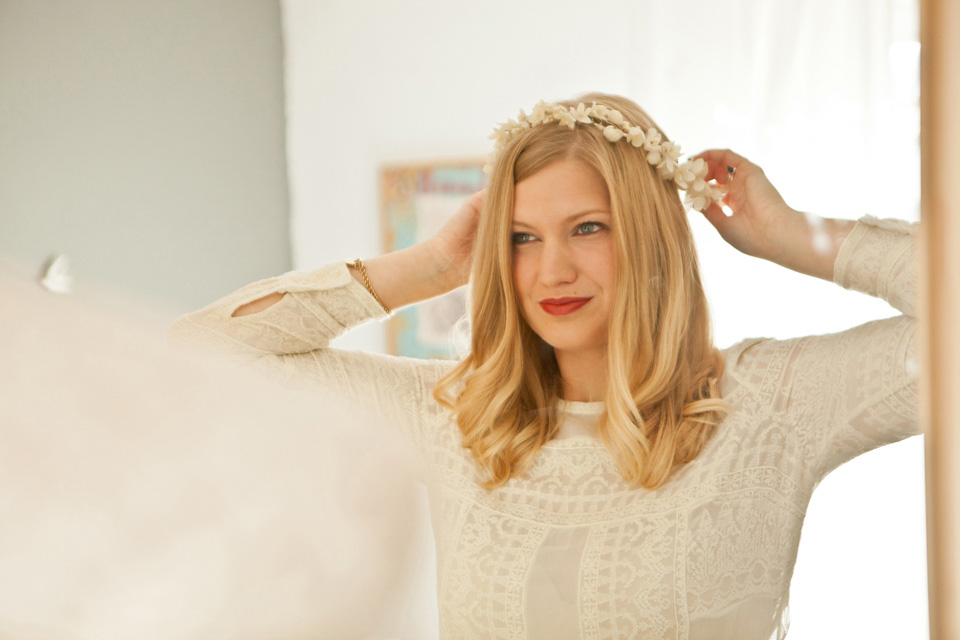 "My close friend Loraine- a very clever lady changed the cuffs and made a beautiful silk sash to go round my waist which made it feel really special and a little bit more wedding. My mum embroidered our names and wedding date into the underskirt for my something blue."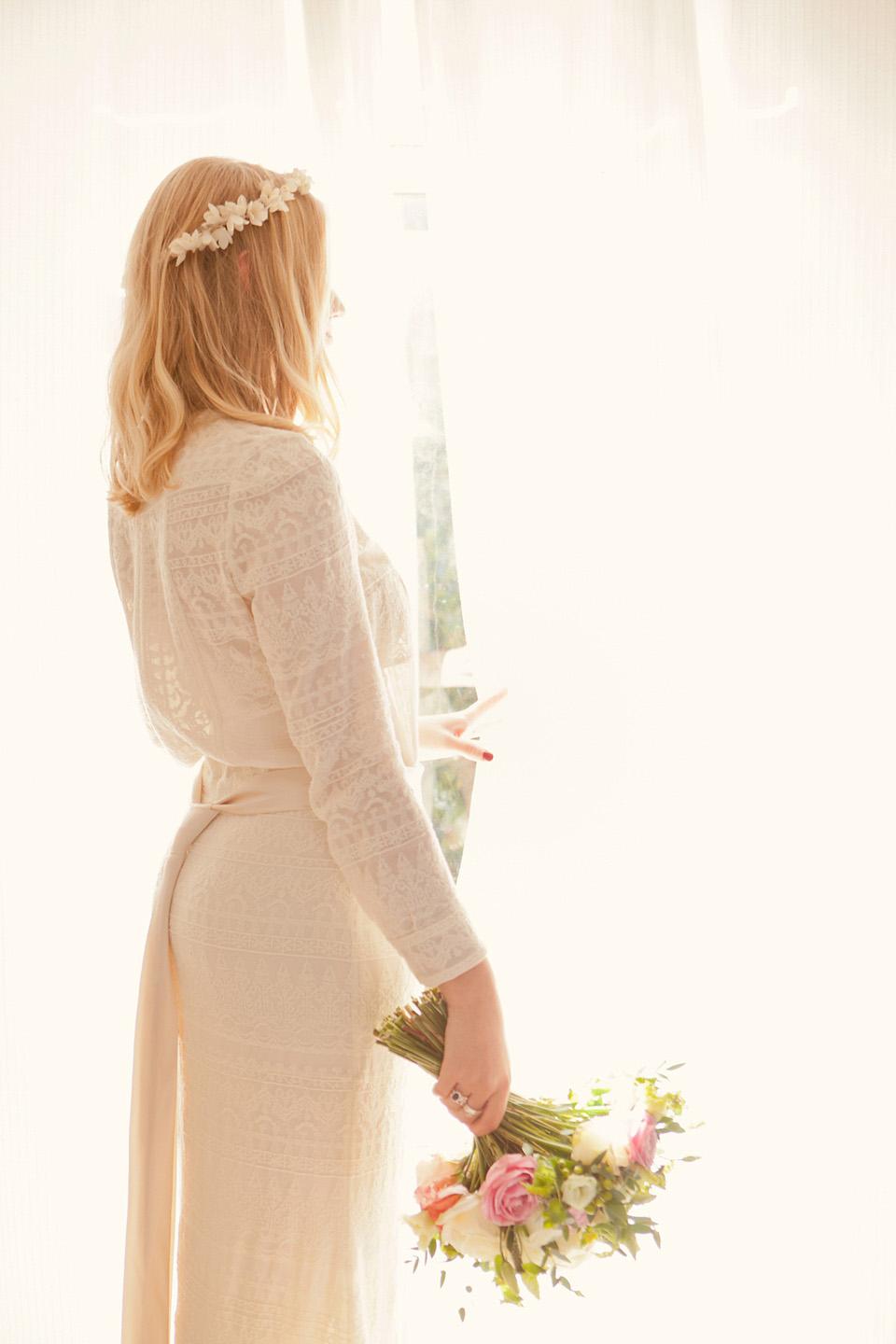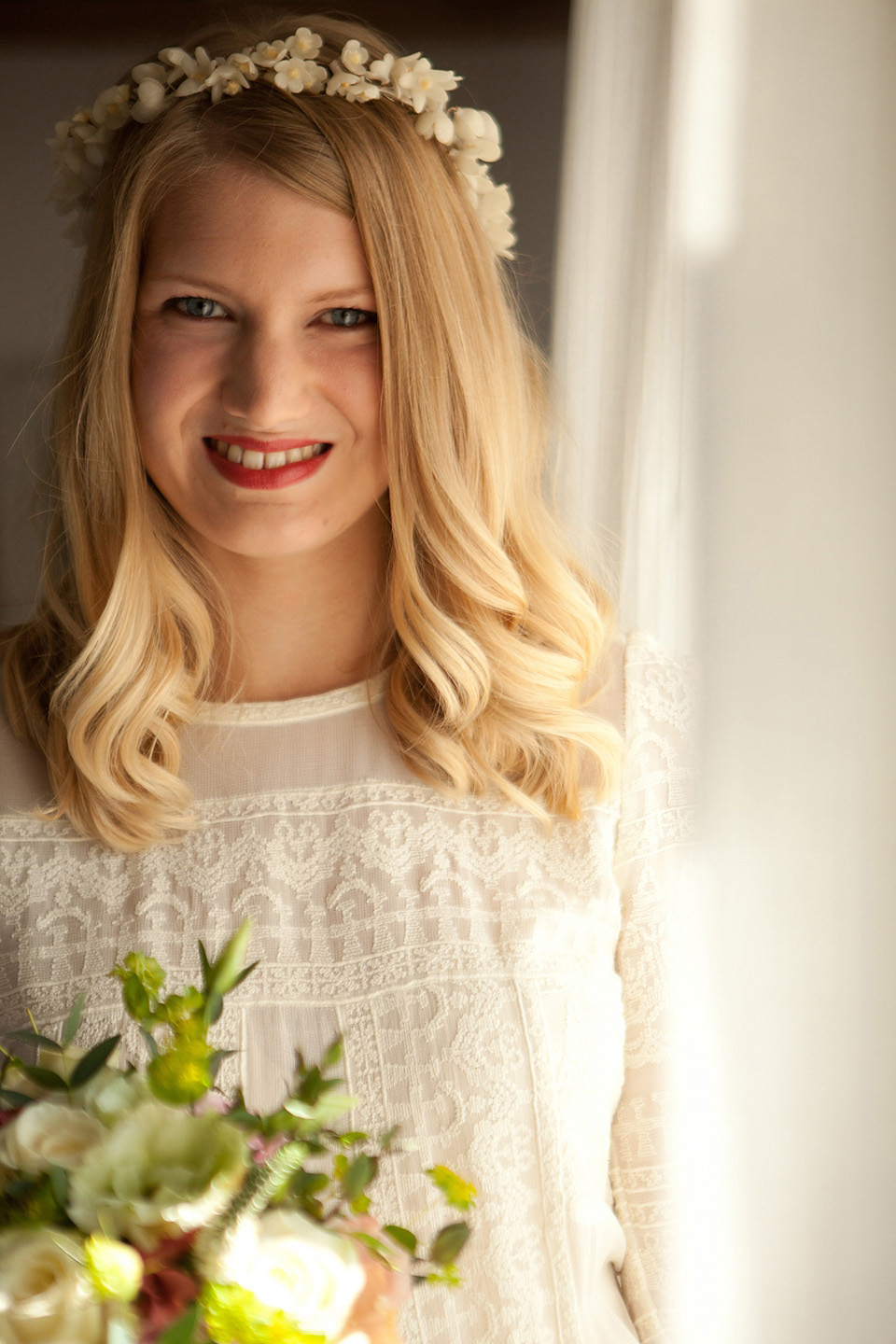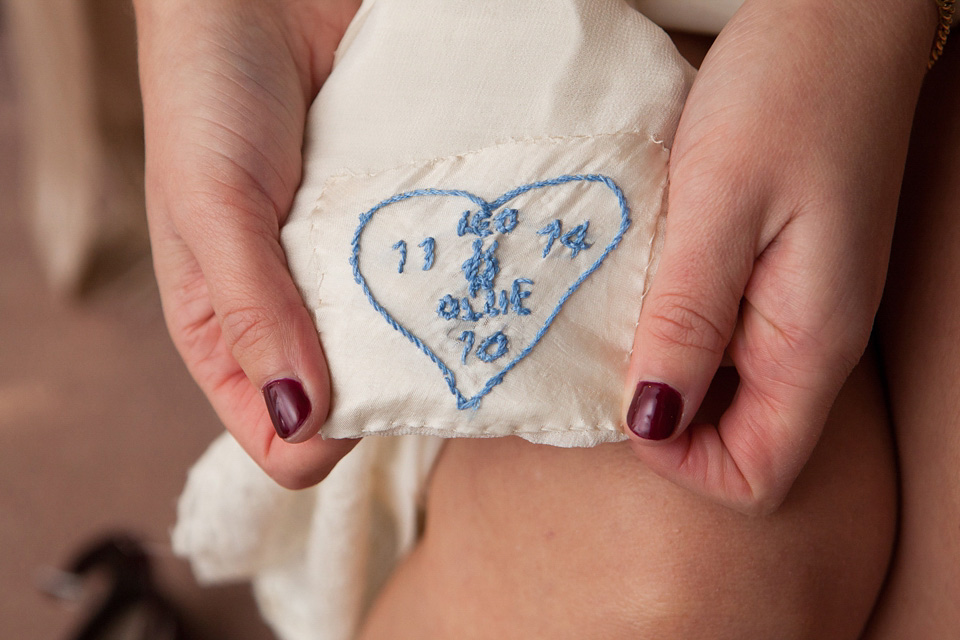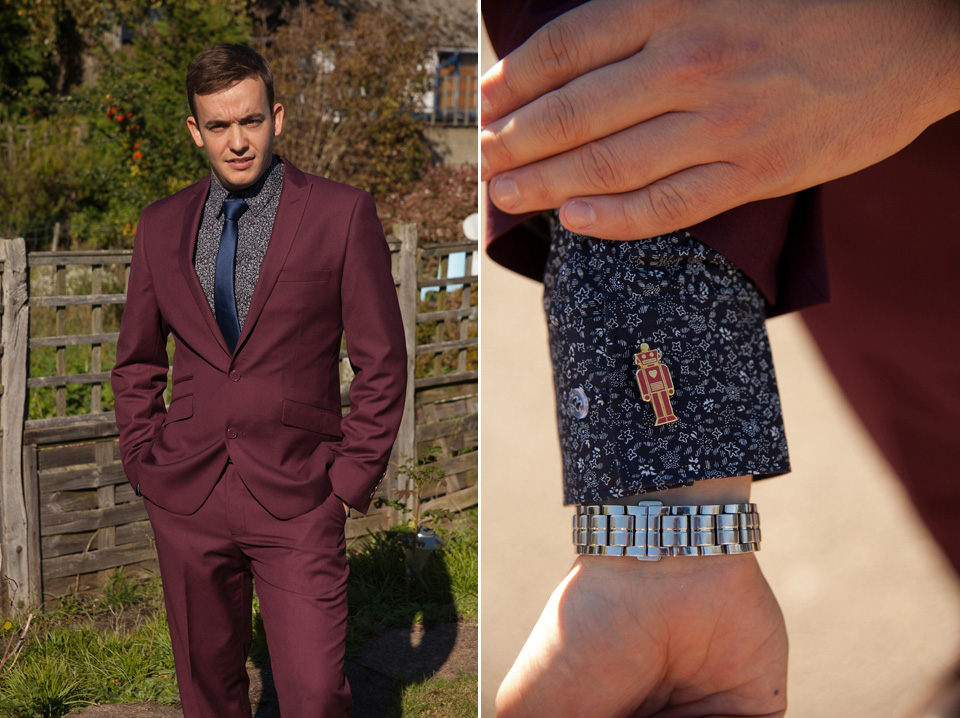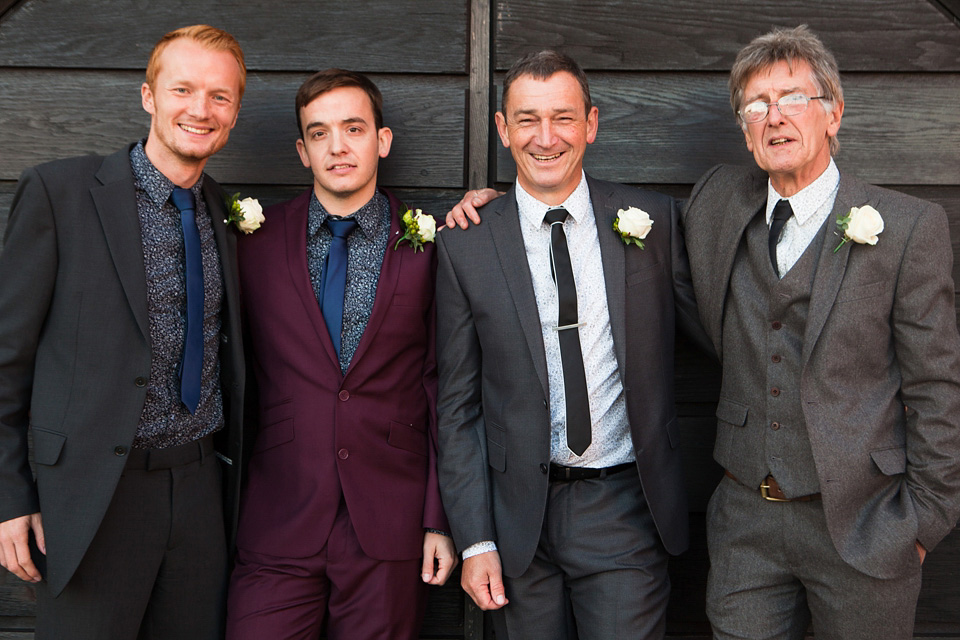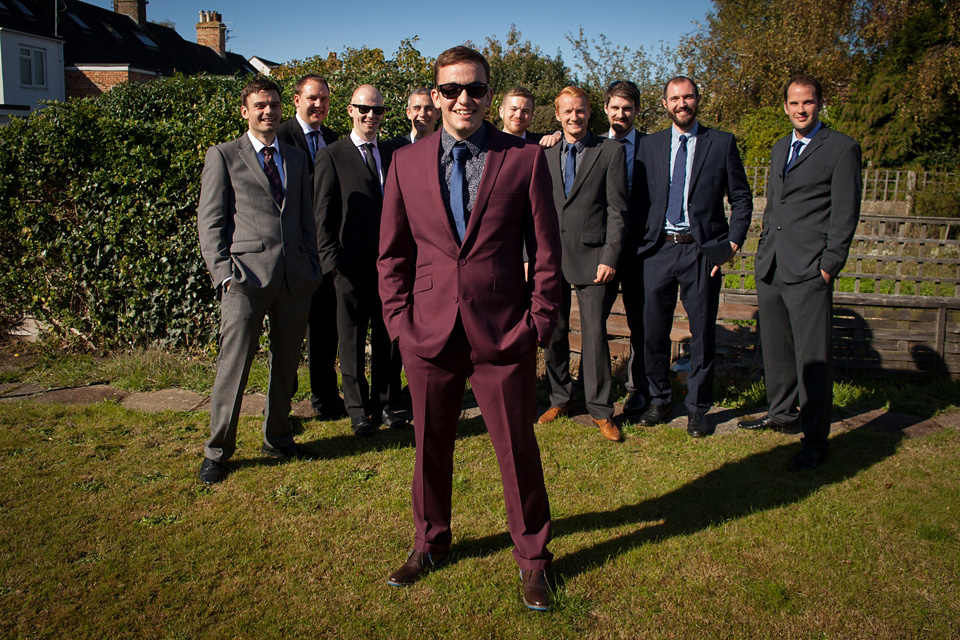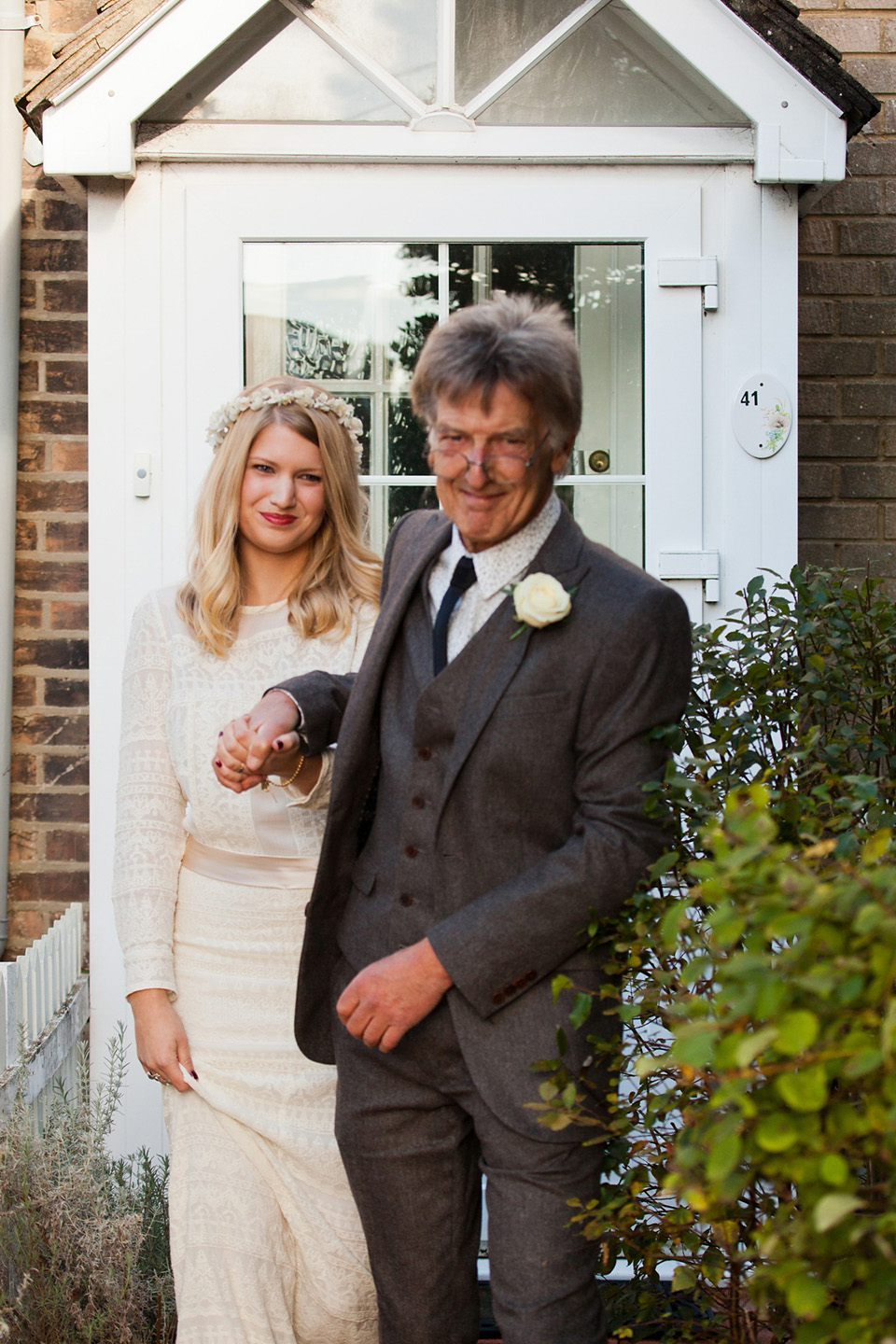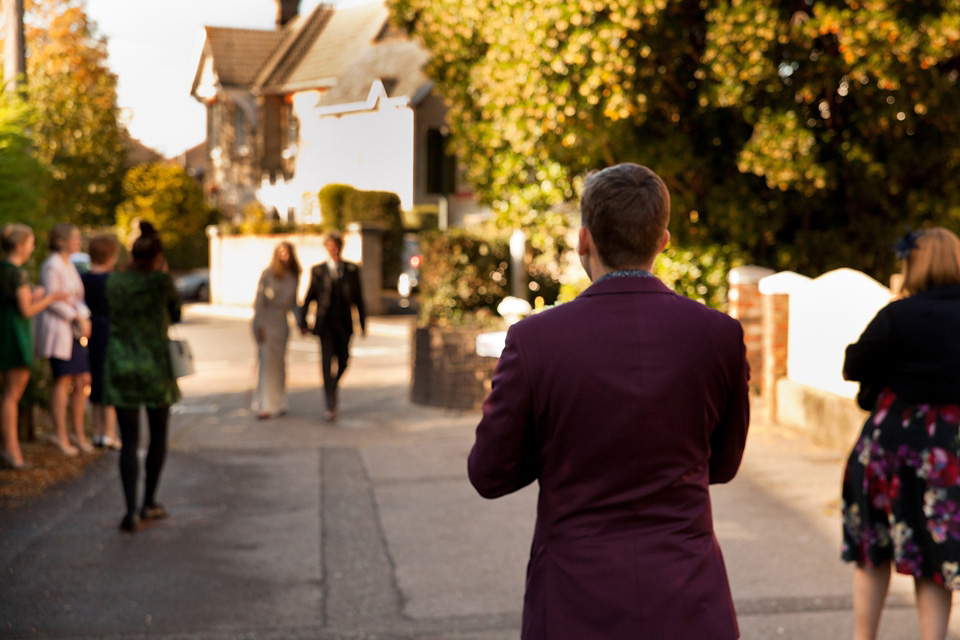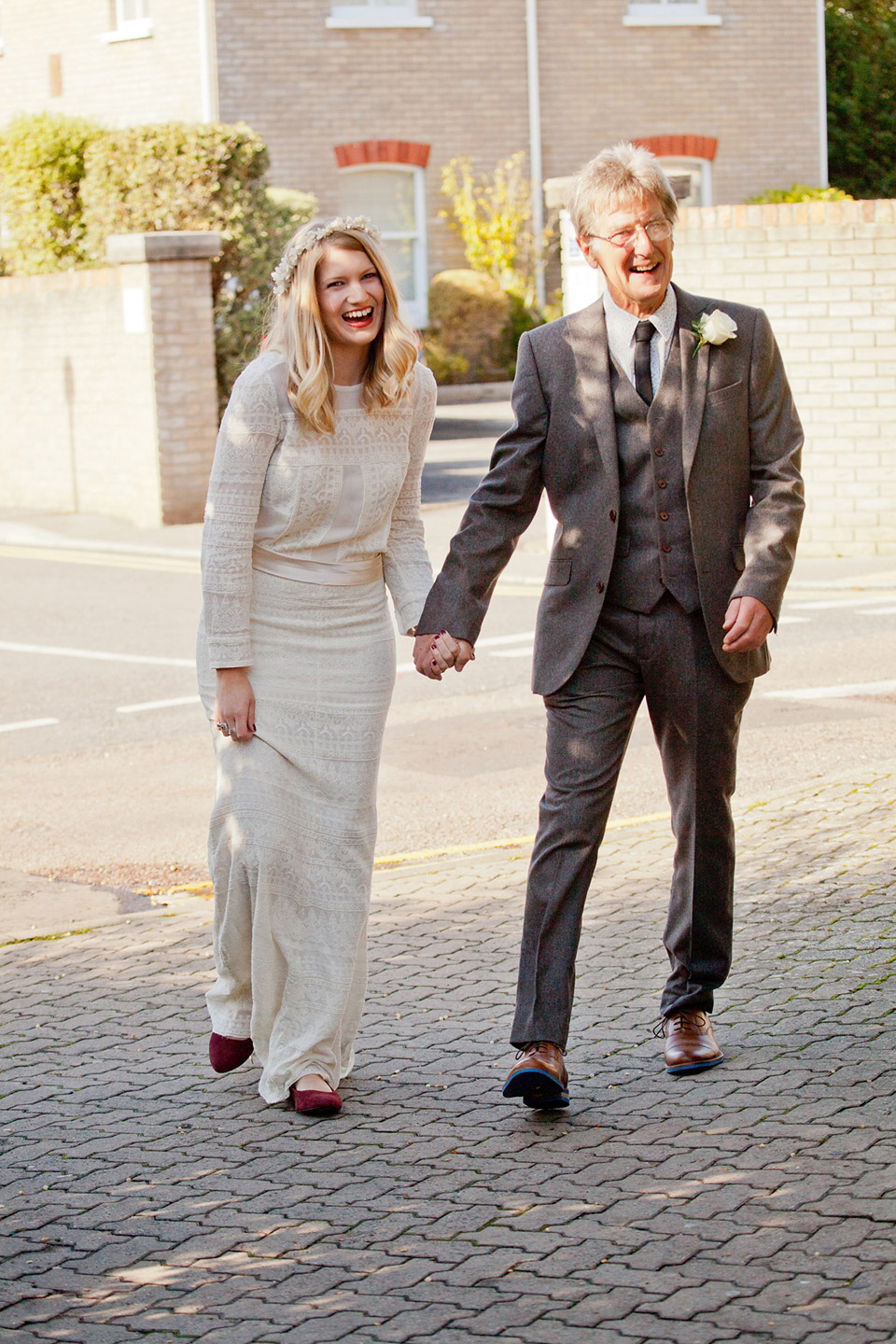 The ceremony was at Poole's Guildhall, with the reception a short stroll away at a restaurant called The Custom House on the quay. There are lots of brilliant ideas for brides on a budget and a reminder that it's your day and if you don't want to include all the wedding traditions, then don't!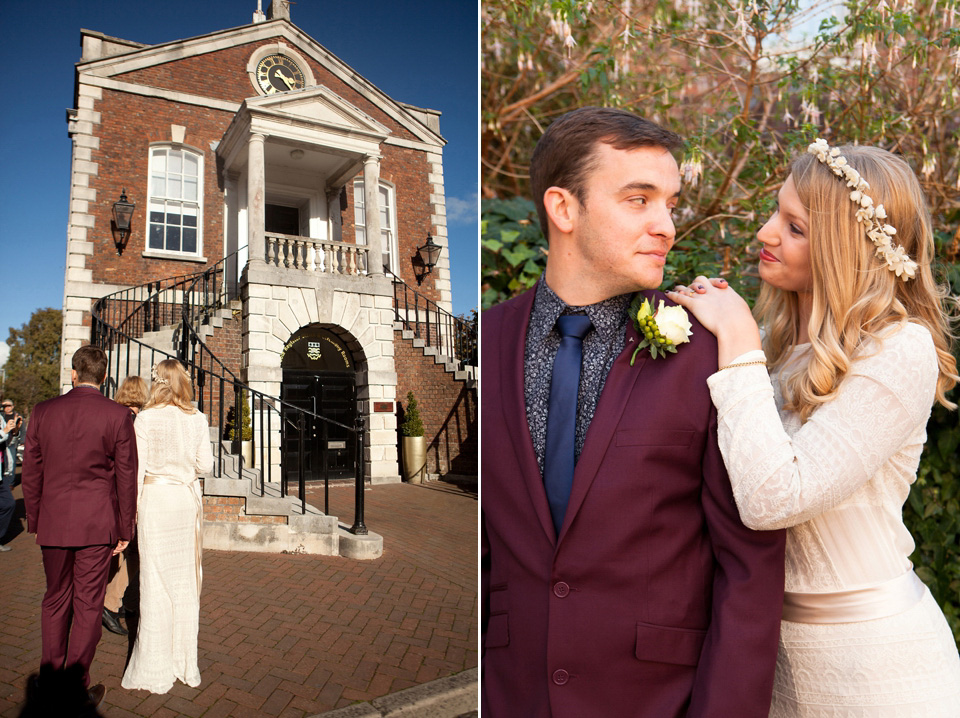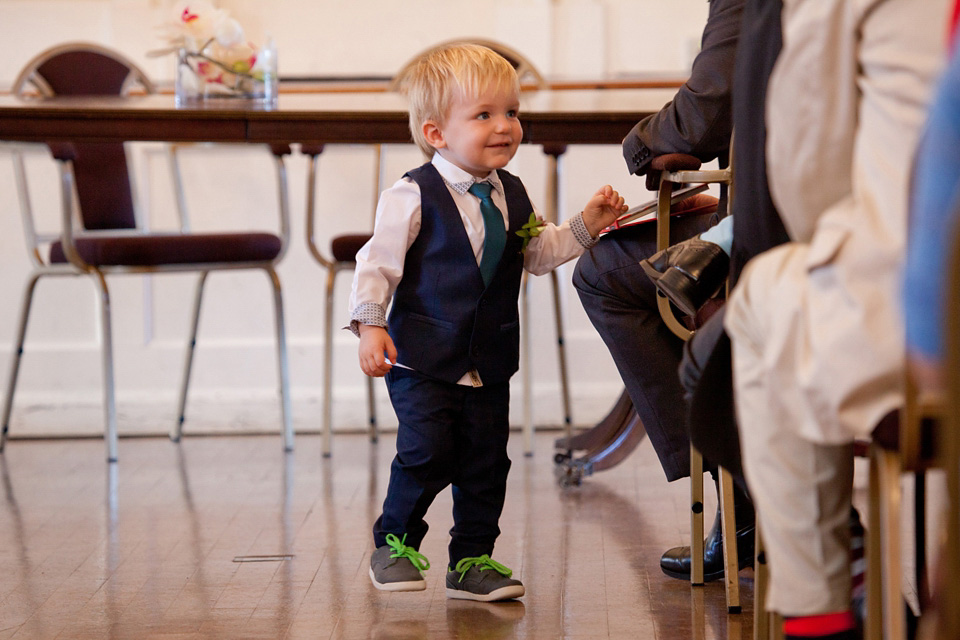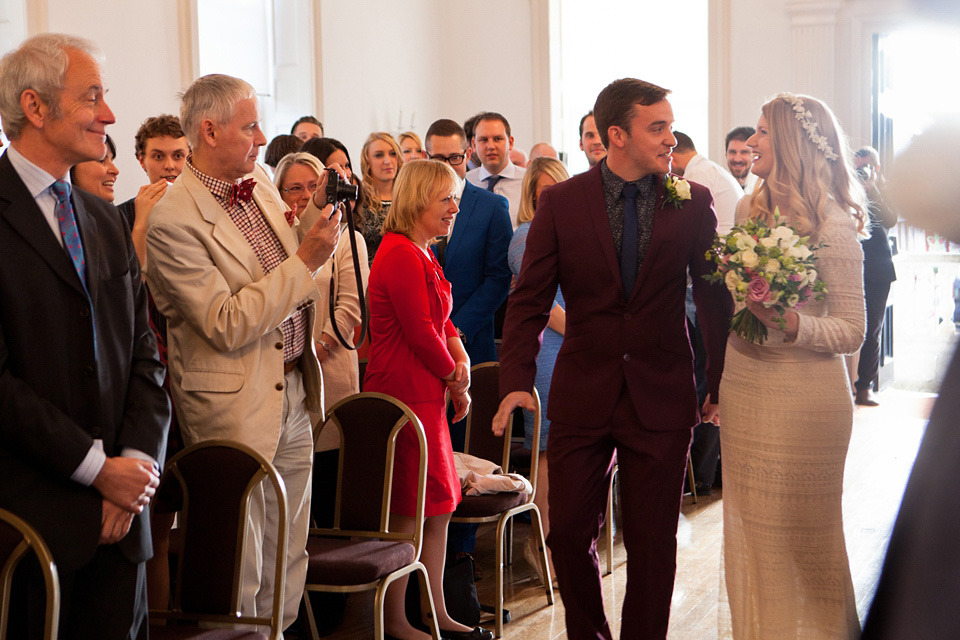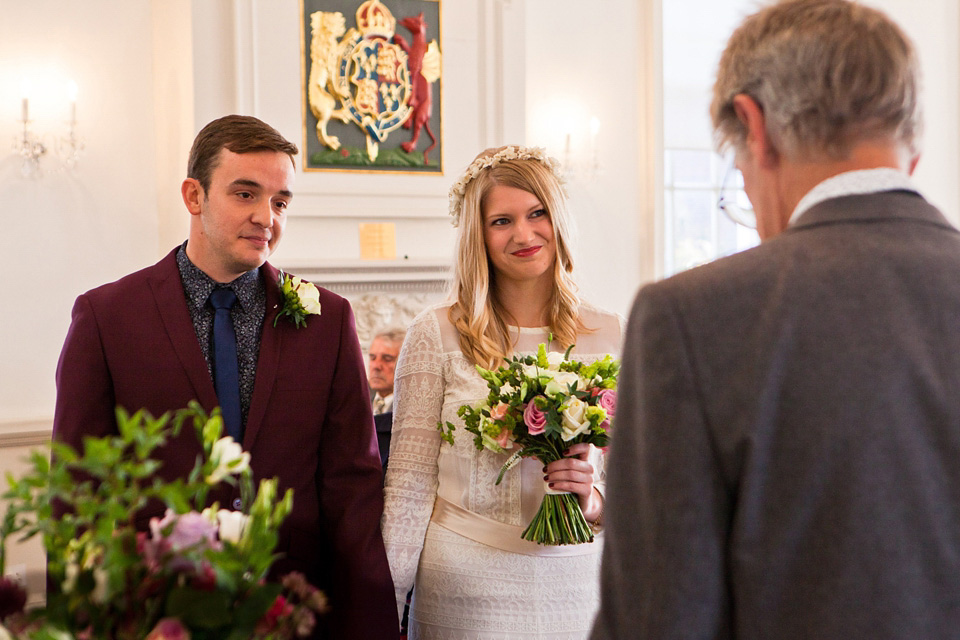 "My engagement ring was a beautiful antique art deco ring that Ollie chose without any help, I was very impressed! He knew I love that era and after a lot of searching he found the perfect one. We found our wedding rings on Etsy from the shop Firewhite and loved the contemporary tree bark effect that they had. They were handmade by Candice who also made a couple of matching silver bangles as presents for the mums."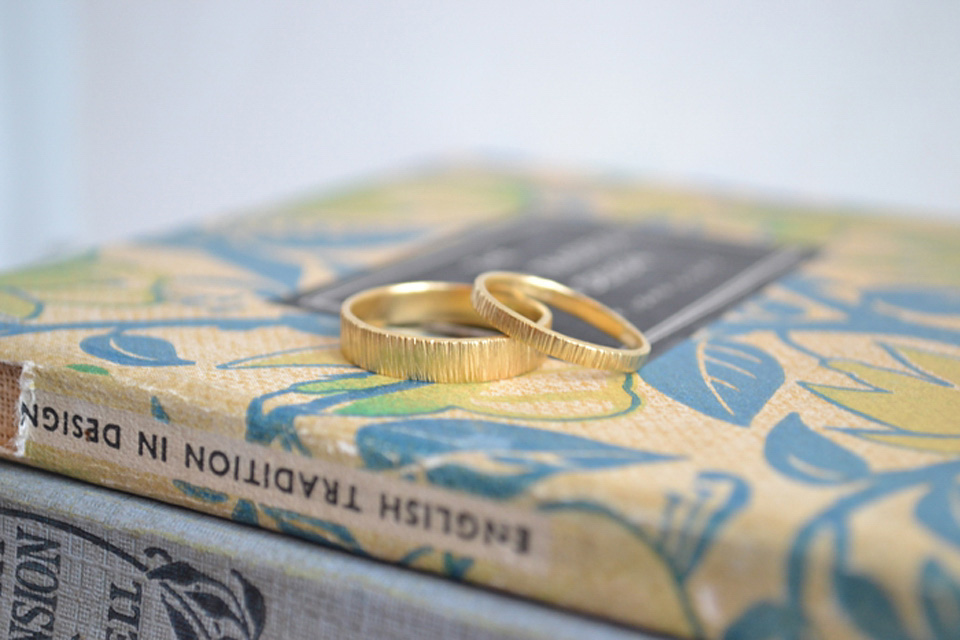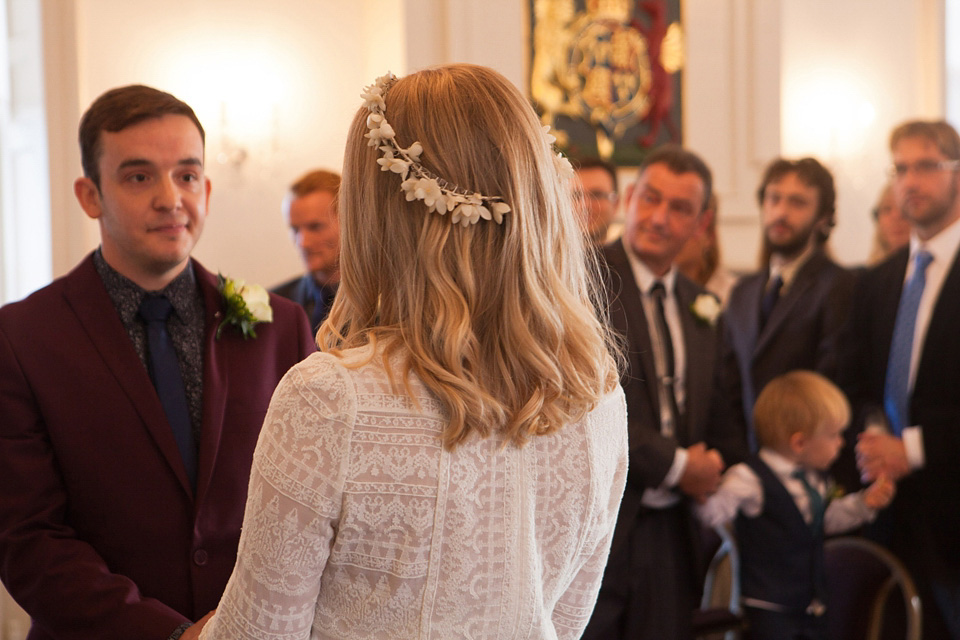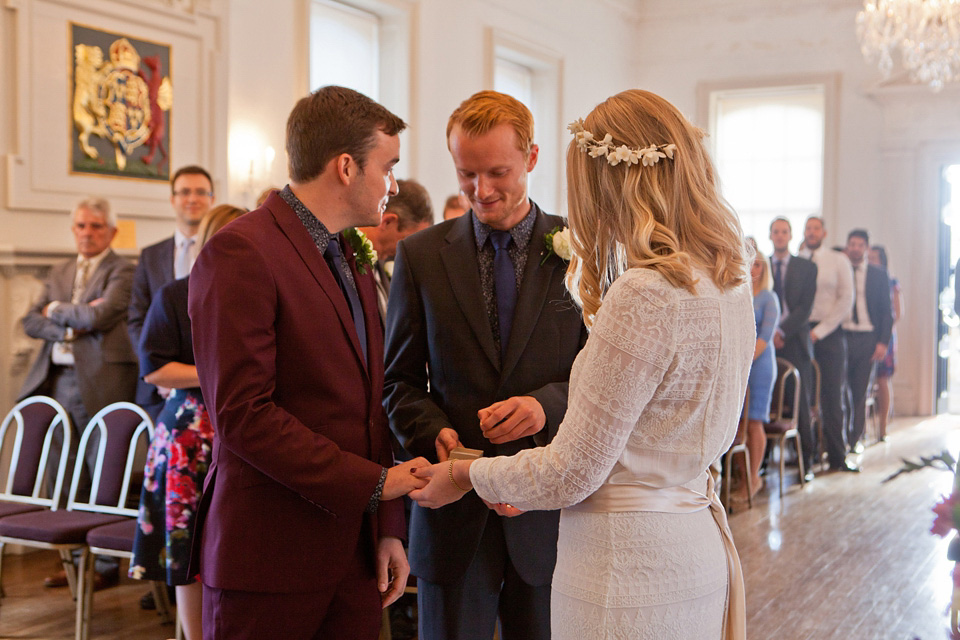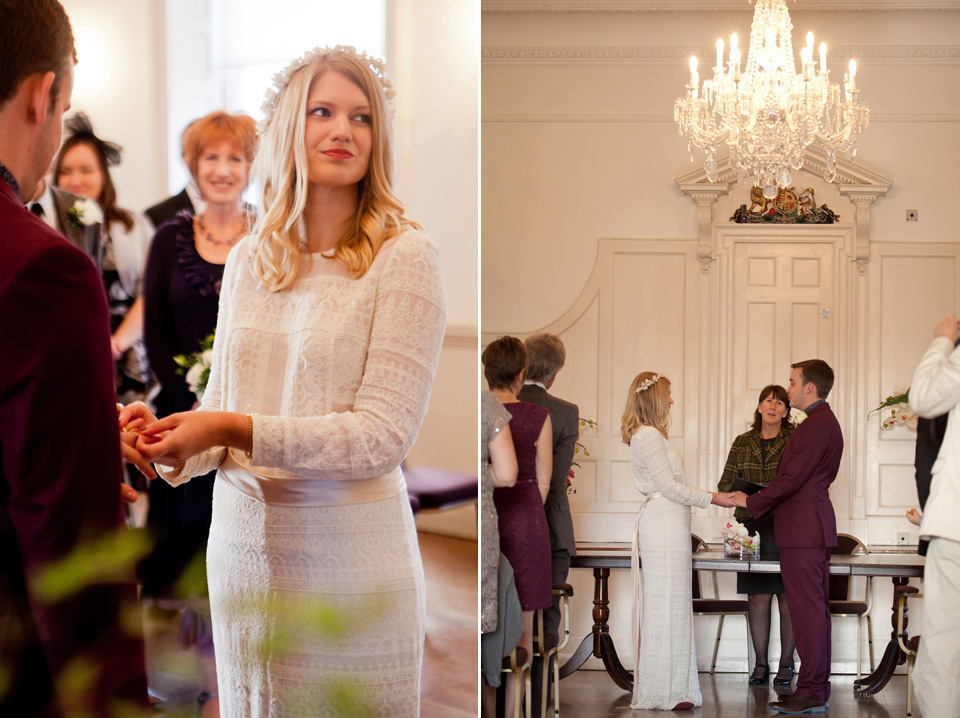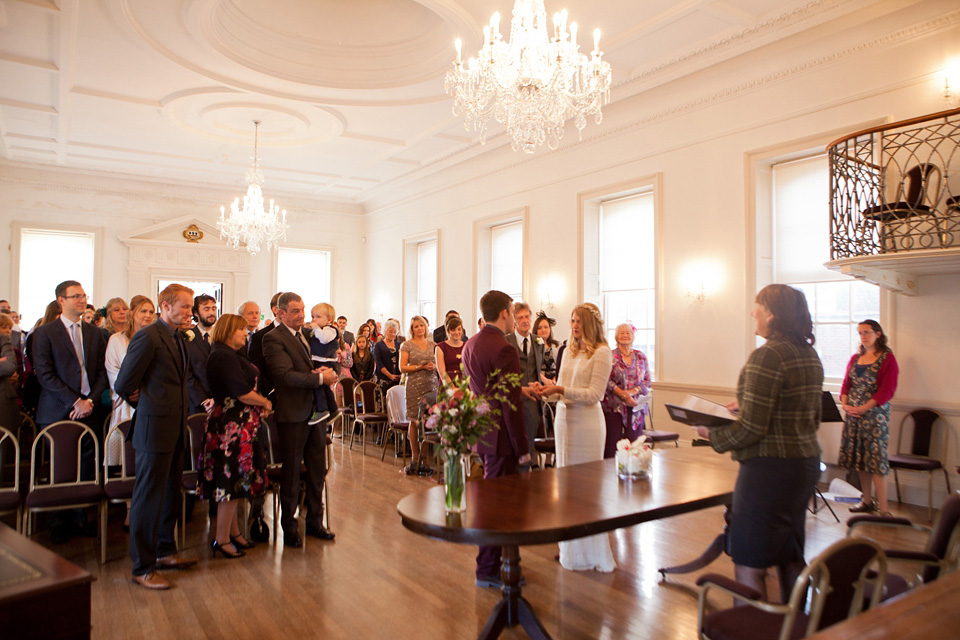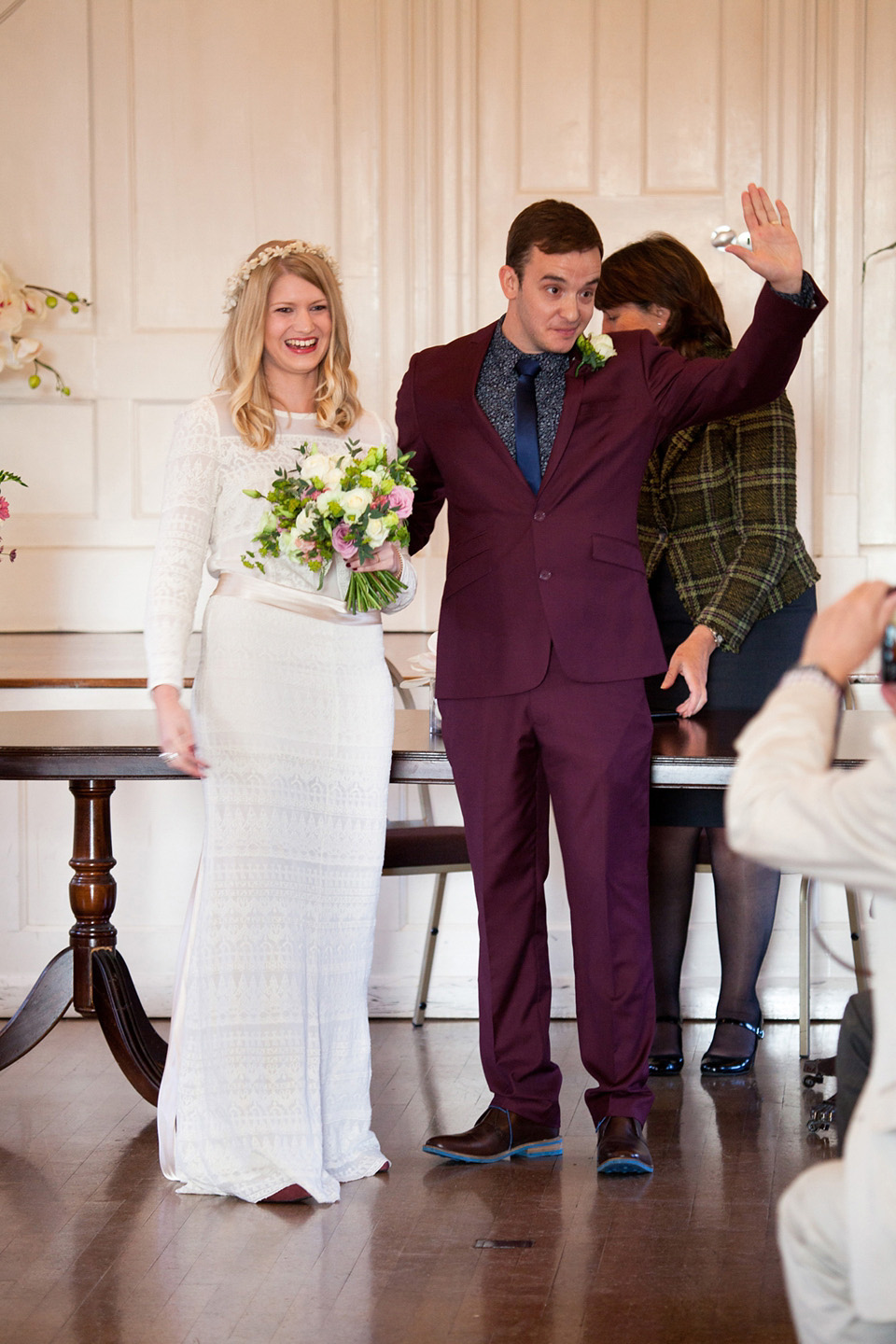 How adorable are the flower girls, they've got their own flower crowns and very trendy dresses from Zara Kids
"The girls dresses were an amazing match to my dress. Everyone kept asking if we'd had them made specially!
My talented Aunty Chris made my beautiful bouquet, the button holes and flower posies for the girls. I loved going through ideas with her and I enjoyed learning about all the different flowers that were in season. For the other flowers I went with a friend to the wholesaler a couple of days before the wedding and picked up flowers for the tables. I didn't have any plan so we just picked up whatever we liked the look of, I only took cash to make sure I stuck to the budget."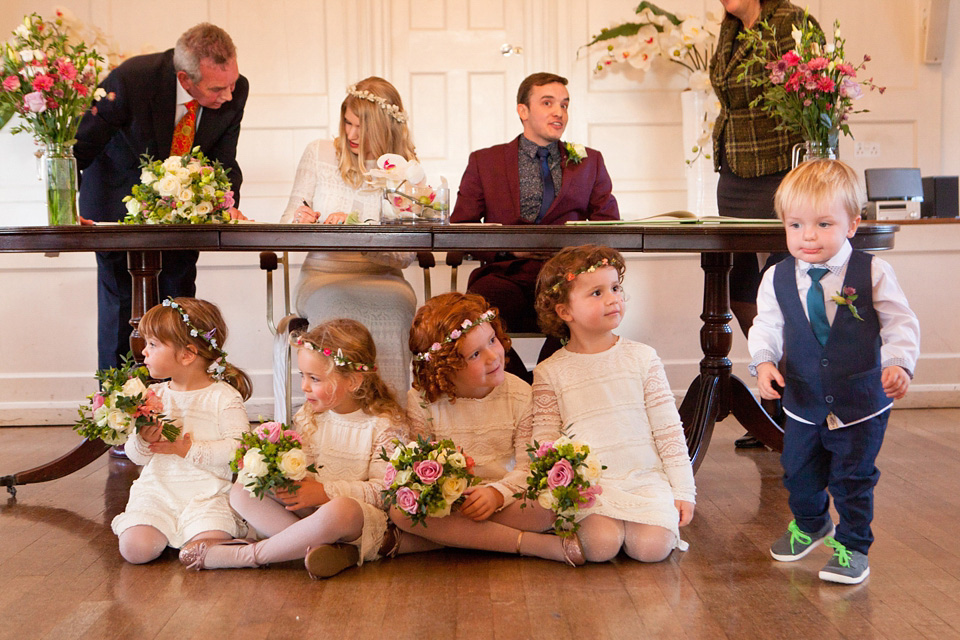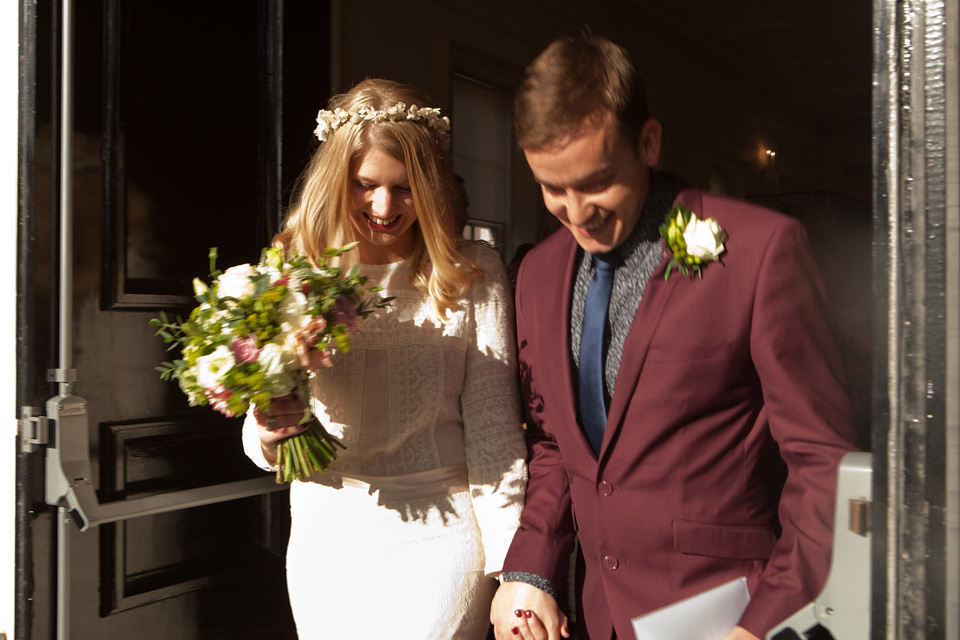 "We had a few minutes on our own on the balcony outside while we waited for everyone to join us, the sun was streaming down and we felt elated. We were MARRIED!"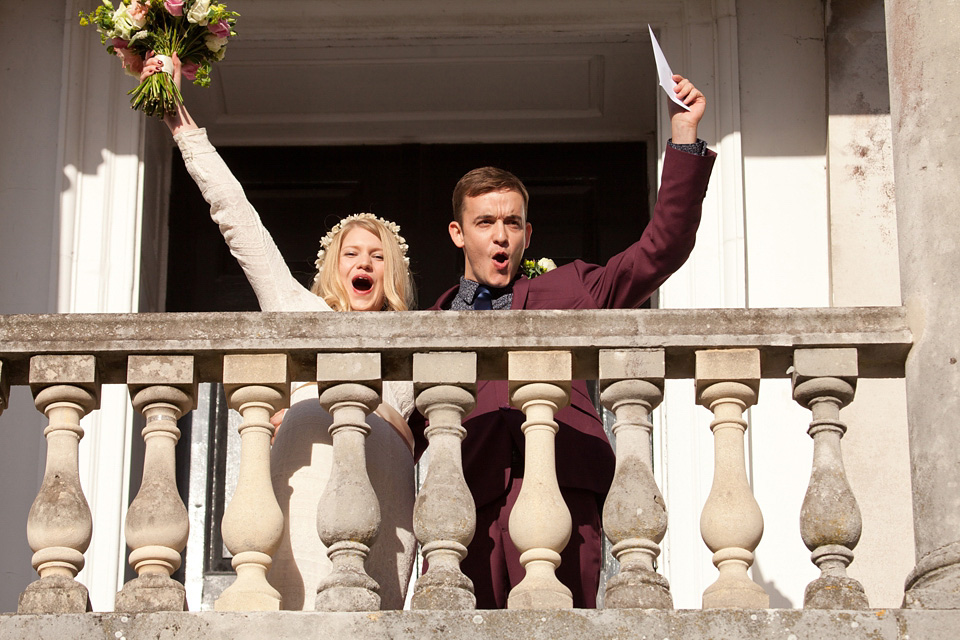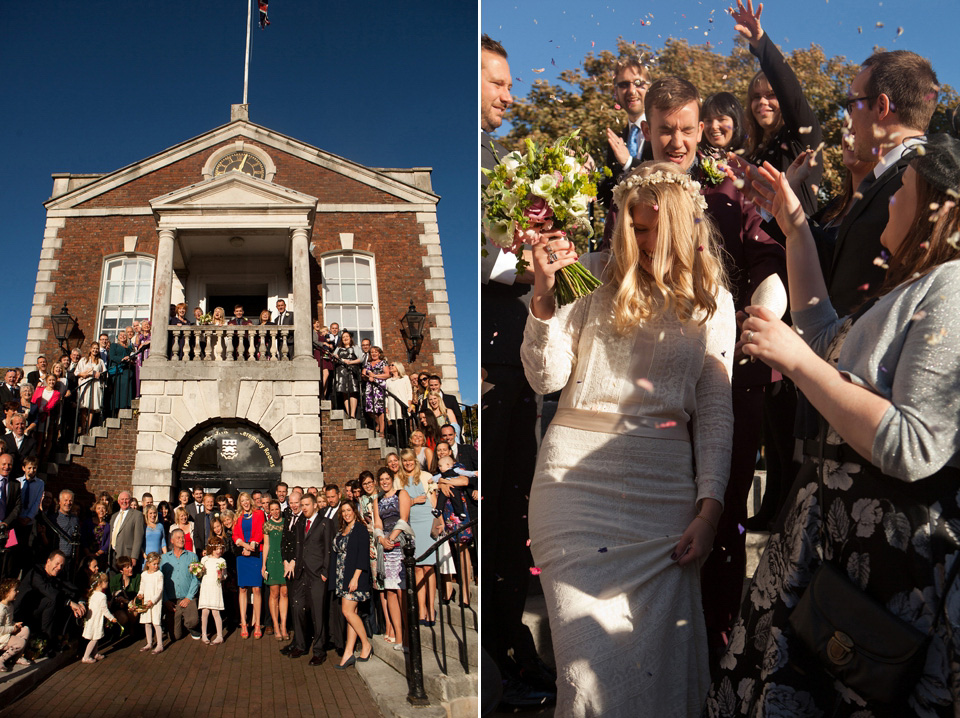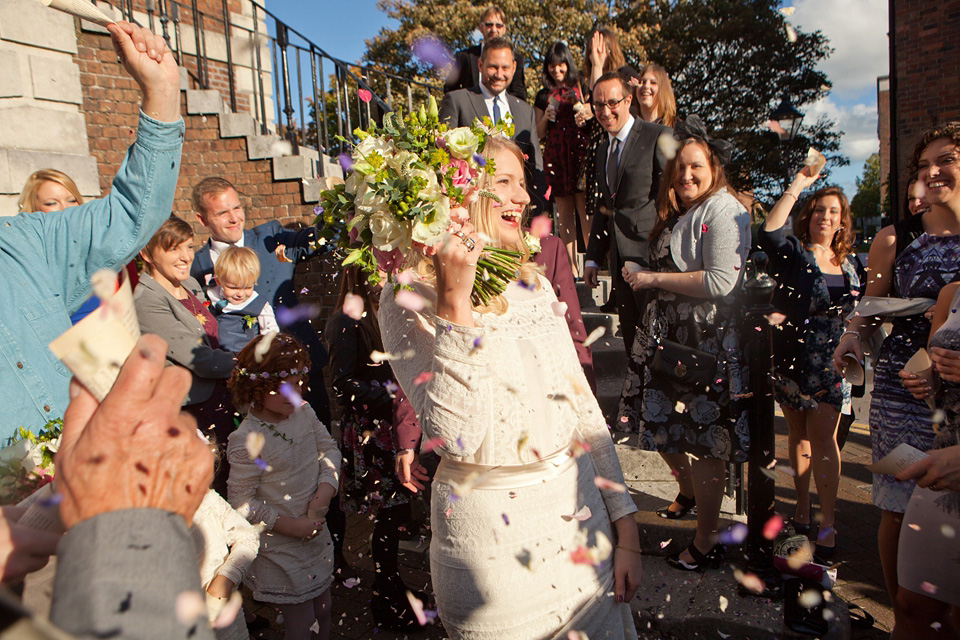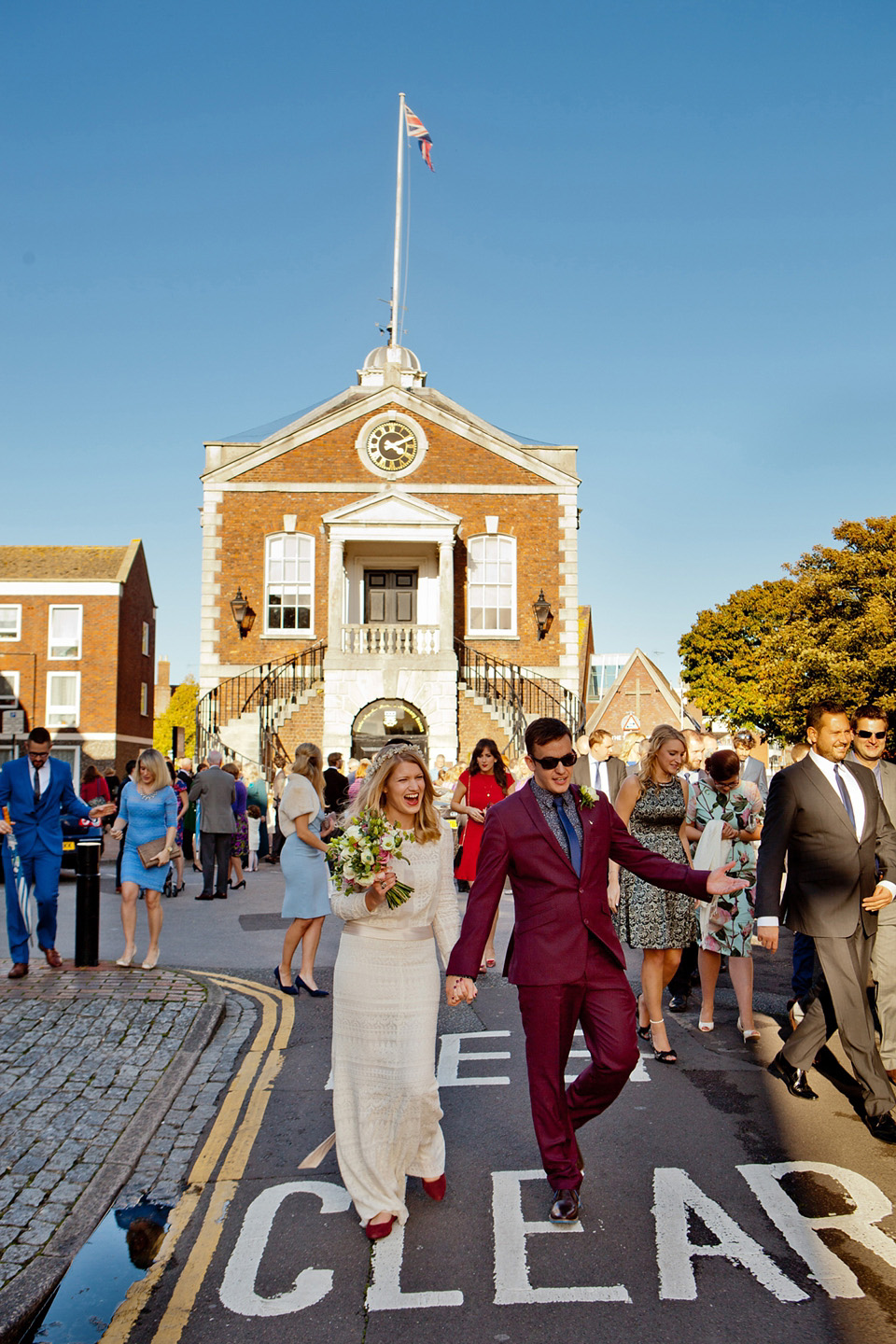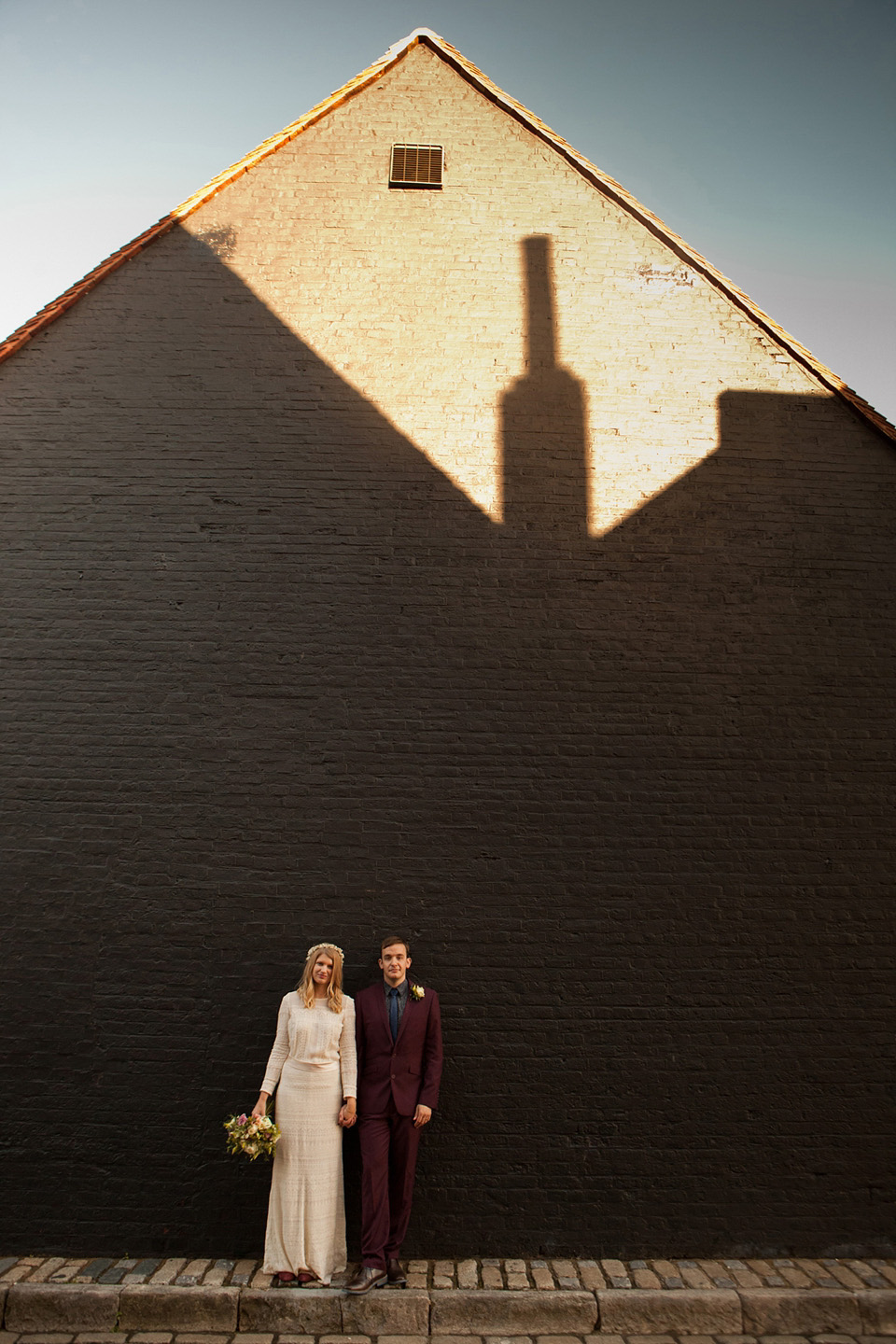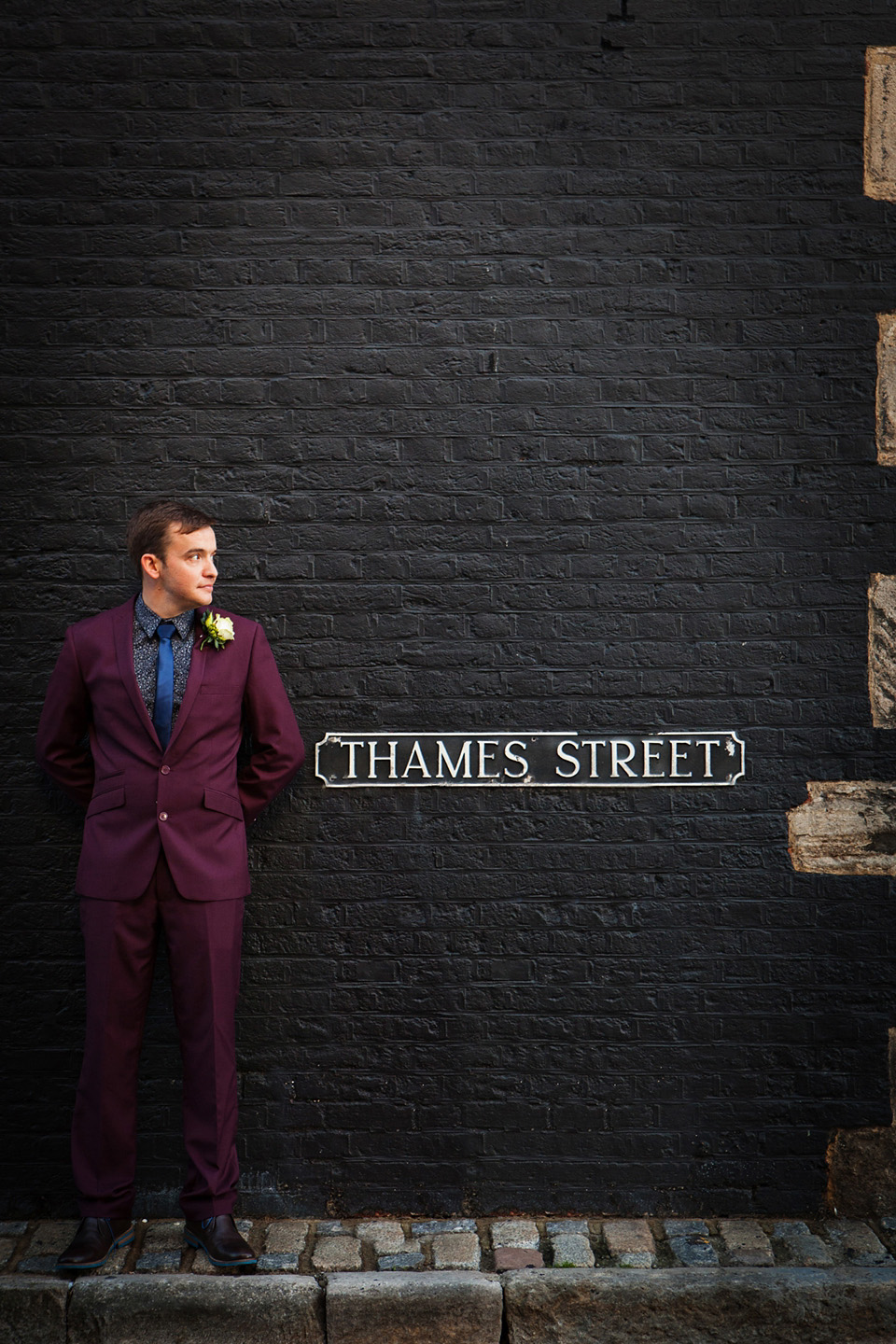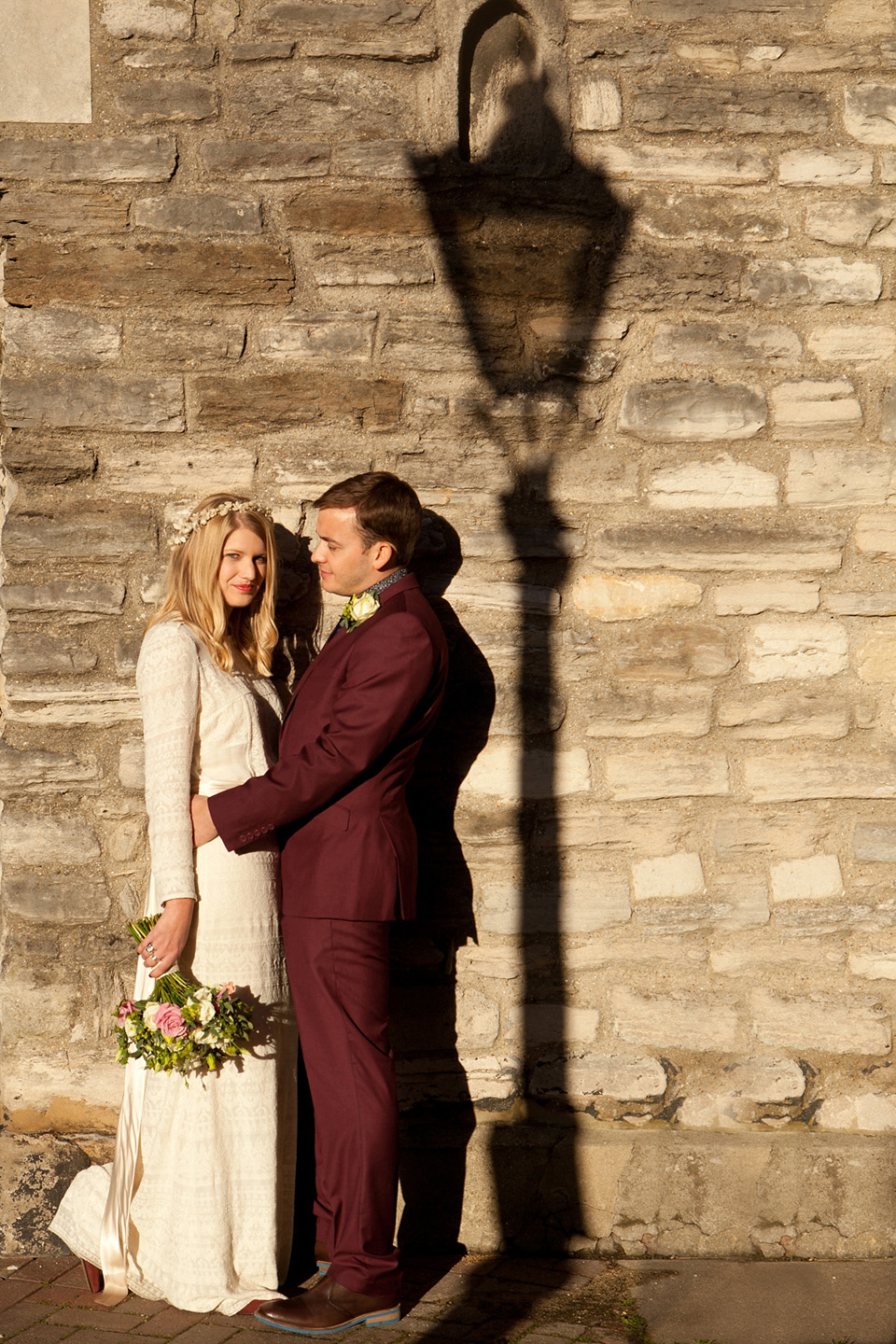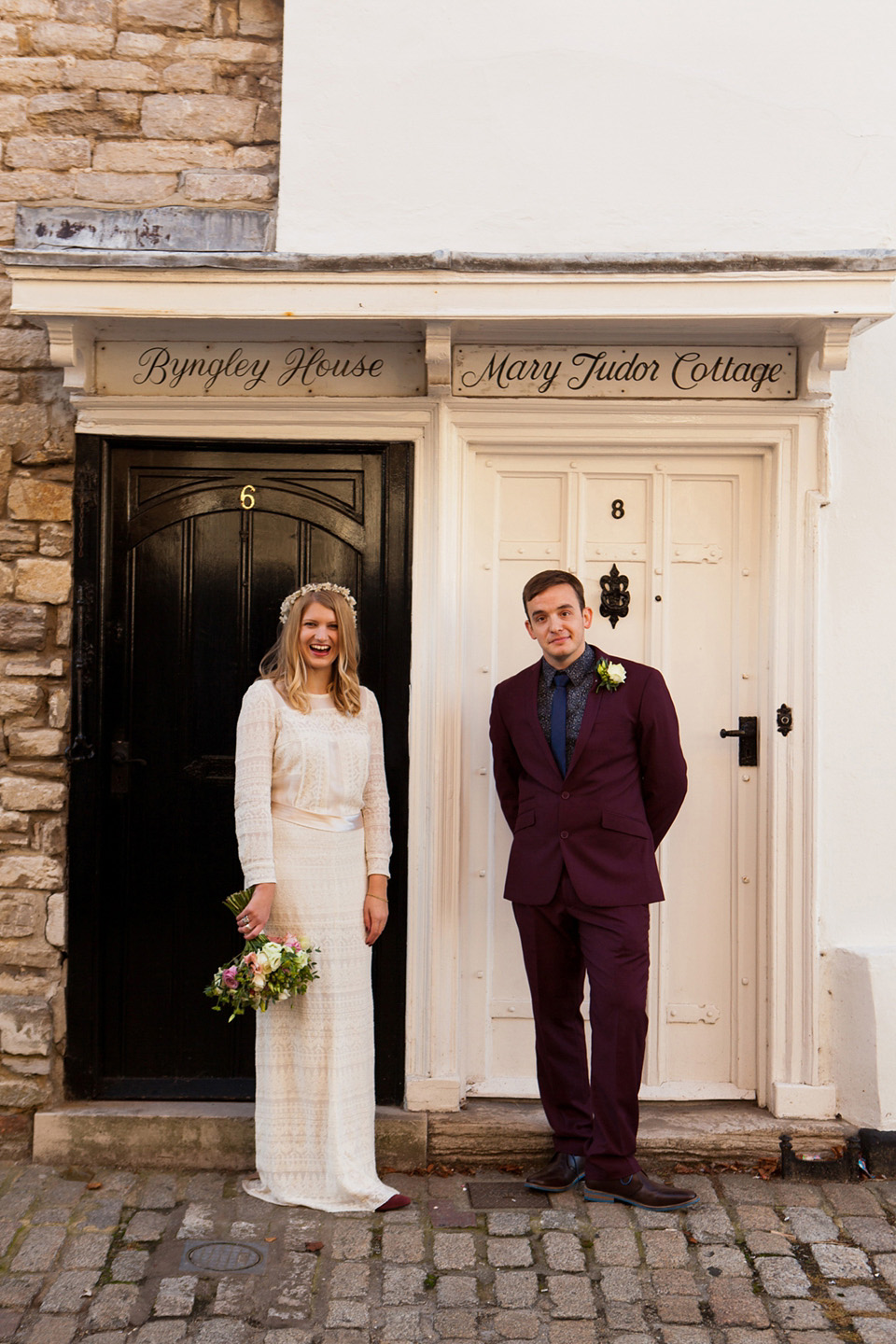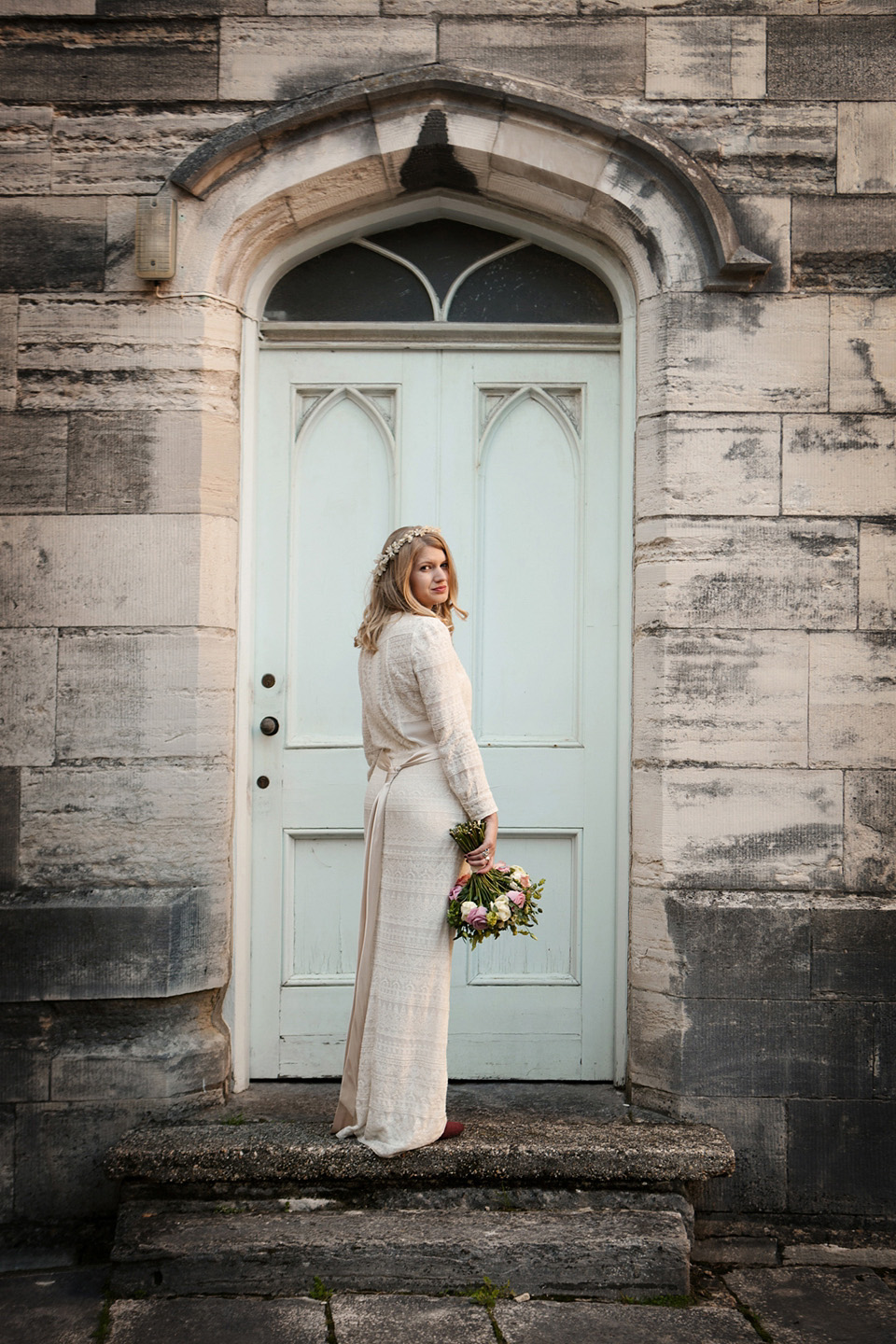 "Poole is our home town and we wanted a local wedding that would be fairly easy for friends and family to attend. We love our home and we didn't even think about having it anywhere else. It does help that our town's Registry Office is situated in the beautiful Guildhall, with it's sweeping staircase, high ceilings and chandeliers it made a wonderful setting for our ceremony.
We chose The Custom House bar and restaurant for our reception and evening party, a very similar building to the guildhall and just as gorgeous, it's also known for its food and they offered us an incredible menu."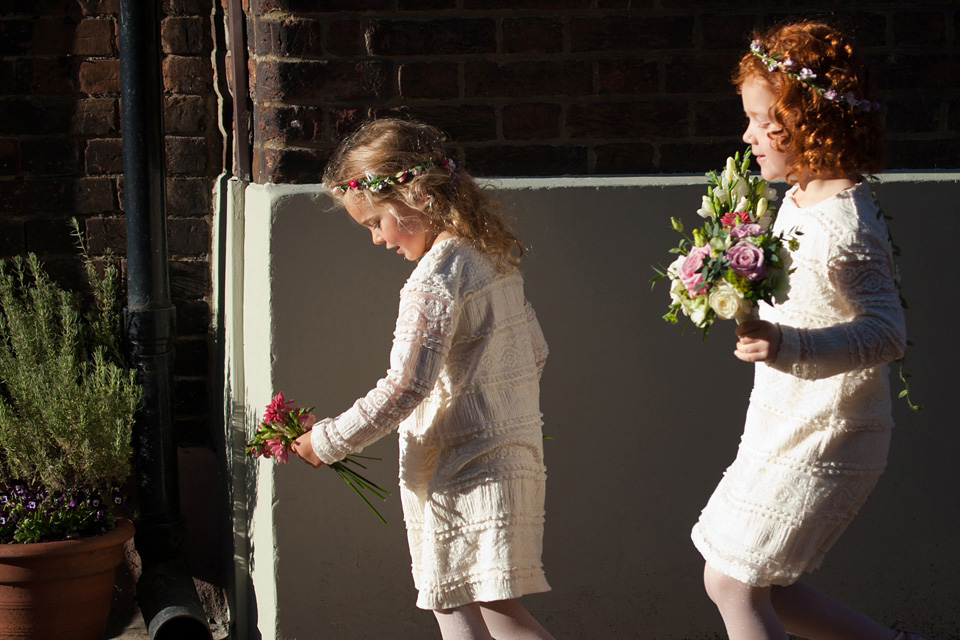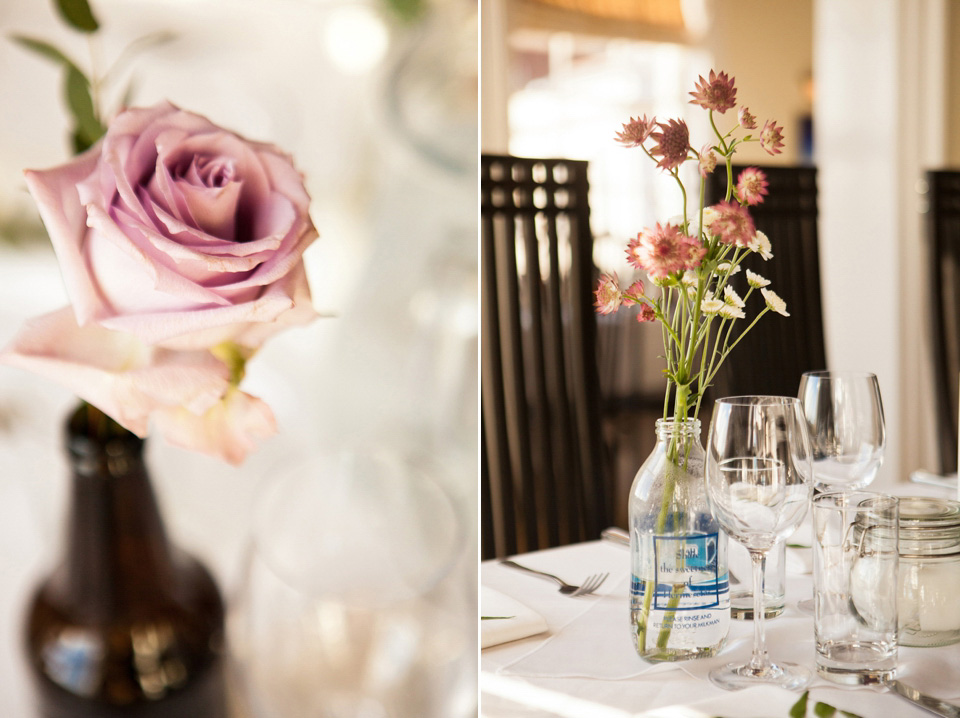 "I collected old bottle and jars then a very kind colleague lent me her mother-in-laws collection of milk bottles so I put them higgledy-piggledy down the centre of the table with a few stems in each. I also picked up old candle sticks from car boots which looked great at different heights all along the tables.
Trusty Pinterest provided me with the idea of having personalised temporary tattoos. I purchased some blank temporary tattoo paper for about £12 and then designed and printed a range of tattoos. I put them in little paper bags with a jar of water and sponges on every table. People loved them and cost about 30p a favour.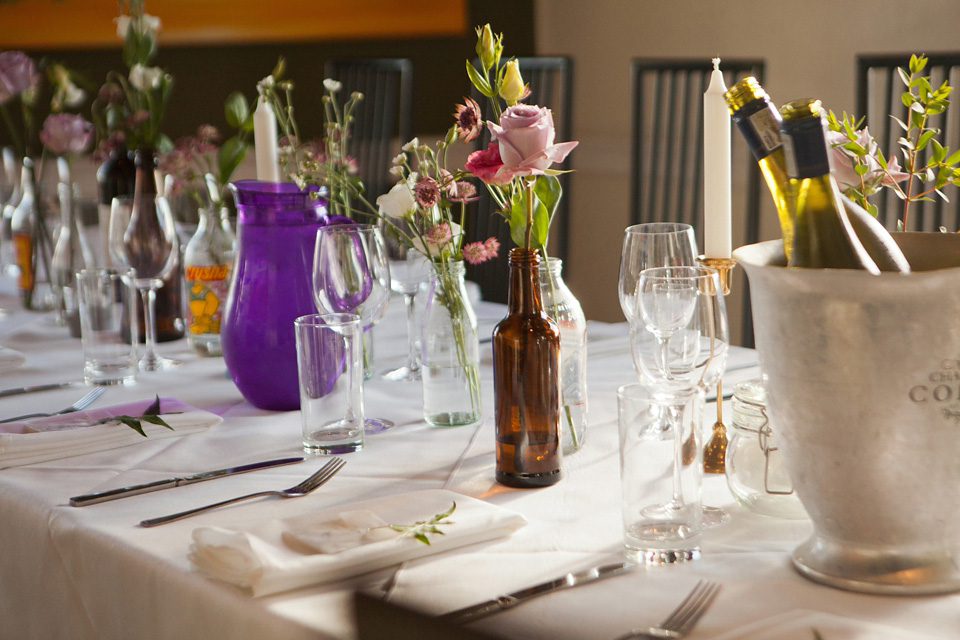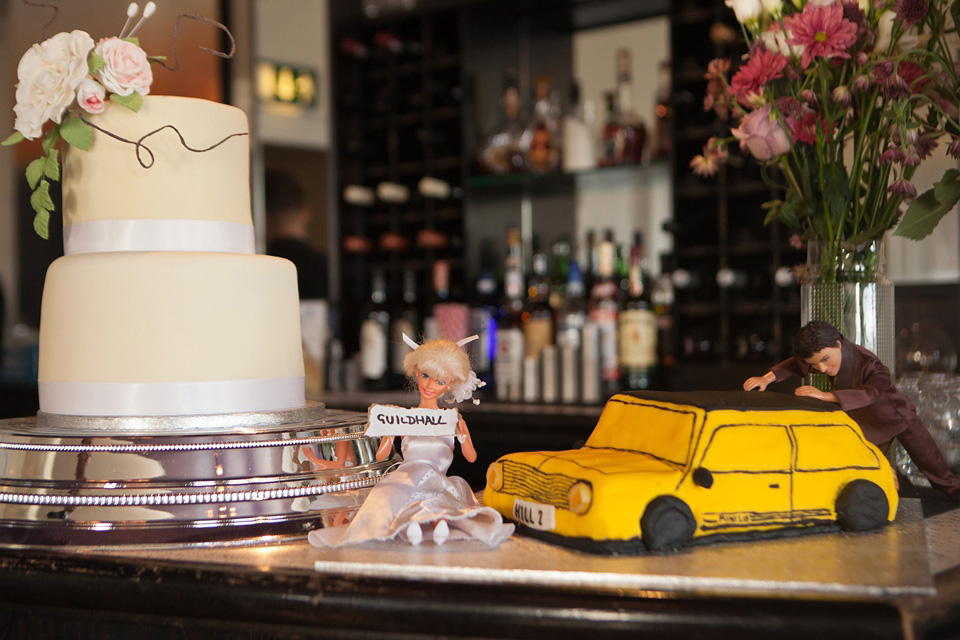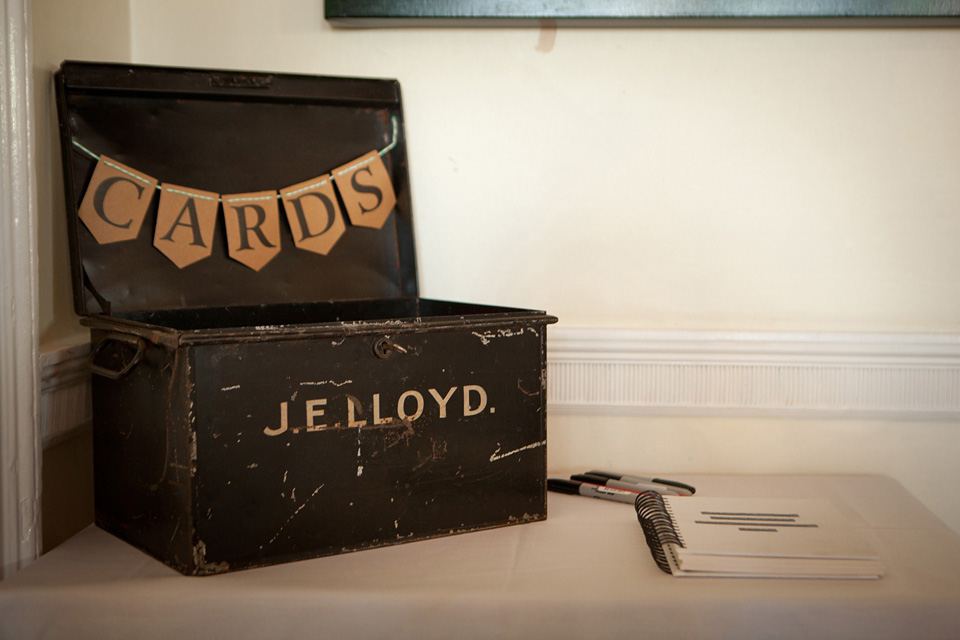 "My friend Amy makes the most beautiful cakes, she can turn her hand to anything. I didn't give her much guidance but she knew I wanted something quite simple with one of her amazing sugar flowers on the top. I was blown away with how beautiful, elegant and tasty it was. We saved money by just offering the cake as dessert and it went down a treat. We also had a surprise cake from Ollies Best Man Steve. Ollie has always owned old Minis and Steve's homage was amazing."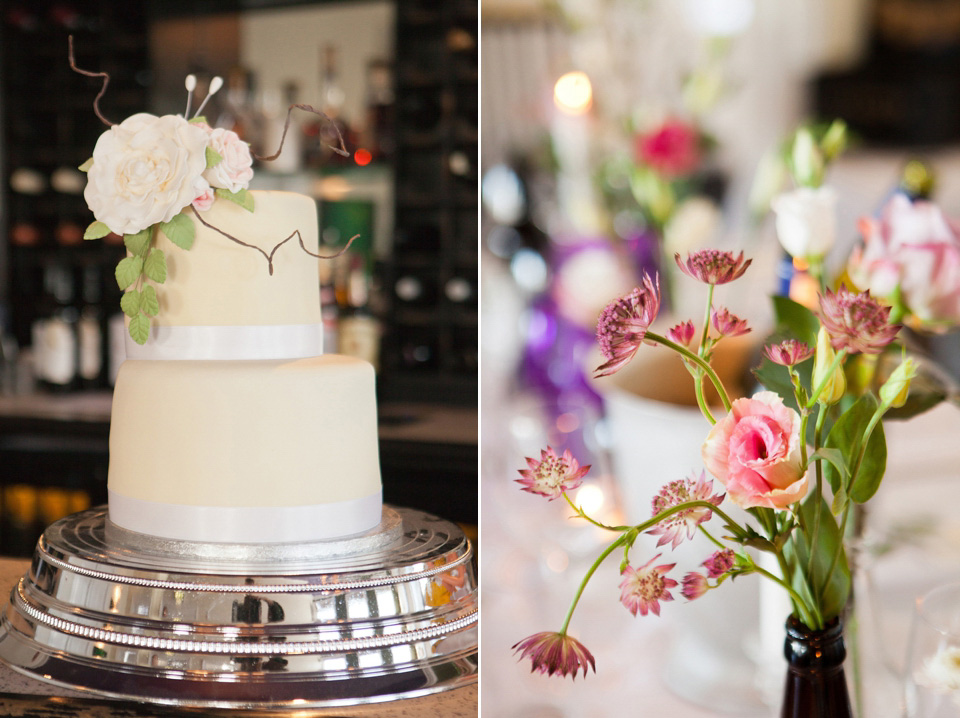 "We had a fantastic 3 piece soul and funk band provided through The Soul Party. They managed to keep the dance floor full all night, we do like a good dance!"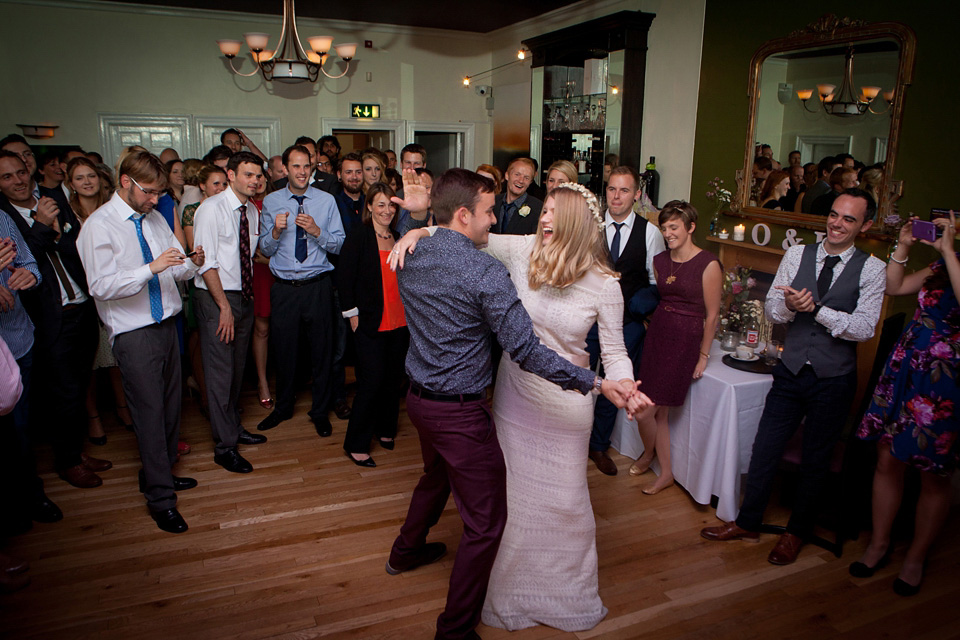 Words of Wedded Wisdom
"If you're someone like me who's a worrier try not to build the day up too much, it's just one day, one brilliant fabulous day but still just a day. The planning and details can be fun but as soon as something starts to feel stressful ask yourself do you really need to do it, what would happen if you didn't and will it really be something that your guests notice? Ultimately all your guests want is to see you get married and celebrate with you.
Everyone I spoke to had a different idea of what a wedding should be like and in some parts we wanted to do things a little differently to the norm. Stick to your guns and if that's what feels right go with it!
There was nothing we would have done differently. The joy we felt all day was enough for us not to have noticed if anything didn't quite work. A few small details that I forgot about on the day occurred to me in the days after but it goes to show that as long as your guests are having fun and enjoying the day the little things don't really matter."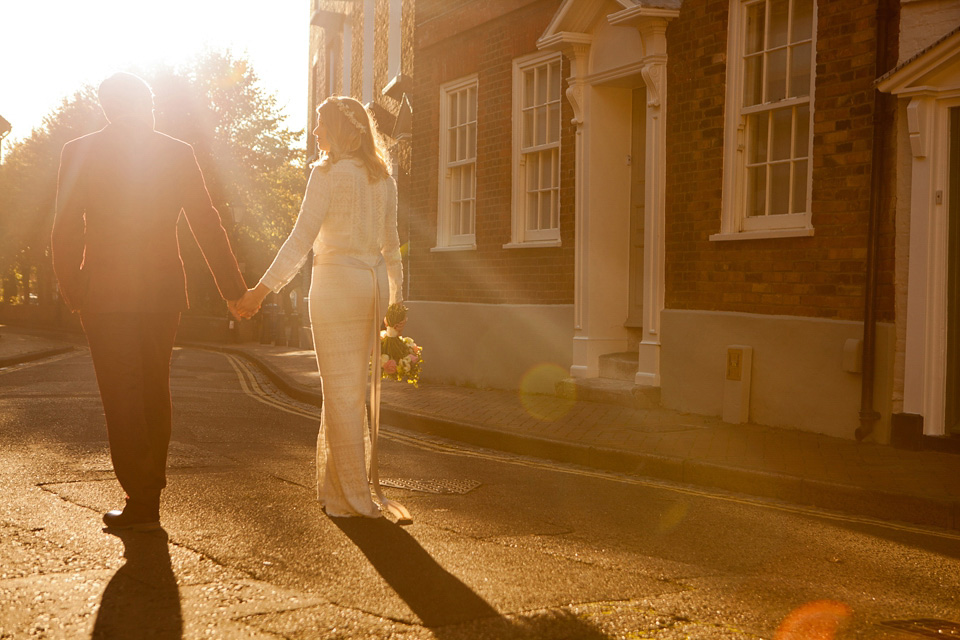 We're pleased you stuck to your guns Leo and Ollie, what a wonderful wedding. Thanks very much to Karina for sharing it with us.
Leo is clearly a lady with style and has set up an Etsy shop selling vintage wedding dresses. I think she would also do a roaring trade lending out those adorable flower girls!
Have a great week,
Hannah xx
Photographer – Richmond Pictures
Venue – The Custom House, Poole
Wedding Dress – Isabel Marant via Net-a-Porter
Headpiece – vintage via Charlotte Casadejus
Shoes – Clarks
Groom – Burton
Flowergirls – Zara Kids
Entertainment – Soul Party
Rings – via Etsy