Happy lunch time all, I hope you are well and wrapped up in a warm, thick blanket like I am. Unfortunately for me, I'm currently cuddling up to a pile of text books, as next week I will be sitting the final exam of my professional qualification. I cannot WAIT to see the back of it, especially as I will be left with a bit more time to embrace being in 2015 – the year of our wedding!
Wedding planning has taken an interesting twist recently. Back in an earlier post I mentioned that I would be having a traditional Zambian bridal shower, called a 'Kitchen Party', which takes place a month or so before the wedding. The party is usually organised by the mother of the bride, which sounded ideal to me, as it would mean one less thing to scribble on the bottom of our to do list. When I first discussed it with my mum, she suggested a small event in our house with no more than 20 guests and minimal fuss. Well, somewhere in between that conversation at the end of last year and now, she has accumulated 180 more guests, a venue, caterers, a DJ and a folder to store all the associated paperwork.  Although I'm still a little in shock that this party has somehow managed to get 10 times bigger than expected (literally), I've taken a leaf out of my mum's book and adopted the YOLO mentality – we're having a big, fun party, wohoooo!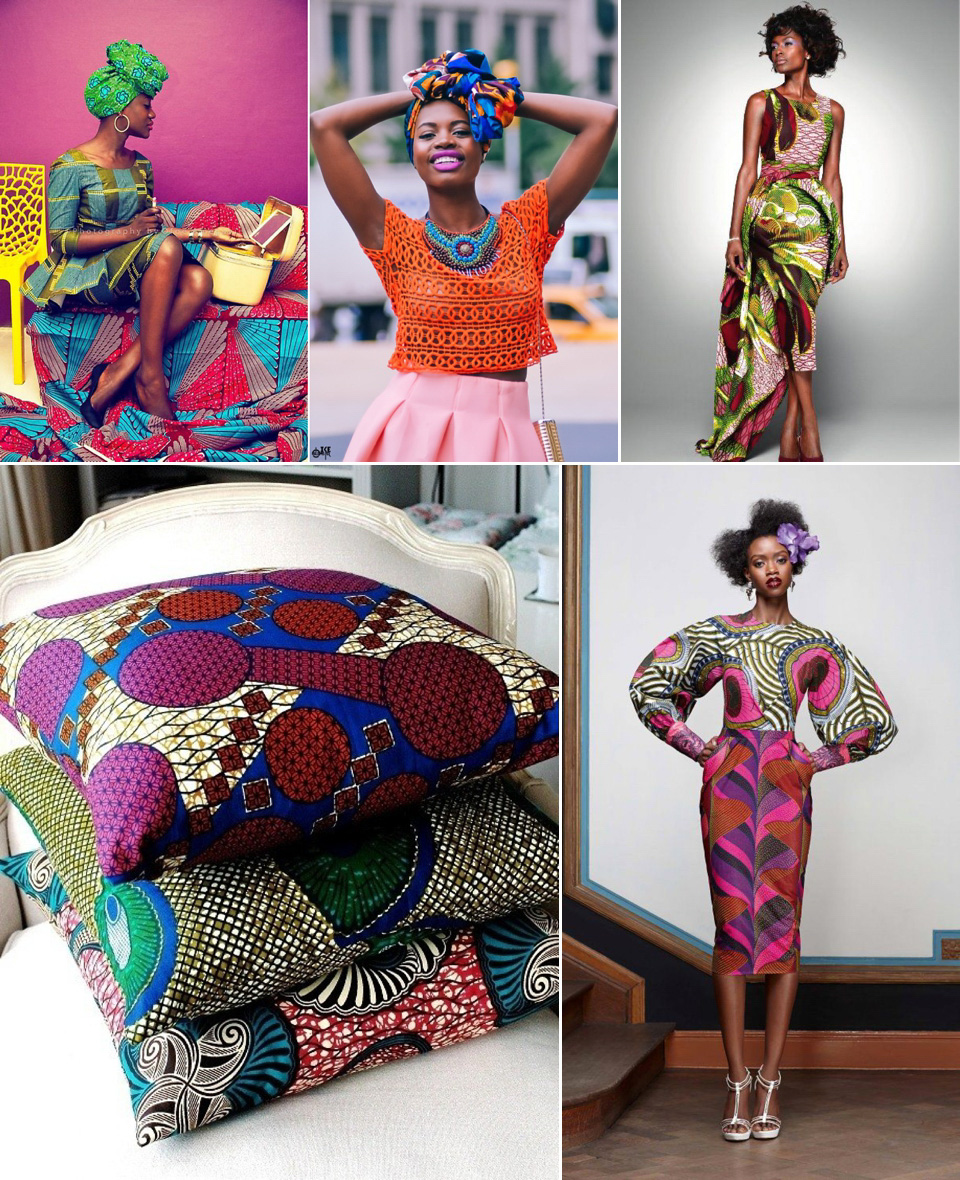 Credits clockwise from top left, Ofesaysit, Wearcolour, It's African Inspired, Pagnifik, Etsy
I've realised that having a pre-wedding party is almost like winning the lottery when you're a master of indecision, because all the wedding theme ideas which didn't make the final cut can officially have their moment. As we speak, my designated Kitchen Party Pinterest board is being stocked up with village hall wedding inspiration, as I plan to transform the local church hall that my mum has hired into an 'Afro-British Village Fete Extravaganza'.
Top of the to-do list – turn a bag full of African fabric into 100 meters of bunting. Just above that on the list – learn how to operate a sewing machine to make said bunting. Triangle sandwiches, potted plants and chalkboard signs have been resurrected from the 'rejected wedding ideas' box and returned to their rightful place on the yes pile.
Kay shopping for fabric with her Mother and Sister
So, what exactly is a Kitchen Party? I hear you asking. In all honesty, I'm probably not the best person to answer that question, since I've only ever been to one, but I will certainly do my best. The name comes from the idea that guests bring gifts for the bride-to-be which can be used in the kitchen; pots and pans, silverware, fridge-freezer, anything along those lines. I will be entering the hall covered by a long Chitenge (Zambian cloth, pronounced Chi-Teng-Geh), and remain hidden until the Sam's family unveil me. Sam will make a brief appearance later in the day, leaving me with a bouquet of flowers before being ushered off – it's a shame he can't stick around for the party, but it's ladies only.
The rest of the guests are then invited to offer a word of advice, a gift, a song or a dance – accompanied by the crew of drummers that my mum is currently assembling. That is definitely a condensed version of what will be happening, but I recommended typing Kitchen Party on YouTube to get the full picture.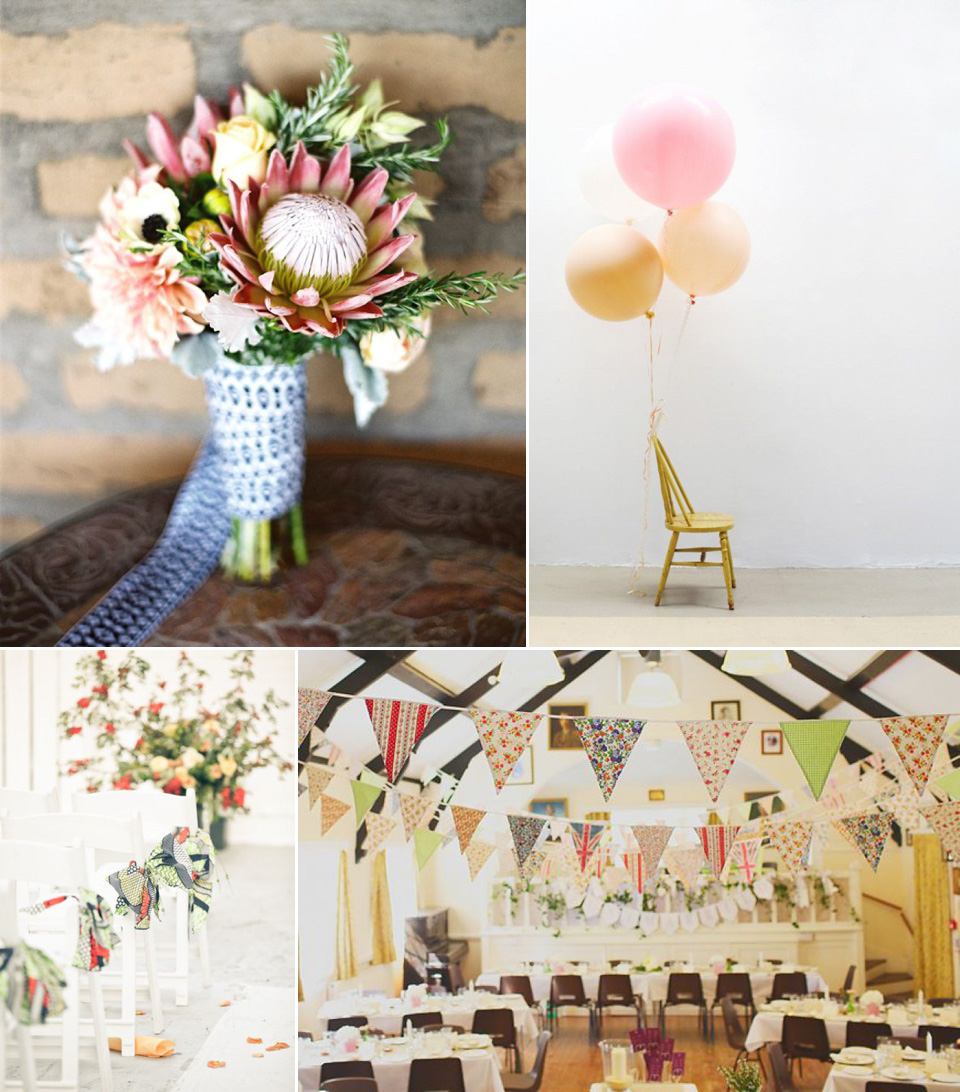 Credits clockwise from top left, The Knot, The Glitter Guide, Love My Dress, The Brides Cafe
We are currently in full kitchen party planning mode, last weekend we spent well over 5 hours trawling through the African fabric shops around Petticoat Lane market trying to choose Chitenges for the 'servers' (similar to bridesmaids), the 'committee' (the mother of the bride's posse of planning assistants/close friends) and myself, to have made into outfits. For the first time ever, I was decisive. When choosing one for myself, I spotted a nice on in the first shop we came across and made my mind up there and then! But…I changed my mind when I got home and will be going back for a new one. Luckily it was only £15 so I could afford to be fickle this time.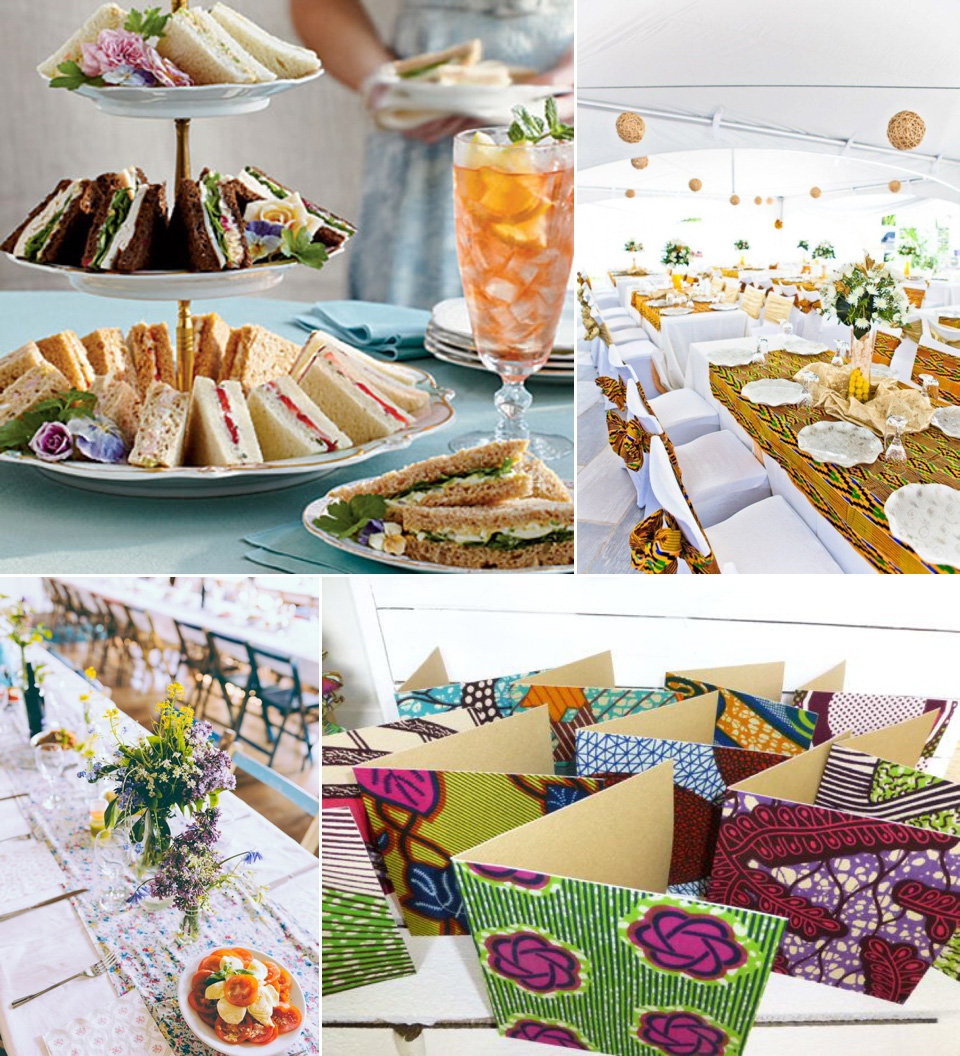 Credits clockwise from top left, Pinterest, Pinterest, Etsy, Whimsical Wonderland Weddings
I am going to be a bit unconventional here and put out an open invitation to anyone who fancies being part of the day in a professional capacity. Maybe you're just starting out in the wedding industry, and have an idea that you think would make my Kitchen Party awesome, please get in touch in the comments! We haven't got a big budget, so we have realistic expectations of what we can get for our money, but I see it as a great chance to use fab new suppliers who are still building their portfolios. If it sounds up your street and you're free on Saturday 11th July, I am all ears!
Until next time,
Kay x