It's been a little while since our team member Sarah-Leigh wrote for us, but with the world's fashion elite having been very busy over the past couple of weeks, Sarah-Leigh has been observing the emerging catwalk trends very closely, and as usual, has shared some of her favourite looks that we hope to see filtering through into bridal fashion. Over to you Sarah!
As the fashion world embarks on what is lovingly (and a little exhaustedly – running show to show in five inch heels for weeks on end takes its toll) referred to as 'fashion month', we take a look back at the recent couture shows for a little bridal inspiration.
Paris' Haute Couture shows are a sure-sign of trends to come and also gives some of the world's most exclusive designers a chance to flex their bridal finesse. This season was all about whimsical femininity, with silhouettes reminiscent of eras gone by. Take a peek at our run-down of the top trends of the season
Fifties Shapes
Taking inspiration from old Hollywood glamour and starlets including Audrey Hepburn and Elizabeth Taylor, gowns came with full skirts and demure necklines. Whilst Elie Saab, Ralph Russo and Ulyana Sergeenko all opted for chic off-the-shoulder styles, we also loved gowns that finished just above the ankle.
Clockwise from top left: Elie Saab, Ralph & Russo, Elie Saab, Ulyana Sergeenko, Ralph & Russo
Voluminous Skirts
Super-voluminous skirts are back! After going on hiatus for some time, we spotted full, beautiful gowns at Gaultier and Dior. Mirroring ready-to-wear trends, A-line shapes were also commonplace, complete with intricately beaded panels at Chanel.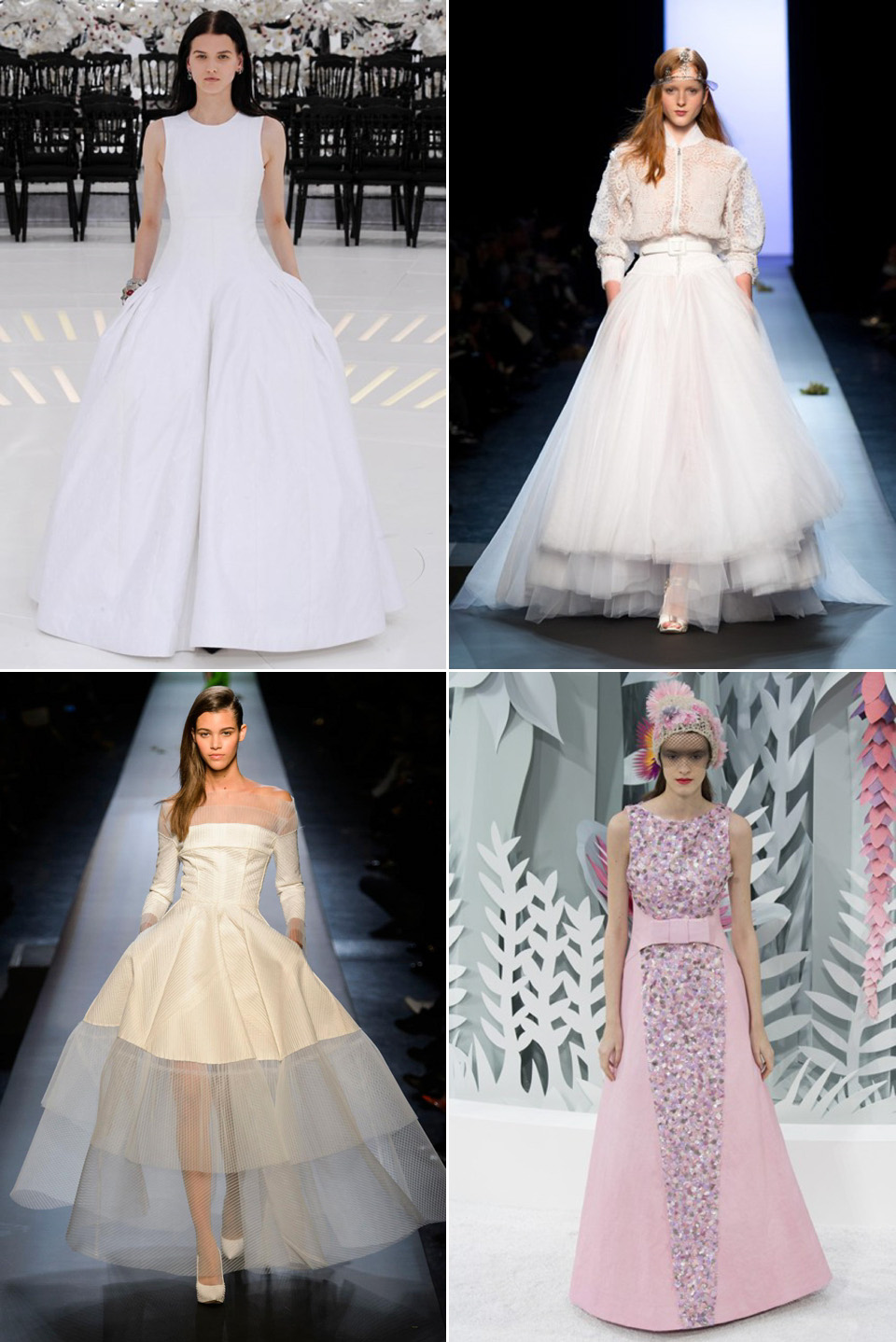 Clockwise from top left: Dior, Gaultier, Chanel, Gaultier
Dress Coats
As us Brits are accustomed to, you can never quite guarantee the weather. So you can imagine our joy when a host of designers unveiled exquisite dress coats to complement the finest of frocks. Capes have been an emerging trend for a while now and Alexis Mabille and Ralph Russo didn't disappoint. British brand Russo also provided one of our looks of the season, with a sharply minimal style, combining slit sleeves and delicate beading in horizontal bands.
Clockwise from top left: Chanel, Ralph & Russo, Alexis Mabille, Ralph & Russo, Alexis Mabille
Texture
From applique to embroidery and even marabou feathers, spring/summer couture had it all. Laser-cut flowers appliqued all over gowns are set to be a huge trend, seen at Chanel, Dior and Giambatista Valli to name but a few. Super-fine feathers adorning skirts is also set to be a big bridal trend – you mark our words.
Clockwise from top left: Dior, Chanel, Elie Saab, Giambattista Valli, Dior, + last 2 Giambattista Valli
Best of the Rest
A few other notable looks include the pretty styling at Valentino – a historically themed collection came with woodland flower crowns, whilst Gaultier also send florals down the runway with his models. Moving on from a traditional bouquet for his brides, the French designer popped cream and white displays in to tote bags.
Continuing the penchant for marabou, Giambatista Valli also used feathers on nude clutch bags and accompanied the look with pearl clustered jewellery.
Clockwise from top left: Gaultier, Elie Saab, Valentino
What's your favourite look?
If you love nothing better than pouring through catwalk photos come 'fashion month', take to Instagram – everyone's favourite photo sharing channel! Search #NYFW for all the latest looks from New York, #LFW for London, #MFW for Milan shows and #PFW for Paris. Happy viewing!
Love Sarah-Leigh x
As well as being our regular fashion contributor, Sarah-Leigh Wade is the International Contributing Editor for Olivia Palermo.  She also co-runs events and communication agency What Peggy Did Next and is the lady behind Bridal Boot Sales.  You can see Sarah-Leigh's own wedding here.